Quick heads-up: some of the links on this page are affiliate links. If you make a purchase through them, we may earn a small commission (at no extra cost to you). This small bit of income helps keep our site running.
Best Climbing Shoes of 2023
This post was last updated on December 06, 2023.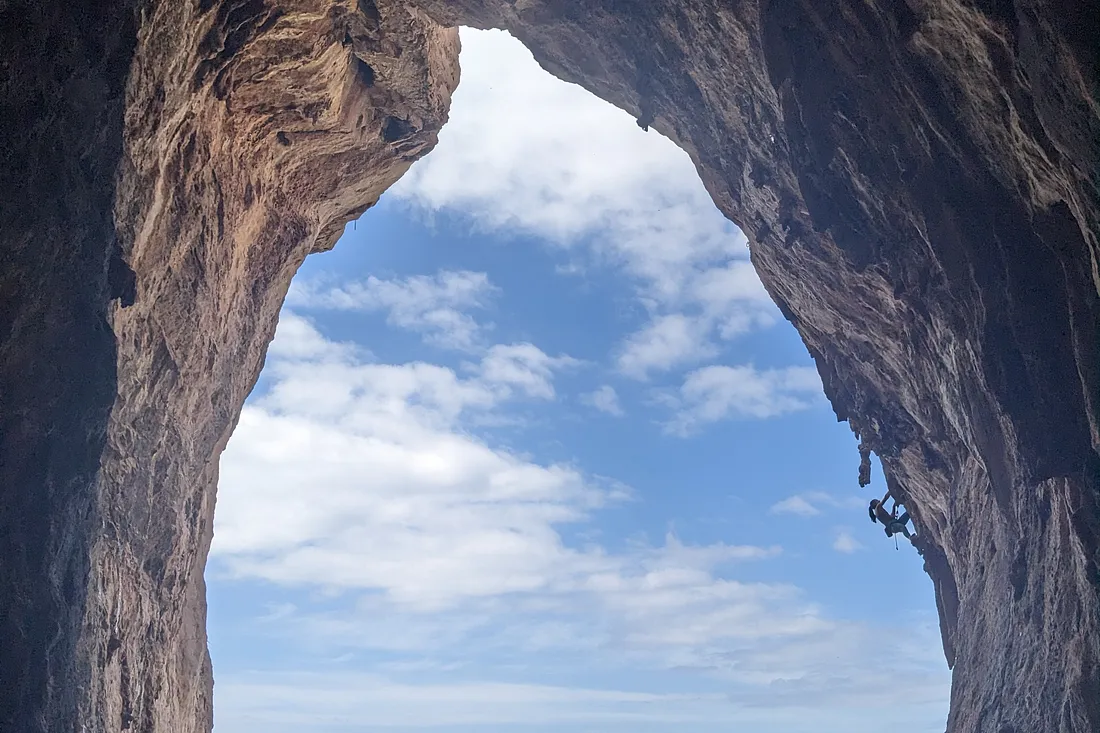 Unlock your climbing potential with the perfect pair of climbing shoes. The right hardware, from footwear to belay devices, is essential to your climbing success and safety on any vertical adventure.
Our top pick after extensive testing is the La Sportiva Solution Comp, pointing the way with their perfect blend of performance and comfort. The superior balance of fit and function make this shoe suitable for pros and beginners alike, while its durable construction ensures it can take a beating and keep going strong.
But not all climbing shoes are created equal, and your choice will depend on your experience level, type of climbing, and budget. We also have our honored runners up and great picks for categories including bouldering, indoor climbing, trad and crack climbing, and sport climbing. For those just getting their feet off the ground, we have recommendations for budget-friendly and beginner-friendly options. So without further ado, let's dive in and find that perfect fit.
Our Top Recommendations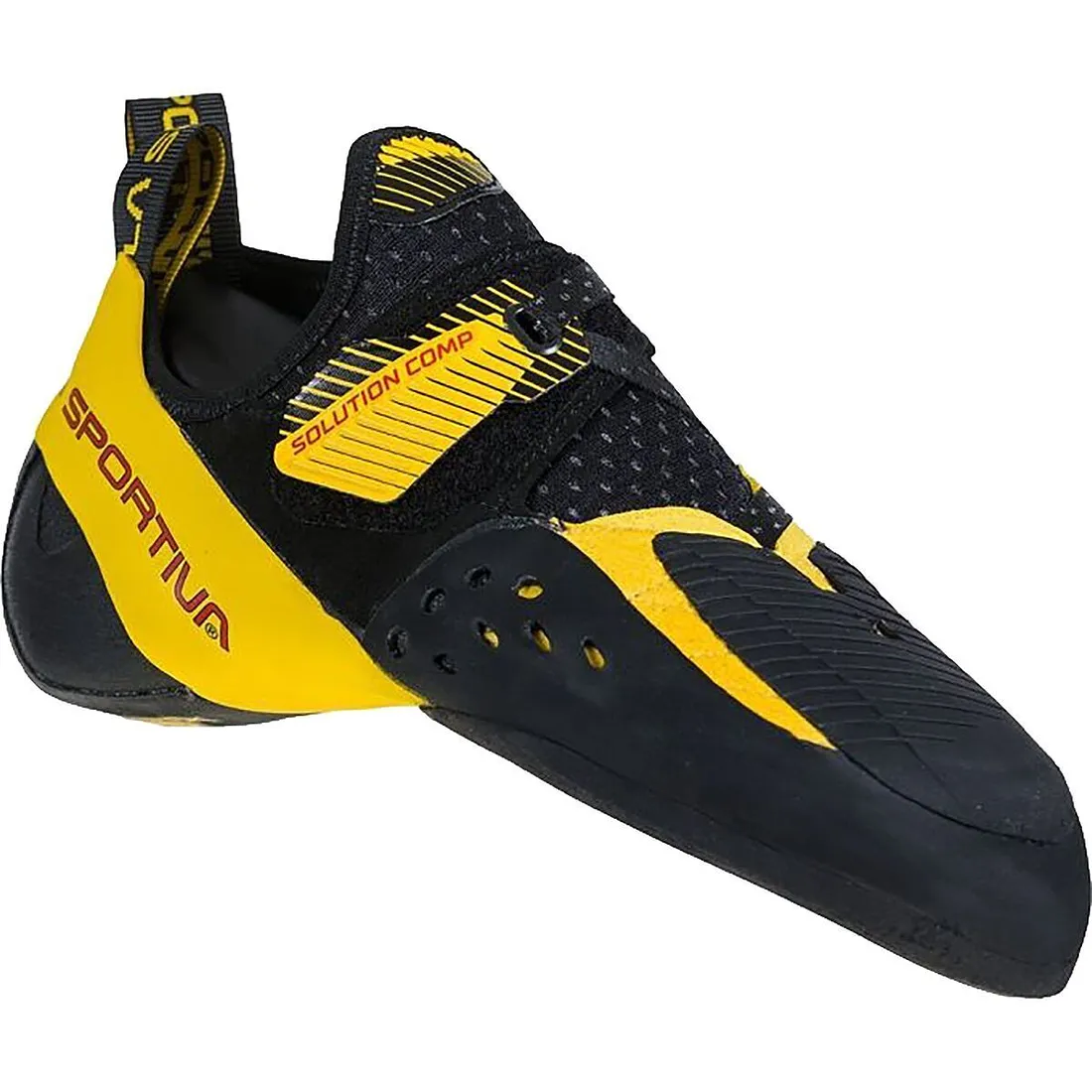 La Sportiva Solution Comp
The La Sportiva Solution Comp snags the top pick thanks to its phenomenal grip that users rave about and a toe box that molds seamlessly to the foot, offering superb precision on even the trickiest of holds.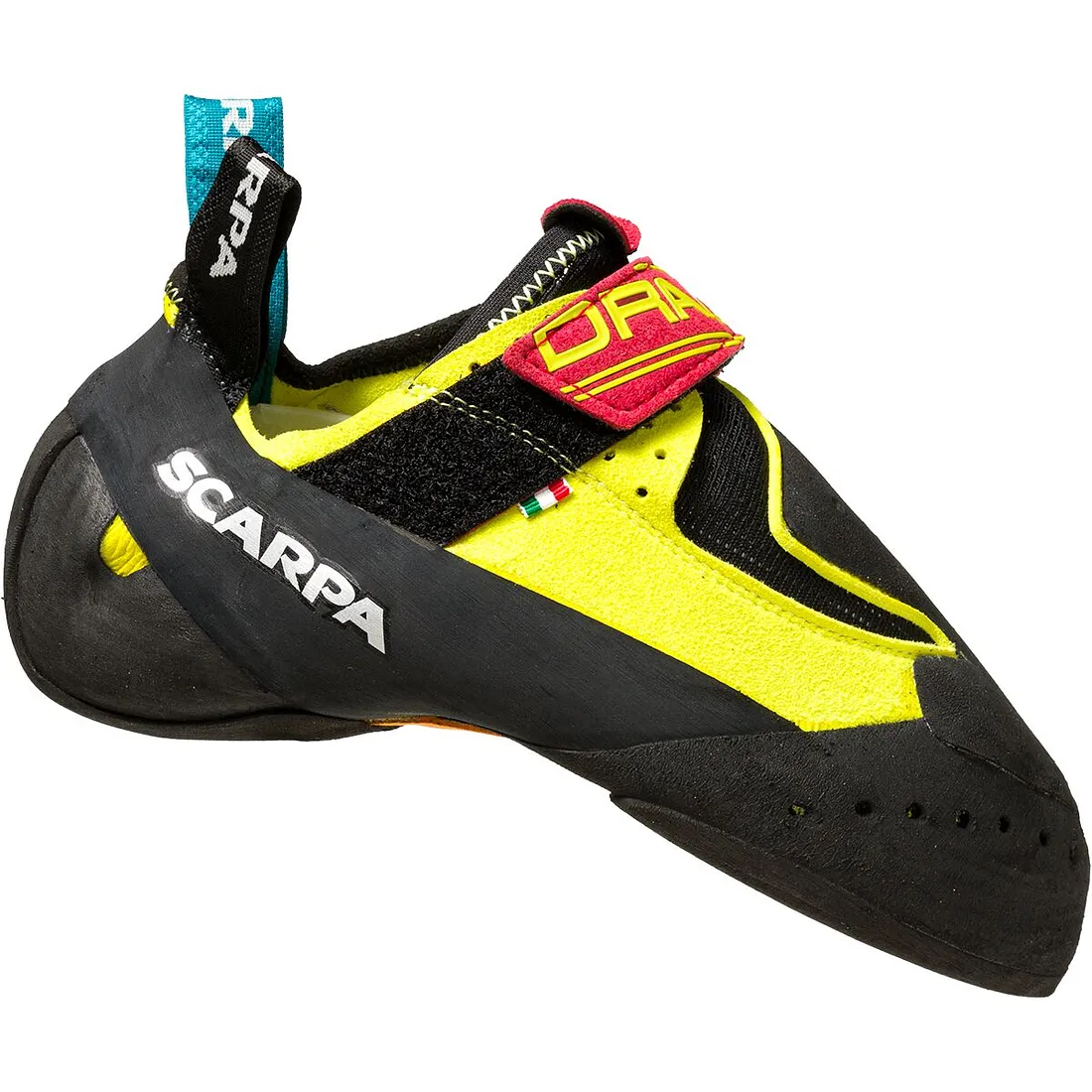 Scarpa Drago
The Scarpa Drago takes the runner-up spot with its unrivaled combination of sensitivity and precision, as many users praise its ability to provide a snug fit and stellar performance on tiny footholds, making it a standout in the market.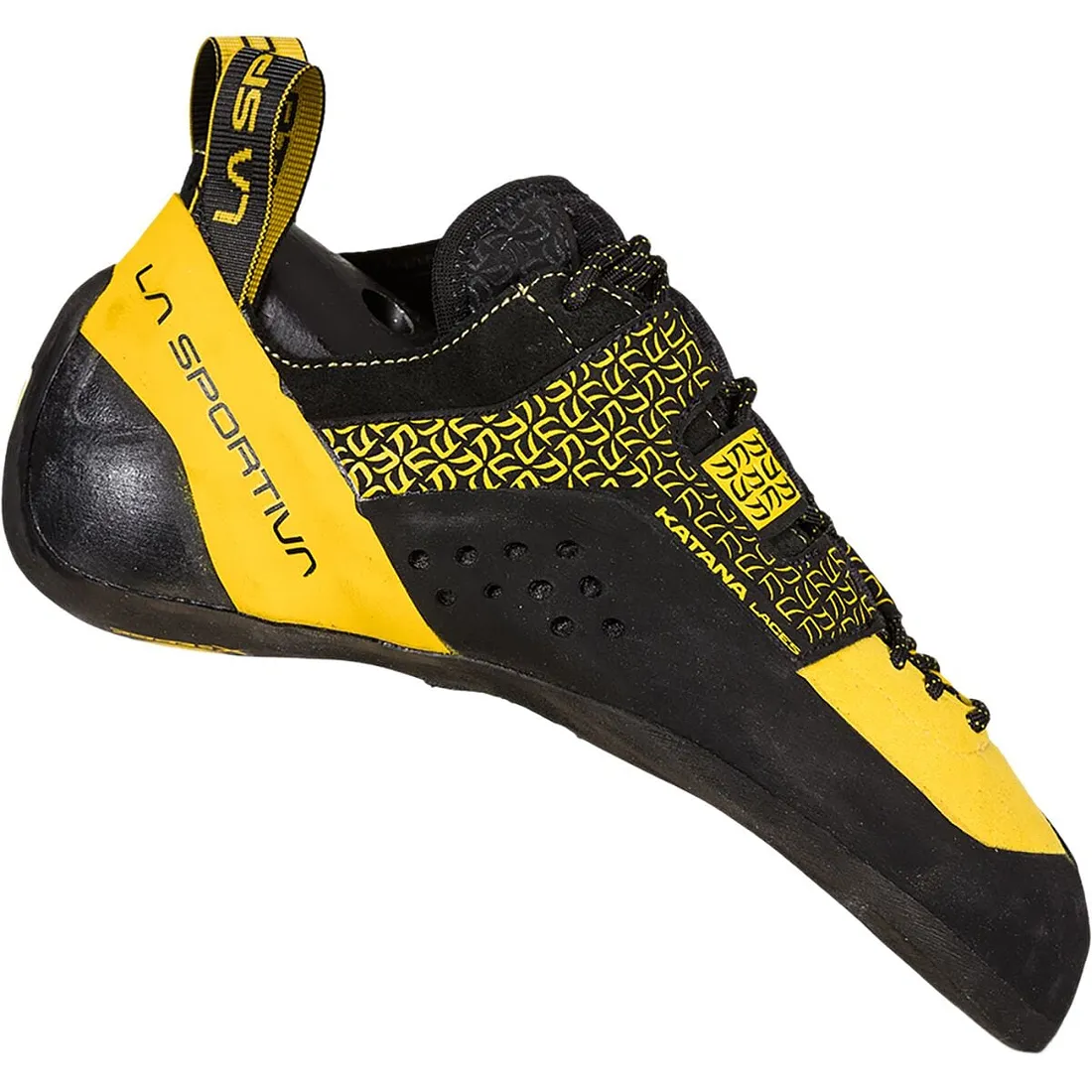 La Sportiva Katana Lace
The La Sportiva Katana Lace nabs our top pick runner-up spot due to their exceptional comfort and versatility, praised in user reviews for providing fantastic grip and precise edging on a wide range of climbs.
What you should look for
(and what we test for)
Fit
The fit of a climbing shoe is a critical factor, it should be snug but comfortable enough to accommodate long hikes or climbs.
Sole
Look for a shoe with a durable yet sticky rubber sole to provide maximum grip on different terrains, whether you're hiking on a muddy trail or scaling a rocky slope.
Material
Choosing the right material matters a lot - generally, synthetic shoes won't stretch, whereas leather ones might give a little bit over time.
Closure system
Take into consideration the closure system; laces provide more adjustable fit, Velcro allows quick put on/take off, and slip-ons are great for speed climbing or indoor bouldering.
La Sportiva Solution Comp
$209.00
The Best Climbing Shoes
Based on our research and testing, we think the La Sportiva Solution Comp are the best Climbing Shoes on the market right now, for anyone looking to play hard outside.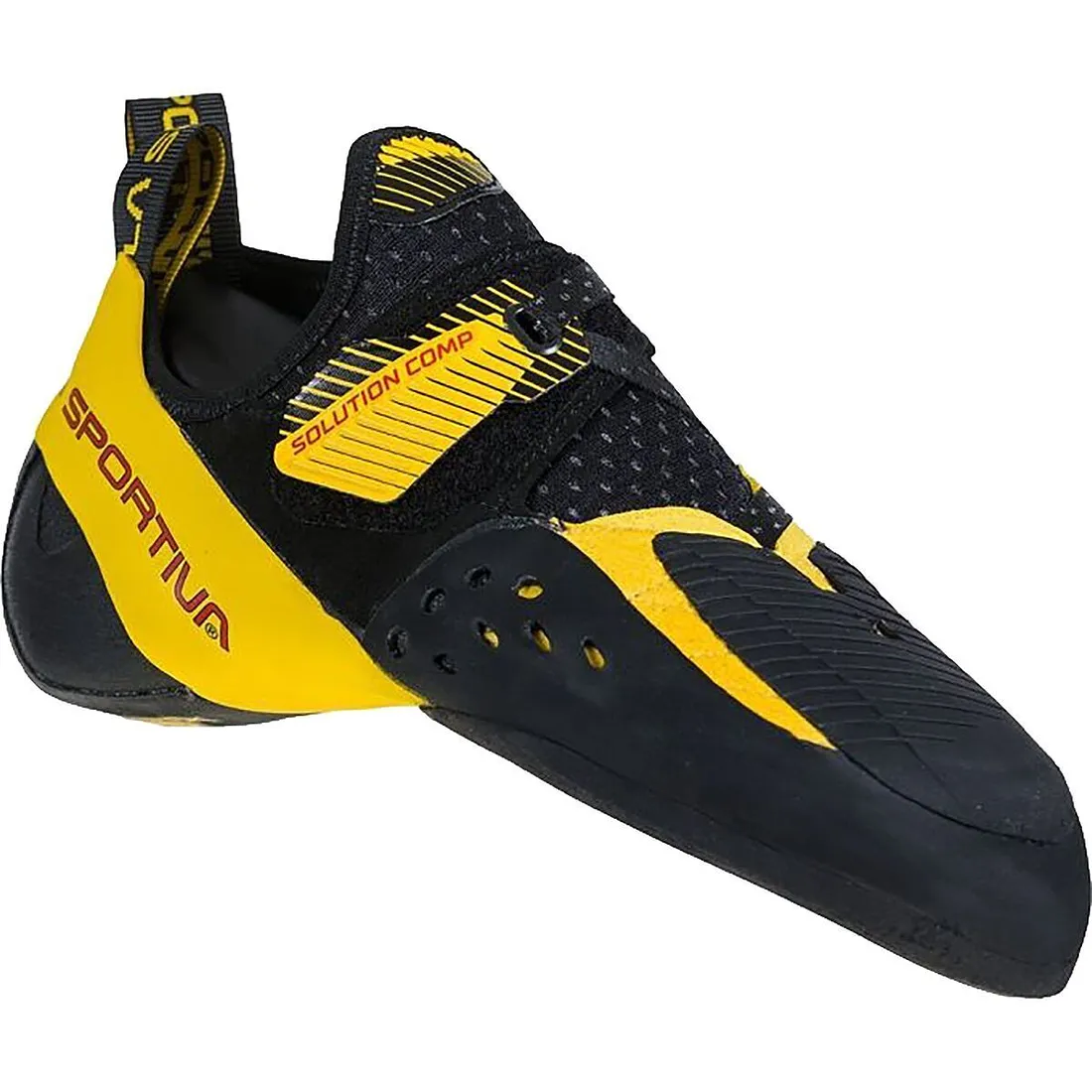 Reasons to Buy
Excellent edging performance

Great sensitivity

Sturdy and durable

Well-designed for competitions

Comfortable and precise fit
Reasons to Avoid
Pricey than other models

Not ideal for crack climbing

May be uncomfortable for wider feet
The Important Specs
Lining:

Unlined

Closure:

Fast lacing system

Sole Rubber:

Vibram XS Grip2

Upper Material:

Leather / Microfiber
Review Roundup
The La Sportiva Solution Comp is a force to be reckoned with in the climbing shoe world. Its aggressive design is crafted with dedicated climbers in mind. The downsized, asymmetric shape alongside a supremely grippy Vibram XS Grip2 rubber sole offers unparalleled precision on the rocks.
One defining feature that caught the attention of many users is the highly adjustable Fast Lacing System. It basically morphs the shoe to the user's foot, offering an impressive, almost custom level of fit. It's a tight shoe, but the cinching system serves to alleviate, rather than exacerbate, potential pain points. This could be a real game changer for climbers with unique feet.
The toe hooking capabilities in the Solution Comp are highly regarded. Thanks to the rubberized upper, users are able to hook and grab with more ease. The heel construction also receives applause. With an exciting tension system, which allowed climbers a more technical heel hook, this shoe supports complex maneuvers with finesse.
On the flip side, some users have commented on the Solution Comp's durability. While most agree the shoe offers exceptional performance, it seems to wear quicker than some alternatives in the market. However, users generally agree that the superior performance somewhat offsets this potential downfall.
Another area where users felt the shoe was lacking is in regards to comfort on longer climbs. Though great for bouldering or shorter, more technical climbs, many users have noted that these shoes are a bit too aggressive for longer multi-pitch climbs.
Crack_Climbing
These shoes are not ideal for crack climbing due to the downturned shape. While they have a sturdy construction that might endure being jammed into cracks, the discomfort may be substantial on routes with a lot of crack climbing involved.
Durability
Built with a combination of leather and microfiber, these shoes have shown to be durable over time. The rubber body of the shoe is sturdy enough to withstand repeated use on a variety of terrain. But of course, as with any climbing shoe, the amount of durability largely depends on how much you climb and on what surfaces.
Edging
The La Sportiva Solution Comp stands out when it comes to edging. The pointed toe design and precise fit allows climbers to stand on the smallest of footholds with confidence. The Vibram XS Grip2 rubber provides excellent grip and the Tension Rand design puts power directly on the edge.
Fit
Thanks to its innovative fast lacing system, this shoe fits snugly on most foot types. However, some users with wider feet have reported discomfort over prolonged use. Overall, it should adapt well to your foot's shape after breaking in.
Sensitivity_And_Feel
These climbing shoes have high sensitivity. La Sportiva Solution Comp lets the climber feel the rock beneath their feet, making it easier to find footholds even on the steepest routes.
Smearing
While these shoes excel at edging, they're not the best for smearing due to the rigid sole. Not saying they can't smear at all, but you might find it difficult to maintain balance on those slick, low-angle slabs.
Value
The La Sportiva Solution Comp is definitely on the higher end when it comes to pricing. But if you're into competitive climbing or enjoy bouldering sessions, you'll find the cost justified by the quality, edging performance, sensitivity and the overall comfort they provide.
Prices
Runner Up
Based on our research and testing, we think the Scarpa Drago are a great choice if you're looking for climbing shoes to go play hard outside with, if our top pick isn't quite what you're looking for.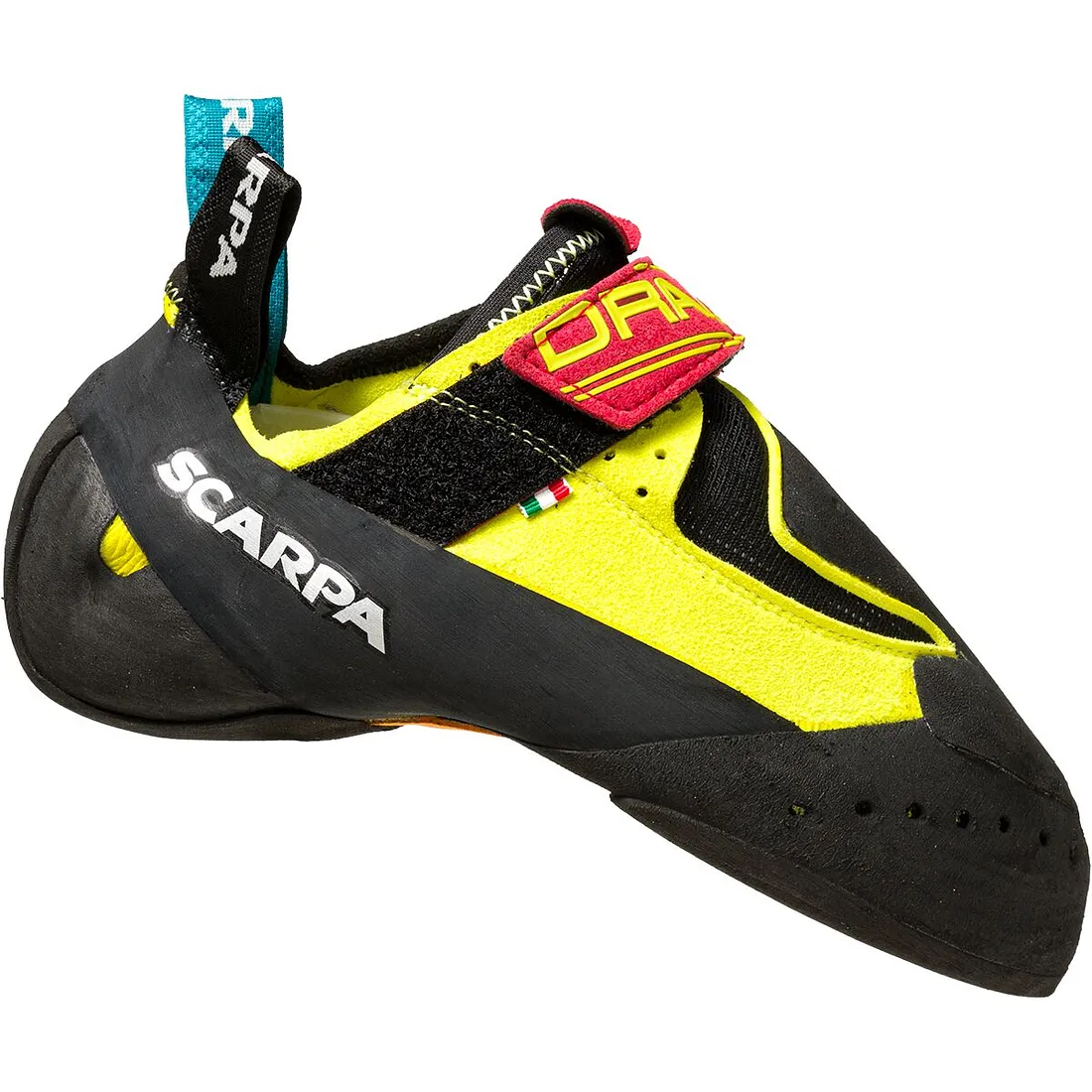 Reasons to Buy
Exceptionally sensitive

Perfect for technical climbing

Durable build

Incredible precision and performance
Reasons to Avoid
Not ideal for beginners

May not be the best option for wider feet

Not the cheapest choice
The Important Specs
Closure:

Single strap with a velcro finish

Sole Material:

Vibram XS Grip2 rubber

Upper Material:

Micro suede
Review Roundup
Wowza, the Scarpa Drago really turned out to be a rockstar in the climbing community! Here's why folks can't stop raving about it. Its soft, sticky rubber is so far a game changer in the climbing shoe industry. It sticks to virtually everything, making it a breeze to get a good grip while climbing. But take a note, folks, these shoes are designed for precision footwork - they aren't your run-of-the-mill all-rounders.
People are all praise for the Scarpa Drago's ability to smear and articulate into the tiniest of pockets. The shoe feels like a literal second skin and adapts to your foot a lot better than most other shoes out there. It's the sensitivity of the shoe that seems to woo climbers - you can really feel the rock under your feet, which gives a sense of safety and balance.
A few buyers did mention that the Scarpa Drago shoes were a bit more expensive than some other brands on the market. But in the same breath, they confirmed the shoes were really worth the extra bucks for the comfort, the phenomenal grip and the overall quality they offer.
Buyers who've invested in the Drago love the fact that it can be used for both indoor and outdoor climbing. The incredibly adaptable features undoubtedly give this shoe an edge over others.
Uh oh, let's not forget that every rose has its thorn. There is a downside to the Drago's softness. Climbers have mentioned they might not be the best bet for edge and crack climbing. Also, the sizing can be slightly tricky - it's snug, and these puppies don't stretch a whole lot. So, size-selection needs some careful consideration.
To sum it up, online reviewers love the Scarpa Drago for its superior sensitivity, amazing fit and bonkers grip. But a potential buyer needs to be aware of its limitations when it comes to edge and crack climbing, and tricky sizing. All in all, the Scarpa Drago seems like a pretty rad investment for most climbers.
Crack_Climbing
Crack climbing might not be Drago's primary intended use. Its downturned design somewhat interferes with comfort and performance in cracks. However, seasoned climbers who are not strictly crack climbers may still see value in them.
Durability
Despite their superb sensitivity, the Drago shoes don't compromise on durability. They endure repetitive use in punishing environments exceptionally well. The quality of materials and craftsmanship definitely contribute to their longevity.
Edging
The Scarpa Drago shines when it comes to edging. With its aggressive form factor and ultra-thin outsoles, it offers excellent force transfer from foot to rock, allowing climbers to confidently edge craggy routes.
Fit
The Scarpa Drago fits like a glove - provided it's a perfect fit! It may run small and narrow for climbers with wider feet. However, when it fits, it wraps around your foot comfortably, barely noticeable when tackling tough routes.
Sensitivity_Feel
Drago is a fan favorite for its sensitivity. The model allows for precise sensing of the tiniest holds and subtlest shifts in the climbing surface. This sensitivity does require an already developed skill set, which is why they might not be the best bet for beginners.
Smearing
Smearing is another area where the Drago excels. The soft rubber soles adhere firmly to smearing surfaces, providing great friction and grip. Therefore, for slab climbers looking for a shoe that can smear effectively, Drago won't disappoint.
Value
No doubt, Scarpa Drago comes at a premium price. But given its superior performance in technical climbing and remarkable longevity, it's a worthy investment for serious climbers looking to advance their climbing endeavors.
Prices
La Sportiva Katana Lace
$219.00
Runner Up
Based on our research and testing, we think the La Sportiva Katana Lace are a great choice if you're looking for climbing shoes to go play hard outside with, if our top pick isn't quite what you're looking for.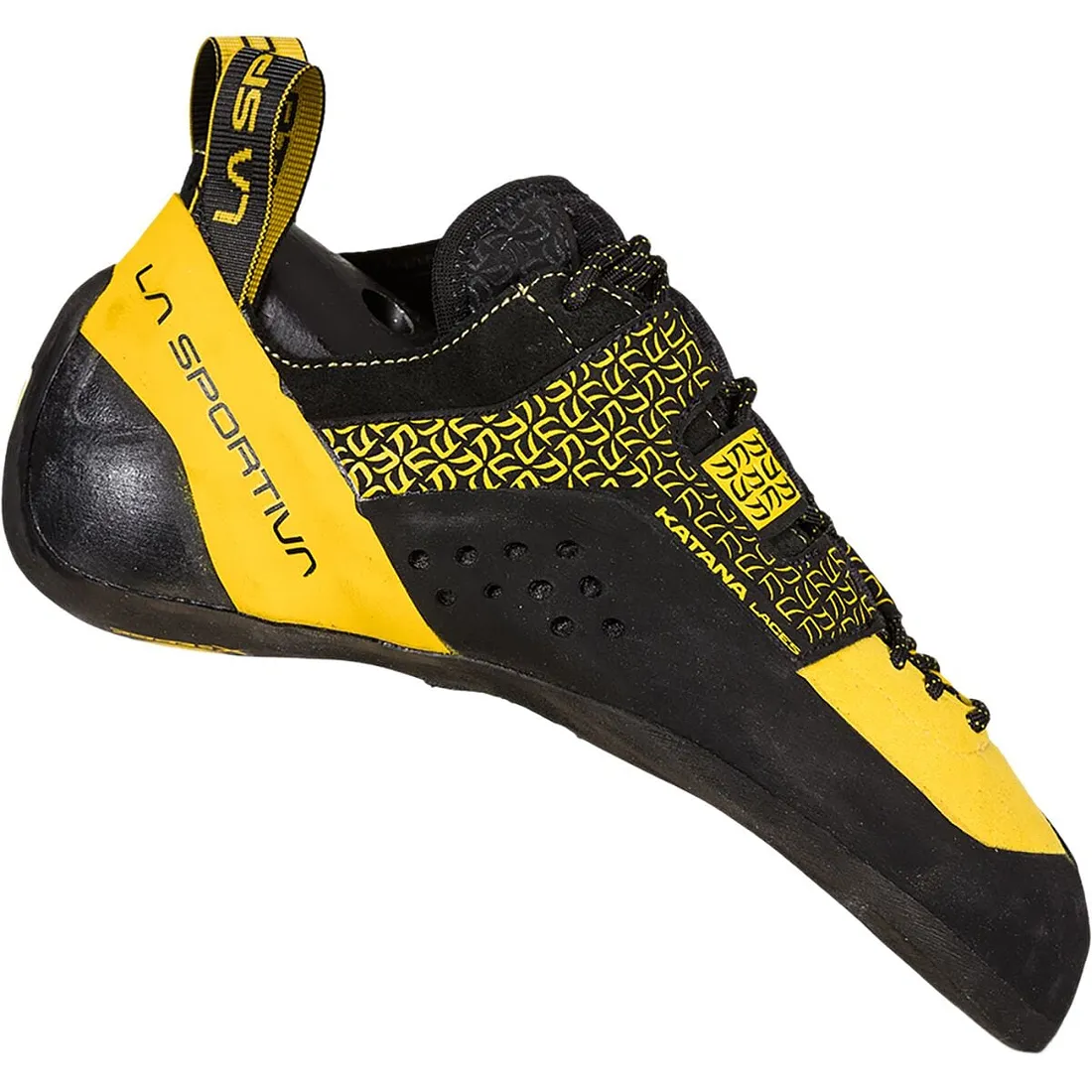 Reasons to Buy
Comfortable for long periods of wear

Versatile in climbing styles

Provides good edging

Durable construction

Excellent sensitivity and feel
Reasons to Avoid
Might be a bit expensive

Varied sizing feedback

Some find them stiff initially
The Important Specs
Sole:

Vibram XS Edge

Closure:

Lace

Material:

Leather/Synthetic
Review Roundup
The La Sportiva Katana Lace has gained a well-deserved spot in the big leagues, being recognized by many in the climbing community for its overall performance. The shoe is built with precision and purpose, providing an excellent choice for climbers looking for a versatile and powerful option.
We've noticed that most users rave about its versatility. Whether it's sport climbing, trad climbing or bouldering, these shoes seem to have the ability to perform well across all climbing disciplines. As one satisfied customer put it: 'These are my go-to shoes for nearly all forms of climbing. They're a true all-rounder.'
Another standout feature that real-life buyers continuously praise is the shoe's comfort. Despite the downturned shape and aggressive profile, users highlight that the comfort level of the Katana Lace far exceeds expectations. This is largely due to La Sportiva's meticulous construction, featuring a slight downturn and asymmetric shape to promote comfort without sacrificing performance. One user noted: 'They grip like a high-performance shoe, but they're comfy enough for all-day climbing.'
Although many users praise the Katana Lace's durability, there are a few who observed that the shoes wear out faster than expected, particularly for climbers who often tackle rough terrain. One buyer mentioned: 'I love these shoes, but I had to get them resoled earlier than I thought I would.' Keep in mind that any shoe's lifespan can vary greatly based on the type of climbing and frequency of use.
As with any product, there were a few who found the shoe's sizing challenging. While some found the shoe to be true to size, a number have noted the Katana Lace runs small. It's suggested to try them on in a store or purchase from a retailer with a solid return policy, because finding the right fit might take a couple of tries.
The one feature that almost all climbers can agree on is the Katana Lace's stellar performance on edges. Its ability to bear down on tiny footholds has been lauded by both newbies and veterans in the climbing world. One seasoned climber stated: 'I've never felt more confident on micro edges. These shoes really shine in edging!'.
Crack Climbing
The shoe performs well in crack climbing due to its slightly downturned shape, allowing for precision foot placements. However, it might be a tad uncomfortable in extremely thin cracks.
Durability
The La Sportiva Katana Lace excels in durability. Its leather upper and Vibram XS Edge rubber sole hold up well and can withstand frequent, rough use. There is also a generous rand that ensures the shoe lasts long even with rigorous climbing.
Edging
The Katana Lace holds an edge brilliantly, especially on small footholds. This is mostly due to its Vibram XS Edge sole which is specially designed to grip the rock. It solidly holds on edges and prevents foot fatigue even during long climbs.
Fit
Customers varied in their feedback on the Katana Lace's fit. While some praised its comfortable, glove-like fit, others mentioned needing to size down for the perfect fit. It may be stiff initially but molds to the foot nicely with successive wears.
Sensitivity & Feel
Made with a combination of synthetic and leather materials, the Katana Lace provides a great feel and sensitivity on the rock. The P3 midsole gives the shoe a solid structure while maintaining a good level of sensitivity.
Smearing
Smearing is another aspect where the Katana Lace shines. Its Vibram XS Edge sole provides a good amount of grip and friction, making smearing a breeze on even slippery terrain.
Value
While the Katana Lace falls on the pricey side, its versatile performance and durability justify the investment. With good care, these shoes will last long and serve well in various climbing scenarios.
Prices
La Sportiva Finale
$129.00
Best Budget Climbing Shoes
Based on our research and testing, we think the La Sportiva Finale are a great pick if you're looking for climbing shoes that are more budget friendly, without sacrificing too much in quality.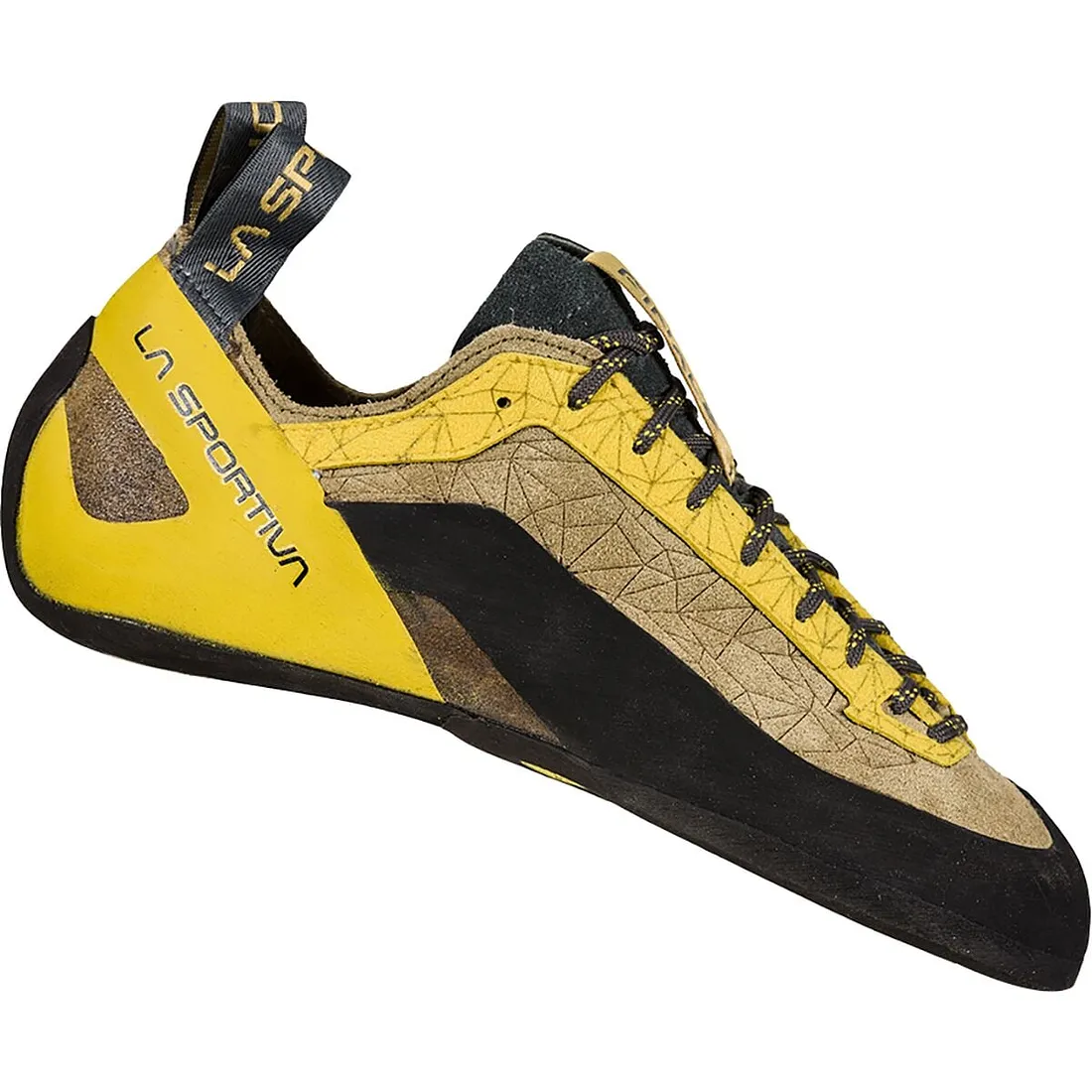 Reasons to Buy
Affordable

High quality materials

Versatile design suitable for different climbing activities

Comfortable fit even when worn for extended periods
Reasons to Avoid
Not recommended for very advanced climbers

Could be too narrow for select individuals

Lacks sensitivity for detailed footwork
The Important Specs
Closure:

Lace-up

Outsole:

Vibram XS Edge rubber outsole

Material:

A synthetic suede and leather upper
Review Roundup
The La Sportiva Finale is a real find for climbing rookies or even for regulars looking for an affordable alternative. The Finale is notable for its stiff build which offers extended support for long climbs or extended practice sessions. This feature is a favorite among beginners who are still acquiring foot strength. What's more, these shoes can stand the test of time, and a lot of users have attested to their significant lifespan which makes every penny worth it.
On another note, it's important to consider the Finale's sizing. Many reviews indicate the need to go half to a full size up from your usual as the shoes tend to be a bit on the snug side. On the other hand, these shoes are very comfortable, even when worn for longer periods. Astoundingly, even with its rather tight fit, there have been few complaints about discomfort.
While the Finale proves its value and durability, be aware that its performance slightly lags on more technical or overhanging climbs. Some users found its edging ability slightly lacking, possibly due to its emphasis on comfort. Therefore, those who consistently climb steep terrains might want to check out other options.
Finally, one can't help but appreciate the Finale's eco-friendly approach. According to buyers' reviews, the shoe comes with a biodegradable leather-and-synthetic upper and eco rubber. With the climbing community becoming more conscious of their environmental footprints, this green touch definitely puts the Finale a step ahead.
Crack Climbing
The shoe's durable leather upper provides good protection in crack climbing. Although not specifically designed for crack connoisseurs, it has held up well in this aspect according to most buyers.
Durability
Made with quality suede and leather, the La Sportiva Finale scores high on durability. It's built to take a beating from indoor gym climbing to outdoor multi-pitch routes. However, a handful of buyers did report rapid wear in high-stress areas.
Edging
The La Sportiva Finale performs nicely on edges. Thanks to its Vibram XS Edge rubber outsole, users can comfortably grip onto tiny ledges. Some buyers, however, mentioned a bit of a struggle on microscopic edges.
Fit
With a comfortable, unlined leather upper, the shoe takes a bit of time to break in but, once achieved, provides a good, snug fit. Some buyers have reported concerns with the size running small and narrow.
Sensitivity & Feel
While being a stiffer shoe, the La Sportiva Finale takes a bit longer to break in. Therefore, sensitivity and feel might not be its strong suit initially. Once broken in, climbers reported decent 'feel' but not as sensitive as high-performance models.
Smearing
The Vibram XS Edge rubber, despite being engineered for edging, still offers decent smearing capabilities. While not top of its class in this department, it's more than capable for most climbers' needs.
Value
For its price point, La Sportiva Finale offers a fantastic balance of durability, comfort, and performance. This shoe makes an excellent choice for beginner and intermediate climbers looking to step up their game without breaking the bank.
Prices
La Sportiva Tarantulace
$89.00
Best Climbing Shoes for Beginner
Based on our research and testing, we think the La Sportiva Tarantulace are a solid choice if you want climbing shoes that's really well suited to Beginner.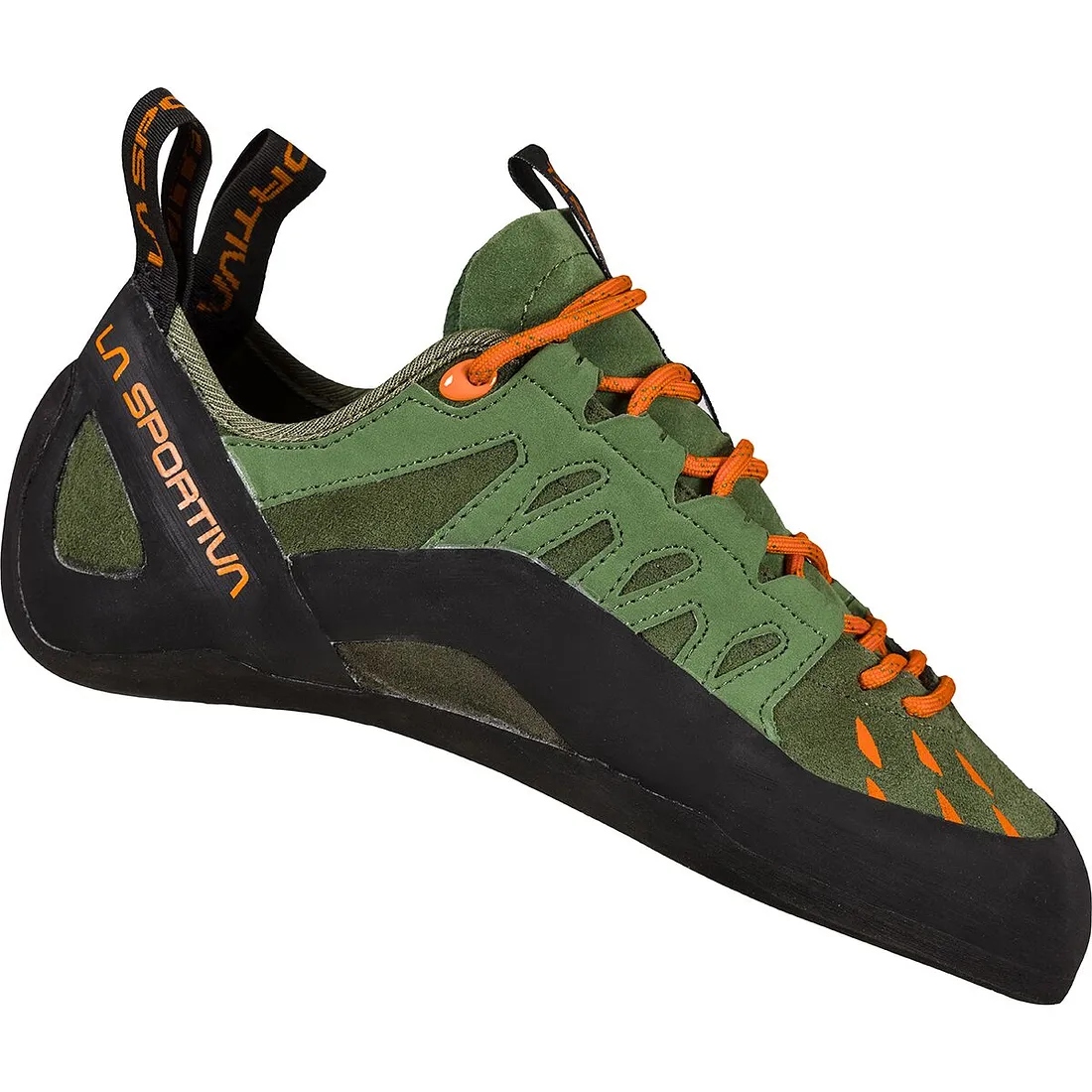 Reasons to Buy
Great for beginners

Comfortable for long hours of wear

Provides good grip on various surfaces

Affordable
Reasons to Avoid
Not suitable for very technical climbs

Might feel a bit stiff initially

Some complaints about size inconsistencies
The Important Specs
Sole:

FriXion RS

Upper:

Unlined leather

Closure:

Lace up
Review Roundup
The La Sportiva Tarantulace is an ideal choice for beginners jumping into the climbing sport. Its snug, comfortable fit makes it the perfect companion for those making their debut on the rocks. The shoe gives you a lot joy since it is designed to help you focus on proper footwork and general climbing techniques.
These shoes are built with unlined leather upper that provides a breathable environment and a comfortable feel for climbers. One considerable detail is the quick pull lacing harness that allows for precise regulation of inner volumes, which makes putting them on or taking them off very easy. This is a big plus for people new to climbing.
A vast number of reviews online praised the versatility of the La Sportiva Tarantulace. It's been called a jack-of-all-trades because of its ability to handle a wide range of climbing environments, including the gym, boulders and crack climbs. While it might not be the ultimate specialized shoe for veteran climbers, it's definitely an all-rounded rock star for beginners.
Quite a number of reviewers lauded the long lifespan of these shoes. They are made to withstand abuse, so you can expect them to serve you well as you learn the ropes. But here's a head's up - they do have a bit of a break in period, so you might want to wear them around the house before your first climb.
In terms of price, customers viewed the La Sportiva Tarantulace as good value for money. They come at a reasonable cost and do not compromise on quality, durability, or performance. Perfect for those who don't want to break the bank before they know if climbing is for them.
Reviewers did, however, mention a few downsides. Some found the shoe to run a bit small and suggested ordering a size up. In addition, although performing well in a variety of climbing scenarios, some experienced climbers felt that the shoes lacked the precision required for more advanced climbs.
Crack Climbing
With their robust construction and protective upper, these shoes offer an impressive performance in crack climbing. They are good at protecting climbers' feet from the harshness of the cracks. But the shoe's wide profile can sometimes limit the sizes of cracks you can insert your foot into.
Durability
The combination of the unlined leather upper and the durable FriXion RS soles makes these climbing shoes robust and long-lasting. Many users reported that these shoes held up well even after months of regular use. But like all climbing shoes, the longevity really depends on how and where you use them.
Edging
The La Sportiva Tarantulace perform well on most climbing surfaces, providing good edging capabilities. The stiff soles help climbers to confidently stand on edges. However, they might not deliver the desired performance on very thin edges due to their design for beginner climbers.
Fit
Most users rave about the comfortable fit of the shoes, especially for long climbing sessions. The lace-up design allows for micro-adjustments, enabling users to get a secure yet comfortable fit. Yet, there were occasional complaints about sizing inconsistencies, suggesting it's best to try them on before finalizing the purchase.
Sensitivity & Feel
Even though the La Sportiva Tarantulace are more comfortable than some more aggressive climbing shoes, they still offer a decent feel of the surface beneath them. However, some users have commented that the shoes lack perfect sensitivity.
Smearing
The La Sportiva Tarantulace has a relatively stiff sole which proves to be beneficial in edging scenarios but might limit its smearing capabilities. Some users mentioned that smearing on very slick surfaces was a challenge.
Value
As a beginner's climbing shoe, the La Sportiva Tarantulace offers superb value. They are affordable, durable, and offer good performance, making them a great starting point for many novice climbers.
Prices
Scarpa Instinct VS
$209.00
Best Climbing Shoes for Bouldering
Based on our research and testing, we think the Scarpa Instinct VS are a solid choice if you want climbing shoes that's really well suited to Bouldering.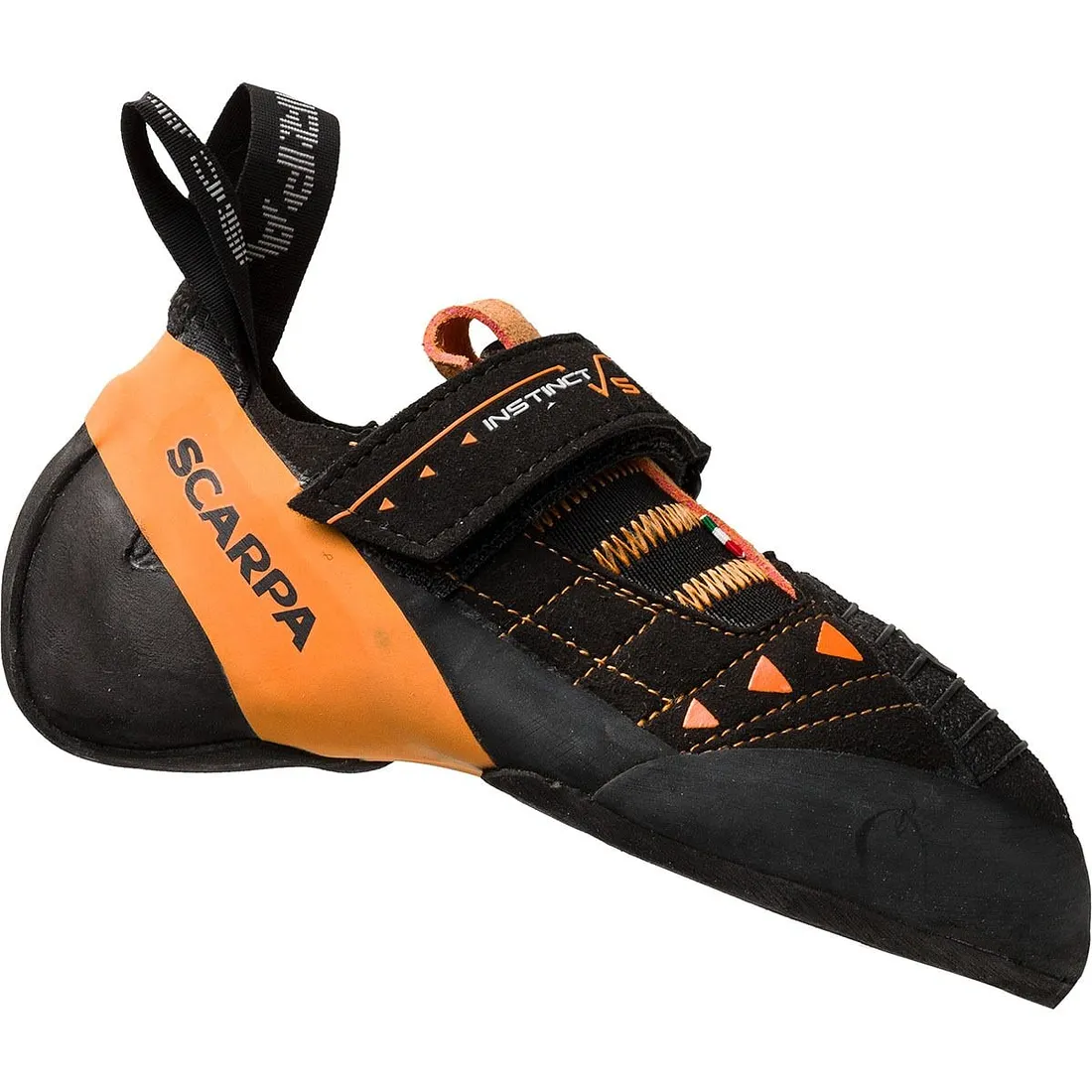 Reasons to Buy
Excellent edging capability

High performance for bouldering

Comfortable fit even during long climbs

Durable and long-lasting
Reasons to Avoid
May not be ideal for wide feet

Initial break-in period could be uncomfortable

On the expensive side
The Important Specs
Upper:

Microsuede

Closure:

Velcro Strap

Profile:

Aggressive downturned

Material:

Vibram XS Edge Rubber
Review Roundup
The Scarpa Instinct VS is one heck of a high-performance shoe that does everything from edging on micro holds to grappling with granite cracks. This model has secured its spot as a fan-favorite with many customers applauding its versatile functionality.
These shoes really do give the feel of an 'instinctive' approach, partly due to its bi-tension randing system that wraps around your foot. Bouldering buffs, in particular, are full of praise for their 'toe down' design allowing maximum power to be driven through your toes. When you're clinging onto the tiniest of holds, that's a set up that means the difference between slipping off or hanging on tight.
The Vibram XS Edge rubber – found in the sole of Scarpa Instinct VS – is another big selling point. Reviewers have praised it for the grip and durability it offers to climbers. While some shoe soles would crumble under the pressure, the Scarpa Instinct VS stands tall, ready to take you to new heights.
But don't think that this super durable rubber comes at the expense of comfort. The snug fit it offers means your feet sit comfortably inside the shoe, although some customers have mentioned the sizing runs slightly small. Time spent breaking in the shoes is a common gripe with rock climbing shoes, but with the Scarpa Instinct VS, users have generally found that they mould to the feet pretty well.
However, it's important to mention that some reviewers have opined that these shoes may not be the optimal match for climbers with wider feet, so that's something to keep in mind. They've also raised flags about the lack of breathability, which could be a turn-off for climbers who sweat a lot or for longer climbing sessions.
The price point sits higher than some other climbing shoes on the market, but many customers believe that the Scarpa Instinct VS's performance extras make up for the additional investment due to their high-performance, adaptable nature and durability.
Crack Climbing
While they are not primarily designed for crack climbing, the Scarpa Instinct VS holds its own in this category. The upper microsuede provides some comfort in thin cracks, but the aggressive downturned profile might be less comfortable in prolonged vertical crack climbs. However, for occasional crack climbs, these shoes do just fine.
Durability
These shoes really shine when it comes to durability. The mix of Vibram rubber and microsuede upper assure that these shoes will last long even under extreme climbing situations. No significant wear and tear issues have been reported in the majority of online reviews.
Edging
The Scarpa Instinct VS performs exceptionally well in edging. Thanks to the Vibram XS Edge rubber, these climbing shoes provide powerful edging support. This maximizes grip on small holds and ledges, allowing for precise foot placements on tough routes, making it a top choice for bouldering and sport climbing.
Fit
The Scarpa Instinct VS is well-known for its comfortable fit. It features a velcro strap closure system that gives a secure fit and makes it easier to put on and remove the shoes. However, climbers with wider feet might find them a bit snug. The break-in period might also be uncomfortable, but once done, the shoes offer great comfort.
Sensitivity & Feel
The performance in terms of sensitivity and feel is pretty impressive. These shoes offer a nice balance between stiffness for edging and sensitivity for feeling the rock. The aggressive shape gives a good feeling of grip, while the rubber is thick enough to guard against sharp points but thin enough to feel what you're standing on.
Smearing
The smearing capability of these shoes is above average. The Vibram XS Edge rubber gives a great sticky grip on smooth surfaces, making it easy to press and smear the shoe's bottom on the rock. However, the downturned profile can limit some smearing performance on less steep terrain.
Value
Considering the high performance, superior quality, and durable construction, the Scarpa Instinct VS might seem a bit pricey. However, for those looking for an exceptional bouldering shoe that thrives in challenging climbs and lasts long, it represents a good investment.
Prices
La Sportiva TC Pro
$219.00
Best Climbing Shoes for Trad and Crack Climbing
Based on our research and testing, we think the La Sportiva TC Pro are a solid choice if you want climbing shoes that's really well suited to Trad and Crack Climbing.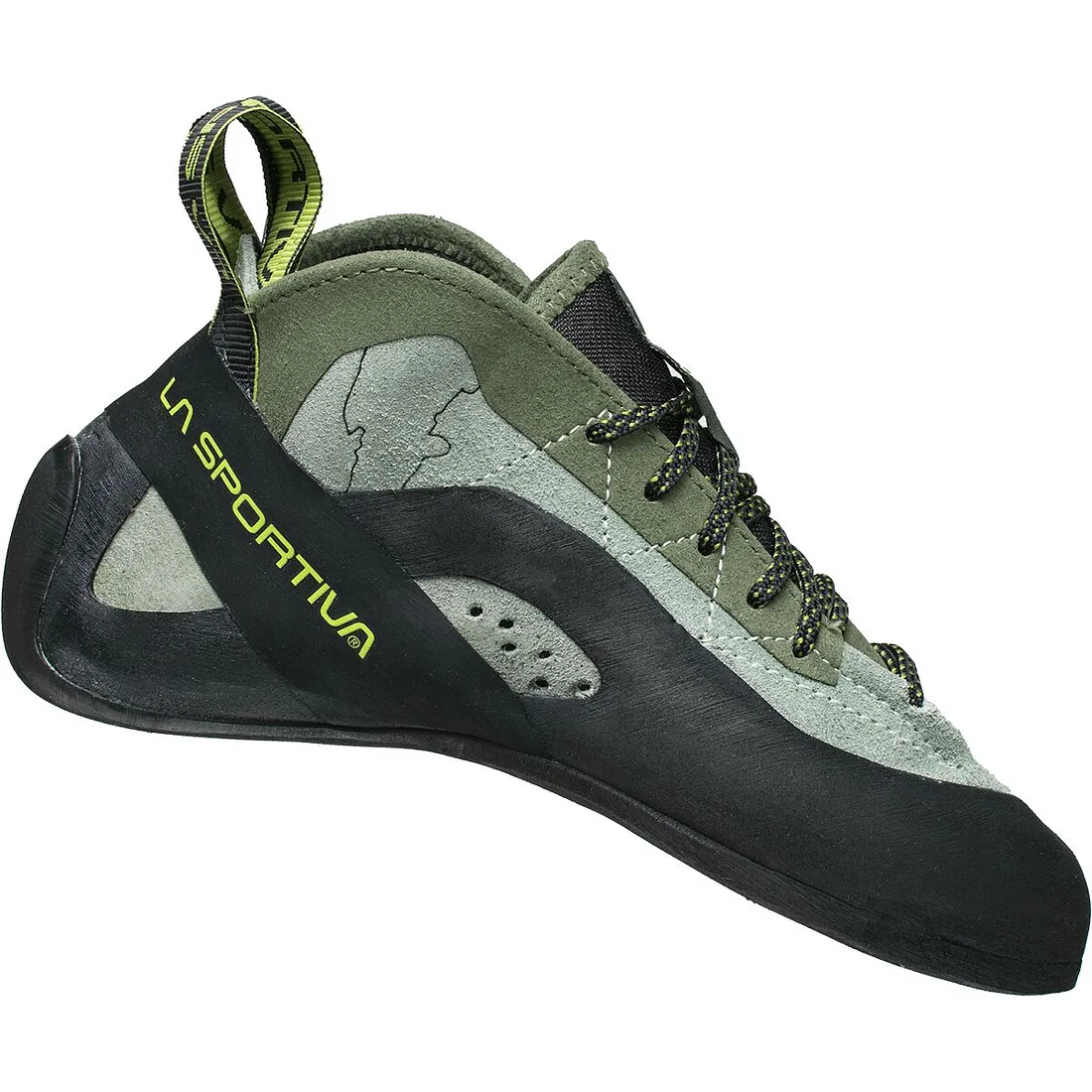 Reasons to Buy
Great edging

Ideal for trad climbing

Superb durability

Good value for money

Fit is true to size
Reasons to Avoid
Not sensitive enough for some climbers

May not be ideal for wider feet

Takes time to break in
The Important Specs
Sole:

Vibram XS Edge

Closure:

Lace-up

Material:

Leather with Vibram rubber rand and soles
Review Roundup
The La Sportiva TC Pro is a stellar performer when it comes to trad and crack climbing shoes. Designed with professional climber Tommy Caldwell, these shoes are meticulously tweaked to offer superior functionality and comfort. They've been hailed by industry professionals as one of the most capable climbing shoes you can get your hands on.
Climbers love the La Sportiva TC Pro for its ability to protect their feet during extended climbing sessions, thanks to its thick, yet sensitive soles. These shoes are designed to fit like a glove, providing a snug, yet comfortable fit so you can focus more on your climbing than the discomfort in your feet.
The upper part of the shoe made from durable leather combined with Vibram rubber soles adds up to a sturdy, long-lasting shoe that doesn't give up on you mid-climb. Because of the flat profile, users have mentioned that they can stand on tiny edges and jam into cracks without the undue strain on their feet. The padded tongue is also seen as a win-win, effectively shielding your feet from sharp and painful jamming experiences.
Another noteworthy feature, according to our readers, is the high ankle coverage. It gracefully defends against painful abrasions while shimmying up rough cracks, making your climbing experiences less about battling shoe-bites, and more about the triumphs of successful ascents.
With that said, a couple of users have pointed out minor drawbacks. Firstly, the TC Pro is a bit on the pricier side. For budget climbers who are just starting off, this could be somewhat of a deterrent. Additionally, some find the breaking in period of the shoes a bit longer than they would prefer. However, once broken in, the pair fits like second skin, as per numerous reviews from satisfied users.
While most agree that it excels in long multi-pitches and crack climbing, there is a slight division of opinion on its performance in situations like steep sport routes or overhanging terrains where more aggressive shoes might have an upper hand.
All in all, users of the La Sportiva TC Pro commend it for being a well-rounded climbing shoe with outstanding comfort, protective capabilities, and precision in crack climbing and pitches. Despite its few shortcomings, it remains a popular choice for its versatility and robust construction among seasoned climbers.
Crack Climbing
The TC Pro excels in thin cracks and off-widths due to its high-top design and padding around the ankles. The shoe creates a barrier between your foot and the rock, reducing pain and discomfort associated.
Durability
One shining point for the TC Pro is its durability. The shoe is made to stand the test of time, owing to the robust leather upper and the Vibram rubber rand and soles. The dense rubber may wear down slower even with heavy use.
Edging
Edging in the TC Pro is exceptional, thanks to the very stiff Vibram XS Edge sole. The front platform gives climbers confidence when standing on small edges. However, the stiffness may reduce sensitivity for some climbers used to softer shoes.
Fit
With a flat profile and asymmetrical shape, the TC Pro provides a comfortable fit that's true to size. But the shoe may not suit individuals with wider feet, as it tends to be on the narrow side. The significant break-in period is also worth noting.
Sensitivity & Feel
Some climbers have expressed that the shoe is less sensitive compared to softer, more aggressive models. However, they also note that this shoe provides a stable and reassuring feel during prolonged climbs.
Smearing
Smearing capability is good, although not the best. However, it's sufficient for most climbing styles and terrains, especially on slabs and multi-pitch climbs where smearing is necessary.
Value
The La Sportiva TC Pro is an investment. Despite being more expensive than many other models, climbers deem it to provide good value for money given its durability and stellar performance in trad climbing and crack climbing.
Prices
Best Climbing Shoes for Sport Climbing
Based on our research and testing, we think the Tenaya Tarifa are a solid choice if you want climbing shoes that's really well suited to Sport Climbing.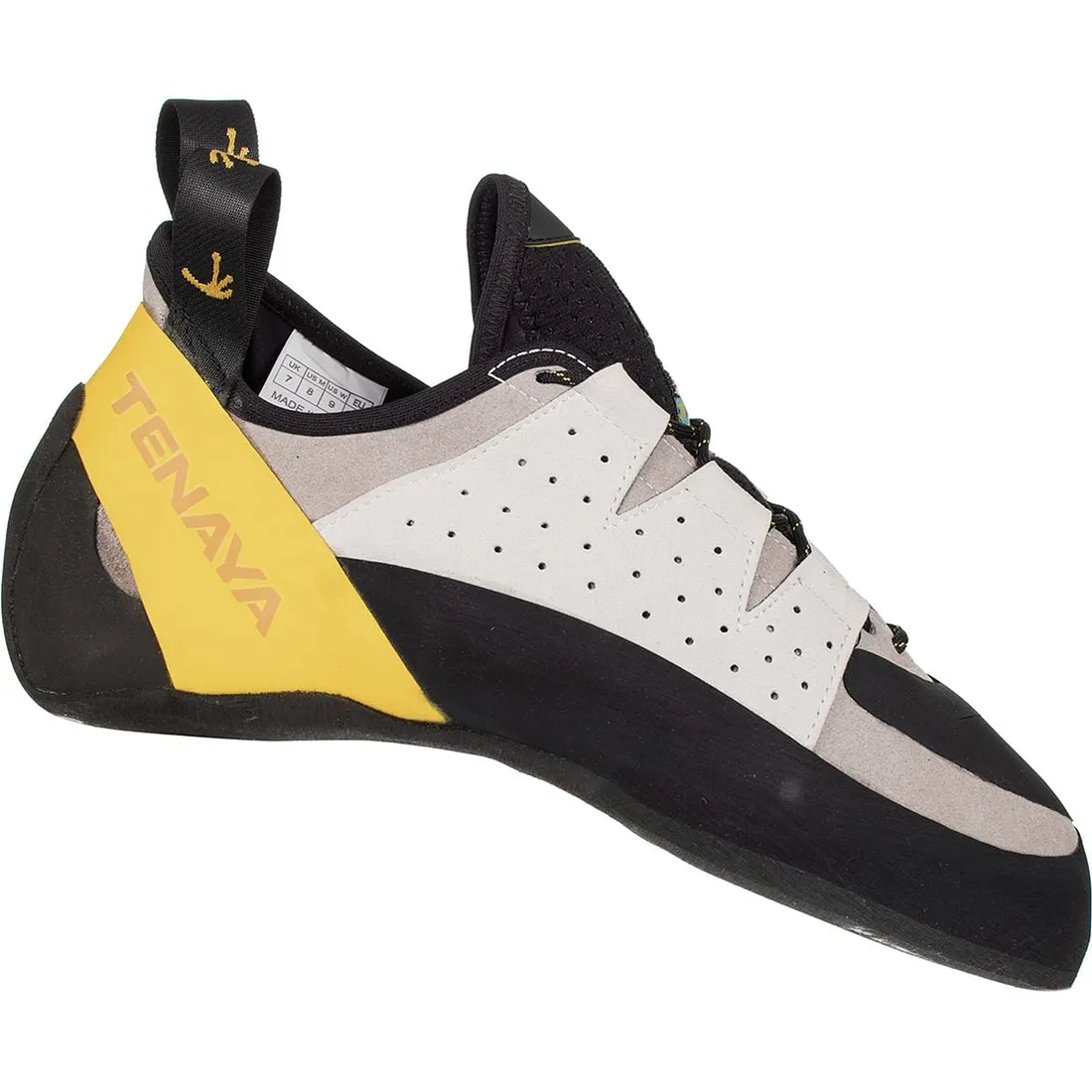 Reasons to Buy
Impressive edging abilities

Good for steep routes

Excellent fit

Remarkable sensitivity
Reasons to Avoid
Carbon lining may be too stiff for some users

Not the best choice for crack climbing

Durability could be better
The Important Specs
Sole:

Vibram XS Grip 3.5mm

Closure:

Patented figure 8 pull system

Materials:

Microfibre upper and cotton lining with TXT treatment

Last Shape:

Asymmetric
Review Roundup
The Tenaya Tarifa climbing shoe is not just another climbing shoe. It emerges as a unique blend offering both comfort and performance – a trait that has won it countless fans among climbing enthusiasts.
After having searched through numerous online purchases and reviews of this product, one thing stands out: users are pretty fond of the Tenaya Tarifa. This is primarily due to the shoe's super snug fit, as numerous climbers have described it as a 'second skin'. The shoe adapts to the shape of the foot, thereby providing unparalleled comfort, even when clinging to edges and balancing on tiny footholds.
What makes the Tenaya Tarifa worth its price, is the shoe's great versatility. It transitions smoothly from indoor bouldering events to outdoor sport climbing scenes, almost effortlessly. Customers appreciate this flexibility and see it as great value for money.
Even though it excels in many departments, the Tenaya Tarifa is not without its drawbacks. Some users have mentioned that the shoe's edging capabilities could be better. Additionally, a few users also express concerns about the durability of the shoe's toe rubber, especially under extensive use.
Many climbers are appreciating the shoe's moderate downturn and relatively flat profile, allowing for enhanced comfort on long climbs. Users also note that the shoe is not as aggressive as some counterparts, yet manages to maintain a high performance level.
Several users have talked about its rapid break-in period, which is a major advantage. Nonetheless, some users have also mentioned that the shoe may tend to stretch after a while, necessitating a size down.
Overall, the Tenaya Tarifa has garnered applause for its comfort and versatility across various climbing terrains. Some minor issues regarding edging and durability have been spotted in online reviews, but they seem to be far outweighed by the positive responses this climbing shoe has received.
Crack Climbing
For crack climbing, the Tenaya Tarifa doesn't shine as much. The shoe's emphasis on edging and steep terrain means it's less designed for thinner, vertical cracks. The edge-focused design causes discomfort and lacks protection, with many users mentioning that this isn't the best choice for dedicated crack climbing.
Durability
Durability is one area where these shoes fall a bit short, according to users. While not terrible, the Tenaya Tarifa has been reported to wear out more quickly than some other high-performance climbing shoes. However, this should be balanced against their performance benefits.
Edging
In terms of edging, the Tenaya Tarifa is magnificent. The shoe's stiff design and patented closure system provide the solid base needed for unparalleled precision. Users report having high confidence when edging, even on tiny footholds, thanks to this shoe's firm yet sensitive grip.
Fit
One of the top-rated aspects of the Tenaya Tarifa is its fit. With an ideal combination of comfort, performance, and reasonable break-in period, the shoes are loved by many users. The patented closure system allows for easy adjustment, meaning a perfect fit that molds to the shape of your feet.
Sensitivity & Feel
Despite their stiff build for solid edging, the Tenaya Tarifas are surprisingly sensitive. Users highly praise the shoe's ability to feel the rock and grip lightly on even the slimmest of holds. This level of sensitivity gives climbers the feedback they need to make efficient and precise movements.
Smearing
Smearing is another area where the Tenaya Tarifa performs well. The Vibram XS Grip sole helps the shoe adhere to the rock even when there isn't a proper foothold in sight.
Value
The higher price point of the Tenaya Tarifa might pose a barrier to some climbers. However, for those in need of a shoe that excels at edging and steep routes, the Tarifa offers value for money. It's a specialist shoe, and for those who need its specific skill set, it's worth the cost.
Prices
Best Climbing Shoes for Indoor Climbing
Based on our research and testing, we think the Scarpa Veloce are a solid choice if you want climbing shoes that's really well suited to Indoor Climbing.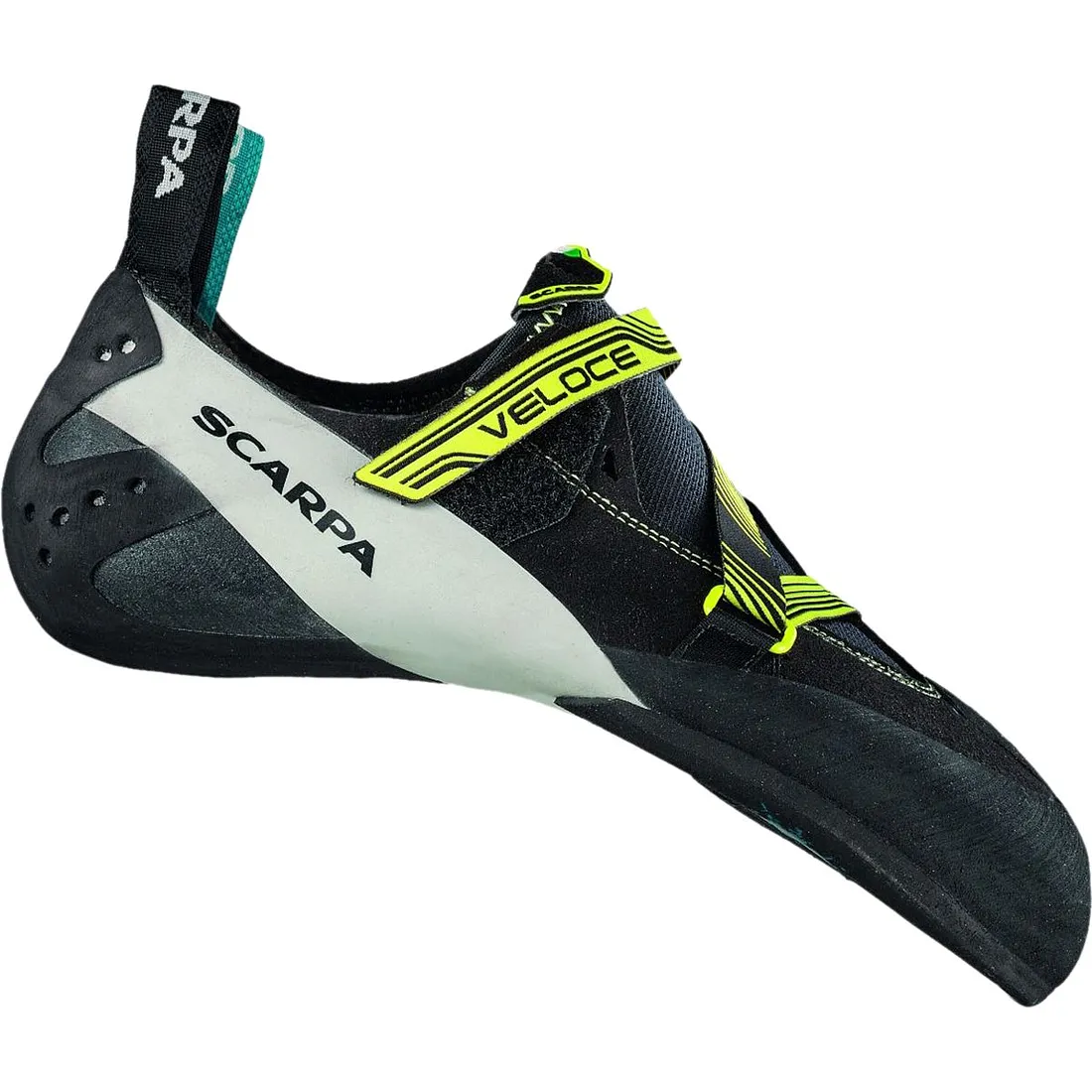 Reasons to Buy
Excellent for indoor climbing

Comfortable for long periods

Great edging and crack climbing performance

Offers good sensitivity and feel

Affordable
Reasons to Avoid
May not be as durable as other brands

Not ideal for outdoor climbing

Sizes run small
The Important Specs
Sole:

Vibram XS Edge

Lining:

Unlined

Closure:

Velcro

Material:

Synthetic
Review Roundup
The Scarpa Veloce is a darling in the realm of indoor climbing shoes, earning itself a solid reputation amongst experienced climbers and beginners alike. Billed as an all-around climbing shoe for premium indoor performance, it does live up to its promises on a multitude of fronts.
Kicking off with comfort - one of the most crucial characteristics in climbing shoes - several user reviews praised the gear for its exceptional level of comfort. Even those new to the sport found the Veloces soft and cushy without sacrificing sensitivity. The cushioned heel, in particular, won big points from climbers who had issues with other brands causing discomfort.
In terms of flexibility, a lot of customers reported the Scarpa Veloce provides unlikely amounts of scope to flex and bend. They also gave the shoes a thumbs up for the quality material, which doesn't stretch out too much over time - a common worry among the climbing camp.
Speaking of the actual climbing experience, users found the Veloce grip very effective on a range of surfaces. The Vibram XS Edge rubber outsole was highly praised for offering a perfect blend of stickiness and durability. A few reviews, however, felt that the shoe's performance on tiny holds and overhanging climbs was not as outstanding as on other surfaces.
A significant number of reports confirmed that the Scarpa Veloce offers good breathability. Thanks to the uppers made of synthetic microsuede, climbers haven't found their feet heating up or sweating excessively - an often overlooked but crucial detail, especially for lengthy climbing sessions.
However, like most climbing gears, the Scarpa Veloce is not without its fair share of negatives. A number of users cited that the shoe runs small, suggesting that you might want to consider sizing up. Also, some climbers felt the need of a more aggressive downturn for steeper climbs - although this might be more of a personal preference than a universal drawback.
Crack Climbing
The performance of Scarpa Veloce in crack climbing received mixed reviews. While some users found them great in cracks, others thought they lacked a bit in this area due to their slim design and thick rand rubber.
Durability
Durability seems to be a point of contention among Veloce users. While some found that the shoes held up well over time, others reported premature wear and tear. This might be a bigger concern for avid climbers who will put a lot of wear on them.
Edging
The Scarpa Veloce excels at edging. Its Vibram XS Edge sole makes standing on tiny footholds feel secure and comfortable, which is crucial for indoor climbing. Many users have noted this in their reviews.
Fit
The Veloce's closure system allows for a snug, custom fit. However, some reviewers pointed out that sizes run a bit small, so it may be worth considering buying half a size larger than your usual.
Sensitivity & Feel
The Veloce offers a balance of sensitivity and comfort not often found in indoor climbing shoes. Many customers praised the feel, saying it allowed them to perform more nuanced movements and get a good sense of the wall.
Smearing
The Veloce has received average reviews for smearing. While the Vibram XS Edge sole generally provides good friction, some users have pointed out that the shoe's stiff design can limit its smearing capabilities.
Value
In terms of value, the Scarpa Veloce hits the sweet spot. It's on the affordable end of the scale while still offering top-notch performance, making it a popular choice for beginning and intermediate climbers seeking to venture more into indoor climbing.
Prices