Quick heads-up: some of the links on this page are affiliate links. If you make a purchase through them, we may earn a small commission (at no extra cost to you). This small bit of income helps keep our site running.
Best Climbing Belay Devices of 2023
This post was last updated on December 06, 2023.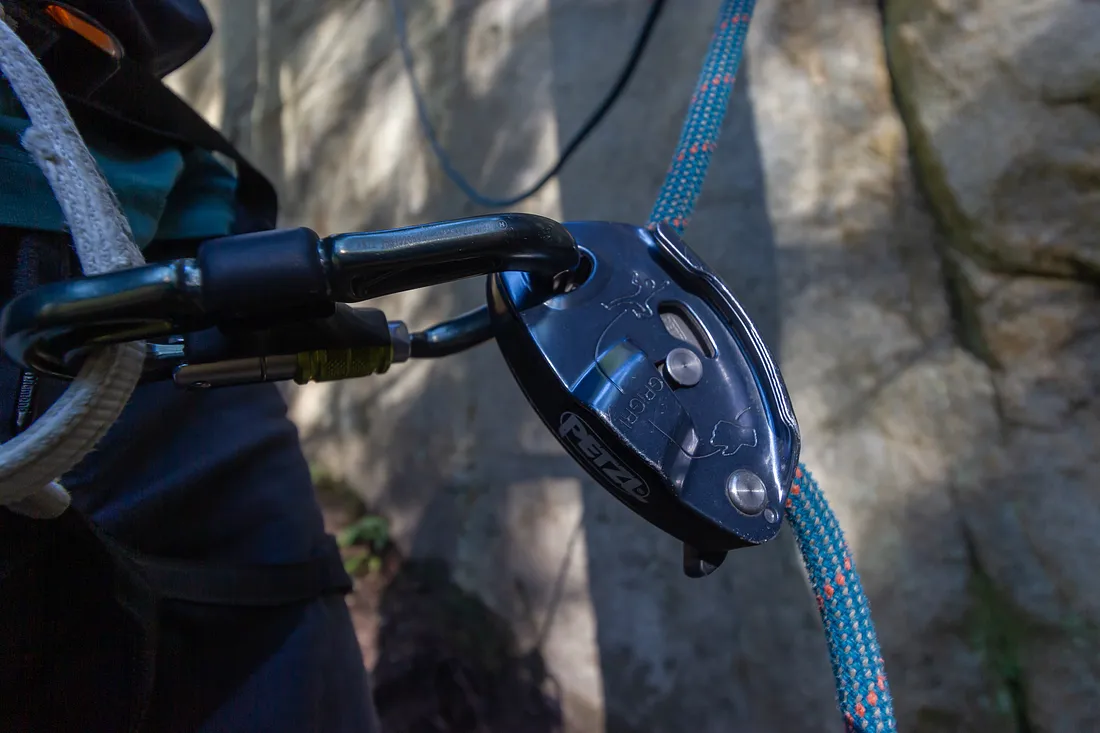 If you've ever flirted with vertical adventures, you'd know that a solid belay device is as crucial as a trustworthy partner. When it comes to offering the best blend of security, durability, and simplicity, the Petzl Grigri takes the crown. This compact little lifesaver shines not only for its performance but also for the peace of mind it provides climbers.
The Petzl Grigri sways the top spot because it's lightweight, easy to use, insanely comfortable, and won't have you trading kidneys for the price tag. Of course, there are other worthy contenders too, with our runners up offering some serious competition and deserving their own applause.
In this post, we delve into the key features that make the Petzl Grigri a stellar pick. We'll also take a glance at our top runners up and the best choices for Multipitch Routes and Budget picks. And don't forget to check out our other gear review posts: Best Climbing Ropes, Best Climbing Rope Bags, and Best Hangboards
Our Top Recommendations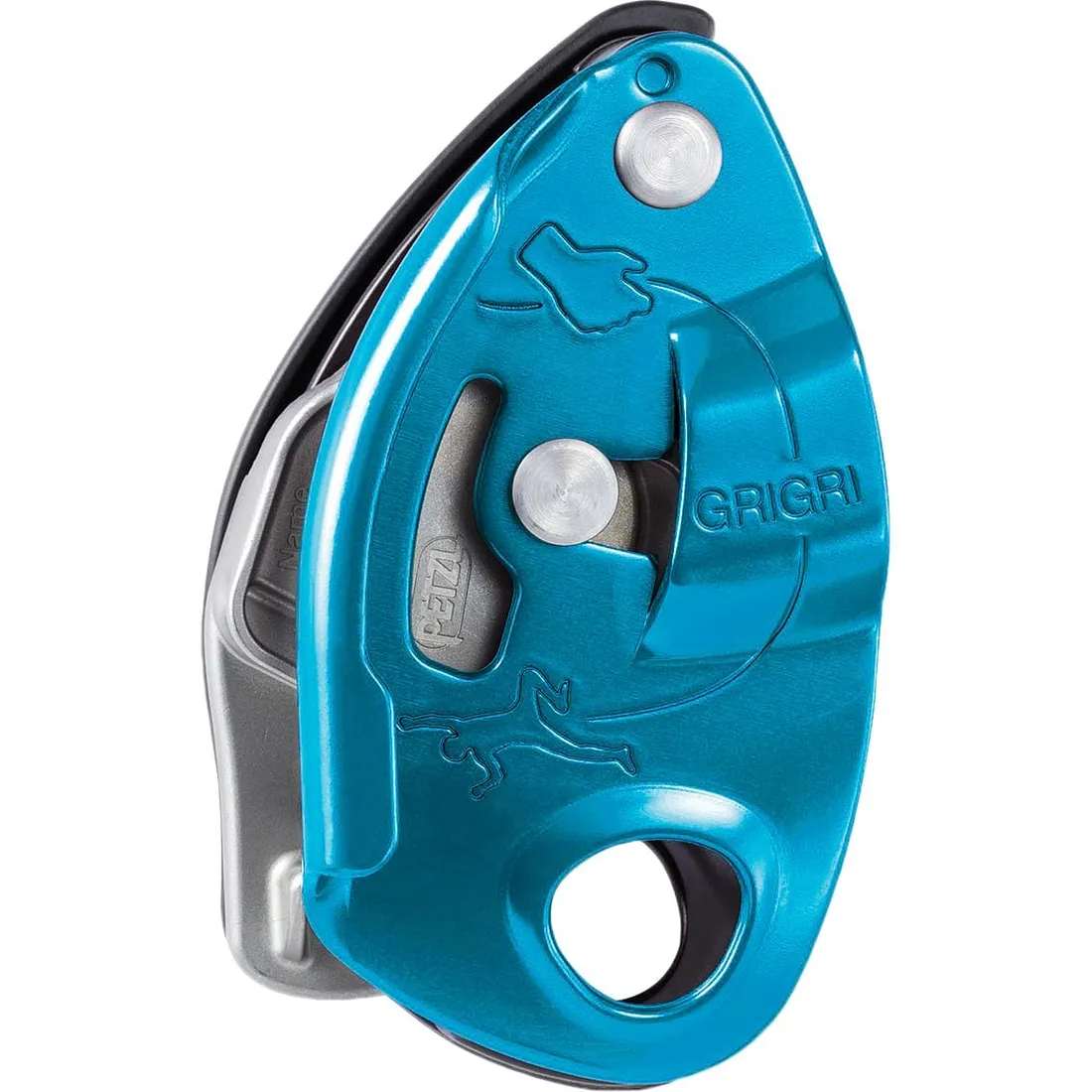 Petzl Grigri
| | |
| --- | --- |
| Braking System | |
| Feeding Slack | |
| Lowering | |
| Rappelling | |
| Weight | |
The Petzl Grigri tops our list because because it has a very safe and beginner friendly braking system, and it is the default belay device at any single pitch crag.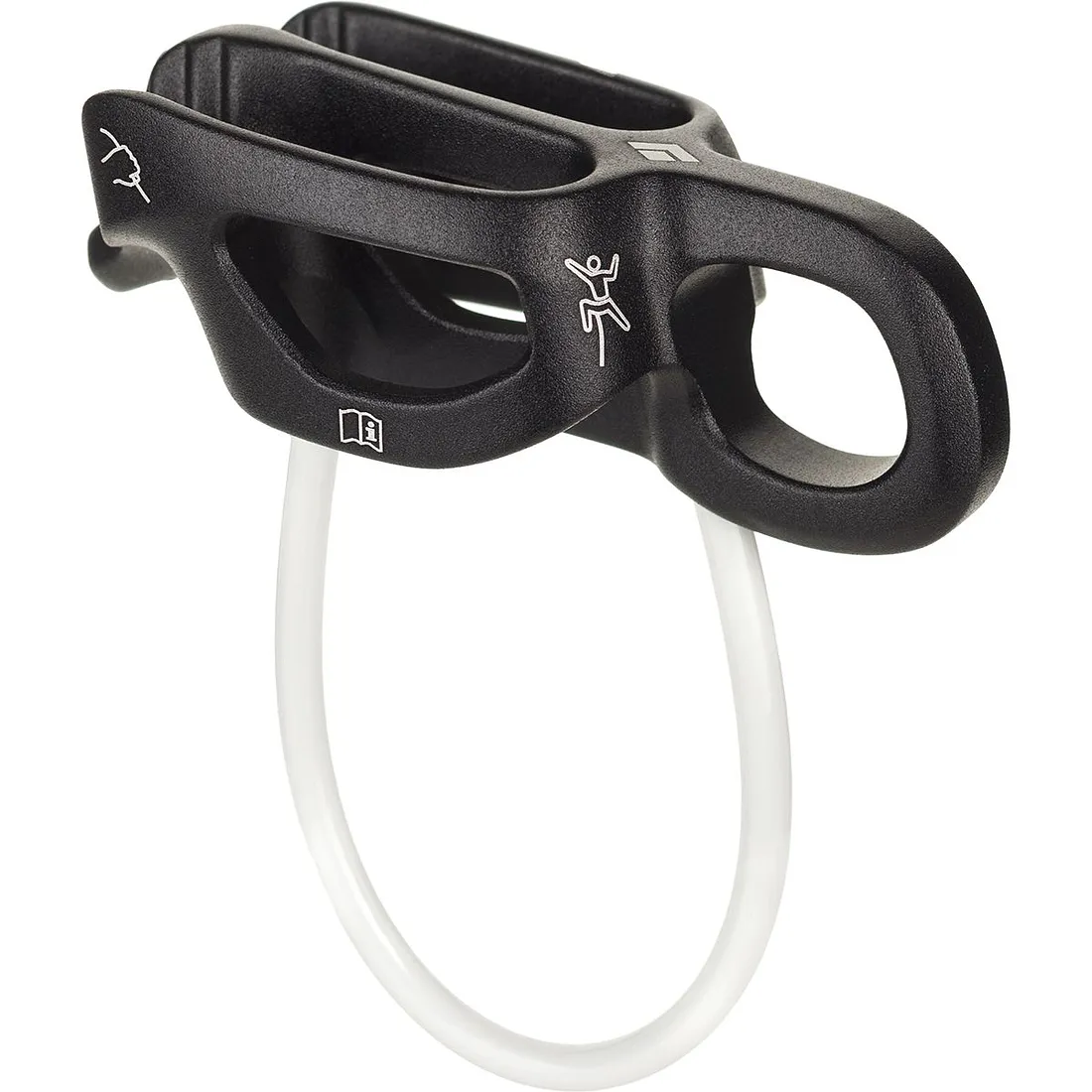 Black Diamond ATC-Guide
| | |
| --- | --- |
| Braking System | |
| Feeding Slack | |
| Lowering | |
| Rappelling | |
| Weight | |
The Black Diamond ATC-Guide earns our runner-up spot because it's a light, simple belay device that's extremely versatile, useful in particular for multi-pitching. But it doesn't have any sort of automated braking system like the GriGri.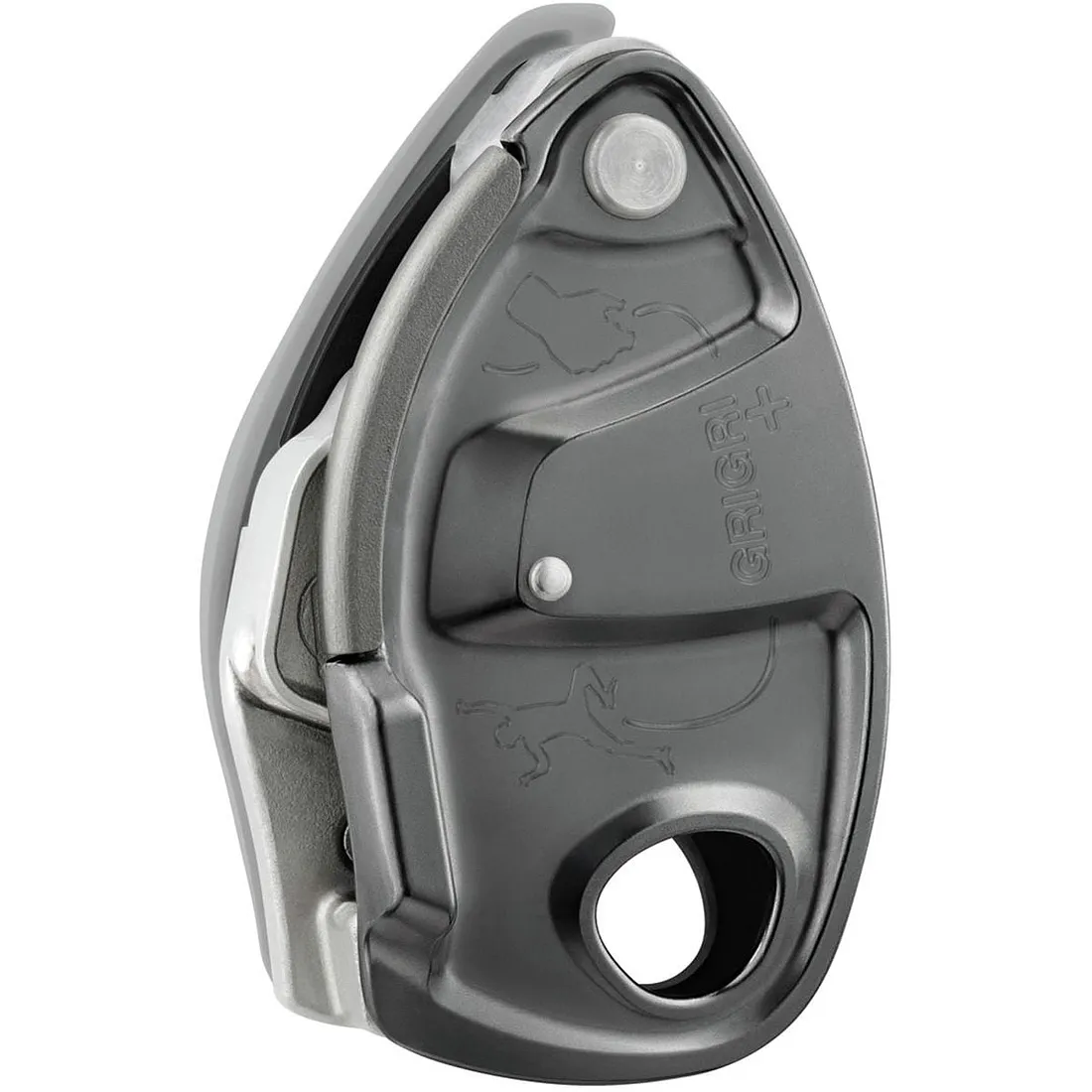 Petzl Grigri+
| | |
| --- | --- |
| Braking System | |
| Feeding Slack | |
| Lowering | |
| Rappelling | |
| Weight | |
The Petzl Grigri+ snagged our top pick runner up spot because it has all safety features of the regular GriGri, plus a couple more. That makes it perfect for beginner climbers, gym climbers, or those that just want some extra safety. But experienced climbers might find that the extra safety features get in their way.
What you should look for
(and what we test for)
Ease of Use
Choose a belay device that's intuitive and easy to use, especially if you are a beginner. Smooth rope feeding and easy braking make for a better (and safer) climbing experience.
Versatility
The best belay device for doing single pitch sport climbing is not going to be the best belay device for long multi-pitch routes. When considering what belay device to buy, think about the kind of climbing you want to do.
Rope Diameter
Most belay devices will work with most ropes, but there are exceptions. Particularly if you have a thicker rope, you may find that some belay devices don't work, or don't work well, with your rope.
Safety Features
Check for enhanced safety features such as auto-locking or assisted braking system, as these help to prevent accidental falls during climbing.
The Best Climbing Belay Device
Based on our research and testing, we think the Petzl Grigri is the best Climbing Belay Device on the market right now, for anyone looking to play hard outside.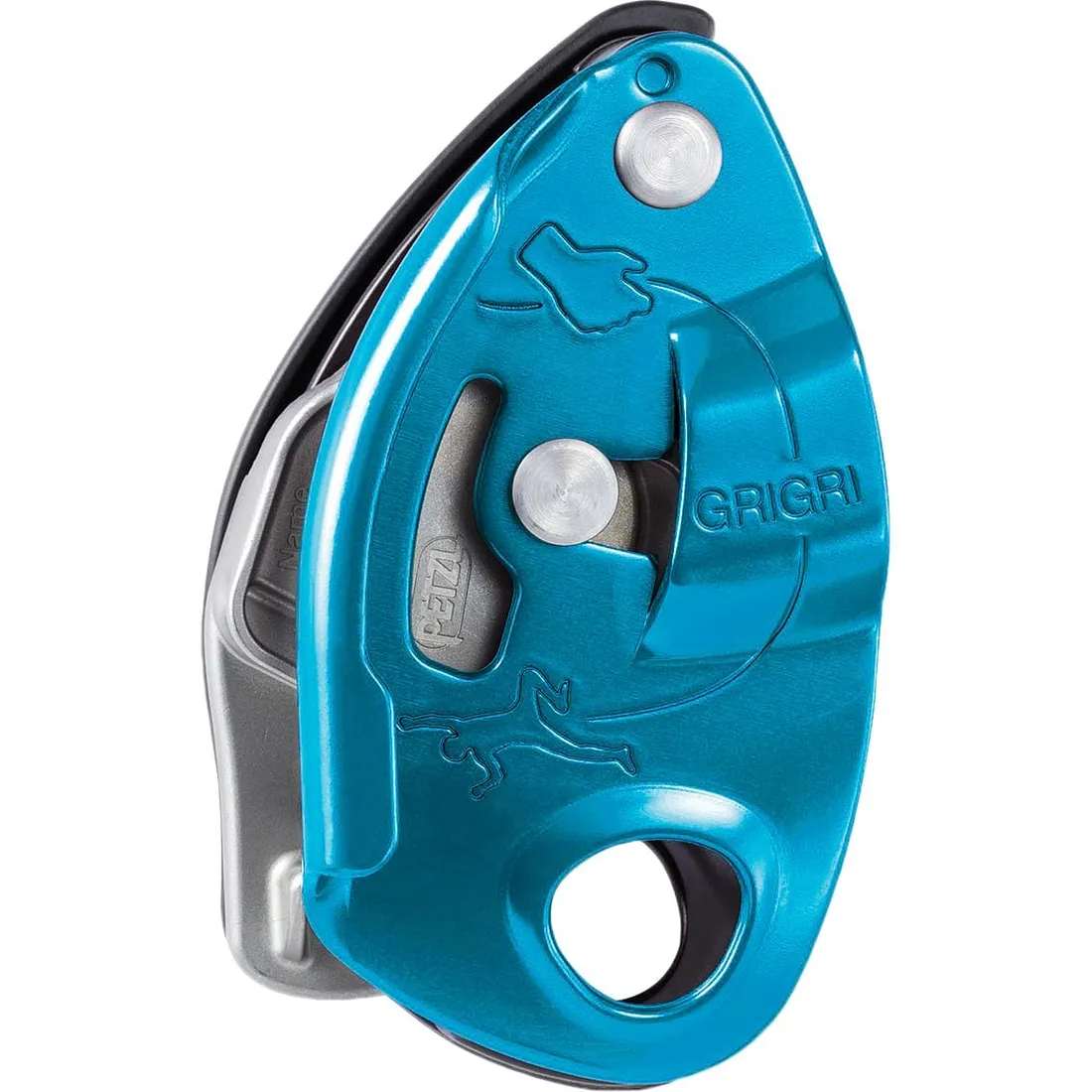 | | |
| --- | --- |
| Braking System | |
| Feeding Slack | |
| Lowering | |
| Rappelling | |
| Weight | |
Reasons to Buy
The braking system is excellent

Suitable for a wide variety of rope diameters

Beginner friendly

It's the default belay device for single pitch climbing
Reasons to Avoid
Bit of a learning curve for feeding rope

Not ideal for multi-pitch climbing
The Important Specs
Materials:

Aluminum side plates, stainless steel cam and friction plate, reinforced nylon handle

Rope Compatibility:

8.5 to 11 mm
The Single Pitch Default
The Petzl GriGri has been firmly established as the default belay device for single pitch climbing. Visit any sport climbing crag and you will mostly just see GriGris. It's so popular because it has a braking system that is hard to screw up and is very beginner friendly. It takes safety seriously and does everything else well too.
Performance and Skill
Feeding slack with the GriGri is a skill that you have to learn. Climbers new to the GriGri will probably start out short-roping their partners as they learn the subtelties of feeding out rope without engaging the braking system. But once you learn it, you'll be able to whip out a bunch of rope in no time for that crucial clip. We have noticed, however, that older, dirty ropes are more likely to catch in the GriGri braking system, even when you're doing everything right.. Therefore, regular rope maintenance is recommended, and newer ropes tend to perform better with the GriGri.
Versatility
In terms of versatility, the GriGri shows some limitations. It's not particularly well-suited for multi-pitch climbing, especially when belaying from above, and the bulkier and heavier design compared to other belay devices means it's not a great choice when weight matters. On the plus side, the GriGri can accommodate a wider range of rope diameters than most other devices, which is a definite plus on the versatility score.
Overall
Overall, the Petzl GriGri remains the preferred choice for a significant portion of the climbing community. Its strength in single pitch climbs, coupled with its reliable braking system and ability to handle a huge range of rope sizes make it the default belay device for just about every climber. It does have a few quirks, particularly around feeding slack, but it is the default belay device for a reason, and we don't think that's changing any time soon.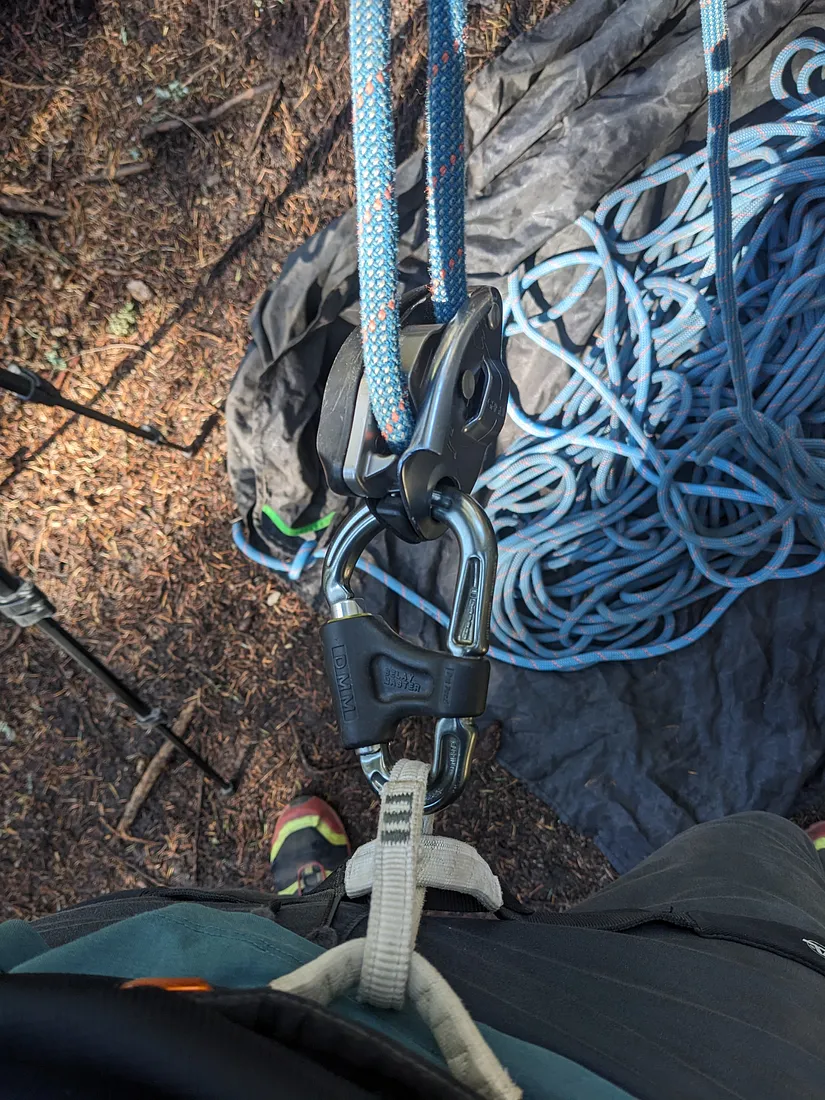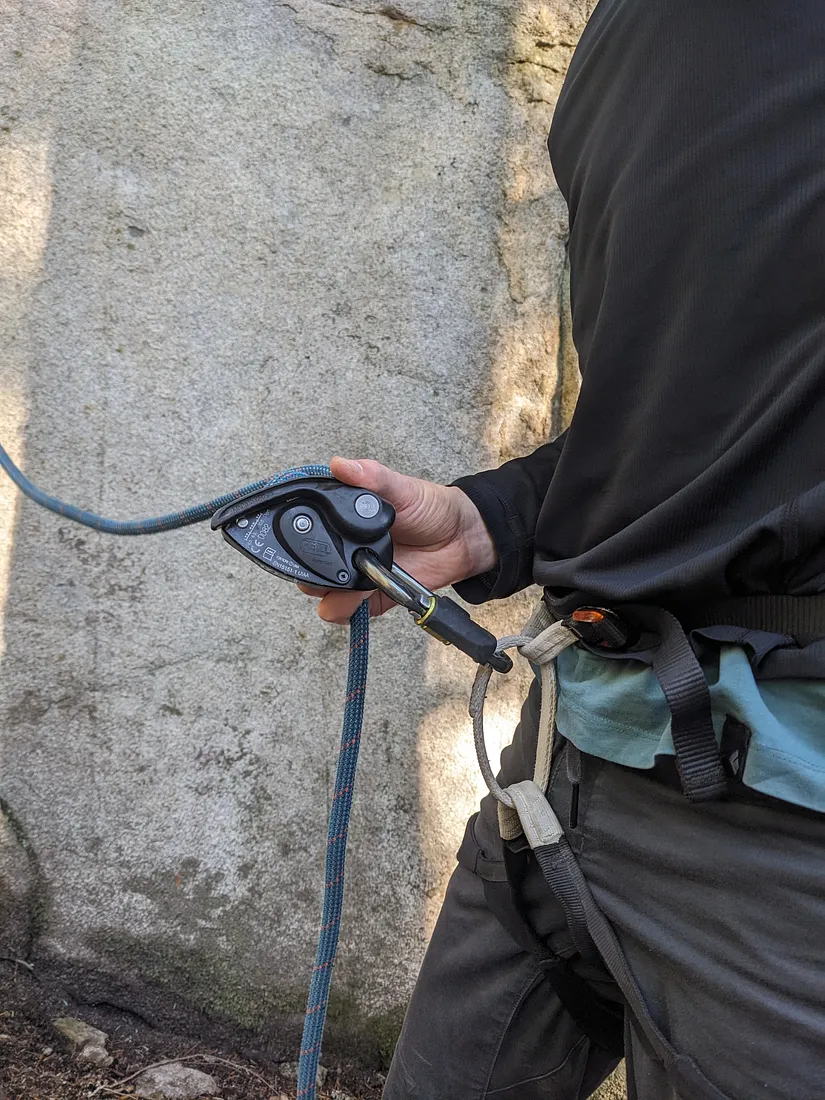 Prices
Black Diamond ATC-Guide
$34.95
Runner Up
Based on our research and testing, we think the Black Diamond ATC-Guide is a great choice if you're looking for a climbing belay device to go play hard outside with, if our top pick isn't quite what you're looking for.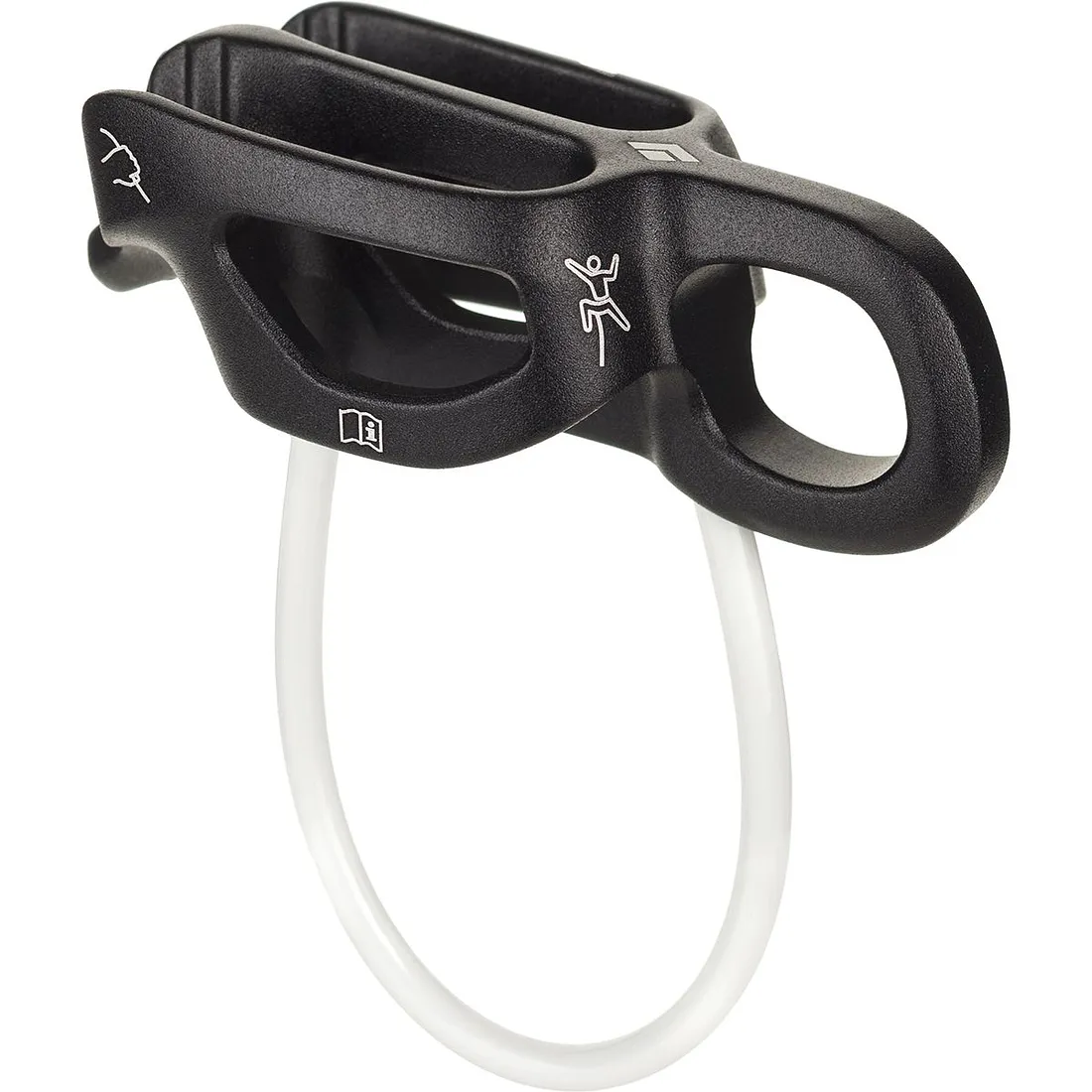 | | |
| --- | --- |
| Braking System | |
| Feeding Slack | |
| Lowering | |
| Rappelling | |
| Weight | |
Reasons to Buy
Great versatility

Lightweight

Very good value
Reasons to Avoid
The Important Specs
Material:

Hot-forged aluminum body

Dimensions:

4.1 x 2.0 inches

Guide Mode:

Yes

Rope Compatibility:

Rope diameters ranging from 8.1mm - 11mm
Review Roundup
The Black Diamond ATC-Guide is a favorite among climbers for its versatility, durability and robust build. As a belay device, it excels in both indoor and outdoor climbing scenarios offering a secure, smooth belaying experience.
The ATC-Guide is forged out of durable aluminum. This makes it lightweight, but don't be fooled by its lack of heft. This device is seriously tough. Many users have reported that, even after plenty of use, it shows minimal signs of wear.
What stands out most about the ATC-Guide is its flexibility. It can be used in 'guide mode' for top belaying or, for lead belaying, it can be used as a traditional tubular device. This means that climbers of different skills and preferences can equally enjoy and benefit from this device.
One feature users love is the friction notches. They are located at the bottom of the device and give additional braking power. This makes it easier to handle a heavier climber. Moreover, the brake-hand force in both modes is commendably low which has been appreciated by a majority of users.
Despite its many benefits, some users have more mixed reviews on the guide mode. While it is certainly an excellent feature in theory, in practice it can be tricky to lower a climber smoothly. Some climbers also mention it can be tough to unlock it from guide mode, especially for novices.
Additionally, the Black Diamond ATC-Guide may not be the most beginner-friendly. Its versatility might be overwhelming for someone new to climbing as it comes with a slightly steeper learning curve.
Overall, most climbers agree the Black Diamond ATC-Guide is a reliable workhorse. Its solid performance, adaptability, and durability make it a tool suited for almost every climbing situation.
Comfort
The ATC-Guide excels in offering a comfortable belay experience. The design minimizes the occurrence of rope kinks and twists, which makes belaying more efficient, less tiring, and in turn, more comfortable for long periods of climbing time.
Durability
Made with a hot-forged aluminum body, the ATC-Guide is robust and built to withstand the rigors of intense climbing practices. The build quality is top-notch, which means it can handle years of hard use. However, certain users reported that the smoothness may wear down with heavy usage.
Fit & Adjustability
The Black Diamond ATC-Guide is quite sleek, fitting well in most climbers' hands and allowing for accessible and smooth rope feeding. While some deemed it a tad bulky for those with smaller hands, most found that it adjusted well to varied hand sizes, providing a comfortable grip.
Gear Loop Design & Capacity
The ATC-Guide has a large carabiner hole, which makes it easy to clip and unclip from your gear loop. In addition, it features small holes that can be used to release a locked rope while in guide mode using a thin object like a carabiner wire gate, providing versatility on multi-pitch climbs.
Value
Taking into account its versatility, durability, and high performance in various climbing scenarios, the ATC-Guide offers good value for its price. It's an investment that beginner and experienced climbers alike can appreciate for its long-term utility and practicality.
Weight
Sitting pretty light in most belay device comparisons, the ATC-Guide is a great companion for climbers who value convenience and performance without the added poundage. It won't wear your harness down or cause unwanted pull.
Prices
Runner Up
Based on our research and testing, we think the Petzl Grigri+ is a great choice if you're looking for a climbing belay device to go play hard outside with, if our top pick isn't quite what you're looking for.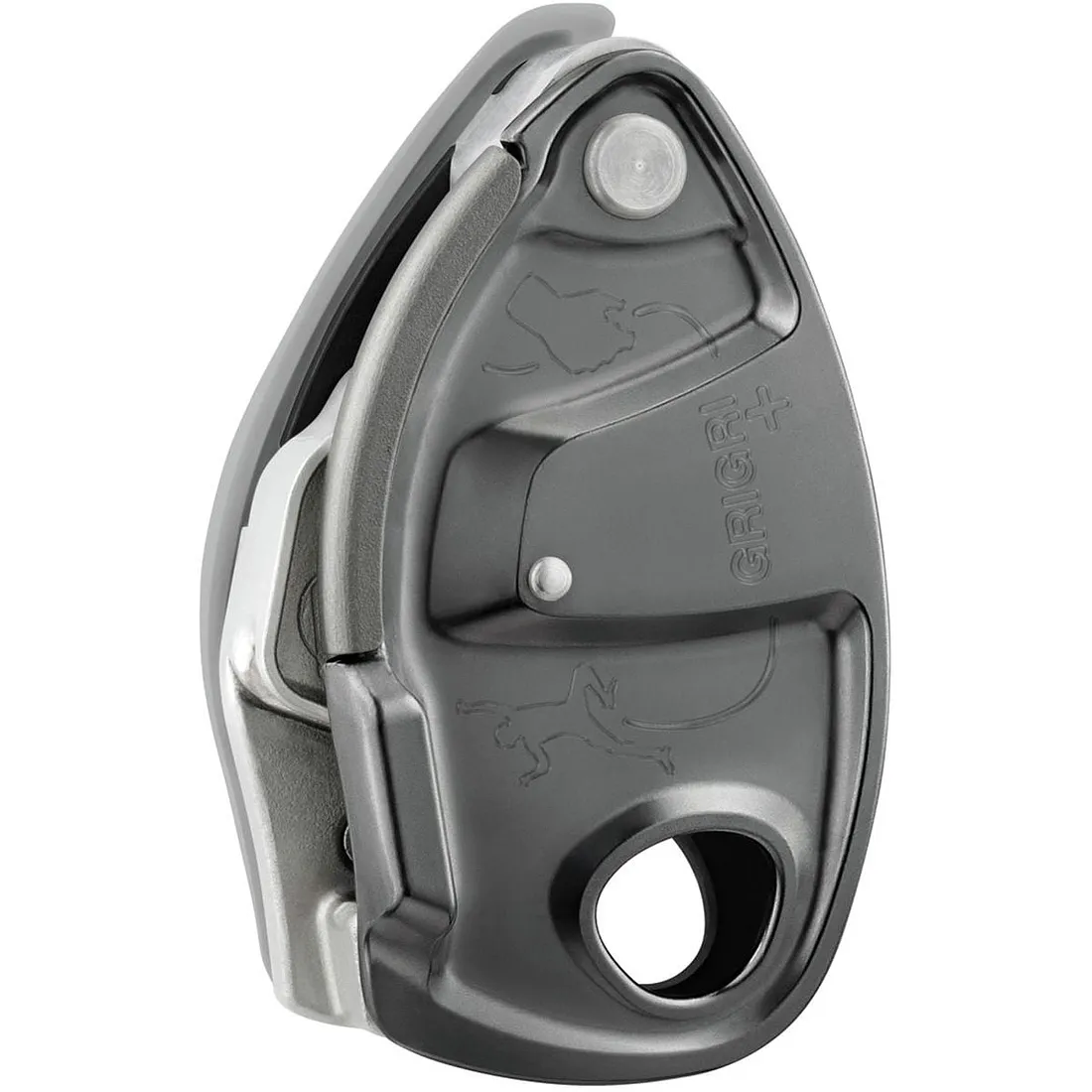 | | |
| --- | --- |
| Braking System | |
| Feeding Slack | |
| Lowering | |
| Rappelling | |
| Weight | |
Reasons to Buy
Improves on safety of regular GriGri with anti-panic handle

Ideal for climbing gyms and beginners
Reasons to Avoid
A bit on the pricey side

Braking system might be over-zealous for experienced climbers
The Important Specs
Material:

Aluminum side plates, stainless steel cam and friction plate, reinforced nylon handle

Mechanism:

Assisted braking

Rope Compatibility:

8.5 to 11 mm
Review Roundup
Petzl Grigri+ has managed to carve out a significant niche for itself in the competitive world of climbing belay devices. It's lauded by climbers of all skill levels for its user-friendly design and superior safety features.
The Grigri+ boasts of its anti-panic handle, a nifty addition that automatically engages the brake if the handle is pulled too hard. This unique feature has been a life-saver in dicey climbing scenarios, catching many a free-falling climber midway due to a slip of the hand or excessive force.
Many reviews also highlight the device's switchable modes for top-rope and lead belaying. This level of adaptability is a standout feature that has been praised by climbers, especially those ascending or descending varying terrains. Moreover, the stainless steel wear plate significantly enhances the device's durability, promising longevity, and consistency in its performance.
Ease of feeding rope and smooth lowering functionalities are other major highlights that users can't seem to get enough of. The Grigri+'s fluid and snag-free rope handling has been likened to a 'smooth dance', ensuring climbers an unencumbered climbing experience.
However, the Grigri+ is not without its drawbacks. Some climbers have mentioned that it's a tad heavier and bulkier compared to other devices in the same category. This can be a bit of a put-off for those into lightweight climbing gear. The device also commands a premium price which, though justified by its robust features and quality, might not appeal to budget-conscious climbers.
Some users have also expressed concerns about it being a bit complex to use, especially for beginners. They suggest that there's a steep learning curve involved before one can comfortably and safely utilize all its features.
In the grand scheme of things, the Petzl Grigri+ is a top-tier climbing belay device that offers top-notch safety, versatility, and durability. Although it comes with a few hiccups, those who've mastered it swear by its efficiency and wouldn't trade it for a simpler, lighter model.
Comfort
Despite its weight, many users have reported the Grigri+ to be surprisingly comfortable. Its smooth operation and easy-to-handle mechanism makes belaying more comfortable, reducing fatigue and increasing gear handling satisfaction.
Durability
Durability is one of the key strengths of the Grigri+. With its robust construction that's built to withstand rigorous use, this device offers long-lasting performance. The aluminum side plates, stainless steel cam and friction plate are all designed to take a beating over time, making it a solid investment for any climber.
Fit & Adjustability
The Petzl Grigri+ belay device is easy to adjust and fits a wide range of ropes. The device shines in its versatility and ability to adapt to different climbing styles and conditions. The assisted braking feature is adjustable and gives a lot more control over the tension and release.
Gear Loop Design & Capacity
The Grigri+ doesn't necessarily have a gear loop but its intelligent design allows it to be easily clipped on and off the harness. The compact design belies its impressive functionality and capacity, making it a staple piece of gear in any climber's arsenal.
Value
Although it is on the pricier side, many climbers seem to agree that it is worth the investment. Given its adaptability, safety features, and durability, the Grigri+ offers great value for money in the long run.
Weight
The first thing you may notice about the Grigri+ is its weight. Though it's a bit heavier than its competitors, most users feel the extra features and safety precautions make up for the added weight.
Prices
Best Budget Climbing Belay Device
Based on our research and testing, we think the Edelrid Mega Jul is a great pick if you're looking for a climbing belay device that is more budget friendly, without sacrificing too much in quality.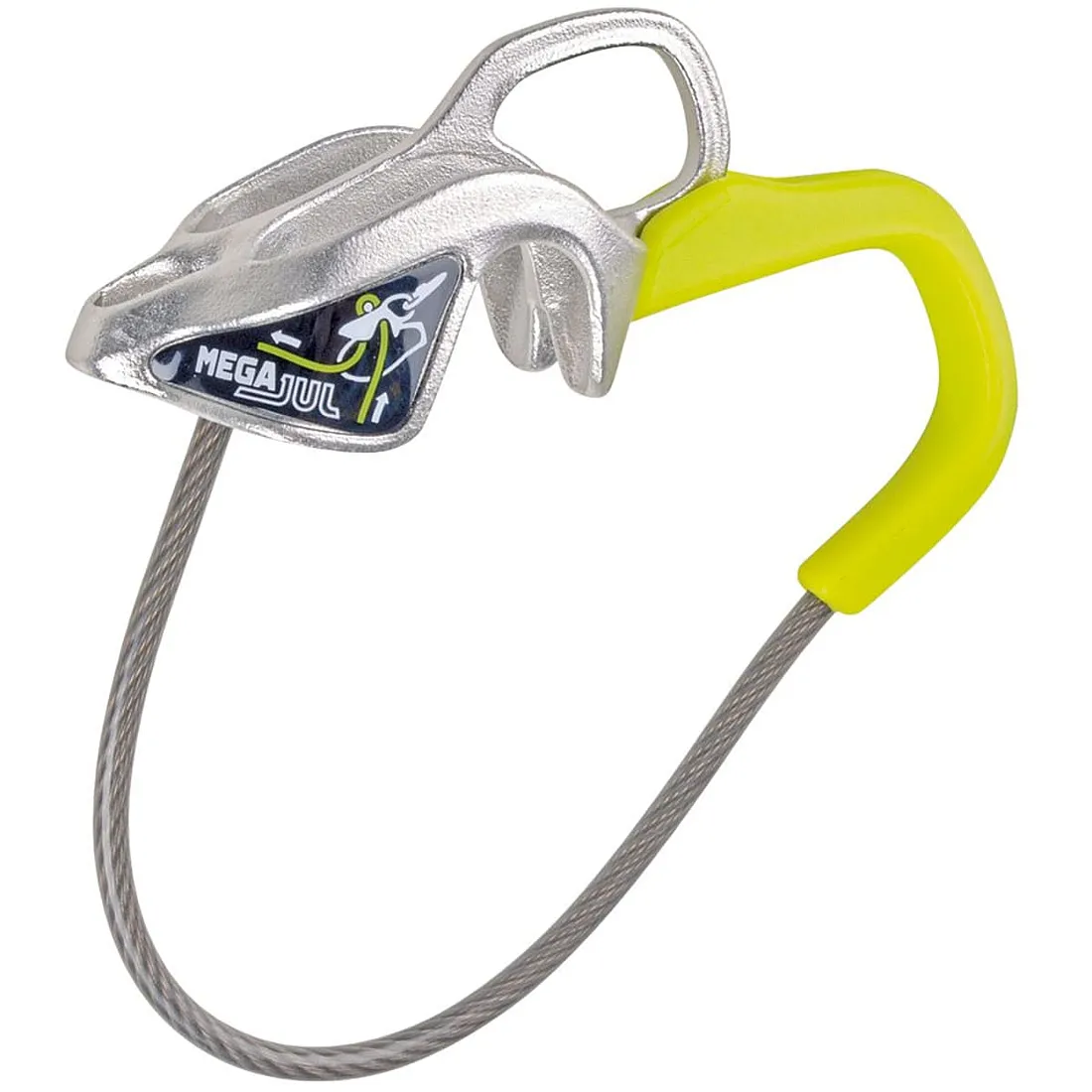 Reasons to Buy
Affordable price point

Reliable auto-locking feature

Solid construction

Can control descent speed

Suitable for both beginners and experienced climbers
Reasons to Avoid
Might feel bit heavier as compared to other devices

Bit of a learning curve due to unique design

Handles thicker ropes disdainfully
The Important Specs
Material:

Hardened Stainless Steel

Guide Mode:

Yes

Belay Style:

Tube-style assisted braking

Rope Compatibility:

7.8 - 10.5 mm

Number Of Rope Slots:

2
Review Roundup
The Edelrid Mega Jul stands out in the budget climbing belay devices market, offering essential features without breaking the bank. Designed for experienced climbers who value efficiency and flexibility in their gear, this multipurpose device doesn't compromise on safety and control.
Some online reviewers dubbed the Mega Jul as the 'Swiss army knife of belay devices'. Indeed, it's built to serve multiple climbing functions, from belaying and rappelling to guide mode, and it's compatible with a wide range of rope sizes.
Made from ultra-lightweight stainless steel, the Mega Jul strikes a balance between robustness and minimal weight. Therefore it is perfect for climbers looking to reduce their load without relinquishing durability and strength. Online reviewers have praised the longevity of the product, noting that it shows less wear and tear compared to aluminum devices, even after long-term use.
A significant number of reviewers have commended its assisted braking feature. This functionality helps catch a fall by creating friction on the rope, giving climbers an added sense of security. However, some climbers found the assisted braking requires a bit of a learning curve to master.
The Mega Jul's guide mode is another feature users online appreciate. This particularly comes in handy when bringing up two second climbers simultaneously. However, some have mentioned that switching between the guide mode and the belaying mode can be slightly tricky for less experienced users.
In terms of potential downsides, several online buyers have pointed out that the Mega Jul may not feed as smoothly as other devices when used for top-rope belaying or rapid rappelling. Some mention that the device tends to 'grip' the rope, requiring a firm hand to give it out.
It's worth noting that feedback regarding the compact nature of the Mega Jul is mixed. Some climbers praised its small size due to the reduced weight and space in their packs. On the other hand, individuals with larger hands or those wearing gloves found it slightly cumbersome.
Overall, the Edelrid Mega Jul receives high marks from buyers for its durability, versatility, and affordability. Despite a few complaints about rope handling and size, this device has found a loyal following amongst climbers who value multifunctional equipment and safety features integrated into their gear.
Comfort
While the Mega Jul may require some initial getting used to, once familiarized, users have noted that it provides a comfortable and secure experience that instills confidence during their climbs.
Durability
Its hardened stainless steel build promises a longer lifetime than typically experienced with aluminum alternatives. Users have noted that they have put the Mega Jul through a lot of wear and tear, yet it has held up remarkably.
Fit & Adjustability
The Edelrid Mega Jul fits a wide range of rope sizes, from 7.8mm to 10.5mm. Its adjustability, however, can be a little tricky for unaccustomed users due to its unique design and may require some initial getting used to.
Gear Loop Design & Capacity
The Mega Jul's gear loop design is simple and effective, allowing for a smooth belay and easier lowering. It comfortably holds two ropes, adding an extra touch of versatility to one's climbing setups.
Value
The overall value of the Edelrid Mega Jul is quite high, considering its affordable price point, durability, and ease of use once the user familiarizes themselves with its unique design. It is praised as an excellent choice for both new climbers and seasoned veterans alike.
Weight
Given that it's made of a hardened stainless steel, the Mega Jul comes with an understandable and acceptable weight. This slight increase in weight is a fair trade-off for greater durability and a unique set of features.
Prices
Best Climbing Belay Device for Multipitch Routes
Based on our research and testing, we think the Edelrid Giga Jul is a solid choice if you want a climbing belay device that's really well suited to Multipitch Routes.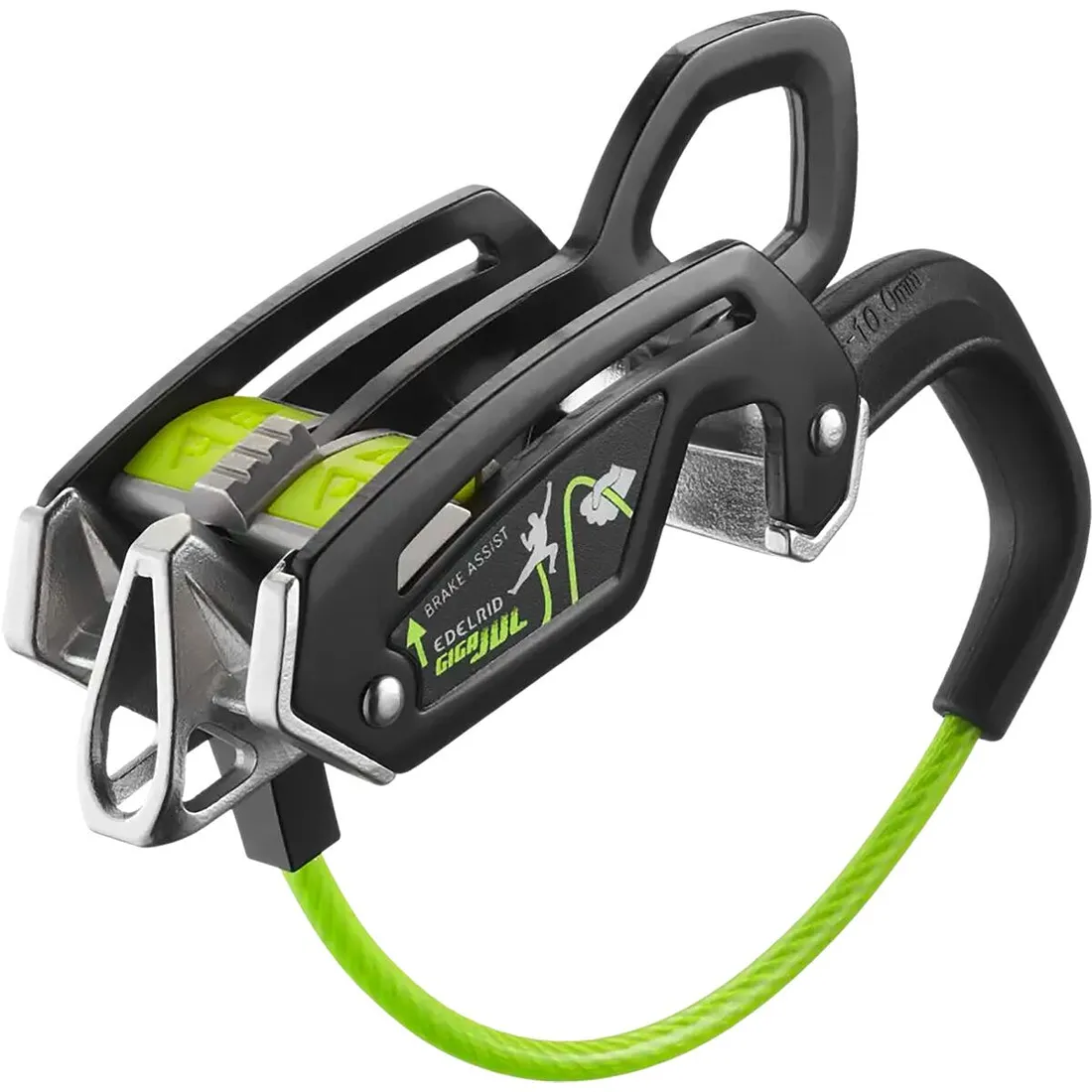 Reasons to Buy
Versatile dual-mode design

High-end build quality

Great for all types of climbing

Covered in strong and durable material
Reasons to Avoid
A bit pricey compared to similar devices

Slightly complicated for beginners

Initial set-up can be time-consuming
The Important Specs
Modes:

Manual braking, Assisted braking

Material:

Stainless Steel, Aluminum

Rope Compatibility:

7.1 - 10mm

Manufacturing Country:

Germany
Review Roundup
Many users have described the Edelrid Giga Jul as a heavyweight champion in the climbing belay device market. They rave about its dual nature, offering both manual assisted locking and traditional tube style belaying in one piece of gear. The fact that you can easily switch between modes to cater for any climbing scenario has been praised for its convenience and flexibility.
Durability earned impressive marks from climbers. Constructed with hard-wearing stainless steel and lightweight aluminium, the Edelrid Giga Jul showed resistance in high wear areas, living up to the expectation of long-term service. Few belay devices can match up on this point.
Opinions, however, seemed divided on the weight of the device. Some climbers appreciated the solid feel and didn't mind the slight increase in pack weight, considering the benefits it offers. Others found it a tad on the heavy side, especially those ultralight fans who count every gram in their backpack.
The handling also received positive feedback. Users commended the smooth feeding and taking rope. Whether belaying a lead climber or bringing up two seconds on a multi-pitch route, its performance was deemed excellent.
Several reviews mentioned the Giga Jul's learning curve. While it was touted as a pretty straightforward device, some newbies found mastering it not as intuitive as they'd like. It takes time and practice, especially when switching between modes, but veteran climbers advise that consistency will make the process second nature soon enough.
An issue that cropped in several reviews was that of rope compatibility. While the manufacturer claims it's compatible with a wide array of rope diameters, a few climbers pointed out that feeding and pulling thicker ropes were a bit tough. Hence, ideally suited for slightly thinner ropes.
In terms of safety, the Edelrid Giga Jul's assisted braking function received applause. Its ability to arrest falls efficiently and its strong holding power were cited as major reasons behind climbers feeling secure and confident using this device.
Finally, the versatility of the Giga Jul was cited as a major selling point. Reviewers highlighted that once you master this 'do it all' device, it reduces the need for carrying multiple belay devices for different climbing situations.
Comfort
Comfort is a subjective aspect, but most users have reported a positive experience. They found the device comfortable to hold and use, praising the smooth rope feed and reliable locking function. However, it's worth noting that some users recommend practicing with the device on the ground first to get comfortable with its operation.
Durability
In terms of durability, the Edelrid Giga Jul has received rave reviews. Made from a combination of stainless steel and aluminum, it's designed to withstand rugged use over time. A few users even mentioned that it still looks and works like new after several intense climbing sessions.
Fit & Adjustability
The Edelrid Giga Jul scores high in terms of fit and adjustability. It accommodates a wide range of rope diameters and ensures a smooth belay experience. Users commended its dual-mode design, which offers both manual and assisted braking modes to suit different situations. However, some found the initial set-up to be a bit challenging.
Gear Loop Design & Capacity
The design and capacity of the gear loop have also been well-received by users. The device is designed to easily integrate with other gear, and users have reported no difficulties with clipping it onto gear loops. However, some beginners found its operation initially complex, which may require some getting used to.
Value
While the Edelrid Giga Jul comes at a slightly higher price point compared to similar models, users consider it a worthwhile investment due to its durability and versatility. Its dual-mode functionality, high-quality construction, and adaptability to various climbing scenarios provide solid value for money, according to numerous user reviews.
Weight
Although we aren't discussing actual weight, it's worth noting that users have commented on the overall feel of the device in their gear pack. Despite its fairly substantial look and high-grade materials, users report that it does not necessarily add significant bulk to their gear assembly. It gives the impression of solidness and reliability without feeling burdensome.
Prices