Quick heads-up: some of the links on this page are affiliate links. If you make a purchase through them, we may earn a small commission (at no extra cost to you). This small bit of income helps keep our site running.
Best Climbing Rope Bags of 2023
This post was last updated on December 06, 2023.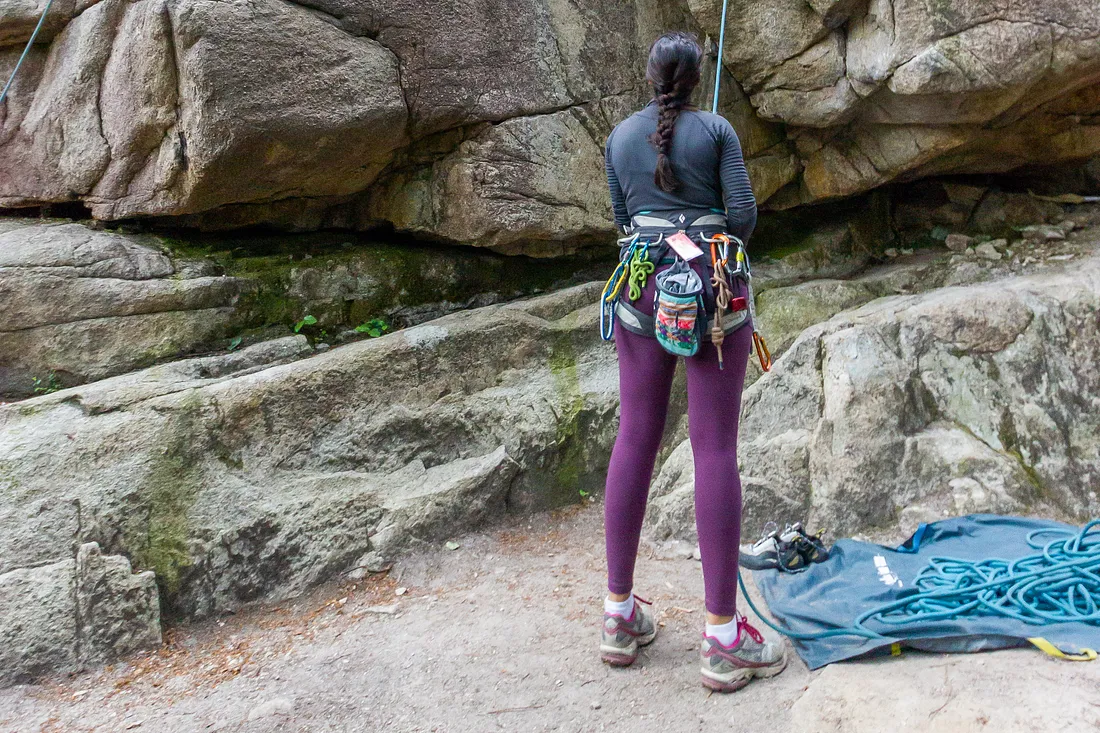 Whether you're a seasoned mountain goat or a weekend wall scaler, you'll know that taking care of climbing gear is non-negotiable. Essential to this is a quality climbing rope bag. It's not just a sack to dump your rope in; it needs to be tough, practical, and good value. After all, a great climbing day can quickly turn into a challenging ordeal if you spend half of it wrestling to untangle your climbing rope.
Our top pick for the best climbing rope bag this year is the Edelrid Drone II. It ticks all the boxes above and then some. It's extraordinarily durable and comes with a smart tarp design. You can pack your rope in a snap, and at its price point, it offers excellent value for money. The Drone II is the ultimate blend of function and affordability, ensuring your rope stays kink-free and ready for your next ascent.
The climbing gear market offers a plethora of rope bag options, for all budgets and needs. So, in addition to the Edelrid Drone II, we've selected two worthy runners up. But before we delve deeper into our top three picks, make sure to check out our guides to other essential climbing gear. Invest time in finding the right Climbing Harnesses, the most secure Climbing Belay Devices, or the grittiest Climbing Chalk to complete your gear kit.
Our Top Recommendations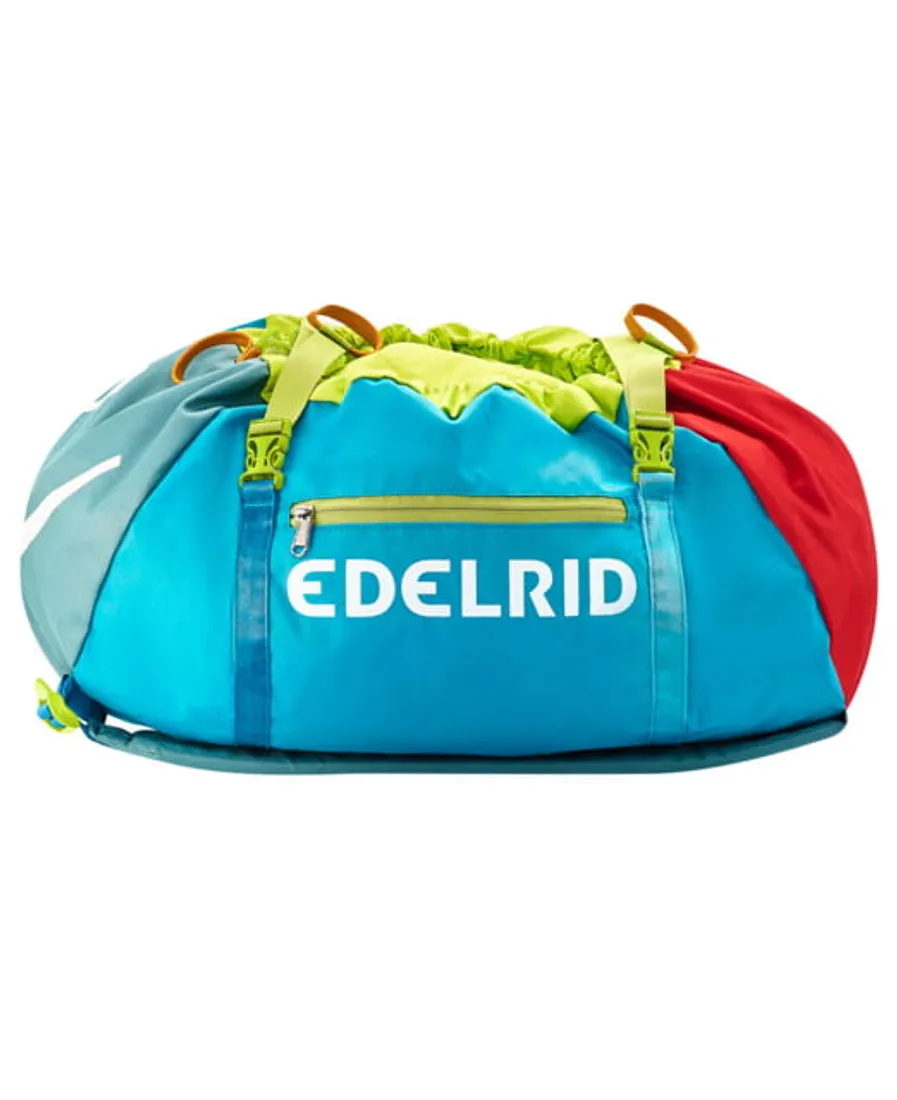 Edelrid Drone II
The Edelrid Drone II bags the top spot due to its large tarp design for rope protection and easy packing, along with rave reviews praising its ultra-durable material, ensuring the longevity avid climbers crave.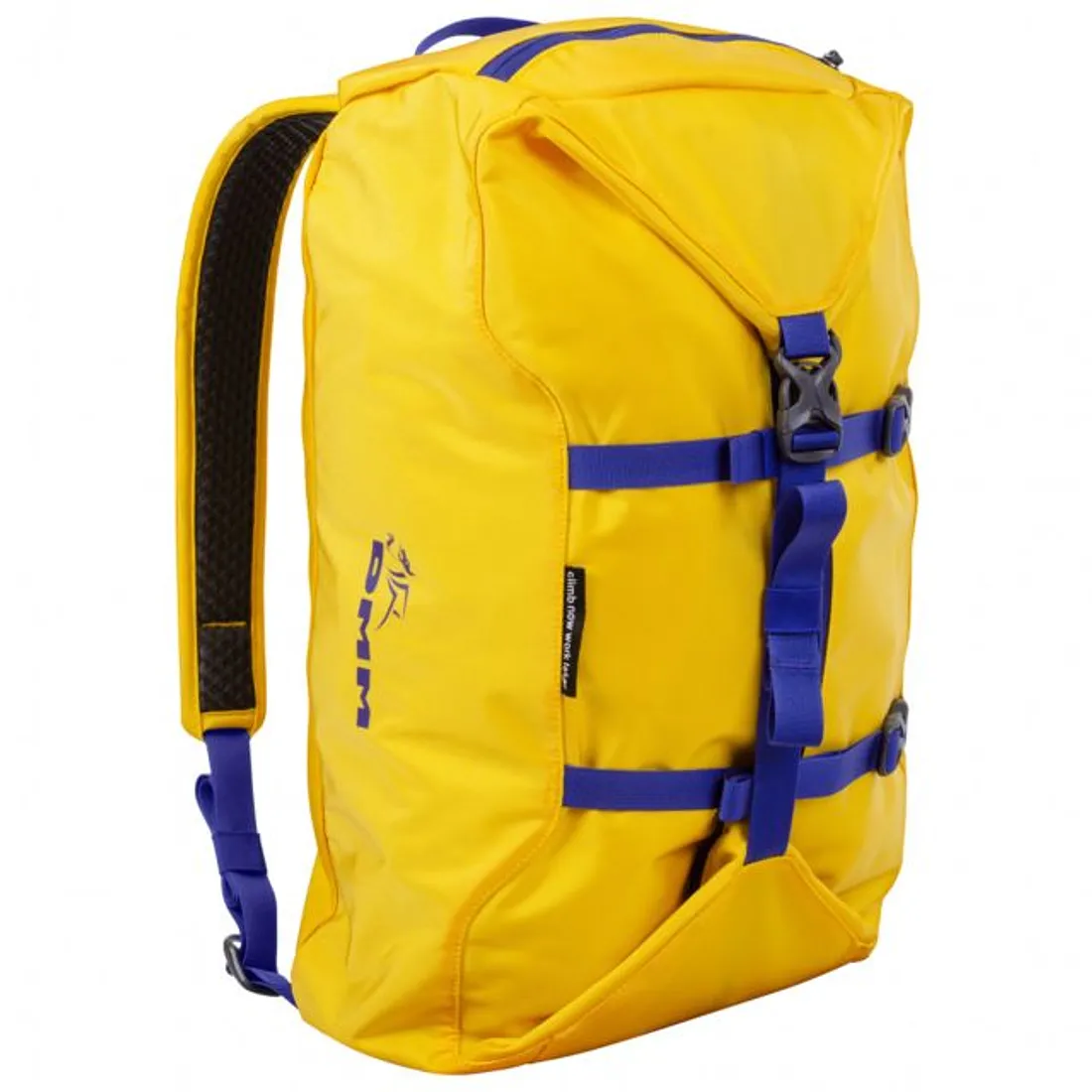 DMM Classic
The DMM Classic rope bag earns its runner-up top pick status with campers and climbers praising its spacious, full-zip design that can comfortably accommodate climbing ropes, as well as its durable, easy to clean material that stands up to all the rigors of the great outdoors.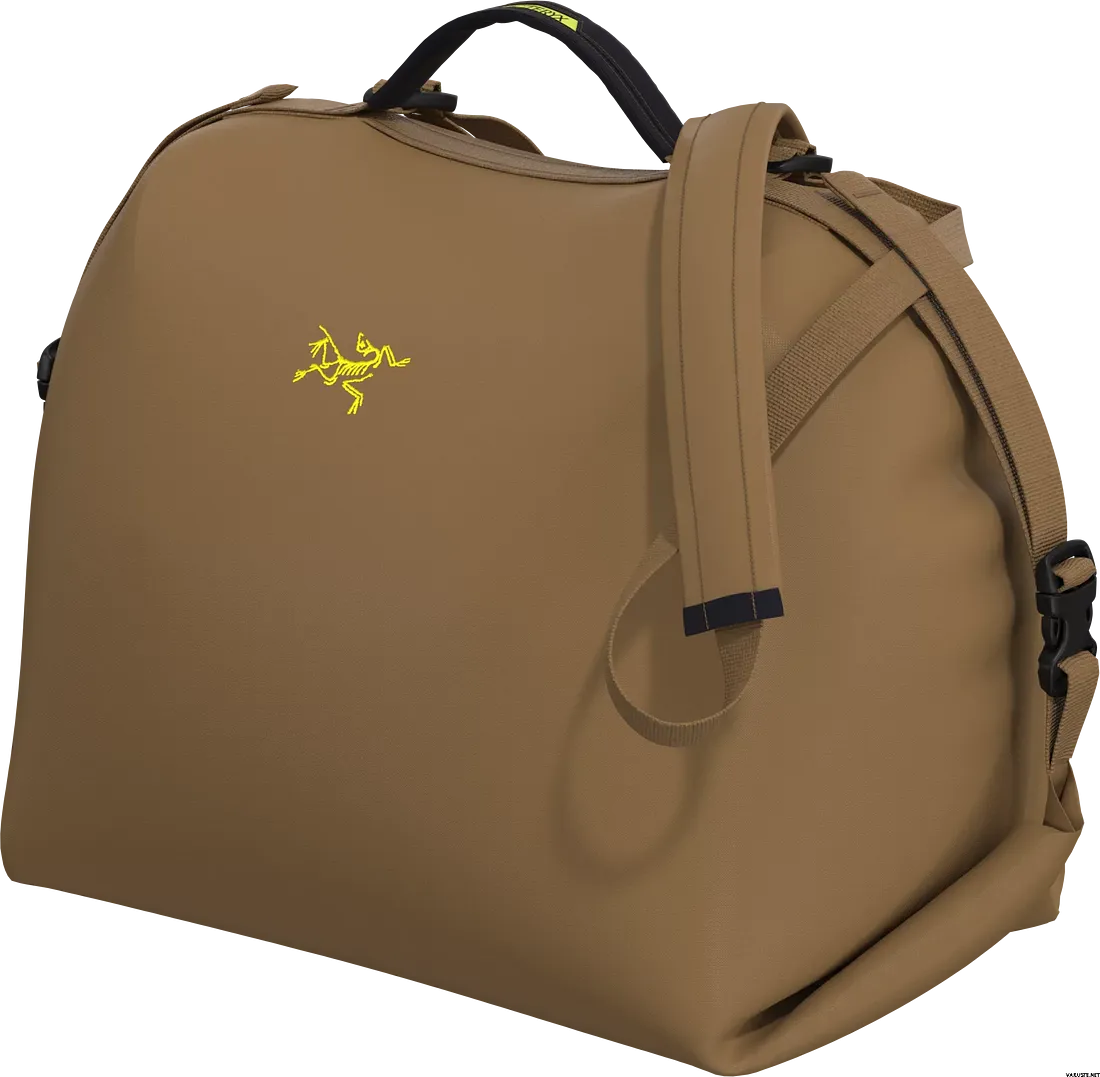 Arc'teryx Ion
The Arc'teryx Ion climbed its way to runner-up status due to its outstanding durability, frequently noted in reviews, and its unique and highly praised rope tarp design, which users find really simplifies packing and unpacking their climbing ropes.
What you should look for
(and what we test for)
Comfort
From adjustable straps to padded back panels, the bag should be comfortable to carry even in challenging terrain or for extended periods of time.
Capacity
Make sure the bag can fit all of your climbing ropes with room to spare for other gear like carabiners and harnesses - the more carrying capacity, the better.
Durability
When choosing a climbing rope bag, consider its durability, because you want a tough bag that can withstand rugged outdoor settings without tearing or failing.
Protection
Look for a rope bag with built-in features that will protect your rope from dirt, wear and tear, and moisture, preserving your gear's lifespan.
The Best Climbing Rope Bag
Based on our research and testing, we think the Edelrid Drone II is the best Climbing Rope Bag on the market right now, for anyone looking to play hard outside.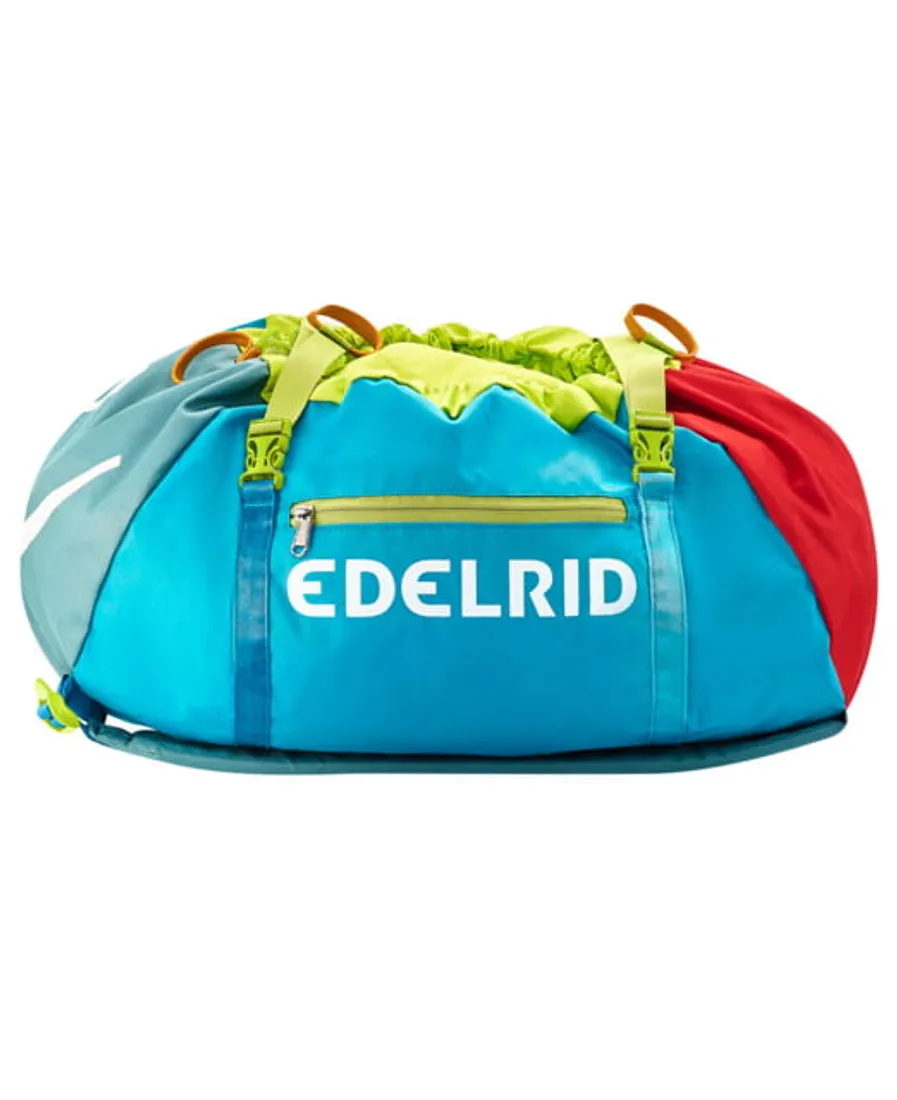 Reasons to Buy
Durable material and design

Large tarp size for ample gear protection

Simplifies the packing process

Good value for the money
Reasons to Avoid
Lacks secondary compartments

Color choices are limited

Shoulder strap is not padded

No external loops or attachments
The Important Specs
Material:

Weather-resistant nylon fabric

Capacity (L):

45L

Dimensions (Cm):

120 x 150 tarp size

Pocket Size (Cm):

28 x 23
Review Roundup
A frontrunner in the climbing rope bag market, the Edelrid Drone II stands out for its practical design, sturdy construction, and added features that work to make a climber's life easier and safer. The Drone II doesn't just deliver on promises, it outperforms expectations.
This bag has an impressive 45-litre capacity. That's enough to comfortably store a 70 or 80-metre rope along with other essential gear like shoes, harness, chalk bag and even some snacks. Despite its ability to swallow lots of gear, the Drone II retains a streamlined shape that's easy to handle even on rough trails.
One of the favorite features among people who bought the product is its tarp, integrated right into the design. This gives you an ample, clean surface to flake out your rope before climbing. Besides, it makes packing up at the end of a long day quicker and simpler.
Users also rave about the comfort and durability of the dual-purpose carrying straps, which can switch between backpack and shoulder bag modes. It turns out they are quite comfy even after carrying the bag for a long time.
However, the Drone II's not without its complaints. Some users mention that the zippers can get stuck sometimes. Although it's not a deal-breaker, it's still a niggle that might frustrate you, especially in chilling temperatures when small tasks can become big problems.
Another issue some users face is the plastic buckle, which they say can occasionally become unbuckled accidentally. This seems to be a minor design flaw that can turn tricky in some circumstances.
Overall, though, the overwhelming sentiment among online reviewers is that the Edelrid Drone II rope bag is a durable, trustworthy companion for climbers. They appreciate it as a robust bag that protects their rope from rocks, dirt, and moisture, and provides an easy method for transportation and storage. Its minor drawbacks are overshadowed by the multitude of benefits it offers.
Durability & Material
The Edelrid Drone II bags are designed using a sturdy and weather-resistant nylon fabric that lasts. Real-life users have sung its praises, emphasizing that it has no problem surviving rough handling and extreme weather conditions. Even after long periods of use, it maintains its structure and integrity. However, several users have mentioned that the bag could benefit from a padded shoulder strap for carrying comfort.
Ease of Packing
One of the standout features of the Edelrid Drone II is its simplified packing process. It is designed with a funnel-like system in the tarp, making packing ropes quick and straightforward. Users rave about this feature, citing its efficiency and how it lessens the stress of untangling ropes. But, some users lament the lack of secondary compartments for tiny essentials.
Tarp Design & Size
Equipped with a 120 cm x 150 cm tarp, there's plenty of space for all your climbing gear. Users love the ample room provided. It's large enough to hold ropes, shoes, and other gear you need while climbing. On the downside, the lack of compartments could be a disadvantage for those who prefer separate spaces for their stuff. Also, some customers wish the bag came in more color options.
Value
Priced reasonably for the features it offers and its overall quality, users feel they're getting good value for their money. The bag packs tons of benefits into a simple and well-designed package. While some users have pointed out certain areas for improvement, overall, they affirm that the bag offers a bang for your buck, making it a top pick for climbers on a budget.
Prices
Runner Up
Based on our research and testing, we think the DMM Classic is a great choice if you're looking for a climbing rope bag to go play hard outside with, if our top pick isn't quite what you're looking for.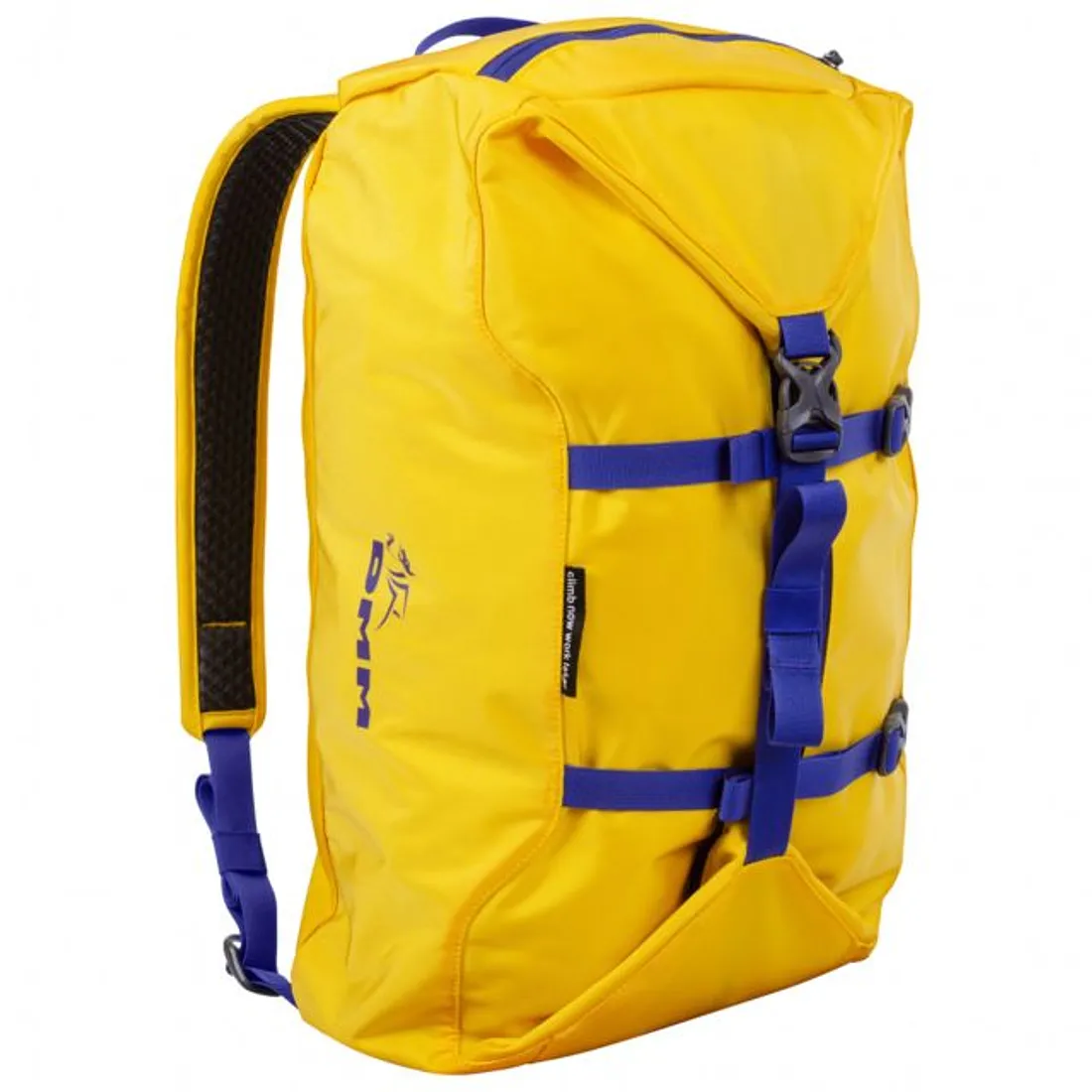 Reasons to Buy
Competitively priced

Durable and rugged design

Impressive tarp size

Easy to pack and organize
Reasons to Avoid
Straps can be uncomfortable

No external pockets

Lack of color options
The Important Specs
Tarp Size:

110 cm x 110 cm

Dimensions:

29 x 20 x 11 cm

Type Of Material:

Durable Nylon
Review Roundup
The DMM Classic Rope Bag stands out in the crowd with its uniquely intelligent design and robust quality. Instead of a traditional cylinder shape common among rope bags, the DMM Classic adopts a rectangular shape, which not only makes packing easier but also ensures your rope stays neat and tangle-free.
It's robust and durable, built to withstand the rigors of climbing trips. Many online reviewers rave about its longevity, even when it's frequently used in rough terrains. The quality of materials used, especially the ripstop nylon, is hard to beat.
The DMM Classic scores high when it comes to capacity. It easily accommodates a 60m rope, with extra room for climbing essentials like harness and shoes. Users love this extra space, remarking on how useful it is to keep everything in one place without the bag feeling overly bulky or cumbersome.
Its inbuilt tarp is another highlight. It's generously sized, providing ample surface to flake your rope. Multiple tie-in points make rope management a breeze. Some customers have noted, however, that the tarp can be somewhat slippery on sloped surfaces.
Portability is well-thought out in this product. Featuring both carry handles and padded shoulder straps, the DMM Classic offers multiple carrying options suitable for various terrains. But while users applaud its comfort for short hauls, some find the straps lacking in padding for longer treks.
This rope bag is not just about function; it's about style too. Available in a variety of vibrant colors, the DMM Classic stands out aesthetically, which is a hit among climbers who prefer a touch of personality in their gear.
One tiny gripe that comes up in several online reviews is the absence of a zippered pocket for valuables. While this is indeed a missed opportunity, many users agree that this small flaw does not overshadow the overwhelming benefits this bag offers.
In summary, the DMM Classic Rope Bag is praised by customers for its intuitive design, quality build, ample space, and handy features. Its few shortcomings are minor, and it remains a favorite among both beginner and seasoned climbers.
Durability & Material
The DMM Classic Rope Bag stands upto the rigors of frequent climbing trips, thanks to its hard-wearing nylon material. The stitching is robust, and the base is doubly reinforced to stave off any potential wear and tear. This level of durability ensures the bag maintains its form even after continuous usage.
Ease of Packing
Packing is a breeze with the DMM Classic Rope Bag. With the bag fully open, you can easily place the rope onto the tarp before rolling it up and securing it with the four tie-in points. The inner compression straps prevent the rope from getting tangled or knotted.
Tarp Design & Size
The integral tarp feature is the bag's standout feature, measuring approximately 110 cm on each side. It's spacious enough to accommodate a standard climbing rope without issues. This integrated design helps protect the rope from dirt or dampness on the ground.
Value
For its impressive list of features, the DMM Classic Rope Bag offers great value for money. It does an excellent job at protecting your rope, it's easy to pack, and has a good build quality. While there are cheaper models available, they fall short of matching the quality and functionality that this rope bag provides.
Prices
Arc'teryx Ion
Runner Up
Based on our research and testing, we think the Arc'teryx Ion is a great choice if you're looking for a climbing rope bag to go play hard outside with, if our top pick isn't quite what you're looking for.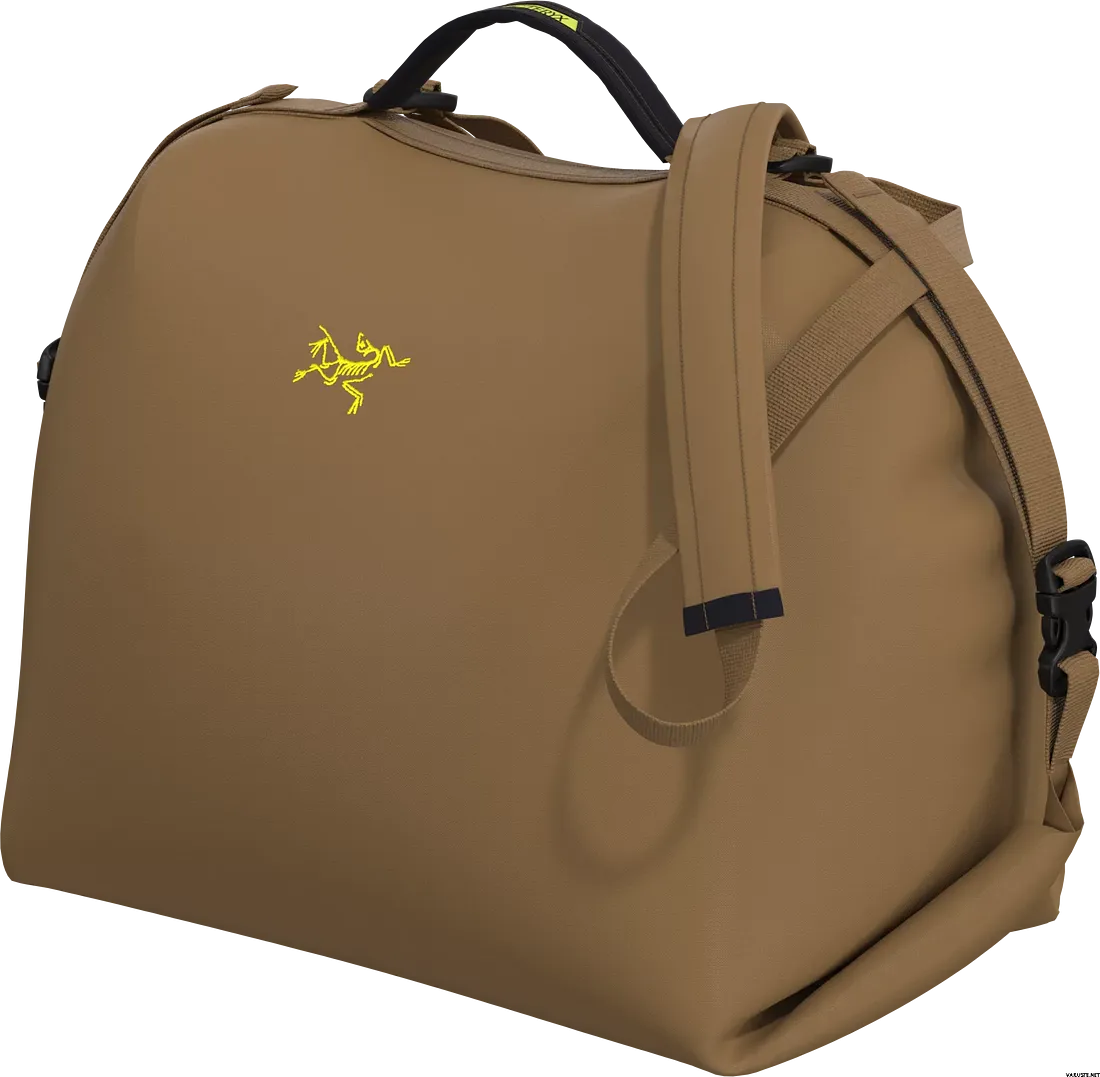 Reasons to Buy
Robust and durable design

Waterproof tarp

Easy to pack and organize gear

Good value for money
Reasons to Avoid
May be too heavy for lightweight climbers

The internal pocket could be larger

Limited color options
The Important Specs
Straps:

Two shoulder straps

Material:

Nylon Ripstop

Tarp Size:

4ft x 4ft

Internal Compartments:

One
Review Roundup
The Arc'teryx Ion has quickly become one of the most popular choices for climbing ropes, and it's easy to see why. The brand is known for their focus on functionality and detail, applying those principles here without compromising on the overall quality or aesthetics.
Most users found it impressive thanks to its lightweight and compact design. Weighing less than a pound, it's easy to carry around. Despite its weight, it provides ample space for storage. It can comfortably accommodate up to 70-meter climbing ropes, which is pretty generous for a rope bag of this size.
The product boasts an easy to use rope tarp, enabling climbers to keep their rope clean and safe from abrasive ground surfaces. It's also worth noting that the set-up and packing process is quite straightforward, which users found to be a huge advantage, especially when under time constraints.
Durability is another area where the Arc'teryx Ion scores some significant points. Reviewers noted that the bag's ripstop nylon material held up well under harsh conditions and frequent use. Its robust construction means it is designed to last, which is sure to be appreciated by those serious about their climbing adventures.
Practical features such as a zippered security pocket for essential items and a sturdy, adjustable shoulder strap for easy carriage have made this product stand out among its competition. The shoulder strap, in particular, drew praise for its comfort, even when lugging the bag around for extended periods.
However, not everyone found the Arc'teryx Ion perfect. Some users mentioned the bag's single buckle closure system to be somewhat inconvenient, causing difficulties when trying to secure the rope properly. For many, a dual lock system would have provided a more secure fit.
Similarly, some critiques were geared towards the price. The consensus among users was that while the product was of high quality and reliable, it was considered a bit on the expensive side compared to some other rope bags on the market.
Overall, the Arc'teryx Ion has been praised for its solid performance, convenient features, and long-lasting durability, making it a worthy consideration for any climber, despite a few minor drawbacks.
Durability & Material
The Arc'teryx Ion is constructed from durable Nylon Ripstop, which has proven to stand the test of time. Many customers praise its robustness, with some reporting that they've been using it for years without seeing any signs of wear and tear. The material is also praised for its rocking resistance against abrasion, ensuring the bag will survive even the roughest use.
Ease of Packing
Customers rave about how easy the Arc'teryx Ion is to pack. The bag design has separate compartments that allow for easy organization of gear. The ropes can be conveniently packed without tangling. However, some reviews note that the internal pocket could be larger for more storage.
Tarp Design & Size
The tarp size impresses most customers. At 4ft x 4ft, it's large enough to give you plenty of space to flake your rope. Made from waterproof materials, it keeps your rope safe from damp surfaces. However, some users express wish for more color options for the tarp.
Value
At its price point, the Arc'teryx Ion offers tremendous value for money. Customers note the bag's longevity and the tarp's protection extending the life of their ropes. Despite being more costly than other rope bags in the market, its quality, functionality and durability make it a worthwhile investment.
Prices
No prices found. Check back later!
Black Diamond Full Rope Burrito
$39.95
Best Budget Climbing Rope Bag
Based on our research and testing, we think the Black Diamond Full Rope Burrito is a great pick if you're looking for a climbing rope bag that is more budget friendly, without sacrificing too much in quality.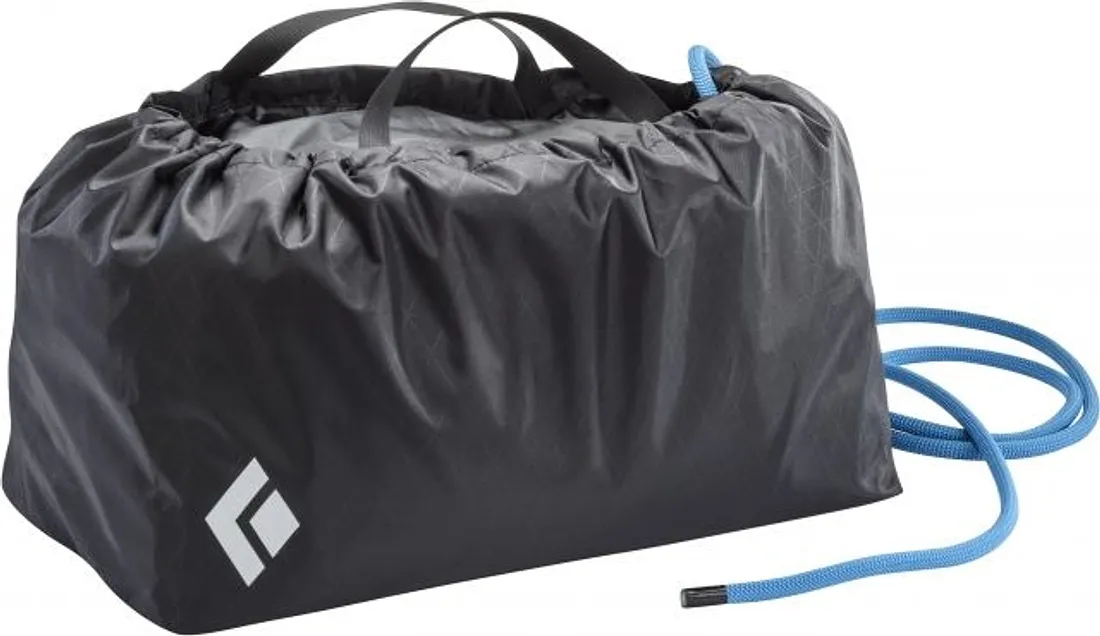 Reasons to Buy
Spacious design fits a full 70m rope

Easy to pack away and carry

Budget friendly

Made with durable, high-quality materials

Features an elastic opening for fuss-free rope storage

Includes a built-in tarp for clean rope handling
Reasons to Avoid
No external pockets for additional gear

Tarp may not be large enough for some users

Needs careful handling to maximize product lifespan
The Important Specs
Material:

Polyester

Tarp Size:

1.2 x 1.5 meters

Dimensions:

4 x 6 x 3 inches

Rope Capacity:

Up to 70 meters
Review Roundup
When it comes to a quality rope bag with friendly price tag, the Black Diamond Full Rope Burrito shines through. It's a simplified yet practical option that makes packing away your rope after a long climb a breeze.
Customers appreciated its easily accessible design, with a built-in tarp acting as a clean workspace for your rope. This feature means no more untangling or cleaning debris from your rope upon arrival at your next climb. Quite a time-saver, as many reviewers mentioned!
The bag is capable of holding up to 80 meters of rope, making it perfect for both short climbs and more daring, higher pitches. Yet, despite its holding capacity, some customers pointed out it's not bulky or bothersome to carry around, thanks to its compact design.
The bar-tacked stress points further reinforce the durability of the Black Diamond Full Rope Burrito, which was a big hit with users. This bag was praised for its toughness, capable of withstanding the rocky, rough environments where climbing takes place. This durability extends to the adjustable shoulder straps, ensuring they won't give out under the weight of a fully loaded bag.
Further celebrating the practicality of this bag, users were fans of the elastic opening. This feature expedites the process of packing up your gear into the bag, keeping it all secure and easy to transport. This bag aims to streamline the post-climb process, and according to customers, it does just that.
The Full Rope Burrito does come with a few points of concern though. Some customers mentioned it lacks pockets or compartments for gear organization. This could prove to be a drawback for those who prefer to have their climbing essentials in a designated spot within their bag.
Another point of contention was the absence of a closure system for the tarp. While the tarp aids in rope management, it doesn't securely close around the rope, potentially allowing small debris to get in when packing up after a climb.
Durability & Material
Buyers are generally pleased with the Black Diamond Full Rope Burrito's overall durability. Made with high-quality polyester, it's built to withstand the rigors of rock-climbing and the great outdoors. However, a few users have reported that they've had to handle it quite gingerly to avoid it getting frayed or torn.
Ease of Packing
The bag's simple design belies its incredible functionality. Numerous customers have expressed appreciation for how easy it is to pack up the rope into the bag. The large, elastic opening can satisfyably swallow a full 70m rope, making packing a breeze after a long day on the crags.
Tarp Design & Size
The tarp design is a hit among users who appreciate keeping their ropes clean. It folds out perfectly on the ground and even includes color-coded loops for rope ends. However, it's worth noting that some customers have expressed their wish for the tarp to be a bit larger.
Value
When it comes to value for money, reviewers seem to be unanimous in their approval. For its affordable price point, the product offers remarkably exceptional utility. As one user put it, 'a top-notch rope bag without the top-notch price tag.'
Prices