Quick heads-up: some of the links on this page are affiliate links. If you make a purchase through them, we may earn a small commission (at no extra cost to you). This small bit of income helps keep our site running.
Best Climbing Cams of 2023
This post was last updated on December 06, 2023.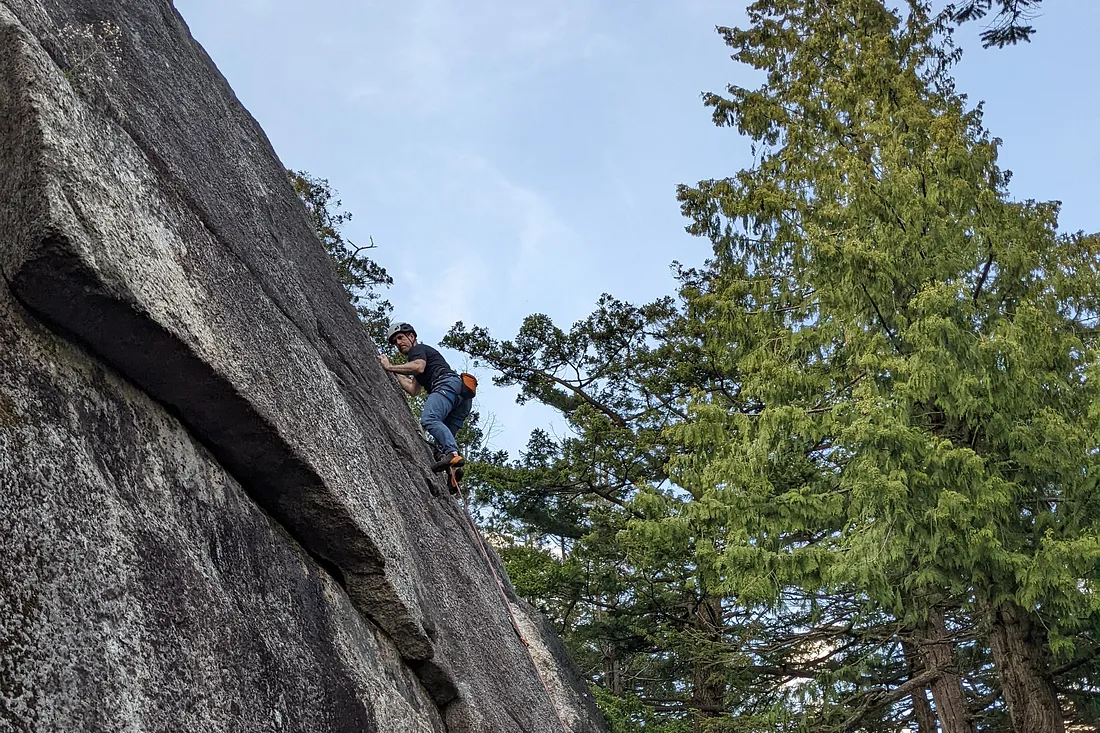 A lot goes into conquering a vertical challenge. With the right gear, even the steepest crag can become your playground. And a serious climber knows that having the best climbing cams on hand is crucial. These buddies will be providing you with protection during your ascent, gripping onto each crevice as you're making your way up.
If you're on the hunt for the best of the best, look no further than Black Diamond Camalot C4. This guy features a top-notch design, expertly balances weight and strength, and is built to perform suitably well in a multitude of rock types which makes it an all-round awesome bit of kit for any climber's pack. Plus, its smooth trigger action and reliable holding power certainly give it an edge over the competition.
But we also know that different climbers have different needs - and wallets. So, we've also gathered a couple of fantastic runners up, along with the top picks for those on a budget or those hunting for the lightest gear. Plus, check out our guides on the best climbing harnesses, best belay devices, and best climbing helmets - they're chock-full of awesome gear to upgrade your climbing setup.
Our Top Recommendations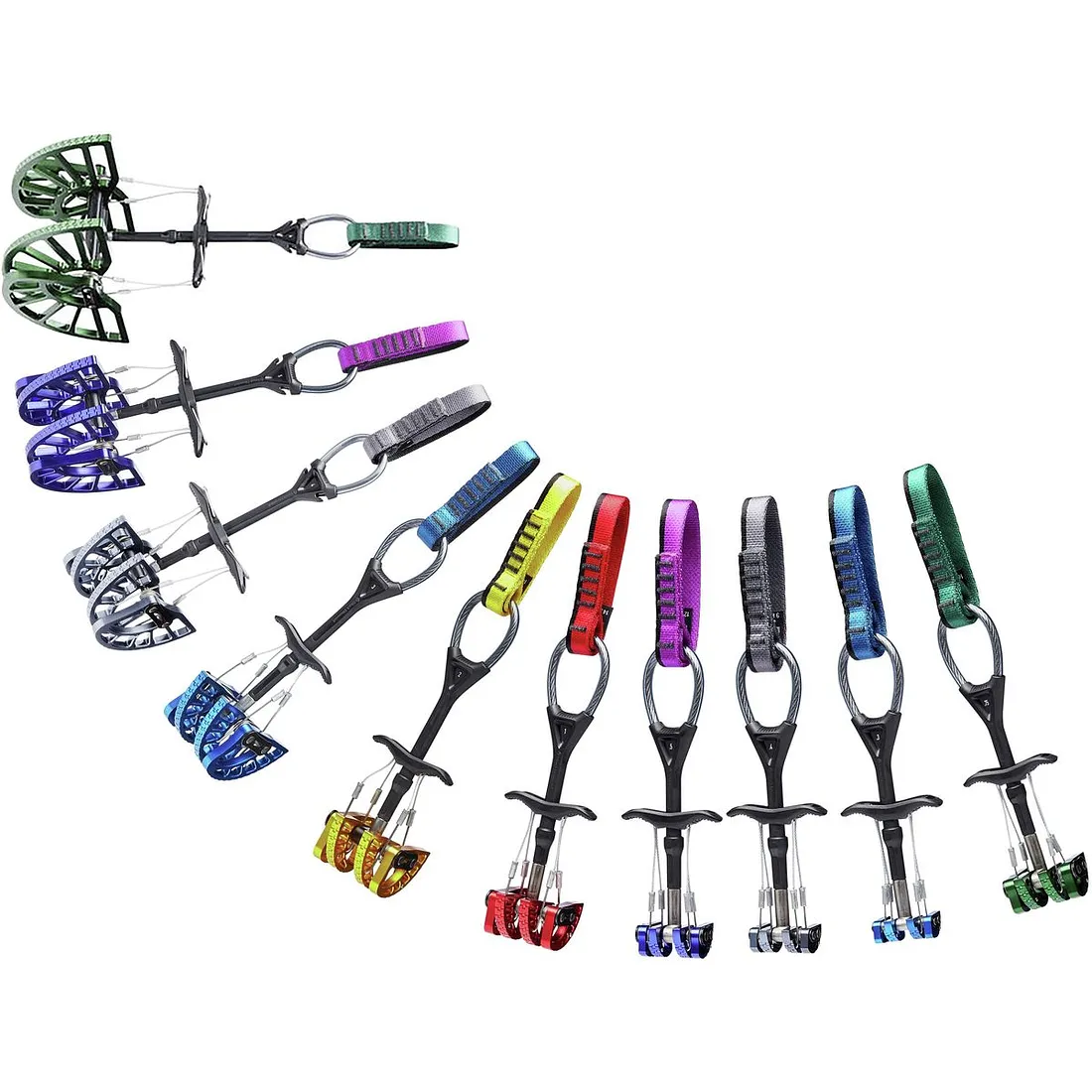 Black Diamond Camalot C4
The Black Diamond Camalot C4 wins top spot for its fantastic durability and smooth trigger action, praised by users for consistently providing reliable protection during climbing adventures.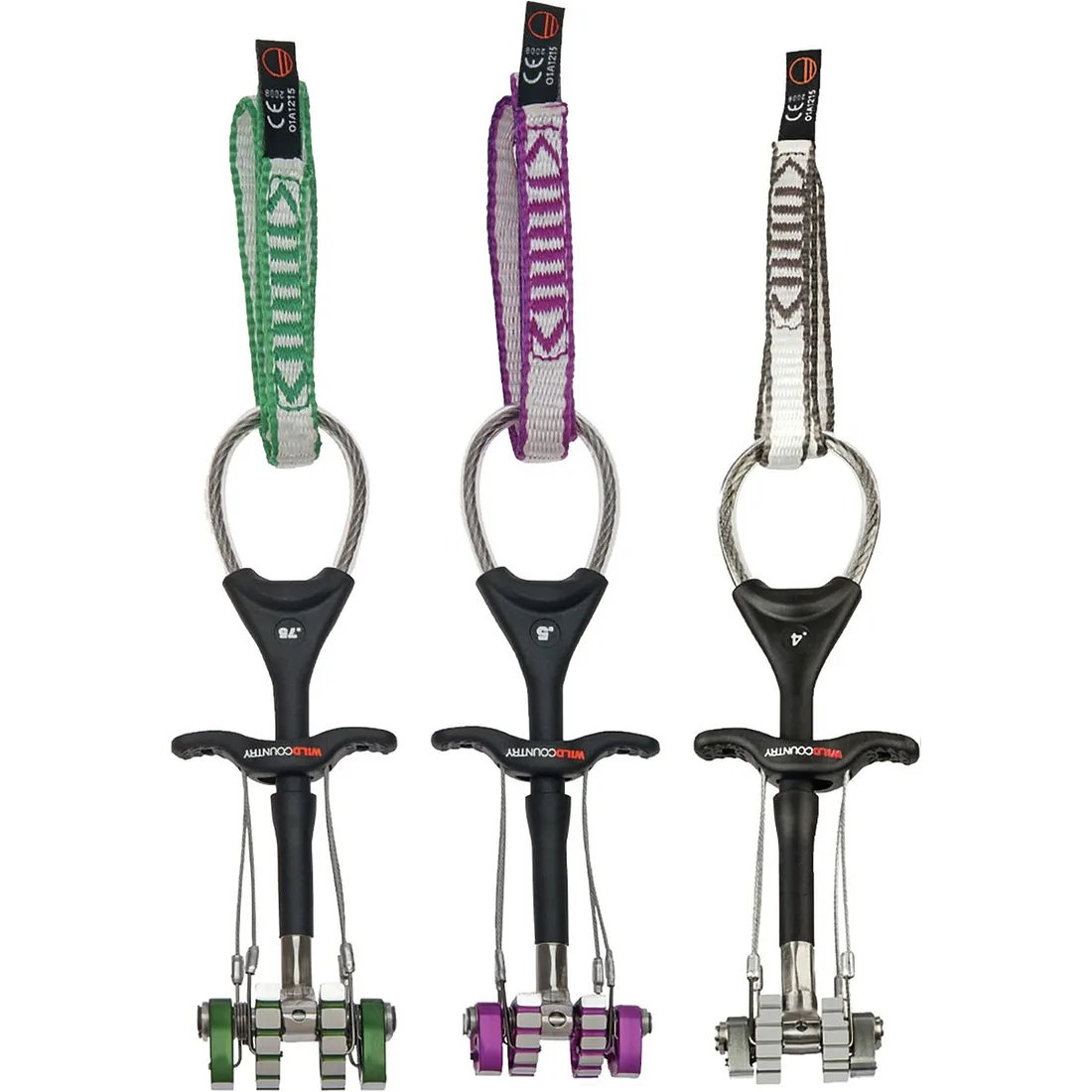 Wild Country Friend Cam
Based on user reviews, the Wild Country Friend Cam earned top pick runner up status due to its remarkable durability and exceptional stability, offering climbers real confidence on unpredictable rock surfaces.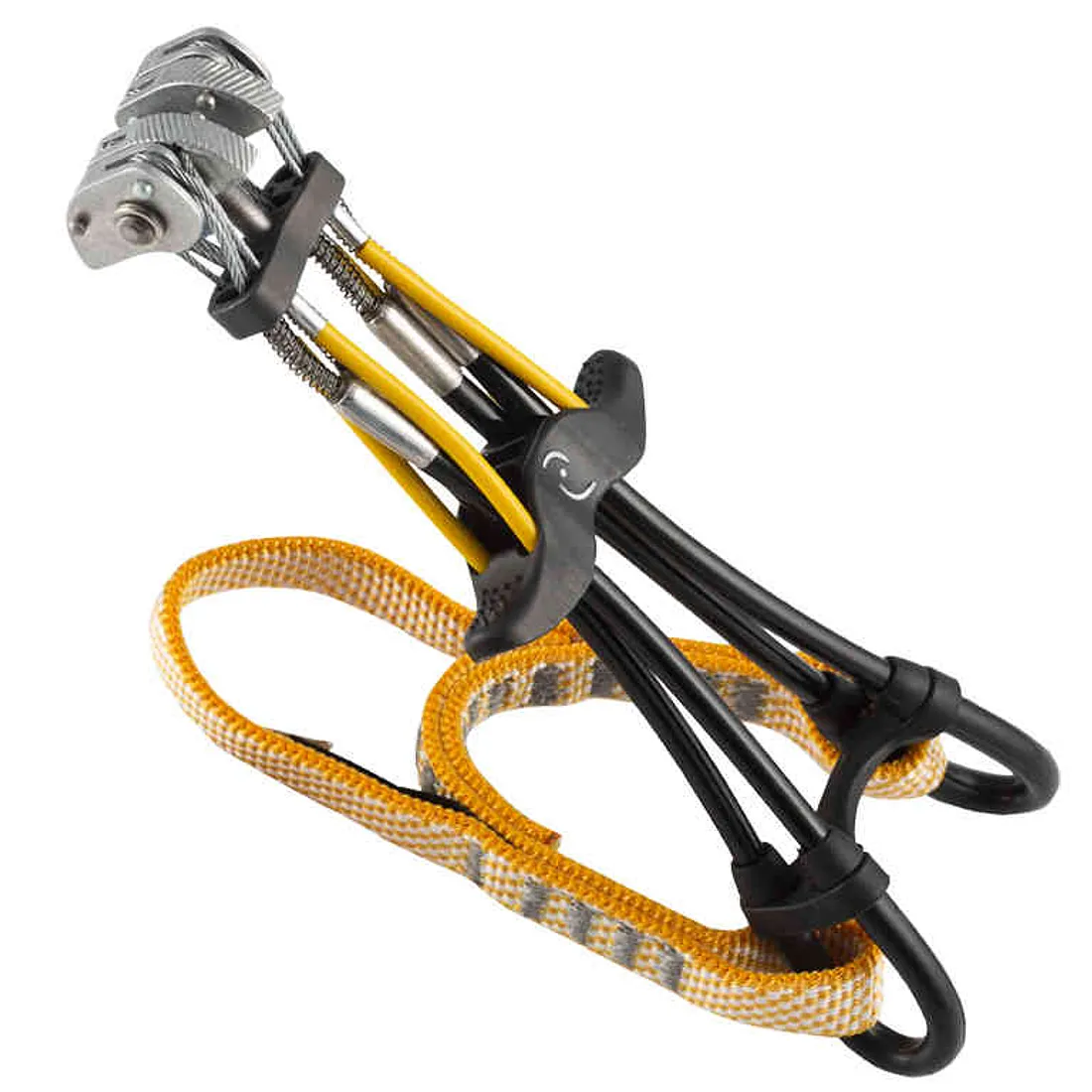 Totem Cam
The Totem Cam snatched the runner up spot for its astounding durability and user-praised ability to fit securely into a wider range of placements than its competitors, making it a reliable mate on tricky routes.
What you should look for
(and what we test for)
Weight
Weight also matters--especially for long climbs or backpacking trips--so opt for lightweight yet robust models that will make your pack a bit easier to lug around.
Ease of Use
Ultimately, look for cams that are easy for you to use; quick to place and remove means less struggle out on the crag, so cams with larger trigger bars or thumb loops can be particularly handy.
Range of Sizes
When looking for climbing cams, it's crucial to consider a range of sizes, as having options from small, medium, to large can help you securely place gear in a wider variety of rock cracks.
Strength and Durability
Check out the cam's strength and durability first, because the last thing you want is for your gear to show signs of wear or break in the middle of your climb.
Black Diamond Camalot C4
$239.00
The Best Climbing Cams
Based on our research and testing, we think the Black Diamond Camalot C4 are the best Climbing Cams on the market right now, for anyone looking to play hard outside.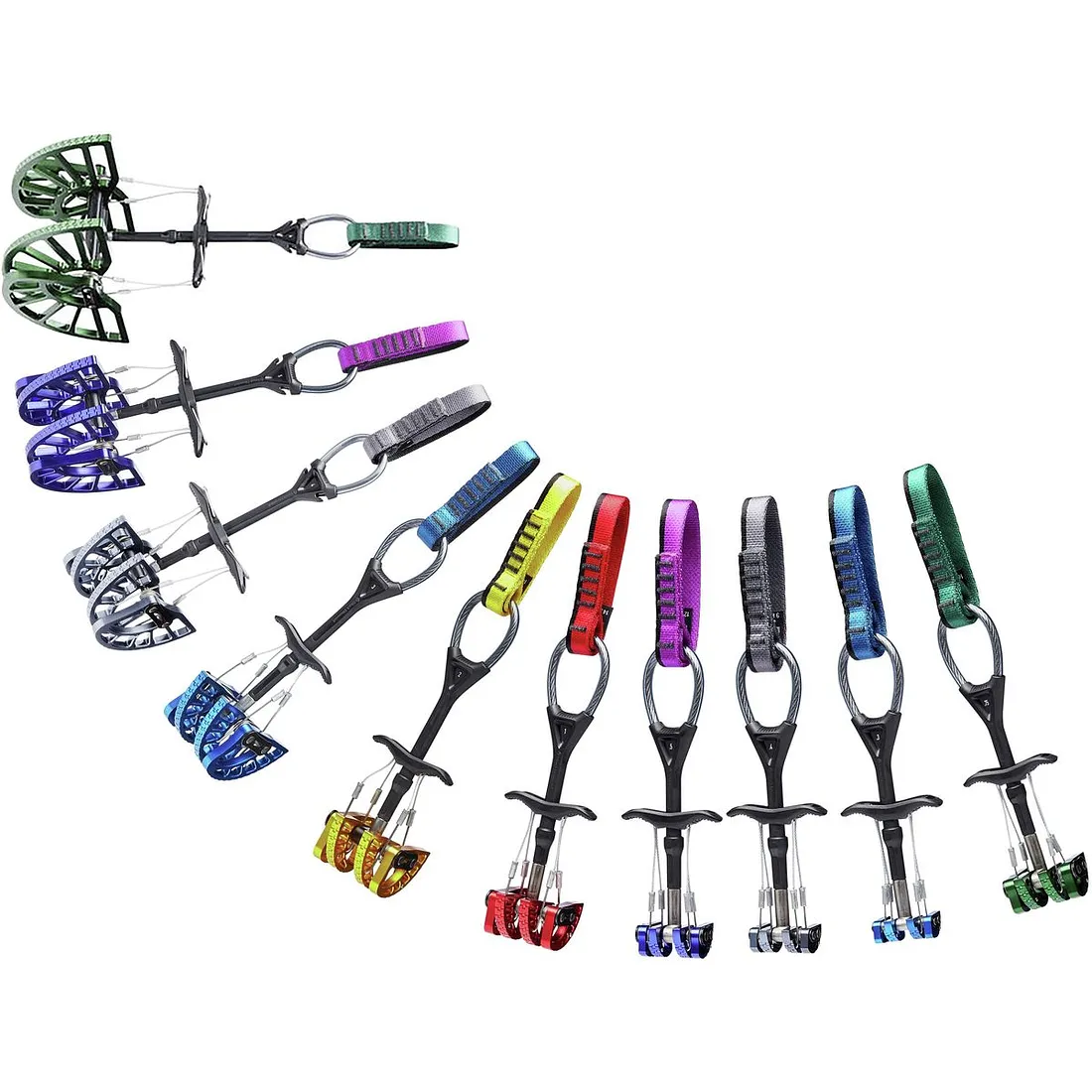 Reasons to Buy
Superior durability and material craftsmanship

Remarkable versatility across different rock types

Excellent holding power and expansion range

Responsive trigger action and smooth handling
Reasons to Avoid
Somewhat higher price than other models

Not the lightest option out there
The Important Specs
Stem:

Double axle

Range:

0.6 - 4 inches

Material:

Nylon & Aluminum
Review Roundup
When it comes to climbing gear, the Black Diamond Camalot C4 certainly shows up on the top of the list. Its popularity in the climbing community is a testament to its reliability, quality, and performance.
One of the first things that buyers notice about the Camalot C4 is its wide range of sizes. This diversity lets you handle anything thrown at you, offering a secure placement for a variety of cracks. Plus, we've read consistent praise for the cam's color-coded scheme, which helps climbers swiftly identify the right size gear during those high-stress climbing moments.
The Camalot C4 has a reputation for its durable built thanks to its robust construction. Customers often mention its longevity, which they ascribe to the device's double-axle design. This feature lends the cam an impressive lifespan, which is an attractive quality for climbers investing in their gear.
As for the action of the device, users have claimed that it offers smooth trigger operation, allowing for a quick and easy placement or retrieval. However, this does come with its own set of criticisms. Some users mentioned that the trigger can be somewhat hard to engage when you're wearing gloves. But for barehanded climbers, the sensitivity and precision are usually just right.
Flexibility is another feature that received plenty of positive commentary. The C4 provides an ideal balance between stiffness for control and flex for reducing walking, a feature that climbers highly appreciate. Despite its stiffness, it still manages to reduce the occurrence of the cam 'walking' into less ideal positions.
However, no product is perfect, and the Camalot C4 is no exception. One of the notable criticism centers around its weight. While it's not considered the heaviest traditional cam on the market, a few climbers have shared their concerns about the added weight, especially when scaling lengthy routes with a full rack. Hauling up the extra ounces was sometimes noted as burdensome.
Another point of contention was its price point. While there's no denying the high quality of the Camalot C4, a few people mentioned wishing it came with a smaller price tag. But for them, it's more about the value offered, and in most cases, they still find it worth the higher cost.
While these criticisms are there, they don't overshadow the vast amount of praise that the Black Diamond Camalot C4 receives from climbers. The overwhelmingly positive comments and commendations from users indicate the cam not only gets the job done but does it efficiently.
Durability & Material
The Camalot C4 receives glowing reviews for its durability. The construction quality is top-notch, demonstrating Black Diamond's commitment to making gear that lasts. The mix of nylon and high-strength aluminum speaks to a design that withstands the rigors of climbing, even when used over extended periods. Users report that these cams, thanks to their rugged material choices and smart construction, can take a beating and come out ready for more action.
Holding Power & Expansion Range
Buyers highly praise the Black Diamond Camalot C4 for its robust holding power and superior expansion range. It's possible to place these cams in a wide variety of crack widths, which is a huge selling point for climbers who frequently encounter unpredictable terrain. Its double-axle design contributes greatly to expansion range and holding strength, offering a solid grip even in non-ideal placements.
Trigger Action & Handling
As for trigger action and handling, customers are overwhelmingly positive. Each device moves smoothly, and it's easy to both place and remove. Additionally, the larger thumb loop enhances control and ease of handling, a feature greatly appreciated by climbers working in more advanced or challenging terrain.
Value
While the Black Diamond Camalot C4 comes at a slightly higher cost than some competitors, many climbers find its unparalleled performance and durability to be a solid investment. With many noting fewer placements to achieve solid falls protection, climbers commend the value that they receive from the C4, despite the premium price tag.
Versatility
The C4's versatile design is another strong point mentioned in customer reviews. Whether you're navigating a narrow finger crack or a wide chasm, the Camalot covers the bases. Able to function reliably across various rock types and conditions, the C4 is lauded as a true workhorse.
Weight
Although the Camalot C4 isn't the absolute lightest climbing cam on the market, its durability and versatility often make up for the bit of extra weight. Users note that while the C4 may add a slight additional load to their rack, the trade-off in terms of performance and reliability is more than worth it.
Prices
Wild Country Friend Cam
$229.95
Runner Up
Based on our research and testing, we think the Wild Country Friend Cam are a great choice if you're looking for climbing cams to go play hard outside with, if our top pick isn't quite what you're looking for.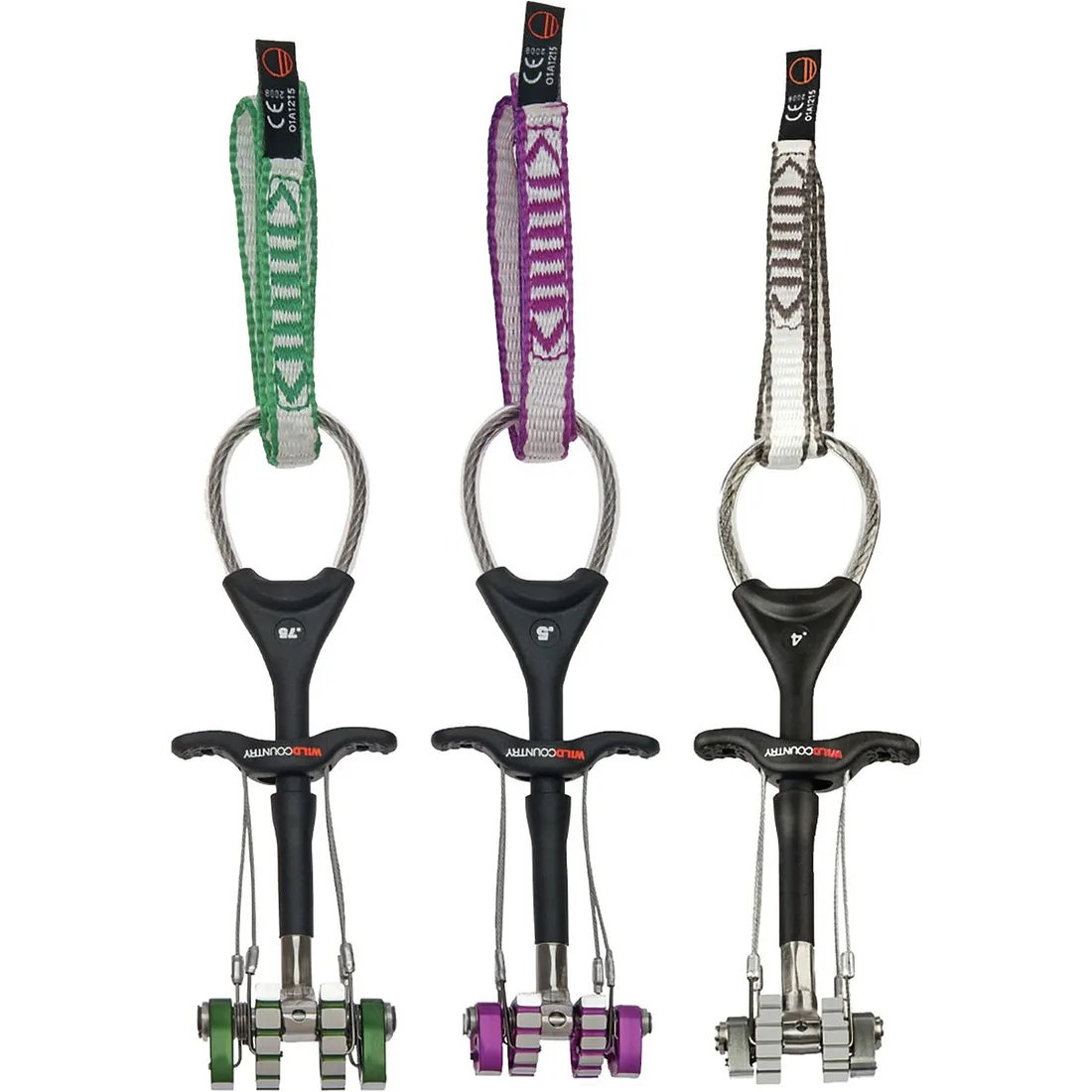 Reasons to Buy
Child's play to place and remove

Impressive expansion range

Durable with hard-wearing material

Superb holding power

Versatile in different climbing environments
Reasons to Avoid
Somewhat expensive

Trigger action may feel stiff

Not the lightest cam on the market
The Important Specs
Material:

Hardened steel and aluminum construction

Dimensions:

1.49 x 2.01 x 1.02 inches

Max Range Mm:

105
Review Roundup
When it comes to climbing gear, the Wild Country Friend Cam falls nothing short of remarkable. This is one of the top-rated cams for its robustness and versatility, made explicit by numerous user reviews online.
Wild Country has aimed at providing a device that is functional and reliable, and with the Friend Cam, they've certainly hit the mark. Its twin-axle, double cam units give it a wide range and set it apart from single axle versions, providing more stability and friction against the rock surface.
Users have consistently praised the Friend Cam's smooth trigger action, a critical feature when you're hanging onto a rock face trying to secure your next placement.
Another applauded feature of the Friend Cam is its extendable dyneema sling. This feature can really come in handy as it can shape-shift, reducing the need for additional quickdraws which in turn can save you both weight and money.
As for its construction, it's built to endure. It's made from a combination of high grade, alloy steel and heat-treated aluminum, offering exceptional strength and durability. The Friend Cam's hot forged lobes are mentioned often in online reviews for their excellent weight to strength ratio.
However, durability does come at a price. A few users shared that the Friend Cam is slightly heavier than some other models, which may be a drawback for those looking for ultra-light equipment.
Despite the weight, climbers agree that the Friend Cam's solid construction and ingenious design, combined with its excellent range, reliable operation and versatility, outweigh any potential downsides.
In terms of cost, the Friend Cam sits at the higher end of the price spectrum. But, the almost unanimous user consensus here is that you're getting what you're paying for - which is a reliable and innovative piece of climbing equipment that could last for many climbing adventures.
To sum it up, the Wild Country Friend Cam has found favour with the climbing community as reflected in numerous glowing online reviews. It has proven to be a piece of high-quality, reliable equipment, that offers excellent functionality and lifespan.
Durability & Material
When it comes to durability, the Friend Cam stands the test of time. Made with hardened steel and aluminum, it stays resilient through rigorous use over time. Users have mentioned in their reviews that even after substantial use, they witness negligible wear and tear. This speaks volumes about its durability.
Holding Power & Expansion Range
The Wild Country Friend Cam undoubtedly excels in terms of holding power and expansion range. Its design, which features a unique, twin axle and a wide variety of sizes, provides superior hold and an impressive expansion range. This means that it fits into more placements than a lot of the competition, making it a versatile option for various climbing routes.
Trigger Action & Handling
The trigger action of the Friend Cam has been designed with precision. Some climbers have mentioned the trigger may feel stiff when new, but they also observed that this eased with multiple uses. The ergonomics of the thumb loop and trigger are well thought out, ensuring easy handling.
Value
Despite being priced slightly higher compared to some competitors, the consensus among climbers, especially seasoned ones, is that the Wild Country Friend Cam offers immense value due to its features, durability, and versatility. Though it may seem a significant initial investment, climbers agree that it pays off in terms of longevity and performance.
Versatility
Suitable for trad climbing and alpine climbing, the Friend Cam's versatility is one of the main reasons why it's a favorite among climbers. It performs exceptionally well in a variety of placements from vertical cracks to horizontal roofs. Overwhelmingly, climbers praised its versatility in their reviews.
Weight
Though the Friend Cam is not the lightest cam on the market, the difference is fairly insignificant and not a major drawback. In online reviews, most climbers didn't seem to mind the slightly heavier weight for the superior performance it offers.
Prices
Totem Cam
Runner Up
Based on our research and testing, we think the Totem Cam are a great choice if you're looking for climbing cams to go play hard outside with, if our top pick isn't quite what you're looking for.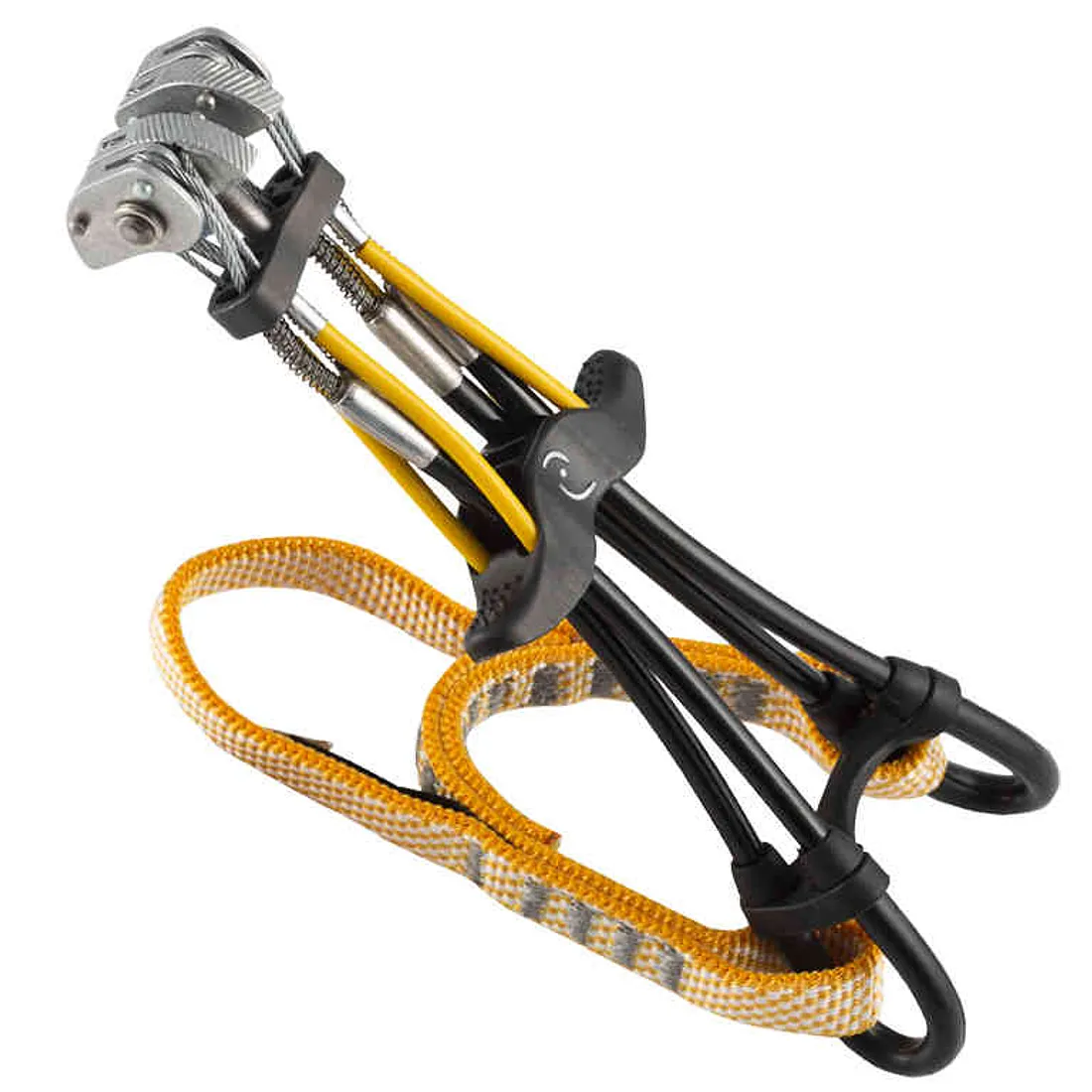 Reasons to Buy
Good range anxiety

Versatile size options

Excellent fit to rock shapes

Trustworthy solidity

Top-notch build quality
Reasons to Avoid
A bit pricey

Relatively heavier

Trigger wires are exposed

Requires designated skill to place correctly
The Important Specs
Range:

13.8 - 52.2 mm

Sizes:

0.65 - 1.8

Material:

Anodized aluminum alloy

Strength:

6 - 10 kN
Review Roundup
Let's dive into the goings-on about one of the most talked-about climbing cams in the market today: The Totem Cam. According to users, the cam is popular for its direct-bias loading function that enables all lobes to proportionally share the weight - a function that apparently works impressively in real-life climbing conditions.
Users say that the Totem Cam stands out as it handles irregular fissures like a champ. This is particularly handy with routes that don't have picture-perfect cam placements, a frequent scenario in real rock climbing, I'd say! Plus, it's designed to work in both parallel-sided cracks and flared placements.
The cam's flexiblility is another talking point amongst users. Its flexible stem and unique construction allow it to move and align with the rope's pull. However, some users have raised concerns about the cam's durability. While the flexibility of the cam is unquestionably a boon, frequent usage in harsh climbing conditions might impact its longevity.
Quality build is a common shout-out when it comes to the Totem Cam. Customers applaud the craftsmanship that has gone into creating this cam. The well-thought-out color-coding for the different sizes helps climbers to quickly identify the cam to use - a feature that users take to rather well.
User reviews also highlight the cam's good handling. From extending their sling to retrieving it from a hard placement, climbers share that the Totem Cam's ergonomic thumb press and trigger increases handling and comfort. On the flip side of this, some climbers did express a bit of struggle as the thin cam lobes and soft alloy might potentially make placement and extraction a tad bit challenging.
While it's towards the steep end of the price range, those climbers who value robust and versatile gear believe it's worth every penny. It's hailed as a versatile workhorse that can handle a variety of climbing conditions. Pricey? Yes... But according to them, being able to trust the cam in tricky situations makes the extra cost worthwhile.
Durability & Material
The Totem Cam boasts an impressive strength and high durability, largely due to its anodized aluminum alloy build. With occasional maintenance, these cams are designed to stand the test of time, though it's worth noting that the trigger wires, which are somewhat exposed, could be the weak link if not properly cared for.
Holding Power & Expansion Range
The Totem Cam excels in both holding power and expansion range, thanks to its laudable direct-loading capacity of the lobes. Its unique design provides a wide expansion range, offering a solid feel in various placements.
Trigger Action & Handling
The trigger action is smooth, and the larger handling surface provides an excellent grip. It's worth mentioning, though, that it can be a bit stiff when used with gloves.
Value
Though a bit pricier, the performance and durability of the Totem Cam makes it a fine investment. It's an excellent choice for climbers seeking a reliable cam that can handle a wide range of rock contours and sizes.
Versatility
In terms of versatility, the Totem Cam is second to none. Its design ensures an efficient fit in a range of placements from parallel cracks to irregular surfaces. However, to fully harness this flexibility, some skills and experience are required to place it correctly.
Weight
One minor drawback to the Totem Cam is that they're slightly heavier than some other options. However, many users have reported that the performance and fit of these cams more than compensates for a bit of additional weight.
Prices
No prices found. Check back later!
Black Diamond Camalot
$239.00
Best Budget Climbing Cams
Based on our research and testing, we think the Black Diamond Camalot are a great pick if you're looking for climbing cams that are more budget friendly, without sacrificing too much in quality.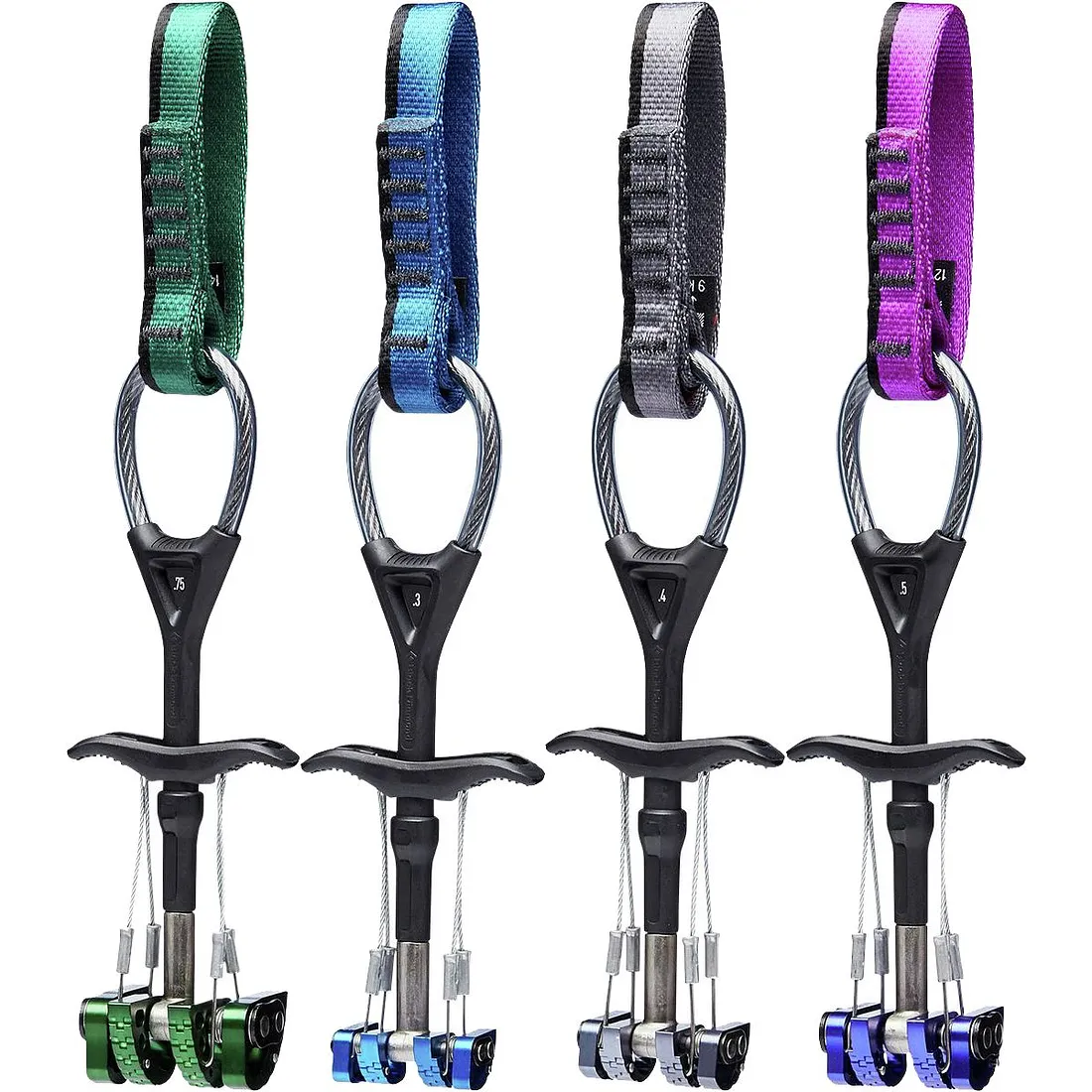 Reasons to Buy
Great value for the price

Versatile range

Reliable holding power

Quality material and design

Easy trigger action and handling
Reasons to Avoid
Heavier compared to some options

Not ideal for very small or very large cracks

Some users find trigger stiff after continued use
The Important Specs
Range:

13.8 - 69.3 millimeters

Material:

Aluminum alloy

Active Stems:

double

Axle To Axle Length:

100 - 115 centimeters
Review Roundup
The Black Diamond Camalot is a top pick for climbers on a budget. This little item doesn't compromise on quality while giving your wallet a break. Wouldn't it be like climbing Mount Everest without stepping out of your living room? Yes, you heard it right!
Wrapped in a sleek anodized armor, the Camalot boasts reliable durability. Its lobes are built to withstand the typical wear and tear that comes with climbing. Plus, it features a double axle design which provides ample range versatility. This means the Camalot is versatile enough to fit in various crack sizes. Killing two birds with one stone or what?
The weighted trigger pull on the cam unit's stem is smooth and easy to handle, even after repeated use. No more cursing under your breath over stubborn gear. The Black Diamond Camalot has got you covered!
As for the protection, many buyers mentioned how they felt safe and secure using the product. The expansion range and grip strength add to its solid performance in diverse climbing situations. The color-coding not only adds to the aesthetics but also simplifies identification on the climbing belt. Now, that's something every climber dreams of right?
Yet, as with any product, it's not all sunshine and rainbows. Some users have pointed out that the Camalot is a bit on the heavy side. This could make it slightly burdensome during longer climbs. So, if you're into Super alpine or ice climbing, you might want to keep this in mind.
Another gripe a few climbers have had is the stiff price tag. Even though it lies within the 'Budget' niche, it's not the cheapest option on the market. But hey, good things don't come cheap and the Black Diamond Camalot is no exception.
Online reviewers, overall, swear by the product's quality and reliability. Yes, it has its small quirks, and it may not fit everyone's budget or climbing style. However, for a good chunk of climbers who purchased the product, it's a durable and reliable buddy on their climbing adventures.
Durability & Material
Crafted from an aluminum alloy, this cam is quite robust and can withstand rugged use. Its construction gives it enhanced lifespan compared to many other budget options, although long-term users have reported some wear and tear over time. Especially if you're new to climbing, this level of durability is more than you'd want.
Holding Power & Expansion Range
With a substantial expansion range, the Black Diamond Camalot has proven to hold solidly in a wide variety of cracks. Many users have trusted it during uneasy falls, praising its grip and reliability. However, it may not be the absolute best for very minute or overly expansive cracks. Still, in most recreational climbing scenarios, it holds its own.
Trigger Action & Handling
The trigger action is generally easy on the Camalot, allowing you to place and remove it without a hitch. However, some long-term users have found that it can get a bit stiff after repeated use. This aside, the Camalot handles well and is usually friendly to new users.
Value
Despite it being classified as a budget choice, the Black Diamond Camalot doesn't skimp on delivering great value. Given the features it offers - from its wide holding range to its durability, it delivers considerable bang for your buck. It's not just a good financial decision for novice climbers, but also a practical gear investment for seasoned enthusiasts looking for reliable and sturdy equipment in their kit.
Versatility
Perhaps one of the Camalot's strongest suits is its versatility. With its wide expansion range and durable design, it fits well into a variety of climbing situations. Whether you're dealing with various crack widths or multiple rock types, it's a handy tool to have in your gear collection.
Weight
Though not the lightest cam on the market, many have said that the minor weight tradeoff is worth it considering its performance. Be prepared for a slightly heavier load, yet rest assured - most didn't find this to affect their climbing experience negatively.
Prices
Black Diamond Camalot Ultralight
$99.95
Best Ultralight Climbing Cams
Based on our research and testing, we think the Black Diamond Camalot Ultralight are a solid choice for those looking for a lightweight climbing cams option to go play hard outside with.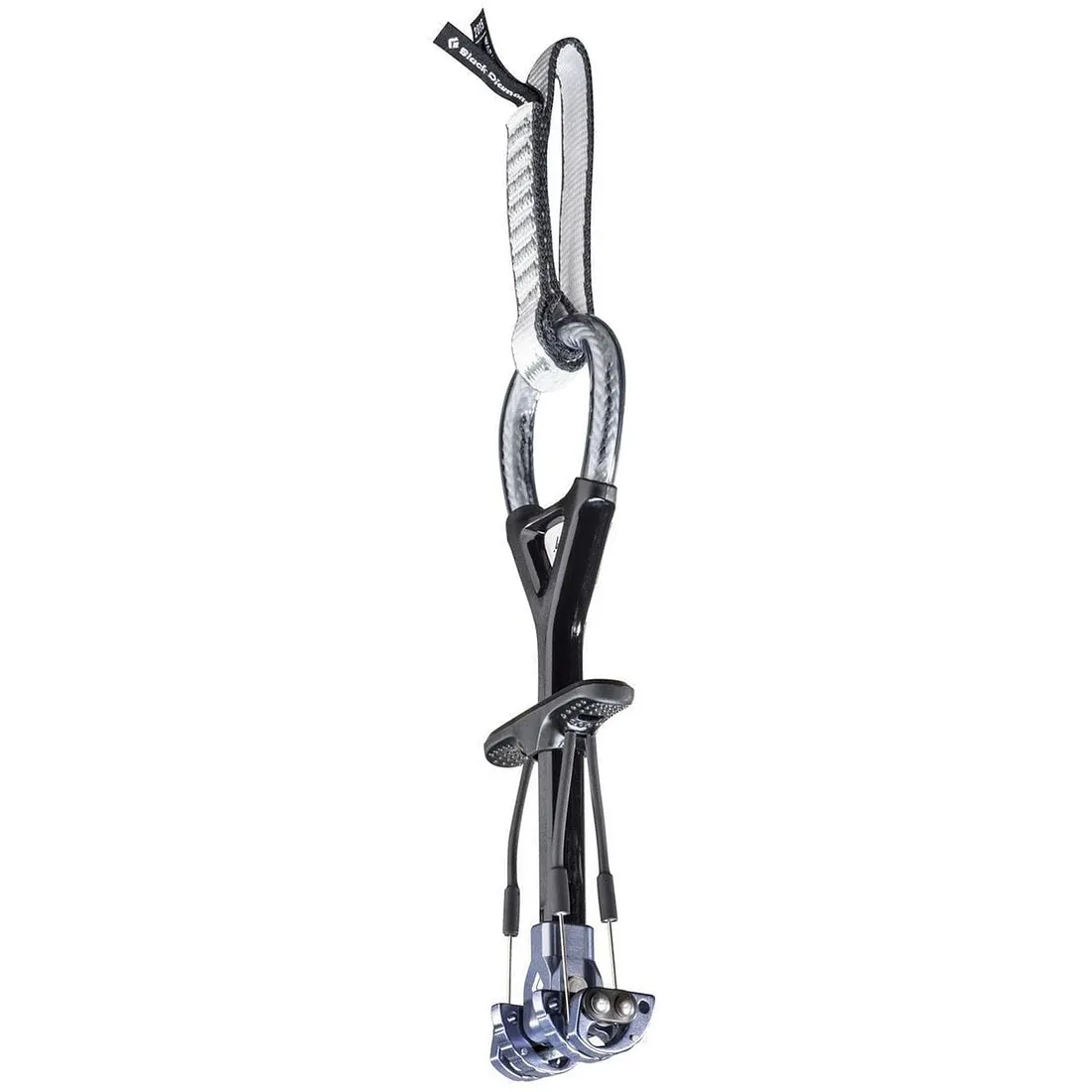 Reasons to Buy
Ultralight design saves overall weight

Broad range of sizes to suit any crack

Ideal for long multi-pitch routes

Doubled up dyneema cable reduces weight without compromising strength
Reasons to Avoid
Pricey compared to competition

Dyneema may wear faster than thicker cables
The Important Specs
Sizes:

Ranges from 0.4 to 4

Material:

Anodized aluminum and dyneema

Expansion Range:

15.5mm - 116.1mm depending on size
Review Roundup
The Black Diamond Camalot Ultralight has built a reputation as one of the staples in the Ultralight climbing niche. Remember those old school bulky cams that seemed to weigh you down? This sleek and lightweight model is a refreshing departure from that.
Many users rave about the weight, or rather the lack of it. Trimmed down from the original Black Diamond Camalot, the Ultralight version has dropped up to 25% of the weight. However, even with its featherweight design, users report that it does not compromise on the sturdy and durable feel that's needed when you're free-climbing.
One of the most loved features users frequently mention is the color-coded slings and lobes which add to ease of use and speed up the selection process when you're mid-climb. It's like having traffic lights guiding your decisions in high-stress moments where every second counts.
The camming range is another area where the Camalot Ultralight shines: generous and versatile. Whether you're handling tricky placements or easy crack climbs, users appreciate the wide range of options. Complaints? Yeah, they're scarce but we did spot a few. A handful of climbers note that the Ultralight is a bit pricier and say that the trigger wires seem delicate, raising concerns about the cam's long-term durability.
To wrap up, from multi-pitch climbs to deep crack adventures, the Black Diamond Camalot Ultralight has been a trusty companion for many climbers. It looks like it has found its sweet spot in balancing weight efficiency, utility, and durability - justifying its higher price for many users out there.
Durability & Material
Made of anodized aluminum, the lobes are sturdy and show resistance to wear and tear. However, the dyneema sling, though strong, may wear down over time faster than thicker cables.
Holding Power & Expansion Range
The Black Diamond Camalot Ultralight shines when it comes to holding power and expansion range. Each size fits snugly into a variety of cracks and crevices, providing solid placement and security. The double-axle design offers a wider placement range than most traditional cams, allowing greater versatility.
Trigger Action & Handling
The Camalot Ultralights have a smooth trigger action that makes it easy to place and remove cams quickly. The lobes retract smoothly, and the thumbs press is ergonomically designed for comfortable handling. Despite their lightweight, they do not compromise on usability or ease-of-handling.
Value
While they are on the pricier side, the versatility, lightweight design, and exceptional holding power and expansion range make the Camalot Ultralight a valuable investment. For serious climbers who value their gear's performance and weight, these cams are well worth the investment.
Versatility
With a wide range of sizes that fit just about any crack size, these ultralight cams are a versatile tool for any climbing kit. From tiny finger cracks to wider fissures, the Camalot Ultralights can handle it all.
Weight
The primary selling point of these cams is their weight. By replacing the steel cable with a dyneema sling, Black Diamond has significantly reduced the overall weight of the cams. This is a standout feature for avid climbers, especially those who engage in long multi-pitch routes.
Prices