Quick heads-up: some of the links on this page are affiliate links. If you make a purchase through them, we may earn a small commission (at no extra cost to you). This small bit of income helps keep our site running.
Best Climbing Helmets of 2023
This post was last updated on December 06, 2023.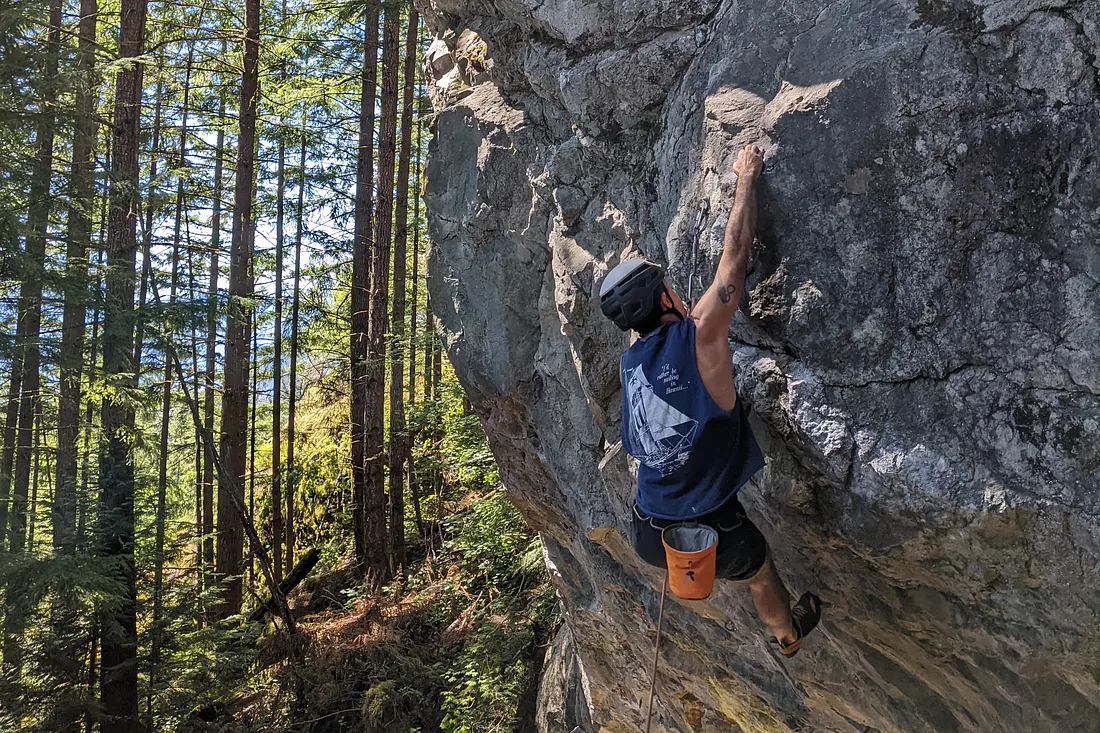 Whether you're a seasoned climber or a newbie starting on your first bouldering adventure, a climbing helmet is one item you can't compromise on. Not only does it keep you safe from falling debris, but it can also provide critical protection in case of a fall. As such, picking the best climbing helmet requires some serious thought. Enter the Black Diamond Vision, a helmet that manages to perfectly marry function with comfort.
In the climbing world, Black Diamond seems to have cracked the code to creating excellent gear. A standout among them is the Vision. This helmet goes beyond the standard safety offerings. It checks off crucial criteria such as an excellent fit, lightweight design, durability, and convenient gear loops. Plus, it's not going to wring out your wallet.
But we know that everybody's climbing journey and requirements are different. So, although the Vision takes the cake as the best overall choice, we've also put together two other top-notch options you can consider. Plus, we've pinpointed the best helmets for two categories - budget-friendly and ultra-light choices. And because we're all about holistic climbing gear, don't forget to check out our recommendations for the best climbing ropes, rope bags, and hangboards too!
Our Top Recommendations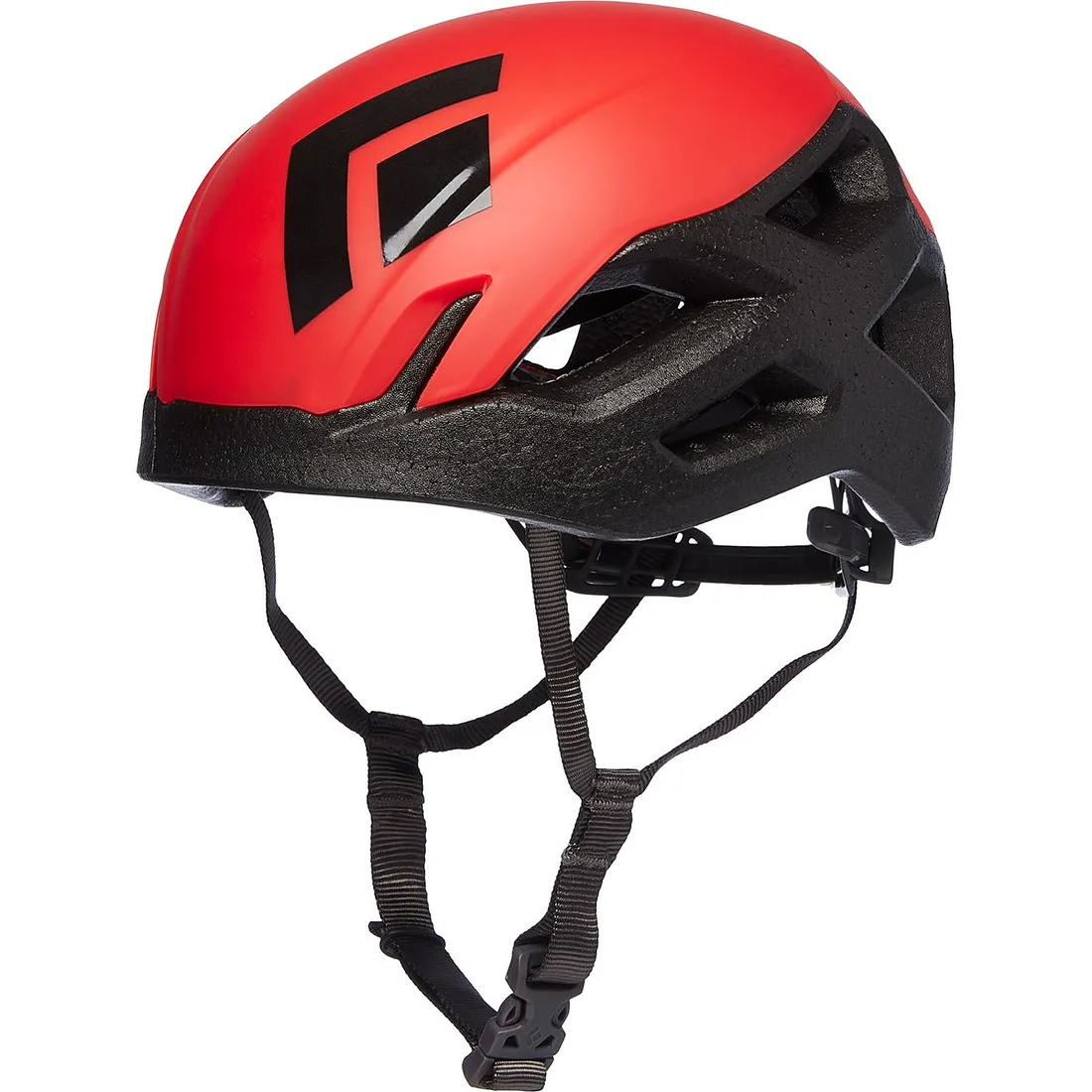 Black Diamond Vision
The Black Diamond Vision stands out as the top pick because users rave about its exceptional durability and unparalleled comfort, making it a trustworthy and hassle-free companion for every climbing adventure.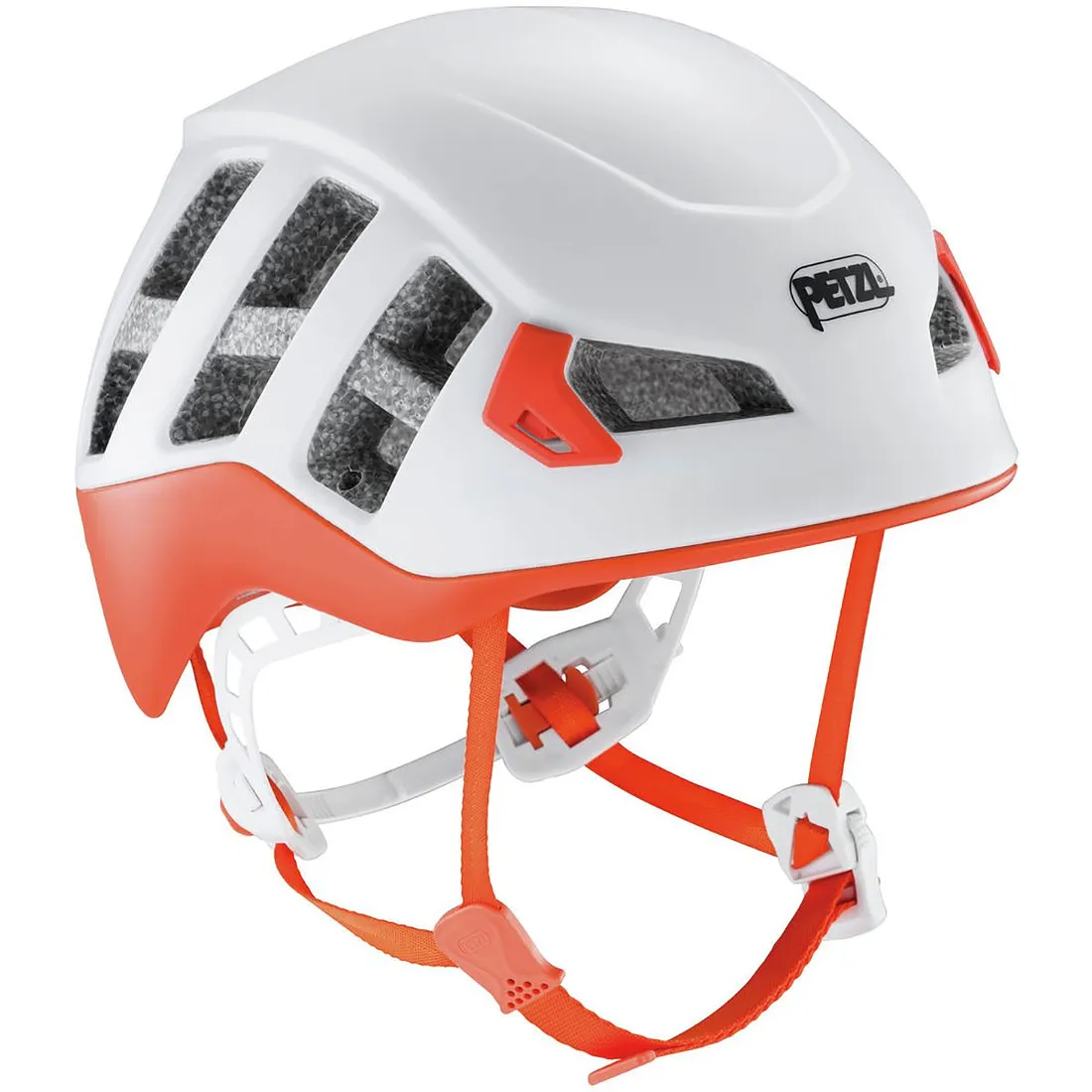 Petzl Meteor
The Petzl Meteor stands out as the top pick runner up due to its impressively lightweight design and enhanced ventilation, earning rave reviews from climbers for its comfort during long ascents.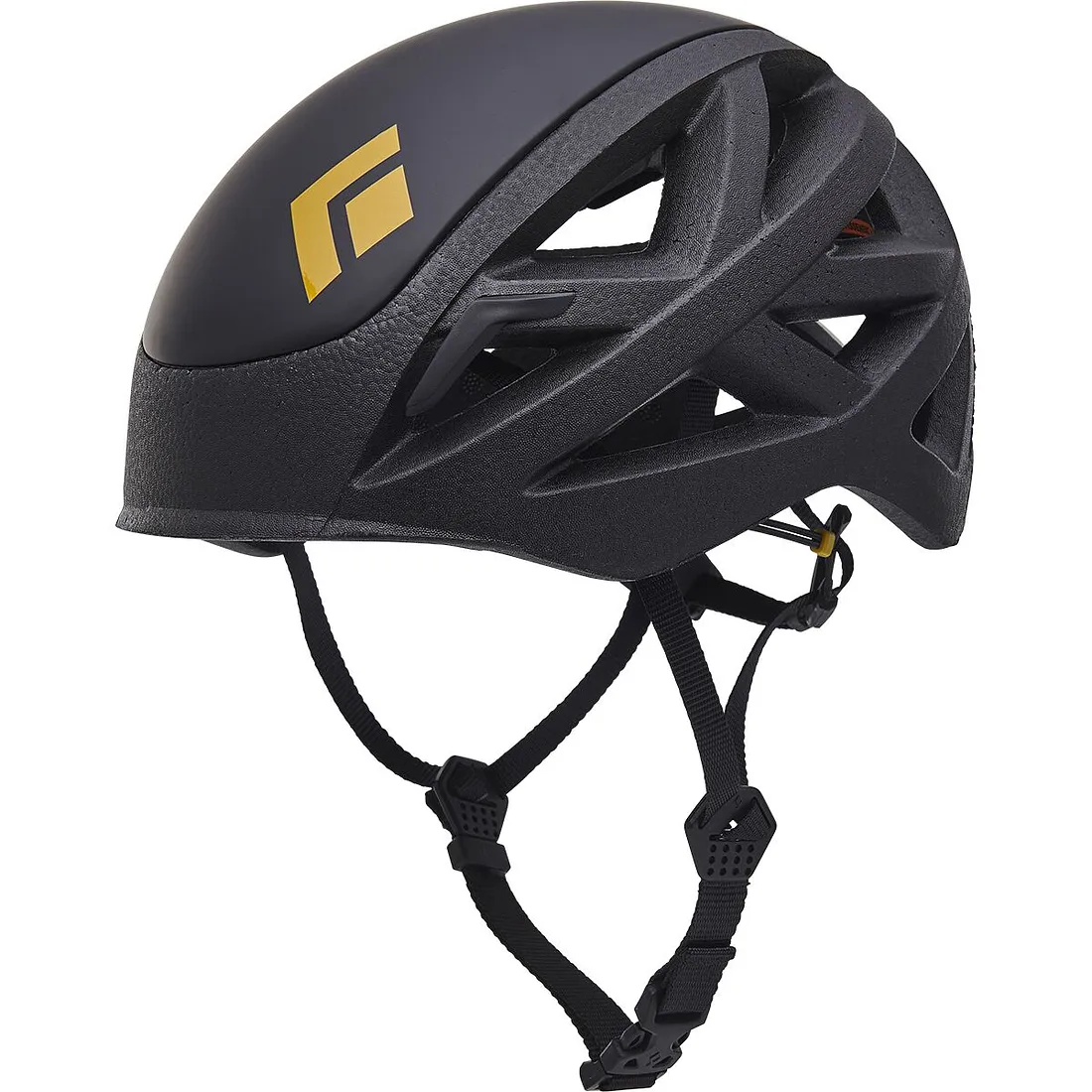 Black Diamond Vapor
The Black Diamond Vapor is a top pick for its superb lightweight construction and superior breathability, features that users heavily praise for their comfort during long climbs.
What you should look for
(and what we test for)
Weight
The lighter the helmet, the less it'll interfere with your mobility and neck strength, ensuring your head stays safe without adding any unnecessary strain.
Comfort
A comfortable helmet is crucial, as it's likely to stay on your head for hours on end, so look for one with adjustable straps for a snug but not restrictive fit.
Durability
Choose a robust climbing helmet made from high-quality materials, as it should withstand potential impacts and last for several climbing adventures without falling apart.
Ventilation
Check the helmet for sufficient ventilation features, as it's important to maintain good airflow around your head to prevent excessive sweating during strenuous activities.
Black Diamond Vision
$99.95
The Best Climbing Helmet
Based on our research and testing, we think the Black Diamond Vision is the best Climbing Helmet on the market right now, for anyone looking to play hard outside.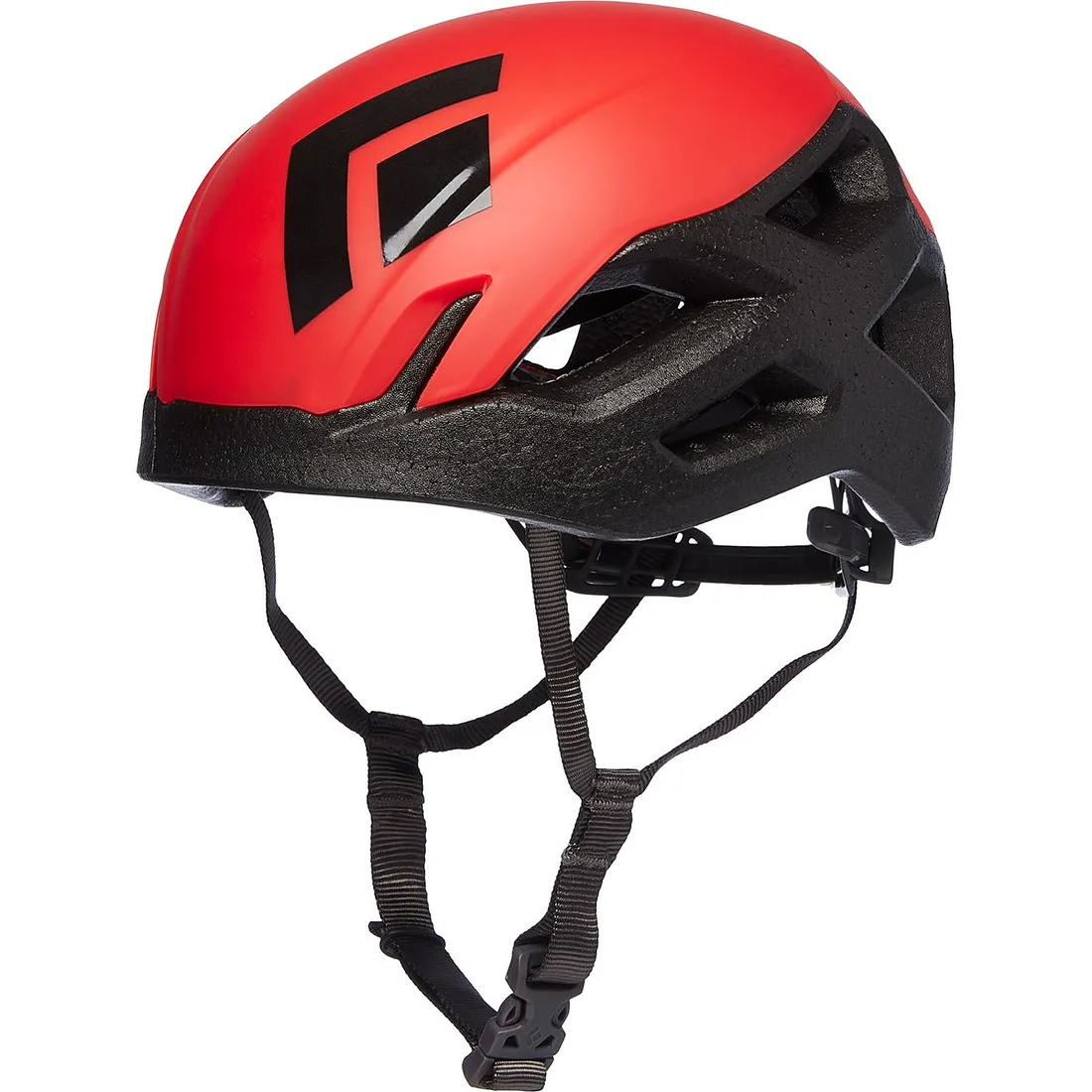 Reasons to Buy
Excellent impact protection

Headlamp clip secure and easy to use

Sleek, modern design

Good ventilation

Top tier quality materials
Reasons to Avoid
On the expensive side

Limited color choice

Heavier than some options

Strap can be a bit cumbersome to adjust
The Important Specs
Material:

EPS foam with a polycarbonate shell

Number Of Vents:

15

Headlamp Compatible:

Yes

Adjustable Fit System:

Yes
Review Roundup
The Black Diamond Vision is a popular choice for many climbers because of its impressive blend of comfort, durability, and adjustability. However, it doesn't skate by solely on those aspects, it also has a few other tricks up its sleeve.
One of the things users love about this helmet is its lightweight design. A lot of users revealed that it was comfortable enough that they often forgot they were wearing it. Some even emphasized just how crucial wearability is for them when they're hanging off a rock face, a couple hundred feet above the ground.
But it's not all about comfort with this helmet, it's also about resilience. Many climbers were impressed with the Black Diamond Vision's durability. There's substantial evidence of this helmet putting up a fight against wear and tear. Users appreciated this, firmly stating that a helmet that could withstand a beating is worth the investment.
Another feature of the Black Diamond Vision that customers seem to appreciate is how well it ventilates. A bunch of people expressed their satisfaction with the helmet's ability to keep their heads cool during sweaty climbing sessions, especially on sweltering days. This small but critical quality contributes to the overall comfort of the helmet.
The helmet also boasts an easily adjustable dial system for various head sizes. This feature was celebrated by many users who thought it was an excellent value addition, ensuring the helmet fits snugly, adding an extra layer of safety.
While there are many positive aspects, no product is perfect. A few users missed having a built-in headlamp clips to attach lights for night climbs. There is also a small group of users who thought that the Black Diamond Vision could do with a little more padding.
Overall, most customers who bought the Black Diamond Vision were happy with their purchase. It has mostly positive reviews online, with users particularly praising its comfort, ventilation, and adjustability.
Comfort
With its soft foam interior and adjustable fit, this helmet scores highly in terms of comfort. The generous ventilation system also aids in keeping things cool and comfortable over long periods of wear.
Durability
Constructed with top-quality materials, it has high marks for durability. It is designed to take the rough and tumble of outdoor adventures in its stride, and looks set to last the distance.
Fit & Adjustability
The Black Diamond Vision has an adjustable fit system that allows it to fit a wide range of head sizes. However, the strap has been criticized by some users for being a bit tricky to adjust.
Gear Loop Design & Capacity
This helmet doesn't necessarily have a gear loop design, instead it uses high quality, easy to use clips for headlamp attachment. The reliable clips mean less fumbling around in the dark trying to secure your light source.
Value
Even though it is on the pricier side, customers have praised the Black Diamond Vision for its durability, comfort and protection that it offers. Yes, there are cheaper options, but if you value high quality and top-notch safety, it is absolutely worth the extra bucks.
Weight
Although it's not the lightest of climbing helmets, it's hardly what anyone would call burdensome. For many customers, the premium features and added protection the helmet offers more than compensates for the extra weight.
Prices
Runner Up
Based on our research and testing, we think the Petzl Meteor is a great choice if you're looking for a climbing helmet to go play hard outside with, if our top pick isn't quite what you're looking for.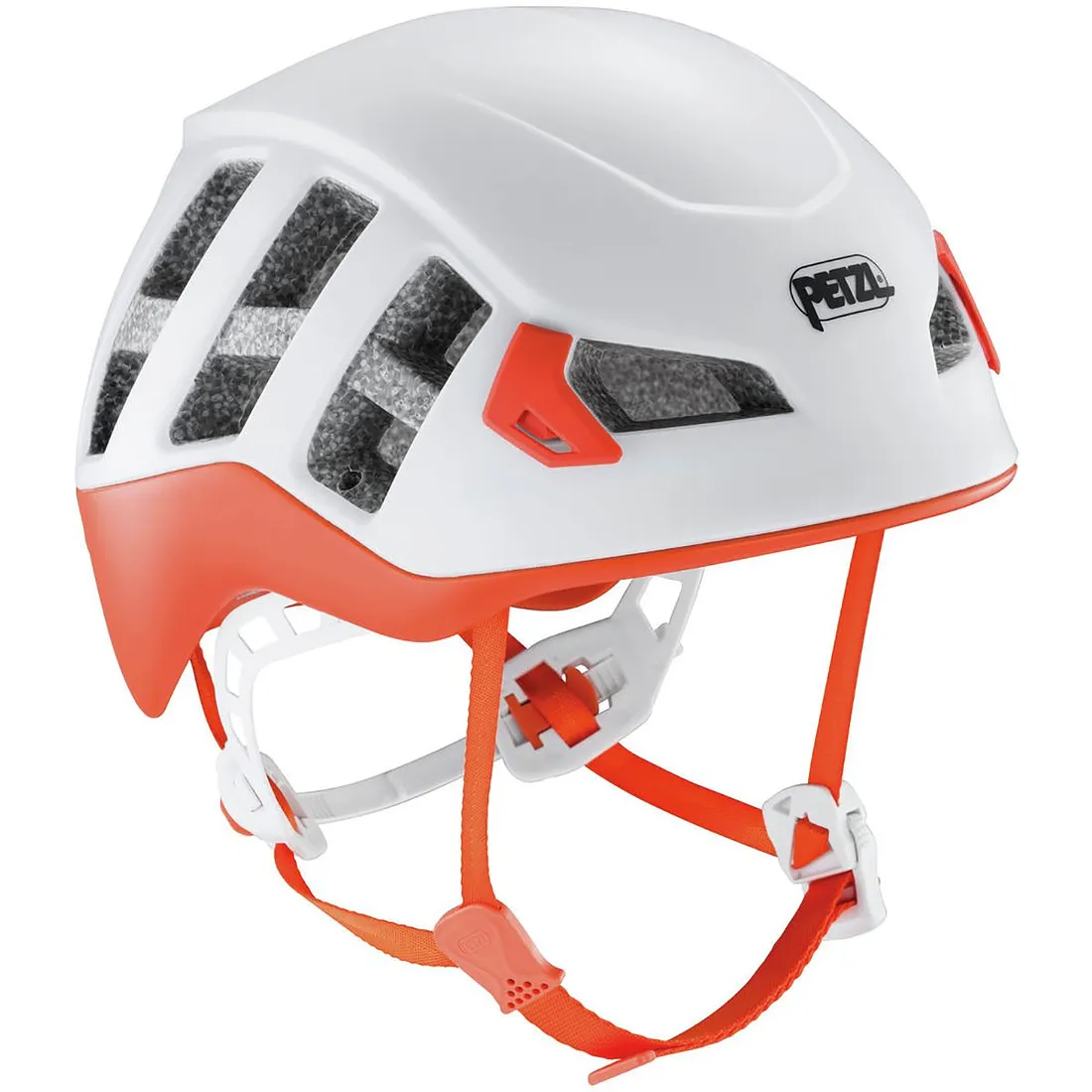 Reasons to Buy
Lightweight design maximizes comfort

Adjustable size for different head shapes

Offers ample ventilation for hot climbs

Features a magnetic buckle on chin strap for easy handling

Durable and built to withstand tough environments
Reasons to Avoid
Ventilation isn't as effective in very hot conditions

A little bulkier compared to some models

Some buyers found the fitting to be a bit on the tight side
The Important Specs
Material:

Polycarbonate shell and expanded polystyrene liner

Optimal Use:

Climbing, mountaineering, ski touring

Ventilation:

24 large vents

Adjustability:

Adjustable headband and chin strap

Compatibility:

Compatible with ski goggles or visors
Review Roundup
The Petzl Meteor is a standout in the climbing helmet market due to its exceptional features and reliable quality. It is praised for its lightweight design while offering enough comfort and protection, giving climbers an optimised balance that's hard to find elsewhere.
Buyers have particularly noted that the Meteor provides an excellent fit with its adjustable chin strap and headband, catering to a vast range of head sizes. The comfort is further attributed to its excellent ventilation system with a plethora of vents, ensuring your head stays cool even in the most challenging climbs.
The durability of the Meteor is another point of interest for many users. Despite its light weight, it is crafted from polycarbonate and expanded polystyrene materials, making it resistant to daily wear and tear. Climbers have mentioned taking their Petzl Meteor on countless climbing trips and acknowledging that it holds up extremely well.
Moreover, users rave about its versatility. Being certified for both climbing and skiing, the Meteor suits the needs of outdoor enthusiasts who indulge in various activities. This dual certification gives peace of mind to climbers who also ski, as they can trust in the helmet's ability to protect them, no matter the sport.
In the aspect of design and features, users appreciate the magnetic buckle which allows one-handed operation and the compatibility with ski goggles or headlamps, making it an even more impressive option for climbers.
However, some climbers highlighted a few minor caveats. A small number felt that the Meteor could improve on its side and back head coverage. Some also pointed out that the helmet's lightness can lead to a compromised perception of its durability, even though it's not necessarily the case.
Comfort
Comfort is a top priority with the Meteor. The padding on the interior of the helmet is comfortable and the ample ventilation stops your noggin from overheating on hot days. Some users did note that it is a tad tight, but most say it fits like a dream.
Durability
Thanks to its polycarbonate shell and expanded polystyrene liner, the Petzl Meteor is built to take on tough climbs and harsh environments. Despite its lightweight construction, users were pleasantly surprised by the helmet's level of durability.
Fit & Adjustability
The Petzl Meteor hits high marks in this category, with ample adjustability to accommodate a wide range of head sizes. The chin strap features a magnetic buckle which users have found easy to close and open, even when wearing gloves.
Gear Loop Design & Capacity
The Meteor doesn't feature any gear loops, instead focusing on providing a streamlined profile for climbing efficiency. Some users may miss having loops for attaching headlamps or accessories, but others appreciate the minimalist approach.
Value
The Petzl Meteor offers value for money by providing a range of premium features at a mid-range price point. Buyers appreciate the helmet's excellent ergonomics, performance, and safety features, noting that it represents good value overall.
Weight
While not the lightest model in the market, the Meteor offers an excellent balance of comfort and safety by adopting lightweight materials with a robust design. Buyers report they barely notice they're wearing a helmet, indicating its optimal weight distribution.
Prices
Black Diamond Vapor
$149.95
Runner Up
Based on our research and testing, we think the Black Diamond Vapor is a great choice if you're looking for a climbing helmet to go play hard outside with, if our top pick isn't quite what you're looking for.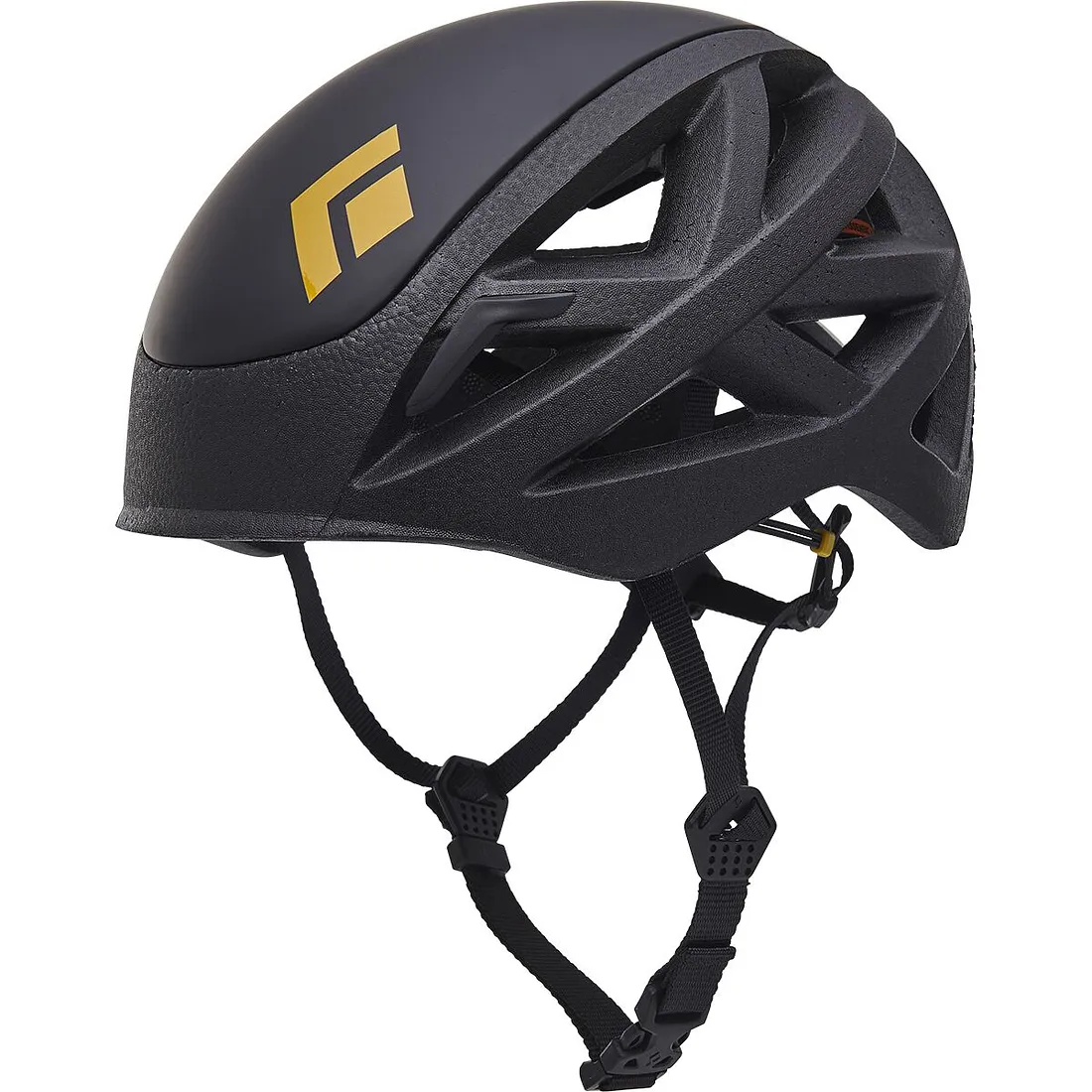 Reasons to Buy
Extremely light and breathable

Great adjustability for different head sizes

Features plenty of ventilation
Reasons to Avoid
On the high-end price-wise

Not as durable as some comparable options
The Important Specs
Material:

Polycarbonate shell with EPS foam

Certification:

CE 0120, EN 12492, UIAA

Sizing Options:

S/M, M/L

Number Of Vents:

21
Review Roundup
When it comes to climbing helmets, the Black Diamond Vapor is a powerhouse in its own league. This feather-light helmet is known for its robust performance, top-notch protection and comfort.
It weighs almost nothing at only 199 grams, which makes it one of the lightest helmets out there. Yet don't let the minimal weight fool you: this helmet is designed to take a beating with its polycarbonate shell and EPS foam.
The Black Diamond Vapor definitely scores high in terms of comfort. Many users have praised its highly adjustable suspension system which allows for a snug and secure fit, as well as good head coverage. The ratcheting adjustment system makes it easy to precisely dial in the fit.
As for ventilation, the helmet features a whopping 21 geometric vents ensuring maximum airflow to keep you cool during long climbs. Customers particularly love this feature, mentioning how it helps prevent overheating, especially in warmer climates.
Another thing that stands out in buyer reviews is the helmet's sleek, low-profile design. The streamlined design means less resistance and zero bulkiness, which is a big plus for climbers who are concerned about the helmet getting in the way during climbs.
In terms of durability, it's not as sturdy as some of its competitors, largely due to the lightweight materials used. Some users have mentioned minor dings and scratches appearing faster than they would have expected. However, most agree that it still offers ample protection during a fall or minor rockfall.
While the price tag of the Black Diamond Vapor is higher than many other models, reviewers are quick to point out that the quality, comfort, and lightweight design justifies every cent. In general, if you're a regular climber looking for a top-tier, lightweight helmet that delivers in performance, this could be the one for you.
Comfort
The Vapor is high on the comfort scale too. Users of this helmet have praised its feather-light feel and the vast ventilation, promoting coolness and reducing sweat. The plush padding on the interior adds another layer of comfort to the overall package.
Durability
This is where some of the negatives come in – the Black Diamond Vapor is not the most robust offering on the market. Due to its lightweight construction, it's more susceptible to dents and scrapes. That said, it's not exactly fragile and will still last a long while with proper care.
Fit & Adjustability
The Black Diamond Vapor is famous for its great fit and adjustability. They've really nailed the design here, creating a helmet that can cater to a variety of head shapes and sizes without compromising on comfort. The ratcheting dial on the back ensures you can customize your fit further, while the streamlined headlamp clips are a neat addition.
Gear Loop Design & Capacity
The streamlined headlamp clips on the Vapor are a welcome addition, as they help to reduce bulk and maintain the helmet's sleek profile. Though not large enough for substantial gear, for a climber's essential lights they function just right.
Value
Value is a slightly more tricky area. The Black Diamond Vapor is not the cheapest helmet out there. But considering its lightweight nature, excellent comfort levels, and good adjustability, it's a worthwhile investment for those who prioritize these aspects.
Weight
Despite being incredibly light, the Vapor doesn't feel flimsy or delicate. Its strikingly low weight is a big plus for those looking to cut down on pack weight, and despite being so light, it still manages to provide adequate protection which is hardly an easy balance to find.
Prices
Black Diamond Half Dome
$59.95
Best Budget Climbing Helmet
Based on our research and testing, we think the Black Diamond Half Dome is a great pick if you're looking for a climbing helmet that is more budget friendly, without sacrificing too much in quality.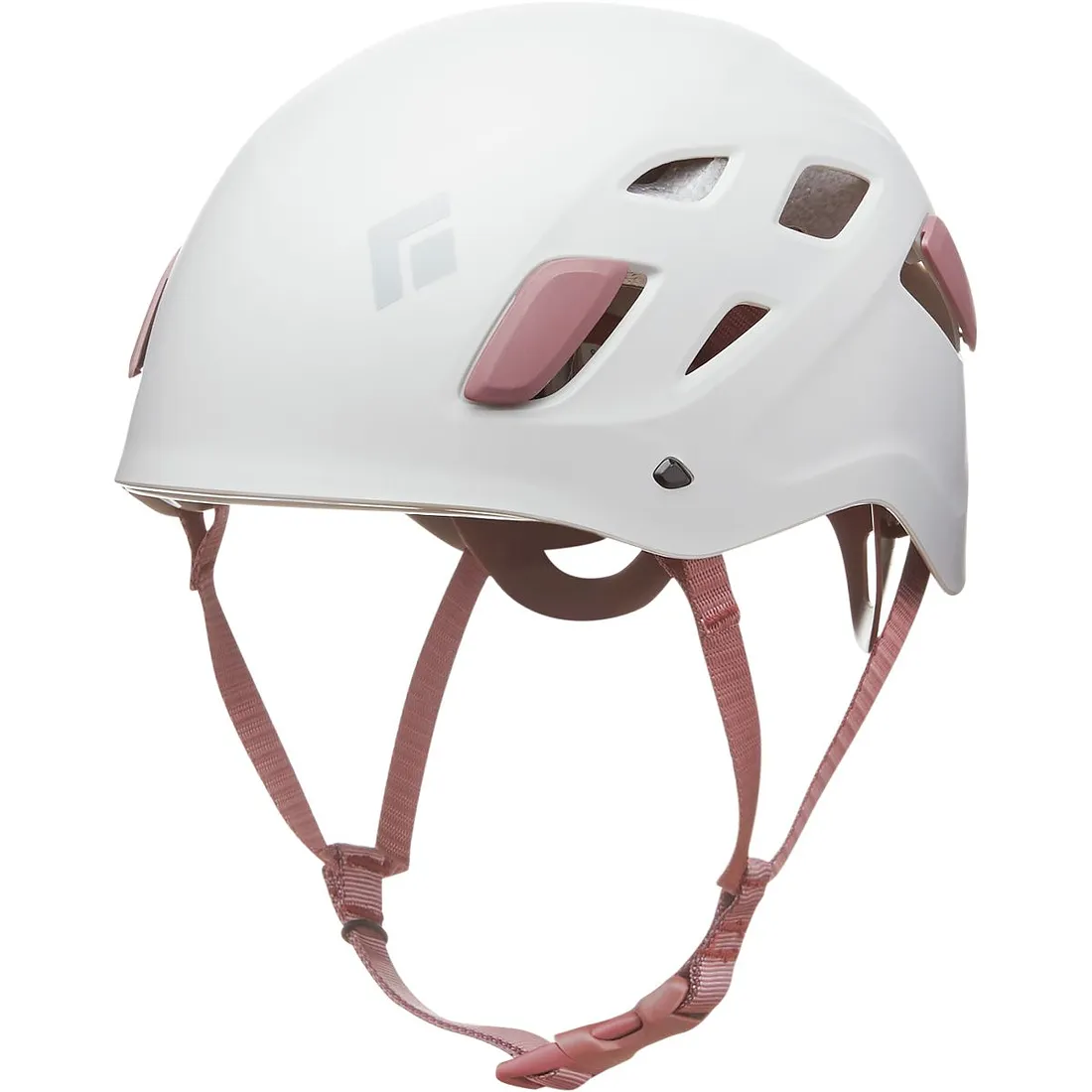 Reasons to Buy
Affordable price tag

Popular amongst both beginners and seasoned climbers

Adjustable fit for different head sizes

Sufficient ventilation

Reputable brand
Reasons to Avoid
Basic design with limited features

Might feel heavy during long climbs

Lacks the finesse of more expensive helmets

Minimal padding might cause discomfort
The Important Specs
Material:

Co-molded EPS foam with low-profile polycarbonate shell

Size Range:

48 - 61 cm (two size options S/M, M/L)

Ventilation:

Large ventilation ports

Adjustability:

Wheel adjuster for fine-tuned fit

Certification:

Meets safety standards of EN 12492
Review Roundup
The Black Diamond Half Dome is a crowd-favorite when it comes to budget-friendly climbing helmets. It's loved for its reliable protection and comfortable fit, without breaking the bank.
One of the key aspects that reviewers often highlight is its durability. Made with a molded EPS foam, it's designed to withstand impact, keeping you safe during your climbing adventures. Many users commented that the helmet was able to endure hits without showing significant signs of wear and tear.
Reviewers also commend the Half Dome for its adjustability. With its easy-to-use dial, it allows you to get a snug, comfortable fit, regardless of your head size. It seems that users with both smaller and larger heads found the helmet to be a good fit.
Adding to the comfort is the ventilation system. The helmet has plenty of vents, contributing to breathability during those long climbs. Several online reviews expressed that they never felt overheated while wearing this helmet.
The helmet's weight was considered acceptable by most users. Despite being slightly heavier than some of its higher-priced competitors, the Half Dome's comfort and adjustability seems to outweigh any concerns about weight.
In terms of aesthetics, this helmet got a thumbs up too. The Half Dome comes in a variety of colors, which some users found to be a nice bonus - It allows them to express their personal style even while climbing.
The only minor niggle that a few buyers pointed out is that the chin strap can sometimes feel a bit uncomfortable after extended use. However, many argue it's a small trade-off for the exceptional safety and affordability that this helmet provides.
On the whole, buyers seem to agree that for its price, the Black Diamond Half Dome offers excellent value in terms of protection, comfort, ease of adjustment, and even style. It's a worthwhile choice when you're climbing on a budget, but still want to ensure your safety.
Comfort
Opinions on comfort seem to split. Some users find it perfectly fine, while others gripe about discomfort due to minimal padding and heaviness. It's a trade-off here between value and optimal comfort.
Durability
The polycarbonate shell and EPS foam make for a tough helmet that handles scrapes and knocks well. It's a hardy piece of gear that should last a good number of seasons.
Fit & Adjustability
The Black Diamond Half Dome offers an easily adjustable wheel in the back, allowing for precise fit no matter your head size. It stays in place well during climbs, providing a feeling of secure comfort. However, people with larger heads might find it a bit tight.
Gear Loop Design & Capacity
While the helmet lacks actual gear loops, it does have four secure clips for a headlamp. It's possible to strap additional gear on, but a tidy approach is recommended as it could interfere with headlamp placement.
Value
Offering rugged durability and customization of fit at a budget price, the Black Diamond Half Dome is a pocket-friendly choice, especially for those getting into climbing or those who don't want to stretch out for a - literally - lighter comfort. Keep in mind, though, it succeeds in being a 'best value' option, not necessarily 'best performance'.
Weight
While the helmet is not the lightest on the market, most users do not seem to mind its extra weight. One might start noticing it only during long climbs or full days of cragging. It feels robust, which is comforting, especially for beginners.
Prices
Best Ultralight Climbing Helmet
Based on our research and testing, we think the Petzl Sirocco is a solid choice for those looking for a lightweight climbing helmet option to go play hard outside with.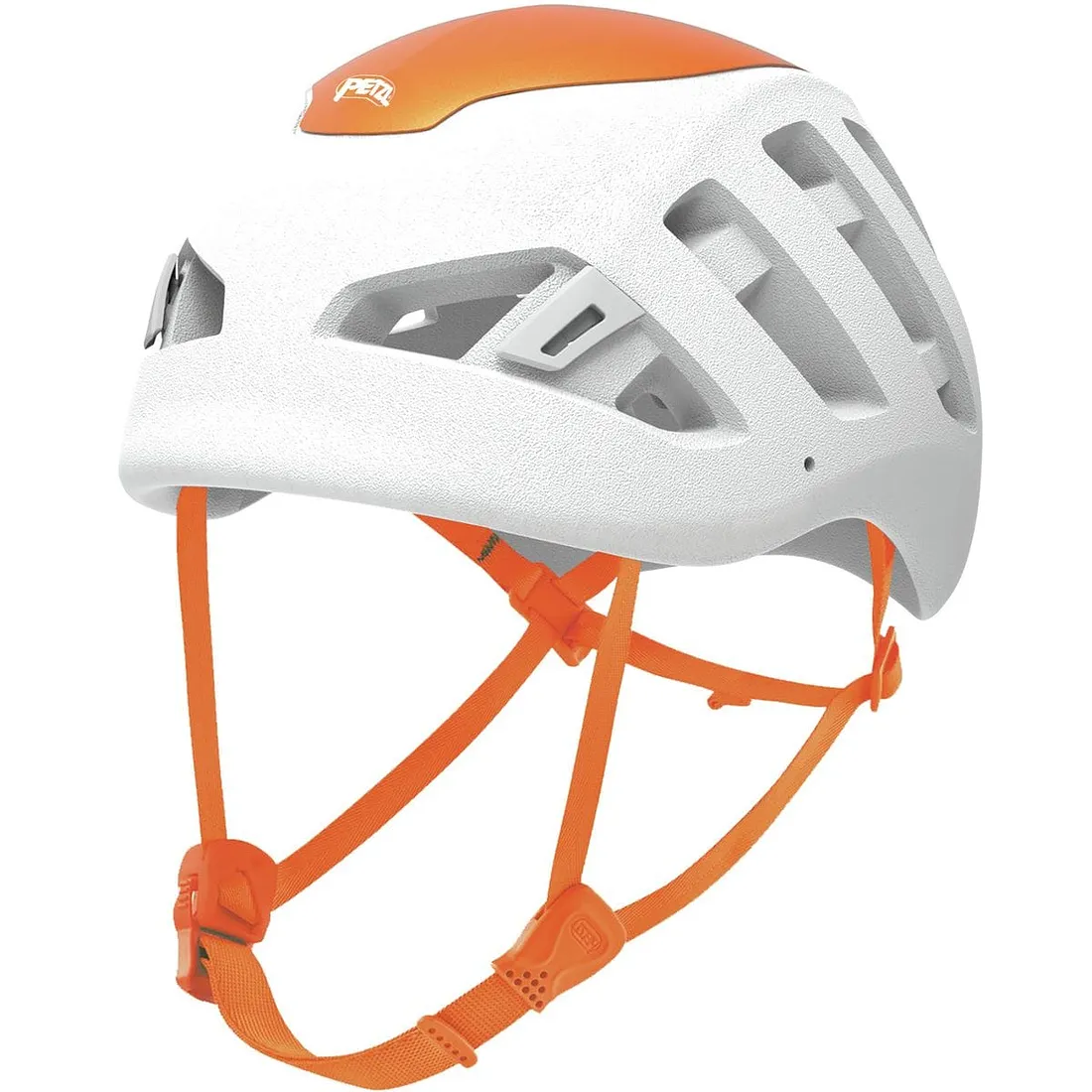 Reasons to Buy
Super lightweight

Great ventilation

Comfortable for long periods of wear

Ergonomic adjustment system
Reasons to Avoid
Some users reported it is too delicate

Expensive as compared to other helmets

Not suitable for heavy-duty alpine climbing

Limited color options
The Important Specs
Design:

Monobloc design

Gender:

Unisex

Materials:

Expanded polypropylene (EPP) and polycarbonate

Certification:

CE EN 12492, UIAA

Head Circumference:

48-58 cm
Review Roundup
When it comes to ultralight climbing helmets, the Petzl Sirocco is a standout in its class. Its major selling point? The feather-like weight. Coming in at a mere 165g, this helmet barely imposes on your packing weight, which is a huge bonus for those long, strenuous climbing trips.
The Petzl Sirocco's design is a mix of function and simplicity. The monobloc design, made entirely of expanded polypropylene (EPP), offers a sleek look, but more importantly, it provides a high level of protection. The material is flexible and highly shock-absorbent, distributing the impact throughout the helmet to lessen the force.
Not to mention, climbing in this thing feels like you're not wearing a helmet at all! The comfortable foam liner combined with superb ventilation system encourages airflow, keeping your head cool, even during intense climbing sessions.
In terms of adjustability, the Sirocco makes it easy. It features a simple and efficient adjustable headband system, which ensures a nice fit, anytime, anywhere. Even better? It's compatible with ski goggles, so you can use it for more than just climbing. Wear it skiing or snowboarding, and you're good to go.
One point of contention amongst users is the durability. EPP may be light and shock-absorbent, but it doesn't fare well against sharp objects. There have been numerous reports of the shell being punctured or dented by climbing equipment. So, it could be a little more durable.
From checking out online reviews, it seems most climbers are happy with the Sirocco's performance. Folks rave about the lightweight design and extra comfort, even on long climbing trips. Yet, the noted durability issues have left some users unimpressed.
The Petzl Sirocco may not be the most robust option on the market, but for those on the hunt for a helmet that combines bare minimum weight without sacrificing too much in terms of protection, it definitely warrants consideration.
Comfort
True to its reputation, the Petzl Sirocco indeed stands out when it comes to comfort. Its DUAL comfort foam padding and optimal weight distribution make it comfortable for all day climbing. Many users have lauded its comfort, even during long climbing trips.
Durability
Although it's lightweight, Petzl did not compromise on the product's durability. The shell is robust, made of expanded polypropylene (EPP) for proper shock absorption and polycarbonate for additional strength. However, some users reported it could be more durable considering its high price point.
Fit & Adjustability
The Petzl Sirocco adheres to the 'one-size-fits-all' concept with an adjustable circumference range from 48-58 cm. Its magnetic buckle allows one-handed fastening and release. Users often appreciate its capacity to offer a snug fit without causing any discomfort or pressure points.
Gear Loop Design & Capacity
Unfortunately, the Petzl Sirocco does not come with any gear loops. For individuals needing gear loops, this might be a point of contention, but others who mainly participate in sport climbing and gym sessions could find this lack entirely acceptable.
Value
While admittedly, the Petzl Sirocco falls towards the pricier end of the spectrum, users generally feel they get their money's worth, for its combination of lightweight, comfort, and durability. However, climbers on a budget might want to look at more pocket-friendly alternatives.
Weight
With a weightless feel that's easy to forget you're even wearing it; the Petzl Sirocco leads the pack in the ultralight category. Its super light yet durable quality often gets praise from both hobby climbers and professionals alike.
Prices