Quick heads-up: some of the links on this page are affiliate links. If you make a purchase through them, we may earn a small commission (at no extra cost to you). This small bit of income helps keep our site running.
Best Approach Shoes for Men of 2023
This post was last updated on December 06, 2023.
Looking for the Women's version of this post? We've got you covered: Best Approach Shoes for Women of 2023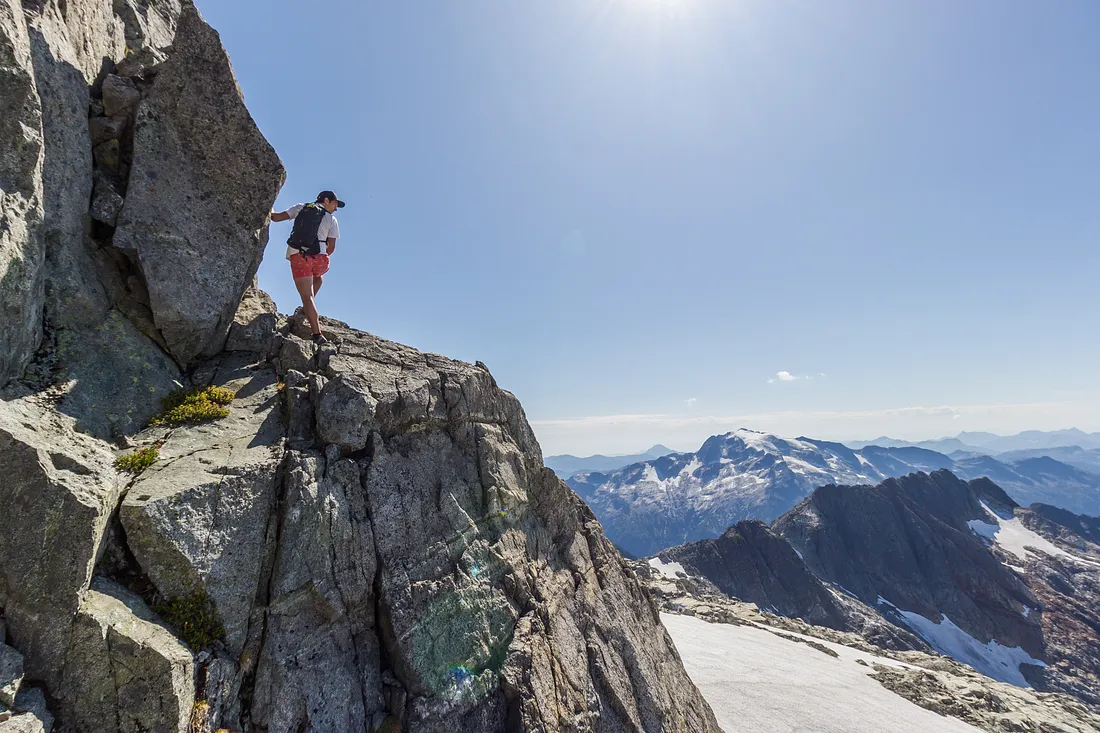 Choosing the right pair of approach shoes can make all the difference between a casual walk in the woods and an alpine adventure. A robust pair like the La Sportiva TX4 doesn't just win you over with its durability, but also shows its mettle when it comes to traction, breathability and climbing performance. These factors synergize to make the TX4 our favorite choice for the best all-round men's approach shoes.
However, every outdoor enthusiast has specific needs based on the type of outdoor activities they engage in. That's why we've also done the grunt work to shortlist the best runners-up, as well as the best shoes for everyday use, alpine hiking and scrambling, running crossover, those on a budget, and those searching for ultralight options. We've evaluated all these shoes based on key factors such as how well they grip and edge, their durability, breathability, upper material, climbing performance, comfort, weight, and value.
If you're interested in more specialized footwear, don't forget to check out our reviews of the Best Hiking Boots for Men, the Best Hiking Shoes for Men, and the Best Mountaineering Boots for Men. Each of these guides provides an in-depth analysis to help you find the perfect footwear for your outdoor journeys.
Our Top Recommendations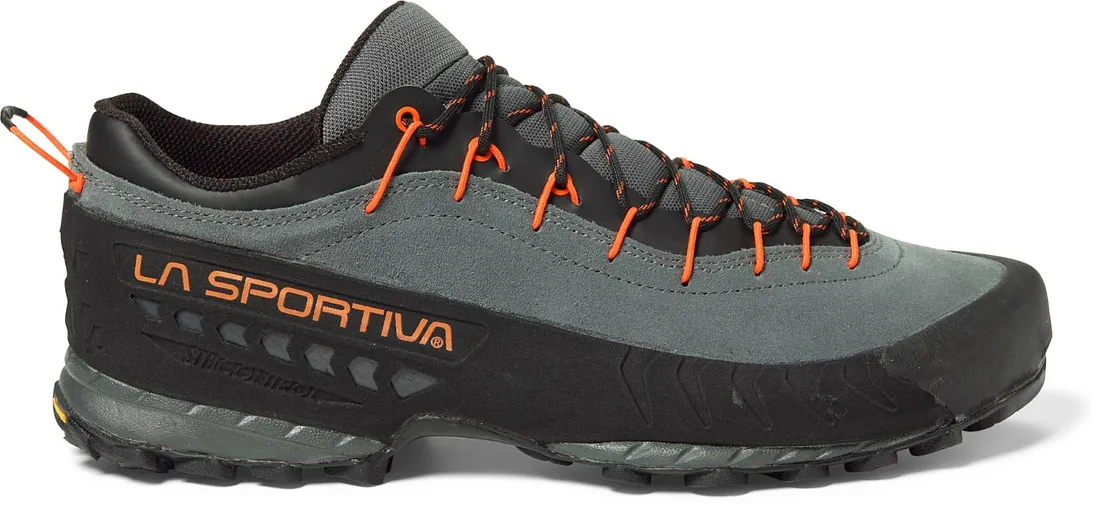 La Sportiva TX4
The La Sportiva TX4 takes the top spot due to its unrivaled blend of durability and comfort, with many hikers praising its tough leather build and grippy rubber sole that keeps footing sure, even on tricky terrains.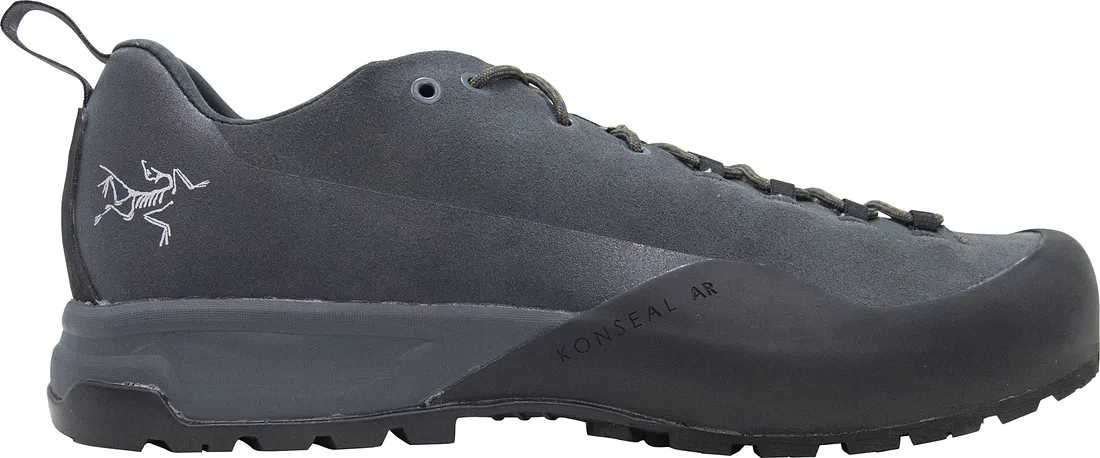 Arc'teryx Konseal AR
The Arc'teryx Konseal AR steals the runner-up spot due to its high praise from users for its super grippy soles and exceptional support, perfect for rocky terrain, and its breathable, durable design that keeps your feet comfortable even on long treks.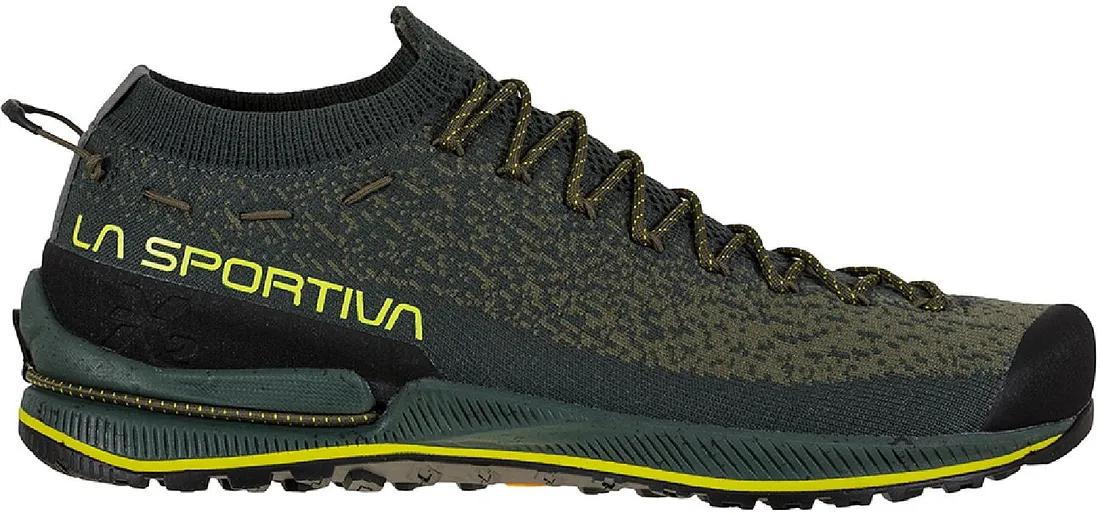 La Sportiva TX2 Evo
The La Sportiva TX2 Evo snagged the top pick runner up spot due to its unbeatable combo of feather-light weight and impressive durability, as backed by many backpackers who praise its comfort on long treks and reliable grip on tricky terrains.
What you should look for
(and what we test for)
Grip
Since men's approach shoes will be faced with a mix of terrain from slick rock to loose scree, a high-quality rubber outsole is crucial for excellent traction and grip.
Weight
Considering that you'll most likely wear these shoes over long distances, the weight of the footwear can significantly affect your fatigue levels, so opt for lightweight models that don't compromise the stability and support.
Comfort
Whether you're hiking for hours or scrambling over rocks, comfort is crucial - look for shoes with good arch support, a cushioned midsole and ample room for your toes to avoid blisters.
Durability
You want shoes to withstand the rough and rugged outdoors, so selecting a pair with sturdy construction that uses durable materials, like reinforced leather or synthetic uppers, should be a priority.
The Best Men's Approach Shoes
Based on our research and testing, we think the La Sportiva TX4 are the best Men's Approach Shoes on the market right now, for anyone looking to play hard outside.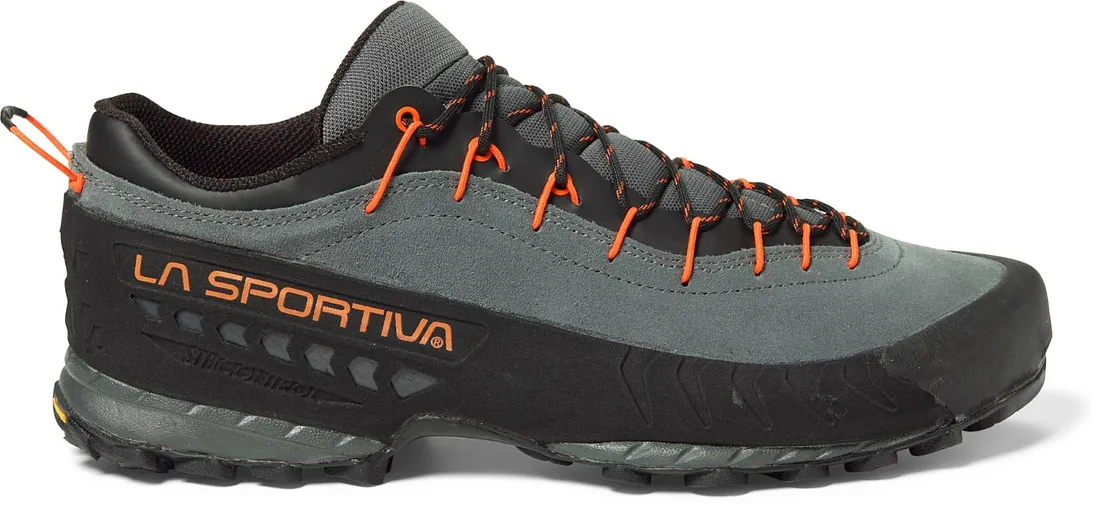 Reasons to Buy
Sturdy and durable for long term use

Excellent traction for climbing activities

Breathable and keeps your feet dry

High comfort levels

Value for money
Reasons to Avoid
Less lightweight compared to some competitors

Might be tight for wider feet

Not ideal for wet surfaces
The Important Specs
Sole:

Megagrip Traverse outsoles

Liner:

Mesh liner

Lacing:

Mythos lacing system

Material:

Leather uppers and Vibram rubber soles
Review Roundup
When it comes to approach shoes, the La Sportiva TX4 certainly occupies a sweet spot in the market. There's a lot to like about this shoe, especially when it comes to overall performance and versatility.
One of the first things buyers comment on, and rightly so, is the TX4's durability. These shoes are built to last, with a sturdy leather upper that bolsters an impressive life span. Even after heavy use on rough, rocky terrains, these shoes hold up remarkably well. In fact, numerous customer reviews commend the TX4's ability to withstand the elements and keep going.
Comfort is another major selling point. The TX4's cushioned EVA midsole and breathable leather lining offer a comfy underfoot feel. Whether you're tackling long approaches or scrambling up rocky inclines, these shoes typically ensure a pain-free experience. This is even true when the shoes are worn for extended periods, as a number of users have pointed out.
A special mention goes to the shoe's stickiness. The Vibram MegaGrip soles provide excellent traction on a variety of surfaces including wet rock, gravel, and sloping terrains. Customers often rave about feeling secure and confident with every step, thanks to the great grip performance of the TX4.
Despite these shoes being a little on the pricy side, most buyers feel it's a worthwhile investment given the TX4's robust construction and excellent performance. They see it as a testament to the timeless adage: 'you get what you pay for.'
However, it's not all sunshine and rainbows with the TX4. Some users do point out a few downsides. One of them is weight. While not the heaviest on the market, these shoes are certainly not the lightest either. Users who value lightness above all else could consider this a drawback. A few also find the shoe's aesthetics less appealing, although this is a minor point and largely subjective.
Lastly, some users have expressed concerns about the shoe's breathability, particularly in hotter climates. Despite being lined with breathable leather, a few users have commented that the shoes can get a tad toasty on those particularly warm days.
Breathability & Upper Material
The combination of leather uppers and mesh liner was noted for its breathability, reducing sweat and keeping the feet dry. The material choice also contributes to the durability of the shoe. However, because they aren't waterproof, some customers have mentioned discomfort in wet environments.
Climbing Performance
Online feedback indicates these shoes are climbers' favorites thanks to their impressive performance on rocks. The shoe's shape allows good edging and readjustments when bouldering. Nevertheless, some users with wider feet reported feeling squeezed when wearing them for extended periods.
Comfort
The majority of users found the La Sportiva TX4 immensely comfortable for climbing and hiking due to the well-cushioned midsole and footbed. But, although the shoes are known for fitting like a glove, some customers with wider feet felt discomfort because of the tight fit.
Durability
A lot of reviewers appreciated the robust build and long-lasting life of the TX4. The construction, especially the leather uppers and rubber rands, proved to sustain well under rigorous outdoor conditions. But a few buyers experienced wear and tear after extensive use.
Traction & Edging Capability
Most user reviews mentioned the superior grip and edging capability of the La Sportiva TX4. Whether on rough trails or climbing walls, the Vibram Megagrip Traverse outsoles never failed to provide excellent traction, which offered a sense of confidence and safety. However, some users noticed that the traction reduces on wet and slippery surfaces.
Value
While not the cheapest, many buyers felt that the price was justified due to their durability, comfort, and technical performance. Given their life expectancy, many saw these shoes as a good investment for a variety of outdoor activities.
Weight
For a pair of approach shoes, the TX4's are not the lightest on the market. Some users expressed discontent with the weight, which they claimed slowed them down during longer treks. Still, many users felt that the stability and grip outweighed this downside.
Prices
Arc'teryx Konseal AR
Runner Up
Based on our research and testing, we think the Arc'teryx Konseal AR are a great choice if you're looking for men's approach shoes to go play hard outside with, if our top pick isn't quite what you're looking for.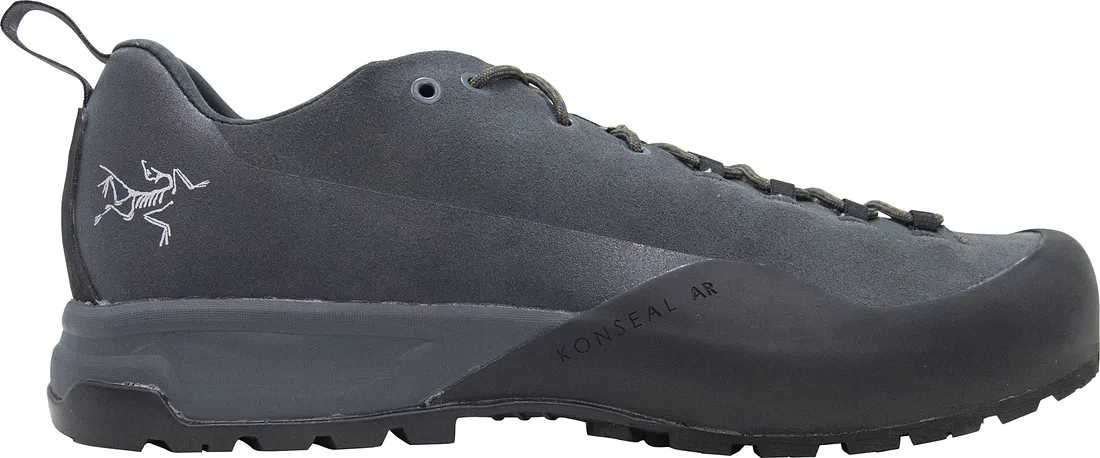 Reasons to Buy
Sturdy and resilient

Comfortable even over long periods

Superior grip, perfect for scrambling and climbing

Designed for excellent breathability

Good value for the price
Reasons to Avoid
A bit hefty compared to some competitors

Might be less flexible than desired for more technical climbs
The Important Specs
Liner:

4mm OrthoLite 3D molded insert

Midsole:

Injected EVA

Outsole:

Vibram Megagrip rubber compound

Upper Material:

Ripstop nylon
Review Roundup
Often lauded as a powerhouse in outdoor gear, Arc'teryx continues to impress outdoor enthusiasts with their offerings. The Arc'teryx Konseal AR Approach Shoe is no different, leaving a trail of impressed wearers in its wake.
Major buyers' reviews highlight the shoe's immense durability. Constructed with a blend of nubuck and synthetic fibers, the Konseal AR takes a beating yet keeps going, a feature that many outdoorsmen heavily appreciate.
It seems that the shoe also plays nicely with comfort. Buyers report that the footbed is cushioned just enough to make those long approaches somewhat bearable, while the overall fit is snug, providing a good grip without causing discomfort.
The Arc'Teryx Konseal AR doesn't skimp on traction either. Its Vibram Megagrip sole, apart from having an impressively cool name, also inspires confidence even on damp, tricky terrains. Purchasers noted how this sturdy sole even makes casual wet weather city strolls easier.
A cool facet noted by many users is the shoe's integrated lacing system. The Konseal AR does not use a regular lacing system. Instead, it uses a unique integrated lacing system that ensures optimum shoe foot interface for stability and precision, which buyers found intriguing and functionally very efficient.
However, the shoe's breathability (or potential lack thereof) has polarised some buyers. Reviews were divided on this, with some believing they're sufficiently ventilated, while others felt they were a tad stifling during strenuous activities.
Furthermore, the price tag of the Konseal AR seems a bit daunting for some budget-conscious buyers. While an excellent investment for those who regularly tread challenging terrains, casual hikers might balk at the cost compared to other approach shoes in the market.
Lastly, some wearers reported a longer than expected break-in period. They mentioned that the shoes weren't immediately comfortable straight out the box, but required a few wears to fully mold to the wearer's foot shape and achieve peak comfort.
Breathability & Upper Material
Not to be underestimated is the shoe's well-thought-out design for breathability. The ripstop nylon upper allows adequate airflow, thus keeping your feet dry and reducing the chance of developing blisters. It's a common praise among purchasers that these shoes are quite comfortable to wear even for extended periods.
Climbing Performance
The shoe stands out in its climbing performance, with an unbeatable combination of grip, flexibility, and comfort. However, while it can shine on less technical climbs, some users have pointed out that for more demanding routes, a dedicated climbing shoe might be more beneficial.
Comfort
Many users have noted the excellent comfort provided by the Arc'teryx Konseal AR. The shoe's 4mm OrthoLite 3D molded insert is a game-changer, offering a plush feeling and absorbing the shocks of rough terrain. Even after miles of hiking, users still vouch for their comfort.
Durability
The Konseal AR's durable construction, featuring its ripstop nylon upper, is designed to withstand rough terrains and rigorous use. Online reviews have consistently shown that these shoes can take a beating and still keep kicking, making them a dependable companion on your outdoor adventures.
Traction & Edging Capability
Users have repeatedly praised the Arc'teryx Konseal AR's superior grip and edging capability. The Vibram Megagrip rubber compound outsole grips onto rugged terrain like a pro, providing confidence and stability whether you're hiking, scrambling or climbing moderate pitches.
Value
Despite not being the cheapest offering in the market, numerous online reviewers acknowledge the Konseal AR's good value for the price tag. Its durability, functionality and comfort level make it a worthwhile investment for outdoor enthusiasts and climbers alike.
Weight
The Konseal AR is definitely on the heftier side, especially when compared to its lighter competitors. Despite its extra weight, users seem to agree that its comfort and durability more than make up for the additional mass.
Prices
No prices found. Check back later!
La Sportiva TX2 Evo
$149.00
Runner Up
Based on our research and testing, we think the La Sportiva TX2 Evo are a great choice if you're looking for men's approach shoes to go play hard outside with, if our top pick isn't quite what you're looking for.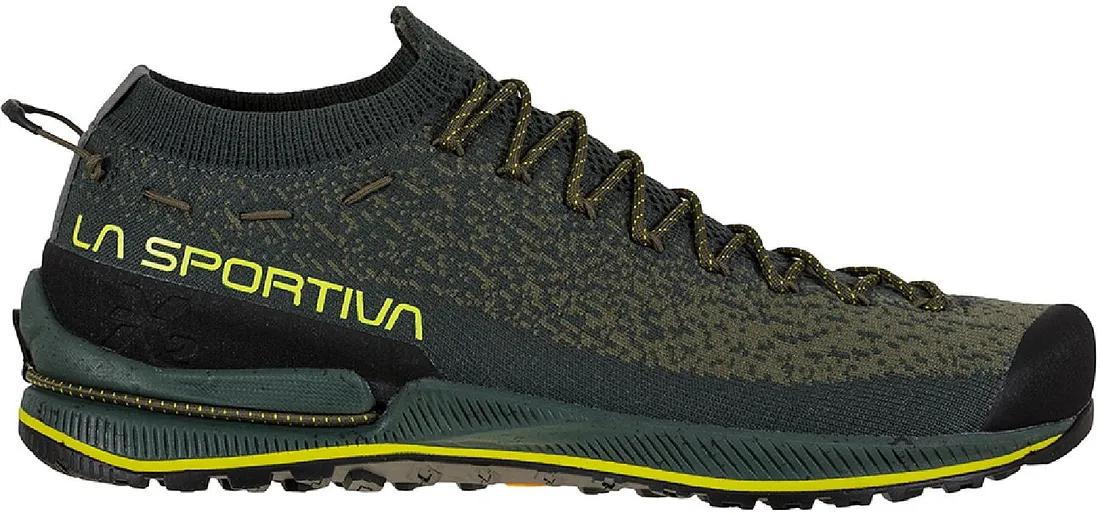 Reasons to Buy
Impressive grip on varied terrains

Durable but lightweight build

Comfortable for long hikes

High climbing performance

Breathable upper material
Reasons to Avoid
Not ideal for heavy-duty mountaineering

Slightly premium pricing

Some review mentioned issues with sizing
The Important Specs
Midsole:

LaSpEVA and MEMIex for a balanced mix of comfort and performance

Outsole:

Vibram Megagrip with trail bite heel platform for exceptional grip on all surfaces

Closure System:

Mythos lacing system for secure and custom fit

Upper Material:

Synthetic Overlay for enhanced durability, comfort and breathability
Review Roundup
With the lightweight design of a runner and the grip of a climber, the La Sportiva TX2 Evo is a hard-charging shoe built for the outdoor enthusiast. Upon first impression, they might seem a little rough on the edges, but give them a short break-in period, and they'll mold to your feet like a dream. Let's delve into the details.
An online reviewer from Kentucky raved about the shoe's breathability and lightweight attributes, which are credited to the knit upper material. He mentioned that it kept his feet cool during long hikes and while climbing in warmer weather. Additionally, the graduated lacing system, as per many online reviews, is loved for the precision fit it provides. This allows for the adjustment of tightness depending on the outdoor activity, be it scrambling or walking long distances.
The TX2 Evo truly impresses with its stickiness when it comes to tricky platforms and climbing. Online climbing forums are brimming with praises for the Vibram sole and C2 platform, which confers exceptional traction, especially on rocky terrains. Scree-filled slopes? Wet rock? Loose dirt? These shoes can handle it all, according to one Boulder-based reviewer.
However, it's not all sunshine and rainbows for the TX2 Evo. Some customers online reported that while the shoe's lightness is beneficial, it comes with a compromise on durability. A few reviewers expressed their disappointment with the shoe's quick wear-and-tear, specifically the knit upper that tends to fray with extensive use. People expecting a rugged beast might want to consider this aspect.
Another point of critique concerned the fit. Some reviewers found the shoe narrow and uncomfortable for wider feet. It's advised to try them out in a physical store before making a purchase, or ensure the online seller has a generous return or exchange policy. Remember that comfort can make or break your outdoor experience.
Despite these criticisms, the significantly positive accounts cannot be overlooked. There's no denying that the La Sportiva TX2 Evo is a popular choice for many outdoor lovers because of its impressive performance, lightness, and stealthy grip. Depending on your use, comfort preference, and foot shape, this just might be your next favorite outdoor shoe.
Breathability & Upper Material
The upper is made of synthetic overlay, which not only provides durability but also ensures breathability. Users did not report uncomfortably hot feet during long summer hikes. The shoe was commended for being airy while being tough.
Climbing Performance
The TX2 Evo excels at climbing performance. The strategically stiffened midsole allows for precise edging on rocks. Customers have appreciated this feature, particularly those who enjoy scrambling and light climbing.
Comfort
Plenty of cushioning and the custom fit ensured by the Mythos lacing system make this a comfortable shoe for long hikes. Users have expressed positive experiences with the shoe's comfort, even on lengthy and difficult trails.
Durability
Though primarily a lightweight design, the TX2 Evo doesn't compromise on durability. The synthetic upper combined with the robust Vibram outsole ensures longevity. Customer reviews indicate satisfaction with the shoe's ability to withstand rough terrain over time.
Traction & Edging Capability
The Vibram Megagrip outsole offers excellent traction and the bonus of trail bite heel platform enhances the edging capability. Users have praised the shoe's ability to stick on even the trickiest terrains, making it reliable in various outdoor scenarios.
Value
While the price point can initially seem high, many customers found the shoe's superior performance, durability and comfort to be worth the investment. This shoe certainly earns its keep for serious climbers and hikers looking for a versatile approach shoe.
Weight
Despite its myriad features and durable build, the TX2 Evo remains lightweight. The choice of materials and the intelligent design contribute to this. Users have celebrated the feeling of lightness these shoes provide without compromising on other features.
Prices
Best Budget Men's Approach Shoes
Based on our research and testing, we think the Scarpa Crux are a great pick if you're looking for men's approach shoes that are more budget friendly, without sacrificing too much in quality.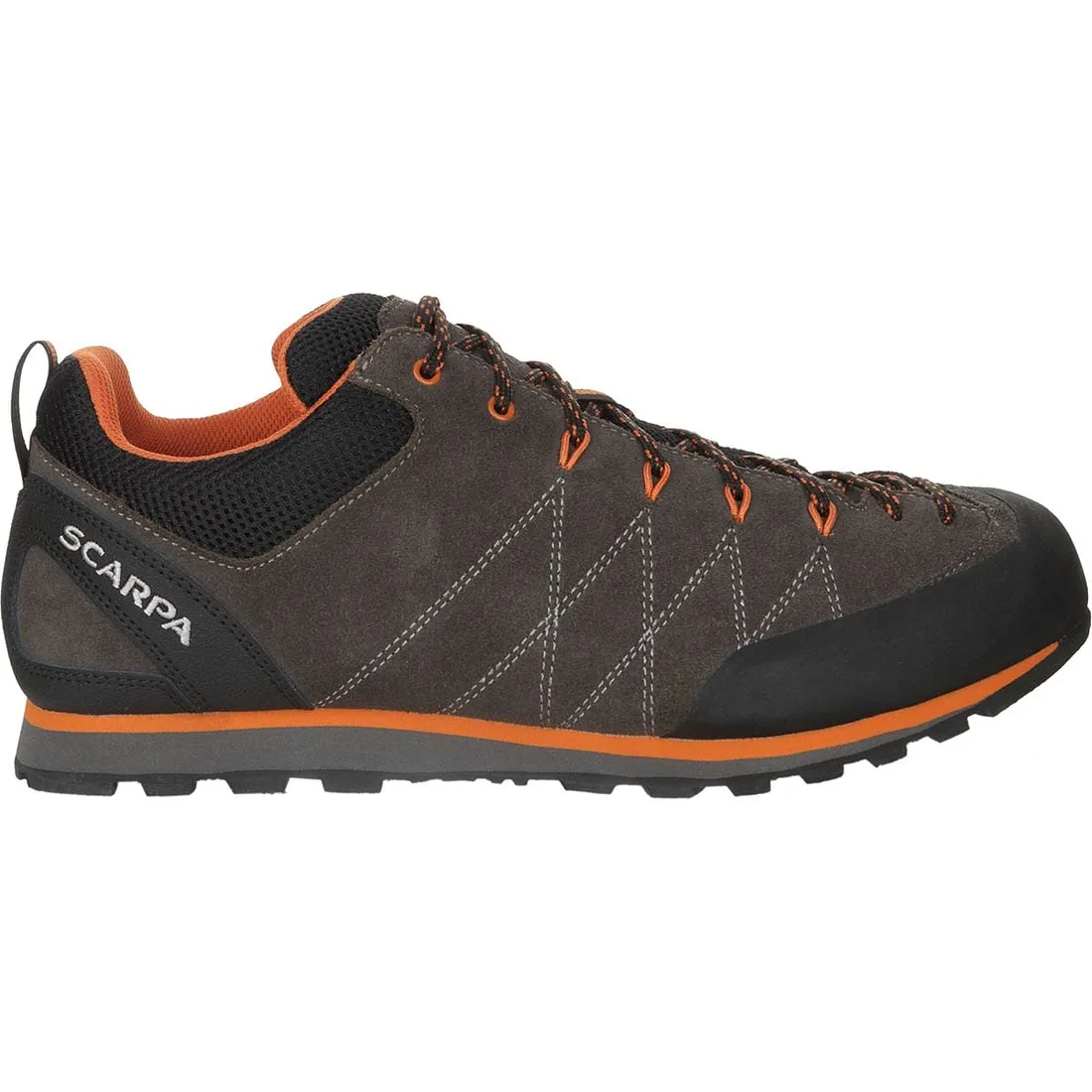 Reasons to Buy
Robust construction for durability

Impressive traction on diverse terrain

Comfortable, snug fit
Reasons to Avoid
May not suit wider feet

Breathability could be better

Not exceptionally lightweight
The Important Specs
Footbed:

Hi-Flex

Midsole:

EVA midsole

Outsole:

Vibram Vertical Approach

Upper Material:

Premium 1.8mm suede upper
Review Roundup
The Scarpa Crux approach shoes are a serious bang for your buck. These beauties, coming from a well-respected industry veteran, offer a level of quality and durability you might expect from pricier footwear. They're constructed with the typical Scarpa finesse, harnessing the company's experience in making sturdy and comfortable mountain gear.
Popping them on, users will notice they fit quite snug, a quality that's often associated with more high-end approach shoes. Compared to other budget options, these shoes seem to form-fit with less break-in time required. That makes them an instant favorite for many.
Performance-wise, Scarpa Crux pulls punches with the best of them. The shoe provides remarkable stability and grip across a range of terrains, even when they're damp or slippery. Users praised the shoe's versatility, highlighting their confidence when crisscrossing between boulders or navigating rocky ascents.
They are also designed with both breathability and protection in mind. The shoes feature a sweat-wicking insole liner and a water-resistant upper that keeps your feet cool and dry. The protective rubber toe rand is another practical feature, an appreciated aspect for scrambling and occasional climbing.
However, it's not all peaches and cream. Some users pointed out the weight of the shoe, noting that they are a bit heftier than other approach shoes in the market. This is something to bear in mind if you plan to do long and strenuous hauls or if weight is a critical factor in your choice of footwear.
Another point of contention is the shoe's lacing system. While it provides a tight, secured fitting, some users found it a little annoying that the laces don't extend as far as they'd like towards the toe, preventing finer adjustments.
But, all in all, the Scarpa Crux offers incredible value for its price point, proving to be a great asset for hikers and climbers on a budget. It might not be the flashiest of shoes, but it certainly gets the job done – and done well.
Breathability & Upper Material
The premium 1.8mm suede upper does well in giving the shoe a solid structure, but when it comes to breathability, it falls a bit short. More than a few users have commented that the shoe tends to get warm during long treks in hot weather. So, if maximum breathability is a priority for you, this might give you a second thought.
Climbing Performance
The performance of the Scarpa Crux in climbing scenarios is quite commendable. Its edging capability combined with the grippy outsole makes it reliable when you're navigating uneven terrains or semi-technical ascents. Many climbers have lauded its dependable performance even in challenging climbing situations.
Comfort
The comfort levels of Scarpa Crux tend to receive rave reviews from wearers, thanks to the EVA midsole and the snug, but not too tight, fit. However, users with wider feet may find it a bit uncomfortable, implying that it might lean more towards narrower foot shapes.
Durability
The 1.8 mm suede upper and robust rubber sole display a tank-like resilience against harsh outdoor conditions. Amidst various testing, climbers have noted that the Scarpa Crux still maintains its integrity, ensuring it's built to last.
Traction & Edging Capability
The Scarpa Crux is a shoe that delivers in terms of traction. The Vibram Vertical Approach sole grips well on various terrains, even in wet conditions. Its edging ability is also commendable, allowing for a confident approach on rocky surfaces. Many users have praised it as a top-performer in this category.
Value
Even though the Scarpa Crux may not score top marks in every category, it provides reliable performance in almost all of them which, when coupled with its affordable price tag, presents itself as a great value-for-money choice for climbers, especially those opn a budget.
Weight
The Scarpa Crux isn't the lightest approach shoe in the market. But considering its heavy-duty construction, it's bound to carry a little more weight. Users on the go might find this a bit inconvenient, especially on long treks.
Prices
Arc'teryx Norvan SL 3
Best Ultralight Men's Approach Shoes
Based on our research and testing, we think the Arc'teryx Norvan SL 3 are a solid choice for those looking for a lightweight men's approach shoes option to go play hard outside with.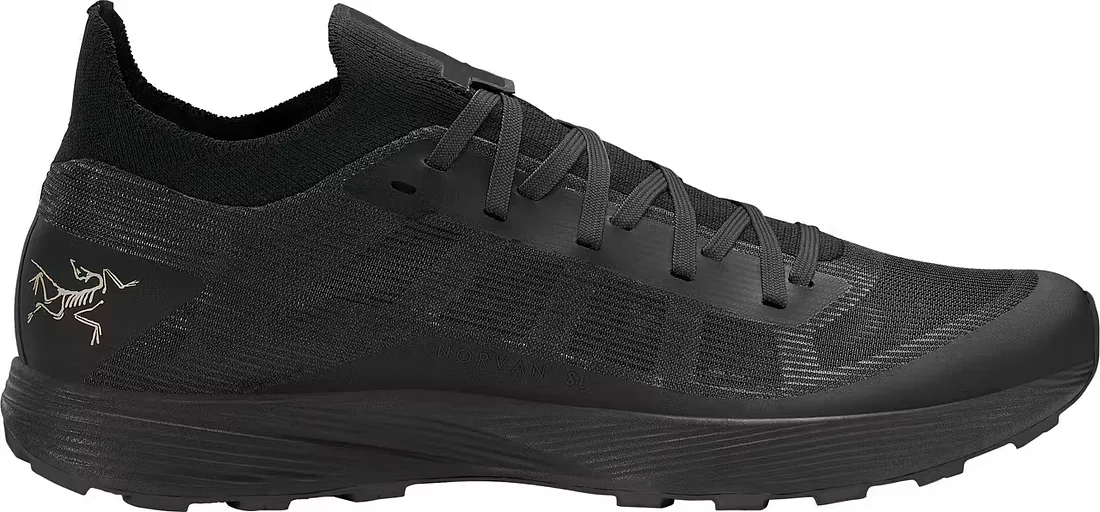 Reasons to Buy
Perfect for ultralight treks

Incredible breathability

Good traction and edging

Easily packable

Minimalist design
Reasons to Avoid
Not suitable for rough terrains

High price tag

Lack in ankle support
The Important Specs
Sole:

Vibram Megagrip

Closure:

Lacing system

Upper Material:

Synthetic mesh
Review Roundup
The Arc'teryx Norvan SL 3 approach shoes have carved a niche for themselves in the ultralight outdoor gear category. They are incredibly lightweight, making them a favourite among trekkers who keep a tab on every extra ounce. Besides lightweight characteristics, they score high in comfort levels as well
The shoe design is inclusive of a pretty cool 'shock dampening' feature. It cushions the impact quite well, ideal for those rocky terrains. Moreover, the shoe design doesn't compromise its toughness for weight. Customer reviews highlighted that these shoes can take a decent beating and still hold up fine.
The Norvan SL 3 doesn't skimp on grip support either. Its Vibram Megagrip soles ensure firm footing even on slick rocks, which is a huge bonus for trekkers and climbers. They provide ideal traction, not just on rocks but muddy trails as well.
A few users did highlight about a short break-in period. They mentioned that initially, they were a bit on the stiff side but felt easier to manoeuvre once worn-in.
As far as water-resistance goes, reviews reflect a mixed bag of experiences. Some users found it effective, while others not so much. Many users agreed though, that these shoes dry out rather quick.
One common issue that emerged from customer feedback was regarding the shoe's breathability. Quite a few users made remarks about inadequate ventilation, especially for those hot summer hikes.
Price-wise, the Norvan SL 3 isn't entry-level. But with the durability, lightweight design and great grip, many users consider these shoes a worthy investment for serious outdoor adventures.
Breathability & Upper Material
The Norvan SL 3 approach shoes are loved for their breathability. The synthetic mesh upper permits an excellent airflow that will keep your feet cool even on hot summer hikes. Although this doesn't make them particularly water-resistant, it's a small trade-off for such comfort.
Climbing Performance
These are not meant to replace your climbing shoes, but for an approach shoe, they provide decent climbing performance. The toe is designed for climbing, offering great edging and smearing.
Comfort
Reviewers often lauded the Arc'teryx Norvan SL 3 for its comfort. With the shoe's supportive footbeds and cushioned midsoles, hikes become a hell of a lot less gruelling. However, some users did find the lack of ankle support problematic during longer and more difficult hikes.
Durability
Despite their lightweight, the materials used in the Norvan SL 3 are reasonably durable. The synthetic mesh upper does a great job at resisting wear and tear, although it might not stand up to severe thorn bushes or rock abrasion.
Traction & Edging Capability
Thanks to the Vibram Megagrip soles, the Arc'teryx Norvan SL 3 shoes provide good traction on various terrains and weather conditions, but struggle a bit on loose or rocky ground. They also boast good edging capabilities, making them great for scrambling or reaching those tricky high points.
Value
The main drawback of these shoes is the high price tag. However, considering their low weight, breathability, comfort and overall performance, they can be seen as a good investment for serious hikers and climbers who prioritize weight and packability.
Weight
What sets the Arc'teryx Norvan SL 3 apart from many approach shoes is undoubtedly its low weight. These shoes feel like feathers on your feet, offering excellent mobility and ease during your climbs, treks, or simply strolling through town.
Prices
No prices found. Check back later!
Best Men's Approach Shoes for Alpine Hiking and Scrambling
Based on our research and testing, we think the Scarpa Mescalito are a solid choice if you want men's approach shoes that's really well suited to Alpine Hiking and Scrambling.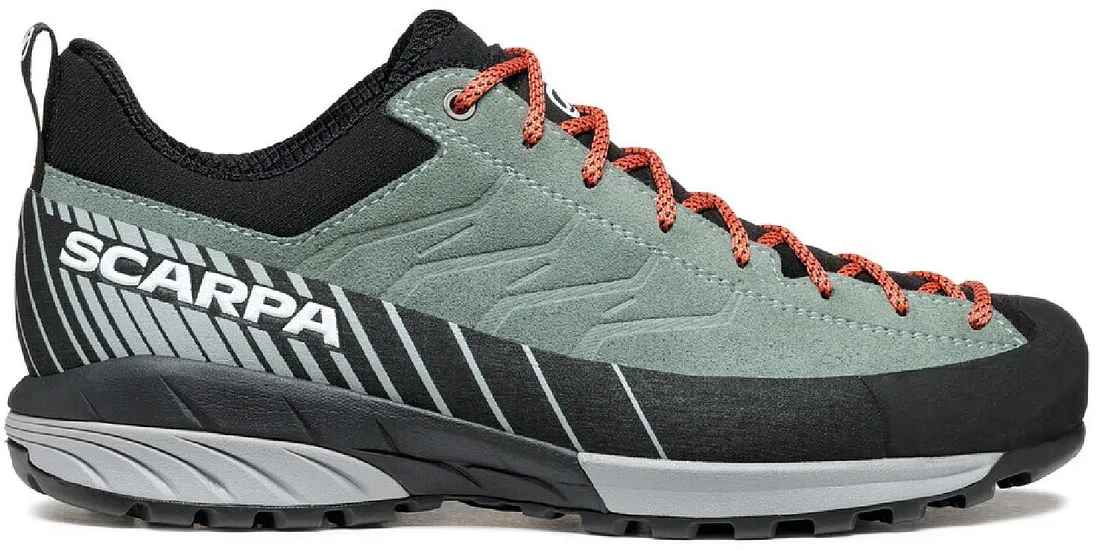 Reasons to Buy
Great grip for rugged terrains

Durable and long-lasting build

Breathable material aids in keeping feet cool

Excellent climbing performance
Reasons to Avoid
Might feel heavy during long hikes

Pricey compared to other approach shoes
The Important Specs
Rand:

Full Rand

Sole:

Vibram Dynamis LB sole using Lite Base technology

Upper:

Suede water-resistant 1.8 mm

Lining:

37.5 Cocona Natural Technologies

Technology:

Vibram litebase technology

Heel To Toe Drop:

10 mm
Review Roundup
The Scarpa Mescalito is definitely a standout option among approach shoes, showcasing a clear focus on functionality and durability. The upper is made from high-quality suede which seems to hold up well even with heavy use. Its durability comes strongly recommended by many hikers who have hit both smooth and rugged terrains with this shoe.
It sports a Vibram rubber sole that provides heaps of stability on varied terrains. Customers have commented on its steady traction on both dry and wet surfaces. So, less slipping on dewy mornings or when unexpected showers kick in which is always a win.
One wide praise from users has been the comfort factor of these shoes. They feature a Lite 2 Plus insole that aims to provide cushioning support for long hours of use. Many users have commended the Scarpa's during long hiking stints and scrambles and highlighted the comfort and support the shoes provide, proving they're constructed with long-distance hikes in mind.
Mountain enthusiasts have praised that the Mescalito perfectly marries flexibility and stiffness. This feature seems to render these shoes capable of taking on rough, bumpy tracks, and yet flexible enough to allow for a comfortable walk on softer, well-beaten paths.
However, the Scarpa Mescalito has not been free of constructive criticism. A number of reviewers noted that the shoe runs slightly small, suggesting it may be best to size up to get a perfect fit. Another less frequent remark was that the shoe could use a bit more breathability, although this did not appear to be a major concern for most.
It's worth noting that the Scarpa Mescalito is a bit pricier than some other shoes in the same category but based on consumer feedback, you're getting your money's worth when you consider the quality, durability, and the functionality of the shoe.
Breathability & Upper Material
Despite being robust, the suede upper aids in making the shoe breathable. Customers have pointed out that even on warm days, their feet remained relatively cool, thanks to the 37.5 Cocona Natural Technologies lining, which plays a significant role in moisture management and maintaining comfortable temperature inside the shoe.
Climbing Performance
The Mescalito offers excellent climbing performance, thanks to its sturdy build and reliable grip. Many climbers online have admitted that this shoe provided them with increased confidence while climbing steep terrain or scrambling rocky areas.
Comfort
With a solid midsole structure, the shoe offers good underfoot support. A handful of online reviews indicate that after a short breaking-in period, the shoes become increasingly comfortable, even during longer hikes.
Durability
Constructed with a 1.8mm water-resistant suede upper and full rand, the Scarpa Mescalito is designed to last. Online customers mention these shoes stand up to rough use and continue to be reliable after months of rigorous hiking and climbing activities.
Traction & Edging Capability
The Scarpa Mescalito boasts excellent traction, keeping you steady on both wet and dry terrains. The Vibram Dynamis LB sole using Lite Base technology aids in offering a sturdy grip, which makes edging capability superb. The feedback from users indicates that the shoes offer great grip, even on slippery scrambling routes.
Value
Though on the pricey side, satisfied customers deem the Scarpa Mescalito a worthy investment. Its superior build quality, excellent performance and durability outweigh the initial investment, making it excellent value for money for serious climbers and hikers.
Weight
One common drawback pointed out by customers is the weight of the shoe. Although the sturdy build enhances performance, it also adds to the weight which can feel heavy during prolonged use.
Prices
Black Diamond Circuit
$109.95
Best Men's Approach Shoes for Every Day Use
Based on our research and testing, we think the Black Diamond Circuit are a solid choice if you want men's approach shoes that's really well suited to Every Day Use.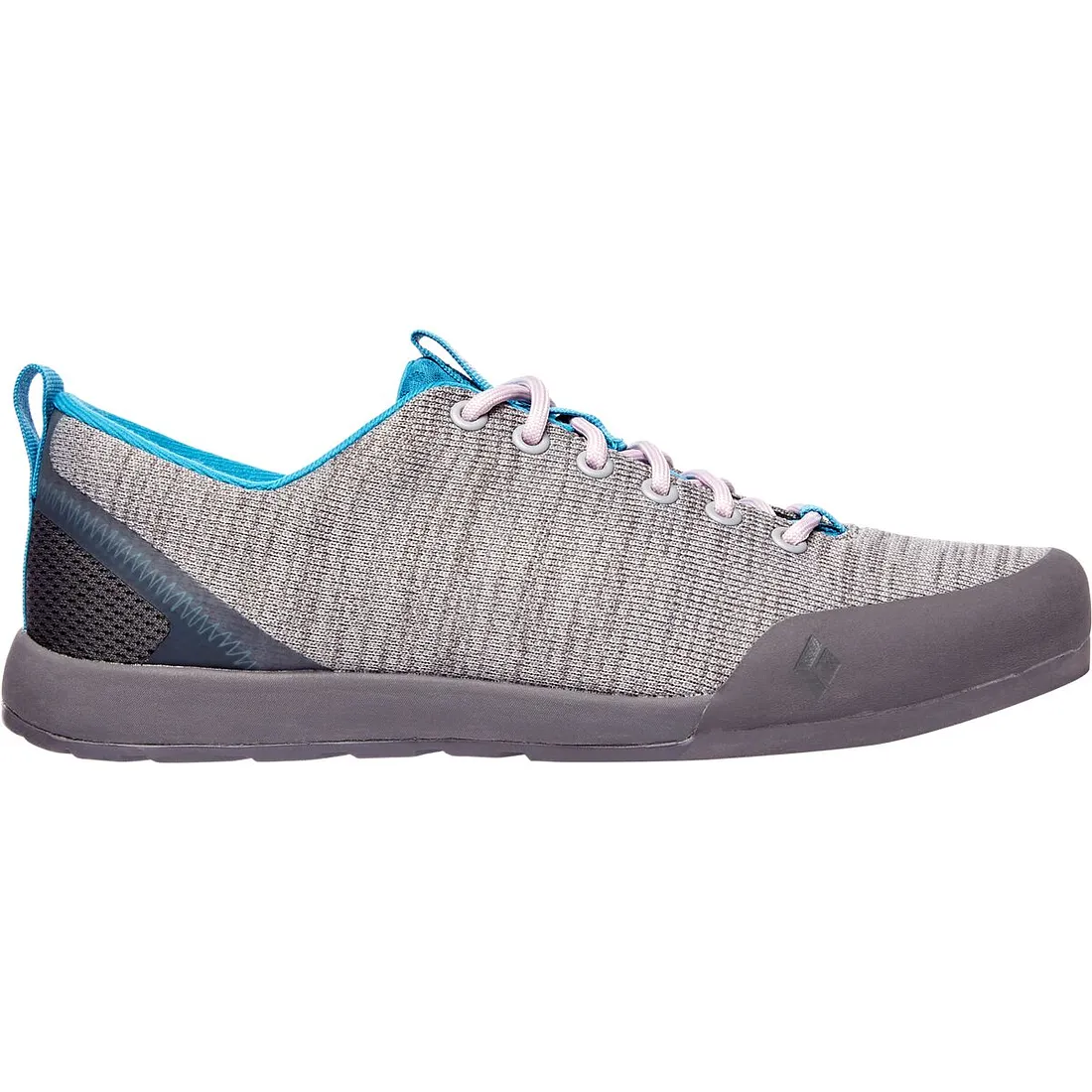 Reasons to Buy
Comfortable for all-day use

Versatile for climbing and everyday wear

Durable build quality

Excellent grip and traction
Reasons to Avoid
Might be too narrow for wider feet

Not waterproof

Insufficient padding for heavy loads
The Important Specs
Closure:

Elastic, slip-on style

Outsole:

Black Label-Mountain rubber

Upper Material:

Knit fabric
Review Roundup
The Black Diamond Circuit Approach shoe is a wonderful blend of style, comfort, and functionality. It stands out with a smart design that makes it ideal for everyday use as well as for some light hiking.
Built with a durable knit upper and Black Diamond's signature BlackLabel-Street rubber, this men's approach shoe promises a combo of breathability and grip that many users find really appealing. The rubber is indeed sticky, with buyers praising it for providing good traction on different terrains.
The shoe is known for its versatility. Whether you're heading out for a casual city walk or going to your climbing spot, these shoes deliver. Users have noted that they transition seamlessly from sidewalks to mountain trails.
Plenty of buyers have also pointed out how comfortable the Black Diamond Circuit is. It offers great cushioning which makes it excellent for long wear times. The shoe fits well and provides enough padding without being too bulky - an aspect that users find outstanding.
The Black Diamond Circuit Approach shoes are lighter than you might expect, which is surely a bonus for those who spend a lot of time on their feet. Users appreciate this feature, sharing that the shoes never weigh them down during their outdoor activities or daily errands.
In terms of design and aesthetics, the Circuit gets a big thumbs up from most buyers. They appreciate its modern and sleek look that doesn't scream 'I'm a climbing shoe'. It's a fashionable alternative you can rock on any casual outing, without compromising on performance.
However, like any other product, the Circuit is not without its downsides. Some customers experienced issues with durability, claiming that the shoe started showing signs of wear and tear much quicker than expected. Another common complaint pertains to sizing, with some buyers advising to size down as the shoe reportedly runs a bit large.
On balance, while the Circuit is not perfect, it shines in many areas. It excels in comfort, style, and versatility making it a great everyday shoe. If you're after a shoe that you can use in various settings while also being ready for light outdoor adventures, the Black Diamond Circuit is worth considering.
Breathability & Upper Material
The knit fabric used on the upper portion of the shoe not only contributes to its modern aesthetic but also enhances breathability. However, while buyers appreciate the comfort and coolness, some express a desire for greater weather resistance.
Climbing Performance
Their performance as an approach shoe stands out. Many customers report they feel confident climbing moderate routes in these shoes, thanks to their excellent grip and edging capabilities.
Comfort
Designed as a slip-on shoe with elastic closure, the Circuit offers easy wearability that customers love. The shoe's overall comfortability is well-received by most users, but those with wider feet might need to consider the shoe's relatively narrow shape.
Durability
Given its sturdy construction and high-quality materials, the Circuit is praised by users for its longevity. It withstands hard and prolonged use without showing signs of serious wear or damage.
Traction & Edging Capability
The Black Diamond Circuit's outsole has proven effective on a variety of surfaces, from slippery rocks to dusty trails. Customers appreciate its edging capability and the added element of safety when traversing more technical terrain.
Value
Customers generally suggest that this shoe provides good value for money. Its versatility as an everyday and climbing shoe, paired with its durability and comfort, makes it a worthy investment for many outdoor enthusiasts.
Weight
While the Black Diamond Circuit isn't the lightest approach shoe on the market, most consumers don't seem to mind. Its slightly extra weight is justified by its durability and climbing-friendly features.
Prices
Best Men's Approach Shoes for Running Crossover
Based on our research and testing, we think the Scarpa Rapid are a solid choice if you want men's approach shoes that's really well suited to Running Crossover.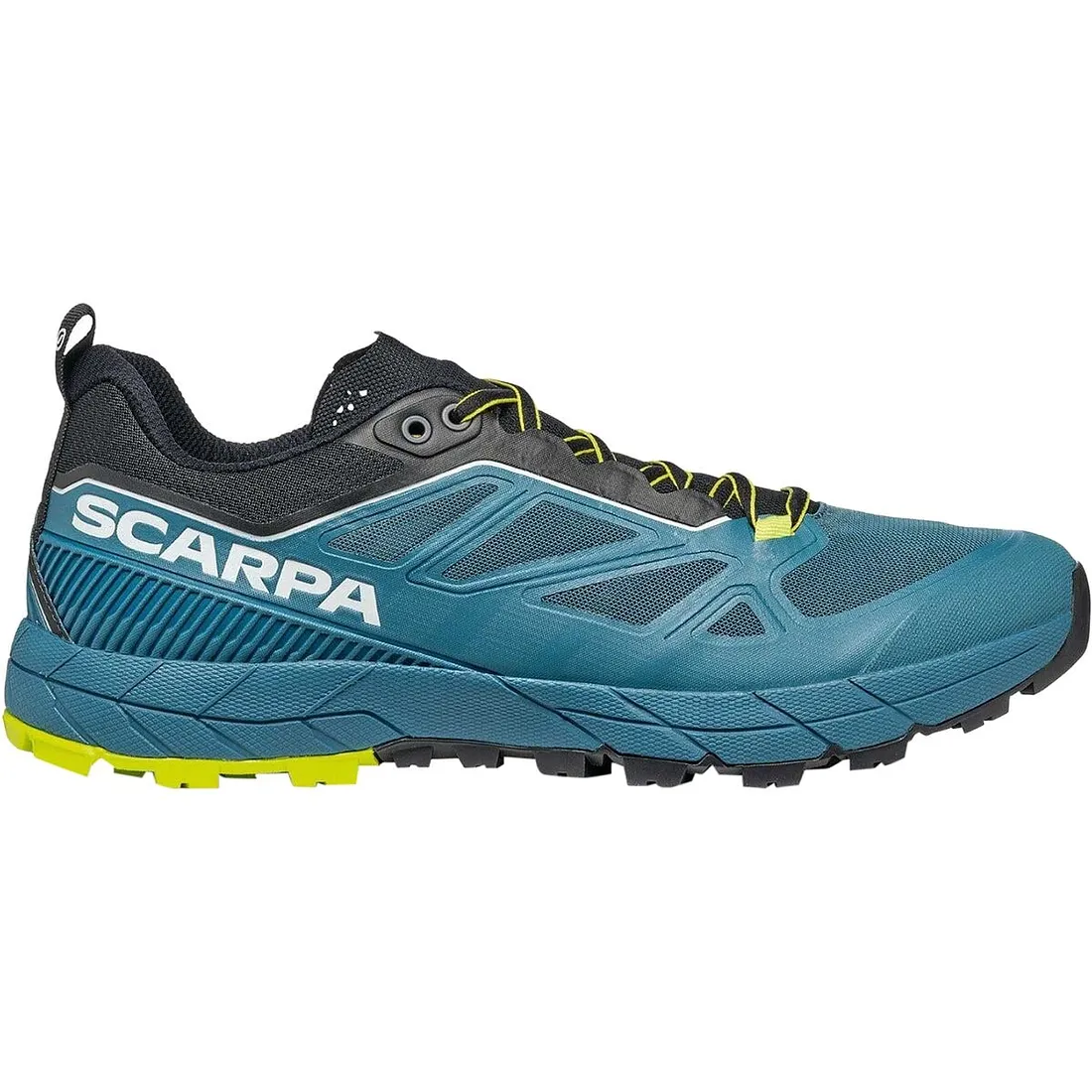 Reasons to Buy
Versatile, can be used for running and scrambling

Comfortable enough for long adventures

Durable to withstand rough terrains

Has sticky rubber soles for better traction

Snug fit with effective lacing system
Reasons to Avoid
On the heavier side, some may prefer something lightweight

May be overkill for casual trail running

Can get hot during summer hikes

Long break-in period required
The Important Specs
Closure:

Traditional lacing system

Midsole:

Compressed molded EVA

Outsole:

High friction rubber

Material:

Synthetic upper and rubber sole
Review Roundup
The Scarpa Rapid is a solid contender in the world of men's approach shoes, especially under the Running Crossover category. Built with lightweight but durable material, the shoe provides the best of both worlds; it acts as a sturdy approach shoe for tackling rough terrains while also functioning as a comfortable running shoe for smooth trails.
Online reviewers are quick to notice the excellent grip of the Scarpa Rapid. Its Vibram outsole impresses users with its steadfast stickiness, allowing climbers and backpackers to navigate across hazardous surfaces with confidence. Wet or dry, it seems to perform reliably.
The shoe has a remarkably breathable design that keeps feet cool and dry. A crucial feature for those longer hikes or runs on warm days. This is openly appreciated by the online community where many praised the shoe for its ability to prevent sweaty or soggy feet, even during intense activities.
The comfort it offers is another highlight that is consistently mentioned by its online community. The Scarpa Rapid provides excellent cushioning and support to the foot. People who bought the shoe noticed less foot fatigue even after a long day out, making it a perfect companion for those adventure-filled days.
Size and fit of the Scarpa Rapid are worth a mention. While some users report that the shoe runs true to size, others mention having to go half a size up for a more comfortable fit. Keep this in mind if you're considering this shoe for your next adventure.
There are a few downsides too as mentioned by some online consumers. Though the shoe excels in comfort for running and walking, when it comes to more technical climbing, it doesn't quite live up to some climbers' expectations. But this is where the 'running crossover' category plays its role, making it more of a versatile all-round shoe.
Breathability & Upper Material
Although the synthetic uppers are tough, that doesn't compromise on breathability. The Scarpa Rapid allows enough airflow to keep feet dry and comfortable. However, users have noted feeling hot during summer hikes.
Climbing Performance
When it comes to climbing performance, the shoes shine. Their snug fit, combined with a rugged sole, provides the stability and security needed for successful ascents on different types of surfaces.
Comfort
Comfort-wise, the shoes garner positive feedback. Although a break-in period might be necessary, users praised the shoes' comfort during long-term wear. The snug fit promises secure footing with little slippage, which hiking enthusiasts appreciate.
Durability
In terms of durability, these shoes were built to last. They survive rough terrains and harsh conditions without giving away to wear and tear. Many buyers have reported these shoes lasting for hundreds of miles, with the synthetic uppers and sole construction maintaining their integrity.
Traction & Edging Capability
The Scarpa Rapid offers impressive traction and edging capability, courtesy of its sticky rubber outsoles. These soles provide ample grip even when it's wet, making them perfect for treacherous terrains. The edging, while not it's primary feature, also performs admirably on rocky paths.
Value
Despite the price point being on the higher side, buyers found the Scarpa Rapid worth the investment. The reliable performance, versatility, and durability make these shoes value for money – a sentiment echoed in numerous online reviews.
Weight
One of the only demerits brought up by users is the shoe's weight. Its robust design makes it a bit heavier than typical approach shoes, which some users found tiresome during lengthy treks.
Prices