Quick heads-up: some of the links on this page are affiliate links. If you make a purchase through them, we may earn a small commission (at no extra cost to you). This small bit of income helps keep our site running.
Best Windbreakers for Men of 2023
This post was last updated on December 06, 2023.
Looking for the Women's version of this post? We've got you covered: Best Windbreakers for Women of 2023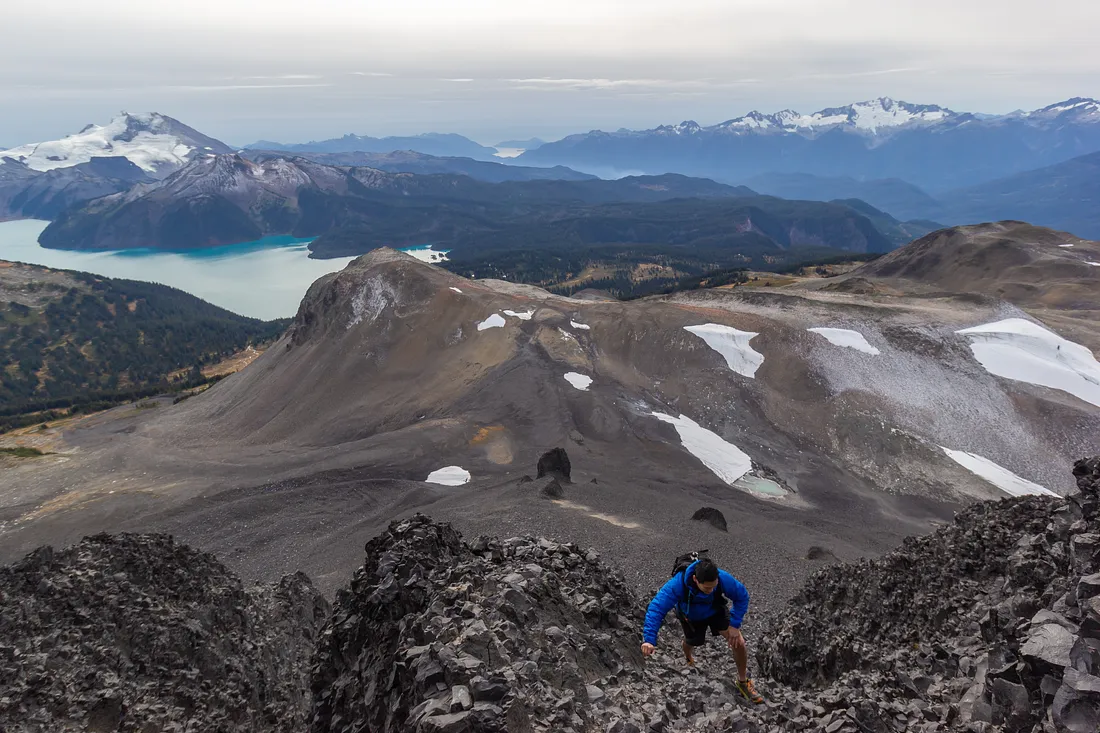 Ever been on a gripping adventure, perhaps trail running or backpacking, only to have your fun sapped by a high-altitude breeze biting right through your jacket? We know the feeling, and that's why we've been on a search for the best windbreakers for men.
At the top of our list is the astounding Patagonia Houdini Air Jacket. Its top-notch wind resistance, lightweight with incredible packability, and distinctive breathability all meld together to make it a clear frontrunner. It's a rock-solid choice, and we firmly believe that it'll provide you unmatched comfort and protection, whether you're hiking mountains or just out on a brisk walk.
Hang on though, we also want to give a shout out to our runners up and have also sorted out the best choices for trail running and budget categories. And yeah, we know your gear needs to work as hard as you do, so we've considered crucial aspects like durability, fit, and value for money. We've also linked some of our other top-notch reviews like the Best Rain Jackets for Men, Best Down Jackets for Men, and Best Softshell Jackets for Men for a complete view of your outerwear options. So saddle up, as we make your choice easier by separating the windbreakers from the wind...fakers!
Our Top Recommendations
Patagonia Houdini Air Jacket
The Patagonia Houdini Air Jacket clinches the top spot owing to rave reviews about its feather-light weight and incredible breathability, setting it leagues apart from its rivals.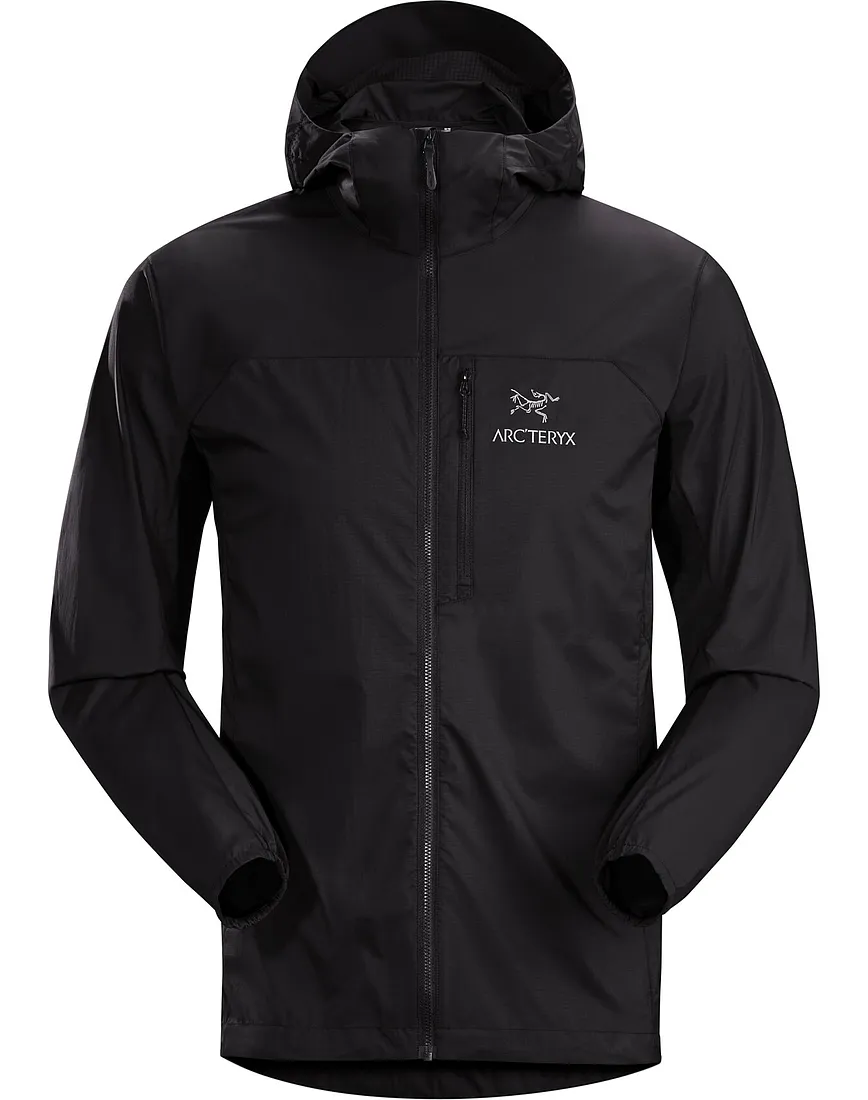 Arc'teryx Squamish Hoody
Men love the Arcteryx Squamish Hoody as their go-to windbreaker because of its exceptional wind resistance and its compact design that can easily fit in a backpack, setting it a notch above the rest based on user reviews.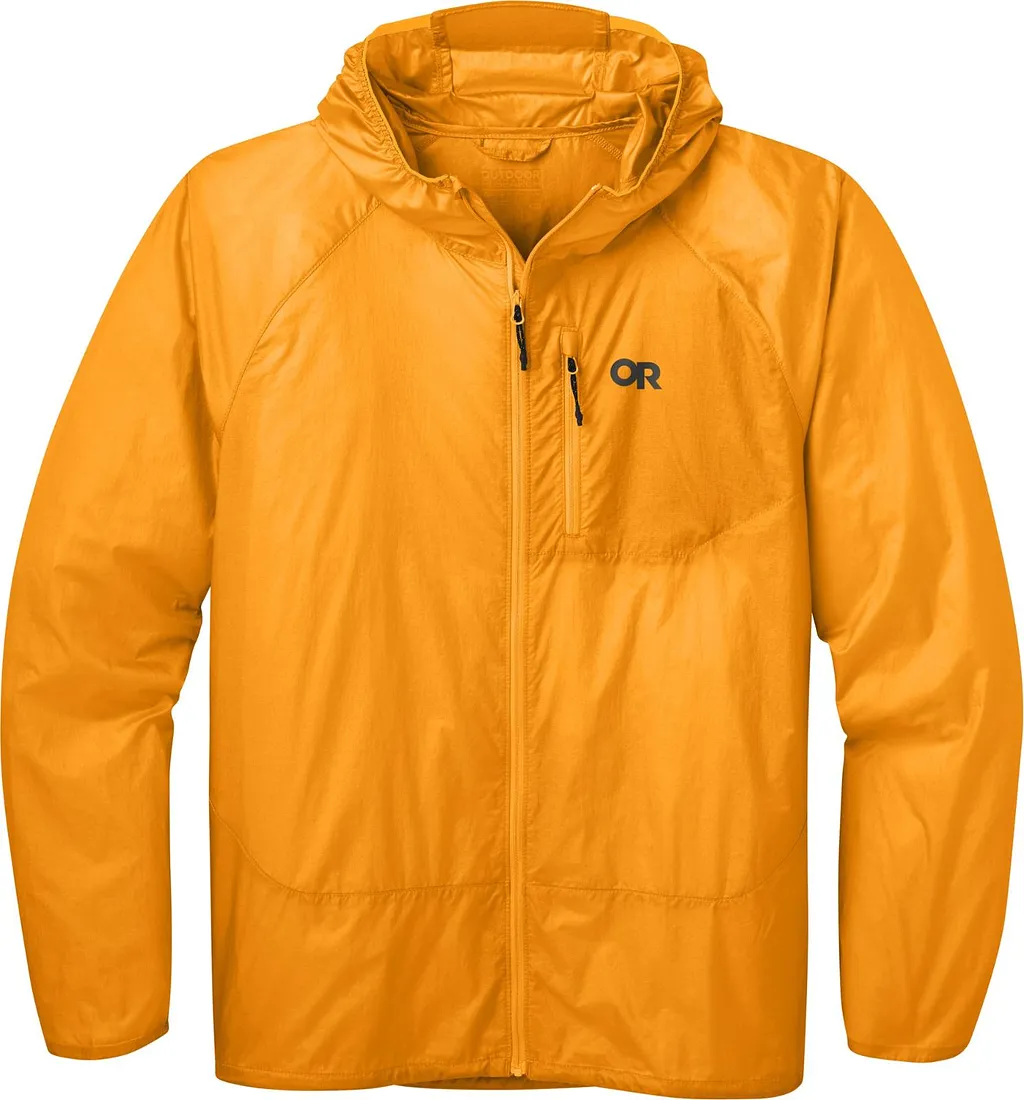 Outdoor Research Helium Wind Hoody
The Outdoor Research Helium Wind Hoody snags our top pick spot for its wildly praised knack for blocking gusts, coupled with its barely-there lightweight and compact design, making it an adventurer's favorite based on hundreds of user reviews.
What you should look for
(and what we test for)
Material
Look for a windbreaker that's made from breathable, water-resistant fabric like nylon or polyester, which can withstand the elements without making you feel like a sweaty mess during hikes or climbs.
Fit and Mobility
Choose a windbreaker with a roomy cut and articulated elbows or underarm gussets, to ensure that it won't restrict your movement during active pursuits such as climbing or pitching your tent.
Additional Features
Always consider extra features like adjustable hoods, cuffs, and hems, as well as zippered pockets, which can add to the utility and comfort of your windbreaker during camping, climbing, and hiking trips.
Packed Size and Weight
Opt for a windbreaker that packs down small and light, since every ounce matters when you're backpacking and you don't want to be burdened by a bulky jacket when you've got hills to climb.
Patagonia Houdini Air Jacket
$179.00
The Best Men's Windbreaker
Based on our research and testing, we think the Patagonia Houdini Air Jacket is the best Men's Windbreaker on the market right now, for anyone looking to play hard outside.
Reasons to Buy
Highly wind resistant

Packs down small

Excellent breathability

Water resistant
Reasons to Avoid
Not as durable as some rivals

Fit could be snugger

Higher price point
The Important Specs
Zips:

Half-zip pullover

Material:

Houdini Air 100% ripstop nylon

Packed Size:

Stuffs into its own pocket
Review Roundup
The Patagonia Houdini Air Jacket has earned its reputation as one of the top windbreakers for men. It strikes the right balance between breathability and wind resistance, making it ideal for a wide range of outdoor activities. Light as a feather, yet durable enough to withstand rugged outdoor adventures, this jacket proves itself as a go-to garment for the outdoor enthusiast.
Starting with its materials, the jacket is made from a nylon-polyester blend, providing toughness without sacrificing comfort. Additionally, the fabric is designed to resist water, offering solid performance in light rain showers. But bear in mind, it's a windbreaker, not a raincoat.
Users also rave about the jacket's breathability, often saying it's like their second skin. Although it's highly protective against the wind, it doesn't trap heat inside, making it an excellent choice for active pursuits. The venting attributes of the Houdini Air stems from its 'double-weave' texture that allows the fabric to breathe much better than its counterparts.
The design of the Patagonia Houdini Air also receives a lot of positive feedback. It boasts a convenient full-zip design, allowing for easy temperature regulation. The low-profile hood does an excellent job of providing coverage without compromising visibility. Plus, the whole jacket can be folded into its own pocket, making storage and transport a breeze.
While many customers applaud the jacket for its lightweight design and top-class breathability, a few did point out that the durability might not be at par with heavier, robust jackets. Some customers also mentioned that it runs slightly large, so it might be a good idea to size down if you're in between sizes.
As far as color options are concerned, the Houdini Air offers a diverse range, from understated neutrals to vibrant outdoorsy hues, accommodating a broad spectrum of personal styles.
In terms of price, while the Patagonia Houdini Air isn't the cheapest windbreaker on the market, it certainly offers value for money given its top-notch features and brand reputation. Indeed, a majority of customers felt that the jacket was worth every penny, citing its adaptability to varying weather conditions as a strong selling point.
Breathability & Ventilation
The jacket provides top notch breathability due to its Airshed fabric, which wicks away sweat. It's ideal for strenuous activities, as it keeps you from getting too stuffy inside the jacket.
Durability
Its nylon material is tough but it might not hold up as well as some other options if subjected to rigorous use over a long time. Barring that, it should perform admirably on most trips.
Fit
The fit is generally good and allows for layering underneath, but some might find it a little looser than they would like. The absence of a full zip also limits the options for ventilation.
Value
The Patagonia Houdini Air Jacket represents a considerable investment, but for those who value breathability, wind resistance and packability, it's a worthwhile choice. Those on a tighter budget might look to other options.
Water Repellency
Its DWR (durable water repellent) finish provides resistance against showers but it may not hold up in extended downpours or particularly heavy rain.
Weight & Packability
The Patagonia Houdini Air Jacket shines in terms of packability. It easily stuffs into its own pocket, making it perfect for travel or multi-day hiking trips. However, its weight isn't its most competitive feature with some rival jackets available at a lighter weight.
Wind Resistance
One of the jacket's standout features is its robust wind resistance. Its nylon fabric creates an excellent barrier against gusty weather, preventing chills and maximizing comfort during outdoor pursuits.
Prices
Arc'teryx Squamish Hoody
Runner Up
Based on our research and testing, we think the Arc'teryx Squamish Hoody is a great choice if you're looking for a men's windbreaker to go play hard outside with, if our top pick isn't quite what you're looking for.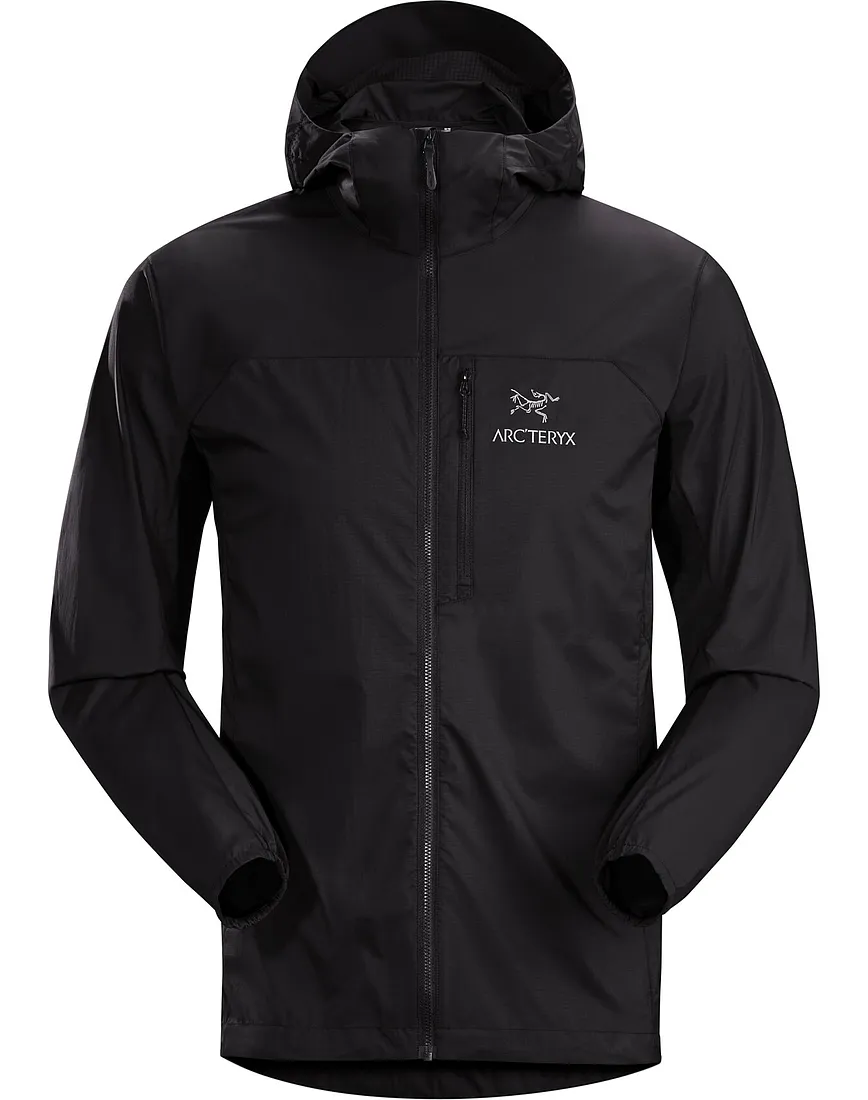 Reasons to Buy
Lightweight and easy to pack

Highly versatile - perfect for a variety of outdoor activities

Excellent wind resistance

Superior breathability and ventilation
Reasons to Avoid
Lacks water resistance

May not be the best in extreme weather conditions

Pricey compared to some other options
The Important Specs
Cut:

Regular fit

Hood:

Yes, can be adjusted

Pockets:

One zip pocket

Material:

Nylon

Breathability:

High
Review Roundup
The Arcteryx Squamish Hoody is one of the top-notch windbreakers in the market built for men who love an outdoor lifestyle. Constructed with a tough and lightweight material, users have praised this windbreaker for its durability, even when faced with unforgiving weather conditions. This hoody stands up to the test of time and offers great investment for any outdoors enthusiast.
A popular aspect noticed by users is the versatility of the Squamish Hoody. It handles the wind and a light shower like a pro, making it perfect for those who venture out in unpredictable climates. It's an ideal companion whether you're hiking a rocky trail or simply taking a jog in the park on a breezy day.
Buyers have mentioned the comfort provided by the Squamish Hoody. The soft inner fabric ensures it sits comfortably on the skin, while the adjustable hood stays in place even during sporadic gusts of wind. Not only this, but the athletic fit allows for a greater range of motion — no more feeling restricted while maneuvering through tricky terrains.
The Squamish Hoody also knocks it out of the park in terms of packability. Hikers and backpackers have expressed their satisfaction with how compactly it packs away, making it a space-saving addition to any backpack. This coupled with its lightweight nature proves to be a winning combination for longer treks.
However, not all reviews about the Arcteryx Squamish Hoody are of praise. Some users have pointed out the lack of insulation, finding it inadequate for colder temperatures. Though it does a commendable job in blocking out wind and light rain, it might need to be paired with thermal layers when the mercury plummets.
Breathability & Ventilation
This hoody wins big in the breathability department. The fabric allows good airflow, keeping you cool and sweat-free during intensive activities. A lot of reviews commend the awesome ventilation it offers.
Durability
The Arcteryx Squamish Hoody scores high on durability, with many reports stating it's remained strong even after years of heavy use.
Fit
The hoody offers a regular fit, so it's comfy while not being overly baggy. There's plenty of room for a base layer beneath. This aspect was noted with satisfaction by multiple reviewers.
Value
The price is a bit steep, especially when you factor in the lack of water-resistance. But if you need a lightweight, breathable windbreaker for active pursuits, many consumers feel that it's worth the investment.
Water Repellency
Though not designed as a rain jacket, the Squamish Hoody is okay in a pinch. It's fine for a light drizzle, but anything more than that, and you might start to feel the moisture. Scores of reviews citied this lack of water resistance as a downside.
Weight & Packability
It's a lightweight number and packs up tight and small into its own pocket. Users found it to be the ideal companion for all sorts of outdoor adventures.
Wind Resistance
The Arcteryx Squamish Hoody excels in wind resistance. It shields from the harsh winds with ease, and a number of users have appreciated this perk in their online reviews.
Prices
No prices found. Check back later!
Outdoor Research Helium Wind Hoody
$129.00
Runner Up
Based on our research and testing, we think the Outdoor Research Helium Wind Hoody is a great choice if you're looking for a men's windbreaker to go play hard outside with, if our top pick isn't quite what you're looking for.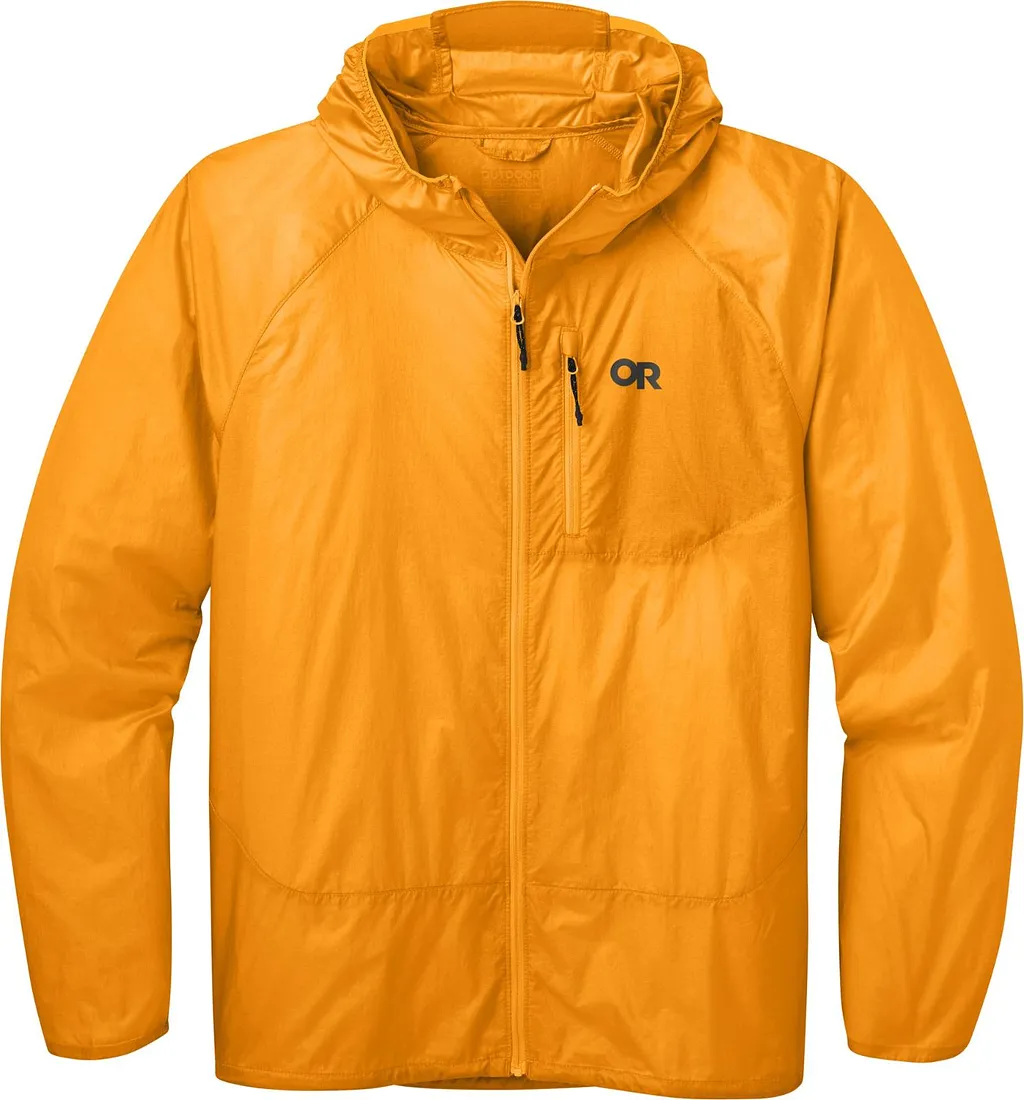 Reasons to Buy
Excellent water resistance

Top-notch wind protection

Ultra-light and well-packable

Impressive durability

Comfortable fit
Reasons to Avoid
Pricey compared to some rivals

Lack of ventilation options

Some find it a bit noisy in the wind
The Important Specs
Hood:

Fully adjustable

Seams:

Fully taped

Pockets:

Single chest pocket

Material:

Pertex Shield Diamond Fuse 2.5L fabric
Review Roundup
The Outdoor Research Helium Wind Hoody is undeniably a standout in the men's windbreaker market. The first thing you notice is its ultra light material weighing just 6.4 ounces. It's compact enough to stow away in your backpack and you'll barely notice it's there until you need it.
The primary job of a windbreaker is to shield you from blustery conditions and this, the Helium Wind Hoody performs with top-notch efficiency. The Pertex Diamond Fuse fabric is both windproof and significantly water-resistant, providing a solid barrier in unpredictable weather.
It's an ideal choice for a multitude of outdoor activities including hiking, climbing, or simply walking the dog. The adjustable hood adds an additional element of protection while its plenty of movement and visibility. It also fits well over a helmet, a distinguishing factor any climber will appreciate.
Regarding durability, there have been some mixed reviews. Most users report that it holds up well over time, even when scrambling over tough terrain. However, a handful of people have noticed minor wear and tear after extensive use.
Its breathability is one more area that appeals to many users. The Helium Wind Hoody does a commendable job of releasing body heat – a crucial point for uphill hikers. But, in more strenuous scenarios like high-intensity trail running, some users felt it lacked a tad in the ventilation department.
Another area where it scores big points is its packability. It folds into its own pocket seamlessly, which is invaluable when you're trying to conserve pack space.
But it's not all sunshine and roses: some buyers called out the absence of hand pockets as a downside. True, this omission helps maintain the jacket's light weight, but it does mean sacrificing a bit of practicality and comfort.
Lastly, it's particularly pleasing in the style department. It looks slick and comes in a variety of vibrant colors. However, there were a few comments online about sizing issues, with a consensus suggesting it runs a bit large. So, you might want to consider going a size down.
Breathability & Ventilation
While the jacket holds up well in wind and rain, some users pointed out a lack of ventilation options. This leads to potential overheating during high-effort activities.
Durability
Despite its light weight, the Helium Wind Hoody is remarkably durable. The new diamond fuse technology used in the fabric strengthens it against usual wear and tear.
Fit
The fit is comfortable and versatile, with space for layering. However, a few users mentioned that the fit can be a bit snug in the chest area. Adjustability in hood and hem add to the comfort.
Value
The jacket scores high on the value aspect despite being on the pricier side. Its exceptional performance and durability justifies the cost, making it a worthy investment for serious outdoor enthusiasts.
Water Repellency
With its Pertex Shield Diamond Fuse fabric, the jacket provides excellent water resistance, handling downpours like a champ. Countless user experiences affirm its impressive water-shedding ability.
Weight & Packability
Known for its lightness and packability, the Helium Wind Hoody is loved by backpackers. Its ultra-light weight allows for easy packing and minimal burden during long treks.
Wind Resistance
The Outdoor Research Helium Wind Hoody uses a high-quality Pertex Shield fabric which excels in wind resistance. Users reported strong protection against wind, with the hoody preserving warmth efficiently.
Prices
Best Budget Men's Windbreaker
Based on our research and testing, we think the Rab Vital Hoody is a great pick if you're looking for a men's windbreaker that is more budget friendly, without sacrificing too much in quality.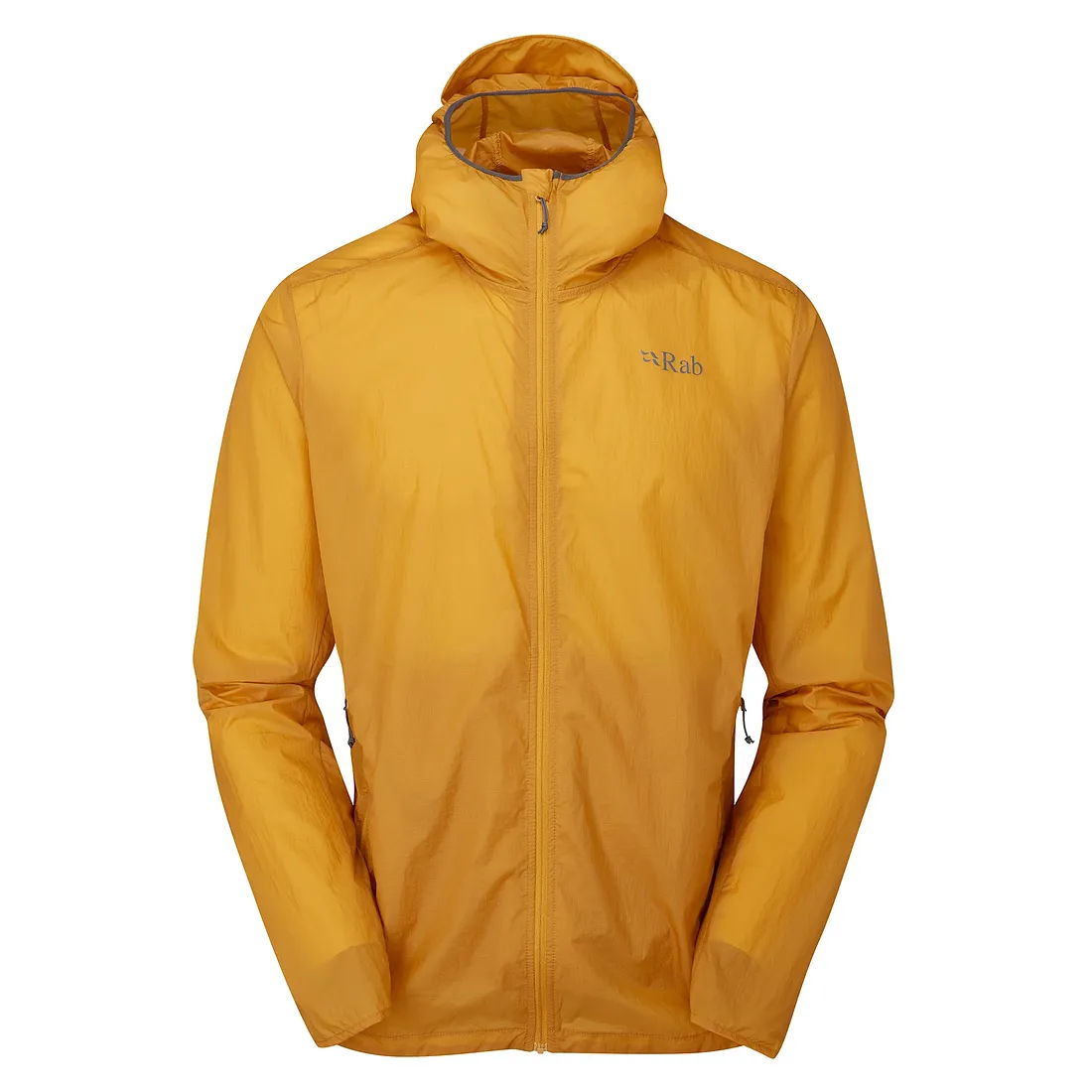 Reasons to Buy
Significantly affordable

Lightweight & easily packable

Water-repellent finish is pretty handy

Multiple color choices to suit individual preference
Reasons to Avoid
Not completely windproof

Fit might be a bit loose for slim users

Tends to wrinkle after folding
The Important Specs
Hood:

Yes, adjustable

Pockets:

Two zippered hand pockets

Material:

Pertex Quantum Air nylon
Review Roundup
When faced with the unpredictable weather that outdoor adventures often bring, the Rab Vital Hoody is a handy staple to have in your backpack. Offering a great bang for your buck, this windbreaker is a solid choice for anyone seeking protection without emptying their wallet.
Made from Hyperlite, a lightweight mini-ripstop nylon material, the Vital Hoody offers good resistance to both wind and water. The jacket's Pertex Quantum material has a durable water repellent (DWR) finish, and it's impressive in bouncing off light rain and snow, and dries quickly. Although it won't hold up against a full-on downpour, it will manage well in passing showers.
The Vital Hoody boasts an easy packability. When not in use, it can be cleverly packed into a small integrated stuff sack that comes with a loop for clipping to your backpack. This feature makes it perfect for hiking, skiing, or running when you want to minimize your load.
In terms of warmth, the Vital Hoody isn't lined, so it won't offer much insulating power on its own, but it does a decent job at blocking wind and preserving body heat. It's best used as part of a layering system, and easily fits over a mid-layer. Also sliding on easily over a helmet, it makes a good companion for rock climbing and mountaineering.
In customer reviews online, wearers have highlighted the jacket's durability and weather resistance, as well as its packability. A few reviewers have cited the lack of an internal pocket as a downside, while others wish it had a full length zip, instead of the half-zip design that it comes with.
The fit and feel of this jacket are also popular among reviewers. It's non-restrictive, allowing for great range of motion even with layers beneath. The elasticated hood and cuffs work well to keep out the wind, and the hem drawcord is adjustable for better fit.
Breathability & Ventilation
The Rab Vital Hoody does a darn good job of regulating body temperature and expelling excess heat, thanks to its smart structuring and lightweight fabric. However, users engaged in particularly strenuous activities may occasionally feel a bit hot.
Durability
Considering its price, the Rab Vital Hoody offers good durability. The material is reasonably sturdy, capable of withstanding moderate wear and tear, although it's not indestructible. Just be mindful not to snag it on sharp objects.
Fit
In terms of fit, it's slightly loose, making it perfect as a layering piece for colder weather. However, if you prefer a more tailored fit, you may find it a bit baggy.
Value
Given its affordable cost, the Rab Vital Hoody offers good value. It's not a high-end product by any means, but it's a solid budget-friendly jacket that provides moderate wind and water resistance, good packability, and acceptable durability.
Water Repellency
With its DWR (Durable Water Repellent) finish, this hoody can easily shrug off light rains, but in a proper downpour, it won't keep you fully dry. For heavy rain, you'll still want to pack a rain shell.
Weight & Packability
This hoody shines in terms of packability. It's easy to bundle up into a small size and tuck away in a rucksack. Weight-wise, it's not the lightest on the market, but it's far from bulky, making it ideal for hiking and backpacking trips.
Wind Resistance
The Rab Vital Hoody is not 100% windproof, but the lightweight Pertex Quantum material combines with a mid-sized zipper baffle to provide a good deal of wind resistance. The trade-off is a slight drop in breathability.
Prices
Patagonia Airshed Pro Pullover
$139.00
Best Men's Windbreaker for Trail Running
Based on our research and testing, we think the Patagonia Airshed Pro Pullover is a solid choice if you want a men's windbreaker that's really well suited to Trail Running.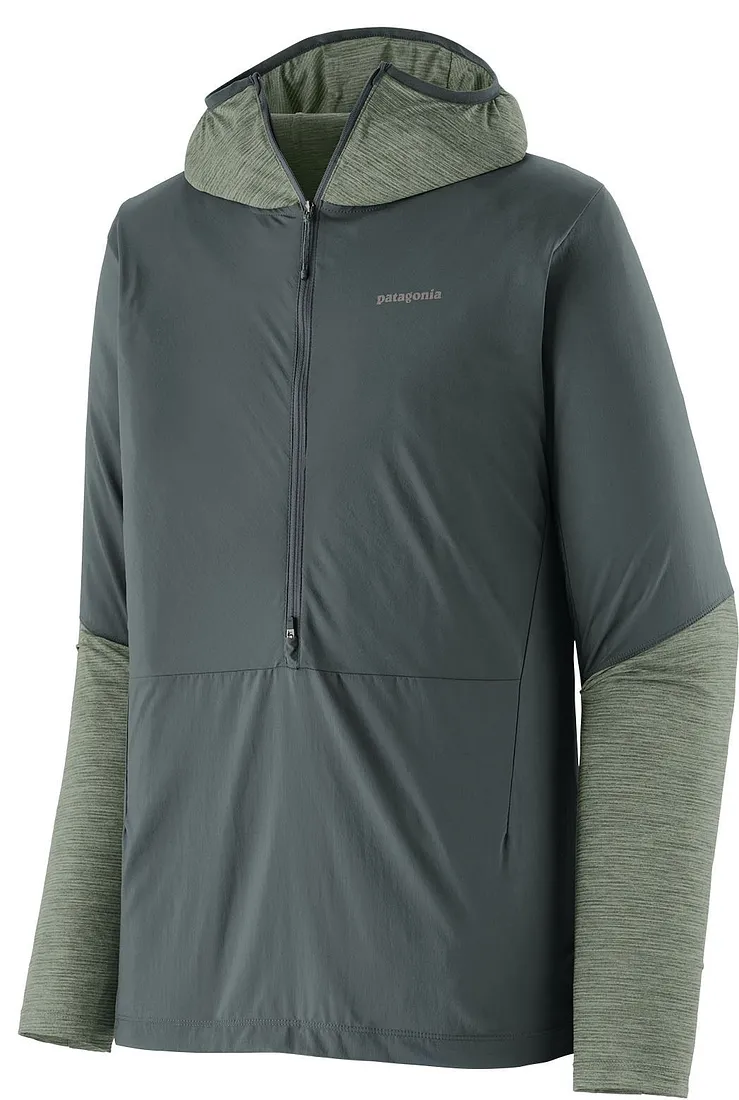 Reasons to Buy
Super lightweight and compact

Highly breathable

Comfortable fit

Environmentally friendly materials used
Reasons to Avoid
Not fully waterproof

Slightly more expensive than competitors

Doesn't have standard pockets
The Important Specs
Hooded:

Yes

Closure:

Half zipper

Pockets:

One chest pocket

Material:

100% recycled polyester
Review Roundup
The Patagonia Airshed Pro Pullover is an example of what happens when everything aligns in a product. The key focus here seems to be a balance between weather protection and breathability, successfully making it a go-to choice for trail runners.
Online buyers frequently rave about the product's wind resistance. The Pullover is made of lightweight nylon and merino wool materials, offering just enough cover to keep the chill off without making you overheat. It's designed to keep the wind at bay without sacrificing breathability, and by all accounts, it does this brilliantly.
In terms of comfort, customers applaud the durability and no-nonsense design. It does not chafe, even during long runs, and it has an adjustable, fitted hood that stays in place even in strong wind. The pullover also features a deep chest zip for additional ventilation, a feature that many runners have found handy.
Its packability also attracts rave reviews. It's lightweight and easy to roll up, fitting effortlessly into compact hydration packs or the smallest compartments of backpacks. This is a gem for trail runners who might need to stow away their outer layer midway through the day.
How about durability? This windbreaker also scores high. Customers report that even after several uses, the Patagonia Airshed Pro Pullover still looks brand new. The fabric doesn't pill or show signs of wear, which is pretty noteworthy for an outdoor garment.
However, not everyone's feedback is rosy. Some buyers have mentioned that while the windbreaker protects against light shower, it is by no means a rain jacket. There were also a few complaints about the size – some found the pullover to be a bit baggy, detracting from its otherwise sleek aesthetic.
Moreover, a few users felt it was too costly. It's true that it leans towards the pricier end, but fans of the pullover felt that the cost was justified considering the product's quality, durability, and special features.
Breathability & Ventilation
One big plus of this pullover is its breathability. It's made from Capilene Cool fabric on the back, which really helps with ventilation during strenuous activities.
Durability
The Patagonia Airshed Pro Pullover is quite durable. It's made from 100% recycled polyester that can withstand strenuous activities without breaking a sweat, literally!
Fit
This pullover has a nice, athletic fit that doesn't feel too tight or loose. This trim fit allows for a good range of motion, ideal for active days on the trail.
Value
While it's a bit pricier than some other options, it's made from high-quality, eco-friendly materials. Plus, Patagonia is known for their great customer service and product guarantees.
Water Repellency
While it's not fully waterproof, the Airshed is water-resistant, protecting you during light rain. For heavy precipitation, you'd need to find additional coverage.
Weight & Packability
This windbreaker is among the lightest in its category. It packs down really small, fitting comfortably in any bag, making it perfect for trail running or hiking.
Wind Resistance
The Patagonia Airshed Pro Pullover does a decent job at blocking wind, especially for such a lightweight piece. Its sleeve-length and the tightness at the wrists prevent most wind from getting through.
Prices