Quick heads-up: some of the links on this page are affiliate links. If you make a purchase through them, we may earn a small commission (at no extra cost to you). This small bit of income helps keep our site running.
Best Stuff Sacks of 2023
This post was last updated on December 06, 2023.
There are countless components that factor into the perfect camping or backpacking trip, and sure enough, the humble stuff sack stands as one of them. These unassuming bags might not appear as flashy as some hiking boots or a high-tech tent, but when it comes to organizing your gear, increasing your packing efficiency, and making sure everything stays dry and protected, nothing beats a quality stuff sack.
In this post, we're turning the spotlight onto a versatile ally of all outdoor enthusiasts—the Sea to Summit Ultra-Sil Stuff Sack. A fantastic blend of durability and lightness, this stuff sack is our top choice in a highly competitive field. We've also got a couple of admirable runners-up that gave the Ultra-Sil a run for its money. We're showcasing the top picks across several categories including Ultralight, Dry Bag, Pillow Crossover, Compression Bag, and Backpack Crossover.
From storage capacity, material durability, and weight to closure effectiveness, weather resistance, and value for money, our evaluation covers all the essential factors. And if you're on the hunt for more outdoor gear, don't miss our posts on the best equipment, like Best Backpacking Tents, Best Backpacking Hammocks, and Best Backpacking Backpacks. Ready to re-imagine your packing experience? Let's dive into our top stuff sack recommendations!
Our Top Recommendations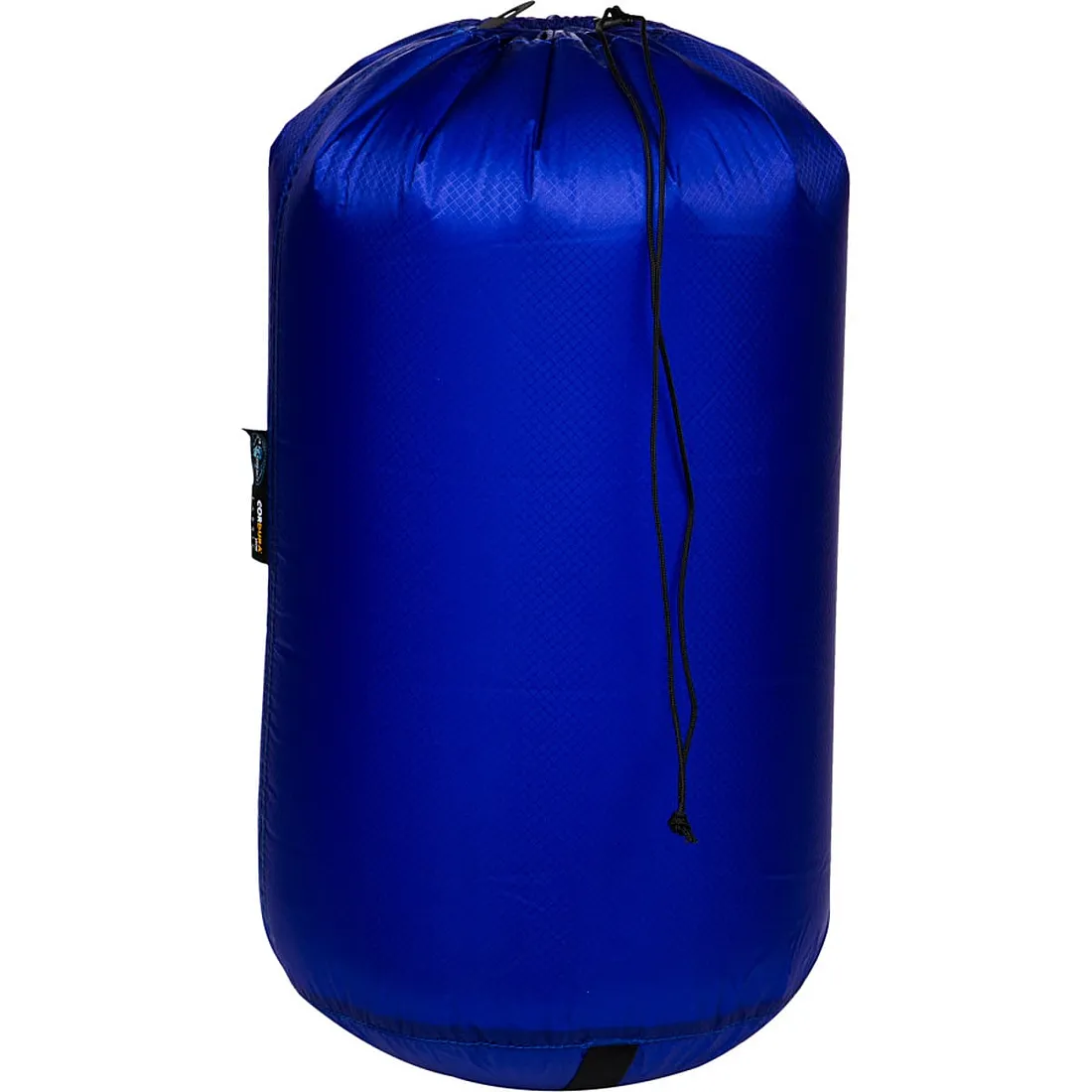 Sea to Summit Ultra-Sil Stuff Sack
The Sea to Summit Ultra-Sil Stuff Sack is our top pick due to its super lightweight yet durable material and its easy-to-use drawstring closure, both hailed by users for simplifying packing and hiking experiences.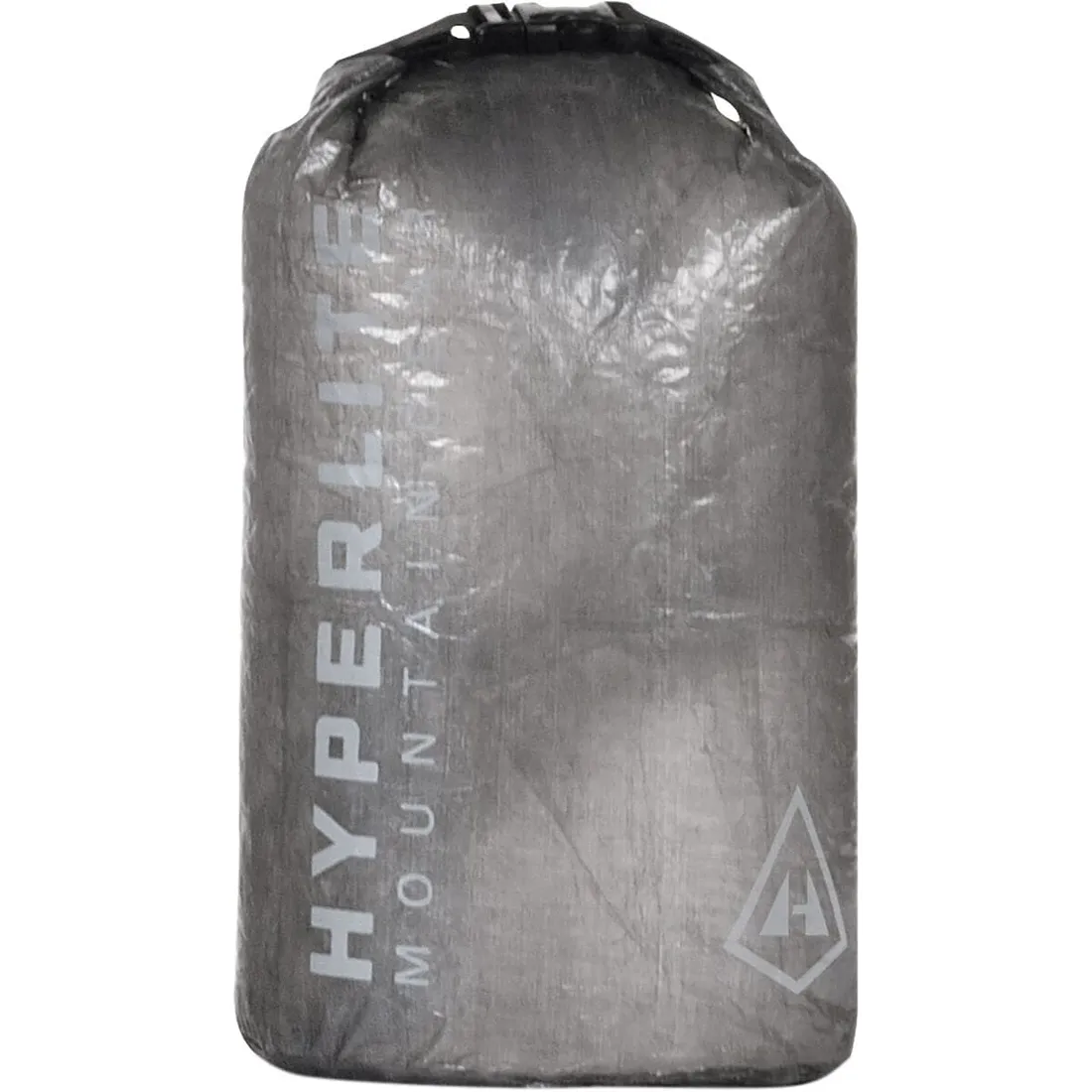 Hyperlite Mountain Gear Roll Top Stuff Sacks
The Hyperlite Mountain Gear Roll Top Stuff Sacks have been dubbed a top pick due to their unbeatable combination of lightweight durability and weatherproof protection, widely praised by users who love them for keeping their gear safe and dry even in the harshest conditions.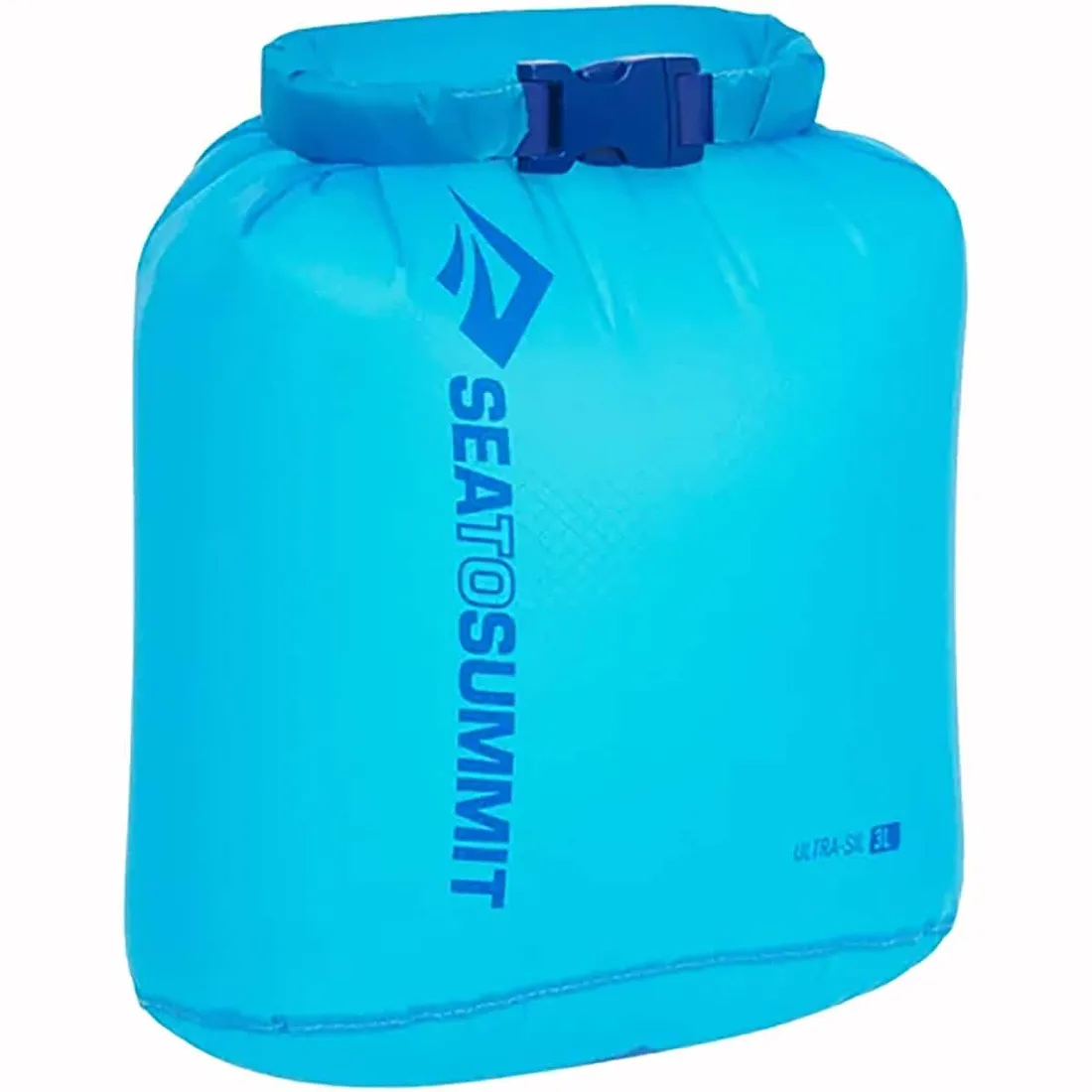 Sea to Summit Ultra-Sil Dry Bag
The Sea to Summit Ultra-Sil Dry Bag snags the top pick runner up slot due to its lightweight yet durable build, and high user praise for its top-notch waterproofing ability that keeps their gear bone-dry even in the roughest weather.
What you should look for
(and what we test for)
Durability
For a happily-ever-after relationship with your stuff sack, focus on durability - consider bags made from ultra-strong materials like Dyneema or ripstop nylon.
Size and Shape
Match the volume and form of your gear load by deeply contemplating on the size and shape, as it would be a pain to have a too-small sack or an awkwardly-shaped one that won't fit in your pack.
Waterproof Features
Don't let mother nature ruin your adventure or your gear - check for waterproof or water-resistant features to keep your possessions safe and dry in unexpected weather conditions.
Compression Capabilities
Look for sacks with solid compression capabilities if you need to pack that sleeping bag or puffy jacket down to a more manageable size, making your trek more comfortable and balanced.
Sea to Summit Ultra-Sil Stuff Sack
$20.95
The Best Stuff Sack
Based on our research and testing, we think the Sea to Summit Ultra-Sil Stuff Sack is the best Stuff Sack on the market right now, for anyone looking to play hard outside.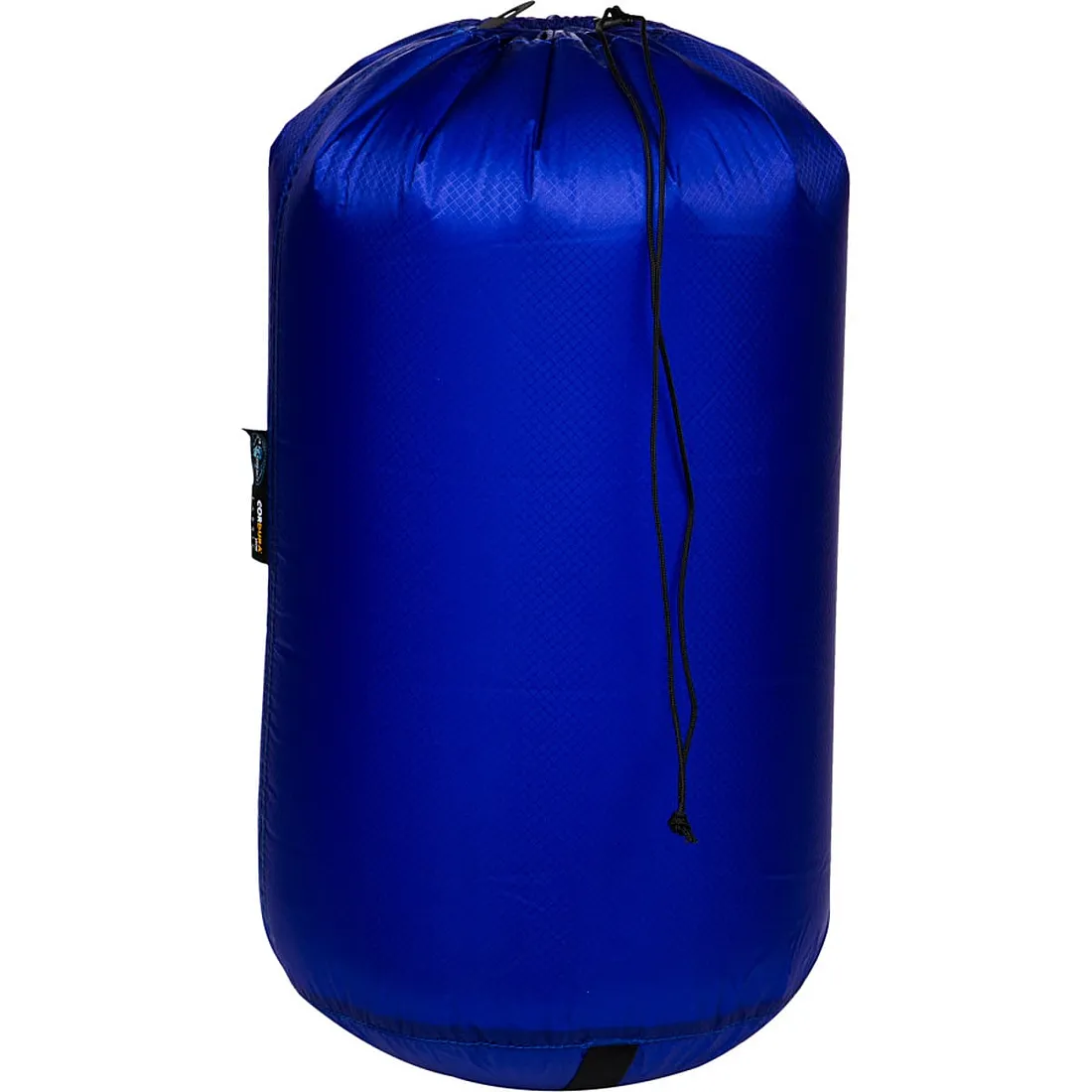 Reasons to Buy
Super lightweight and compact

Very durable

Versatile use

Assorted sizes

Effective seal
Reasons to Avoid
A bit pricey

Not fully waterproof

Drawstring closure can be finicky
The Important Specs
Closure:

Drawstring with cordlock

Material:

Ultra-Sil nylon with a Polyurethane coating

Dimensions:

Varies depending on size

Colors Available:

Blue, Yellow, Green, Red, Black

Water Resistance:

Yes, but not submersible
Review Roundup
The Sea to Summit Ultra-Sil Stuff Sack is an all-around rockstar for those who love their kit to be organized and lightweight. Constructed from featherweight 30D Ultra-Sil fabric which translates to a shockingly light heft on your shoulders, this stuff sack is the seamless balance of strength and durability, without the added bulk.
One can't help but admire the Sea to Summit's minimalistic design; this sack is simplistic yet highly functional. Its brilliant 'packability' can be attributed to the minimalist design ethos that the company swears by. Who said less isn't more? Definitely not Sea to Summit!
Among the key standout features is its tear and abrasion-resistant attributes. Despite its thin fabric, users constantly praise its ability to withstand the rough and tumble of the great outdoors without picking up as much as a minor scuff. This resilience is a testament to its exceptional build quality.
If you're someone who hates the thought of rummaging through your pack in a frenzy to find that one elusive item, the Ultra-Sil makes the job a tad easier. Available in a spate of bright, easy-to-spot colors, you won't be left digging in frustration.
The Ultra-Sil's pull-cord system is another aspect buyers rave about. It's designed to be a breeze while opening and closing the bag. It's a small touch but after hours on the trail, these small conveniences can feel pretty huge.
However, even the best products aren't perfect. A few users have pointed out the thin fabric tends to slide, making it tricky to hold sometimes, especially with gloves on. It's not a deal-breaker, but something to be mindful of especially in colder climates.
On a similar note, some purchasers noticed the seams could use a bit more reinforcement for heavier loads. But most agree that for light to moderate load, it's a reliable little workhorse.
In summary, the Sea to Summit Ultra-Sil Stuff Sack impresses with its super-light and durable construction, easy-to-spot color options, and efficient pull-cord system. Even with minor hiccups such as slippery fabric and weaker seams under heavier loads, it remains a notably top-tiered choice amongst users. A worthy investment for those who wish to keep their kit light, sturdy, and well-organized.
Closure & Seal Effectiveness
The sack uses a simple drawstring and cordlock system, easy to operate. However, some users have reported issues with the cordlock an undesirable looseness or difficulty securing properly. Overall, it does a solid job keeping the sack closed and your gear compressed.
Durability & Material
Though the Ultra-Sil fabric is super thin and lightweight, it has a surprising strength to it, thanks to the nylon material and Polyurethane coating. This combo allows the stuff sack to handle rugged use and resist tears.
Storage Capacity
Sea to Summit's Ultra-Sil Stuff Sack comes in a wide range of sizes, from 2.5L (perfect for smaller items) to 30L for sleeping bags or larger gear. This variation gives you the flexibility to find the perfect fit for your packing needs.
Value
Although somewhat pricey for a stuff sack, the Ultra-Sil's assortment of sizes, durability, and lightness provides great value. If you're a regular camper or backpacker who values product longevity and versatility, this could be a worthwhile investment.
Weather Resistance
Though not fully waterproof, the Ultra-Sil stuff sacks do a decent job of shielding your gear from mild wet weather, thanks to its Polyurethane coating. They won't keep your gear bone-dry in a downpour or when submerged, but for most weather conditions, they'll provide a decent level of protection.
Weight
One of the most favored parts about these sacks is how incredibly lightweight they are. Despite their durability, the Ultra-Sil material allows them to weigh almost nothing, allowing for minimal impact on your pack weight.
Prices
Hyperlite Mountain Gear Roll Top Stuff Sacks
$49.00
Runner Up
Based on our research and testing, we think the Hyperlite Mountain Gear Roll Top Stuff Sacks is a great choice if you're looking for a stuff sack to go play hard outside with, if our top pick isn't quite what you're looking for.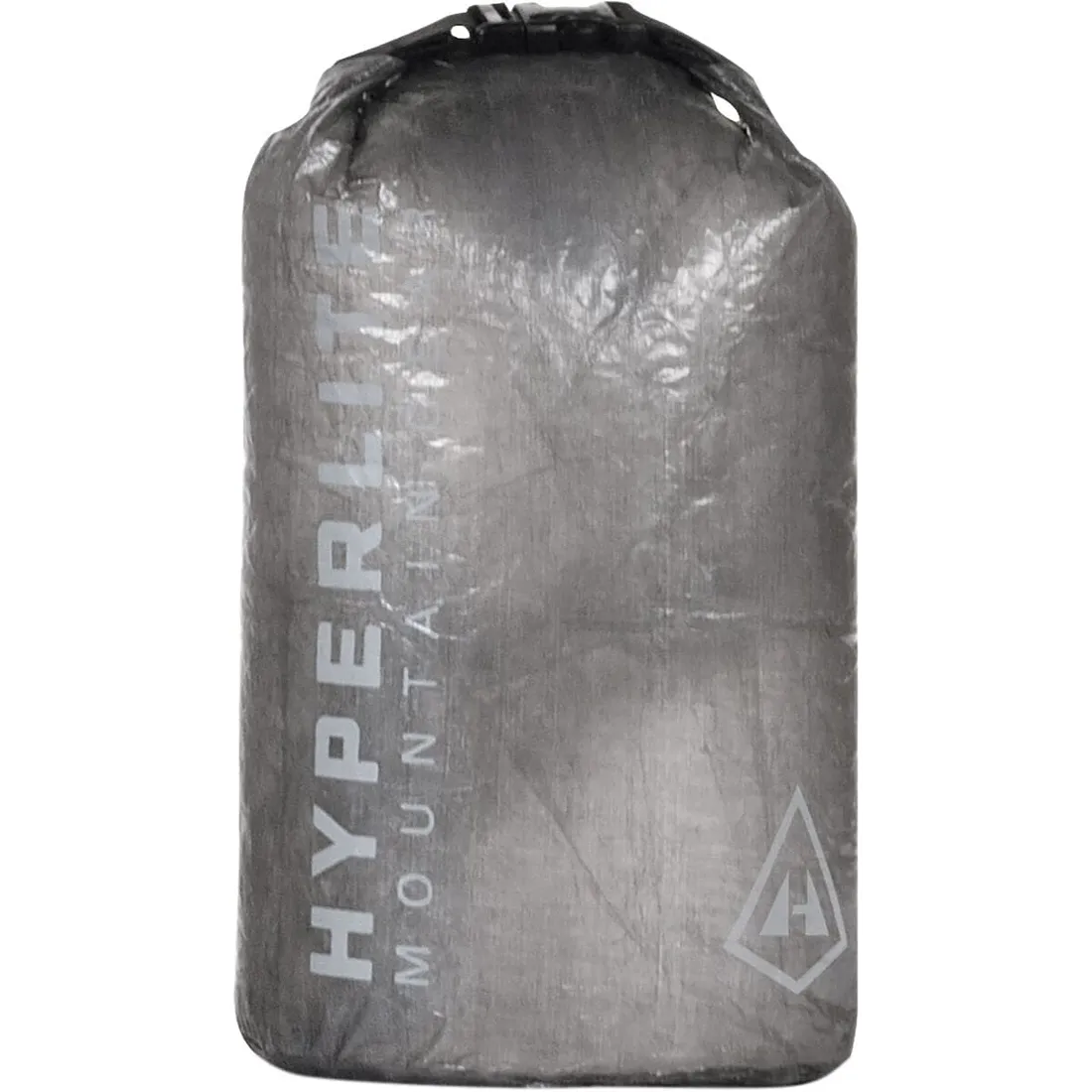 Reasons to Buy
Remarkably durable

Seals effectively, keeping items secure

Weather-resistant material for outdoor use

Good value for the price
Reasons to Avoid
Storage capacity might be small for some

Could be a touch heavy for ultralight backpacking

Somewhat expensive compared to others on the market
The Important Specs
Closure:

Roll-top system with a buckle

Material:

Dyneema Composite Fabric, known to be super strong

Dimensions:

Available in multiple sizes from 8" X 10" to 12" X 24"
Review Roundup
The Hyperlite Mountain Gear Roll Top Stuff Sacks brings a fresh perspective in outdoor versatility. Made by an established company known for its innovative approach to outdoor gear, this product continually receives overwhelming positive feedback from its users.
At first glance, the product's quality construction really stands out. It's carefully crafted with a lightweight, but rugged, Dyneema Composite fabric. One of the key strengths of this material is that it's water-resistant, so it can help keep your kit dry during unpredictable weather scenarios on your camping or backpacking trips.
Another feature that customers rave about is the roll-top closure design itself. This practical detail not only allows for easy access to the contents but also provides a secure seal to keep everything neatly tucked inside. Plus, if you're challenged by space during your adventure, these stuff sacks are a dream because the roll-top design allows you to compress your gear accordingly.
Another standout feature is its size range. Whether you're packing small essentials or bigger gear, there's a size to match with the options ranging from nano to jumbo. This makes it user-friendly and caters to a broad range of packing needs, adding to its appeal amongst outdoor enthusiasts.
In terms of durability, again, buyers have nothing but praise. The high-strength Dyneema fabric really comes into play here, effectively resisting tears and punctures, even when struggled through rough terrain or crammed into a tightly-packed backpack. Many reviews note just how resilient these stuff sacks are, even after significant use.
The only caveat brought up by a handful of users is about the product's price. Hyperlite's Roll Top Stuff Sacks can be a bit pricey, echoing the old saying 'you get what you pay for'. However, most people feel that the superior quality, impressive durability, and convenience afforded by this product makes it well worth the investment.
Closure & Seal Effectiveness
Featuring a roll-top system that's secured with a buckle, users admired this closure system for its simplicity and effectiveness. Things stay secure even when jostling around in the backpack. It's a simple, effective and trustworthy design, as noted consistently in customer reviews.
Durability & Material
These stuff sacks are made from Dyneema Composite Fabric, a high-strength, lightweight fabric known to withstand rigorous use. Customers highly praise the durability, noting that even after heavy use, the bags retain their structural integrity without showing any major wear or tear. The material is resistant to tearing and punctures, adding to the sack's lifespan.
Storage Capacity
The Hyperlite Mountain Gear Roll Top Stuff Sacks offer just enough space for your essential items. Some reviews online, however, have mentioned that they would prefer larger sizes for extended trips, as the pack's capacity can sometimes feel limited.
Value
The Hyperlite Mountain Gear Roll Top Stuff Sacks might be considered somewhat pricey especially when compared to other brands on the market. However, numerous users have noted that they found the product to be excellent value for money, given the impressive durability, effectiveness of the seal, and the weather resistance of these sacks.
Weather Resistance
The sacks score big when it comes to weather resistance. The Dyneema fabric proves to keep the contents dry even in rainy and snowy conditions. Some customers have shared their experiences of their stuff staying dry in downpours, making these sacks a reliable must-have for precaution against the weather.
Weight
The weight of these stuff sacks may seem a bit on the heavier side, especially for those geared towards ultralight backpacking. However, many users deem it a worthwhile trade-off for the brilliant durability and robustness of the sacks.
Prices
Zpacks Medium Stuff Sack
$26.95
Best Ultralight Stuff Sack
Based on our research and testing, we think the Zpacks Medium Stuff Sack is a solid choice for those looking for a lightweight stuff sack option to go play hard outside with.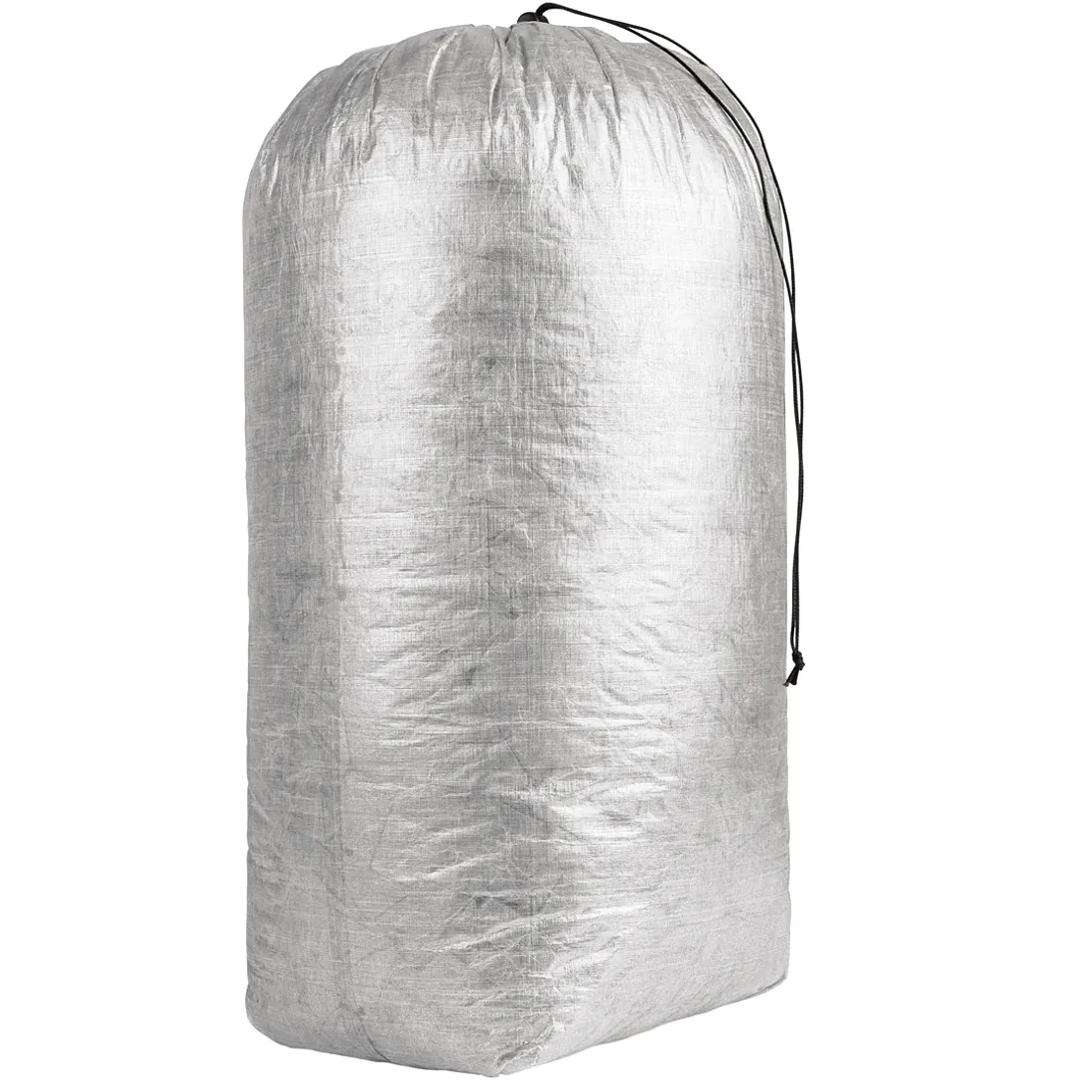 Reasons to Buy
Ultralight design for minimal pack weight

High-quality, durable material

Effective sealing mechanism

Good weather resistance
Reasons to Avoid
A bit pricey compared to other options

Not as much storage capacity as some competitors
The Important Specs
Size:

8.5 x 12 inches

Closure:

Roll-top with a buckle

Material:

Dyneema Composite Fabric
Review Roundup
The Zpacks Medium Stuff Sack has made quite a name for itself in the Ultralight camping and backpacking worlds. It's light as a feather, tipping the scales at just 0.18 ounces. From the first glance, you notice the Zpacks commitment to minimalism and functionality.
One stand-out feature is its use of Dyneema Composites. A high-strength and waterproof fabric that is gracefully robust. The Cuben fiber build casts a striking balance between durability and featherlight weight. Buyers have observed it can withstand rough and tumble usage and proves its worth when the skies turn gray.
For the capacity, buyers have remarked on how surprisingly roomy it is. With dimensions of 6.5" x 9.5", the stuff sack may look modest on first inspection, but don't judge a book by its cover. Users tell of comfortably packing clothing articles, toiletries, camping stoves, or food kits. Don't expect to squeeze your sleeping bag in there, but for the small bits and bobs? It's a yes from the users.
The roll-top closure has been credited by many a user for keeping items secure and dry. Users noted the four reinforced polymer strips at the top and the bottom of the sack - a design that prevents over-compression and maintains shape to keep items secure. While not absolutely bulletproof or submersible, in sudden showers or accidental tumbles into shallow creeks, this little gem has got your back.
If we had to pick bones, it is not the cheapest stuff sack on the market. Some buyers may baulk at the price tag. But most users note that the Zpacks Medium Stuff Sack stood the test of time, proving itself to be a worthwhile investment. Moreover, the price is in line with other Ultralight gear pieces - top-notch quality rarely comes cheap, after all.
A minority of reviewers mentioned some practical niggles as well. For instance, some found the roll-top a bit fiddly to use, especially with cold or gloved hands. A few others referred to the lack of color choices, with it only being available in translucent white.
Closure & Seal Effectiveness
It features a roll-top closure with a buckle, a system that users praise for its simplicity and effectiveness. The sea-to-summit style closure ensures that your items stay put and are protected from external elements. It doesn't pop open unexpectedly, giving peace of mind to users.
Durability & Material
Made from Dyneema Composite Fabric, the stuff sack is extremely tough and resistant to wear and tear. Many users have reported that it withstands regular use very well, even in demanding environments around sharp objects, heavy load, and rough usage. You can expect it to last on your countless adventurous trips.
Storage Capacity
While the Zpacks Medium Stuff Sack isn't the largest on the market, it offers ample space for essential items. Its size makes it convenient for compact packing, fitting well into backpacks without causing space issues. It may not be ideal for those needing to pack a lot of gear, but for minimalist backpackers, it's a real winner.
Value
The Zpacks Medium Stuff Sack is a bit on the expensive side when compared to similar items in the market. However, with its great durability, impressively light design and excellent weather resistance, it's widely agreed among customers that it offers good value for the price.
Weather Resistance
One of the major highlights of this stuff sack is its fantastic weather resistance. The high-quality Dyneema fabric is water-resistant and blocks out dust and sand, too. Users have reported their items staying dry even during heavy rain, which speaks volumes about its protective attributes.
Weight
True to its ultralight promise, the Zpacks Medium Stuff Sack weighs almost nothing. This makes it a great choice for ultralight backpackers or anyone looking to minimise their pack weight. It adds virtually no weight to your gear, which is always a plus when you're on the move.
Prices
Zpacks Medium Plus Pillow
$54.95
Best Stuff Sack for Pillow Crossover
Based on our research and testing, we think the Zpacks Medium Plus Pillow is a solid choice if you want a stuff sack that's really well suited to Pillow Crossover.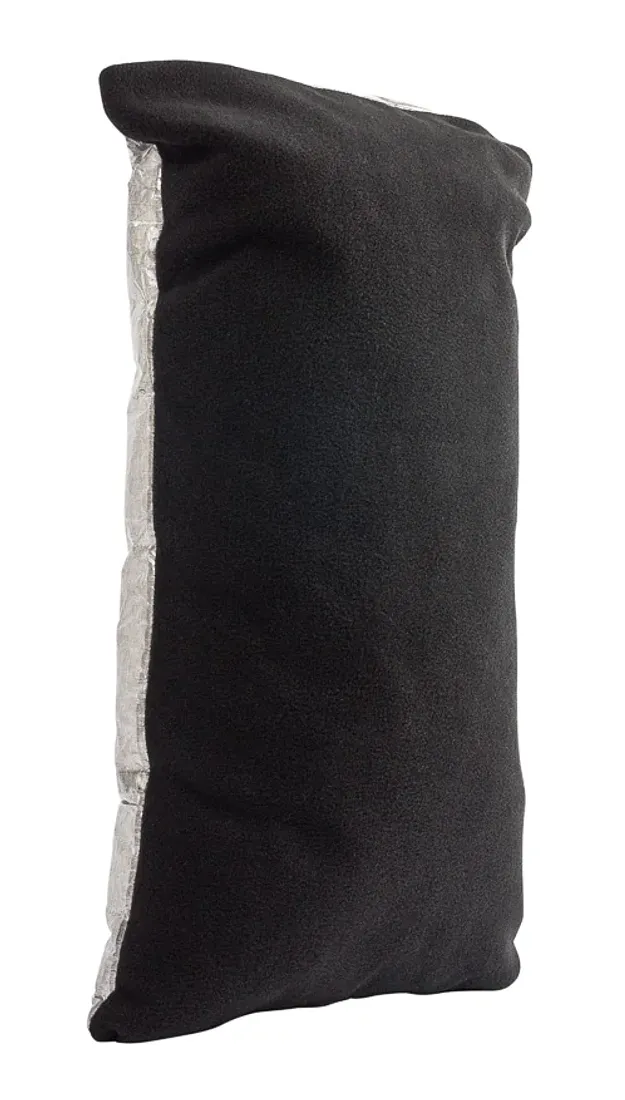 Reasons to Buy
Multipurpose functionality

Durable material

Excellent seal and closure

Great weather resistance
Reasons to Avoid
A bit pricey

Not the lightest option
The Important Specs
Size:

Medium Plus

Material:

Cuben Fiber

Item Dimensions:

7 x 9 inches
Review Roundup
The Zpacks Medium Plus Pillow has revolutionized the world of camp pillows by offering backpackers and climbers an effective gear combo. Falling in the Pillow Crossover niche, this product is designed to serve a dual function: it's a stuff sack by day and comfortable pillow by night. This practical design has been lauded by users making it an ingenious game-changer in camping gear.
With weight being a tricky issue on backpacking trips, any gear that saves on weight scores points with outdoor enthusiasts. Bravo to Zpacks for creating such a lightweight product (just 1.3 ounces), according to users. They consistently mentioned the 'featherweight' feature, making the product a favorite amongst those keen on saving ounces on their excursions.
Whilst its function as a stuff sack has been generally appreciated, some users found it a little smaller than expected. However, the size does not compromise its utility to store essential items such as clothing or other soft items. A few users did mention that they had to be a bit cunning with their packing skills to make the items fit, but it wasn't seen as a huge drawback.
When the sun goes down and it's time to rest, this gear transforms into a comfortable pillow. User comments show that they were pleasantly surprised with the level of comfort the Zpacks Medium Plus Pillow provided. The rectangular shape offers generous space for even the most restless sleepers and the black fleece on one side endows it with a softness much appreciated under starry skies.
Another feature users rave about is the water-resistance. No one likes to have their gear getting damp, so the water-resistant material of the Zpacks Medium Plus Pillow comes as a savior, maintaining dryness even in damp conditions.
The only minor hiccup in paradise for a handful of users was its condensation tendency. Despite its water-resistance, some users found that the pillow collected condensation throughout the night, leaving them with a slightly damp face. However, this wasn't a universal issue and many users did not encounter this problem.
In terms of its durability, the consensus among users seems to be that it is built to last. Numerous reviews mentioned how this piece of gear stands up to the rough and tumble of camping and backpacking life and the material is well made, strong and robust.
Overall, the review comments provide a clear picture that users found the Zpacks Medium Plus Pillow to be a worthy addition to their camping gear. Its multifunctionality, lightweight design, and durability were praised often, overshining the minor gripes of size or condensation.
Closure & Seal Effectiveness
The closure and seal of the Zpacks Medium Plus Pillow is efficient and reliable. With a drawstring top that cinches tight, the sack seals up tight - of course, this also makes for a great, snug-fitting pillowcase.
Durability & Material
Constructed from Cuben Fiber, known for its high durability and strength, this stuff sack is designed to withstand the rigors of backpacking and camping. It's one tough cookie that won't let your gear down, holding up nicely against wear and tear.
Storage Capacity
The Zpacks Medium Plus Pillow excels when it comes to storage capacity, offering ample space for your gear but also transforming into a comfortable, decent-size pillow for those outdoor snooze times. A versatile piece of kit indeed.
Value
Despite its relatively high price tag, the Zpacks Medium Plus comes across as good value for money to most of its users. Its durable build, versatile use between storage and comfortable resting, and excellent resistance to weather are aspects that its users are happy with and feel justify the expense.
Weather Resistance
This stuff sack offers excellent weather resistance. The Cuben Fiber repels water well, keeping your kit dry even during those unexpected downpours or morning dew episodes. It scores high on the outdoor-ready chart!
Weight
The only downside might be its weight. It's not the lightest pillow or sack on the market. But considering the dual functionality and the durability of the material, many backpackers don't seem to mind the tradeoff.
Prices
Hyperlite Mountain Gear Stuff Pack
$129.00
Best Stuff Sack for Backpack Crossover
Based on our research and testing, we think the Hyperlite Mountain Gear Stuff Pack is a solid choice if you want a stuff sack that's really well suited to Backpack Crossover.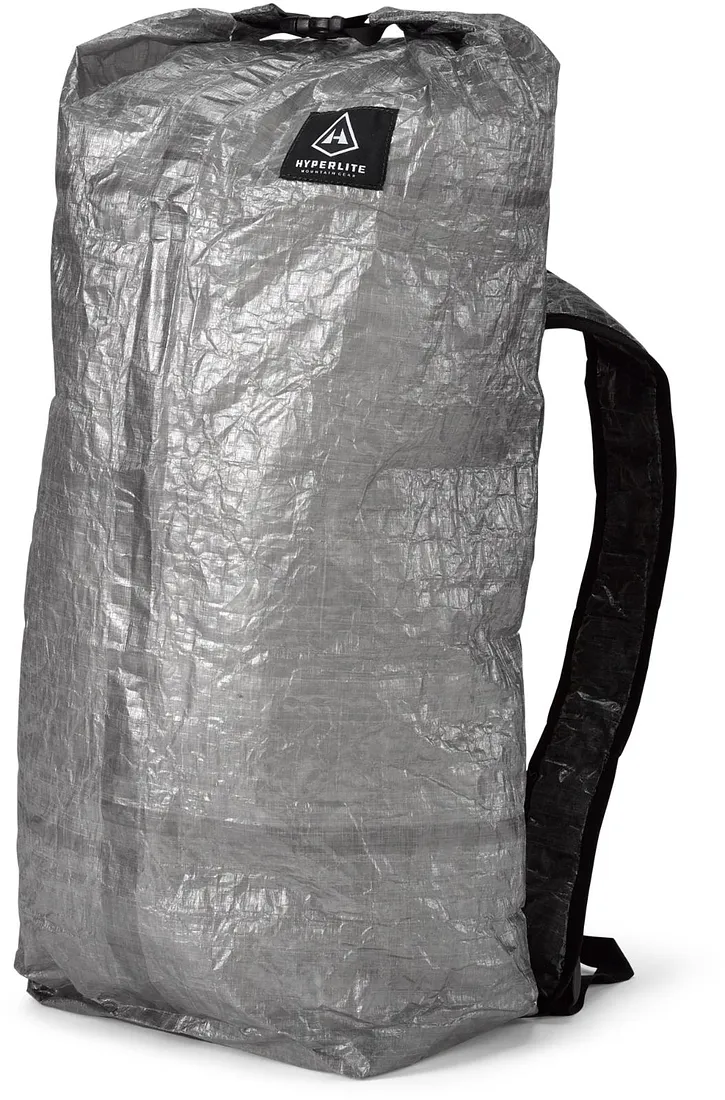 Reasons to Buy
High durability

Water-resistant

Large storage space

Convenient roll-top closure
Reasons to Avoid
Quite expensive

May be too large for some

Material can be stiff
The Important Specs
Material:

Dyneema Composite Fabrics (DCF)

Closure Type:

Roll top

Storage Capacity:

40 L
Review Roundup
The Hyperlite Mountain Gear Stuff Pack has proven itself to be a true favorite among camping and climbing enthusiasts. Its blend of flexibility, durability, and convenience provides an exceptional set of features for any outdoor adventurer.
Hyperlite, being a veteran brand in the outdoor gear market, has the reputation of providing high-quality products. This pack is no exception; it's made with a highly durable Dyneema fabric, a material noted for its fantastic strength-to-weight ratio. This means that while the pack is incredibly lightweight, it doesn't compromise on its ability to withstand tough outdoor conditions.
Buyers repeatedly comment on the pack's comfortable fit and say it's extremely easy to adjust. Regardless of body type, it seems that the Hyperlite stuff pack fits snugly and securely. Some have even commented that they barely notice it on long treks, such is the pack's comfort and ergonomic design.
Another impressive feature of the Hyperlite Stuff Pack that buyers note is its multipurpose functionality. Not only is it a great stuff sack, but it also transforms into a lightweight daypack for those shorter excursions. This dual-purpose nature of the pack has been highly appreciated in customer reviews.
However, the pack is not without some criticisms. One is the lack of internal compartments or pockets. This essentially makes the pack a single large compartment bag. For those that like keeping their gear organized and neatly sorted, this could prove to be a small inconvenience. Another potential downside is the cost. Some potential buyers found the price somewhat steep for a simple stuff sack, albeit one that turns into a daypack.
Despite these minor drawbacks, customers have rated this pack highly for its overall build quality and performance. When it comes to durability, comfort, and versatility, the Hyperlite Mountain Gear Stuff Pack ticks all the boxes. It's a pack that truly lives up to the Hyperlite brand's promise of quality and reliability.
Closure & Seal Effectiveness
The roll-top closure ensures a secure and tight packaging of your gear. It can be adjusted based on how full or empty the bag is, adding to its flexibility. The seal holds up well as per most users.
Durability & Material
The Stuff Pack is made from the ultra-durable Dyneema Composite Fabrics (DCF). The material holds up well under tough conditions, as noticed by many long-term users. However, some people did find the fabric a bit stiff to work with initially.
Storage Capacity
The Hyperlite Mountain Gear Stuff Pack carries an impressive 40L, making it ideal for packing all your camping, climbing or backpacking essentials. Users have found it ample for multi-day trips.
Value
Though the Stuff Pack comes at a higher price point compared to similar products in the market, the quality, durability, and performance make it a worthy investment. However, users on a tight budget might find it a bit too expensive.
Weather Resistance
Being made from DCF, one of the most water-resistant fabrics, the Stuff Pack performs extraordinarily well in rainy conditions. Users have praised it for keeping their gear dry even in heavy rains.
Weight
Despite its large size and durable material, the Stuff Pack maintains a relatively low weight. This combined with its sleek design and comfort makes it a favorable choice for longer treks. The weight was seen as a plus point in many reviews.
Prices