Quick heads-up: some of the links on this page are affiliate links. If you make a purchase through them, we may earn a small commission (at no extra cost to you). This small bit of income helps keep our site running.
Best Backpacking Hammocks of 2023
This post was last updated on December 06, 2023.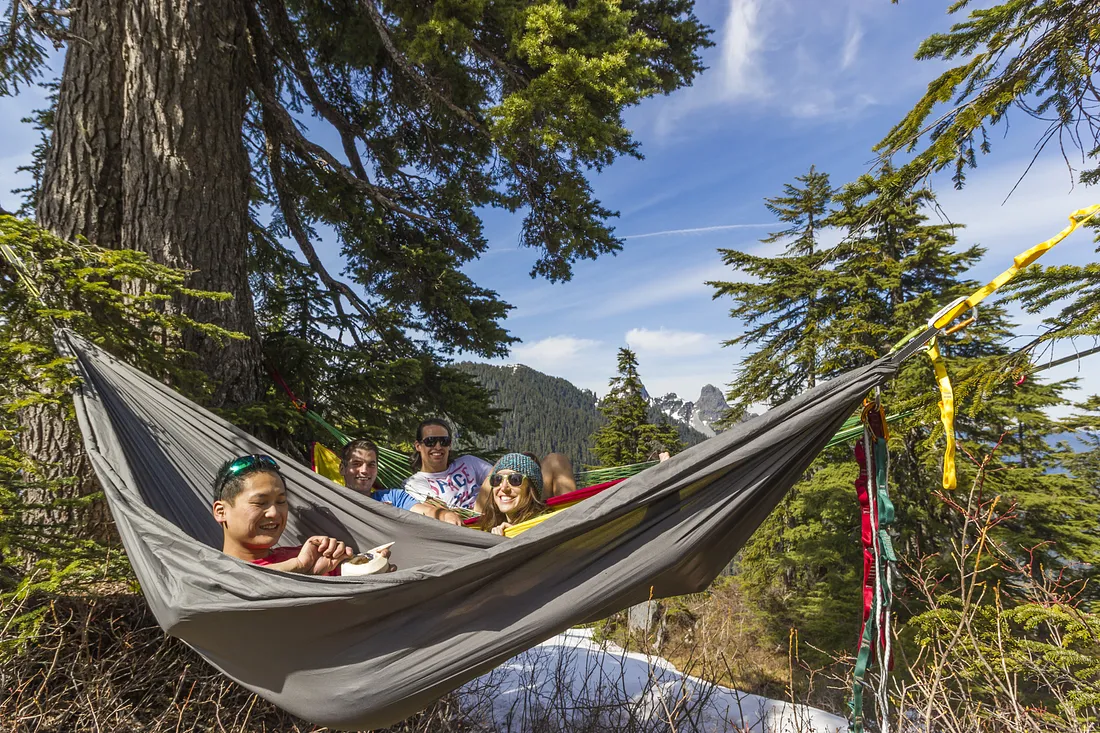 When it comes to the great outdoors, there's something truly magical about shedding off the weight of the world and swinging to sleep in a hammock that is nestled right in the heart of nature. With this post, we aim to make this experience even better for you by revealing the best of the best in the world of backpacking hammocks. Want to know the big winner? Say hello to the amazing Warbonnet Outdoors Ridgerunner, a true champion amongst the canopy dwellers.
Backpacking is all about enjoying your journey as much as the destination, and to do that, you need top-tier gear that's reliable, comfortable, and suitable for your needs. This is exactly why we evaluated a range of hammocks on different aspects like weight, packability, ease of setup, and weather protection. Be it about finding a hammock that fits your budget or is light on weight, or one for the winter hikes, we've got you covered.
While this post is about our top picks for backpacking hammocks, any outdoor enthusiast knows that hammocks are just a part of the entire backpacking gear equation. So while you're here, check out our ultimate recommendations for the best backpacking backpacks, coziest sleeping bags, and the most comfortable sleeping pads. So without further ado, let's reveal the hammocks that will change the way you sleep under the stars.
Our Top Recommendations

Warbonnet Outdoors Ridgerunner
The Warbonnet Outdoors Ridgerunner soars above the rest with its total comfort layout that evenly distributes weight and integrated bug net feature, consistently impressing backpackers noted in multitudes of user reviews.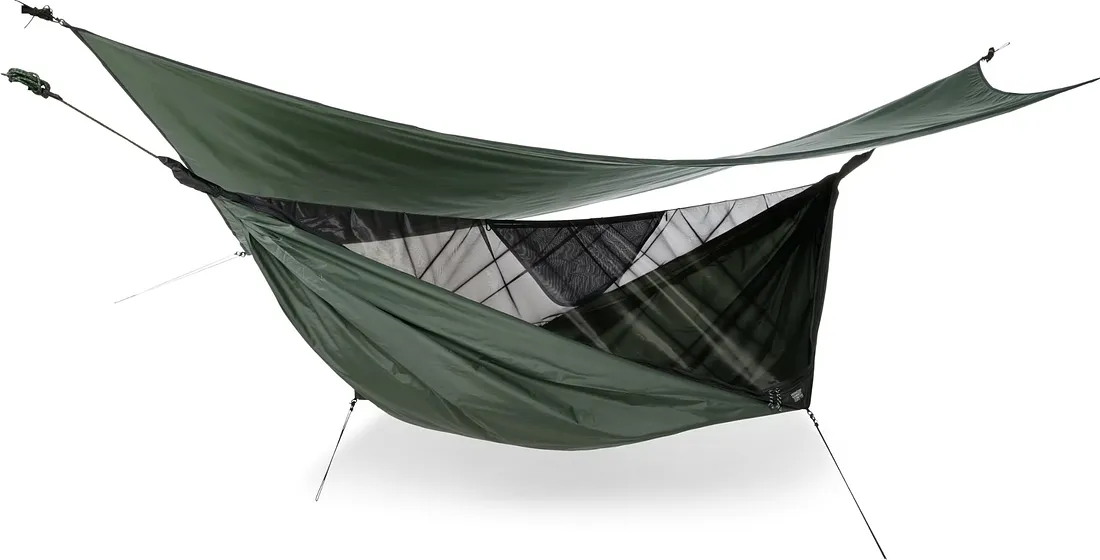 Hennessy Hammock Expedition Asym Zip
The Hennessy Hammocks Expedition Asym Zip earns our top pick with backpackers praising its durable construction and exceptional comfort, coupled with praise for its easy-to-use asymmetrical zipper for quick access, a feature that sets it apart from competition.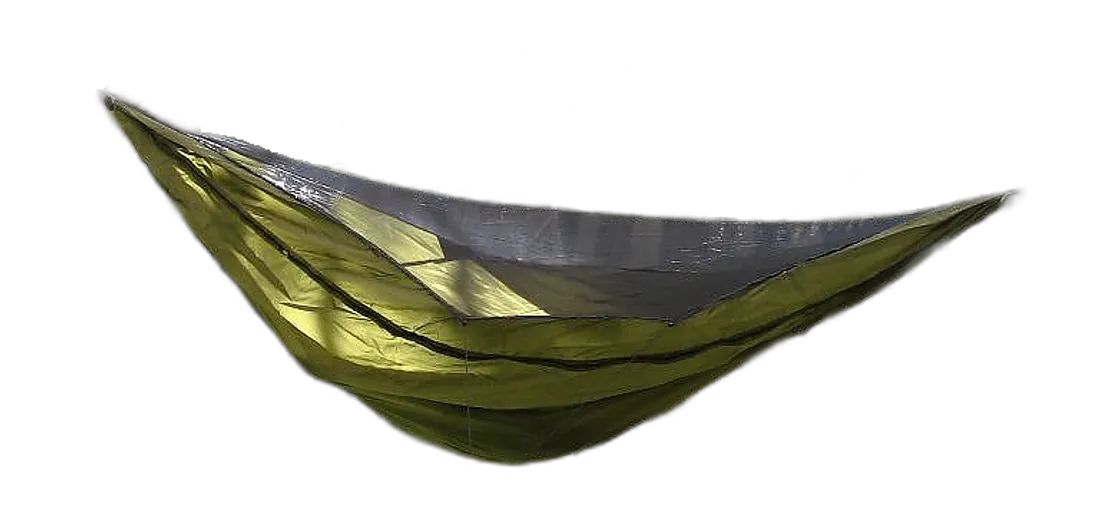 Warbonnet Outdoors Blackbird
The Warbonnet Outdoors Warbonnet Blackbird earned our top spot because users rave about its ultra-comfortable asymmetrical design and game-changing footbox feature, praising it for providing a fantastic night's sleep even in uneven terrain.
What you should look for
(and what we test for)
Durability
Look for a backpacking hammock that's made from rough and tough material, maybe something like parachute nylon, that can withstand variable weather conditions and won't tear easily when brushed against a rock.
Ease of Setup
Make sure the hammock comes with a user-friendly setup system, including sturdy carabiners and tree-friendly straps, as the last thing you want to be doing after a long day of trekking is struggling to set up your bed for the night.
Comfort and Size
While a single hammock might be sufficient for a solo backpacker, if you prefer more wiggle room or plan to share it, pick a double hammock; and always check that it's long and wide enough for a comfortable night's sleep.
Weight and Portability
Given that every ounce counts when you're hiking or climbing, check the weight of your hammock and ensure it's lightweight, packs down small, and comes with a carrying bag for effortless transport.
Warbonnet Outdoors Ridgerunner
$130.00
The Best Backpacking Hammock
Based on our research and testing, we think the Warbonnet Outdoors Ridgerunner is the best Backpacking Hammock on the market right now, for anyone looking to play hard outside.

Reasons to Buy
Remarkably comfy and stable

Excellent weather protection with rainfly

Ample storage with integrated shelf

Fully customizable lay angle

Quality construction for durability
Reasons to Avoid
A bit pricier than competitors

Setup takes some getting used to

Bulkier pack size compared to ultralight options

Might be too roomy for solo backpackers
The Important Specs
Material:

70D Nylon

Dimensions:

10' length, 32" width

Max Weight Capacity:

250lbs

Included Accessories:

Bug net, webbing straps

Optional Accessories:

Rainfly, winter cover
Review Roundup
If you're looking for a hammock that does it all, Warbonnet Outdoors Ridgerunner definitely checks off many boxes. Its spacious and customizable design provides an extra level of comfort, which can be a game-changer after indulging in long hikes or climbs.
The asymmetrical design of this hammock pulls out most of the wrinkles, unfolding into more of a flat sleeping area. This feature helps support the body more evenly, alleviating those common pressure points, and providing a more restful sleep. Warbonnet's genius design eliminates the so-called 'banana effect' giving your back the well-deserved break it needs.
One of the standout features is the Ridgerunner's 'saddlebag' storage system, on either side of the hammock, keeping essentials within arm's reach without having to fumble around in the dark. The storage compartments are roomy enough to fit your books, headlamps, snacks, and even spare clothes.
Built from durable fabric, the Ridgerunner hammock is designed to last, adding to its overall value. Moreover, it comes equipped with bug netting that drapes over the main body of the hammock, shielding you from unwanted guests in the wilderness, making it a dependable choice for those extended trips.
However, setting up the Ridgerunner might be challenging for beginners as it comes with more straps and buckles than other bare-bones hammocks. Also, it's weightier than other models in the market which might not sit well with ultralight backpackers. Nevertheless, most users have mentioned that once they got the hang of it, setup and adjustments became pretty straightforward.
As per the online reviews, customers are largely happy with their purchase and have praised the Ridgerunner's comfort, robustness, and innovative design. Some users had concerns about its weight and setup complexity, but they mention that it's a worthwhile trade-off for the level of comfort and versatility it brings to the camping experience.
Comfort & Lay Angle
The Ridgerunner is praised for its unparalleled comfort and customizable lay angle. Its unique design, including a structured foot box and spreader bars, allows you to sleep flat or on the side. Plus, the built-in storage shelf keeps essential items within reach without compromising comfort.
Durability
Reviews online commend the Ridgerunner's durability, expressed through its quality materials and strong construction. The 70D Nylon fabric, triple stitching and sturdy end caps ensure this hammock stands up against regular outdoor use.
Ease of Setup & Adjustability
Some users mention a slight learning curve in setup, especially if upgrading from a more basic design. However, once familiar with the setup process, most find it straightforward and quick. The adjustable straps offer flexibility to adapt to various tree distances, and getting the perfect lay angle just takes a bit of tweaking.
Material
The hammock's 70D Nylon fabric, tough webbing straps, and aluminum spreader bars make for a sturdy and durable build that withstands the elements. Users also appreciate the soft, breathable fabric, which contributes to the hammock's overall comfort.
Packability
Given its sturdiness and integrated bug net and shelf, the Ridgerunner doesn't pack down as small as some ultralight hammocks. However, users note that it fits well into most backpacks and appreciate having the extra comforts that some stripped-down models lack.
Value
The Ridgerunner may cost more than other backpacking hammocks, but users agree it's a valid investment considering its quality, comfort, and durability. The ability to customize setup and withstand different weather conditions add to its overall value.
Weather Protection & Ventilation
With the addition of a rainfly, the Ridgerunner provides impressive weather protection. Users report staying dry in rain and shielded from wind. The bug net gives excellent ventilation and keeps out pesky insects, a feature that many bushy-tailed campers rave about.
Weight
While the Warbonnet Ridgerunner isn't the lightest option around, many users find that its comfort and stability more than make up for the extra ounces. Its robust build contributes to a slightly heavier weight, which is a trade-off many are willing to make for durability and longevity.
Prices
Hennessy Hammock Expedition Asym Zip
$169.95
Runner Up
Based on our research and testing, we think the Hennessy Hammock Expedition Asym Zip is a great choice if you're looking for a backpacking hammock to go play hard outside with, if our top pick isn't quite what you're looking for.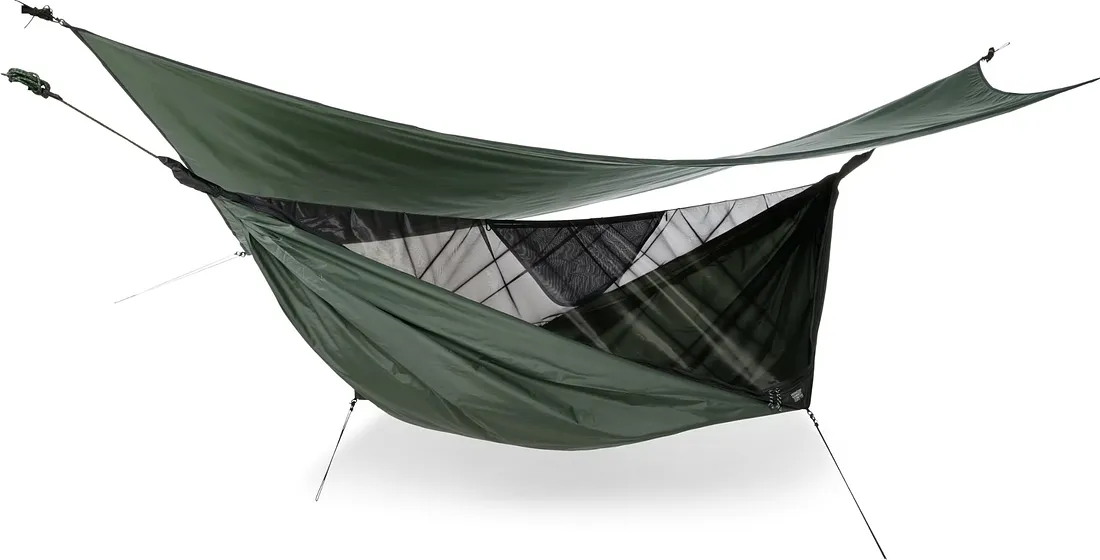 Reasons to Buy
Versatile for many camping situations

Easy to set up and adjust

Strong and durable material

Comes with a bug net and rain fly

Works for individuals of various heights and weights
Reasons to Avoid
An asymmetrical design that may take some getting used to

A little pricey

Extra accessories sold separately

Zippers tend to stick after some use
The Important Specs
Capacity:

Weight Capacity: Up to 250 lbs

Material:

210D Oxford Nylon

Dimensions:

Packed Size: 5" x 8" x 12"

Product Origin:

Designed in the USA
Review Roundup
Looking to kick back and relax on your next trek? Look no further than the Hennessy Hammocks Expedition Asym Zip. This hammock is a favorite amongst backpackers for its mix of comfort, durability, and lightweight design.
With its special asymmetrical shape and zip feature, the hammock gives you plenty of space to stretch out and get cozy. Plus, the side zipper makes it super easy to get in and out, which is a plus when nature calls in the middle of the night.
Hennessy Hammocks are known for their heavy-duty construction, and the Expedition Asym Zip is no exception. It's made of a robust 210D Oxford nylon fabric that can take a beating from branches, rocks, and other wilderness hazards. Yet, despite its tough-as-nails build, it weighs in at only 2.75 pounds, making it a practical choice for backpackers looking to lighten their load.
Then there's the built-in mosquito netting and rainfly. That's right; this hammock comes complete with bug protection and a waterproof cover that will keep you dry during those unexpected downpours. It's like having your own personal outdoor shelter wherever you choose to set up camp.
Users also rave about the user-friendly setup. With a little practice, setting up the Hennessy Hammock Expedition Asym Zip can be as quick as five minutes. And great news for those who fear the hammock flipping flip: the Expedition Asym Zip has a patented design that will keep you stable and right-side-up.
In checking out online reviews, a key theme emerges: comfort. Users love the curvy ergonomic design of the hammock. It's a design that Hennessy has patented, and users say it makes all the difference when it comes to getting a good night's sleep outdoors.
While most reviews are glowing, a bit of constructive criticism emerged as well. Some users have mentioned they wished the hammock came with straps for hanging, which it doesn't. And though many users love the zip feature, a few found the placement of the zipper to be a hindrance when trying to adjust from inside the hammock.
Prices can fluctuate online, but generally, you can score a Hennessy Hammocks Expedition Asym Zip for around $150 to $170, which users agree is a reasonable ask for the quality and longevity of the product.
Comfort & Lay Angle
The Asymmetrical design provides comfort and support for sleeping in a variety of positions. It may take some getting used to, especially if you're switching from a traditional hammock, but once you do, it really helps reduce sleeping fatigue.
Durability
The 210D Oxford Nylon lends itself to a durable and sturdy design. The zippers did raise some concern as they appear to stick after some use, but that doesn't make the hammock itself less reliable.
Ease of Setup & Adjustability
It's pretty straightforward to set up the Hennessy Hammock, and adjusting it is as easy. It comes with a ridgeline to maintain the perfect sag, making your rest more comfortable.
Material
This hammock is all about comfort and durability. The 210D Oxford Nylon is sturdy, but still soft to the touch. This material is also water-resistant, adding to its versatility for different camping conditions.
Packability
The Hammock packs down to quite a compact size for easy storage and transport. It's also designed to fit neatly in its own bag, making it simple to pack and unpack during your adventures.
Value
While it's a little on the high end, the features and durability make it worth the price. Plus, its longevity and the extra features like the bug net and rain fly add to the overall value.
Weather Protection & Ventilation
The included bug net and rain fly provide decent weather protection. These addons really help it handle a wide variety of conditions, and its good breathability keeps it from getting stuffy when it's fully deployed.
Weight
The Hennessy Hammocks Expedition Asym Zip falls in the middle of the pack when it comes to weight. Not the lightest hammock out there, but it's balanced by its overall strength and durability. Plus, it doesn't need a sleeping pad, so that can cut down on carrying weight.
Prices
Warbonnet Outdoors Blackbird
$175.00
Runner Up
Based on our research and testing, we think the Warbonnet Outdoors Blackbird is a great choice if you're looking for a backpacking hammock to go play hard outside with, if our top pick isn't quite what you're looking for.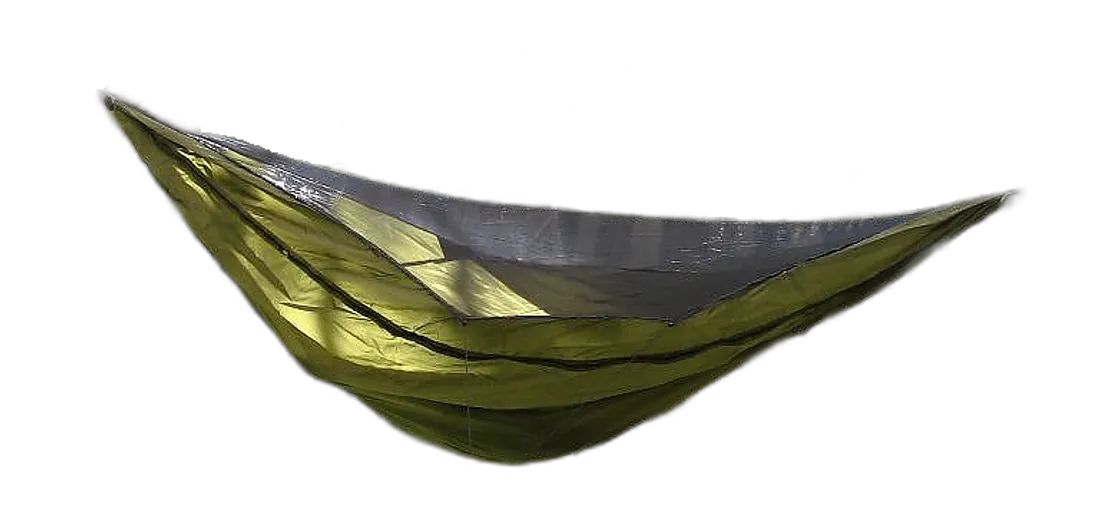 Reasons to Buy
Superior comfort for all-night sleeping

Excellent weather protection

Great ventilation

Comfy asymmetrical design
Reasons to Avoid
Price is higher than some other options

Initial setup can be a bit fiddly
The Important Specs
Capacity:

400 lbs

Material:

70D Nylon

Dimensions:

10' x 5.3'
Review Roundup
The Warbonnet Outdoors Warbonnet Blackbird is no ordinary sleeping solution for your camping and backpacking adventures. This hammock absolutely nails down the details, making it a go-to for outdoor lovers seeking comfort and functionality at the same time.
Starting with its lightweight design, the Warbonnet Blackbird shines confidently in the backpacking hammock department. Weighing just a smidge over 1.5 lbs, this bad boy doesn't add much heft to your gear. It's a perfect pick for those long trails where every ounce counts.
The Blackbird fares exceptionally well when it comes to comfort too. With its asymmetrical design and abundant lounging space, you can stretch out just like in your bed at home. Sleeping on your back, side or even stomach isn't an issue in this hammock.
What sets this hammock apart is the footbox feature that eliminates annoying calf-ridge for side sleepers. The brilliant design allows you to position your feet off to the side without any discomfort. This extra space and comfort is something that customer reviews repeatedly highlight as a top-notch feature.
Setting it up is a breeze with instructions that are simple to follow and complete with webbing and buckles for the perfect hang. Although on a couple of rare occasions, some users desired better instructions, most people found the set-up incredibly user-friendly.
Adding to its charm, the Blackbird incorporates thoughtful storage features. The shelf and sidecar are like having a bedside table in your hammock - your phone, headlamp, or snacks can be kept within arms reach.
Finally, but arguably most importantly, is the weather resistance. Users have reported it as being super robust even in tricky conditions. Its water-shedding ability is top-tier, and the bug-netting is sturdy enough to keep the little critters at bay.
On slightly shaky ground though is its price. While it's a value-packed piece, some find it pricier than the average hammock on the market, deterring budget-conscious campers. Dramatic cost aside, it's hard to find fault with the Warbonnet Blackbird.
Overall, it's a thumbs-up from camping enthusiasts, quoting the Blackbird as a delightful blend of comfort, weight, and durability. Sure, it's a bit pricey, but those extra dollars bring your camping experience up notches higher, as mirrors in numerous user reviews.
Comfort & Lay Angle
When it comes to neck-strain-free, restful sleep, the Blackbird is king. It's designed with a unique asymmetrical design that allows for a comfortable lay angle and reduces the annoying calf pressure typically associated with hammocks.
Durability
Durability is a strong point of the Blackbird. The 70D nylon used in its construction is hard-wearing and resistant, allowing you to really put this thing through its paces without worrying about it ripping or falling apart.
Ease of Setup & Adjustability
Whilst the initial setup bares a small learning curve, once mastered, the Warbonnet Blackbird is a breeze to set up. The built-in adjustable suspension makes fine tuning your hang angle quick and easy.
Material
Let's talk materials. The Blackbird's 70D nylon is a robust choice that stands up well to the elements. It balances strength with breathability which gives this hammock it's gold-star comfort rating. Plus, it dries fast which means less fuss and more enjoying the great outdoors.
Packability
When it comes to packability, the Warbonnet Blackbird shines. It packs down small and fits comfortably in a backpack without eating up precious packing real estate.
Value
Despite being on the pricier side, the Warbonnet Blackbird offers great value. Considering its high comfort level, durability, and excellent weather protection, it's a worthwhile investment for serious backpackers.
Weather Protection & Ventilation
You'll stay dry and comfortable even in less than perfect weather conditions, thanks to the top-notch rainfly. On top of that, the brilliant ventilation system prevents condensation build-up, allowing you to wake up dry, even after a rainy night.
Weight
Although not considered in the technical specs of this evaluation, the Warbonnet Blackbird is renowned for its moderate weight that does not compromise durability or comfort.
Prices
Best Budget Backpacking Hammock
Based on our research and testing, we think the ENO DoubleNest is a great pick if you're looking for a backpacking hammock that is more budget friendly, without sacrificing too much in quality.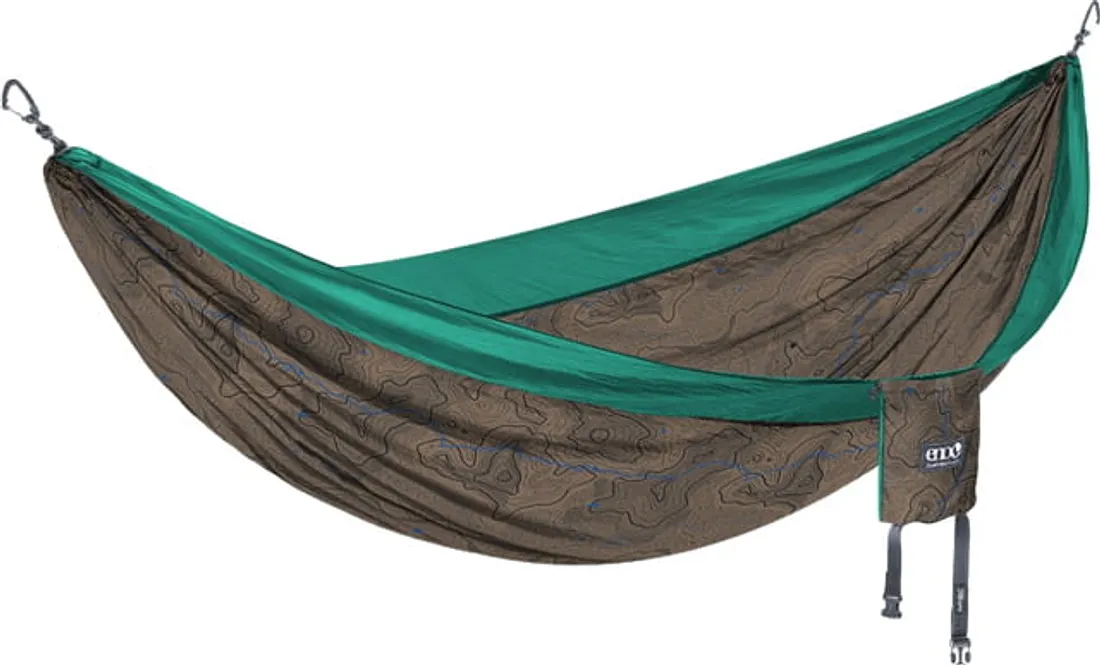 Reasons to Buy
Roomy enough for two

Sturdy and durable material

Easy to set up

Great value for money
Reasons to Avoid
Straps for hanging not included

Not very warm in colder conditions

May sag with heavier loads
The Important Specs
Capacity:

400lbs

Material:

70D High Tenacity Nylon Taffeta

Warranty:

2 Years

Dimensions:

9' 4" x 6' 2"
Review Roundup
ENO DoubleNest Hammock is one of the best budget-friendly options out there for backpacking enthusiasts. Its size is just right to fit two people comfortably, hence the name 'DoubleNest'. You can hang it on trees, poles or even in your backyard for a snooze in the open air.
Despite being lightweight (around 19 ounces), it can boast of a pretty solid construction. It's made of 70D high tenacity nylon taffeta which means it's built to endure the elements. This material also gives it a soft, breathable feel.
For the price, the DoubleNest is pretty versatile. It's a good bet for camping trips, backpacking or just lazing around at home. The fact that you can wrap it around yourself during chillier nights makes it a popular choice among travellers.
One common thing that people who bought this hammock mentioned in reviews is the easy setup. The hammock's compact size came in handy for backpackers, as it didn't take up much space in their pack. Many users were pleased with the durability, and the quality stitching was praised.
With the ENO's DoubleNest Hammock, it's easy to see why it's so popular in the budget hammock market. Customers loved its simplicity and comfort, and the range of colours available was also a hit.
However, some negative aspects must be noted as well. A few users mentioned that the hammock's material can be a bit slippery. Some reported slipping down or not being able to stay comfortably in one position. Some users also missed the absence of a bug net and rainfly, but these can be purchased separately.
Overall, the hammock holds its own as an exceptionally comfortable and easily packable option at a reasonable price.
Comfort & Lay Angle
The generous dimensions of the ENO DoubleNest makes it quite comfortable to lounge in, especially for single users. You can achieve a nice diagonal lay, which experts suggest is the optimum hammock sleeping position.
Durability
With high tenacity nylon material and a maximum capacity of 400lbs, the ENO DoubleNest proves to be sturdy. However, it may sag a bit with heavier loads.
Ease of Setup & Adjustability
One of ENO DoubleNest hammock's best features is its easy setup. However, it is worth noting that the straps for hanging need to be purchased separately.
Material
The hammock feels great against the skin and doesn't chafe. However, it does not provide a lot of insulation, which may make it less ideal for colder conditions.
Packability
Considering its double-size capacity, the ENO DoubleNest packs down impressively small. You can easily squeeze it into a tight space in your bag.
Value
For those on a budget, the ENO DoubleNest offers excellent value. Despite a few minor drawbacks, it provides comfort, durability and ease of setup at a reasonable price.
Weather Protection & Ventilation
You might want to add a rainfly or bug net for full weather protection or bug-free nights. On the other hand, its open design offers excellent ventilation in hot weather.
Weight
Despite not being the lightest hammock on the market, the ENO DoubleNest is still more than manageable. Its package size isn't overly burdensome in your pack, making it a great choice for backpackers.
Prices
Sea to Summit Pro Double
$119.95
Best Ultralight Backpacking Hammock
Based on our research and testing, we think the Sea to Summit Pro Double is a solid choice for those looking for a lightweight backpacking hammock option to go play hard outside with.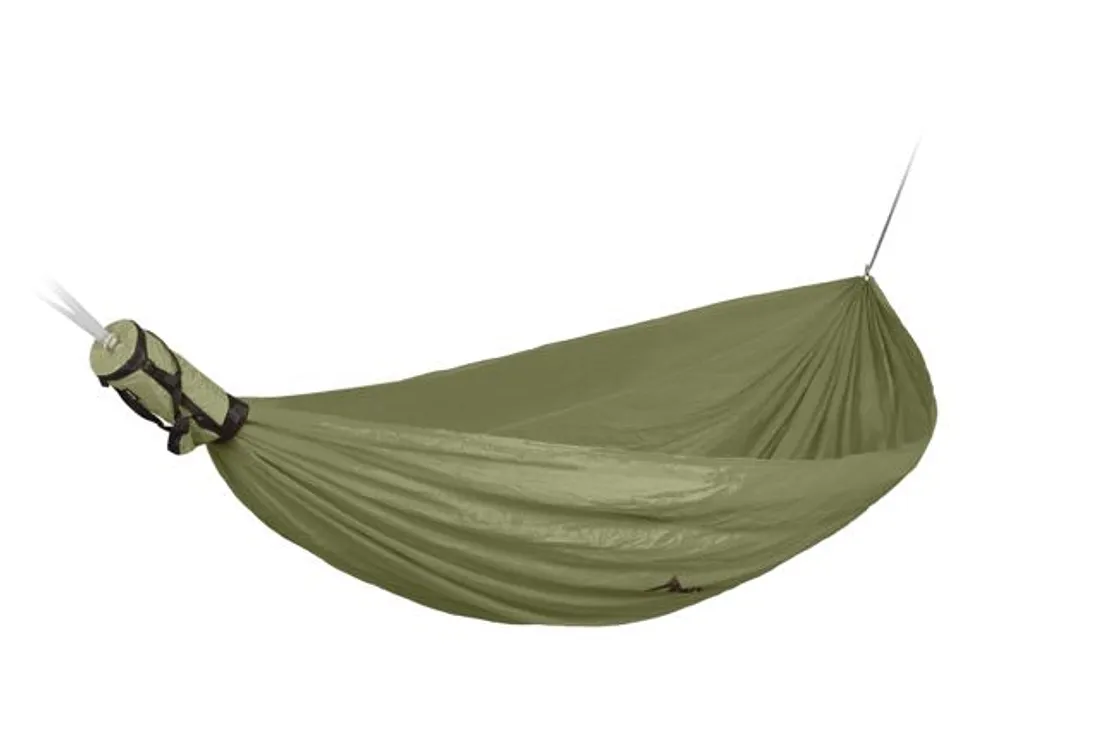 Reasons to Buy
Ultra-light design perfect for backpacking

Very compact size when packed

Comes with integrated bug net

Allows asymmetrical lay for better sleeping angles
Reasons to Avoid
Not suitable for very tall people

Bug net is non-removable

Not ideal for cold weather
The Important Specs
Material:

70D nylon

Dimensions When Packed:

4" x 5"

Includes Hammock Straps:

Yes

Maximum Weight Capacity:

400 lbs

Dimensions When Unfolded:

10' x 6'2"
Review Roundup
If you're on the hunt for an ultralight hammock that doesn't skimp on comfort, then the Sea to Summit Pro Double hammock might just be the best piece of gear to add to your backpacking kit. Weighing just over a pound (19 ounces to be exact), it allows you to take the comforts of a hammock camp into the backcountry without weighing you down.
A standout feature of the Sea to Summit Pro Double, per numerous buyers, is its breezy and durable fabric. The Nylon 70D material ensures that you do not feel clammy in hot weather while offering commendable durability for a long life out in the elements. The hammock might seem thin to the eye, but it's deceptive and can easily hold up to 400 pounds without any signs of distress.
Customers also seemed impressed with the integrated ultra-sil compression bag. This feature allows you to pack down the hammock to a small size, and with the three compression straps, you can squeeze it down even smaller to make the most of your pack space - a much-appreciated detail by ultralight enthusiasts.
Looking at ease of set up, the Sea to Summit Pro Double doesn't disappoint. The hammock utilizes an efficient and user-friendly suspension system, identified by many customers as one of the easiest hammocks to put up and take down. However, it's worth noting that the straps aren't included with the hammock, as pointed out by several users, so that's an added purchase you'll need to plan for.
The hammock's dimensions are another point often highlighted by customers, specifically the width. The double design gives you plenty of space to stretch out, or even share if you're feeling extra cozy. But here lies a slight drawback for some - the Sea to Summit Pro Double is not tarped, so there's no coverage during a sudden rain shower or protection from dew in the morning.
Lastly, as some users mentioned, it's somewhat pricy compared to other hammocks in the market, but the comfort, packability and user-friendly design of the Pro Double truly justifies the investment for many backpackers on the quest for the ideal ultralight hammock.
Comfort & Lay Angle
The Pro Double is spacious and comfortable for single users and allows for an asymmetrical lay. This is especially nice, as it allows for a flatter, more stable sleeping position even for side sleepers.
Durability
The 70D nylon construction of this hammock means it's not just light but also tough. It can comfortably support up to 400 lbs and the material holds up well against abrasion and general wear and tear.
Ease of Setup & Adjustability
With its user-friendly setup process, going from packed to relaxation in no time is simple. The included straps and aluminum buckles make it easy to adjust the tension to find your sweet spot of comfort.
Material
One of the highlights here is the use of the high-quality 70D nylon material, renowned for its strength and durability. Not only does it offer a good level of breathability, but it is also quick to dry which is a major plus on those unexpected rainy days.
Packability
Despite its generous unfolded size, the Pro Double packs down to an impressively small size. This is largely thanks to the included compression sack which is well designed and makes packing away the hammock an absolute breeze.
Value
The Sea to Summit Pro Double is definitely an investment. However, its high-quality material, ultra-light weight, and great packability offer excellent value for those who are looking for a durable and portable hammock solution for their backpacking adventures.
Weather Protection & Ventilation
Although not suited for freezing temperatures, the Pro Double comes with an integrated bug net, which adds extra comfort during summer nights. However, it's still a good idea to pack a tarp for rain protection as the hammock is not waterproof.
Weight
The Sea to Summit Pro Double has got your back when it comes to delivering an ultra-light hammocking experience. Valued by outdoor enthusiasts who prefer to pack light for their backcountry trips, this hammock is barely noticeable in your backpack.
Prices