Quick heads-up: some of the links on this page are affiliate links. If you make a purchase through them, we may earn a small commission (at no extra cost to you). This small bit of income helps keep our site running.
Best Backpacking Backpacks of 2023
This post was last updated on December 06, 2023.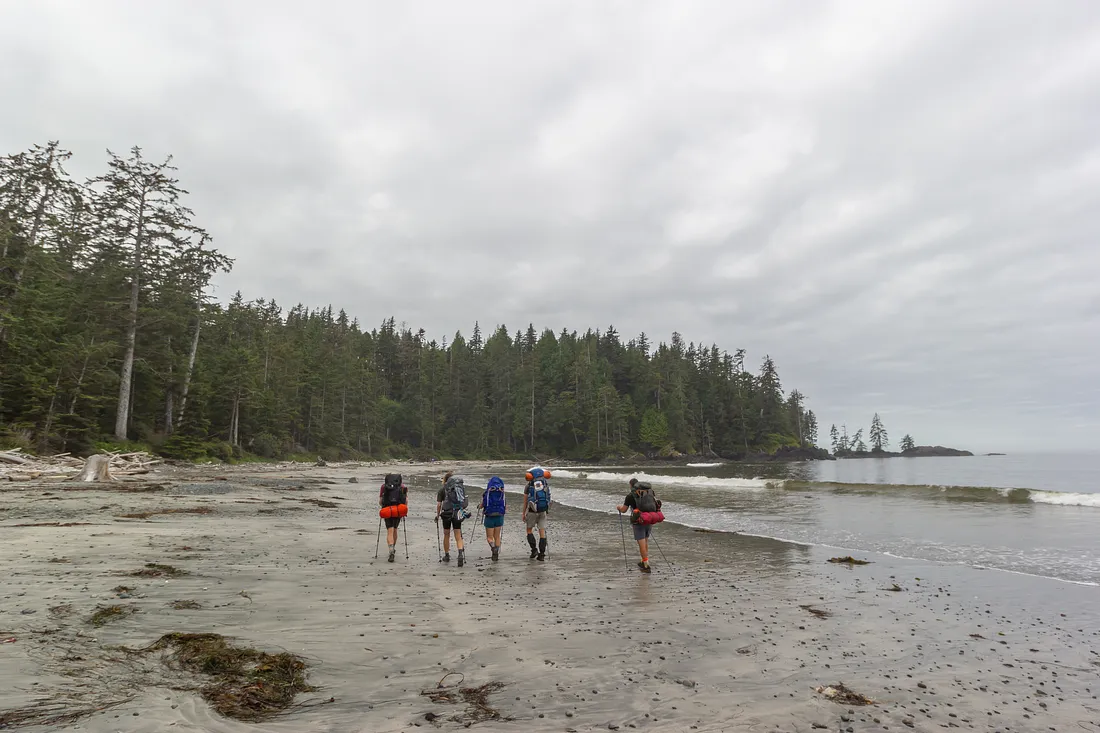 Welcome fellow adventure enthusiasts, to our take on the 'Best Backpacking Backpacks'. If you're one to heed the call of the wilderness, a durable, comfortable and aptly-sized backpack is not just an accessory, but a lifeline. And while there's a ton of options out there, we reckon the Osprey Atmos AG 65 takes the cake.
With its perfect blend of weight distribution, comfort, durability and storage capacity, the Atmos AG 65 hits the sweet spot. Plus, its adjustability and fit are so top-notch, it's like the bag was made just for you. This post is dedicated to why we rank the Osprey Atmos AG 65 as our number 1 choice. But don't worry, we've got some impressive runner-ups as well.
And, of course, we know that bag needs can vary based on factors like budget, weight constraints, and how much stuff you need to carry. That's why we'll also be covering the top picks for Budget, Ultralight and Heavy Loads categories. To round it off, we'll also briefly touch upon sine related gear which you may find useful, such as Best Backpacking Tents, Best Backpacking Sleeping Bags, and Best Backpacking Sleeping Pads. We hope you find our guide helpful for your next outdoor escapade!
Our Top Recommendations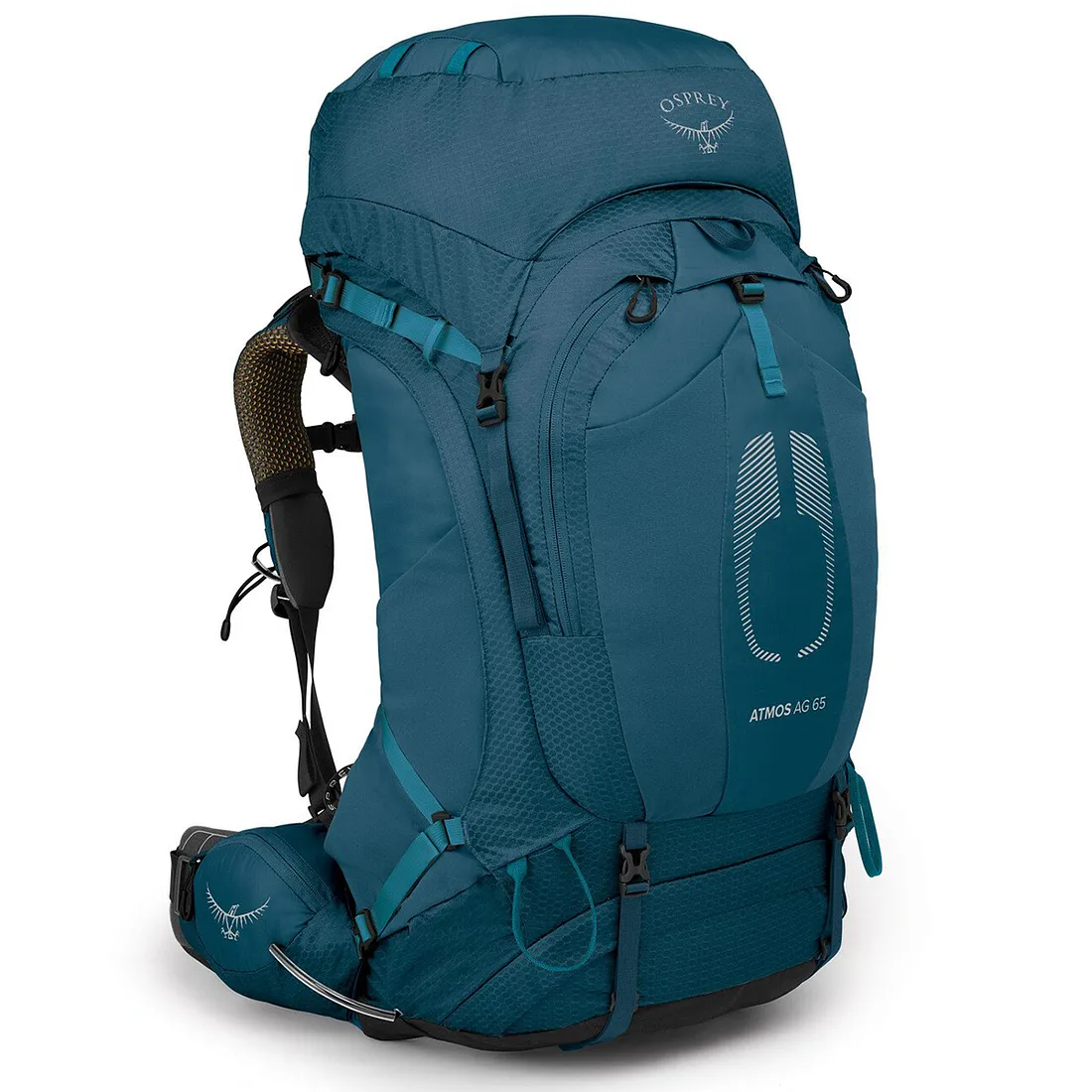 Osprey Atmos AG 65
The Osprey Atmos AG 65 takes the top spot as it consistently earns high marks from users for its superior anti-gravity comfort system and handy custom-fit-on-the-fly hip belt, offering unrivaled weight distribution and gear accessibility on long treks.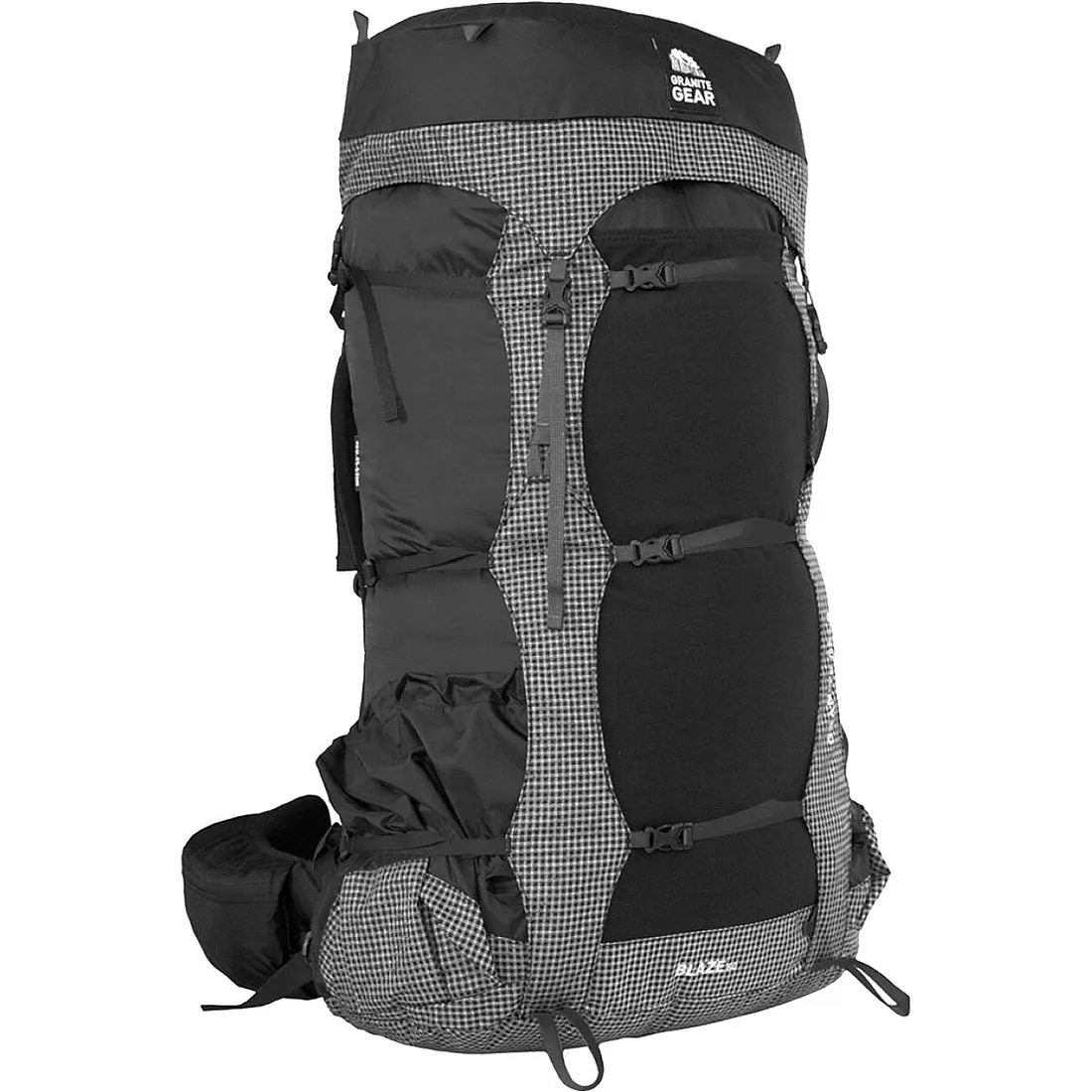 Granite Gear Blaze 60
The Granite Gear Blaze 60 has won over backpackers with its astonishingly light weight and spacious capacity, all while offering remarkable comfort and durability that outshines its competitors.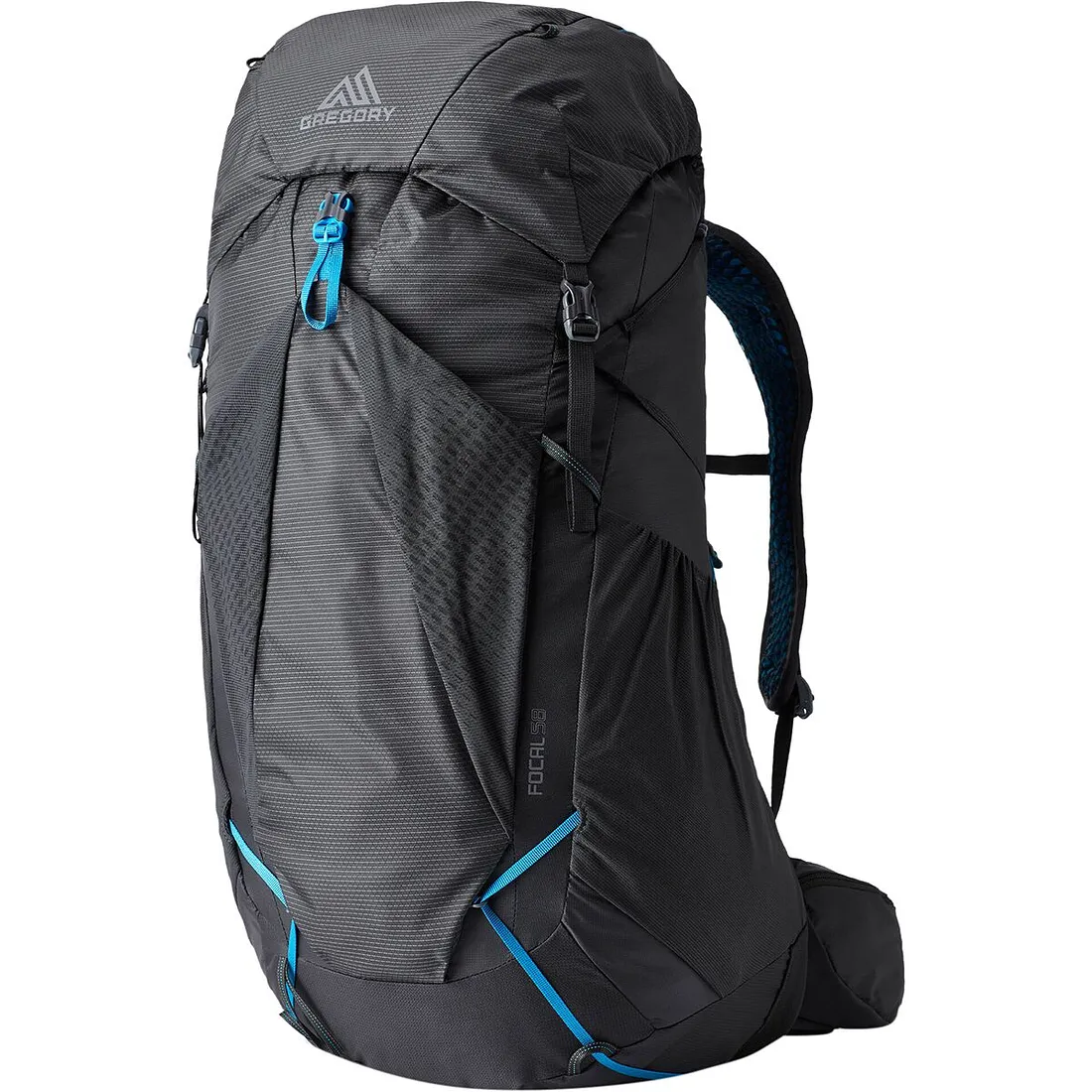 Gregory Focal 58
The Gregory Focal 58 stands out as our top pick runner up due to its rave reviews for its unparalleled balance of lightweight build and spacious storage, making it a backpacker's go-to for all-day comfort and uncompromised gear capacity.
What you should look for
(and what we test for)
Fit
A good fit is crucial, so ensure the backpack has adjustable straps and fits well on your hips and shoulders to distribute weight evenly, reducing strain on your back during long hikes or climbs.
Comfort
Check the comfort level by looking at features such as the padding on shoulder straps, hip belts, and back panel, as these will affect your hiking or climbing efficiency and overall enjoyment.
Capacity
Consider the capacity of the backpack, which is measured in liters; a larger bag is great for long trekking trips, while a smaller one is perfect for day hikes or overnight camping.
Durability
Check the backpack's durability, as it should be made of high-quality materials to withstand extreme weather conditions and rough terrains that are common when camping or hiking.
Osprey Atmos AG 65
$340.00
The Best Backpacking Backpack
Based on our research and testing, we think the Osprey Atmos AG 65 is the best Backpacking Backpack on the market right now, for anyone looking to play hard outside.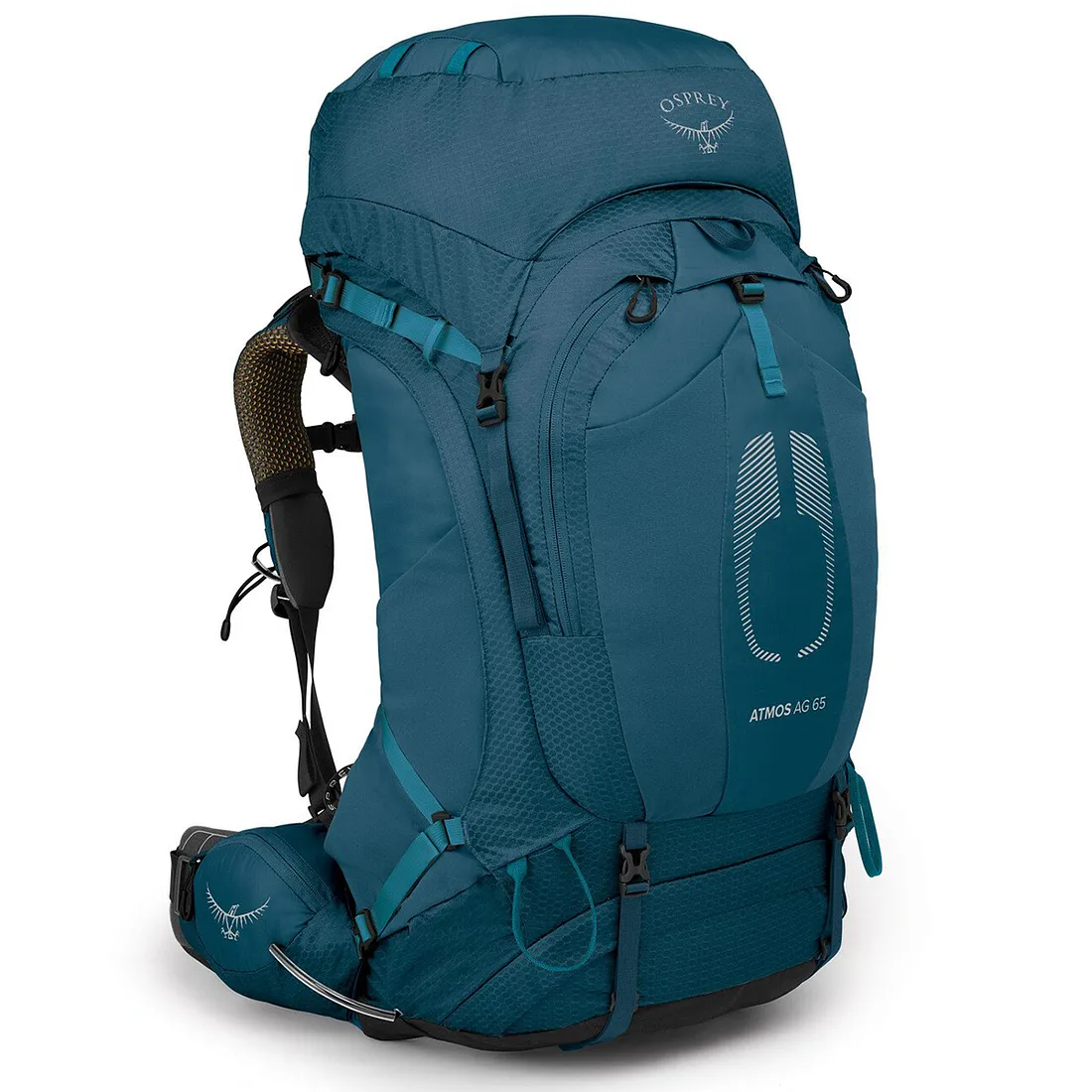 Reasons to Buy
Tremendous load hauling comfort

Lots of pockets for organization

Excellent adjustability and fit options

Built to last with durable materials
Reasons to Avoid
A bit on the heavier side

May be more capacity than needed for short trips

Can be bulky for narrow trails
The Important Specs
Volume:

65 Liters

Material:

100D x 630D Nylon Dobby

Dimensions:

34 x 15 x 16 inches

Hydration Compatible:

Yes, up to 3 Liters
Review Roundup
Osprey Atmos AG 65 continues to score high marks for its unrivaled combination of comfort, carrying capacity, and durability. This pack has been designed specifically with long-distance backpacking and hiking in mind.
Feeling the weight of 35-40 lbs appears practically weightless due to the seamless mesh suspended at the back. You can hardly feel the netting against your back, which provides exceptional ventilation. This feature contributes a lot to keep your back dry even on a summer trek.
The Anti-Gravity suspension system is just magical; it adapts to your body and moves with you, eliminating hot spots and pressure points that could lead to a painful experience on the trail.
Putting all the gimmicks aside, the Atmos AG 65 from Osprey is a very practical, fully-featured pack. It doesn't skimp on anything essential. It has a wonderfully spacious main compartment, which is accessible from the top or the front, as well as adequate-sized hipbelt pockets, side pockets, and a mesh front pocket.
The integrated rain cover is another bonus. It tucks away neatly into a dedicated pocket when not in use. This provision is incredibly handy given the unpredictable nature of weather when you're hiking in the wilderness.
But, no product is perfect. Some users have reported that the suspended mesh can be a little irritating on bare skin, suggesting it's better suited to cooler climates or those who always hike with a shirt on. The top-lid is also not detachable, unlike some other models, which might rule it out for ultralight backpackers.
However, the overall response for the Osprey Atmos AG 65 has been immensely positive. Users lauded its superior comfort, excellent build quality, and abundance of features. It's clear this backpack is well-loved by the backpacking community for its practicality, durability, and comfort.
Adjustability & Fit
Another major selling point is the pack's adjustability. Owners love the torso length adjustment feature and the customizable Fit-on-the-Fly hipbelt. Customers say it adds to the pack's comfort and balances the load better.
Durability
Osprey is known for its build quality and durability, and this pack is no exception. Many users have mentioned the stress points are especially robust, having withstood the rigors of lengthy backpacking and hiking trips.
Load Carrying Comfort
Osprey's Anti-Gravity suspension system is a game-changer. People rave about how it distributes weight evenly across the body, making the pack comfortable to carry even when it's loaded up. The breathable mesh back panel is another well-loved feature; it helps keep you cool during sweaty hikes.
Material
The pack is made from 100D x 630D Nylon Dobby. Users say it's both tough and lightweight. And while it's not waterproof, many have noted that it does a good job of shrugging off light rain.
Storage Capacity & Organization
The 65-liter volume is great for multi-day trips. Feedback from users highlights the usefulness of the pockets, particularly the dual-zippered front panel, for keeping gear organized and accessible. Some, however, feel the sleeping bag compartment needs improvement.
Value
The Atmos AG 65 is a bit pricey, but it comes with the quality and durability Osprey is famous for. Users have remarked that it's a sound investment if regular, long-distance hiking or backpacking is your thing.
Weight
Yes, the Osprey Atmos AG 65 is a bit on the heavier side. But it's important to remember that extra weight comes with a purpose. This pack is designed to handle big loads over long distances comfortably. People who've used this pack affirm that even when packed to the brim, the pack's design helps lighten the perceived load.
Prices
Granite Gear Blaze 60
$299.95
Runner Up
Based on our research and testing, we think the Granite Gear Blaze 60 is a great choice if you're looking for a backpacking backpack to go play hard outside with, if our top pick isn't quite what you're looking for.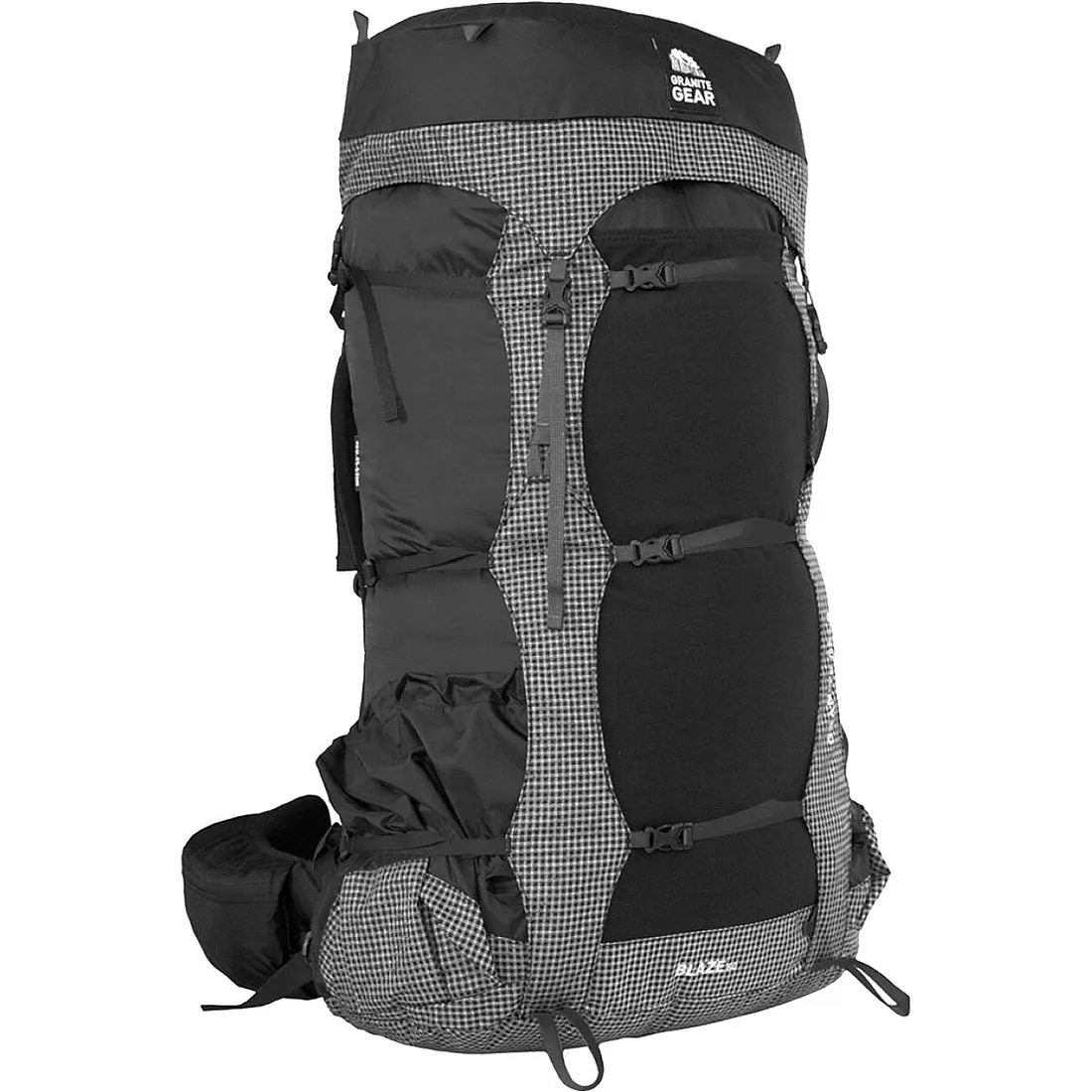 Reasons to Buy
Superb load transfer and carrying comfort

Streamlined design for enhanced durability

Reconfigurable and removable lid for adaptability

Ample storage capacity and nifty compartments
Reasons to Avoid
Higher-end price might deter budget-conscious shoppers

Non-external hydration sleeve can be slightly inconvenient

Limited adjustability scope
The Important Specs
Volume:

60L

Material:

210D Robic nylon & 100D Robic high-tenacity nylon

Dimensions:

30"x15"x10"

Intended Use:

Backpacking, Hiking, Mountaineering
Review Roundup
The Granite Gear Blaze 60 is a serious contender in the world of backpacking gear. This sturdy piece of equipment is renowned for its exceptional carrying comfort, even when fully loaded with your camp gear and provisions. Customers note the significant load capacity, able to comfortably fit gear and sustenance for trips of a few days to a week. For lightweight enthusiasts trimming every ounce, this backpack also gets a nod of approval for its minimalist design and carefully selected materials that don't add unnecessary weight.
Several reviews mention the adjustable torso length and hip belt, features that guarantee a custom fit for each backpacker. Its Air Current frame does not just give this bag its sturdy construction, but also adds to comfort as it significantly reduces sweat by providing excellent ventilation. Some users note that they can hike for miles without feeling the burden of a heavy pack, thanks to its well-distributed load capacity.
Durability has also attracted thumbs up in various online reviews. The high tenacity nylon used gives the Blaze 60 robustness that endures even the toughest of trails or most careless of handling. It holds up well against scrub, rock, and general wear and tear, providing peace of mind when you're out in the backcountry.
However, it's not all praise for the Granite Gear Blaze 60. Some customers expressed disappointment with the number of compartments or pockets. They felt the backpack could use more pockets for organization. The side pockets have also been called out in reviews for being too tight when the bag is fully packed, making it hard to comfortably fit water bottles or other gear. Despite these minor drawbacks, many users think the gear's pros far outweigh the minor cons.
The Blaze 60 is designed for multi-day expeditions and is, therefore, practical and versatile. Online reviewers have endorsed its use in diverse activities, from backpacking through forests to scrambling up rocky passes. While it's not exactly the cheapest option on the market, many buyers confirmed that they received great value for their investment.
Adjustability & Fit
Where the Blaze 60 lags slightly is in its adjustability. With limited torso length adjustability, this might pose as a challenge for some individuals. However, it does score points in achieving a secure and comfortable fit courtesy of its Re-Fit system and cushioned shoulder straps.
Durability
Constructed with the robust 210D Robic nylon and 100D Robic high-tenacity nylon, the Blaze 60 has a reputation for its resilience in harsh outdoor conditions. This is a backpack capable of withstanding substantial abuse during long expeditions.
Load Carrying Comfort
People who bought this backpack have praised it for its phenomenal load distribution. This ties into its well-crafted Re-Fit hip belt system, promoting comfort even during extended periods of wear. The dual-density shoulder harness adds an extra layer of coziness while carrying heavy gear.
Material
This backpack has been appreciated for the choice of material – a fusion of 210D and 100D Robic Nylon granting it unparalleled toughness, longevity, and resistance against abrasion and tear.
Storage Capacity & Organization
As the name suggests, the Blaze 60 offers an ample 60-liter storage capacity, with several easily accessible pockets and compartments, including a reconfigurable lid. The backpack conveniently accommodates all necessary backpacking gear, as mentioned by users.
Value
The Blaze 60, given its top-notch features, great comfort, and superior durability, presents excellent value. Some may find the higher-end price point a bit steep, but for those who prioritize reliability and performance, this backpack is a worthwhile investment.
Weight
The Granite Gear Blaze 60 acutely balances lightness and performance without compromising comfort. Its 3lbs design does not burden the wearer and yet provides substantial structural support for any outdoor adventure.
Prices
Runner Up
Based on our research and testing, we think the Gregory Focal 58 is a great choice if you're looking for a backpacking backpack to go play hard outside with, if our top pick isn't quite what you're looking for.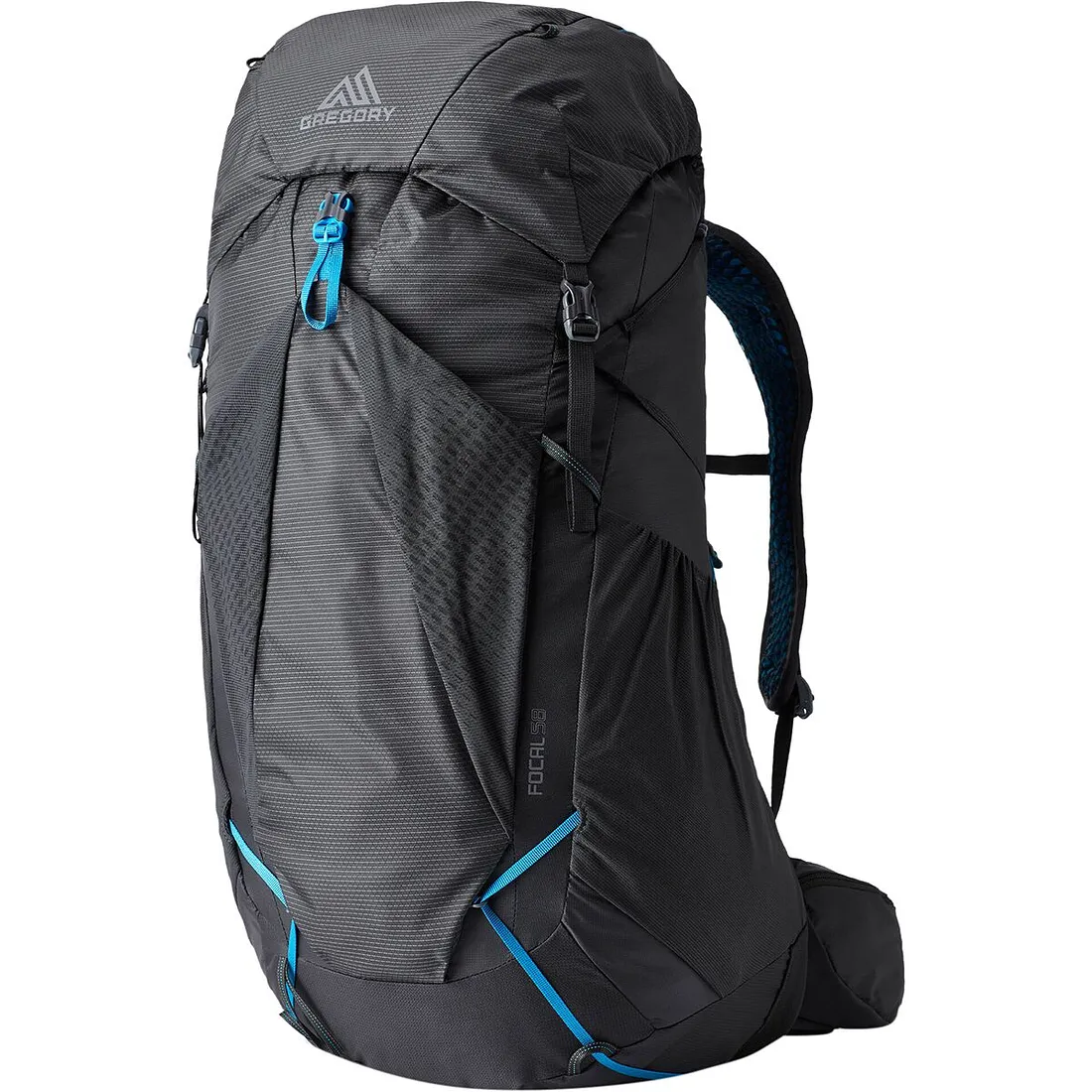 Reasons to Buy
Ample storage capacity

Great load carrying comfort

Durable material

Excellent adjustability and fit

Good value for the price
Reasons to Avoid
Some users report discomfort with longer use

Minor quality control issues
The Important Specs
Fit:

Unisex

Closure:

Drawstring, Buckle

Material:

210D Nylon

Capacities:

36, 48, 58L

Compartments:

Main, two sides, lid, front
Review Roundup
The Gregory Focal 58 is a backpacker's dream backpack. It's not just about the ample 58-liter space this pack generously provides, but it's also about how you can efficiently use it.
Right off the bat, you'll notice the Focal 58's tried-and-true suspension system. This design, which other purchasers raved about online, helps distribute the weight evenly across your body. Say goodbye to those cringe-worthy shoulder sores from road-weary backpacks, and let the suspension system do its job.
Plus, the backpack is customizable to the hilt. Users around the world have praised how easy it is to adjust the harness and waist belt, making the Focal 58 a fit for just about anyone. You name it - tall, short, plump, lean - the Focal 58 will mold its structure just for you.
The material of the pack is a ripstop nylon; a fabric that's known to endure the test of time under the harshest of conditions. Hikers who bought this product have reported that it handled scrapes against sharp rocks and spiky bushes just fine.
Practicality is another big hit among the customer reviews. The Focal 58 includes easily accessible pockets, one in front and one at the top. Besides that, it's equipped with twin pockets on the hip belt too. Users loved how everything they needed could be just a zip away!
The pack's hydration reservoir was noted for its easy access from the outside of the backpack - a feature often neglected by competitive brands but appreciated by many thirsty hikers.
However, every rose has its thorn. A common concern that a few users pointed out was the pack's weight. At 4.5 lbs, it falls on the heavier side compared to other backpacks in the same league. Some claimed that the weight, though manageable, becomes noticeable after several hours on the trail.
Others expressed a desire for more color options, as the Focal 58 currently only comes in two - a vibrant crimson and a more discreet gray.
Overall, customer reviews indicate that for those seeking a mix of durability, usability and comfort in a backpack, you can't go too wrong with the Gregory Focal 58.
Adjustability & Fit
Featuring a variety of adjustability options, the Focal 58 molds well to the user, allowing for a comfortable, personalized fit. Regardless of your body shape or size, this backpack can be fine-tuned to provide maximum comfort.
Durability
Crafted from 210D Nylon, this backpack is designed to stand the test of time. The use of this material results in a backpack that is capable of withstanding rugged environments regularly associated with outdoor activities. However, some users have reported minor quality control issues.
Load Carrying Comfort
This backpack shines when it comes to carrying comfort. It's designed to distribute the weight of the load evenly across the user's body, reducing the strain on their shoulders and back. Majority of users commend the load carrying comfort, although some have reported discomfort after prolonged use.
Material
This backpack is made from 210D Nylon, a tough yet lightweight fabric that offers good abrasion resistance. This material is known for its durability, ensuring the product can hold up against rough use.
Storage Capacity & Organization
In terms of storage, the Focal 58 provides a generous capacity. It is strategically organized into main, two sides, lid and front compartments. However, granted the large size, you might need to pack smart and not overload.
Value
Considering its features, the Focal 58 offers good value for the price. It's a high-quality, versatile backpack that should last for many adventures. Given its durability and features, users note it as a great long-term investment.
Weight
The Gregory Focal 58 comes in at a comfortable weight, enough to carry the necessities without dragging the user down. However, some users have reported feeling a bit burdened during lengthy trails.
Prices
Best Budget Backpacking Backpack
Based on our research and testing, we think the Osprey Rook 65 is a great pick if you're looking for a backpacking backpack that is more budget friendly, without sacrificing too much in quality.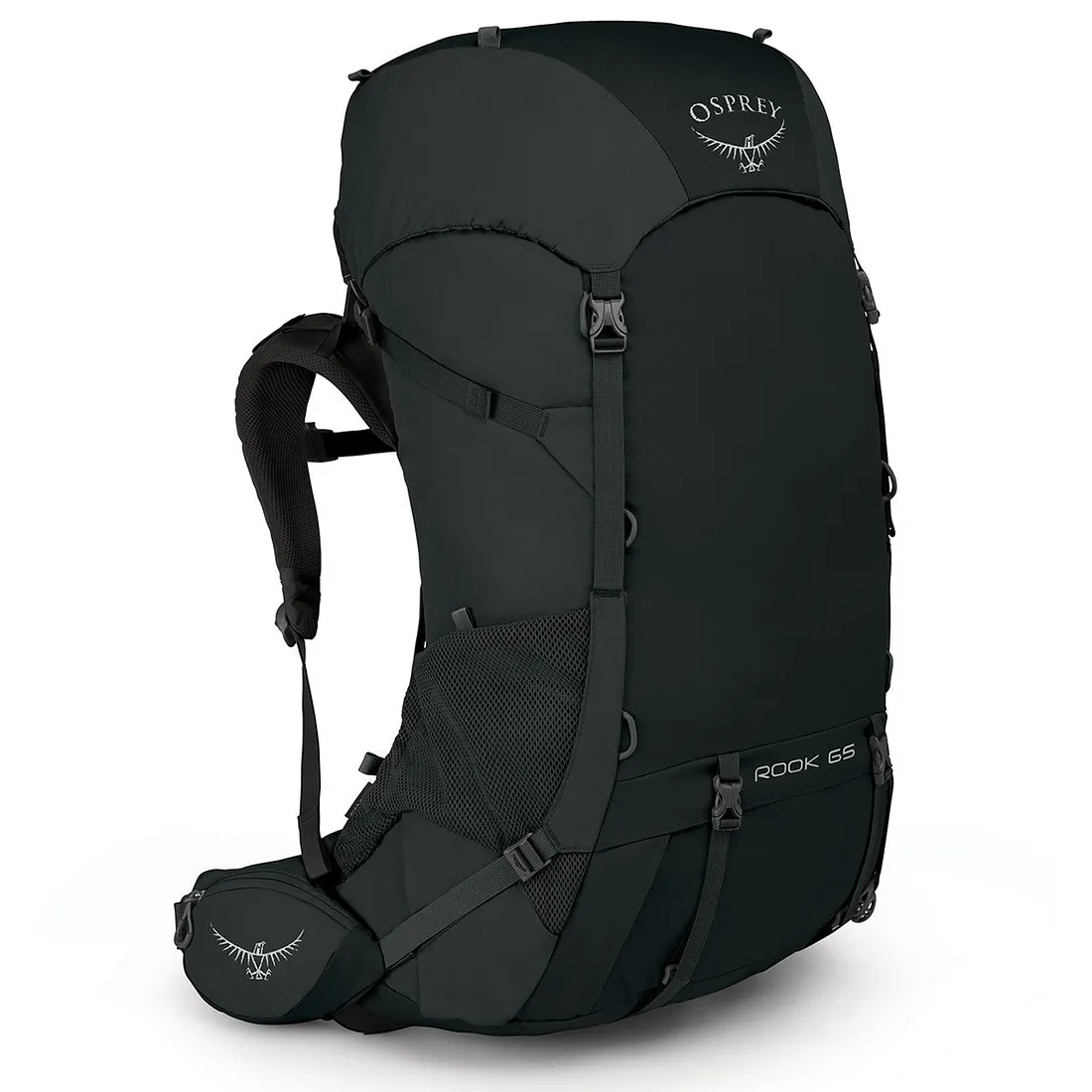 Reasons to Buy
Affordable price

High volume capacity

Comfortable to carry

Good organization features
Reasons to Avoid
Might be too bulky for minimalist packers

Lacks certain high-end features

Not ideal for very long, multi-day hikes
The Important Specs
Design:

Top-loading design

Volume:

65L

Material:

Main Fabric: 600D Polyester, Accent Fabric: 400/600D Polyester

Dimensions:

34.25H X 16.34W X 15.75D in.
Review Roundup
The Osprey Rook 65 backpack really hits the sweet spot for enthusiastic hikers who want to enjoy their outdoor excursions without burning a hole in their wallet. When you first get your hands on this pack, you'll probably notice its durable build. It's made from strong materials that can take a beating, perfect for those unplanned slips and falls on rough terrains. The minimalist design is another element that draws you in. It's clean, it's neat, it's aesthetic. Without a doubt, it's something you wouldn't mind being seen with on the trail.
When it comes to comfort, this pack doesn't disappoint. The ventilated back panel allows a comfy, sweat-free hike, while the suspension system provides solid support for those long, demanding treks. The adjustable harness and fit-on-the-fly hip belt allows for easy customization for different body types. Though some users found the initial fitting a bit tricky, the end result was overwhelmingly positive. They felt it was well worth the effort.
With a generous total volume of 65 liters, this bag offers plenty of storage space for multi-day excursions. The large top-loading main compartment makes packing and unpacking less of a hassle than it usually is. The removable sleeping bag divider also adds to its practicality. However, some users did miss having more pockets for easy access and organization of smaller items.
But what most users rave about are the top lid and integrated raincover. The top lid lends a hand when you need to secure your gear, and the raincover brings peace of mind when weather turns nasty. It's the golden combo you didn't know you needed until you have it. Some users did point out that a water bladder compartment isn't included, though they didn't think this was a deal-breaker.
Overall, the Osprey Rook 65 is a solid bet for budget-conscious backpackers. It offers a good balance of comfort, durability, and practical features, with just a few minor shortcomings. But as many satisfied customers say, it works hard and stands up to the challenges of the trail, proving once again that good gear doesn't have to come with a hefty price tag.
Adjustability & Fit
The Osprey Rook 65 provides many opportunities to adjust the pack for a better fit. The adjustable torso length and hip belt can accommodate a range of body sizes and shapes. Some reviewers, however, have noted limited adjustability for those with very small or large frames.
Durability
Made with strong 600D Polyester, the Rook 65 has proven itself to be a durable, sturdy backpack option, with many reviewers remarking on its robust build. The material can withstand rough handling, resisting tears and punctures most of the time.
Load Carrying Comfort
Reviewers often mention the comfort of the Osprey Rook 65, especially its ventilated back panel, that helps to reduce sweating on hikes. It also has an adjustable hip belt and harness, allowing users to customize the fit to their bodies.
Material
The main fabric is 600D Polyester. It's sturdy, but not overly stiff or uncomfortable. The bag also uses a 400/600D Polyester for the accent fabric to strengthen the stress points and offer longevity.
Storage Capacity & Organization
With a generous 65L volume and top-loading design, the Rook 65 offers plenty of space for all your essential gear. The separated sleeping bag compartment, internal hydration reservoir sleeve, and zippered pockets allow for easy organization and access to your stuff on the trail.
Value
This backpack offers great value for its price. Its higher volume, comfortable carry and durable build make it a smart investment for beginner or infrequent backpackers. However, those seeking high-end features or pro-level performance might want to explore other options.
Weight
The Osprey Rook 65 falls into the medium range for backpack weights. It's certainly not the lightest backpack you'll find, but it also won't drag you down too much on the trail. If you're a casual backpacker or don't mind a bit of extra heft to your gear for comfort, this could be a good fit.
Prices
Gossamer Gear Mariposa 60
$285.00
Best Ultralight Backpacking Backpack
Based on our research and testing, we think the Gossamer Gear Mariposa 60 is a solid choice for those looking for a lightweight backpacking backpack option to go play hard outside with.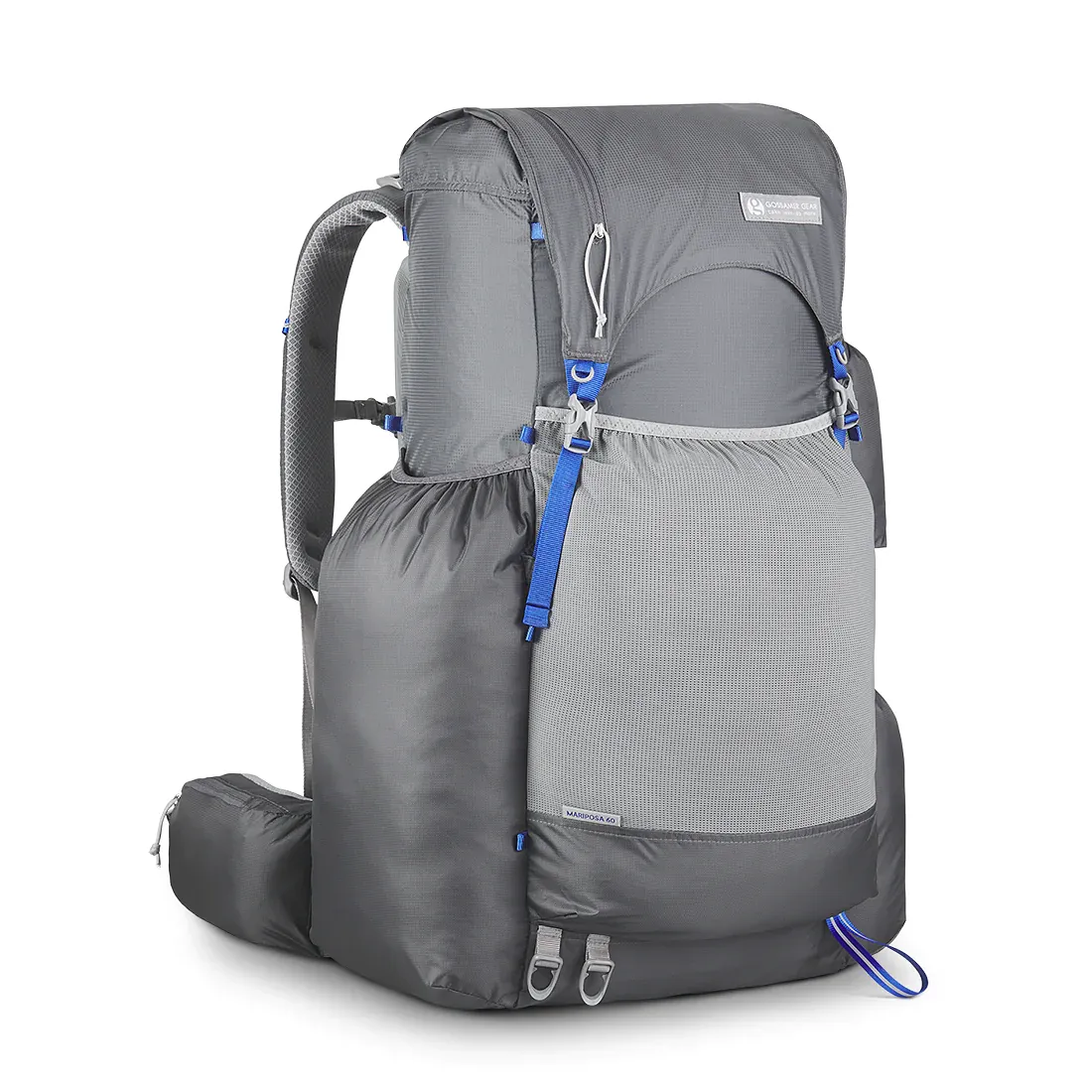 Reasons to Buy
Perfect for Ultralight enthusiasts

Excellent organization and storage capacity

Customizable fit

Stellar weight to volume ratio

Durable build
Reasons to Avoid
May be too minimalist for some users

Lack of padding can hinder comfort with heavier loads

Not suitable for harsh weather conditions
The Important Specs
Volume:

60 liters

Material:

Custom 100 denier Robic nylon

Frame Type:

Internal frame with removable aluminum stay

Hydration Compatible:

Yes

Number Of Compartments:

7
Review Roundup
The Gossamer Gear Mariposa 60 is ranked among the top-tier ultralight backpacks. Hikers and campers alike rave about its ultra lightweight feature, tipping the scales at just over two pounds. Many reviewers point out the carry comfort and the spaciousness of the Mariposa. It is easy to forget you're even wearing a backpack, which is a huge win for those long, relentless trails.
The Mariposa is designed with seven pockets with the idea of making gear easily accessible. This smart and practical design left a great impression on users. Having dedicated compartments for gear not only assists in quick accessibility but lends to better organization, resulting in a streamlined backpacking experience.
A great majority of the reviewers specifically praised the construction of the pack. The Robic nylon fabric is noted to be extremely durable while maintaining a feather-light attribute. Users have found it to hold up admirably even in harsh outdoor conditions. Few have voiced concerns about the durability of the mesh pockets, but it seems to be a minor issue compared to the overall impressive performance.
The adjustable hip belt and shoulder straps were well-received by most users. They appreciated the option to adjust the pack to their body type and load, enhancing carry comfort. A small number of users expressed wish for a bit more padding, but this seems to be a matter of personal preference rather than a design flaw.
Users also highlighted the Mariposa's load carrying capability. Despite its lightweight frame, it is capable of carrying a fair amount of weight comfortably. This, users note, doesn't lit a damper on the whole ultralight experience as one might think.
Despite its stellar reviews, a few users noted a drawback - its water bottle pockets. Reaching for the water bottle proved to be a bit of a stretch, according to some users. Others, however, didn't feel this minor inconvenience was a dealbreaker considering the overall performance of the Mariposa.
The Gossamer Gear Mariposa 60 is, without a doubt, very popular in the world of ultralight backpacking gear. Its durability, carrying comfort and good load capacity are racking up positive points among users. Some compromises may have been made in the comfort and accessibility department, but they seem to be minor hitches in what is a well-designed, practical backpack.
Adjustability & Fit
One of Mariposa 60's strongest suits is its fit and adjustability. The removable hip belt and shoulder harness allow for a customized fit. This design aspect ensures that the backpack can accommodate a wide range of body sizes and shapes.
Durability
Despite its lightweight build, the Mariposa 60 offers a surprising level of durability. The backpack is made from custom 100 denier Robic nylon, a material known for its high resistance to wear and tear. The stitching is robust and meticulous, ensuring the bag can handle long, challenging hikes.
Load Carrying Comfort
While Mariposa 60 is not as padded as some other backpacks, it still provides a decent level of comfort, especially for lighter loads. It has a customizable fit with an adjustable hip belt and shoulder harness. It's worth noting that for heavier loads, the lack of padding may somewhat limit the comfort.
Material
The backpack is made from custom 100 denier Robic nylon, which is highly resistant to abrasion and tears. It's also water-resistant, providing a fair level of protection against rain. However, it's recommended to use a rain cover for full protection in harsher weather situations.
Storage Capacity & Organization
With a total volume of 60 liters spread over seven compartments, the Mariposa 60 offers excellent storage capacity and organization. The main bag is large enough to hold all your essential gear, while the numerous external pockets offer easy access to items you need on the go.
Value
Considering its strong points - lightweight, durability, and excellent organization, the Gossamer Gear Mariposa 60 offers good value for the price. It's an ideal choice for ultralight backpackers searching for a reliable, no-frills backpack that is comfortable to carry for extended periods.
Weight
Gossamer Gear Mariposa 60 is a featherweight champion, tipping the scales at just over 2 pounds. Although relatively light, this does not compromise any of its core features. Due to its ultra-lightweight nature, you can go miles without shoulder pain or backache, an attribute that most backpacking enthusiasts highly appreciate.
Prices
Osprey Xenith 75
Best Backpacking Backpack for Heavy Loads
Based on our research and testing, we think the Osprey Xenith 75 is a solid choice if you want a backpacking backpack that's really well suited to Heavy Loads.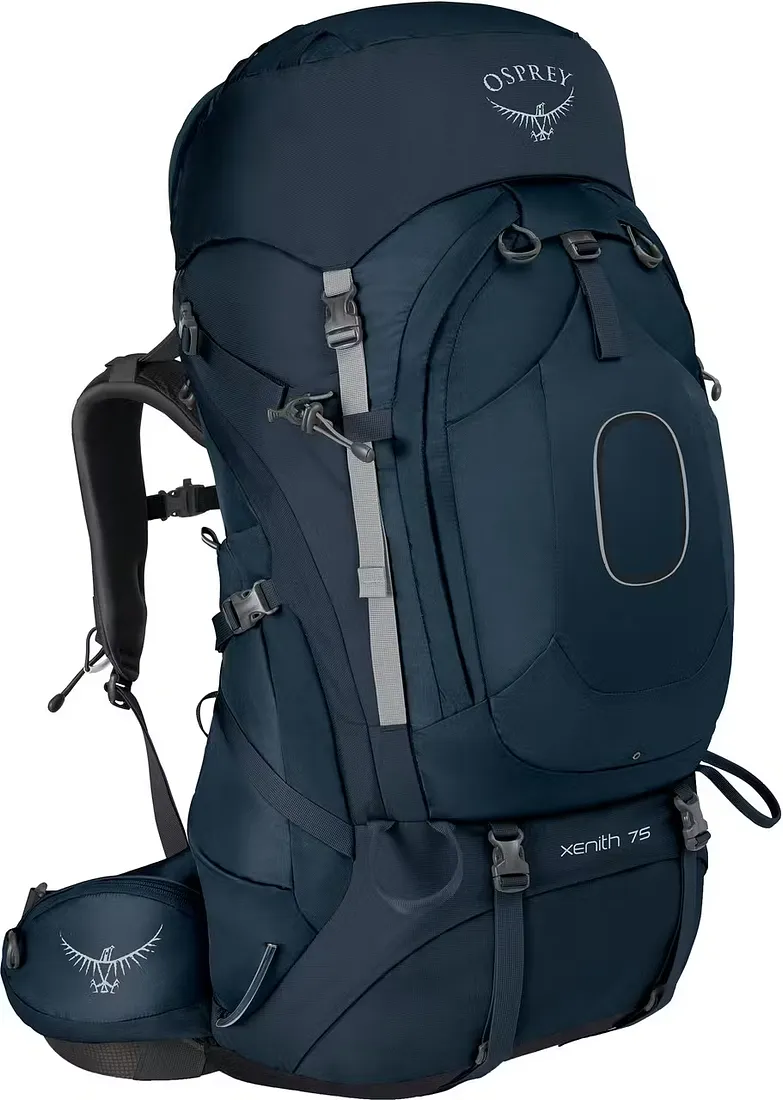 Reasons to Buy
Excellent carrying comfort

Robust and durable

Ample storage options

Easily Adjustable
Reasons to Avoid
Might be overkill for light loads

Some users found it bulky
The Important Specs
Volume:

75 liters

Harness:

Adjustable BioForm CM

Material:

420HD Nylon Packcloth
Review Roundup
The Osprey Xenith 75 is a bit of a workhorse. It's sturdy and handles heavy loads with ease, making it a great friend on long adventures. This pack would suit the serious backpacker, who isn't afraid to carry a few extra supplies.
There is ample space for all you need on multi-day trips. The main compartment is spacious and easy to access, while the array of pockets provides places for handy organisation. One feature that really stands out is the removable top lid that doubles as a daypack, brilliant for unplanned or spontaneous detours on your journey.
Comfort-wise, the Osprey Xenith 75 hits the sweet spot. The customizable BioForm5 harness and the weight-distributing hip belt team up to provide superior carrying comfort, even with the heaviest loads. The pack's design allows for excellent air-flow, reducing the chance of a sweaty back. Adjustable straps allow you to tailor the fit to your body shape and size so that you really feel one with your pack.
A couple of quirks to note are that the side pockets could benefit from a bit more stretch and the buckles might be a tad overcomplicated for some. This, however, does not detract from the quality build and usability of the pack.
People who bought this pack have lauded its durability and its weight-carrying capacity, while still being comfortable to wear on long hikes. Many have praised it as being a great value for money choice, outperforming other brands in the same category.
From the online voice of the community, it becomes clear this is a top-rated pick among those tackling serious terrain and demanding journeys. Users mentioned time and again how well the pack has served them on multi-day hikes and how it helped them carry heavier loads without discomfort. While the majority of users appear to be highly satisfied, some have voiced concerns over the difficulty fitting very large items in the side pockets.
Adjustability & Fit
The Osprey Xenith 75 wins hands down when it comes to adjustability and fit. The harness system is highly adjustable to accommodate a variety of body sizes and shapes. It even includes an interchangeable hip belt and harness sizes for a precise, personalized fit.
Durability
Made from 420HD Nylon Packcloth, Xenith 75's material is both tough and durable. Users found that despite the rough handling on multiple treks and harsh weathers, the backpack held up incredibly well without any signs of damage.
Load Carrying Comfort
One standout quality that reviewers loved about the Xenith 75 is its sublime load-carrying comfort. It's extremely comfortable even when filled to the brim, thanks to its adjustable BioForm CM hip belt and harness system that allows users to customize the pack according to their body shape and size.
Material
The choice to manufacture this backpack from 420HD nylon packcloth greatly enhances its longevity and ability to survive harsh outdoor conditions. It also makes it relatively light compared to other packs in its class that use thicker, heavier materials.
Storage Capacity & Organization
The backpack offers a generous storage capacity of 75 liters. This large volume makes it ideal for long journeys and larger loads. It also includes multiple pockets for organized gear storage and easy access on the trail.
Value
Given the material, design, adjustability, and the ample storage space the Osprey Xenith 75 offers, most users believed they received great value for their money. While the backpack sits at a more premium price point in the market, users agreed that its features more than justified the price tag.
Weight
The Osprey Xenith 75 offers an impressive balance between its voluminous capacity and weight. Even though it isn't the lightest on the market, its innovative harness system distributes the load across the pack, making it feel lighter than it actually is.
Prices
No prices found. Check back later!