Quick heads-up: some of the links on this page are affiliate links. If you make a purchase through them, we may earn a small commission (at no extra cost to you). This small bit of income helps keep our site running.
Best Sporks of 2023
This post was last updated on December 06, 2023.
For those who are avid campers, backpackers, or climbers, you're probably already aware of the magic that is the spork. This multi-functional utensil is compact, lightweight, and lets you shovel food into your mouth without having to juggle activity specific cutlery. But not all sporks are created equal. That's where our list comes into play, with the Sea to Summit AlphaLight Spork, taking top honors for its outstanding performance.
The Sea to Summit AlphaLight Spork was a front runner due to its outstanding balance between weight, durability, and functionality. This beauty is crafted from hard-anodized aluminum, so it withstands backcountry bumbles and continuous use, without becoming a burly burden in your bag. Its design is not just for eating, but also for preparing meals, contributing to its overall practicality and versatility.
But don't worry, we haven't forgotten about the other noteworthy sporks out there. We've also chosen a couple of runners-up that cater to different needs and preferences in the wild. We even have a specialized category for those who fancy using dehydrated food pouches. Each of these tools has been scrutinized under various criteria to ensure you're backed up by the best possible utensil when conquering the great outdoors. Check out these related posts for more camping essentials: Best Backpacking Backpacks, Best Backpacking Stoves, and Best Camping Stoves.
Our Top Recommendations

Sea to Summit AlphaLight Spork
The Sea to Summit AlphaLight Spork clinches the top spot due to its incredibly lightweight yet durable design, often praised in user reviews for its ability to withstand even the toughest camping conditions without bending or breaking.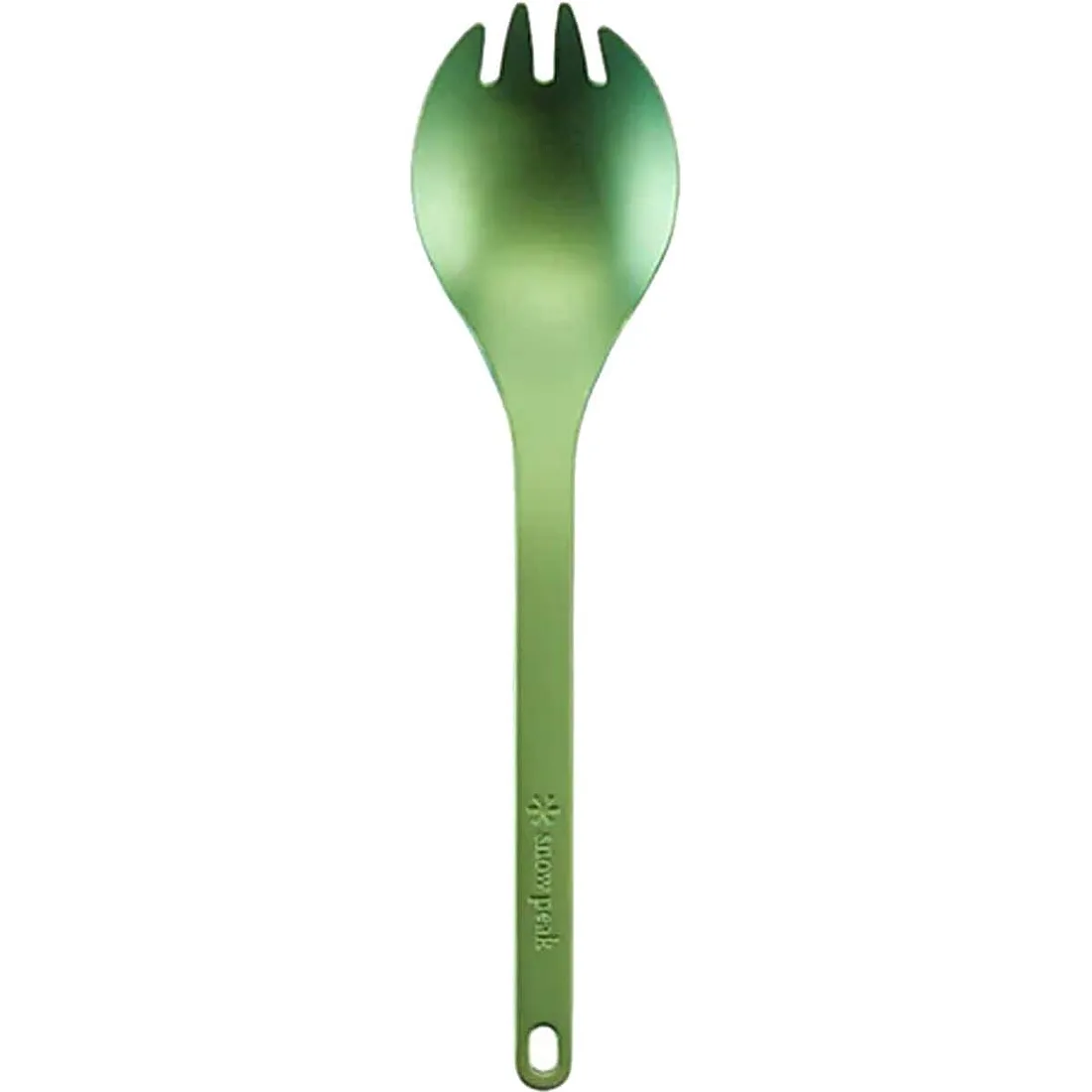 Snow Peak Titanium Spork
The Snow Peak Titanium Spork edges out the competition due to its incredibly lightweight yet durable design that users praise for withstanding the toughest of camping conditions.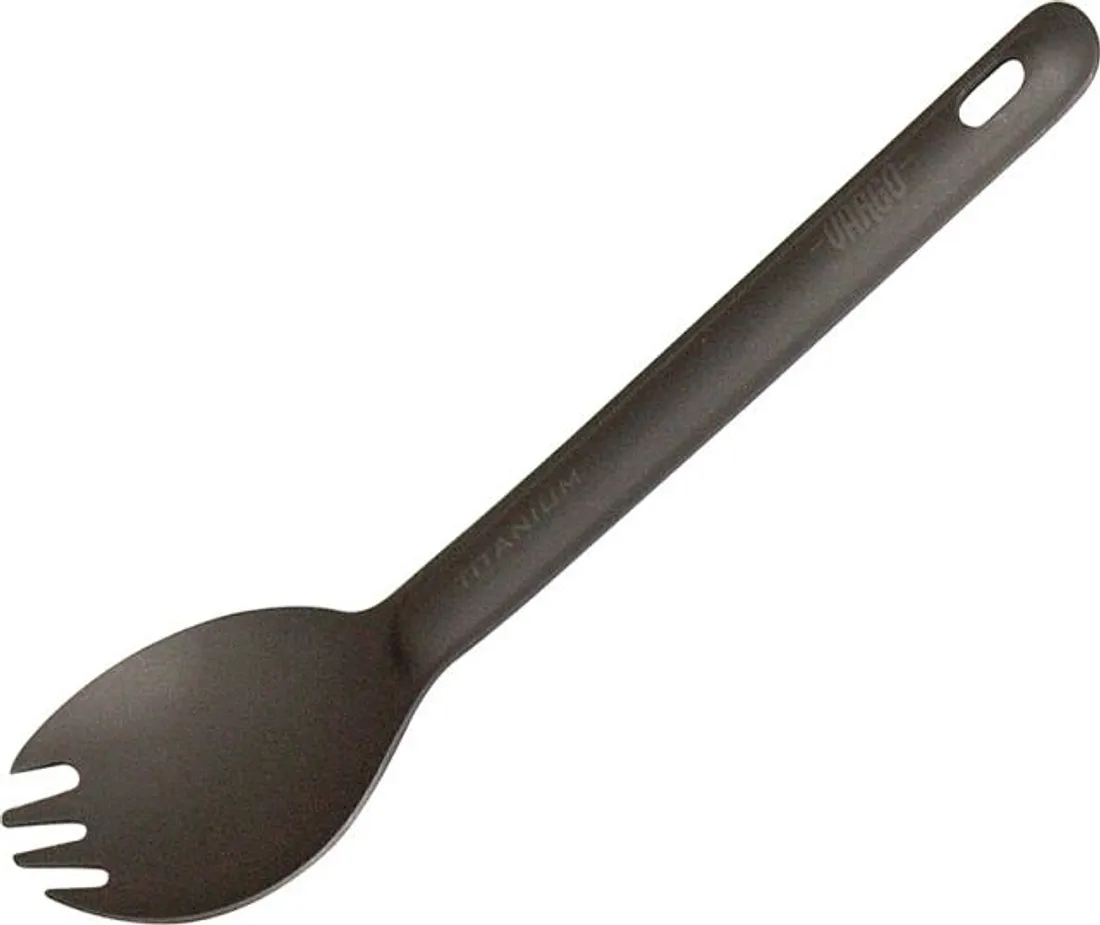 Vargo Titanium ULV
The Vargo Titanium ULV shines as the top pick runner up due to its exceptional lightweight design and durable material, praised by users for making both their packs and mealtimes on the trail a breeze.
What you should look for
(and what we test for)
Material
Choose a spork made of a durable material like titanium or stainless steel that can withstand the rigors of outdoor activities.
Functionality
Look for a spork that combines a spoon, fork, and even a knife edge, maximizing its usefulness while minimizing the space it takes up in your pack.
Weight and Size
Consider the weight and size of the spork, it should be lightweight and compact, easy to pack into your backpack without weighing you down.
Comfort and Ease
The spork should be easy to hold and use, with smooth edges to prevent any discomfort while eating your wilderness meals.
Sea to Summit AlphaLight Spork
$9.95
The Best Spork
Based on our research and testing, we think the Sea to Summit AlphaLight Spork is the best Spork on the market right now, for anyone looking to play hard outside.

Reasons to Buy
Lightweight and compact design

Made from durable Ultralight hard-anodized Aircraft Aluminium alloy

Highly practical, with both a fork and spoon

Easy to clean
Reasons to Avoid
A bit pricey for a spork

Not as long as some users would prefer
The Important Specs
Length:

6.5 inches

Features:

Includes carabiner for easy attachment to gear

Material:

Ultralight hard-anodized Aircraft Aluminium alloy

Compatible With:

Suitable with camping pots and mugs
Review Roundup
The Sea to Summit AlphaLight Spork is known as one of the top sporks on the market. With its polished finish and aircraft grade aluminium body, it combines sturdiness with a feather-like weight of just 9 grams.
The spork's strength is a standout quality. The material can withstand rigorous backpacking food trials and the occasional accidental step without bending or warping. It also performs well in extreme cold weather conditions, where plastic utensils are known to snap.
One of the standout features is its compact size. Its smart design slides comfortably into meal kits or camping cookware, without causing bulges or discomfort when carrying in a backpack.
For those concerned with hygiene, the AlphaLight Spork is easy to clean, thanks to its smooth finish. The spork's handle features a hexagonal hole that is intended to reduce weight, but which also doubles up as a handy attachment point to hang the utensil when not in use.
However, not all customer reviews are glowing. Some users have mentioned that the handle of the spork can get quite toasty when left in hot or boiling pots for an extended period.
Others have noted the price as a deterring factor, pointing out that there are cheaper alternatives on the market. Although, it is worth mentioning that many seem to believe that the added cost is justified by the spork's durability and design.
Another downside according to some users is the length of the handle. People with larger hands or those who prefer eating from deeper containers might find the handle a tad short.
Durability
Reviewers report that it holds up well, even under constant use. It doesn't bend or break easily and has a stable build that can handle stubborn food items.
Ease of Cleaning
This spork is fairly easy to clean by hand, even when you have limited access to water. Food residue don't cling much due to its smooth aluminum.
Eating Efficiency & Design
The spork design allows it to serve as both a spoon and a fork, simplifying your utensil needs. It has a smooth, comfortable grip and it performs well across a range of foods.
Length & Reach
The 6.5 inches length is sufficient for most camp meals, but might be a stretch for meals in deeper pots or containers. Some user reviews wished it was a bit longer.
Material
Fabricated from a hard-anodized Aircraft Aluminium alloy, ensuring durability and resistance to wear and tear. Despite its minimalist design, it stands up to the rigours of outdoor excursions.
Packability
Its slim shape pairs with a compact 6.5 inches length making it a pack-friendly option. It also comes with a mini carabiner for easy attachment.
Value
While it's slightly more expensive than some camping sporks, its weight, material, and overall performance make it worthwhile.
Versatility
Whether you're eating soup or pasta on the mountain, the Sea to Summit AlphaLight Spork can handle it. It's a clever piece of kit that's good to go for all kinds of meal options.
Weight
Weighing just a few grams, the Sea to Summit AlphaLight Spork is incredibly lightweight. It's hardly noticeable in a pack, making it ideal for backpacking or hiking trips.
Prices
Snow Peak Titanium Spork
$9.95
Runner Up
Based on our research and testing, we think the Snow Peak Titanium Spork is a great choice if you're looking for a spork to go play hard outside with, if our top pick isn't quite what you're looking for.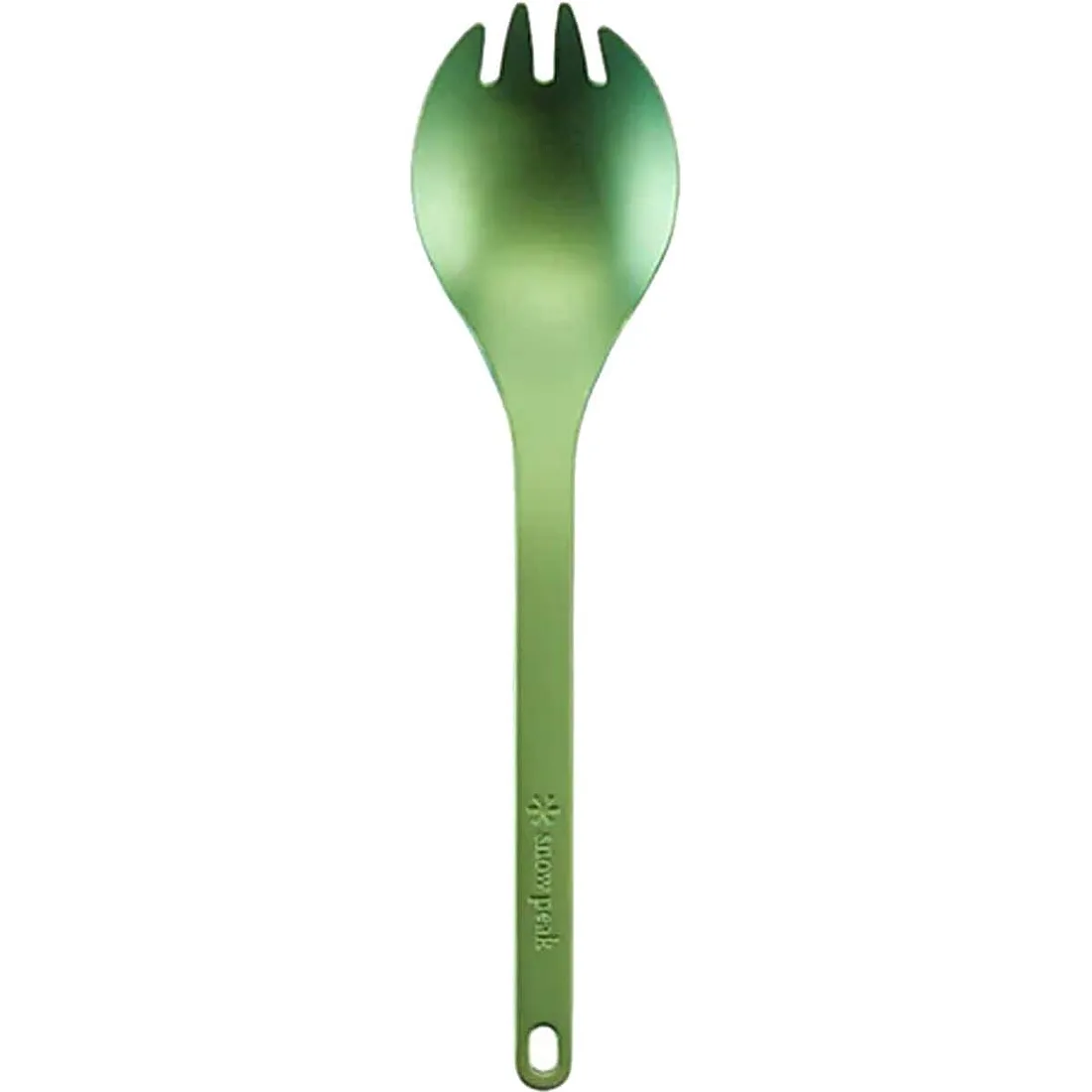 Reasons to Buy
Durability with lightweight titanium material

Ergonomically designed for easy use

Optimal length and reach

Versatile and can be used for all types of food

High value for the price
Reasons to Avoid
May be too light for some

Design may not be appealing to everyone

Can get too hot when used with boiling food
The Important Specs
Material:

Titanium

Dimensions:

6.5 x 1.6 x 0.6 inches

Manufacturer:

Snow Peak
Review Roundup
The Snow Peak Titanium Spork stands out as a piece of outdoor gear that delivers impressively on both simplicity and functionality. It's not fancy or filled with added features, but that's the beauty of it. Instead, the spork has a clean, sleek design that adds an element of elegance to your camping cutlery.
This spork is versatile, which camping enthusiasts and backpackers will definitely appreciate. One side of the tool is a fork and the other side is a spoon, making it great for a wide variety of meals on your outdoor trips. Add to that, the edges are carefully smoothed to ensure a comfortable dining experience, even in the rugged backcountry.
Durability is another big plus point for the Snow Peak Titanium Spork. As the name implies, it's built from high-quality titanium that is both lightweight and strong. This spork can definitely withstand the rigors of your outdoor adventure, whether you're a casual camper or a seasoned backpacker. It's wonderfully resistant to corrosion and general wear and tear, too.
For ease of transport, the spork has a small hole in the handle's end, so you can clip it onto your backpack with a carabiner. Given its minimal weight (around 0.6 ounces), you will barely notice it on your trips. However, while its lightweight design is a positive aspect, some users have mentioned that it feels a bit too flimsy for their liking.
Despite being a utensil, the Snow Peak Titanium Spork's aesthetic appeal shouldn't be overlooked. Its glossy finish and sleek profile give it a pleasing appearance. Yet, there have been some users that wished for a broader handle for more secure grip.
Clean-up is a breeze with this spork. You can simply rinse it off with water, and it dries quite fast too. Several users have praised it for being much easier to clean than plastic alternatives, without a greasy residue left behind.
Finally, let's talk about price. It's definitely more expensive than your average plastic or even steel spork. But most users felt that the higher price tag was justified, given its durability, lightweight construction, and ease of use.
Durability
The synthetic titanium material used is known for its super strength and robustness. Many users have reported using the same spork for several years with no noticeable damage or wear and tear.
Ease of Cleaning
It's pretty effortless to clean. Simply rinse it off with some water, and you're good to go. Some users have reported that if you leave food on it for an extended period, it can be a bit difficult to clean fully.
Eating Efficiency & Design
The Snow Peak Titanium Spork features a solid fork on one end and a spoon on the other, seamlessly facilitating both your stirring and eating needs. It's cleverly designed to have a deep spoon for soups and a three-pointed fork for solids, catering to all cuisine types.
Length & Reach
Coming in at 6.5 inches, it's long enough to reach into deep camping food pouches without getting your fingers dirty, but not cumbersome at the same time.
Material
The Snow Peak Titanium Spork is made of top-quality titanium, one of the strongest and lightest materials around. It's practically indestructible, yet so light you barely notice it in your pack.
Packability
The sleek design and light weight allow it to easily fit into any backpack pocket or even in your pocket without any bulkiness. It's a no-fuss camping tool that won't occupy much space.
Value
For the price, you're getting a spork that's lightweight, durable, and convenient. When taking into account its lasting power, this item offers good bang for your buck.
Versatility
Whether it's a hearty stew or a salad, this versatile spork steps up to the plate. It can handle both liquid and solid food with equal ease.
Weight
It's incredibly light, making it a piece of cake to carry around when you're hiking or backpacking. However, some folks have mentioned that it may be too light for their liking, giving a somewhat flimsy feel.
Prices
Vargo Titanium ULV
$16.94
Runner Up
Based on our research and testing, we think the Vargo Titanium ULV is a great choice if you're looking for a spork to go play hard outside with, if our top pick isn't quite what you're looking for.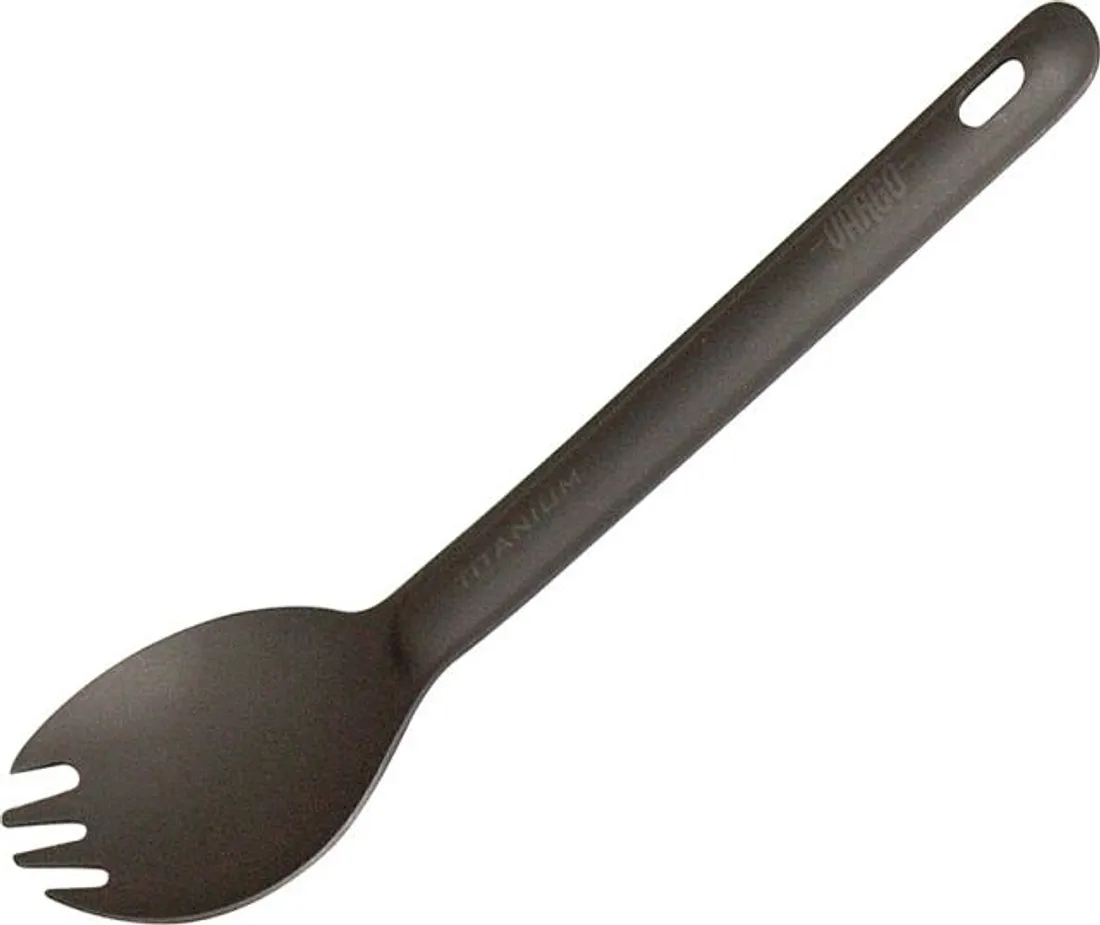 Reasons to Buy
Highly durable due to its titanium build

Very packable as its slim, flat design allows easy storage

Great length for digging into dehydrated meal pouches

Efficient eating design with a well-structured spoon and fork end

Multi-functional with integrated bottle opener

Good value for a long-lasting eating utensil

Easy to clean with simple smooth surfaces
Reasons to Avoid
Not ideal for cutting certain foods

Slightly longer than some other available options

Not the lightest option on the market
The Important Specs
Size:

6.5 inches

Shape:

Two-ended spork

Material:

Titanium

Additional Features:

Built-in bottle opener
Review Roundup
The Vargo Titanium ULV spork has made quite the splash in the camping and outdoorsy crowd. It's undoubtedly one of the most talked-about products in the field, and after delving deep into user reviews, it's not hard to see why.
The ULV in the name stands for Ultra Light Vargo, and true to that designation, this spork is staggeringly light. It tips the scales at a barely noticeable 0.38 ounces, meaning that nature lovers won't have to worry about this tool weighing them down on their explorations. Many users appreciated this feature, stating that the Vargo Titanium ULV has been a reliable lightweight companion on their trips.
Material-wise, because it is made from titanium, it's incredibly sturdy and known for its durability. User reviews reiterated this point, as many people brought up how it held up to rigorous use and showed virtually no signs of wear even after extended periods.
But what really stands out from the user reviews is how the Vargo Titanium ULV combines functionality with smart design. It's a spork, so it doubles as a spoon and a fork, yet it also has a polished bowl for a more comfortable eating experience. Users particularly highlighted the polished bowl, often stating how much they enjoyed the feel of it.
Of course, no product is perfect and the Vargo Titanium ULV is no exception. Some users mentioned that it can be a bit short for reaching into the corners of food packets, which could be inconvenient when you're in the great outdoors with no utensils to spare. Additionally, a few users commented on the thinness of the spork, stating that it sometimes felt a bit flimsy in the hand.
Despite these small blips, the Vargo Titanium ULV spork comes across as a much-loved tool in the camping world. User reviews consistently highlight its lightweight frame, tough material, and clever 2-in-1 design, testifying to its impressive utility on countless adventures.
Durability
This premium spork is incredibly robust. It won't snap during use, and it's resistant to bending or staining. Its tough construction ensures it won't let you down even after frequent use on numerous camping adventures.
Ease of Cleaning
With its smooth surfaces and simple construction, cleaning up after a meal is hassle-free. There's no complex or hidden parts where food can accumulate, so you'll have more time to enjoy your camping experience.
Eating Efficiency & Design
The eating efficiency is impressive with a well-structured spoon and fork end. It suits a variety of foods, from noodle soup to more chunky stews. However, the lack of a sharp side does limit its use when it comes to cutting certain foods.
Length & Reach
Measuring around 6.5 inches, it's slightly longer than some other available options. However, this means it's perfect for digging into food pouches or deep cooking pots without getting your fingers messy.
Material
The Vargo Titanium ULV is made entirely out of titanium, a material known for its durability and anti-corrosive properties. Its titanium build adds to its sturdiness, guaranteeing you the longevity you'd expect from a high-quality outdoor utensil.
Packability
Its slim design ensures it doesn't take up unnecessary space in your backpack. You can easily slot it in among your other gear, accentuating its usefulness for multi-day backpacking trips.
Value
When you consider the robust and durable construction, ease of cleaning, and added versatility, it's easy to see why user reviews online cite the Vargo Titanium ULV as great value for money. It's an investment in a tool that'll be part of countless adventures.
Versatility
The Vargo Titanium ULV is a great multi-tool. On one end, you've got a fork; flip it over and you've got a spoon. Plus, an added bonus is the built-in bottle opener, making it a fantastic versatile choice for any camper or backpacker.
Weight
While not the lightest available option, the Vargo Titanium ULV still packs impressive lightweight characteristics. It won't weigh your pack down and can be easily transported without feeling cumbersome.
Prices
Sea to Summit AlphaLight Long Spork
$11.95
Best Spork for Dehydrated Pouches
Based on our research and testing, we think the Sea to Summit AlphaLight Long Spork is a solid choice if you want a spork that's really well suited to Dehydrated Pouches.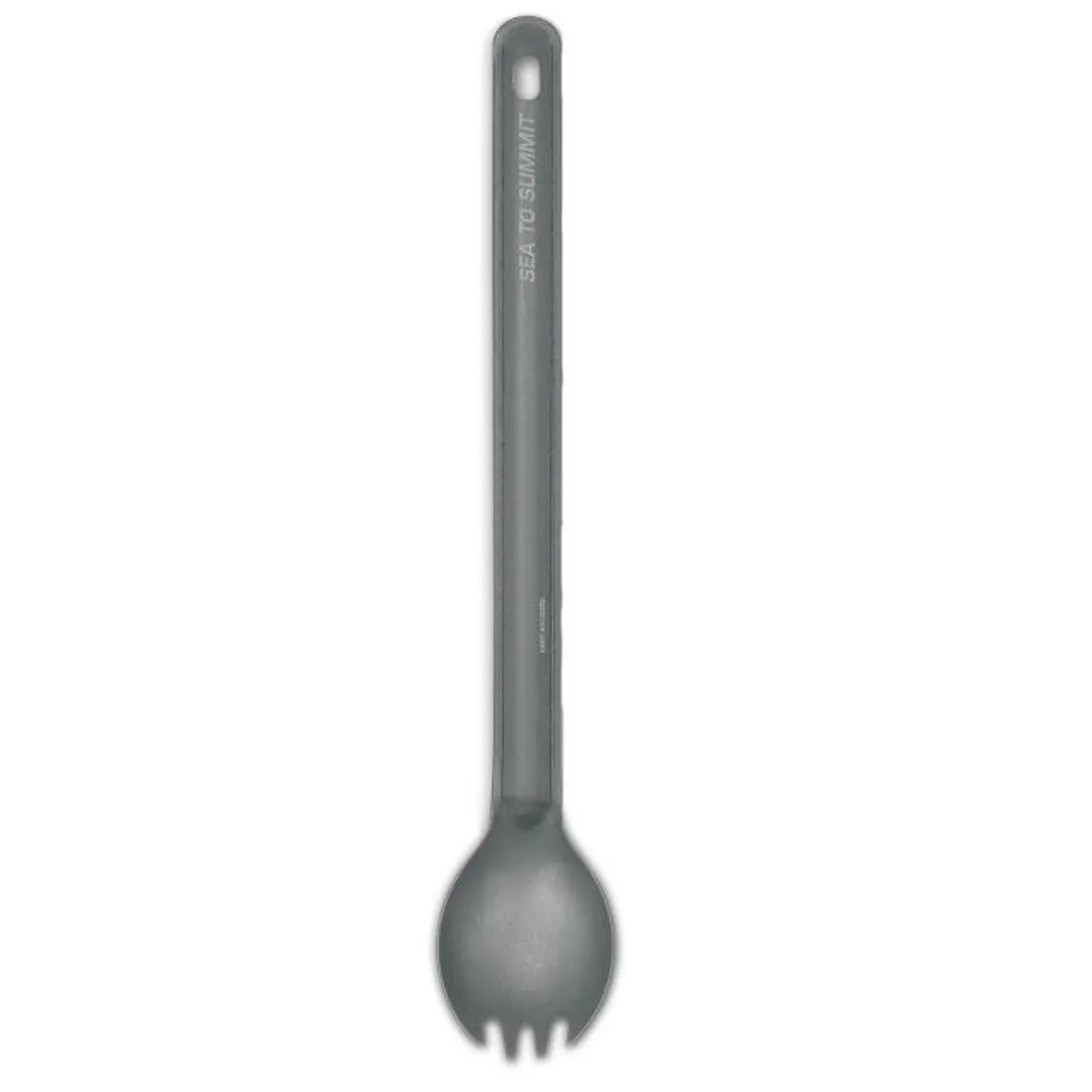 Reasons to Buy
Great for eating from meal pouches

Sturdy and durable

Really lightweight
Reasons to Avoid
A bit pricier than other sporks

Extra length can make packing it a bit awkward
The Important Specs
Length:

8.5 inches

Material:

Hard anodized 7075-T6 aluminum alloy

Handle Design:

Flat profile handle with hexagonal hole
Review Roundup
The Sea to Summit AlphaLight Long Spork is a real game-changer for any outdoor enthusiast keen on bringing comfort and convenience to their outdoor dining. The spork comes with a longer-than-average handle that makes it super easy to dig into those dehydrated pouch meals without getting your hands dirty - a plus for the trail or campsite.
Built from aircraft-grade aluminum alloy, this lightweight utensil is incredibly sturdy yet amazingly light - it slips into your backpack like it was never there. However, some buyers have expressed concern over its more delicate prongs. While they should handle most meals, you might want to be somewhat gentler with tougher foods.
Its smooth matte finish gives it a premium feel and prevents it from metallic taste – a detail appreciated by many campers. However, bear in mind that the finish might wear off after prolonged use.
Its ergonomically designed handle is another winner, offering a firm grip even for those with bigger hands. But we also came across reviews where users found the handle slightly uncomfortable after long use – a matter of personal preference it would seem.
If you're an environmentally conscious camper, you'd be pleased to know that the spork comes in a minimalist packaging, re-utilizing as little material as possible to lower its carbon footprint.
In terms of price, while the AlphaLight Long Spork isn't the cheapest option on the market, it's certainly fair game considering its practicality, sturdiness, and ultralight nature. A handful of buyers pointed out this, mentioning the spork was worth every penny.
Cleaning this spork is a piece of cake as it's safe to pop in the dishwasher. Yet, a few buyers mentioned its slenderness makes hand-washing a bit tedious due to residue getting stuck between the spork prongs.
Finally, while the Sea to Summit AlphaLight Long Spork is undeniably appreciated for its functionality, there are a few cases where users disagreed. A few found it on the pricier side for a single utensil, while others said it's perfect for its intended use - digging into deep, dehydrated pouches.
Durability
While generally dependable and tough for normal use, some users have reported that the metal might bend under extreme pressure but it quickly returns to its original shape.
Ease of Cleaning
Users have found it easy to clean, quick to dry and less prone to food clinging onto it. Nonetheless, its long handle can be a bit tricky to clean if not rinsed immediately after use.
Eating Efficiency & Design
The long and slender design of this spork makes it ideal for scooping up food from deep pouches and containers. Furthermore, the uniquely designed handle adds for comfortable grip.
Length & Reach
Its extra-long reach is definitely a plus for campers who regularly eat from dehydrated food pouches, putting an end to the days of messy hands and stained cuffs.
Material
The Sea to Summit AlphaLight Long Spork is crafted from 7075-T6 aluminum alloy and finished with an anodization process to boost its corrosion resistance.
Packability
This spork is very compact and conveniently clips to a carabiner or fits into any backpack pocket, making it a breeze to carry around on your outdoor adventures.
Value
While its price tag might be a bit higher than its competitors, the functionality and durability offered by the Sea to Summit AlphaLight Long Spork might well justify the extra bucks for avid backpackers and hikers.
Versatility
From camping classics like beans and franks to more gourmet fare, the Sea to Summit AlphaLight Long Spork handles everything you throw at it with ease but might be a bit awkward when eating hard foods due to its flat profile.
Weight
Despite feeling extremely light in hand, the AlphaLight Long Spork doesn't compromise on its durability or functional aspects.
Prices