Quick heads-up: some of the links on this page are affiliate links. If you make a purchase through them, we may earn a small commission (at no extra cost to you). This small bit of income helps keep our site running.
Best Backpacking Stoves of 2023
This post was last updated on December 06, 2023.
When it comes to backpacking, every gram counts. That's why the cooking stove you choose to carry can make all the difference between an enjoyable meal out in the wilderness and a burdensome cookout. The good news is that we've done the hard part for you. We've spent countless nights under the stars testing a variety of models, and we've found the best of the best, taking into account criteria such as weight, stability, fuel efficiency, and a whole lot more.
The unequivocal winner is the MSR PocketRocket 2. This lightweight champion packs a hefty punch, delivering impressive performance while remaining conveniently compact. Perfect for both solo adventurers and group outings, it ticks all the essential boxes.
Of course, we understand that not every hiker, backpacker, or mountaineer has the same needs or budget. That's why we've also included great recommendations for All-in-One, Budget, Ultralight, and Wood Burning stoves. Check out our guides, too, for Best Dehydrated Meals for Backpacking, Best Sporks, and Best Camping Cookware Sets, and get all the gear you need for your next outdoor trip.
Our Top Recommendations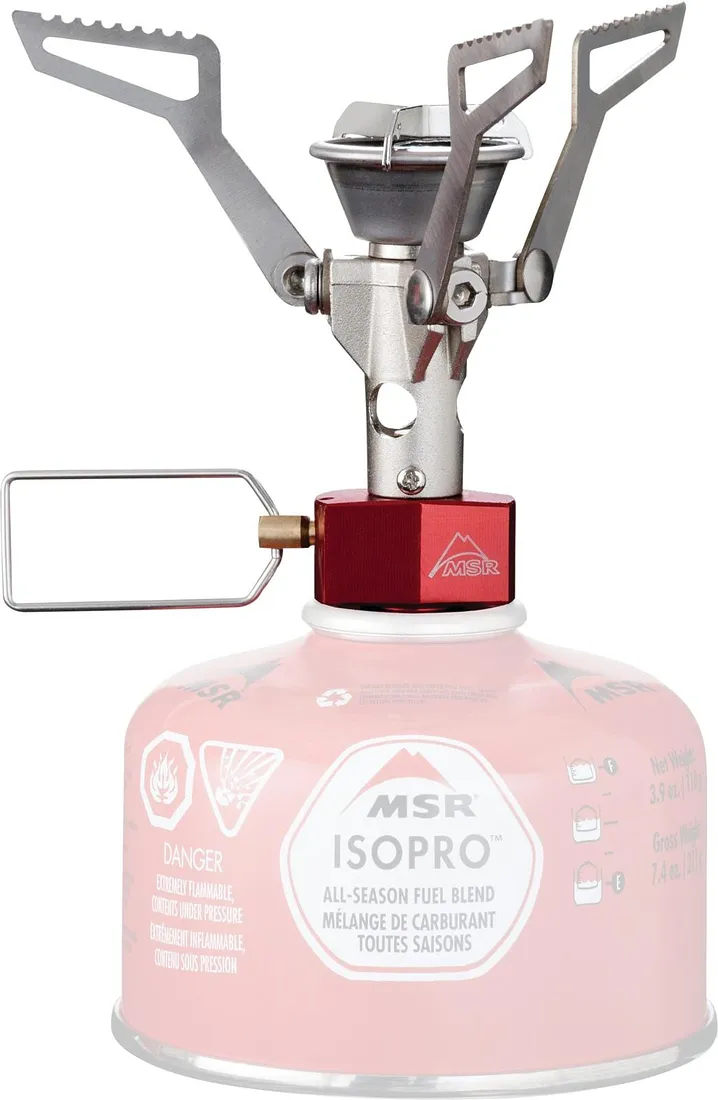 MSR PocketRocket 2
| | |
| --- | --- |
| Ease of Use | |
| Simmering | |
| Time to Boil | |
| Weight | |
The MSR PocketRocket 2 takes our top pick spot because it's simple and straight-forward use, has a compact, ultralight design, and is one of the cheaper options in the backpacking stove market.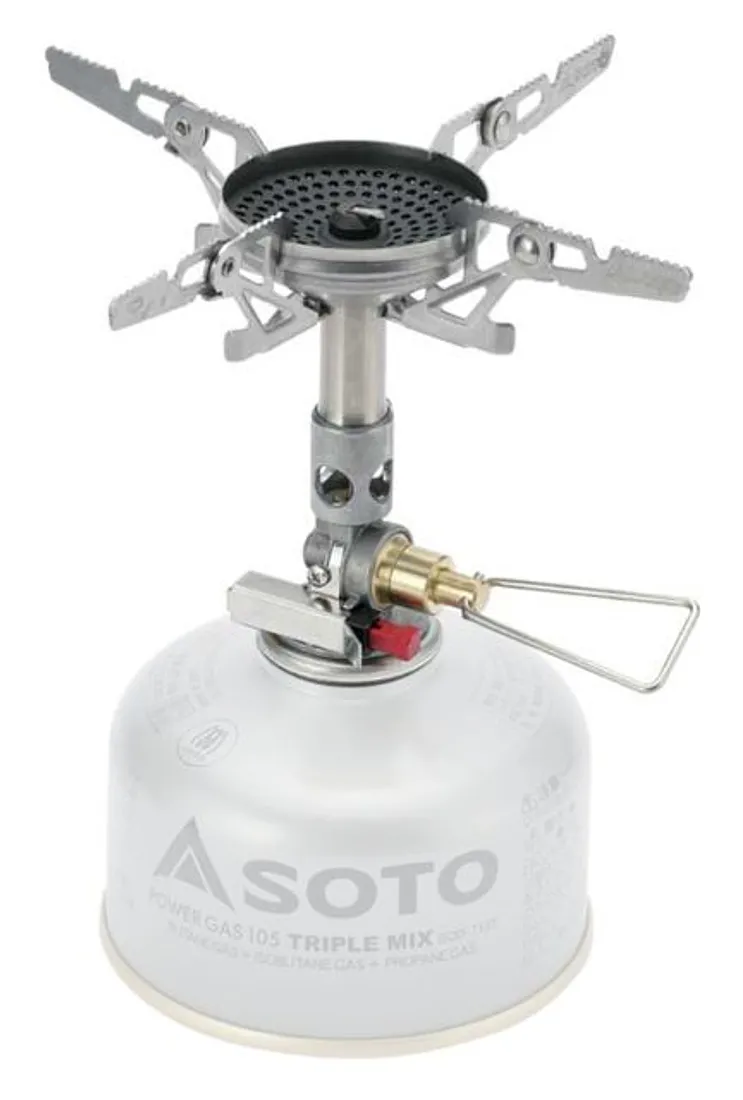 Soto Windmaster
| | |
| --- | --- |
| Ease of Use | |
| Simmering | |
| Time to Boil | |
| Weight | |
The Soto Windmaster is a great choice if you're looking for a built in ignitor, and aren't worried about a little bit of extra weight and bulk.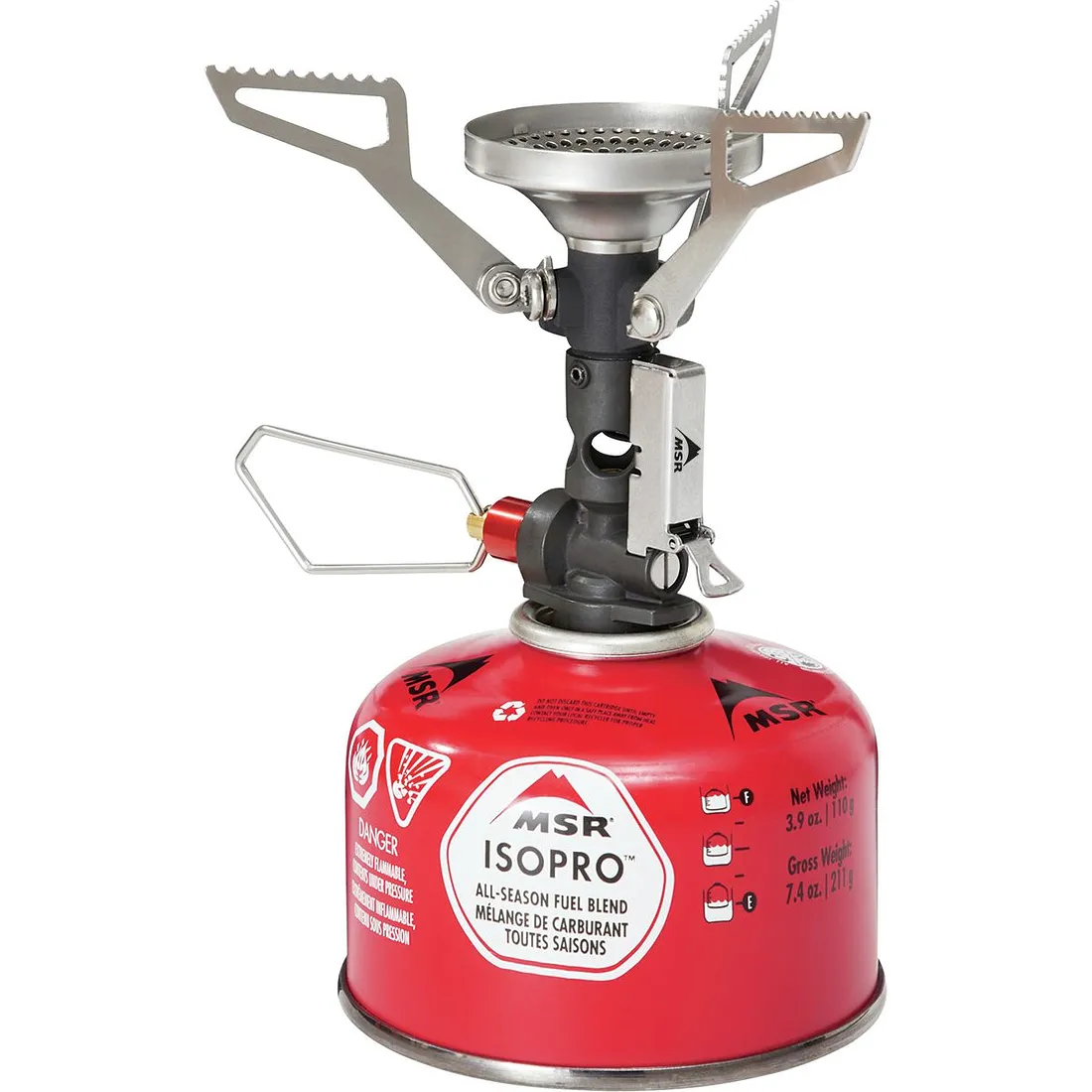 MSR PocketRocket Deluxe
| | |
| --- | --- |
| Ease of Use | |
| Simmering | |
| Time to Boil | |
| Weight | |
The MSR PocketRocket Deluxe is the upgraded version of our top pick. It has a more modern burner design and a built in ignitor, but at the cost of a bit of extra weight. It loses points in the Ease of Use category due to some reports of an unreliable ignitor.
What you should look for
(and what we test for)
Fuel Type
Consider the type of fuel the stove uses, as some will need specific cartridges or liquid fuel which may be tricky to find on longer treks.
Stove Weight
Make sure to check the weight of the stove; while some models are light as a feather, others can add unexpected pounds to your pack.
Cooking Speed
Think about how quick you want your food and drinks ready, because stoves can vary dramatically in their boiling times and overall cooking speed.
Weather Resistance
Be sure your chosen stove can hold its own against wind and cold, since nothing ruins a camping trip quicker than a stove that fails in adverse weather conditions.
MSR PocketRocket 2
$59.95
The Best Backpacking Stove
Based on our research and testing, we think the MSR PocketRocket 2 is the best Backpacking Stove on the market right now, for anyone looking to play hard outside.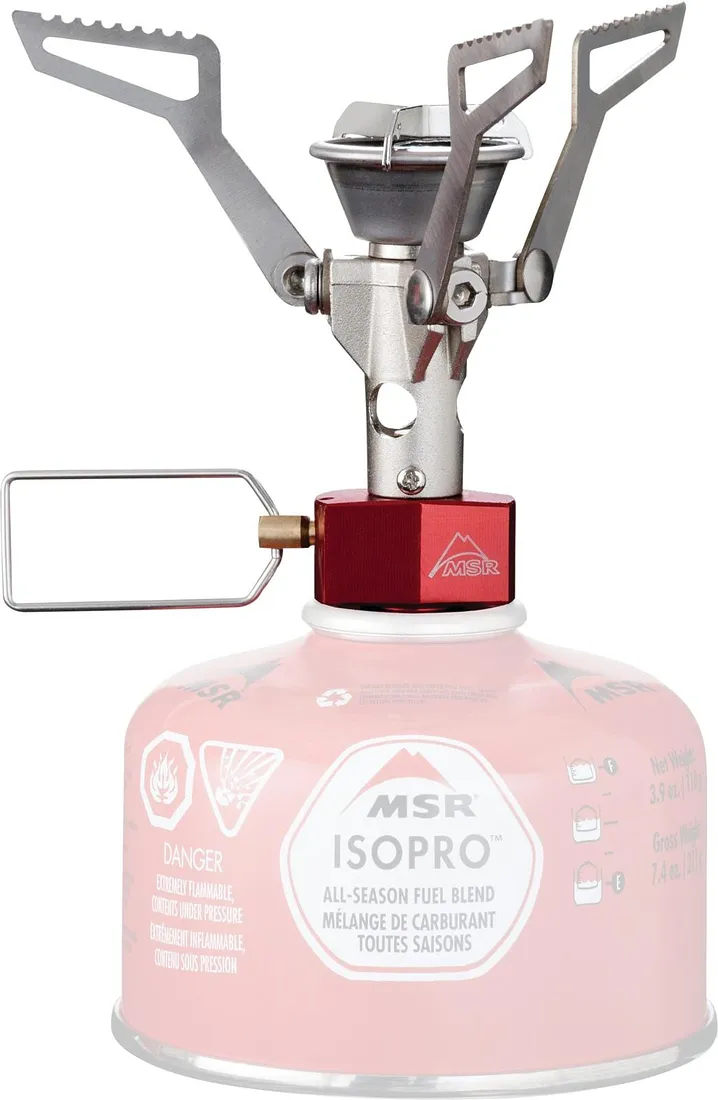 | | |
| --- | --- |
| Ease of Use | |
| Simmering | |
| Time to Boil | |
| Weight | |
Reasons to Buy
Extremely Compact and portable

Easy to set up and use

Affordable and good value for money

Great reputation and positive user reviews
Reasons to Avoid
Doesn't perform optimally in windy conditions

Manual ignition, no automatic igniter included
The Important Specs
Fuel Type:

Canister (IsoPro)

Dimensions:

4.8 x 4.8 x 3.6 inches

Boil Time (1 Liter):

3.5 minutes

Burn Time (Iso Pro Canister):

60 minutes
The MSR PocketRocket 2 is a standout choice in the realm of portable stoves, securing our top pick spot with its ultralight and compact design. It effortlessly fits into a pot alongside a propane canister, lighter and pot holder, making it an ideal companion for backpacking. It's ability to simmer is great. It's also one of the cheaper backpacking stoves on the market, which makes it fantastic value.
While the PocketRocket 2's boil time is reasonably good (and does great with simmering), it does have some limitations in windy environments. But wind sheilds are cheap (I made one out of tinfoil that weighs nothing and folds down small) so we don't put too much weight in how it performs in the wind. Another point to consider is the absence of a built-in piezo ignitor, a feature increasingly common in backpacking stoves. Ignitors are nice to have but can be finnicky, and given that most outdoor enthusiasts carry matches or a lighter anyway, this omission isn't a significant drawback. If you do want an ignitor, check out the MSR PocketRocket Deluxe, our #2 top pick. It's the upgraded version of this stove (with a piezo ignitor).
The metal lever that controls the burn rate is remarkably easy to operate, even when wearing gloves, which is a handy feature in colder conditions. The stove's metal arms are sufficiently large to provide stable support for pots, ensuring cooking stability for any pot up to about 2 pepole. However, for larger groups of three or more, you might need to consider larger pot sizes and larger stoves. Overall, the MSR PocketRocket 2's combination of simplicity, efficiency, and practicality makes it an excellent choice for backpackers and outdoor enthusiasts.
Prices
Runner Up
Based on our research and testing, we think the Soto Windmaster is a great choice if you're looking for a backpacking stove to go play hard outside with, if our top pick isn't quite what you're looking for.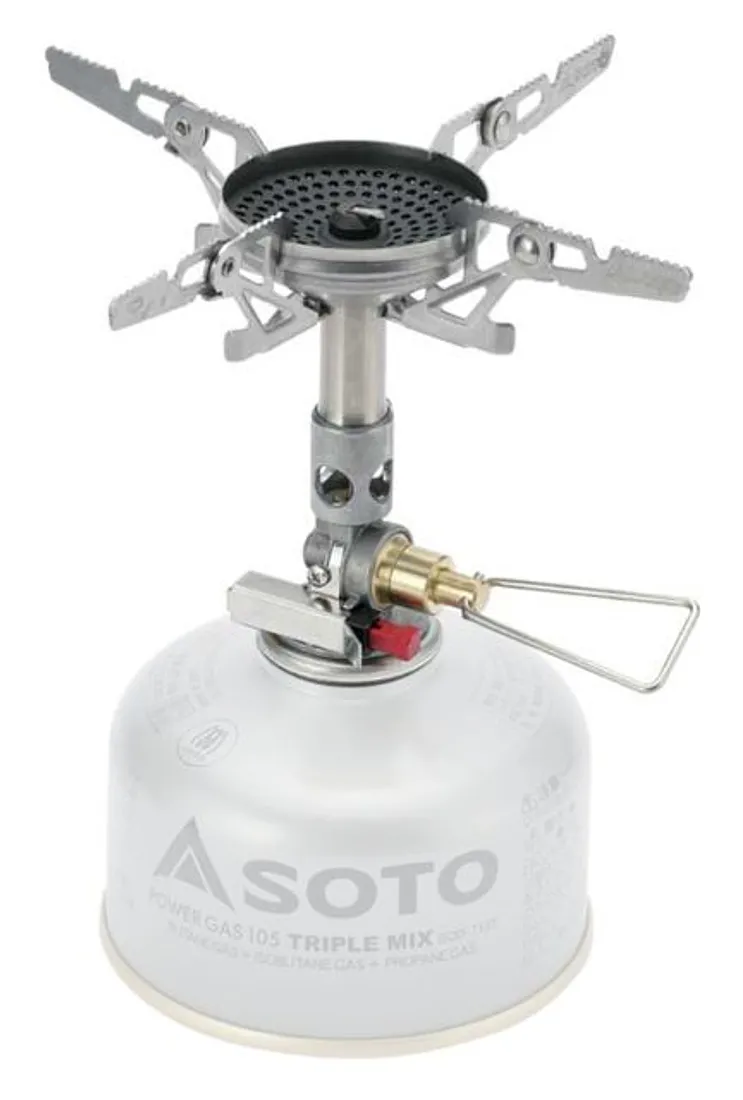 | | |
| --- | --- |
| Ease of Use | |
| Simmering | |
| Time to Boil | |
| Weight | |
Reasons to Buy
Extremely wind-resistant

Sleek compact design

Easily adjustable flame control

Efficient fuel use
Reasons to Avoid
Pricey for a backpacking stove

Need to buy fuel canister separately

Pot stand can be tricky to use
The Important Specs
Boil Time:

2 minutes 30 seconds per liter

Fuel Type:

Isobutane-propane

Average Burn Time:

12 mins per 250g canister

Dimensions Folded:

14.5 x 9.2 cm
Review Roundup
The Soto Windmaster is a backpacking stove that's received some pretty solid feedback from the outdoor community because of its top-end functionality and design. This stove might be a lightweight piece at just 67 grams, but don't mistake its lack of weight for lack of power. It kicks out a significant amount of heat, making it an invaluable tool when out in the wilderness.
What's particularly great about the Windmaster is its namesake - wind resistance. This little guy stands up to gusty conditions surprisingly well, thanks to its in-built concave burner design and its unique pot support system that helps to minimize the effects of wind. There's nothing quite as frustrating as staring at a lukewarm can of beans because the wind keeps messing with your stove, and with the Soto Windmaster, folks have found this to be pretty much a non-issue.
Users have commented on the excellent fuel efficiency of this stove. It uses a technology called 'Micro Regulator' that maintains a consistent output in all weather conditions. This really helps in reducing the amount of fuel you need to carry on your trip, every ounce counts when you're backpacking, right?
The Soto Windmaster isn't without its criticisms though. Some customers felt that while the Windmaster excelled in windier conditions, it was somewhat less effective during calm, still weather. And, even though this stove is a big hit with its heat output, a few users have expressed some concerns about its simmer control not being as precise as they'd want.
Notably, a handful of users have written in their reviews that they found the ignition process not always being reliable on the first try. It seems to require a few clicks now and then to get it going, but they also said once it's up and burning, it holds its flame confidently.
The Soto Windmaster, overall, is one of the best backpacking stoves on the market today. It has managed to strike the right balance between power, efficiency, and weight. Users have largely shared positive experiences, making it a reliable option for adventurers who demand performance from their gear.
Boil_Time_Heat_Output
Exhibiting a speedy boil time, the Windmaster gets your meals ready in no time. Reviewers have noted that even in windy conditions, it maintains impressive heat output, living up to its name.
Durability
Constructed with high-quality materials, this stove is built to last. It's been praised by users for enduring heavy use and various outdoor conditions while still maintaining its performance.
Ease_Of_Use_Ignition
With its one-touch Piezo igniter, the Windmaster is extremely easy to ignite even in windy conditions. The flame control is also straightforward to use, offering precise heat control.
Fuel_Efficiency_Type
This stove uses Isobutane-propane which is both efficient and widely available. Buyers love how little fuel it uses, effectively saving weight and money on gas canisters.
Packability
Featuring a compact design, the Windmaster is a dream to pack. Its pot supports fold up neatly, and the stove itself nestles cozily into its storage pouch.
Stability
Despite its compact size, the Windmaster is stable when cooking. Its concave design keeps your pots secure, although some users have mentioned that the pot stand can be a tad tricky to operate.
Value
While the Windmaster is pricier than some other backpacking stoves, most users agree that the cost is justified by its performance, fuel efficiency, and resilience.
Weight
The Soto Windmaster is quite a lightweight backpacking stove, ticking all the right boxes for those who care about keeping their pack light. However, don't be fooled by its lack of weight, it doesn't compromise on performance.
Prices
MSR PocketRocket Deluxe
$84.95
Runner Up
Based on our research and testing, we think the MSR PocketRocket Deluxe is a great choice if you're looking for a backpacking stove to go play hard outside with, if our top pick isn't quite what you're looking for.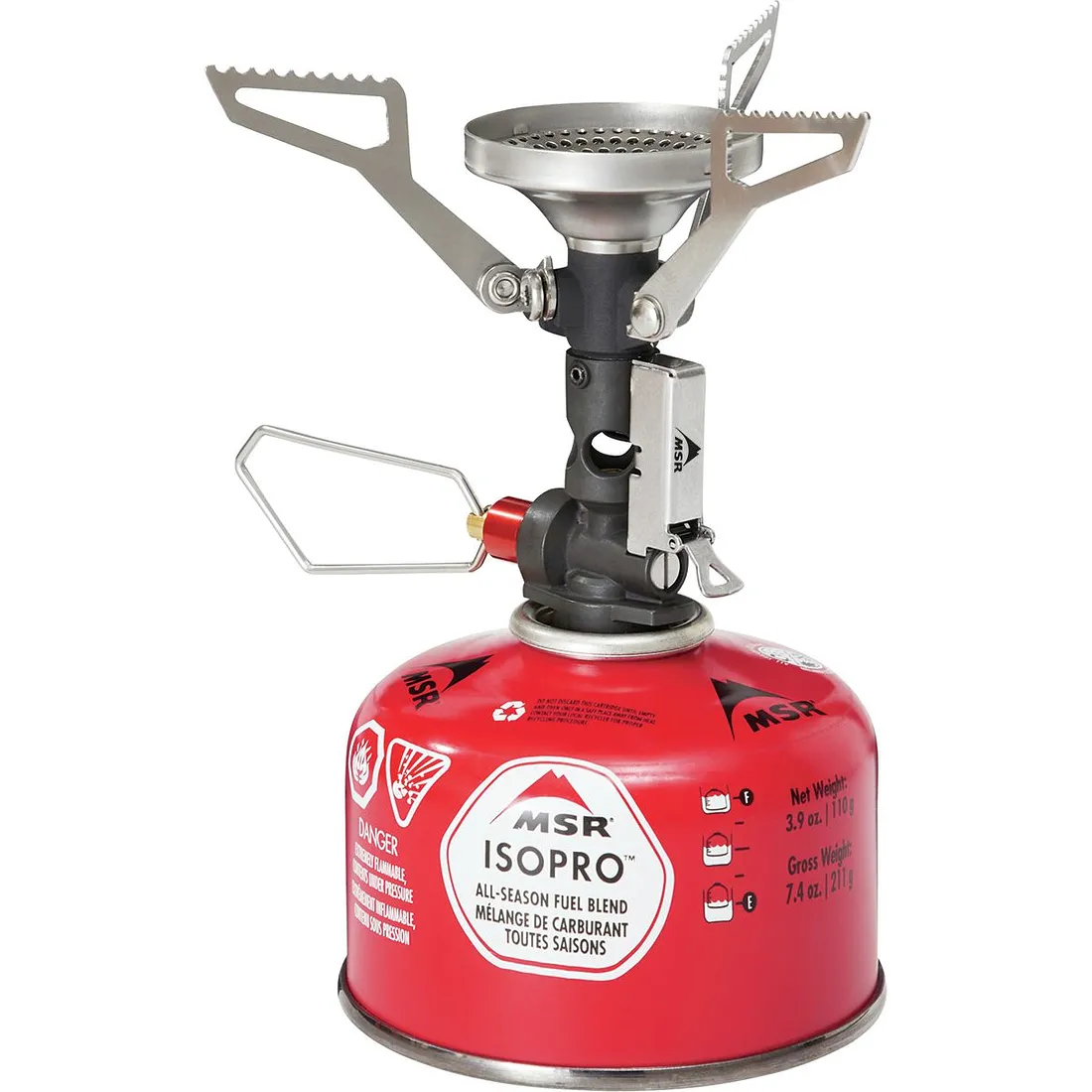 | | |
| --- | --- |
| Ease of Use | |
| Simmering | |
| Time to Boil | |
| Weight | |
Reasons to Buy
Fantastic heat control

Reliable ignite feature

Portable size

Solid build quality
Reasons to Avoid
Slightly expensive

Can be unstable with larger pots

Can struggle in windy conditions
The Important Specs
Fuel Type:

Isobutane-propane

Dimensions:

3.3 x 2 x 1.7 inches

Heat Output:

8800 BTUs

Water Boiling Capacity:

1 liter
Review Roundup
If you're looking for a little powerhouse on your outdoor adventures, the MSR PocketRocket Deluxe is your go-to buddy. It's a compact, lightweight stove that will take up almost no room in your backpack, yet packs the kind of punch you'd expect from a much larger stove.
Its design is super easy to use. Whether you're a seasoned outdoor adventurer, or it's your first time trailblazing, you'll find it a breeze to get this stove up and running. Users consistently comment on its super easy setup, and how no-fuss the Piezo ignition is - you'll have that water boiling for your morning coffee in no time!
Performance wise, the MSR PocketRocket Deluxe knocks it out of the park. Consumers have praised its outstanding boil time, and how it works efficiently even in harsh weather. MSR calls it 'consistent output in cold weather' and users certainly vouch for that, stating it worked perfectly during windy conditions, high elevations, even in the snow!
Let's talk about its lightness. Weighing in around 2.9 ounces, this stove is basically a featherweight champ, perfect for those needing to keep their backpacks as light as possible. Don't let that fool you however, users also talk about its rugged durability, with some adding they'd used their PocketRocket for years, and can always rely on its dependability.
It's mostly roses, but there are a few thorns. The biggest one being stability. Several customers mention that the design, while impressive in its compactness, leaves a little bit to be desired when it comes to locking the stove on a canister, which could potentially cause issues when cooking a larger meal.
Another slight drawback pointed out by users is its simmer control. Even though the PocketRocket Deluxe offers adjustable simmer control, some users have found it to be a little bit finicky, making precise adjustments a little tricky.
That said, the MSR PocketRocket Deluxe is favorably reviewed by the vast majority of users, finding its way to the top of many backpacking stoves lists. For those with a focus on weight and reliability, this little powerhouse delivers, and looks to remain a solid choice among enthusiasts and beginners alike.
Boil Time & Heat Output
With a high heat output of 8800 BTUs, it impressively boils 1 liter of water in around 3.3 minutes. Users have praised its broad flame distribution and the impressive flame control.
Durability
Durability is another strong point of this stove, with users reporting that the robust metal build quality stands up well to heavy backpacking use. However, avoid dropping it from height as it can damage the internal components.
Ease of Use & Ignition
The push-button ignite is user-friendly and reliably sparks up on the first or second try. The flame control is also fantastic, allowing for versatile cooking from simmering to full boil.
Fuel Efficiency & Type
The stove uses commonly available isobutane-propane gas canisters and the fuel efficiency is top-notch. Customers have reported it lasts quite long on a single canister.
Packability
Thanks to its integrated compact design, it packs away in almost all pot sets effortlessly. Its foldable pot supports aids in its overall compact design.
Stability
While the stove offers good stability for small to medium pots, customers have noted that it can be a bit wobbly when used with larger pots, especially in windy environments.
Value
While the price tag might be slightly higher than other backpacking stoves, customers agree that the performance, durability, and ease of use offer good value for the investment. However, for budget-conscious customers, there are cheaper alternatives with decent performance.
Weight
Despite being on the heavier side in comparison to other backpacking stoves on the market, the PocketRocket Deluxe's weight hardly affects its convenience. However, for those seeking the lightest possible load, there are alternative options.
Prices
Soto Amicus
Best Budget Backpacking Stove
Based on our research and testing, we think the Soto Amicus is a great pick if you're looking for a backpacking stove that is more budget friendly, without sacrificing too much in quality.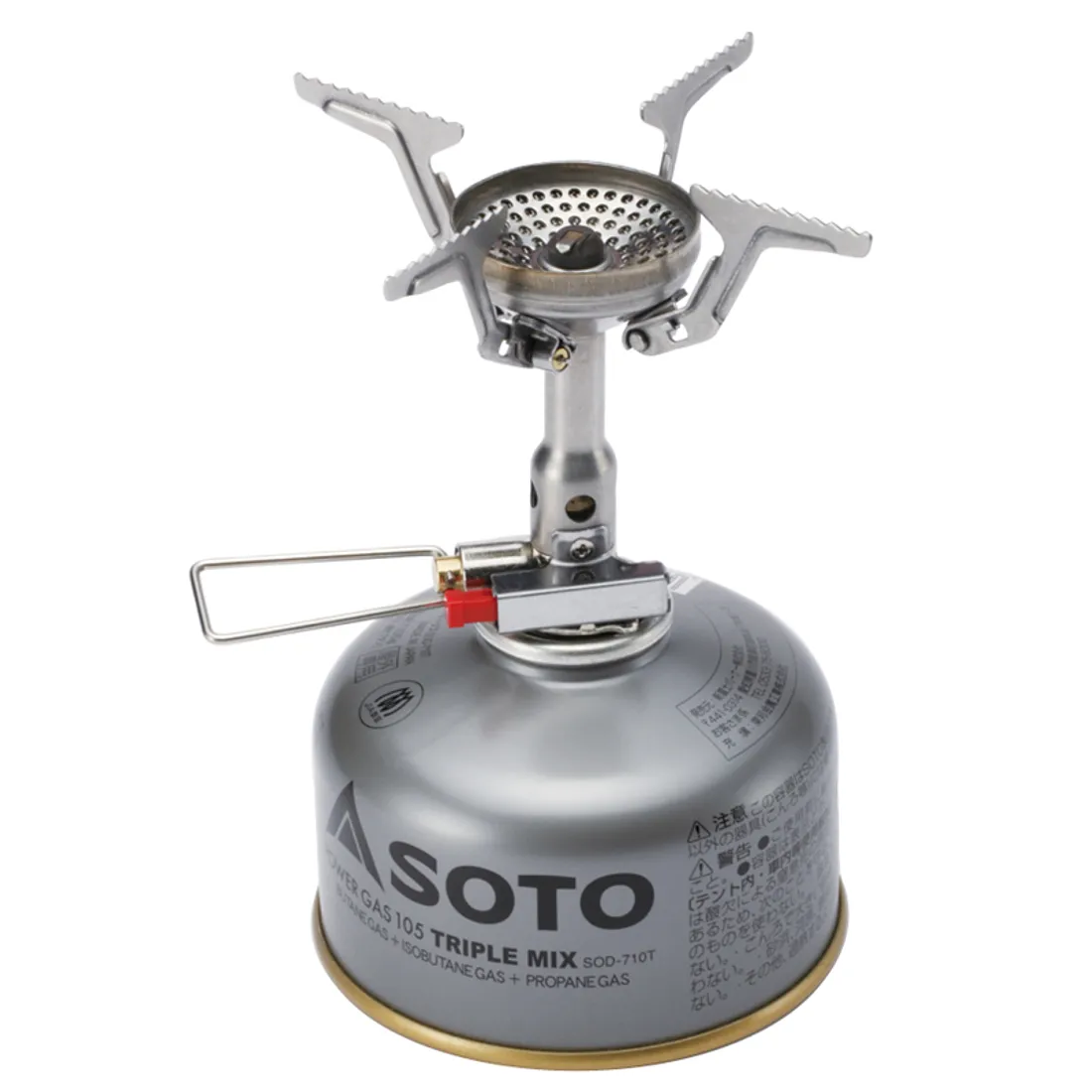 Reasons to Buy
Affordable price point

Compact design for easy packability

Impressive fuel efficiency

Integrated igniter
Reasons to Avoid
Doesn't heat as quick as pricier models

Lightweight material might not hold up under rough treatment

Tiny pot supports can be a bit finicky
The Important Specs
Boil Time:

3.5 minutes per Liter

Fuel Type:

IsoPro/Propane

Dimensions:

4.7 x 3.8 x 3.3 inches

Heat Output:

10200 BTU
Review Roundup
Let's chat about the Soto Amicus. This budget-friendly backpacking stove is a real diamond in the rough when it comes to affordability and function. It's no surprise that it's garnered some rave reviews from people snapping up a bargain that doesn't sacrifice performance on the trail.
What stands out about the Soto Amicus is its compact design. It's small and light enough to slip into any crammed backpack, without feeling like you're lugging around a house brick. What's more, despite its size, it punches way above its weight when it comes to boiling your water or whipping up meals in a jiffy.
Users also loved just how sturdy this stove is. You won't have any toppling pots here, the Amicus is designed with a four-pronged support that's capable of holding even wider pots steady. As many users point out online, this allows for a more generous meal capacity if you're cooking for more than just yourself out in the wilderness.
Another major talking point was the Soto Amicus's wind resistance. Users found that even when your camping spot is more breezy than calm, the concave burner design does an excellent job at withstanding wind. It acts like a little fortress surrounding your flame and keeps it going strong, making it an absolute winner in windy conditions. Quite a few users mentioned that this feature outperforms more expensive stoves they have used making it a solid choice for unpredictable weather.
Now, while the Soto Amicus is indeed an impressive stove, it's not without some niggles. There have been a few grumbles online about the compatibility of the screw thread with certain gas canisters. A handful of users reported difficulty attaching it, which can be a bit of a dampener when you're exhausted and just want that quick cuppa. However, once you're past this initial hurdle, it seems to function fine.
The lack of an ignition system also came under fire by some users. While it keeps the stove simple and the cost down, it does mean you need to carry a lighter or matches, which is one more thing to remember on your packing list. That being said, many users still thought that for the budget price and rock-solid performance, it was a minor inconvenience at worst.
Boil Time & Heat Output
Not the fastest in our test batch, it nevertheless boiled a liter of water in about 3.5 mins. With a heat output of 10200 BTU, it does a satisfactory job for its size and price.
Durability
Despite the concerns raised due to its slightly delicate, lightweight material, the Soto Amicus holds up pretty well. Its pot supports, however, require careful handling.
Ease of Use & Ignition
The ignition on the Soto Amicus is mostly reliable. The stove is simple to use even for camping novices, starting up with just a flick, while the flame control is decent, allowing for a broad range of heating options.
Fuel Efficiency & Type
Running on an IsoPro/Propane mix, the stove shows impressive fuel efficiency. Even in windy conditions, one small canister can last a surprising amount of time.
Packability
This stove's dinky size, thanks to its foldable pot support, makes it an easy fit in any backpack. It also comes with a neat, small protective case, ensuring secure stowage.
Stability
The Amicus stands stable enough on a flat surface, but the tiny pot supports can feel a little finicky, especially with larger pots.
Value
With its affordable price tag and decent functionality, the Soto Amicus provides good value for the thrifty backpacker. It might not be the most powerful or fast, but gets the basics right at a reasonable cost.
Weight
The Soto Amicus clocks in at just 2.9 ounces without the igniter. This makes it a great pick for backpackers keen on keeping their load light while not compromising on functionality.
Prices
No prices found. Check back later!
Snow Peak LiteMax Stove
$59.95
Best Ultralight Backpacking Stove
Based on our research and testing, we think the Snow Peak LiteMax Stove is a solid choice for those looking for a lightweight backpacking stove option to go play hard outside with.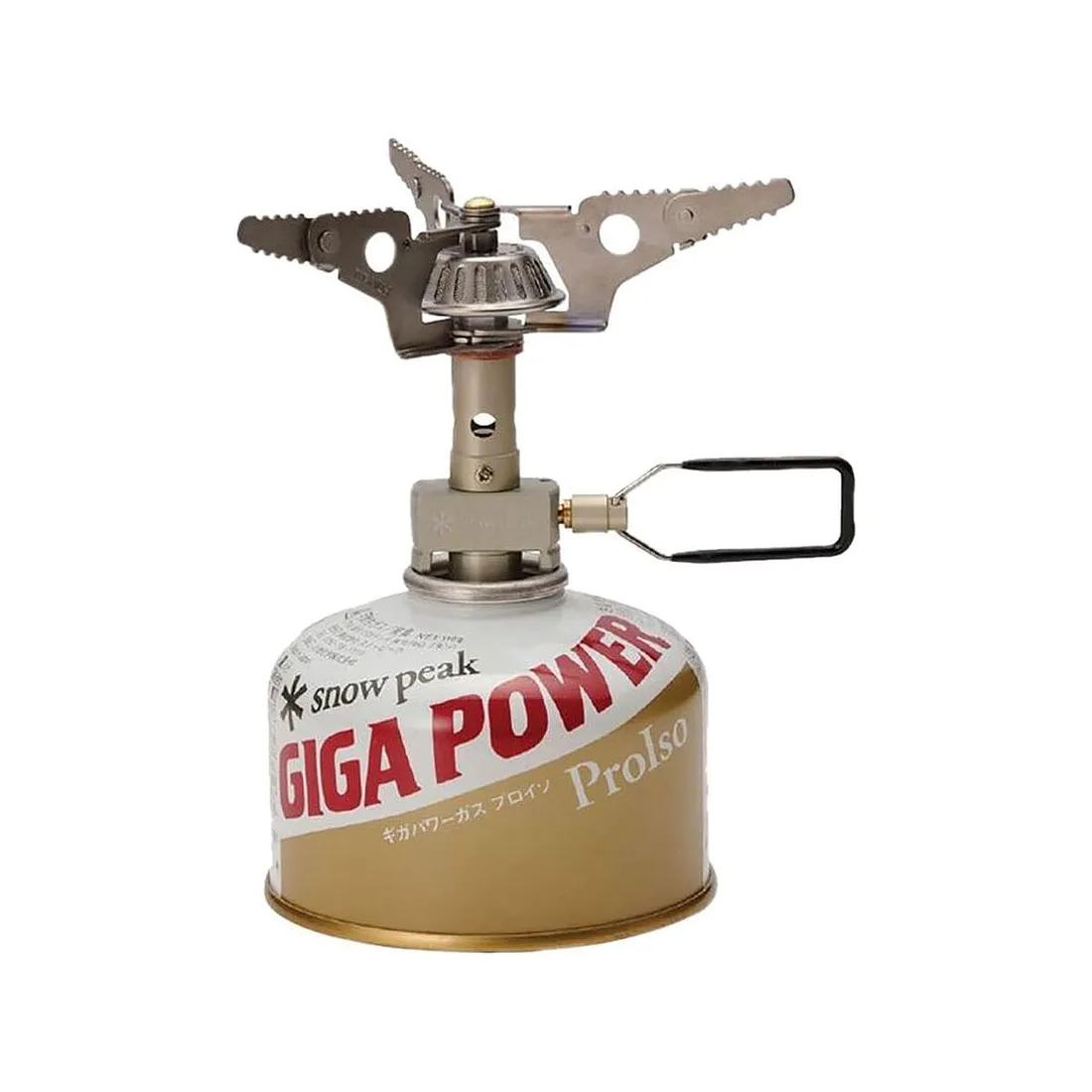 Reasons to Buy
Super lightweight

Compact design

Easy to use

Powerful heat output

Efficient fuel use
Reasons to Avoid
Slightly expensive

Pots can be a tad unstable

Sturdiness could be better
The Important Specs
Boil Time:

4.5 minutes for 1 liter

Fuel Type:

Isobutane canister

Dimensions:

3.125 x 2.625 inches

Heat Output:

11000 BTU
Review Roundup
The Snow Peak LiteMax Stove is a darling in the Ultralight category for seasoned backpackers and casual campers alike. With a featherweight of just 2 ounces, this stove is a dream for those who prioritize light packing but don't want to compromise on performance. Sleek design and compactness bribe the eye, and it fits easily into the nooks and crannies of your pack, saving up valuable space. The burner head and pot supports are constructed from high quality, durable titanium, ensuring longevity despite its small size.
This minimalist stove stands out for its efficient fuel consumption. When you are miles away from civilization, every drop of fuel counts, and the LiteMax brings food to boil in a respectable time with less gas than most competitors. Its design utilizes the windscreen feature effectively, which comes as a relief when you find yourself in less than ideal weather conditions.
An attribute that buyers rave about online is the LiteMax's simple, easy-to-use design. You're probably out there to enjoy nature, not to wrestle with a rebellious stove. Clear directions and intuitive setup ensure you're enjoying your well-deserved meal in no time.
However, some users have pointed out an issue when using larger pots. Due to its compact size, the lack of wider support can lead to stability problems when using oversized cookware. So, if your backpacking meal plans include cooking massive amounts of food at once, this petite beauty might encounter some challenges. Some users have also reported issues in high-altitude performances, where the stove struggled to stay lit.
Despite its minor drawbacks, the Snow Peak LiteMax Stove continues to win hearts with its blend of performance and portability. It's lightweight, fuel efficient, durable, and user-friendly, standing as a strong recommendation for anyone seeking a high-performing, minimalist backpacking stove.
Boil Time & Heat Output
Despite its compact size, users are impressed with the heat output. The LiteMax boasts a powerful 11,000 BTU of firepower. It performs efficiently even in windy conditions, boiling 1 liter of water in around 4.5 minutes.
Durability
A slight downside as some users pointed out that it's not as sturdy as heavier models. That said, with moderate care and proper usage, this stove can last several seasons of camping and backpacking.
Ease of Use & Ignition
Many users loved its simplicity and functionality. Its straightforward setup and convenient ignition make it a user-friendly option for all, be it beginners or experienced backpackers.
Fuel Efficiency & Type
Although it's not the most fuel-efficient stove, users report that it's quite respectable in this department. It operates on isobutane canister fuel, making it compatible with a wide range of fuel available in the market.
Packability
The design of this stove is so compact that most users mention it practically disappears in their cook kits. Its minimalist design folds down to a slim package, allowing it to fit comfortably in any backpack, regardless of size.
Stability
The only drawback most customers noted is stability. Pot support can be a bit of a balancing act, especially for larger pots. However, with a little bit of patience and careful placement, it works just fine.
Value
Although a tad on the pricey side, most buyers felt the ease of use, portability, and power of the LiteMax provided adequate value for the money spent.
Weight
Snow Peak LiteMax is a gem when it comes to weight. It's one of the lightest stoves available which makes it very popular among backpackers. People appreciate the lightness which cuts down their backpack weight significantly.
Prices
Jetboil MiniMo Cooking System
$164.95
Best Backpacking Stove for All-in-One
Based on our research and testing, we think the Jetboil MiniMo Cooking System is a solid choice if you want a backpacking stove that's really well suited to All-in-One.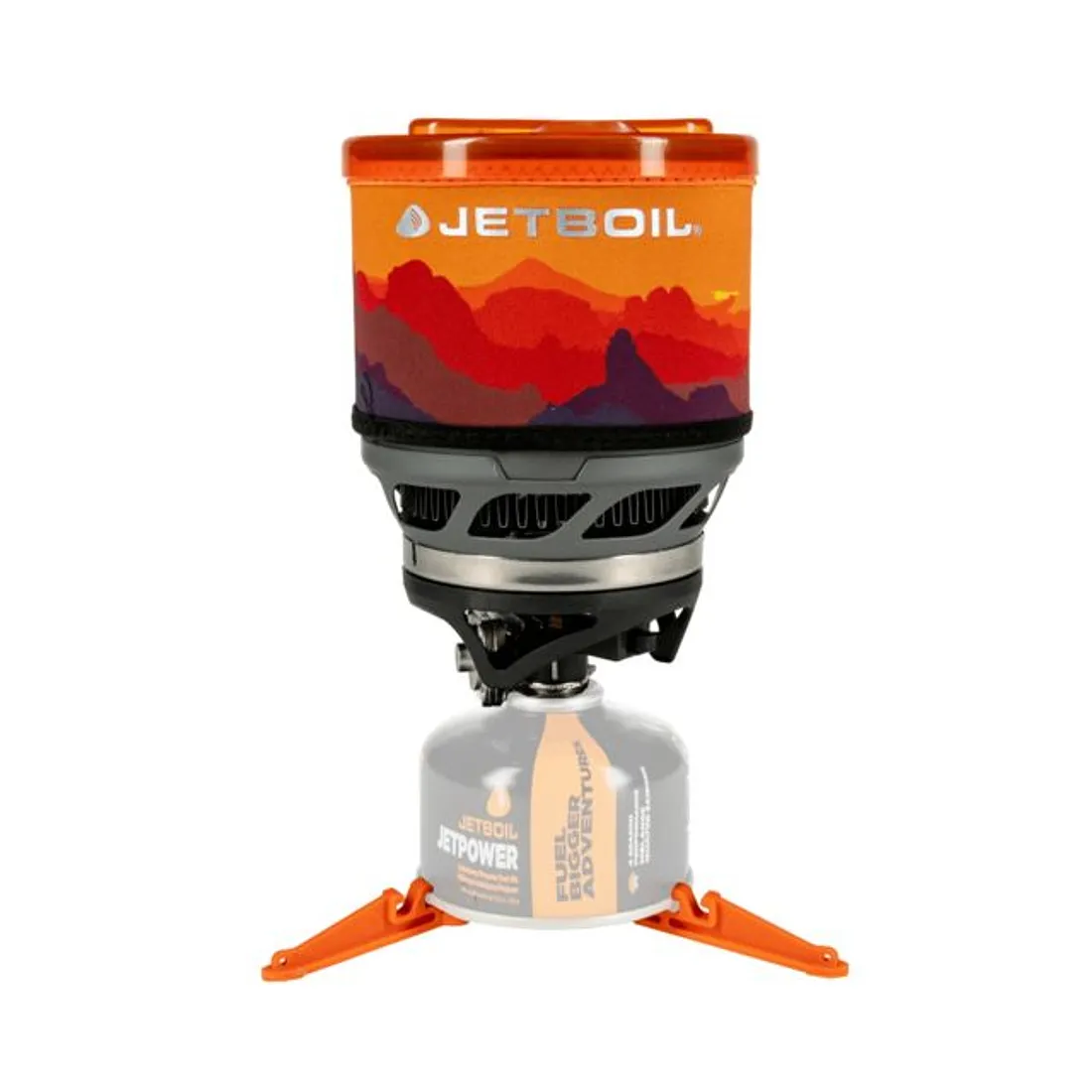 Reasons to Buy
Compact design making it easy to pack

Fast boil time

Durable construction for rugged use

Regulator allows for better flame control

Ideal for gourmet cooking on-the-go
Reasons to Avoid
A bit pricey

Not the lightest in its class

Doesn't perform well in windy conditions

Can only accommodate Jetboil accessories and pots
The Important Specs
Volume:

1 liter

Material:

High-grade anodized aluminum and stainless steel

Boil Time:

4 minutes 30 seconds per 1 liter

Burn Time:

Up to 60 minutes per 100g Jetpower can

Fuel Type:

Isobutane-propane

Dimensions:

5.0 x 6.0 inches

Ignition Type:

Push-button igniter
Review Roundup
The Jetboil MiniMo Cooking System, an all-in-one outdoor cooking gear, has garnered significant appreciation from camping and backpacking enthusiasts. It's reputed for its compact design, making it a breeze to tuck into your backpack for any outdoor adventure. Moreover, being lightweight at just 14 ounces, it won't add much bulk to your backpack, which is a big plus for backpackers who need to keep their weight load in check.
Fuel efficiency is another notable strength of this stove. It features a regulated heat control that allows for a fine-tuned cooking experience, even in colder temperatures. According to a good number of buyers, even when they had to cook in frosty conditions, the Jetboil MiniMo didn't disappoint with its consistent performance.
One of the product's unique selling points is its simmer control. Users have lauded this feature for providing a perfect balance between hardcore boiling and slow cooking. Whether you want to enjoy a boiled egg or a well-cooked soup in the woods, the Jetboil MiniMo has got you covered. The push-button igniter only adds to the product's convenience.
However, this stove is not without its flaws. Although the all-in-one design is commendable for its convenience, some users have reported that cleaning the pot can be a bit challenging. Crumbs and food pieces often get stuck near the heat exchanger, requiring extra effort for thorough cleaning.
Another issue highlighted by few customers is the lid design. While it's designed to double as a strainer or a measuring cup, replacing it securely on the pot can be tricky for some, especially in windy conditions. This minor design flaw has somewhat annoyed a few campers.
Overall, the Jetboil MiniMo Cooking System has proven to be a reliable, durable, and efficient companion for many outdoor expeditions. From its space-efficient design and weight to its impressive fuel efficiency and simmer control capabilities, it's received mostly positive reviews from users. However, taking into account the cleaning challenges and lid issues, some campers have recommended factoring these in before making a purchase.
Boil Time & Heat Output
In just about 4.5 minutes, the MiniMo can boil a liter of water, making it one of the quickest in its class. The heat output is also commendable with a simmer function that prevents your food from burning.
Durability
This all-in-one system is made from high-grade anodized aluminum which gives it rugged durability. Coupled with its stainless steel burner, this stove is built to withstand the harsh elements outdoors.
Ease of Use & Ignition
The MiniMo is super easy to use with its push-button igniter and flame control regulator. The color change heat indicator is also a handy feature contributing to its ease of use.
Fuel Efficiency & Type
The Jetboil MiniMo uses isobutane-propane fuel which is efficient and widely available. Its regulator and enhanced valve design allow for great simmer control, meaning you can stretch your fuel for longer periods compared to other stoves.
Packability
The MiniMo's design allows you to nest a 100g fuel canister inside, making it a compact and neat package to carry. The slim design and integrated pot make it a breeze to pack into your bag.
Stability
With its low profile design and sturdy base, the MiniMo is a stable stove on a solid platform. However, in windy or uneven conditions, stability may be compromised.
Value
While the Jetboil MiniMo may be on the pricey side, its top-notch performance, durability, compactness and ease of use certainly justify the cost. For serious backpackers who value quality, we believe it's a worthy investment.
Weight
Though the Jetboil MiniMo is not the lightest on the market, its compactness and performance makes up for those extra few ounces. It weighs under a pound, even with its sturdy construction and all-inclusive design.
Prices
MSR Whisperlite Universal
$199.95
Best Backpacking Stove for Multi-fuel
Based on our research and testing, we think the MSR Whisperlite Universal is a solid choice if you want a backpacking stove that's really well suited to Multi-fuel.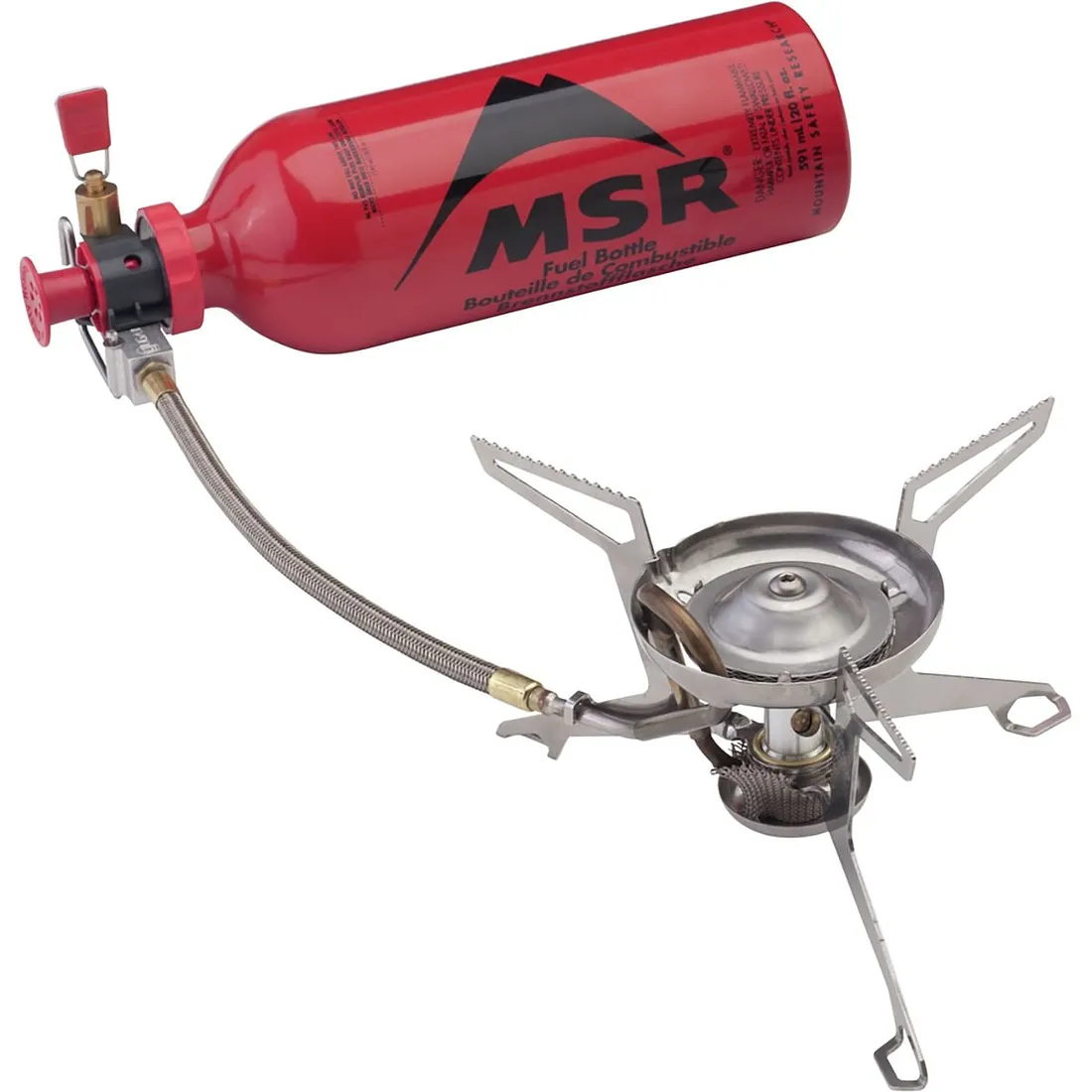 Reasons to Buy
Versatile fuel compatibility

Stable and durable structure

Great heat output and boil time

Easy to use and reliable ignition
Reasons to Avoid
Could be a bit lighter

Packing size could be smaller

Slightly complex to assemble
The Important Specs
Boil Time:

Approximately 3.5 mins per liter of water

Burn Time:

Burns for about 110 mins on white gas and 75 mins on kerosene

Materials:

Made of high-quality brass and stainless steel

Fuel Compatibility:

Optimized for all liquid fuels
Review Roundup
Let's face it, when going on a backpacking trip, having a reliable stove is just as crucial as having a good tent or an adequate sleeping bag. That's where the MSR Whisperlite Universal shines brightly. Known for its multi-fuel adaptability, this thing doesn't just rely on one specific type to function; propane, kerosene, white gas—name it, it burns it. This gives you freedom to choose depending on what's available to you.
When it comes to the setup, most people find it a tad complicated upon first glance. But, after going through the user guide and giving it a couple of tries, most agree that it becomes second nature. The packability of the stove is another feature worth mentioning; disassembling and storing it inside its tiny stuff sack is easy peasy, adding minimal weight to your backpack.
Performance-wise, it holds up impressively well in both calm and windy conditions, with a windscreen included to amp up its efficiency. It has a consistent flame, which is great for cooking meals, and it cranks up a decent amount of heat, making those cold outdoor nights bearable.
However, some users pointed out a few downsides. Although it's compact, altitude and temperature do affect its performance so you might want to take that into consideration. Also, it requires frequent maintenance—the white gas, in particular, needs regular cleaning since it often leaves soot in the burner.
So, how fast can it boil water? Well, in most real-world conditions, a liter of water takes around 3.5 minutes which, for the size of the stove, is impressive. Of course, the boil time can vary based on the type of fuel and environmental conditions.
When you crunch the numbers, it might not be the cheapest option in the market. But, the solid build, adaptability, and efficient performance earn lots of nods from seasoned backpackers. Think of it as an investment for countless camping trips to come.
Boil_Time_and_Heat_Output
Boil time is effective, generally taking around 3.5 minutes to boil a liter of water under standard conditions. It also copes admirably well in windier conditions.
Durability
This stove is built to last. The rugged design and durable materials mean it can handle heavy use and harsh outdoor conditions.
Ease_of_Use_and_Ignition
With its user-friendly design and reliable ignition, the Whisperlite doesn't fail to impress. Assembly might take a little practice, however.
Fuel_Efficiency_and_Type
Versatility is where the Whisperlite really shines. This stove is designed to work with a range of liquid fuels including white gas, kerosene, and even unleaded gasoline, making it a reliable choice for international travels.
Packability
When packed, the Whisperlite is a little bulky compared to other similar stoves. It takes up a fair amount of space in a backpack.
Stability
The stove design includes a wide base, which offers excellent stability, even with larger pots. This makes it a good choice for group cooking.
Value
Given its versatility, durability, and performance, the MSR Whisperlite Universal presents good value for hikers and backpackers looking for a reliable cooking solution.
Weight
The MSR Whisperlite Universal may not be the lightest stove on the market, especially if you add the weight of the fuel bottle, but it sure makes up for it in other areas.
Prices
BioLite CampStove 2
Best Backpacking Stove for Wood Burning
Based on our research and testing, we think the BioLite CampStove 2 is a solid choice if you want a backpacking stove that's really well suited to Wood Burning.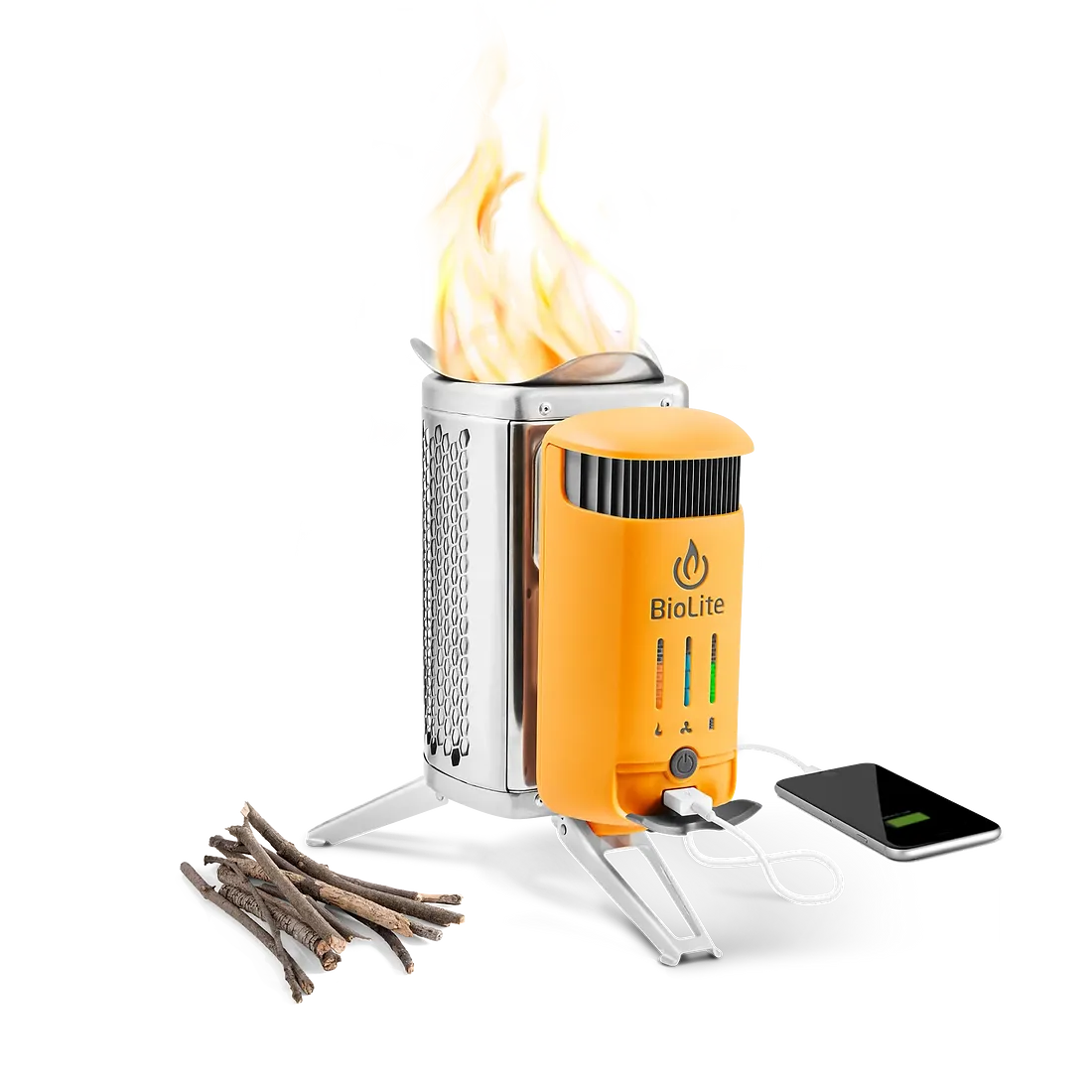 Reasons to Buy
Eco-friendly option

Possibility to charge devices

Impressive heat output

Affordable without compromising on quality
Reasons to Avoid
Bit heavier for those counting ounces

Dependent on available dry wood

Charging output can be inconsistent
The Important Specs
Fuel:

Burns twigs, pinecones, pellets and other biomass

Battery:

2600 mAh

Dimensions:

5 x 5 x 8.3 inches

Power Output:

3 watts continuous, 5 watts peak

Max Burn Time:

Approximately 95 minutes on a full charge
Review Roundup
The BioLite CampStove 2 is a clever bit of kit that aims to keep your gadgets charged and your stomach full on your next wilderness adventure. It uses the heat of the fire to generate electricity, allowing you to charge your devices off-grid. Even more exciting is that it's a wood-burning stove, meaning you don't need to carry fuel, just pick up some sticks from around your campsite.
Several buyers online have expressed their satisfaction with this two-in-one unit. According to them, the BioLite CampStove 2 boils water reasonably quickly, approximately 4.5 minutes to boil 1 litre of water, which is quite decent for a such a compact unit. The stove is fairly lightweight (around 2 lbs) and packs down small enough that it won't take up too much room in your pack.
Users appreciate that you can charge your devices while you cook, though, some point out that the charging speed depends on how hot your fire is. Generally, it's agreed that this isn't going to replace your wall charger, but it will give you enough juice to make an emergency call or keep your GPS running.
On the downside, a few folks have noted that keeping the fire going can be a little bit of a task as the stove requires near constant attention. They found that the fuel chamber is quite small and needs to be refilled every 20-30 minutes. And, you need dry twigs or wood for a consistent fire, which can be challenging in a damp environment.
While it's a bit more hands-on than your typical gas stove, many users seem to enjoy the experience. According to reviewers, there's a sort of satisfaction in using fallen branches to cook your meals and power your devices, bringing you closer to nature, all while reducing your carbon footprint.
Boil Time & Heat Output
Boil times are a major highlight for many users. With good, dry fuel the stove can boil a liter of water in under 5 minutes. Its unique design generates a tornado-like flame, which enhances heat output and contributes to faster boil times.
Durability
When it comes to durability, this sturdy creation receives the thumbs up. Users mention the robust design and excellent build quality, especially appreciating the fact that it can handle heavier pots without a hitch.
Ease of Use & Ignition
Users like the simplicity of operation. Initial ignition requires a small flame, but once it gets going, it performs admirably. The addition of the integrated LED dashboard is a favorite feature, providing real-time feedback on the fire strength and battery level.
Fuel Efficiency & Type
Fuel efficiency is another clear win for the CampStove 2. Anything from twigs, pinecones to wood pellets can be used, making it essentially cost-less in terms of fuel. However, the stove's efficiency is dependent on the availability of dry wood. If you're camping in wet conditions, this could be an issue.
Packability
This stove packs down nicely, making it simple to toss in your backpack before hitting the trail. Though it has a slightly larger footprint, users enjoy the integrated battery and charging features.
Stability
The three-legged design provides decent stability on flat surfaces. Some users have mentioned it being a bit unstable on uneven terrain, but for most it does the trick just fine.
Value
Despite not being the cheapest option, users feel that the price of the BioLite CampStove 2 reflects its quality and versatility. The charging feature seems to be a real value-add for many backpackers who like to stay in touch or enjoy some music en route.
Weight
While you'll hear no complaining about the BioLite CampStove 2's performance, users do share some concerns about its weight. Its a trade-off between weight and function, because although it's a bit hefty for the ultralight backpacker, it does double duty by generating heat and power.
Prices
No prices found. Check back later!