Quick heads-up: some of the links on this page are affiliate links. If you make a purchase through them, we may earn a small commission (at no extra cost to you). This small bit of income helps keep our site running.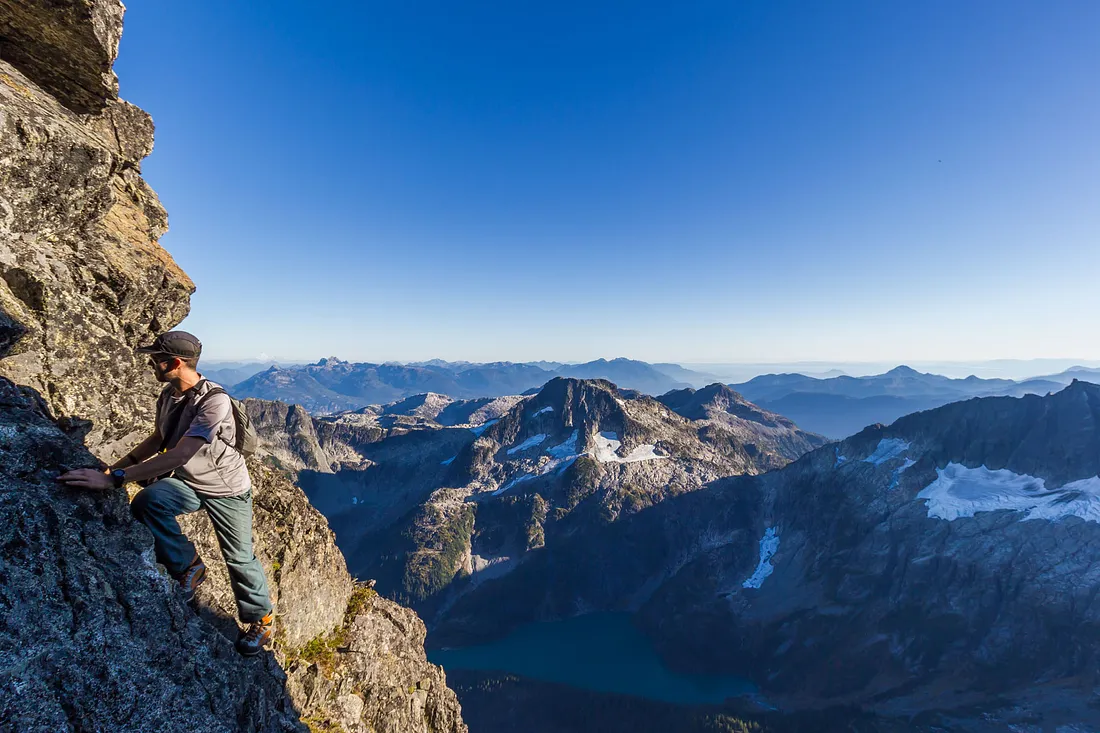 If you're on the hunt for the best mountaineering boots, you've come to the right place. As a hiker, camper or climber, your boots are your trusty companions - because without the right boots, those epic mountain landscapes aren't quite as enjoyable. This is why we're sharing our top picks and handycrafted this guide to help you navigate the options.
At the top of our list, we're singing praises for the La Sportiva G5 Evo. It's a chart-topper for good reason. Packed with features, it's designed for those steep, icy climbs where you need a reliable boot that won't let you down. We think it's the best money can buy for serious alpinists who are ready to tackle anything that comes their way.
Of course, we'll also be giving two runners up some love, and spotlighting the best picks for specific categories like High-Altitude Expeditions, Ice Climbing, Budget, and Ultralight. Whether you need boots that won't tire your feet after a long day, offer great value, or keep you toasty in extremely chilly situations, we've got you covered. Also, check out our posts on the Best Down Jackets for Men, Best Hiking Boots for Men, and Best Hiking Socks for Men for more gear advice.
Our Top Recommendations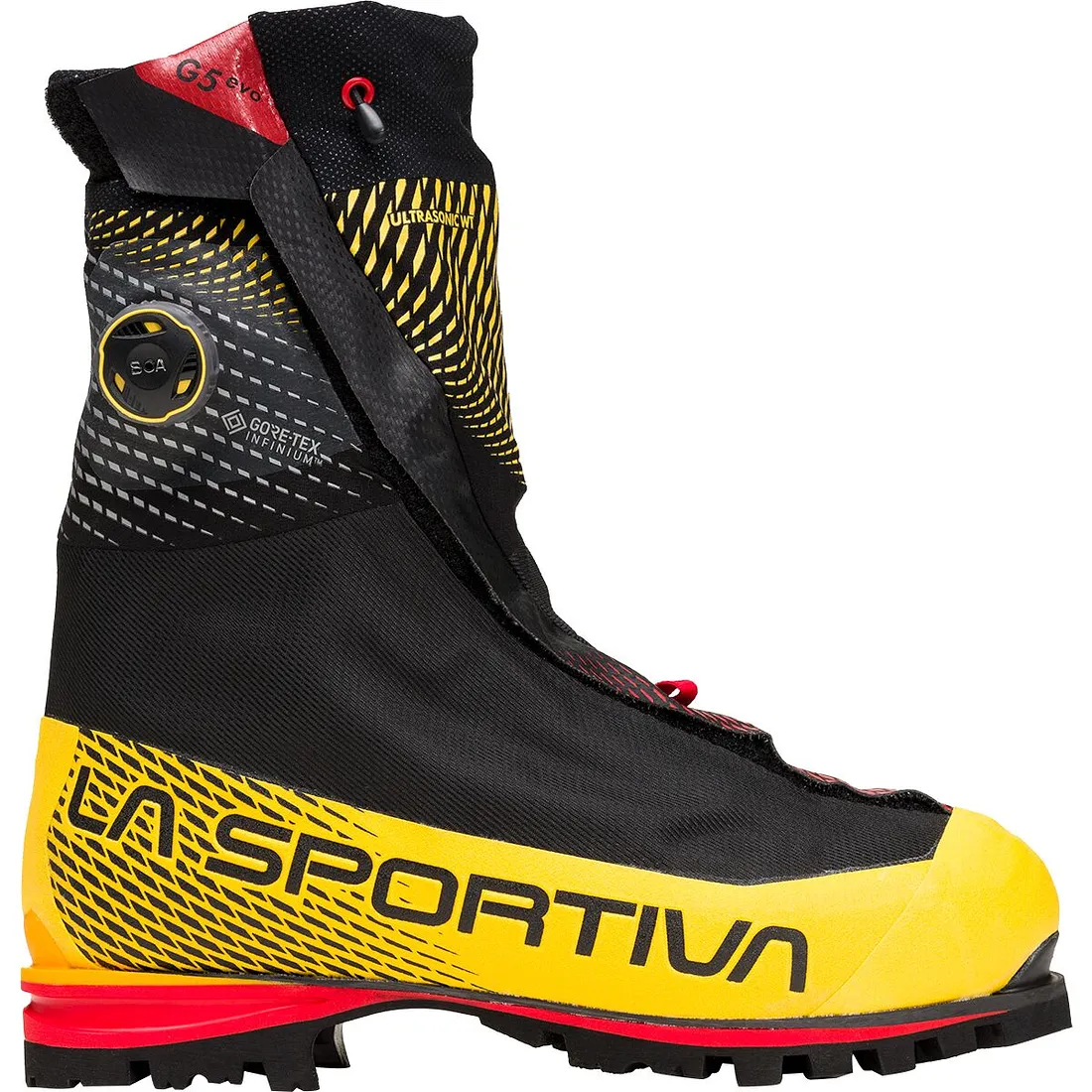 La Sportiva G5 Evo
The La Sportiva G5 Evo snagged the top spot due to its impressive blend of comfort and durability, with users praising its thermally insulated cozy feel, unmatched support, and resilience to the wear and tear experienced on rough terrains.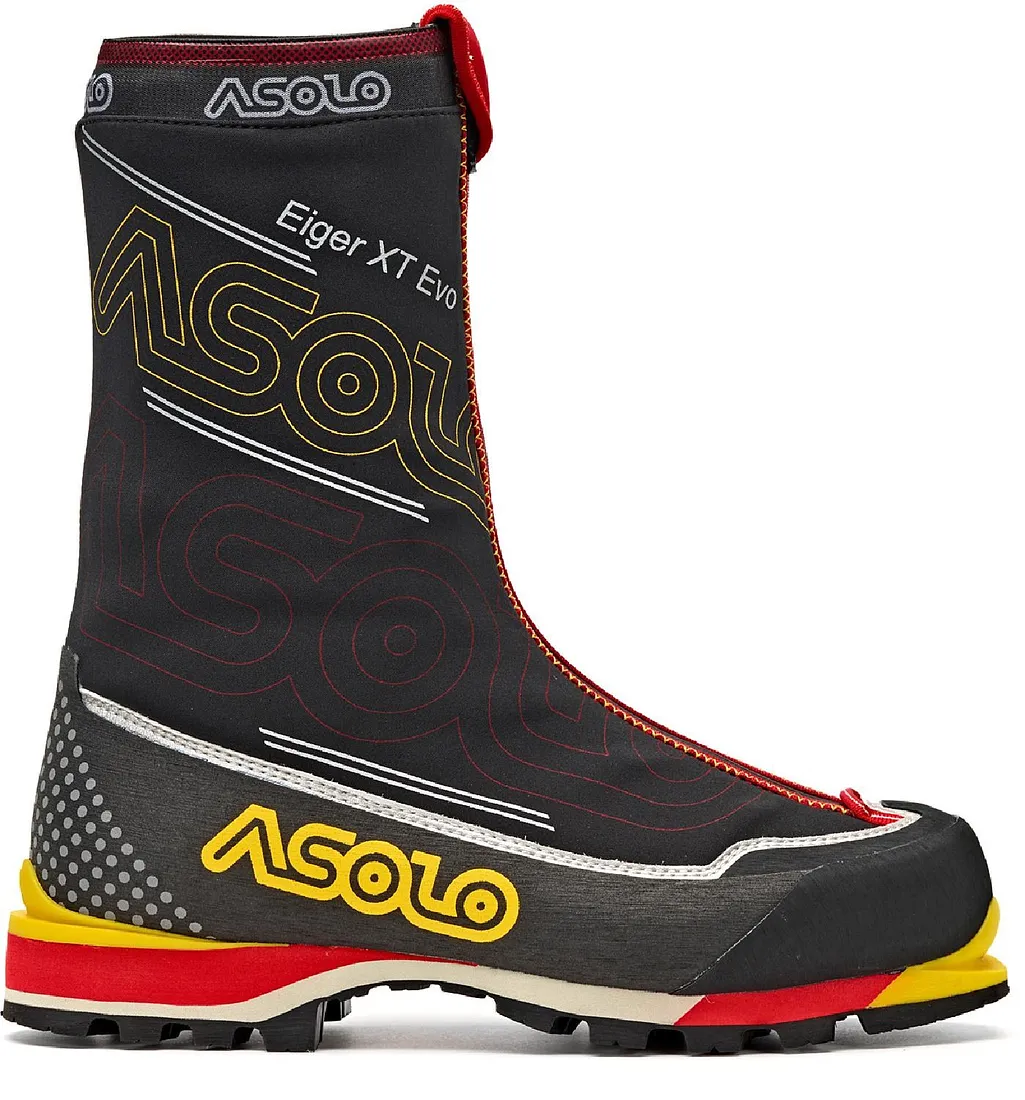 Asolo Eiger XT GV Evo
The Asolo Eiger XT GV Evo is a top pick among men's mountaineering boots due to its robust waterproof design and exceptional comfort - as rated highly by wearers for its ability to withstand extreme conditions while offering a snug fit.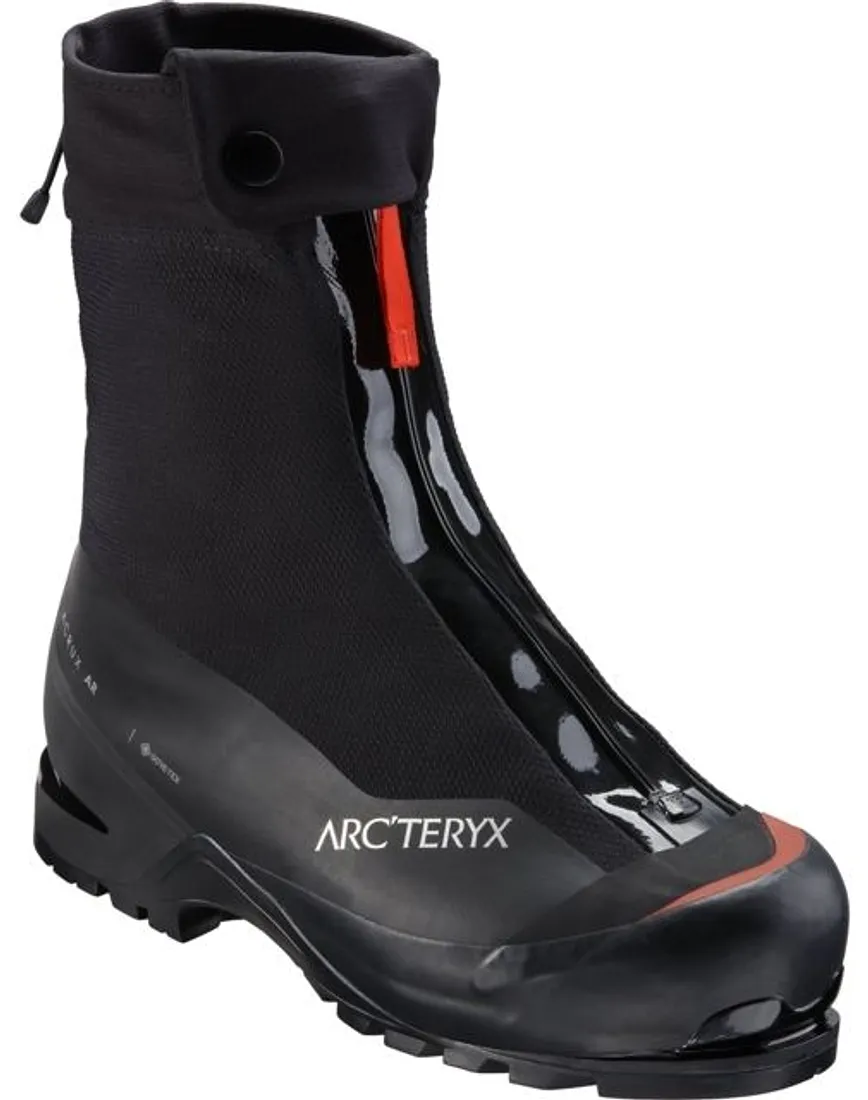 Arc'teryx Acrux AR GTX
The Arc'teryx Acrux AR GTX mountaineering boot earns top pick runner up because hikers frequently praise its lightweight construction and unparalleled waterproof abilities, ensuring their feet stay comfortable and dry, even on treacherous terrain.
What you should look for
(and what we test for)
Boot Fit
Make sure the boots fit well, providing room for your toes to wiggle yet snug enough to not cause blisters or discomfort during a long gnarly hike.
Weather Resistance
Whether it's trudging through snowy inclines or crossing stream-filled paths, ensure the boots are well-insulated and waterproof to keep your feet dry and plenty warm even in the trickiest weather conditions.
Sole Grip and Traction
Non-negotiable for steep climbs and slippery surfaces, the outsole of the boot should provide excellent traction and grip, because the last thing you want is to take a tumble when you're trying to enjoy the great outdoors.
Material and Durability
Look for boots made from resilient materials like full-grain leather or synthetic mixes, as they'll withstand rough terrains and repeated use, without leaving your feet feeling like they've run a marathon barefoot!
La Sportiva G5 Evo
$849.00
The Best Men's Mountaineering Boots
Based on our research and testing, we think the La Sportiva G5 Evo are the best Men's Mountaineering Boots on the market right now, for anyone looking to play hard outside.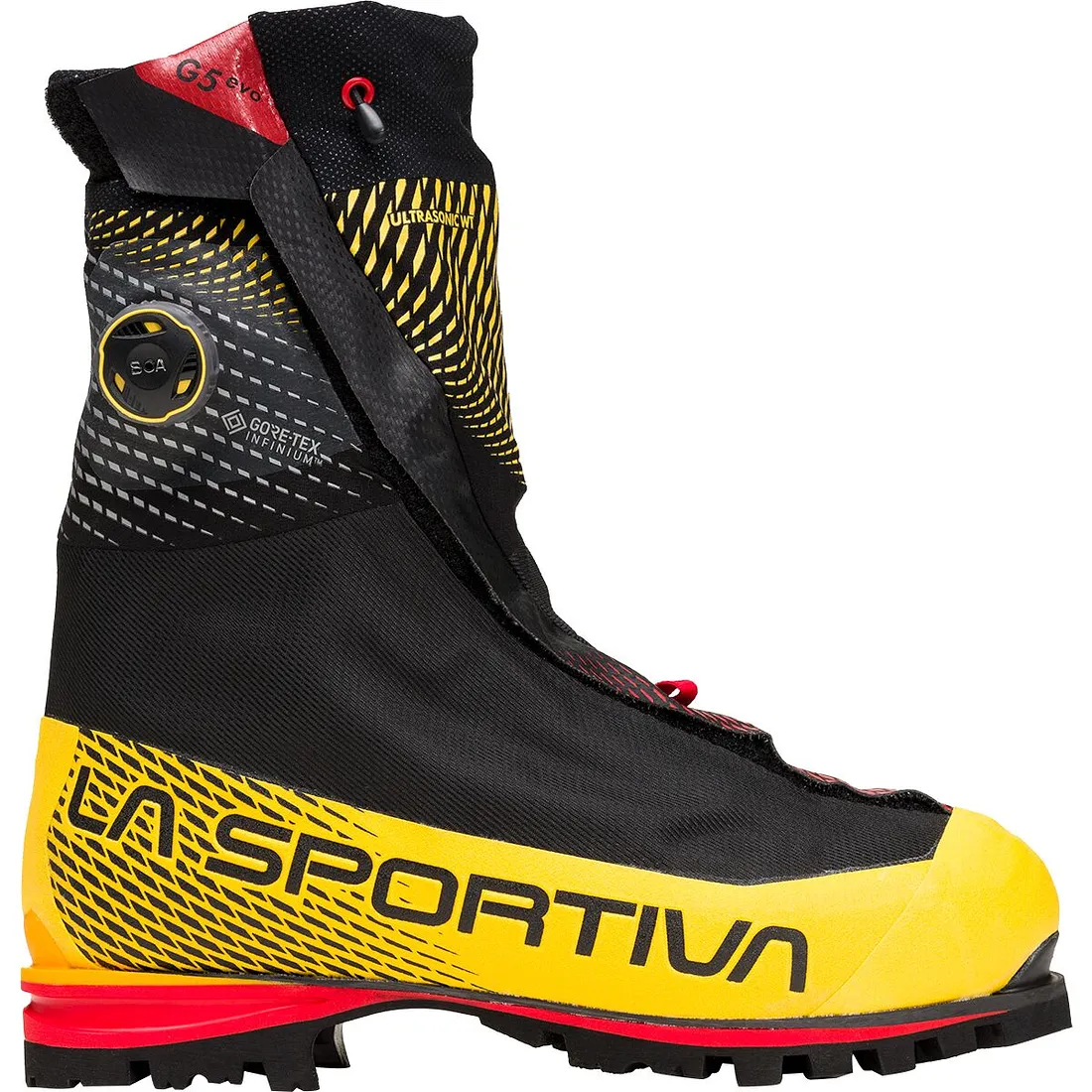 Reasons to Buy
Outstanding insulation allows high altitude use

Enhanced toe protection from sharp rocks and ice

Adaptable to automatic crampons
Reasons to Avoid
Premium pricing means not ideal for casual hikers

Can be too warm for lower altitudes
The Important Specs
Closure System:

Boa Fit System for fast and precise fit

Upper Material:

High-Tenacity Cordura with Protective honeycomb and PU Tek coating

Crampon Compatibility:

Automatic
Review Roundup
The La Sportiva G5 Evo is often lauded by gear gurus and mountain junkies alike for its stellar performance on a wide array of terrains. Witnessing firsthand the attention to detail and function in which this boot was created is certainly worthwhile. From its durable build to its superior grip, the excitement around this product is understandable.
Many reviewers have noted the boot's solid construction, made possible by its combination of high-grade materials. Its strong outer shell is designed to withstand the wear and tear that invariably comes with serious mountaineering. And yet, despite its tough-as-nails façade, it boasts an interior that's as soft as a lover's whisper. The comfort factor of these boots is frankly eyebrow-raising; users have reported clocking in long hours of wear without any discomfort. Here's a boot that truly combines 'tough' with 'tender' in the nicest possible way.
The G5 Evo's insulating property is another key attribute that many users admire. It provides reliable warmth in freezing conditions, so your feet stay toasty even in frosty conditions. Yet, it remains breathable, preventing your feet from overheating on those gruelling uphill climbs.
Furthermore, customers rave about the impressive traction this boot provides. The sole latches onto icy surfaces like a tic, meaning you are less likely to encounter unfortunate slips or falls. You can focus more on the ascent rather than worrying about your footing.
Of course, no product is entirely without its downsides, and a few customers express concerns about the price tag. It is a premium mountaineering boot, and it certainly carries a premium price. However, one could argue that it's a worthy investment when you consider the level of design, construction and most importantly, safety it provides.
Another minor nitpick that some users have pointed out is the break-in period. While the La Sportiva G5 Evo is generally comfortable, some users mention that these boots took a little time to fully break in and feel entirely at home on their feet. But this is a relatively minor point when compared to the overwhelming positive feedback this boot receives.
In all, the La Sportiva G5 Evo stands as a product that continues to impress users with its clever blend of comfort, durability, and reliability. It is clear from online reviews that the vast majority of users agree the boot delivers on its promises.
Break-in Period
Most users mention a comfortable fit right out of the box, indicating a short break-in period. Nonetheless, few suggest just getting a feel for the boot on smaller hikes before tackling any major climbs.
Durability
Made of High-Tenacity Cordura with a protective honeycomb structure and PU Tek coating, the boot stands up well in rugged terrains. The Boa Fit system also ensures a snug fit, reducing wear and tear. Users report being impressed by the boot's ability to resist scuffs and tears, even after several climbs.
Insulation & Warmth
The La Sportiva G5 Evo excels in extreme conditions with its exceptional insulation. It's designed for high-altitude adventures, offering your feet maximum warmth. Users praise this boot for its ability to withstand arctic conditions, even at the summit.
Traction & Crampon Compatibility
The boot features Vibram MorFlex Expanded EVA midsole, which ensures excellent traction on all terrains. Plus, it's automatically compatible with crampons, a perk many users noted made snowy ascents more manageable.
Value
While it is priced on the higher end, the value offered by the G5 Evo, in terms of high-altitude performance and durability, makes it a worthwhile investment for serious mountaineers. This has been acknowledged by many users in their reviews.
Waterproofing & Breathability
The G5 Evo also stands out for its superior waterproofing while maintaining breathability, thanks to its gaiter design. Users have applauded its ability to keep feet dry in wet conditions without causing discomfort from heat buildup.
Weight
Given the substantial warming and protective features, the G5 Evo isn't the lightest boot on the market. However, users often find the extra weight to be a fair trade-off for the warmth and protection it provides during challenging climbs.
Prices
Asolo Eiger XT GV Evo
$700.00
Runner Up
Based on our research and testing, we think the Asolo Eiger XT GV Evo are a great choice if you're looking for men's mountaineering boots to go play hard outside with, if our top pick isn't quite what you're looking for.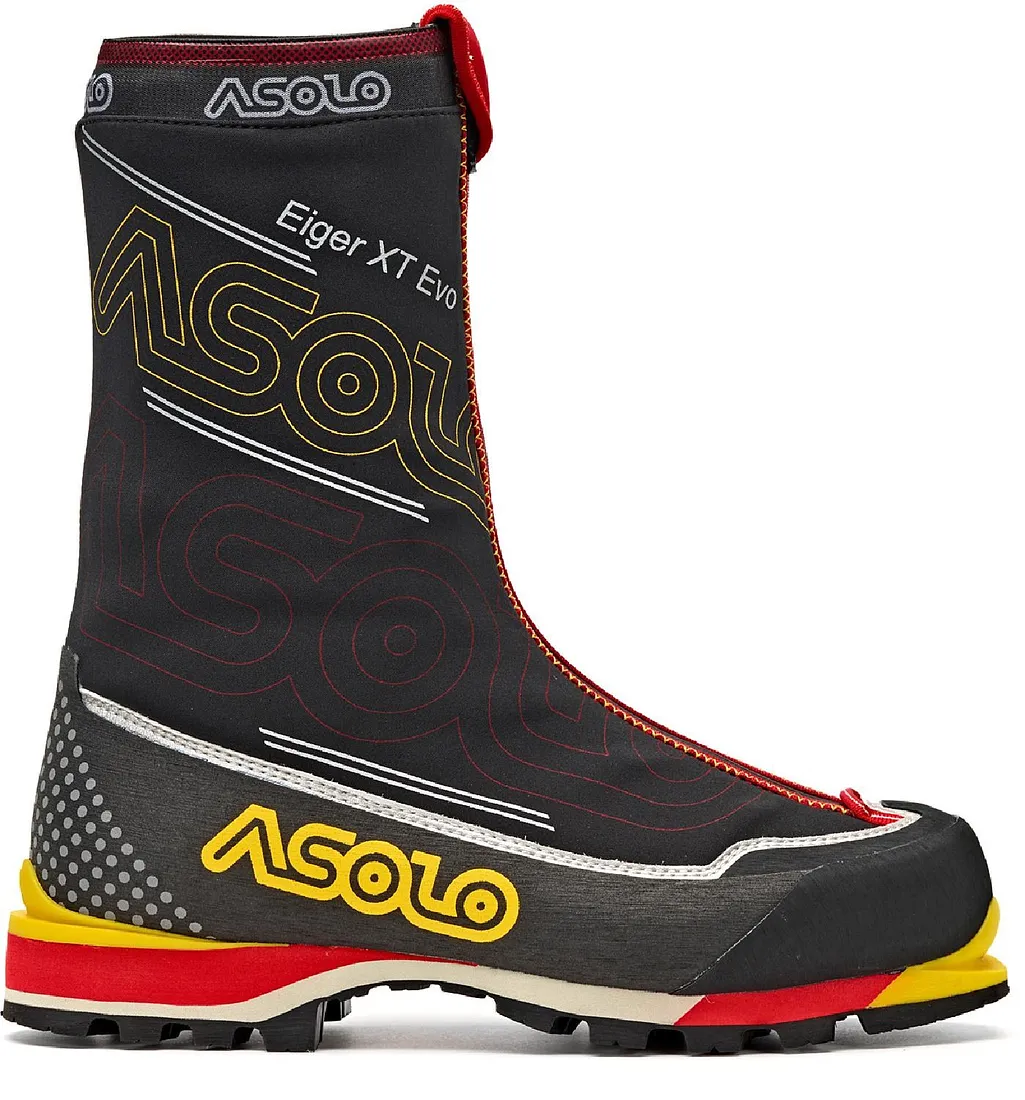 Reasons to Buy
Outstanding traction and crampon compatibility

Excellent durability

Impressive waterproofing and breathability

Good insulation and warmth

Reasonable break-in period
Reasons to Avoid
A bit heavier than some other models

Higher-end of the price range

Could use more padding for comfort
The Important Specs
Midsole:

Dual-density EVA

Outsole:

Vibram Mulaz

Material:

Perwanger Leather, Schoeller-keprotec

Insulation:

Gore-Tex Insulated Comfort Footwear lining

Crampon Compatibility:

Fully automatic/ step-in
Review Roundup
The Asolo Eiger XT GV Evo has been making quite a name for itself in the mountaineering boot market, and it's not hard to see why. It's a boot that really comes into its own when you're pushing yourself to your limits, whether that's trekking through difficult terrains, tackling high alpine summits, or braving freezing temperatures.
One of the standout features of this boot is its comfort. The Eiger XT GV Evo boasts impressive padding, keeping your feet comfortable during long hikes. Numerous customers have praised the cushioning, stating that their feet felt surprisingly comfortable even after long, strenuous treks.
The Gore-Tex Insulated Comfort lining is another crowd-pleaser. This feature ensures that your feet remain cozy and warm, even in chilly conditions. Many users have remarked that even in sub-zero temperatures, they didn't feel the cold seeping into their boots, a real testimony to the Asolo's insulating capabilities.
The traction of the Asolo Eiger XT GV Evo also deserves a mention. The Vibram outsole sticks to terrain like glue, providing a reassuring grip on not only smooth, dry trails but also slippery, wet, and uneven surfaces. This has been highly praised in online reviews.
But it's not all sunshine and roses. Some users have complained about the relative difficulty of breaking in these boots. A few individuals reported blisters and discomfort in the first few hikes, but they pointed out that once the boots were properly broken in, this ceased to be a problem.
A small number of users also expressed concern over the weight of the Asolo Eiger XT GV Evo. Described by some as 'feeling a tad heavy' during long hikes, there seems to be a trade-off here between comfort and weight. However, many experienced mountaineers agreed that this increased weight is a fair compromise for the boot's impressive durability and warmth.
Overall, the reception of the Asolo Eiger XT GV Evo among the outdoor community has been overwhelmingly positive. While it's true that it may take time for the boots to break in, and their weight could be a sticking point for some, the comfort, warmth, and traction that these boots offer are hard to beat.
Break-in Period
Most reviews show a reasonable break-in period for these boots. It's common for new boots to cause discomfort until they mold to your feet, but users have reported a quicker break-in period compared to other heavy-duty mountaineering boots.
Durability
One of the Asolo Eiger's standout features is their exceptional durability. The combination of Perwanger leather and Schoeller-Keprotec ensures these mountaineering boots can withstand the rigors of tough environments. Online reviews are filled with praise for these boots' ability to hold up to extensive use.
Insulation & Warmth
The Asolo Eiger XT GV Evo boots pack a solid punch when it comes to insulation. The Gore-Tex Insulated Comfort Footwear lining ensures that your feet stay warm even in freezing conditions, making this pair perfect for high-altitude mountaineering. Users have praised its insulating capabilities, particularly for those dawn starts on the mountainside.
Traction & Crampon Compatibility
These boots shine in the traction department. The Vibram Mulaz soles provide excellent grip, which gives a confidence boost when navigating tricky terrains. They're also fully compatible with automatic/step-in crampons, as reported by a myriad of happy climbers.
Value
The Asolo Eiger XT GV Evo falls in the higher-end of the price bracket, but users have mentioned that the superior durability and performance justify the price point. They're viewed as a long-term investment for serious mountaineers.
Waterproofing & Breathability
The boot's Gore-Tex lining does an excellent job of keeping water out while allowing your feet to breathe. This feature plays a crucial role in maintaining comfort during long climbs. Numerous users have noted how well their feet remained dry during wet conditions.
Weight
While the Asolo Eiger XT GV Evo does err on the heavier side, it is a trade-off for the high level of durability and support these boots provide. Most users have found it a fair exchange, with only a few finding them slightly cumbersome.
Prices
Arc'teryx Acrux AR GTX
$750.00
Runner Up
Based on our research and testing, we think the Arc'teryx Acrux AR GTX are a great choice if you're looking for men's mountaineering boots to go play hard outside with, if our top pick isn't quite what you're looking for.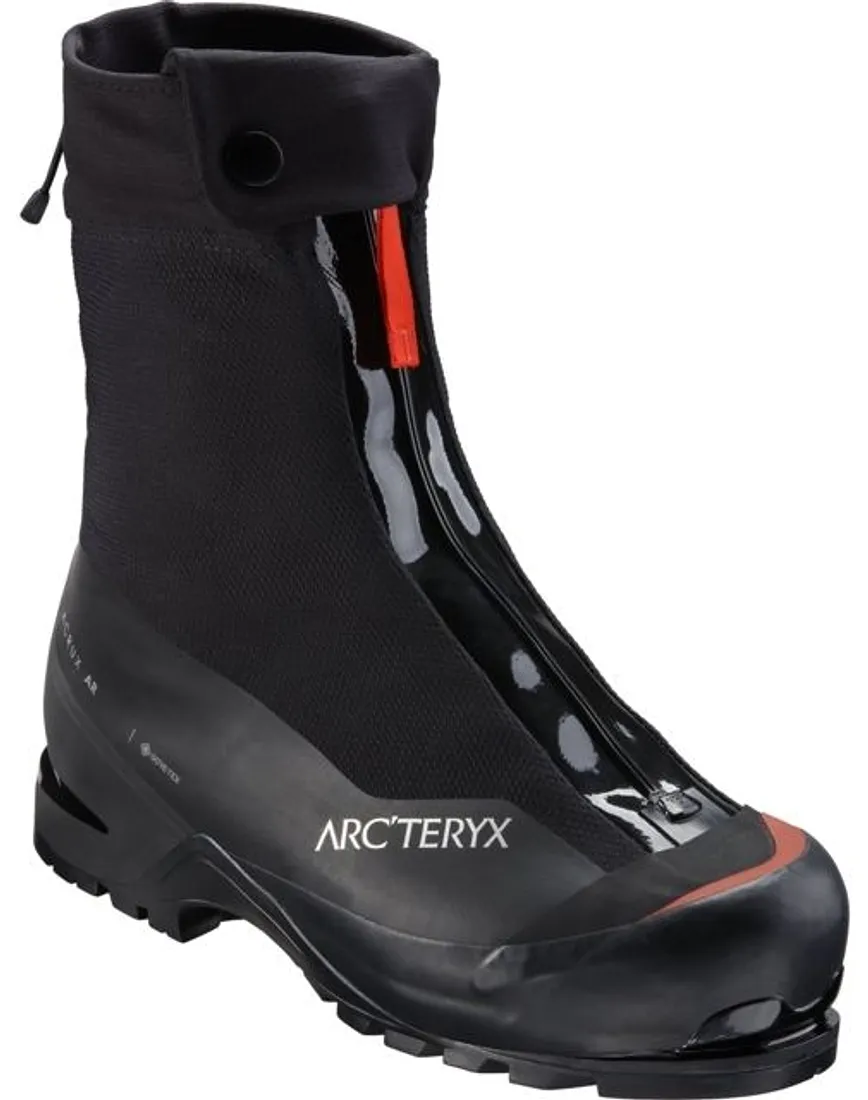 Reasons to Buy
Sturdy and innovative design

Excellent waterproof technology

Impressive insulation
Reasons to Avoid
High cost

Longer break-in period

May be heavy for some climbers
The Important Specs
Lining:

Gore-Tex Pro

Midsole:

EVA

Upper Material:

Nylon
Review Roundup
The Arc'teryx Acrux AR GTX is a heavyweight in the world of men's mountaineering boots. Buyers have lavished praise on its durability and functionality, so let's dig into why it's become a firm favourite.
Hailed for its top-notch performance in challenging environments, these boots cater to the serious mountaineer. Users rave about its ability to withstand diverse and punishing weather conditions, whether it's a rain assault or an icy landscape. The waterproof Gore-Tex layer comes in for particular love with comments about dry feet, even after hours of trudging through wet snow or puddles.
Climbers make special note of its robust build, inspired by Arc'teryx's reputation for high-quality products. The carbon fibre insole and Vibram sole reinforce its rugged durability. Many users report that the outer shell remains unscathed after multiple heavy-duty climbs, demonstrating its ability to resist wear and tear through rocky terrains and long hikes.
Activities at high altitudes often mean dealing with frigid temperatures and snow. Customers laud the Acrux AR GTX for its insulation, helping to keep feet warm in conditions that chill to the bone. A double-layered construction, combined with insulation, means climbing in sub-zero temperatures won't end up being a frostbitten disaster.
Also commended is the boot's adaptive fit, which results in less blistering and foot discomfort on treks. According to some users, these boots provide a feel comparable to a pair of comfortable running shoes, albeit with much more protection.
However, not all reviews bask in the glory of the Acrux AR GTX. Some purchasers find the boot's compact design a touch too tight, leading to complaints about foot cramps on longer expeditions. Others mention that the high price tag makes this boot a significant investment, one that may not be suitable for entry-level climbers or those on a budget.
Despite the few criticisms, the Arc'teryx Acrux AR GTX is widely regarded as a top choice for those braving the world of mountaineering. Its mix of durability, weather resistance and comfort make it a go-to for many mountain lovers.
Break-in Period
Like many mountaineering boots, these can take a little while to break in. Some users mentioned a longer than average break-in period. While this might be a temporary pain, many noted that once they were broken in, the comfort level was impressive.
Durability
When spending a hefty sum on a pair of boots, you'd want them to last. Good news – the Arc'teryx Acrux AR GTX won't disappoint. Users have praised these boots for their long-lasting build, capable of handling rigorous mountaineering excursions.
Insulation & Warmth
With its double layered design, the Arc'teryx Acrux AR GTX is built to keep your feet cozy, even in tough weather. Customers rave about the amazing insulation these boots offer – perfect for mountaineering in chillier temperatures.
Traction & Crampon Compatibility
These boots provide exceptional traction, even on the most slippery surfaces. They also got full marks for crampon compatibility from customers who appreciate the ease of attaching their crampons.
Value
Undeniably, these boots are on the pricier side. But customers who have splurged on it argue that the whopping amount is justified with their durability, functionality and comfort, making it a worthy investment.
Waterproofing & Breathability
Arc'teryx takes waterproof technology to the next level with these boots. They've got glowing reviews for their ability to keep water out, while the Gore-Tex Pro lining ensures your feet stay dry from both wet conditions and sweat.
Weight
Some customers have mentioned that the boots can feel heavy after long hours of hiking. However, they also note that the supportive design and durability make it a reasonable trade-off.
Prices
La Sportiva Trango Tower Extreme GTX
Best Budget Men's Mountaineering Boots
Based on our research and testing, we think the La Sportiva Trango Tower Extreme GTX are a great pick if you're looking for men's mountaineering boots that are more budget friendly, without sacrificing too much in quality.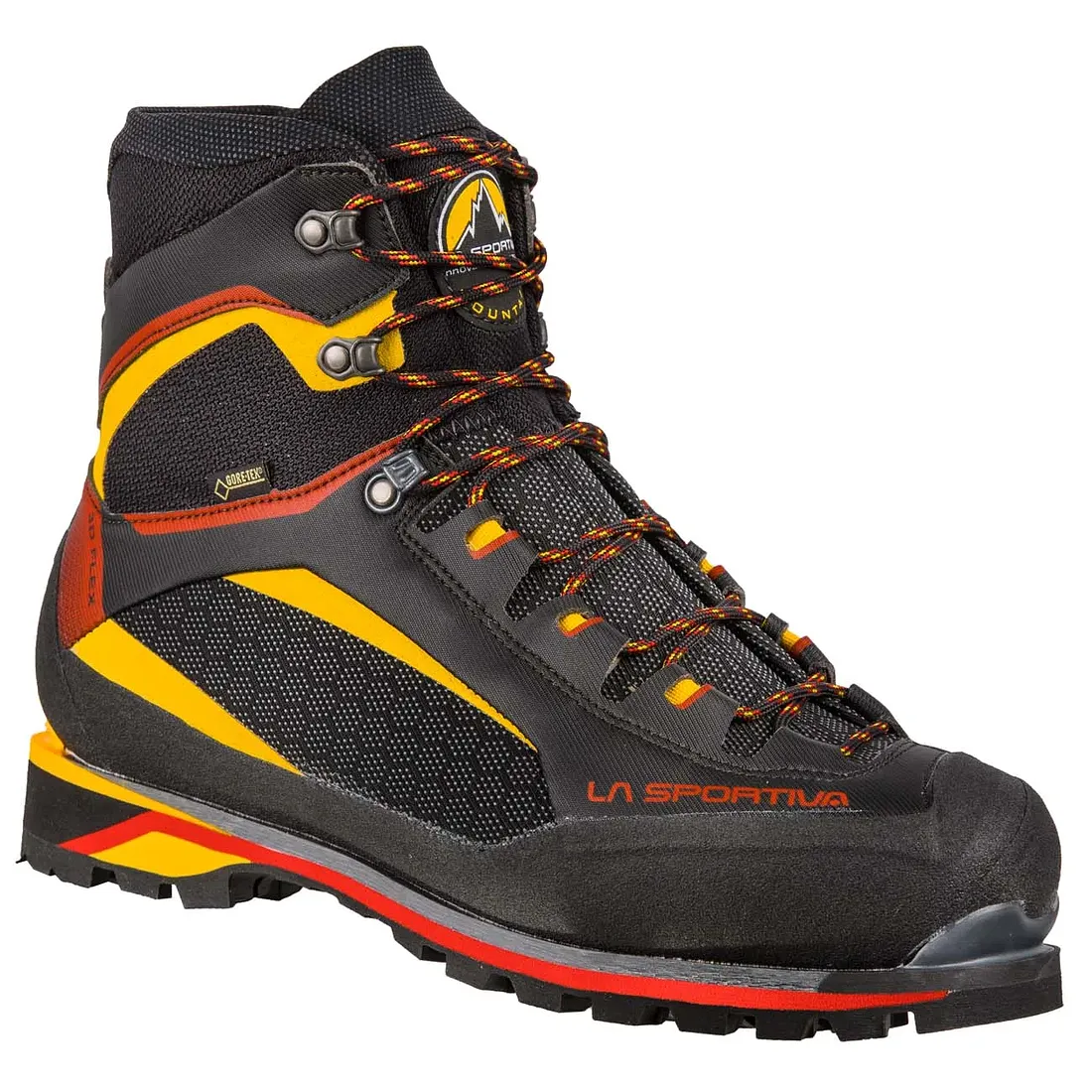 Reasons to Buy
Solid ankle support

Durable and high-quality design

Great insulation levels

Excellent traction on various terrains

Compatible with crampons
Reasons to Avoid
May feel stiff until broken in

Sizing might be an issue for wider feet
The Important Specs
3 D Flex System:

Allows the ankle a greater range of movement for better foot control

Polyurethane Midsole:

Provides long-lasting cushioning on hard steep terrains

Gore Tex Performance Comfort:

Keeps feet dry and comfortable at extreme temperatures
Review Roundup
The La Sportiva Trango Tower Extreme GTX is one product that balances both cost and performance in the mountaineering boots niche. It offers a unique blend of comfortability, sturdiness, and practicality that most budget-conscious buyers look for in their gear.
These boots are primarily designed for cold-weather, high-altitude expeditions and are thus equipped with features that tremendously back this purpose. They showcase a hardwearing outer shell that provides excellent resistance against wind and water. It leverages Gore-Tex Insulated Comfort technology, which keeps your feet warm even in extreme temperatures. Despite being a heavy-duty boot, they are light on the feet thanks to the 3D Flex system in the ankle area giving you a sure-footedness that's much needed during treacherous climbs.
Customers also rave about the boot's durability. Multiple users have reported using them for extensive periods, through various weather conditions and terrains, and still found them to stand upto the punches remarkably well. The Vibram One sole combined with the PU Techlite uppers and subskin Injection makes this gear resistant to the typical wear and tear.
Among the most appreciated facets of the La Sportiva Trango boot is its comfort factor. It's supportive, well-padded, and doesn't require a lengthy break-in period; in fact, many reviewers mentioned that it felt comfortable right out of the box. The adjustable, precise lacing system that extends to the toes ensures a snug and personalized fit.
However, while these boots offer a large number of positives, some hikers have commented on a few areas of improvement. Several buyers stated that these boots are pretty narrow, suggesting they might not be the perfect fit for people with wider feet. Another slight drawback mentioned was the lace hook's quality, with few customers reporting that they tend to unhook with continuous strain.
Despite minor setbacks, the majority of buyers deemed La Sportiva Trango Tower Extreme GTX as a worthy investment, providing durability, comfort, warmth and protection that you would normally expect in a pricier model. It's the blend of these aspects that makes this product an attractive choice, especially for those shopping on a budget.
Break-in Period
Most reviews indicated a short break-in period, although a few found them a bit stiff initially, which eased off after a couple of uses.
Durability
With the high-quality of design and materials used, users found these boots extremely durable. Even after multiple treks, the boots were said to possess minimal signs of wear and tear.
Insulation & Warmth
The boots have been praised for their top-notch insulation capabilities. Reviews mentioned that users' feet stayed warm even in unforgiving cold conditions.
Traction & Crampon Compatibility
Feedback from deceased climbers notes that these boots have a reliable grip on various types of surfaces- rocky, muddy or snowy. They're also crampon compatible which was a big positive for those tackling icy terrains.
Value
While the price is on the higher side, most users felt it equated to solid value given the boot's performance, durability, and included features.
Waterproofing & Breathability
The use of Gore-Tex Technology in these boots makes them an excellent choice for those looking for waterproof yet breathable footwear. Users found their feet remained quite dry without sweating extraordinarily.
Weight
La Sportiva Trango Tower Extreme GTX is not the lightest on the market, but it strikes a good balance between providing essential features and not being too heavy. Users noted feeling grounded without being burdened down.
Prices
No prices found. Check back later!
La Sportiva Aequilibrium ST GTX
$349.00
Best Ultralight Men's Mountaineering Boots
Based on our research and testing, we think the La Sportiva Aequilibrium ST GTX are a solid choice for those looking for a lightweight men's mountaineering boots option to go play hard outside with.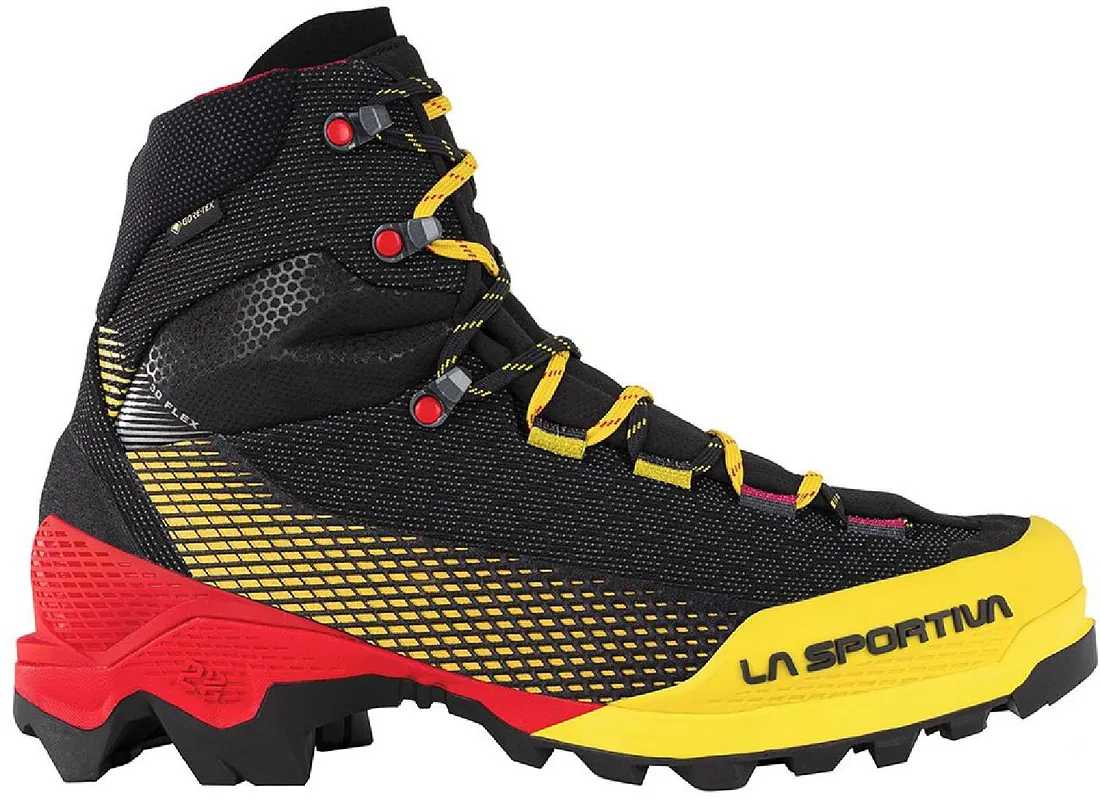 Reasons to Buy
State-of-the-art design

Extremely lightweight

Effective insulation

Highly durable
Reasons to Avoid
Requires significant break-in period

Pricey

Might be too narrow for some
The Important Specs
Cut:

High-Ankle

Sole:

Vibram Alpine with Impact Brake System

Lining:

Gore-Tex Insulated Comfort

Materials:

Synthetic|Gore-Tex Performance Comfort
Review Roundup
The La Sportiva Aequilibrium ST GTX is a standout choice in the realm of ultralight mountaineering boots. Designed for those looking to shave off some weight on their gear, without compromising on the performance, these boots have been widely praised by users for their blend of lightness and robustness.
First off, it's all about the comfort. Users consistently marvel at how these boots provide incredible support and cushioning even on long treks. There's a noticeable reduction in fatigue, making way for more enjoyable hiking experiences. The boots mold to your feet beautifully, due to the 3D Flex System technology in the ankle which increases the range of movement and stability on steep terrains.
The boots are also praised for their sturdiness. Designed with a suede leather upper and a protective toe cap, these boots can, as users indicated, withstand rough terrains without a problem. The Gore-Tex Performance lining keeps your feet dry even when faced with unexpected weather changes, another big plus pointed out by customers.
In terms of grip, the boots excel as well. The Vibram sole provides excellent traction on a variety of surfaces, with reviews raving about its ability to hold its own on both rocky and slippery terrains. The Impact Brake System, which is designed to reduce impact force, was appreciated by hikers who were dealing with steep declines and slippery surfaces.
On the downside, a handful of users voiced concerns about the sizing. While the boots generally fit true to size, some people reported that they run a bit small, or narrow, especially in the toe box area. It's recommended to try these on in-store or be ready to possibly return for a larger size.
Lastly, this boot represents a slightly higher investment which might not suit every budget. However, the majority of the users argued that the boots' performance and durability make them worth their price tag.
Break-in Period
A prominent gripe among buyers is the lengthy break-in period. Be prepared to put in significant mileage before fully comfortable.
Durability
Despite their lightweight construction, these boots are extremely robust. Most users appreciate the boots' well-built design and high-quality materials, asserting that they're more than capable of withstanding the rigors of intense mountaineering.
Insulation & Warmth
Most buyers agree that the boots provide effective insulation, even in freezing and sub-zero temperatures. The Gore-Tex Insulated Comfort lining certainly lives up to the hype — it manages to trap a surprising amount of heat without compromising on breathability.
Traction & Crampon Compatibility
The La Sportiva Aequilibrium ST GTX boots shine when it comes to traction on icy or rocky terrain. They're completely crampon-compatible. Customers testify to their positive experiences scaling glacial terrains and icy rock slabs, lauding the boots' grippy Vibram sole.
Value
A common sentiment among customers is that, while these boots aren't cheap, they provide great value for the money considering the performance, design, breathability, and durability they offer.
Waterproofing & Breathability
The Gore-Tex Performance Comfort does a great job of keeping water out while still allowing the boots to breathe. A few users mentioned they had dry and comfortable feet even after trudging through snow or crossing streams.
Weight
Being an Ultralight boot class champ, people liked how these boots lightened their load. The construction materials and design ensure that the boot remains impressively lightweight without sacrificing durability or performance.
Prices
Scarpa Phantom Tech
$899.00
Best Men's Mountaineering Boots for Ice Climbing
Based on our research and testing, we think the Scarpa Phantom Tech are a solid choice if you want men's mountaineering boots that's really well suited to Ice Climbing.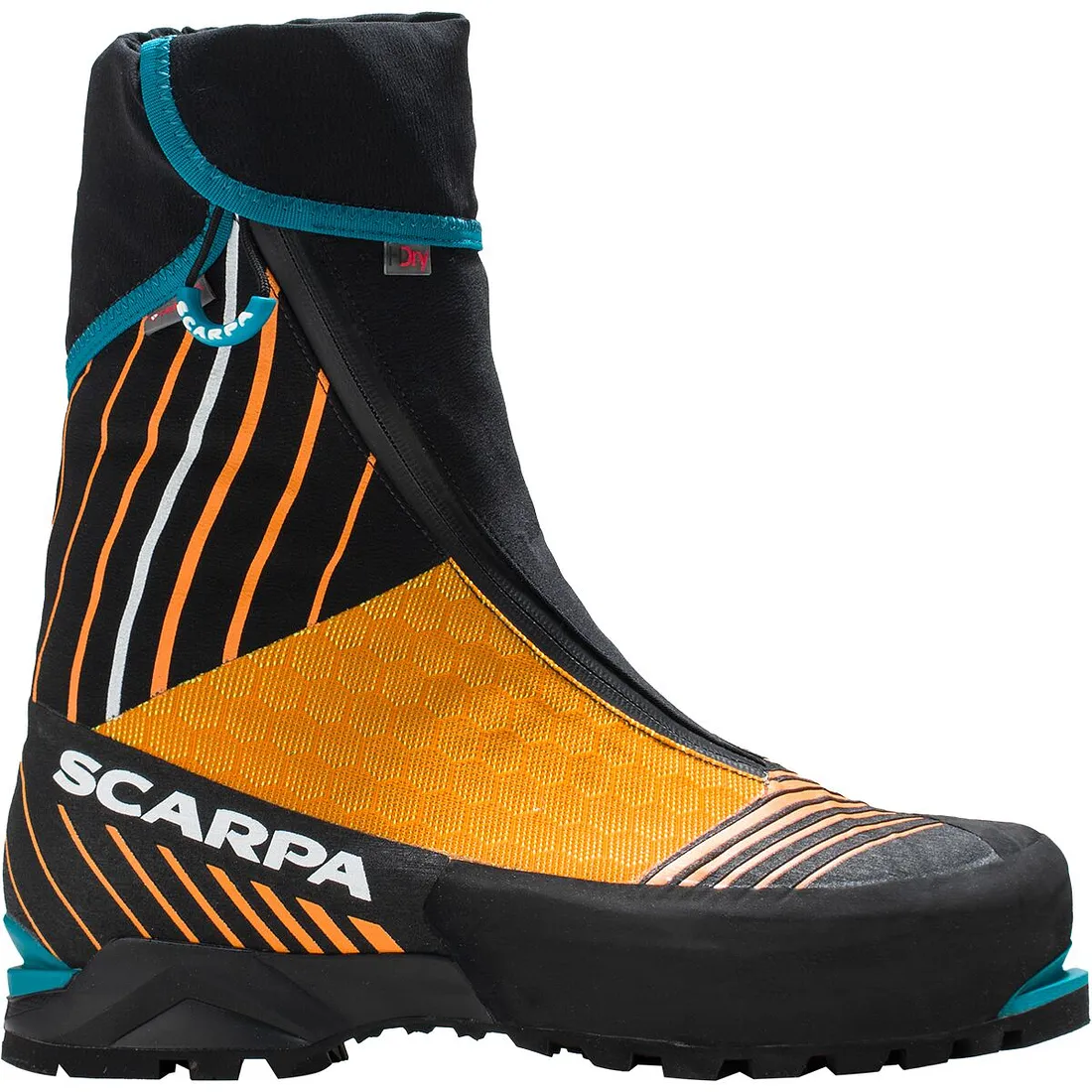 Reasons to Buy
Exceptional insulation and warmth

Excellent traction and crampon compatibility

Rugged and durable build

Highly rated waterproofing and breathability

Short break-in period
Reasons to Avoid
Can be on the heavier side for some climbers

Upper end on price scale
The Important Specs
Sole:

Vibram Zero Gravity Lite

Crampon Compatibility:

Fully Automatic

Manufacturing Material:

H-Dry Direct Lamination & PrimaLoft insulation
Review Roundup
Welcome to the world of icy climbing, where the Scarpa Phantom Tech reigns supreme. Take a twirl with this bad boy, and you'll find it can chew up icy terrains and spit it out, making a cakewalk out of obstacles that once seemed herculean. The boot brags incredible insulation, yet don't let that spook you - it fits like it was tailor-made, eliminating everybody's worst nightmare - blisters.
Delving deeper, the Scarpa Phantom Tech provides a perfect blend of comfort and functionality. Lighter than earlier models, it sizes down the weight without letting up on performance. This helps when you're halfway up a trail and your legs are yearning for a breather.
Online chatter about this product is largely positive. Sensible folks have lauded the quick and seamless transition from regular boots to the ice-cold world of the Phantom Tech. Like having ice cream without the brain freeze, the boot's impressive warmth proves time and again to lock the cold out.
The weight issue pops up in reviews quite often. It isn't the fly-light shoe it claims to be (it isn't a gym slipper after all), but it isn't burdensome either. Ice climbers have found a friend in it, affirming it punches above its weight for its size. When it comes to handling the unrelenting cold recess of icy mountains, this product has banked some raving reviews.
Here's a shout out to beginner climbers. The boot has won newbies' hearts with its ease of setup and seamless learning curve, making it a trending pick among beginner ice climbers.
A few nods to the affordability — while this product may not be the cheapest on the shelf, many users agree the value given offsets the price tag. Think of it as an investment in comfort, warmth, and a guarantee of reduced chances of slipping down a slippery slope.
A couple of downsides pop up in reviews; its struggle to cope with extremely warm conditions, and long-term durability issues. No product is perfect, after all. Climbers who utilize the Scarpa Phantom Tech in warmer settings find it may cause sweaty feet. Also, some users mention issues with longevity after intense, long-term use.
The Scarpa Phantom Tech is one to keep an eye on. While not a perfect ten, it makes for a fantastic companion on the ice, praised by folks who have taken it to the limits. Is it right for you? That's a climb you'll have to undertake yourself.
Break-in Period
According to numerous online reviews, the Phantom Tech boot doesn't require a lengthy break-in period. Users have generally found the boots to be comfortable relatively soon after their initial use.
Durability
Made to be brutalized, the Phantom Tech's rugged construction features a Cordura and aluminum coating which ensures durability. Feedback from customers echo this sentiment indicating that this boot has stood up to some of the toughest climbing conditions without significant wear and tear.
Insulation & Warmth
The Phantom Tech features an H-Dry Direct Lamination and PrimaLoft insulation design that keeps your feet warm even in the most chilling conditions. According to online reviews, many customers have praised the boot's ability to retain heat and provide consistent warmth.
Traction & Crampon Compatibility
The Vibram Zero Gravity Lite sole offers incredible traction. The boots' full automatic crampon compatibility was greatly appreciated in the field, making it a great option for icy and snow-packed terrain. Several users have commented on how effectively they grip against slippery surfaces.
Value
While these boots fall in the higher price range, their warmth, durability, and performance on rugged terrains make them a worthy investment. Those who purchased the boot felt they received good value, citing its superior quality and longevity.
Waterproofing & Breathability
Scarpa's innovative H-Dry Direct Lamination makes these boots extremely waterproof and breathable. Highlights from customer reviews include praise for the boot's ability to stay dry in soggy conditions while also providing ample airflow on long climbs.
Weight
Weighing in a bit heavier than some options, users have noted that while it adds some heft, it's a fair trade-off for the additional warmth and robustness. Some users have reported that despite the weight, the boot's design didn't impede their climbing progress.
Prices
La Sportiva Olympus Mons Cube
$0.01
Best Men's Mountaineering Boots for High-Altitude Expeditions
Based on our research and testing, we think the La Sportiva Olympus Mons Cube are a solid choice if you want men's mountaineering boots that's really well suited to High-Altitude Expeditions.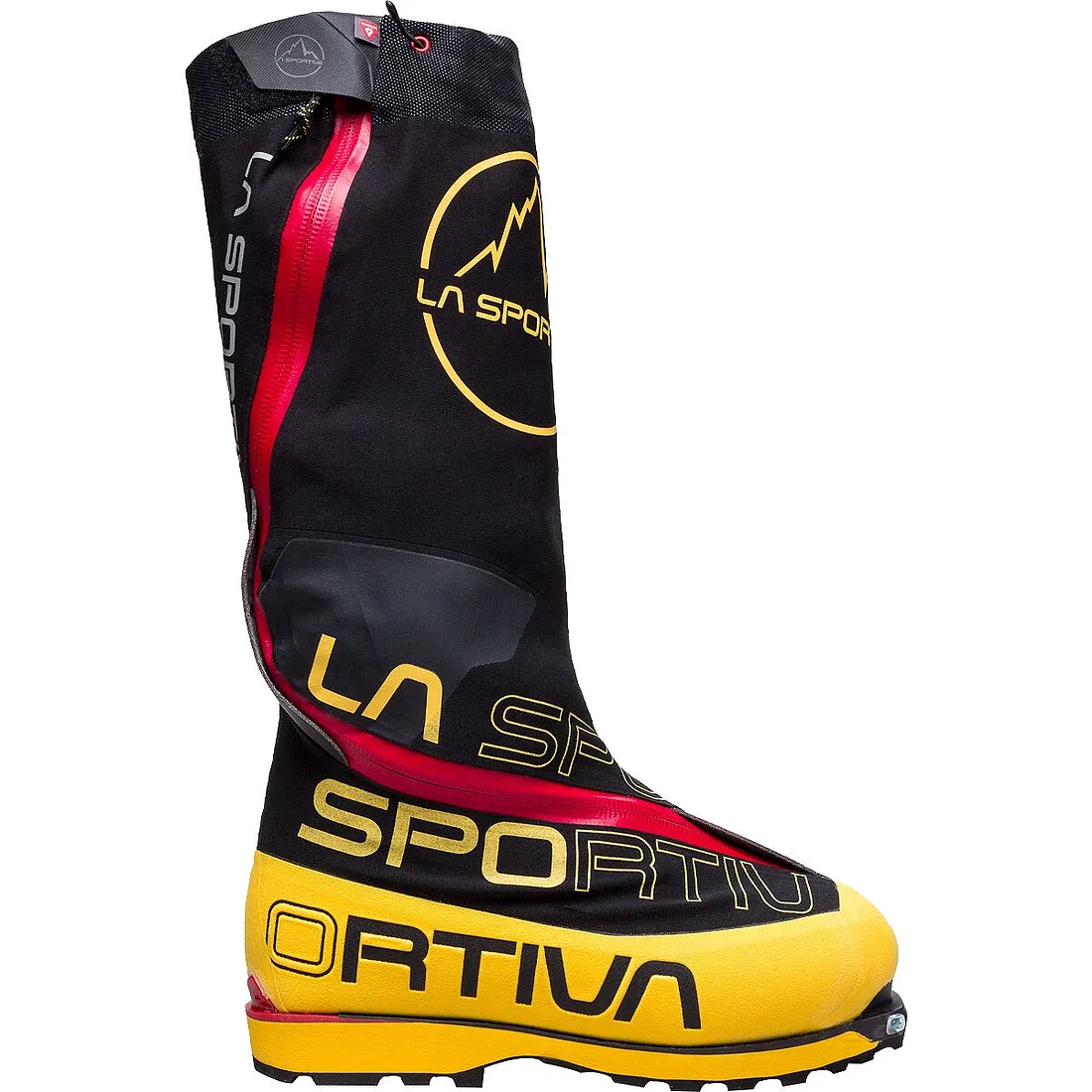 Reasons to Buy
Superior insulation for extreme cold

Excellent crampon compatibility

Durable construction for long-lasting use

Waterproof and breathable materials

Quality build with comfortable design
Reasons to Avoid
Quite expensive compared to others

May be overkill for less extreme conditions

The weight might be a deterrent for some
The Important Specs
Sole:

Polyurethane midsole with TPU insert/ Vibram Litebase with Vibram Morflex expanded EVA and Vibram Mont compound

Liner:

Water-Repellent Cordura with insulating aluminium layer

Closure:

Boa Fit System with Powerstrap

Insulation:

Aerogel/ PrimaLoft Gold Insulation Aerogel 3mm/ Multi-Heat Layer Insole

Upper Material:

High tenacity Cordura/Thermoplastic polyurethane laminated fabric

Crampon Compatibility:

Automatic/ Semi-automatic
Review Roundup
The La Sportiva Olympus Mons Cube has been specifically designed for men who take their mountaineering to an extreme level. Whether you're summiting the likes of Mt. Everest or making your way through the brutal chills of the Antarctic, these boots have got you covered. Consistent with many users' feedback, these boots sit in the top tier, providing robust protection and warmth, even in sub-zero conditions.
One of the frequently mentioned facts by users is just how lightweight these boots are, despite their heavy-duty capabilities. La Sportiva has used a combination of modern materials and state-of-the-art technology to put together a boot that does not compromise on comfort, despite providing excellent heat insulation. This lightweight design comes highly appreciated by mountaineers who are conscious of every ounce while tackling lofty heights.
Another unique feature noted by many users is the boots' flexible sizing. The Olympus Mons Cube features an adjustable, removable, and insulated bootie, contributing to perfect fitting, even with thick socks or additional liners. The adjustable Velcro fastening also lets one customize the boots' tightness giving additional control and comfort, reducing the risk of blisters.
However, the boot's warmth comes with some trade-offs. Some climbers have reported the boots being too warm for lower elevations or moderate weather conditions. They can make your feet sweaty, which might be an issue over longer stretches. Breathability here is compromised, which is only an issue when you're not in the icy conditions the boots were designed for.
As for price, the Olympus Mons Cube is not the most affordable option on the market. However, many users have testified that the boots are worth every penny considering their quality, durability, warmth and technology. Did we also mention that these boots look super stylish with their out-of-this-world, space-age design?
In terms of traction, users have marked the boot's grip on slippery surfaces as a plus point. The boots feature a Vibram outsole that offers good grip on different surfaces and a TPU midsole that adds to the boot's rigidity, helping with traction. Climbers using these boots have noted that they felt overall safer and more secure during their climbs.
Lastly, when it comes to durability, these boots are built to last, according to most users' reviews. Despite the rough and tough wear from high altitude expeditions, the Olympus Mons Cube holds its own. There were very few reports of quick wear and tear, making these boots a reliable and long-lasting companion for your expeditionary needs.
Break-in Period
The boots don't need much time to break in, according to the reviewers. They commented on the boots being pretty comfortable out of the box and requiring only a minor break-in period.
Durability
Despite the extreme conditions they're designed to withstand, these boots proved remarkably durable. Users have reported that they hold up well over time, even with heavy use.
Insulation & Warmth
The La Sportiva Olympus Mons Cube offers fantastic insulation thanks to an elaborate combination of Aerogel and PrimaLoft Gold Insulation. Reviewers have praised these boots for keeping their feet warm in extreme cold, even at high altitudes.
Traction & Crampon Compatibility
These boots offer great traction by themselves, but it's their crampon compatibility where they truly shine. Users mentioned the secure and easy fit with both automatic and semi-automatic crampons.
Value
Though expensive, most buyers agree that the Olympus Mons Cubes are a worthy investment for serious high-altitude expeditions. The boots' top-notch functionality, durability, and comfort make them worth the cost.
Waterproofing & Breathability
The Olympus Mons Cube boots have an excellent balance of waterproofing and breathability. While they successfully keep water out, reviewers appreciated that their feet did not feel suffocated and moisture build-up was minimal.
Weight
The one drawback that users point out is their weight, they are slightly heavier than some rival models. This may not be a huge problem on shorter outings but could be noticeable on longer, multi-day trips.
Prices