Quick heads-up: some of the links on this page are affiliate links. If you make a purchase through them, we may earn a small commission (at no extra cost to you). This small bit of income helps keep our site running.
Best Ice Axes of 2023
This post was last updated on December 06, 2023.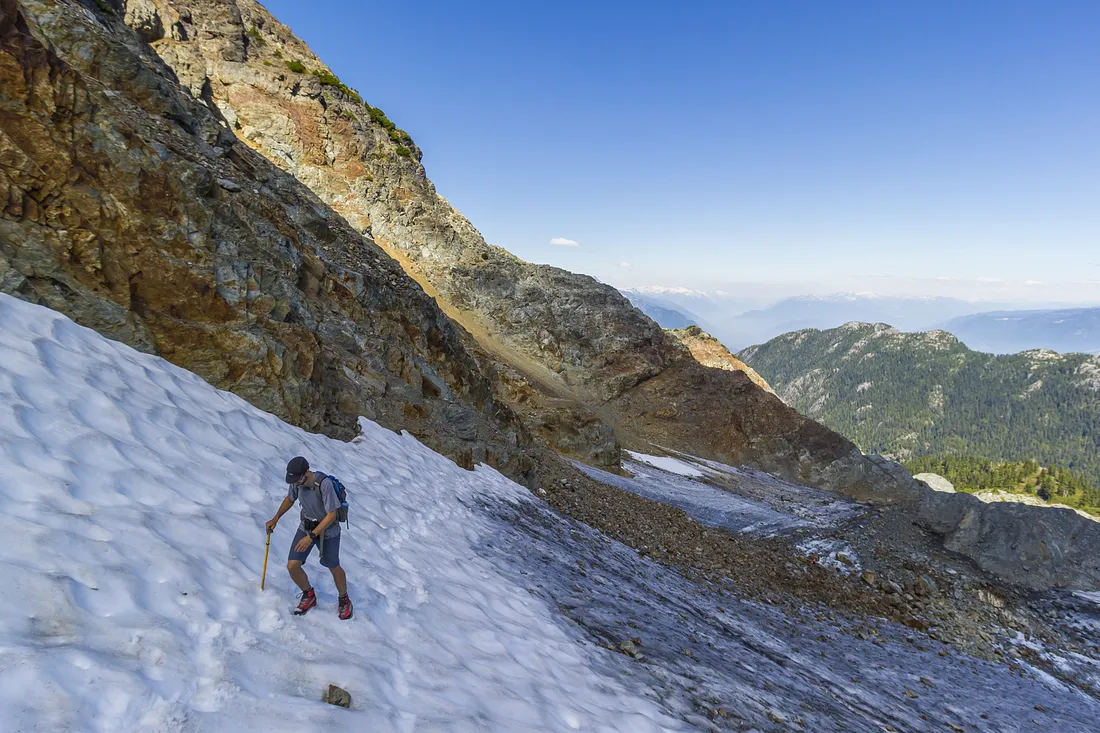 Hey there adventurers! If you're thinking of conquering icy terrains or want to get that mountaineering badge, you've landed on the right page. We take our ice axes seriously here, after all, it's not just a tool, it's a lifeline when you're up there in the frosty wilderness. From top-notch balance to spike design, and shaft ergonomics to the good ol' dollars and cents, we've got you covered on all fronts.
In our quest to find the 'Best Ice Axe', the Petzl Summit Evo came out on top, ticking all the right boxes. It's not only about the fancy jargon like 'pick penetration' or 'adze functionality', it's also about how comfy it feels in your grip and how trusty it is during those demanding glacial journeys. We promise, we're not just jawing—you're going to love what the Summit Evo offers.
We've also got a top-notch list of runner-ups lined up. If you're looking for the best budget or ultralight options, we've got that catered for too! Still figuring out your climbing gear essentials? Check out the best climbing harnesses here, belay devices here, and helmets here. Now, let's dive deep into the world of ice axes and help you pick the right one!
Our Top Recommendations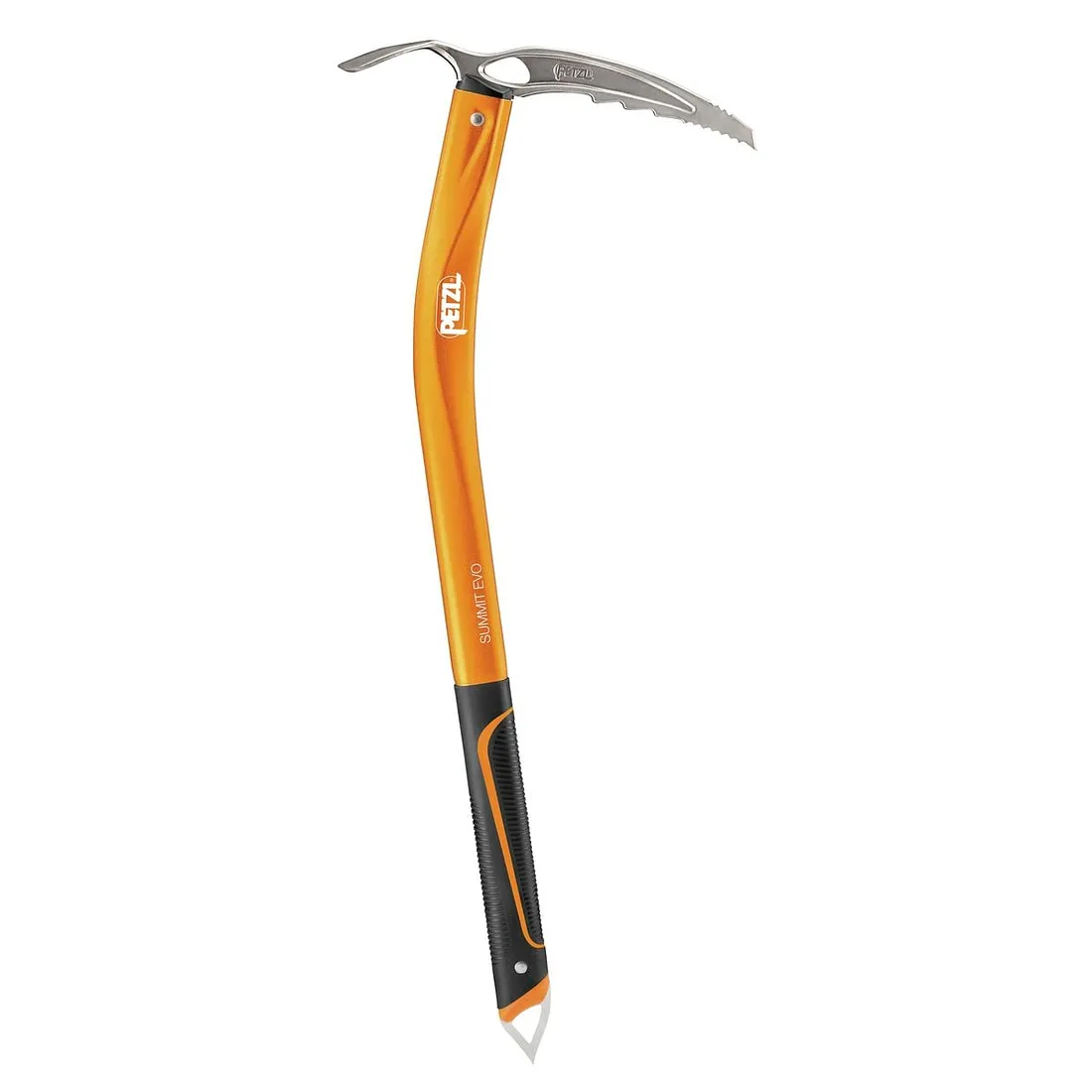 Petzl Summit Evo
The Petzl Summit Evo claims our top pick due to its outstanding comfort in use, as noted by many enthusiastic campers, allied with a balanced weight distribution that delighted serious climbers, setting it notably apart from its competitors.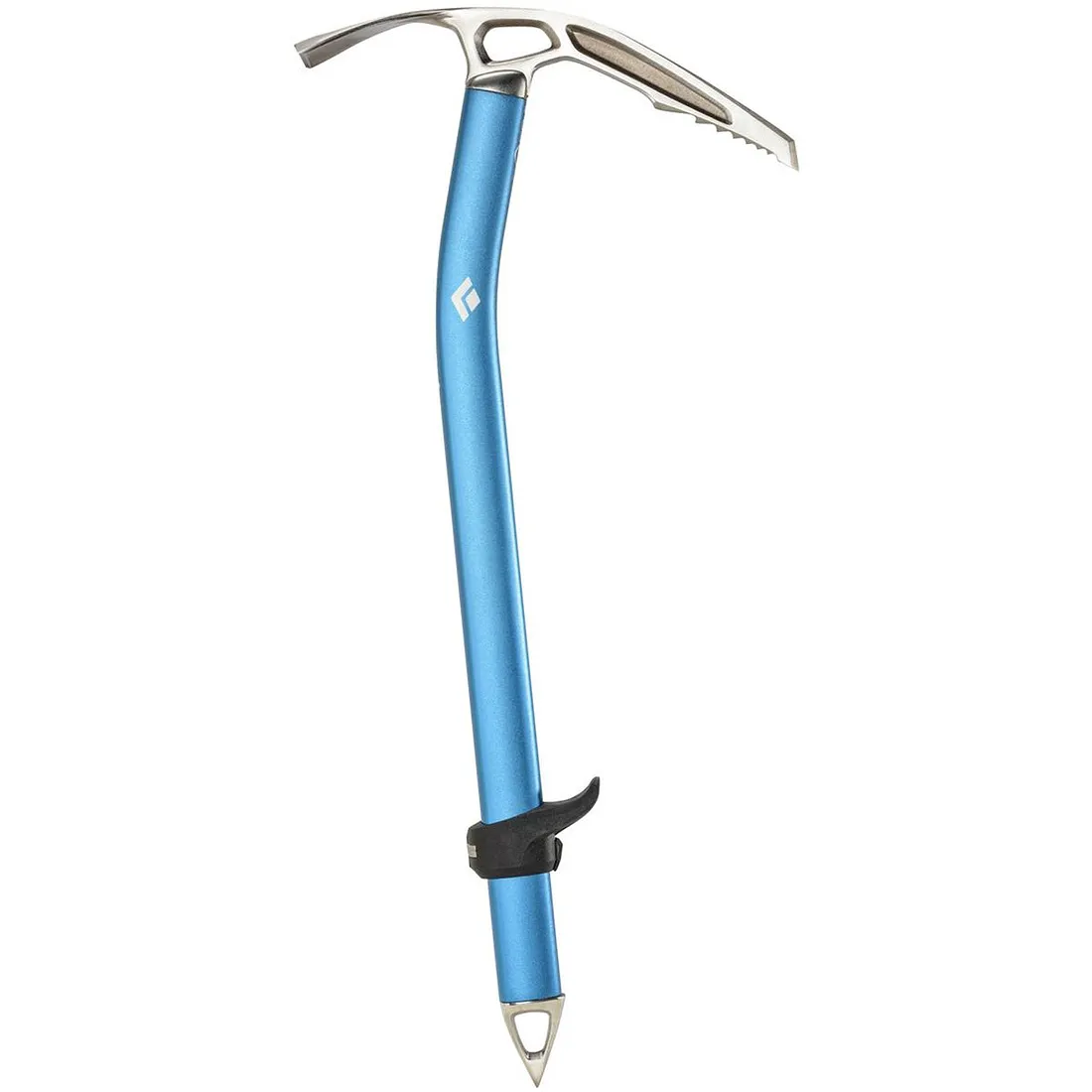 Black Diamond Swift
The Black Diamond Swift nabs the top pick spot for its superior ergonomics and dependable durability, qualities frequently praised by seasoned climbers in user reviews.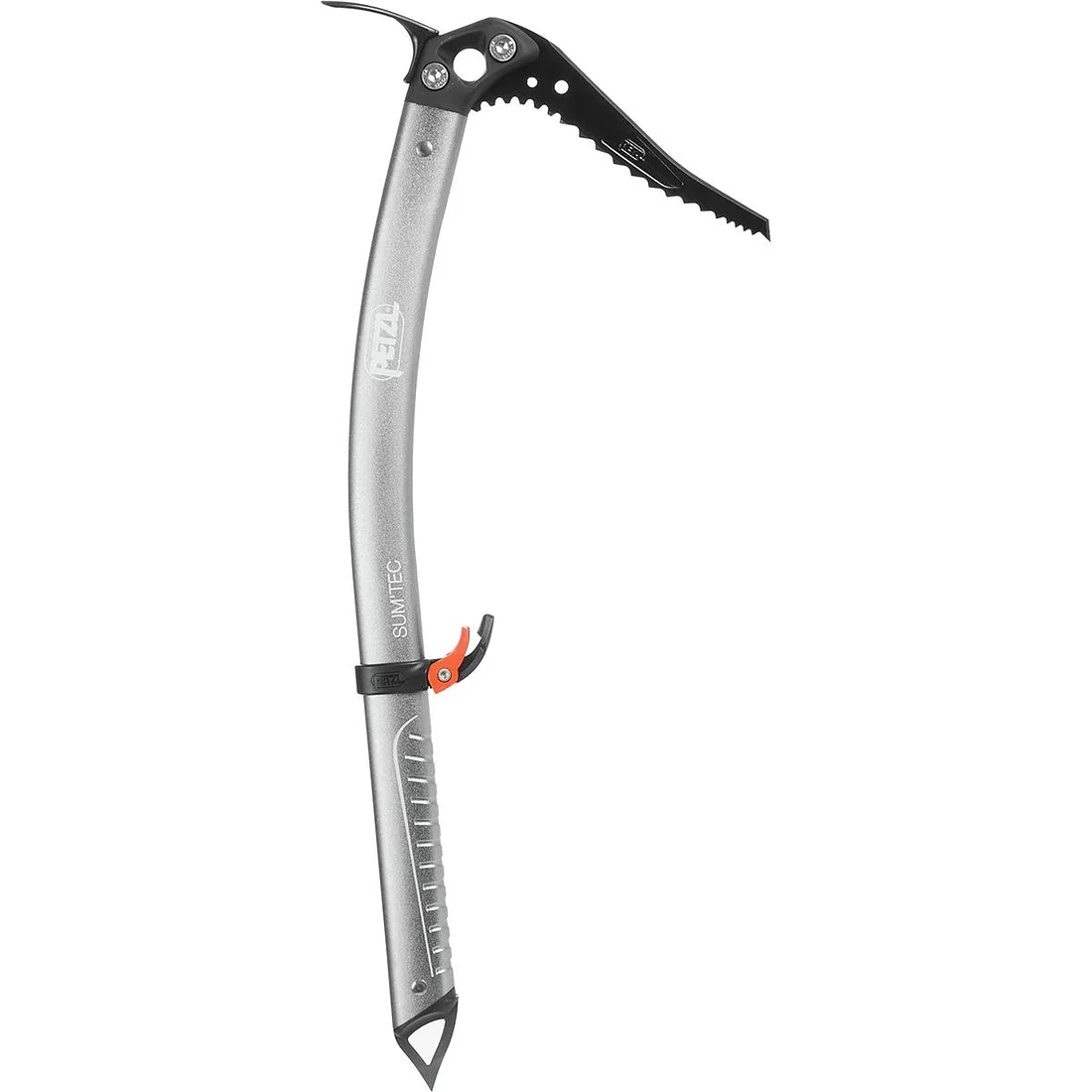 Petzl Sum'Tec
Backpackers rave about the Petzl Sum'Tec Ice Axe for its well-balanced design and versatility, making it stand out as a top choice for varied terrains and climbing conditions.
What you should look for
(and what we test for)
Grip
The grip of the ice axe should be comfortable and secure, offering you excellent hold even in cold, wet, or icy conditions to ensure optimum performance and safety.
Length
The length of the ice axe should be chosen based on your height and the intended use; shorter axes are perfect for technical climbs, while longer ones are suitable for walking or glacier crossings.
Weight
When selecting an ice axe for hiking, camping, or climbing, pay close attention to its weight as lightweight axes can lessen fatigue but may compromise on durability and strength.
Material
The material of the ice axe, typically steel or aluminum, is crucial to consider; steel offers more durability and biting efficiency, while aluminum is more lightweight, ideal for less technical adventures.
The Best Ice Axe
Based on our research and testing, we think the Petzl Summit Evo is the best Ice Axe on the market right now, for anyone looking to play hard outside.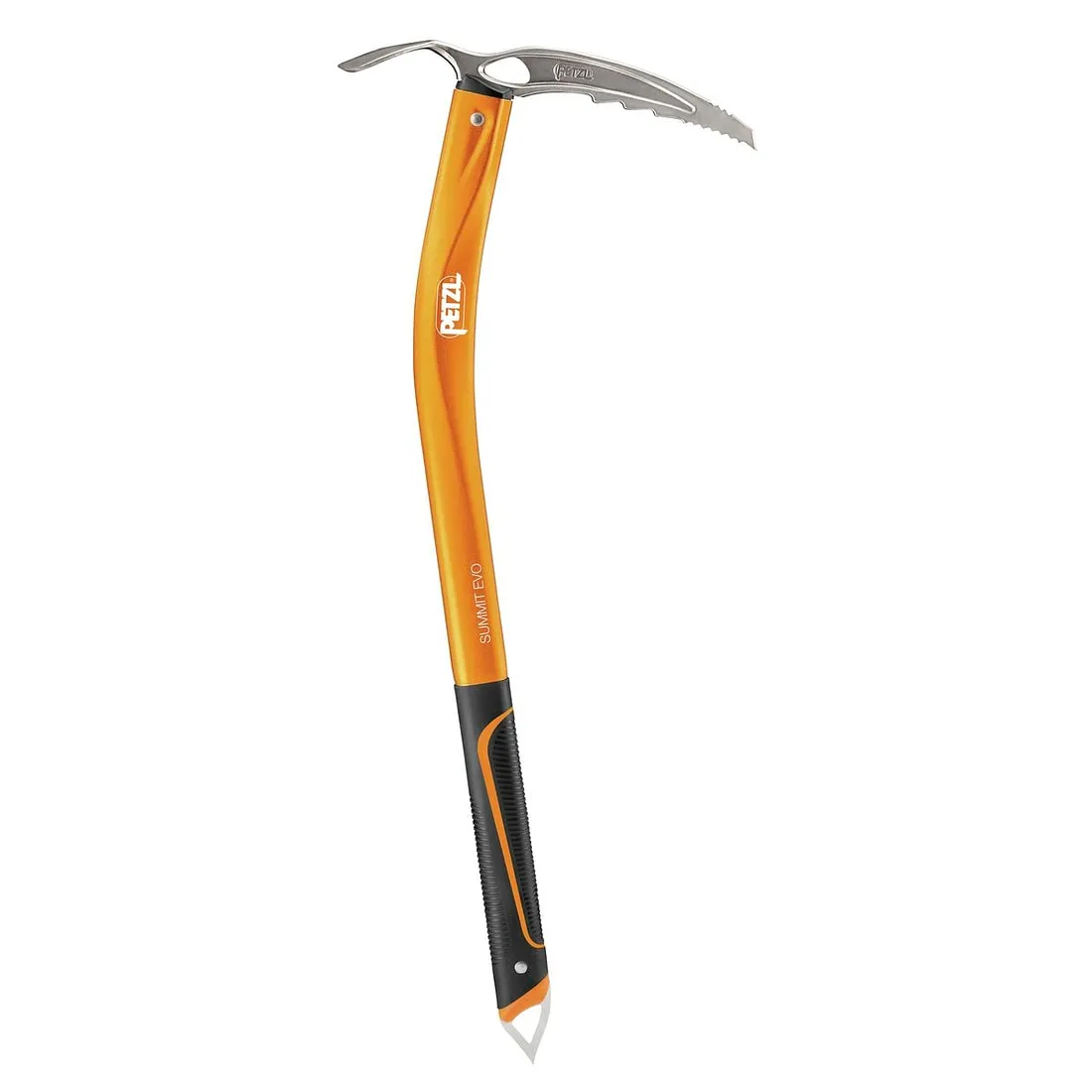 Reasons to Buy
Versatile for all mountain terrain

Excellent balance between weight and durability

Solid performance at a reasonable price

Great pick and adze design

Comfortable grip for prolonged use
Reasons to Avoid
Not the cheapest on the market

Style may not suit all climbers

Lack of modular head options
The Important Specs
Type:

B-rated

Length:

52cm

Material:

Heat-treated steel, aluminum, nylon

Certification:

CE, UIAA
Review Roundup
The Petzl Summit Evo is a top-choice ice axe that quickly gains the trust of both seasoned mountaineers and rookie climbers. It notches high on the functionality scorecard, armed with features designed to deliver standout performance in diverse alpine environments.
The first thing you notice about the Summit Evo is its sleek, ergonomic design. It's not just aesthetically pleasing, it's practical. The slim pick and tapered shaft make it easier to drive into hard ice; you won't be battling with your axe, but with nature, as it should be.
Despite its lightweight profile, this ice axe can withstand punishing conditions that the backcountry throws at it. Constructed with heat-treated steel and an anodized aluminum shaft, the Summit Evo is built to survive many seasons of demanding use.
Users have especially raved about the excellent balance of this ice axe, making it a joy to swing. The hydroformed handle is another crowd pleaser, providing a secure grip, even with gloved hands. This feature arguably puts the Summit Evo a step ahead of many other models in the market.
On the flip side, there are minor gripes about the Petzl Summit Evo. Some users mentioned issues with the axe's ice penetration capabilities in extremely hard conditions, so it might not be the best choice for those venturing into very challenging terrain. Also, while it comes with a variety of length options - great for different body sizes or climb styles - it may take a bit of trial and error to find the perfect fit
Cost-wise, the Summit Evo is a mid-range item. Online reviews often mention that its top-notch performance makes it worth every penny. Yes, there are cheaper axes on the market, but few can match the functionalities packed in this compact tool.
Overall, online user experiences echo a common sentiment: The Petzl Summit Evo offers reliable performance, great comfort and usability, making it a solid choice for climbers of all levels.
Adze & Hammer Functionality
The adze of the Summit Evo is designed for efficient cutting into ice or chopping footholds. It's large enough to be effective without making the axe top-heavy, while the absence of a hammer might be a potential downside for some climbers.
Balance
One of the stand-out features of this axe is its excellent balance. Its design ensures that it's well-balanced in your hand, making climbing and chopping more efficient and less tiring.
Durability
Made from heat-treated steel and aluminum, the Summit Evo is tough and resistant to wear and tear. Customers report that it confidently withstands repeated hard use in various conditions.
Material
The Petzl Summit Evo uses a combination of heat-treated steel for the head, lightweight aluminum for the shaft, and durable nylon for the grip. These materials add both to its durability and comfort during use.
Pick Design & Penetration
A strong and reliable pick is crucial for any ice axe. The Petzl Summit Evo's pick is slightly curved, enhancing its strike and penetration on the ice, making it much more effective in securing and maintaining your grip.
Shaft Ergonomics & Grip
The ergonomically designed shaft and a rubber grip make the axe more comfortable to hold for extended periods. This can be a huge advantage during long climbs and treks.
Spike Design & Traction
The spike on this axe is robust and designed for good traction in various terrains. It ensures reliable plunging and stability when descending steep slopes.
Value
While it's not the cheapest ice axe on the market, the Petzl Summit Evo delivers strong performance for its price. It's an excellent value considering its versatility, quality construction, and comfort.
Weight
The Petzl Summit Evo hits a sweet spot between too heavy and too light. It's not the lightest option available but its balanced weight enhances its swing and strike. This makes it a great choice for a variety of alpine adventures.
Prices
Black Diamond Swift
$199.95
Runner Up
Based on our research and testing, we think the Black Diamond Swift is a great choice if you're looking for a ice axe to go play hard outside with, if our top pick isn't quite what you're looking for.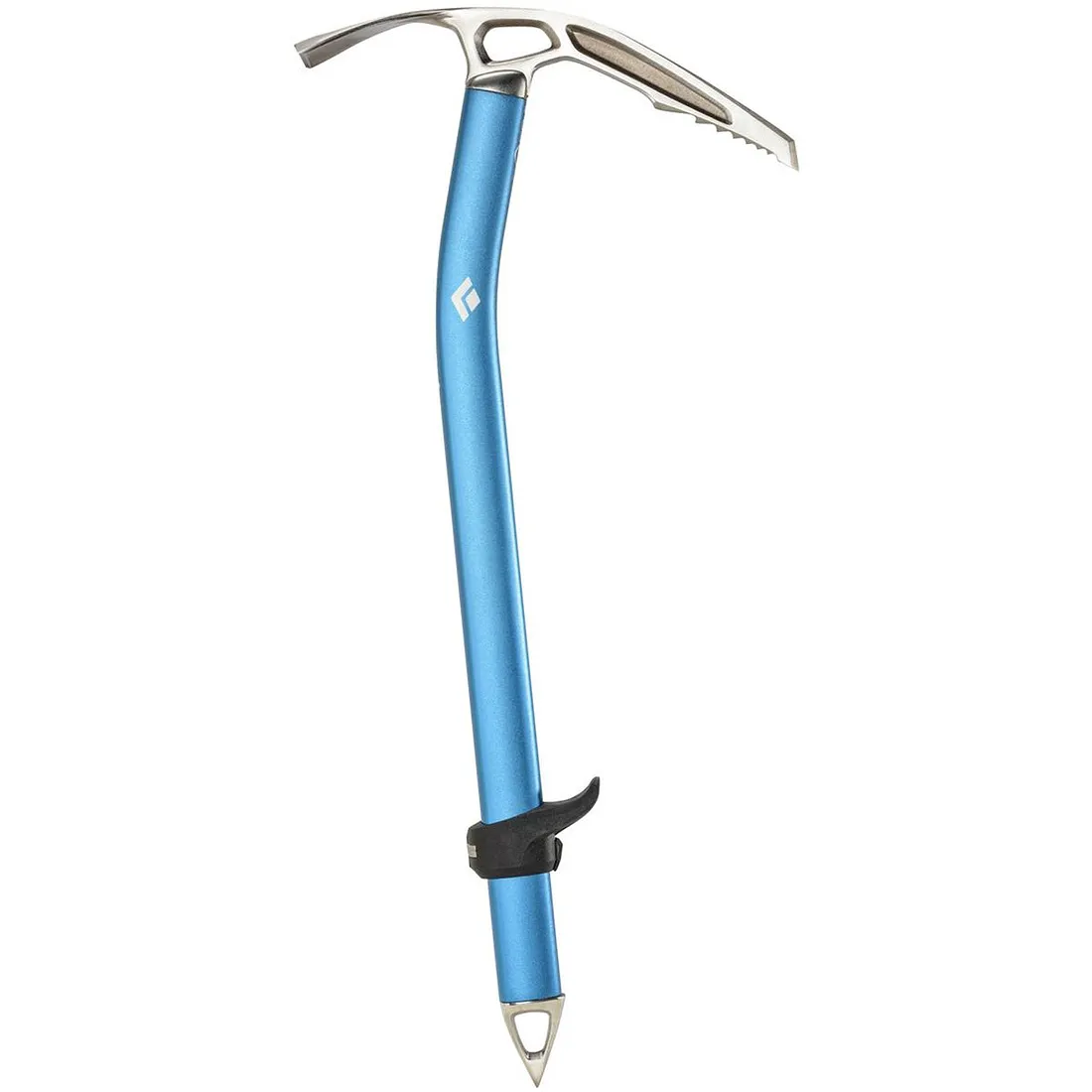 Reasons to Buy
Excellent balance for efficient swinging

Top-notch pick penetrates all types of ice smoothly

Durable material that can withstand harsh environments

Comfortable grip that enhances control

Sharp spike that provides traction

Adze & hammer functionality offers versatility
Reasons to Avoid
Premium price may not fit all budgets

Some users find the spike a bit too aggressive

Might be overkill for casual mountaineers
The Important Specs
Head:

Stainless steel

Pick:

Ice pick

Shaft:

Aluminum

Length:

Standard lengths - 50, 57, 64 cm
Review Roundup
On the outset, the Black Diamond Swift clearly stands out as a premium ice axe choice. Its design is stylish and efficient, demonstrating a perfect blend of functionality and aesthetics in the harsh mountain climbing environment. The fit in your hand feels just right, and any experienced ice climber would appreciate the attention paid to ergonomics.
One of the notable features of the Swift is its robust, stainless steel head that's geared for optimal strength and durability. There's an impressive pick geometry, designed to penetrate into hard alpine ice effectively. Users have affirmed that it bites into icy terrain with a satisfying zest, assuring strong holds so that you can ascend with confidence.
The T-rated shaft gives the Swift a substantial degree of toughness and stability. Constructed with high-quality aluminum, it's robust without being overly weighty. Many climbers echo the sentiment that the product, despite its durable make, is surprisingly lightweight. They often speak positively about how it aids maneuvering, particularly on long climbing journeys where the weight factor can become paramount.
Moreover, the Swift features the FlickLock pommel, a patented, adjustable second grip. This feature has proven to be a significant game-changer for climbers, often highlighted for how it offers technical climbing support as well as self-arresting assistance, providing security on steep slopes and icy patches.
The build quality of the Swift has been well-received online. Customers have noted the comfortable feel of the grip, the satisfaction of a secure hold, and the overall integrity of the axe. Some, however, mention that it takes a bit of getting used to, especially for beginners, primarily due to its aggressive pick design.
On negative notes, a few users have brought up concerns over the Black Diamond Swift's high price tag, indicating that this top-tier performance could be a bit steep for climbers on a budget. However, the majority vouch for its value for money, stating that the Swift's durability and performance justify its premium price.
Adze & Hammer Functionality
The swing-weighted adze performs efficiently at chopping steps in the ice. It also has a hammer functionality which could come in handy when setting up protection.
Balance
This ice axe's excellent balance stands out—it leans toward the head end—and when coupled with its significant heft, gives you efficient swinging.
Durability
Made with a stainless steel head and an aluminum shaft, this tool can withstand harsh environments. It's a companion you can rely on even in adverse weather conditions.
Material
The use of stainless steel and aluminum gives this ice axe an unbeatable combo of durability and lightweight convenience. You'll also appreciate the durability of the rubber grip.
Pick Design & Penetration
The pick design is top-notch—it penetrates all types of ice smoothly and cleans nicely. Its slight curvature is great for climbing steep ice or self-arresting.
Shaft Ergonomics & Grip
The shaft has a comfortable grip that enhances control. You may notice a rubberized lower grip which contributes to a more secure grip and better insulation.
Spike Design & Traction
The spike is sharp and provides excellent traction. It's designed to dig into ice or hard snow easily, providing you with stability during your climb.
Value
While the price is on the higher end, you're paying for a well-crafted tool that excels in nearly every aspect. Plus, it's durability means it will likely serve you well for a long time.
Weight
The Black Diamond Swift feels lightweight in your hand, but is solid enough to give you confidence when you're facing steep icy terrains. It's designed to make every swing count without leaving you feeling exhausted.
Prices
Runner Up
Based on our research and testing, we think the Petzl Sum'Tec is a great choice if you're looking for a ice axe to go play hard outside with, if our top pick isn't quite what you're looking for.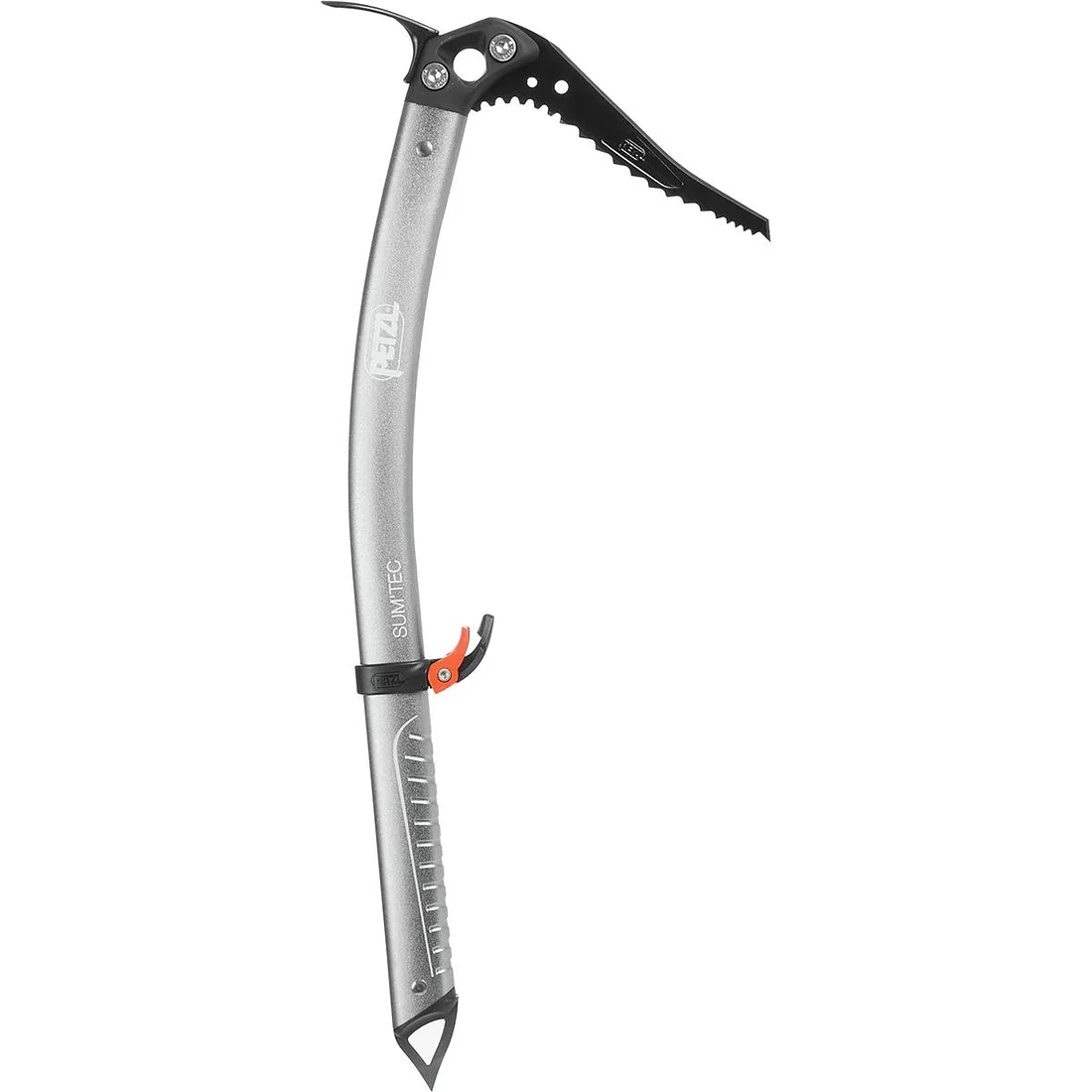 Reasons to Buy
Versatile for various terrains

Top-notch performance

High durability

Excellent grip and ergonomic handle
Reasons to Avoid
Slightly pricey

Modular design might require adjustments and adaptations
The Important Specs
Length:

55-70 cm

Pick Style:

Reverse curve

Shaft Design:

Bent, Aluminium

Head Material:

Hot forged steel
Review Roundup
Let's talk about the Petzl Sum'Tec, a true powerhouse in the world of climbing and mountaineering. Ice axe aficionados have agreed that this product truly stands out in the crowd. It seems that Petzl has managed to blend functionality, quality and an affordable price tag into one compact package.
Designed with both the novice and seasoned climber in mind, the Petzl Sum'Tec provides the perfect blend of versatility and power. It's a trusty tool for general mountaineering, but doesn't shy away from the steep, technical terrain either. It has a modular design which allows you to tailor it according to your needs; want to climb up a glacier? Slap on the glacier pick. Need to tackle some ice? Swap it with the ice pick.
When it comes to build, it's lean and mean. This sleek, lightweight axe is a joy to carry, won't weigh you down on those long treks. The aluminium shaft is sturdy and the steel pick is touted for its durability by folks who've taken it on their adventures.
Users rave about the grip of the Petzl Sum'Tec. Regardless of whether they were sporting gloves or dealing with a wet handle, they could hold on for dear life with ease. The grip also came in handy during self-arrests, offering good control during a fall.
However, it's not all sunshine and rainbows. Reviews online have pointed out that the spike at the bottom of the axe is not the most adept at penetrating firm snow or ice. Some climbers feel that the 'one size fits all' approach didn't work as well for them, wishing for more length options. Grip comfort, although enhanced with an adjustable hand rest, was reported to be a bit less forgiving for those with larger hands.
The Petzl Sum'Tec makes a strong case for being your go-to ice axe. It's reliable, flexible and, by user reports, holds up pretty well under different conditions. It has its downfalls like any other product. But to find an axe that marries versatility and performance as well as this one does, you might be looking far and wide.
Adze & Hammer Functionality
From chopping steps to preparing belay spots, the adze and hammer functionality is highly praised. Reviewers have raved about its effectiveness and utility in a broad range of situations.
Balance
The balance of this ice axe is remarkable as noted by several users. It feels good in the hand, aiding stability during climbs.
Durability
Made from high-quality materials, the Sum'Tec is praised for its durability. Users have said it can withstand harsh weather and repeated use.
Material
This ice axe is made of steel, aluminium, and nylon, making it strong, lightweight, and resistant to extreme conditions.
Pick Design & Penetration
The pick design is top-notch. Its sharp point and curve offer impressive penetration into ice and frozen surfaces.
Shaft Ergonomics & Grip
The ergonomic grip is considered one of the best features of this ice axe. Users praised its comfort and efficiency, especially on long excursions.
Spike Design & Traction
The spike design provides excellent traction on mixed terrains. Reviews pointed out its ability to maintain a steady footing even in challenging conditions.
Value
While slightly on the expensive side, most users agree that the Petzl Sum'Tec is worth its cost considering the number of features and the overall performance it offers.
Weight
The Petzl Sum'Tec is nimble yet sturdy. Many users enjoy its moderate weight which provides ample swinging momentum without resulting to exhaustion quickly.
Prices
Best Budget Ice Axe
Based on our research and testing, we think the Petzl Glacier is a great pick if you're looking for a ice axe that is more budget friendly, without sacrificing too much in quality.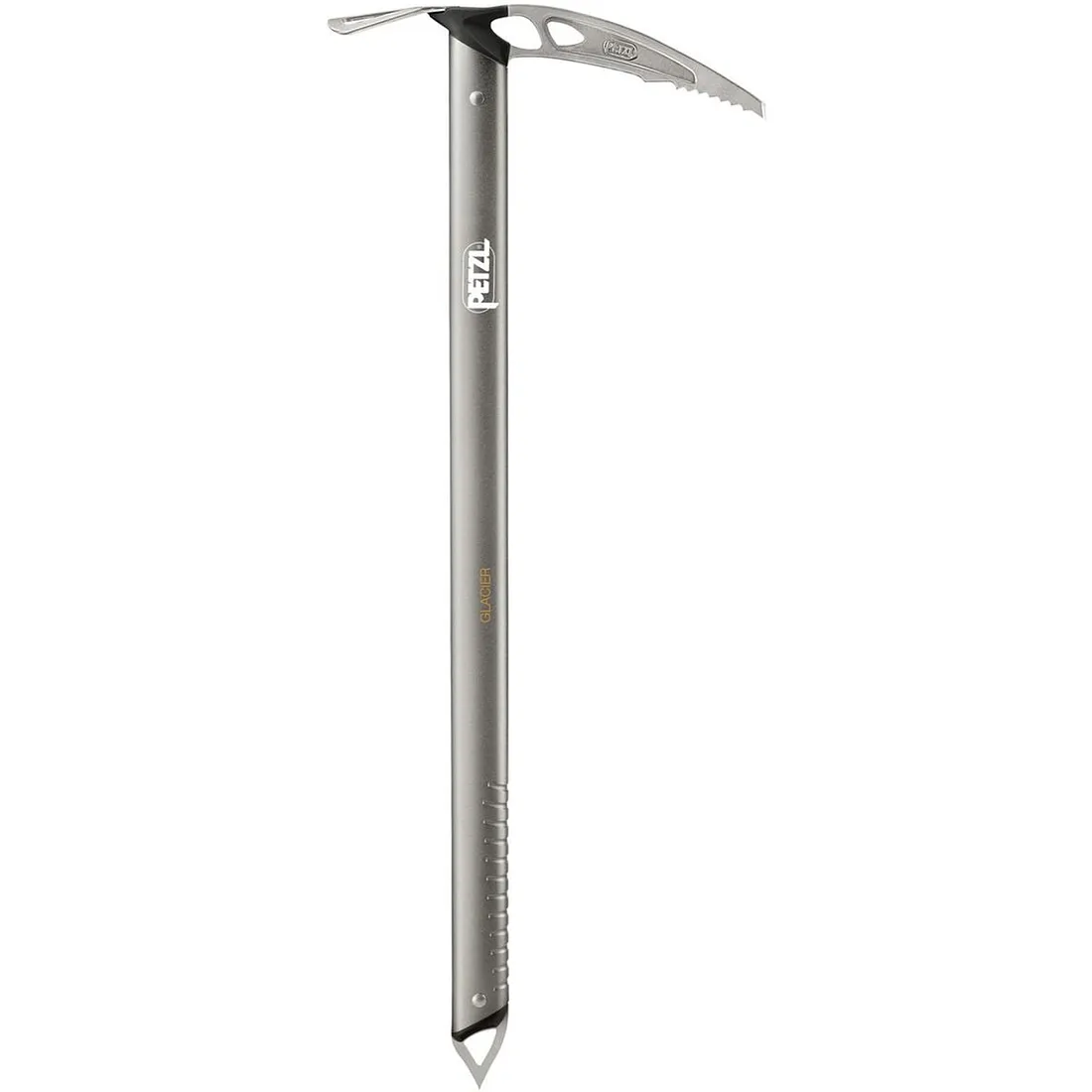 Reasons to Buy
Affordable price in comparison to other ice axes

Solid construction promising long term durability

Design ensures good balance and ice penetration

Easy to handle even for beginners

Great grip for stability and safety
Reasons to Avoid
Spike design might struggle on more challenging terrains

Limited versatility for advanced mountaineering

Adze and hammer functionality might not be sufficient for professional users
The Important Specs
Design:

Classic straight shaft and pure steel pick design

Length:

Available in 50 to 75 cm lengths

Material:

Heat treated Steel pick, Anodized Aluminum Shaft
Review Roundup
The Petzl Glacier ice axe is a great pick for budget-conscious adventurists. Falling into the more affordable end of the market doesn't mean this axe compromises on performance or quality. It's solidly built and offers excellent value for your money.
When it comes to design, simplicity is key with the Petzl Glacier. Featuring a straight, light anodized aluminum shaft, it's easy to handle during climbs and keeps your pack light during your ascents. The spike at the bottom provides secure purchase on icy terrains, giving you the required confidence during your climb.
The steel pick is toothed at the tip for excellent anchoring on both ice and rock. As per users feedback, it performs well even in harder ice conditions.
One aspect to mention, is the lack of an adze on this model. Whilst for some this may not be an issue, others might find this a key disadvantage based on their climbing style and preference.
Features that got users praising are the streamlined beveled blade which effortlessly penetrates hard snow and ice, and a comfortable ergonomic grip allowing for durable handling even with gloves on.
For self-arresting practice, both newbies and experienced climbers praised its effectiveness. The shaft of the axe offers enough traction to get a good grip when self-arresting.
However, on the flip side, a couple of users online felt the Petzl Glacier is slightly less effective when it comes to steep ice and technical climbing due to its straight shaft and basic design.
Size options for this model range from 60 to 75cm allowing for personalization to fit climbers of various heights. Additionally, a positive point noted by users is its durability. The pick and spike corrosion resistant tip will have you using this ice axe for seasons to come.
In summary, if you're someone who hikes and climbs in moderate terrain and are looking for a lightweight, simple, yet reliable ice axe, then the Petzl Glacier, according to many online reviews, would be a strong contender.
Adze & Hammer Functionality
The adze and hammer functionality of the Petzl Glacier can get the job done, but advanced mountaineers might need a bit more.
Balance
The balance of this ice axe is generally well-regarded. Its design allows for easy swing with enough facility to penetrate the ice without getting lodged too deeply.
Durability
Users are mostly amused by the durability of the Petzl Glacier. Its construction solidly resists the rigors of mountaineering, making the ice axe a reliable piece of equipment.
Material
The steel pick and anodized aluminum shaft ensure a combination of durability, resistance to harsh conditions, and moderate weight.
Pick Design & Penetration
The pick design is textbook, catering to those who need both reliability and functionality. The pick penetration depends on the nature of the ice, but in general, users found it pretty satisfactory.
Shaft Ergonomics & Grip
The shaft ergonomics and grip on the Petzl Glacier is robust and comfortable. Users often comment on its ergonomic design, facilitating easy handling.
Spike Design & Traction
The spike design and traction have got mixed reviews from users. While it's functional for simpler terrains, some users found it struggling in harder ice and steep slopes.
Value
As for value, the Petzl Glacier is the real deal for beginners or those on a budget. Despite a few shortfalls, it offers fair value for the price considering the functionalities it provides.
Weight
The Petzl Glacier is a reasonable weight for the performance it delivers. It's not the lightest ice axe out there, but its weight is in line with the durability and efficiency it offers.
Prices
CAMP Corsa Nanotech
Best Ultralight Ice Axe
Based on our research and testing, we think the CAMP Corsa Nanotech is a solid choice for those looking for a lightweight ice axe option to go play hard outside with.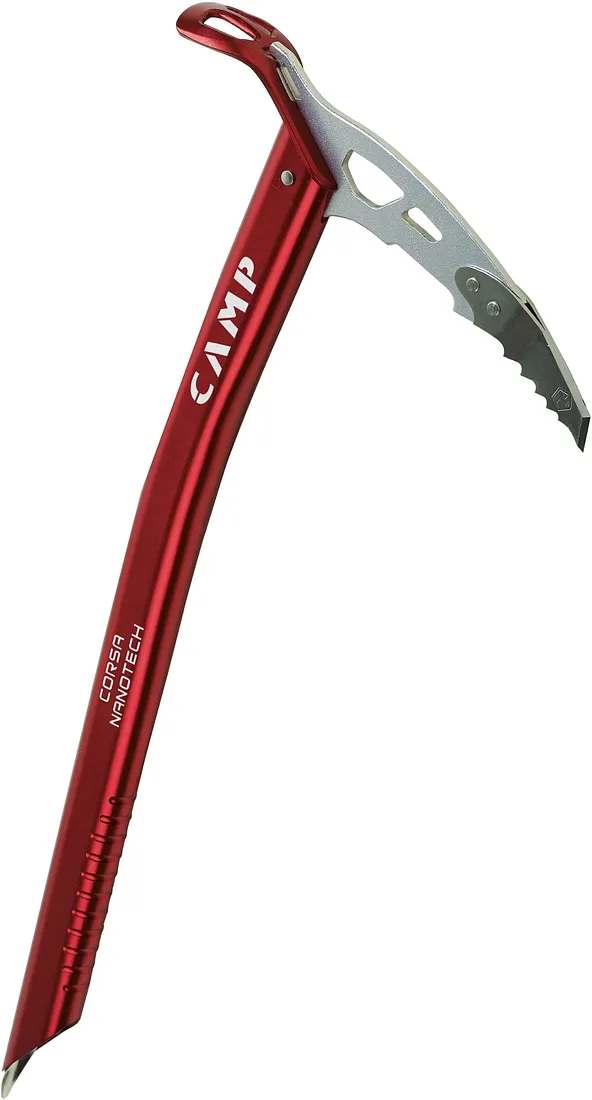 Reasons to Buy
Extremely lightweight, good for such a technical piece of kit

Extremely versatile, can be used for a wide range of mountaineering and ice-climbing scenarios

Good price-point for the type of specialized gear it is
Reasons to Avoid
Not the most durable compared to other ice axes on the market

Some users found the scoop on the adze to be too shallow

The handle exhibits some flex when torqued
The Important Specs
Type:

B-rated axe, suitable for technical mountaineering

Length:

Available in 50, 60, and 70cm versions

Material:

Made with Sandvik Nanoflex stainless steel pick and spike
Review Roundup
Let's talk about the CAMP Corsa Nanotech – a superstar in the ultralight ice axe category and trusted companion for any mountaineering adventure. This tool brings together two worlds: the ultralight weight from CAMP Corsa's classic design, combined with Nanotech's steel materials on the pick and spike, giving it an edge (no pun intended) in the durability department. If you're looking for an axe that's easy to carry on long hikes or serious climbs, this one's a runner for your money.
One of the first things most users rave about is its impressive weight, or rather, lack thereof. Weighing in at a feather-light 8.7 oz, the CAMP Corsa Nanotech is one of the lightest ice axes on the market. Whether you're embarking on a multi-day trek or a short, swift climb, this axe won't weigh you down.
It's not all about weight, though! The feature that makes the Nanotech stand out is the use of Sandvik Nanoflex steel in its pick and spike. This type of steel is known for its strength and resilience, ensuring that this axe can stand up to any challenge. It brings a level of amplification to the durability and strength of the Corsa Nanotech which, let's be honest, is what you want in a tool you're relying on for safety and survival.
The length options are another bonus. With choices ranging from 50 cm to 70 cm, there's an option for climbers of all heights and preferences. That being said, some users noted that the longer axes can feel a bit less sturdy than their shorter counterparts. This isn't really a significant issue but something to keep in mind when choosing the size that suits you best.
One area that some users found less impressive, is it's not the best when it comes to self-arresting. Several users noted that due to its lightweight nature and flat rather than curved adze (the flat part of the axe head), it didn't dig into the snow as well as heavier, more traditional models. For trips where self-arresting is key, you might want to consider heavier models.
Finally, the grip got mixed reviews. While it's designed to be minimal to maintain the axe's overall light structure, some climbers found it slightly slippery when in use. They suggest wrapping it with additional grip tape for a sturdier, and more comfortable hold.
Adze & Hammer Functionality
The adze does a good job for most tasks required and the hammer functionality is quite useful. However, some users found the scoop on the adze to be a bit shallow for their liking.
Balance
Its balance is pretty good, making it comfortable and efficient to swing. A little top-heavy, which some might find a bit off-putting, but most find it pretty manageable.
Durability
The durability unfortunately, isn't the best. This axe is not crafted for heavy-duty use. It's perfect for expected use cases, but push it too hard or abuse it, and you might find it not lasting as other tougher axes.
Material
Made from an aluminum alloy shaft with a Sandvik Nanoflex stainless steel pick and spike. This contributes greatly to its lightweight nature, though as we mentioned earlier, it does also factor into the durability issue.
Pick Design & Penetration
The pick design is very well done, providing good penetration in hard ice. While not the hardest steel available, it's certainly sufficient for most climbing scenarios.
Shaft Ergonomics & Grip
The straight shaft and dimples carved into it aid in providing decent grip. Some had issues with the fact it doesn't have a rubberised grip, but most find it adequate nonetheless.
Spike Design & Traction
The spike is designed nicely, allowing for good traction in a wide array of climbing scenarios. Its traction is above par which is handy for those precarious situations.
Value
Given its ultralight nature and versatility, it's priced reasonably for a piece of technical mountaineering gear. Those looking to save on weight without breaking the bank may find its value quite fitting.
Weight
One of the lightest ice axes on the market, the CAMP Corsa Nanotech is a dream for those looking to save on weight on their mountaineering trips. Just bear in mind that its ultra-lightweight design may compromise on some durability.
Prices
No prices found. Check back later!