Quick heads-up: some of the links on this page are affiliate links. If you make a purchase through them, we may earn a small commission (at no extra cost to you). This small bit of income helps keep our site running.
Best Bouldering Crash Pads of 2023
This post was last updated on December 06, 2023.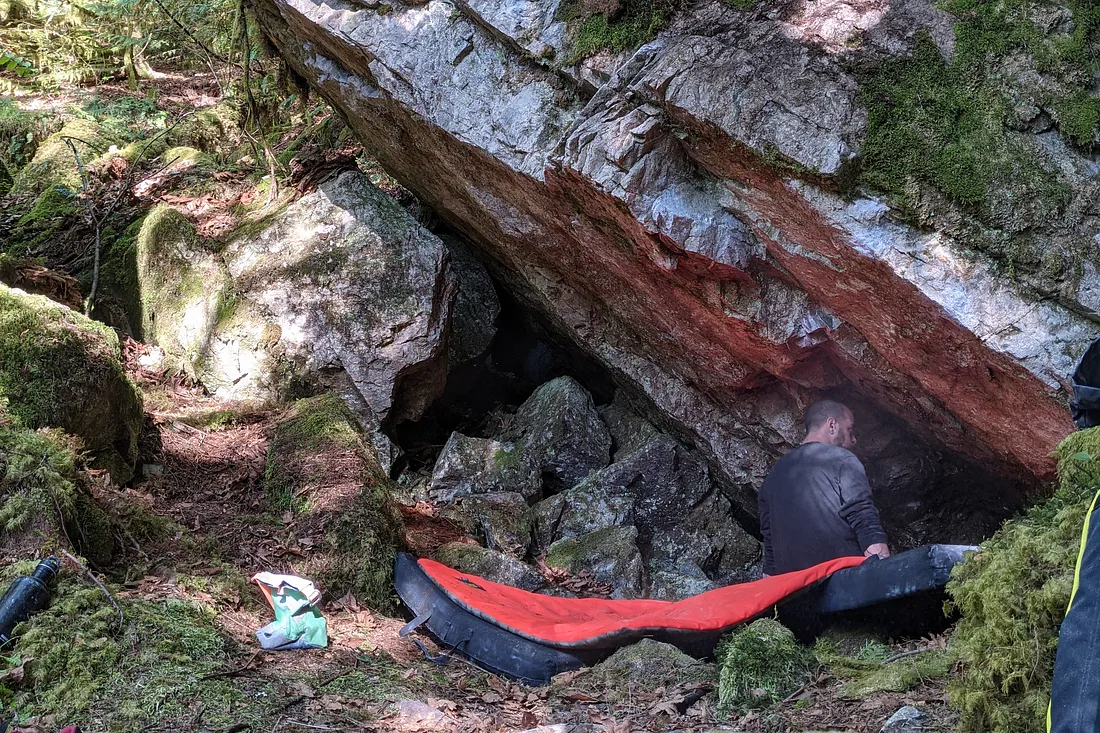 Adventure in the great outdoors is a thrilling way to get in touch with nature, but it's not just about climbing up or hiking through it's about staying safe, too. Specifically speaking about climbing, the importance of a good crash pad when you're bouldering can't be overstated. They act as your own personable cushion, your fall-breaking buddy when the boulder bests you. We've examined and evaluated crash pads with a fine-tooth comb, and we're here to share our insight.
Right off the bat, we're highly impressed with the Mad Rock Duo. It's a versatile crash pad that ticks all the boxes — durability, portability, and, of course, superior cushioning quality. It stands out as the undefeated champion in our extensive tests, but that doesn't mean our runner-ups aren't worth a look see.
In this post, we'll also provide you with the best options for each category — Budget, Cover Pad, and Triple Fold. Whether you're new to the climbing world, an experienced climber looking for a new gear or just a gear geek wanting to stay informed, be sure to check out our related posts on the Best Climbing Shoes, the Best Climbing Harnesses, and the Best Climbing Belay Devices. Now, let's dive in and have a look at these stellar crash pads.
Our Top Recommendations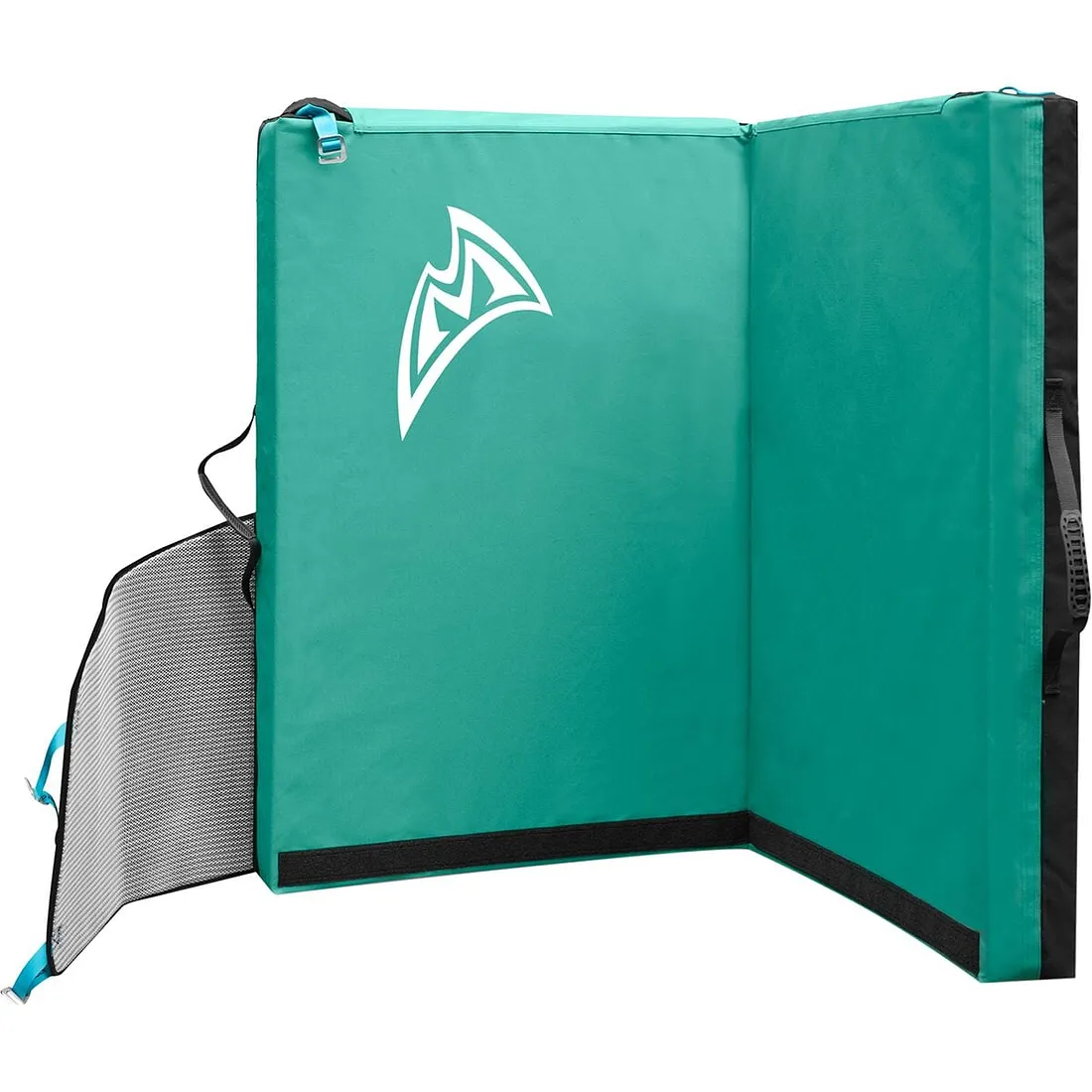 Mad Rock Duo
The Mad Rock Duo takes the top spot for its unique convertible backpack strap system for easy transportation and its reliable sturdy foam, offering climbers a peace of mind, as noted by many satisfied user reviews.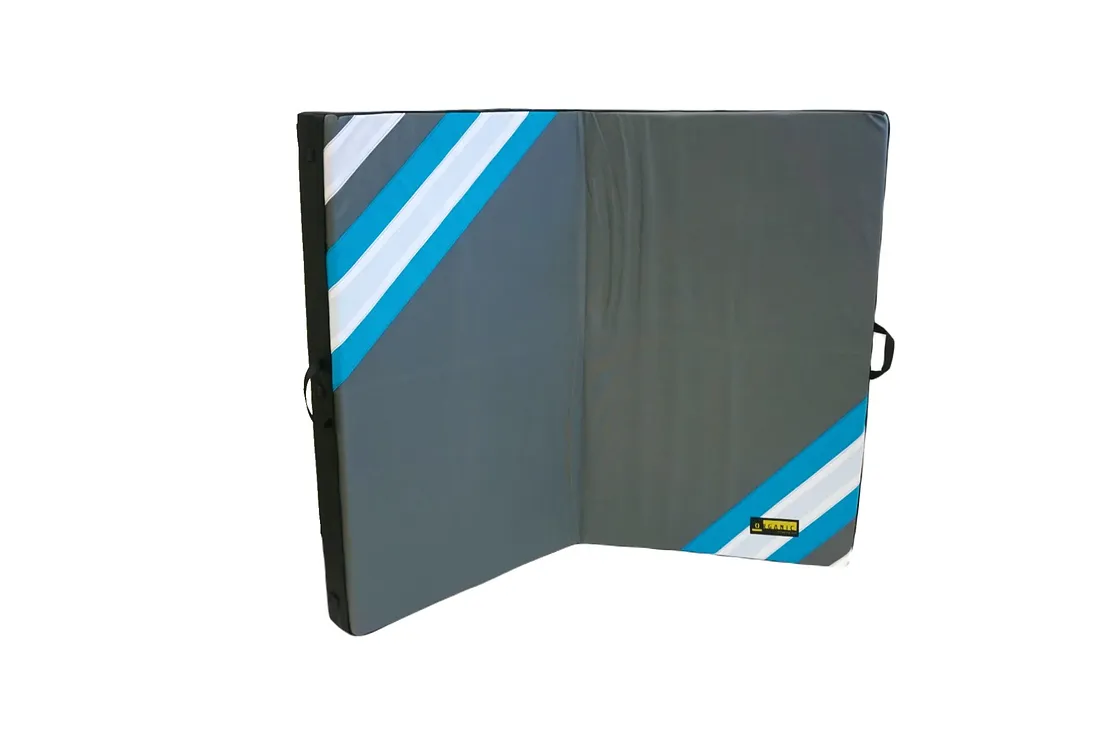 Organic Climbing Big Pad
The Organic Climbing Big Pad is a top pick for its superior cushioning that users praise for soft landings, and its durable, high-quality construction which offers excellent longevity even with frequent use.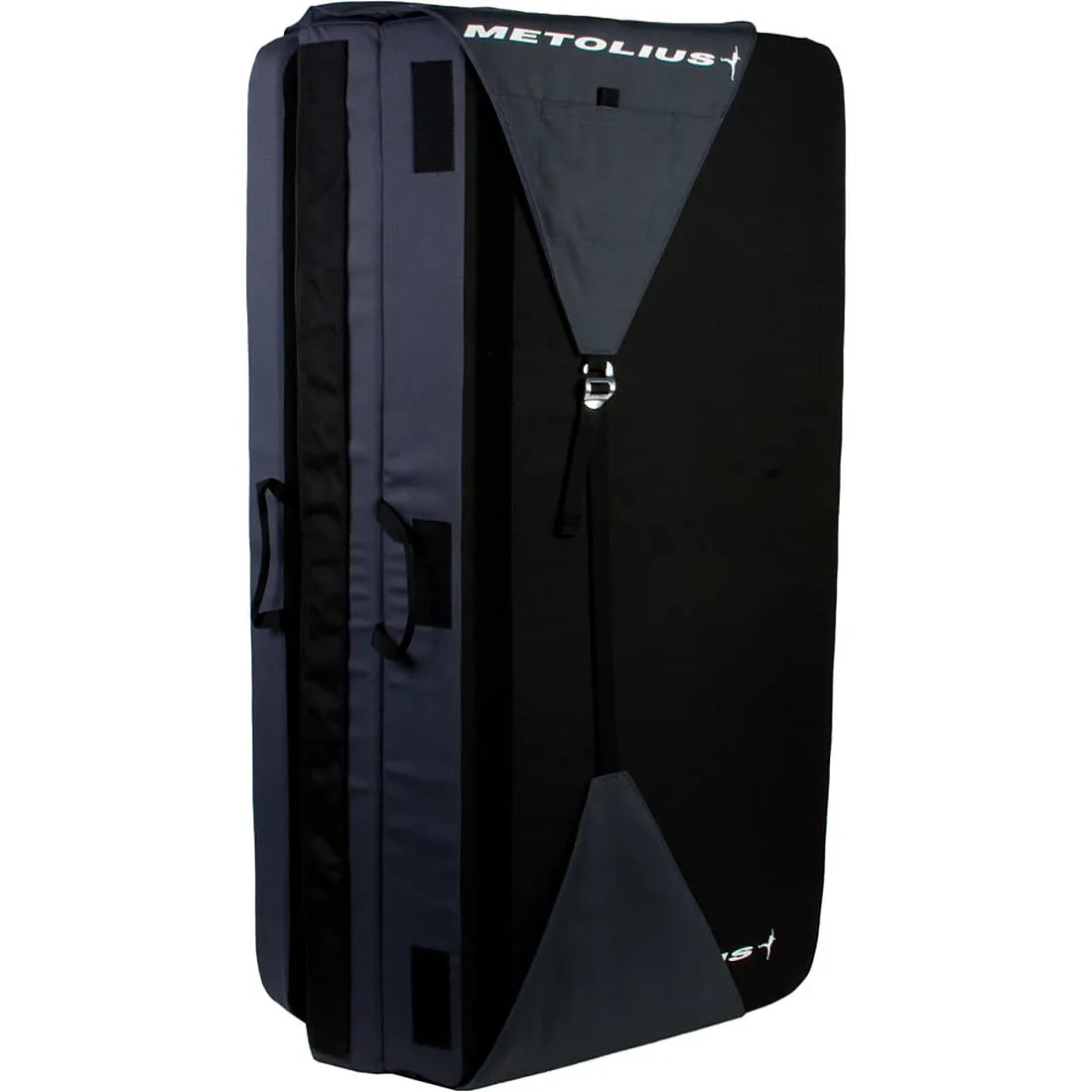 Metolius Magnum
The Metolius Magnum is our top pick runner up thanks to users praising its durable craftsmanship and generous size, ensuring reliable safety without compromising on comfort or portability during their bouldering adventures.
What you should look for
(and what we test for)
Hinge Design
As for the hinge design, it's worth considering a pad with an 'angled' or 'taco-style' hinge that prevents you from landing on an unprotected seam and offers a continuous landing surface during your climbing activity.
Pad Thickness
When it comes to picking a bouldering crash pad, thickness is crucial - thicker pads around 4 to 5 inches provide better protection for high-ball problems yet might be a bit hefty during a hiking approach.
Shell Material
A crash pad's durability heavily depends on its shell material, so look for pads with a sturdy and rip-resistant surface like 1000-denier nylon to withstand rough, rocky terrains.
Size and Portability
Confirm the pad's folded dimensions and check if it's portable; a more compact yet adequately-sized pad like 3'x4' or 4'x5' will provide ample fall zone without being a drag on your backpacking or camping trip.
The Best Bouldering Crash Pad
Based on our research and testing, we think the Mad Rock Duo is the best Bouldering Crash Pad on the market right now, for anyone looking to play hard outside.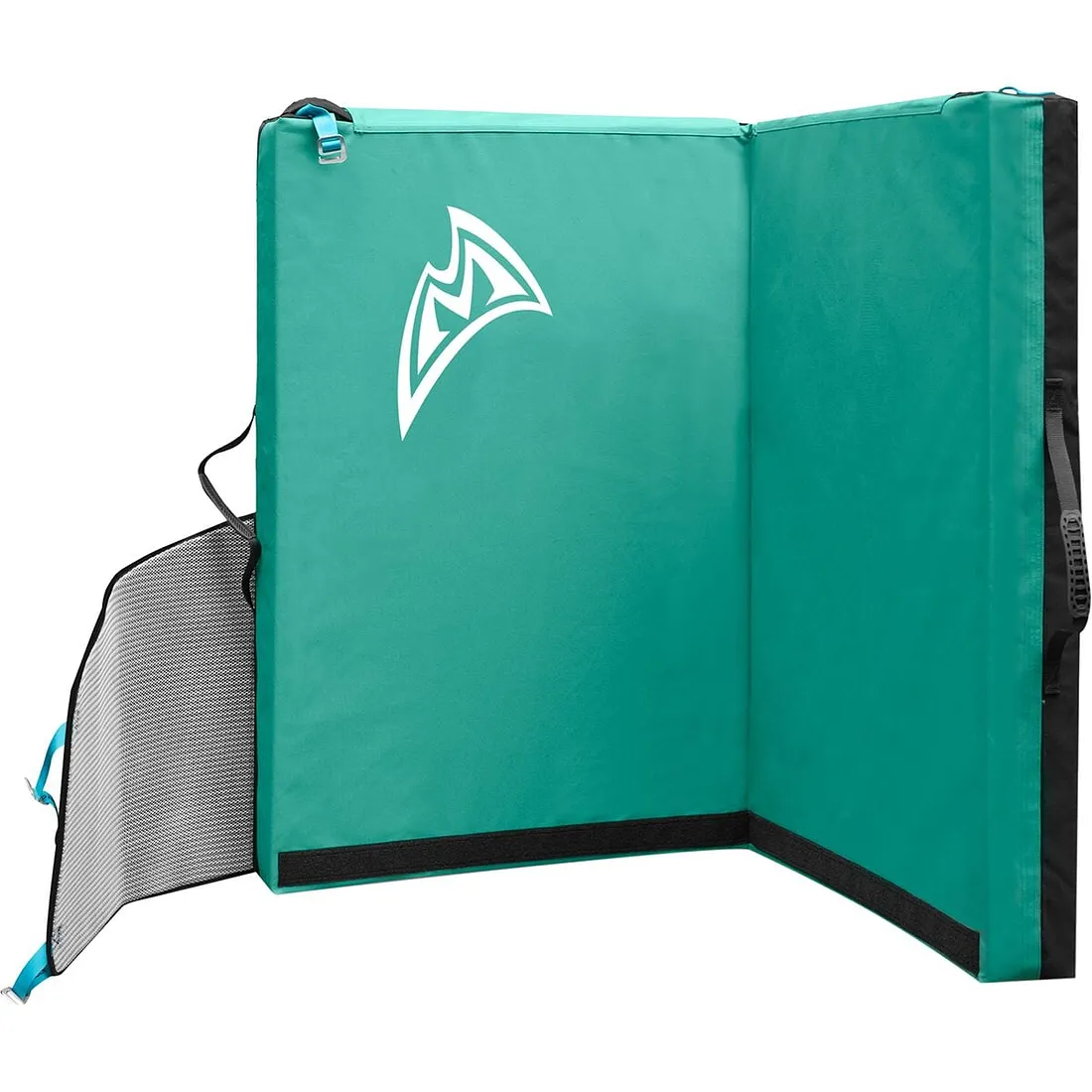 Reasons to Buy
Excellent cushioning and foam quality

Easy portability due to carrying system

High durability
Reasons to Avoid
More pricey than some other crash pads

Requires more space due to its size

Set up may take longer than others
The Important Specs
Material:

Polyurethane coated ripstop nylon

Open Dimension:

72 x 41 x 5in

Closed Dimension:

24 x 41 x 13in
Review Roundup
The Mad Rock Duo is a popular choice among climbers for several reasons. To begin with, we must mention the noteworthy construction of this bouldering pad. This item is known for its durability and robustness. Most users appreciate the fact that it can withstand rough terrains and regular usage without showing signs of wear and tear.
Second, the Mad Rock Duo stands out for its size. The pad is pretty big, providing a great landing zone for all your climbs. Its dimensions offer generous coverage of the ground, giving climbers peace of mind when they're making those tougher moves high above it.
A vital aspect to discuss when touching on the Mad Rock Duo's features is its ability to offer optimal fall absorption. Going by user reviews, the mat absorbs falls well due to its thick foam layers. The firm foam on the bottom and the softer foam on top create the ultimate shield for those occasional involved falls.
Credit must be given to the thoughtful design of the Mad Rock Duo too. One of the product's high points is the duo-hinge design. It enables individuals to fold up the mat when they aren't using it or for transportation, and it lies flat during use to reduce the risk of injury from a foot falling in the gap.
A special shoutout to its Velcro connection system that can connect to other Mad Rock pads for a larger and much safer falling area. This small but impactful feature has received warm praises from the climbing community. Worth noting too are the hidden shoulder straps that switch to regular handles making it a breeze to carry around.
Now, onto some areas for improvement in the Mad Rock Duo. Some climbers expressed concerns about the weight. At 16 pounds, it isn't exactly the lightest crash pad out there, and lugging it around can be a bit of a workout. However, others have argued that it holds its own given its size.
Another small gripe from users was about the mat's surface fabric. A few found it too slick, which can lead to slipping when they landed on their feet. It would have been better if the outer material encouraged more friction to prevent these slippery situations.
Despite a few minor flaws, the Mad Rock Duo generally comes with the users' seal of approval, thanks to its stability, user-friendliness, and solid build. It stands as a reliable companion for all bouldering enthusiasts.
Cushioning & Foam Quality
Mad Rock Duo comes with three layers - one inch of memory foam, three inches of open-cell, and one inch of closed cell foam - offering excellent cushioning upon landing and absorbing impact effectively. The foam manages to maintain a great balance between firm and soft, which is crucial for both low and high falls.
Durability
Durability is one of the standout features of the Mad Rock Duo. The crash pad features strong stitching to withstand serious abuse and a tough outer shell made of Polyurethane coated ripstop nylon, ensuring it lasts for years to come.
Ease of Packing & Setup
With its size, setting up and packing might be a bit more time-consuming than with smaller crash pads. However, the intuitive design does make the process easy - just be ready to give it a bit of space in your car boot or storage area.
Features & Additional Storage
Aside from the main features, Mad Rock Duo comes with additional storage pocket and a carpet patch for cleaning your climbing shoes. It also features rubberized corners for added durability and aluminum buckles for easy adjustment of straps.
Material
Constructed from Polyurethane coated ripstop nylon, the Mad Rock Duo manages to combine durability with a certain level of water resistance, which makes it a practical pick for outdoor climbing sessions in less than perfect weather conditions.
Portability & Carry System
Despite its large size, it folds up well and the integrated strap system makes it quite easy to carry on the back. The pad has shoulder straps, waist belt, and a chest strap, making it easier to haul over long distances.
Size & Coverage
When it comes to size and coverage, the Mad Rock Duo shines with its large landing surface area of 72 x 41 inches when unfolded. However, the size might be an issue for those with limited space for storage or transportation.
Value
While the Mad Rock Duo might be on the pricier side compared to some other bouldering crash pads, its impressive features and high quality definitely make it a worthwhile investment for both beginners and expert climbers alike.
Prices
Organic Climbing Big Pad
$329.00
Runner Up
Based on our research and testing, we think the Organic Climbing Big Pad is a great choice if you're looking for a bouldering crash pad to go play hard outside with, if our top pick isn't quite what you're looking for.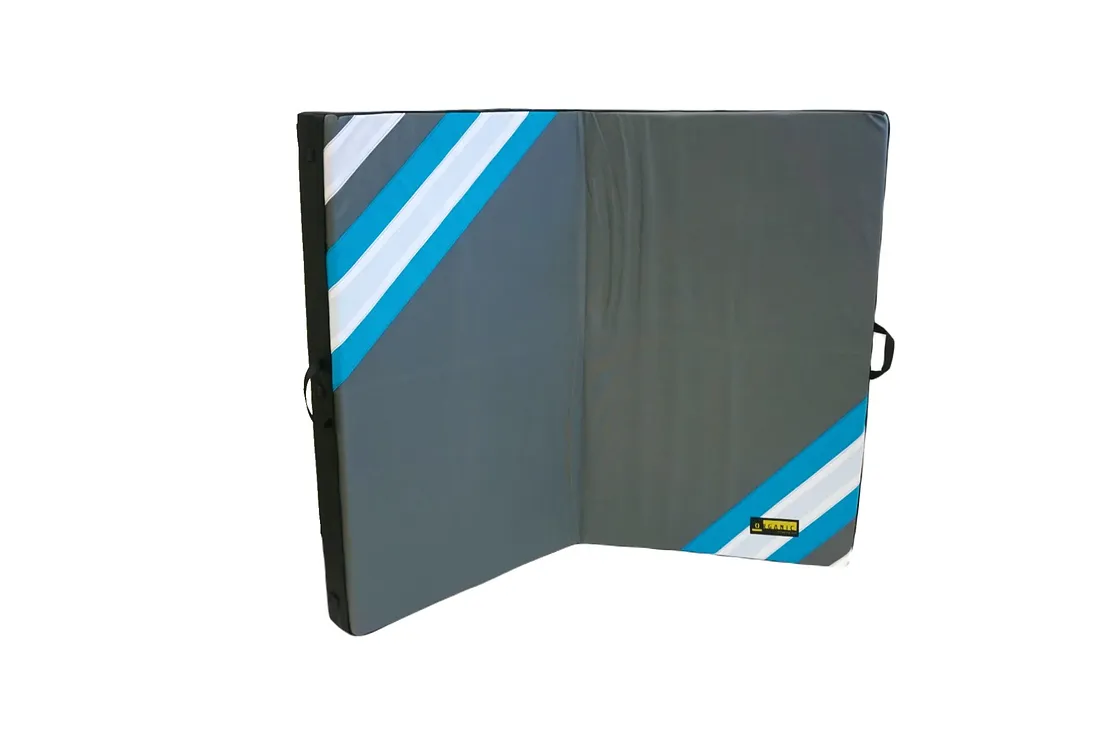 Reasons to Buy
Stellar fall absorption

Dependable construction

Comfortable carry system

Generously sized

Customizable designs
Reasons to Avoid
Higher price point

Bulkier size

Limited in-built storage options
The Important Specs
Foam:

Three-layer foam system

Size:

4 x 5 feet when open

Design:

Hinge-style

Volume:

68 Liters when folded

Materials:

1050d ballistic nylon with metal and plastic buckles
Review Roundup
The Organic Climbing Big Pad has been turning heads left and right in the climbing community. Its robust design and quality materials are tough to ignore, and the feedback from users clearly reflect that. Most users have praised its durability and comfortable carry system, citing that these features make it worth the investment.
One of the first things that catches the attention of many reviewers is the thick foam on the Organic Climbing Big Pad. It seems everyone and their climber friend agree on the ability of this pad to absorb big drops. Users emphasize the foam's superior cushioning abilities, a reassurance that removes some of the fear factor during highball bouldering scenarios.
Reviewers often mention the size of the pad. Measuring a sizable 6ft x 4ft x 5in, it offers a substantial landing area. This is particularly appreciated in landing zones where accuracy is paramount. However, some users found it a bit bulky and cumbersome, especially when packing for long approaches, a trade-off for gaining that extra protection.
Its unique hybrid hinge design has also gathered some applauds. The fold design diminishes any dead spots, so every inch of the pad proves useful. Some users experienced learning curve in how to fold and unfold the pad, making it a little bit tricky but not a deal breaker by any means. Plus, the company has helpful videos online to guide new users.
Craftsmanship is another area where the Organic Climbing Big Pad really shines. Numerous users appreciate the high quality stitching and materials used. In an era of mass production, it's beloved for its handmade construction, and it's clear to online users that every pad is made with care.
The Big Pad isn't just about functionality, it does not lack in aesthetics either. Users found the customization option endearing. Climbers love to express themselves and being able to choose from myriad color options is a endearing surprise to many reviewers.
The pad's climb-focused backpack-style carrying system has been mentioned in numerous reviews. Users find it comfortable for carrying long distances, though some found it challenging to pack other gears because of the space it takes up.
Price-wise, it's on the higher end of the spectrum. However, online reviewers see it as a solid investment for better safety and longevity, rather than a costly indulgence.
Cushioning & Foam Quality
The Organic Climbing Big Pad stands out with a blend of three densities of open and closed cell foam. This provides reliable cushioning and good absorption of falls, ideal for both short and highball boulders.
Durability
With 1050d ballistic nylon cover, this pad boasts high durability. Plus, the added benefit of handmade craftsmanship ensures superior construction quality over many factory-produced competitors.
Ease of Packing & Setup
Easy to fold and secure by buckles, setup is straightforward. However, packing extras can be a bit challenging as storage features are relatively limited.
Features & Additional Storage
The Big Pad is fairly basic in its features. There's no pocket for shoes or chalk bag and just a minimalistic closure system. Its design focus is evidently on performance rather than frills.
Material
The material used is robust and can take a beating without compromising the longevity of the product. The aircell foam retains its shape and bounce even after prolonged use.
Portability & Carry System
Despite its size, transporting the Big Pad is fairly effortless, thanks to its padded shoulder straps and hip belt. However, its bulkier profile might be a consideration for those with smaller frames or less storage space.
Size & Coverage
At 4 x 5 feet, this pad provides a generous landing zone, making it suitable even for tricky problems. It's larger than the average crash pad, but the comfort it provides is worth the extra size.
Value
While it comes at a steeper price, the value lies in its unparalleled performance, durability and customization options. Definitely an item worth saving up for, if serious about bouldering.
Prices
Runner Up
Based on our research and testing, we think the Metolius Magnum is a great choice if you're looking for a bouldering crash pad to go play hard outside with, if our top pick isn't quite what you're looking for.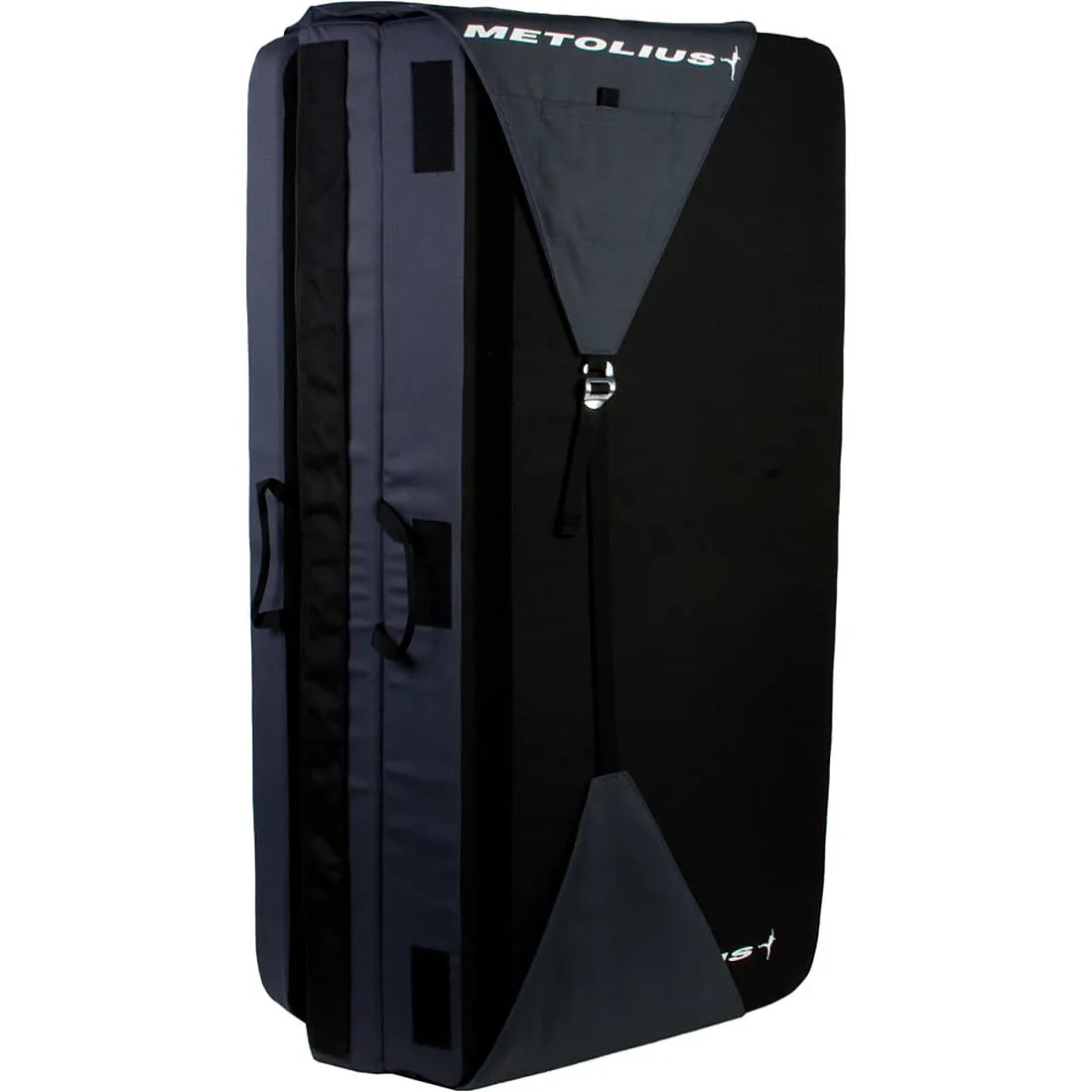 Reasons to Buy
High-quality foam for superior cushioning

Extensive coverage area

Hard-wearing material

Easy to pack and setup

Ample storage space

Fair-value for cost
Reasons to Avoid
Size may be cumbersome for solo trips

Material scratches easily
The Important Specs
Foam:

dual-density foam interior

Material:

900D body fabric

Dimensions:

70 x 48 x 4 inches

Carrying System:

padded shoulder straps and waist belt
Review Roundup
When it comes to making your climb more comfortable and safe, the Metolius Magnum does a darn good job. A standout in the world of bouldering crash pads, this big and burly pad is a top pick amongst climbing enthusiasts.
The Metolius Magnum is a giant - its open dimensions are good enough to encompass enough of your fall zone. Its 6 inches of foam provides a good cushion that's firm but not brick-hard, and the foam seems to hold up pretty well over time. This pad isn't a lightweight by any stretch, but for its size and protective capabilities, it's all relative, and the backpack system aids in making it transportable.
The surface area of the pad is also worth jumping for joy - it offers a wide and large landing zone that can cover a lot of ground, be it rocky or uneven. This tremendous size could be a pain to haul around, but with adjustable straps, it can be carried as a backpack. So while it's definitely a hefty item to tote around, the hands-free convenience is undeniably a lifesaver on tough terrains.
A neat feature is the doormat, a small carpet-like square attached to the pad. It's a handy spot to clean your shoes before you climb, ensuring better grip and safer ascents. This, in addition to the pad's rugged fabric covering, enhances its practicality and longevity.
With real-world users ship, many people have labelled the Metolius Magnum as the 'couch of crash pads'. Folks have expressed strong feelings about its build quality, robustness, and how it has made their bouldering experience safer and more enjoyable.
Some users have noted that it's quite bulky and can be a bit of a pain to transport, especially on long hikes. A few climbers have also expressed concerns about its weight. But these are minor gripes compared to the praise it has received for its performance.
In summary, the Metolius Magnum is a 'big gun' in every sense - from the dimensions to its protective capabilities. Its top-notch construction, thoughtful features, and user praise make it a reliable investment for anyone eyeing a safer and fuller bouldering experience.
Cushioning & Foam Quality
Online reviews have repeatedly mentioned that the Metolius Magnum offers superb cushioning which is all down to the dual-density foam interior. Impressively, this foam maintains its density and shock absorption ability over time, even after substantial use. Falls are softened nicely by the higher density foam on top and the lower density beneath – very helpful for those challenging bouldering sessions.
Durability
The 900D body fabric used in making this crash pad is commendably durable. However, some customers have mentioned that the surface is prone to scratching – a minor issue in an otherwise hard-as-nails build. The folding seam design also increases the longevity of this pad.
Ease of Packing & Setup
The pad is reasonably simple to pack and set up, which is appreciated by users. The triple buckle system ensures a tight pack, while the hinge-style fold allows for quick setup on the field.
Features & Additional Storage
Additional features include a small stash pocket, perfect for personal items, and a larger cargo pocket to hold even more gear. This amounts to ample storage space. A great bonus for those who need to lug a lot of gear out to their bouldering spot.
Material
The material used is robust and hard-wearing, yet manages to provide a wonderful soft landing. It uses 900D fabric which has been reported to endure rough terrains quite well, though it does tend to scratch slightly.
Portability & Carry System
Designed with both padded shoulder straps and a waist belt, the Metolius Magnum is pretty easy to carry around, despite its larger size. Several customers stated that the padding helped reduce discomfort while carrying heavier loads.
Size & Coverage
The Metolius Magnum is an absolute beast when it comes to coverage. With dimensions of 70 x 48 x 4 inches, this crash pad offers a larger-than-average landing zone. However, if you're hiking alone, its size could be cumbersome, as some buyers noted.
Value
Despite its impressive range of features and quality construction, the Metolius Magnum's price tag remains competitive. Many reviewers acknowledged its value for cost, stating the pad is worth the investment, especially considering its sizable landing area, tough material and superior cushioning.
Prices
Organic Climbing Simple Pad
$179.00
Best Budget Bouldering Crash Pad
Based on our research and testing, we think the Organic Climbing Simple Pad is a great pick if you're looking for a bouldering crash pad that is more budget friendly, without sacrificing too much in quality.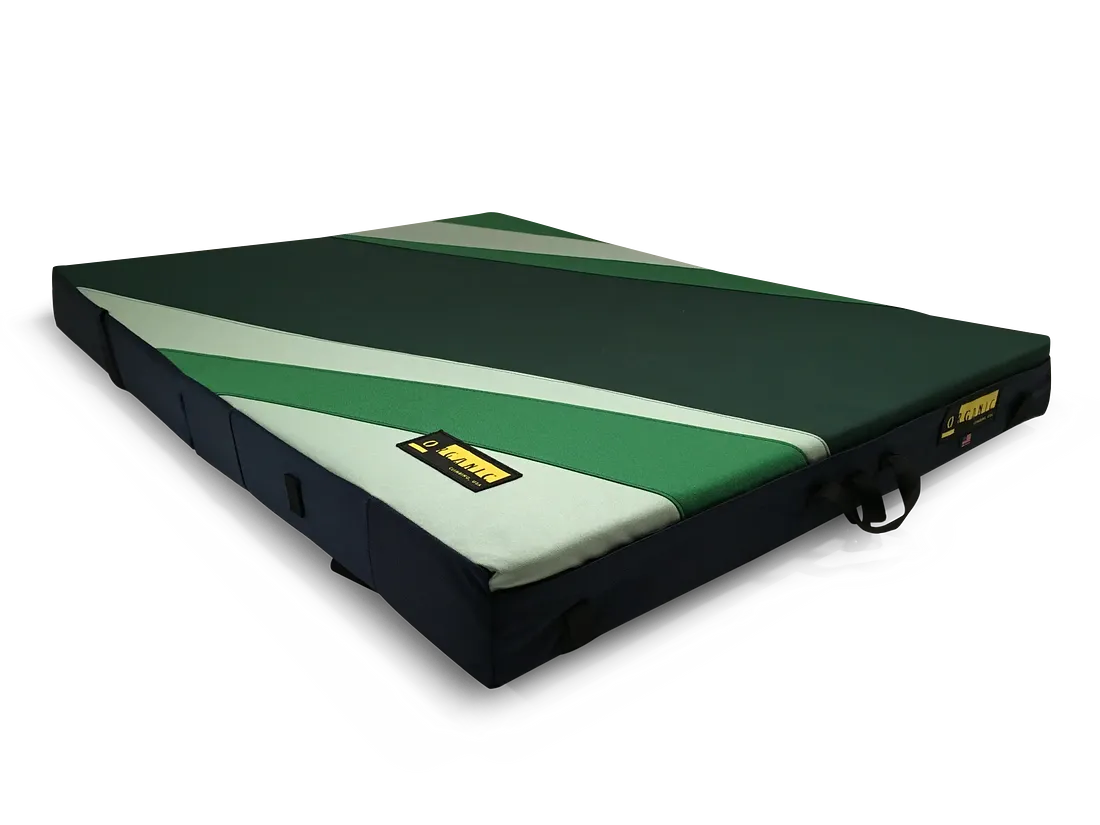 Reasons to Buy
Excellent foam quality

Easy to pack and set up

Durable material

Good coverage and size

Ideal for budget-conscious climbers
Reasons to Avoid
Lacks additional storage features

The carry system could be more comfortable
The Important Specs
Open Size:

36 x 48 x 4 inches

Closed Size:

36 x 26 x 8 inches

Shell Material:

1050d Ballistic Nylon
Review Roundup
When it comes to reliable, budget-friendly bouldering gear, many climbers have found a solid mate in the Organic Climbing Simple Pad. By ditching the bells and whistles, this pad provides the basics you need without breaking the bank. It doesn't compromise on important features, though, which makes it a favorite pick among seasoned climbers and newbies alike.
The Simple Pad by Organic Climbing offers a generous landing zone of 48x36 inches. Couple that with its 4 inches of resilient foam, and it becomes clear why climbers consider this pad a safe bet for their tumbling adventures. This thickness has proven effective at cushioning falls, according to numerous online customer reviews.
A standout feature of the Simple Pad is its durability. Despite being a budget option, it boasts solid construction quality. It is evident in both the durable 1050d ballistic nylon shell and the sturdy metal buckle closures. Lugged by climbers through various terrains, this pad can take a beating and still deliver on its purpose.
One area where the Simple Pad might fall a little short is comfortable carrying. It does not have padded shoulder straps, which several users have pointed out as a missed feature for long approaches. This is a trade-off for its stripped-down, lower-cost design, but some users suggested investing in Organic Climbing's backpack conversion kit could be a worthwhile upgrade.
Another minor gripe from users has been the absence of a pocket for storing keys, shoes, chalk, and such. Despite these minor setbacks, most users appear to agree that the price-to-performance ratio of the Organic Climbing Simple Pad is commendable.
Overall, the online reviews for the Organic Climbing Simple Pad showcase a product that provides a reliable, sturdy, and straightforward solution for climbers on a budget. Its few omissions in features are often considered negligible, especially when taking into consideration its cost-effectiveness and high-capacity performance.
Cushioning & Foam Quality
The Organic Climbing Simple Pad comes with top-notch foam that offers efficient shock absorption. Cushioning is a tad firm initially but softens up after a few uses without losing its protective quality.
Durability
The pad is made from 1050d ballistic nylon which is known for its toughness. With reinforced stitching, the cover is highly durable, designed to handle rugged terrains and withstand beatings over time.
Ease of Packing & Setup
Despite its large open size, the Simple Pad folds down easily for transport or storage. It is user-friendly, with a simple setup and pack down process which can be done in a matter of minutes with minimal fuss.
Features & Additional Storage
While high on functionality and quality, the Simple Pad lacks in additional features. There are no pockets or additional storage features on this pad, which may be a drawback for climbers who prefer to have a place on the pad itself for gear.
Material
The pad's material is impressive. The 1050d Ballistic Nylon cover not only speaks to its durability but also to the quality of the product. The foam within the pad as well holds up very well, maintaining its resilience after continued usage.
Portability & Carry System
With its packable size of 36" x 26" x 8", carrying this pad around isn't too much of a hassle. However, some users have mentioned that the shoulder straps could do with a bit more padding for enhanced comfort while carrying.
Size & Coverage
This crash pad provides a decent sized landing space with its 48" x 36" dimension when open. This offers good coverage for most climber's needs and especially beneficial for tall climbers.
Value
As a Budget pick product, the Simple Pad offers excellent value. The high-quality foam, robust material and large coverage give premium attributes at a fair price point. However, the lack of additional features may make some reconsider its overall value.
Prices
Organic Climbing Blubber Pad
$149.00
Best Bouldering Crash Pad for Cover Pad
Based on our research and testing, we think the Organic Climbing Blubber Pad is a solid choice if you want a bouldering crash pad that's really well suited to Cover Pad.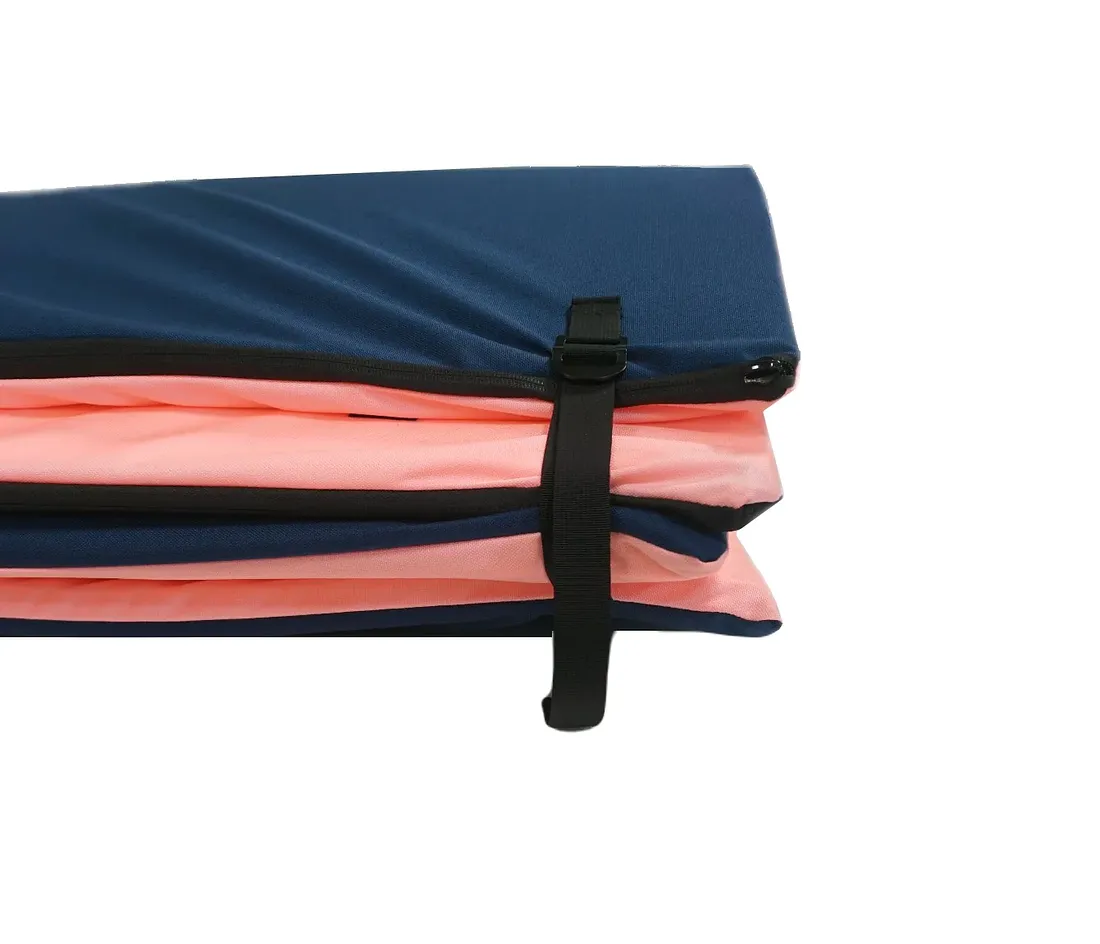 Reasons to Buy
Exceptional foam quality

Ample size and coverage

Highly durable

Easily portable

Convenient features & additional storage
Reasons to Avoid
Higher price

Setup takes longer than other pads

Could be bulky for solo trips
The Important Specs
Closure:

Latch system

Materials:

1050d Ballistics Shell, 1000d Cordura Landing Zone

Dimensions:

48 x 36 x 4 inches

Carrying System:

Backpack straps, waist belt, chest strap
Review Roundup
Organic Climbing's Blubber Pad is undoubtedly a front-runner when it comes to bouldering crash pads. This American-made product stands out among its peers thanks to its high quality and incredible durability. It has been specifically crafted to withstand the wear and tear of outdoor bouldering, making it a reliable choice for both the experienced climber and the enthusiastic beginner.
A closer look tells you that this pad is made with 8-inches of open cell foam and a half inch of closed-cell foam, serving as a perfect shock absorber when you take those inevitable tumbles while bouldering. It's robust enough to help protect you in awkward falls but it still remains soft and inviting, ensuring your safety comes first.
A lot of users online have praised the pad's sturdiness. Even after several climbs, the Organic Climbing Blubber Pad shows no sign of premature wear or sag. Thanks to its top-notch construction, the foam maintains its structure and bounce, helping to guarantee a safe landing each time.
When it comes to practicality, the Blubber Pad doesn't disappoint. It features adjustable straps and is designed to function as a backpack, making it easier for climbers to haul their gear around. The convenience is irrefutable, no awkward dragging about or extra bags needed. This aspect of the crash pad was particularly appreciated by customers on the go, according to online reviews.
But let's not forget about mother nature. Another thing customers appreciated about this crash pad is that it's made from upcycled materials, showing Organic Climbing's commitment to the environment. It's a good feeling knowing your gear doesn't contribute heavily to the world's waste problems.
Despite its obvious upsides, there are a few bumps along the way. Some users have reported an issue concerning the pad's closure system. Over time, the Velcro sees to lose its stickiness, causing the pad to open up unexpectedly. This could mean extra wear on the foam and of course, potential falls on unsecured pad areas.
All in all, the Organic Climbing Blubber Pad is indeed a solid choice when considering a bouldering crash pad with reliable performance and environmental consciousness. Though with everything, do bear in mind the occasional hiccups and weigh them against the benefits.
Cushioning & Foam Quality
The Organic Climbing Blubber Pad's foam quality is exceptional. Customers praised its soundness even after multiple uses. It provides firm but smooth impact absorption, offering both safety and comfort for users.
Durability
Several users have commended the durability of the Blubber Pad, highlighting its capability to withstand rough environments and rigorous use over time without substantial signs of wear and tear.
Ease of Packing & Setup
The Blubber Pad does take a bit longer to setup than some other pads, with a few customers noting that securing the pad can be a bit of a task initially. But once you get the hang of it, it becomes second nature.
Features & Additional Storage
The pad has a few handy features like the extra stash pocket for shoes and chalk - a welcomed addition according to the customers' reviews. However, it doesn't have as many storage options as some other pads on the market.
Material
The climbing pad is made of high-quality 1050d Ballistics Shell and 1000d Cordura for the landing zone. These materials were praised for their resistance to abrasion and toughness, providing a sense of security during climbing sessions.
Portability & Carry System
Despite its size, users find the Blubber Pad relatively easy to carry due to its versatile backpack straps, waist belt, and chest strap. However, some critics found the pad to be a little bulky for solo trips.
Size & Coverage
The size of this crash pad is significant compared to many on the market. It offers good coverage for most bouldering scenarios, protecting climbers effectively on a wide variety of terrains.
Value
While it is priced higher than some other pads, customers believe that the Blubber Pad's quality, reliable protection, and durability justify the cost. It's seen as a solid long-term investment for serious climbers.
Prices
Best Bouldering Crash Pad for Triple Fold
Based on our research and testing, we think the Metolius Magnum is a solid choice if you want a bouldering crash pad that's really well suited to Triple Fold.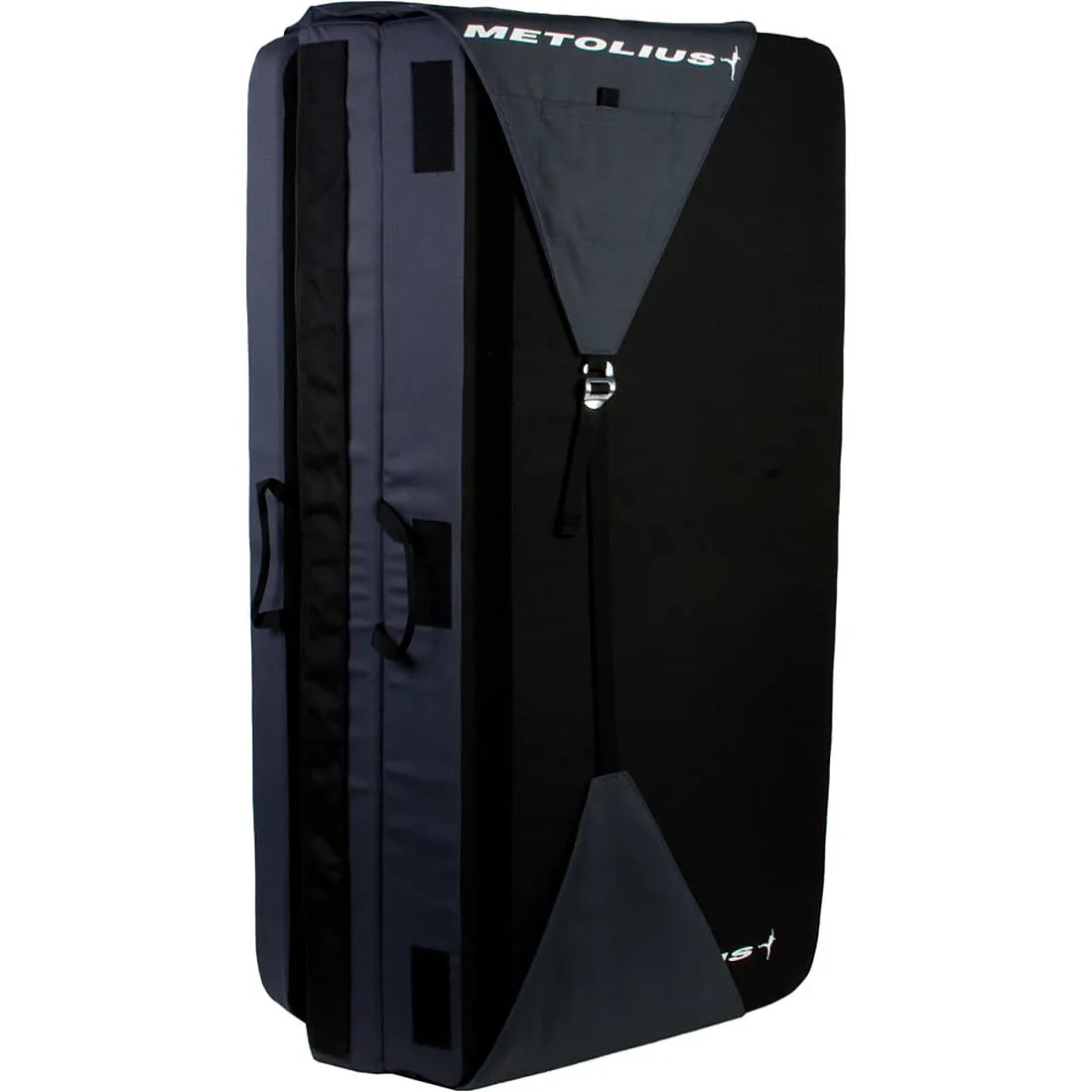 Reasons to Buy
Superior foam quality and cushioning

Large coverage area for better safety

Sturdy and durable build

Easy to pack and set up

Efficient portability and carry system

Additional storage space for gear
Reasons to Avoid
A bit pricey compared to other brands

May be large for climbers with compact vehicles

Quite bulky to transport on foot
The Important Specs
Closure:

Triple buckle

Warranty:

1 year

Outer Material:

Ballistic nylon

Padding Material:

Open-cell and closed-cell foam

Country Of Origin:

USA

Dimensions When Open:

6' x 4' x 4'

Dimensions When Closed:

2' x 3' x 1.5'
Review Roundup
The Metolius Magnum is a heavyweight contender in the world of bouldering crash pads. With its generous 6'x4' landing area, the Magnum provides rock-solid protection, much like a safety blanket for boulderers, whether they are new to the sport or seasoned climbers. Coupled with its triple fold design, hauling this behemoth around is a breeze. It compactly fits into the trunk of a small car and is comfortable to carry on long approaches.
One standout feature of the Metolius Magnum is its proprietary foam layering system. There's a 1 inch layer to spread the impact, sandwiching a 2.5-inch high compression layer to absorb energy. Then, there's a half inch of cushioning foam on the top. While this does add a bit of weight to the pad, users have noted that total confidence in their landing is worth the few extra pounds.
The cover is made of 900d poly fabric. This beefy material can handle the rigors of outdoor climbing. Whether you're scraping it against rough rock or dragging it through thorny bushes, the Magnum can take it. Users have noted that even with frequent use, the cover shows little to no signs of wear.
The Magnum does have some drawbacks though. One common complaint is that the pad can be a bit stiff when new. It seems to need some breaking in before it softens up. At least a few outings before the foam layers begin to conform more comfortably to uneven surfaces. However, once broken in, climbers love it because it doesn't bottom out, even on higher falls.
Another minor grievance is the lack of a shoe cleaning section. Some climbers find it handy to have a carpeted area on their pad to clean their rock shoes between climbs. On the Magnum, this feature is missing. However, the velcro closing flap can be somewhat utilitarian for this purpose, though not as effective as a dedicated section.
Overall, the Metolius Magnum has proven to be a standout performer in online reviews. Seasoned climbers and rookies alike sing praises for its large size, durable construction, and overall excellent impact absorption. Regardless of a couple of minor flaws, climbers gravitate towards this pad for its reliable performance and longevity.
Cushioning & Foam Quality
The foam used by Metolius Magnum is robust with a good balance of open-cell and closed-cell foam providing much-needed cushioning without sacrificing durability or comfort.
Durability
Constructed with ballistic nylon, the Metolius Magnum is known to withstand harsh outdoor conditions and regular wear and tear. It's arguably one of the most rugged bouldering pads on the market.
Ease of Packing & Setup
The setup and packing process of the Metolius Magnum are straightforward. Packed condition is conveniently compact for such a large mat, and it opens up easily for immediate use.
Features & Additional Storage
The Metolius Magnum holds its own with a carpeted logo for cleaning shoes, and a small stash pocket to keep valuables secure. However, it lacks any large storage compartments for carrying extra gear.
Material
The materials chosen for the Metolius Magnum reflect an emphasis on durability and performance. The ballistic nylon shell is tough, while the foam layers provide excellent cushioning.
Portability & Carry System
Despite its size, the triple buckle design makes this bouldering pad surprisingly portable. The backpack-style carry straps are padded and adjustable for comfort during transportation, although carrying it over long distances on foot can be cumbersome.
Size & Coverage
Offering a large coverage area, it greatly improves safety during falls or uneven landings. However, this size might be an issue if you have a small car or need to carry it on foot to the bouldering area.
Value
While the Metolius Magnum ranks on the pricier end of the spectrum, you're investing in its large coverage, superior materials and construction, and its well-thought-out design.
Prices