Quick heads-up: some of the links on this page are affiliate links. If you make a purchase through them, we may earn a small commission (at no extra cost to you). This small bit of income helps keep our site running.
Best Backpacking Water Filters of 2023
This post was last updated on December 06, 2023.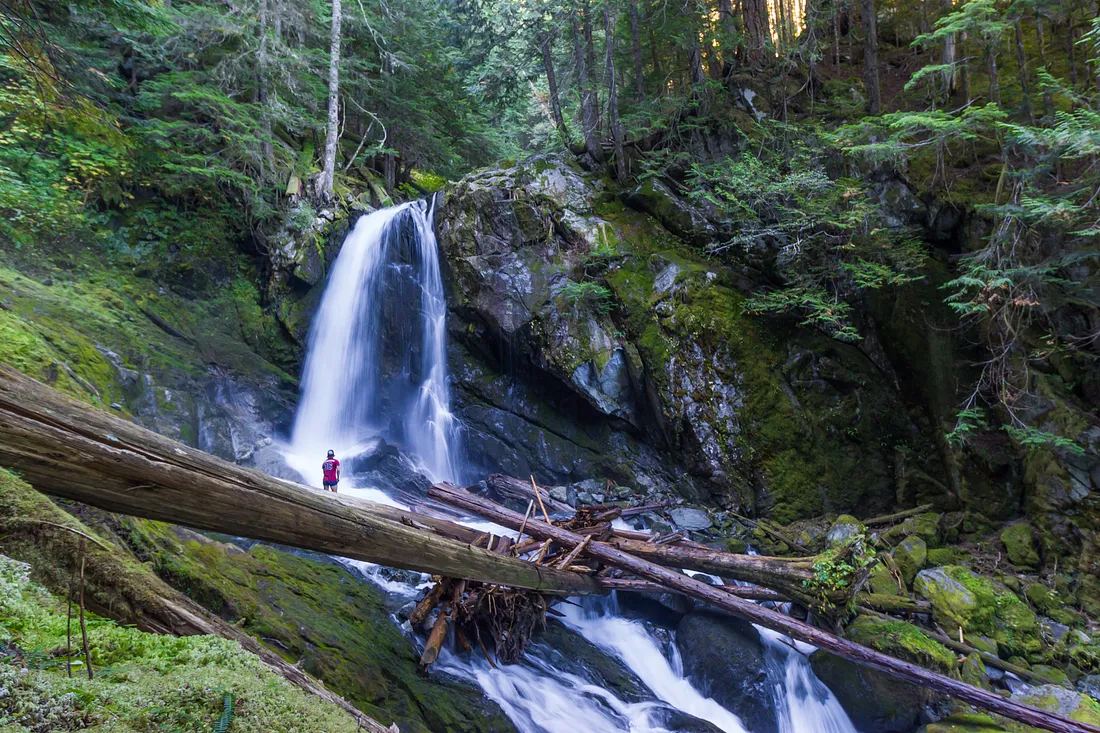 If you're an outdoor enthusiast, you realize that the beauty of nature comes with its challenges - particularly when it comes to sourcing drinking water. While water bodies scattered across hiking trails may seem like an oasis, these can be infested with bacteria and other harmful pathogens. This is where a backpacking water filter, like the top-rated Sawyer Squeeze, comes into play.
When you're out in the wilderness, you need something trustworthy, efficient, and lightweight to ensure you're drinking clean water. The Sawyer Squeeze runs the gauntlet on all these counts - from its impressive filtering efficiency and flow rate to its notable packability - making it a perfect companion in remote areas. In this blog post, we'll delve deep into the specifics of why the Sawyer Squeeze is the best choice for you.
For those bound by budget considerations or with specific needs, fret not! We've also rounded up the two next best options, and top picks for the budget category, ultralight seekers, and chemical treatment preference. We understand your diverse needs and are here to help you make an informed choice. If you're a camping connoisseur, you might also be interested in our expert reviews of the Best Backpacking Tents, Best Backpacking Hammocks, and Best Backpacking Backpacks.
Our Top Recommendations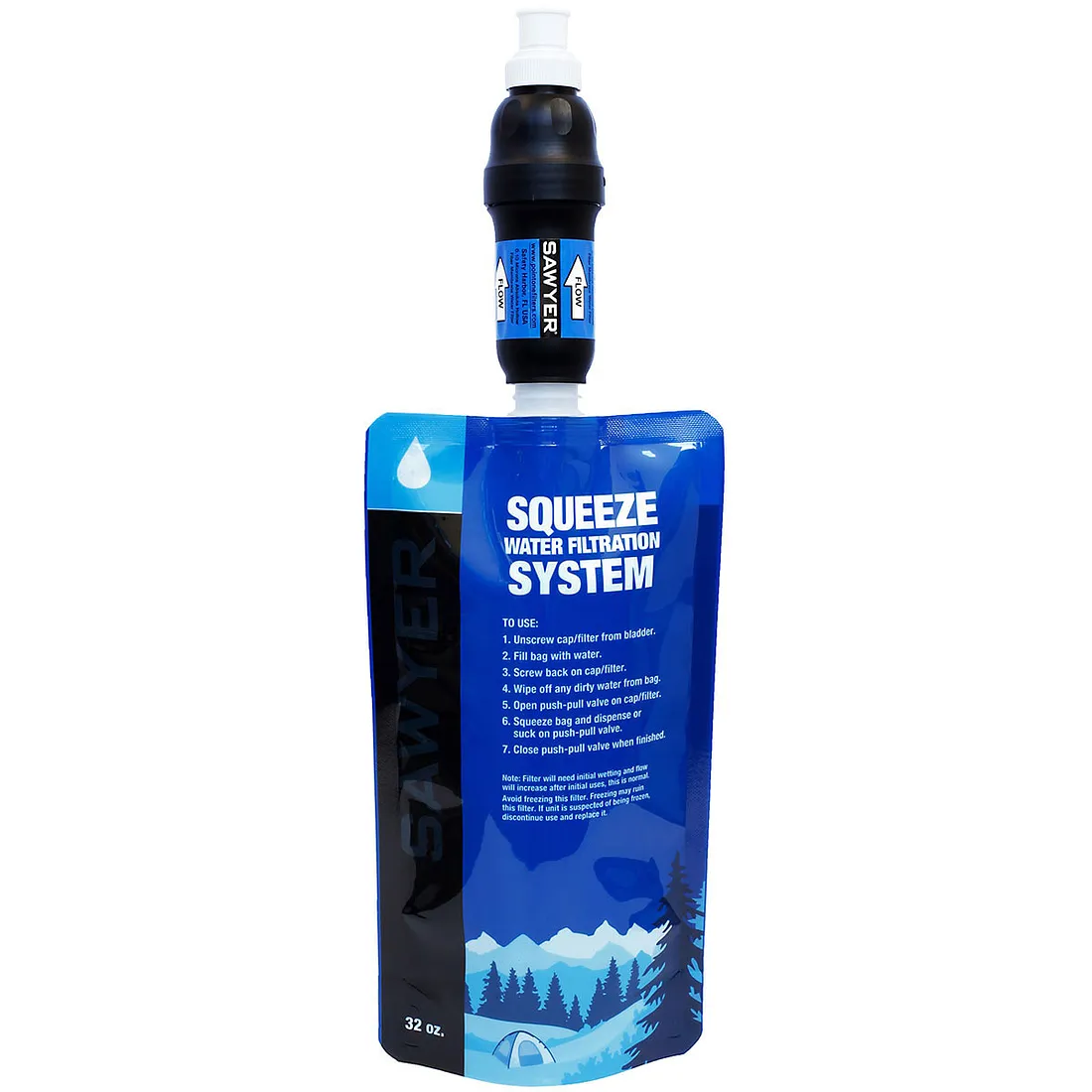 Sawyer Squeeze
| | |
| --- | --- |
| Ease of Use | |
| Maintenance | |
| Time to Filter | |
| Water Quality | |
| Weight | |
The Sawyer Squeeze takes top pick because it's small and lightweight and is relatively cheap, so a great value. There's not a lot bad to say about it, except that the squeeze bags may break, particularly if you squeeze hard.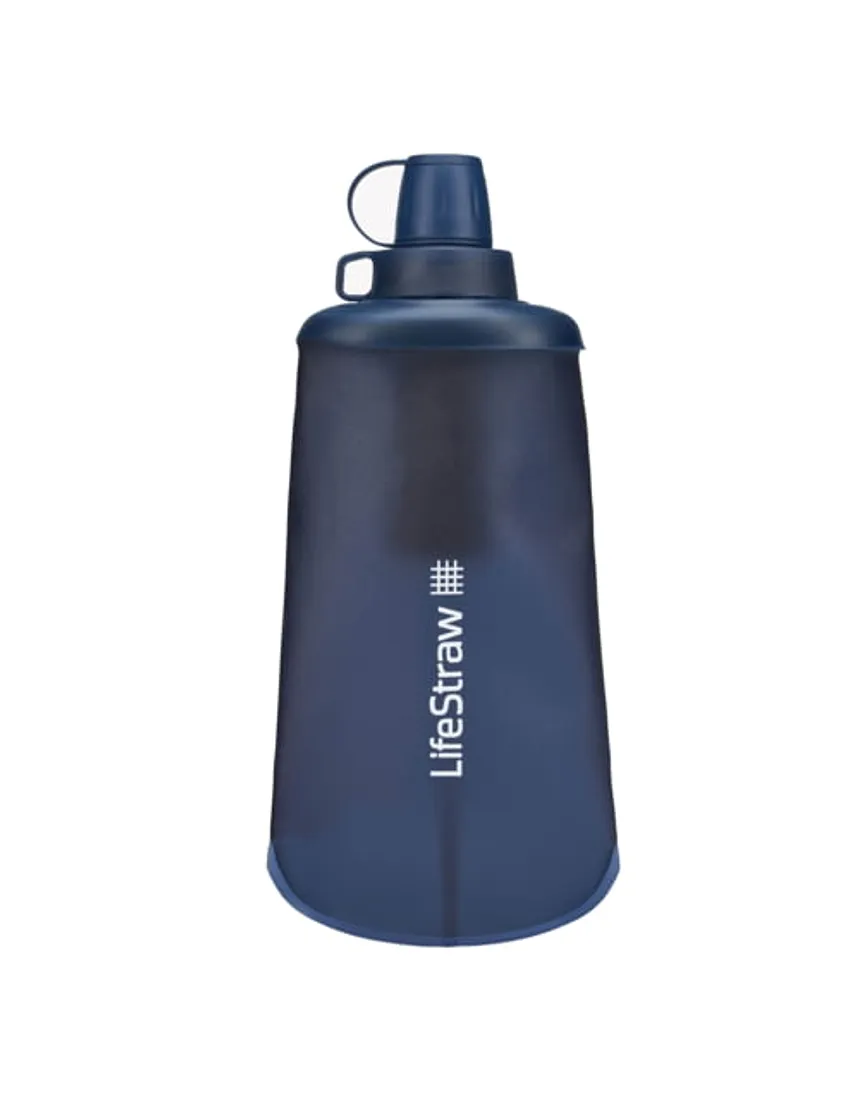 LifeStraw Peak Squeeze
| | |
| --- | --- |
| Ease of Use | |
| Maintenance | |
| Time to Filter | |
| Water Quality | |
| Weight | |
The LifeStraw Peak Squeeze has taken our runner up spot because it is ideal for those looking to go a little faster and lighter. It's simple design means you can fill it up and keep moving. It loses points for not being practical for groups or any kind of water storage.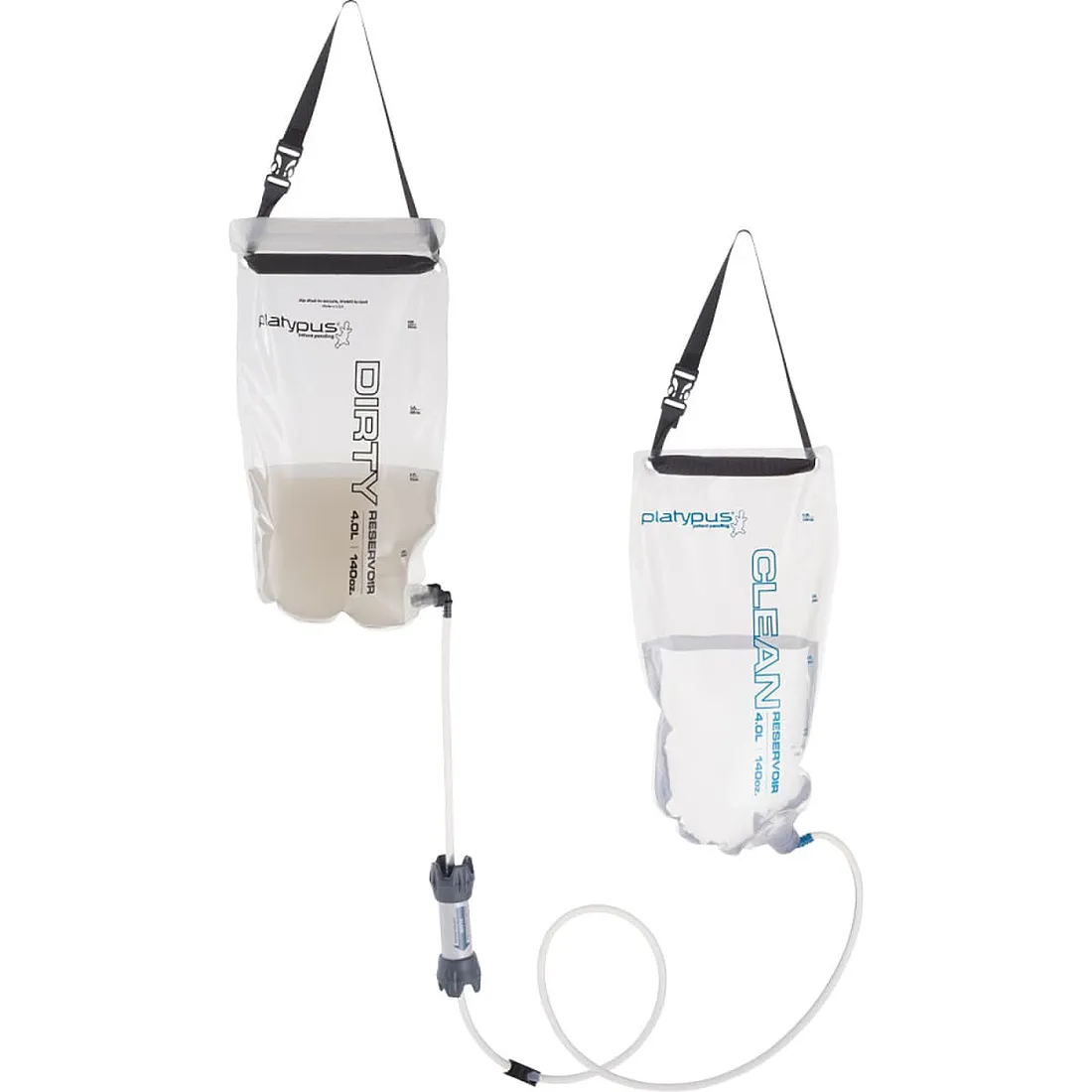 Platypus GravityWorks
| | |
| --- | --- |
| Ease of Use | |
| Maintenance | |
| Time to Filter | |
| Water Quality | |
| Weight | |
The Platypus GravityWorks stands out as a runner up because it is easy to set up, easy to use and can filter a lot of water while you do other things. Ideal for groups. But it's heavier, bulkier and more expensive than a lot of other options.
What you should look for
(and what we test for)
Filter Life
Look at the estimated lifespan of the filter. Having to replace your filter constantly is not fun. There is also a danger that the manufacturer will stop making the replacement part.
Filter Type
Consider the type of filter - pump, squeeze, gravity, or straw - since each has its unique pros and cons in terms of speed, weight, and ease of use.
Weight And Size
Filters can vary quite a bit in their weight and size. If you're going to be carrying your filter in your backpack for long distances, definitely consider prioritizing lighter and smaller filters.
Efficiency Against Pathogens
Most reputable water filters will remove something like 99.99% of bacteria and 99.99% of protozoan parasites. Don't settle for anything less. Don't get sick out there.
The Best Backpacking Water Filter
Based on our research and testing, we think the Sawyer Squeeze is the best Backpacking Water Filter on the market right now, for anyone looking to play hard outside.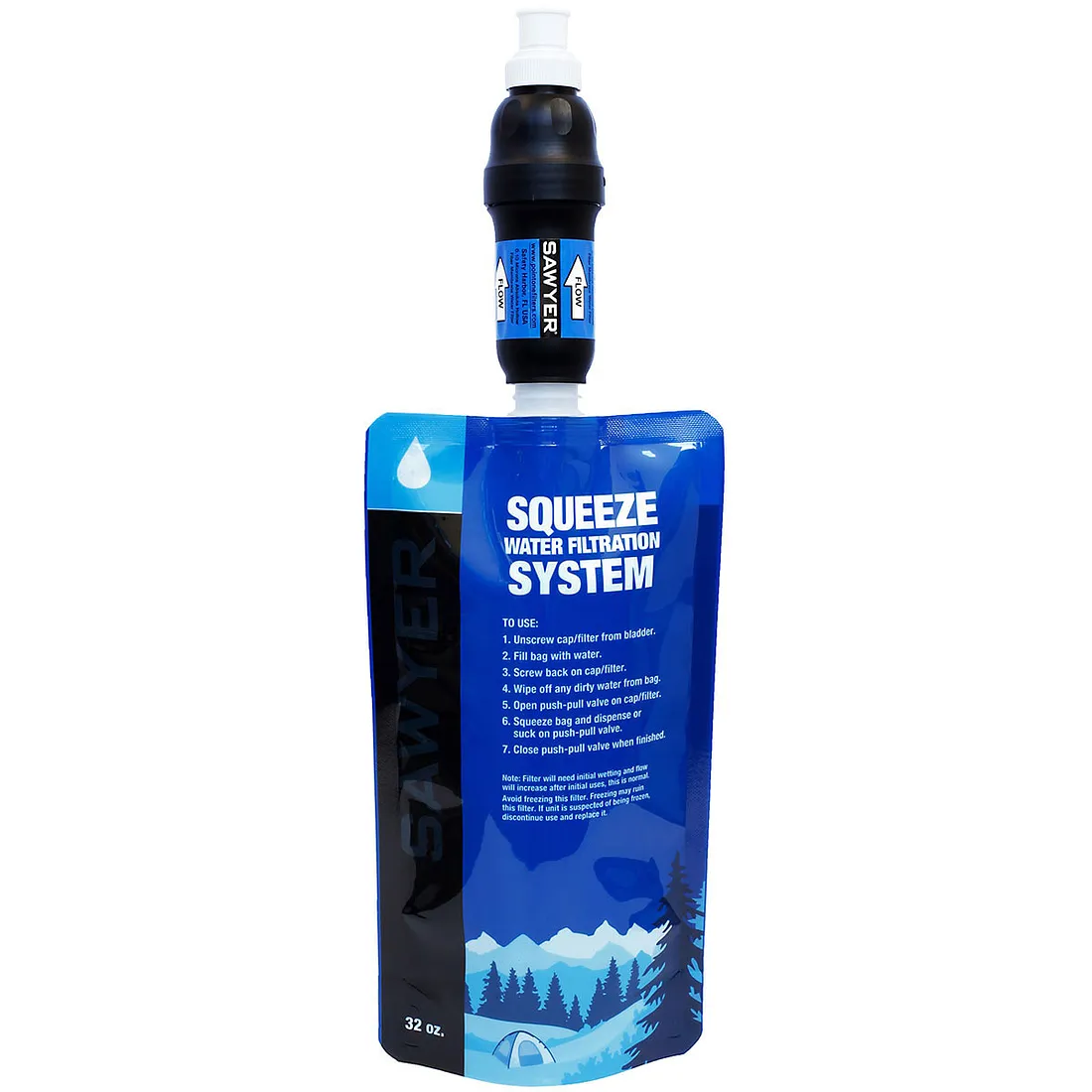 | | |
| --- | --- |
| Ease of Use | |
| Maintenance | |
| Time to Filter | |
| Water Quality | |
| Weight | |
Reasons to Buy
Small, simple and lightweight

Filter lasts a really long time

Lots of after-market options for attachments

Reasonable price, great value
Reasons to Avoid
Some people report the squeeze bags breaking

Lots of parts you might lose
The Important Specs
Lifetime:

100,000 liters

Flow Rate:

1.7 liters per minute

Material Used:

Hollow fiber membrane

Filtering Efficiency:

99.99999% bacteria removal, 99.9999% protozoa removal
It's lightweight. Much lighter and simpler than most other filters on the market, which I'm a fan of.
It's also cheaper than most other water filters on the market. Given what a great little filter it is, this makes the value rating very high.
Filtering water is very straight-forward. You just fill up a bag, attach the filter and squeeze the clean water in to your water bottle. There is a tube attachment that you can use to send the filter output flow in to just about any water bottle. The threads on the output will also fit most of the cheap plastic water bottles you'd find in a grocery store. People like the Smart water bottles. I personally try to minimize my plastic use, so I stick to the tube attachment and a metal water bottle.
Filling the dirty water bags can sometimes be challenging. In particular, small trickles of flowing water are difficult to fill the bags with. But you're not limited to the basic bags that come with the water filter, there are some after-market options.
People report that the seals around the mouth of the dirty water bags can break and leak, especially if you squeeze them too hard. This is probably another reason to get your own, after market dirty water bags. Personally I like the basic bags that Sawyer makes. They're lightweight and pack up small, which fits with the strengths of the Sawyer Squeeze. I make a point to not squeeze them hard and I've never had one break or leak. But I always bring at least 2 bags, just in case one does decide to break open on me one day.
You can fill a water bottle reasonably quickly. It's not super fast, but it's fast enough. The advertised flow rate is 1.7 liters per minute.
You do need to back-wash the filter periodically to clean it out with a syringe attachment. If you don't, the flow rate will definitely decrease. This is a quick and easy operation but I typically don't bring the back-wash syringe with me on trips, I just do the back-wash at home. I've done a 6 day trip with a lot of dirty, stagnant water and survived without cleaning the filter, but the flow rate was noticeably slower.
This relates to what may be one of the filter's main weaknesses, which is that there are a bunch of parts, and you don't want to lose any. I personally went out and bought a little mesh bag to store everything in, so that I don't lose any of it. Highly recommended.
Sawyer used to advertise that the filter will last for 100,000 liters. I can't find that claim anymore on their website, but this filter will probably last longer than you will.
Prices
LifeStraw Peak Squeeze
$37.95
Runner Up
Based on our research and testing, we think the LifeStraw Peak Squeeze is a great choice if you're looking for a backpacking water filter to go play hard outside with, if our top pick isn't quite what you're looking for.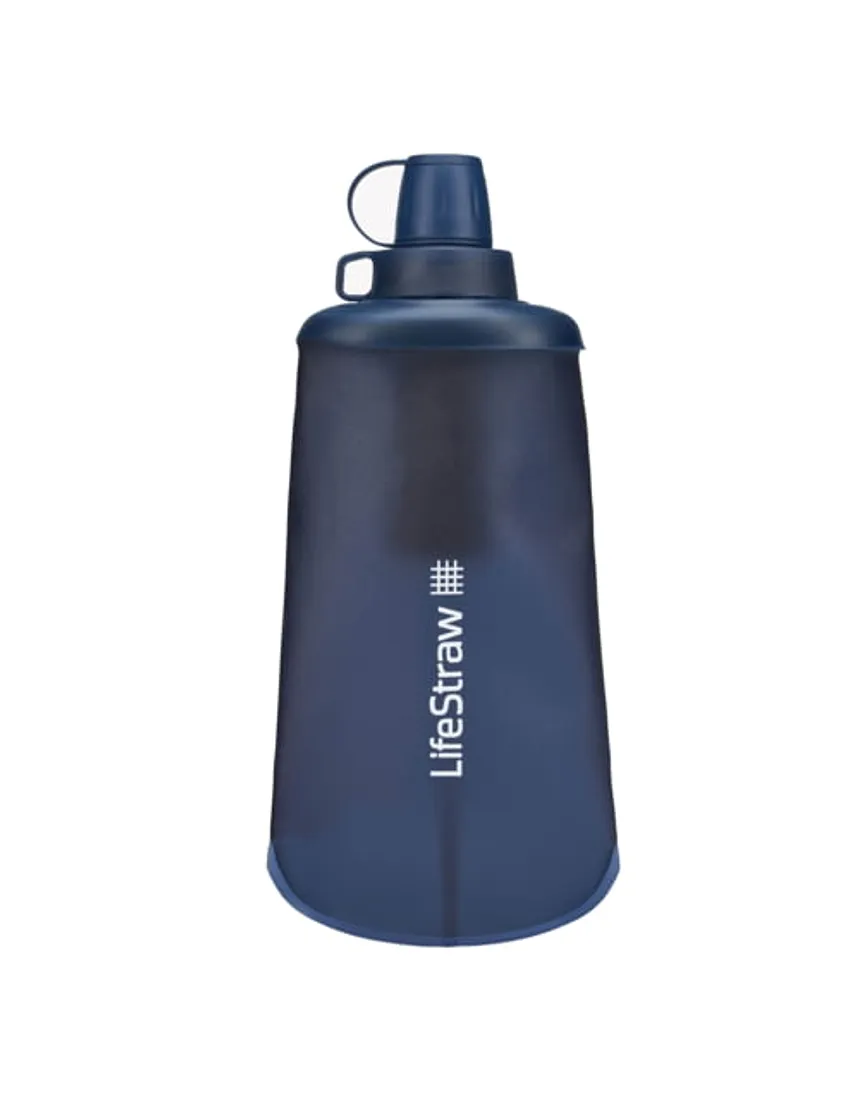 | | |
| --- | --- |
| Ease of Use | |
| Maintenance | |
| Time to Filter | |
| Water Quality | |
| Weight | |
Reasons to Buy
Compact and lightweight

No extra filter, your water bottle is your filter

Simple and straight-forward to use

Quickly fill and go
Reasons to Avoid
Needs regular cleaning

Only useful for a single person, not groups

No good way to filter extra water
The Important Specs
Lifespan:

up to 2000 liters

Filtering:

0.2 micron hollow fiber membrane, removes 99.999999% of bacteria, 99.999% of parasites

Materials:

BPA Free, FDA approved, premium materials

Filter Type:

Squeeze
Review Roundup
The LifeStraw Peak Squeeze is no stranger to the world of backpackers and climbers, having garnered quite a name for itself with its impressive operating simplicity and efficiency. It's compact, lightweight, and the design is practically foolproof, which makes it a hit for those long, challenging expeditions.
Looking at customer feedback, we can see that users really appreciate the Peak Squeeze's easy-to-use nature. It's simply a matter of filling up the squeeze bag with water and then forcing the water through the filter. Whether it's a spring or a creek, users have found it helpful in a variety of outdoor scenarios.
It's important to note that a few buyers have reported leakages from the squeeze bag. It seems to be more prone to wear and tear than the other components of the kit. However, most users seem to be okay with this as long as the filter continues to do its job.
Speaking of the filter, the Peak Squeeze gets high marks for its purification performance. The system claims to remove 99.9999% of bacteria (like E.coli), 99.9% of protozoa (like Cryptosporidium and Giardia), and even reduces microplastics. Users confirm that it gives clear, tasteless water, which is just what you need when you're miles from civilization.
The longevity of this water filter is another aspect that's been praised. LifeStraw claims that the Peak Squeeze can filter up to 1000 gallons of dirty water without iodine, chlorine, or other chemicals. Reviews tend to agree that the filter is durable and delivers a good amount of clean water before needing replacement.
On the downside, some people have found the product to be a bit slower than they would like. It seems the squeezing process can take longer than expected, particularly as the filter ages. However, users state that this is balanced by the quality of the filtered water and the user-friendly design.
From every perspective, reviewers have praised the LifeStraw Peak Squeeze overall. Whether you're a day hiker or a world explorer, it's good to know that LifeStraw provides a dependable and straightforward tool for making natural resources safe to ingest.
Durability
Constructed with durable materials, the LifeStraw Peak Squeeze is designed to withstand harsh outdoor conditions. Online reviews indicate that it continues to function effectively, even after prolonged use in various environments.
Filtering Efficiency & Pathogen Removal
The LifeStraw Peak Squeeze shines in its ability to efficiently remove pathogens from water, thanks to its 0.2 micron hollow fiber membrane. Based on customer reviews, it eliminates bacteria, parasites and microplastics effectively, providing clean and safe drinking water in virtually any outdoor setting.
Flow Rate & Ease of Use
While the flow rate isn't the fastest out there, it's still quite decent. It filters around 1.7 liters per minute, which should be more than enough for solo use. Some users have commented that using the squeeze pouch can take a bit of effort initially, but it's generally easy to use and doesn't require any additional tools or accessories.
Lifespan
The manufacturer's estimated lifespan is impressive, offering filtration for up to 5000 liters of water. However, this largely depends on the quality of the water you're filtering. Some users have reported that it has lasted them for multiple trekking seasons, attesting to its longevity.
Maintenance & Cleaning
This water filter scores fairly well when it comes to maintenance and cleaning. While you need to clean it regularly to ensure optimal performance, many users have mentioned that the cleaning process is simple and hassle-free.
Packability
This water filter is compact and easy to fit in any backpack. It's about the size of a regular water bottle, so it doesn't occupy much space. Most users have appreciated its sleek design which makes storage trouble-free.
Value
Considering its high filtering efficiency, user-friendliness, and longevity, the LifeStraw Peak Squeeze offers great value for money. Many customer reviews testify to this fact, with plenty of users feeling that the cost is more than justified by the product's long-term performance and reliability.
Weight
With a feather-light frame, carrying the LifeStraw Peak Squeeze around on your adventures is a breeze. This compact piece of trekking equipment won't weigh you down, making it an ideal choice for any weight-conscious backpackers.
Prices
Platypus GravityWorks
$134.95
Runner Up
Based on our research and testing, we think the Platypus GravityWorks is a great choice if you're looking for a backpacking water filter to go play hard outside with, if our top pick isn't quite what you're looking for.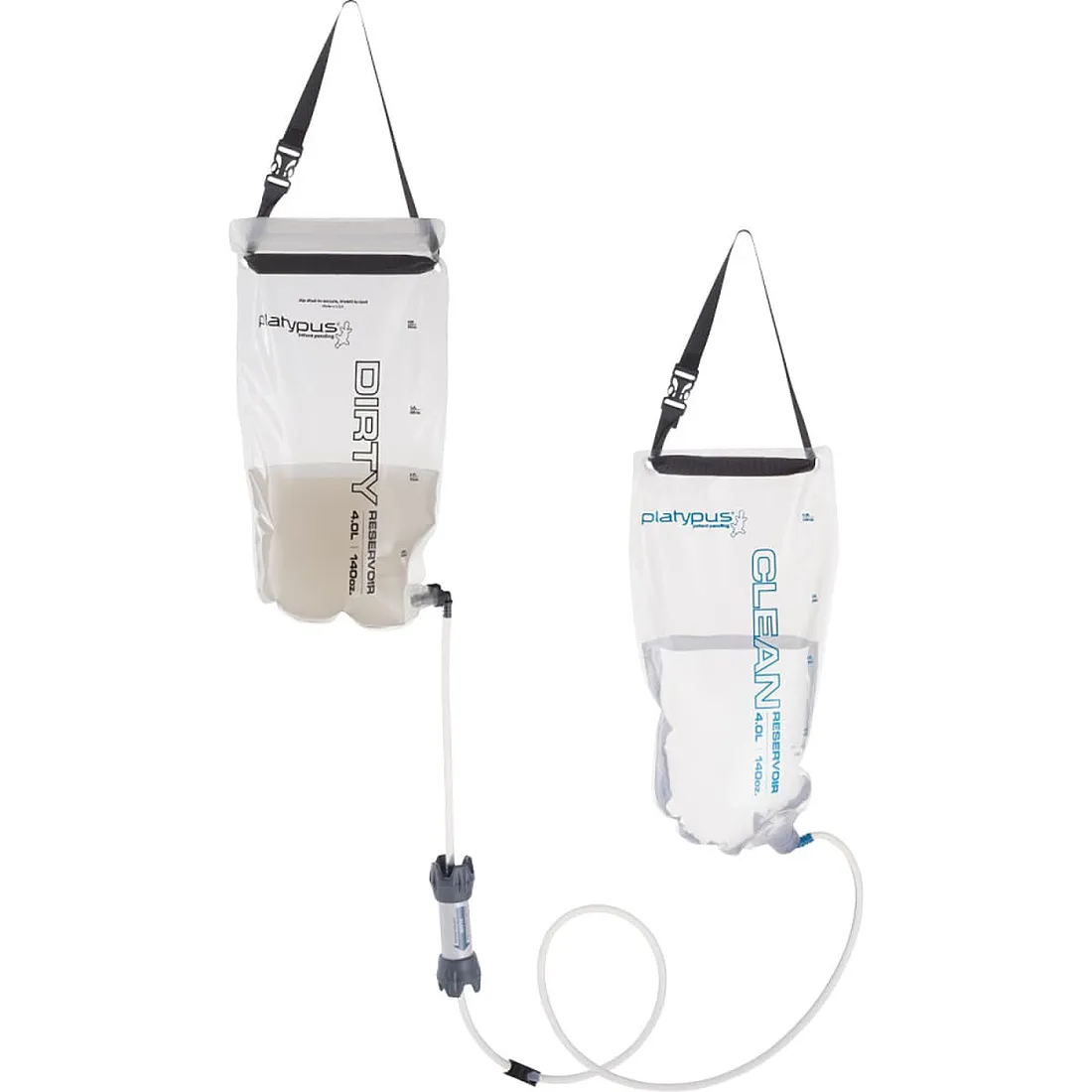 | | |
| --- | --- |
| Ease of Use | |
| Maintenance | |
| Time to Filter | |
| Water Quality | |
| Weight | |
Reasons to Buy
Ideal for groups

Fast, hands-free filtering

Works great for water storage
Reasons to Avoid
May clog with heavy sediment

Expensive

On the heavy side
The Important Specs
Output:

1.75 liters per min

Pore Size:

0.2 microns

Filter Type:

Gravity Filter

Filter Medium:

Hollow Fiber
Review Roundup
The Platypus GravityWorks is a water filter that has gathered rave reviews from backpackers and campers alike. People love its simplicity. 'It's easy as pie,' one user shared. Overall, the concept of a gravity-fed water filtration system is hailed as a game changer.
Many users have fallen in love with the 4-liter capacity which allows for a good volume of water to be filtered in a short span. 'It takes less than three minutes,' a review mentioned, showcasing its efficiency. This feature makes it perfect for group campers or those who like to have plenty of water on hand.
The filter is lauded for its weight. At just over 11 ounces, the GravityWorks is extremely lightweight and portable, making it easy for backpackers to carry around without feeling weighed down. 'Doesn't add any heavy baggage,' a buyer echoed this sentiment, emphasizing how easy it is to pack.
One of the standout features of the GravityWorks is its ability to remove 99.9999% of bacteria and 99.9% of protozoa, effectively making it one of the top-rated water filters in terms of its purifying capabilities. This has been validated by several users. 'I drank water from a murky pond, and felt fine,' shared an adventurous hiker.
The filter is loved for its hands-free functionality; you can simply attach it to a tree and let gravity do the rest. However, some individuals found it challenging to find the perfect hanging spot, longing for a built-in pole or stand. 'It's not always easy to find a branch,' commented a user, pointing out a minor inconvenience.
Maintenance of the filter is another aspect that has caught users' attention. Some find it relatively easy to clean out while others think it's a bit of a task. One review read, 'Cleaning the filter was a bit tough but manageable'.
However, not all reviews are glowing. Several users express concerns regarding the build quality of the filter and bag, voicing experiences of leaks and tears after sustained use. 'The bag started leaking after a couple of trips,' a camper revealed. So, while the Platypus GravityWorks might be light and efficient, durability is a point of potential concern.
Despite some minor issues, the Platypus GravityWorks is frequently described as a reliable companion on the trail. Its pros significantly outweigh its cons, half of which can be mitigated with careful use. It's a hit amongst the casual backpackers and seasoned outdoorsmen alike.
Durability
Constructed with durable materials, the Platypus GravityWorks is sturdy enough to withstand the harsh conditions of the outdoors. However, avoiding heavy sediment water sources can help prolong the life of the filter.
Filtering Efficiency & Pathogen Removal
Thanks to its impressive 0.2-micron filter pore size, the Platypus GravityWorks does an incredible job at eliminating bacteria, protozoa, and particulates from your water source. Some users have successfully used it in locales with notoriously questionable water quality, adding to its credibility.
Flow Rate & Ease of Use
The gravity filter design means pumping is practically non-existent. The set up takes a few tries to get used to, yet it rewards you with a quick flow rate. After setup, the filter can treat 1.75 liters of water per minute, ensuring you stay well hydrated on your adventures.
Lifespan
With proper usage and regular maintenance, the Platypus GravityWorks has a lifespan of up to 1500 liters. This is subject to the filter medium's health, which could be affected by the quality of water filtered.
Maintenance & Cleaning
Cleaning and maintaining this filter is relatively effortless. You can simply backflush the system after several days of use to flush out particles and improve the filter's performance. Though not necessary after every use, frequent cleaning does help prolong the product's lifespan.
Packability
The Platypus GravityWorks packs down small, fitting comfortably in most backpack pockets. It becomes even more compact if you roll up the bags when not in use.
Value
The Platypus GravityWorks might be a pricier option among its peers, but its efficiency, capacity, and considerate design justify the cost. For backpacking groups or individuals needing large volumes of water, the value it provides can be quite beneficial.
Weight
This filter is not the lightest in its category, but given its efficiency and the amount of water it can treat at a go, some backpackers are willing to overlook it. However, if you're an ultralight backpacker, this might not be your first choice.
Prices
Sawyer Micro Squeeze
$33.99
Best Budget Backpacking Water Filter
Based on our research and testing, we think the Sawyer Micro Squeeze is a great pick if you're looking for a backpacking water filter that is more budget friendly, without sacrificing too much in quality.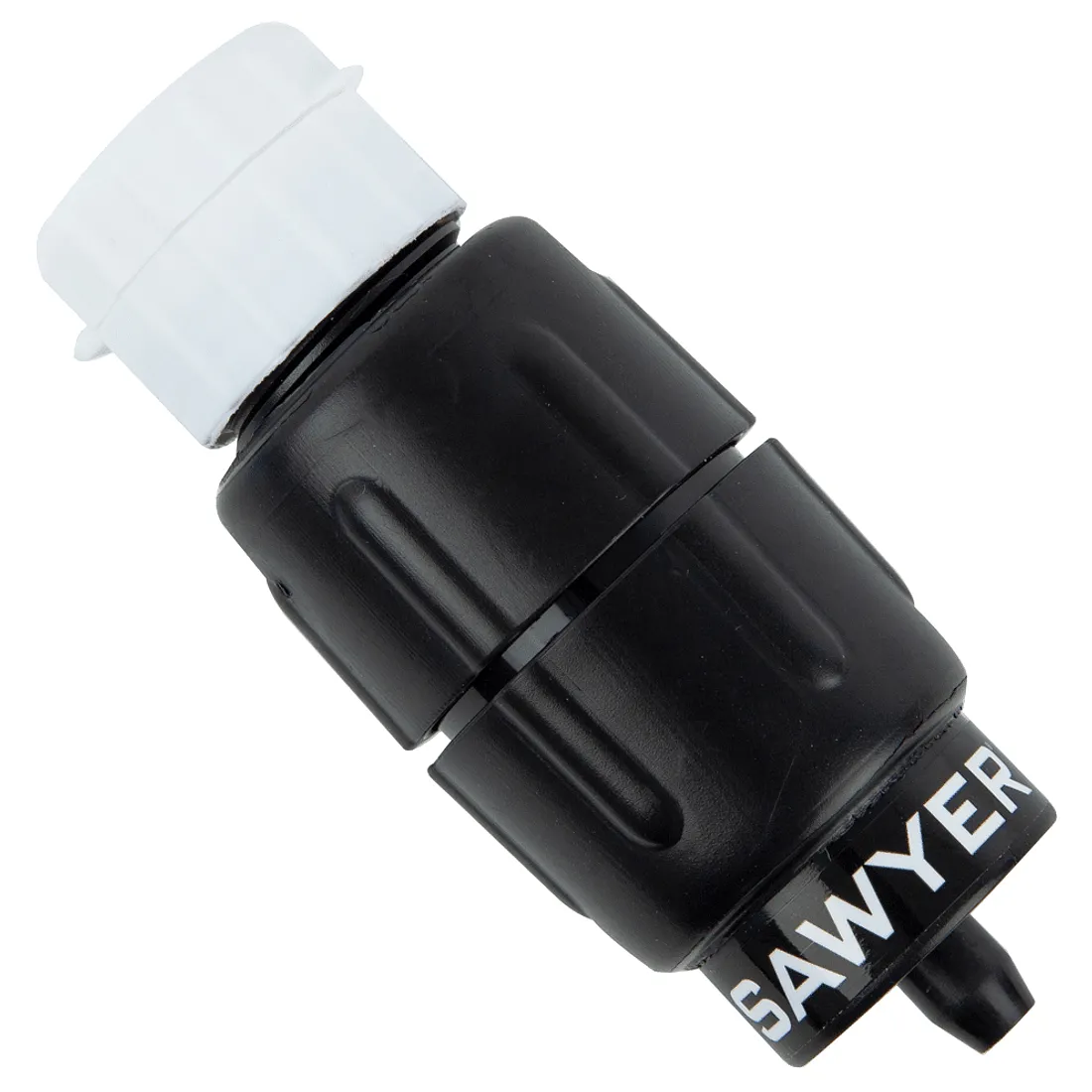 Reasons to Buy
Excellent filtration performance

Hassle-free cleaning

Cost-effective option

Compact size and convenience
Reasons to Avoid
Frequent cleaning might be required

Requires manual squeezing which might be tough after continuous use

The flow rate could be slow at times
The Important Specs
Flow Rate:

Varies depending on pressure applied but usually around 1.1 liters per minute

Dimensions:

4 inches x 1.5 inches

Filter Media:

Hollow fiber

Filtration Effectiveness:

Removes 99.99999% of bacteria, protozoa, and microplastics
Review Roundup
An affordable gem in the world of backpacking water filters is the Sawyer Micro Squeeze. This compact, lightweight wonder will be a welcome addition to your backpacking gear, and is light on your pocket too.
When it comes to the operation of the Sawyer Micro Squeeze, it's as straightforward as it gets. Simply fill the pouch with water, attach the filter, and squeeze - voila! Pure, drinkable water. Buyers noted that this system performs exceptionally well in actual field tests - delivering clean, safe drinking water from various water sources.
Users proclaimed that one of the key advantages of this filter is its weight. Weighing in at just two ounces, it's tiny, light, and portable. This feature has been praised by backpackers who appreciate every ounce of weight saved.
Yet, it's not all plain sailing with the Sawyer Micro Squeeze. Several users pointed out that the squeeze bags provided are occasionally prone to leaking - an issue if you're miles from the nearest water source. This, however, wasn't an issue for all.
Another key consideration highlighted by users is the flow rate. While not as hefty as other filters, the flow rate is enough for a single person but might pose issues for groups of backpackers who need to fill their bottles more quickly.
Interestingly, the Sawyer Micro Squeeze boasts impressive compatibility. It fits common bottle types and even allows inline usage for hydration packs. This flexibility has been greatly appreciated by many backpackers, praising the Sawyer's more versatile attachment options compared to its competitors.
Overall, users found the Sawyer Micro Squeeze a bang for their buck. This is especially relevant for beginners, solo backpackers, or those wanting a lightweight emergency filter in their pack.
Durability
The Micro Squeeze, although small, is made for the long haul. As long as it's properly maintained and taken care of, it can withstand a good deal of abuse on the trail.
Filtering_Efficiency_and_Pathogen_Removal
Sawyer Micro Squeeze efficiently removes the minuscule contaminants in water including bacteria and protozoa. It can effectively filter out 100,000 gallons of water from any freshwater lake, river, or stream.
Flow_Rate_and_Ease_of_Use
The flow rate of the Micro Squeeze might not blow you away. You will need to squeeze the pouch to get the water through the filter, and the rate at which you receive filtered water largely depends on the pressure you apply. It doesn't require much learning curve and is relatively user-friendly.
Lifespan
One of the shining features of the Micro Squeeze is its spectacular lifespan. Rated to filter 100,000 gallons of water, this filter will last you multiple backpacking trips or emergency scenarios.
Maintenance_and_Cleaning
Maintaining the Micro Squeeze involves simple backflushing. While backflushing is easy, the filter might need to be cleaned more often depending on the quality of the water you're filtering.
Packability
The Micro Squeeze is small enough to fit in the palm of your hand. Its compact size makes it easy to tuck away in any backpack pocket.
Value
The Micro Squeeze offers incredible value to backpackers. Its low cost, coupled with its impressive lifespan and performance, means you're getting a lot of bang for your buck.
Weight
Weighing roughly 2 ounces, Sawyer Micro Squeeze rests lightly in your pack and wouldn't contribute much to your load. Its lightweight design is a definite plus for backpackers.
Prices
Katadyn BeFree 1.0L
$49.95
Best Ultralight Backpacking Water Filter
Based on our research and testing, we think the Katadyn BeFree 1.0L is a solid choice for those looking for a lightweight backpacking water filter option to go play hard outside with.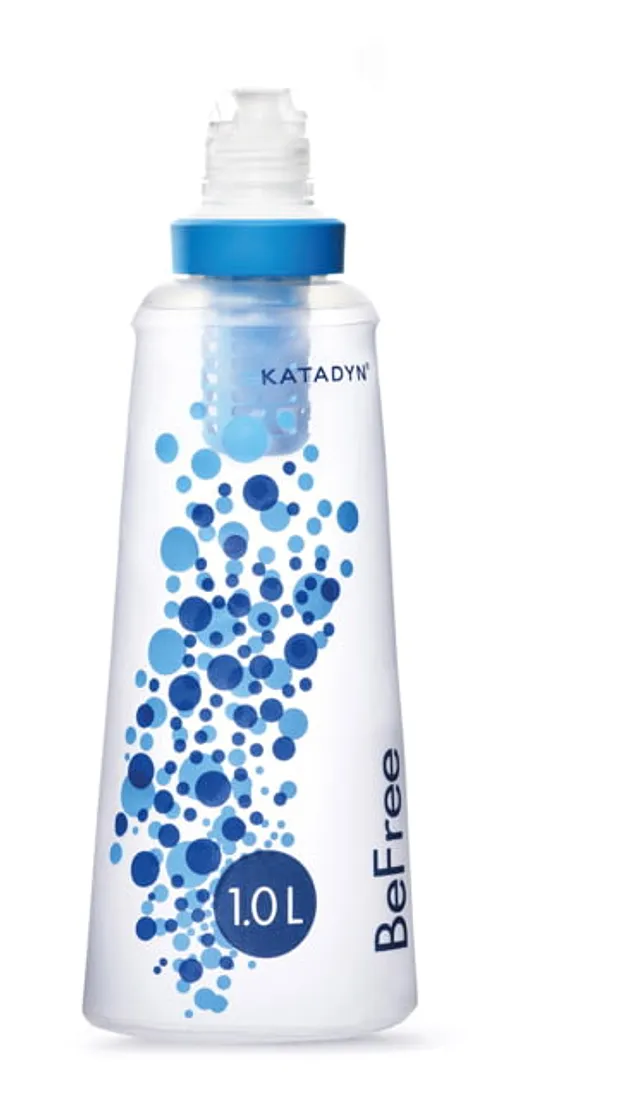 Reasons to Buy
Excellent filtering efficiency

Light as a feather and highly packable

Free-flowing and easy to use

Requires minimum maintenance

Affordable for its features

Long lifespan if properly maintained
Reasons to Avoid
Not as durable as some might expect

May clog over time with heavy use

Needs cleaning more frequently with murky water
The Important Specs
Best Use:

Ultralight backpacking

Capacity:

1.0L

Dimensions:

9.05 x 2.73 x 2.73 inches

Cartridge Life:

1000 liters
Review Roundup
The Katadyn BeFree 1.0L makes quite an impression with its ultralight design, weighing virtually nothing at only 2.3 ounces. It's the sort of thing you can pack and forget about until you need it, making it perfect for those long, adventurous hikes where every ounce matters.
Users appreciate its fast flow rate adding that unlike some other filters, you don't have to squeeze like a maniac to get a drink. The BeFree takes just about 40 seconds to fill up a liter, which is quite impressive. You'd think for something so lightweight you would have to compromise on speed, but the Katadyn BeFree proves otherwise.
The thing that so many backpackers love about the BeFree is how super easy it is to use. Its wide mouth opening makes it surprisingly simple to fill up in rivers or streams – it's not one of those where you have to faff around for ages just to get the water in. Instead, you flip the top, collect your water and you're good to go.
There have been a few concerns raised about its durability. Few users have complained that the filter started to slow down after sustained use in particularly grubby water. However, the majority of the reviewers have found that the filter performs optimally, even after considerable use. Like all water filters, regular cleaning is required to maintain its efficiency over longer periods of time.
Some people have remarked that, while the filter can be cleaned, it's a bit fiddly to do so and certainly not as straightforward as it is with some of its competitors. However, others have suggested that it's a small price to pay for the convenience and weight saving that the Katadyn BeFree offers.
The bottle feels flexible and is made in such a way that it can be rolled up and stashed in a pocket when not in use. There are those, though, who pointed out its lack of rigidity as a downside, stating the soft flask could potentially puncture. Its long-term durability in harsh conditions does appear to be a concern among some users.
Despite the minor concerns about its durability and cleaning, the Katadyn BeFree 1.0L generally receives high praise for its feather-light weight, fast flow rate and ease of use. It continues to be a popular choice for those who love to backpack light and fast, but still desire the security of clean water on their travels.
Durability
This is where mixed opinions come in. Some customers found the BeFree 1.0L durable enough for their adventures, while others reported issues with the longevity of the bottle, specifically when used strenuously. However, given its lightweight fabrication, some wear and tear over time could be expected.
Filtering Efficiency & Pathogen Removal
The Katadyn BeFree 1.0L shines brightly in terms of filtering efficiency and pathogen removal. It uses a 0.1 micron hollow fiber filter which knocks out nearly all harmful bacteria and protozoa. However, it's important to note that it doesn't protect against viruses. Several customers have praised its ability to clean up even the murkiest of water during their backpacking experiences.
Flow Rate & Ease of Use
Arguably, one of the greatest selling points of the BeFree 1.0L is the fast flow rate and uncomplicated usability. Just fill and squeeze to drink. Many customers found it extremely convenient for quick rehydrations on the trail. The flip-top cap is also a highlight, making it simple to use singlehandedly.
Lifespan
If treated well and depending on how often it's used, the BeFree 1.0L can last for a long time, with the manufacturer stating the cartridge life at 1000 liters. Some customers have reported years of regular use, while others experienced a lesser lifespan, especially with heavy use in challenging conditions.
Maintenance & Cleaning
Maintenance and cleaning of the BeFree 1.0L is relatively straightforward. Many praised the ease of swishing water to clean the filter, but some noticed it clogging more frequently when filtering murky water. Extra care is needed to ensure the filter performs optimally over time.
Packability
In terms of packability, this water filter is a winner, folding and rolling easily to save you precious pack space. Many customers were happy with how little space it occupied in their backpacks, making it a practical choice for minimalist hikers.
Value
Considering its commendable features and performance, the BeFree 1.0L offers great value for its price. Many customers found it a cost-effective solution for their hydration needs in the backcountry. However, the value is weighed against some durability concerns, which for some may be a factor to ponder.
Weight
Always a concern for ultralight backpackers, the BeFree 1.0L scores high marks in this department. It's light as a feather, which many hikers deemed a huge bonus. Its lightweight nature makes it an appealing choice for those long, weight-conscious journeys.
Prices
Aquatabs Water Purification Tablets
$14.95
Best Backpacking Water Filter for Chemical Treatment
Based on our research and testing, we think the Aquatabs Water Purification Tablets is a solid choice if you want a backpacking water filter that's really well suited to Chemical Treatment.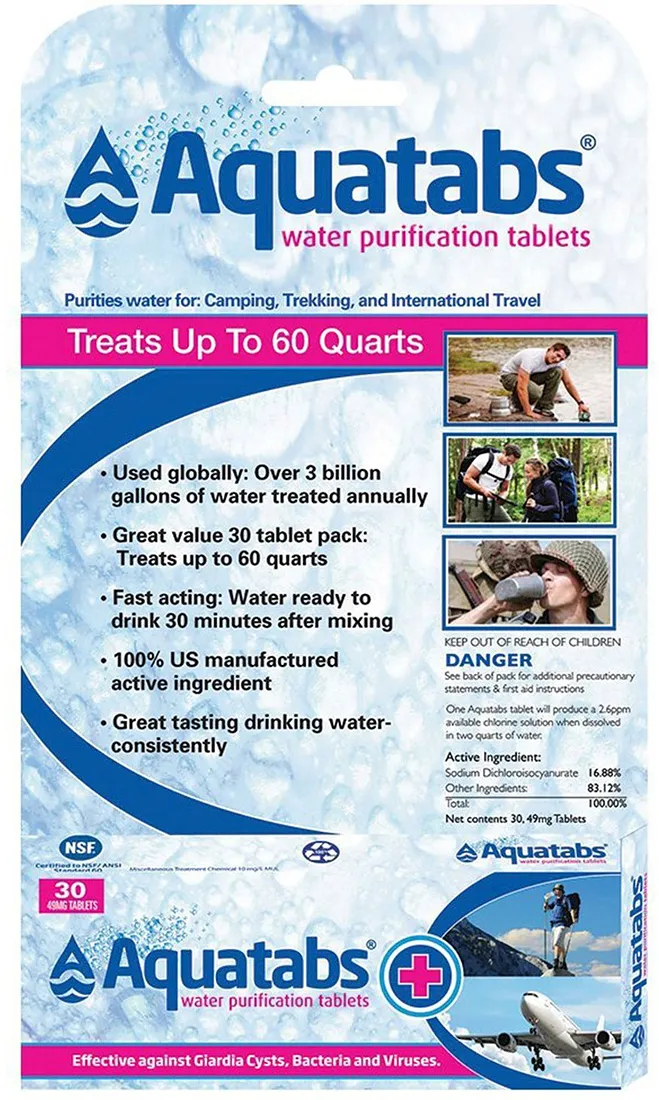 Reasons to Buy
Effectively purify water in just 30 minutes

Comes in handy, individually packaged tablets

Great for emergency situations

Affordable for even budget-conscious adventurers
Reasons to Avoid
Chemical taste in the water after treatment

Not efficient for larger volumes of water

May not remove all types of bacteria
The Important Specs
Treats Up To:

2 litres of water per tablet

Time Taken To Purify:

30 minutes

Effectiveness Against:

Bacteria, viruses and giardia
Review Roundup
Aquatabs Water Purification Tablets have emerged as a popular choice among backpackers and campers, carving a niche in the chemical treatment segment of water filters. These handy little pills are easy to use and incredibly portable, making them a practical addition to any adventurer's pack.
A noteworthy feature of these tablets is their ability to quickly purify water. Just pop a tablet into a liter of water, wait for about 30 minutes, and voila - safe drinking water ready for consumption. This swift disinfection process is appreciated by consumers, particularly those exploring areas with limited access to safe drinking water.
Many users also commend the long shelf life of Aquatabs. These tablets, as per multiple reviews, maintain their efficacy for several years, making them a smart choice for people who don't venture out too often. You can keep them stored in your backpack without worrying about their deterioration.
While Aquatabs do a solid job of killing bacteria and viruses, some consumers expressed concerns about their effectiveness against protozoa. These tablets may not provide complete protection against certain waterborne threats like cryptosporidium, a point worth considering based on the areas you would be traveling to.
Taste is an important factor for many campers when it comes to water purification solutions. On this note, the tablets have received mixed reviews. Some folks found the taste of the treated water completely acceptable, even neutral, but a few others reported a slight chemical aftertaste.
As for the price, many users pointed out the value for money aspect of Aquatabs. They're a relatively inexpensive investment that contributes significantly toward ensuring a safe adventure. The tablets are budget-friendly and an excellent backup water treatment method.
To put it into perspective, Aquatabs Water Purification Tablets have their pros and cons. They are perfect for the budget-conscious traveler who wants a simple and effective water treatment method, but they may not suit every traveler's palate or provide complete protection against all waterborne microorganisms.
Durability
Since it's not a physical device, Aquatabs don't have issues with durability. Users don't have to worry about parts breaking or the need for replacements.
Filtering Efficiency & Pathogen Removal
Aquatabs has a great reputation when it comes to eliminating bacteria, viruses and giardia from water, which is a huge plus for those travelling in areas with uncertain water sources. Customers praised its effectiveness, but a few have noted it may not be 100% effective against all bacteria strains.
Flow Rate & Ease of Use
Since it's a tablet-based product, there's no issue with flow rate as it can be directly dropped into your water source. Users have mentioned the ease of use, with individually packaged tablets, but it does require some wait time.
Lifespan
The product has an impressive shelf life but once the package is open, it's suggested to use it immediately.
Maintenance & Cleaning
Maintenance is another area where Aquatabs excel. Simply use them as needed, and there's no cleaning or special care required, which delighted many customers.
Packability
Packing Aquatabs is a breeze, as they come in small, individual packages that can fit easily into any pocket or small compartment in your backpack.
Value
With an affordable price tag and the convenience it brings, most customers found great value in the product. On the flip side, some users wished they worked slightly faster but overall, it was considered as good value for money.
Weight
The weight of Aquatabs is almost negligible, making it a great addition to any pack. It's a popular choice among hikers and backpackers for this reason.
Prices