Quick heads-up: some of the links on this page are affiliate links. If you make a purchase through them, we may earn a small commission (at no extra cost to you). This small bit of income helps keep our site running.
Best Backpacking Chairs of 2023
This post was last updated on December 06, 2023.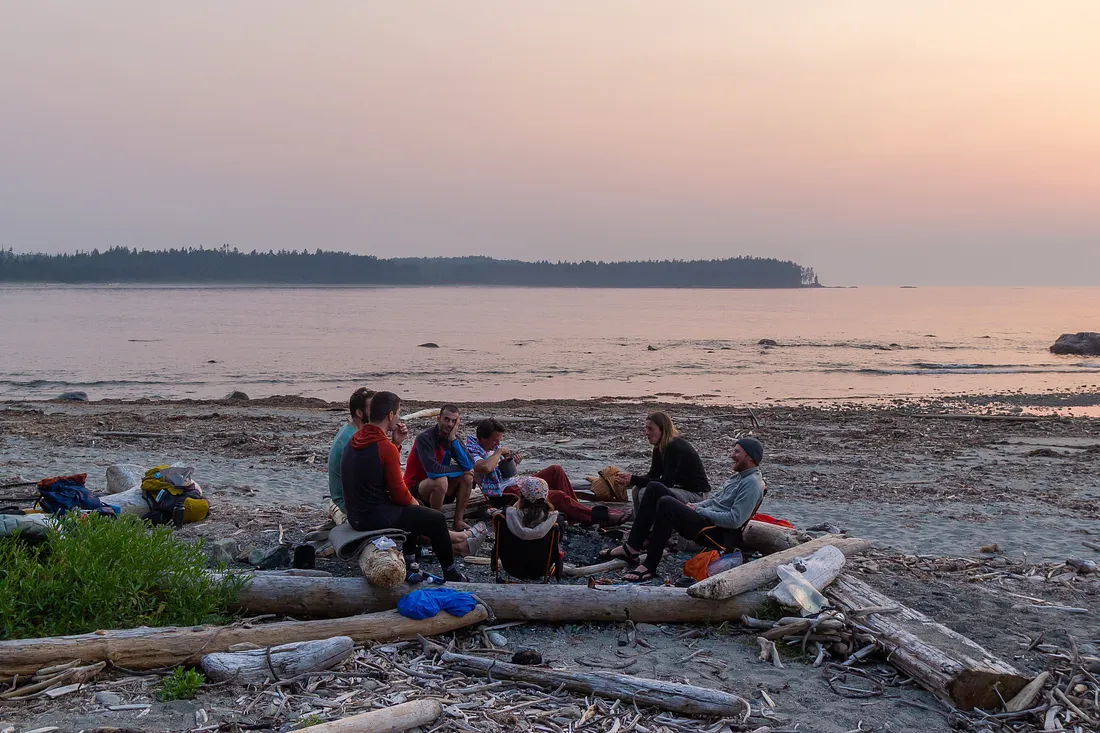 Backpacking is about hitting the trails, exploring new terrains, and getting back to nature. Having the right gear is crucial and makes the journey smoother, right from the sturdy boots to a multipurpose backpack. Amidst all the fancy gear, an often overlooked item is the backpacking chair. It's not the first thing that comes to mind when people think of backpacking, but let's face it, after a long, hard day's hike, who wouldn't want to sit comfortably and gaze at the stars?
In this post, we're shining the spotlight on the best backpacking chairs out there, with a special emphasis on our top pick - the Big Agnes Skyline UL. It's not just a case of love at first sit, we've rated it based on factors like weight, packability, comfort & support, durability & material, as well as ease of set-up & stability, among other things.
Not all backpacks or budgets are created equal and we've got you covered on that front too. From budget-friendly options to ultralight models, we're taking a deep dive into the world of backpacking chairs. To further equip you for camping adventures, we've curated a few more posts like the Best Backpacking Tents, Best Backpacking Hammocks, and Best Backpacking Backpacks for Women. So grab your gear, sit back in your new chair, and start exploring!
Our Top Recommendations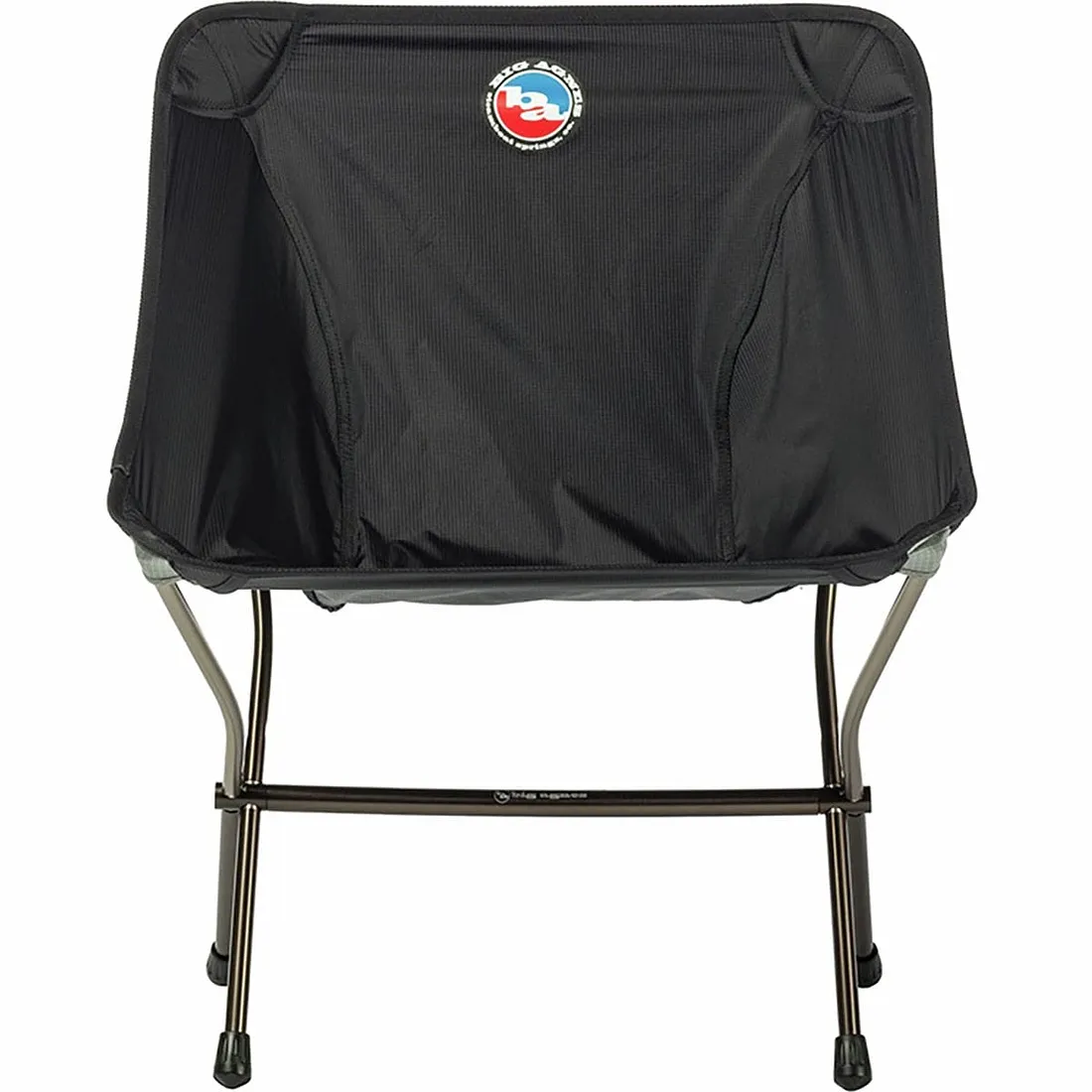 Big Agnes Skyline UL
The Big Agnes Skyline UL tops our list due to its outstanding comfort and lightweight design, with many backpackers praising its breezy set-up and the surprising support it provides after a long day on the trails.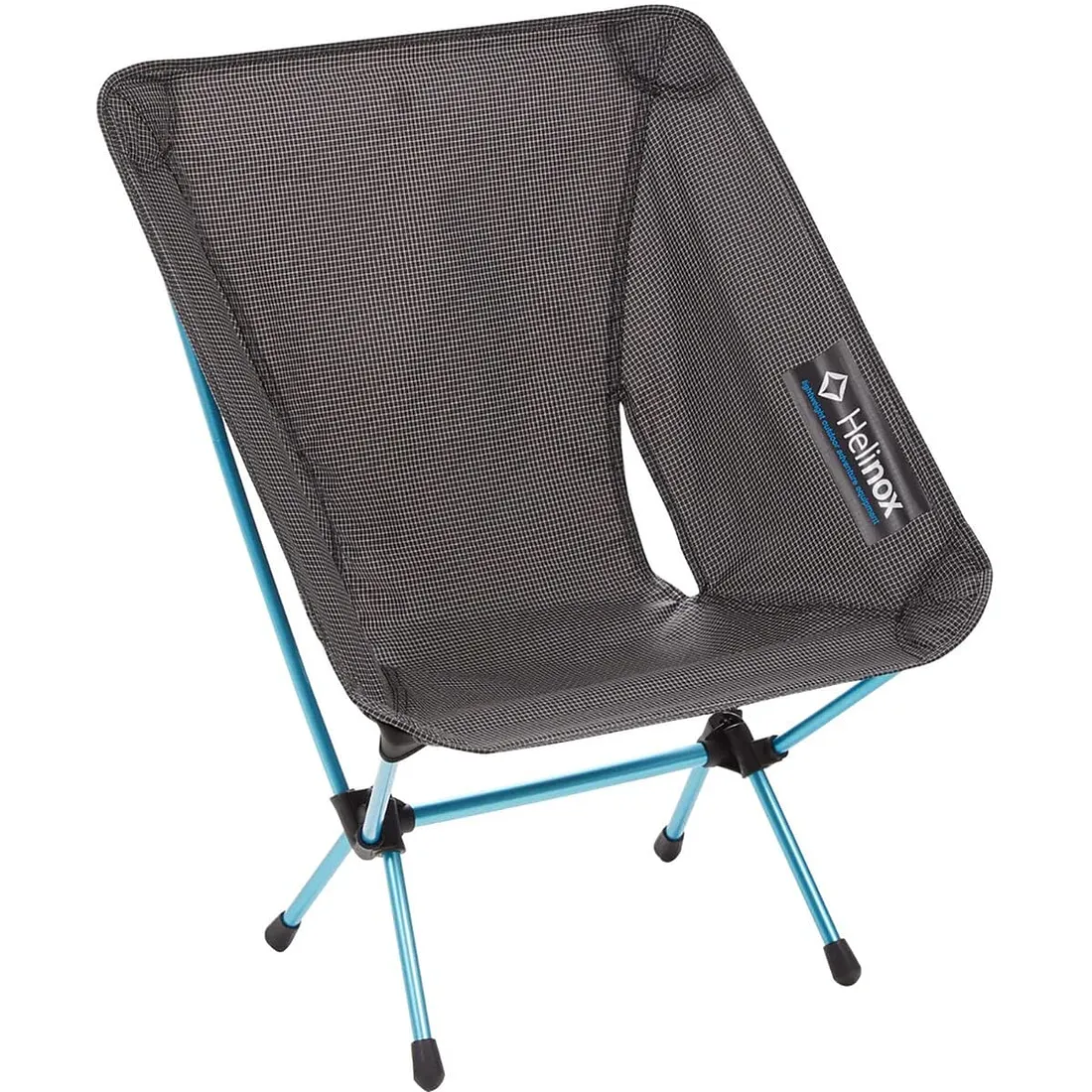 Helinox Chair Zero
The Helinox Chair Zero snags the top pick runner up spot for its feather-light weight and incredible comfort, with users praising its durability and easy assembly, setting it apart from the pack.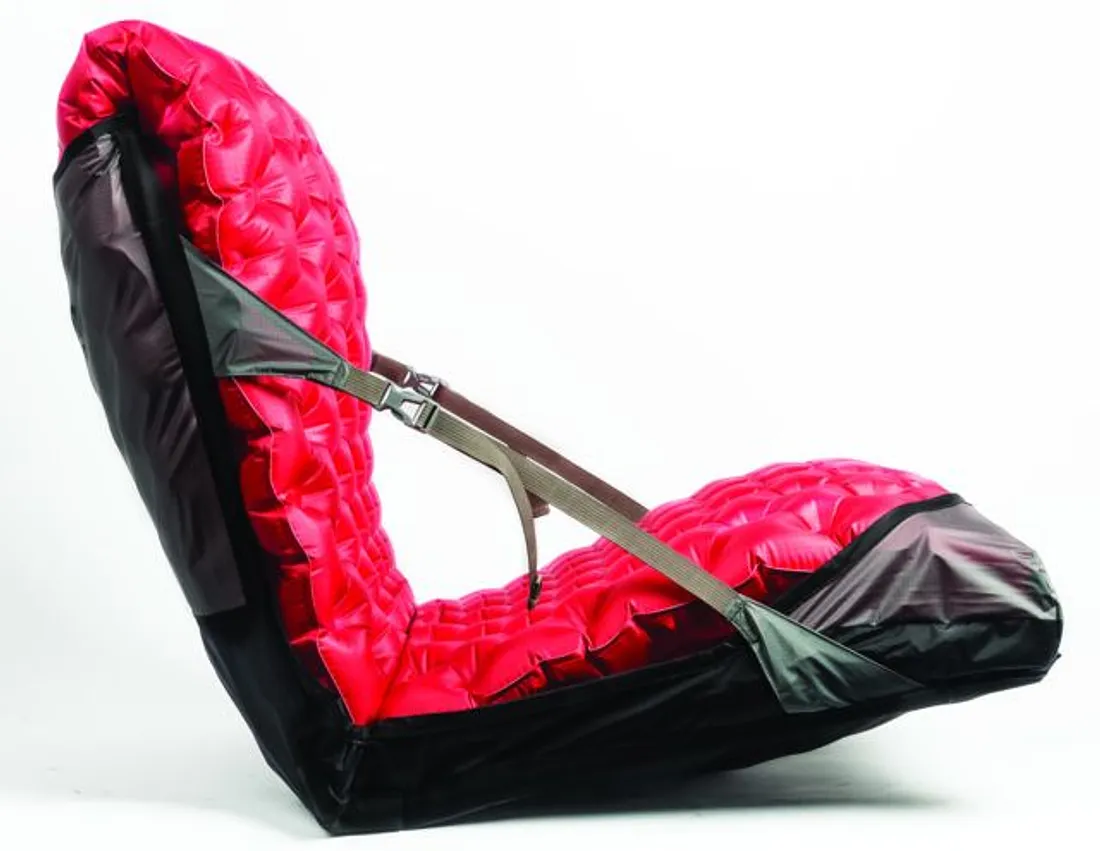 Sea to Summit Air Chair
The Sea to Summit Air Chair earns its top spot due to its exceptional lightweight design and surprising comfort, consistently praised by users who find its easy portability and supportive seating a game-changer for outdoor relaxation.
What you should look for
(and what we test for)
Weight
The weight of the backpacking chair is pivotal; you'd want to choose a lightweight one that won't add much to your pack load while hiking or climbing.
Comfort
Comfort should never be sacrificed; a chair designed with a supportive seat and back rest will make your rest times more enjoyable after a strenuous hike or climb.
Durability
Check the durability of the chair, making sure it's constructed with hard-wearing materials that can survive the rigors of outdoor camping and resist weather elements.
Portability
Look for a chair that is easy to disassemble and packs down small, making it easier to fit into your backpack and carry around on your adventures.
Big Agnes Skyline UL
$149.95
The Best Backpacking Chair
Based on our research and testing, we think the Big Agnes Skyline UL is the best Backpacking Chair on the market right now, for anyone looking to play hard outside.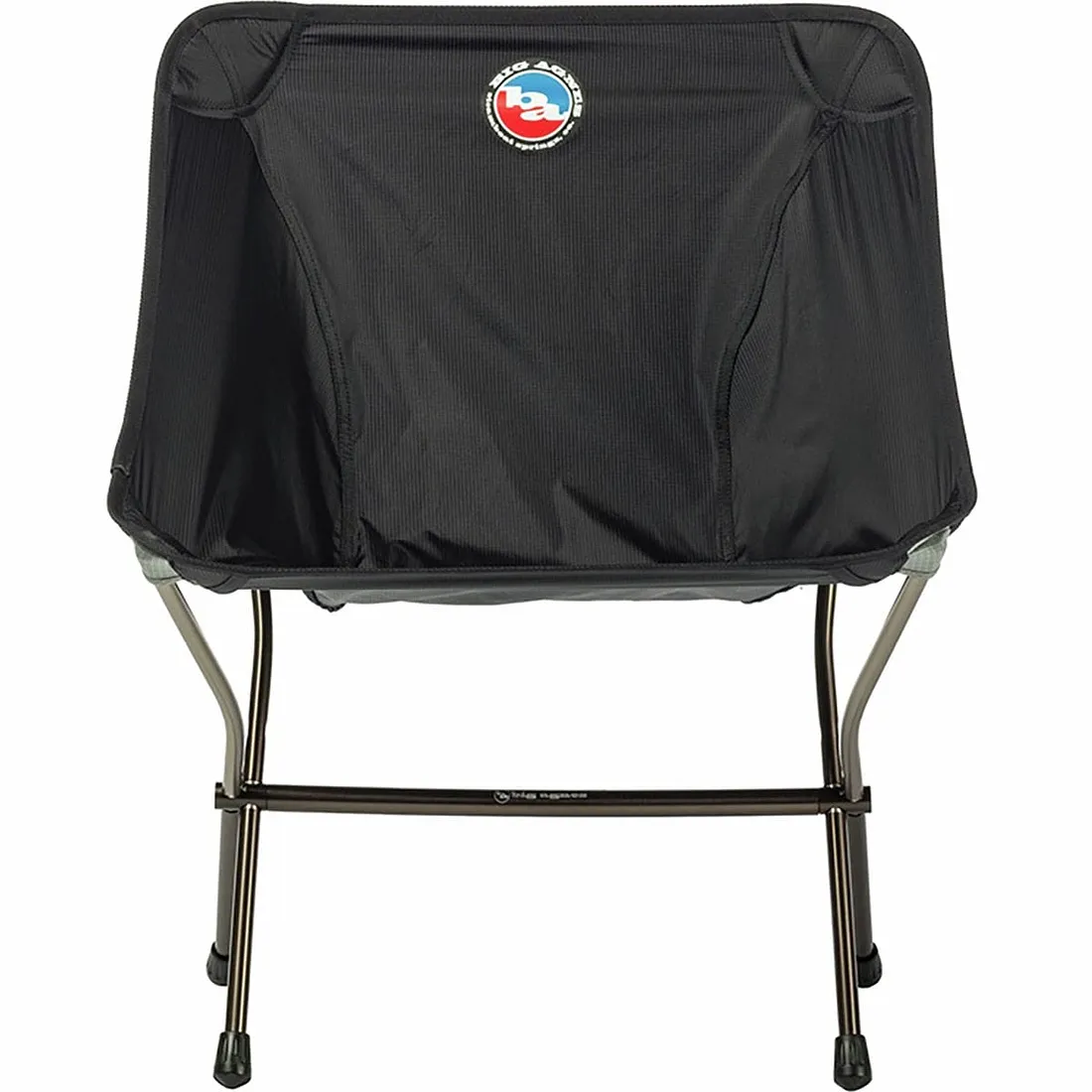 Reasons to Buy
Lightweight and easily portable

Exceptionally comfortable

Durable, high-quality material
Reasons to Avoid
May be too low for some people

Slightly pricy
The Important Specs
Capacity:

250 pounds

Materials:

Ripstop Nylon and Aluminium Frame

Dimensions:

19.5 x 19 x 20 inches

Seat Height:

15 inches
Review Roundup
The Big Agnes Skyline UL is a big name in the world of lightweight backpacking chairs, and for good reason. It clocks in at a mere 1.8 lbs, making it a fantastic companion for those long hikes where every ounce counts.
The chair's quality and durability really shine through in its construction. With robust aluminum poles and ripstop nylon fabric, it handles rough campsite conditions and hold its own against more rugged chairs. A few users did comment that they found the chair a little wobbly on uneven terrain but sturdy enough on flat ground.
One noteworthy feature of the Skyline UL is how easy it is to pack and unpack. According to some users, Setup is a breeze and the chair packs down so small it can easily fit into most backpacks without occupying much space. Along with its lightweight, this makes it a backpacker's dream chair.
The Skyline UL is not lacking in the comfort department either. The design provides excellent back support and adequate room for relaxation. A few users reported that they found the seating to be a little low to the ground, but most believe it's an acceptable trade-off for the weight and packability.
While the price point is a bit higher compared to other chairs in the market, most users agreed that the Skyline UL is well worth every penny considering its quality, packability, and weight. Plus, that added investment could pay off in the form of comfort and longevity.
Workmanship of the chair also earned high praise. Detailed stitching, strong materials - it's evident that Big Agnes put thoughtful consideration into the design and manufacturing process. Some minor issues were reported with the stability of the chair while sitting, but these were relatively isolated cases.
Customer service of Big Agnes also earned top remarks. Users appreciated the attentive and helpful response when contacted for queries and concerns.
Comfort & Support
Comfort is a noticeable highlight of this chair. The way it cradles your back as you rest is straight-up luxurious! The seat is roomy and enables you to lounge comfortably after a day of hiking.
Durability & Material
Made from ripstop nylon and aluminium frame, the Skyline UL is built to withstand the hardships of the great outdoors. The durability of this chair is top-notch, ensuring you won't need a new one any time soon.
Ease of Setup & Stability
The hubbed pole design means setup is a breeze, saving you crucial outdoor time. And once it's up, it's stable and solid, so you can just kick back and relax.
Features & Versatility
The simple design and neutral color options make it fit for every outdoor setting. The side pocket is a handy addition, providing a safe spot to stash your essentials.
Packability
Its design is incredibly user-friendly, easily shrinking down to a compact size that can fit into any backpack. With the Skyline UL, you won't have to worry about extra bulky gear.
Size & Seat Height
At 15 inches, the seat height may be a tad low for some people, but it's perfect if you prefer a low-slung lounging experience.
Value
Despite being a bit pricy, the Skyline UL stands out due to its exceptional quality, comfort and portability. The initial investment is definitely worth it, considering how long this chair will last you.
Weight
The Big Agnes Skyline UL is a champ when it comes to staying light and easy to carry. Despite its sturdy frame, this chair doesn't weigh you down on your backpacking trip.
Prices
Helinox Chair Zero
$159.95
Runner Up
Based on our research and testing, we think the Helinox Chair Zero is a great choice if you're looking for a backpacking chair to go play hard outside with, if our top pick isn't quite what you're looking for.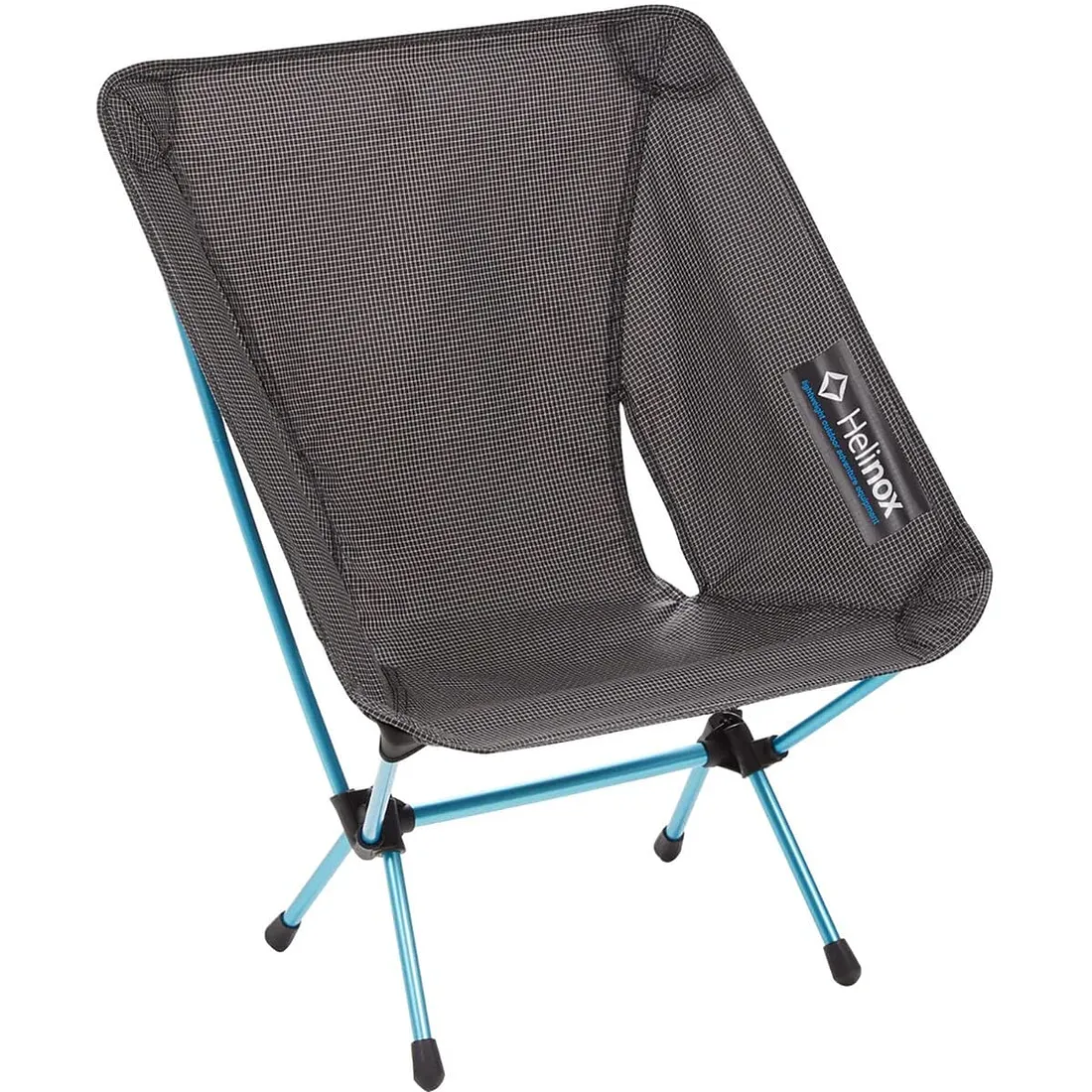 Reasons to Buy
Compact and easily packable

High quality, durable material

Lightweight yet sturdy

Comfortable even for extended sitting

Versatile for all types of outdoor settings
Reasons to Avoid
Higher price bracket

May be too small for larger individuals

Seat depth can be uncomfortable for some

Requires care to avoid fabric damage
The Important Specs
Material:

Polyester ripstop fabric reinforced with a high-strength aluminum alloy frame.

Dimensions:

20.5 inches in height, 19 inches in width, 25.5 inches in depth

Packed Size:

4 x 4 x 14 inches

Seat Height:

Only 9 inches off the ground

Max Load Capacity:

Up to 265 pounds
Review Roundup
The Helinox Chair Zero is a backpacking chair that isn't just lightweight; we're talking feather-like. Weighing in at a mere 1.1 pounds, it's one of the lightest portable chairs on the market. Whether you're hiking up a mountain or heading out on a long-distance trek, you'll barely notice it's in your pack.
Despite this backpacking chair's lack of weight, it doesn't compromise on strength and stability. Capable of supporting up to 265 pounds, the Helinox Chair Zero proves that sometimes great things really do come in small packages. Its high-strength aluminum alloy frame is durable and robust, defying its lightweight nature.
One common challenge with camping chairs is the setup, but the Chair Zero promises a hassle-free experience. Its single-shock, corded pole structure means you can assemble and disassemble it in a snap—efficiency at its best when you're eager to rest after a long day exploring.
As for comfort, most online reviews affirm that it offers an impressive seating position and back support for a chair of such diminutive weight. However, some users suggested that it's not the best for those who prefer a more upright, raised seating position. This is due to the Chair Zero's design that somewhat reclines the user - perfect for some, less so for others.
Chair Zero incorporates a breathable mesh seat, saving you from the ordeal of a hot seat in the sunny afternoons. However, some users noted that the mesh isn't the most generous in size, which may be an issue for broader folks.
The incorporated carry sack that doubles as a pillow is a thoughtful feature, especially appreciated by minimalist backpackers. No one likes carrying extra weight, so eliminating a pillow from the gear list is a big plus.
As for value, it's not the cheapest option available. It is, however, a product where you certainly get what you pay for. The lightweight design, durability, and ease of setup make Helinox Chair Zero a worthy investment for wild camping and trekking.
Comfort & Support
For something so light, you'd be surprised how comfortable this thing is. The polyester fabric cradles you just right and the low seat height gives that chill, lounge-y vibe. Though some users find the seat depth a tad uncomfortable over long periods, we think it strikes a good balance.
Durability & Material
The Helinox Chair Zero is made with high-strength polyester ripstop fabric. It's got the durability to withstand bumpy rides in your backpack and happy clenches from your behind. The frame is made from high-strength aluminum alloy. It's designed to stand up to rugged use. Just be careful not to accidentally puncture or tear the fabric.
Ease of Setup & Stability
Users find this chair quite easy to set up and pack away, thanks to the collapsible frame and simple design. Just make sure to set it up on stable ground to avoid any tipping mishaps.
Features & Versatility
This isn't your run-of-the-mill camp chair. It's great for backpacking, trekking, and even just for a day out at the park. Its lightweight design doesn't skimp on comfort and its versatility makes it a worthwhile investment.
Packability
This chair packs down to the size of a water bottle, making it a dream for anyone trying to save space in their backpack. The collapsible pole structure allows for easy packing and unpacking. Whether you're setting up camp or calling it a day, it's hassle-free all the way.
Size & Seat Height
This chair is compact and perfect for backpackers who need to keep the load light. That said, the seat height might take some getting used to, particularly if you're on the taller side or prefer more leg room.
Value
It's not cheap, but you're definitely getting your money's worth with the Chair Zero. If comfort, portability, and durability are your top considerations, then this chair fits the bill. It's an investment in quality adventure gear that should last you many seasons of outdoor fun.
Weight
Even though it's one of the lightest hiking chairs out there, the Helinox Chair Zero doesn't skimp on strength. It's got an impressive max load of 265 pounds. That's sturdy enough for any adventurer, yet light enough to carry on long hikes without breaking a sweat.
Prices
Sea to Summit Air Chair
$59.95
Runner Up
Based on our research and testing, we think the Sea to Summit Air Chair is a great choice if you're looking for a backpacking chair to go play hard outside with, if our top pick isn't quite what you're looking for.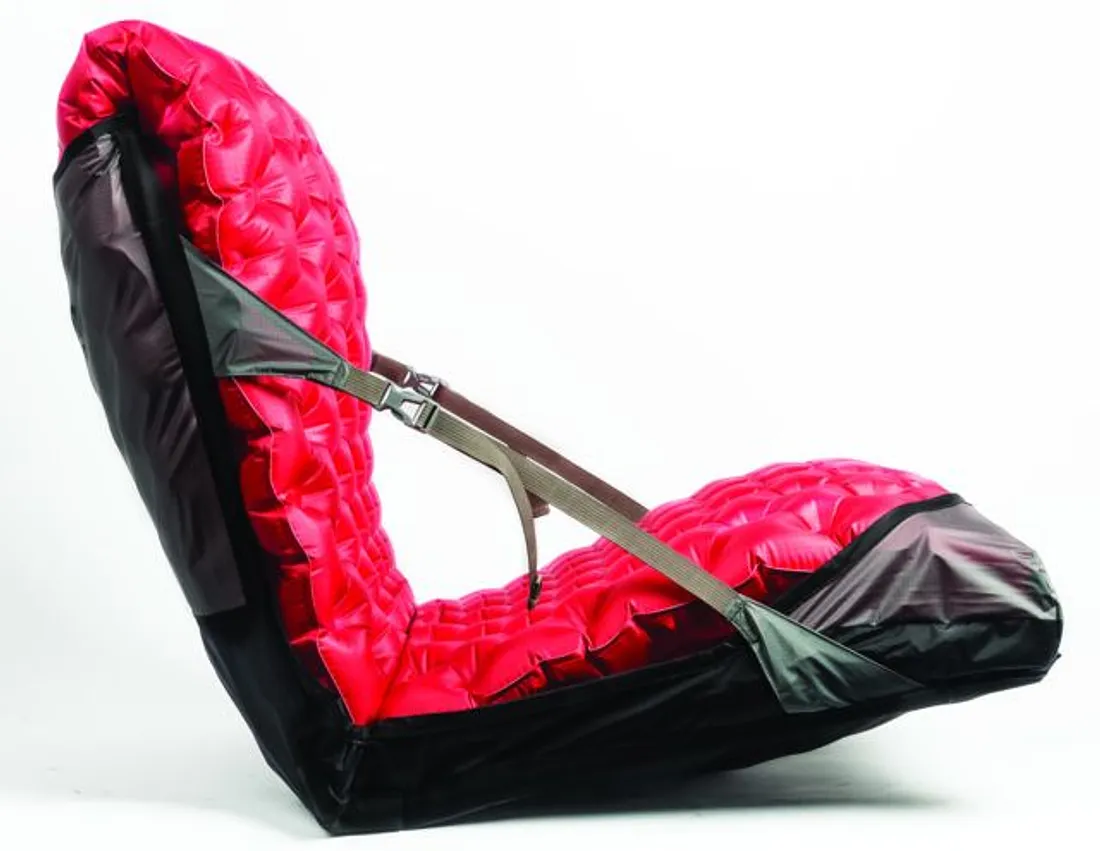 Reasons to Buy
Compact and easy to carry

Really comfortable

Durable material
Reasons to Avoid
Setup can be challenging for beginners

Height might be too low for some

Higher price tag compared to other chairs
The Important Specs
Material:

70D nylon

Packed Size:

5 x 10 inches

Load Capacity:

265 lbs

Seat Dimensions:

24 x 17 inches

Included Components:

Chair kit, stuff sack, inflatable air pad
Review Roundup
The Sea to Summit Air Chair is a standout when it comes to backpacking chairs. It's majorly lightweight and super practical. If you're an outdoor enthusiast who values comfort without the bulk, this could be your go-to solution.
It impresses you right from the get-go with its smart and compact design: we're talking about a couple of pounds in weight. It's easy to pack, taking up barely any space in your backpack.
Detach the elastic cord once you're ready to sit and relax, then inflate the seat cushion. Pump or mouth, either way, takes not more than a few minutes. Sliding the inflated cushion into its hardy shell forms your chair. Voila! A comfy spot to rest, soak up the scenery, or exchange stories by the campfire.
The construction, likewise, deserves applaud. The Sea to Summit Air Chair's body shell is made of high-density nylon, making it both durable and water-resistant. So, unexpected downpours won't put a damper on your camping fun. Users have praised its resistance to punctures and rips, which adds to its longevity.
More so, it adjusts well to uneven grounds, a feature quite admired by online reviewers. Despite its lightweight construction, it can support a substantial amount of weight. It's a big plus if you have had to deal with sinking chairs before.
While the Sea to Summit Air Chair scores well in many areas, it does have a few drawbacks that some purchasers have pointed. For instance, the absence of a backrest. It can be a tad uncomfortable if sitting for extended periods or if you generally need that extra back support.
Also, inflating it manually can get a little exhausting after a long day's trek. Some users suggested having an air pump could make the process much easier.
Another minor hiccup mentioned by users is its price point. Some find it a bit on the higher side. But considering its durability, lightweight, and packability, many view it as a worthy investment for frequent adventurers.
Comfort & Support
This chair offers an exceptional level of comfort. The inflatable air pad that doubles as the seat and back is firm, providing excellent support for both your back and bottom.
Durability & Material
Constructed from durable 70D nylon, the chair handles the rigours of backpacking quite well. Customer reviews particularly vouch for its resilience against wear and tear.
Ease of Setup & Stability
Although the setup might seem a bit challenging to first-timers, users affirm that with practice it becomes straightforward. The chair is also reliably stable on even ground.
Features & Versatility
The multifunctional air pad is the highlight here. You can use it as a comfy chair by day, and as an air pad by night. It's a two-in-one deal that's hard to resist.
Packability
Since everything can be stuffed into the included stuff sack, it's super easy to pack. It gets a commendable bonus point for its space-saving design.
Size & Seat Height
The seat dimensions give ample sitting space but the height might seem low for some. If you're looking for a taller chair, you'd need to consider elsewhere.
Value
This chair leans a bit on the expensive side. However, the outstanding comfort, quality, and dual-purpose design justify its price tag. Customers have found it to be a worthy investment for regular backpacking trips.
Weight
While we're not dwelling on the weight, the Sea to Summit Air Chair registers a pretty sweet balance between comfort and lightness. While there are lighter chairs out there, they compromise on the comfort part. This chair strikes a nice balance.
Prices
Moon Lence Backpacking Chair
Best Budget Backpacking Chair
Based on our research and testing, we think the Moon Lence Backpacking Chair is a great pick if you're looking for a backpacking chair that is more budget friendly, without sacrificing too much in quality.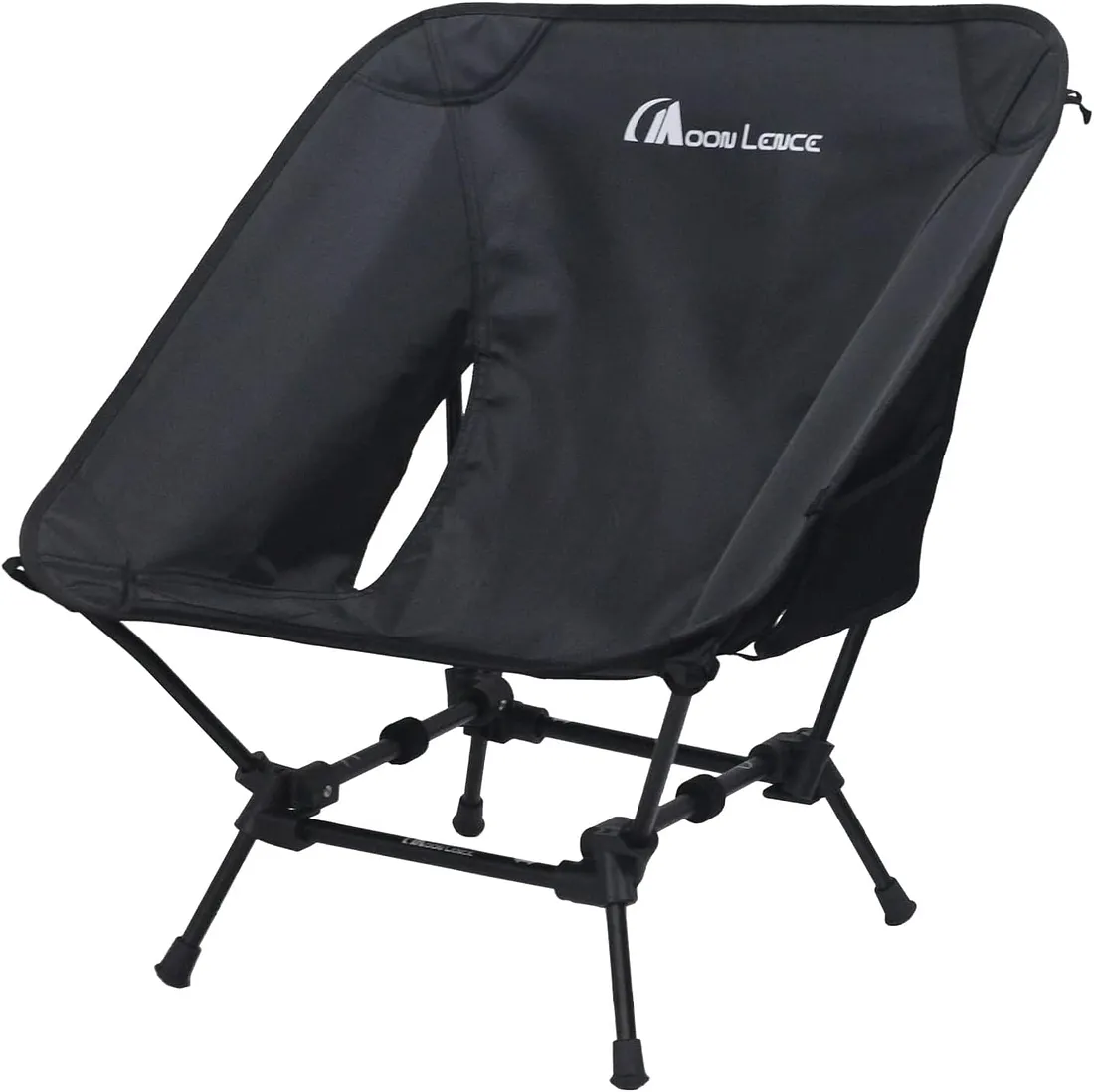 Reasons to Buy
Incredibly affordable

Easy to pack and set up

Good support and comfort

Durable material
Reasons to Avoid
Lower seat height than some competitors

Fewer features and versatility
The Important Specs
Material:

600D Oxford cloth

Max Load:

242 pounds

Dimensions:

13.8" x 26.4" x 19.7"

Seat Height:

About 10 inches
Review Roundup
The Moon Lence Backpacking Chair is a popular choice among budget-conscious outdoor enthusiasts. Its lightweight yet sturdy design makes it easy to pack and carry on any adventure. It has a unique collapsible design that allows it to be folded down into a compact size for easy transport. Despite what its budget price tag might suggest, this chair doesn't skimp on comfort. Its ergonomic seat design and breathable mesh material offer phenomenal comfort after a long day of hiking.
Many users have complimented the Moon Lence Chair's robust capacity. It can safely hold up to 242 lbs, which is quite solid for a backpacking chair in its price range. Its legs are made from high-strength aluminum alloy, giving the chair a stable and solid structure. So, it's perfect for folks who want a reliable seat without worrying about it collapsing or folding under pressure.
Buyers have also noted how easy it is to set up the chair. It comes with a user's manual that goes in step-wise instructions for assembly, so getting it ready for use is as smooth as a breeze. The chair also comes with a handy carrying pouch, making it easy to store and take on the go.
Despite the many positives, a few users have pointed out that the chair can feel a bit unstable on uneven ground. Others have mentioned that taller folks might find the chair a bit low for their liking. It is important, however, to keep in mind that these issues typically come with the territory of lightweight and portable camping gear.
Ultimately, customer reviews seem to agree that the Moon Lence Backpacking Chair's strengths significantly outweigh its drawbacks. Its affordable price tag, combined with impressive functionality and comfort, makes this chair a real steal for individuals who love outdoor activities but are also mindful of their budget.
Comfort & Support
While it may be lacking in plush padding, the chair provides good support and comfort for most individuals. The seating material is taut enough to offer decent spine support.
Durability & Material
This chair is constructed with solid aluminium poles and a sturdy 600D Oxford cloth, ensuring it can withstand rough terrains and unpredictable weather. It can support up to 242 pounds which is impressive for a chair of its size.
Ease of Setup & Stability
You'll have this guy set up in no time, thanks to the shock-cord pole structure. This also results in a stable seating environment, allowing you to relax without worrying about toppling over.
Features & Versatility
The Moon Lence chair offers basic seating features and lacks some of the versatility compared to pricier models. However, it does excel in its designed purpose -- providing a comfortable and portable seat.
Packability
Due to its small size when folded up, it can easily fit in your backpack or be carried by hand. With the included carry case, transport is a breeze.
Size & Seat Height
With its compact size, this chair is an excellent choice for backpacking, but it's a bit lower than some of its competitors. If you don't mind sitting closer to the ground, this won't be an issue.
Value
For those on a budget, you can't beat the Moon Lence chair. It delivers a reliable and decently comfortable seating option for a fraction of the cost of some competitors. A great choice for backpackers counting their pennies.
Weight
The Moon Lence chair is extremely light, making it ideal for backpackers that don't want to heavily burden their pack. However, it's lack of weight does not sacrifice its durability or comfort.
Prices
No prices found. Check back later!
Therm-a-Rest Z Seat
$32.95
Best Ultralight Backpacking Chair
Based on our research and testing, we think the Therm-a-Rest Z Seat is a solid choice for those looking for a lightweight backpacking chair option to go play hard outside with.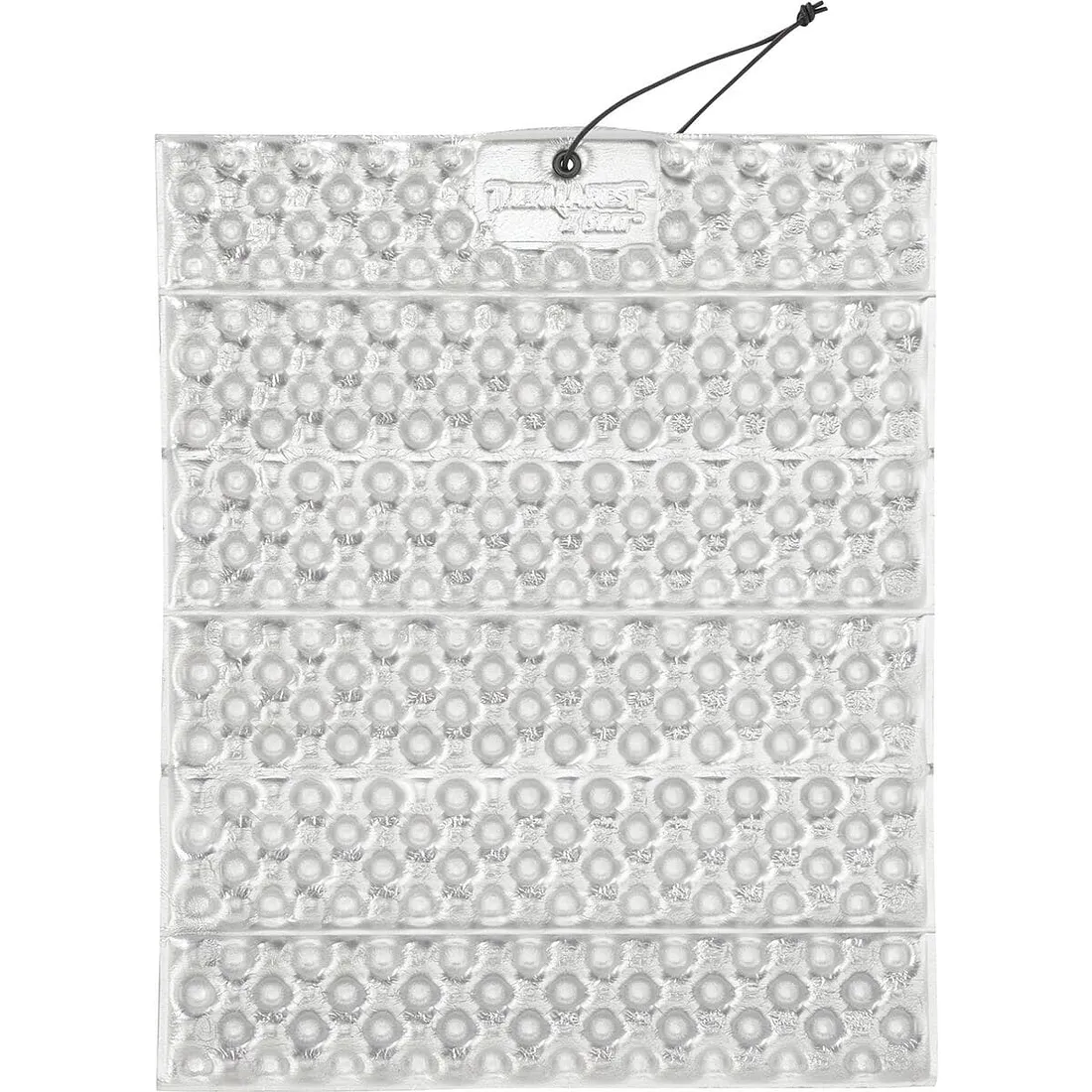 Reasons to Buy
Ultralight and compact

Waterproof and insulating

Durable material
Reasons to Avoid
No back support

Not the most comfortable on the market

May not be suitable for long durations of sitting
The Important Specs
Material:

Cross-linked Polyethylene

Dimensions:

16 x 13 x 0.75 inches

Closed Dimensions:

16 x 2.75 x 2.5 inches
Review Roundup
The Therm-a-Rest Z Seat is becoming a fast favorite among the ultralight backpacking community, and for a good reason. The seat's main selling point is its ultralight weight. Considering it weighs a mere two ounces, you won't even notice it's there in your pack.
It's not just the lightweight feel that has won over backpackers, but its simple yet highly functional design as well. The seat is made from indestructible closed-cell foam, which gives it resilience and durability. It doesn't simply fold, but rather, it utilizes a unique accordion-style design that collapses flat for easy packing while also providing cool cushioning comfort when you pop a squat.
Users also rave about its versatility, noting it's not just a seat. The Therm-a-Rest Z Seat also serves as a handy sit pad, a small sleeping pad for your furry friend, or even a back cushion in a pinch. Basically, it's a Swiss Army knife of backpacking seats.
For those who are fans of winter or cooler temperature camping, the reflective ThermaCapture coating on one side is a big plus. It radiates heat back to your body, keeping you surprisingly warm despite the cold ground.
So, do buyers have any gripes? Well, a common thread among reviews doesn't necessarily point to a consistent flaw but more towards a personal preference. Some find the seat a touch too small for their liking, especially for taller or broader backpackers. Others wish it had more cushioning, as the minimalist design may not provide enough comfort for those with back or hip problems.
Lastly, some outdoor enthusiasts may not be 100% sold on the idea of carrying an extra item, albeit a lightweight one. However, with the multitude of perks and the small space it takes, many users are accepting this as a worthwhile addition to their backpacking gear list. Plus, let's not forget how dirt-cheap it is compared to competition.
Overall, customer reviews suggest that the Therm-a-Rest Z Seat is a game-changer for backpackers who value comfort, minimal weight, and multifunctional gear.
Comfort & Support
While it doesn't offer back support, this chair is definitely more comfortable than sitting directly on the cold, hard, wet ground. Plus, it adds a touch of insulation between you and the ground, making it a good option for chilly hike breaks.
Durability & Material
Made of durable, cross-linked polyethylene, this chair has astounding durability. It can take a beating, so it's perfect for rocky, uneven terrain. Plus, it's waterproof - a major boon if you ever find yourself resting in wet conditions.
Ease of Setup & Stability
Setup is as easy as opening it and tossing it on the ground, and its bottom grips the ground for stability, even on a bit of an incline. Just keep in mind that it won't be as stable as a four-legged chair.
Features & Versatility
The only feature is its bungee cord, but combined with its waterproof nature and insulating properties, this chair is surprisingly versatile. Use it as a seat, a mini table, a kneepad, or even a fan - it's up to you.
Packability
This chair's packability is top notch. Not only does it fold up super small, but it also has a bungee cord that keeps it compact when folded. Toss it in your pack, or even clip it to the outside if you're short on space - it's that versatile.
Size & Seat Height
The size is wonderfully compact, and while the seat height isn't adjustable, it's just high enough to lift you off the cold or hard ground. You won't be lounging like in a larger chair, but it's certainly better than nothing.
Value
Given its ultra-lightweight, impressive durability, and multifunctional use, this seat offers great value for its price. It may not be as comfortable as some larger and pricier options, but for those who prioritize lightweight and packability, it provides excellent bang for your buck.
Weight
For its weight, the Therm-a-Rest Z Seat Ultralight backpacking chair is pretty incredible. Weighing in at a feather light 2 oz, it's one of the lightest options out there and you'll hardly even notice you're carrying it, until you're thankful you have it during your rest breaks.
Prices