Quick heads-up: some of the links on this page are affiliate links. If you make a purchase through them, we may earn a small commission (at no extra cost to you). This small bit of income helps keep our site running.
Best Backpacking Backpacks for Women of 2023
This post was last updated on December 06, 2023.
We've also got a unisex version of this post that you might be interested in: Best Backpacking Backpacks of 2023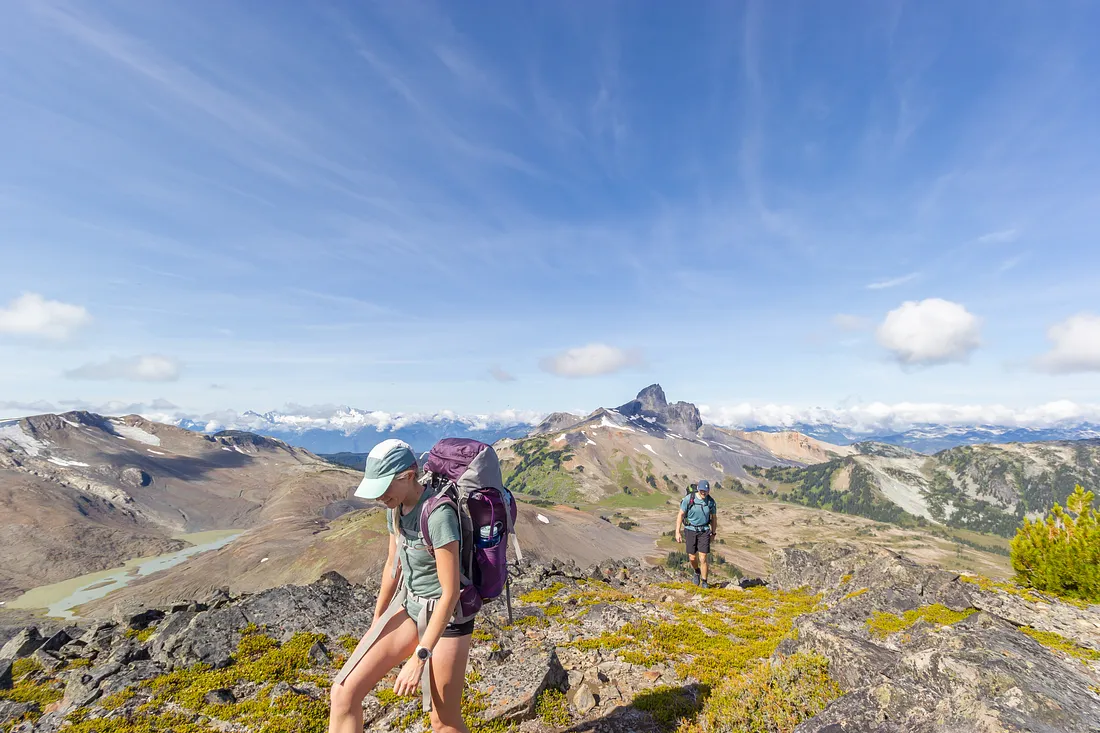 Ladies, let's break the stereotypical 'I'm just coming for the marshmallows' camping image and gear up for some serious backpacking adventures. Don't you just love splitting away from the mundane world and diving deep into nature's blissful serenity with nothing but your backpack for company? Yeah, we know you do! And that's exactly why we've rallied up this review of the best backpacking backpacks specifically for women, with the crown jewel being the unbeatable Osprey Aura AG 65.
Our favorite pick, the Osprey Aura AG 65, strikes the perfect balance of weight, storage space, durability, and most importantly, value for your hard-earned dollar. It's not just about the fancy name or the brand's popularity, this backpack has proved itself time and again in the real world. It masters the art of 'carrying the load', comfortably mind you, while also nailing it on the aspect of adjustability and overall fit for a wide range of body types.
But we know every backpacker has unique needs, so we're also going to cover two honorable mentions that give the Osprey Aura a run for its money. And, because we cater to all sorts of wanderers out there, we're breaking down the best choices for specific needs - budget watchers, minimizers seeking the 'ultralight' choice, and badass luggers ready to shoulder heavy loads. Be sure to check out our other posts like Best Hiking Boots for Women, Best Backpacking Tents, and Best Hiking Daypacks for Women, to get fully equipped!
Our Top Recommendations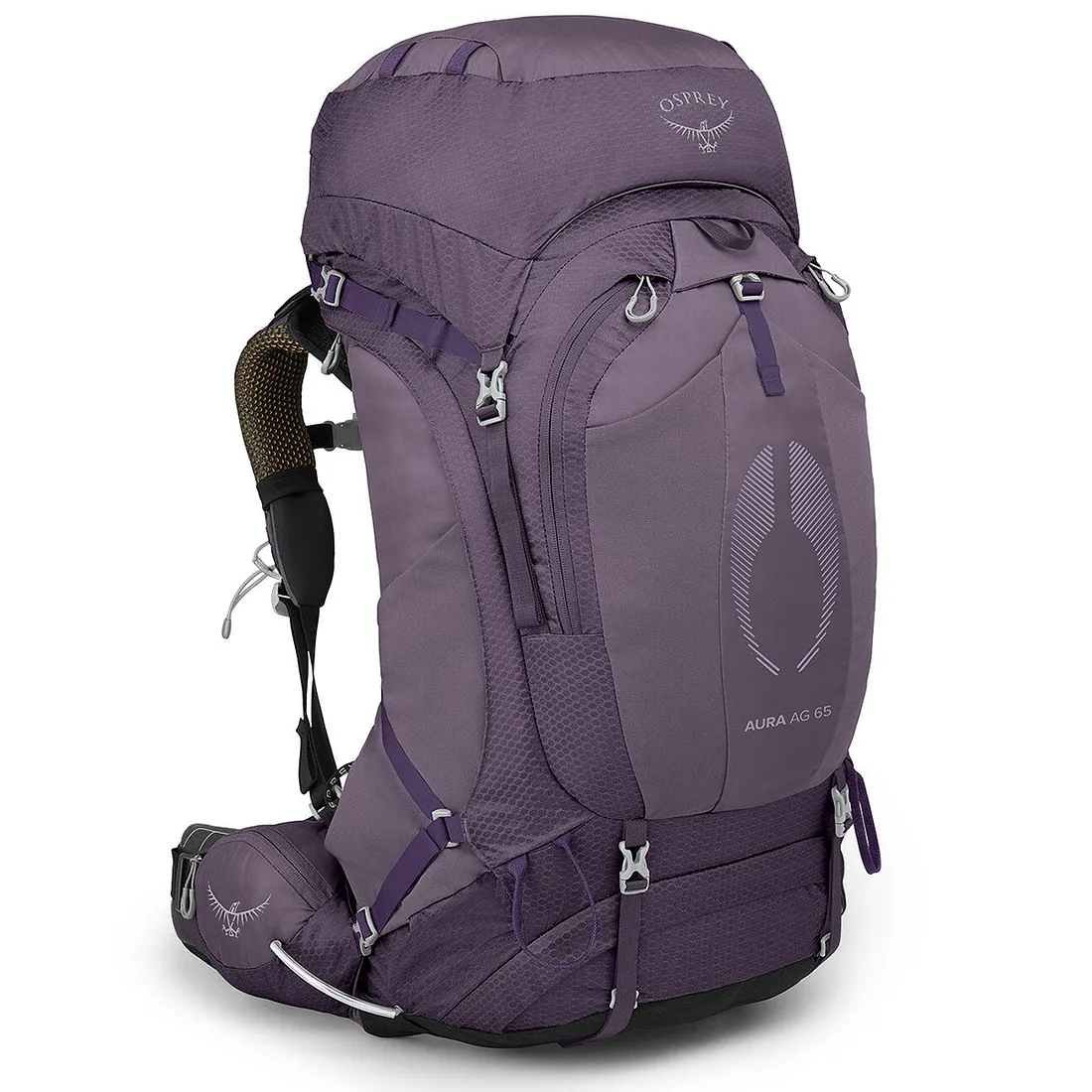 Osprey Aura AG 65
The Osprey Aura AG 65 takes the top spot owing to its impeccable comfort and exceptional weight-distribution tech, repeatedly lauded by women backpackers for its body hugging fit and backbone-saving support.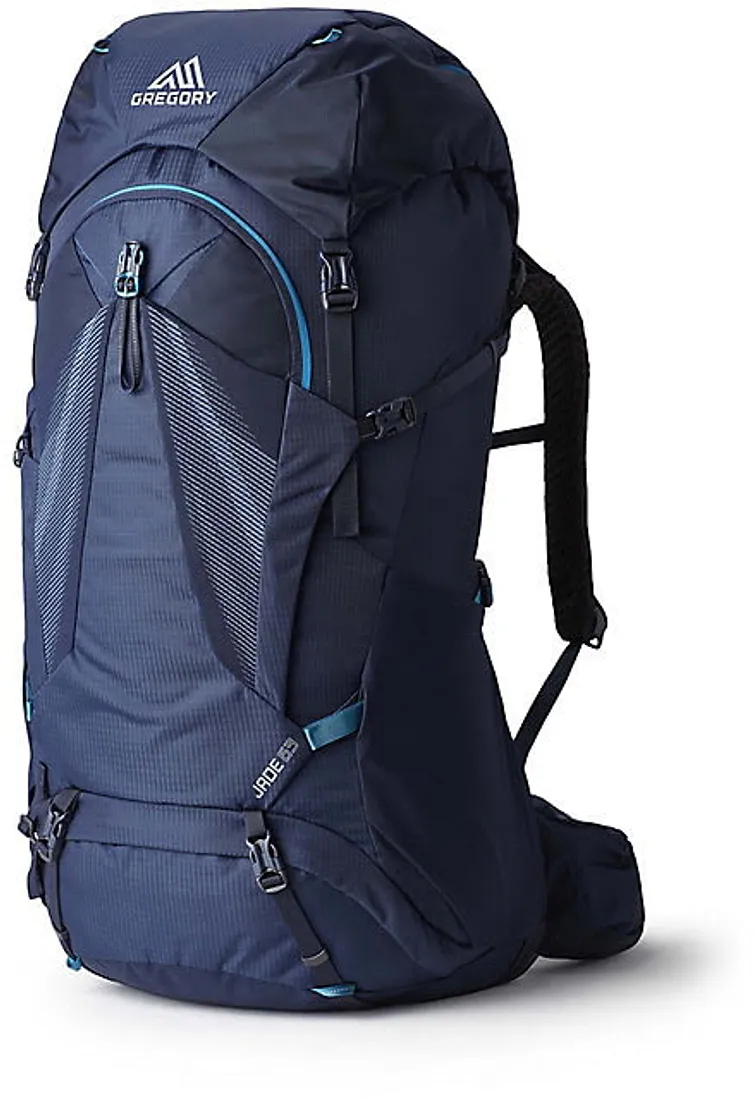 Gregory Jade 63
The Gregory Jade 63 is a top pick for women's backpacking backpacks, praised by users for its generous yet compact storage capacity, and its well-engineered design providing exceptional comfort, even during strenuous hikes or climbs.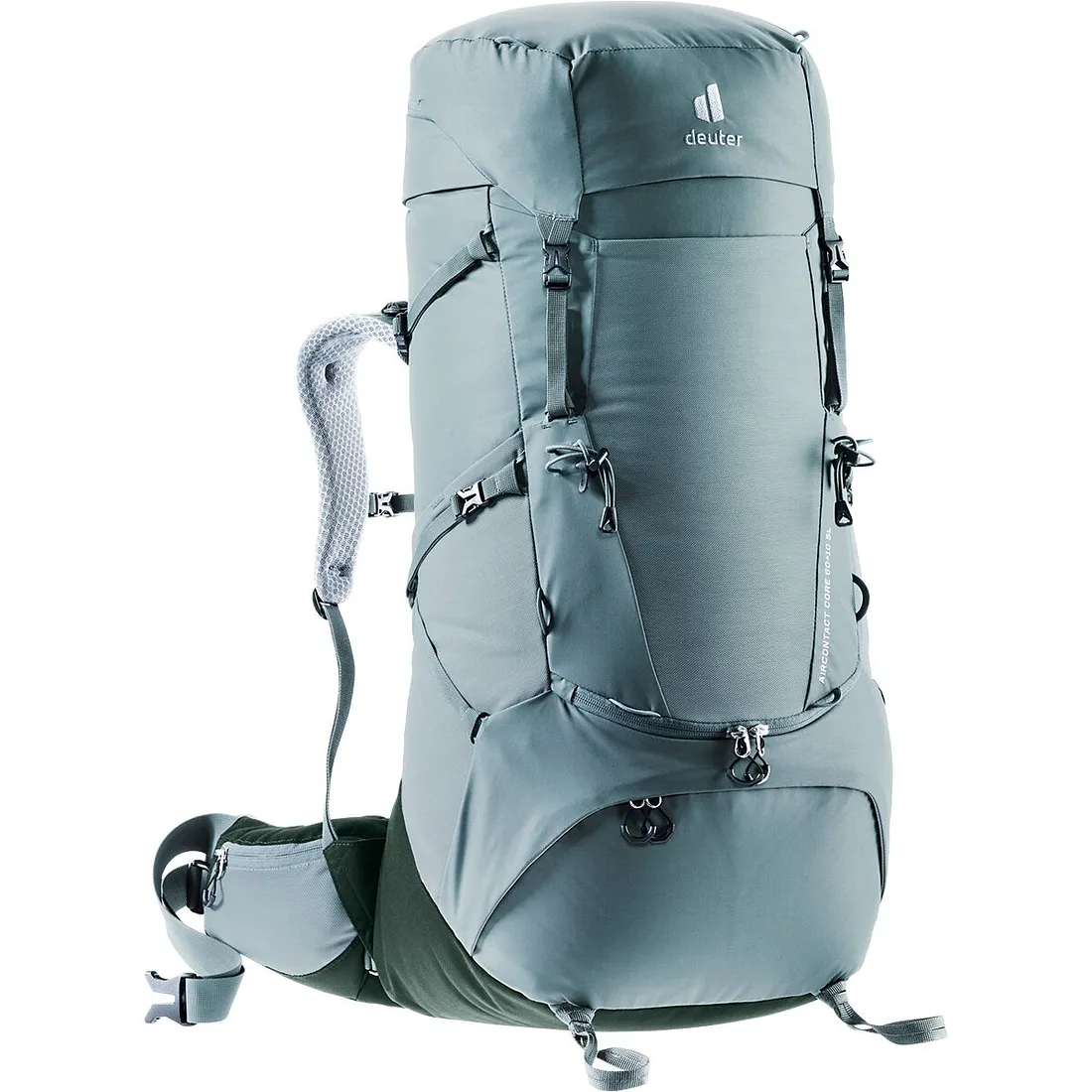 Deuter Aircontact Core 60+10 SL
The Deuter Aircontact Core 60+10 SL claimed the top pick runner up because users rave about its exceptional comfort due to the adjustable, padded shoulder straps and its impressive storage capacity, all without compromising a lightweight design.
What you should look for
(and what we test for)
Capacity
Consider how long your trip is and how much gear you need to carry - for a one or two-day trip, a 20-30L backpack will suffice, while a week-long hiking adventure might require upwards of 60L.
Extra Features
Think about useful extra features, such as a built-in rain cover for unexpected weather changes, multiple pockets for easy access to essential items, and hydration compatibility for long, hot hikes.
Fit and Comfort
Ensure the backpack has adjustable straps and a padded back panel for all-day comfort, as well as a hip belt to distribute the pack weight evenly across your body, reducing shoulder strain.
Material and Durability
Look for a backpack made from high-density, tear-resistant material that can withstand the wear and tear of rugged trails, and make sure it has reinforced seams and high-quality, durable zippers.
Osprey Aura AG 65
$340.00
The Best Women's Backpacking Backpack
Based on our research and testing, we think the Osprey Aura AG 65 is the best Women's Backpacking Backpack on the market right now, for anyone looking to play hard outside.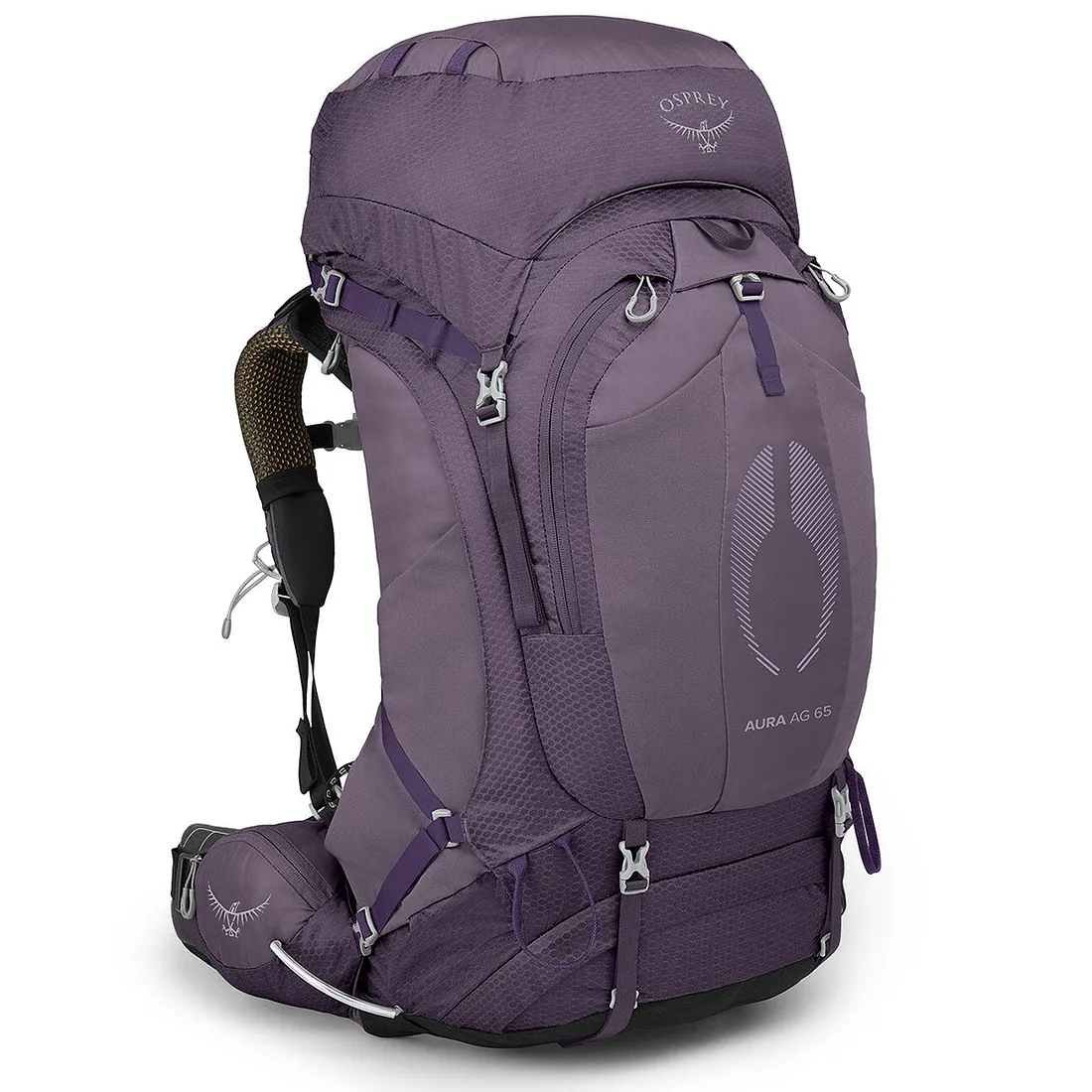 Reasons to Buy
Exceptional comfort with Anti-Gravity (AG) suspension system

Durable build and materials

Offers good load carrying capability

Plenty of storage options and ease of organization

Adjustable shoulder harness offers optimal fit
Reasons to Avoid
Can be on the pricier side

Hip belt pockets might be too small for some users

Lack of quick access to the main compartment
The Important Specs
Frame:

Alloy frame and fibreglass cross struts

Volume:

65 Liters

Pockets:

2 hip belt pockets, 1 front stretch pocket, 2 side stretch pockets, 2 lid pockets

Material:

Nylon

Adjustability:

Adjustable shoulder harness
Review Roundup
The Osprey Aura AG 65 is a pack that garners high praise from women who love backpacking. One of the key features that leaps out when reviewing this pack is the Anti-Gravity (AG) suspension system, which is commonly referred to as a game changer when it comes to carrying heavy loads. Ladies who have used the Aura AG 65 have commended this design for its incredible comfort and ventilation that kept their backs sweat-free, even during challenging, hot hikes.
A plethora of positive reviewers also highlighted the durable build of the Aura AG 65. Its strong materials withstand rough handling and harsh weather conditions, making it a must-have for fearsome trails or extended trips. However, some reviewers note it's not the lightest option on the market, so if weight is a top priority for your trip, this is a factor to consider.
In terms of storage options, the Aura AG 65 really delivers. The main compartment is not only roomy but also easily accessible, thanks to a bottom zipper. Users fondly appreciated the multiple pockets, including those on the hip belt for essentials and side stretch mesh pockets for water bottles or quick grab items. Plus, sleeping bag compartment and removable floating top lid further add to its customizable space.
For fit, the Osprey Aura AG 65 comes in two different sizes - small and medium - helping to cater to a range of body types. The majority of users found it easy to adjust for a perfect fit, making all-day journeys a breeze. On the other hand, a minor number of reviewers had issues with the pack fitting too large or the straps causing discomfort over extended periods.
When it comes to practical extras, users admired features like the trekking pole attachment, which easily and securely stores hiking poles, free up the hands when needed. The pack's integrated rain cover also got some loving nods. But more critical users found the absence of a hydration reservoir as a bit of a dampener, though the pack is hydration compatible.
Regarding price, the Aura AG 65 isn't the cheapest option out there. But many users remarked that the pack's comfort, durability and design justify the expense over cheaper models.
Adjustability & Fit
From adjustable shoulder harness to the AG system, the pack can fit a range of body sizes. The shoulder harness can be easily adjusted for shorter or taller torsos and the AG system follows the contours of the body, delivering a personalized fit.
Durability
Constructed from high-quality nylon, the Aura AG 65 is built to last. The pack's main body is tough, and the base even tougher, ensuring that wear and tear over time is well-handled. The pack's quality construction certainly justifies its price.
Load Carrying Comfort
The AG suspension system evenly distributes the load making it comfortable to carry. The well-padded shoulder straps and hip belt only add to the carrying comfort. Even when it's loaded to its full capacity, it feels stable and comfy on your back.
Material
The Aura AG 65 is made of durable nylon, ensuring it can withstand rough weather conditions. Additionally, the use of high-quality materials makes for a pack that can handle being tossed around, sitting on rough terrains, or carrying sharp or edgy objects with ease.
Storage Capacity & Organization
Side pockets, hip belt pockets, and lid pockets allow for organized distribution of gear. However, the main compartment can only be accessed from the top, limiting quick access to items stored at the bottom. The stretch front pocket adds to the storage space.
Value
Given its comfort, durability, and storage options, the Aura AG 65 offers good value for its price. Still, it might not be the first choice for those on a budget.
Weight
Weighing just a bit over 4 pounds, the Osprey Aura AG 65 does well to balance carrying comfort and load management. Despite being lighter than other backpacks in the same range, it doesn't compromise on the load it can comfortably carry.
Prices
Runner Up
Based on our research and testing, we think the Gregory Jade 63 is a great choice if you're looking for a women's backpacking backpack to go play hard outside with, if our top pick isn't quite what you're looking for.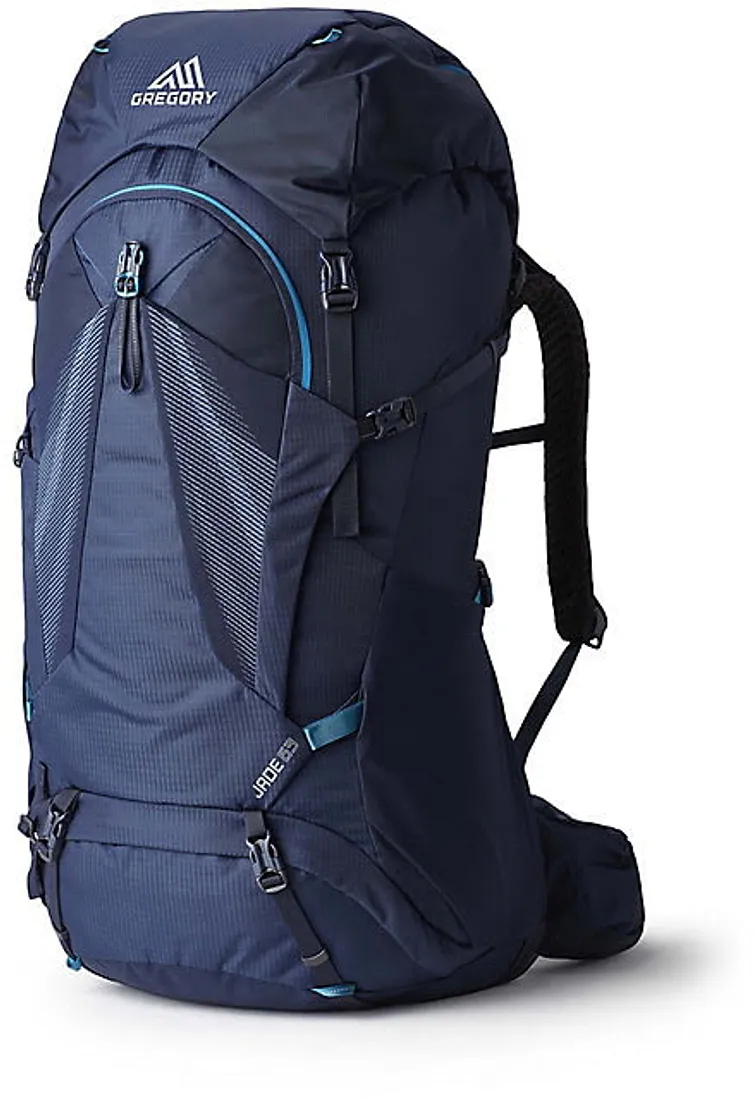 Reasons to Buy
Comfortable suspension system

Great carrying capacity

Effective ventilation

High-quality materials and construction

Lots of pockets for organization
Reasons to Avoid
Could be too large for short trips

Some people found the hip belt uncomfortable
The Important Specs
Volume:

63 liters

Materials:

Nylon (mainly)

Rain Cover:

Included

Hydration Compatibility:

Yes
Review Roundup
The Gregory Jade 63 is a highly-lauded backpack in the women's backpacking realm. This pack delivers with an abundantly spacious main compartment, making it a top choice for multi-day treks and extended trips. It easily swallows all kinds of gear and has the wherewithal to handle hefty loads comfortably.
One of the standout features of the Jade 63 is its CrossFlo suspension system. Users comment that this design shines when it comes to weight distribution and breathability, making sure you stay cool and comfortable on those not-so-easy treks. It's designed to promote airflow across the back, reducing sweat build up. So, if you're heading out into heat, this is a godsend.
The enhanced lumbar support and the fully adjustable hip belt and harness are other notable features that buyers often rave about. These features add an extra layer of customization to ensure a good fit, no matter your body shape. User comments suggest that it makes a significant difference in comfort on longer journeys.
As per the online reviews, the pack's accessory pockets, including the dual hip-belt pockets, dual side pockets and front expandable pouch, received a warm welcome from users for their convenience. This pack literally has a place for everything, ensuring your smaller, frequently-needed items are always within arm's reach.
A unique feature that catches the eye of many reviewers is the integrated rain cover. A surprising number of other packs require you to buy this separately, so it adds significant value. Outdoor enthusiasts appreciate not worrying about their gear getting soaked in a sudden downpour.
In terms of criticisms, it's no featherweight, with some users mentioning its slightly heavy base weight. Yet most agree that it's a reasonable trade-off for its robust construction and carrying capacity.
Another niggle pointed out by some users is the limited adjustability of the torso length. It seems to fit the 'average' backpacker perfectly but could cause issues of comfort for those on extreme ends of the height spectrum.
Adjustability & Fit
The backpack is highly adjustable and can be tweaked according to the user's body shape and size. However, some users have mentioned difficulties getting the hip belt to fit comfortably.
Durability
The Gregory Jade 63 is noted for its robust build. It's made from mainly nylon, which means it can withstand tough conditions. Several users have mentioned using it for several trips without noticing significant wear or tear.
Load Carrying Comfort
Reviewers have praised this backpack for its comfort. With its easily adjustable suspension, supportive padding and effective load distribution, it stands out among other backpacks for its ability to provide comfort, even under heavy loads.
Material
The primary material used in this backpack is nylon, which is known for its strength and durability. In addition, it is water-resistant, which adds a layer of protection for your gear inside.
Storage Capacity & Organization
With its 63-liter capacity, the Gregory Jade 63 is notable for its generous storage space. It offers ample room for extended trips. Also, with its variety of pockets, it promotes easy organization for the user.
Value
The price for the Gregory Jade 63 might seem a bit steep, but considering its durability, storage capacity, and other features, it does offer good value for money to those who need a reliable backpack for extended trips.
Weight
The Gregory Jade 63 is not the lightest in its category, but that's to be expected given its high storage capacity and robust design. Note that its weight is efficiently distributed when it's loaded, thanks to its advanced suspension system.
Prices
Deuter Aircontact Core 60+10 SL
$250.00
Runner Up
Based on our research and testing, we think the Deuter Aircontact Core 60+10 SL is a great choice if you're looking for a women's backpacking backpack to go play hard outside with, if our top pick isn't quite what you're looking for.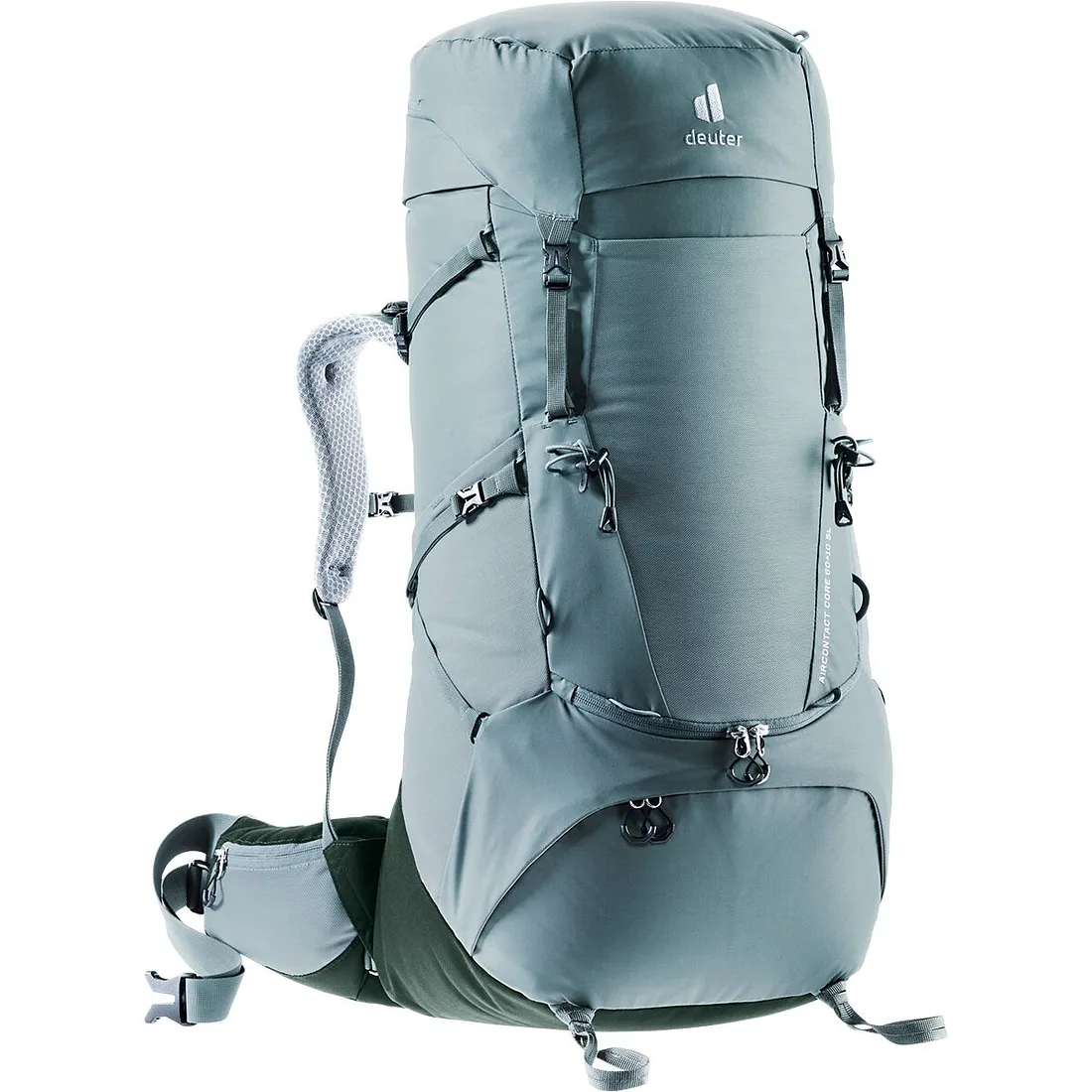 Reasons to Buy
Great weight distribution

High volume

Durable materials

Superior Adjustability & Fit

Premium features at a mid-range price
Reasons to Avoid
Could be overkill for light packers

Colors are a bit plain

Fairly large
The Important Specs
Volume:

60+10 liters

Material:

Nylon

Dimensions:

34 x 15 x 12 inches
Review Roundup
The Deuter Aircontact Core 60+10 SL is ideal for women backpackers, recognized for its comfort, durability, and spaciousness. Designed with a woman's anatomy in mind, it has narrower shoulder straps and a shorter back length, making it a good fit for female trekkers.
The much appreciated feature of Aircontact Core 60+10 SL backpack is its Variflex ECL (Ergonomic Comfort Lock) hip fins. These fins stabilize and control the backpack's weight distribution, which dramatically decreases any discomfort during long hikes, according to many users in their reviews.
This backpack offers an impressive 60L capacity, expandable to 70L, thanks to its 10L pack collar. Multiple gear loops, a separate bottom compartment, and several pockets provide ample storage options allowing users to organize their items with ease.
Several reviewers highlighted its adjustable back panel that allows the user to customize the back length for optimal fit. This feature reduces strain on the upper body, resulting in more comfortable carrying experience, ensuring the bag feels more like a part of you than a burden you must bear.
Despite its large volume, the Aircontact Core 60+10 SL does not compromise on the weight. The lightweight yet robust material is another aspect that has earned this backpack praises. It can withstand harsh conditions and appears to last over multiple treks with little to no noticeable wear, in the words of numerous satisfied customers.
In terms of breathability and ventilation, this model has Deuter's patented Aircontact System. Multiple users mentioned how this feature managed to reduce sweat by providing an effective airflow between the backpack and their back.
However, a few reviewers mentioned that, despite multiple compartments and the main body, they thought it lacked external storage. They would have preferred more external pockets for storing items needed in a hurry.
Moreover, some customers, while they found the hip belt and shoulder straps to be comfortable, felt they could have benefited from extra padding. Although these points were mentioned by a minority, it's worth considering the kind of comfort and baggage you'll be taking on your adventure.
Adjustability & Fit
The Deuter's Vari Quick system allows users easily adjust the backpack's torso length for optimal fit. Furthermore, the adjustable hip belt and collar makes it a cinch to customize the fit. This pack gets high marks for its comfortable fit and adjustability from a variety of body types and sizes.
Durability
Made from nylon, there are no complaints about the backpack's durability. Buyers have been consistently praising the pack for its ability to withstand rough environments and heavy packings without any signs of wear or tear for long periods.
Load Carrying Comfort
Users highly praise the backpack's ability to comfortably carry weights up to 50 lbs. The hipbelt and shoulder straps have plush padding and a snug fit, providing excellent load transfer. The adjustable waist belt also does a great job of maintaining balance in uneven terrains.
Material
The nylon material used in this backpack is pretty rugged and reliable. Users have found it resilient in a variety of environments, from desert heat to alpine cold. It's also water-resistant, which is a nice bonus when you're caught in unexpected showers.
Storage Capacity & Organization
Featuring a 60-liter main compartment with an expandable 10-liter lid, the Deuter gives ample storage for extended trips. It also features multiple pockets and compartments for greater organization. The pack even has a separate sleeping bag compartment, a favorite among users.
Value
Most users feel that the backpack offers great value for its price. Despite being in the mid-range category, it offers features and comfort that are on par with much more expensive models.
Weight
The Deuter Aircontact Core 60+10 SL is pretty roomy but nothing one would call lightweight. Nonetheless, what it gains in weight, it exemplifies in remarkable weight distribution making you forget about the load on your back. Thus resulting in satisfactory carrying comfort levels on long backpacking trips.
Prices
Best Budget Women's Backpacking Backpack
Based on our research and testing, we think the Osprey Renn 50 is a great pick if you're looking for a women's backpacking backpack that is more budget friendly, without sacrificing too much in quality.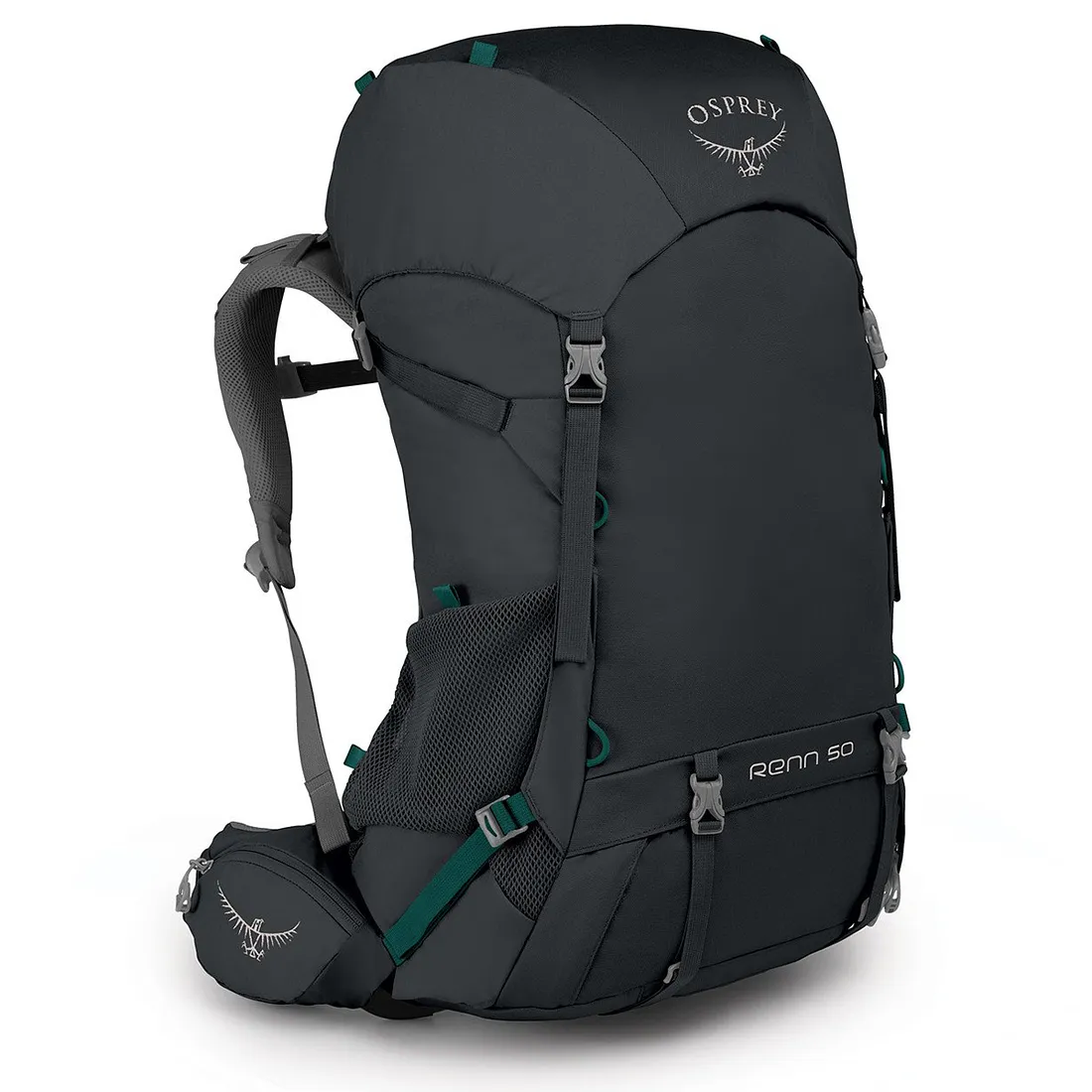 Reasons to Buy
Affordable without sacrificing quality

Comfortable, adjustable fit

Spacious main compartment

Integrated rain cover

Durable material
Reasons to Avoid
Limited gear loops

Not suitable for very heavy loads

No side access to main compartment

Basic back system may not offer enough support on longer hikes
The Important Specs
Capacity:

50 Liters

Material:

210D Nylon Double Diamond Ripstop

Torso Fit:

14 - 17 inches

Dimensions:

27.2 x 16.1 x 12.2 inches
Review Roundup
The Osprey Renn 50 stepping into the backpacking world brings an interesting cocktail of value and function in the budget niche. It's a surprisingly robust pack that doesn't go hard on your wallet, like some backpacking gear can do.
Known for its light weight, the Renn 50 makes carrying those camping essentials less of a burden. Weighing approximately 3.31 pounds, it allows you to stash extra supplies without giving you a herculean feat to conquer. This is a big win for those long backpacking trips where every ounce can make a difference.
Brands like Osprey live or die by their durability, and the Renn 50 doesn't disappoint. With a durable 600D polyester fabric, it's robust enough to withstand those tough outdoor conditions without giving up too easily.
Customer feedback reflects positively on the Renn 50's overall comfort. They appreciate the adjustable ventilated tensioned mesh back system designed to help reduce sweaty back syndrome on warm hiking days. Furthermore, the highly appreciated adjustable shoulder straps and hip belt, both abundantly padded, praised to be heaven-sent for those extra heavy loads.
The Renn 50 also boasts of ample storage, as suggested by its name. Aside from its main compartment, it has additional pockets on the front, sides and even on the hip belt, eliminating all packing woes. Not to mention the added hydration reservoir sleeve, which avid hikers find extremely useful to keep hydrated while journeying through rough trails.
Being a budget backpack doesn't mean it omits some of the perks. The inclusion of an integrated rain cover is a testament to this, and it turned out to be a major crowd-pleaser among hikers who braved unexpected showers.
However, no product is without its downsides - some users reported struggling with the non-adjustable torso length, limiting this pack's viability for those with a particularly tall frame. Another issue raised was the lack of a proper sleeping bag compartment, a feature some other hiking backpacks often have.
Adjustability & Fit
The Osprey Renn 50 offers torso adjustment, which is a major plus for getting the perfect fit. Padded and adjustable shoulder straps alongside load lifter straps provide even weight distribution and customize the fit according to individual's needs.
Durability
Made from a tough 210D ripstop nylon, the Renn 50 is designed to withstand rough terrains and weather conditions, promising a long-lasting pack. The integrated raincover is a bonus, offering extra protection.
Load Carrying Comfort
The backpack's padded shoulder straps, adjustable hip belt, and sternum strap make it comfortable to carry, even for longer durations. Its ventilated back panel ensures good airflow keeping you cool during those strenuous hikes.
Material
The 210D Nylon Double Diamond Ripstop material gives the Renn 50 its durability and resistance against wear and tear. It's also slick to the touch, easy to clean and doesn't absorb water, making it an excellent option for outdoor adventures.
Storage Capacity & Organization
A whopping 50-liter capacity means plenty of space for a multi-day trip. The pack offers a spacious main compartment for bulkier items, a zippered lid pocket for accessibility, and several smaller pockets and compartments for better organization. However, it could do with more gear loops.
Value
For an outdoor fanatic on a budget, the Osprey Renn 50 is a boon. It levels good quality with affordability - a tradeoff that isn't easy to find. Concessions are made in terms of comfort and support, but overall, it offers immense value.
Weight
For a 50-liter pack, the Renn 50 is impressively lightweight. This means you can pack more of your gear and essentials without worrying too much about being weighed down. It strikes a great balance between weight and functionality.
Prices
Gossamer Gear Mariposa 60
$285.00
Best Ultralight Women's Backpacking Backpack
Based on our research and testing, we think the Gossamer Gear Mariposa 60 is a solid choice for those looking for a lightweight women's backpacking backpack option to go play hard outside with.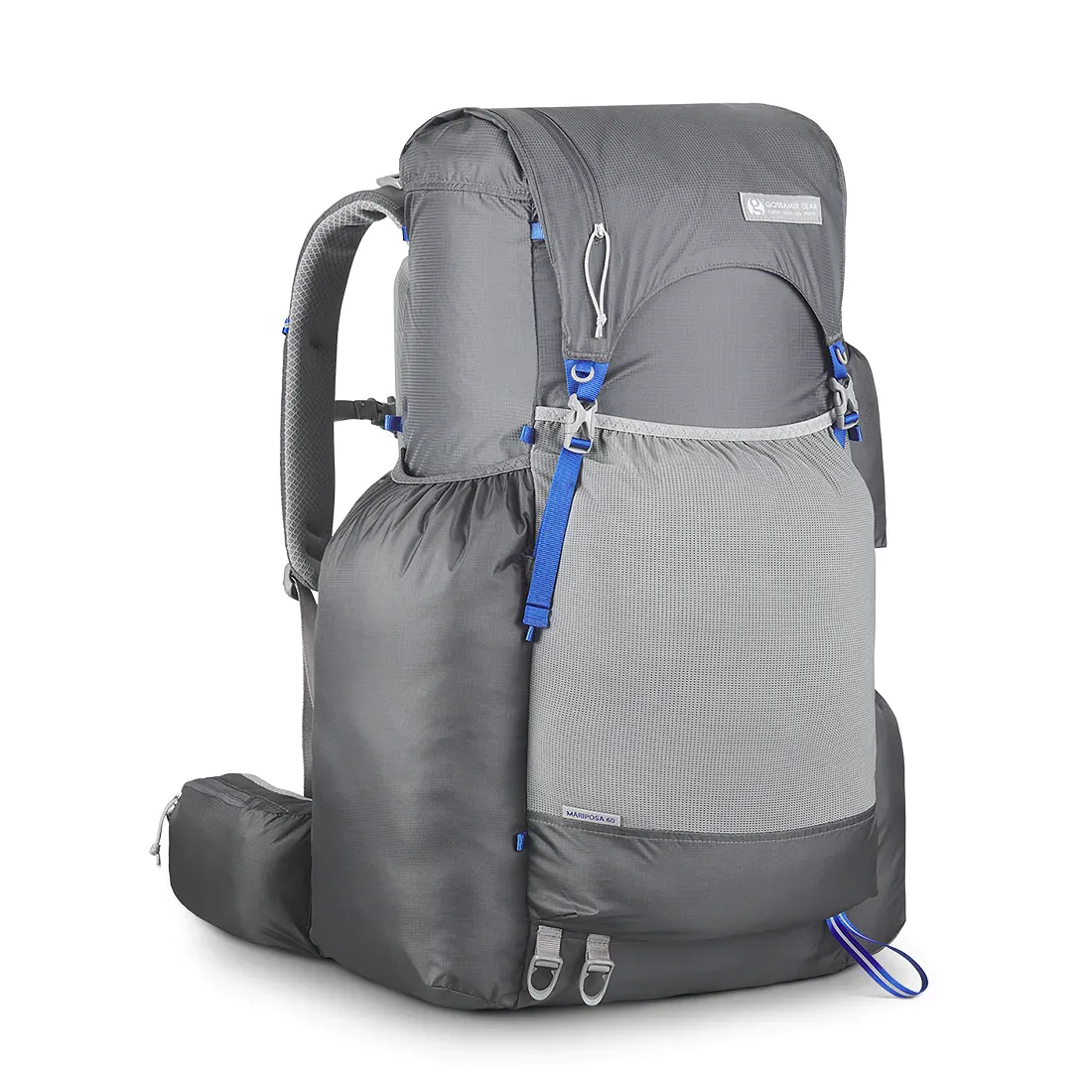 Reasons to Buy
Ultralight design suitable for extended treks

Seven external pockets for easy organization

Comfortable hip belt and adjustable harness

Durable, Robic nylon material
Reasons to Avoid
Some users found the frame a bit flimsy

May be too small for trips longer than a week

External water bottle pockets are awkward to reach when on the move
The Important Specs
Material:

100D and 200D Robic nylon

Gear Capacity:

60L

Max Carry Weight:

35 to 40 lbs

Hydration Compatibility:

Hydration bladder sleeve included

Manufacturer's Suggested Use:

Quick & Light, Long Haul
Review Roundup
The Gossamer Gear Mariposa 60 hits the mark as a stand-out ultralight backpack option for women. Boasting a generous 60L storage capacity, it's got the space for longer trips without the bulk. Weighing in at a mere 2.12 pounds, it strikes a delightful balance between functionality and weight management.
The Mariposa 60's structure is absolutely noteworthy. It features a cleverly designed removable internal frame, allowing backpackers the convenience to lighten the load if they wish. Plus, this pack has seven pockets on the outside, making it super easy to organize your gear and access essential items.
Comfort is important on the trail, and the Mariposa 60 doesn't disappoint. Users have highly praised the padded hip belt and shoulder straps that reportedly distribute weight proficiently, thereby reducing the stress on your back and shoulders. It also has a 'sit pad' pocket that many have found great for rest stops.
However, this backpack is not all roses. Some users have mentioned that the side pockets are a bit hard to reach while wearing the backpack. Also, a few suggest that the pack might not withstand harsh, rough conditions over a prolonged period. Hence, gentle use and proper care are emphasized.
From the point of view of versatility, the Mariposa 60 shines brighter than most. Verified purchasers say that whether it's for a weekend hike or a week-long wilderness trip, this pack will serve you well. The variable compression system and the extendable collar add to its versatility, allowing users to adapt the pack volume based on the load.
Looking at online reviews, the general consensus is that the Mariposa 60's performance far surpasses its cost. The pack does run a bit on the expensive side, but most users seem to agree that it's a worthwhile investment considering its ultra-light nature, comfort, and storage capability.
Adjustability & Fit
Users loved the adjustability of the Mariposa 60. The backpack offers a fine-tuned fit through an adjustable harness and a removable hip belt. Its design caters specifically to women, with ergonomically shaped shoulder straps, which have been applauded.
Durability
Made of high-density Robic nylon, the Mariposa 60 is reliably durable. It is designed to withstand the challenges of long trails, even if filled up to its maximum capacity. Some users mentioned that the frame felt a bit flimsy, but no major durability issues were reported.
Load Carrying Comfort
Users often laud the Mariposa 60 for its comfortable fit. The backpack features a well-padded hip belt, which does a great job of distributing the load evenly across the body. Adjustable harness and shoulder straps enhance the overall comfort.
Material
The material makeup of the Mariposa 60 is a mixed bag for users. The Robic nylon is praised for its strength and durability but some have mentioned it isn't as breathable as other materials. However, for most, this was only a minor issue.
Storage Capacity & Organization
With a gear capacity of 60 liters, the Mariposa 60 is made for extended backpack trips. Its seven external pockets are appreciated by users for offering easy access and organization of their belongings, though reaching the water bottle pockets was a bit tricky on the move.
Value
The Mariposa 60 is priced in line with other ultralight backpacks on the market. While it's not a bargain buy, users believe it's worth the investment given its performance, comfort level, and durability.
Weight
While the Gossamer Gear Mariposa 60 is an ultralight backpack, it doesn't compromise on space or durability. Its lightweight nature has received high praise from long-distance backpackers who appreciate the reduced strain on their shoulders and back.
Prices
Best Women's Backpacking Backpack for Heavy Loads
Based on our research and testing, we think the Gregory Deva 70 is a solid choice if you want a women's backpacking backpack that's really well suited to Heavy Loads.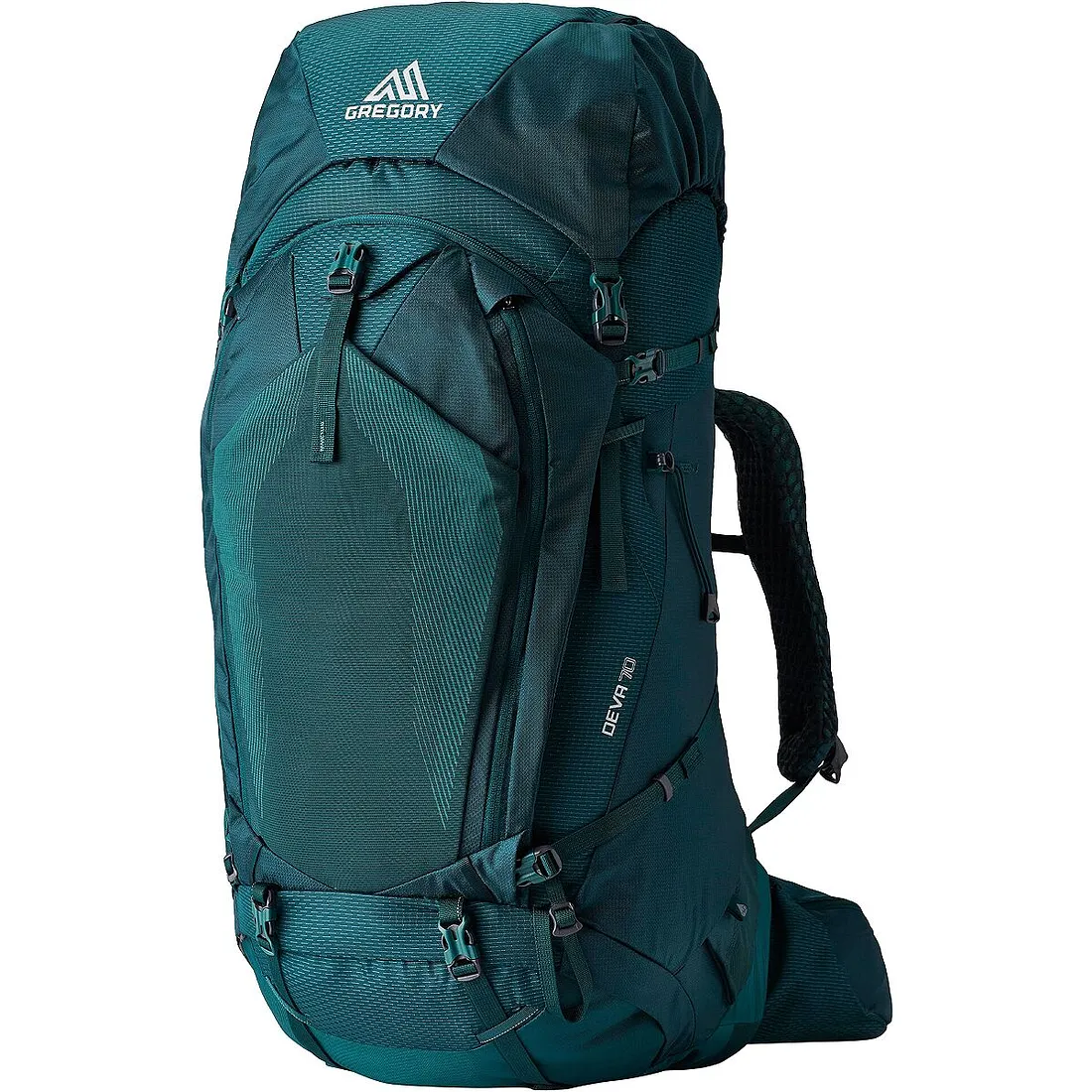 Reasons to Buy
Excellent load-carrying capacity

Highly adjustable for a custom fit

Solid build ensures durability

Plenty of convenient storage pockets

Offers large storage capacity
Reasons to Avoid
Might be too large for short trips

Higher price point compared to other models

Bulkier than some may prefer

Not ideal for lightweight backpacking
The Important Specs
Frame:

Aluminium

Volume:

70L

Material:

210-Denier Nylon + 630-Denier Nylon

Designed For:

Female
Review Roundup
If you're someone who loves venturing out into the wild for extended amounts of time, well then the Gregory Deva 70 Women's Backpack is a potential match waiting to happen. Notorious for being built to pack on the pounds and still ensure comfort, this backpack falls top notch in the market for carrying heavy loads.
Starting with its supreme quality, one word for the material - sturdy. This backpack could wrestle with Mother Nature and still emerge victorious. Made from 210 denier ripstop nylon and 630-denier nylon, the Deva 70 is not easy to scrape or scuff.
A unique feature of the Deva 70 is its Response A3 suspension. This provides effective load transfer and flexibility, making those tiring walks through rough terrains more bearable. Users praised the shoulder straps and waist belt for their cushioning and comfort in retaining balance, even when fully loaded.
Now the great part about the Deva 70 that backpackers loved was its storage capacity. The pack is all about compartments; the top-loading main compartment, a sleeping bag compartment with dividers, pockets on the waist belt, side pockets, and even a detachable top lid that doubles as a sling pack for short excursions.
Hydration is often a key factor when looking for a backpack. Not to worry, the Gregory Deva 70 has got you covered with an inbuilt hydration sleeve with a hanger and multiple drink tube exit ports.
However, with all these features comes an added weight. One common complaint among users was its heavy base weight. You do feel the extra pound when you pick it up, the pack alone weighing in at about 5lbs and 3oz. This might not be appealing to weight-conscious hikers, but still, for those who prioritize comfort and organization over weight, Deva 70 has been a top pick.
Another minor downside that a few users reported was the challenge of fitting taller water bottles in the side pockets. The position and size of these pockets may make it difficult to reach your water bottle when the backpack is on.
All in all, the Gregory Deva 70 is game for those formidable backpacking adventures, offering exceptional organization and enabling heavy loads. Its robust features, durable construction, and thoughtful design have won loyal users.
Adjustability_Fit
Designed with a range of adjustable elements such as shoulder straps, hip belts, and back length, Gregory Deva 70 ensures a good fit for different body sizes. This high adjustability contributes to its superb comfort.
Durability
The bag construction is robust with sturdy materials that are designed to weather the rigors of backpacking. Its high-denier fabric count confirms that it's not just built to last, but also to resist tears and abrasions during heavy use.
Load_Carrying_Comfort
The standout feature of this backpack is its ability to make heavy loads manageable. The suspension system, padded straps, and lumbar support work together to provide unparalleled comfort, even with a full pack.
Material
Constructed primarily of 210-Denier Nylon, with 630-Denier bottom for extra durability, the backpack offers a solid mix of lightness and durability. The material can handle exposure to rough terrain without showing immediate signs of wear and tear.
Storage_Capacity_Organization
With a 70L volume, the Gregory Deva has ample space for all necessities on a long backpacking trip. It shines with ample pockets, both external and internal, for easy organization and quick access to items.
Value
Though the price tag might seem steep for some, the Gregory Deva 70 offers remarkable value for serious hikers. It's a long-lasting investment, offering several miles of backpacking with excellent comfort.
Weight
The Gregory Deva 70 is hefty, but this is justified as it's designed to handle heavier loads. This backpack comfortably distributes the weight across the body, reducing fatigue on long treks. The pack's weight itself doesn't feel as significant when properly loaded and adjusted.
Prices