Quick heads-up: some of the links on this page are affiliate links. If you make a purchase through them, we may earn a small commission (at no extra cost to you). This small bit of income helps keep our site running.
Best Winter Jackets for Women of 2023
This post was last updated on December 06, 2023.
Looking for the Men's version of this post? We've got you covered: Best Winter Jackets for Men of 2023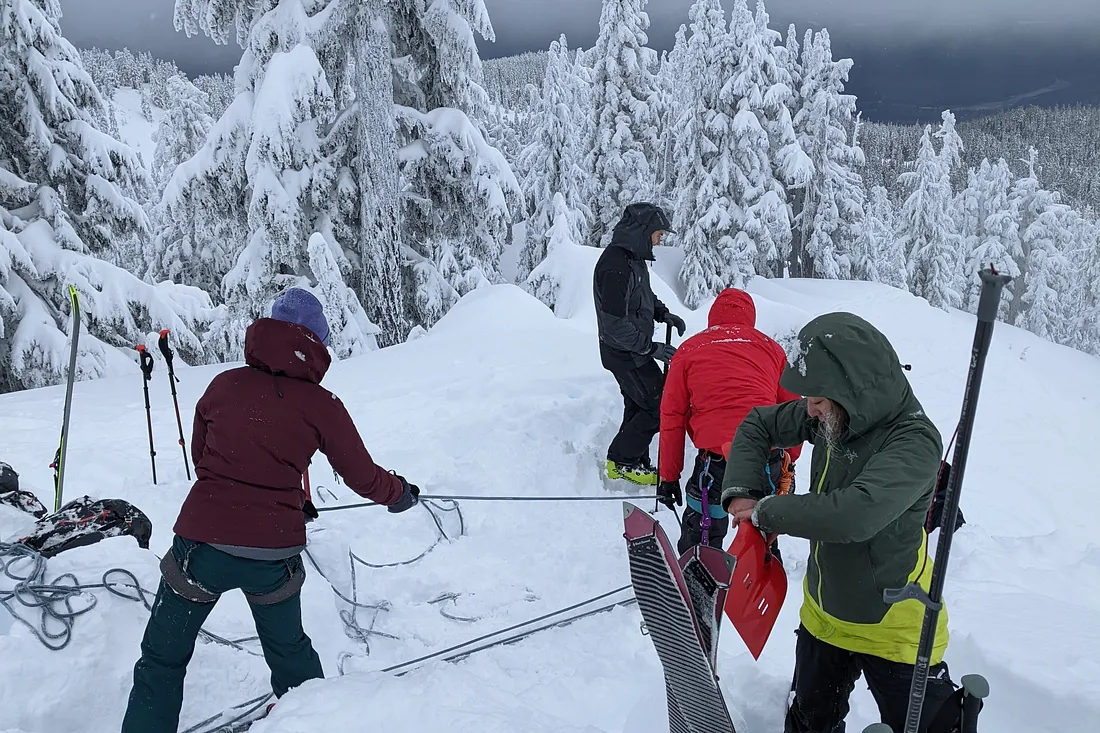 When winter temps drop lower than you can count on one hand, you'll want a beast of a jacket to fight back against the freeze. Choosing the best winter jackets can be a hectic process, thanks to the countless number of brands and features available. Not to worry, we're here to make the task easier for you. The standout contender this season, without a shadow of a doubt, is the Arc'teryx Patera Parka.
This versatile parka is a woman's best friend when traversing snowy landscapes or just bracing the cold blasts in the city. Known for its amazingly adaptable insulation, robust waterproofing, and optimal breathability and ventilation, the Patera Parka punches above its weight in every category. It's comfortably snug but does not compromise style for function. With its balance of high performance and chic design, this parka is hard to beat, providing you with real value for your money.
We didn't stop at identifying the best overall. We've also listed our top picks in the Mountaineering, Ultralight and Budget categories because we believe there's a perfect jacket for every woman out there. And of course, don't miss our detailed review of the best winter gear in other outdoor sections such as rain jackets, down jackets, and ski jackets. Now, let's talk jackets!
Our Top Recommendations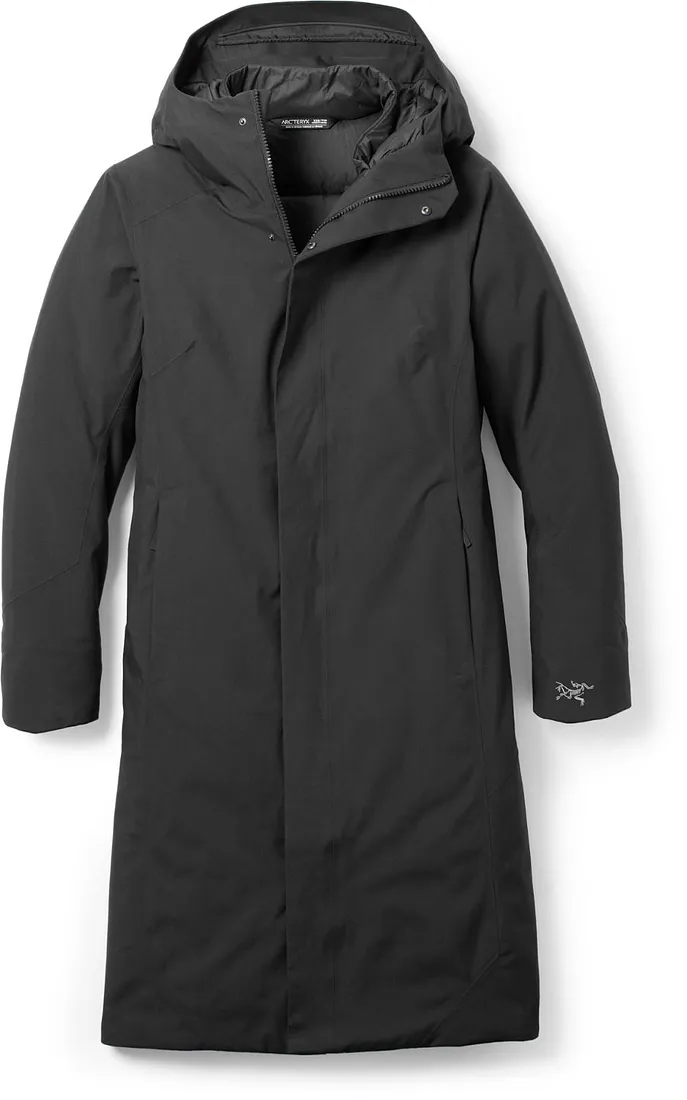 Arc'teryx Patera Parka
The Arc'teryx Patera Parka bags the top pick for its unbeatable warmth and waterproof design, with users raving about its ability to stand up to the harshest winter weather while still offering a stylish, flattering fit.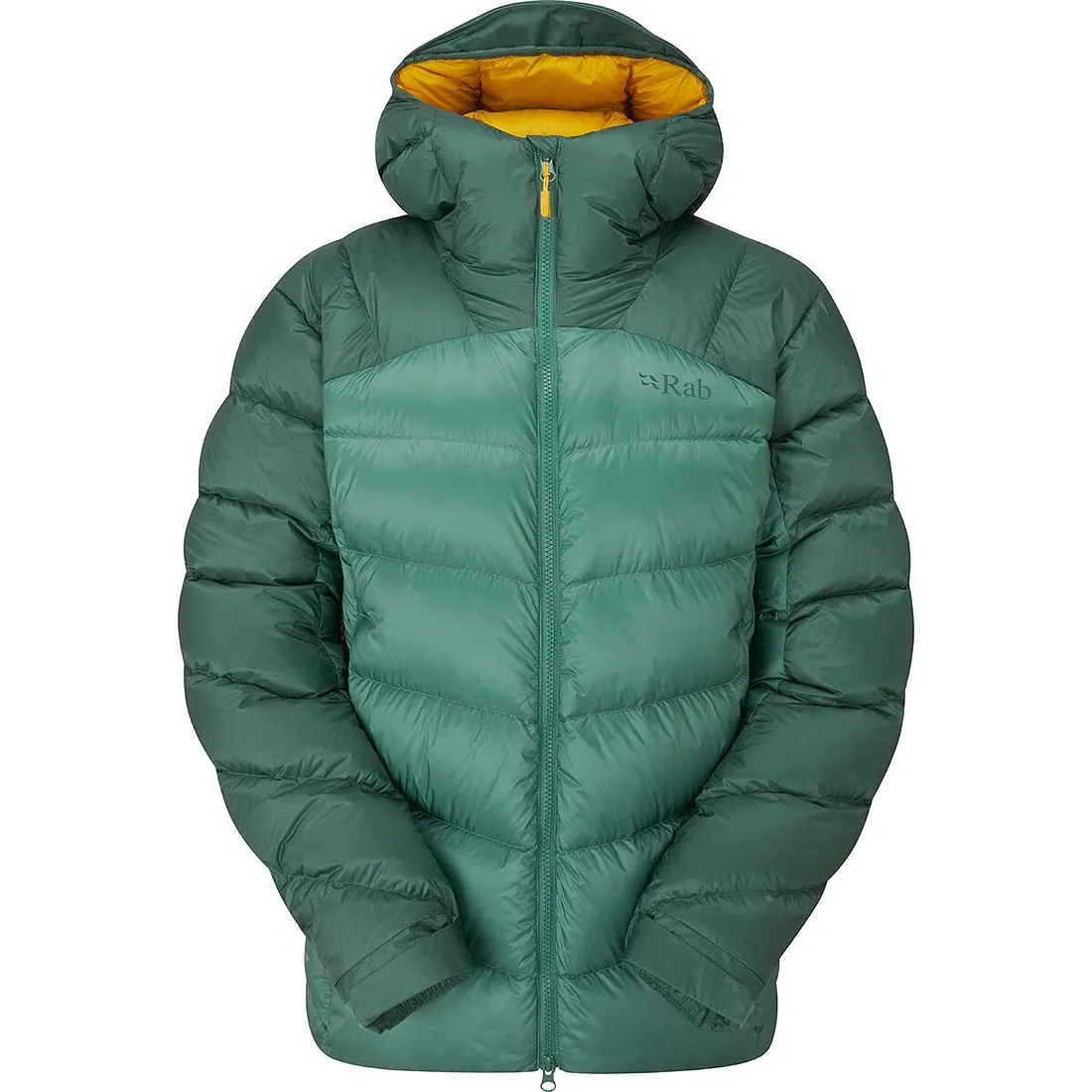 Rab Neutrino Pro
The Rab Neutrino Pro makes our top pick as a winter jacket for women due to its exceptional warmth-to-weight ratio, as praised by user reviews, and its standout water resistant feature that ensures comfort even in wet weather conditions.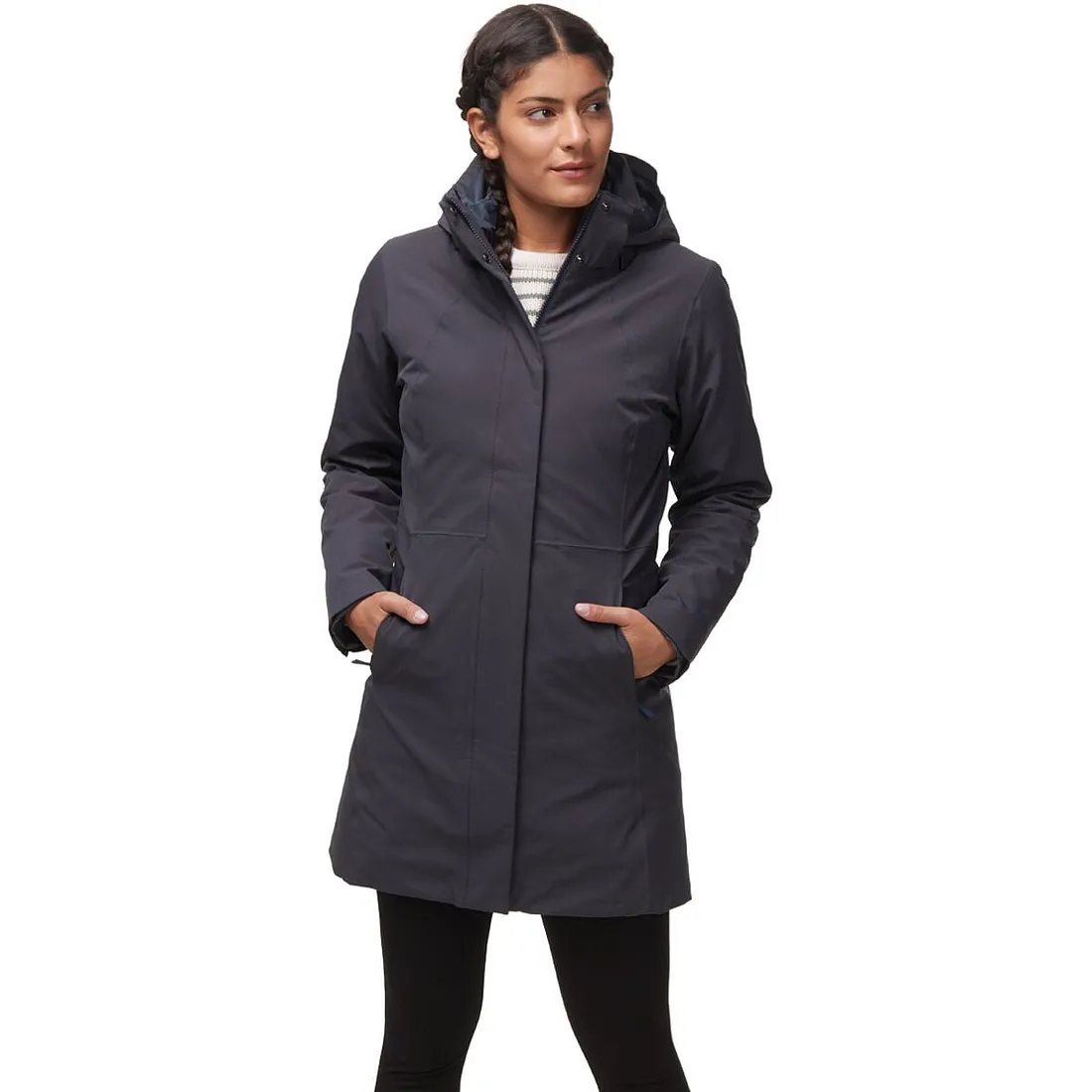 Patagonia Tres 3-in-1 Parka
The Patagonia Tres 3-in-1 Parka bags the top spot owing to its versatility with layering options for different conditions, supreme weather resistance, and warm insulation, features which users love and continually highlight in their reviews.
What you should look for
(and what we test for)
Insulation
For chilly outdoor adventures, look for a winter jacket with quality insulation, either down-filled or high-tech synthetic, to keep you toasty without adding too much weight or bulk.
Waterproofness
Given winter's unpredictable weather, it's crucial to choose a jacket that's fully waterproof, either through a durable water repellent (DWR) coating or a waterproof-breathable membrane like GORE-TEX.
Fit and Mobility
Make sure the jacket has a female-specific fit that's not too tight or too loose, allowing for smooth movement and room for layering underneath, which is essential for activities like climbing and hiking.
Durability and Usefulness
Last but not least, go for a durable jacket with useful features like zippered pockets, a strong and adjustable hood, and possibly a snow skirt if you're planning for snowy environments.
Arc'teryx Patera Parka
$800.00
The Best Women's Winter Jacket
Based on our research and testing, we think the Arc'teryx Patera Parka is the best Women's Winter Jacket on the market right now, for anyone looking to play hard outside.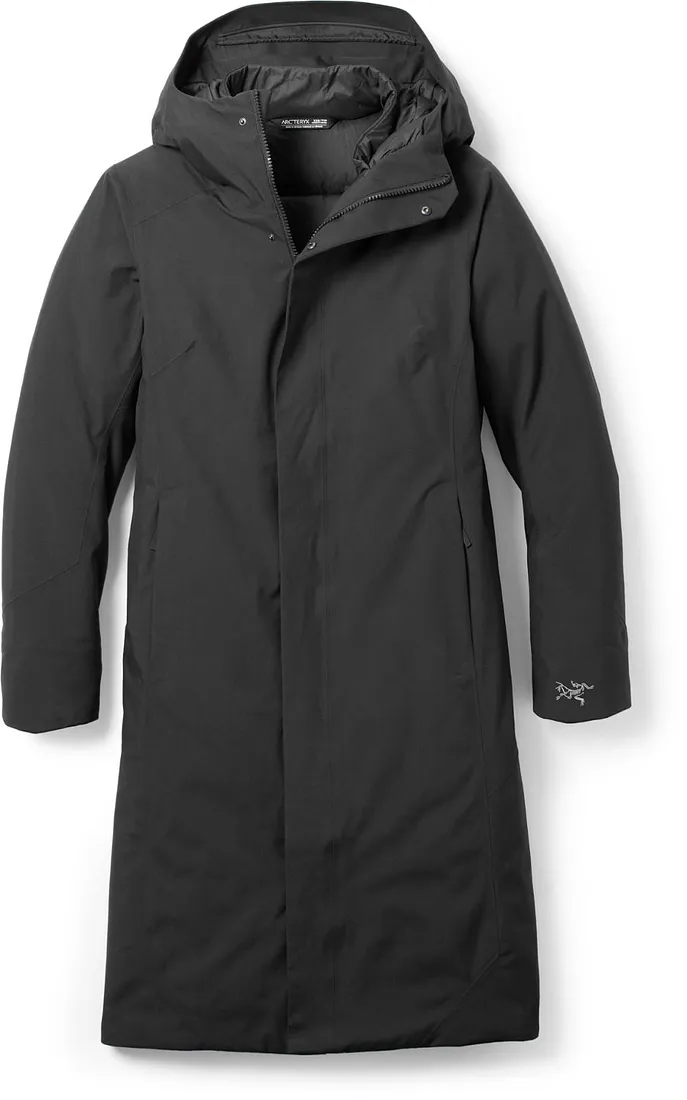 Reasons to Buy
Down-insulated for guaranteed warmth

Durable waterproof shell

Adjustable and snug fit

Great breathability
Reasons to Avoid
More expensive than other brands

May run small for some
The Important Specs
Shell:

2-layer Gore-Tex

Lining:

DWR P75d Gore-Tex fabric

Hood Type:

Insulated Hood

Insulation:

750 fill European goose down
Review Roundup
Arc'teryx Patera Parka is a standout product for winter adventures — a true 'wear anywhere, do anything' piece. This parka not only scores high on style but also hits the mark with its top-notch features for protection against cold weather.
The fit of the Patera Parka is extremely comfortable and flattering. With room for layers beneath, it's designed for those really nippy days without feeling bulky.
The performance of this jacket is stellar. The insulation is a combo of synthetic and down, with down placed at the core and synthetic in areas prone to moisture like the hood and underarms. This thoughtful design ensures a high level of warmth and breathability, even during a semi-heavy snow plunge.
This jacket also brags of a sleek, waterproof outer shell, made of GORE-TEX. Feel confident stepping out during snow, sleet, or rain, knowing you will stay dry inside. A major plus for the unpredictable winter weather.
The Patera Parka's hood is generously sized and adjustable, lending well to ward off frosty gusts, while the chic faux fur ruff is removable. They've even managed to throw in an internal pocket to secure your valuables, a pretty sweet addition!
The few concerns raised by users revolved around the zipper, which some found a bit tricky to maneuver. A few others noted the jacket runs slightly large and recommended sizing down. But these are minor issues against an array of positives.
The price might raise some eyebrows though as it's on the higher end of the spectrum. But given the parka's superior performance, stylish look, and the brand's reputation for durability, most users think it's a worthy investment.
Users also heaped praises on the range of available colors, noting that it allows them to express their personal style even in the harsh winters. A nice touch, as often, functionality can mean sacrificing aesthetics.
Breathability & Ventilation
Despite its high warmth and waterproof rating, the parka doesn't compromise on breathability. Its Gore-Tex shell, combined with the down insulation's natural breathability, allows for good ventilation and prevents overheating.
Durability
Made with Arc'teryx's durable P75d Gore-Tex fabric, this parka is designed to last. Users affirm its resistance to wear and tear, with many praising its ability to maintain loft and warmth over time.
Fit
One thing customers love is the cut of this parka. It features a regular fit with articulated patterning and gusseted underarms for better mobility. However, some users have noted that sizing may run small.
Insulation & Warmth
With 750 fill power European goose down insulation, the Patera Parka offers impressive warmth. Many users reported staying comfortably warm in temperatures well below freezing. The insulation is also strategically placed to maximize warmth while minimizing bulk
Value
Considering the parka's high-end materials, superior insulation, and durability, most buyers feel the higher cost of the Patera Parka is justified. It's seen as an investment that pays off in comfort, quality, and longevity.
Waterproofing
Arc'teryx has equipped this parka with a 2-layer Gore-Tex shell that provides superior waterproofing. Users claim they remained dry even during heavy rain and wet snow.
Prices
Runner Up
Based on our research and testing, we think the Rab Neutrino Pro is a great choice if you're looking for a women's winter jacket to go play hard outside with, if our top pick isn't quite what you're looking for.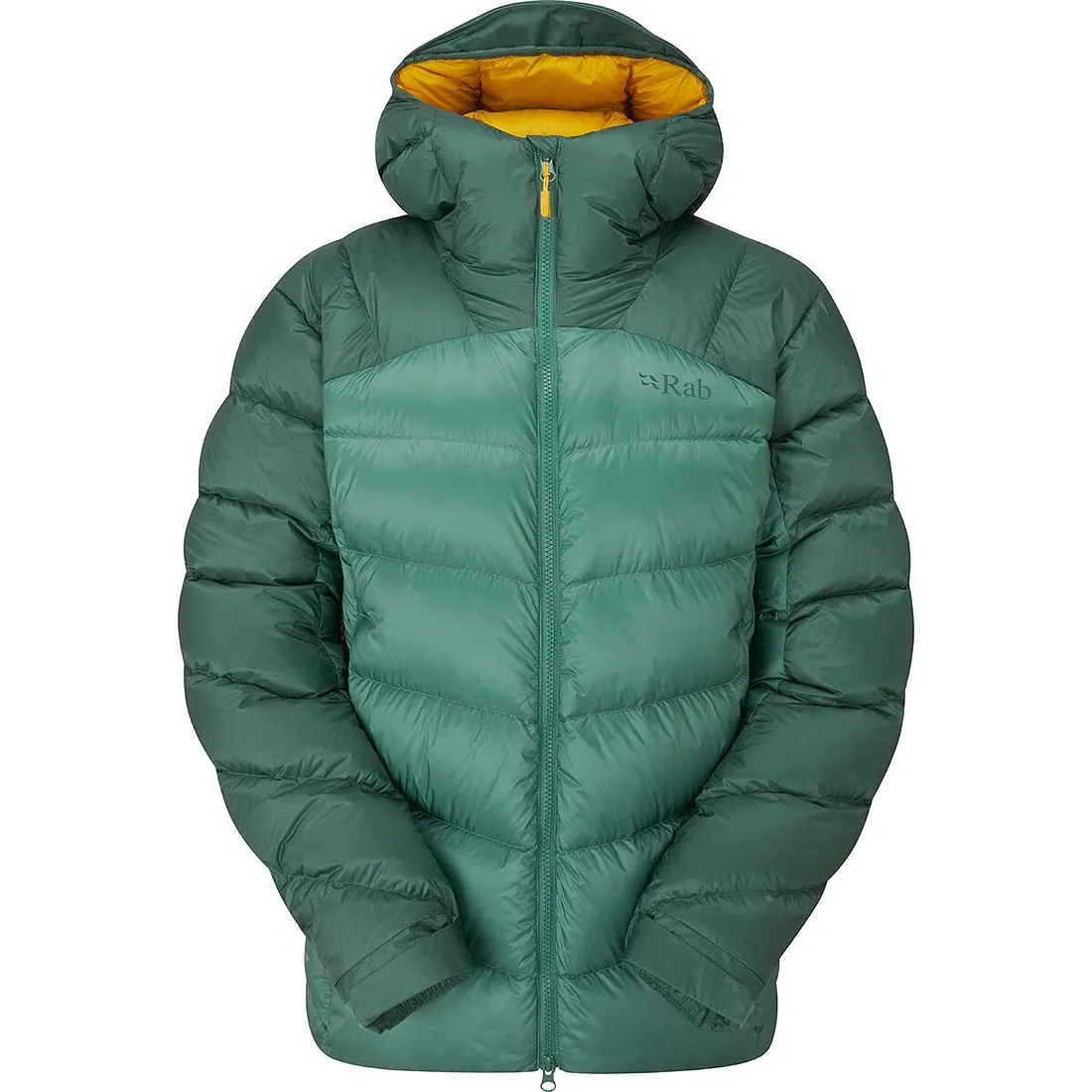 Reasons to Buy
Rated highly for its Insulation & Warmth

Excellent Waterproofing technology

Breathable enough for various winter activities

Trim fit without sacrificing room for layers

Robust and durable materials
Reasons to Avoid
Might not be suitable for those seeking budget options

Might be too warm for mild winter climates

Fit might be too snug for people preferring loose garments
The Important Specs
Fit:

Regular Fit with room for layering

Durability:

Stitch-through baffle construction

Insulation:

800 fill power European goose down

Breathability:

Nikwax Hydrophobic Down

Waterproofing:

Pertex Quantum Pro outer fabric
Review Roundup
The Rab Neutrino Pro is a real powerhouse for winter warriors, providing top notch warmth and protection from the elements. Made up from durable Pertex Quantum Pro shell fabric, coupled with lofty 800-fill power ethically sourced European goose down, it boasts a high warmth-to-weight ratio. The result is a cozy jacket that's seriously light, perfect for those winter mountain adventures.
It's a bit of a heat factory, making it an ideal choice for frosty expeditions or nippy night hikes. On the other side, it might be a tad too warm for high-energy activities in milder weather. When things get breezy, the stitch-through baffle design helps keep the chill out, while a down-filled hood can be cranked up to protect those ears from icy winds.
From online reviews, it's clear that customers appreciate the Neutrino Pro's warmth and lightness, but also its functionality. They've loved the handwarmer pockets for freeze-prone fingers and the internal security pocket, where you can stash your essentials (like that hard-earned trail snack!). The two-way zipper is a standout feature - a handy addition for climbers wearing a harness or backpackers lugging a heavy pack.
But, it's not all roses. Some users commented that the jacket is less compressible than expected, taking up more room in their pack than other down jackets. This might not be a deal-breaker for everyone, but for ultralight backpackers, every inch counts. It's worth considering the trade-off between the packability and the superior warmth it offers.
In terms of fit, the consensus has been positive across the board. With more room for layering, the Neutrino Pro strikes a good balance between snug-as-a-bug comfort and added bulk. But you might want to size up or down, based on what your outdoor adventures demand and personal preferences.
Finally, it's worth mentioning the eco-friendly approach Rab has taken with this jacket. The use of responsibly sourced down and fluorocarbon-free hydrophobic treatment will make nature-loving hearts cheer.
Breathability & Ventilation
Despite its impressive warmth, this jacket doesn't create an overly stuffy experience. The Nikwax-treated down in the Neutrino Pro aids in ventilation, so you won't be overheating during strenuous winter activities! Users have reported that they could use the jacket while hiking without getting too sweaty.
Durability
With its flexible outer fabric and robust stitch-through baffle construction, the Neutrino Pro is designed to withstand the rigors of outdoor exertions. Reviews attest to its durability, with many users reporting that their jackets have held up well after multiple winters.
Fit
The jacket is tailored to follow the contours of the body, but still leaves plenty of room for you to pile on layers underneath. However, some customers have reported that the fit can be a bit snug, so you might want to consider going a size up if you like your outerwear a bit roomier.
Insulation & Warmth
The Rab Neutrino Pro is jam-packed with 800-fill-power goose down that has been treated with Nikwax for water resistance. This makes the coat not only fluffy and warm but also amazingly resistant to damp and wet winter conditions. Feedback from users also supports it as toasty warm even in severe cold.
Value
Though not the cheapest option out there, you get what you pay for with the Rab Neutrino Pro. For those seeking a jacket that is warm, waterproof, breathable, and durable, the investment in this high-quality product is certainly worthwhile. Customer reviews echo this sentiment, praising the jacket's performance over less expensive alternatives.
Waterproofing
Thanks to its Pertex Quantum Pro fabric, the Neutrino Pro offers excellent waterproofing capabilities which customers have praised. Many found it kept them dry in snowy and damp conditions where other jackets would have soaked through.
Prices
Patagonia Tres 3-in-1 Parka
$599.00
Runner Up
Based on our research and testing, we think the Patagonia Tres 3-in-1 Parka is a great choice if you're looking for a women's winter jacket to go play hard outside with, if our top pick isn't quite what you're looking for.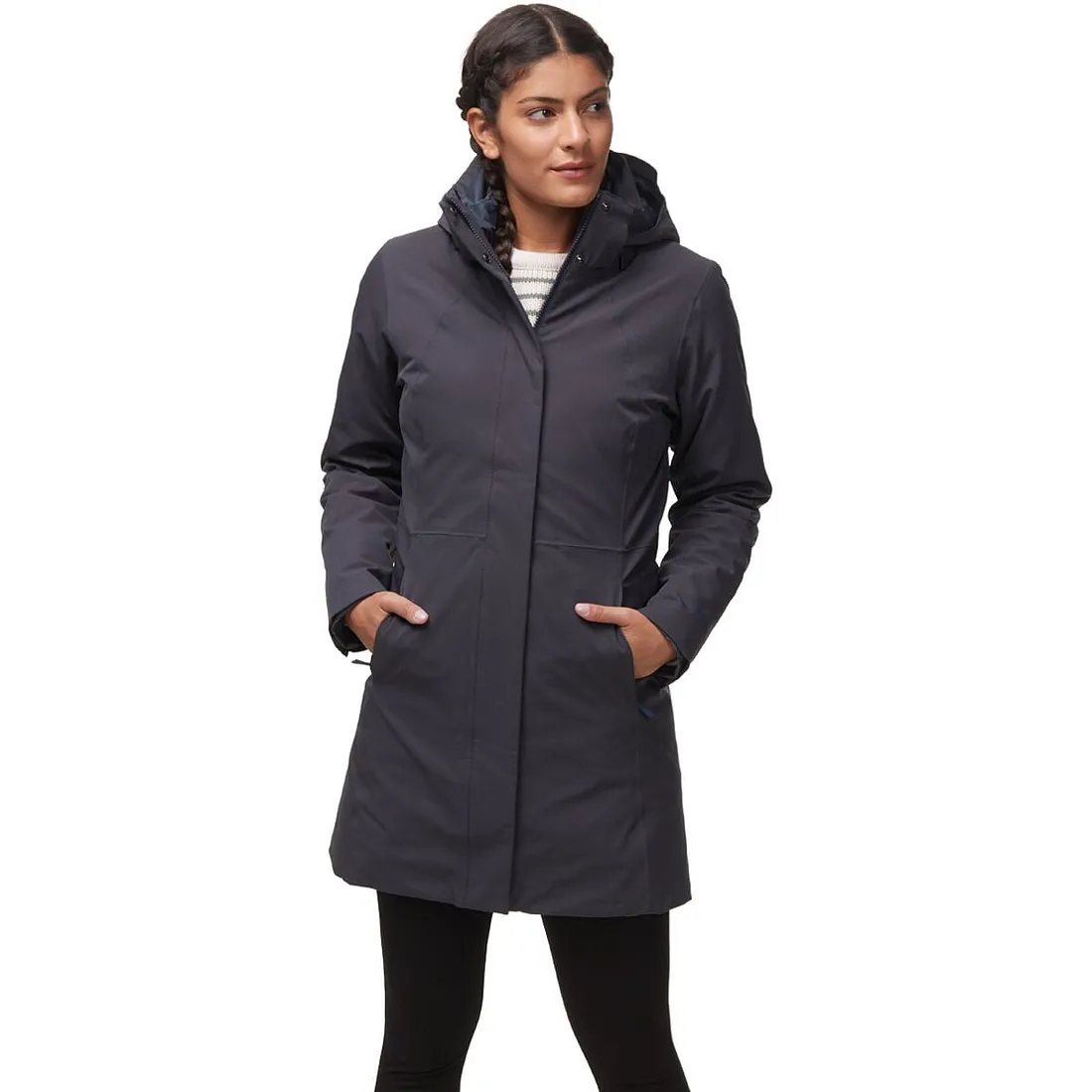 Reasons to Buy
Exceptional warmth and insulation

Adjustable layout with a 3-in-1 design

Stylish yet practical

Impressive waterproofing capability
Reasons to Avoid
Expensive compared to other options

Bulkier than some may prefer

Lack of diverse color options
The Important Specs
Seams:

Critically taped

Material:

75% down, 25% feather fill

Insulation Type:

600-fill-power duck down
Review Roundup
The Patagonia Tres 3-in-1 Parka is truly a standout in the world of winter jackets, offering versatility in numerous weather conditions, making it a great choice for ladies who are fans of outdoor adventures. As the name suggests, this jacket stands apart from the competition due to its 3-in-1 feature. In effect, it's a waterproof shell and an insulated jacket that can be worn together or separately, which gives the wearer options depending on the weather.
From the customer reviews in our research, most agree that comfort is a big plus of this jacket. The parka-style design and length offer additional warmth and wind protection, particularly to the lower body. The fit seems to run true to size, with plenty of room for layering underneath while still maintaining a flattering silhouette.
Material-wise, buyers unanimously praised its hardshell H2No Performance Standard shell for its waterproofing qualities, mentioning that it kept them dry even during significant rain or snow. The inner down jacket is filled with 700-fill-power 100% Recycled Down, lending to the jacket's ability to provide top-notch insulation.
Another popular feature amongst buyers is its environmental friendliness. Patagonia's commitment to sustainability is clearly reflected in their use of recycled materials for both the outer shell and the insulation. Many users seemed to appreciate this thoughtful approach to their manufacturing process.
However, there were few minor negatives pointed out. Some customers thought that the hood could be a tad larger to accommodate a beanie or hat underneath, and others found the price to be on the steep side. A handful of customers also mentioned that the 3-in-1 design, while versatile, made the jacket a bit heavier than some of the single-piece alternatives on the market.
Overall, Patagonia's Tres 3-in-1 Parka seems to deliver the quality, versatility, and warmth necessary for a dependable winter jacket while maintaining a conscious approach to their environmental impact. Despite its minor flaws and considering the positive accolades from buyers, it's safe to say this well-thought-out jacket has earned its spot amongst the top-rated women's winter jackets.
Breathability & Ventilation
Despite its solid warmth and waterproofing, the Parka doesn't compromise on breathability. Although a couple of users mentioned they felt a bit sweaty during high-energy activities, most found the ventilation adequate.
Durability
Patagonia's renowned quality control is evident in this product. Customers have admired its durable construction knowing it's a winter jacket designed to last for years.
Fit
This Parka fits true to size while leaving room for extra layers. Though some users found it a little bulky, most appreciate its roomy design that doesn't restrict movement.
Insulation & Warmth
The Patagonia Tres 3-in-1 Parka shines in providing superior warmth during harsh winter conditions. Its high-quality 600-fill-power duck down insulation ensures you stay comfortable even in the coldest temperatures. Many users have lauded its steadfast performance during chilly outdoor adventures.
Value
Though on the pricier side, most reviewers believe the Tres 3-in-1 Parka is worth the investment due to its features and durability. It's essentially three jackets for the price of one, making it an excellent value for money according to many users.
Waterproofing
The Parka features a waterproof shell that shines during snowfall or unexpected rain showers. Customers have reported its exceptional waterproofing capability, which keeps you dry throughout your outdoor outings.
Prices
REI Co-op Norseland Insulated Parka
Best Budget Women's Winter Jacket
Based on our research and testing, we think the REI Co-op Norseland Insulated Parka is a great pick if you're looking for a women's winter jacket that is more budget friendly, without sacrificing too much in quality.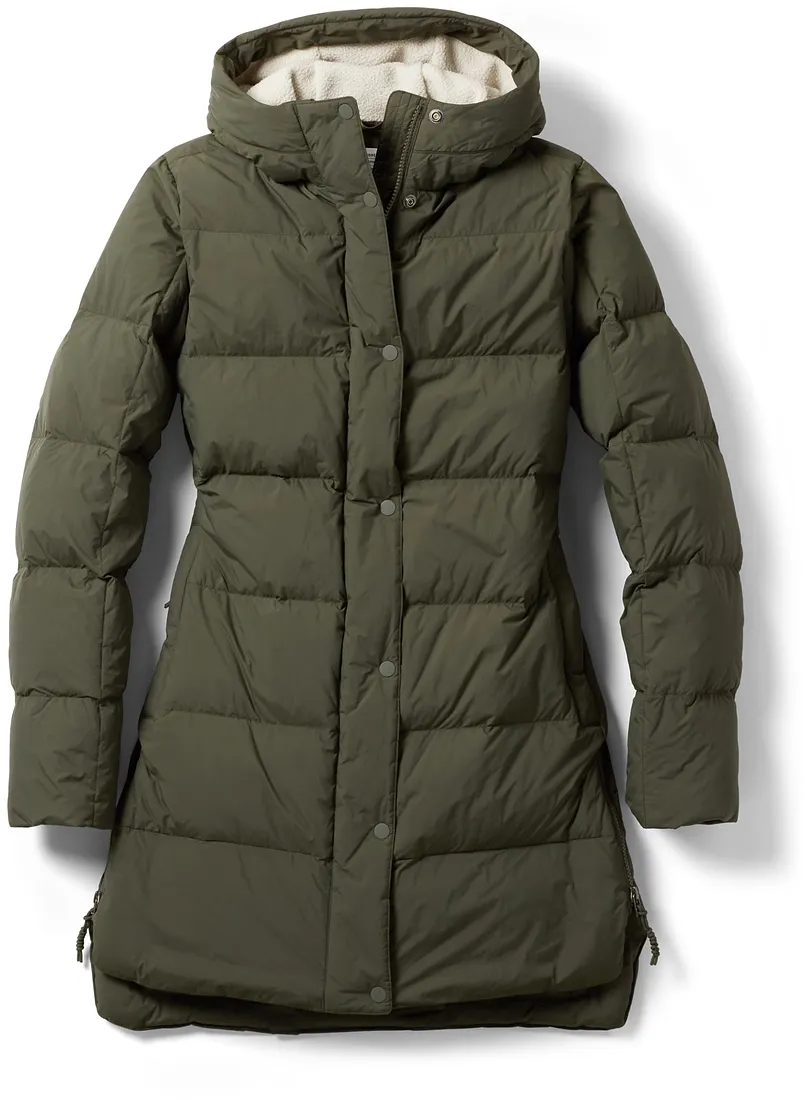 Reasons to Buy
Affordable without sacrificing quality

Has plush insulation for maximum warmth

Water-resistant DWR finish to withstand winter weather

Stylish design with a faux-fur hood
Reasons to Avoid
Not fully waterproof, only water-resistant

Fit may be too relaxed for some

Heavy compared to other models

Insulation could be inadequate in sub-zero temperatures
The Important Specs
Hood:

Removable with removable faux fur trim

Material:

Polyester shell and lining

Insulation:

Polyester (58% recycled)

Waterproofing:

Durable Water Repellent (DWR) finish

Number Of Pockets:

4 (2 hand, 2 chest)
Review Roundup
The REI Co-op Norseland Insulated Parka is a hidden gem for anyone looking to stay warm without breaking the bank. Designed to beat the winter chill, this budget-friendly jacket does not compromise on style or functionality. Receiving high scores for comfort and quality, it has quickly become a favorite among our outdoor explorers.
We found that most users loved the aesthetic of the jacket. It sports a clean, modern style without overdoing it, proving to look just as good on city streets as it does on snow-covered trails. Often budget items can look a tad cheap, but not the Norseland Parka, it certainly knows how to wear its price tag well.
Users stated that the insulation is impressive given its price point. The parka comes packed with a respectable amount of synthetic fill to keep you snug, even when the mercury takes a dive. Many reviewers appreciated that despite its stellar warmth, the jacket doesn't make you feel like you're wearing a heavy winter coat. The fill is spread evenly, ensuring there's none of the 'marshmallow effect' here.
The numerous pockets, both internal and external, were a hit among buyers. Being able to stow away essentials safely and easily was lauded as a plus in the versatility stakes. More so, easy-access pockets were much appreciated on frigid days when fumbling with zippers is the last thing anyone wants to be doing.
The parka is also detected to have a durable construction, handling the rough and tumble of outdoor adventures with ease. The outer shell is sturdy and able to resist the occasional scrapes and contact with rough surfaces. Buyers also noted that the stitching held up well under stress, reassuring us of the jacket's longevity.
However, it wasn't all snowy smiles. Some buyers suggested that the sizing ran slightly large, so it might be a good idea to try it on before making a decision. The hood design also received some criticism, with some suggesting it could do with a bit of redesign for a more snug fit.
Also, it's worth noting that while the Norseland Parka excels in its insulated warmth and comfort, it's not the best option for heavy rain or extremely wet conditions. It's water-resistant, not waterproof. For light precipitation and snow, it works fine. But if you're headed into a downpour, you might want to consider a more weatherproof option.
In a nutshell, the REI Co-op Norseland Insulated Parka is a great buy for those looking for a stylish, warm and comfortable winter jacket without making a hefty investment. The minor hiccups like the sizing and hood design don't seem to outweigh the jacket's major robust qualities.
Breathability & Ventilation
Given its main function is to keep the cold out, breathability is a bit compromised. It's not the best bet for any high-energy winter sports, but for daily winter commutes or walks, it manages quite well.
Durability
This is where it shines. Made with hard-wearing polyester, this parka promises longevity and the ability to withstand the rough and tumble of active winter use.
Fit
The fit leans towards the relaxed side. The majority of users report it being comfortable and allowing for layering underneath. However, if you prefer a more tailored fit, this might not be the parka for you.
Insulation & Warmth
Chocked full with polyester insulation, the REI Co-op Norseland Insulated Parka certainly keeps you snug when the temperature drops. However, if you're planning on tackling a Siberian winter, or anything close, you might want to look elsewhere.
Value
Considering its price point, the parka scores high on value. Sure, it has its drawbacks, but it offers warmth, style and durability without breaking the bank.
Waterproofing
The DWR finish on this jacket does a decent job at keeping moisture out, allowing you to brave light to moderate snowfall undeterred. That said, be prepared to take cover when the heavens really open up, as the coat isn't fully waterproof.
Prices
No prices found. Check back later!
Arc'teryx Cerium LT Hoody
$400.00
Best Ultralight Women's Winter Jacket
Based on our research and testing, we think the Arc'teryx Cerium LT Hoody is a solid choice for those looking for a lightweight women's winter jacket option to go play hard outside with.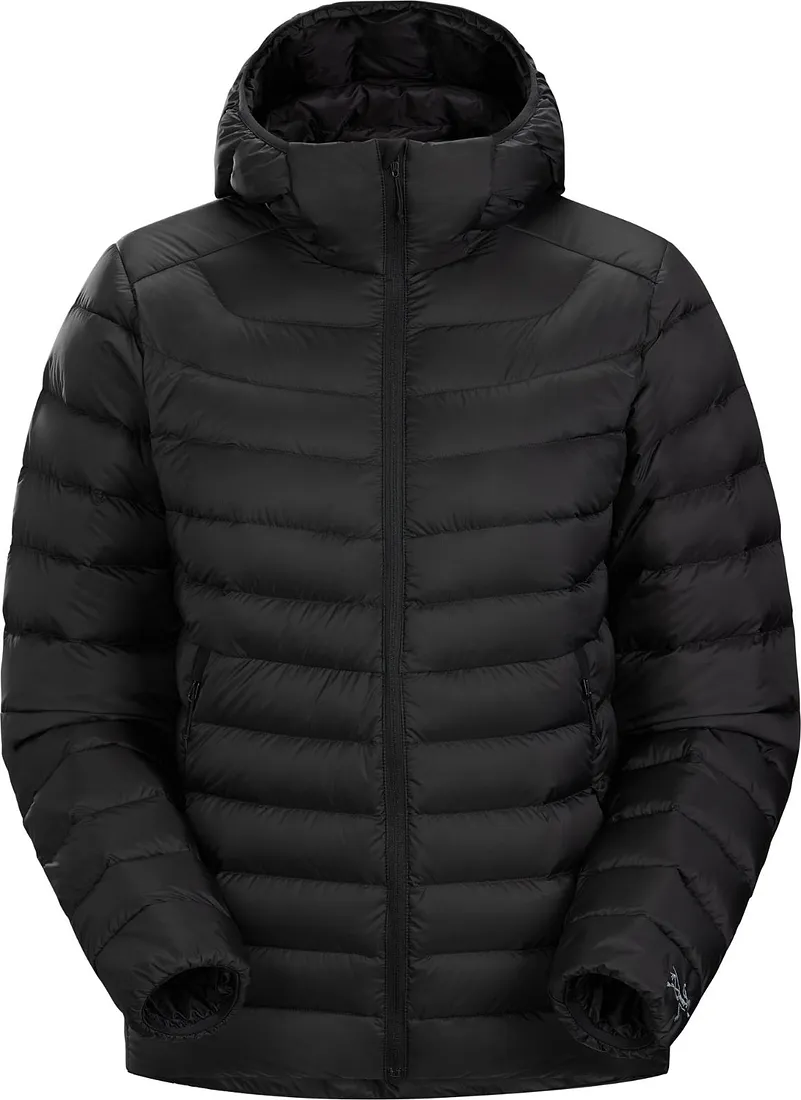 Reasons to Buy
Excellent warmth-to-weight ratio

Impressive compressibility

Versatile, can be worn under heavier layers or on its own

High-quality insulation
Reasons to Avoid
Quite pricey

Not extremely waterproof

May not be as durable as some heavier jackets
The Important Specs
Hood:

Insulated, helmet-compatible

Pockets:

Two hand pockets, one internal chest pocket

Material:

Arato 10D nylon shell

Insulation:

850 fill European grey goose down
Review Roundup
The Arc'teryx Cerium LT Hoody is a truly noteworthy piece of kit on the ultralight winter jacket scene. It's perfect for ladies who need serious insulation while keeping their backpack weight to a minimum. Its feather-light build, combined with its top-notch heat retaining abilities, make it a top choice among passionate backpackers and campers.
Durability is often a pain point with lightweight gear, but the Cerium LT defies this trend. It boasts a well-constructed, hardwearing Arato 10 outer shell that fights back against wear and tear. The hoody is packed with 850-fill goose down, which is some of the warmest stuff out there, along with Coreloft synthetic insulation in strategic areas prone to moisture, like the cuffs and underarms. This smart design reduces the risks associated with wet down.
On the functionality side, it's got a solid quality zipper that runs smooth, even during harsh cold. The cute but practical hood fits comfortably even when bundled up in a hat or beanie underneath. Add to that, two sizeable zippered hand pockets offer a secure spot for stowing essentials with easy access, even with gloved hands.
The mobility and fit of this jacket are standout features as well. The underarm gussets give a great range of motion which is appreciated during more dynamic activities. The cut is streamlined, reducing excess fabric, yet allows enough room for a couple of thinner layers underneath.
Buyer feedback reflects overall satisfaction with the Arc'teryx Cerium LT Hoody. Wearers loved its extreme lightweight and the warmth it provides even during frosty winter hikes and mountaineering. Several users also praised its excellent packability, mentioning that it compresses down to almost nothing, leaving extra room in their packs for other gear. A few mentioned wishing for an internal pocket, but this did not seem to be a deal-breaker given the overall quality and performance.
On the downside, some reviewers found the Cerium LT a bit pricey. But that's common amongst high-end outerwear gear, and the majority agreed that it's a worthy investment for its robust construction, warmth, and ultralight features. A few users also mentioned that the jacket might not be warm enough for extremely cold sub-zero temperatures. However, that is likely depending on personal cold tolerance and layering strategies.
Breathability & Ventilation
This jacket manages to balance warmth and breathability nicely. Most reviewers stated that they did not feel overly sweaty or stuffy in the jacket. The use of the Down Composite Mapping technology strategically places synthetic insulation in areas prone to moisture, which helps with maintaining a comfortable internal environment.
Durability
While the Cerium LT has demonstrated reasonable durability, some users have noted a slight issue with the delicate nature of the Arato 10D shell. However, with proper care and thoughtful use, the lifetime of the jacket can be maximized.
Fit
Known for its trim, athletic fit, the Cerium LT errs on the snug side. Some users mentioned it may run a bit small, especially if you plan on layering heavily underneath. If this is the case, users suggest sizing up a bit.
Insulation & Warmth
The Cerium LT doesn't skimp on warmth despite its impressively light weight. Thanks to its high-quality goose down insulation, it provides excellent heat retention. Users love how warm it keeps them, even in frigid conditions.
Value
The price tag is on the steeper side, but many believe it's worth the investment. Users often speak about the excellent insulation, lightness, and packability, making it highly versatile. Despite the high price point, most users conclude that the Cerium LT Hoody provides good value due to its performance in a wide range of conditions and situations.
Waterproofing
While the Cerium LT isn't a full-on rain jacket, it does offer some water resistance. The DWR (Durable Water Repellent) finish and synthetic insulation in potential wet zones give it some capability to handle light rain and snow. However, users cautioned that if you're headed into a downpour or extended periods of wet snow, you may want a proper waterproof shell over top.
Prices
Arc'teryx Alpha SV Jacket
$900.00
Best Women's Winter Jacket for Mountaineering
Based on our research and testing, we think the Arc'teryx Alpha SV Jacket is a solid choice if you want a women's winter jacket that's really well suited to Mountaineering.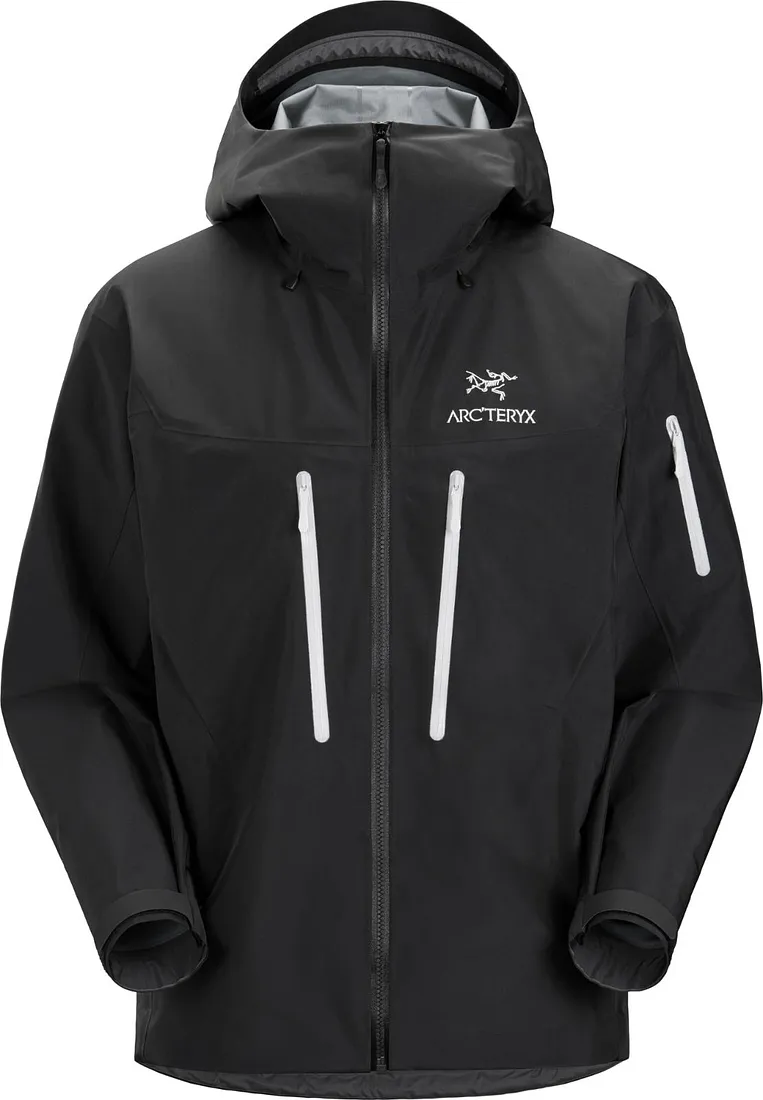 Reasons to Buy
Excellent insulation and durability

Premium quality material

Wind and waterproof

Great fitting

Versatile for multiple activities
Reasons to Avoid
Quite pricey

Maybe too warm for mild winter
The Important Specs
Fit:

Regular with e3D, hip length

Pockets:

Internal chest pocket, two high-volume hand pockets, two external chest pockets

Material:

N100d Most Rugged 3L GORE-TEX Pro

Hood Design:

Helmet compatible StormHood with custom Cohaesive hood adjustments
Review Roundup
If you're considering investing in the Arc'teryx Alpha SV Jacket, you're probably looking for a serious winter coat that can handle just about anything Mother Nature throws at it. From what we found, this high-tech piece of winter gear lives up to its reputation. As a top choice for mountaineering, it's clear that this jacket didn't skimp on the essentials.
Right off the bat, users noted the high quality of the jacket's materials. The Arc'teryx Alpha SV Jacket is constructed with a robust nylon outer layer, which not only makes it incredibly durable but also impressively waterproof. Several users commented on how it withstood extreme weather such as heavy rain and snowfall without a problem, keeping them dry and comfortable.
The jacket is insulated with synthetic material, which provides excellent warmth. Feedback we came across often highlighted how warm this jacket kept them even in sub-zero temperatures. And this is not surprising given that the insulation used is known for its high insulating capacity. However, some users felt the jacket was perhaps a bit too warm for less extreme winter conditions, meaning it might be a bit too much for a casual winter walk in the park.
As a jacket designed for active outdoor enthusiasts, how it fits and moves with your body is paramount. User feedback applauded the Arc'teryx Alpha SV Jacket for its exceptional maneuverability. It's constructed with underarm gussets and articulated elbows that allow for a full range of movements. This means whether you're climbing or hiking, this jacket won't restrict your movements.
Users also appreciated the thoughtful design elements. The hood, for example, is helmet-compatible and adjustable, which was a huge plus for those out climbing or mountaineering. The pockets are also generously sized and positioned in a way that makes them accessible even when you're wearing a backpack or harness.
It's worth noting, however, that there were a few common gripes among users. The most notable of these was the high cost. This jacket is definitely an investment piece, which has deterred some potential buyers. Additionally, some users found the sizes ran a bit small, so you might want to consider going up a size.
Despite these drawbacks, the Arc'teryx Alpha SV Jacket received high praise for its performance in extreme conditions, durability, as well as the mobility it allows. When it comes to enduring wintry blasts in the great outdoors, the vast majority of users agree – this jacket is worth almost every penny.
Breathability & Ventilation
Despite its sturdiness and insulation, the jacket does a fantastic job of ventilating. The fabric allows for good breathability, so users don't feel too stuffy. Many customers have reported about its ability to regulate heat and remove excess moisture.
Durability
Durability-wise, customers deem this jacket as an investment for life. It's made from a rugged material that withstands harsh weather and extreme usage. Users online have praised its resistance to wear and tear over time.
Fit
The Arc'teryx Alpha SV Jacket features a Regular 'e3D' fit that has been reported by users to provide wonderful mobility and comfort, without appearing too baggy or loose. It's also admirably flexible, allowing for layers to be added underneath comfortably.
Insulation & Warmth
The Arc'teryx Alpha SV Jacket is the epitome of warmth. Packed with the most latest GORE-TEX Pro Insulation, this jacket is perfect for extreme winter conditions. Users have praised this jacket for its ability to keep the cold at bay, even on the iciest of days.
Value
The price tag on the Arc'teryx Alpha SV Jacket might initially seem steep. However, many customers online have expressed that the jacket's robust construction, technical capabilities and longevity makes it worth every penny in the long run.
Waterproofing
The jacket's waterproofing is top-notch. Thanks to its three-layer GORE-TEX Pro shell, it offers uncompromised protection from rain or snow. Shoppers online mentioned how dry they stayed even in heavy downpours.
Prices