Quick heads-up: some of the links on this page are affiliate links. If you make a purchase through them, we may earn a small commission (at no extra cost to you). This small bit of income helps keep our site running.
Best Ski Jackets for Women of 2023
This post was last updated on December 06, 2023.
Looking for the Men's version of this post? We've got you covered: Best Ski Jackets for Men of 2023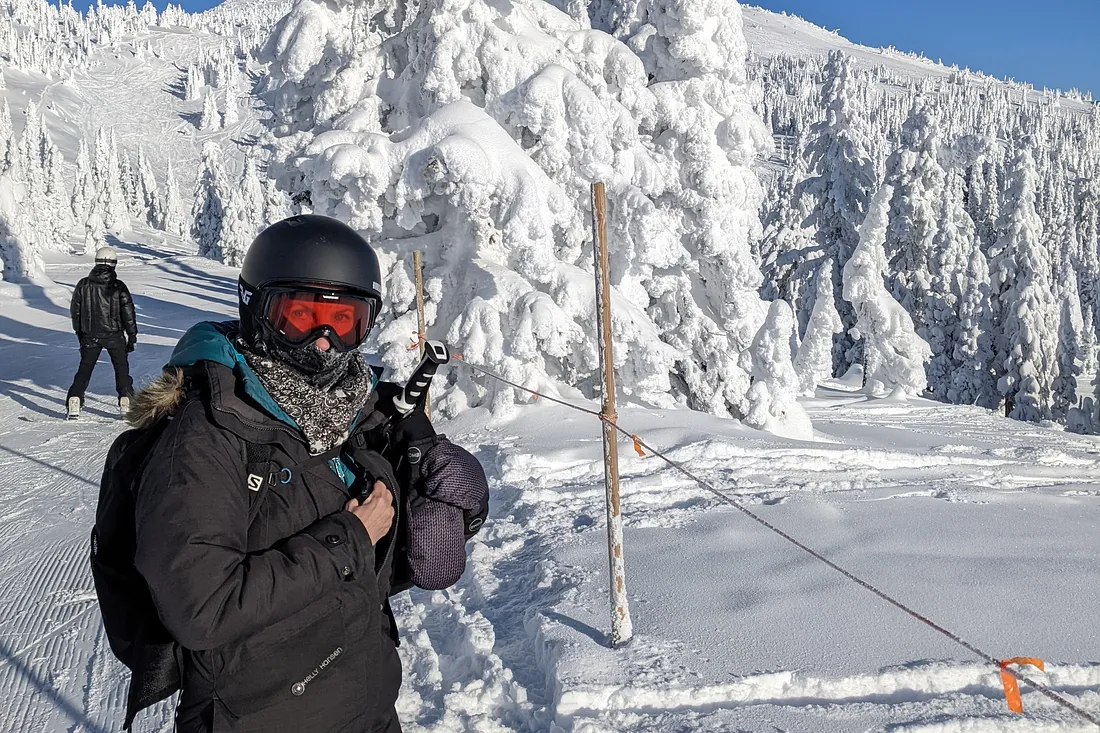 So, you're heading out to paint the mountain white, huh? Well, then you'll need a sturdy and solid armor to keep Jack Frost at bay. And by armor, we don't mean an ice-peeling body suit straight out of a sci-fi movie. No, we're talking about the warm, functional, and utterly dependable: ski jackets.
Among a myriad of options available, the Arc'teryx Sentinel AR Jacket takes the cake - and the ski, and the mountain for that matter. It's not just us going ga-ga over this wonder wear, skiers from near and far vouch for its unbeatable weatherproofing, warmth, cool snow-specific features, and long-lasting durability. If Batman went skiing, he'd probably have a wardrobe full of Sentinel AR.
While the Sentinel AR is the best of the best, we haven't forgotten about those of you who prefer backcountry skiing or are working on a budget. We've got two great runners-up and also top choices for every skiing style and budget. Also, if you're gearing up for other weather, you might want to check out our reviews on the Best Rain Jackets for Women, Best Down Jackets for Women, and Best Winter Jackets for Women.
Our Top Recommendations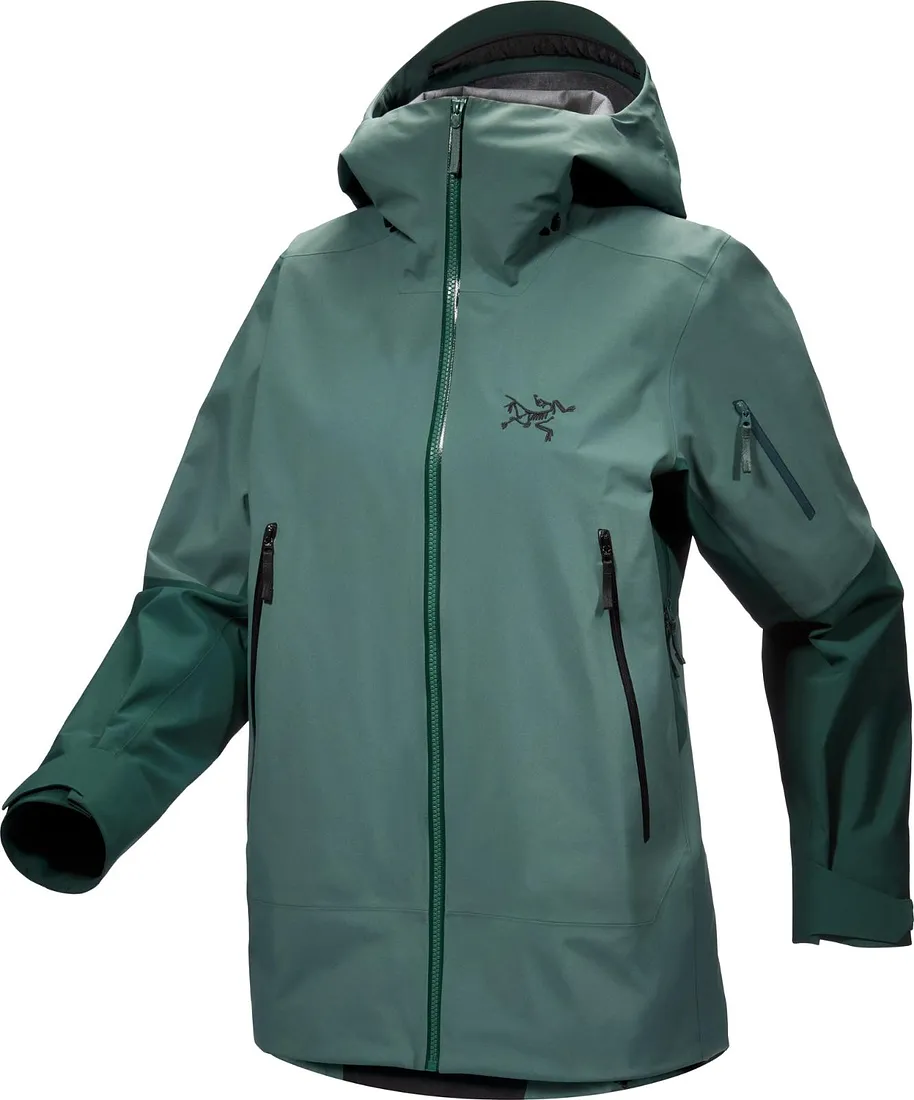 Arc'teryx Sentinel AR Jacket
The Arc'teryx Sentinel AR Jacket is our top pick for women's ski jackets due to its high praise in user reviews for its exceptional warmth, weatherproofing capabilities, and stylish yet functional design, setting it apart from its rivals.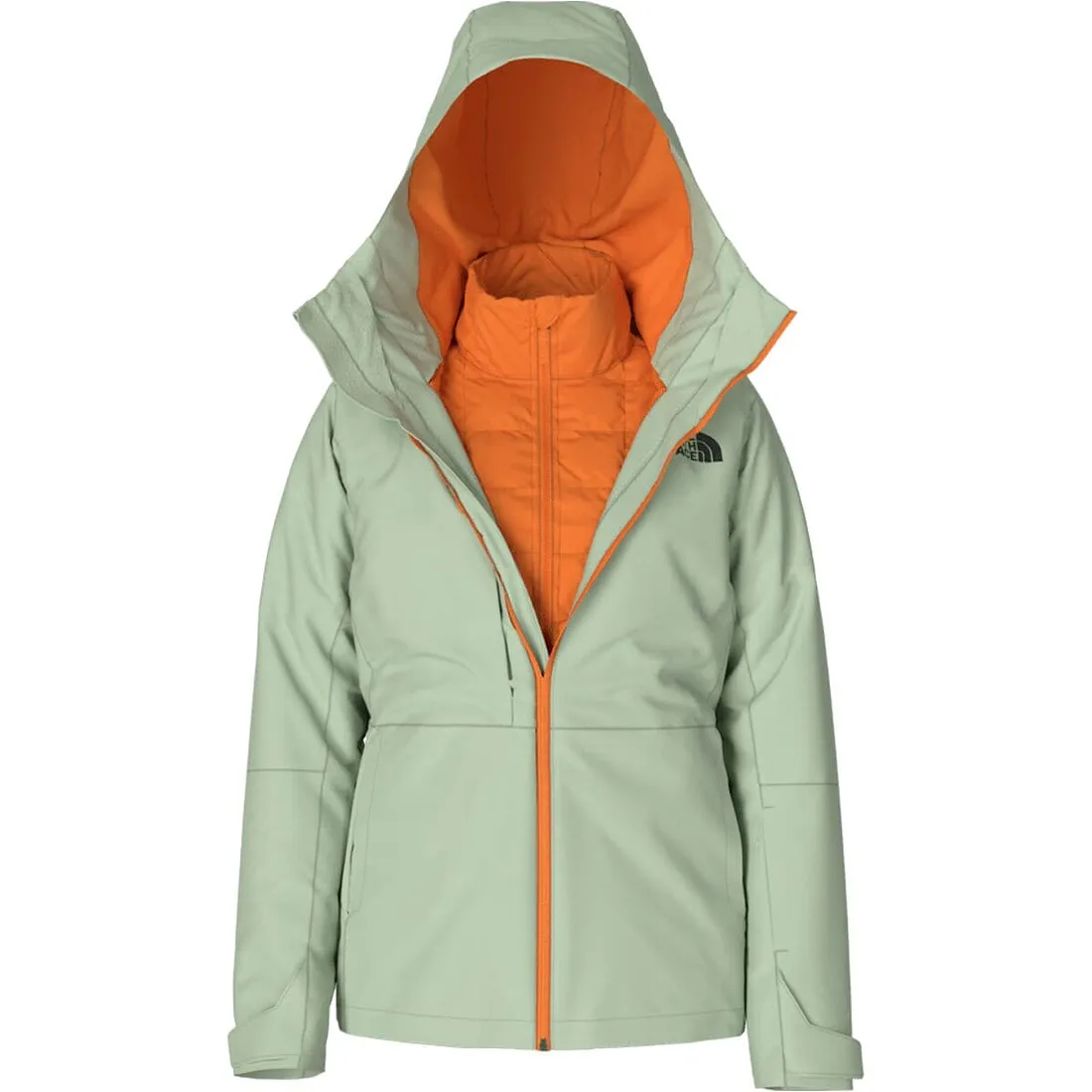 The North Face ThermoBall Eco Snow Triclimate Jacket
The North Face ThermoBall Eco Snow Triclimate Jacket snags our top pick runner up for its versatile three-in-one design that users say keeps them super warm, yet it's lightweight and comfortable, and many mention the shell is impressively water-resistant, keeping them dry in unexpected snow squalls.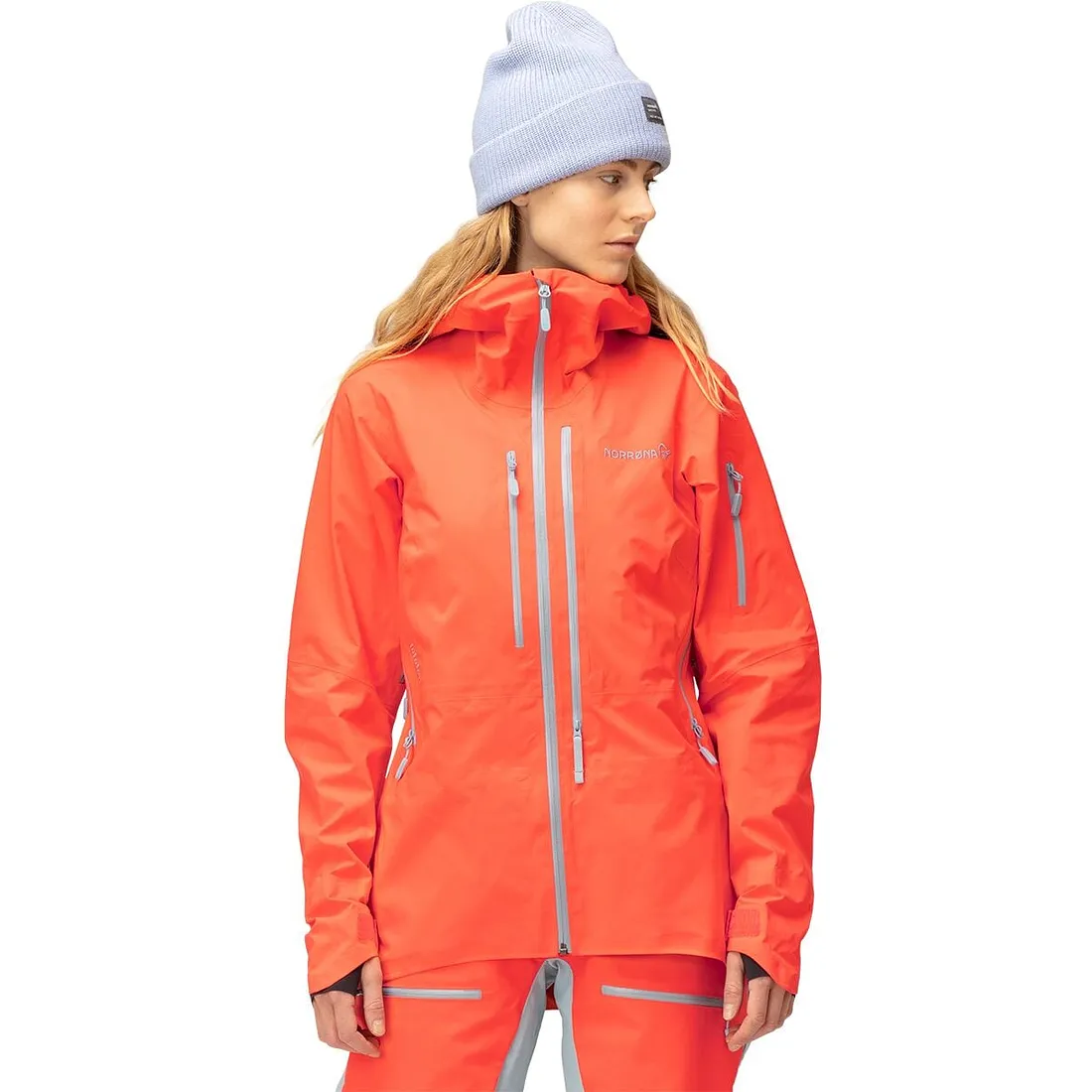 Norrona Lofoten Gore-Tex Pro Jacket
The Norrona Lofoten Gore-Tex Pro Jacket stands out due to user experiences of its unparalleled waterproofing combined with impressive breathability, and the fact it doesn't skimp on comfort with its light, fitting design.
What you should look for
(and what we test for)
Durability
You'll want a jacket made from durable materials that can withstand abrasions from backpacks or climbing gear, and hold up well against the elements.
Insulation
Make sure the ski jacket has ample insulation, like down or synthetics, to keep you toasty when the temperature drops on the slopes or when camping overnight.
Breathability
A good ski jacket should have breathability features, such as pit zips or moisture-wicking fabrics, to prevent overheating during intense activities like climbing or skiing.
Waterproofing
Look for a ski jacket that features waterproof materials and sealed seams to keep you dry during snowy hikes or sudden rain showers.
Arc'teryx Sentinel AR Jacket
$750.00
The Best Women's Ski Jacket
Based on our research and testing, we think the Arc'teryx Sentinel AR Jacket is the best Women's Ski Jacket on the market right now, for anyone looking to play hard outside.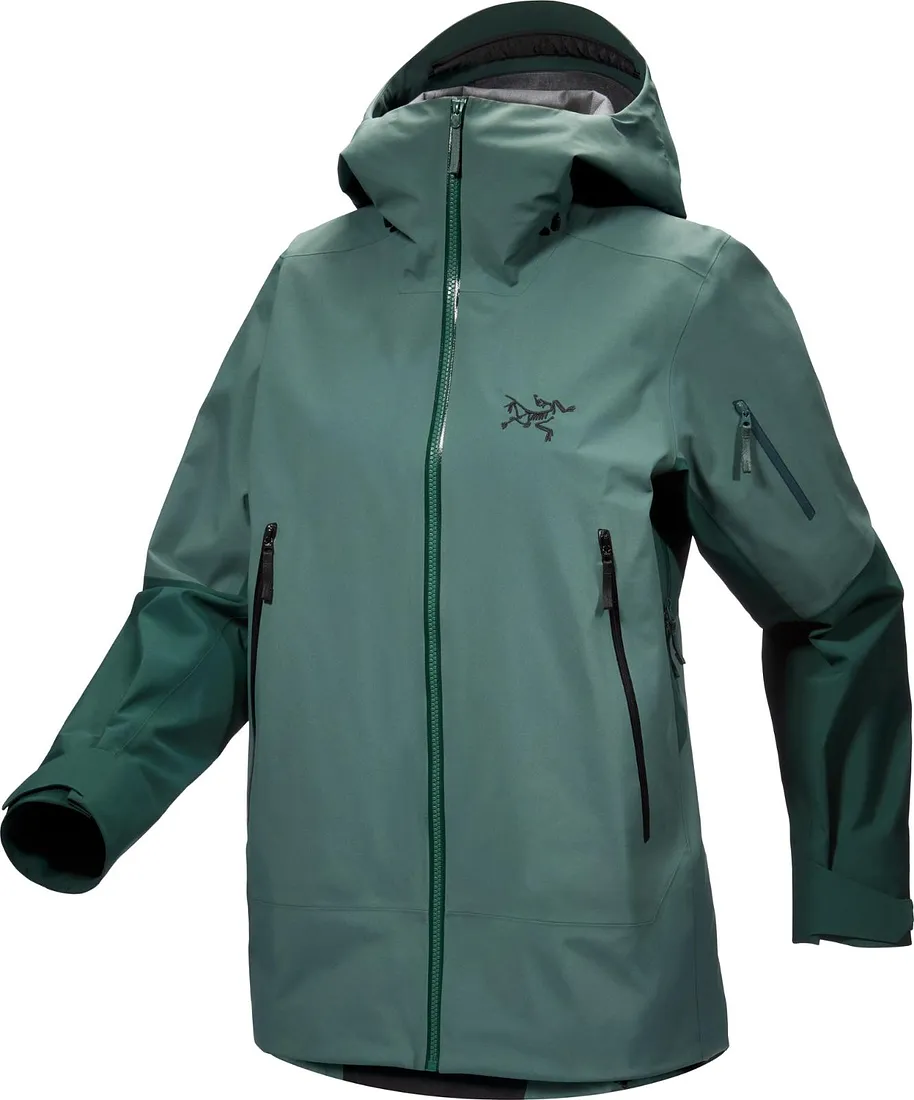 Reasons to Buy
Great for all weather conditions

Perfect balance of insulation and breathability

Plenty of pockets specific for snow-related activities

Long-lasting durability

Good value for money, considering its premium features
Reasons to Avoid
May be too pricey for casual skiers

Some users found the jacket a tad heavy

A few complain about the fit
The Important Specs
Fit:

Regular fit with e3D, hip-length

Material:

N70p 3L GORE-TEX fabric

Insulation:

Non-insulated, breathable

Pocket Details:

Two internal mesh dump, 1 internal zipped, and an arm pocket

Hood Compatibility:

Helmet-Compatible
Review Roundup
The Arc'teryx Sentinel AR Jacket is a standout choice for women seeking a sturdy and warm ski jacket. The design is both classy and elegant, making it one that doesn't go unnoticed on the slopes. This jacket, however, offers much more than just visual appeal.
Buyers have often praised the quality, which comes as no surprise when you know Arc'teryx's reputation in the outdoor gear world. The Sentinel AR is made with durable materials that can endure the harsh weather conditions typically encountered while skiing. The three-layer GORE-TEX fabric offers an excellent level of waterproofing, which keeps you dry and comfortable even in heavy snow or rainfall.
Insulation is another area where this jacket excels. Though designed to be lightweight and not add unnecessary bulk, the jacket retains heat effectively, keeping the wearer warm in bone-chilling temperatures. While non-bulky, those who prefer a slim fit might find it a little roomy, but on the flip side, this offers ample room for layering which adds versatility to the product.
Women who have bought the Sentinel AR commend its breathability too. The well-thought-out design includes underarm vents which can be unzipped for better airflow during heavy exertion or warmer conditions, thus preventing discomfort caused by sweating. This feature is appreciated by those who like an active style of skiing or hiking.
Another aspect highlighted in buyer reviews is its practical and convenient pockets. Apart from the traditional pockets, an extra sleeve pocket that fits a lift pass, and an internal pocket for goggles or electronic devices have been included. These pockets are well placed and easy to access, even with gloves on.
Reflecting on its prices, a few users did mention the Sentinel AR's higher-end price tag. However, they also noted that its durability, comfort, performance and the range of features justifies the investment. Arc'teryx offers quality that lasts seasons compared to cheaper alternatives that may require frequent replacements.
If we had to pick a bone, it would be the hood design. Some reviews have shown that users found the hood to be oversized, especially for those not wearing a helmet. While it's a plus for those who do wear helmets, it might be a bit of restricting and annoying for those who don't.
Durability
Renowned for its longevity, this Arc'teryx jacket lives up to its promise. Users commend its resilient fabric and construction, particularly noting that it holds up remarkably well, even with regular use or in harsh weather conditions.
Insulation & Warmth
Despite being non-insulated, the Sentinel AR jacket provides a high level of warmth, thanks to its superior shell material and design which helps to trap heat while allowing for excellent breathability. Some users have suggested it keeps them warm even in minus temperatures.
Snow-Specific Features
This jacket was designed keeping snow-related adventures in mind. Its array of pockets, including two internal mesh dump pockets, an internal zipped pocket, and an arm pocket, provides ample storage for ski-specific needs. Plus, the powder skirt and helmet-compatible hood only enhance its winter readiness.
Value
While certainly not the cheapest option on the block, the Sentinel AR Jacket's premium features, combined with its superior durability and performance, arguably make it a valuable investment. Especially for those who are keen on frequent winter sports or find themselves braving the elements often, the jacket may well be worth its price tag.
Weatherproofing
The Arc'teryx Sentinel AR Jacket's biggest strength is its expert weatherproofing. Its N70p 3L GORE-TEX fabric does an outstanding job at shielding you from wind, rain, and snow. The fabric's inherent breathability ensures you won't feel stifled, even in warmer weather.
Prices
The North Face ThermoBall Eco Snow Triclimate Jacket
$399.95
Runner Up
Based on our research and testing, we think the The North Face ThermoBall Eco Snow Triclimate Jacket is a great choice if you're looking for a women's ski jacket to go play hard outside with, if our top pick isn't quite what you're looking for.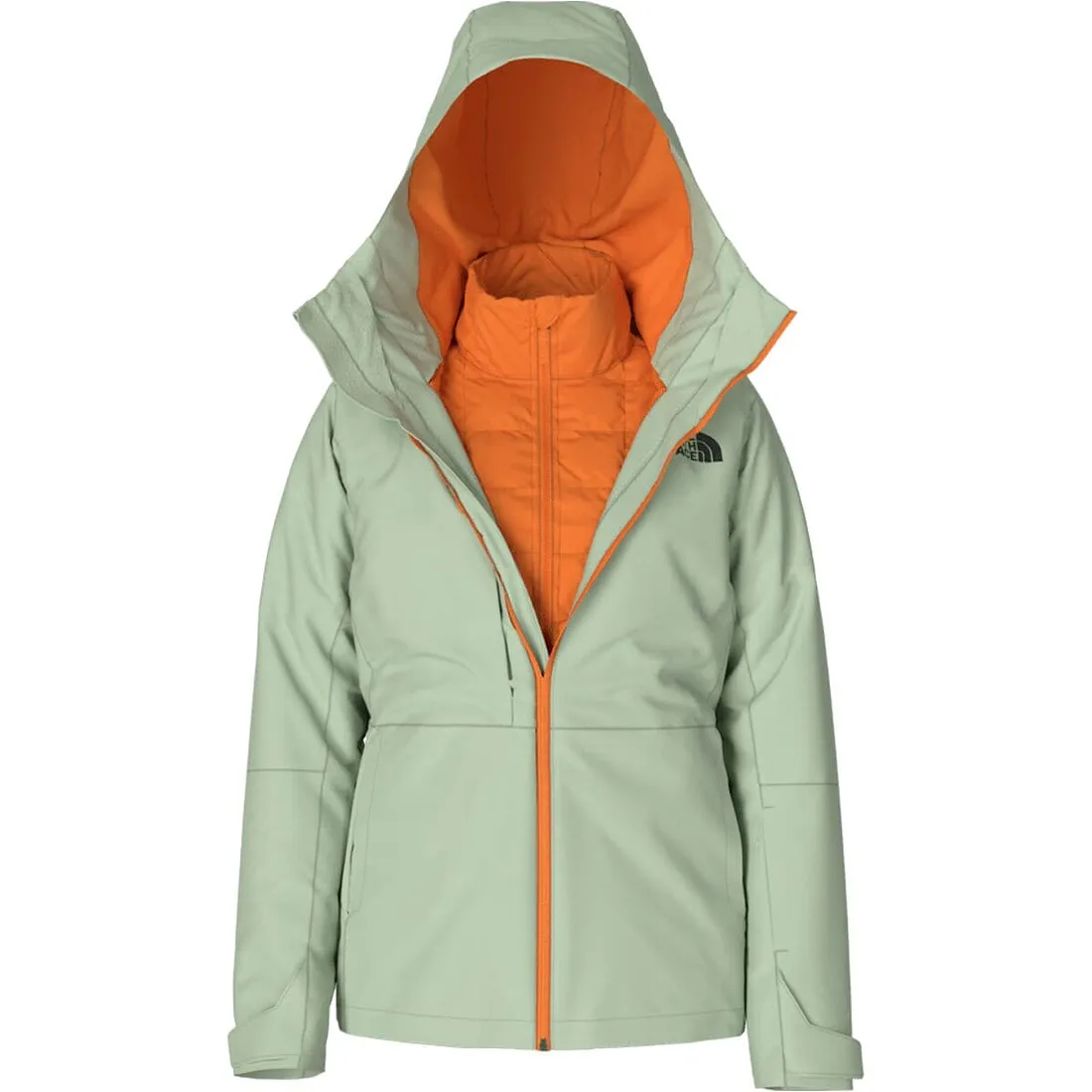 Reasons to Buy
Excellent insulation

Great weatherproofing capabilities

Versatile with removable inner layer

Eco-friendly materials used
Reasons to Avoid
Pricey investment

Limited color options

Doesn't pack down small
The Important Specs
Pockets:

Internal, Secure-zip hand and chest pockets

Material:

Recycled Polyester

Insulation:

ThermoBall Eco

Waterproofing:

DryVent 2L
Review Roundup
The North Face ThermoBall Eco Snow Triclimate Jacket is a high-performing, versatile piece of winter gear that certainly didn't disappoint its users. Offering three jackets in one, it provides bang for your buck that you'll be hard-pressed to find elsewhere.
Many customers appreciated the jacket's 3-in-1 design that includes an insulated Thermoball Eco liner and a fully waterproof shell. This design allows for adaptability to a range of weather conditions, on or off the slopes. Wear the shell on its own during a wet spring hike, the liner alone for chilly, dry fall days, or layer them together for maximum warmth on the coldest winter days.
Lots of love was poured on the jacket's insulated liner. The special thing about it, as reported by users, is that it provides the lightweight warmth and compressibility of down but with the wet-weather insulating performance of synthetics. Ladies who had spent time in freezing weather were genuinely impressed at how warm the liner kept them.
The completely waterproof shell also received rave reviews. It features North Face's DryVent technology that repels external moisture and allows internal moisture to escape—this means you stay dry both inside and out. More than one user commented on how the ThermoBall Eco Snow Triclimate Jacket kept them completely dry in wet snow and even rain.
If we're talking about the fit, many women loved how flattering the jacket looks while still providing enough room for layering. It also sports an adjustable, removable hood for those times when the snow really starts to come down.
On the downside, some buyers found the zippers to be a little tricky to zip up and down, particularly in cold weather. A couple of users wished the jacket had more pockets for storing their stuff, especially for ski passes and other smaller items. However, these were minor gripes against the overall performance and versatility of the jacket.
All in all, the North Face ThermoBall Eco Snow Triclimate Jacket offers a huge amount of versatility, user-friendly features, and functionality. It's a piece of equipment that received well-deserved high marks from a large number of women who've put it through its paces in a variety of winter conditions.
Durability
This North Face jacket proves to be a robust and durable piece. The material withstands regular use and harsh conditions, although some customers mention the zipper can occasionally be troublesome.
Insulation & Warmth
The ThermoBall Eco insulation provides necessary warmth even in cold conditions, and remarkably, it manages to retain heat even when wet. The jacket's ability to keep the cold out while not causing overheating makes it a winner among many users.
Snow-Specific Features
This jacket comes with an adjustable, helmet-compatible hood, wrist gaiters, and a snap-away powder skirt, providing protection against snow ingress. The jacket's ski-pass pocket and internal goggle pocket are praised by winter sport enthusiasts for their convenience.
Value
Despite being on the pricier end, the versatility and performance of The North Face ThermoBall Eco Snow Triclimate Jacket make it a worthy investment. Given that it's essentially two jackets in one, many customers agree that it offers good value for money.
Weatherproofing
With its DryVent 2L technology, the jacket offers solid weatherproofing performance. It protects against wind, snow, and rain, making it a reliable companion for your winter expeditions. However, in extreme blizzard conditions, some users reported minor ingress of dampness.
Prices
Norrona Lofoten Gore-Tex Pro Jacket
$799.00
Runner Up
Based on our research and testing, we think the Norrona Lofoten Gore-Tex Pro Jacket is a great choice if you're looking for a women's ski jacket to go play hard outside with, if our top pick isn't quite what you're looking for.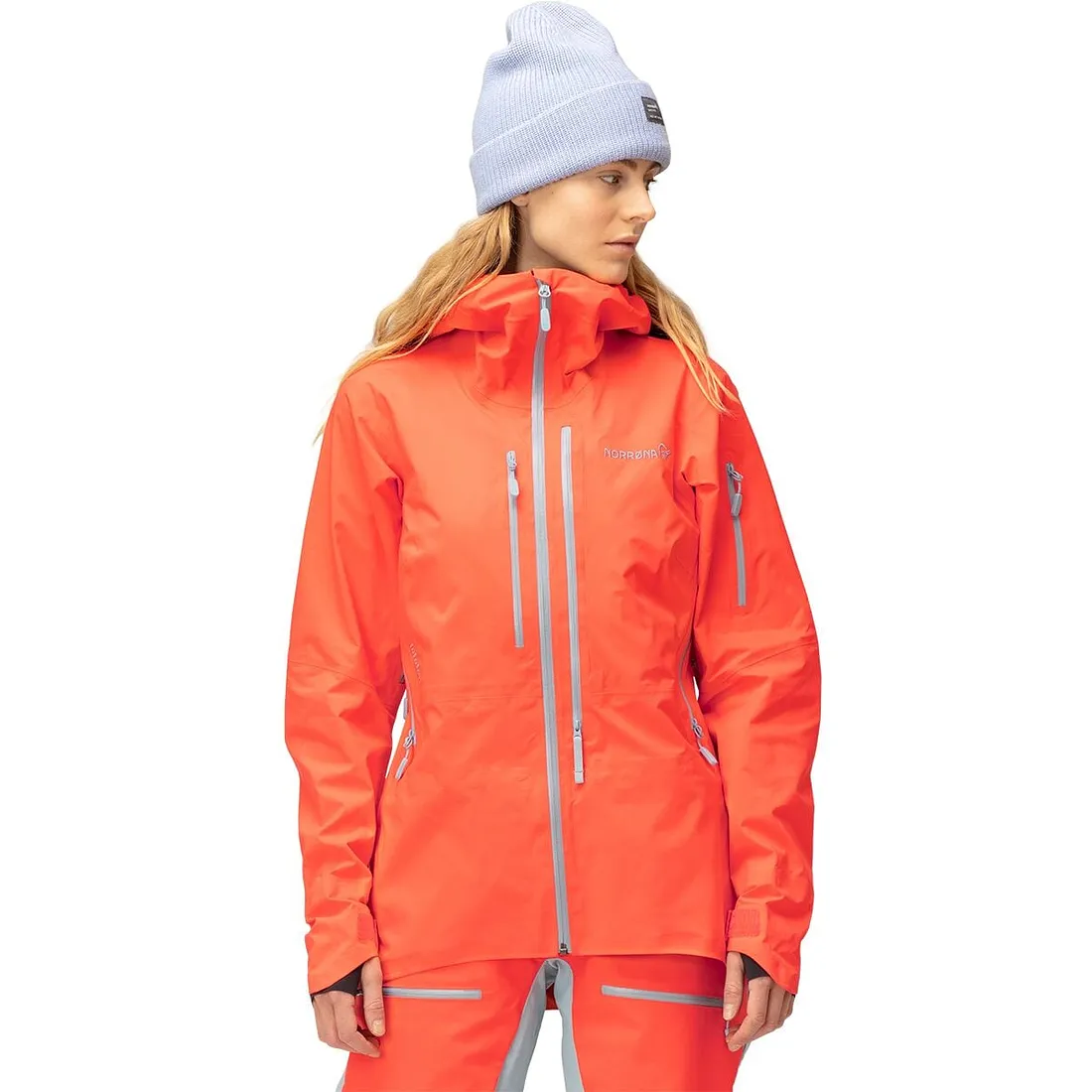 Reasons to Buy
Top-notch weather protection

Superb breathability

Extremely durable

Loaded with ski-specific features

Great fit and comfortable for a full day on the slopes
Reasons to Avoid
High-end price tag

May be too technical for casual skiers

Not a whole lot of insulation
The Important Specs
Fit:

Relaxed fit, ideal for layering

Hood:

Helmet-compatible, fixed storm hood

Pockets:

Two mid-torso hand pockets, a left arm lift pass pocket, two internal flat pockets

Material:

3-Layer Gore-Tex Pro

Powder Skirt:

Removable
Review Roundup
The Norrona Lofoten Gore-Tex Pro Jacket stands tall in the sea of ski jackets as one that truly does it all. With a name that's hard to forget, the jacket sings a song of durability and performance. One of the absolute gems in the product lineup of the highly regarded Norwegian brand, this jacket stands out for its exceptional waterproofing and wind resistance, thanks to the intelligent and reliable Gore-Tex pro-material.
But it's not just about staying dry. The Lofoten Gore-Tex Pro Jacket showcases quite proficient insulation. The jacket employs synthetic insulation, making it a wonderful buddy in the colder months. A large number of consumers have praised it for providing ample warmth, even in frigid conditions, which is a testament to its great insulation properties.
Something all nature lovers will appreciate is its high breathability. Despite its strong insulation and waterproofing, the jacket is extremely breathable, ensuring that it won't turn into a sauna when you're pushing yourself hard on the slopes. Users have said that the jacket kept them dry and comfortable, without buildup of perspiration from the inside.
When it comes to upsides, we can't overlook its fit and style. The jacket has a standard fit, making it accommodating for most body types. From an aesthetic standpoint, the Lofoten Gore-Tex Pro is available in several vibrant colors, which users found delightful and eye-catching. The design is sleek and simple, giving it a universal appeal whether you're on the slopes or in the city.
As for its drawbacks, the major one seems to be the price. For several customers, the Lofoten Gore-Tex Pro Jacket's price might feel like a punch to the stomach. That being said, users who invested in this product often remarked about its top-notch quality and saw it as something worth splurging on.
One other nagging point among some reviewers was related to size. Some users found the sizes for this jacket to be a bit roomy, which could cause a bit of inconvenience especially for ladies looking for a more form-fitting style.
In conclusion, if budget isn't a worry and you value performance, comfort, and durability, the Norrona Lofoten Gore-Tex Pro Jacket seems to be a highly recommendable choice.
Durability
Made from a super-durable fabric and reinforced in high-wear areas, this jacket is built to last. Not only is the material resistant to tears and rips, but also it stands up against the wear and tear of a packed ski season. Several users commented on how well their jacket has held up over multiple seasons.
Insulation & Warmth
This jacket is designed as a shell, so the emphasis is more on weatherproofing and less on insulation. That being said, it's roomy enough to fit layers underneath for customizable warmth. Some customers expressed a wish for a bit more inherent warmth in the jacket, but with the right layers, it's still a powerhouse in freezing temperatures.
Snow-Specific Features
The Norrona Lofoten Gore-Tex Pro has all the key features for a day on the mountain including a helmet-compatible hood, high collar, powder skirt, a lift pass pocket on the left hand arm, and large inner mesh pockets to store goggles or gloves. Online reviews praised these snow-specific features as both functional and helpful.
Value
Though its price tag is on the higher end, the Lofoten Gore-Tex Pro is worth it if you're planning on hitting the slopes regularly in harsh conditions. Its durability, weatherproofing, and technical features make it a solid investment for passionate skiers. However, casual skiers may find it too pricy and overly technical for occasional use.
Weatherproofing
The 3-Layer Gore-Tex Pro fabric shell is nearly impervious to the elements. Wind and snow do not stand a chance against this material, providing an excellent shield even in the harshest weather conditions. Users remark about the impressive weatherproofing capabilities of this jacket in a variety of conditions.
Prices
REI Co-op First Chair Gore-Tex
$299.00
Best Budget Women's Ski Jacket
Based on our research and testing, we think the REI Co-op First Chair Gore-Tex is a great pick if you're looking for a women's ski jacket that is more budget friendly, without sacrificing too much in quality.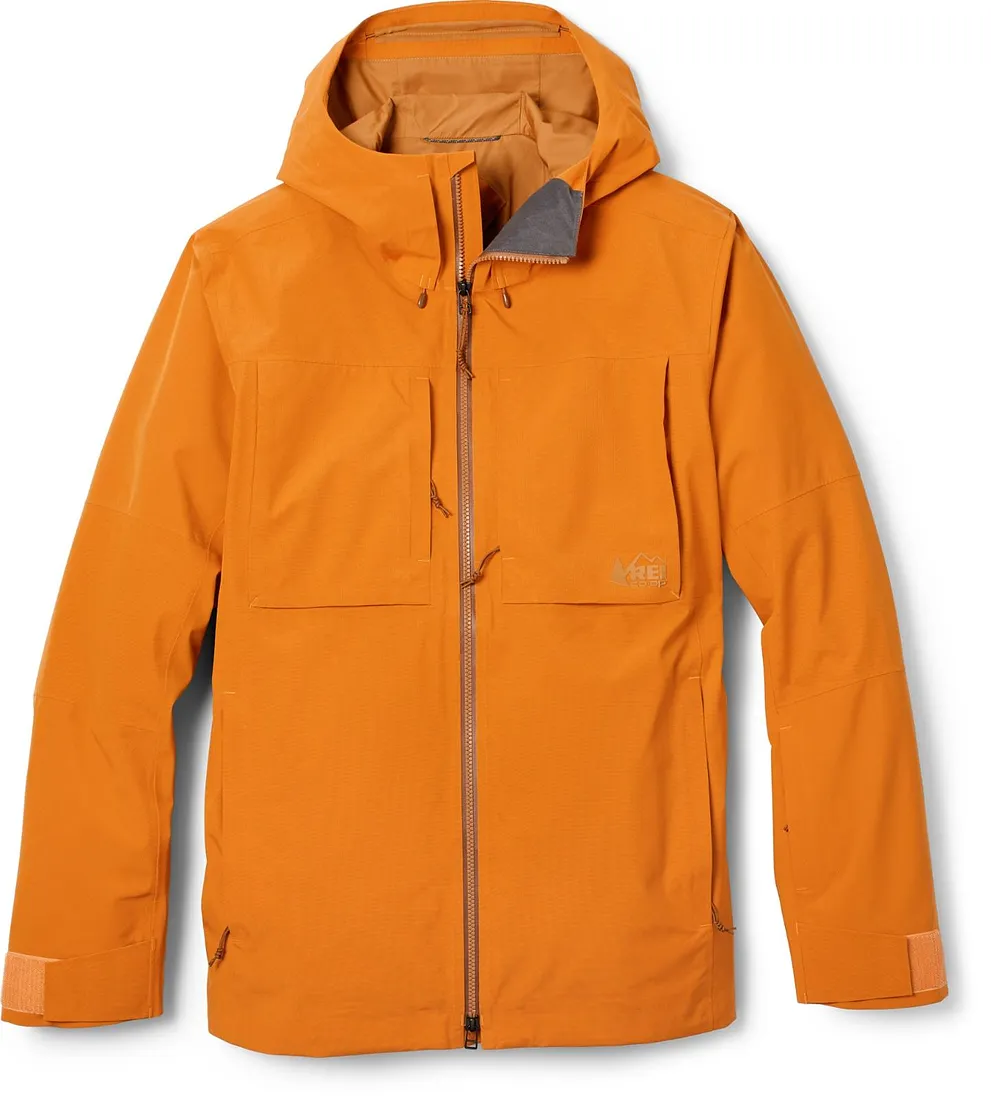 Reasons to Buy
Excellent weather protection

Good breathability for high activity level

Comfortable fit with adjustable features

Fair Frostbite-Free price point
Reasons to Avoid
Not as warm as other high-end ski jackets

Limited color options

Bulkier compared to other models
The Important Specs
Fit:

Standard with plenty of room for layers

Pockets:

Multiple including ski pass pocket

Material:

Two-layer Gore-Tex

Insulation:

Lightweight synthetic
Review Roundup
Ladies, say hello to the REI Co-op First Chair Gore-Tex, this awesome ski jacket that won't empty your bank account. It's proof that you don't always have to break the bank for quality outerwear. Crafted with smart design and a focus on weather resilience over flashy features, this jacket is a gem in the budget range.
If you're worried about encountering difficult weather on your snow escapades, the REI Co-op First Chair Gore-Tex has your back. It's made with waterproof, windproof and breathable Gore-Tex, ensuring you stay dry and toasty, even when Mother Nature decides to be a drama queen. It's even breathable enough to keep you from feeling uncomfortable in case things heat up on the slopes.
People who bought this product are generally pleased with its performance. In online reviews, users praised the REI Co-op First Chair Gore-Tex for its comfort and easy adjustability. Many loved the pit zips featured in the jacket, which allow for extra cooling when the action gets intense. The helmet compatible hood gets a nod too, offering additional protection without mucking up your vision.
Let's talk pockets. There's plenty of them and they're super handy. The jacket features two zippered hand pockets, one chest pocket and one pass pocket on the left sleeve. If you're the type who likes to carry snacks, a map or chapstick while on the run, you'll appreciate the extra storage.
Another highlight in the reviews was the adjustable powder skirt. This is a treat if you plan to ski deep snow as it keeps the snow from getting under the jacket. Combined with the drawcord hem that seals out cold and traps in heat, you've got some serious armour against the elements.
The jacket isn't without its drawbacks. Some users mentioned that it runs a bit large, which can make it hard to get the right fit. Others had issues with the wrist gaiters not fitting over their gloves, which can cause discomfort.
Moreover, the color options are limited, which may be a downer if you like having more flair on the slopes. But for what it's worth, the available colors are pretty neutral and could easily pair with most ski pants.
In conclusion, for the price, the REI Co-op First Chair Gore-Tex offers great value for money. So, if you're looking for a budget-friendly, practical, and reliable ski jacket, you might want to give this one a shot.
Durability
Durability-wise, this jacket doesn't disappoint. Its high-quality fabric and sturdy zippers are designed to endure the rigors of winter sports. A few buyers noted minor wear and tear after a full season, but nothing major that could reduce its functionality.
Insulation & Warmth
This jacket ranks medium in the warmth department. Its synthetic lightweight insulation provides needed warmth without the bulkiness. However, some customers felt the need for extra layers on really chilly days. It's perfect for those who generate their own heat during active days on the slopes.
Snow-Specific Features
The REI Co-op First Chair Gore-Tex scores well with ski-specific features. The powder skirt, wrist gaiters, and adjustable hood add to its seal against snow. The jacket also has plenty of pockets including a pass pocket and a goggle wipe, all of which skiers found handy.
Value
Considering its premium features and materials, the REI Co-op First Chair Gore-Tex offers great value for its price. While there are more affordable options out there, this jacket's performance stands out in the crowd, making it a worthwhile investment for budget-conscious riders.
Weatherproofing
Riders love the REI Co-op First Chair Gore-Tex for its top-notch weatherproofing. The two-layer Gore-Tex fabric combined with the fully sealed seams offers excellent protection against wind, snow, and even heavy downpours. Stay dry and cozy on the mountain, folks!
Prices
Patagonia SnowDrifter Jacket
$449.00
Best Women's Ski Jacket for Backcountry Skiing
Based on our research and testing, we think the Patagonia SnowDrifter Jacket is a solid choice if you want a women's ski jacket that's really well suited to Backcountry Skiing.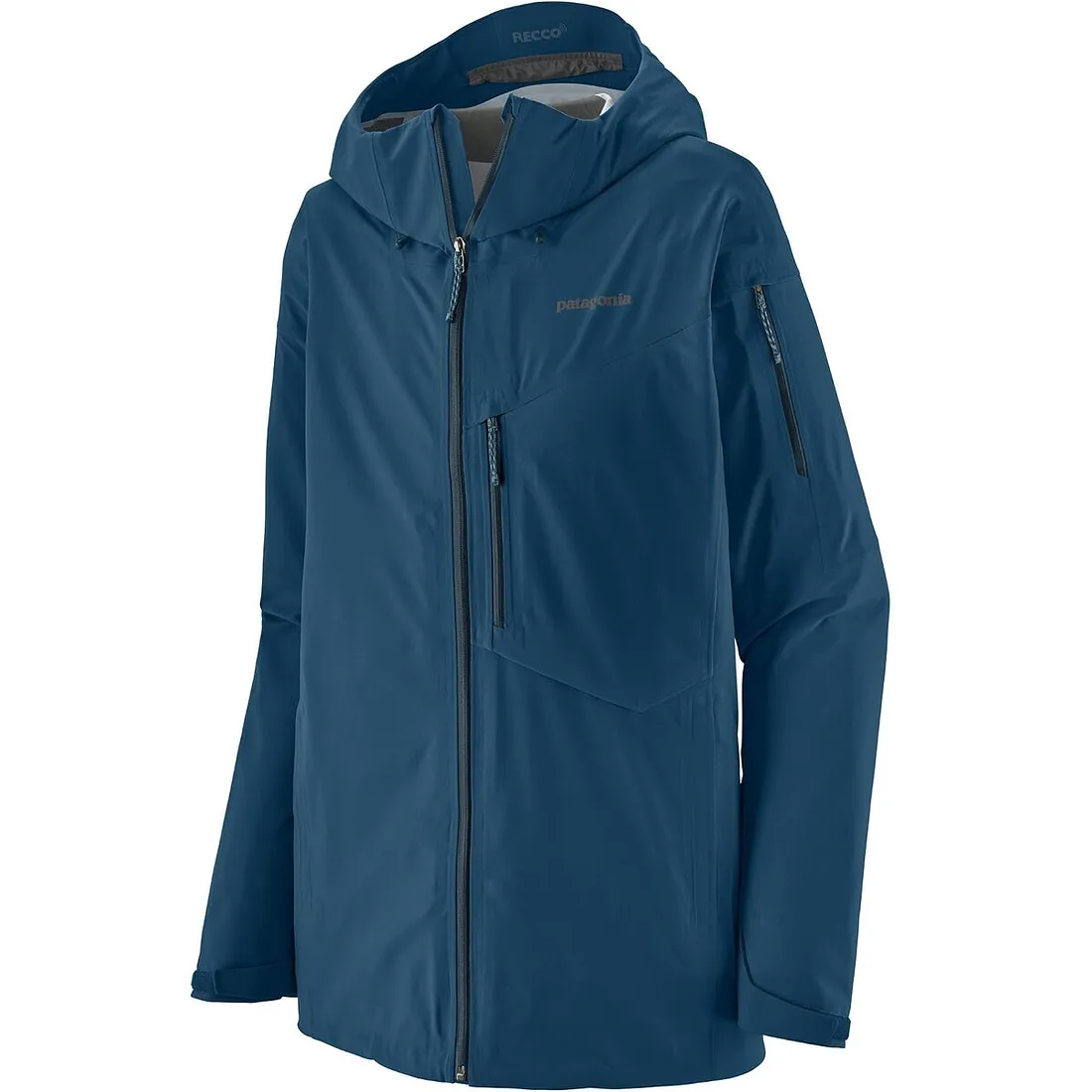 Reasons to Buy
Fantastic insulation

Weatherproof

Comfortable fit

Equipped with snow-specific features
Reasons to Avoid
A little pricey

May be bulky for some
The Important Specs
Material:

Stretchy 75% Nylon/25% Polyester fabric

Insulation:

Integrated

Waterproofing:

H2No© Performance Standard
Review Roundup
As every outdoor enthusiast knows, the key to a successful skiing trip is being prepared and part of that preparation involves choosing the right gear. Enter the Patagonia SnowDrifter Jacket - a top-of-the-line product in the world of women's ski jackets. This jacket is a reliable choice when embarking on backcountry skiing adventures, and many customers singing its praises highlight its dedication to durability and comfort.
One of the most highlighted features is its waterproof abilities. Many users have praised the SnowDrifter's 3-layer H2No Performance Standard hard shell for its top-notch ability to keep you dry in heavy snow and even rainy conditions. Rather than worry about the weather, you can focus on the thrill of the slope.
People also love the SnowDrifter for its warmth. The jacket uses a synthetic insulation that is both lightweight and highly efficient in conserving body heat, keeping you cozy as the temperatures drop. Some customers, however, felt the jacket could be a little bit warmer. They recommended layering for extremely cold conditions.
One more impressive feature that has been consistently highlighted is the jacket's breathability. The jacket's design encourages airflow, preventing you from getting overly sweaty during intense sessions or when the sun beats down.
Ski gear is not just about performance, it's also about practicality. Users appreciated the SnowDrifter's thoughtfully-placed pockets which are roomy enough for essentials and come with a dedicated slot for lift passes, making the jacket practical and convenient.
However, some reviewers mentioned that the jacket could benefit from a slightly longer cut in the back to protect against snow getting in during falls. It is a minor point, but worth noting for those who might be planning some more adventurous off-piste action.
On the whole, the Patagonia SnowDrifter Jacket has built a strong reputation for quality, performance and style among users. It's not just a functional piece of kit - it's also a fashion statement on the slopes, with its sleek design and selection of exciting colors.
Durability
Another point where Patagonia SnowDrifter shines is longevity. Ethernet outer material of this jacket is a durable blend of nylon and polyester. Owners say, even after seasons of use, the jacket looks as good as new. So, if you're someone who believes in 'buy it once and buy it right', this could be the jacket for you.
Insulation & Warmth
Feeling chilly? Not in a Patagonia SnowDrifter. With integrated insulation, this jacket is a champion of warmth. Countless online reviews sing praises of it keeping them toasty even in freezing conditions. And it manages to do it without making you feel like a wrapped up burrito. Now that's what we call a winter win.
Snow-Specific Features
Beyond the basics, the SnowDrifter packs in features that are perfect for a day in the powder. It has a powder skirt to block out snow, underarm vents for a quick cool-down, and plenty of pockets for your gear. Shoppers have appreciated these thoughtful touches, making backcountry skiing even more enjoyable.
Value
Given all the high-performance features, buyers agree that the Patagonia SnowDrifter is worth its cost. Even though it's on the higher end price-wise, the jacket offers stellar performance and durability that should last you several seasons of snow fun. Remember, a reliable jacket is an investment in those priceless mountain adventures.
Weatherproofing
There's a lot to praise about the Patagonia SnowDrifter Jacket - especially when it comes to keeping out the elements. Buyers rave about its H2No© Performance Standard shell, which keeps you dry by blocking out wind and water. Pretty rad for those snowy days on the slopes.
Prices