Quick heads-up: some of the links on this page are affiliate links. If you make a purchase through them, we may earn a small commission (at no extra cost to you). This small bit of income helps keep our site running.
Best Winter Jackets for Men of 2023
This post was last updated on December 06, 2023.
Looking for the Women's version of this post? We've got you covered: Best Winter Jackets for Women of 2023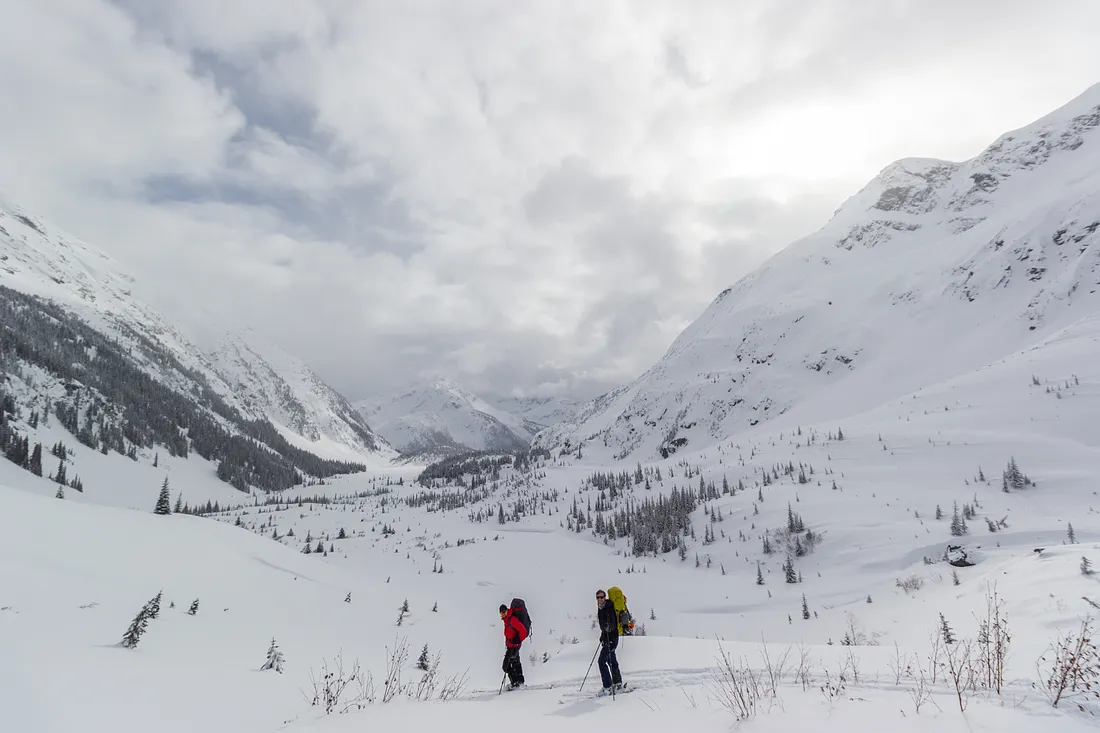 When the winter reality drops, a good jacket can be the line between enjoying the season's outdoor adventures or pledging a fealty to your heater. Be it your mountaineering pursuits, an ultralight trek, or the lifestyle trend around your neighborhood, a quality winter jacket becomes crucial. Meet the North Face McMurdo Parka III, arguably the best winter jacket for men out there, keeping you warm and dry without drilling a hole in your pocket.
Constructed with superior insulation and waterproofing technology, the McMurdo Parka III offers the perfect oasis in the avalanche of winter chill. It strikes an ideal balance between breathability and ventilation, ensuring you don't feel like a walking sauna. A snug fit that doesn't compromise your tryst with fashion, robust to endure your adventurous pursuits, and offering a great bang for your buck, this jacket meets all criteria for being a top-notch winter ally.
Nevertheless, we understand that choices often vary, based on your specific needs or budgetary considerations. So, let's take a brief detour and discover two other excellent alternatives. And for those who are particularly interested in the rain, down or hardshell jackets, we've also got you covered. Explore our guides on the Best Rain Jackets for Men, Best Down Jackets for Men and Best Hardshell Jackets for Men.
Our Top Recommendations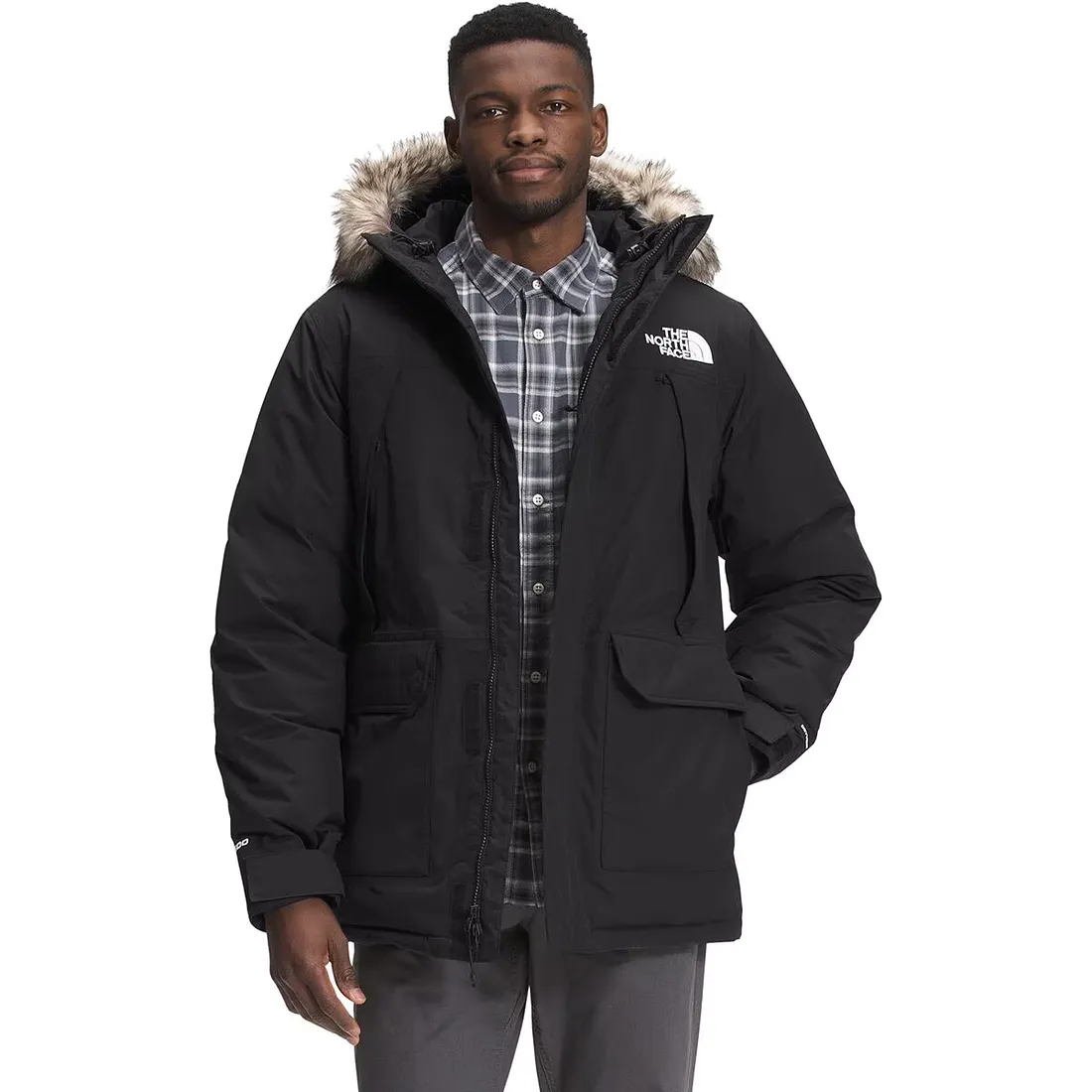 The North Face McMurdo Parka III
The North Face McMurdo Parka III earns the top pick for its warm insulation and waterproof features that users praise for keeping them comfortable in even the coldest, wettest winter conditions.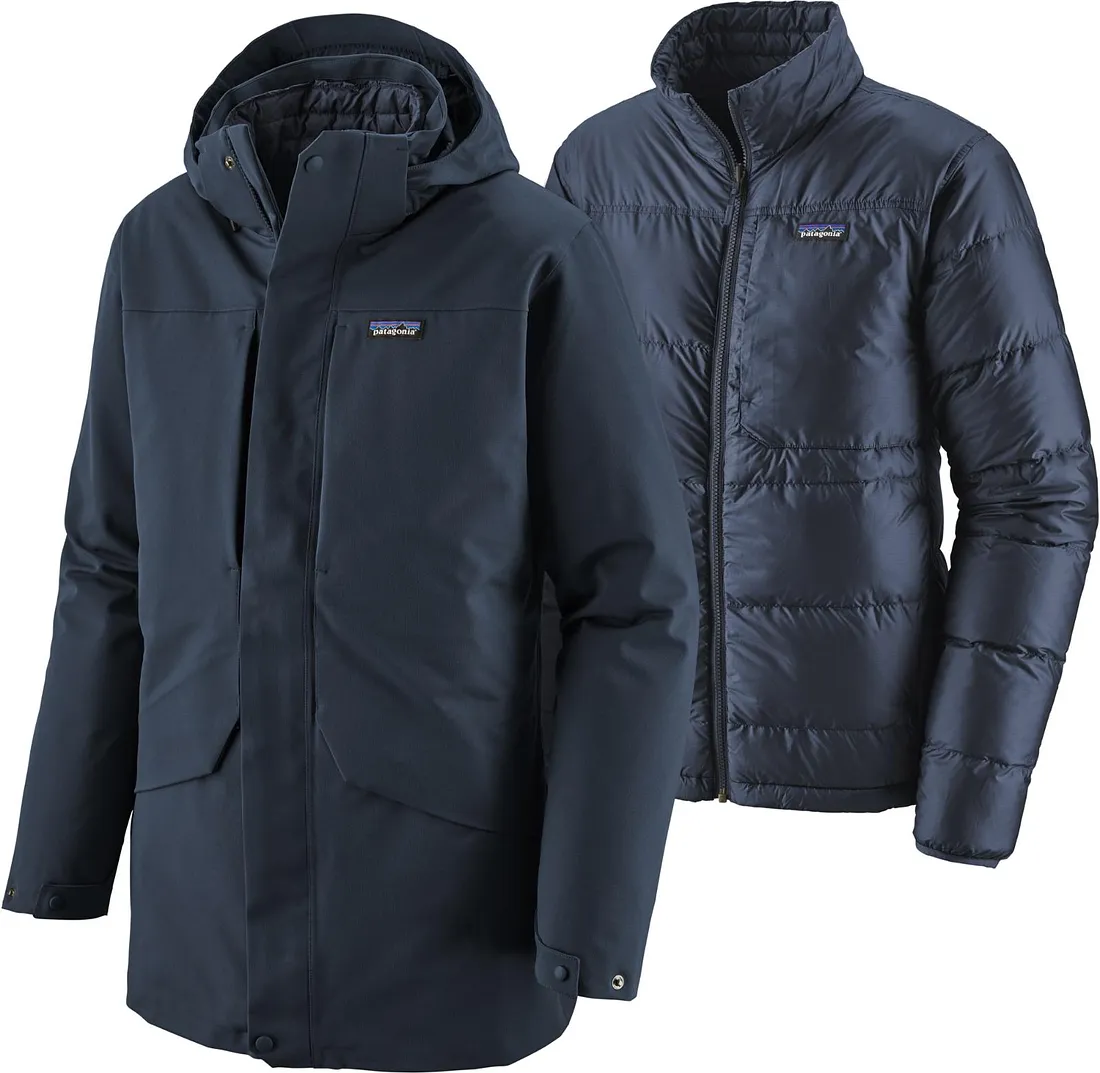 Patagonia Tres 3-in-1 Parka
The Patagonia Tres 3-in-1 Parka is a top pick due to rave reviews about its superior warmth, unbeatable versatility with its removable liner, and impressive waterproof capabilities that make it a trusty companion for any winter adventure.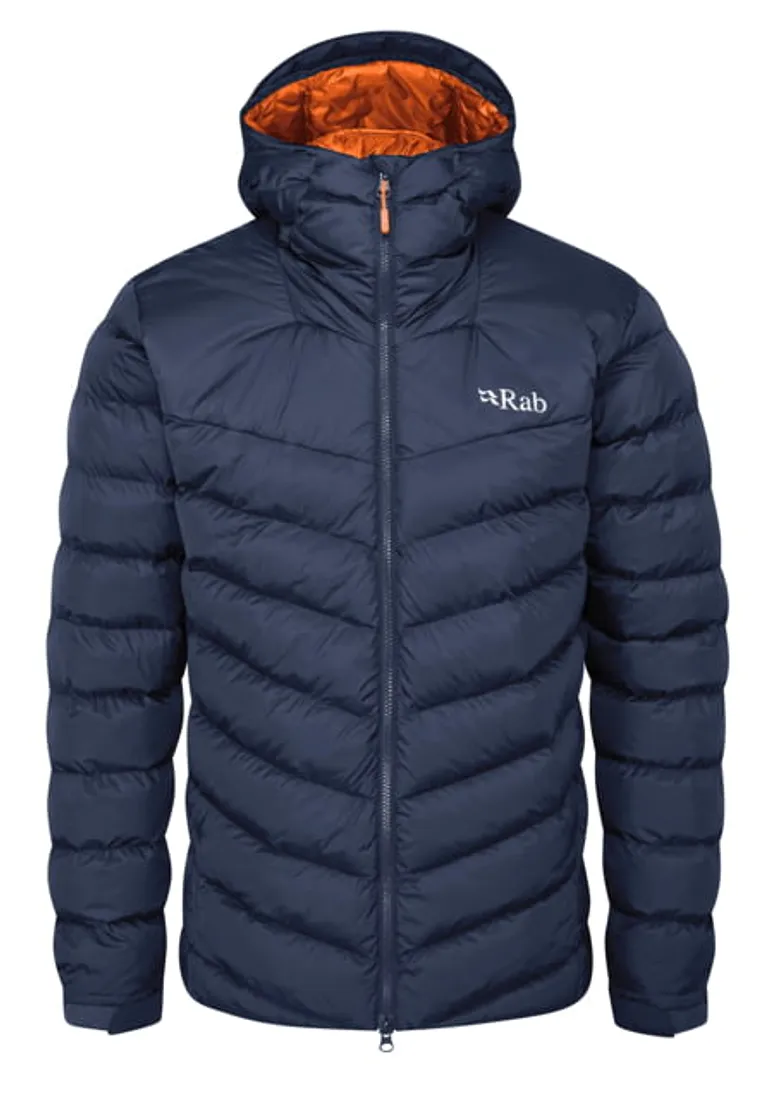 Rab Neutrino Pro Jacket
Rab Neutrino Pro Jacket takes the top pick runner up spot because users rave about its superior warmth-to-weight ratio and how effortlessly it packs down, making it a winter essential for those on the go.
What you should look for
(and what we test for)
Breathability
Find a winter jacket that strikes the right balance between keeping you warm and allowing sweat to escape, because when you're pushing the limits on a frost-tipped trek, breathability can provide the comfort you need.
Insulation Type
Focus on the type of insulation, such as down or synthetic material, and keep in mind that while down provides superior warmth and packs down well, synthetic insulation performs better in wet conditions.
Fit and Mobility
When choosing a jacket, make sure it's the right size to allow layering underneath, but also offers excellent mobility for activities like climbing or setting up a tent.
Weather Resistance
Don't underestimate the power of a good weatherproof jacket; Gone are the days when a grey sky would halt your adventure, a jacket with a high-quality waterproof or water-resistant material will keep you dry in snow and rain.
The North Face McMurdo Parka III
$399.95
The Best Men's Winter Jacket
Based on our research and testing, we think the The North Face McMurdo Parka III is the best Men's Winter Jacket on the market right now, for anyone looking to play hard outside.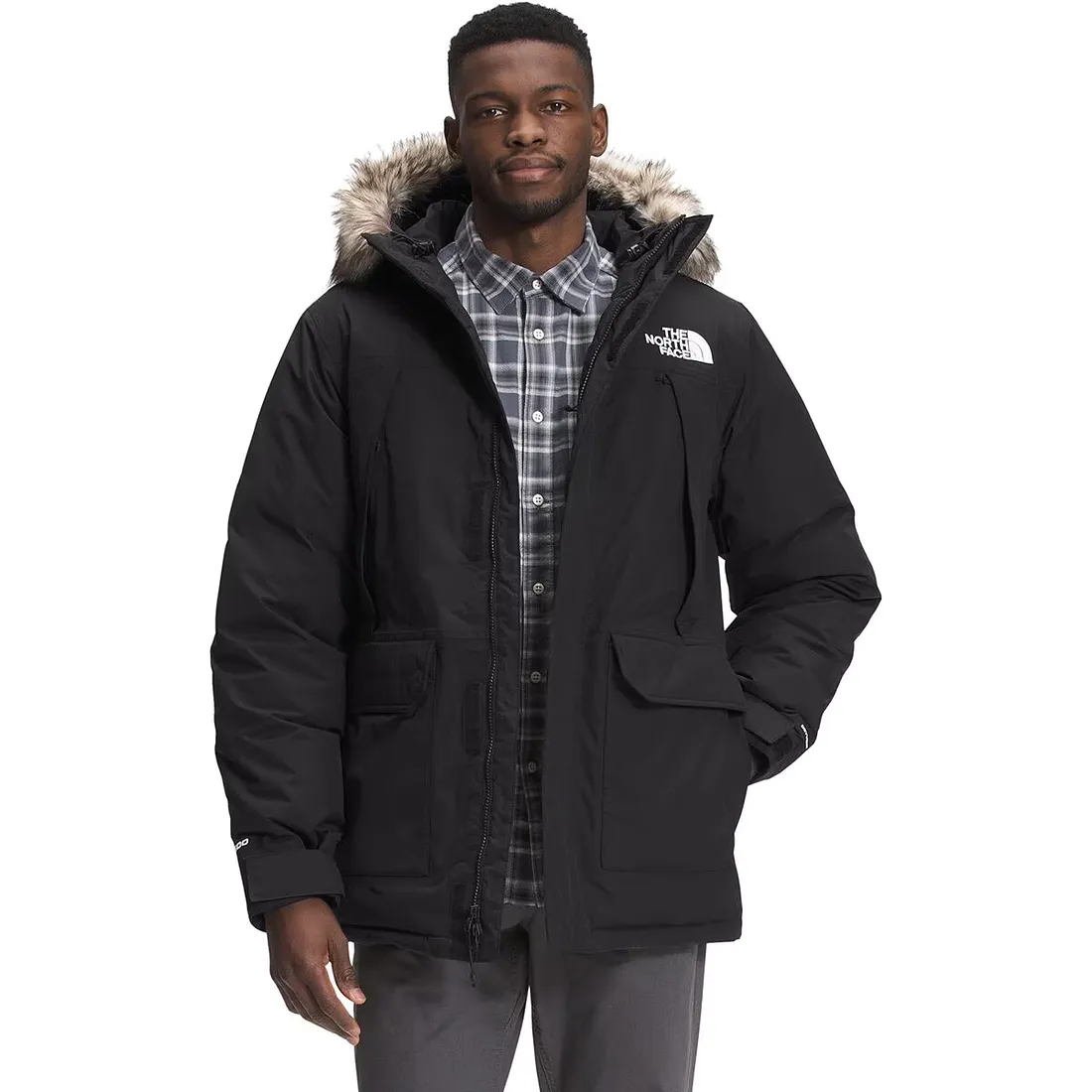 Reasons to Buy
Heavy-duty insulation for extreme cold

Offers excellent protection from wind

Multiple pockets for storage

Detachable faux fur ruff

Down-insulated hood
Reasons to Avoid
May feel bulky

Style may not suit everyone

Not ideal for mild winter weather
The Important Specs
Fit:

Relaxed fit

Hood:

Down-insulated, removable

Material:

Polyester

Insulation Type:

550 fill goose down
Review Roundup
Dropping temperatures and flurries of snow are no match for The North Face McMurdo Parka III. This winter jacket is a real game-changer when it comes to braving the cold, making it an ideal choice for those who love their winter activities or live in chilly climates.
Why this particular coat? Well, it's loaded with features that amp up its warmth factor. First up, its 550-fill down insulation translates into impressive heat retention. Even in the coldest of weather, users report being snug as a bug in this hearty parka.
Next up, there's the fully waterproof exterior. Bitter winds and unexpected snow showers are effectively kept at bay, thanks to its DryVent 2L fabric. Many users have commented on this fabric's resilience, even in downpours or heavy snowfall, ensuring you stay dry inside.
The design of the McMurdo Parka III also warrants recognition. It encompasses a detachable faux-fur ruff on the hood, which provides extra protection against frosty weather, while also offering a certain style. The jacket also features numerous pockets, fit for your phone, wallet, and keys, making it a practical choice for everyday use and outdoor adventures alike.
On the flipside, some users have expressed that the parka might be a bit on the heavier side. But, given the impressive features and its focus on warmth and durability, this seems like more of a minor inconvenience than a deal-breaker.
In terms of sizing, reports suggest that the jacket runs true to size, but if you plan to layer heavily beneath it, it might be worth considering getting a size larger. A few users found the sleeves slightly long, but largely it seems to have a comfortable, roomy fit.
When it comes to the price, The North Face McMurdo Parka III may seem to be on the pricier end. However, buyers have reported that its outstanding performance, resilient build, and excellent warmth-to-weight ratio make it worth every penny.
Final thought: online reviewers have hands down endorsed this Parka from The North Face, noting its practicality, warmth, and style as standout features. Whether tackling a snowstorm, or just keeping comfortable on a frosty morning dog walk, this may be the all-rounder winter coat men have been looking for.
Breathability & Ventilation
Breathability can be a bit of a challenge with such a well-insulated coat. However, customers mentioned they didn't feel too overheated or stuffy, even after prolonged use, indicating satisfactory ventilation.
Durability
North Face products, including the McMurdo Parka III, are known for their durability. Customers have reported that the jacket holds up well over time, and it's robust enough to withstand harsh winter conditions without showing significant wear or tear.
Fit
This jacket offers a relaxed, comfort fit. It allows for layering underneath and provides good mobility. Some customers did caution it might feel a bit bulky, but most people appreciated the comfortable and spacey fit.
Insulation & Warmth
This jacket does not compromise on warmth. The goose down insulation keeps you comfortable even in severe cold. Customers were particularly happy with how the McMurdo Parka III stood up against freezing temperatures.
Value
For the quality, comfort, and warmth it offers, many customers find the McMurdo Parka III a good value. Despite its higher price tag compared to some other winter jackets, the long-term durability and insulation it provides justify the cost.
Waterproofing
The McMurdo Parka III also excels in keeping you dry. The DryVent shell on this parka is not only waterproof, but also repels snow and sleet. Owners have reported staying dry even in heavy snowfall and during wet winter storms.
Prices
Patagonia Tres 3-in-1 Parka
$599.00
Runner Up
Based on our research and testing, we think the Patagonia Tres 3-in-1 Parka is a great choice if you're looking for a men's winter jacket to go play hard outside with, if our top pick isn't quite what you're looking for.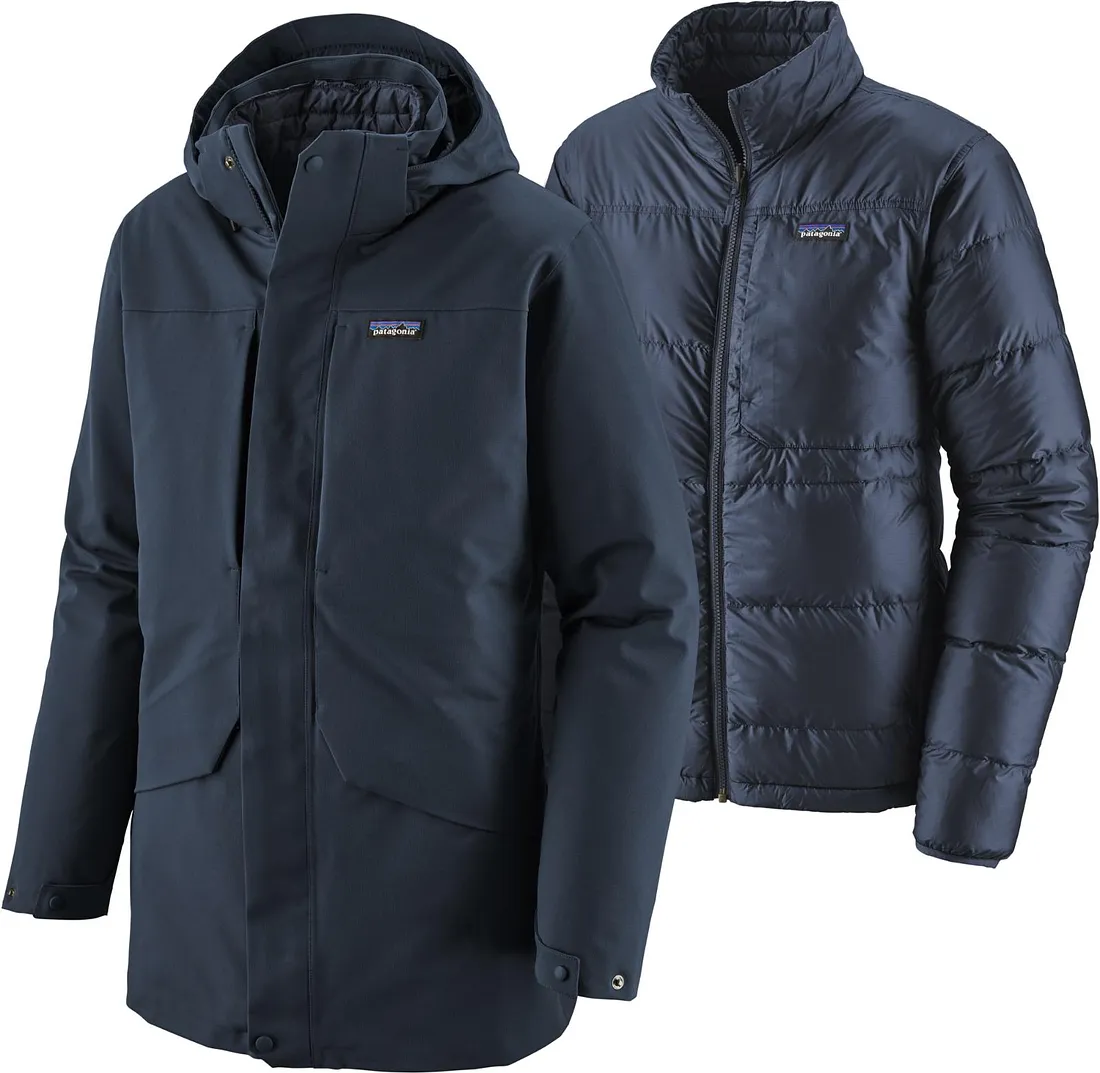 Reasons to Buy
Extremely versatile with 3-in-1 design

Impressive warmth and protection

High-quality, durable materials

Ideal for various winter conditions

Stylish urban-friendly design
Reasons to Avoid
Price point might deter some buyers

Bulkier than some expected

Occasional zipper issues reported
The Important Specs
Hood:

Removable; warm and adjustable

Materials:

H2No Performance Standard shell

Certification:

Fair Trade Certified sewn

Inner Jacket Fill:

60-g Thermogreen polyester

Outer Jacket Insulation:

700-fill goose down
Review Roundup
The Patagonia Tres 3-in-1 Parka is a real gem when it comes to winter jackets. It's a chameleon, ready to shift to match your needs no matter the weather. With its three-in-one design, you get an insulating down sweater, a waterproof shell and a toasty combination of both. Imagine getting three jackets for the price of one. That's a sweet deal, right?
Buyers rave about the parka's versatility. The sweater is warm enough for chilly mornings. But if the weather takes a turn for the worst, you can layer up with the shell or the combination for ultimate protection. It's like having a wardrobe of jackets at your fingertips!
The quality of this product is top-notch. People say it's sturdy, durable, and the materials scream luxury. The waterproof shell doesn't just repel rain and snow -- it's a tough shield against harsh winds too. Many reviewers comment that the down sweater is so cozy, it's like walking around with a heated blanket.
When it comes to style, the Patagonia Tres 3-in-1 Parka is hitting the bull's eye. It's got this place where functional design meets urban aesthetic. It's not your typical flourescent mountaineering coat -- it's sleek, modern, and city-ready. Looks like it's not just warmth you're getting with this parka, but also some solid style points.
So, you're thinking this parka sounds dreamy, right? But no product is perfect. A number of reviews remark on its hefty price tag. It's not a pocket-friendly jacket, for sure. But before you balk at the cost, remember you're getting three high-quality pieces.
Some folks also felt it's a bit heavy. Indeed, when all pieces are worn together, it has some weight. But considering the warmth you get, it might be the necessary trade-off. It's up to you to decide if you're prepared to carry a little extra for the sake of being warm.
Lastly, another gripe is the sizing. A few users find the fit a bit snug when all pieces are worn together. Looks like layering up with your favorite heavy sweater might be a tight squeeze.
Breathability & Ventilation
Despite packing ample insulation, the parka does not compromise on breathability. The inner Thermogreen polyester jacket is airy and wicks away body moisture efficiently, enhancing comfort during extended usage.
Durability
Durability is another strong point for this parka. The high-quality materials and the meticulous construction ensure a long-lasting product that can endure harsh weather conditions and regular wear and tear.
Fit
The jacket fits true to size for most users. However, a few customers found it to be slightly larger than expected. It allows for layering but not to an extent that compromises its sleek, urban-friendly look.
Insulation & Warmth
The Patagonia Tres 3-in-1 Parka is renowned for its insulation, harboring a warm and cozy feel. The 700-fill goose down in the outer jacket is among the highest-quality insulations you can find, and it works wonders in keeping the onslaught of winter chill at bay.
Value
While the Patagonia Tres 3-in-1 Parka comes at a steeper price than some of its competition, most users see it as money well spent due to its versatility, warmth, and longevity. Plus, its stylish look makes it not only a great outdoor jacket, but also a trendy winter coat for city use.
Waterproofing
The parka comes with H2No Performance Standard shell which provides impressive waterproofing capabilities. This is a critical feature that works effectively in keeping the user dry, especially in wet and snowy conditions.
Prices
Rab Neutrino Pro Jacket
$400.00
Runner Up
Based on our research and testing, we think the Rab Neutrino Pro Jacket is a great choice if you're looking for a men's winter jacket to go play hard outside with, if our top pick isn't quite what you're looking for.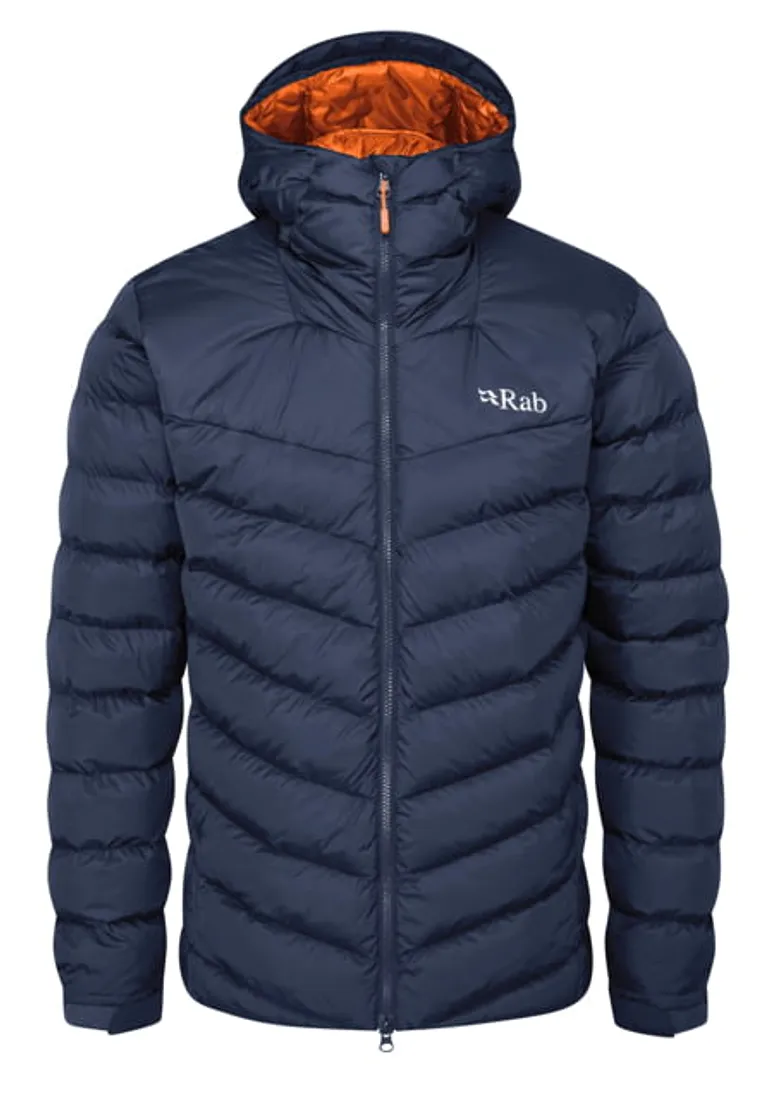 Reasons to Buy
Exceptional warmth

Highly weather-resistant

Comfortable fit

Durable materials

Excellent insulation
Reasons to Avoid
Expensive cost

Less breathable

Bulkier fit than some models

Limited color options
The Important Specs
Hood:

Helmet-compatible, down-filled

Pockets:

Two internal pockets, two external pockets

Zippers:

YKK zippers

Material:

Pertex Quantum Pro outer shell

Insulation:

800 fill power European goose down
Review Roundup
The Rab Neutrino Pro Jacket is a fantastic selection for those seeking comfort and durability in winter conditions. With its hard-wearing and water-resistant Pertex Quantum Pro outer fabric, it boasts reliable resilience against harsh weather conditions.
Packability is a key feature with this jacket. The Rab Neutrino Pro does an excellent job compressing down to a convenient size, making it ideal for backpacking or climbing trips where space is a premium.
The warmth-to-weight ratio of this jacket impresses most users. This can largely be attributed to the top-quality 800 fill-power European goose down, which ensures significant warmth without adding unnecessary bulk.
But it's not just about warmth, the jacket also has a considerate design that enhances practicality. The hood fits over climbing helmets comfortably while the two-way front zipper allows for flexibility and ventilation when needed.
For storage, the Rab Neutrino Pro efficiently accommodates essentials across its pockets: two large hand-warmer pockets and an internal pocket. This gear has just enough space for a pair of gloves, a phone, or a small snack.
Some online reviews have discussed the beauty of the elasticated cuffs, which help in sealing in warmth and keeping out cold drafts. Also mentioned is the generous length of the jacket, providing a desirable coverage of the body.
There have been a few concerns, however. Some buyers have commented on the fit being slightly larger than expected. Others have noted the jacket's clumpiness when wet, and a few mentioned the price being on the steeper side.
This Rab jacket is certainly one that has impressed users with its high functionality and has been commended for its versatility, be it mountaineering, backpacking, or simply strolling in the city during cold seasons.
Breathability & Ventilation
Although the Rab Neutrino Pro efficiently retains heat, it has been critiqued for its lack of breathability. Some reviewers have mentioned overheating during more strenuous activities, indicating it might not be the best choice for high-intensity outdoor pursuits.
Durability
The jacket's high-durability is one of its standout features, according to users. With its robust outer shell and quality down insulation, it is designed to stand up to rigorous use. The stitching and zippers are also reported to be sturdy and long-lasting.
Fit
The Rab Neutrino Pro is recognized for its comfortable and generous fit. It allows for ease of layering without feeling overly tight or restrictive. Some individuals, however, mentioned that the fit tends to be slightly bulkier compared to other high-performance jackets on the market.
Insulation & Warmth
The Rab Neutrino Pro Jacket is jam-packed with 800 fill power European goose down, providing superior insulation and ultimate warmth even in harsh winter conditions. This warmth does not add overbearing bulk to the design, with many users expressing satisfaction with the comfortable amount of insulation.
Value
There is no question that the Rab Neutrino Pro is an investment piece, given its high-end price tag. However, numerous users have praised its premium warmth, durability, and weather-resistance, indicating that they consider it to be a worthwhile purchase for those who regularly need robust winter protection.
Waterproofing
The Pertex Quantum Pro outer shell offers impressive water-resistance. Numerous customers reported remaining dry during showers and snowfall. However, it is worth noting that this jacket is not marketed as fully waterproof, and persistent rain may break through the shell over time.
Prices
REI Co-op Stormhenge Down Hybrid Parka
$279.00
Best Budget Men's Winter Jacket
Based on our research and testing, we think the REI Co-op Stormhenge Down Hybrid Parka is a great pick if you're looking for a men's winter jacket that is more budget friendly, without sacrificing too much in quality.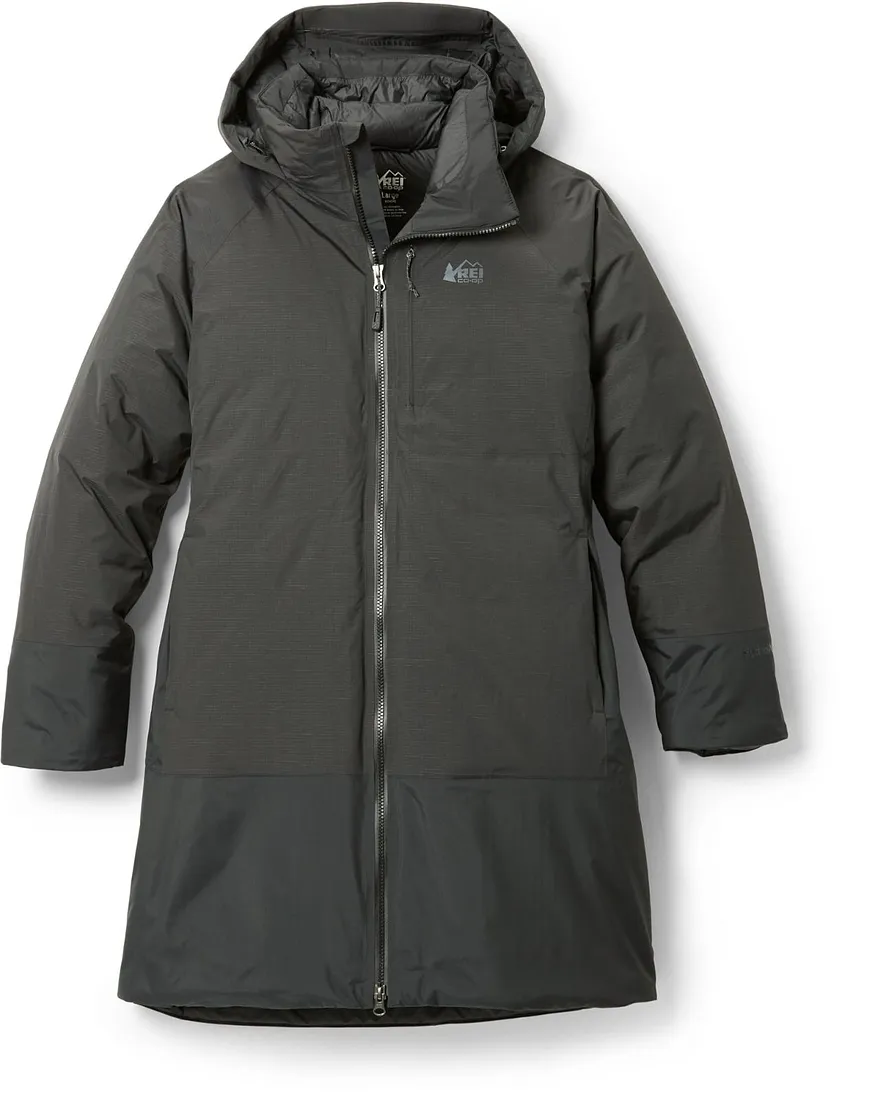 Reasons to Buy
Comfortable and warm fit

High-quality materials

Great value for money

Effective insulation

Fashionable design
Reasons to Avoid
Might be too bulky for some

Lack of chest pocket

The large hood can obstruct peripheral vision when fully zipped
The Important Specs
Hood:

Adjustable, insulated hood

Length:

Hip length

Pockets:

Internal zip pocket, hand warmer pockets

Materials:

700-fill-power goose down and synthetic insulation
Review Roundup
The REI Co-op Stormhenge Down Hybrid Parka won our hearts in the budget-friendly category. When it comes to buying a super warm winter jacket that doesn't break the bank, this one stands out from the crowd.
The exterior shell is durable and water-resistant, allowing it to withstand moderate rainfall and snowfall with ease. However, some online users have brought up that the water resistance could be stronger, as the jacket tends to soak through in heavy precipitation.
The parka features a 850-fill-power goose down, which provides incredible insulation. It is also crafted with synthetic insulation in the hood and shoulders to help retain warmth even when these areas get wet. However, a handful of online reviews mentioned that while the jacket is extremely warm in most regions, the insulation in the arms seems to be slightly lacking.
One of our favorite features of the Stormhenge Down Hybrid Parka is its packability. It can easily be stuffed into a backpack, making it a great option for winter hikes or camping trips. Although, some buyers have noted that the jacket can be a bit bulky when fully packed, taking up more space than they expected.
The parka's aesthetics are also worth mentioning. It has a street-friendly design, and is available in several attractive colors. While most customers praised the design, a few pointed out that the fit is a bit boxy, which might not be to everyone's liking.
Finally, consumers loved the numerous conveniently located pockets this jacket offers. It features both interior and exterior pockets, along with hand warmer pockets to keep your fingers toasty in harsh winter weather. But be aware: some online reviewers have reported issues with zippers getting stuck or breaking after repeated use.
Breathability & Ventilation
Though a parka, the Stormhenge offers decent room for breathability, thanks to the synthetic insulation that allows a certain degree of ventilation. Some users did express concerns over overheating during strenuous activities, but the jacket was largely found to maintain a comfortably warm internal temperature even in cold weather.
Durability
The product is very well received in terms of durability. The nylon shell is sturdy and stands up well to wear-and-tear. Though there have been a few mentions of loose stitching, the majority of users find this parka to be reliable and long-lasting in harsh weather conditions.
Fit
The Stormhenge comes in a range of sizes, ensuring a good fit for most men. The hip-length design combined with an adjustable hem and cuffs offers additional fit customization. Some users, however, did mention that the jacket felt slightly bulky due to its insulated design.
Insulation & Warmth
The REI Co-op Stormhenge Down Hybrid Parka ensures it's got your back in the chilliest of weathers. It's insulated with 700-fill-power goose down and synthetic insulation, creating an effective heat shield that users can rely on. The majority of online reviews praise the jacket's ability to keep them warm in sub-zero temperatures without overheating.
Value
Given the blend of down and synthetic insulation, waterproofing, and durability, most reviewers agree that this winter coat offers great value for the cost. It's not the cheapest on the market, but for the functionality and performance it offers, many see it as an investment worth making.
Waterproofing
When it comes to protecting you from the elements, this jacket certainly hits the mark. The DWR finish coupled with the storm flap over the zip fastening helps to keep the winter rain and snow at bay. Online users reported staying dry even in heavy snowfall.
Prices
Mountain Hardwear Ghost Whisperer/2
$330.00
Best Ultralight Men's Winter Jacket
Based on our research and testing, we think the Mountain Hardwear Ghost Whisperer/2 is a solid choice for those looking for a lightweight men's winter jacket option to go play hard outside with.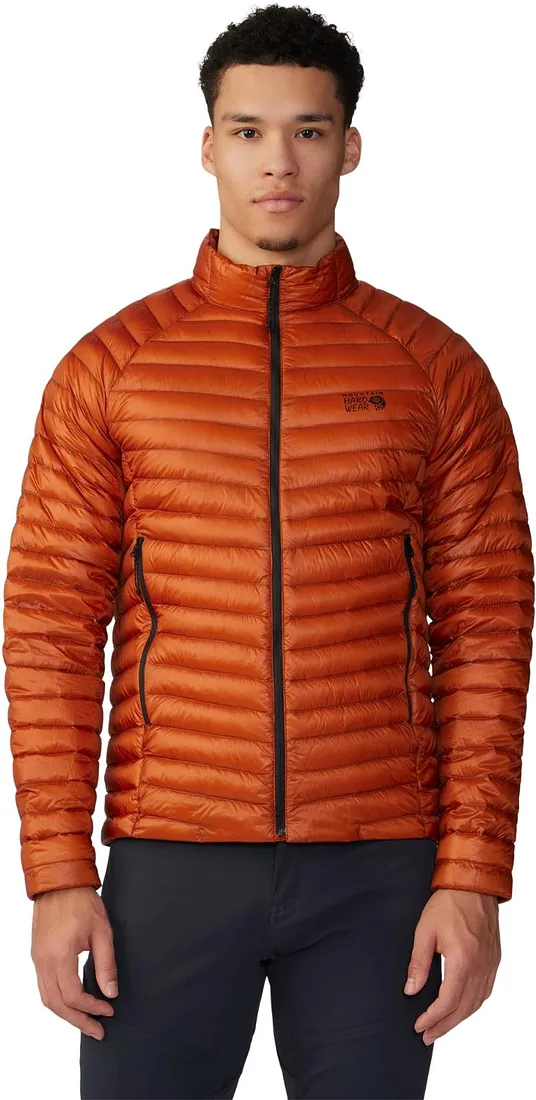 Reasons to Buy
Super warm and toasty

Feather-light without sacrificing insulation

Compressible design makes it perfect for packing

Water and wind-resistant
Reasons to Avoid
May run slightly large for some

Pricey compared to other ultralight jackets

Not fully waterproof for heavy rains
The Important Specs
Pockets:

Two hand pockets and one internal pocket

Material:

Recycled ripstop nylon shell and lining

Insulation:

800-fill power Responsible Down Standard (RDS) certified down

Closure Type:

Center front zip
Review Roundup
Mountain Hardwear's Ghost Whisperer/2 takes the throne when it comes to ultralight winter jackets, offering warmth without the weight. The jacket is renowned for its remarkable balance of lightness, warmth, and durability.
The Ghost Whisperer/2's design is a masterclass in minimalist design. It's crafted to be extremely lightweight and slim, yet every detail speaks to thoughtfulness and precision. It features a 100% recycled ripstop shell that is water-resistant to shake off light rain and snow showers.
This high-end jacket comes packed with 800-fill goose down insulation. While it might not be the thickest snow jacket around, it definitely does a fantastic job of trapping heat and keeping the frosty winds at bay. If you're an avid winter hiker or backpacker, you'll appreciate how toasty it can keep you without slowing you down.
A vital feature noted by many reviewers is its affinity for packability. With an ability to compress down into its own pocket, the Ghost Whisperer/2 is a dream come true for anyone wanting to save space in their backpack and lighten their load.
Furthermore, the elastic cuffs and cinchable hem help keep the warmth in, a feature that many buyers found practical in keeping out unpredictable winter gusts.
While the Ghost Whisperer/2 garners high praise for its weight and warmth characteristics, it is important to note that this jacket is not made for extreme weather conditions. Some users noted that it falls short in heavy, constant rain or snowfall, so an additional shell might be necessary for such instances.
One common critique is the jacket's dearth of pockets; it only features two hand pockets. So if you tend to carry around multiple items, it might be a bit inconvenient.
Lastly, this high performance comes with a notable price tag – something than many users have noted. Yet, a fair number suggest that the investment is worthwhile for frequent outdoor adventurers due to its light weight, warmth, and packability.
Breathability & Ventilation
For a down jacket, the Ghost Whisperer/2 surprisingly stands out in terms of breathability. User reviews often highlight its ability to resist overheating even during strenuous activities, all thanks to its active fit and lightweight nature.
Durability
The Ghost Whisperer/2 is praised for its durability, from its ripstop material construction to its ability to resist the usual wear and tear associated with outdoor activities. However, the lightweight nature of the jacket means it's not invincible and can be prone to snagging if not treated with care.
Fit
Many users find the fit to be generally true to size, even considering layering. However, a few users feel it runs slightly larger which may be something to consider before buying. That said, most agree on its comfort and ease of movement, even in rigorous activities.
Insulation & Warmth
Raved about by users for its insulation abilities, the Ghost Whisperer/2 offers exceptional warmth for its light weight. Thanks to its 800-fill responsibly sourced down, it keeps the wearer toasty even when the temps start to drop considerably. Despite its ultralight design, it does not skimp on keeping you warm.
Value
Despite its higher price point, many users consider it worth every penny, citing the jacket's warmth, lightness, and compressibility as top-notch. However, if you are on a budget, its higher cost might be a deterrent. Still, for those who value performance over price, it's often seen as a worthy investment.
Waterproofing
While the jacket provides decent protection against light showers, users have noted that it's not entirely waterproof when it comes to heavy downpours. Its DWR (durable water repellent) finish does offer a good level of wind resistance, which is a definite plus for harsh, windy weather.
Prices
Arc'teryx Alpha SV Jacket
$900.00
Best Men's Winter Jacket for Mountaineering
Based on our research and testing, we think the Arc'teryx Alpha SV Jacket is a solid choice if you want a men's winter jacket that's really well suited to Mountaineering.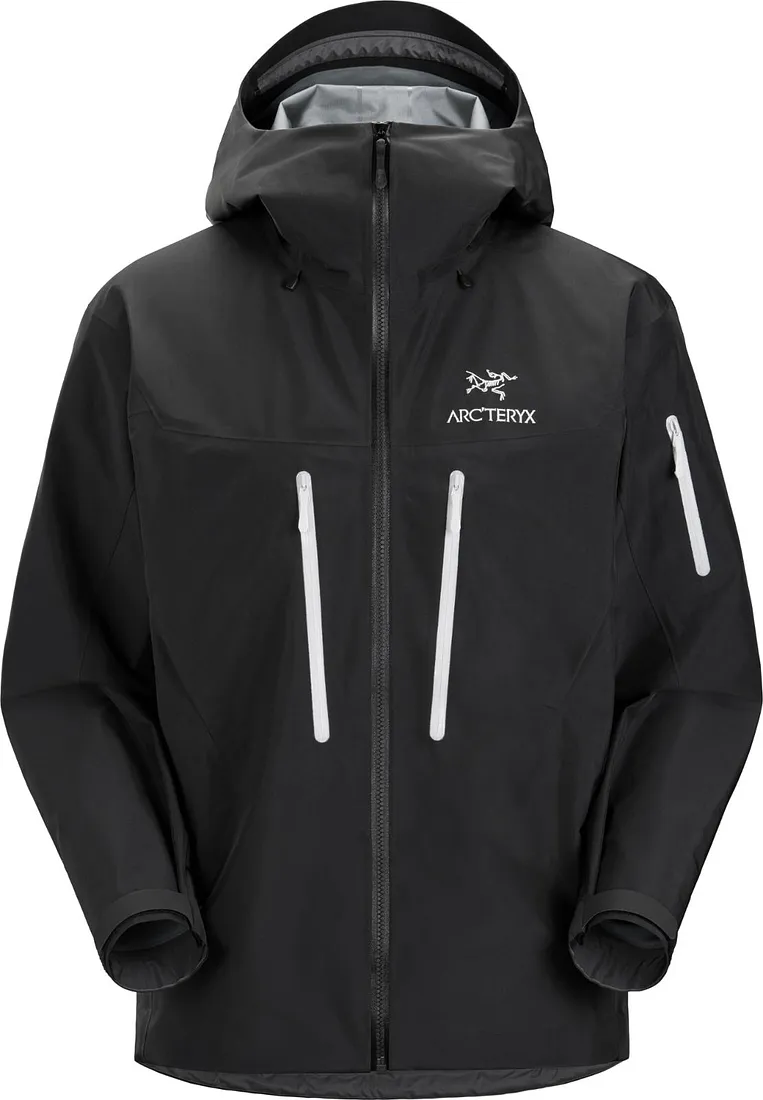 Reasons to Buy
Outstanding weather protection

Superb durability

Excellent ventilation and breathability

Fantastic insulation and warmth

Great fit for layering
Reasons to Avoid
Quite pricey

Heavier compared to competitive products

Limited color options
The Important Specs
Fit:

Regular with e3D, hip length

Care:

Machine washable

Lining:

Nylon

Pockets:

Two internal chest pockets, one left bicep pocket

Material:

N100p-X 3L GORE-TEX Pro
Review Roundup
Kicking off with the Arc'teryx Alpha SV Jacket, this beast of a jacket is specifically built for hardcore mountaineering. No matter if you're navigating through thick snowfall or wrestling with the gusty winds, this jacket stands tall and fights back.
Made from the robust N100p-X 3L Gore-Tex Pro, the outer shell offers unbeaten weather protection. The fabric is durable and is resistant to both tear and abrasion. It's like wrapping yourself with a mini, mobile fortress that shields you against whatever winter throws your way.
One thing that users rave about is its pill-free feature. Even after trekking through scratchy branches or rubbing against rough surfaces, this jacket doesn't pill. You would still look as dapper as you were at the start of the adventure.
Another highlighted feature is its exceptional breathability. While the jacket keeps the chill at bay, it doesn't turn you into a portable sauna. It effectively manages the body moisture and allows you to stay both dry and comfortable.
Adjustable storm hood with a laminated brim gives further protection against foul weather. It's helmet-compatible too, perfect for those adventurous souls planning to ascend the icy peaks.
Moreover, customers appreciate the accessible and roomy pockets. The jacket comes with an external chest pocket and two internal laminated pockets providing ample space for storing essential gear. So you can stash away everything from your map to a candy bar ensuring they're within easy reach.
Furthermore, the WaterTight Vislon front zipper adds another layer of waterproofing. The new zipper design offers smooth operation, thus enhancing the usability of the jacket. However, some users did mention that operating the zipper with chunky gloves could be a bit tricky.
Considering the jacket's arm articulation, thus far, reviews are leaning more towards the positive. People find it easy to move around freely without feeling trapped in an unrelenting shell.
Talking about its price tag, it does seem a bit steep for some customers. But many argue that you're not just purchasing a jacket, but you're investing in an armor that would last you for seasons to come.
Lastly, with a weight of around 17.3 ounces, this mountaineering marvel strikes a good balancing act between weight and warmth. Some users, however, wish for a slightly lighter version without compromising on the warmth factor.
Breathability & Ventilation
Real-world customers were also impressed by the jacket's breathability. Thanks to its pit zips, the jacket easily keeps ventilation at an optimum level, even during vigorous activities. This means less sweat build-up, contributing significantly to overall comfort.
Durability
Praised repeatedly for its durability, customers are impressed by the Alpha SV's ability to withstand harsh weather conditions and rough treatment. Its rugged construction ensures it holds up superbly, providing an enduring companion for any outdoor adventure.
Fit
Many users praised the jacket's fit. The Arc'teryx Alpha SV features a Regular with e3D fit that offers more room for layering. This is particularly useful in freezing conditions when additional layers of clothing are needed. Though some users have remarked it is a little roomy, most have found it doesn't compromise movement.
Insulation & Warmth
Crafted with a sturdy N100p-X 3L GORE-TEX Pro material, this jacket promises exceptional protection against cold weather. Many consumers have lauded its stellar insulation performance, as it locks in heat efficiently to keep you warm. However, it does not come with built-in insulation, meaning that users may have to layer depending on the temperatures.
Value
Despite carrying a pretty hefty price tag, many buyers have vouched for its value. They have justified its high cost with the jacket's robust features, high quality materials, outstanding performance, and long-term durability. However, budget-minded shoppers might want to explore alternatives.
Waterproofing
An outstanding feature of the Arc'teryx Alpha SV Jacket is its waterproof capabilities. Users rave about its GORE-TEX Pro fabric, which handles storms and heavy downpours with ease. The material effectively repels water, ensuring that your upper body remains dry.
Prices