Quick heads-up: some of the links on this page are affiliate links. If you make a purchase through them, we may earn a small commission (at no extra cost to you). This small bit of income helps keep our site running.
Best Softshell Jackets for Women of 2023
This post was last updated on December 06, 2023.
Looking for the Men's version of this post? We've got you covered: Best Softshell Jackets for Men of 2023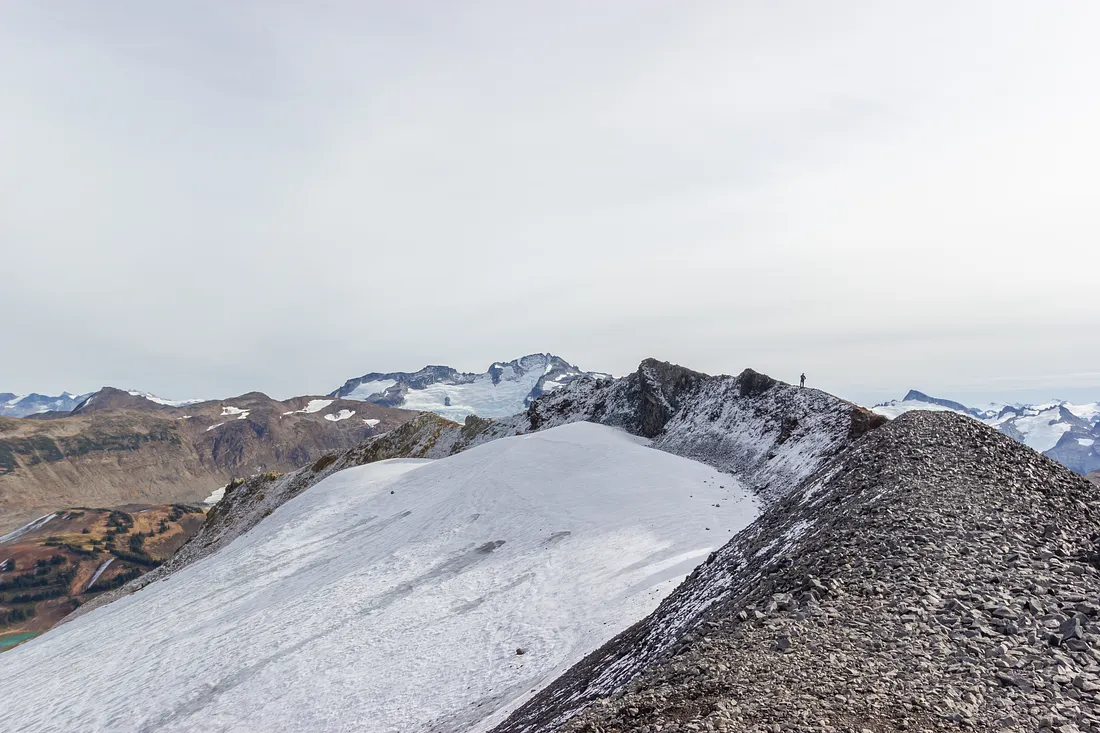 Venture outside on a blustery day, and you'll know the importance of a reliable softshell jacket. They're the unsung heroes of the outdoors - designed to withstand wind, fight off a splash or two of rain, and still manage to keep you comfy. In the vast field of outdoor gear, the Arc'teryx Gamma Hoody takes the crown for the best softshell jacket for women with its perfect blend of resistance, durability and comfort.
This beauty comes with some noteworthy runners-up and also some top picks for specific categories such as budget and backcountry skiing. Each piece of gear is evaluated on many fronts, including wind resistance & breathability, water repellency and durability. It's also assessed for its comfort, fit and overall value, giving us a well-rounded perspective of their performance.
While you're bundling up, don't miss our picks of the best women's jackets for various weather conditions. Check out our guides on the best rain jackets, the premium down jackets, and the top winter jackets for women. Now, let's deep dive into the world of the softshell jackets and find the perfect one for you.
Our Top Recommendations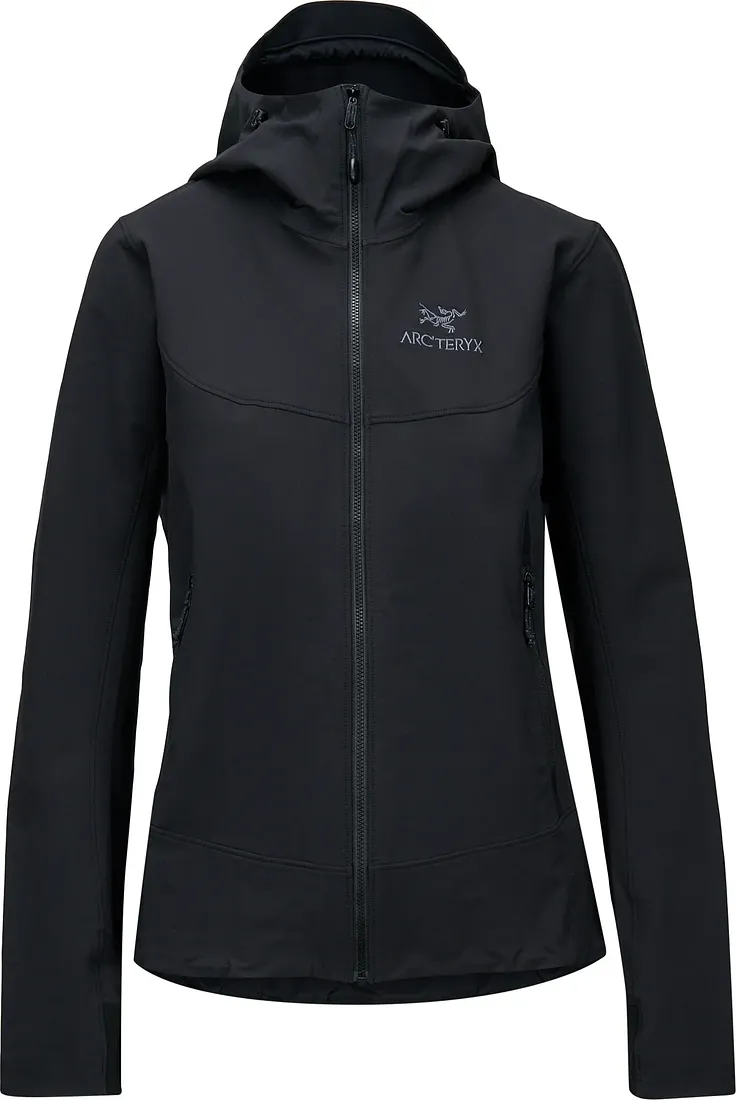 Arc'teryx Gamma Hoody
The Arc'teryx Gamma Hoody Jacket is our top pick due to its exceptional breathability and weather resistance, praised by users for keeping them comfortable in a variety of outdoor climates.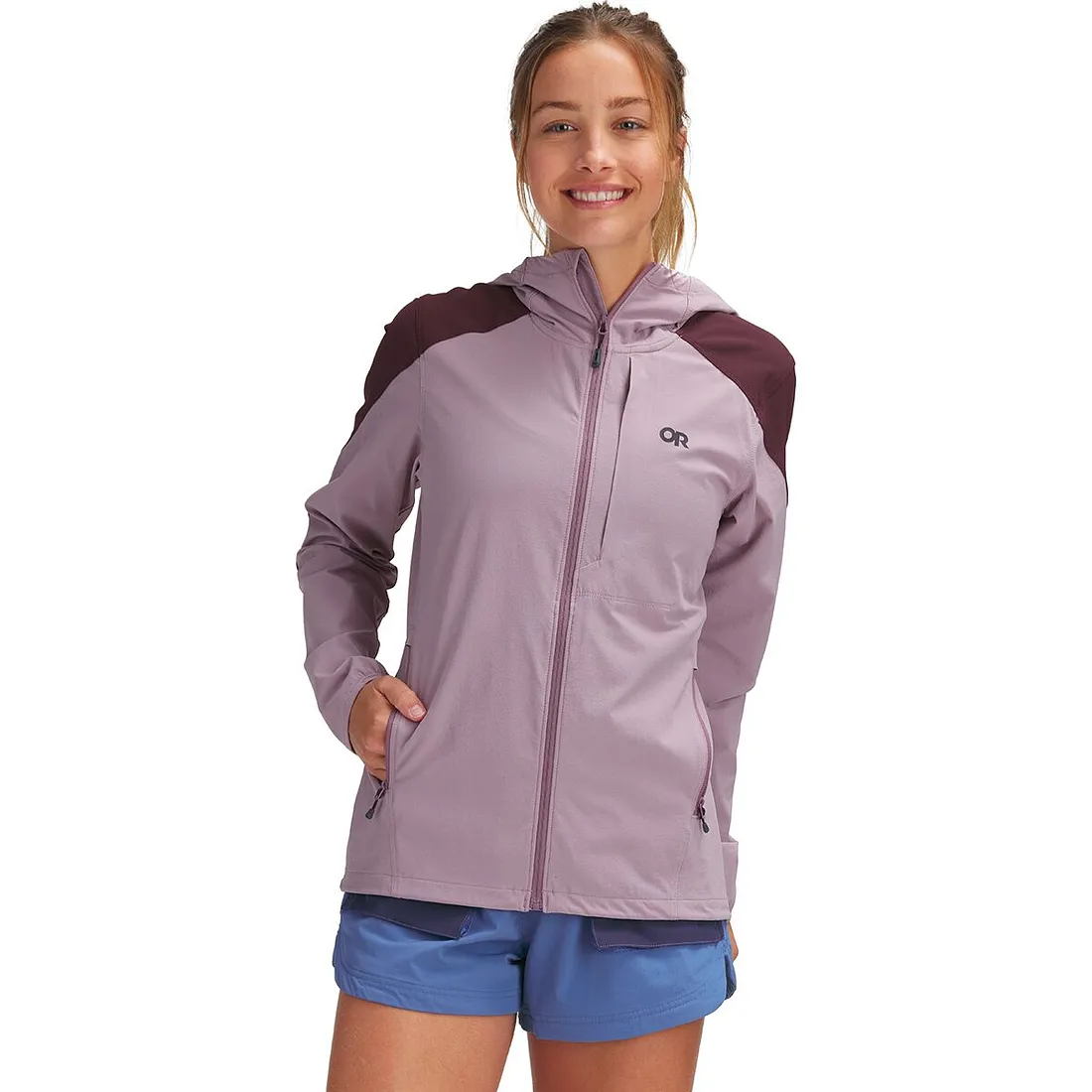 Outdoor Research Ferrosi Hooded Jacket
The Outdoor Research Ferrosi Hooded Jacket is hailed as a top pick due to its remarkable lightweight breathability and resilience, with users consistently praising its robust wind resistance and flexible stretch fabric for unrestricted movement.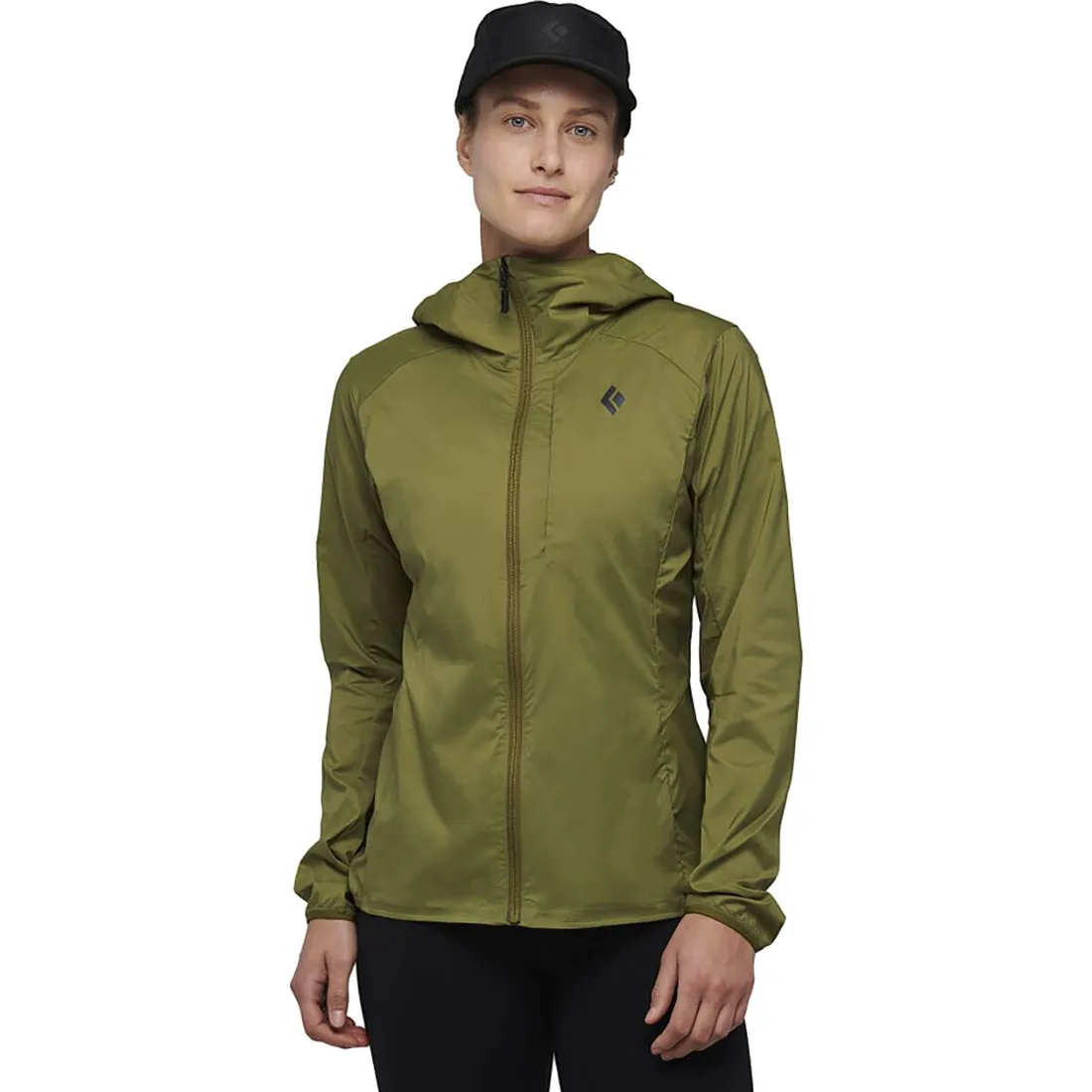 Black Diamond Alpine Start
The Black Diamond Alpine Start secures its spot as the top pick runner up due to rave user reviews that praise it for its impressive breathability and featherlight weight, making it a standout choice for hikers and climbers alike.
What you should look for
(and what we test for)
Fit and Mobility
Remember to look for a jacket that's fitted, but also allows enough wiggle room to maneuver easily during a climb, hike, or setting up camp.
Weather-Resistance
Given the unpredictability of outdoor elements, achieve the best level of comfort by ensuring your jacket can ward off wind, handle light rain, and provide warmth during sudden temperature drops.
Material Breathability
Always consider the breathability of the jacket because during activities like climbing or hiking, you want material that allows sweat to evaporate, keeping you comfortable and dry.
Durability and Versatility
Considering the rough treatment during outdoor adventures, it's worth it to seek a jacket that's robust, withstands wear and tear, and offers amazing versatility to function across a range of environments.
Arc'teryx Gamma Hoody
The Best Women's Softshell Jacket
Based on our research and testing, we think the Arc'teryx Gamma Hoody is the best Women's Softshell Jacket on the market right now, for anyone looking to play hard outside.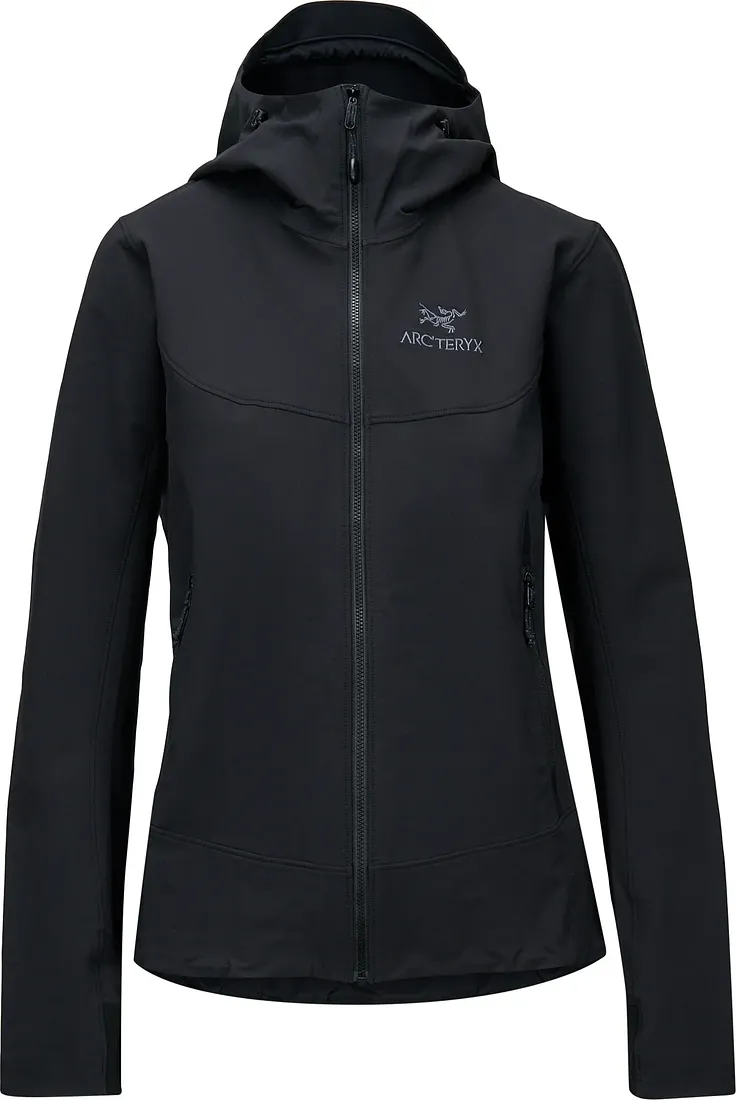 Reasons to Buy
Excellent wind resistance

Great breathability

Durable with high-resistance to abrasion

Comfortable and customizable fit

Good value for the price
Reasons to Avoid
Not 100% waterproof

Limited color choices

Smaller fit may not be suitable for those who prefer extra space
The Important Specs
Fit:

Trim fit, Hip Length

Gender:

Women's

Pockets:

Two hand pockets, one inner chest pocket

Material:

Wee Burly double weave softshell

Adjustability:

Adjustable hem drawcord, Laminated cuffs
Review Roundup
The Arc'teryx Gamma Hoody is a serious contender when it comes to the best softshell jackets for women. With its exceptional build quality, it's tailor-made for those seeking protection from the elements without sacrificing comfort and mobility.
This jacket offers stellar wind resistance and water repellency, making it a faithful companion for those outdoor adventures. That quick scramble up a drizzly trail or windy ridge? No problem. The Gamma Hoody holds its own, even during unexpected weather changes.
Its breathability is another standout feature. Buyers have repeatedly praised the Gamma Hoody's ability to dissipate heat and manage moisture. Whether they were rock climbing or hill walking, users found they stayed comfortably cool and dry.
The Arc'teryx Gamma Hoody also gets solid points for having a flattering, athletic cut that doesn't impede movement. It offers ample room in the shoulder and arm areas, accommodating a wide range of motions. This design thoughtfulness is a big plus, especially for activities requiring a lot of arm movement like climbing or skiing.
Despite its slim profile, this jacket doesn't skimp on storage, a feature appreciated by many buyers. They love the two hand pockets, large enough to stuff gloves or a beanie. And the inner zipper pocket is an added boon for stowing away essentials safely.
However, some users have raised concerns about its durability. There were occasional reports of the zipper snagging or the fabric showing signs of wear after a few rough outings. Nonetheless, many consider these small compromises for the overall performance and versatility this jacket offers.
Comfort
Buyers generally commented on the comfort of this jacket. Its material is flexible and it doesn't interfere with movement, making it well-suited for active pursuits. An adjustable hem drawcord and laminated cuffs ensure a snug but comfortable fit.
Durability & Abrasion Resistance
Arc'teryx is known for their durable gear and this jacket is no exception. The material is resistant to abrasions and is appreciated by customers who have previously faced issues with wear and tear on less-durable jackets. With proper care, this jacket is a long-serving companion for outdoor adventures.
Fit
The Gamma Hoody features a trim fit cut at hip length, providing adequate coverage without unnecessary bulk. Some buyers, however, found it to be tighter than expected and recommended considering a size up for those who prefer a more relaxed fit or need layering room.
Value
The high price tag might cause some potential buyers to hesitate. But for those who have taken the plunge, the overall quality, performance, and durability of the Gamma Hoody justify every cent.
Water Repellency
While the jacket does offer some level of water repellency, it's not fully waterproof. Light showers are perfectly fine, but anything more intense and you'll need a hardshell. Some buyers found this a bit disappointing, but others felt it's an acceptable trade-off for the superior breathability.
Wind Resistance & Breathability
The Arc'teryx Gamma Hoody Jacket champions in the department of wind resistance. It's designed with Wee Burly double weave softshell, providing a solid shell against harsh winds. Plus, its breathability is commendable, allowing enough airflow for hiking and other strenuous activities without causing overheating. Customers appreciated the jacket's ability to block the wind while still preventing excessive warmth.
Prices
No prices found. Check back later!
Outdoor Research Ferrosi Hooded Jacket
$149.00
Runner Up
Based on our research and testing, we think the Outdoor Research Ferrosi Hooded Jacket is a great choice if you're looking for a women's softshell jacket to go play hard outside with, if our top pick isn't quite what you're looking for.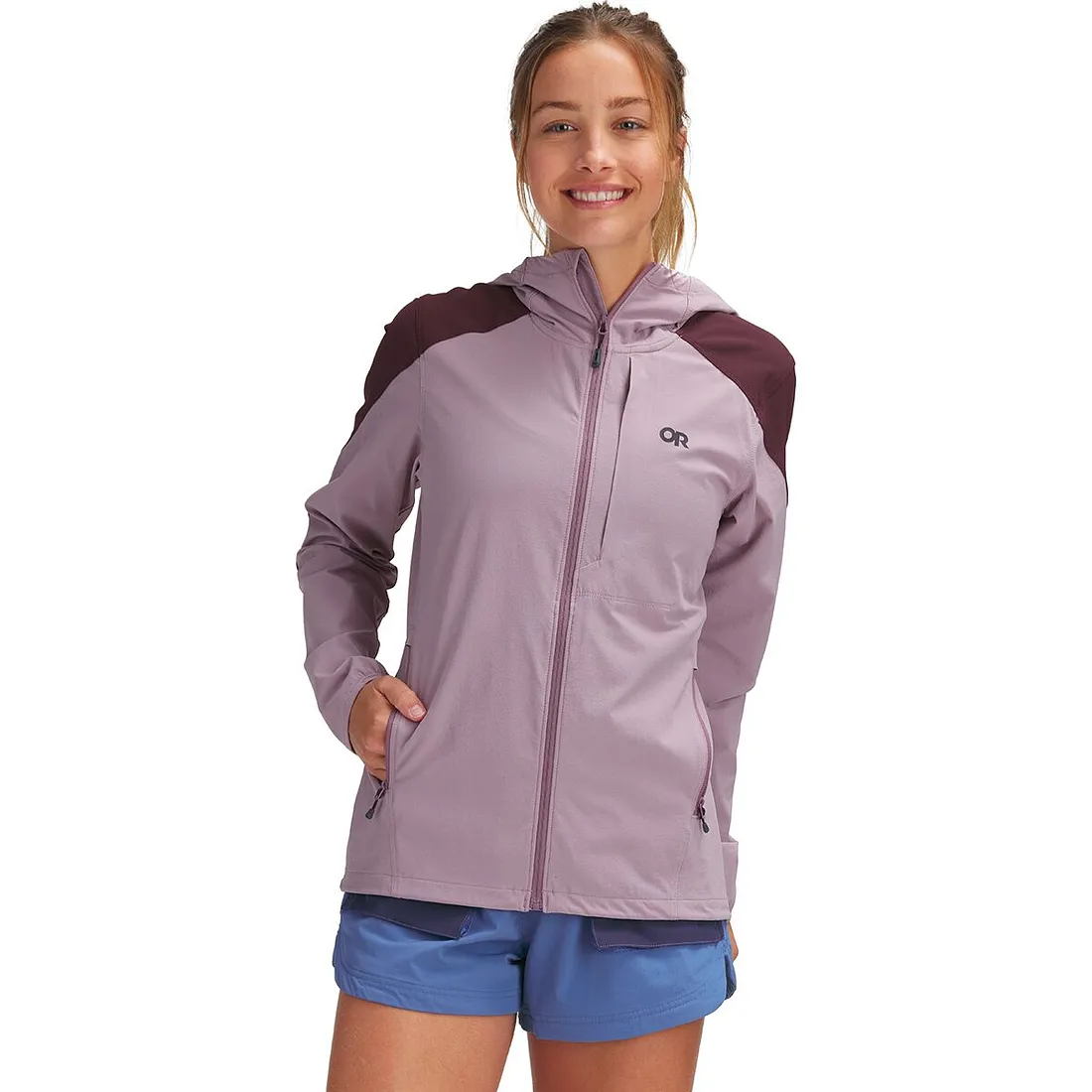 Reasons to Buy
Breathable and wind-resistant material

Durable, can withstand outdoor activities

Versatile: great for hiking, biking or just casual everyday wear

Plenty of easy-to-reach pockets
Reasons to Avoid
Not fully waterproof, only water-repellent

May not fit well if you have a larger build

Hood does not have a drawstring adjustment
The Important Specs
Hood:

Fitted, not adjustable

Pockets:

Two hand pockets, one arm pocket, all secure zip

Material:

86% nylon, 14% spandex 90D stretch woven ripstop

Weather Suitability:

Spring, Fall, Mild Winter
Review Roundup
The Outdoor Research Ferrosi Hooded Jacket is a top pick among outdoor enthusiasts. From the softshell fabric to the features it carries, many women backpackers, hikers, and climbers have found it to be a reliable addition to their outdoor gear. Not only does it provide a remarkable performance, it also offers a mix of comfort, durability, and versatility.
In terms of material, customers seem to be impressed with the fabric blend of nylon and spandex. This combination results in a lightweight jacket that is breathable and also has a nice stretch to it - activities like rock climbing or trekking are made more comfortable with this flexibility. The ripstop fabric used in the body and hood of the jacket adds more points for durability. It's made to resist harsh weather, windy situations, and rough terrains that all outdoor adventurers encounter.
When speaking about features, numerous reviewers highlight the pocket design of the Ferrosi. It has a sleek look but does not skimp on functionality - it includes two zippered hand pockets and one zippered chest pocket. The hand pockets are also strategically positioned higher to still be accessible when wearing a backpack or a harness, which is a smart and applauded detail by a lot of consumers.
The adjustable hood is another favored feature. It fits comfortably around a helmet and can also be tightened to protect against wind or rain. A few users, however, have reported that it can cover the eyes when cinched up and can hinder sight slightly.
Safe to say, the Outdoor Research Ferrosi Hooded Jacket performs well as an intermediate layer or light jacket during warmer weather, but its light material is not designed for frigid temperatures. A number of reviews mention that it doesn't have insulated or fleece-lined components to fully trap heat, but it does a decent job at maintaining your body heat. Most users feel the need to layer up when temperatures drop.
For style and fit, various comments remark that the Ferrosi has a modern, athletic, and flattering cut. The jacket is available in a range of vibrant colors to muted pastels and has a true-to-size fit. Though, a number of customers advise to size up if you're planning to wear bulky layers underneath.
In spite of a few minor issues, most women found the Outdoor Research Ferrosi Hooded Jacket a comprehensive blend of comfort, versatility, and durability. Its ability to perform well under different weather conditions and outdoor activities has earned its well-deserved standing in the outdoor gear market and garnered mostly positive feedback from its users.
Comfort
The stretchy fabric makes this jacket comfortable for all kinds of movements. Also, it is soft to the touch and does not feel restrictive or cumbersome.
Durability & Abrasion Resistance
This jacket is made for the outdoors. Its sturdy build and quality material can withstand rugged use and potential snags, surviving the wear and tear of various outdoor activities like hiking and climbing.
Fit
It comfortably fits over a base layer or light mid-layer without feeling too tight. However, for those with a larger build, this jacket might feel a little snug. Also, the lack of adjustability in the hood might be an issue for some.
Value
Considering its performance and versatility, the Outdoor Research Ferrosi Hooded Jacket offers good value for money. While it is not the cheapest jacket on the market, its durability and functionality make it a sound investment for outdoor enthusiasts.
Water Repellency
While it is not fully waterproof, the jacket offers good water repellency for light showers. However, during heavy rains, you might find moisture seeping through the fabric.
Wind Resistance & Breathability
Despite being lightweight, the Ferrosi jacket holds up really well against the wind. Its material is breathable and regulates temperature nicely, preventing you from overheating during intense activity and keeping you warm when the wind picks up.
Prices
Black Diamond Alpine Start
$185.00
Runner Up
Based on our research and testing, we think the Black Diamond Alpine Start is a great choice if you're looking for a women's softshell jacket to go play hard outside with, if our top pick isn't quite what you're looking for.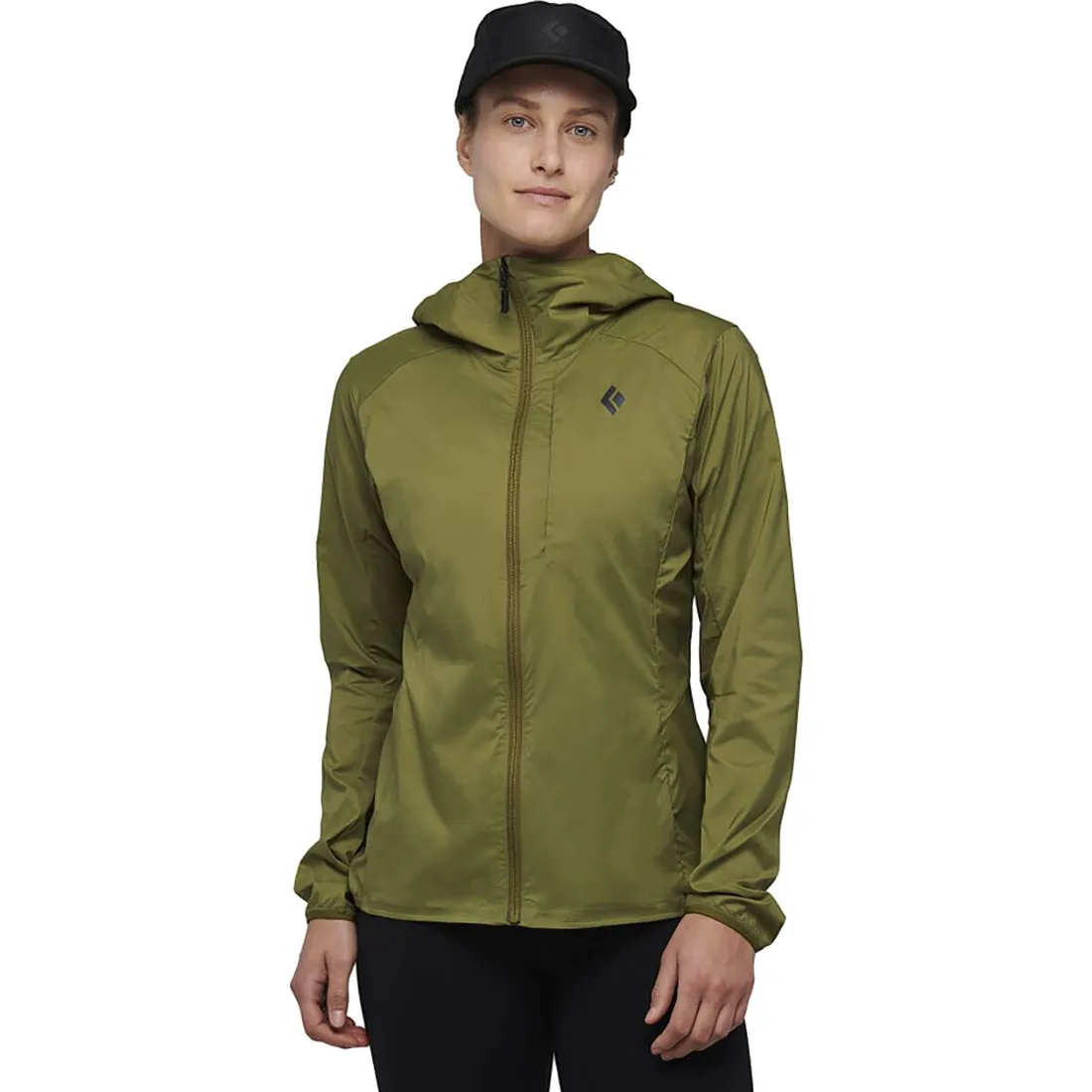 Reasons to Buy
Excellent wind resistance

High breathability for high-exertion activities

Versatile for different seasons

Packable and light, convenient for backpacking
Reasons to Avoid
Not the warmest option for colder climates

Price might be high for some budgets

Minimalistic features might not suit everyone
The Important Specs
Hood:

Adjustable, helmet-compatible

Pockets:

1 chest pocket

Zippers:

YKK Vislon zippers

Material:

Nylon Schoeller with NanoSphere Technology

Size Range:

XS-L

Adjustability:

Hem drawcord
Review Roundup
The Black Diamond Alpine Start is a softshell jacket that continues to impress with its top-tier performance. This women's jacket sports a sleek, appealing style while providing substantial protection against the elements.
Once out in the wild, wearers can't help but admire its lightweight design. It's noticeably lighter than the usual softshell jackets but does not sacrifice its durability to achieve this. The compact design also makes it a perfect companion for backpacking or climbing adventures where each piece of gear's weight matters.
Many customers praised the Alpine Start's versatility. This piece serves a dual purpose, offering both a protective layer against wind and light showers and breathable fabric to avoid overheating. Users found this balance exceptional, especially on demanding hikes and climbs where the weather can change rapidly.
The adjustability also garnered positive feedback. Users remarked about the easily adjustable hood and cuffs, allowing for a near-custom fit. The hood is reported to accommodate a climbing helmet easily, reflecting the product's attention to the needs of climbers.
Material quality and durability are another strong suit for the Black Diamond Alpine Start. Made from Schoeller stretch-woven fabric with NanoSphere Technology, the jacket resists weather, adapts to movements, and stands up to general wear and tear. These high marks in resilience echo throughout online reviews.
A few customers did note some dissatisfaction, specifically concerning the fit across the chest. Some found it a bit tight, suggesting potential discrepancies in sizing. Others wished for extra pockets other than the single chest pocket provided.
Despite these minor issues, the majority of user feedback emphasizes satisfaction with the Black Diamond Alpine Start's performance. Users rave about its ability to protect and adapt to challenging outdoor situations while maintaining comfort and style.
Comfort
When it comes to comfort, the Black Diamond Alpine Start nails it. It is reported to feel soft against the skin and offer unrestricted movement, enhancing its comfort levels. Some users have applauded its 'barely-there' feeling, adding to its overall comfort quotient. However, it's worthy to note, a few found the wrist cuffs a bit tight.
Durability & Abrasion Resistance
With its Schoeller fabric, this jacket impresses in terms of durability. Online reviews show users praising its resistance to tears and abrasions, even with continual encounters with rough rocks or thorny bushes. Its resilient nature makes it a sensible choice for climbers and hikers.
Fit
Alpine Start is known for its 'slim fit', designed to hug the body but not restrict motion, an aspect hailed by many users. It caters fairly to different body types and sizes, ranging from XS to L. However, those preferring a looser fit may want to consider sizing up.
Value
Indeed, the Alpine Start is at the pricier end of the softshell spectrum. But, given its top-notch performance and durability, many users consider it worth the investment. They viewed it as a long-term piece of gear, and when averaged out over its lifespan, the price becomes more digestible.
Water Repellency
While it's not a full-on rain jacket, the Alpine Start offers decent water repellency, thanks to its NanoSphere Technology. It can handle misty weather and light showers without a problem, according to multiple users. However, if the heavens really open up, you might want to pair it with a dedicated rain shell.
Wind Resistance & Breathability
Shout out to the Black Diamond Alpine Start for perfecting the balance between wind resistance and breathability. The jacket shields you from strong winds yet allows enough air flow to avoid overheating during strenuous activities. Some users have reported it performs excellently even in gusty alpine conditions. Certainly a faithful companion for your high-altitude treks.
Prices
Best Budget Women's Softshell Jacket
Based on our research and testing, we think the Rab Borealis is a great pick if you're looking for a women's softshell jacket that is more budget friendly, without sacrificing too much in quality.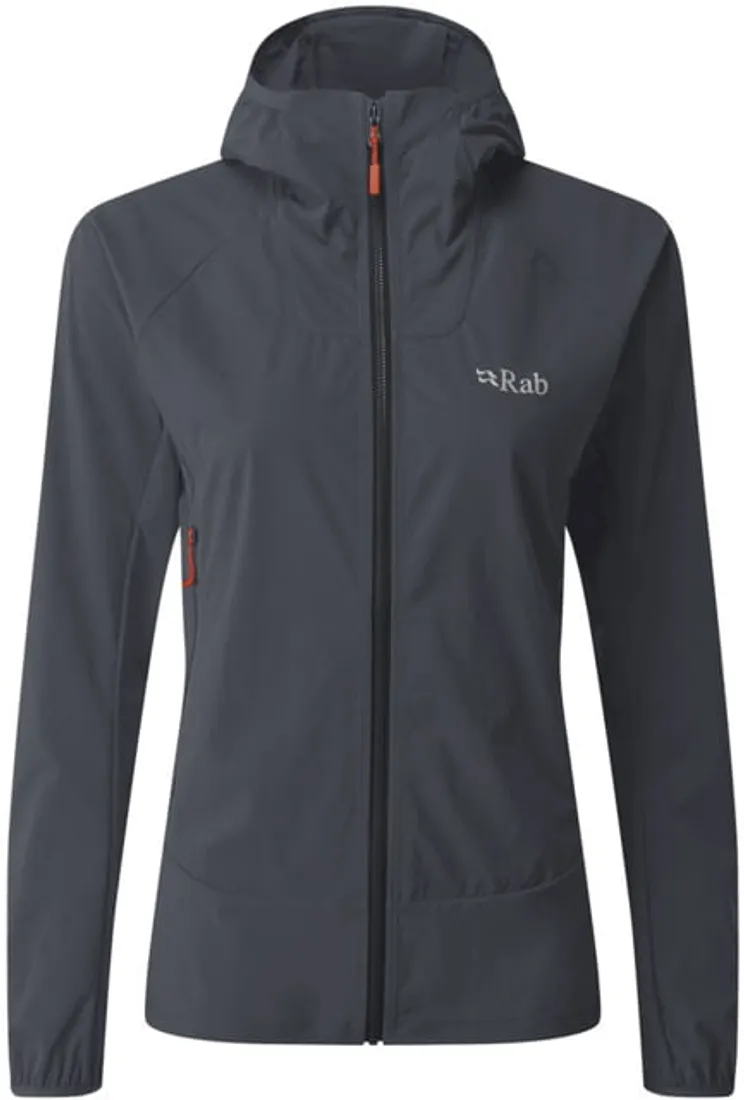 Reasons to Buy
Great fit and versatility

Resistant to wind and water

Excellent breathability

Durable and abrasion-resistant

Affordable price point
Reasons to Avoid
Not suitable for extreme weather conditions

No hood adjustability

Limited color options
The Important Specs
Fit:

Slim fit

Hood:

Under helmet hood with high collar and flexible polymer peak

Zips:

YKK VISLON front zip with internal storm flap

Pockets:

2 YKK zipped, mesh-lined pockets

Material:

Lightweight Matrix single weave with DWR
Review Roundup
The Rab Borealis women's softshell jacket is a budget-friendly outdoor accessory that's got rave reviews from backpackers, campers, and climbers alike. It's renowned for balancing a good price with impressive performance and quality. Right off the bat, users noticed its lightweight design and packability, making it an excellent choice for trips where weight and space are at a premium.
One exceptional feature that people consistently praise is its wind and water-resistant characteristics. This jacket offers unique protection, handy for transitional weather or when sudden showers surprise you mid-hike. However, some people noted it's not completely waterproof, so it might not be the best choice for those intense, soaking rainstorms on a campsite.
Users also praised the Rab Jacket for its comfortable, athletic cut design, which still leaves room for layering. A prevailing trend among the reviews was the love for the mobility it offers. From climbing mountains to scrambling over rocks, users praised its intense durability and stretchiness. It seems this jack-of-all-trades stays comfortable and flexible without sacrificing its basic protective role.
Several reviews applauded the thoughtful design elements of the Borealis, such as the low-bulk cuffs and the snug-fitting under-helmet hood. These aspects keep potential discomfort and chafing at bay while melding well with other gear.
As for breathability, the Rab Borealis received mixed feedback. Some buyers loved how breathable the jacket is, helping prevent overheating during rigorous activities, while a few others found it a bit warm.
A frequent gripe among the users has been its lack of warmth. While the Rab Borealis offers excellent wind and light rain protection, it's not designed to provide thermal comfort in the cold. Users recommend adding fleece or thermal layers underneath for those chillier outings.
Lastly, buyers were split on the sizing. Some found it fits true to size, while others wished they had sized up for a comfortable fit. So, if you're planning to layer underneath, consider opting for a size larger.
Comfort
Users highlighted the jacket's comfortable design and feel, the material is soft and the light stretch allows for uninhibited range of motion. However, a few users mentioned that they would have appreciated an adjustable hood for better comfort.
Durability & Abrasion Resistance
For an jacket at its price point, the Rab Borealis is impressively durable and well-suited for rugged terrains. Its Matrix single weave fabric is tough enough to withstand harsh natural elements and outdoor wear. It's also abrasion-resistant, ensuring it won't easily tear or scuff when rubbing against rock faces or rough surfaces.
Fit
The Rab Borealis is a slim fit design, which is appreciated by many for its flattering and functional form. The jacket fits well under heavier layers, works fine with a climbing harness or backpack waist-belt and has minimal bulk. However, some users felt that the fit was slightly tight around the hips area, especially for those with curvier bodies.
Value
When it comes to value, purchasers were happy with their investment. Despite a few minor compromises, most agree that the Rab Borealis offers great performance and features for a budget-friendly price. It's a solid softshell for those who need a reliable layer for their outdoor adventures without breaking the bank.
Water Repellency
The jacket features a Durable Water Repellent (DWR) finish which provides a decent deal of protection against light rain or damp conditions. However, some users pointed out that the jacket isn't fully waterproof. Its water repellency is good in a pinch, but if you're expecting an all-out rainstorm, you may want to pack an additional rain layer.
Wind Resistance & Breathability
Customers highly rate the Rab Borealis for its excellent wind resistance and breathability. The jacket's lightweight Matrix material effectively shields from chilly winds while offering exceptional breathability. It's perfect for vigorous activities like hiking or climbing, as it allows perspiration to conveniently escape, keeping wearers comfortably dry.
Prices
Black Diamond Dawn Patrol Shell
$365.00
Best Women's Softshell Jacket for Backcountry Skiing
Based on our research and testing, we think the Black Diamond Dawn Patrol Shell is a solid choice if you want a women's softshell jacket that's really well suited to Backcountry Skiing.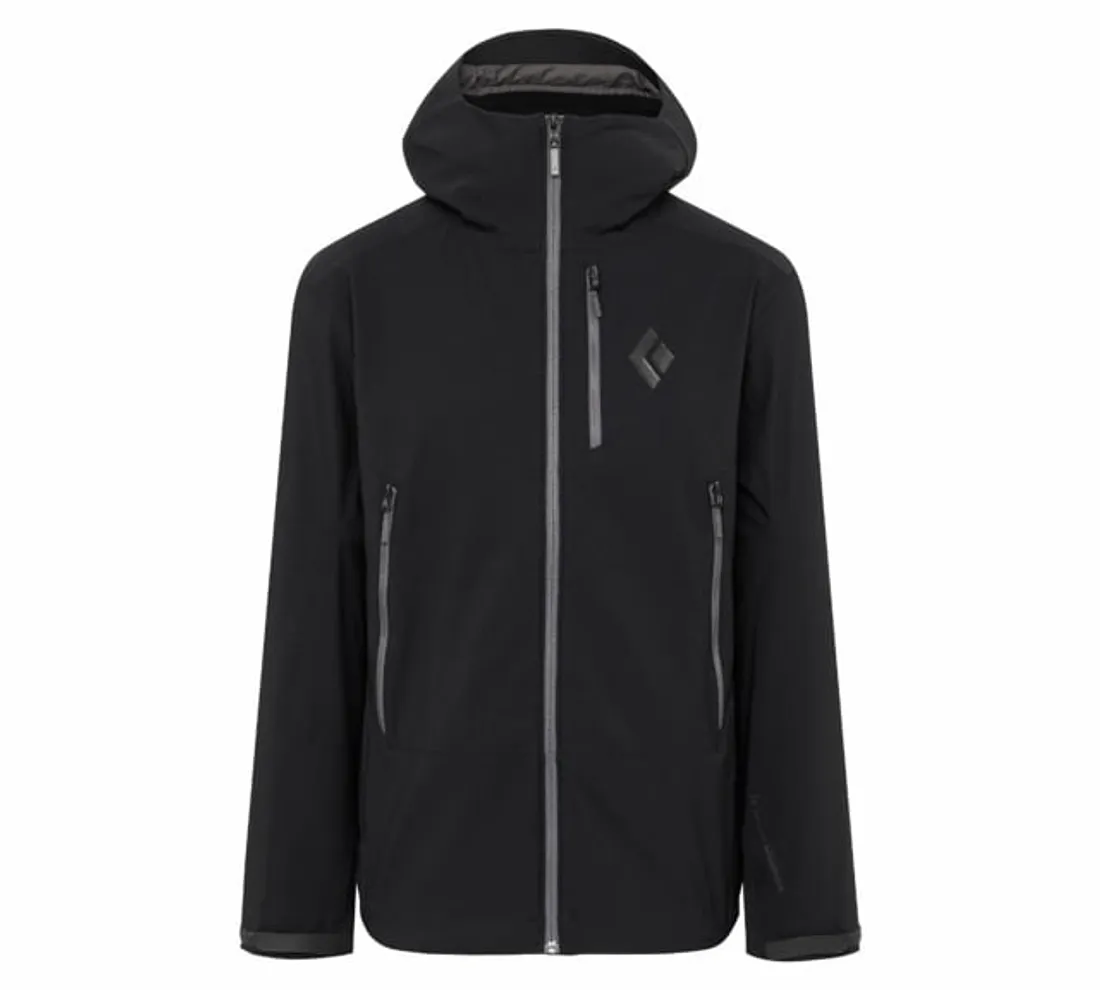 Reasons to Buy
Impressive wind resistance

Highly breathable

Good water repellency

Surprisingly durable

Comfortable to wear all day

Adjustable fit

Great value for the price
Reasons to Avoid
May not fare well in heavy rainfall

Fit may not be comfortable for all body types

Limited color options
The Important Specs
Hood:

Adjustable, helmet-compatible

Fabric:

Four-way stretch woven with brushed back

Finish:

Durable Water Repellent (DWR)

Closure:

YKK Vislon AquaGuard front zipper

Pockets:

Two hand pockets, one chest pocket, and two internal drop pockets
Review Roundup
The Black Diamond Dawn Patrol Shell is a favorite amongst women who love backcountry skiing. Known for both its style and functionality, this jacket is a staple in any outdoor enthusiast's wardrobe.
One of the first things people note about the Dawn Patrol Shell is its fit. Shaped specifically for females with a slight taper at the waist, it provides a slimmer fit but still leaves plenty of room for the layers you'll need in colder climates. Users have highlighted that it fits true to size and can effortlessly accommodate a mid-layer underneath.
Weather resistance is a significant factor to consider when purchasing a softshell jacket, and users report that the Dawn Patrol Shell excels in this aspect. The jacket's durable, water-resistant finish helps keep the snow out on powder days, and the wind-resistant material shields against strong Alpine gusts.
Something else to love about the Dawn Patrol Shell is its flexibility and breathability. The fabric stretches in tune with your moves, making it a good match for energetic activities. Users have commended it on being comfortable for long wears, attributing this to the jacket's excellent breathability. Even after some intense ski runs, users have mentioned that the jacket has held up well, without trapping body heat or moisture.
Many purchasers have praised its utility, loving the several pockets which offer dedicated spaces for essential items. A hidden bonus is the internal drop pockets, which are a great place to stash your gloves or skins.
The jacket also comes with pit zips, a feature users have found extremely useful for releasing heat quickly. However, some users have highlighted issues with the zippers. Particularly, they can be a bit tricky to use with gloves on, which can be a setback in frigid environments.
Another slight downside mentioned by a few reviewers is the hood. While it is designed to fit over a ski helmet comfortably, users have found it to be a bit roomy when not wearing a helmet; it tends to obscure peripheral vision.
Overall, customers say the Black Diamond Dawn Patrol Shell is a great investment for backcountry adventures. Some drawbacks are mentioned, but they're not deal breakers by any means. Users believe the excellent weather resistance, comfort, and overall design make it a winner in their books.
Comfort
It's hard not to feel at ease in this softshell jacket. Its brushed back interior is soft against the skin, while the four-way stretch woven fabric ensures movement is not restricted. Perfect for those all-day outdoor excursions.
Durability & Abrasion Resistance
Despite being lightweight, the Dawn Patrol Shell from Black Diamond doesn't skimp on durability. The four-way stretch woven fabric is complemented by a brushed back for reliability, even when facing abrasive outdoor elements like rough rocks and dense foliage.
Fit
Customers have praised the adjustable fit of the Dawn Patrol Shell - it features an adjustable, helmet-compatible hood and custom-molded cuff tabs. However, some reviews mentioned that it may not fit all body types comfortably.
Value
Considering the versatility, durability, and comfort it provides, this shell proves to be great value for the price. It's a dependable companion for those backcountry skiing trips without being too heavy on the wallet.
Water Repellency
With a DWR finish, this jacket repels light rainfall and snow effectively. However, based on various reviews, it may not held up as well in heavier, continuous rainfall.
Wind Resistance & Breathability
From a brisk breeze to gusty alpine winds, the Black Diamond Dawn Patrol Shell does an amazing job handling various wind conditions. It's designed to allow moisture to escape, making it highly breathable even under physically demanding activities like climbing or skiing.
Prices