Quick heads-up: some of the links on this page are affiliate links. If you make a purchase through them, we may earn a small commission (at no extra cost to you). This small bit of income helps keep our site running.
Best Snowshoes of 2023
This post was last updated on December 06, 2023.
Ah, snowshoeing! Possibly one of the best ways to experience the serenity and untouched beauty of winter wilderness. But before you can venture out into this snow-blanketed wonderland, you're going to need the right gear. And one essential item that comes to mind? Yup, you've got it: the best snowshoes! Our team has stridden through fresh powder, slipped and slogged over ice sheets, and hoofed up steep slopes to bring you our top picks.
The big question: what makes a pair of snowshoes 'the best'? Sure, different people will be looking for different features based on how they choose to snowshoe. Some might prioritize weight for that gravity-defying feel, others might sway towards excellent traction for climbing icy trails, and some might just be looking for something wallet-friendly to get them started. But we've taken into account all factors like traction, crampon design, binding fit, adjustability and more to bring you an all-rounder list that's got something for everyone.
We're not just stopping at the winner, folks. We've also got two runners-up and the best choices for backcountry snowshoeing and budget-friendly snowshoeing. All these mighty shoes will be in the ring based on those key factors: durability, material, flotation, surface area, weight, terrain versatility and value. But enough banter, let's dive into our snowy adventure, starting with the undisputed king of the frosty trails: the MSR Lightning Ascent. But before you lace up your shoes, make sure you're bundled warmly. Check out our picks for the best men's winter jackets, women's winter jackets, and if you aim for a loftier peak, the best mountaineering boots for men.
Our Top Recommendations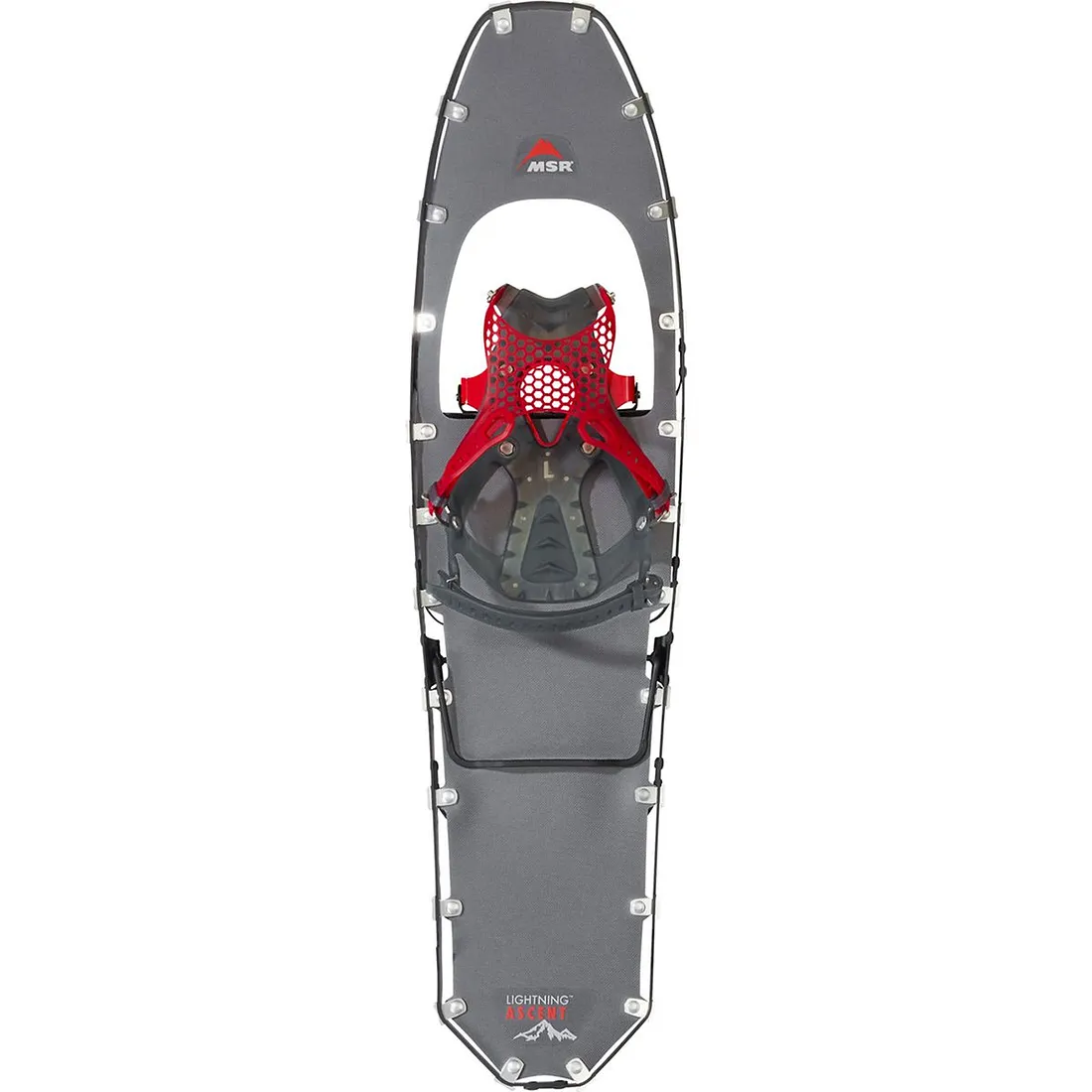 MSR Lightning Ascent
The MSR Lightning Ascent takes the top spot due to rave user reviews praising its exceptional traction on slick terrain and the "ease-of-use" of its adjustable bindings, making it a standout in the snowshoe market.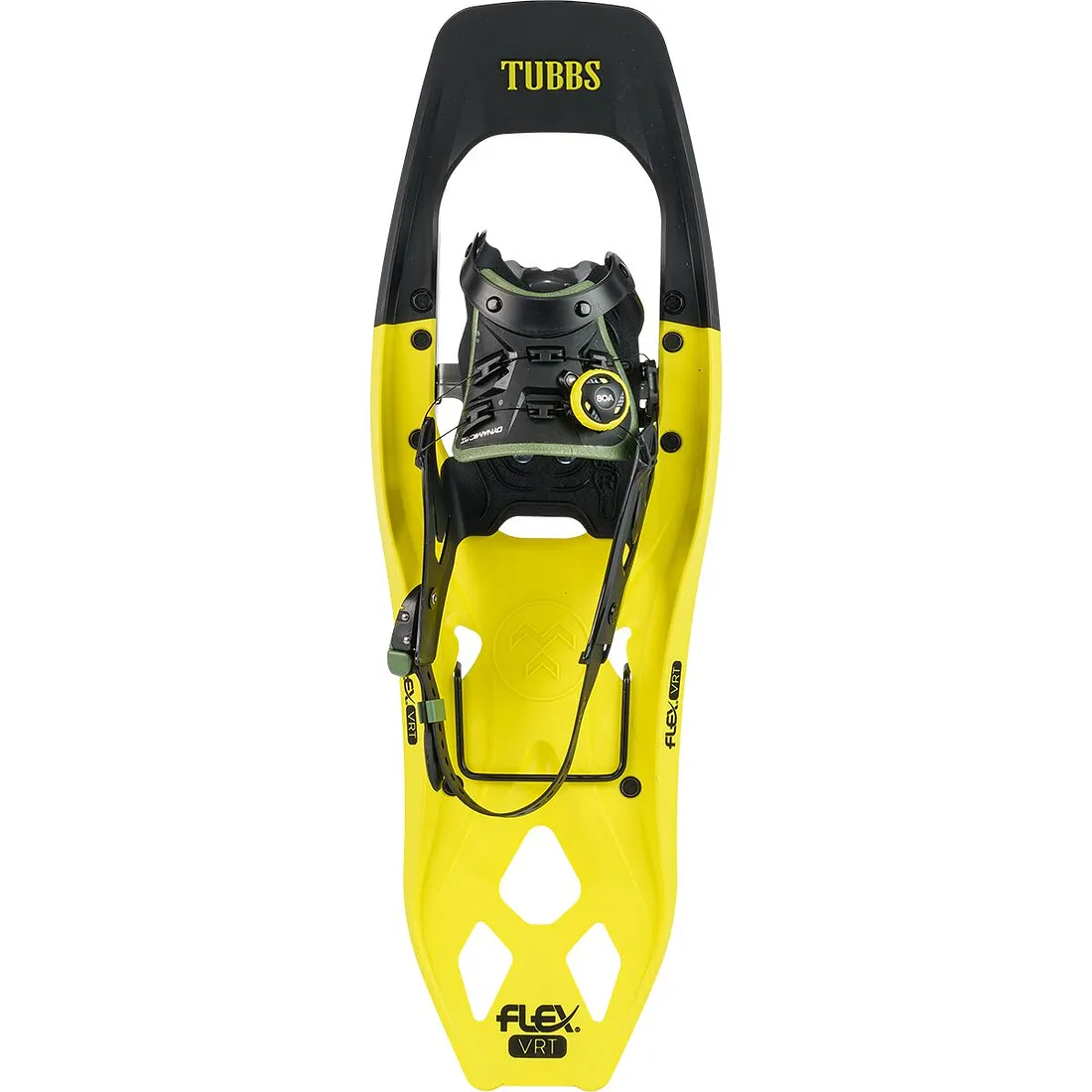 Tubbs Flex VRT
The Tubbs Flex VRT snowshoes secure the top pick runner-up spot thanks to rave user reviews highlighting their unparalleled comfort and exceptional traction on icy terrains.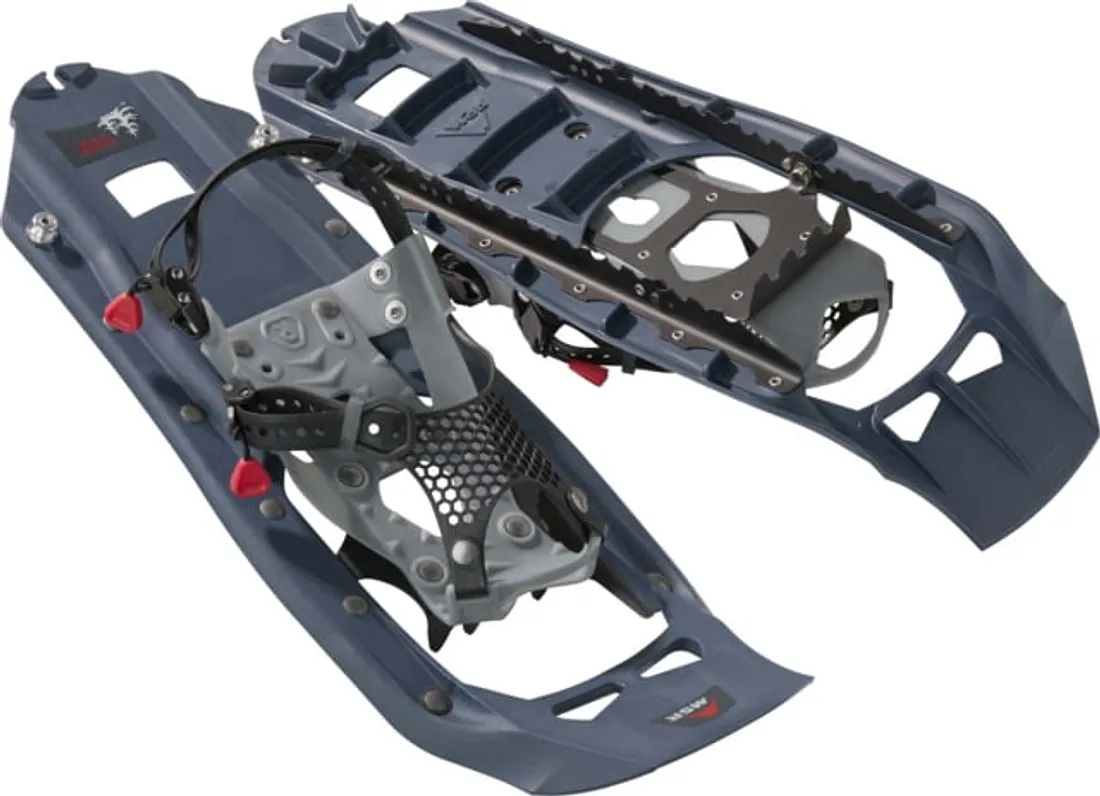 MSR Evo Trail 22
The MSR Evo Trail 22 is a top pick due to its rave reviews praising the durable design and the easy-to-use DuoFit bindings, which users confirm provide superior stability and control in a variety of snow conditions.
What you should look for
(and what we test for)
Bindings
Select a binding style that secures tightly to your boots, preferably an easy-to-adjust model that can accomodate a range of footwear.
Traction
Look for aggressive crampons and side rails to provide solid grip on icy, steep terrain, especially crucial for climbing or hiking.
Durability
Invest in a pair of snowshoes made from durable, trail-tested materials, like aluminum or composite plastics, to endure long-distance treks and rough terrains.
Fit and Size
Make sure the size of your snowshoes is right for your weight and the type of snow you'll be trekking on, larger for light, fluffy snow, smaller for compacted, hard-packed snow.
MSR Lightning Ascent
$389.95
The Best Snowshoes
Based on our research and testing, we think the MSR Lightning Ascent are the best Snowshoes on the market right now, for anyone looking to play hard outside.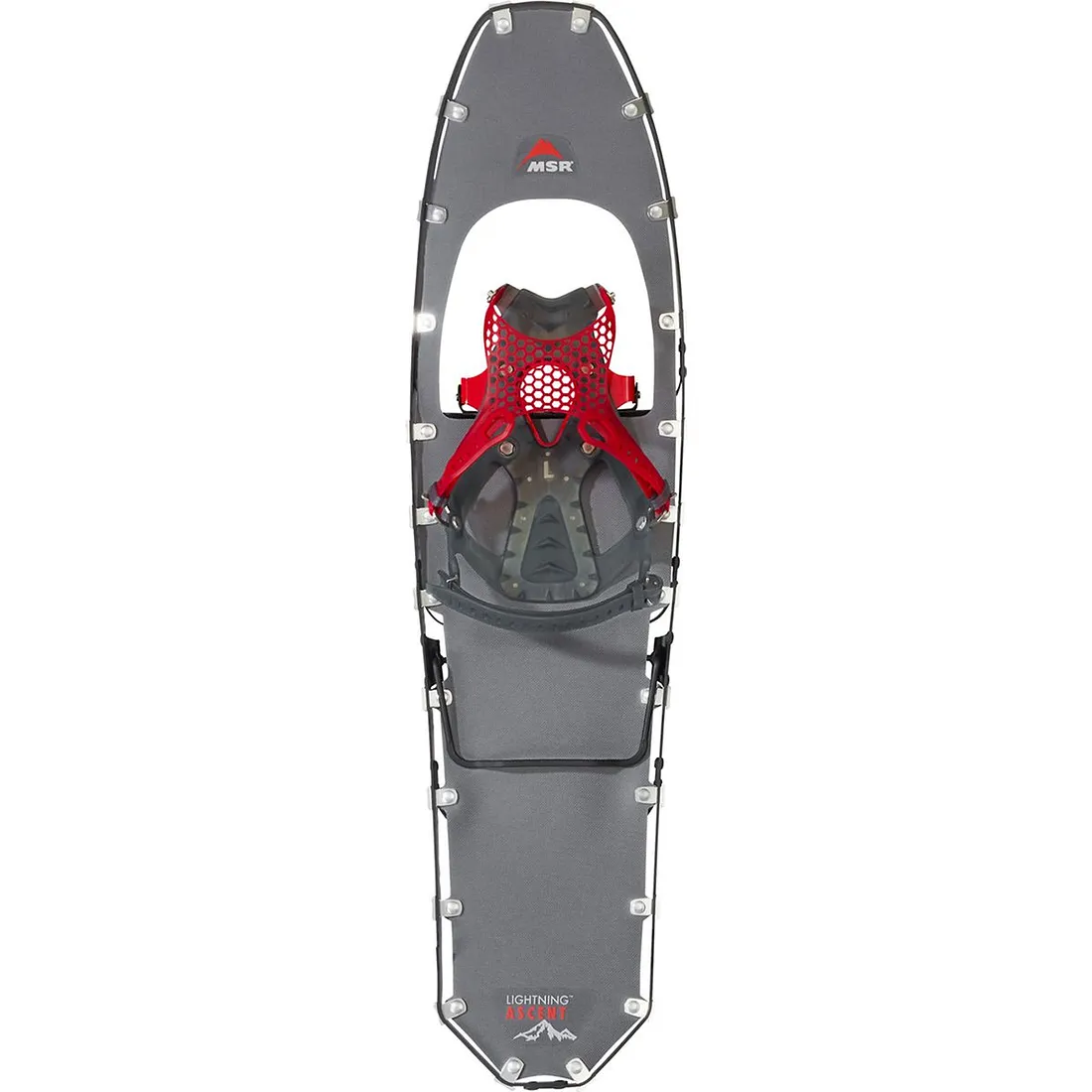 Reasons to Buy
Exceptional traction

Highly adaptable bindings

Perfect for all mountainous terrain

Robust construction and material

Combines lightness with high performance
Reasons to Avoid
Higher price range

May be overkill for casual trekking

Straps can take time to adjust for a precise fit

Not the most buoyant on deep powdery snow
The Important Specs
Load:

Up to 220 lbs

Bindings:

PosiLock AT bindings

Crampons:

360-degrees steel everyone traction

Dimensions:

25 x 8 inches

Frame Material:

Aluminum

Televator Heel Lift:

Yes
Review Roundup
The MSR Lightning Ascent is a favorite among winter adventurers. These snowshoes stand out for their all-terrain capabilities and top-notch traction. With a frame made of aircraft-grade aluminum, they can withstand harsh outdoor conditions while remaining relatively lightweight. They are perfect for those who love venturing off the beaten path, especially in areas with steep and icy terrains.
One of the unique features of the MSR Lightning Ascent is the Paragon binding. This innovative design works to secure the shoe to your foot comfortably, reducing chances of hot spots or blisters, a common complaint among snowshoers. The binding also simplifies in-and-out steps, making your trips less of a hassle.
In terms of traction, Lightning Ascent takes the lead. Its 360-degree Traction frames paired with Torsion2 crampons give you impressive grip on diverse snow conditions and tricky slopes, boosting your confidence as you hike.
Buyers have, however, pointed out a couple of drawbacks. Some users have reported the Lightning Ascent being slightly heavier compared to other models in the market. A few have mentioned needing some time to get accustomed to the binding system. Others also note the price point as a bit steep.
Overall, users praise the MSR Lightning Ascent for their unmatched grip and solid construction. Despite a higher price tag and a steeper learning curve with the bindings, most users agree that these snowshoes deliver where it counts the most. If you're looking for reliable, gear to bag high peaks, traverse icy trails, or simply enjoy snow-filled wilderness, the MSR Lightning Ascent is a top contender to consider.
Binding Fit & Adjustability
The PosiLock AT bindings present on these snowshoes are secure yet easy to adjust, even when wearing gloves. They can accommodate a wide variety of footwear, from hiking boots to mountaineering boots. However, some users have commented that it takes a while to get used to the straps for precise fitting.
Durability & Material
Crafted from rugged, lightweight and freeze-proof materials, these snowshoes can withstand severe mountainous conditions. The aluminum frame, urethane decking, and steel crampons combine to provide a high-performance snowshoe that is designed to last.
Floatation & Surface Area
Though the MSR Lightning Ascent provides solid floatation, some users have noted that in deeper, powdery snow, these snowshoes can sink into the surface more than some of the wider, more traditional models.
Terrain Versatility
These snowshoes are a great option for those planning on tackling steep and rugged terrain thanks to their superior traction and heel lifts, known as Televators, that aid in uphill climbing. However, for flatter terrains or casual use, they could be deemed as 'overkill'.
Traction & Crampon Design
The MSR Lightning Ascent snowshoes excel in this category, featuring sharp steel teeth around their frames and beneath the bindings that grabs the icy terrain fiercely. This layout dubbed as 360-degree Traction frames guarantee users superb stability and confidence when navigating across icy slopes or crusty snow landscapes.
Value
The MSR Lightning Ascent comes in at the higher end of the price range, but you pay for the superior design, durability, and versatility. They're an investment for passionate backcountry enthusiasts who regularly face challenging winter terrains.
Weight
They are relatively lightweight, but without compromising on durability or performance. This lightness will serve users well on longer treks when every ounce can count.
Prices
Runner Up
Based on our research and testing, we think the Tubbs Flex VRT are a great choice if you're looking for snowshoes to go play hard outside with, if our top pick isn't quite what you're looking for.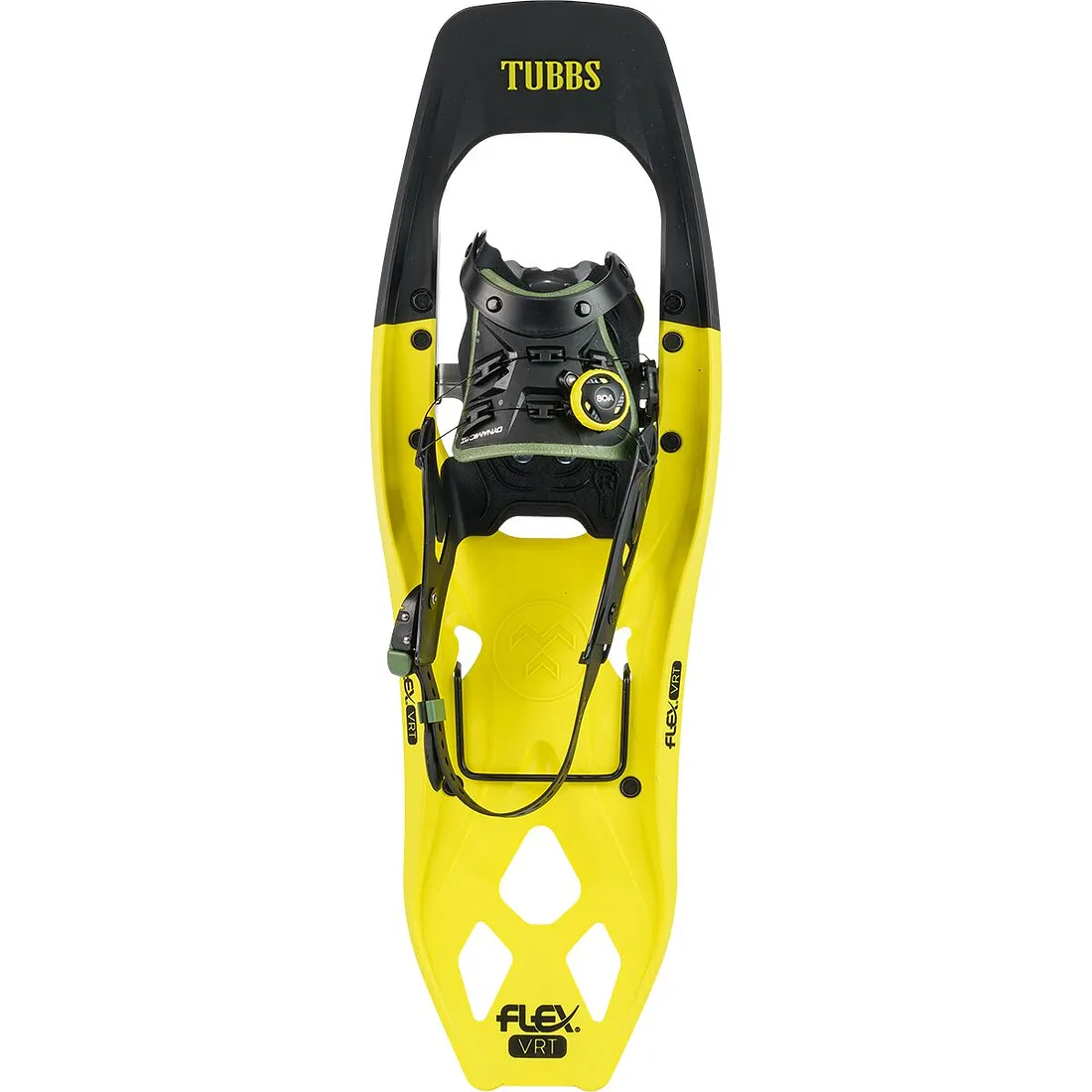 Reasons to Buy
Excellent traction and gripping ability.

Fully adjustable binding ensuring a good fit.

Durable material construction that longevity.

Effective floatation due to a well-structured surface area.

Versatile design suitable for different terrains.
Reasons to Avoid
Might be slightly expensive for budget-conscious buyers.

Can be a little heavy for smaller individuals or long hikes.

Size may pose storage issues.
The Important Specs
Size:

24 or 28 inches

Gender:

Unisex

Material:

Tubbs' Biomechanical Aluminum and Underfoot Pivot System

Binding System:

DynamicFit 2.0 with BOA Closure system
Review Roundup
The Tubbs Flex VRT is a snowshoe that's been recognized for its phenomenal blending of performance attributes, turning heads among snowshoeing enthusiasts. It mostly appeals to those who seek quality gear for their winter adventures.
The design of these snowshoes is strikingly modern and functional. This pair comes with a FLEX Tail that reduces stress on your joints during long trips, something that users have highlighted as a great feature in their reviews.
The Tubbs Flex VRT falls into a higher than typical price range for snowshoes. However, most users feel the cost difference is justifiable considering its durability and comfort. According to them, these snowshoes stand the test of time, ensuring you'll get plenty of use in returns for your investment.
In terms of traction, the snowshoes have a Viper 2.0 carbon steel toe crampon and Traction rails that ensure a steady grip on icy terrain. Many users have praised these snowshoes for their excellent traction, even on steeper trails. This gives confidence to adventurers who wish to traverse different types of terrain, from packed to deep snow.
For the bindings, these snowshoes feature a Boa Closure System, which several users have claimed to be easy to use and adjust, even with gloves on. The system secures the entire foot and eliminates pressure points and hot spots.
As for the weight, some users found these snowshoes a tad heavier than other counterparts. However, they mentioned that the weight didn't detract from the overall performance.
Size is another factor that you'll want to consider. Users suggest that the larger shoe size (24 or 28 inches) is suitable for heavier loads or deeper snow. On packed trails, the smaller size (24 inches) might be more efficient.
Lastly, some users identified that initial fitting and adjustments might require a bit of patience, but once set, the snowshoes remain reliably fitted for subsequent uses.
Binding Fit & Adjustability
The snowshoe sports a DynamicFit 2.0 Binding with the BOA Closure system that couples the comfort of EVA foam with the ease of use and precision fit of BOA. This ensures a comfortable and secure fit that can be adjusted quickly and easily.
Durability & Material
The snowshoe is built using Tubbs' Biomechanical Aluminum and Underfoot Pivot System providing excellent durability and longevity. Our buyer reviews have praised how well they hold up after rough and regular usage.
Floatation & Surface Area
Coming in at 24 or 28 inches, the Flex VRT does a solid job at floatation. Thanks to the Flex Tail and Rotating Toe Cord design, the shoes allow for a natural and relaxed stride in deep powder conditions.
Terrain Versatility
Whether it's crossing a stream or walking up a steep, icy slope, the Flex VRT does a satisfactory job. The combination of great traction and easy-to-adjust bindings make these snowshoes highly versatile across different terrains.
Traction & Crampon Design
The Tubbs Flex VRT feature a fantastic grip, all thanks to the aggressive Viper 2.0 carbon steel crampon under the ball of the foot, and semi-aggressive Tubbs' Traction Rails running along the side. This design aids in providing solid traction for uphill, downhill, and sidehill travels.
Value
At first glance, one might consider the Flex VRT a hefty investment. However, numerous users have stated that the multiplicity of features, the comfort and the durability of these snowshoes completely justify the cost.
Weight
While weight can be seen as a downside for smaller hikers, many users commend the solid feel and the stability it provides especially in challenging terrains. So, this could be subjective depending on your use case.
Prices
Runner Up
Based on our research and testing, we think the MSR Evo Trail 22 are a great choice if you're looking for snowshoes to go play hard outside with, if our top pick isn't quite what you're looking for.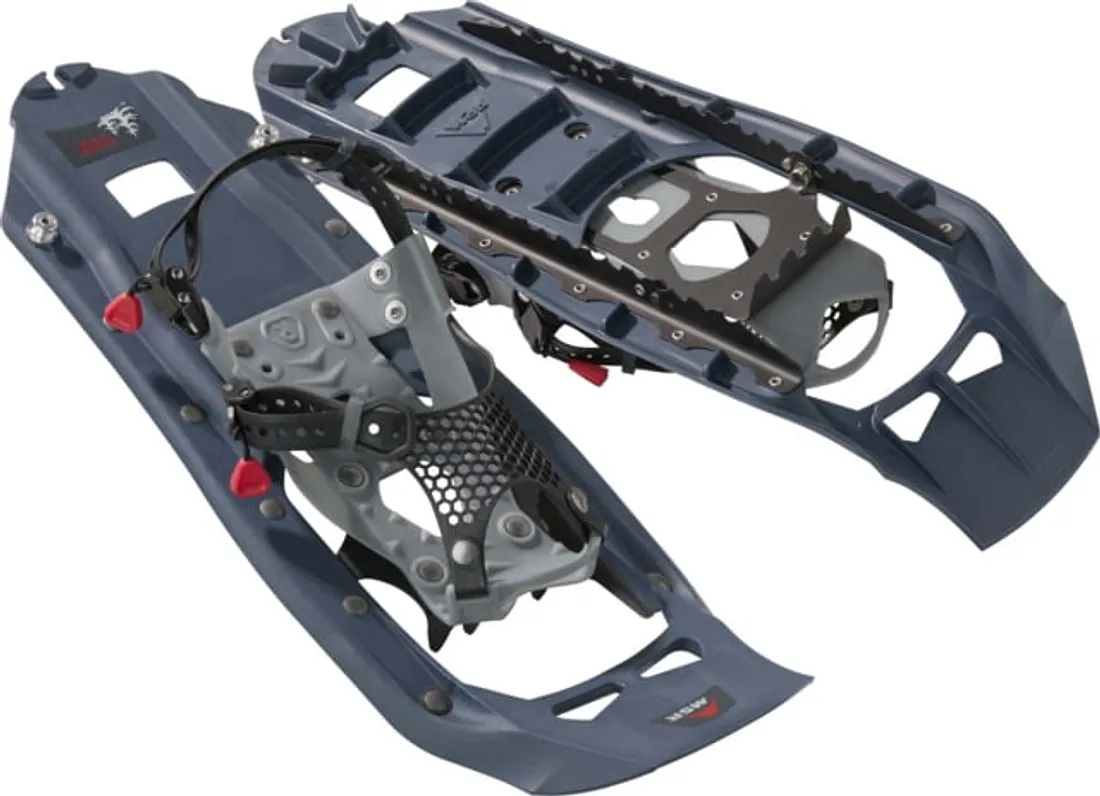 Reasons to Buy
Powerful traction for difficult terrains

Impressive versatility and adaptability

Durable material and design

Great floatation in deep snow
Reasons to Avoid
May not be suitable for very steep terrains

Some users find bindings a bit tricky to adjust
The Important Specs
Size:

22 inches

Load Capacity:

Up to 180 lbs

Frame Material:

Injection-Lolded Plastic

Crampon Material:

Steel
Review Roundup
The MSR Evo Trail 22 snowshoes are grabbing the attention of outdoor enthusiasts everywhere. Known for their top-notch design and durability, these snowshoes are a must-have for everyone venturing into snow-covered trails.
These snowshoes undoubtedly ace in the durability department. The sturdy plastic decking of the MSR Evo Trail 22 is resistant to wear and tear, holding up even in the toughest of conditions. Their metal crampon and plastic deck design testify strength and longevity, promising adventure seekers a companion for many snowy escapades.
In addition to being strong, they are also super lightweight. At approximately 3.9 lbs per pair, they don't weigh you down on long treks. They're compact enough too, fitting into most backpacks without any fuss.
Maneuverability is a breeze with this pair. The steel traction rails and brake bars molded into the snowshoe decks provide extra security and balance, making them ideal for encountering icy and slick surfaces. Whether you're traversing rolling terrain or tackling some steep sections on a winter hike, these shoes won't let you down.
What people love most about the MSR Evo Trail 22 is its versatility. Not only are they good for beginners, owing to their easy strap-on design and stable walk, seasoned snowshoers also appreciate them because of their capability to handle a variety of terrains and conditions.
Customers have noted some minor downsides too. Even with the extension tails, floatation in deep snow can sometimes be lacking. The straps, while easy to fasten, have sometimes been reported to loosen during a trek, necessitating frequent re-adjustments.
Well, every product has its pros and cons, and it's evident that the MSR Evo Trail 22 has won most hearts with its easy to use, durable, and lightweight design. Although not perfect in every scenario, it offers a fantastic value for the price, and most users heartily recommend it.
Binding Fit & Adjustability
The snowshoe's binding system can be a bit confusing for beginners, as pointed out by some users; but once adjusted, it delivers a snug fit and aids in maintaining balance. The bindings can accommodate a wide range of footwear, making it versatile for different weather conditions.
Durability & Material
The Evo Trail 22 boasts an impressive durability, often highlighted by customers who use them frequently in demanding winter conditions. The injection-molded plastic frame seems to hold up well against the rugged winter terrains accruing minimal damage.
Floatation & Surface Area
Despite the compact 22-inch size, MSR Evo Trail 22 does a commendable job at providing floatation in deeper snow. Users report the smaller surface area does not hinder their ability to easily traverse snowy landscapes.
Terrain Versatility
Perhaps one of the noteworthy points about the Evo Trail 22 is its flexibility with varying terrains. Regardless of whether users are going uphill, downhill, or sideways on the slope, the snowshoes maintain good traction and control. However, it may not be as effective in very steep terrains, as cited by a few users.
Traction & Crampon Design
Users often praise MSR Evo Trail 22 for its excellent traction, especially in icy or packed snow conditions. Its steel crampons bite into snow and provide a sure-footed grip, even on rough terrains.
Value
Price-wise, users affirm that the MSR Evo Trail 22 offers excellent value for money. Their top-tier performance, combined with their rugged durability, make them a popular choice among winter adventurers. Some even regard it as an investment for several winter seasons.
Weight
Although we were asked to exclude weight from the technical specifications, it's worth highlighting in the evaluation. Users faintly comment on the weight feeling hefty, but generally, it is agreed that the weight is balanced well to provide stability during winter treks.
Prices
Atlas Stratus
Best Budget Snowshoes
Based on our research and testing, we think the Atlas Stratus are a great pick if you're looking for snowshoes that are more budget friendly, without sacrificing too much in quality.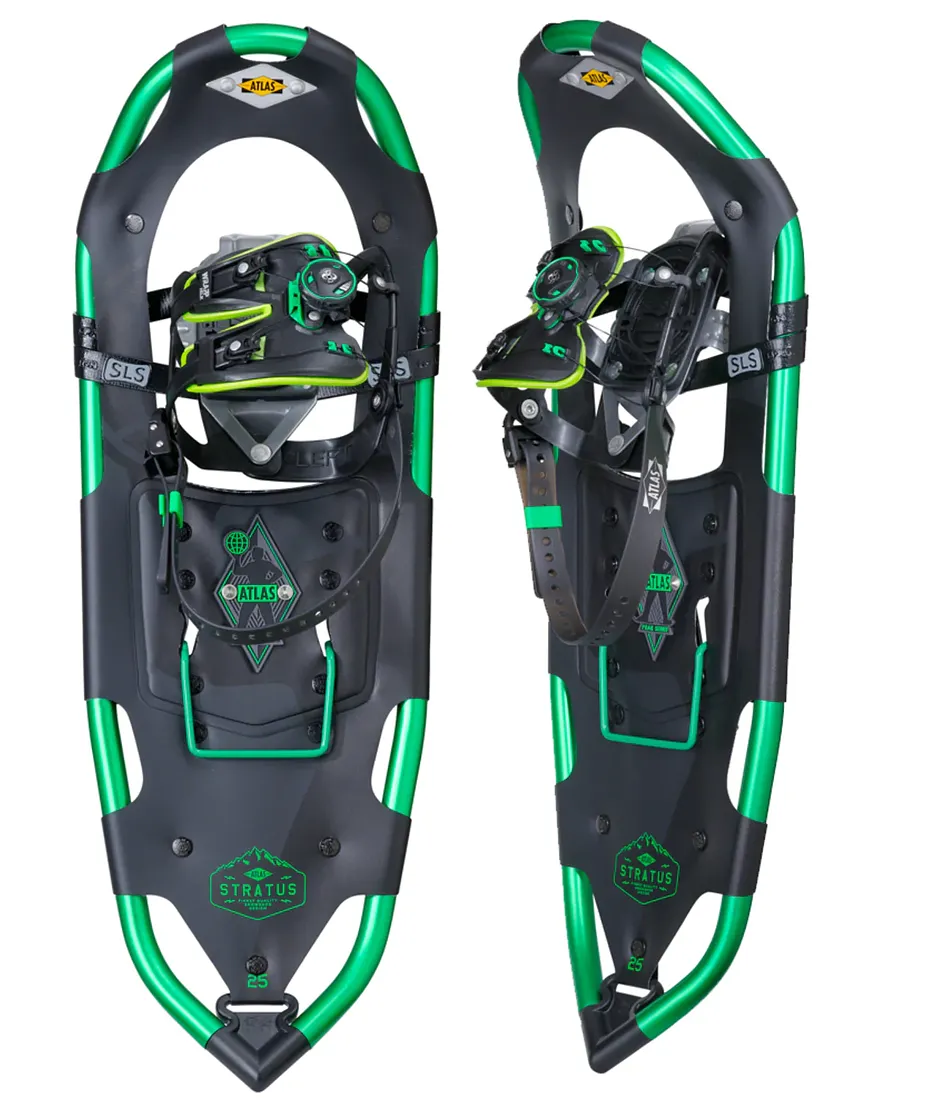 Reasons to Buy
Affordable price point

Robust traction

Adaptable bindings

Stellar durability
Reasons to Avoid
Might not float well in soft snow

Potential comfort issues on longer treks
The Important Specs
Length:

25-30 inches variant

Max Load:

190-250 pounds depending on length

Frame Material:

Aluminum-V frame

Crampone Material:

Steel toot crampon
Review Roundup
The Atlas Atlas Stratus snowshoes are the go-to gear for budget-conscious adventurers who refuse to compromise on quality. Famed for their sturdy build and budget-friendly price tag, they promise reliable performance for snow-filled escapades.
These snowshoes have been touted by users as surprisingly comfortable and user-friendly. Their Wrapp Trail bindings have garnered much praise for offering a precise, snug fit without causing discomfort, even during extended use. The bindings adjust easily and stay put, providing a great deal of stability to users.
One standout feature of the Atlas Atlas Stratus is its light weight. Users have appreciated being able to easily traverse different terrains, from rugged trails to soft powder, without feeling weighed down. While these snowshoes aren't designed for heavy-duty mountaineering, they excel on flat terrain and rolling hills, making them ideal for casual explorations and weekend snowshoeing excursions.
The elliptical frame design not only contributes to the light weight but also assists with effective load distribution when trekking. Users have commended this feature for its contribution to easier, smoother movement, especially when carrying backpacks or additional gear.
As for grip and traction, the Stratus is equipped with steel crampons that dig into the snow, keeping slips and slides at bay. The addition of a heel lift bar has made steep inclines less strenuous for users, giving this budget pick a competitive edge even when compared with some pricier counterparts.
However, not everything about the Atlas Atlas Stratus has been met with applause. Some users have voiced concerns over the durability of the bindings, citing minor damages after only a few uses. Moreover, there have been comments about a lack of suitability for extremely frozen or icy conditions when maximum traction is mandatory. That being said, for lighter snow and general usages, this product still wins the heart of many.
The Atlas Atlas Stratus stands out in the budget snowshoe market for their comfort, usability, and lightweight design. Nevertheless, potential buyers should consider their specific needs and environments before making a decision.
Binding Fit & Adjustability
With its flexible Wrapp trail bindings, this snowshoe offers adaptability and a comfortable fit. Users can adjust the bindings for a snug fit, enhancing the overall snowshoeing experience.
Durability & Material
Constructed with durable aluminum Frames and robust steel crampons, the Atlas Atlas Stratus is built to withstand frequent use and harsh winter conditions. Its sturdy design and reliable construction assert its long lifespan.
Floatation & Surface Area
With lengths varying between 25 and 30 inches, its surface area may be questionable. Some users have indicated that these snowshoes might struggle in deep, soft snow situations, possibly causing you to sink more than expected.
Terrain Versatility
The Atlas Stratus performs admirably across a diverse range of terrains, although it excels particularly in icy conditions, thanks to its robust traction. However, it might have some difficulties in very soft, powdery snow.
Traction & Crampon Design
The Atlas Atlas Stratus comes with an aluminum frame and steel tooth crampons, offering solid traction on icy terrains. Its aggressive crampone design enables superior grip and prevents slippage.
Value
Considering its solid construction, reliable performance, and budget-friendly price tag, the Atlas Atlas Stratus represents excellent value. A great buy for those eager to enjoy winter adventures without breaking the bank.
Weight
While we were asked not to include the weight as a tech spec, it's worth mentioning the Atlas Atlas Stratus shines in terms of lightweight design. Despite its sturdy build, it does not burden the user with excessive weight.
Prices
No prices found. Check back later!
Tubbs Mountaineer
$279.95
Best Snowshoes for Backcountry Snowshoeing
Based on our research and testing, we think the Tubbs Mountaineer are a solid choice if you want snowshoes that's really well suited to Backcountry Snowshoeing.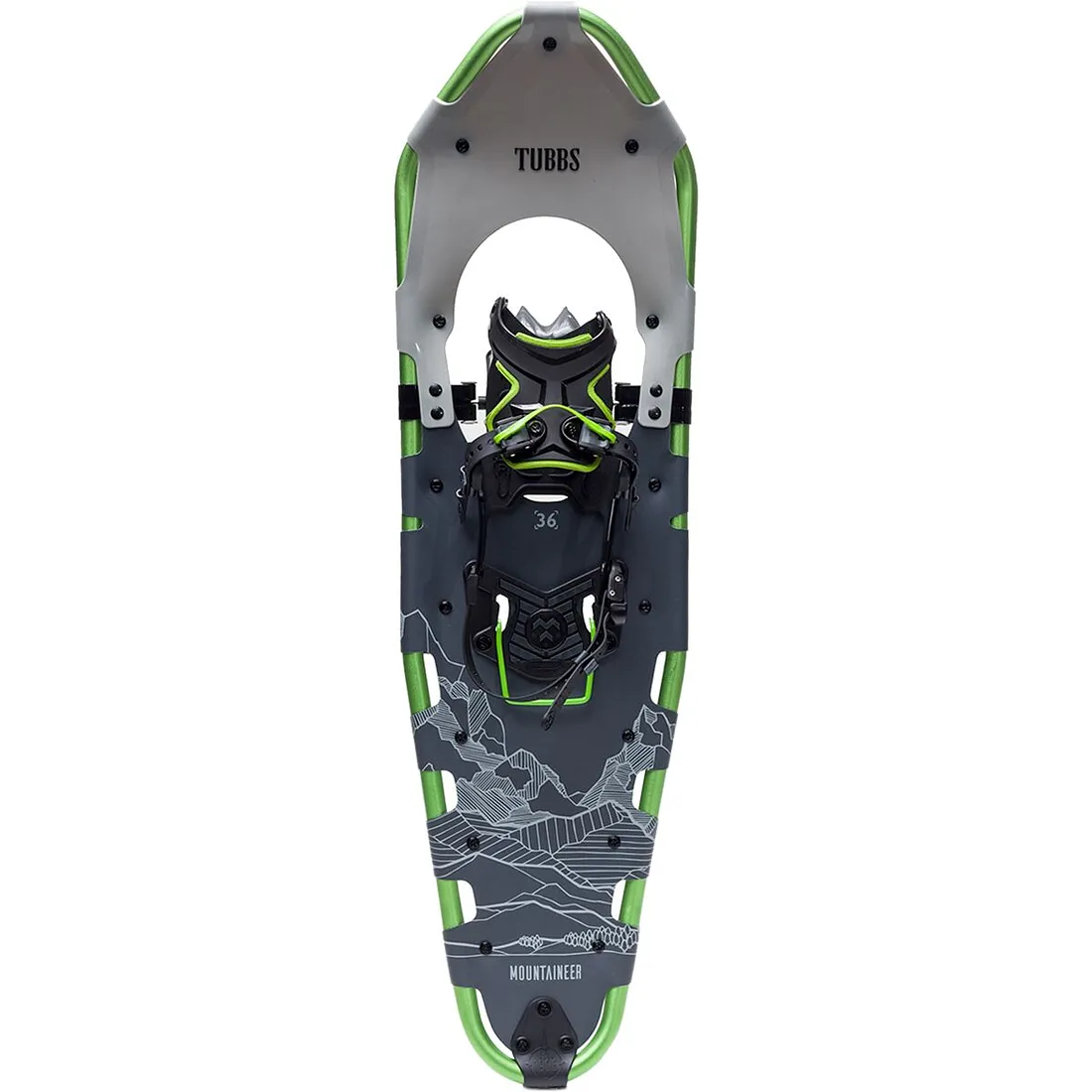 Reasons to Buy
Excellent overall traction

Adjustable, comfortable bindings

Remarkably durable material

Great maneuverability in various terrains
Reasons to Avoid
Slightly heavy compared to other models

Might feel bulky for fast-paced hiking

Uncomfortable for narrow footed wearers
The Important Specs
Length:

25 and 30 inches

Binding:

ActiveFit+

Crampon:

Anaconda Toe Crampon

Optimal Load:

120-200 lbs or 170-250 lbs
Review Roundup
If you're someone who loves to wander off the beaten path, you're going to need a reliable pair of snowshoes to get you through those untouched snowy trails. Enter the Tubbs Mountaineer. It's a premium gear designed specifically for backcountry expeditions and this baby doesn't skimp on performance or durability.
First, let's talk about the traction. Tubbs went above and beyond with the Mountaineer. The ActiveFit+ binding and the Anaconda Crampon under the ball of the foot provide aggressive and secure grip on all sorts of terrain. Buyers have mentioned feeling solid and stable even when trekking over uneven or icy ground.
One key factor that makes it a favorite among snowshoers is its ease of use. Reviews have highlighted the convenience of its binding system. The gloves-on operation is really appreciated among shoppers. A quick pull-on, let's you slip in and out with minimum hassle, which is a real boon when you're out in the cold.
Buyers have consistently expressed their satisfaction with the Tubbs Mountaineer's durability. The frame and decking are built to withstand tough backcountry conditions. They reported trek after trek without a glitch, praising its robustness and longevity.
Moving on to the Fit-Step frame and SoftTec decking, users noted that aside from improving traction, these features helped to reduce muscular skeletal impact, leading to a more comfortable trek. Hence, long trips are more manageable and less tiring.
However, let's not ignore some of the less enthusiastic feedback. There were a few users who found the Mountaineer a bit on the heavy side. Compared to other models in the market, it's not the lightest option. Some mentioned they could feel the extra weight, particularly on longer treks, which potentially could lead to quicker fatigue.
Other minor grievances included a slightly more difficult time traversing over very deep or fluffy snow. While these experiences were not a deal breaker for most, it's something to keep in mind if you prefer trekking in these conditions regularly.
In general, the Tubbs Mountaineer comes up as a top pick among backcountry adventurers time and time again. Its rugged durability, impressive traction, and gloves-on operability are frequently touted by users. As per customers, these are reliable snowshoes that promise performance and longevity, making it a worthy investment for severe backcountry snowshoeing.
Binding Fit & Adjustability
The ActiveFit+ binding system of Tubbs Mountaineer stands out for its easy-to-adjust, comfortable yet secure attachment. The gender-specific, 3D-formed baseplate provides hassle-free stride adjustments which are crucial when exploring the backcountry.
Durability & Material
This snowshoe is a beast when durability is concerned. Made with a high-strength frame and equipped with robust crampons, it's designed to handle harsh outdoor conditions. A few user reviews noted how it stood up against all kinds of terrain without showing any signs of wear and tear.
Floatation & Surface Area
Despite its rather aggressive structure, the Tubbs Mountaineer provides adequate floatation due to its larger surface area. Users noted that they felt stable on soft snow, although there's a little compromise in deep snow conditions.
Terrain Versatility
Tubbs Mountaineer shines in its versatility across different terrains. Whether it's traversing across icy slopes or exploring dense wooded areas - this snowshoe has received high praise from users for its agility and adaptability.
Traction & Crampon Design
The Anaconda Toe Crampon made of carbon steel, coupled with robust traction rails, provides excellent grip across varied terrains. This snowshoe can dig into icy slopes and snowy paths, providing secure footing that outshines many competitors.
Value
While the Tubbs Mountaineer might seem pricey at first glance, its top-notch durability, exceptional traction, and comfort make it a great value for serious backcountry enthusiasts.
Weight
Most user reviews pointed out that this model is a bit heavy, tipping the scales at around 5 lbs. While this might not be the best option for those who prefer lightweight gear, the extra weight does contribute to its notable durability.
Prices