Quick heads-up: some of the links on this page are affiliate links. If you make a purchase through them, we may earn a small commission (at no extra cost to you). This small bit of income helps keep our site running.
Best Hiking Shoes for Men of 2023
This post was last updated on December 06, 2023.
Looking for the Women's version of this post? We've got you covered: Best Hiking Shoes for Women of 2023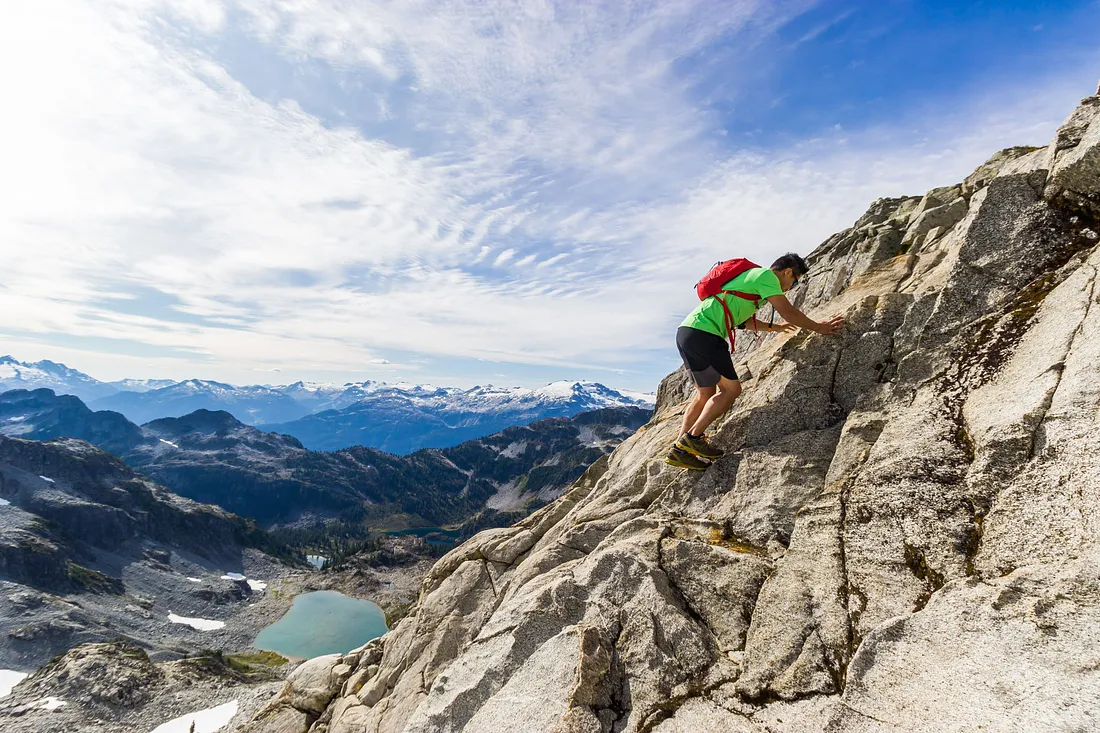 Great boots aren't just about looking like a rugged outdoorsy type (though, let's be honest, that helps). The key to a successful hike and a great outdoor experience shouldn't be ruined by blisters and aching arches. You need the best hiking boots you can get, right? They should be your trusty companions, like Frodo to your Sam (if you're a Lord of the Rings fan). They've gotta be made for some serious walking (or hiking), and that's what we're going to talk about here.
If you're searching for the best hiking shoes for guys, then you've come to the right place. This article is all about helping you find the perfect fit for your feet and for your next adventure. We'll show you why we think Salomon X Ultra 4 GTX tops the list, name a couple of worthy runners-up, and discuss the best choices in several specific categories.
After hours of research, personal testing, and comparing notes from fellow enthusiasts, we've managed to narrow down our top picks. This guide doesn't just focus on style and comfort; we've taken into account tons of criteria to help you make the best choice. To complete your hiking gear, also check out our suggestions for the Best Hiking Shirts for Men, Best Hiking Pants for Men, and Best Hiking Shorts for Men. Let's conquer that trail, shall we?
Our Top Recommendations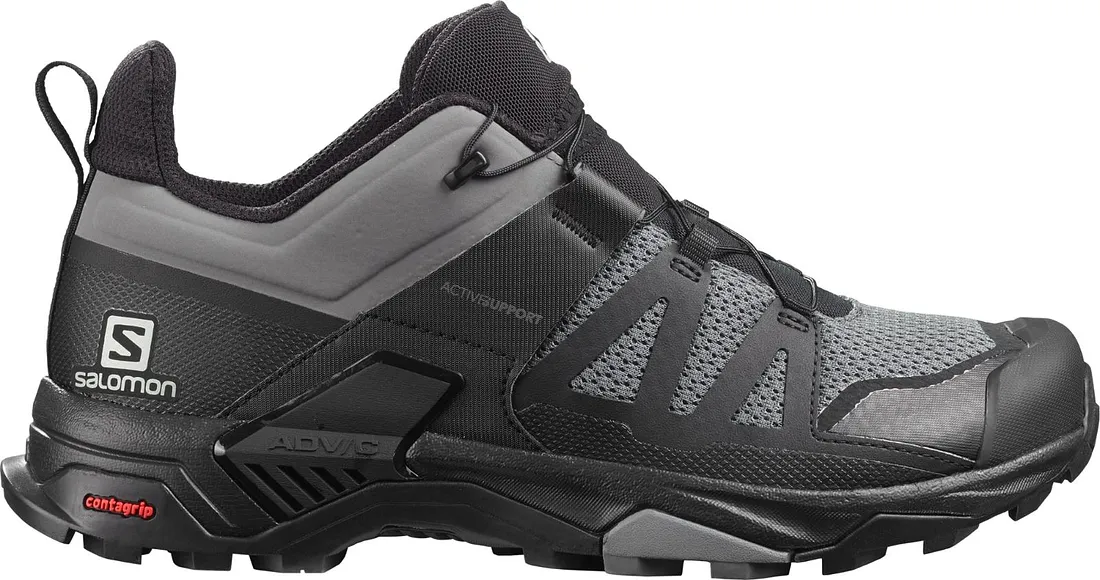 Salomon X Ultra 4 GTX
The Salomon X Ultra 4 GTX tops our list, with users raving about their excellent traction on tricky terrain and superior comfort that holds up even on the longest hikes.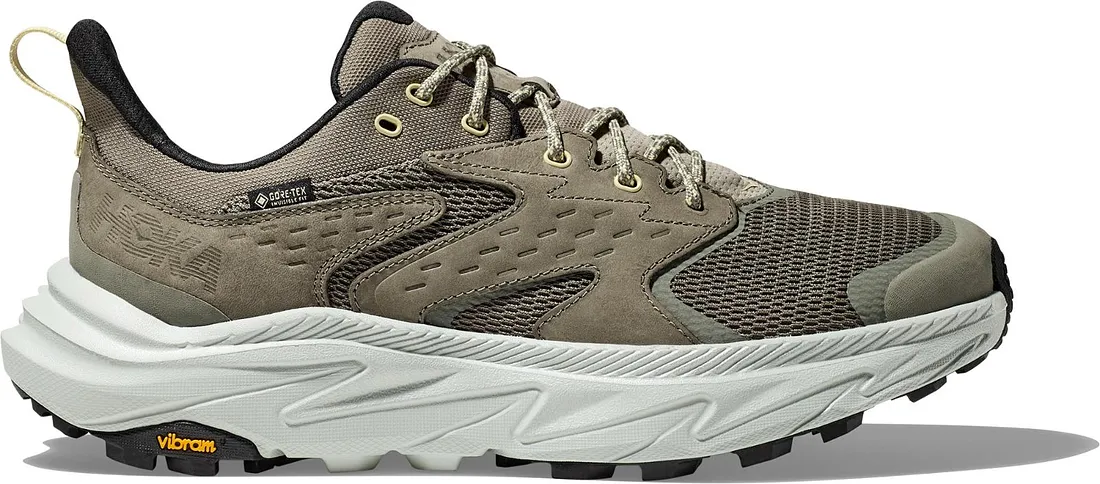 Hoka Anacapa 2 Low GTX
The Hoka Anacapa 2 Low GTX had rave reviews for its ultra comfort with excellent ankle support, and users loved its impressive waterproofing capabilities that left feet dry even on the rainiest trail days.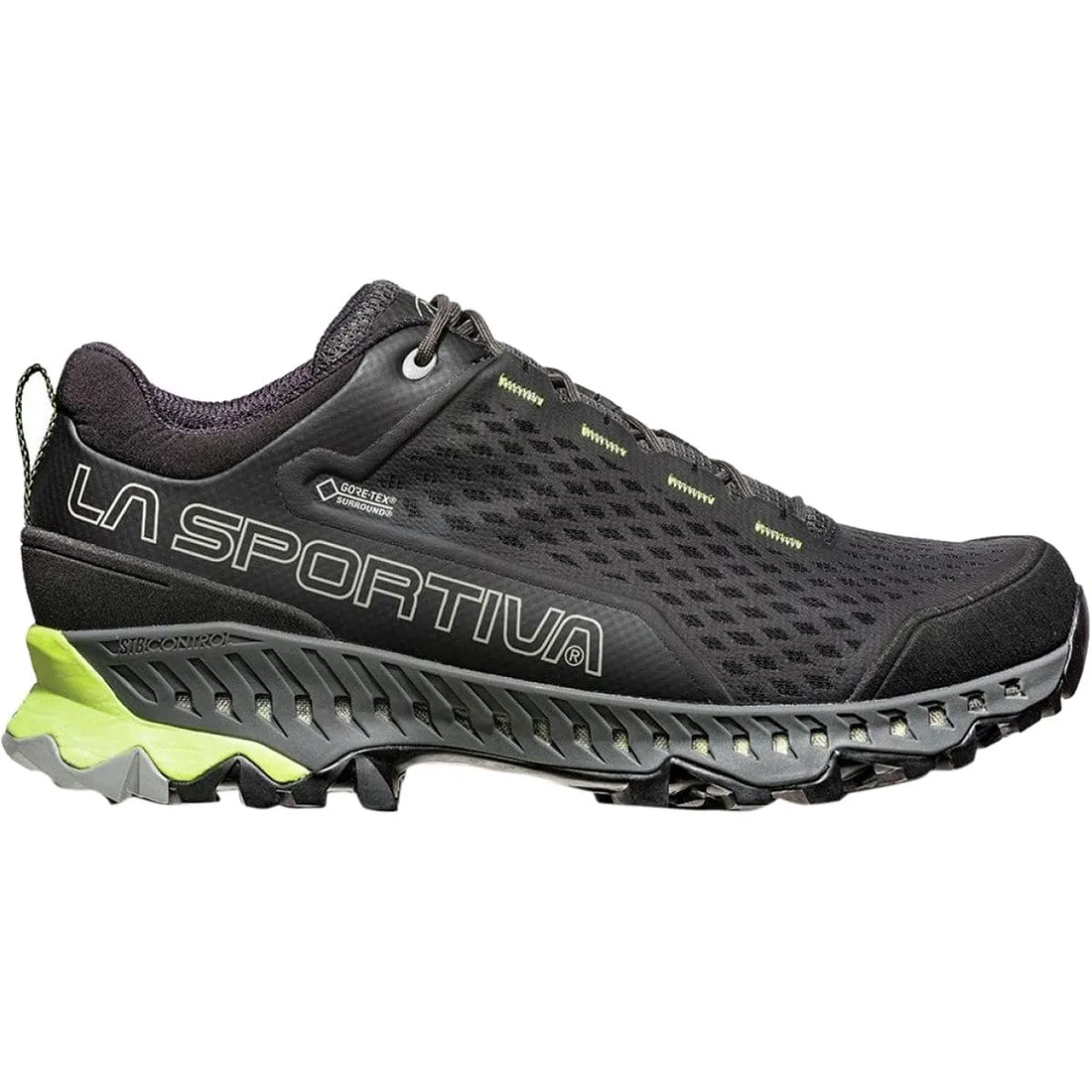 La Sportiva Spire GTX
The La Sportiva Spire GTX shines as our top pick due to its impressively comfortable fit and exceptional grip on wet surfaces, features highly praised by users who took these shoes on rigorous, diverse terrains.
What you should look for
(and what we test for)
Comfort
Top of the list is comfort: look for shoes that snugly fit your feet with ample room for toe movement, because even with the best landscapes, hiking will quickly lose its appeal with sore toes!
Traction
Secondly, find shoes that offer plenty of grip and traction, a feature you'll sure appreciate when navigating slippery, uneven and challenging terrains - nothing ruins a hike faster than not being able to trust your footing.
Durability
It's important that your hiking shoes are durable and made from quality material; they will need to stand up to all kinds of punishment, from rough paths to muddy puddles, and you won't want to replace them after only a few outings.
Waterproofing
Lastly, look for shoes with a good level of waterproofing - your feet will thank you for keeping them dry when the heavens open or when you cross a creek on that all-day hike.
Salomon X Ultra 4 GTX
$159.95
The Best Men's Hiking Shoes
Based on our research and testing, we think the Salomon X Ultra 4 GTX are the best Men's Hiking Shoes on the market right now, for anyone looking to play hard outside.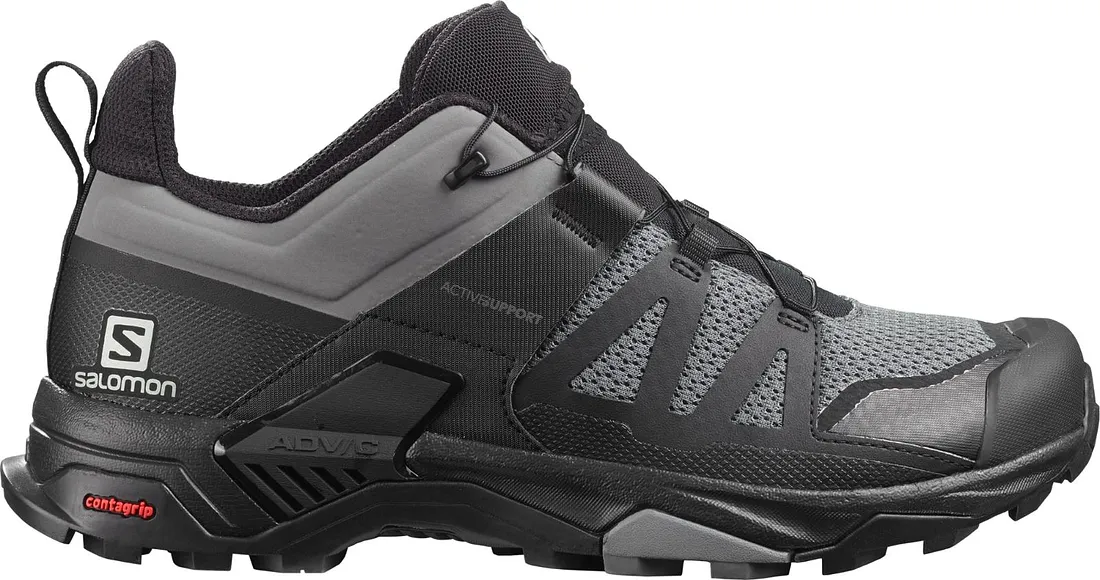 Reasons to Buy
Waterproof yet breathable

Excellent traction on various terrains

Highly supportive and comfortable
Reasons to Avoid
Sizing may run small

Potential break-in period
The Important Specs
Footbed:

OrthoLite Molded Insole

Midsole:

EnergyCell EVA foam

Outsole:

Contragrip MA sole

Material:

Textile/Synthetic construction with a Gore-Tex Membrane
Review Roundup
The Salomon X Ultra 4 GTX is designed with the hardcore hiker in mind. From the moment you pull these bad boys onto your feet, you'll notice the quality craftsmanship that has gone into every detail. Constructed with a waterproof Gore-Tex material, these hiking boots keep your feet dry when you're trekking through wet trails or caught in unexpected downpours.
On the comfort side of things, people rave about the Sensifit system that cradles the foot from the midsole to the lacing system. It's a snug fit that dynamically adjusts to the individual contours of your feet providing consistent support and stability. This unique feature is what users say makes these boots comfortable even on longer hikes.
Many reviews online report that the Salomon X Ultra 4 GTX offers excellent grip. Built with Contragrip MA soles, these boots are designed for the widest possible variety of surfaces, be it slippery rocks, loose gravel or a wet, muddy path. Users you can trust have reported their confidence in hiking steep trails and climbing rocky hills, thanks to the firm grip.
However, not all reviews are glowing; some hikers have found that the shoe runs narrow which could pose a problem if you have broad feet. Also, a few users have mentioned that the shoes tend to show wear and tear more quickly than they'd prefer. Despite this, they still believe they got great value for their money.
Furthermore, some people express their appreciation for the Quicklace system: a single pull tightening feature that ensures a secure and snug fit. But, there is a minor drawback as reported by a few: the lace storage pocket at the top of the shoe is slightly small, making it a bit fiddly to tuck the laces away conveniently.
Finally, the weight. Weighing in at around 380 grams, the boots are lightweight, making them a favourite among those going for long-distance hikes. However, a few hikers have voiced that they may not offer enough cushioning for really rough terrain, as a trade-off for the lightness.
Comfort & Break-in Period
While some users report an initial break-in period, after this, the shoes are consistently referenced as highly comfortable. The cushioned interior provides the comfort necessary for prolonged use, and the lacing system allows for easy adjustment for a snug fit.
Durability & Construction
These hiking shoes are built to last. The textile/synthetic construction provides a good balance between durability and flexibility, resulting in a shoe that can withstand heavy use without compromising comfort.
Support & Footbed Design
The shoe boasts an Advanced Chassis, providing stability and support to keep your feet comfortable during long walks. Moreover, the EnergyCell EVA foam midsole and OrthoLite Molded Insole work together to provide cushioning which reduces foot fatigue considerably, as testified by many users.
Traction
The Salomon X Ultra 4 GTX has an excellent grip, courtesy of its Contragrip MA sole. This makes it ideal for tackling a variety of terrains - from muddy paths to rocky trails, these shoes won't let you down. There's a reason this shoe is praised by hikers for its solid footing in most conditions.
Value
Despite being on the pricier side, many users think the Salomon X Ultra 4 GTX provides excellent value because of its durability, performance, and comfort. If you're after a reliable pair of hiking shoes that you can constantly turn to, these could be a great investment.
Waterproofing & Breathability
Featuring a Gore-Tex membrane, these shoes effectively keep the water out despite puddles or unexpected showers. However, breathability isn't sacrificed for waterproofing; users report that their feet stay dry and cool, a much-needed element during intense hikes.
Weight
They are reasonably light for a shoe that provides such a high level of support and protection. Although heavier than a trail runner, it won't drag you down even on longer hikes.
Prices
Hoka Anacapa 2 Low GTX
$180.00
Runner Up
Based on our research and testing, we think the Hoka Anacapa 2 Low GTX are a great choice if you're looking for men's hiking shoes to go play hard outside with, if our top pick isn't quite what you're looking for.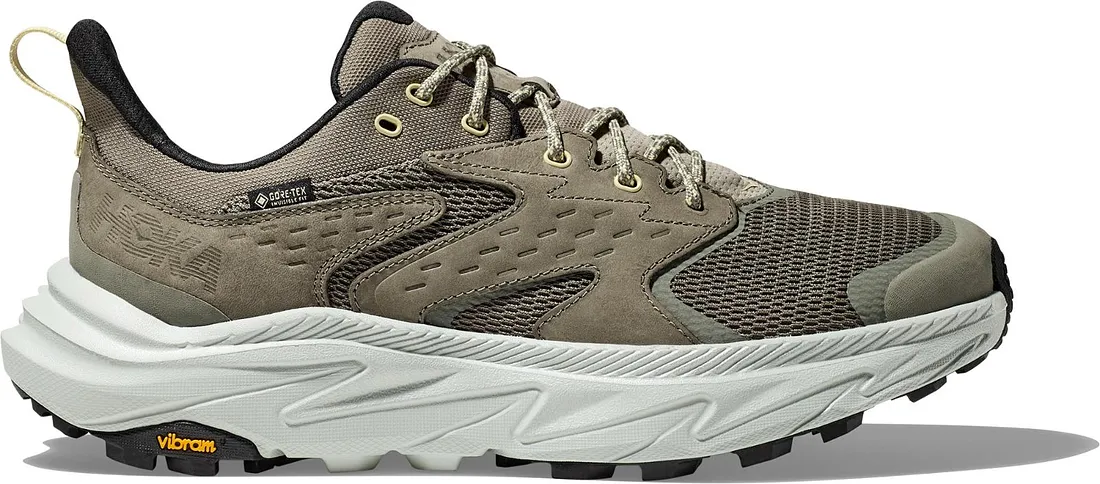 Reasons to Buy
Impressive support and cushioning

Excellent waterproofing and breathability

Hard-wearing and durable

Comfortable with minimal break-in period
Reasons to Avoid
May feel a bit heavier

High price point
The Important Specs
Upper:

Nubuck leather and mesh

Midsole:

Compression-molded EVA

Outsole:

Vibram Megagrip

Material:

GORE-TEX fabric
Review Roundup
The Hoka Anacapa 2 Low GTX is just what you need for those epic trails. This hiking shoe is not only stylish; it's also packed with features to boost your outdoor adventure. Hoka has rapidly gained a reputation for comfortable and durable footwear and the Anacapa 2 Low GTX is no exception.
First off, this shoe has been praised for its lightweight design. Despite being packed with features, these shoes won't slow you down or bulk up your feet. This makes them perfect for long treks and challenging terrain.
Buyers have gushed about the incredible comfort of the Anacapa 2 Low GTX. Thanks to Hoka's signature cushioning system, your foot feels cradled and protected, no matter the trail surface. Plus, the shoe's roomy toe box allows your forefoot to spread naturally during your trail activities - a great relief for those long, demanding hikes.
Another standout quality is the shoe's waterproof capacity. Hoka used the trusted Gore-Tex technology in crafting these shoes, ensuring you stay dry, even in the soggiest conditions. Few things can spoil a great hike like wet feet - Hoka seems to understand that and have you covered.
Traction is often a worry when shopping for hiking shoes, and Hoka didn't disappoint here. Buyers reported great stability in varied terrains with these shoes. The high-traction rubber outsole will have you walking confidently on both wet and dry surfaces.
The shoe also provides great durability. Numerous reviews highlighted how well the Hoka Anacapa 2 Low GTX held up after several tough hiking trips. Apparently, this shoe is not one to back down from a challenging hike.
However, it would be unfair not to mention some of the criticisms. Some users found the shoe's lacing system a bit lacking. They felt that the laces loosened up during hikes, requiring frequent tightening. Also, a handful of users experienced some 'hot spots' or rubbing in the heel area.
Lastly, some buyers noted that the sizing seemed a bit off. They suggested ordering a half to a full size up from your regular shoe size. But don't let that discourage you. Once you nail the right size, the Hoka Anacapa 2 Low GTX promises a solid, comfortable trekking experience.
Comfort & Break-in Period
With its plush cushioning, the shoe provides immediate comfort out of the box which makes the break-in period relatively short. Users have noted that they could comfortably wear the shoes for extended periods right away.
Durability & Construction
The Hoka Anacapa 2 Low GTX is constructed to last, with a sturdy Nubuck leather and mesh upper. Customers often praise the durable design, claiming that the shoes stand up well to rigorous and repetitive use.
Support & Footbed Design
Many reviewers appreciated the shoe's superior support and cushioning, crediting the compression-molded EVA midsole. The footbed is designed to cradle the foot, increasing stability and reducing fatigue on long hikes.
Traction
The Vibram Megagrip outsole on the Hoka Anacapa 2 Low GTX offers excellent grip and stability, making it perfect for traversing rocky or slippery terrains. Customers report that it instills confidence while hiking on uncertain surfaces.
Value
Despite the high price point, many customers feel that the Hoka Anacapa 2 Low GTX offers a great value due to its high-quality materials, durable construction and comfort. The shoes are seen as an investment for the dedicated hiker, promising longevity and performance.
Waterproofing & Breathability
The GORE-TEX fabric offers top-notch waterproofing which is well demonstrated in wet conditions. Despite its waterproof feature, the shoe doesn't compromise breathability. Buyers report they are happy with how well their feet stayed dry, and did not feel stuffy or overheated.
Weight
Some hikers feel that the shoes are a tad heavier than expected. However, this is often offset by the exceptional comfort, stability and cushioning the shoes provide.
Prices
La Sportiva Spire GTX
$209.00
Runner Up
Based on our research and testing, we think the La Sportiva Spire GTX are a great choice if you're looking for men's hiking shoes to go play hard outside with, if our top pick isn't quite what you're looking for.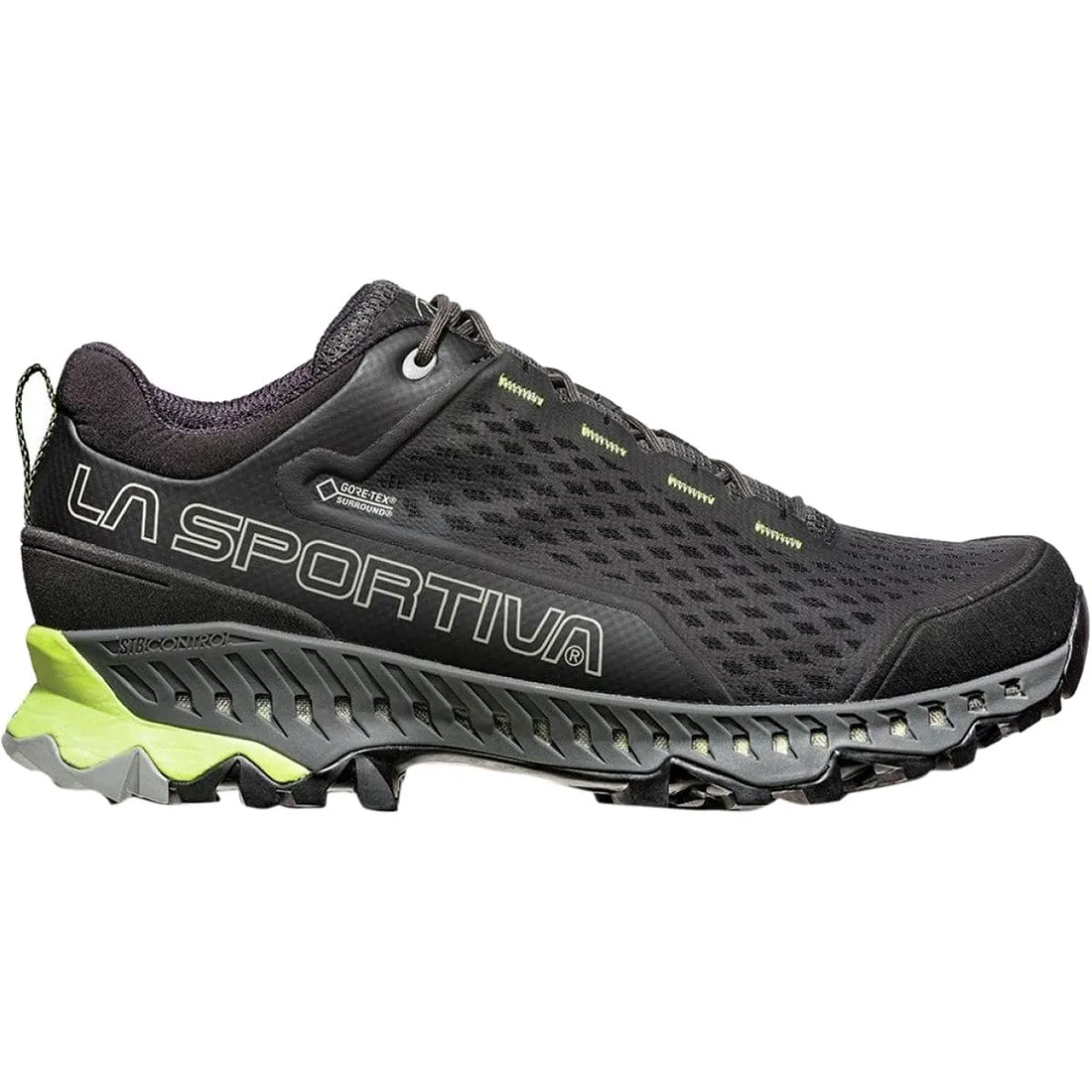 Reasons to Buy
Provides excellent support and comfort

GTX Waterproof technology maintains dry feet

Exceptional traction on various terrains

Durable construction withstands harsh conditions

The break-in period is minimal
Reasons to Avoid
Tend to be heavier than other models

Quite pricey for budget-conscious campers

Can be too narrow for those with wider feet

Not the most breathable option in hot weather
The Important Specs
Lining:

Gore-Tex Extended Comfort

Midsole:

Compression-molded EVA

Upper Materials:

Abrasion-resistant mesh with Nano-Cell 2.0 technology

Outsole Materials:

Vibram XS Trek with Impact Brake System
Review Roundup
La Sportiva's Spire GTX hiking shoes are a top pick for many outdoor enthusiasts, gaining popularity with their high-tech design and reliable performance. Avid hikers love the innovative Gore-Tex Surround Technology, elevating breathability to the next level. It's almost like these shoes have their own little air-conditioning system, keeping your feet cool and dry regardless of the trail conditions.
The Vibram XS Trek outsole features some serious tread pattern, enhancing grip and traction. It's like the 4-wheel-drive equivalent for your feet, making easy work of rocky terrains, slippery slopes, or even muddy conditions. These shoes can certainly handle the unpredictable nature of outdoor adventures.
The well-designed EVA midsole is another high point with customers, absorbing shocks like a pro. Whether it's a rugged trail or a simple park hike, the La Sportiva Spire GTX footwear ensures a comfortable ride while minimizing fatigue. It's a bit like walking on clouds, even on the toughest trails.
Despite its sophisticated design, durability isn't compromised. These shoes are built like tanks, but feel like feathers on your feet. Customer reviews repeatedly praise their longer lifespan, withstanding wear and tear even under constant and challenging use. This pair offers genuine value for money; your investment pays off in the long run.
However, it's clear that no product is entirely flawless. Some hikers have noted that these shoes tend to run a bit small, suggesting to grab a size larger than usual. But once you find your perfect fit, customers say these shoes are quite the comfortable bet. Despite some sizing issues, the La Sportiva Spire GTX seems to has hit a sweet spot among hiking shoe buyers.
There's also been a bit of chatter about the price tag. These top-tier hiking shoes don't come cheap, but then again, top-notch quality rarely does. However, the majority of users feel the price is justified by the shoe's impressive performance and longevity. It seems most customers consider the La Sportiva Spire GTX a worthwhile investment for their hiking adventures.
Comfort & Break-in Period
Users praise its comfortable fit right out of the box, indicating a minimal break-in period. However, those with wider feet might find them a bit narrow and uncomfortable.
Durability & Construction
The shoes are designed with abrasion-resistant mesh with Nano-Cell 2.0 technology that prevents wear and tear. The sturdy construction can withstand rough hiking trails and can last many treacherous adventures.
Support & Footbed Design
The Spire GTX shoes offer superior support that can handle long hikes with ease. The footbed design coupled with the EVA compression-molded midsole provides stability and lessens the impact on your feet.
Traction
Crafted with Vibram XS Trek soles, the Spire GTX provide excellent grip across different terrains. Whether you're hiking on rocky paths, slippery stream-crossings or muddy trails, the solid traction of these shoes won't let you down.
Value
While the Spire GTX is a bit pricey, the robust features, durability, and support can justify the higher price point. However, for those on a budget, these hiking shoes might be a bit of a stretch.
Waterproofing & Breathability
These hiking shoes employ the Gore-Tex waterproof technology, making them suitable for wet weather hikes. However, in hot conditions, the breathability could definitely be improved as it can get a bit stuffy for your poor feet.
Weight
Weighing more than other hiking shoes could be a downside for those looking for light hiking footwear. The added weight is a trade-off for high durability and superior protection.
Prices
Best Ultralight Men's Hiking Shoes
Based on our research and testing, we think the Hoka Speedgoat 5 are a solid choice for those looking for a lightweight men's hiking shoes option to go play hard outside with.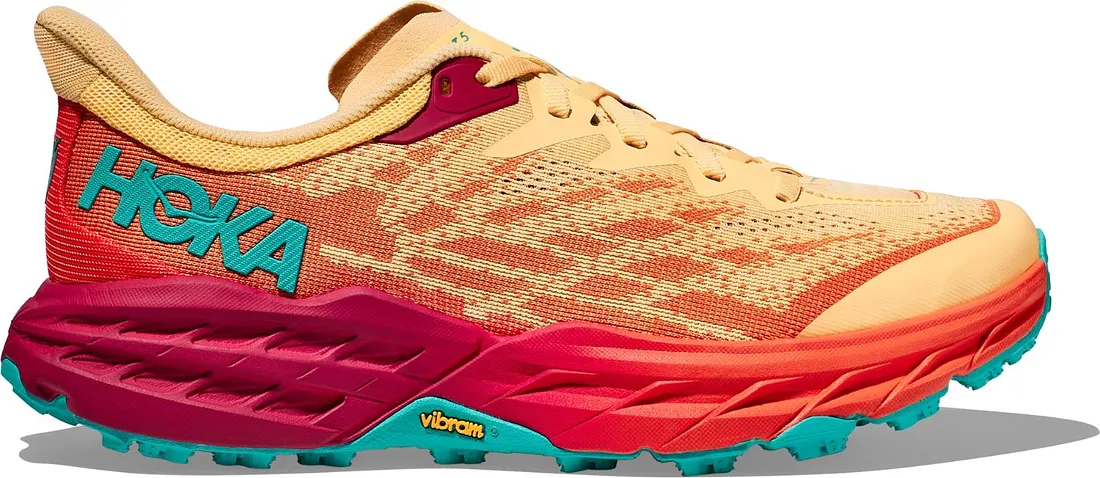 Reasons to Buy
Excellent grip on a variety of terrain

Comfortable fit with good padding

Durable and long-lasting

Water-resistant materials
Reasons to Avoid
Could be too narrow for some

Takes a bit to break-in

Not fully waterproof
The Important Specs
Midsole:

Soft and lightweight EVA foam

Material:

Rugged mesh upper

Sole Design:

Vibram Megagrip high-traction outsole

Additional Support:

Lugs with an outstanding 5mm depth
Review Roundup
The Hoka Speedgoat 5 Ultralight shoes have been celebrated by the camping, backpacking and climbing community because they stand up to the test of rough terrains while keeping your load light. These shoes are a rad combination of comfort, durability and less weight which makes them an indispensable mate on your hiking trail.
A striking feature most buyers gush over is Hoka's well-loved cushioning. The plush, midsole padding makes it feel like you're walking on fluffy marshmallows, and this doesn't come at the expense of responsiveness. The shoe responds well to your movements and speeds, providing you both control and ease.
The grip is another area where the Speedgoat 5 shines. The Vibram Mega Grip outsole clings on to both wet and dry surfaces like a seasoned mountaineer. Users have reported confidently crossing slick spots without losing their footing. This makes the model a solid choice for hikers with an adventurous streak.
Let's not forget about the upper, which is crafted from an engineered mesh to offer breathability and support in the right places. It's durable enough to withstand wear and tear and soft enough to comfortably house your foot.
On the flip side, some hikers felt these were a smidge larger than their normal size. So, if you're planning on acquiring these, be aware of the possibility of a roomier fit.
Another point mentioned by a few buyers is the lack of color options. While functionality trumps aesthetics in the wilderness, a wider palette may have been more appealing to some explorers out there.
After scouring multiple reviews, it is crystal clear that the Hoka Speedgoat 5 is more than just a lightweight shoe, it's a trusty sidekick for your outdoor adventures packing a serious punch of comfort, grip and durability. A few downsides here and there, but nothing that weighs down on its overall brilliance.
Comfort & Break-in Period
The shoes have been broadly lauded for comfort, once broken in. Some users found they needed a short break-in period before they were comfortable for long treks, but once past that initial phase, they reported a comfortable fit with enough padding to relieve pressure points.
Durability & Construction
The majority of customers were highly pleased with the durability of the Speedgoat 5. Its rugged mesh upper and strong outsole design provide significant resilience against wear, tear, and rough terrains. The only slight caveat that customers pointed out was that they began to truly excel after a break-in period.
Support & Footbed Design
Crafted with an EVA foam midsole, the Speedgoat 5 ensures cushioning and shock absorption. However, few purchasers mentioned that they found it a bit narrow, which might cause discomfort for people with wide feet. Even so, many users appreciated the support during long hikes, appreciating the shoe mold to their foot shape for greater stability.
Traction
Designed with Vibram Megagrip high-traction outsole, the Hoka Speedgoat 5 excels in providing excellent grip. Customers praised their stability on all types of surfaces and loved how confident they felt during more demanding hikes, regardless of weather conditions. The 5mm lugs add to the aggressive grip on challenging tracks.
Value
Given its features - great traction, decent water resistance, and durability - users believe that the Hoka Speedgoat 5 provides great value for its price, with the quality matching the cost. These are seen as a long-lasting pair of hiking shoes that justified the purchasers' investment.
Waterproofing & Breathability
While not being fully waterproof, which some users marked as a downside, the shoe's material does provide a certain level of water resistance, which is adequate for damp terrain or light rain. The Speedgoat 5 impressed with its ability to keep feet dry till an extent. The rugged mesh design allows for good air circulation, making them a great shoe for warm weather hikes.
Weight
Despite being an ultralight shoe, some users felt that there are lighter options available on the market within the same niche. However, most users declared that the practical benefits, such as excellent traction and foot support, outweigh the slight compromise in weight.
Prices
Salewa Mountain Trainer Lite GTX
$179.95
Best Men's Hiking Shoes for Alpine Hiking
Based on our research and testing, we think the Salewa Mountain Trainer Lite GTX are a solid choice if you want men's hiking shoes that's really well suited to Alpine Hiking.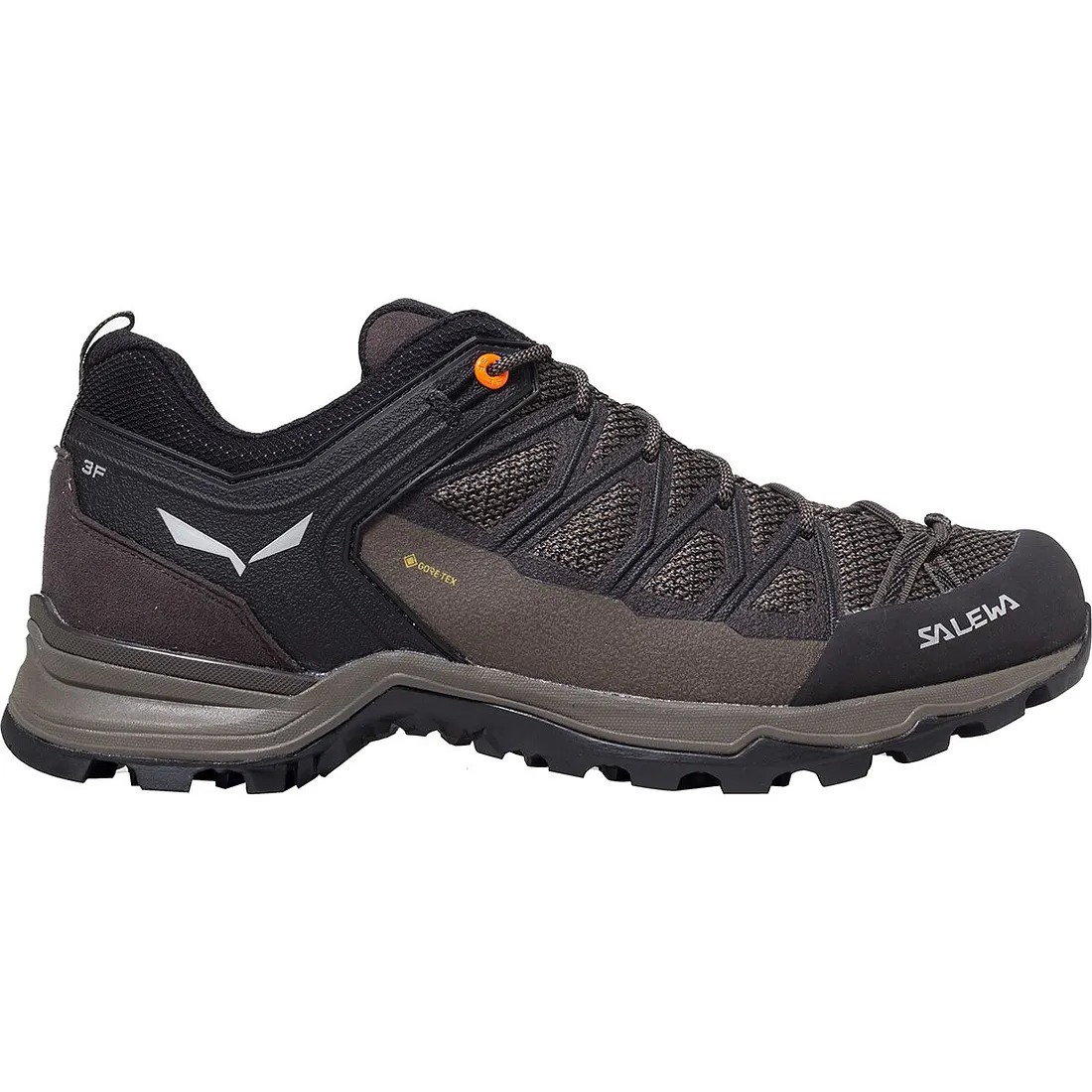 Reasons to Buy
Excellent traction on various terrains

Breathable and waterproof design

Durable construction built for rough trails

Offers good support and comfort
Reasons to Avoid
Requires a break-in period

Could be considered pricey

May be too heavy for lightweight hiking enthusiasts
The Important Specs
Closure:

Lace

Materials:

Suede, fabric, rubber sole

Waterproofing:

Gore-Tex Extended Comfort

Footwear Height:

Mid

Footwear Closure:

Lace-up
Review Roundup
The Salewa Mountain Trainer Lite GTX is a solid choice for guys who are serious about hitting those high-altitude trails. Built for rugged terrain and inclement weather, these shoes boast a waterproof GORE-TEX extended comfort lining that keeps you dry as a bone even when Mother Nature decides to surprise you with a downpour.
Crafted from a durable suede and fabric upper, the shoe has a rugged appearance that still manages to maintain a certain level of style and sophistication. The brawny construction, however, doesn't make the shoe clunky or uncomfortable. In fact, most online reviewers rave about their lightweight feel and comfort, asserting that you can easily forget that you're wearing heavy duty hiking shoes at all.
In terms of fit, users suggest going half a size up. Although the shoe seemingly runs a little small, once you've gained the right fit, users say they provide a snug and supportive feel. A few even noted that they found relief from foot pain experienced in other hiking footwear.
The company's patented 3F System promises ankle support, flexibility, and a perfect fit. Online reviews back up this promise with real-life experiences of stable treks and blister-free ascents. Some users, though, mention the insole as a small downside, describing it as 'thin' and suggesting the potential addition of aftermarket insoles for added support.
Grip is a major feature of the Salewa Mountain Trainer Lite GTX. It's aggressive Vibram outsole bites into rocky and tough trails like a mountain goat. Praises abound in online reviews for the superior traction, providing a confidence boost when navigating slippery or uneven terrain, even in wet conditions.
Durability seems to be a trademark of this shoe, with multiple reviewers reporting the shoes holding up well over time, enduring tough conditions and providing reliable, lasting service. There were only a couple of isolated issues mentioned with the seams coming apart, but this seemed to be the exception, not the rule.
Lastly, let's chat breathability, a crucial factor for preventing sweaty (and potentially blister-beckoning) feet on the trail. The GORE-TEX lining while waterproof, does not compromise on letting your foot breathe and stay dry. Reviewers commend it on doing a satisfactory job in this respect.
So, there we have it, the Salewa Mountain Trainer Lite GTX as seen through the lens of actual users. These shoes appear to be a brawny yet light pair that certainly brings a lot to the table in terms of comfort, fit, grip and durability.
Comfort & Break-in Period
Despite being sturdy, these shoes are comfortable for most users after a break-in period. Some buyers reported needing about a week to adjust to them, but once broken-in, they found the shoe extremely comfortable for long hiking trips.
Durability & Construction
Constructed from a mix of suede and fabric, these shoes have proven to be durable. The reviews indicate that users were able to take them on rough trails with minimal wear and tear. The rubber rand around the base provides extra protection against sharp rocks and roots.
Support & Footbed Design
Designed with a mid-foot design for higher ankle support, this hiking shoe offers an optimal balance between support and flexibility, which users mentioned in their reviews. The footbed design contributes to the overall comfort and stability of the shoe, regardless of distance or terrain.
Traction
Equipped with a rubber sole with deep lugs, the Salewa Mountain Trainer Lite GTX delivers excellent traction, helping hikers navigate through both dry and wet terrain confidently. The shoes grip well on rocks, mud, roots and even loose gravel. The original buyers expressed satisfaction with the shoe's performance on various surfaces in their reviews.
Value
Despite being at a higher price point, customers believe the Salewa Mountain Trainer Lite GTX offers good value for the money. Its high-quality construction, exceptional performance, and comfort over long distances make them a worthwhile investment according to many user reviews.
Waterproofing & Breathability
These shoes come with Gore-Tex Extended Comfort technology. This makes them not only waterproof but also breathable. People who bought this product often referred to these specific features in their reviews, appreciating how their feet remained dry even after walking through streams or wet grass.
Weight
Although they are not the lightest on the market, these shoes provide the necessary stability and protection for harsh trekking conditions. Some users, especially those who prefer light hikes, find them a bit heavy, but ultimately, the weight brings durability and support.
Prices