Quick heads-up: some of the links on this page are affiliate links. If you make a purchase through them, we may earn a small commission (at no extra cost to you). This small bit of income helps keep our site running.
Best Windbreakers for Women of 2023
This post was last updated on December 06, 2023.
Looking for the Men's version of this post? We've got you covered: Best Windbreakers for Men of 2023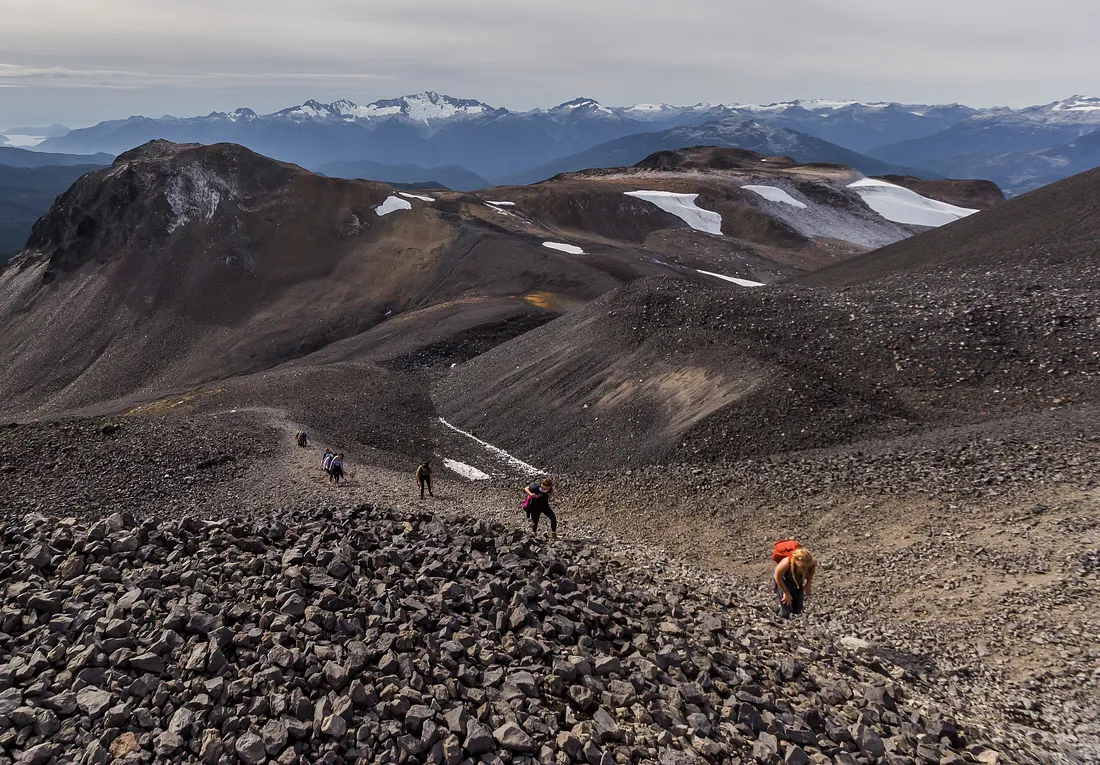 Ready to level up your outdoor adventures? Seeking that sweet blend of weather protection and moveability? Say hello to windbreakers. With all the choices out there, it can be challenging to find the perfect one. Well, we've got your back. Our pick of the litter? The Patagonia Houdini Air Jacket, a trusted companion designed for women who dare to venture outdoors. The Houdini Air has your needs covered, from wind resistance to breathability, durability, and beyond. With this gem, your adventures don't have to be confined to sunny days.
But that's not all! As much as we believe in the Houdini Air (and we seriously do), we know that what works for one woman might not work for another. So we've spotlighted two close runners-up, both of which bring unique strengths to the table. Depending on your specific needs and budget, one of these might just steal your heart. Our goal? To help you find that perfect balance of comfort, protection, and value.
For gear nerds and newbies alike, you're in good company. We have a back catalogue of posts just for you. From finding the best rain jackets and down jackets to guiding you through the wild world of hardshell jackets, we've got you covered. All this to make sure you feel empowered to stay wild and free. Ready to dive into the windbreaker world? Let's do this thing.
Our Top Recommendations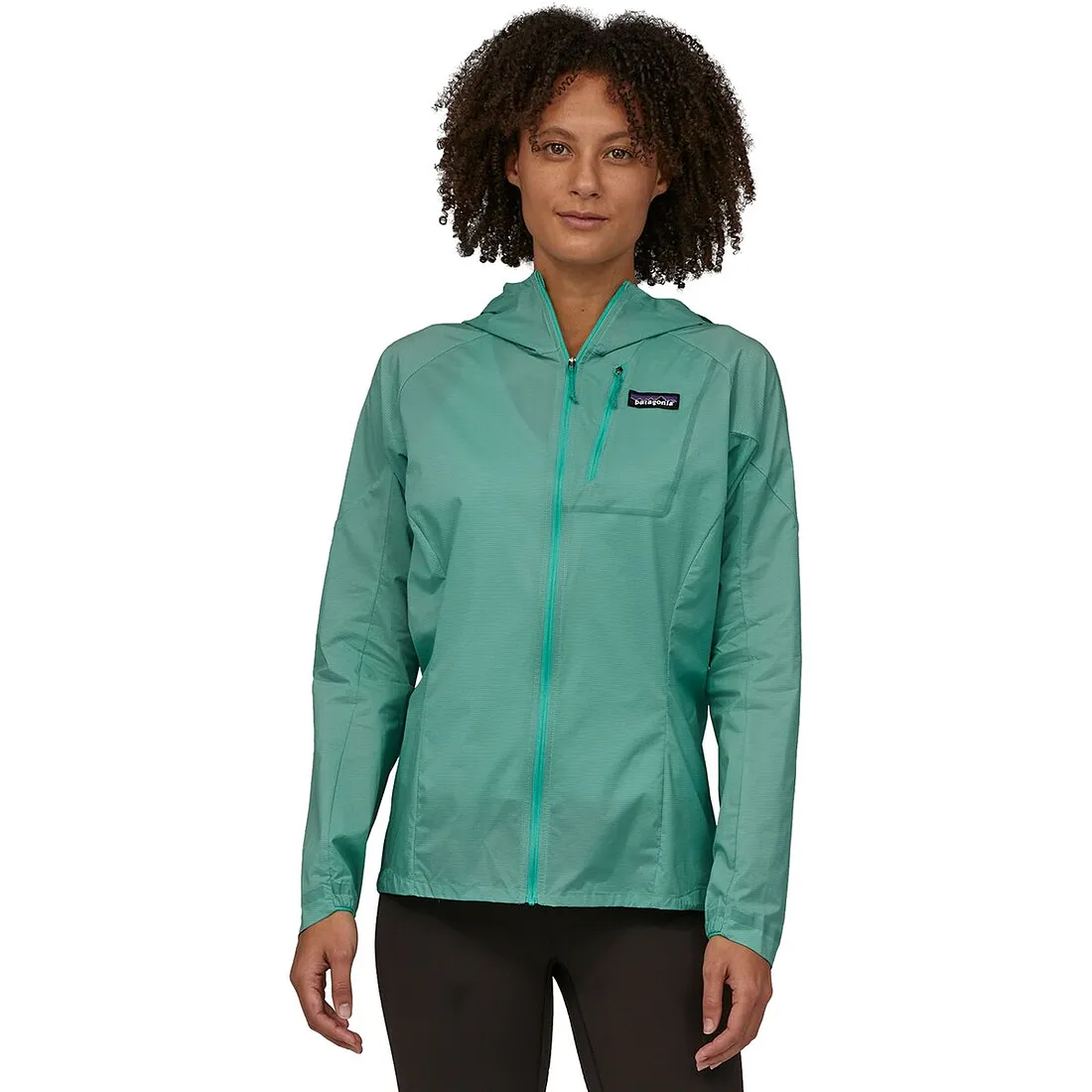 Patagonia Houdini Air Jacket
The Patagonia Houdini Air Jacket tops our list due to user praises for its incredible lightness, stylish fit, and exceptional breathability, all while offering wind protection, making it a real standout among the competition.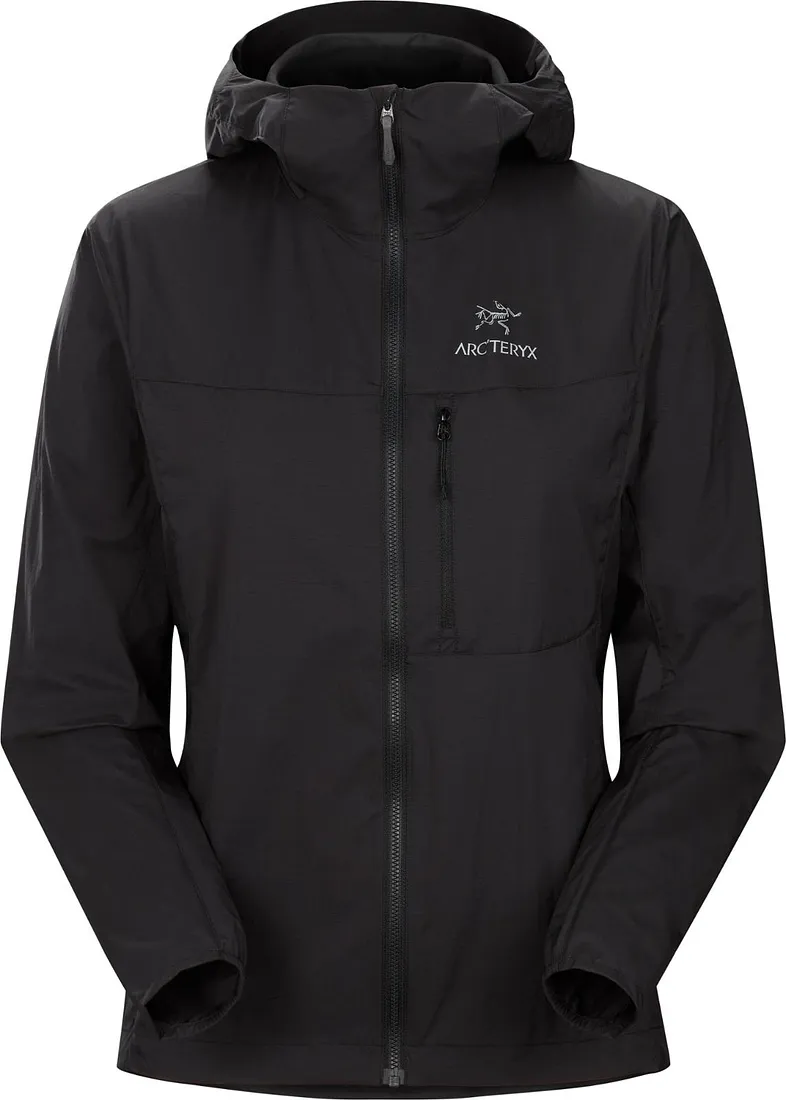 Arc'teryx Squamish Hoody
The Arc'teryx Squamish Hoody is our top pick runner up because users have raved about its lightweight yet durable material and its exceptional wind resistance, making it a reliable asset for any outdoor adventure.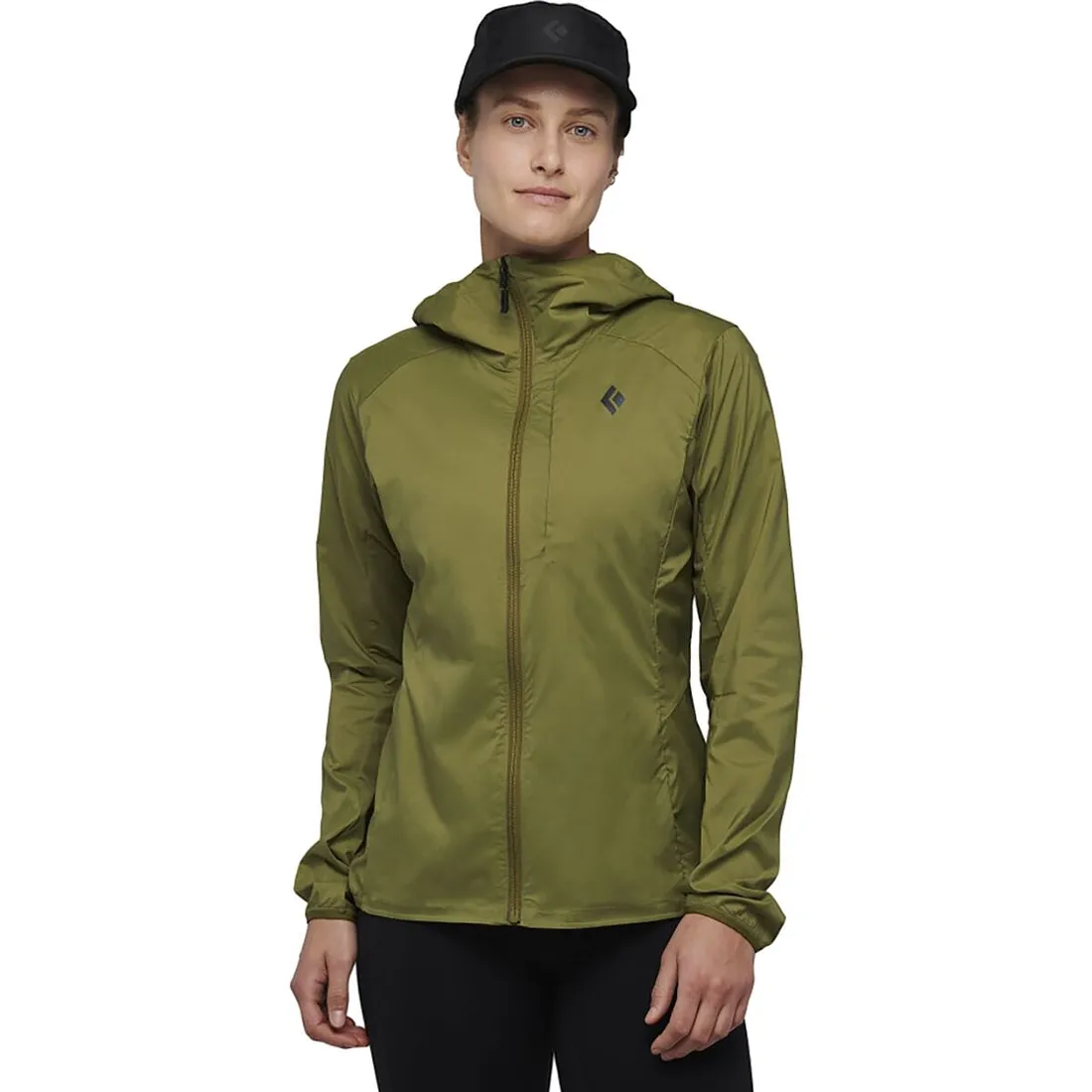 Black Diamond Alpine Start
Based on user reviews, the Black Diamond Alpine Start Windbreaker is a top pick due to its exceptional breathability and water-resistance, alongside the versatility afforded by its lightweight and compact design.
What you should look for
(and what we test for)
Design
A well-designed windbreaker should be lightweight and packable, making it easy to toss into your backpack without adding undesirable bulk or weight.
Material
Make sure the windbreaker is made from durable, breathable fabric like nylon or polyester, which can withstand the elements without making you too sweaty during strenuous hikes or climbs.
Fit and Comfort
Opt for a windbreaker that offers a comfortable fit, allowing you enough room for layering during cooler weather but also one that can be cinched at the waist or wrists to keep out the chill.
Weather Resistant Features
Check out for high-quality windbreakers with waterproof or water-resistant features, as well as a hood for those unexpected bouts of rain or heavy winds during your outdoor adventures.
Patagonia Houdini Air Jacket
$179.00
The Best Women's Windbreaker
Based on our research and testing, we think the Patagonia Houdini Air Jacket is the best Women's Windbreaker on the market right now, for anyone looking to play hard outside.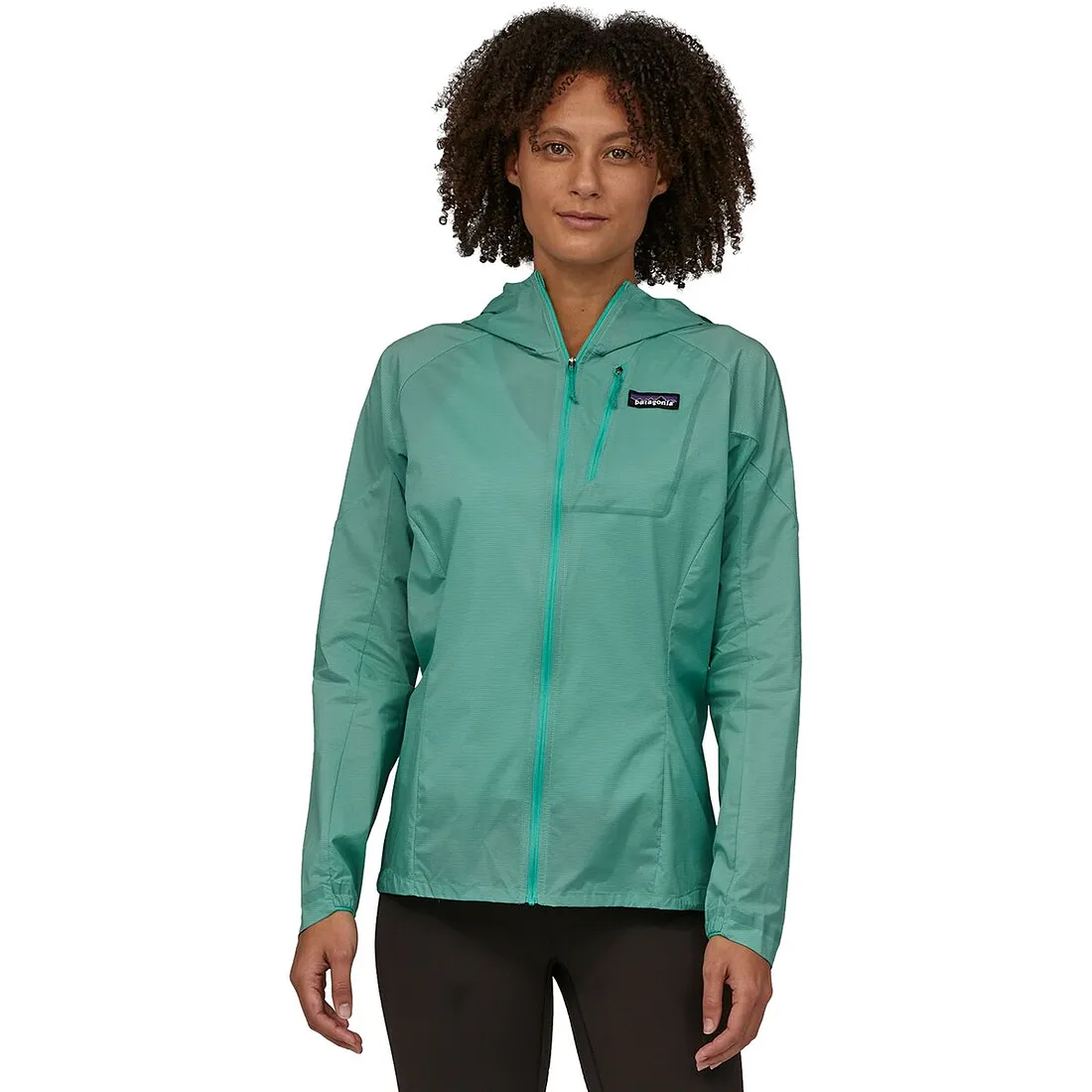 Reasons to Buy
Great wind resistance

Impressive breathability

Very packable

Solid moisture protection

Affordable price
Reasons to Avoid
The fit can be too tight for some

Material can be abrasive on bare skin

Durability could be better
The Important Specs
Lining:

Polyester

Material:

Nylon Ripstop

Hood Configuration:

Single-pull adjustable
Review Roundup
The Patagonia Houdini Air Jacket is the 'Houdini' of jackets. Users online have often raved about its compact, feather-light design that literally allows it to disappear in your backpack or even your pocket. It's a real lifesaver, or rather, a space saver for campers or climbers who want to keep their load light without sacrificing any comfort or protection against the elements.
Women who purchased this jacket often compliment on its breathability. The lightweight, air-permeable material is made to keep you from overheating during rigorous activities, yet provides ample wind resistance. However, the jacket has less wind resistance compared to similar products - something to take note of if you'll be often camping in particularly windy situations.
Users find that the nylon ripstop shell is not only durable, but also comes with a DWR (durable water repellent) finish. This is to protect you from a sudden change of weather outdoors. Reviewers shared various experiences of being caught in unexpected showers and still remained dry. However, don't mistake it for a full rain jacket. It can handle a drizzle but would struggle under heavy rainfall.
A recurring praise from customers has been the jacket's functionality. Wearers love the innovative hood design rendering a secure fit without impairing visibility. The zippered chest pocket that doubles as a stuffsack with its reinforced carabiner clip-in loop is another practical feature that users appreciate, especially those who are adventure enthusiasts.
Now, the fit of the Houdini Air Jacket is something buyers had mixed reactions on. Some loved the 'semi-fitted' style which they claim is perfect for layering, not too tight and just right to move comfortably in. However, others mentioned that it runs a bit large, so it may be best to size down if you're after a snug fit.
Another bit of criticism this otherwise beloved jacket received was about its price. Users acknowledge the high-quality and features, but with a higher price tag than comparable windbreakers on the market, some felt it could have been a bit more budget-friendly.
Despite the minor criticisms, the majority of women who have bought the Patagonia Houdini Air Jacket reiterate their satisfaction over their choice. It's praised for the way it combines lightness, compactness and air permeability whilst providing good wind and light rain protection. Overall it has the thumbs up.
Breathability & Ventilation
Users appreciated the breathability. The Houdini Air Jacket is so simple, it's perfect for activities that create a lot of heat such as trail running or biking. It does get a tad sticky when you're pushing hard in warm weather, but nothing too uncomfortable.
Durability
While most found the jacket to be rugged enough for everyday use, some hardcore outdoorsy folks noticed signs of wear and tear after a few intense escapades. It's durable with casual use, but if you're regularly heading into rough areas, this might not be the ideal pick.
Fit
Reviews were a mixed bag here. The fit can be a bit snug for those preferring a looser style. Some people appreciated this for performance-oriented activities, others found it restrictive. Pro tip: if you're buying online, consider going a size up.
Value
Overall, most buyers believe you're getting good bang for your buck with the Houdini Air Jacket. It delivers on the important fronts: wind resistance, breathability and decent water repellency, all at a pretty reasonable price.
Water Repellency
Most people found the water-resistance capabilities satisfying, especially during light rain showers. However, it's less effective in a full-on downpour. If you suspect it's gonna rain cats and dogs, you might want to bring an extra piece of rain equipment.
Weight & Packability
Almost all users praised its lightness and packability. The jacket can be easily stowed away into its own pocket, making it great for minimalist adventures where every inch of backpack space matters.
Wind Resistance
Customer reviews were consistently positive with regard to its wind resistance. The Nylon Ripstop material effectively prevents wind penetration, making the jacket perfect for preliminary planning or sudden weather changes.
Prices
Arc'teryx Squamish Hoody
$160.00
Runner Up
Based on our research and testing, we think the Arc'teryx Squamish Hoody is a great choice if you're looking for a women's windbreaker to go play hard outside with, if our top pick isn't quite what you're looking for.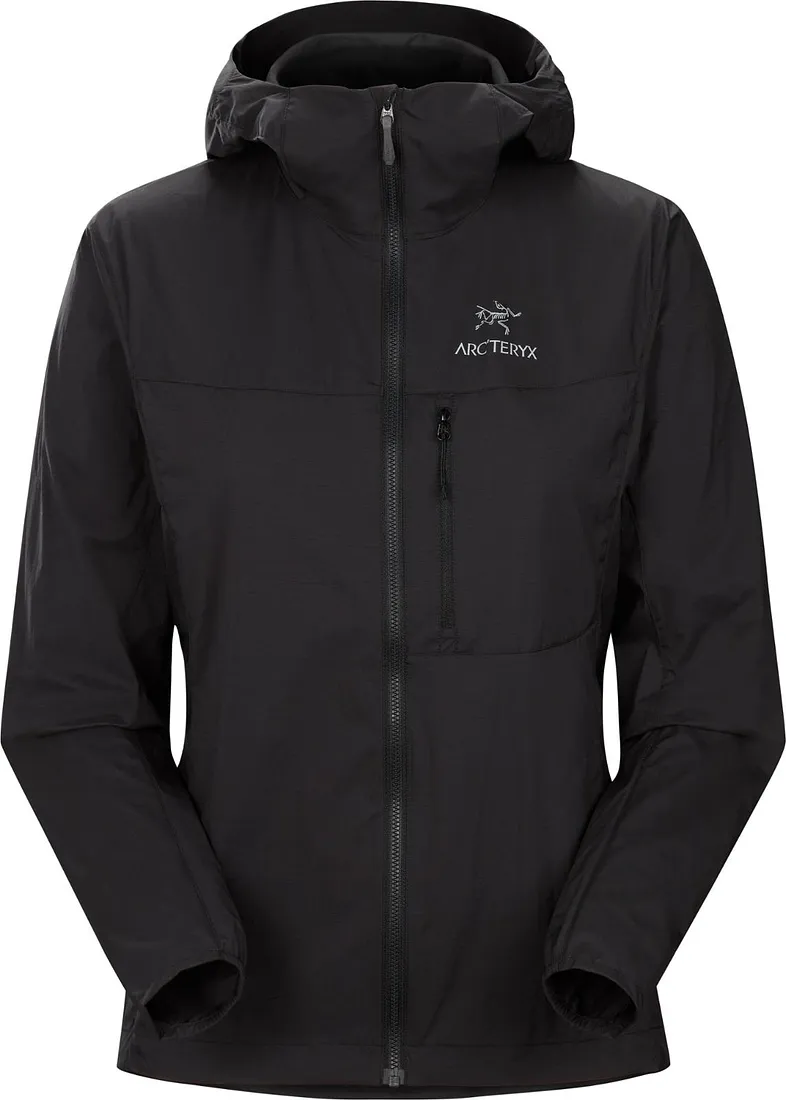 Reasons to Buy
Excellent wind protection

Packs down small in its own chest pocket

Good breathability for moderate activity

Durable and repels light rain
Reasons to Avoid
Not ideal for heavy rain protection

Can feel slightly snug

Premium price can be a barrier for some
The Important Specs
Fit:

Regular with e3D ergonomic patterning

Hood:

Helmet compatible, adjustable storm hood

Pockets:

Zippered chest pocket that doubles as stuff sack

Material:

Tyono 30 denier shell with DWR treatment

Special Feature:

Wind resistant, water repellent

Dimensions (Packed):

4x4 inch
Review Roundup
When it comes to the Arc'teryx Squamish Hoody, comfort is king. This lightweight and versatile windbreaker offers an ideal balance of wind resistance and breathability. Its standout feature is the proprietary Tyono 30 denier shell, which effectively blocks wind while still being remarkably light and compressible. Ideal for hikers and outdoor enthusiasts, it packs into its own pocket for easy storage in a backpack.
The Squamish Hoody from Arc'teryx not only excels in serving its primary function for wind protection, but also impresses with its stylish and flattering fit, tailored for women. It's available in a range of attractive colors, which the online shoppers are loving.
Reviewers have noted the exceptional durability of this windbreaker. It's an investment piece that's made to last. Its resilient fabric and quality construction mean it can stand up to regular outdoor wear and tear without losing its high-performance abilities.
Buyers praise the Squamish Hoody's hood design – both adjustable and helmet-compatible, it provides excellent protection in windy conditions without limiting your field of vision. The jacket's underarm gussets allow for full arm movement, a star feature for climbers.
On a less positive note, some buyers have reported that the jacket's water resistance leaves a little to be desired when it comes to heavy rainfall. While it can handle light rain without a hitch, the Squamish Hoody isn't intended to replace a full-fledged rain jacket. This isn't a deal-breaker, but something to consider if you're planning to be out in heavy rain for extended periods.
Another minor gripe that a few buyers have is that the jacket doesn't have hand pockets. While it does feature a chest pocket, some online reviewers wished for a space to warm their hands. However, others see this as a plus as it keeps the weight and size down, making it more compressible.
In summary, this windbreaker scores high on comfort, wind resistance, and durability, with some room for improvement in water resistance and lack of hand pockets. But if you're after a piece for high-energy outdoor pursuits that's light and packable, the Arc'teryx Squamish Hoody is hard to beat.
Breathability & Ventilation
Customers mention that it does a fairly good job of breathing for a wind shell and keeps them cool during moderate activity. It hits the sweet spot between warmth and ventilation, ensuring you don't overheat or get too cold.
Durability
Buyers were impressed with the durability and overall build quality of the jacket. The material feels robust, and even after some harsh usage, it performs admirably. However, there were few reports of seam issues after prolonged use.
Fit
The Squamish Hoody has a regular fit with e3D patterning that allows for enhanced mobility. It's appreciated by many, but some online reviews mention it's slightly on the snug side. You might want to size up if you plan on layering heavily underneath.
Value
While this hoody costs a pretty penny, users find its versatility and performance justify the premium price tag. It's an investment that offers reliable wind protection, light rain resistance, and good breathability, making it an exceptional value given its functionality.
Water Repellency
While it's not designed for heavy downpours, it repels light rain well. Customers noticed that the water beads up and rolls off the surface, keeping them dry in a drizzle. However, for heavy rains, they recommended a fully waterproof jacket.
Weight & Packability
Many shoppers praised its ultra-lightweight and compact packability. It stuffs down small into its own chest pocket. This making it incredibly handy to stash in a backpack just in case the weather decides to play hardball.
Wind Resistance
Reviewers rave about the Squamish Hoody's ability to cut out wind chill. It protects you from nippy breezes during hiking, climbing or just a city tour. It's a lifesaver, especially if the wind picks up unexpectedly whilst you're outdoors.
Prices
Black Diamond Alpine Start
$185.00
Runner Up
Based on our research and testing, we think the Black Diamond Alpine Start is a great choice if you're looking for a women's windbreaker to go play hard outside with, if our top pick isn't quite what you're looking for.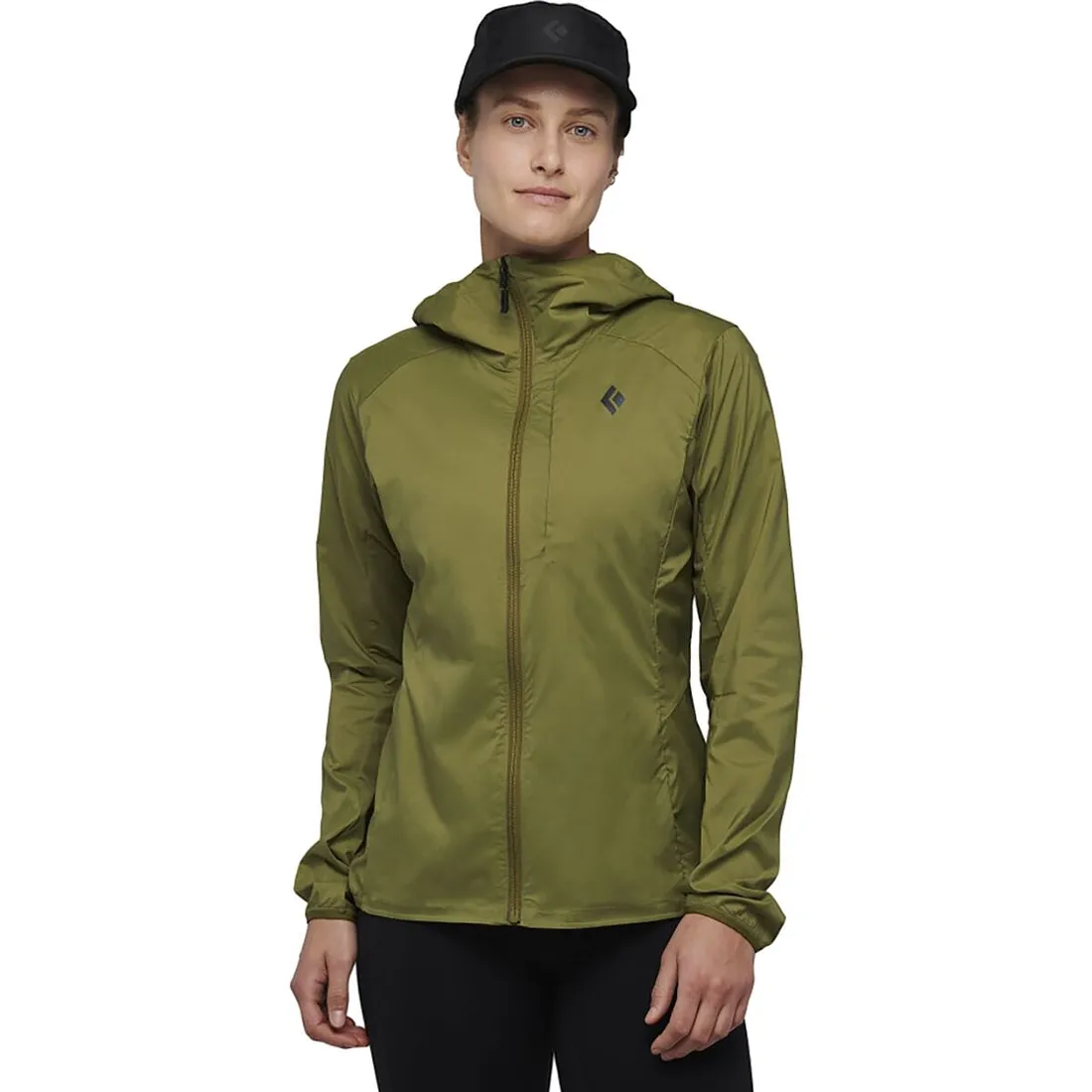 Reasons to Buy
Offers excellent mobility and comfort

Breathable and highly ventilated

Ideal combination of water repellency and wind resistance

Highly durable and withstands rough terrains

Offers good value for money
Reasons to Avoid
May fit a bit tight around the hip area

Not fully waterproof, only water-repellent

Limited color options
The Important Specs
Pockets:

Single chest pocket

Material:

Schoeller stretch-woven with NanoSphere Technology

Hood Design:

Helmet-compatible, adjustable hood

Adjustable Features:

Adjustable hem and cuffs
Review Roundup
The Black Diamond Alpine Start windbreaker for women is a feast for the eyes and a literal boon for those who seek outdoor adventure. But beyond being just pretty, it's tough, and more than capable of handling the harshest travails of Mother Nature.
Many users loved how feather-light it feels without compromising the durability - this jacket practically begs to be taken on an excursion. It's made from Schoeller stretch-woven nylon, which gifts it supreme toughness while making sure it isn't as hard as a knight's armor. You can run, climb, stretch, or do a cartwheel, and this jacket will move like it's an extension of your body.
With that in mind, it's also been reported by users that it provides the kind of breathability you would need in a heated pursuit. Say you're on a trail run, or working up a sweat climbing up a hill, the Alpine Start doesn't make you feel like you're wrapped in plastic. It lets your skin breathe.
This windbreaker holds its own in the face of strong winds, offering superior protection. A large number of reviews highlighted its excellent wind resistance, singing praises for how snug and warm it kept them even when the gusts picked up.
Another thing that users have applauded about the Alpine Start, is its water resistance. Granted, it's isn't a dedicated raincoat; nevertheless, it can withstand a decent bout of unexpected drizzle and keep you relatively dry till you find shelter.
Some buyers, however, have mentioned that its water resistance tends to wear off after heavy use, which is a point to note. Prolonged exposure to heavy rain might result in water soaking through. But remember, it's a windbreaker first and foremost.
The Black Diamond Alpine Start also wins points for its portability. It's a breeze to pack, with it compactly folding into its internal chest pocket—handy for those who need to pack smart and light. But a few people did note that the packed size could still be a little smaller for easier carriage.
One crucial detail that divided opinions among the users was the fit. Some users found it to be just right, offering good range of movement without excessive material flapping about. Yet others found it a bit too roomy or long, especially in the torso area. It seems to come down to personal preference and body type.
In conclusion, the Black Diamond Alpine Start is a reliable partner for the passionate outdoorswoman. It packs in great functionality, and by all accounts, seems to be worth the investment for the adventure-ready, keeping them comfortable and protected against the elements.
Breathability & Ventilation
It's standout feature is its breathability. Regardless of the intense activities or warm temperatures, the high level of airflow due to the stretch-woven material keeps wearers cool. However, there are no pit zips, so very high-intensity activities may feel a bit sweaty.
Durability
This windbreaker is built to last even in harsh environments. The Schoeller stretch-woven fabric not only gives flexibility, but also ensures it can handle scrapes and abrasions well. It stands up to extended use without showing much wear or tear.
Fit
The fit is generally comfortable, offering ample room for layering. The adjustable hood, hem and cuffs allow for a custom fit. However, some users have found it a bit tight around the hip area, so it may not suit everyone's body type.
Value
Given its performance, durability and other features, it shows a great value for the asking price. Although it's not the cheapest windbreaker on the market, the value it delivers in terms of function and lifespan may make it worth the investment.
Water Repellency
While not fully waterproof, it performs impressively in light rain due to the NanoSphere Technology that helps repel water. In heavier downpours, it would likely soak through, and thus, it might be better to have a fully waterproof coat in such conditions.
Weight & Packability
Despite not being the lightest option, it makes up for this with superior packability. It compresses down into an internal chest pocket, becoming a compact size that's easy to carry in a backpack. The quick packing feature is a bonus for active users who need efficient and speedy gear storage.
Wind Resistance
The Black Diamond Alpine Start has a high wind resistance rating, thanks to its NanoSphere Technology, which blocks the wind yet remains light and flexible. Even during strong breezes in open environments, it offers great protection while not restricting movement.
Prices
Best Budget Women's Windbreaker
Based on our research and testing, we think the Rab Vital Hoody is a great pick if you're looking for a women's windbreaker that is more budget friendly, without sacrificing too much in quality.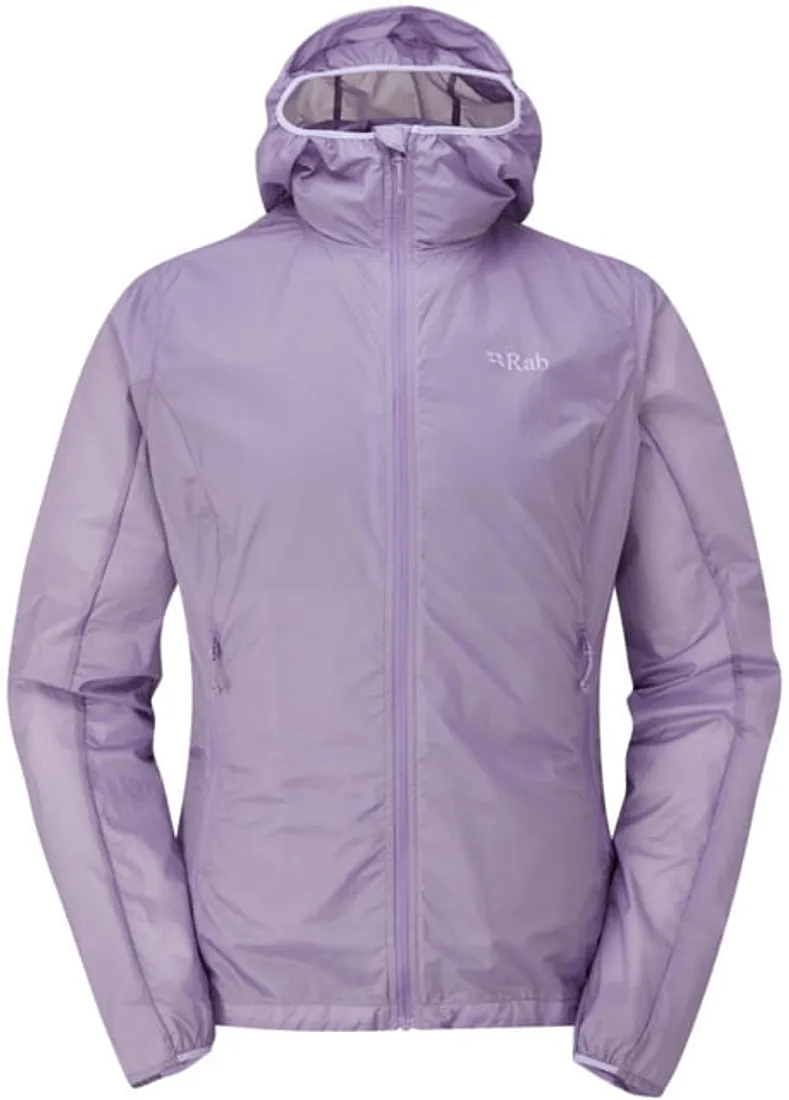 Reasons to Buy
Stylish and practical design

Excellent wind resistance

High breathability

Affordable price
Reasons to Avoid
Struggles with heavy rain

Some find the fit a bit off
The Important Specs
Hood:

Yes, adjustable and helmet-compatible

Colors:

Variety of colors

Pockets:

One zip pocket

Material:

Pertex Quantum organic cotton
Review Roundup
The Rab Vital Hoody is an underrated gem in the world of windbreakers for women, especially if you're working with a tight budget. The first thing most buyers appreciate about this budget-friendly jacket is its remarkable function to cost ratio. It delivers a lot of value for its price tag.
It isn't flashy or overly designed. Instead, it focuses on simplicity and effectiveness. The stand-out feature is definitely its wind resistance, which multiple buyers have praised. Many outdoorsy women have posted about their experiences using this jacket in windy conditions, and the consensus is that the Rab Vital Hoody does a stellar job in keeping the chill out.
Another hot topic among buyers is its lightweight feature. Quite a few reviewers mentioned how pleasantly surprised they were with how lightweight and packable this jacket is. It's perfect for backpacking trips where every ounce counts or just for carrying around on those unpredictable weather days. Some women even shared that they carry it in their handbags just in case.
This windbreaker also seems to have won fans over with its breathable fabric. Some reviews indicate that it offers decent breathability and helps regulate body temperature effectively during strenuous outdoor activities.
However, there are a few snags to consider. While the general opinion on the wind resistance and weight is positively unanimous, there are mixed reviews about the durability of the Rab Vital Hoody. Some women have been using it regularly and consider it quite robust. Others, however, have noticed wear and tear a bit sooner than expected. It seems like your mileage may vary here.
Another potential drawback is that while it's decently water-resistant, it isn't fully waterproof. Some reviews pointed out that it wets out in sustained, heavy downpour, so it's better suited for windy situations rather than rainy ones.
All in all, customers seem to agree that for its price point, the Rab Vital Hoody is a strong contender in the budget category of windbreakers for women.
Breathability & Ventilation
When it comes to breathability, the Rab Vital Hoody shines. Reviewers often note how it manages to block the wind while still allowing for a good amount of ventilation, making activities such as hiking or climbing more comfortable.
Durability
Many users commend the Rab Vital Hoody for its durability, noting it stands up well to frequent uses. Its tough construction does not easily tear or wear, offering great longevity.
Fit
Fit is a slightly contentious point among reviews. While the majority of customers find the fit comfortable and true to size, some have mentioned it being slightly off particularly in the sleeve and body length.
Value
A common theme among reviews is the excellent value this windbreaker offers. The combination of effective wind protection, breathability, and durability at an affordable price make it a popular choice for those on a budget.
Water Repellency
Although the windbreaker performs well in light rain, some users have noted a decrease in its water repelling capabilities during heavier downpours. If you're in need of a jacket for heavy rainfall, this might not be the best option, but it's perfect for brisk, windy days.
Weight & Packability
This windbreaker is conveniently lightweight and packable, with many users complimenting its easy portability. Despite being light, it doesn't compromise on wind protection which customers appreciate.
Wind Resistance
The Rab Vital Hoody is praised by customers for its excellent wind resistance. Even in strong gusts, reviewers comment that they were well protected. This is certainly a stand-out feature of this windbreaker.
Prices
Patagonia Airshed Pro Pullover
$139.00
Best Women's Windbreaker for Trail Running
Based on our research and testing, we think the Patagonia Airshed Pro Pullover is a solid choice if you want a women's windbreaker that's really well suited to Trail Running.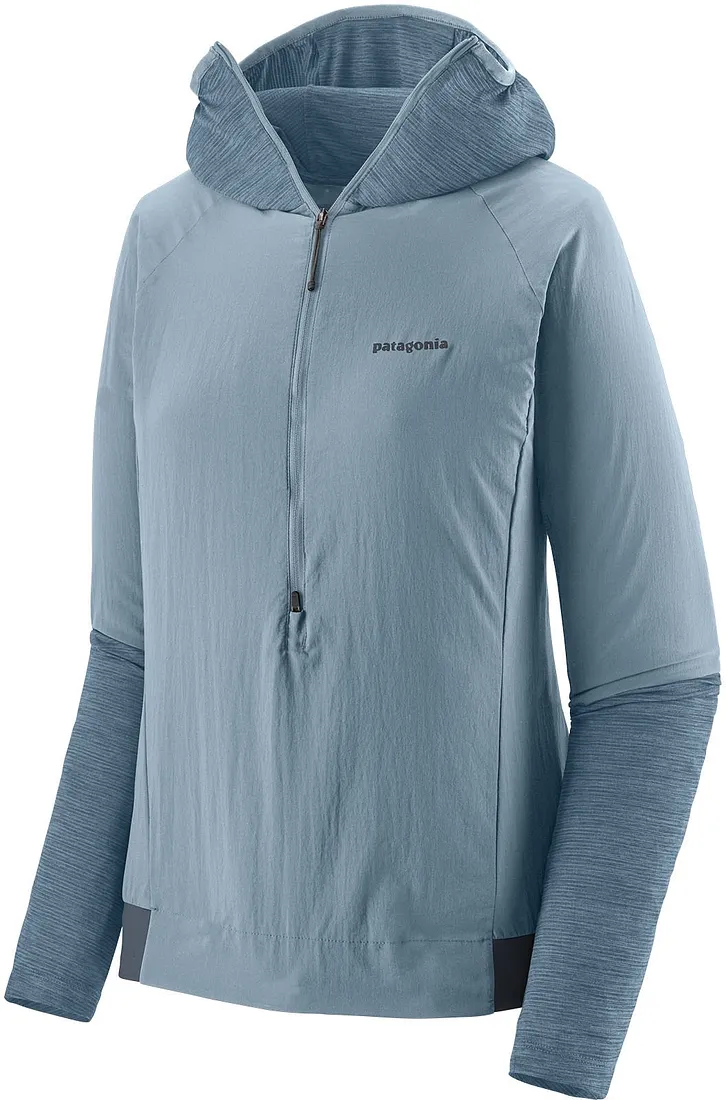 Reasons to Buy
Great breathability

Ideal for trail running

Strength and durability

Good value for money

Comfortable fit
Reasons to Avoid
Not fully waterproof

Relatively high price compared to other options

Limited color choices
The Important Specs
Fabric:

Nylon

Pocket:

Single chest pocket with zipper

Visible Reflective Detailing:

Yes
Review Roundup
The Patagonia Airshed Pro Pullover steps into the Trail Running niche with some pizazz. This windbreaker knack for blending functionality and style is noticeable and appreciated by many outdoor lovers.
This pullover is incredibly lightweight, making it easy to pack up and take with you wherever your trail run takes you. Additionally, it doesn't skimp on providing the protection you need against the elements. It is designed with a Capilene Cool fabric lining at the neck, which helps to effectively wick away moisture.
Known for its dashing blend of simplicity and effectiveness, this windbreaker is a friend to those who love layering. It fits in comfortably over a T-shirt or under a jacket, depending on weather conditions. There's also a lined kangaroo pocket for those who like to keep a few essentials close by.
Many users who reviewed the Patagonia Airshed Pro Pullover online avidly express their love for the product. The majority praised how well it blocked the wind, allowing them to jog or trek without getting too chilly. Several reviewers also spoke highly of its breathability - a feature not to be overlooked when revving up on a mountain trail.
However, not all opinions were glowing. Users were divided regarding the fit of the pullover; some found it fitting to their size while others felt it was a bit on the snug side. A few mentioned that the zipper design could use some improvement, stating they found it a bit challenging to fully unzip the pullover, a minor hiccup some didn't appreciate.
Despite the minor criticisms, many reviewers agreed on one thing - the utility of the pullover. Whether it was for a quick jog in cool weather or an all-day hike in varied conditions, the Patagonia Airshed Pro Pullover proved a reliable piece of outerwear.
Breathability & Ventilation
The Airshed Pro Pullover really shines in terms of breathability. Thanks to the unique nylon fabric and smart design, the garment allows for excellent air flow. Sweaty runners will appreciate how quickly it dries, keeping you cool and comfortable during your workout.
Durability
Users have praised this windbreaker's sturdiness and durability. It's able to withstand rough runs without tearing or fraying and seems resistant to wear and tear. However, like most products, proper care will go a long way in maintaining its lifespan.
Fit
The fit of the Airshed Pro Pullover has been praised by many buyers. It provides a good range of motion, doesn't chafe, and isn't too tight or too loose. However, bear in mind that everyone's body is different, so what works well for one person might not work as well for another.
Value
Despite it being on the expensive side, many users believe the Airshed Pro Pullover offers excellent value. It delivers in spades in terms of breathability and durability - two factors that are crucial for trail running. Given its quality and the reputability of the Patagonia brand, it's a worthy investment for serious runners.
Water Repellency
While the Patagonia Airshed Pro Pullover isn't fully waterproof, it is water-resistant. It will handle light drizzles and brief showers, but if you're expecting a downpour, it might be better to pack a heavier waterproof jacket.
Weight & Packability
This isn't the lightest windbreaker on the market, but it's far from the heaviest. It packs down to a manageable size that can easily fit into your trail running pack or even a larger pocket. Its weight is slightly noticeable during intense runs, but it shouldn't be a burden by any means.
Wind Resistance
The Patagonia Airshed Pro Pullover strikes a pretty good balance between wind resistance and breathability. It uses a special nylon stretch fabric that cuts through the wind without making you feel like you're wrapped in plastic wrap. You might feel a breeze on an especially gusty day, but for most trail running scenarios, it provides an ample shield.
Prices