Quick heads-up: some of the links on this page are affiliate links. If you make a purchase through them, we may earn a small commission (at no extra cost to you). This small bit of income helps keep our site running.
Best Ultralight Backpacks of 2023
This post was last updated on December 06, 2023.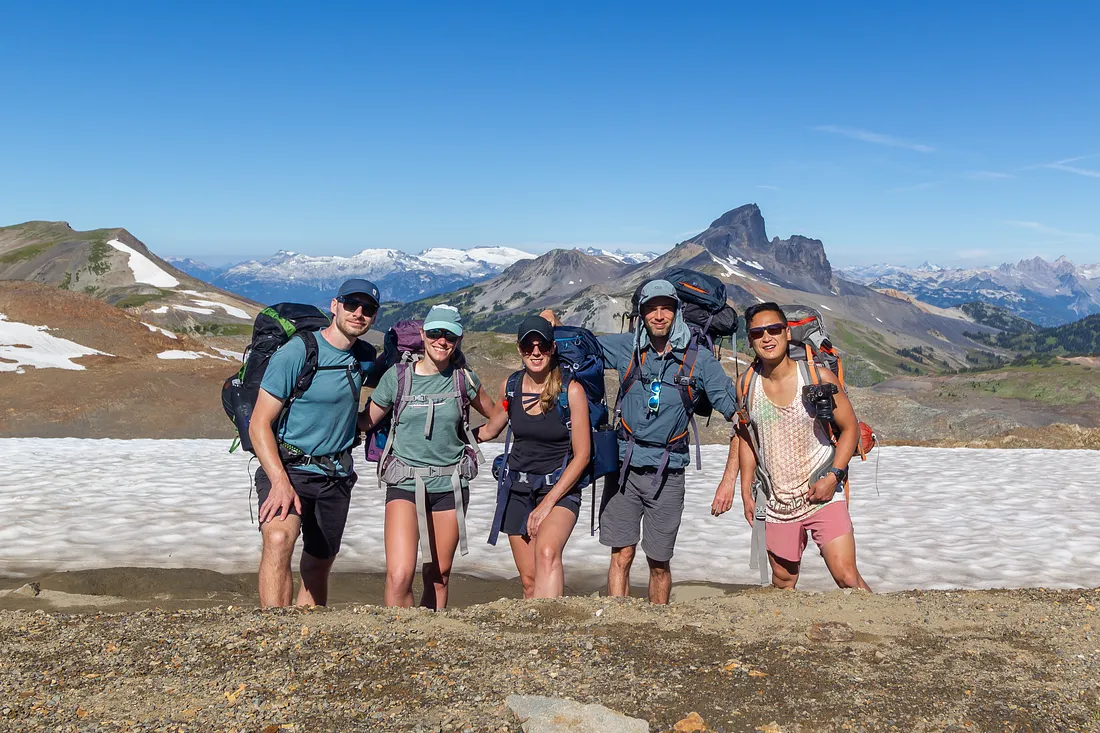 It's no secret that the heart and soul of any backpacking trip is a high-quality, lightweight backpack. The right backpack can make your adventure a awe-inspiring memory, while the wrong one can turn it into a slog. One pack that has consistently stood out is the Gossamer Gear Mariposa 60, a true master in the ultralight realm. This backpack leads the pack (pun intended) in terms of weight, durability, material quality, comfort, load-carrying capability, storage capacity, and accessibility. Even if value is a main concern, you'll be impressed by Mariposa 60's performance-to-cost ratio.
Now, we're aware that not everyone's needs are the same. Some might be restricted by a budget, while others are all about fastpacking - that adrenaline-pumping blend of fast hiking and backpacking. Therefore, this post won't just gush about the Mariposa 60: we're also going to tip our hats to a couple of runners up and dive into different categories to meet an array of specific needs. We promise this won't just be another biased backpack monologue.
Lastly, before we jump into the list, consider taking a peek at our guides on Best Backpacking Tents, Best Backpacking Backpacks, and Best Backpacking Backpacks for Women. Each of them can give you some extra tidbits on how to best prepare for your outdoor adventures. Now, to the list!
Our Top Recommendations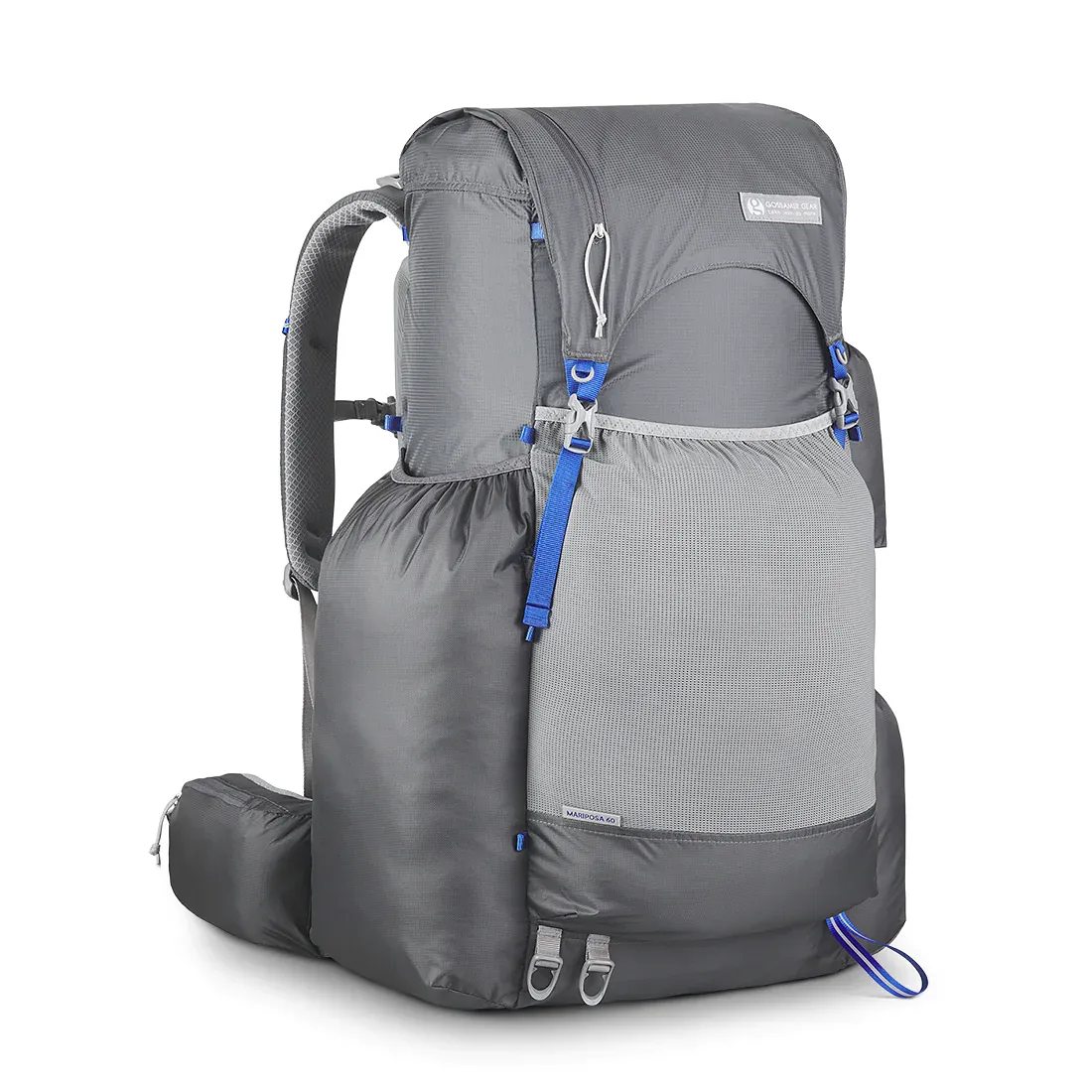 Gossamer Gear Mariposa 60
The Gossamer Gear Mariposa 60 takes the top spot due to its users praising its ultra-light weight and surprising spaciousness, along with its durability that withstands rugged trails without compromising on comfort.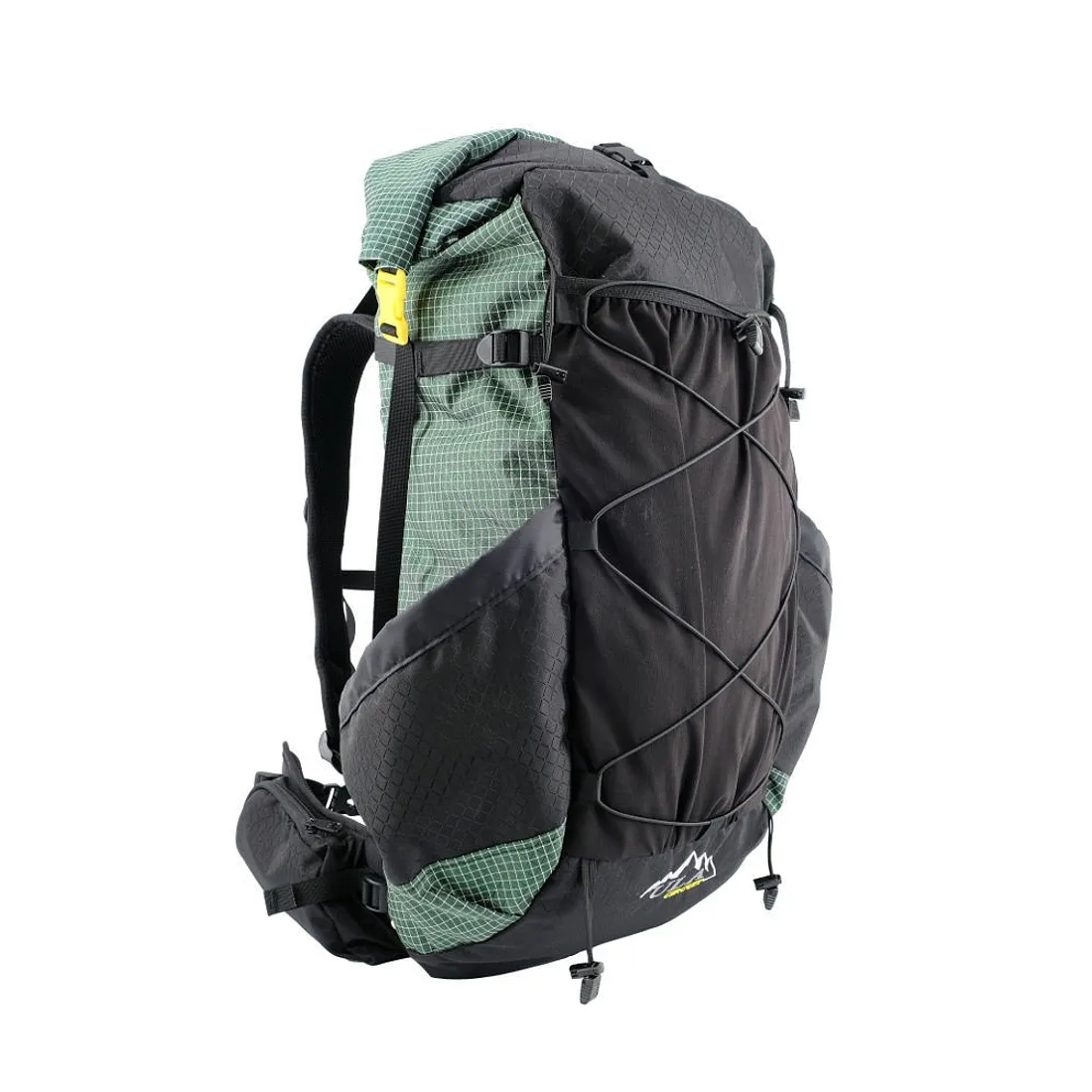 ULA Equipment Circuit
Fans of the ULA Equipment Circuit rave about how its amazing comfort, superior load-carrying capacity, and impressive durability make it a reliable companion for any ultralight backpacking adventure.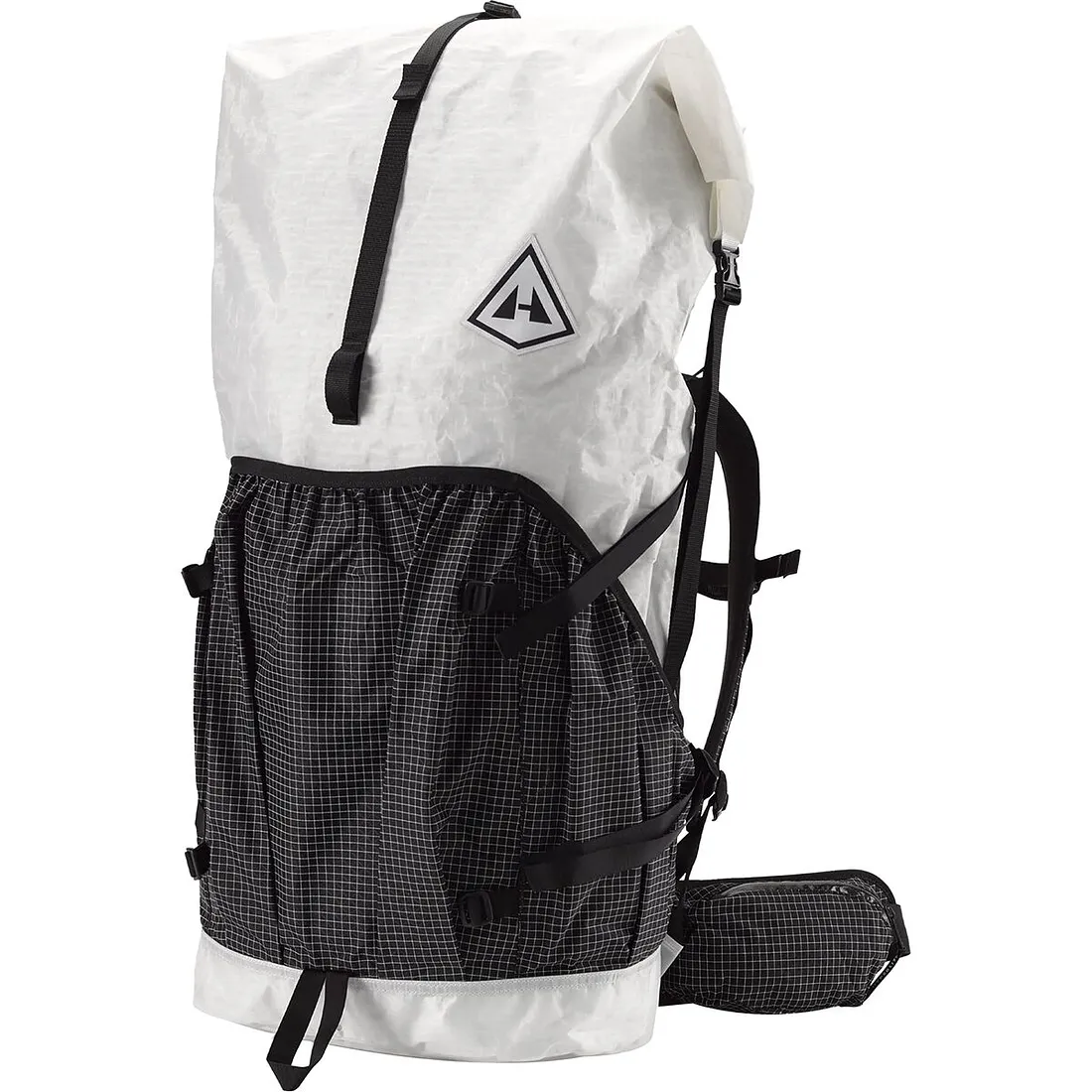 HyperLite Mountain Gear 3400 Southwest
The HyperLite Mountain Gear 3400 Southwest scores big with campers and backpackers for its remarkably light yet durable Dyneema material, coupled with a roomy storage capacity that doesn't scrimp on comfort, making it the perfect balance of practicality and packability.
What you should look for
(and what we test for)
Weight
When picking an ultralight backpack for outdoor pursuits like hiking or camping, pay attention to the weight - you want something feather-light yet sturdy enough to handle your gear without weighing you down.
Design and Comfort
Look for intuitive design elements like ergonomic shoulder straps, breathable material to avoid sweat buildup, and adjustable components to ensure comfort and fit during long hiking or climbing sessions.
Material and Durability
The material of your ultralight backpack should be both durable and weather-resistant, as it needs to hold its own against various elements such as rain, snow, and rough terrain over a prolonged period.
Capacity and Organization
Finally, consider the backpack's capacity and layout - it should have enough room for all the essentials and boast smart, accessible compartments to keep your stuff organized and easy to retrieve on the go.
Gossamer Gear Mariposa 60
$285.00
The Best Ultralight Backpack
Based on our research and testing, we think the Gossamer Gear Mariposa 60 is the best Ultralight Backpack on the market right now, for anyone looking to play hard outside.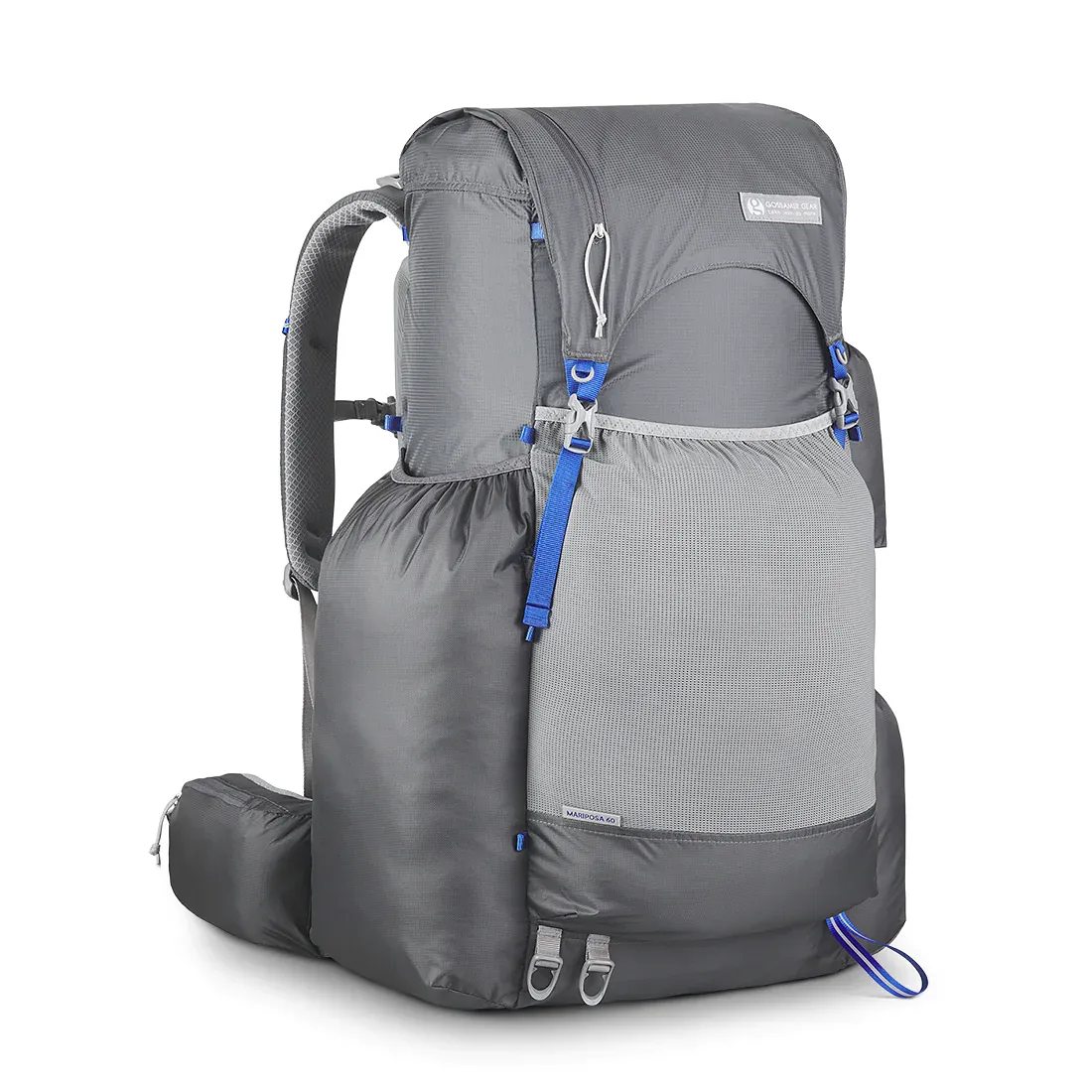 Reasons to Buy
Enormous storage capacity

Exceptionally comfortable

Versatile with removable features

Durable material
Reasons to Avoid
Could be considered pricey

Storage pockets could be more accessible

May feel too bulky for smaller individuals
The Important Specs
Unisex:

Yes

Volume:

60 liters

Hipbelt:

Padded with pockets

Material:

Custom 100 denier Robic nylon

Maximum Recommended Load:

35 pounds
Review Roundup
The Gossamer Gear Mariposa 60 stands out in the market of ultra-light backpacks with the perfect blend of lightweight materials and spacious design. Weighing merely 2.2 pounds, it's no wonder that hikers and backpackers rave about its feather-light attribute.
Other buyers have complimented its ample storage. It comes with a 60-liter capacity spread across seven pockets, making it a perfect companion for longer outdoor escapades. One of the unique features is the removable internal frame which increases versatility, a factor experienced backpackers have found beneficial.
On the comfort front, the Mariposa 60 has been applauded. It features cushioned shoulder straps and hip belts, which are adjustable to fit your body perfectly. Users have lauded this feature, saying it makes carrying heavy loads for long periods much less straining.
A noteworthy aspect of the Gossamer Gear Mariposa 60 is its durability. Buyers attest to the quality of the materials used, despite its lightweight nature. Its rugged ripstop nylon body and DCF bottom make it quite resilient, even in rough terrains and bad weather.
On the flip side, there have been a few concerns. Some users found the side pockets a bit high for easy access when on the move. Others wished for a top zip for the main compartment, instead of roll-top closure, for swift loading and unloading of gear.
While the price could be a slight turn-off for some (it's no cheap investment), numerous buyers have vouched for the backpack's value for money, praising its comfortable design, large volume, robustness, and revolutionizing their backpacking experience.
Comfort
The backpack's lightweight structure and well-padded straps ensure a high level of comfort, even when the bag is loaded to capacity. Of course, individual comfort can vary, and some smaller users reported the backpack feeling a bit too bulky.
Durability
Constructed with high-quality, custom 100 denier Robic nylon, the Mariposa 60 is designed to endure challenging outdoor conditions, though frequent heavy use could lead to some wear and tear over time.
Load Carrying Capability
With a 35 pound maximum recommended load, it offers ample room for overnight and multi-day trips. The removable features like the sit pad and belt give you some versatility to adjust the load as needed.
Material
The Robic nylon material is not just durable but also water-resistant, providing a degree of protection from the elements. It's light, yet it can hold a considerable amount of weight.
Storage Capacity & Accessibility
The enormous 60-liter volume leaves no shortage of storage space, although some users commented that the pockets could be more accessible. The seven built-in pockets and main compartment offer plenty of organization potential.
Value
The Mariposa 60 backpack may be towards the higher end of the price range, but its performance, adaptability, and comfort make it a worthwhile investment for avid backpackers or those planning long-duration treks.
Weight
The Gossamer Gear Mariposa 60 is an ultralight backpack, but it doesn't compromise on comfort or storage capacity. Despite its impressive volume, the backpack remains relatively light on the shoulders and easy to carry, particularly for longer treks.
Prices
ULA Equipment Circuit
$279.99
Runner Up
Based on our research and testing, we think the ULA Equipment Circuit is a great choice if you're looking for a ultralight backpack to go play hard outside with, if our top pick isn't quite what you're looking for.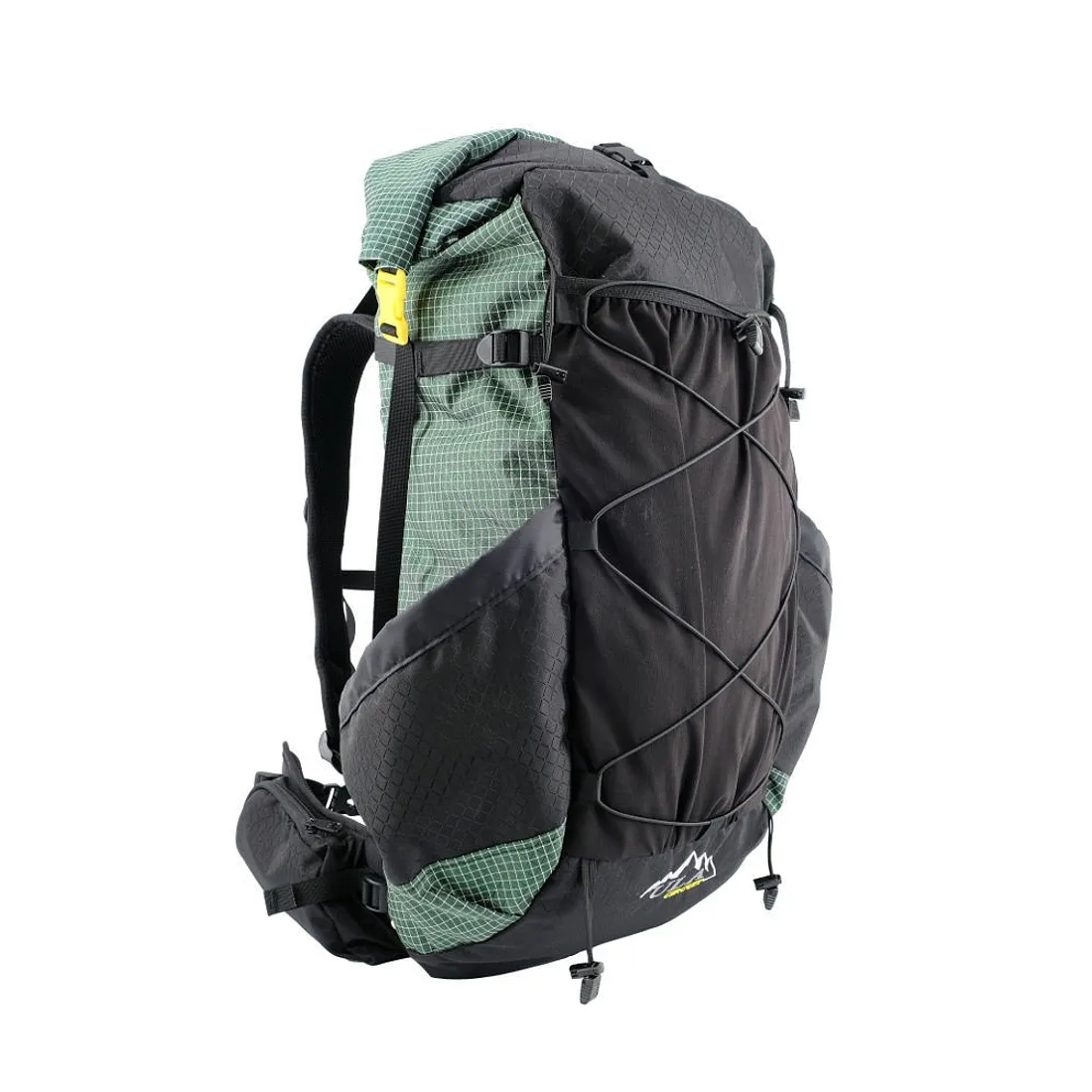 Reasons to Buy
Outstanding load carrying capability

Super comfortable

Extensive storage

Great for long treks

Robust and weather resistant material
Reasons to Avoid
Design may be too voluminous for some

Top lid not detachable

Water bottle pockets can be hard to reach
The Important Specs
Zippers:

YKK

Capacity:

68L

Material:

Robic fabric

Max Recommended Load:

35 lbs
Review Roundup
The ULA Equipment Circuit is an ultralight backpack that's gaining rave reviews among backpacking adventurers for its impressive blend of lightweight construction, durability, and superior carrying capacity. Built for those multi-day hike or a weeks-long expedition, this backpack does not mess around when it comes to getting the job done.
Despite tipping the scales at a feather-light 41 ounces, the ULA Circuit doesn't sacrifice on durability. Buyers speak fondly of its Robic fabric, a specialized blend that manages to combine lightweight construction with tough-as-nails resilience. It's renowned for standing up well to wear and tear, making it a reliable choice for those who hit the trails regularly.
Comfort is another stand-out feature highlighted by users. With a well-padded back panel, the contoured shoulder straps and hip belt can comfortably handle loads of up to 35 pounds, providing ample support and reducing the likelihood of chafing – a big plus point for long-distance hikers.
Buyers also appreciate the Circuit's impressive carry capacity. With a volume of 68 liters, it offers ample space for overnight gear with some room to spare. A neat feature users have lauded is the collapsible roll-top closure, which allows for extra storage but can be rolled down to reduce the overall pack volume when needed.
Pockets abound on the ULA Circuit, side and mesh pockets providing easily accessible storage for water bottles, trekking poles, or snacks. Positive feedback was found for the top pocket which can be removed to save weight or used for easy access to trail essentials.
On the flip side, some users have commented they found the hip belt pockets to be a little on the small side, struggling to fit larger smartphones. It appears that while the bag excels in terms of weight and storage, there may be slight drawbacks when it comes to pocket sizing.
Another point of contention was the lack of an included rain cover. While the backpack itself is constructed with water-resistant Robic fabric, some users expressed desire for an additional layer of protection when mother nature decides to open the heavens. This, however, is a minor quibble and readily solved with an inexpensive, separate purchase.
Comfort
Comfort is a standout feature praised by many users. The ULA Circuit comes with a well-ventilated back panel and convenient hip belt pockets. The shoulder straps are thickly padded, reducing pressure points and preventing clashes with heavier loads.
Durability
Constructed with Robic fabric, this pack is known for its serious resilience. The material strikes a superb balance between lightness and durability, and can withstand a fair share of outdoor thrashing.
Load Carrying Capability
In user reviews, the Circuit often gets high marks for its load carrying capacity. It can carry up to 35 pounds comfortably, and handles well even when fully loaded.
Material
This ultralight is made from Robic fabric, which combines low weight with high durability to keep your gear safe and protected. It's also known for its water resistance, which makes the pack an excellent option even in rainy conditions.
Storage Capacity & Accessibility
The Circuit offers a sizable main compartment, along with an array of useful extras – a large mesh pocket on the front, two side pockets for water bottles, and hip belt pockets for easy-to-reach storage. Some users, however, found the water bottle pockets a bit tough to access while walking.
Value
With its robust construction, great storage capacity, and above-average comfort, the ULA Equipment Circuit provides remarkable value. It comes with a higher price tag compared to some other ultralight backpacks, but most users find the investment well worth it for the significant benefits in terms of durability, comfort, and carrying capacity.
Weight
The ULA Equipment Circuit lands right in the sweet spot for ultralight backpacks. It's not the lightest on the market but its balance of weight, function, and durability is top-notch. It manages to offer a hefty carrying capacity while keeping the weight at a manageable level, perfect for those long trails or multi-day hikes.
Prices
HyperLite Mountain Gear 3400 Southwest
$399.00
Runner Up
Based on our research and testing, we think the HyperLite Mountain Gear 3400 Southwest is a great choice if you're looking for a ultralight backpack to go play hard outside with, if our top pick isn't quite what you're looking for.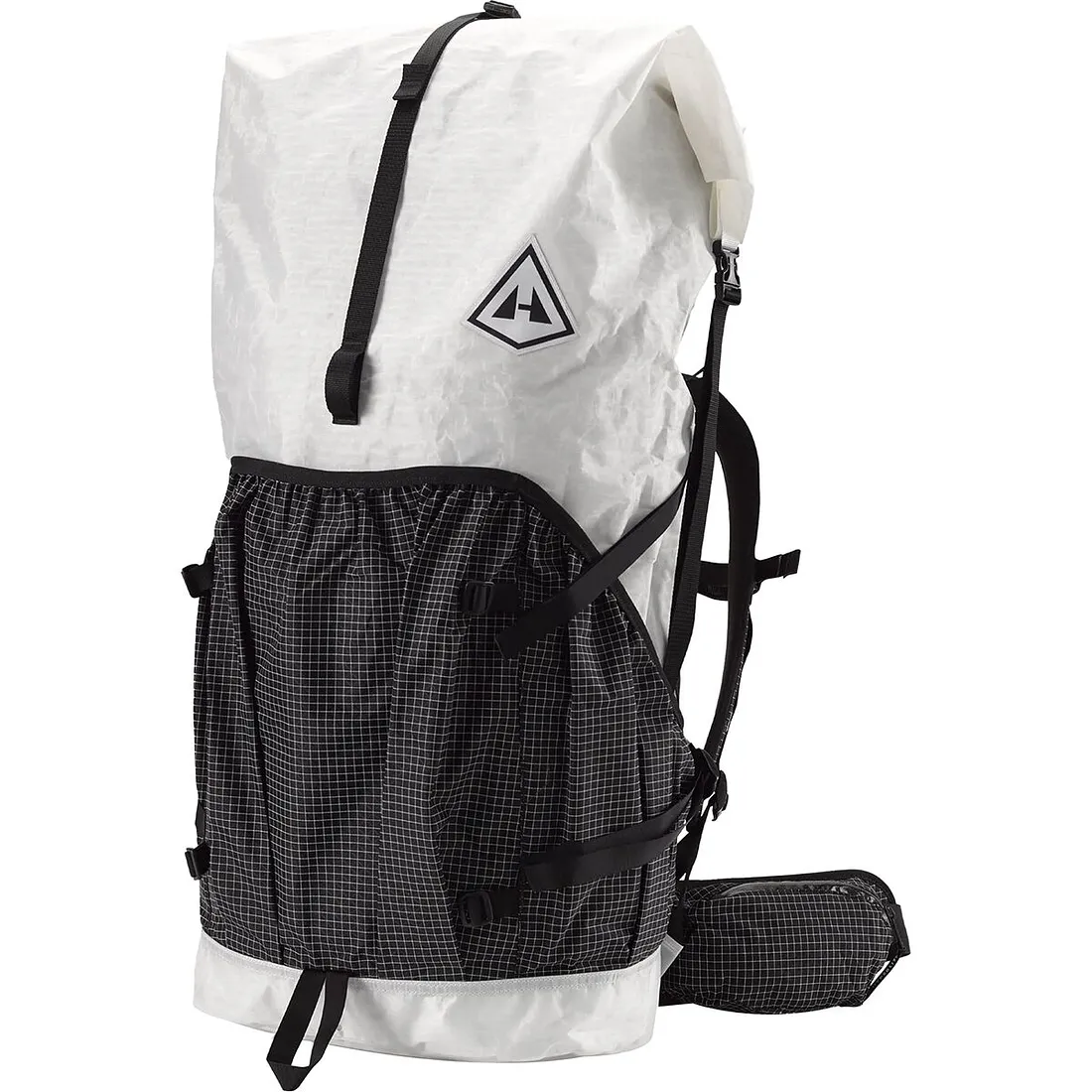 Reasons to Buy
Extremely durable

Weather resistant design

Made from high quality materials

Good storage capacity

Comfortable for long hikes
Reasons to Avoid
Relatively pricey

Not for beginners

Lacking in extra pockets
The Important Specs
Size:

Internal volume of 3400 cubic inches

Design:

Roll-top closure, solid back-panel

Material:

Dyneema Composite Fabric

Water Resistance:

Fully waterproof
Review Roundup
The HyperLite Mountain Gear 3400 Southwest is a real gem in the arena of ultralight backpacks. This backpack stands out among the competition for its superior weight-to-volume ratio. It's unbelievably light on the shoulders, yet manages to provide ample space for all your gear in its 55-liter capacity. The seriously lightweight power comes from the use of Dyneema Composite Fabric, known for its exceptional strength and durability.
What really sets the 3400 Southwest apart, and what many previous buyers rave about, is its resilience in all kinds of tricky weather conditions. This backpack could easily be your trusty companion whether you're hiking through a rainstorm or manoeuvring your way through a dry desert. The water-resistant feature really works wonders and the external, hard-wearing material rebuffs any light scratches.
Comfort was a high scoring trait for the 3400 Southwest amongst online reviewers. The well shaped and designed shoulder straps distribute weight evenly, providing much-needed comfort on those long treks. Adaptive fit hip belts and universally comfortable padding work together to make this bag a delight to wear.
One slight hiccup many users mentioned was regarding the limited amount of external pockets. While the backpack does have beneficial side pockets, it lacks outer small pockets for those pieces of gear - water bottle, snack bars, map - that hikers like to keep easily accessible. This is something to consider if quick-access pockets are a must-have for your hiking comfort.
Despite minor drawbacks, the HyperLite 3400 Southwest seems to be a unanimous favourite for serious backpackers. Users praised its versatility, its excellent build quality and of course, how wonderfully light it is. It's safe to say that this backpack is recommended by many real-world adventurers who need a dependable, functional, and lightweight solution for their journeys.
Comfort
This backpack has a solid back-panel that's designed to take the shape of your back over use. Online reviewers often mention being comfortable during longer hikes. The padded straps also seem to be a hit among users.
Durability
This backpack is made to last. The Dyneema Composite Fabric is known for being incredibly sturdy. As for the craftsmanship, many customer reviews online talk about the spot-on stitching and the robustness of the overall build.
Load Carrying Capability
The HyperLite Mountain Gear 3400 Southwest can handle a considerable load. Sizes range from small to large, with the respective weight differences being negligible when considering the amount of stuff you can pack in there. Users often mention how surprisingly roomy the bag is.
Material
The Dyneema Composite Fabric is noteworthy. It's known as the world's strongest fiber, it's both lightweight and durable. Many users rave about the water-resistance as well, mentioning they've gone through heavy rain with no unfortunate surprises.
Storage Capacity & Accessibility
3400 cubic inches of storage capacity - that's a whole lot of gear and provisions. It doesn't have many extra pockets, but the overall accessibility is user-friendly and intuitive. The roll-top design allows for easy access to items packed at the bottom of the bag.
Value
The bag is pricey, no escaping that fact. But if you consider the high-quality material, durability and the amount of thought that's gone into the overall design—it appears to be a case of getting what you pay for. It's likely to outlast cheaper alternatives, adding value in the long term.
Weight
The HyperLite Mountain Gear 3400 Southwest is designed with weight-conscious outdoors people in mind. With a stripped down design that doesn't compromise on durability or quality, it's not the lightest on the market, but it sits comfortably within the range of lightweight backpacking options.
Prices
Gossamer Gear Gorilla 50
$255.00
Best Budget Ultralight Backpack
Based on our research and testing, we think the Gossamer Gear Gorilla 50 is a great pick if you're looking for a ultralight backpack that is more budget friendly, without sacrificing too much in quality.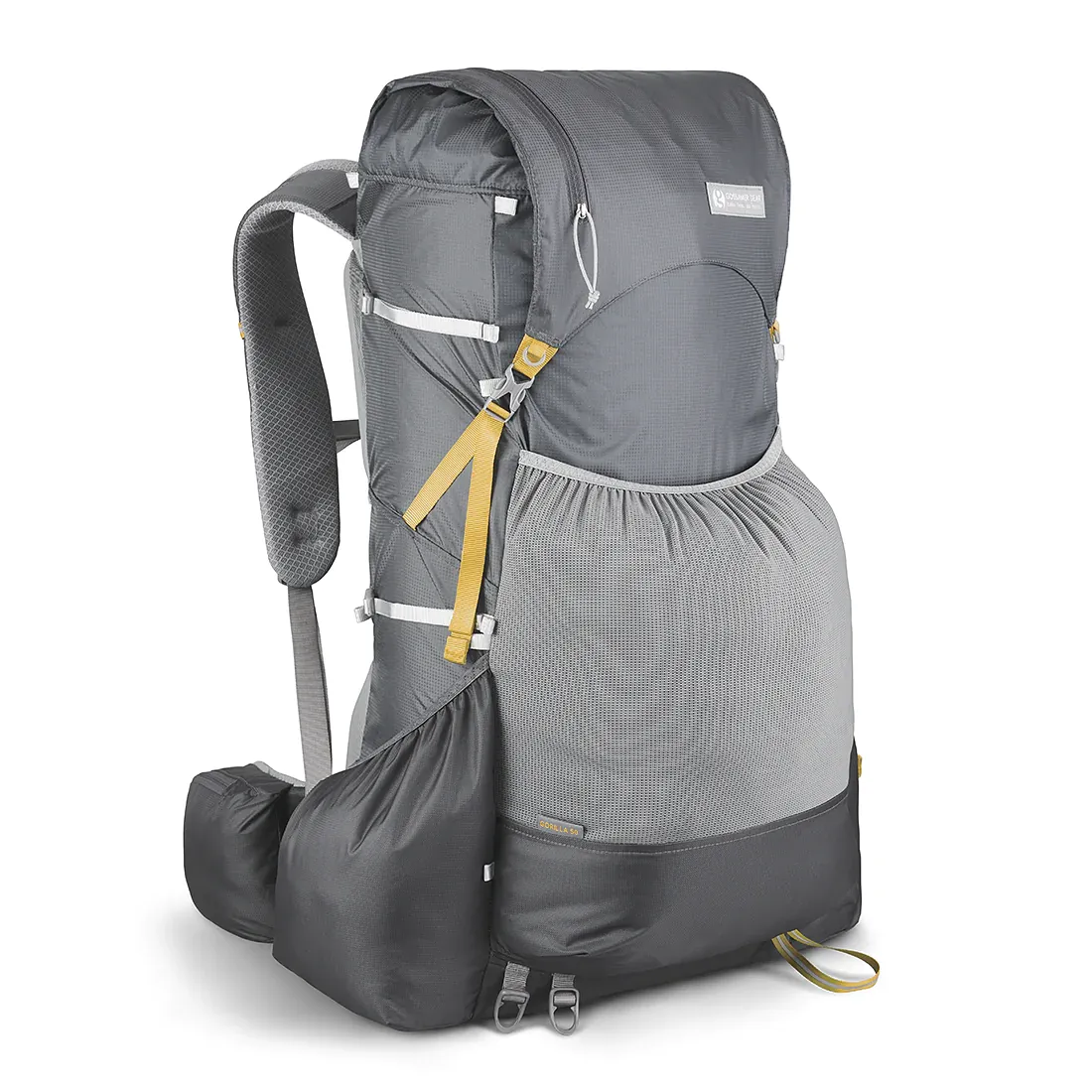 Reasons to Buy
Affordable for the quality

Ample storage capacity

Durable and strong materials

Comfortable for long hauls

Lightweight for an ultralight backpack
Reasons to Avoid
Not suitable for heavy loads

Not as many bells and whistles as some packs

Can take some time to adjust straps for comfort
The Important Specs
Hip Belt:

Padded, removable and it has spacious zippered pockets

Material:

Robic nylon fabric, which is water-resistant and tear-resistant

Accessories:

It comes with a sit-light pad that also acts as a frame for the pack

Hydration Compatibility:

There's an internal sleeve for a hydration bladder
Review Roundup
The Gossamer Gear Gorilla 50 scores major points when it comes to the perfect blend of low weight and high functionality. It's pretty impressive how this bag, weighing just over 2 pounds, manages to dish out a whole buffet of features that both novice and veteran backpackers can enjoy.
One thing almost everyone seems to rave about is its comfort. Doubling down on comfort, the bag sports contoured shoulder straps and a hip belt that's easily adjustable, ensuring a snug fit whether you're petite or more on the burly side. Plus, the padded back panel, despite being simple in looks, punches well above its weight in providing comfort even during long treks.
And oh boy, does this baby know how to stylize utility! Be it the sizeable external pocket for storing everything from maps to munchies, or the interchangeable hip belt pockets perfect to store hand-helds and other small items, this bag makes heavy loads and cluttered storage a long-gone cry of yesteryears.
The durability of Gorilla 50 has also drawn many buyer's attention. Its main body made out of a high-tensile nylon fabric strikes an impressive mix of featherweight lightness and bear-like toughness. It seems quite capable of tackling the trifecta of dirt, dust, and downpours with ease.
Of course, no product is without its faults and the Gossamer Gear Gorilla 50 is no exception. Some folks have voiced concerns about the bag's side pockets being a tad difficult to reach while walking. Furthermore, this pack takes a bit of a hit when it comes to packing large-volume items. The restricted space does make it challenging to fit in that extra-large sleeping bag or your favorite panama hat.
However, the majority of users who favor the ultralight philosophy sing praises of the bag's lightweight design, efficient storage compartments, and comfortable wearability. The occasional gripe aside, the Gorilla 50 seems to stake its claim in the budget niche and does it with confidence and style.
Comfort
Users report it's comfortable, once you get the hang of adjusting the straps appropriately. It has padded shoulder straps and hip belts, and comes with a sit-light pad that serves as a frame and a cushion, a nice touch that differentiates it from other packs in its range.
Durability
Constructed from Robic nylon fabric, this backpack holds up well under strain and wear. However, heavy users have reported needing to be gentle with it. For normal use though, it should hold up well.
Load Carrying Capability
Although it doesn't carry heavy loads as comfortably as some backpacks, for a pack of its weight and price range, it performs admirably. For most people, it should carry enough gear for a multi-day trip.
Material
The material of this backpack is where it shines, and a big contributor to its light weight. The Robic nylon fabric is both water and tear-resistant lending durable quality to the pack.
Storage Capacity & Accessibility
The Gorilla 50 offers a good amount of storage space for its weight class, with a large main compartment, a sizable outside pocket, and smaller zippered pockets on the hip belt for ease of access during the journey.
Value
Considering its lightweight, comfort, and the durable material, the Gorilla 50 offers excellent value for its price. It's reliable and ready to accompany you on many adventures, making it a solid investment for those on a budget.
Weight
The Gossamer Gear Gorilla 50 is definitely one of the lighter options in the ultralight category, making it perfect for folks trying to reduce pack weight without breaking the bank. Due to its lightweight nature, you'll find it easier to carry for longer distances and durations.
Prices
Gossamer Gear Kumo 36 Superlight
$170.00
Best Ultralight Backpack for Fastpacking
Based on our research and testing, we think the Gossamer Gear Kumo 36 Superlight is a solid choice if you want a ultralight backpack that's really well suited to Fastpacking.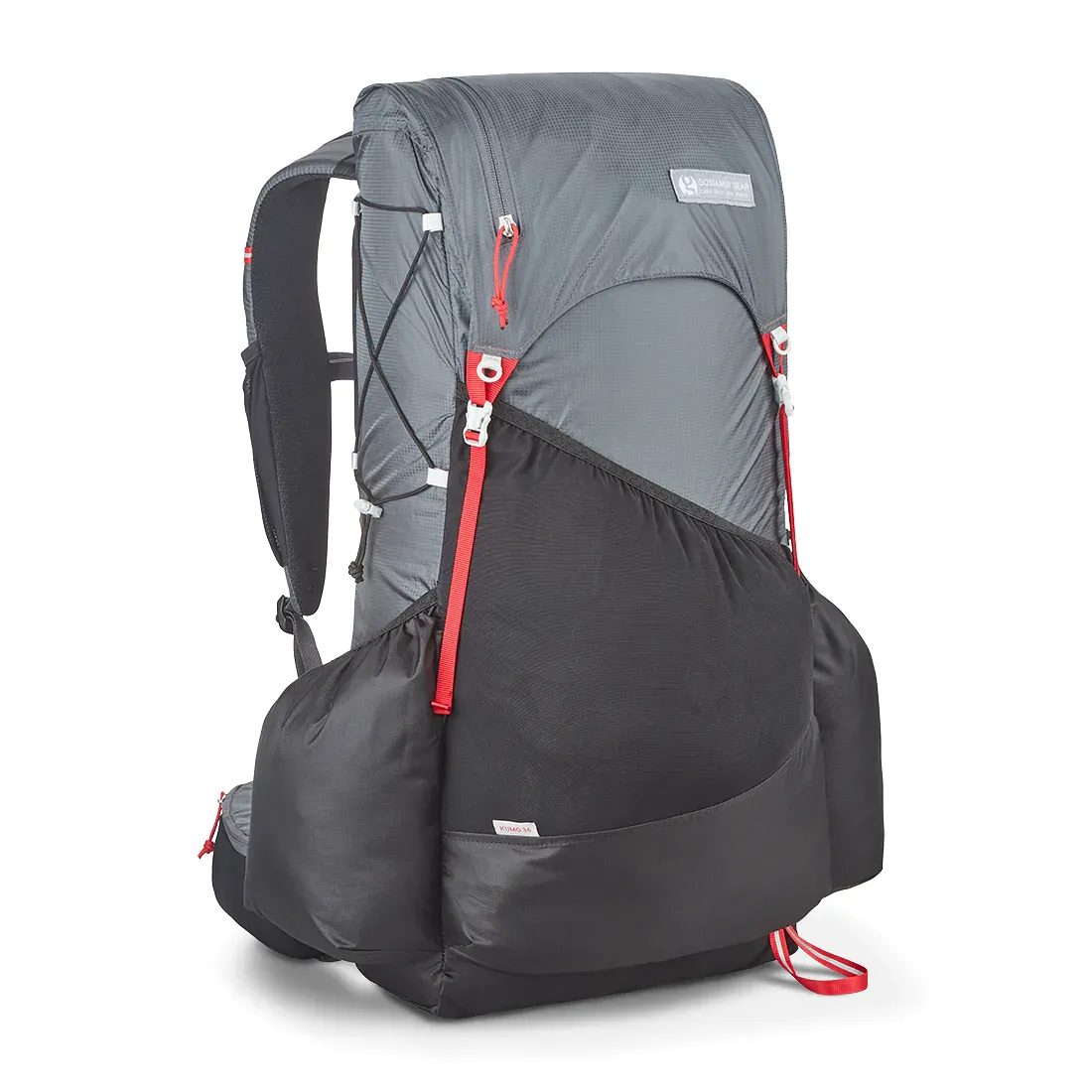 Reasons to Buy
Rugged construction promises durability

Comfortable to carry

Excellent value for price

Suitable for fastpacking adventures

Practical storage capacity
Reasons to Avoid
Basic design may lack some fancier features

Some found the shoulder straps uncomfortable on long trips

Lack of internal frame may make heavier loads less stable
The Important Specs
Capacity:

36 L

Material:

Custom 70 and 100 denier Robic nylon

Dimensions:

27 x 12 x 8 inches

Number Of Pockets:

5
Review Roundup
Every superlight enthusiast knows that a backpack can make or break your adventure. The Gossamer Gear Kumo 36 Superlight has emerged as one of the champions in the fastpacking world. It's easy to see why, weighing in at a mere 20.75 oz (588 g), this backpack provides the practicality of carrying essentials for a multi-day trip without weighing you down.
The Kumo is a hit amongst fastpackers for its simplicity and functionality. Users have praised its unisex design and the adjustable sit pad that doubles as a comfy camp seat. Not only does it provide additional back support, it also increases the backpack's versatility - a feature that is highly valuable for minimalist adventurers.
The backpack's main compartment offers ample packing space, it's a cavernous 36 liters! Moreover, it's equipped with a drawstring closure and top strap to secure your load - all geared towards making your trip more pleasant.
Users have expressed their delight with Kumo's wide shoulder straps. Generously padded, they distribue the load uniformly across the shoulders, adding to the overall comfort. Plus, they house multiple pockets, providing quick access to snacks, maps or any other on-trail essentials.
However, every rose has its thorn. A few users have pointed out that due to the backpack's ultralight nature, it might not endure the weight capacity of more ambitious hikers. Additionally, it is not as rigid as other options which might be a concern when carrying oddly-shaped items.
While its lack of internal frame requires thoughtful pack arrangement, the users didn't mind this trade-off for the lightweight advantage. Apart from its minimalist design, some also noted that its water resistance could be improved. However, they mitigated this by using a pack cover or liners.
In terms of comfort, adaptability, and functionality, the Kumo 36 Superlight clearly earns its place as a fastpacking favorite. This backpack isn't about the bells and whistles. It's about stripping back to basics and focusing on what's important - moving fast and light through your adventure.
Comfort
Despite a minimalistic design, the Gossamer Gear Kumo 36 Superlight doesn't skimp on comfort. Users have appreciated its well-padded straps and back panel, however, a few have mentioned the straps could use more padding for long hikes.
Durability
Crafted with the custom 70 and 100 denier Robic nylon, the Kumo 36 Superlight stands firmly in the face of wear and tear. Its sturdy construction has garnered positive feedback from users for being so robust.
Load Carrying Capability
Users like the bag's load carrying capability. Some users would prefer an internal frame for better stability with heavier loads, however without it, the backpack manages to keep an impressively light profile.
Material
The strategic use of Robic nylon reinforces the high stress points, ensuring it can withstand some tough love on your hikes and camping trips. Users have particularly highlighted this high-quality material for providing a perfect blend of strength and lightness.
Storage Capacity & Accessibility
With a reasonable storage capacity of 36 liters, the backpack allows users to stuff in their essentials efficiently, although a few users have mentioned that accessing stored items can be a little tricky.
Value
The Gossamer Gear Kumo 36 Superlight is popular among users for offering excellent value for its price. The high-quality materials, durable construction and user-friendly design all add up to show why this backpack stands out in the crowd of competition.
Weight
The Gossamer Gear Kumo 36 Superlight is a jewel in the realm of backpacking for its impressive ultralight qualities. Truly living up to its name 'Superlight', this backpack offers a significantly lower weight without compromising on the other important factors.
Prices