Quick heads-up: some of the links on this page are affiliate links. If you make a purchase through them, we may earn a small commission (at no extra cost to you). This small bit of income helps keep our site running.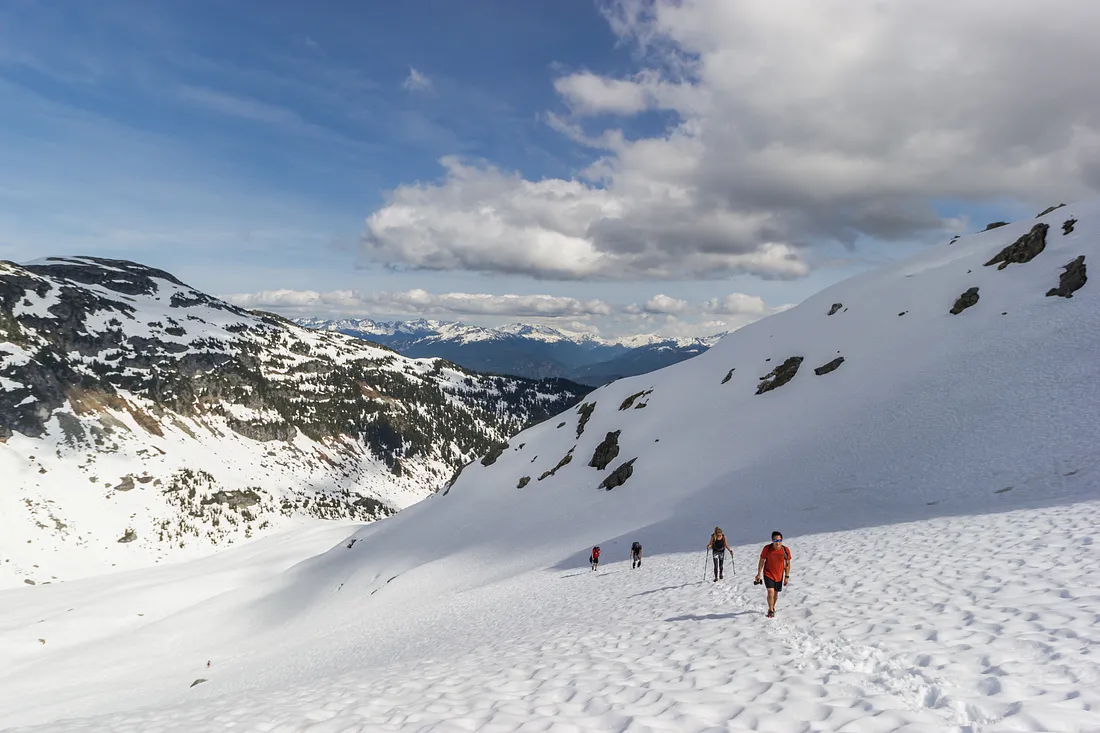 When it comes to outdoor adventures, ladies, don't underestimate the importance of a good sun protection shirt. While that clear blue sky can certainly be inviting, prolonged exposure to UV rays can be harmful to your skin. Enter the Black Diamond Alpenglow Pro Hoody, our top pick for the best sun protection shirts for women. It offers unrivaled UV protection, breathability, and a design that you can wear from the mountain top to downtown café with absolute confidence and style.
This shirt holds up in terms of durability as well, making it an excellent investment for those regular weekend hikers or anyone with a love for the great outdoors. It comes in various sizes and fits perfectly, providing all-around protection without compromising your comfort or sense of adventure.
As well as top choice, we're also giving props to a couple of other contenders which are worth your time. Also, we understand that everyone is on a different budget, so we've made sure to include our top pick for those who are a bit more price-conscious. And don't forget, ladies, the right gear doesn't stop with the right sun shirt. You might want to check out our reviews of Best Rain Jackets for Women and Best Hiking Pants for Women. And for the guys, here are our picks for Best Sun Protection Shirts for Men.
Our Top Recommendations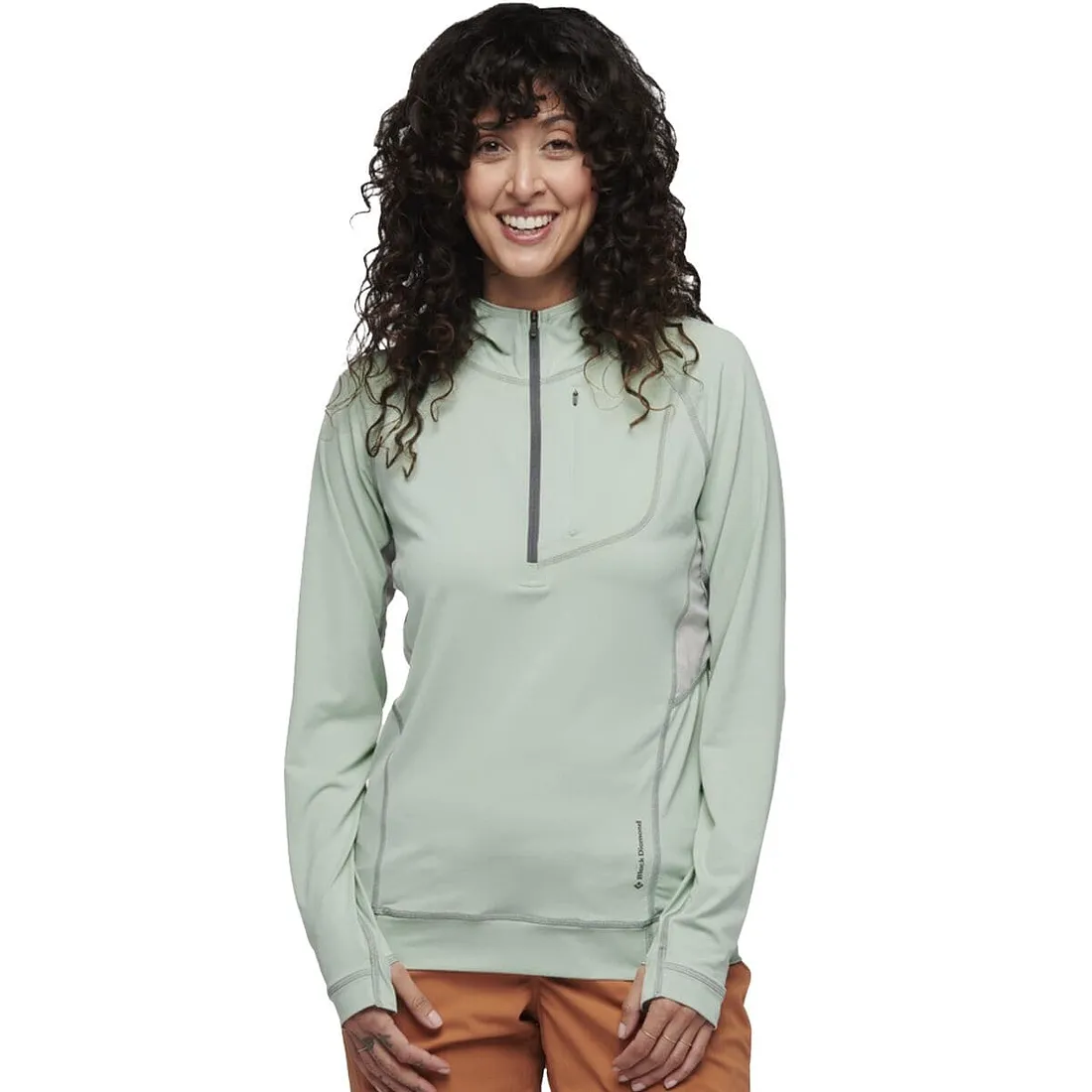 Black Diamond Alpenglow Pro Hoody
The Black Diamond Alpenglow Pro Hoody snags the top pick for its unrivaled UPF 50+ sun protection and breathable, durable material that reviewers swear by for their sunny hikes and rock climbing adventures.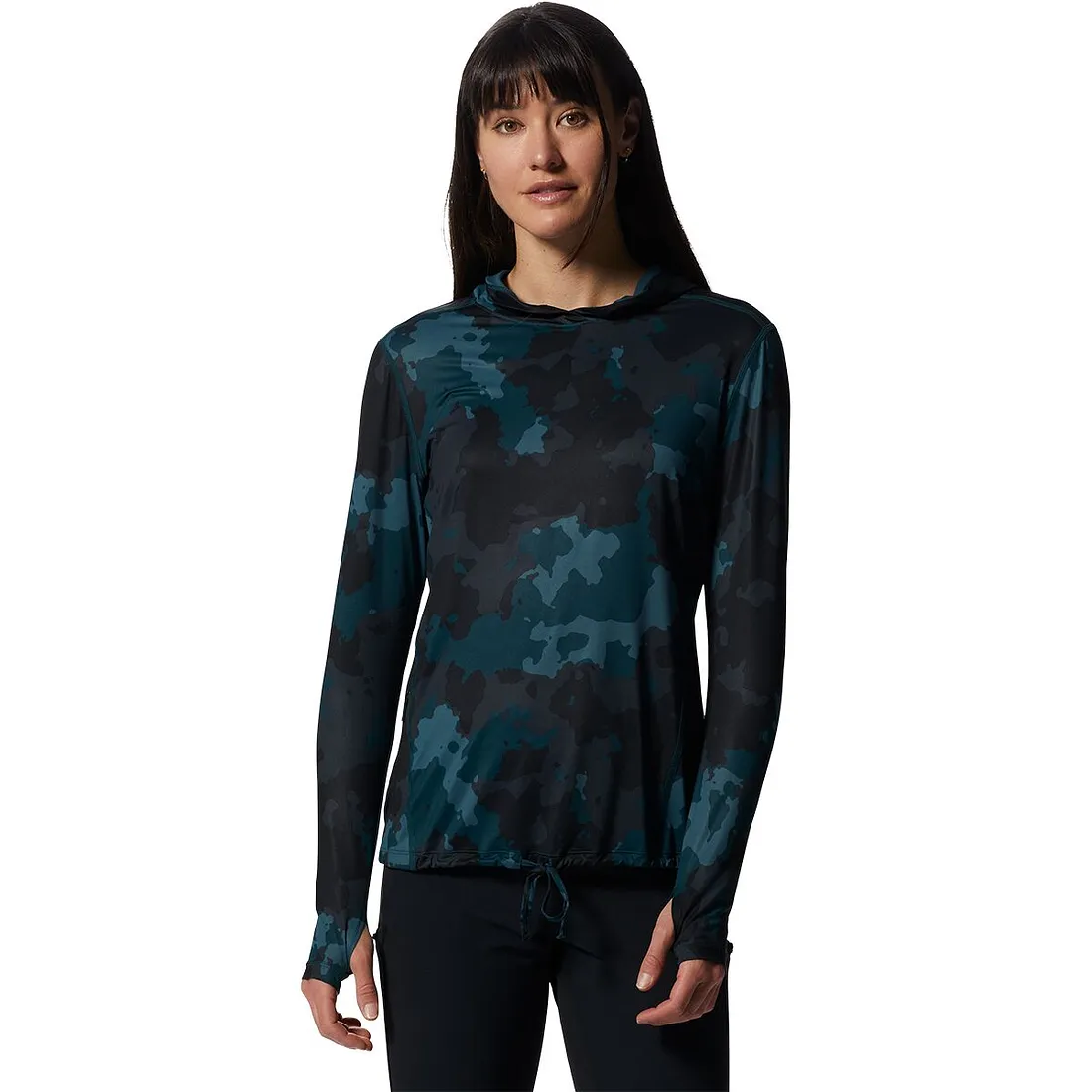 Mountain Hardwear Crater Lake Hoody
The Mountain Hardwear Crater Lake Hoody is a standout choice due to its glowing user reviews praising its ultra-lightweight fabric and excellent UV protection, perfect for keeping cool and safe under the sun.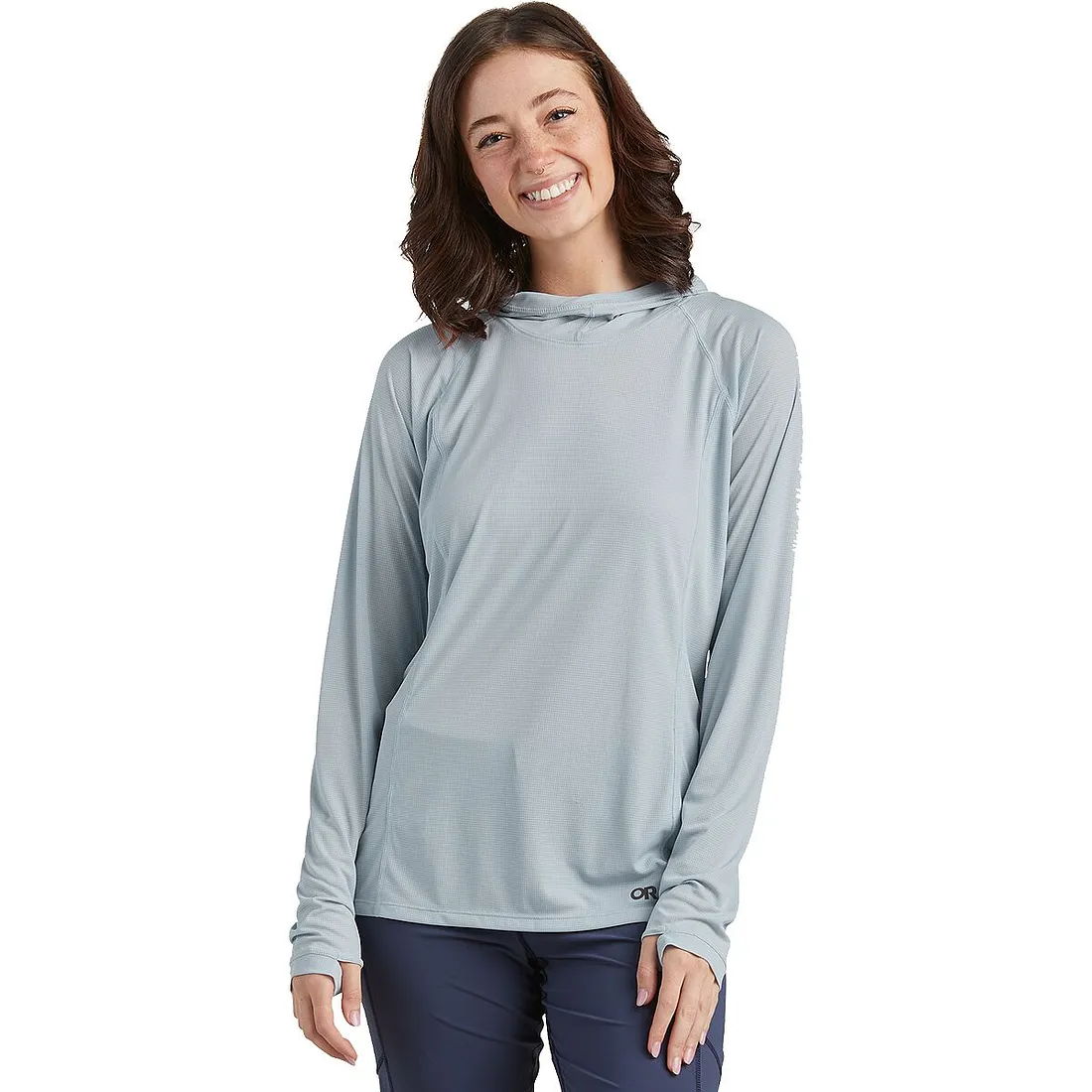 Outdoor Research Echo Hoody
The Outdoor Research Echo Hoody scores as our top pick runner up owing to rave reviews about its phenomenal breathability and superior UPF sun protection, providing full coverage without causing discomfort or overheating.
What you should look for
(and what we test for)
Material
Ensure the sun protection hiking shirt is made of a light, breathable fabric like nylon or polyester to help you stay cool and dry during strenuous activities.
Durability
Opt for a hard-wearing shirt that can withstand exposure to rough terrains and adverse weather conditions, demonstrating good resistance to wear and tear for longevity.
Comfort and Fit
The shirt should be comfortable and have a fit that allows for a wide range of motion, as you'll be doing a lot of moving around when hiking, camping or climbing.
UV Protection Level
Look for a shirt with high UPF (Ultraviolet Protection Factor) rating, ideally over 50, as it indicates the shirt can block a significant amount of harmful UV rays.
Black Diamond Alpenglow Pro Hoody
$120.00
The Best Women's Sun Protection Shirt
Based on our research and testing, we think the Black Diamond Alpenglow Pro Hoody is the best Women's Sun Protection Shirt on the market right now, for anyone looking to play hard outside.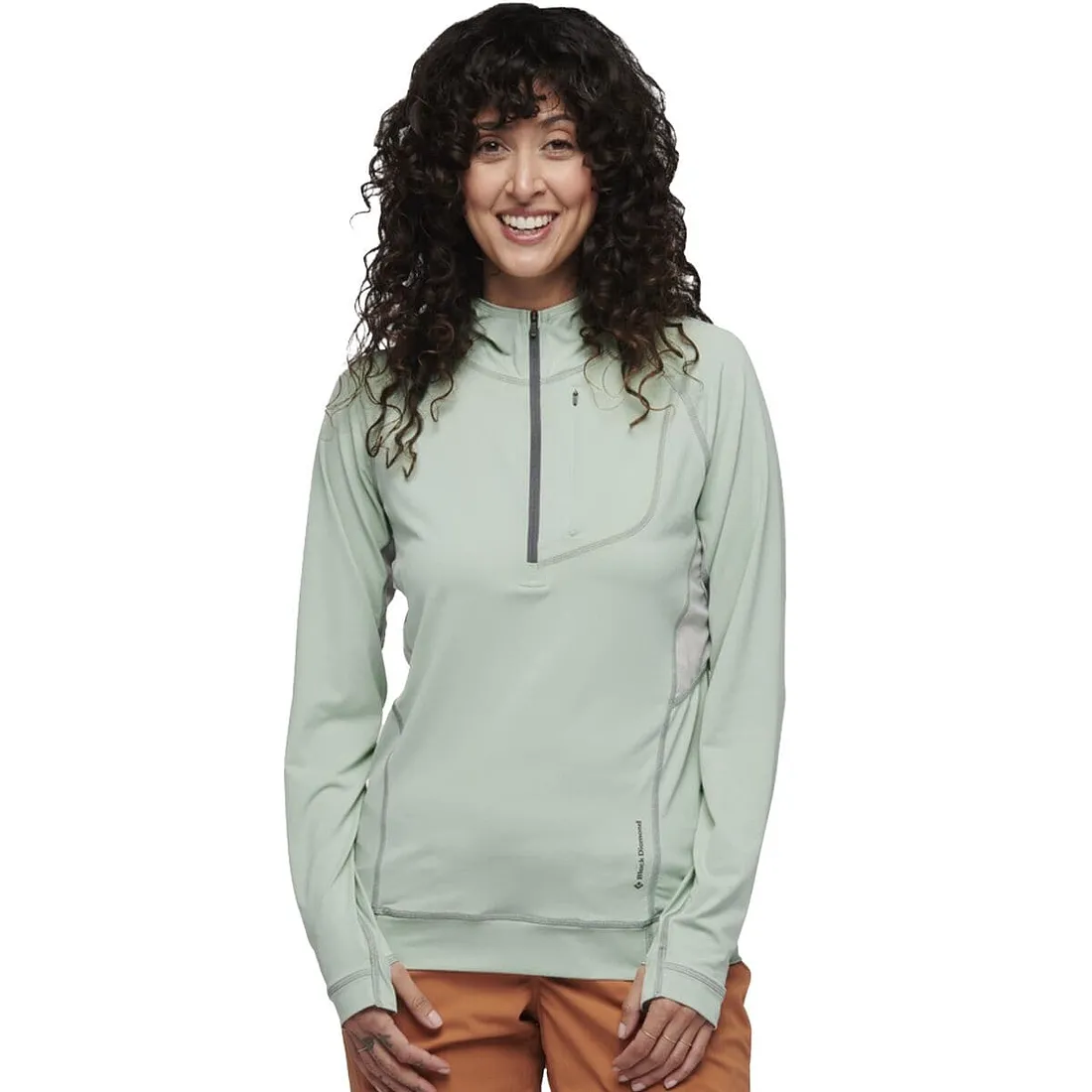 Reasons to Buy
Excellent UV protection

Designed for breathability

Robust and durable fabric

Good body coverage

Comfortable fit
Reasons to Avoid
Pricey for some

Limited color options
The Important Specs
Material:

Polyester blend

Neck Style:

Hooded

Upf Rating:

50+

Sleeve Length:

Long Sleeve
Review Roundup
Recognized for its superb blend of performance and protection, the Black Diamond Alpenglow Pro Hoody is a top choice when it comes to sun-protection shirts for women. Casual campers and extreme adventurers alike rave about its cutting-edge UPF 50+ sun protection. Users appreciated the peace of mind this shirt offers when they're out tackling peaks or strolling lakeside in the midday sun.
Reviewers also loved its quick-drying capabilities, which is made possible by a blend of polyester and elastane. Caught in an unexpected rainshower or after a sweat-inducing hike, this hoody ensures you're not left feeling soggy for long. Alongside excellent performance on the trail, users noted that this shirt stands up to the rigors of regular washing. In other words, robust durability meets practical functionality.
Aesthetically, the Alpenglow Pro Hoody captured the hearts of the fashion-conscious adventurers. It offers a sleek, athletic fit without compromising the ability to layer under or over it. The hood is a standout feature for many buyers providing extra coverage against the sun's rays without restricting visibility or movement.
The breathability aspect of this hoody was a positive highlight in numerous reviews. Climbers reported staying cool during intense pursuits, thanks to its smartly designed underarm gussets. This clever design seems to take the word 'comfort' to a new level in outdoor clothing.
However, a handful of users mentioned that the shirt runs slightly small in size, suggesting potential buyers consider sizing up. Additionally, some customers felt that despite its higher-end price, the lack of pockets was a miss. A pocket to stash essentials would have been a valuable addition for many.
One significant comment that popped up repeatedly from the trusting community of female mountaineers was how versatile this hoody is. Users happily sported it from early spring morning jogs to late autumn crag sessions. Its ability to adapt to changing weather, providing warmth during cooler days and cooling during hotter times, was a point of praise.
Breathability & Ventilation
The polyester blend material assures you of maximum breathability and ventilation. The Pro Hoody features underarm gussets for increased airflow, preventing overheating even during high-exertion activities.
Coverage & Design
The design of the Alpenglow Pro Hoody offers great body coverage, with a comfortable hood and thumb loops to prevent sleeves from rolling up. The relaxed fit design doesn't hinder movement, making it ideal for rock climbing, backpacking, or camping.
Durability
While lightweight, the Pro Hoody doesn't compromise on durability. The fabric withstands constant use and frequent washing, reliably retaining its shape and UV protective features.
Fit
The hoody fits true to size and presents a flattering silhouette without being overly tight or loose. The stretchable fabric and active, feminine cut allow for excellent mobility without sacrificing coverage.
Material
The hoody is made with a breathable, moisture-wicking polyester blend, keeping you dry and comfortable in various conditions. The fabric is also treated for odor control, so you can confidently enjoy your outdoor pursuits without worry.
UV Protection Rating
The Black Diamond Alpenglow Pro Hoody is known for its UV protection that meets UPF 50+ standards, meaning it blocks 98% of UV rays. It's a shirt you can trust to keep your skin safe from the sun, even on extended outdoor adventures.
Value
Though on the pricier side, the Black Diamond Alpenglow Pro Hoody is a solid investment for outdoor enthusiasts. Given its high-quality material, reliable UV protection, and well-thought-out features, you're getting significant value for every penny spent.
Prices
Mountain Hardwear Crater Lake Hoody
$65.00
Runner Up
Based on our research and testing, we think the Mountain Hardwear Crater Lake Hoody is a great choice if you're looking for a women's sun protection shirt to go play hard outside with, if our top pick isn't quite what you're looking for.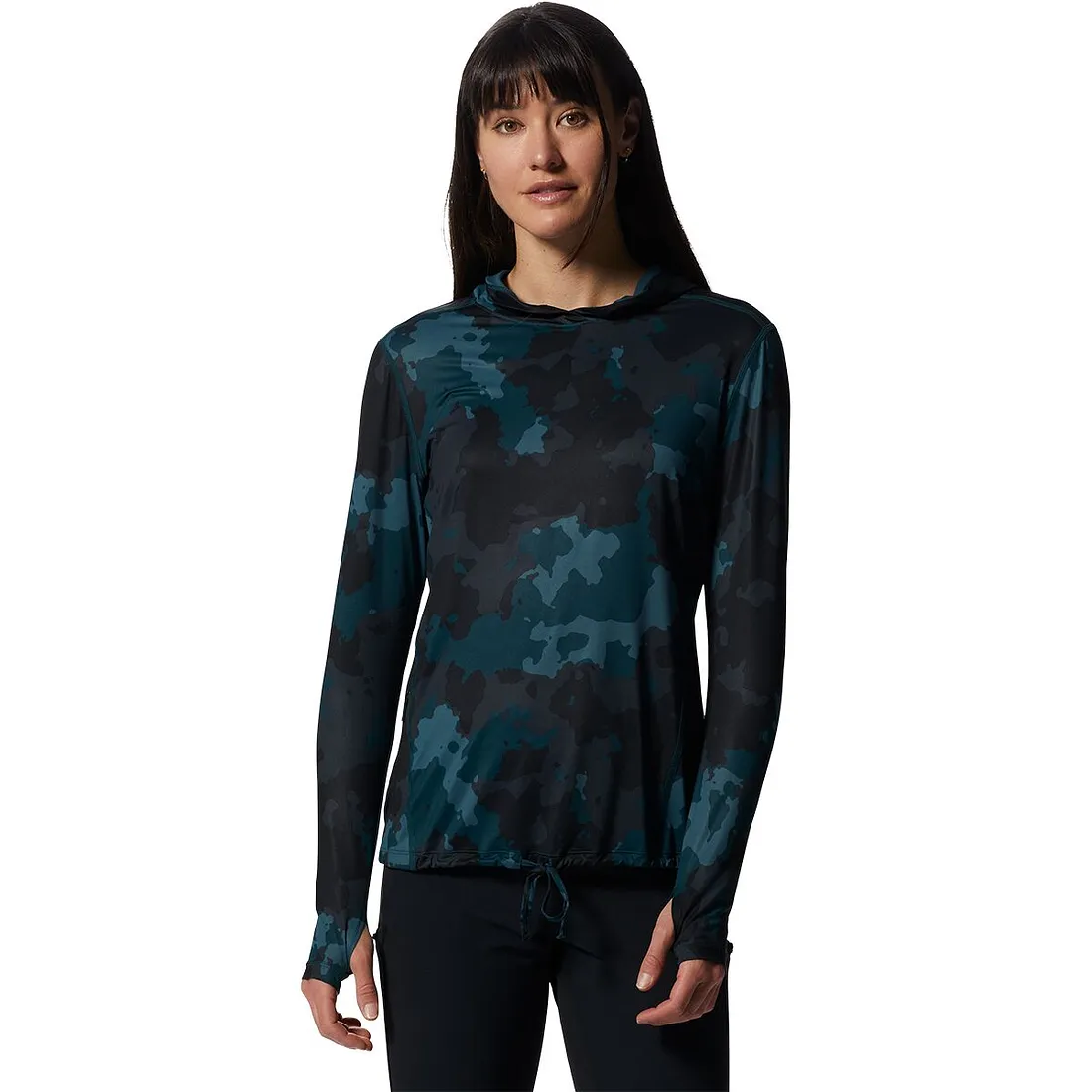 Reasons to Buy
Great UV Protection

Breathable Material

Long-lasting Durability

Thorough coverage

Great fit and design

Worth every penny
Reasons to Avoid
May feel a bit loose for petite figures

Not many color options
The Important Specs
Design:

Long sleeve, hoody

Material:

90% Polyester, 10% Elastane

Uv Protection Rating:

UPF 50+
Review Roundup
The Mountain Hardwear Crater Lake Hoody has earned itself a top spot in our sun protection shirts roundup due to a number of impressive features. Its standout feature is the high UPF 50+ sun protection factor which is like having a wearable sunblock, but without the greasy residue. Online reviewers highlighted this as a great relief in their outdoor adventures under the blistering sun.
Next up, women reviewers pointed out the excellent comfort and fit of this hoody. The shirt's material blend of 88% polyester and 12% elastane gives it enough stretch to accommodate varying body types comfortably. Plus, the thumb loops provide added sun protection for hands while maintaining the sleeves in place. Reviewers recommended this for activities from hiking to rock climbing due to its non-constricting fit and flexible feel.
As for breathability, this hoody nailed it according to online users. Persistently sweaty climbers and backpackers appreciated the light and moisture-wicking material of this hoody. It was praised for drying quickly after intense activity or washing, making it an easy choice for multi-day trips. But, do note, few users felt the material could be a bit too thin for some, hence not recommended during chillier days.
Another plus, online reviewers noted, is the large hoodie. Not only does it provide extra sun protection for the neck, ears, and face, but also comfortably fits a helmet. This makes it a go-to choice for climbers and bikers.
The women's Crater Lake hoody attempted to balance fashion with function and ended up pleasing most of its users. Available in a range of colors, it was lauded for its looks and style, especially the half zipper front that adds a dash of chic flair to it.
However, it's not all roses. Several users pointed out the discrepancy in sizing, suggesting that the hoody runs smaller. Therefore, ordering a size up might be a safe bet. Additionally, a few users weren't too psyched about the absence of pockets which would have added to its handiness.
Breathability & Ventilation
The breathability of this shirt is often praised in reviews. The material prevents overheating, making it ideal for hot weather camping or climbing. Even in intense heat, users report feeling cool and comfortable.
Coverage & Design
Customers loved the complete coverage this hoody provides, from the top of the head with the hood, to the hands with thumb holes. However, petite users have noted that the fit is a little too loose, though this is largely a matter of personal preference.
Durability
People who purchased this hoody mention its impressive durability. Despite frequent uses and washes, the hoody reportedly retains its shape and color, leading to high levels of satisfaction among customers.
Fit
This shirt provides a loose, comfortable fit that users loved. It offers plenty of room to move around without feeling restrictive, but some petite users noted it was a tad too loose for their liking.
Material
Made of 90% Polyester and 10% Elastane, this hoody provides a good combination of comfort and durability. Users have mentioned that the fabric feels soft against the skin and is resilient in a variety of outdoor conditions.
UV Protection Rating
The Mountain Hardwear Crater Lake Hoody boasts a UPF rating of 50+, offering exceptional protection against harmful sun rays. Customers appreciate this feature, particularly those with sensitive skin or prone to burns.
Value
Despite a slightly higher price point, the Mountain Hardwear Crater Lake Hoody makes up for it with excellent UV protection, comfort and durability. Users find it worth the investment for outdoor adventures.
Prices
Outdoor Research Echo Hoody
$75.00
Runner Up
Based on our research and testing, we think the Outdoor Research Echo Hoody is a great choice if you're looking for a women's sun protection shirt to go play hard outside with, if our top pick isn't quite what you're looking for.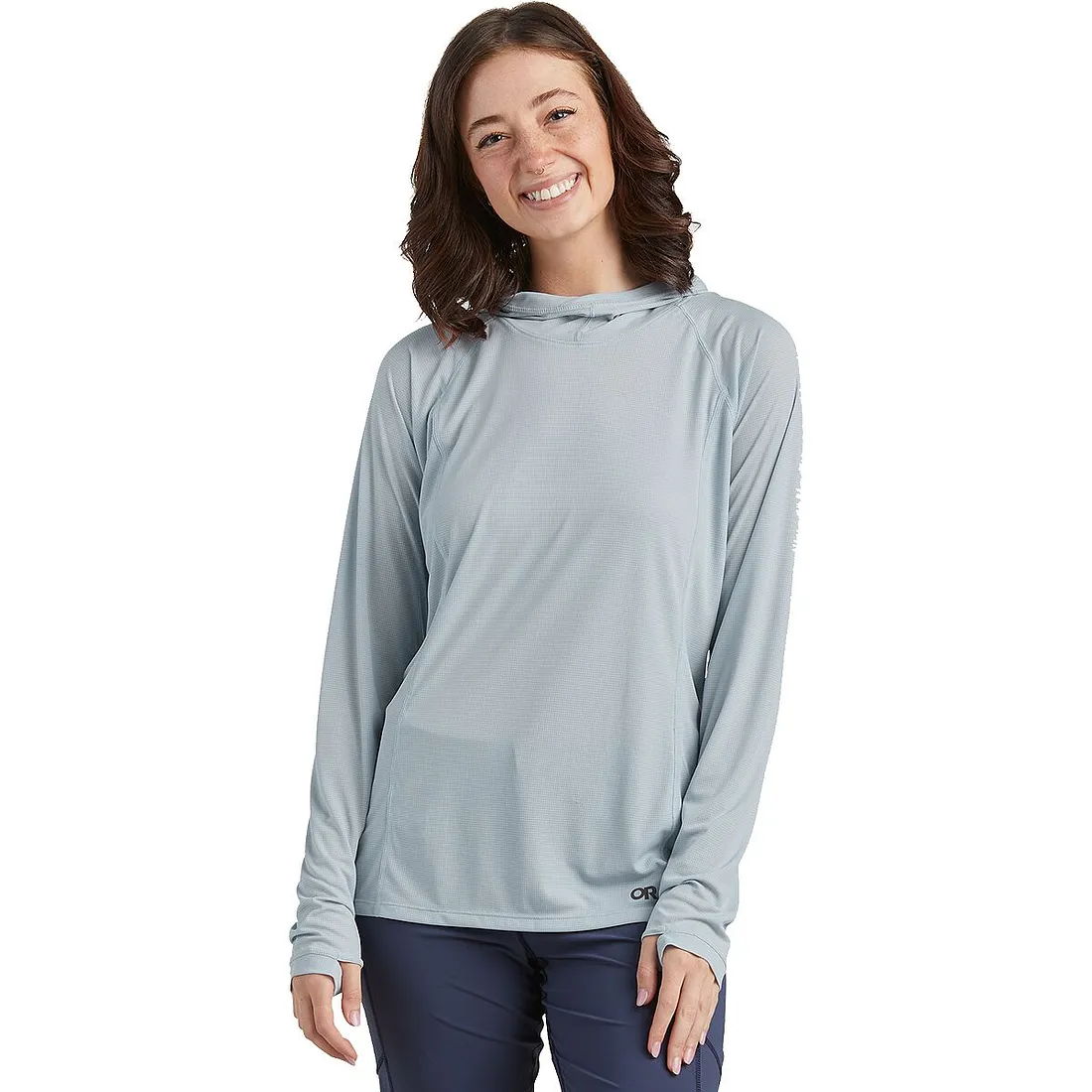 Reasons to Buy
Provides excellent UV protection

Crafted from lightweight, breathable material

Durability ensured with sturdy construction

Offers full coverage with its long sleeves and hood

Has a comfortable, loose fit

Priced well for the quality
Reasons to Avoid
Might be too baggy for some

Light color choices might get dirty quickly
The Important Specs
Fabric:

AirVent Polyester

Wash Care:

Machine washable

Neck Hoody:

Yes

Sleeve Length:

Full Sleeve

Uv Protection:

UPF 15
Review Roundup
The Outdoor Research Echo Hoody is favored by many outdoor enthusiasts not only for its effective sun protection but also for its airy comfort. It boasts an ultralight material that not only keeps you covered from potential sun damage, but also wicks away sweat, keeps you cool, and dries in a flash.
Several customers have praised how lightweight the hoody is. Many have mentioned how it almost feels like wearing nothing, yet it delivers efficient sun protection. This makes it perfect for hot summer adventures when preserving energy and avoiding heat stress are crucial.
While its super lightweight, breathable material hits high notes, buyers have shared mixed reactions about its durability. A few users have pointed out that it tends to snag easily on brushes or wears out after some rough usage. Although it's not a deal-breaker for everyone, it is worth noting for those who are planning extreme backpacking or bushwhacking trips.
The Echo Hoody offers a loose, flattering cut that suits various body sizes and types. Numerous users praised its comfortable fit. It has thumb loops and a hood for added sun protection which are features loved by many customers, making their outdoor experiences more enjoyable and worry-free.
Another selling point of this hoody according to customer reviews, is it's easy packing. Adventurers have loved how effortlessly it compacts down, making it a space-saver in any pack.
The hoody has been further commended for having the Polygiene odor control, which effectively reduces smell even after rigorous activities. It helps users to remain fresh-smelling over the course of multi-day hikes or climbing trips.
Despite some concerns over its durability, buyers typically attest to its value for money, considering the advantageous features it provides. It might not be the most rugged shirt out there, but its combination of comfort, breathability, and high UPF rating makes it a popular choice for outdoor enthusiasts.
Breathability & Ventilation
Made from AirVent Polyester, the hoody allows excellent air passing through, keeping the wearer cool even in the hottest situations. Despite the full coverage, the shirt does not stifle you and still gives ample breathability.
Coverage & Design
The hoody comes with a high neck and full sleeves design ensuring maximum coverage for sun protection. However, some might find the style a bit too baggy, which might be a turn off if you prefer more fitted clothing.
Durability
The fabric and craftsmanship of the hoody are sturdy enough to withstand nature's elements and the strain of outdoor activities. As long as proper care is taken, this shirt will be a companion for many trips to come.
Fit
With a loose, comfortable fit, the Echo Hoody does not restrict movement and allows for easy layering. But if you're not into the baggy style, you might want to consider another option.
Material
The hoody is made of a light, breezy AirVent polyester, known for being comfortable and quick-drying. It's a blessing for sweaty hikes or camping in the summer.
UV Protection Rating
The Outdoor Research Echo Hoody provides admirable sun protection, boasting a UPF 15 rating. This means it's capable of shielding your skin from harmful UV radiation during your adventures in the great outdoors.
Value
Considering the protection it offers, its light, breathable material, and sturdy construction, the price tag is justifiable. This versatile hoody offers a solid value for those in need of reliable sun protection.
Prices
REI Co-op Sahara Shade Hoody
$49.95
Best Budget Women's Sun Protection Shirt
Based on our research and testing, we think the REI Co-op Sahara Shade Hoody is a great pick if you're looking for a women's sun protection shirt that is more budget friendly, without sacrificing too much in quality.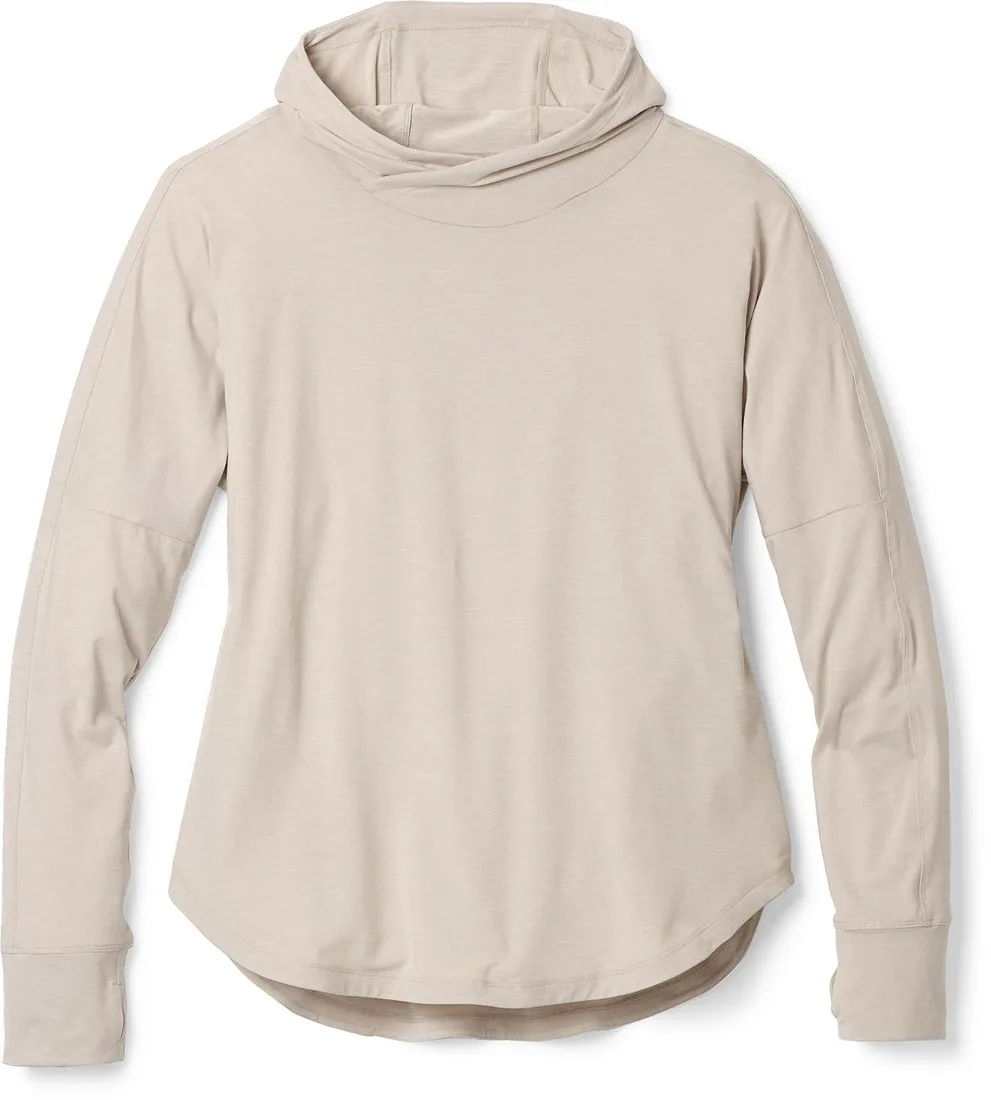 Reasons to Buy
High UV protection rating

Flexible hooded design for extra coverage

Breathable material for enjoyable hikes
Reasons to Avoid
Might be too loose on petite women

Material might pick up odors over time

Some users found the cuffs too tight
The Important Specs
Features:

Thumb holes, hood, kangaroo pocket

Material:

Polyester and spandex blend

Upf Rating:

50+
Review Roundup
The REI Co-op Sahara Shade Hoody is a bit of a gem in the sun protection shirt category. It's a budget-friendly option, but don't let its wallet-friendly price tag fool you, it comes packed with features that even the most discerning outdoor enthusiast would appreciate. It's made of lightweight polyester that works exceptionally well at wicking away moisure. This makes it perfect for those scorching summer hikes or intense midday climbing sessions. But as you might guess from the name, its true brilliance comes in the form of sun protection, with a UPF 50+ rating that effectively shields you from harmful UV rays.
Now, let's get into the nitty-gritty. Many customers have noted how versatile this hoody is. One of the details that they love most is the large hood that fits comfortably over a hat or ponytail, without being too loose or too tight. The thumbholes at the end of the long sleeves are another appreciated detail that not only helps keep the arms in place but also provides additional coverage and protection from the sun.
Of course, its distinct summer appeal doesn't mean it's not without its flaws. Some people have noted that despite its ability to wick moisture, it can get pretty hot if you're not in direct sunlight or enjoying a good breeze. They also pointed out that while it does come in various sizes, the overall fit is slightly on the looser side which may not appeal to everyone.
Another downside that a few reviewers have mentioned is the lack of color choices. While the existing shades are quite lovely and neutral, some people would've loved a few more vibrant hues to make their outdoor gear pop!
Yet, overall the feedback from online purchaser reviews is largely positive. Customers praised its solid sun protection, comfort and versatility, and functional design. Despite a couple of design hitches and the lack of color options, the REI Co-op Sahara Shade Hoody seems to deliver bang for your buck, doing an excellent job of protecting skin from the sun without breaking the bank.
Breathability & Ventilation
This hoody is praised online for its breathability, a critical factor when hiking or doing other strenuous activities. Its polyester-spandex blend wicks away sweat efficiently, keeping users cool and comfortable through their outdoors adventures.
Coverage & Design
With its hooded design and thumb holes, this model provides extensive coverage against the sun, which users love. It also features a kangaroo pocket for easy storage. Some petite women have mentioned though that the hoody's fit may feel a bit too loose.
Durability
Many online reviews appreciate the hoody's durability, with minimal signs of wear and tear even after repeated use. However, some have noted the fabric can snag relatively easily when encountering brush or sharp objects.
Fit
Most users found the fit of the Sahara Shade Hoody to be satisfactory. The spandex in the fabric gives the shirt a little stretch, allowing it to accommodate various body types. Few petite users did note it may fit looser on them.
Material
The Sahara Shade Hoody is a blend of polyester and spandex, resulting in a lightweight and stretchy fabric. However, a few users mentioned that this material tends to pick up odors with time, possibly requiring frequent washes during multiday trips.
UV Protection Rating
The REI Co-op Sahara Shade Hoody boasts a UPF rating of 50+, ensuring excellent protection against harmful sun rays. This makes it an ideal choice for those planning to spend extended periods outdoors, especially under the scorching summer sun.
Value
For its price, the REI Co-op Sahara Shade Hoody provides excellent value. It provides solid UV protection and additional features like the hood and thumb holes, which are typically found in pricier models. A few buyers highlighted the tighter cuffs to be a downside for the value.
Prices