Quick heads-up: some of the links on this page are affiliate links. If you make a purchase through them, we may earn a small commission (at no extra cost to you). This small bit of income helps keep our site running.
Best Ski Jackets for Men of 2023
This post was last updated on December 06, 2023.
Looking for the Women's version of this post? We've got you covered: Best Ski Jackets for Women of 2023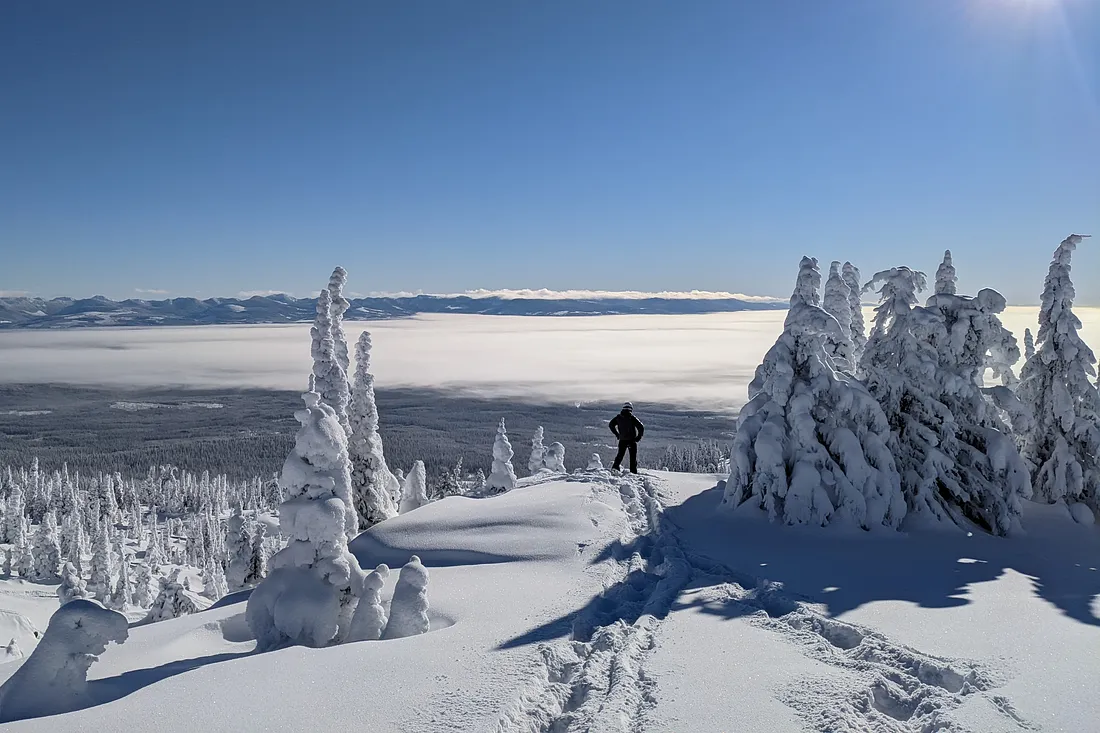 When the frost begins to form and the mountains call you in for a snowy adventure, staying warm is key. A ski jacket is a definitive part of that equation, but who said that it couldn't flaunt style along with comfort? This is where the Arc'teryx Sabre Jacket comes into play. Touted by many as a mix of practicality, unparalleled protection, and skater style, it steals the crown as the best ski jacket for men.
Beyond the universally appreciated Arc'teryx Sabre, there are, of course, other worthy contenders. While they didn't scoop the top spot, they did earn themselves pedestal positions as our runners-up. Suited for various needs, we've highlighted options perfect for backcountry skiing and for those on a budget.
Apart from just keeping you snug, these jackets shine in other areas too. We've considered factors like weatherproofing, snow-specific features, and durability. We've also kept an eye on value, because quality doesn't always have to equal hefty price tags. If you find yourself often braving the rain, or are a fan of down and winter jackets, you might want to check out our reviews on the Best Rain Jackets for Men, Best Down Jackets for Men, and Best Winter Jackets for Men respectively.
Our Top Recommendations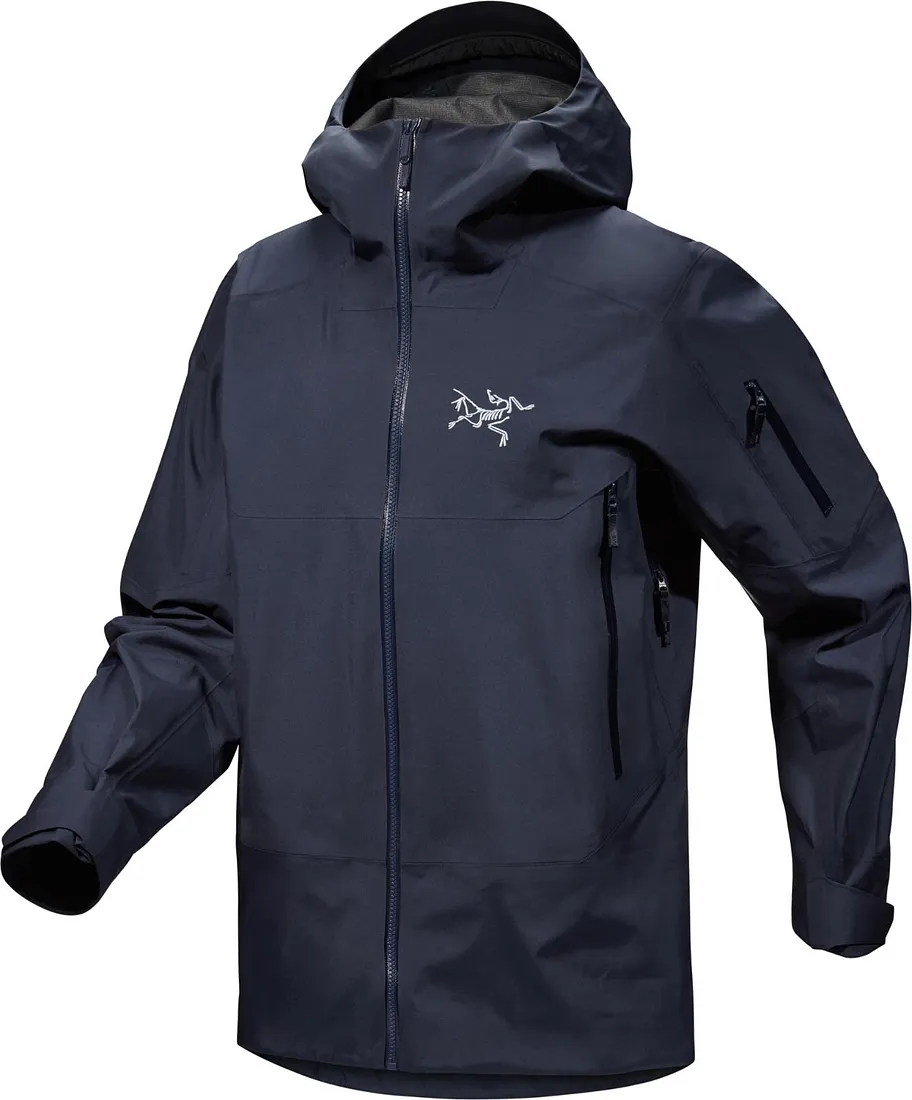 Arc'teryx Sabre Jacket
The Arc'teryx Sabre Jacket tops our list because users rave about its superior warmth and wind resistance, its impressive durability even in harsh conditions, and its well-designed pockets providing easy, convenient storage during ski trips.
Norrona Lofoten Gore-Tex Pro Jacket
The Norrona Lofoten Gore-Tex Pro Jacket has snagged the top pick runner-up spot due to rave cyclist reviews applauding its exceptional waterproofing and breathability, coupled with a lightweight design that doesn't compromise on warmth.
Helly Hansen Alpha LifaLoft
The Helly Hansen Alpha LifaLoft earns its second spot for its outstanding user feedback on its unrivaled warmth due to its innovative LifaLoft insulation, paired with its exceptional waterproofing that keeps campers dry even in the most extreme weather.
What you should look for
(and what we test for)
Durability
A durable ski jacket is vital when embarking on activities such as hiking and climbing, as rugged terrain and heavy use can cause wear and tear; look for jackets made with resilient materials and strong stitching.
Insulation
The insulation of the jacket will determine how warm it keeps you; a high-quality insulated jacket is a must for those freezing winter camping trips or chilly alpine climbs.
Breathability
Breathability is key when choosing a ski jacket, especially for activities like climbing where physical exertion can cause sweating; you want a jacket that allows sweat to evaporate quickly to prevent wetness and chilling.
Waterproof Rating
A high waterproof rating is essential in a men's ski jacket, as it will keep you dry during snowy or rainy hiking or camping conditions, allowing you to enjoy your adventure without feeling damp and chilly.
Arc'teryx Sabre Jacket
$850.00
The Best Men's Ski Jacket
Based on our research and testing, we think the Arc'teryx Sabre Jacket is the best Men's Ski Jacket on the market right now, for anyone looking to play hard outside.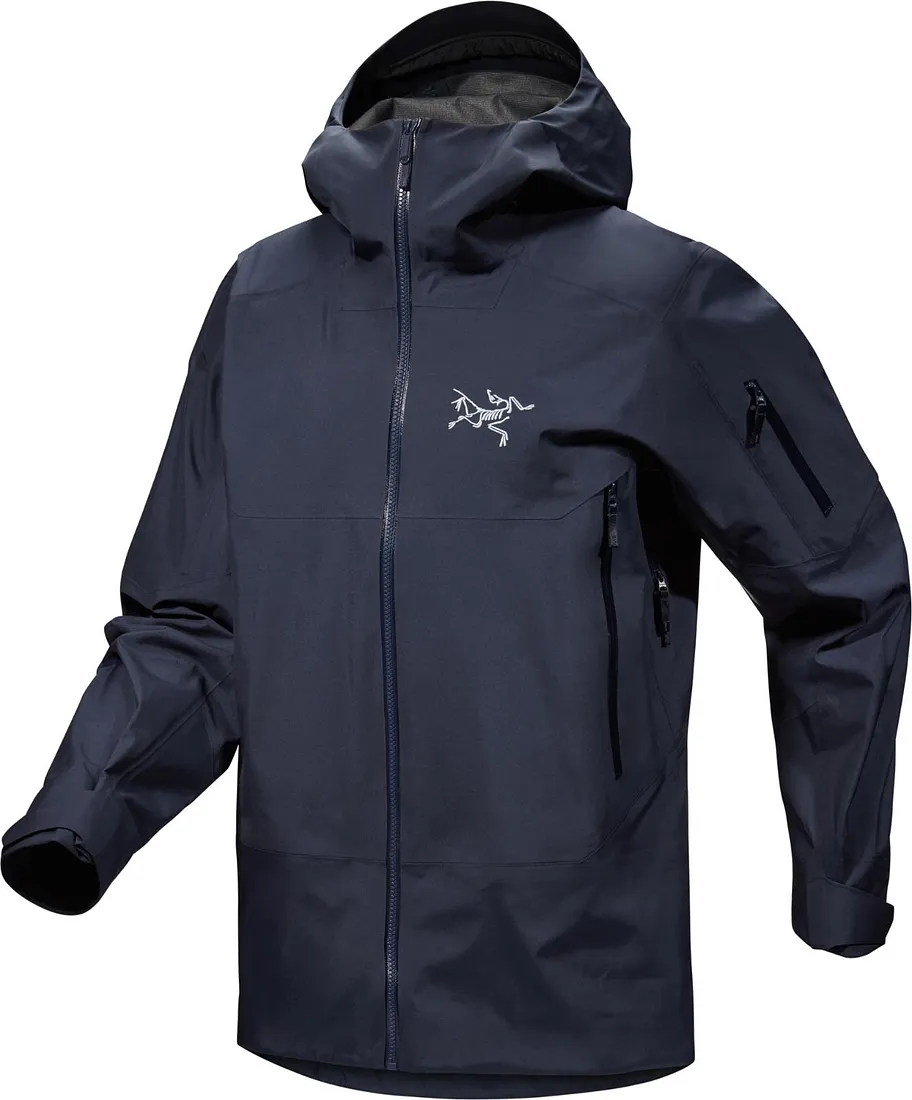 Reasons to Buy
Rugged, reliable construction

Excellent weather resistance

Convenient snow-specific features

Designed for superior warmth and insulation
Reasons to Avoid
Pricier than some other models

May be bulkier than other options

Not the lightest choice on the market
The Important Specs
Fit:

Regular with e3D, Hip length

Hood:

Helmet compatible StormHood

Pockets:

2 hand pockets, 1 arm pocket, 1 internal mesh dump pocket, 1 internal zipper pocket

Material:

GORE-TEX with Flannel backer
Review Roundup
The Arc'teryx Sabre Jacket has regularly been praised as an outstanding ski jacket. It's loaded with practical features that appeal to both novice and experienced skiers. And the style? It's modern and sleek, making it a popular pick among fashion-conscious outdoorsmen.
One of the first things that buyers rave about is its sturdy construction. The jacket is made from a material that is hardy enough to withstand crashes on the slopes and is also resistant to tears and punctures. Additionally, the GORE-TEX material keeps the wearer nice and dry, even in a heavy snowfall. The high-quality material, combined with top-notch stitching, gives this jacket serious longevity.
Arc'teryx's finely tuned build also reflects in the jacket's functionality, a detail several buyers mention in their reviews. It's loaded with thoughtfully placed pockets that can come in handy for stowing ski essentials such as goggle cleaners, snacks, or even a spare ski mask. The jacket's pit zips are another fan favorite because they allow rapid body temperature adjustments.
Buyers also love the fit of the Sabre jacket. It offers a roomier cut without being too baggy, allowing enough room for easy movement. They've also mentioned how the jacket anchors securely onto ski pants, ensuring snow doesn't find a way inside.
In terms of warmth, reviews have been mixed. While the Gore-Tex is excellent for protecting against water and wind, some users have commented that it isn't the warmest option out there when temperature hits rock bottom. Layering is key with this jacket, so be prepared to put on a mid-layer in colder conditions.
While the jacket's premium price might be a deterrent for some, buyers constantly mention that the durability and quality make the Arc'teryx Sabre Jacket worth the cost in the long run.
Lastly, there is a very minimal drawback that a few buyers mentioned, which is about the jacket's collar. Some users found it a tad high, causing it to rub against the face during rigorous activities.
Durability
Arc'teryx is known for their jackets' durability and the Sabre is no exception. Users report that the jacket holds up well after numerous wearings and even after tough scrapes with tree branches or falls. Some users have mentioned minor issues with zippers, but overall, the jacket has a solid, durable feel that justifies its price.
Insulation & Warmth
This jacket delivers when it comes to insulation and warmth. Thanks to its flannel backer, it retains heat well and users often comment that they stay cozy without overheating, even on colder days on the slopes. That being said, some customers do recommend layering underneath on particularly frigid days.
Snow-Specific Features
Customers love the snow-specific features of the Arc'teryx Sabre. The powder skirt and the jacket-to-pant integration system are popular as they prevent snow from getting in when you're in deep powder. The diverse pocket arrangement is also well received, providing plenty of space for ski passes, phones and other essentials.
Value
The Arc'teryx Sabre Jacket is on the expensive side, but buyers seem to agree that it offers good value for the price. They often express that the jacket's superior weather resistance, warmth, and durability make it a worthwhile investment for regular skiers or for those who spend a lot of time in cold, wet weather.
Weatherproofing
Users of the Arc'teryx Sabre jacket rave about its weatherproofing capabilities. The GORE-TEX fabric and taped seams mean that snow, sleet, or rain doesn't stand a chance of seeping through. The jacket keeps users dry even in the most persistent precipitation and windy conditions. The helmet-compatible StormHood is a big plus in really foul weather.
Prices
Norrona Lofoten Gore-Tex Pro Jacket
$799.00
Runner Up
Based on our research and testing, we think the Norrona Lofoten Gore-Tex Pro Jacket is a great choice if you're looking for a men's ski jacket to go play hard outside with, if our top pick isn't quite what you're looking for.
Reasons to Buy
Excellent weatherproofing capabilities

High-quality insulation and warmth

Loaded with snow-specific features

Renowned durability

Decent value given its top-notch features
Reasons to Avoid
Hefty price tag

Might be overkill for mild conditions

Bright color options may not appeal to everyone
The Important Specs
Hood:

Helmet-compatible, adjustable

Inseam:

Regular fit

Pockets:

Two chest, one sleeve, one internal

Venting:

Underarm zips

Material:

Gore-Tex Pro, 70D x 70D
Review Roundup
When you're hitting the slopes, whether for fun or for sport, a solid ski jacket like the Norrona Lofoten Gore-Tex Pro Jacket is a must-have. This jacket is crafted with a robust and rugged design that stays true to the spirit of hardcore winter adventuring.
One of the most frequently mentioned aspects from online consumers is the quality of its construction. Made with a strong Gore-Tex Pro fabric, it's designed to withstand even the harshest of winter weather conditions, ensuring that snow or rain won't put a damper on your outdoor activities. This jacket won't cave into the biting cold and fierce winds. Customers have reported that it can hold its own even on the most blustery ski days.
There's a lot of love out there for the functionality of this jacket too. It's packed with pockets, so you'll have plenty of places to stash your gear. Reviewers particularly appreciated the forearm pocket for their ski pass - a small but crucial detail that offers big convenience on the slopes.
When it comes to fit, the Norrona Lofoten Gore-Tex Pro Jacket hits the sweet spot for a lot of people. It provides just the right balance between being roomy enough for layering underneath, without being so large that it flaps about during high-speed descents. However, a few online reviewers did note that the jacket might be a bit on the larger side for those with a slimmer build.
Another notable feature is the jacket's breathability, which received high marks from users. The Gore-Tex Pro fabric does a stellar job of wicking away sweat and moisture, ensuring you don't feel all clammy and stuffy after a long day on the trails.
One point for potential improvement mentioned by a few users is the price. This is certainly a high-end jacket, and its price tag reflects that. While most reviewers agree that the quality and performance of the jacket justify the cost, it's a point to consider for those on a tight budget.
Durability
The astounding durability of the Norrona Lofoten is one of its highlights. The reinforced Gore-Tex build holds up remarkably well under strain and resists wear and tear commendably, even after repeated use on rough terrain. This jacket definitely embodies Norrona's reputation for long-lasting outdoor gear.
Insulation & Warmth
Despite being shell jacket, the Norrona Lofoten is known for its superior insulation and ability to maintain warmth. The Gore-Tex Pro, with its exceptional wind resistance, works hand in hand with the jacket's lining to trap heat, shielding you from icy winds on those freezing slopes.
Snow-Specific Features
This jacket is equipped with numerous snow-specific features. The hood is both helmet-compatible and adjustable to ensure you can maintain visibility in powder. Additionally, the underarm zips allow for effective thermal management on warmer ski days. Plus, you'd appreciate the array of pockets that come handy in stowing away small essentials like ski passes and lip balm.
Value
Granted, the Norrona Lofoten comes with a significant price tag. But when you consider the technology and quality that's packed into this jacket, plus its durability and performance in harsh winter conditions, it becomes apparent that it represents good value for the ski enthusiast who demands the best gear for the slopes.
Weatherproofing
Made with advanced Gore-Tex Pro material and reinforced with 70D x 70D, the Norrona Lofoten delivers top-notch weatherproofing. Whether it's heavy snowfall, sleet or even hail, you can trust this jacket to provide robust barrier between you and the harsh elements.
Prices
Helly Hansen Alpha LifaLoft
$550.00
Runner Up
Based on our research and testing, we think the Helly Hansen Alpha LifaLoft is a great choice if you're looking for a men's ski jacket to go play hard outside with, if our top pick isn't quite what you're looking for.
Reasons to Buy
Superior weather resistance

Great warmth to weight ratio

Ski-specific features

Luxurious feel
Reasons to Avoid
Expensive

Bulkier design

Less breathable
The Important Specs
Hood:

Removable, helmet-compatible hood

Pockets:

Two hand warming pockets, RFID pass pocket, internal goggles and electronics pocket

Zippers:

YKK Vislon water resistant zippers

Materials:

Helly Tech Professional fabric, LifaLoft insulation

Waterproofing:

DWR finish
Review Roundup
The Helly Hansen Alpha LifaLoft Ski Jacket has become a favorite pick among winter sports enthusiasts and it's not hard to see why. This nimble show-stealer effectively combines performance, comfort and style. Flaunting a two-layer fabric design, this jacket is both waterproof and windproof, meaning it's built to keep unpleasant weather at bay while you're navigating your favorite slopes.
A standout feature of the Helly Hansen Alpha LifaLoft is its innovative LifaLoft insulation. Engineered through a joint venture between Helly Hansen and PrimaLoft, LifaLoft insulation is feather-light, enabling the jacket to deliver exceptional warmth without the bulk. This translates to less downtime shedding layers when the action starts to heat up or when you're on the move.
Customer reviews frequently mention the jacket's four-way stretch fabric which not only enhances mobility but also brings a superior fit to the table, something that is highly appreciated by the skiers. The adjustable cuffs and removable, helmet-compatible hood add to the jacket's functionality and versatility.
The Alpha LifaLoft comes with plenty of storage solutions too. Ski-pass pockets, a dual hand-warming pocket and spacious inner pockets make it easier to move around unencumbered by backpacks or sling bags.
In terms of aesthetics, customers give high marks to the jacket's sleek, minimal design. The available color choices cater to various tastes and the jacket's overall look is considered modern and sharp, fitting seamlessly into both a mountain setting and an apres-ski venue.
For all of its qualities, the Alpha LifaLoft jacket is not without its criticisms. Some users have noted that the jacket's ventilation could be improved, while a handful have expressed their desire for a more snug fit around the neck and chin area. These are minor drawbacks considering all the positive aspects and capabilities it brings to the table.
Whether you're a seasoned ski pro, a recreational snowboarder, or someone who simply loves the thrill of winter sports, the Helly Hansen Alpha LifaLoft has so much to offer. Its blend of functionality, comfort, warmth, and style make it a well-rounded choice for the slopes this winter.
Durability
In terms of durability, the Alpha LifaLoft has proven to be a dependable choice. It holds up well even after long-term usage, as verified by multiple user reviews. There were a few complaints about the zippers getting stuck occasionally, but this seems more of an exception rather than the rule.
Insulation & Warmth
Powered by LifaLoft insulation technology, this jacket provides commendable warmth without adding too much weight or bulk. Although it's not the warmest jacket in extreme sub-zero temperatures, it copes reasonably well with most winter weather.
Snow-Specific Features
The jacket comes with an array of snow-specific features, including a removable snow-skirt, wrist gaiters, and a specially dedicated RFID pass pocket for easy access on the slopes. Despite this, a few users reported they would have appreciated more pockets for versatility.
Value
Being expensive, the Helly Hansen Alpha LifaLoft might not be within everyone's budget. However, most users praised its high performance, considering it a good value for the price. If you're a regular on the slopes, the investment should pay off in spades.
Weatherproofing
The Helly Hansen Alpha LifaLoft is one of the most weather-resistant ski jackets around. The Helly Tech Professional fabric and DWR finish ensure you stay dry even in the face of the harshest snowstorms. However, some users have noted that intense rainy conditions can slightly dampen its effectiveness.
Prices
REI Co-op First Chair GTX
$299.00
Best Budget Men's Ski Jacket
Based on our research and testing, we think the REI Co-op First Chair GTX is a great pick if you're looking for a men's ski jacket that is more budget friendly, without sacrificing too much in quality.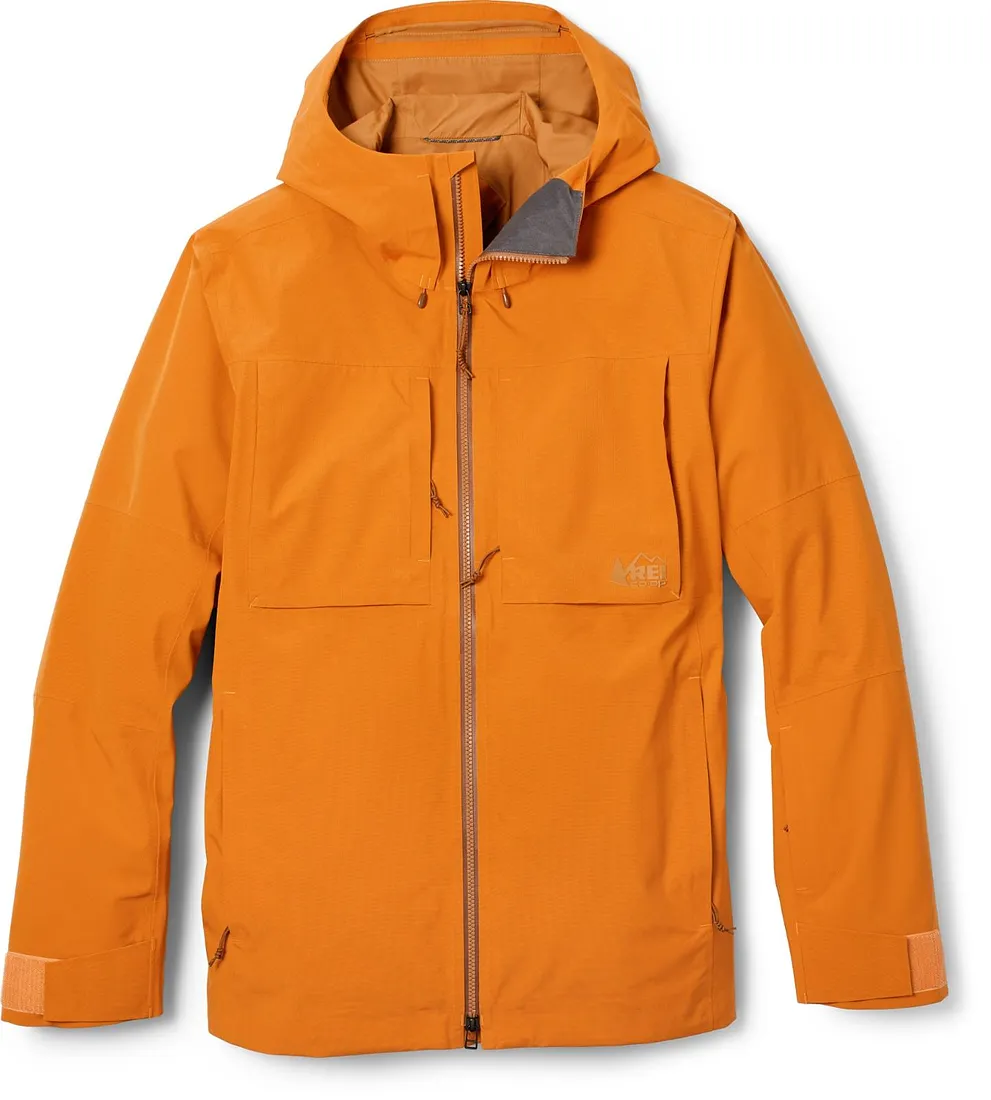 Reasons to Buy
Fits perfectly and comfortably

Provides excellent insulation

Highly durable and lasting

Has snow-specific features

Reasonably priced for the quality offered
Reasons to Avoid
May not suit those wanting a lightweight jacket

Limited color options

The sizing can run a bit larger than standard

Not ideal for very extreme conditions
The Important Specs
Pockets:

2 Hand Pockets, 1 Chest Pocket, Internal Security Pocket, Internal Ski Pass Pocket

Material:

GORE-TEX Two-layer Performance Shell

Lining Material:

Polyester

Waterproof Rating:

28,000mm

Breathability Rating:

20,000g
Review Roundup
The REI Co-op First Chair GTX ski jacket is an excellent option for those looking for quality winter wear on a budget. It stands up to many of its high-end counterparts, ensuring comfort in even the chilliest winter conditions.
Designed with GORE-TEX technology, this jacket successfully repels water and wind without compromising on breathability. Users have consistently noted how well the First Chair GTX shielded them from harsh weather on the slopes while keeping them dry from sweat on the inside.
Practicality was a big plus for this jacket. With ample pocket space, including a lift-pass pocket on the sleeve, customers have praised it for being incredibly user-friendly on the slopes. Some users wish that it had more interior pockets, but admit the ones provided are spacious and secure.
The adjustable hood that accommodates a helmet without restricting vision has received many nods from reviewers. The fit is reported as true to size, and the jacket offers just the right amount of padding for insulation without added bulk.
Despite being marketed as a budget option, one cannot sense any compromise on the quality of materials. The zippers and stitching impressed customers with their high durability. The reinforced shoulder areas, designed for carrying ski equipment, were another beloved feature by multiple reviewers.
Room for improvement? Some users noted the jacket might benefit from a snow skirt to help keep out the cold during snow-intensive activities. Others commented the sleeves ran slightly long, which may be rather inconvenient for shorter skiers.
All in all, with its thoughtful features, reliable materials and efficient performance, the REI Co-op First Chair GTX has praised as a great value ski jacket that doesn't break the bank.
Durability
The jacket gained resounding praise for its robust construction - with people mentioning that they have used it for multiple seasons without notice of significant wear or tear. Some customers, however, did mention the sizing runs slightly larger than standard.
Insulation & Warmth
Customers found the jacket to be warm and cozy. The added insulation does an impressive job in keeping out the cold, making it a fabulous choice for skiing or other winter activities. Some users, however, mentioned wishing for a more lightweight option.
Snow-Specific Features
The REI Co-op First Chair GTX comes with functional features like a powder skirt, hood and wrist gaiters. These features were widely acclaimed by customers as they greatly enhanced the skiing experience, keeping snow out and heat in effectively.
Value
For the price point, users appreciate the overall construction, quality, and the features of the REI Co-op First Chair GTX. They cited its longevity and consistent performance over time as excellent value for money.
Weatherproofing
Equipped with GORE-TEX technology, the REI Co-op First Chair GTX offers solid weather protection against the elements. Users frequently praised its ability to keep them dry and comfortable even in snowy and rainy conditions. However, some customers note that extreme weather conditions might push the jacket to its limits.
Prices
Arc'teryx Rush Jacket
Best Men's Ski Jacket for Backcountry Skiing
Based on our research and testing, we think the Arc'teryx Rush Jacket is a solid choice if you want a men's ski jacket that's really well suited to Backcountry Skiing.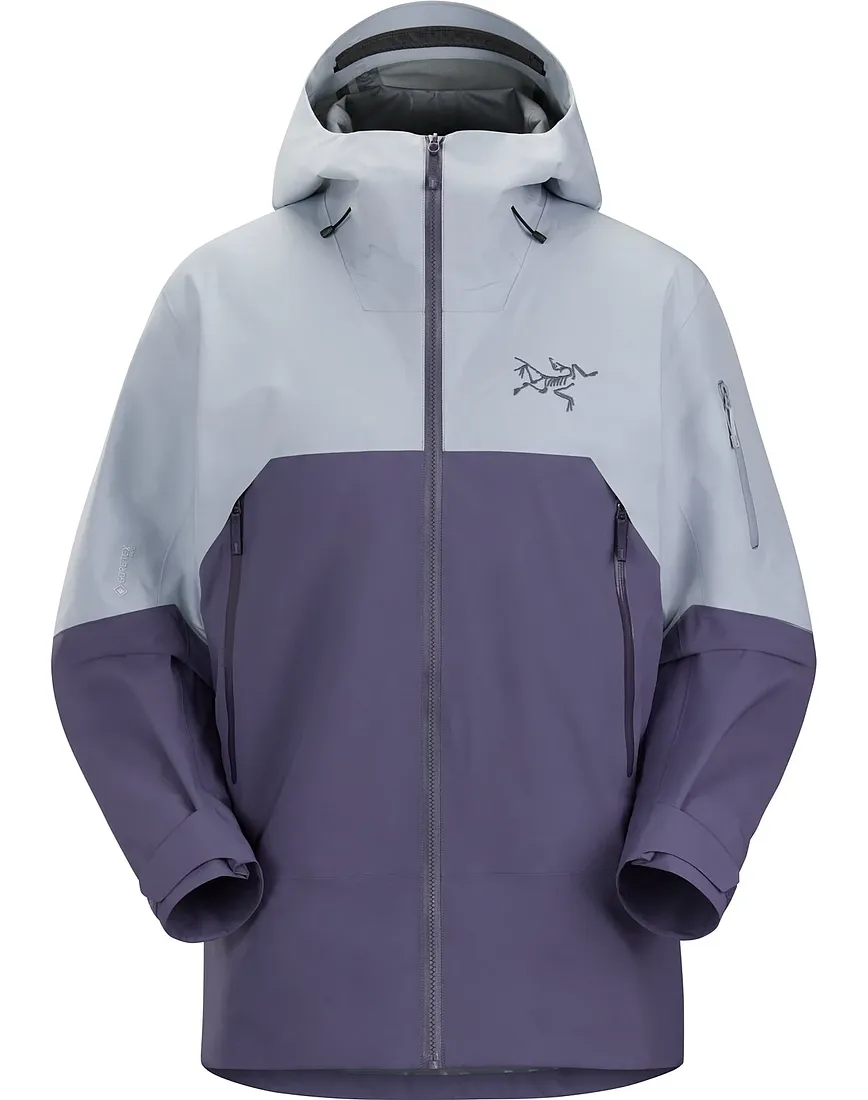 Reasons to Buy
Outstanding weatherproofing performance

Excellent breathability

Equipped with snow-specific features

Versatile for layering

Robust and durable design
Reasons to Avoid
Pricey

Pocket positioning may be awkward for some

Can be excessively snug depending on your mid-layer
The Important Specs
Fit:

Expedition with e3D, hip length

Hood:

StormHood with Cohaesive cordlock adjusters

Pockets:

Two high-volume hand pockets, one internal zippered pocket, one chest pocket with integrated ski-pass drop pocket

Zippers:

WaterTight external zippers

Material:

N80p-X GORE-TEX Pro 3L
Review Roundup
The Arc'teryx Rush Jacket has made a name for itself in the backcountry skiing community for good reason. With its impressive performance, sleek design, and top-notch weather protection, it quickly found its way into the wardrobes of many outdoor enthusiasts.
As far as construction goes, this jacket showcases Arc'teryx's commitment to quality. Made with 3-layer GORE-TEX Pro fabric, it offers excellent durability and protection against the elements. Not even the most punishing blizzards will break through this bad boy. The fabric is both breathable and waterproof, saying goodbye to clammy discomfort when you're hitting the slopes hard.
A lot of online reviewers have highlighted the Rush's attention to detail - from the water-resistant zippers to the helmet-compatible hood, and the adjustable cuffs. These features might seem minimal, but they can be game changers when you're waist deep in snow on a remote mountain peak.
People who bought this product often described the jacket as lightweight and easy to move in, a huge plus for backcountry skiers. They also talked about how much they loved the large, easily accessible pockets. It seems like Arc'teryx really thought about the practicality of the design.
Without forgetting the fit and comfort, customers online raved about how well the jacket accommodates layers without feeling bulky or restrictive. It's cut to allow full range of movement, meaning it won't hold you back when you're swooshing down those descents or tackling tough climbs.
However, it wasn't all praise in the review sections. A downside that was mentioned frequently was the price. The Arc'teryx Rush Jacket is a high-end piece of gear and it comes with a price tag to match. While many thought it was worth every penny, some potential buyers were deterred by the cost.
Additionally, while the jacket offers incredible wind and water protection, a few reviewers mentioned that it isn't quite as insulated as other models on the market. However, its roomy fit allows for all-important base layers, and most reviewers found it versatile enough for a range of temperatures with the right clothing underneath.
In conclusion, the Arc'teryx Rush Jacket stands out as a top choice for backcountry skiing, thanks to its supreme durability, thoughtful features, and high-quality construction. While it might be slightly less insulated than other models and it comes at a high cost, most users find that its benefits outweigh these factors.
Durability
This jacket is constructed with one of the most robust textiles provided by GORE-TEX, N80p-X, which offers superb abrasion resistance. Customers have lauded its long-term durability, even with heavy use in harsh backcountry skiing conditions.
Insulation & Warmth
This isn't an insulated jacket per se. Instead, it strikes a good balance of breathability and protection, providing a rugged, waterproof, and breathable hardshell that's ideal for heavy exertion in tough conditions. It's meant to be worn with appropriate layers underneath, which gives you the flexibility to adjust your warmth level to the activity and weather.
Snow-Specific Features
Arc'teryx hasn't skimped on snow-specific features. It's got a powder skirt to keep out the snow, a helmet-compatible StormHood with Cohaesive cordlock adjusters for full coverage without compromising vision, and a ski-pass pocket for convenience.
Value
A significant investment, the Rush Jacket is definitely on the high end of the pricing spectrum. However, buyers assert that its versatility, strapping durability, and top-notch weatherproofing warrant the price tag for those who take their backcountry skiing seriously.
Weatherproofing
The Arc'teryx Rush Jacket is designed to completely fend off harsh weather, utilizing N80p-X GORE-TEX Pro 3L material for superior wind and waterproofing. This, combined with fully taped seams and WaterTight external zippers, promises virtually impenetrable protection against the elements.
Prices
No prices found. Check back later!