Quick heads-up: some of the links on this page are affiliate links. If you make a purchase through them, we may earn a small commission (at no extra cost to you). This small bit of income helps keep our site running.
Best Rain Jackets for Men of 2023
This post was last updated on December 06, 2023.
Looking for the Women's version of this post? We've got you covered: Best Rain Jackets for Women of 2023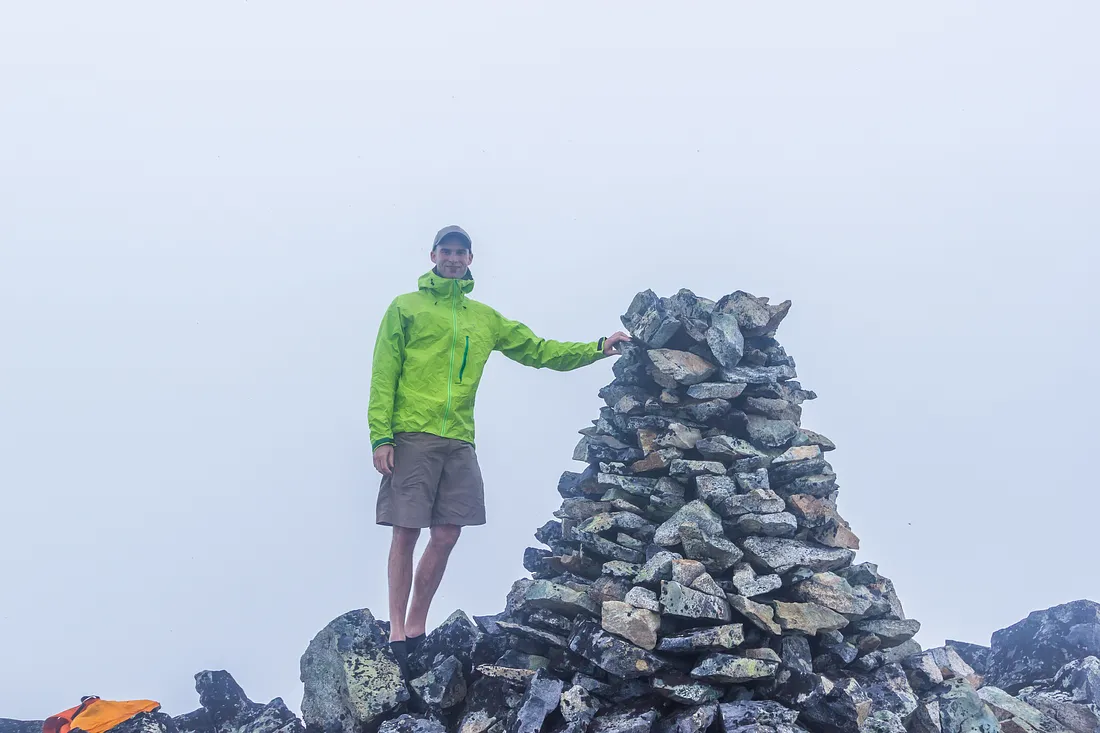 Hey there, outdoor enthusiasts and die-hard adventurers! In the face of unpredictable weather, your choice of clothing can truly be your saving grace. When it comes to deciding on that one trusty garment that's reliable enough to keep Mother Nature's whims at bay, nothing beats the unflappable and rugged protection of a good rain jacket. Today, we're going to put some top performers under the microscope.
Our focus centers on the Arc'teryx Beta AR Jacket, a stellar performer that has redefined 'protection' and 'comfort'. Its kickass features and exceptional resilience against even the harshest of weather gives it the crown of the best possible choice for a men's rain jacket. But hey, the competition is tough and there are a few other jackets out there giving the Beta AR a run for its money.
In this post, we'll also shine a spotlight on a couple of outstanding runners-up, each with their unique edge. Plus, we've got you covered for different situations and styles of adventures from hiking and camping to trail running along with some stellar choices of ultralight and budget-friendly jackets. So whether you are a meticulous planner or an impromptu explorer, our picks will protect you from the elements while giving you the much-desired breathability, durability, and a fit you can vouch for. Don't forget to check out our other reviews on best down jackets for men, best winter jackets for men, and best fleece jackets for men. Let's get started, and here's to staying dry and comfortable on the trail!
Our Top Recommendations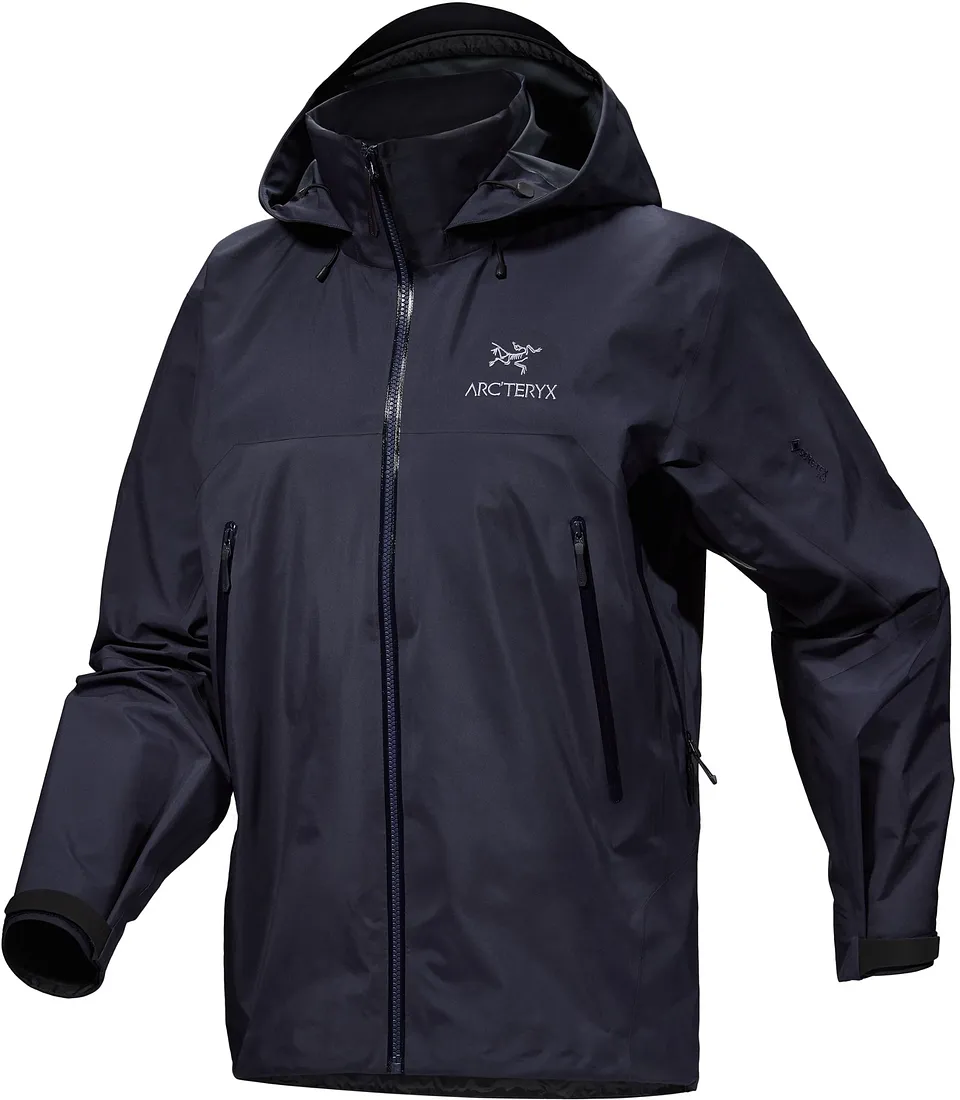 Arc'teryx Beta AR Jacket
Based on user reviews, the Arc'teryx Beta AR Jacket takes the top spot due to its unrivaled breathability and durability, combined with its lightweight build perfect for versatile weather conditions.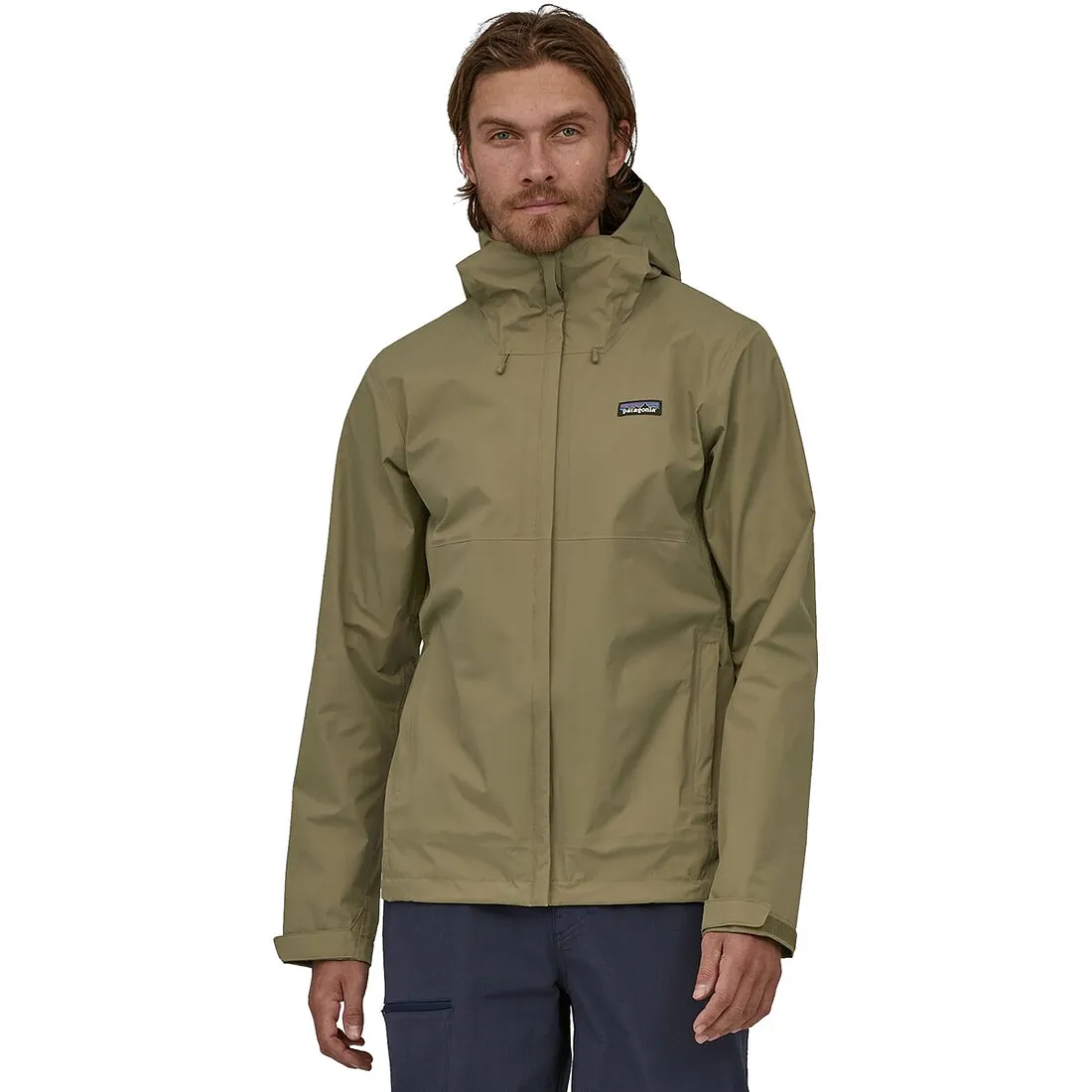 Patagonia Torrentshell 3L
The Patagonia Torrentshell 3L snagged our top pick spot due to rave reviews about its exceptional waterproofing, breathable design, and exceptional durability – handling everything from drizzle to downpours with ease.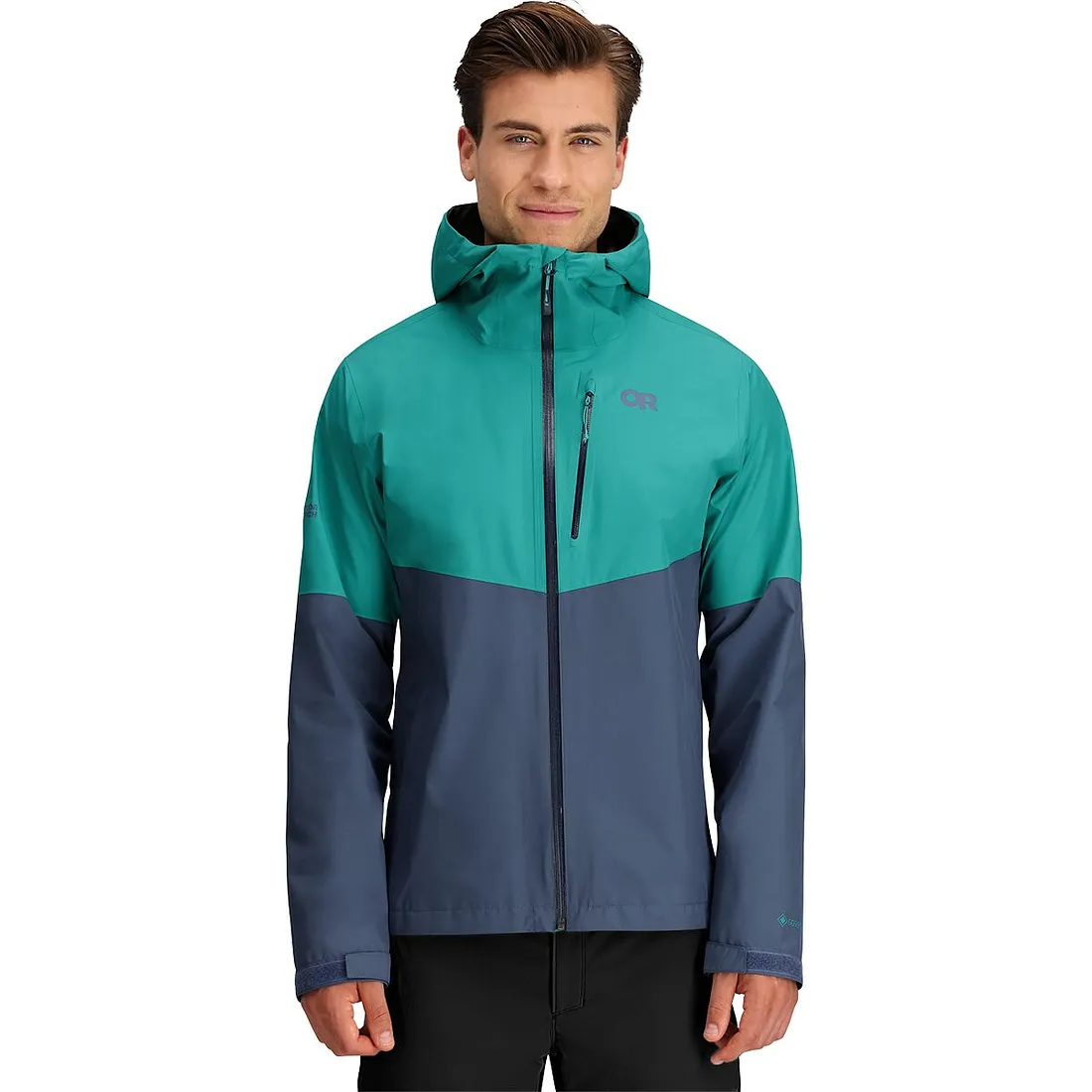 Outdoor Research Foray II
The Outdoor Research Foray II clinches the runner-up position for its exceptional breathability and versatility, with users praising its innovative side zips for effortless ventilation and its lightweight material making for easy packing on any adventure.
What you should look for
(and what we test for)
Durability
A quality rain jacket should be tough enough to withstand rough conditions and abrasions common to outdoor activities without compromising on its waterproof performance.
Breathability
Opt for a jacket with effective breathability to prevent excess sweating and keep you comfortable during strenuous activity like climbing or long hikes.
Fit and Mobility
A good men's rain jacket should have a comfortably snug fit but also allow for a full range of motion, crucial for activities like climbing and setting up tents.
Waterproof Capability
Choose a men's rain jacket that offers genuine waterproofing, not just water-resistance, to hold up in heavy rain when you're on a hiking trip or at a campsite.
Arc'teryx Beta AR Jacket
$600.00
The Best Men's Rain Jacket
Based on our research and testing, we think the Arc'teryx Beta AR Jacket is the best Men's Rain Jacket on the market right now, for anyone looking to play hard outside.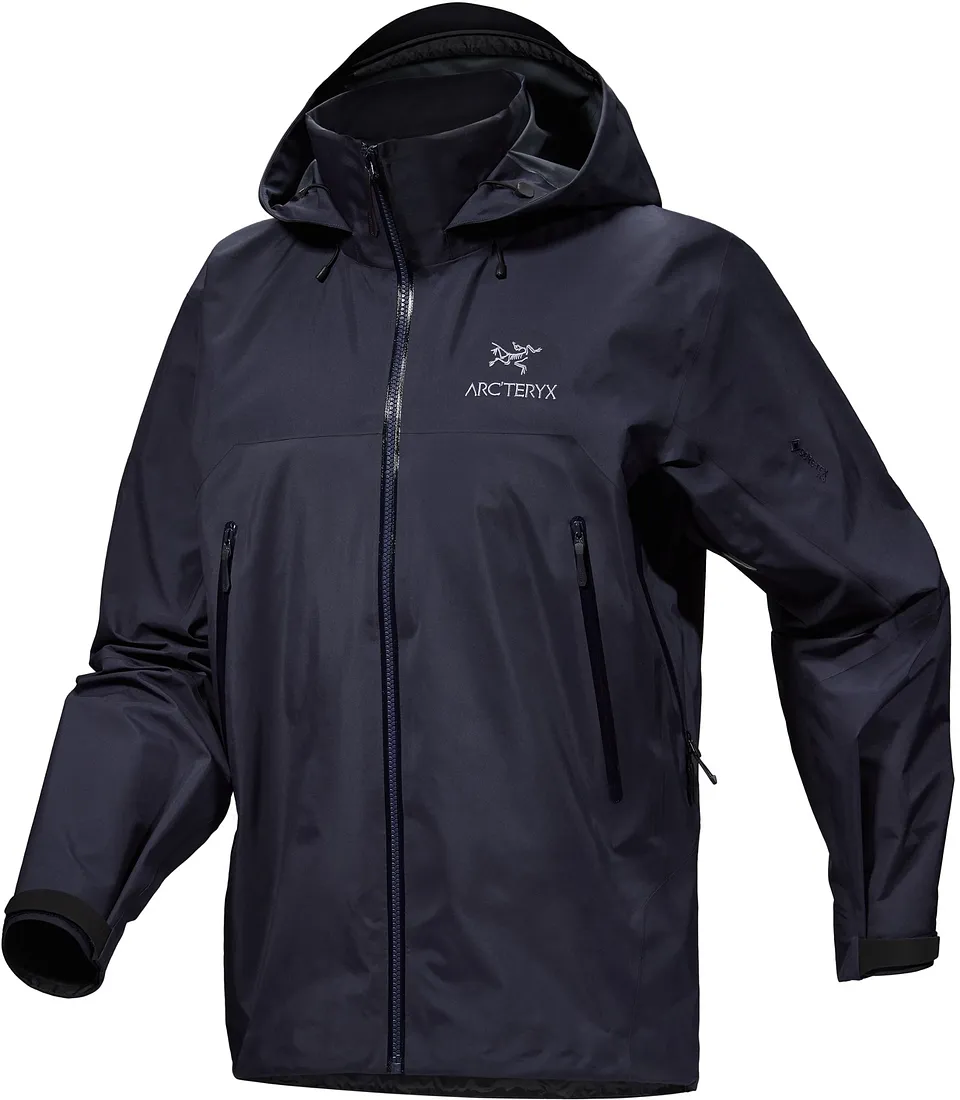 Reasons to Buy
Superb overall performance

Excellent durability

Great versatility

Comfortable fit irrespective of body type

Unmatched weather protection
Reasons to Avoid
More expensive than other options

Not as lightweight as some competing models

A bit stiff and rigid, may need breaking in
The Important Specs
Hood:

Helmet compatible DropHood

Weight:

455 grams

Pockets:

two high-volume hand pockets

Zippers:

WaterTight external zippers

Material:

N80p-X GORE-TEX Pro 3L
Review Roundup
The Arc'teryx Beta AR Jacket is definitely a strong contender when we're talking about rain jackets for men who love the great outdoors. Even during our testing excursions under challenging weather conditions, this beast of a jacket stood tall against the wrath of Mother Nature.
Now don't get us wrong, this jacket doesn't just bank on its rugged weather resistance. From the moment you put it on, it feels light and comfortable, hardly hindering your movements. This is largely due to its smartly designed ergonomic cut and strategically placed, well-articulated patterning that lend it a surprisingly agile feel.
Across the board, the Beta AR graced us with nothing short of top-grade performance. Be it wind, rain, or even a bit of snow, the jacket's protective prowess was commendable. Its GORE-TEX Pro three-layer design construction seems to be the secret ingredient in ensuring you stay dry.
We also loved how efficient the jacket's storm hood was. It's not only adjustable but roomy enough to wear a helmet underneath, which is really handy for climbers and bikers. Plus, the hood proved to keep the rain and wind out just as well as the rest of the jacket.
Another aspect to appreciate is the jacket's durability. Thanks to its reinforced shoulders and elbows, regular hikers said the jacket held up well even after several excursions through tangling brush and rugged wilderness. Several users also mentioned its commendable resistance to wear and tear, which is proof of its overall sturdiness.
One slight hiccup we, as well as quite a few users noted, was the jacket's breathability factor. In high-exertion situations, it didn't quite match up to some of its rivals. While it does feature pit zips for ventilation, some people found that under heavy exertion, the jacket might not vent moisture as effectively.
Price-wise, the Arc'teryx Beta AR leans towards the higher end. However, most online product reviewers agreed that the cost is well worth it considering the jacket's performance, durability and the brand's well-established reputation in the outdoor gear market.
Lastly, the jacket pops up in a range of color options, which customers have appreciated. So, if you're not just about functionality but also about fashion, you have more than enough shades to pick from.
Breathability & Ventilation
Despite its solid waterproofing, the jacket doesn't trap your body heat. It has a fantastic breathing capacity that helps avoid the clammy feeling one often gets with waterproof gear. It facilitates good airflow and wicks moisture away to keep you dry and comfy from the inside out. However, some users reported wishing for pit zips for additional ventilation.
Durability & Abrasion Resistance
This jacket is tough as nails. The robust GORE-TEX material, reinforced with high-wear areas, ensures it withstands rough terrains and challenging weather without compromising performance. Users have consistently applauded its sturdiness in their reviews.
Fit
Fit can be quite subjective, and while the Beta AR isn't tailored, its 'regular fit' design ensures a comfortable and roomy feel. It's generously cut to accommodate layers underneath, but it's not bulky. That said, some people have mentioned that the jacket feels a tad stiff on the initial wears.
Value
Yes, the Beta AR comes with a hefty price tag. But when you consider its all-around sterling performance, top-notch materials, and meticulous construction, it becomes evident that you're not just paying for a name. You are paying for a rain jacket that will make your adventurous outings less worrisome and more enjoyable.
Waterproofing
The Arc'teryx Beta AR Jacket sets the gold standard for waterproofing. Sporting the high-end N80p-X GORE-TEX Pro 3L, it's virtually impervious to water, providing unflinching dryness in downpours, through mists, and against splashes. It ensures you stay dry as a bone, making it a trusty companion for unpredictable weather.
Weight
Tipping the scale at 455 grams, the Beta AR is not the lightest rain jacket on the market but it still offers a reasonable weight for the toughness it brings. Some might argue that there are lighter options available; while true, few of them match the durability and performance of the Beta AR.
Prices
Patagonia Torrentshell 3L
$179.00
Runner Up
Based on our research and testing, we think the Patagonia Torrentshell 3L is a great choice if you're looking for a men's rain jacket to go play hard outside with, if our top pick isn't quite what you're looking for.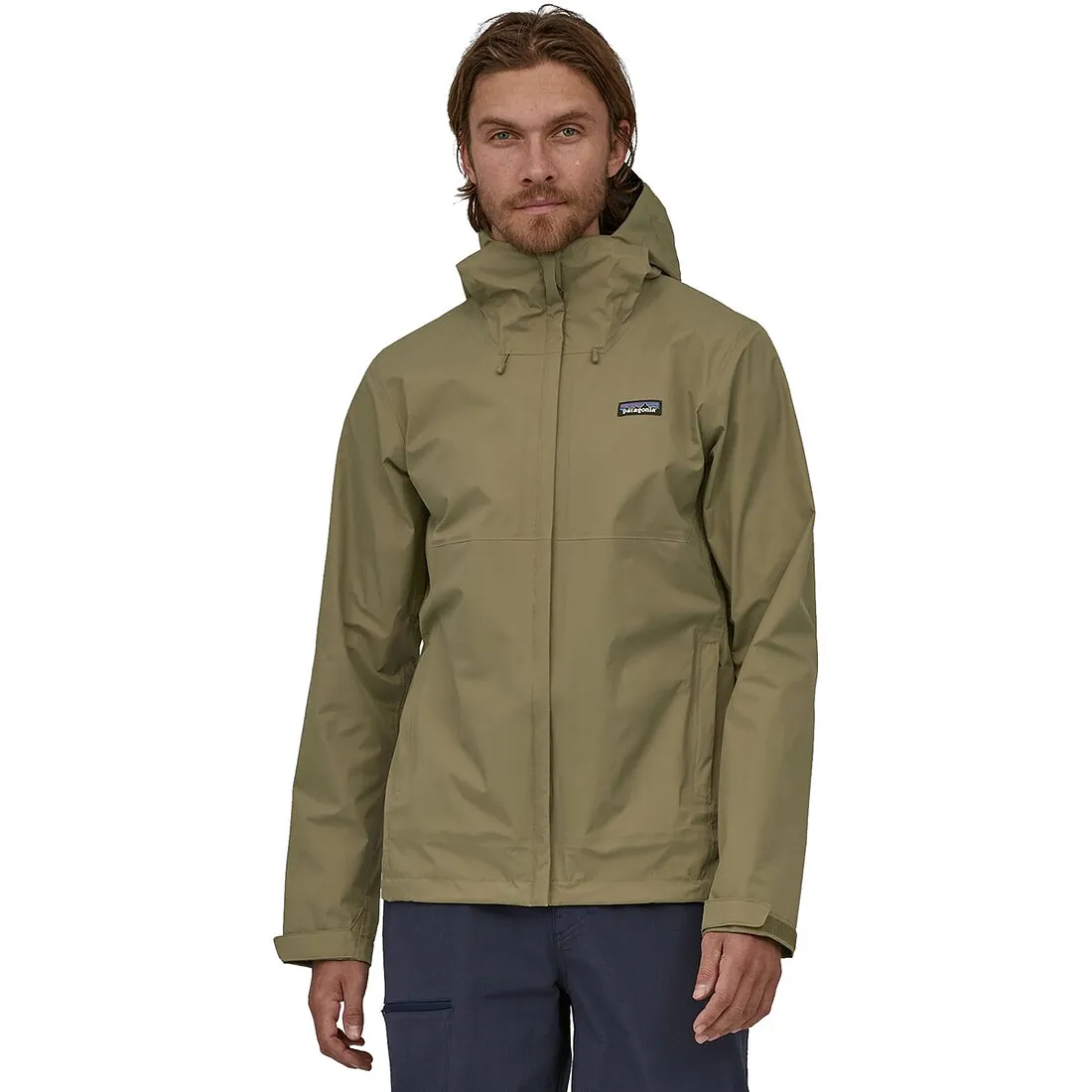 Reasons to Buy
Solid weather protection

Great breathability for outdoor exertions

Fitness-adjustable features like hood and hem

Lightweight for backpacking trips

Environmentally friendly construction
Reasons to Avoid
Pricier than other comparable options

Can feel clammy in humid weather

Lacks room for layering

Possible durability issues
The Important Specs
Hood:

Yes, adjustable

Weight:

400 grams

Material:

3-layer H2No Performance Standard shell

Packable:

Yes

Pocket Count:

2
Review Roundup
The Patagonia Torrentshell 3L has made quite a splash in the outdoor gear world, standing its ground like a champ in variable weather conditions. It's loved by men who backpack, camp, hike, or just need a reliable rain jacket.
This jacket is built with 3-layer H2No Performance Standard technology, which does a bang-up job at keeping the water out while ensuring breathability. Many buyers found the jacket to be fully waterproof, even in a downpour, and appreciate the breathable fabric, commenting on its ability to avoid the dreaded 'sauna effect' where you get all hot and sweaty inside a waterproof jacket.
The hood of this Patagonia jacket gets a ton of love from users. It is designed to roll away when not needed, which gives the jacket a less bulky appearance, and users found this feature quite handy. They also praised the visor on the hood, perfect for keeping the rain out of your face.
Also giving this jacket a thumbs-up is its lightweight and compact nature. It can easily be stashed away in your backpack when the rain clouds clear. Some buyers said it feels like you are not wearing anything at all, despite the jacket's sturdy look.
Patagonia's build quality and durability comes shining through with the Torrentshell 3L. It's made to last, a lot of the owners confirming that it withstands abrasive rock and withstands regular use without any signs of wear and tear. It's truly an investment piece that won't let you down.
The jacket is also a hit for its practical design, with more than a few reviews mentioning the large, zipper secured pockets that are convenient for storing gear and keeping hands dry. The zippers themselves are storm-flapped to keep the rain out, a necessary detail that is done right in this jacket.
Lastly, this jacket manages to be eco-friendly too. The shell is made from 100% recycled nylon, a point that resonates with those wanting to make earth-friendly choices.
However, not every aspect of the Torrentshell 3L has been praised. Some owners felt the fit was a bit off, with the jacket being too loose or too tight in certain areas. The sizes may not be quite true to fit, so you might want to consider trying it on in a store before buying or be prepared to swap it for a different size if getting it online.
Additionally, a few reviews mentioned that the jacket isn't as quiet as they'd like, creating a bit of noise during active movements. While not a deal breaker for most, it might be a bit annoying for some who crave quiet during their outdoor adventures.
Finally, while the majority of users found it to be breathable, a few folks found it to be less so when in more tropical, humid climates. If you are dealing with a hot, sticky environment, you might feel a bit steamy in this jacket.
Breathability & Ventilation
Users report that this jacket has good breathability for their physical activities, from hiking to cycling. The jacket uses a 3-layer system, which improves its ability to move moisture away from the body and release heat. Despite this, a few people noted feeling a bit clammy in humid conditions.
Durability & Abrasion Resistance
The jacket's design aims to withstand the wear and tear of outdoor activities. Many users share experiences of the jacket holding up well in various environments, but there are a few reports about durability issues, such as zippers breaking or shell fabric showing signs of wear over time.
Fit
Overall, most people agree that the Torrentshell 3L fits well with room for movement. However, several online reviews mention that it can feel a bit tight if you're intending to layer beneath it. The jacket offers adjustable features on the hood and hem for a customized fit.
Value
Many buyers assert that despite its higher price range, the Torrentshell 3L offers good value for its performance, considering its solid weather resistance and breathability. However, some buyers did express that they felt it was a bit expensive compared to other similar models in the market.
Waterproofing
The Patagonia Torrentshell 3L really shines in downpours. Using a 3-layer H2No Performance Standard shell, this jacket effectively blocks heavy rain, keeping you dry on your outdoor adventures. User reviews frequently mention how well the jacket resists water, even during intense weather conditions.
Weight
Weighing in at 400 grams, the Torrentshell 3L is light enough to bring on backpacking trips without weighing you down. This makes it a popular choice among campers and backpackers alike, with many praising its lightness and packability in their reviews.
Prices
Outdoor Research Foray II
$225.00
Runner Up
Based on our research and testing, we think the Outdoor Research Foray II is a great choice if you're looking for a men's rain jacket to go play hard outside with, if our top pick isn't quite what you're looking for.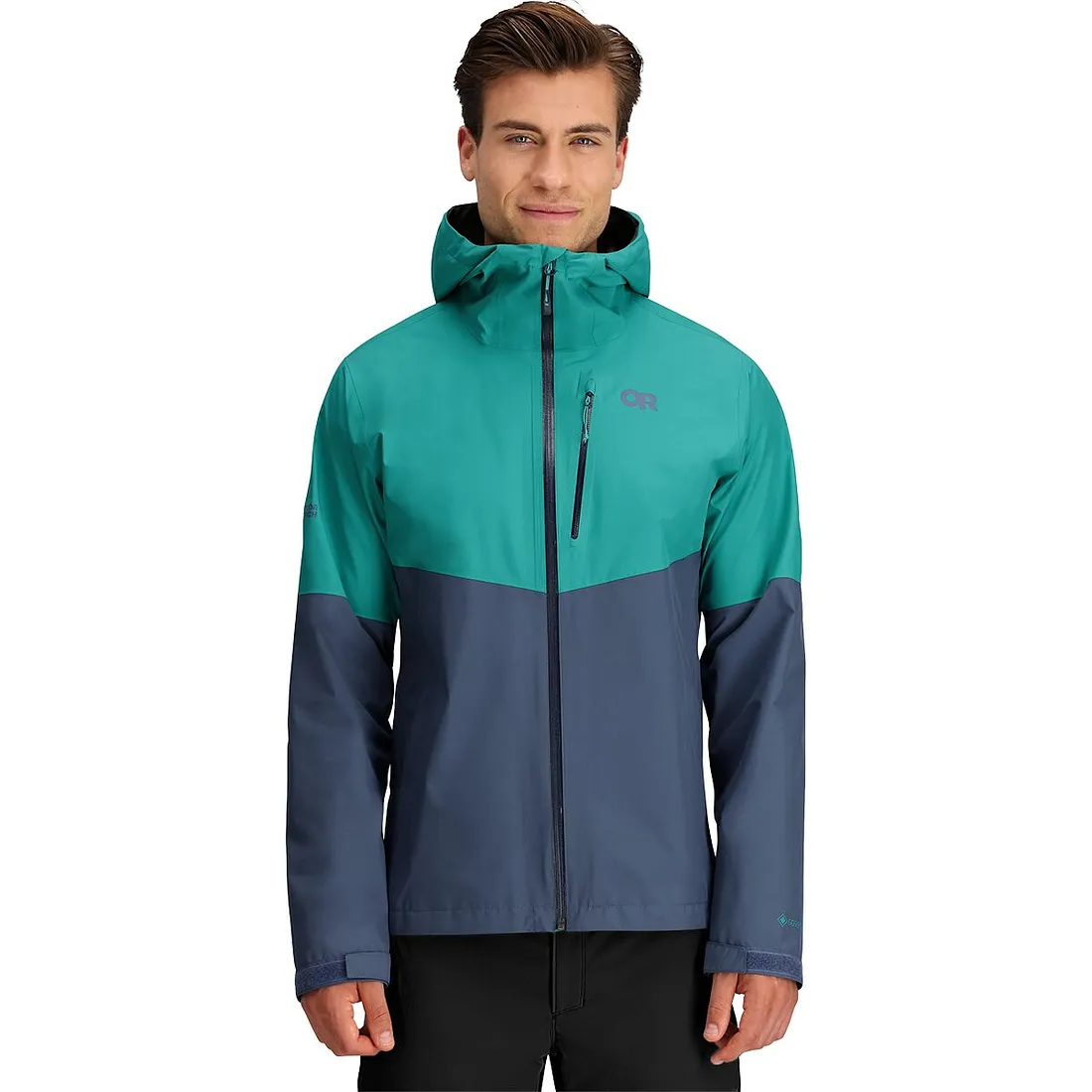 Reasons to Buy
Excellent Waterproofing

Great ventilation

Lightweight and packable

Good abrasion resistance

Quality materials
Reasons to Avoid
A bit pricey

Not ideal for heavy-duty climbing

You might find the fit a little loose
The Important Specs
Hood:

Fully Adjustable

Seams:

Fully taped

Pocket:

TorsoFlo Venting

Weight:

460 grams

Product Material:

GORE-TEX with PACLITE Technology

Dimensions (Packed):

15 x 25 cm
Review Roundup
The Outdoor Research Foray II mens rain jacket is one versatile piece of gear no outdoorsy person should be without. Packed to the rafters with innovative features, it elevates your hiking experience, no matter the weather.
It's touted as an excellent all-round performer, and for good reason. Many who have bought this report that it excels in prolonged wet weather. The GoreTex is said to be highly efficient at its job -- keeping rain and moisture out while still being breathable enough for strenuous hikes. The jacket boasts a Paclite shell, which keeps it light and easy-to-pack, but doesn't skimp on durability.
The fit is another area where the Foray II crushes it. There's room for layering underneath, but it never feels baggy or shapeless. The adjustable hood offers full coverage and is helmet-compatible, making it a hit among climbers. Instead of getting soaked, one user mentioned how he stayed bone-dry during a downpour, thanks to the great fit and effective adjustment features.
One key feature that drew praises was its 'TorsoFlo' venting - zipper slits found from underarms down to the hem. Users rave about how these provide superior ventilation, making it easier to regulate body temperature. This is a godsend on those rain-soaked, muggy hiking days.
Users also appreciate the placement and number of pockets on this jacket - two hand pockets and one chest pocket, all with water-resistant zippers. According to multiple reviewers, these pockets are spacious enough to hold essentials within easy reach.
A common complaint, however, is about the stiffness of the material, especially when new. Some buyers pointed out that it needs a bit of a break-in period to get comfortable. But once worn in, they reported it didn't inhibit movement, which is vital for both climbing and vigorous hiking.
Another downside some users reported is that the zipper can get tricky, especially when it's wet or when wearing gloves. So, a little patience might be needed when operating it in such situations.
In terms of style, the Foray II has received mixed reviews. The look is clean and uncluttered, making it suitable for urban wear as well. However, some buyers wished for a wider range of color options. The current hues, though not unpleasing, are a little on the conservative side, they felt.
Finally, the price tag. It's not cheap, but many users have mentioned that the performance and versatility of the Foray II rain jacket justify the cost. It's seen as a long-term investment for serious outdoor enthusiasts.
Breathability & Ventilation
The jacket breathes surprisingly well, even when you're working up a sweat on challenging trails. It's equipped with torso vents that you can zip open to let out excess heat. However, be mindful of these in sudden rain as they do compromise on the waterproof feature when opened up.
Durability & Abrasion Resistance
The jacket holds up well with resistance to tearing and abrasion, but still, it might not be your first choice for serious rock climbing due to the thin materials. It's tough, but it doesn't quite match the ruggedness of some adventure-oriented counterparts.
Fit
The fit tends to be on the loose side, which is great if you're looking to layer up for colder weather. If you prefer a more fitted jacket, you might want to size down. The wide cut can also be a bit drafty.
Value
As for value, the Outdoor Research Foray II ain't exactly a steal. It is a quality piece of kit – you do get a lot of perks for your buck – and the long-term investment is worth considering. For the casual camper or day-hiker on a budget, it might feel like a bit more than you need.
Waterproofing
After testing and reading online reviews, it's clear the Outdoor Research Foray II hits the mark with its waterproofing. The GORE-TEX with PACLITE tech is engineered to keep you dry, and long treks in light and heavy rain proved this to be true. However, in extremely heavy downpours, some have reported slight dampening.
Weight
At just 460 grams, the Outdoor Research Foray II is lightweight and won't burden your pack. The total packed weight is manageable and it compresses to a modest size, making it super convenient for backpacking.
Prices
Columbia Watertight II
$100.00
Best Budget Men's Rain Jacket
Based on our research and testing, we think the Columbia Watertight II is a great pick if you're looking for a men's rain jacket that is more budget friendly, without sacrificing too much in quality.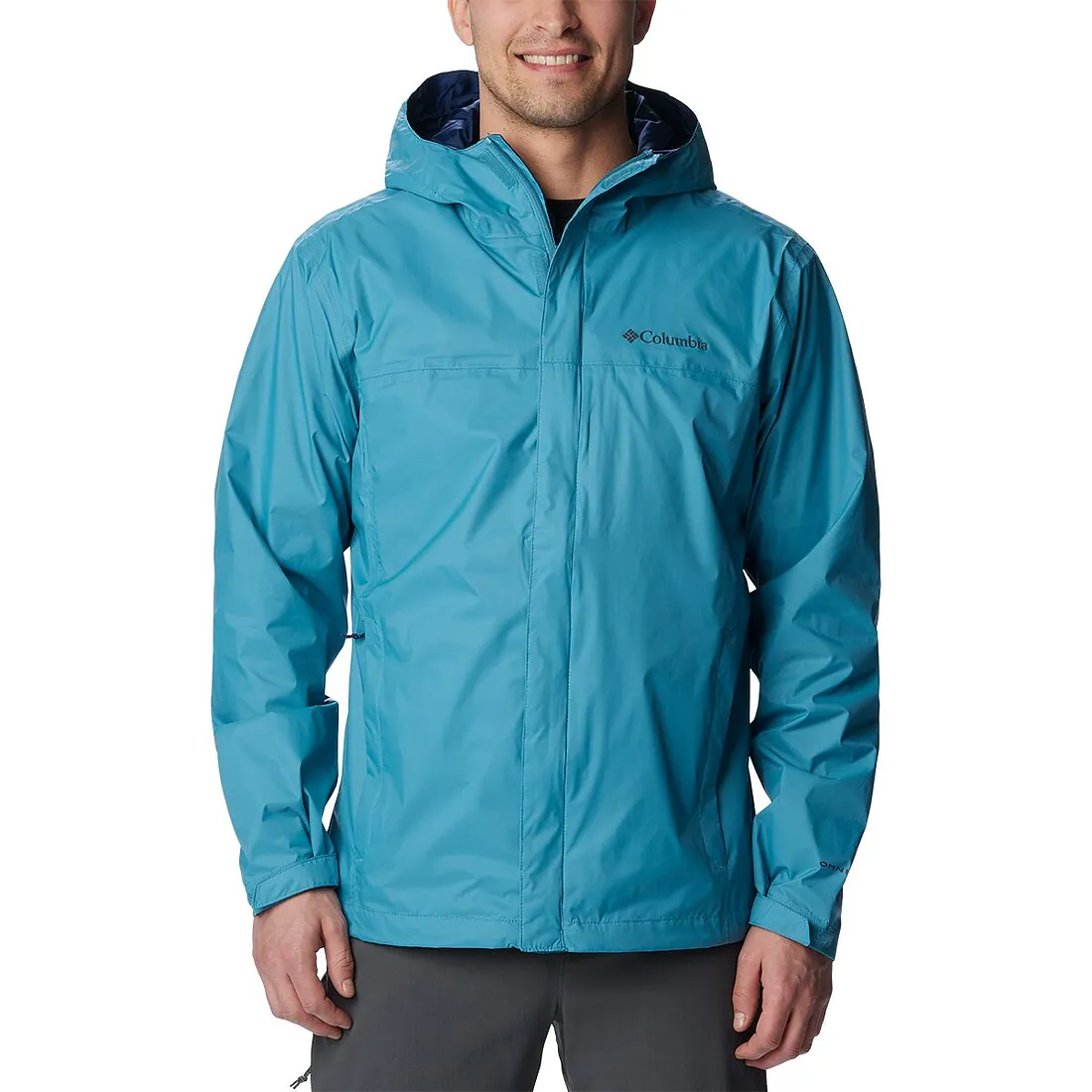 Reasons to Buy
Excellent waterproofing

Comfortable fit

Relatively lightweight

Affordable price point

Versatile for various outdoor activities
Reasons to Avoid
Limited breathability under intense activity

Less durable than premium brands

Lacks pit zips for additional ventilation
The Important Specs
Hood:

Adjustable, storm-hood

Weight:

434 grams

Zipper:

Full length, waterproof

Pockets:

2 zippered hand pockets

Material:

Nylon

Closure Type:

Zipper
Review Roundup
The Columbia Watertight II: it's a name that rings a bell among seasoned backpackers and rookies alike. This budget-friendly rain jacket truly stands out in the crowd, offering a cocktail of useful features that you would normally expect from jackets twice its price. First things first, this jacket is specially designed keeping in mind the unpredictability of nature. When the heavens decide to let loose, you can count on the Columbia Watertight II to keep you, well, watertight. Thanks to the jacket's proprietary Omni-Tech waterproofing system, customers have reported a high degree of satisfaction even under relentless showers.
One aspect that has garnered widespread acclaim is the breathability of this jacket. Users don't just feel shielded from the rain; they feel comfortable too. Guided by Columbia's commitment to facilitate airtight protection without compromising on ventilation, the Watertight II ensures you are protected from both rain and excessive internal humidity caused by sweat. A word of note, though, while most buyers found the breathability to be satisfactory, a handful highlighted that it tends to struggle in more humid climates or during intense physical activities. This is an issue seen in most waterproof jackets in this price range, and not entirely surprising.
The Columbia Watertight II sports a design that perfectly marries functionality and style. Its sleek silhouette and wide range of available colors have been appreciated by many a buyer, with many reviews praising its understated yet polished look. Remember, you don't have to forego style while wandering in the wild.
A rain jacket is only as good as its durability and the online reviews of the Columbia Watertight II have significant commentary in this regard. Users report high scores for the jacket's longevity and capability to endure numerous treks. The use of ripstop nylon in its manufacturing adds an extra layer of security, providing an assured defense against tears and rips during rigorous activities.
Speaking of functionality, users loved the adjustable storm hood and zippered hand pockets. Many buyers found these to be exceptionally useful for storing essentials that need to stay dry and protected. Few users, however, did mention that the lack of internal pockets was a minor drawback. But considering the competitive price, this was not seen as a deal-breaker by most users.
In terms of comfort and sizing, Columbia seems to have hit the nail on the head. The sizes are true and provide ample room for layering underneath without feeling bulky. The jacket's drawcord adjustable hem was a hit among the buyers, ensuring a snug fit even during blustery conditions.
The only common critique that has been mentioned in the online reviews is that the jacket isn't insulated. This means it may not be the best option for extremely cold conditions unless you're layering with a warm mid-layer. But given its price point, users widely accepted that this is a trade-off to be made for affordability.
Finally, the packability of the Watertight II is pretty impressive. Many adventurers found its lightweight and compact design very convenient. The jacket easily folds into one of its own pockets turning it into a compact pouch, making it the perfect companion for those unexpected showers during your hikes.
Breathability & Ventilation
However, when it comes to breathability, the jacket falls a bit short as compared to its counterparts. For light to moderate activity, the jacket does a fair job of dissipating heat and moisture but could get stuffy with strenuous exercise. Its lack of pit-zips also means less airflow, causing some users to report feeling a bit clammy during intense activity.
Durability & Abrasion Resistance
Durability is somewhat of a double-edged sword for the Watertight II. While the jacket can hold up well for daily use and short hikes, rough treatment or continuous heavy use might lead to quicker wear and tear. There's been some customer mention of the inner lining peeling off over time, signaling potential durability issues.
Fit
Customers generally report that the jacket runs true to size. Future buyers will appreciate its adjustable storm hood, drawcord at the hem, and Velcro straps on the cuffs for a more tailor-made fit. However, some found the sleeves to be slightly longer than expected, which could be a downside for some.
Value
In terms of value, the Columbia Watertight II shines. It's a solid, budget-friendly pick for casual hikers, travelers, and people simply looking for a reliable rain jacket for everyday use. Some shortcomings can be forgiven given its palatable price point. Most customers feel they're getting good bang for their buck with this jacket.
Waterproofing
The Columbia Watertight II exhibits excellent waterproofing capabilities. Its advanced Omni-Tech material provides superior water resistance, doing a fantastic job of keeping the wearer dry during continuous rain. Although it's not submersible, it can withstand moderate downpours with ease. Many users praised this capability, consistently staying dry when out in the rain.
Weight
At just 434 grams, the Watertight II ranks as one of the comparatively lighter rain jackets on the market. This makes it an easy addition to any travel or hiking gear. Customers enjoy the lightness of the jacket and report it doesn't feel heavy or bulky when worn.
Prices
Outdoor Research Helium II
$159.00
Best Ultralight Men's Rain Jacket
Based on our research and testing, we think the Outdoor Research Helium II is a solid choice for those looking for a lightweight men's rain jacket option to go play hard outside with.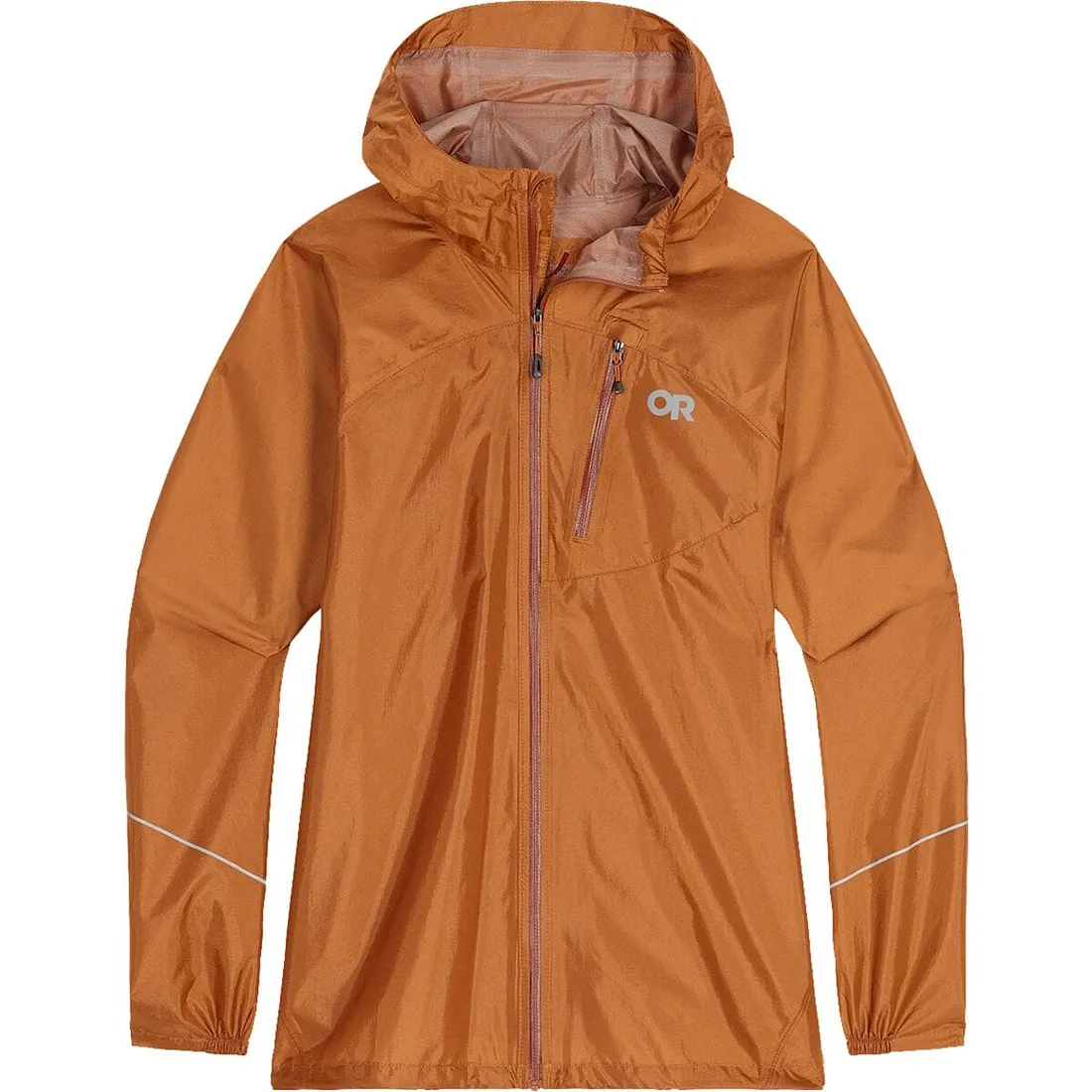 Reasons to Buy
Ultra-lightweight design

Excellent waterproofing capabilities

Packs into its own pocket

Perfect for minimalist backpackers and climbers
Reasons to Avoid
Offers minimal insulation for cold-weather use

Lacks hand pockets or pit zips

Lower durability compared to heavier-duty jackets
The Important Specs
Weight:

180 grams

Materials:

30D Ripstop nylon

Back Length:

72 cm

Seam Sealing:

Fully taped
Review Roundup
Step into the great outdoors with confidence whilst wearing the Outdoor Research Helium II. This rain jacket is not just a pleasure to wear, but a real game changer in the world of ultralight outerwear.
From its feather-light constitution to its exceptional rain resistance quality, the Helium II stands out. Loved by the outdoor enthusiasts for its perfect blend of utility, comfort, and weight, it's no surprise that it is soaring in popularity.
Constructed from 100% nylon, the Helium II is designed to be your buddy when the grey clouds close in. Many users report that it shrugs off showers with ease, keeping you dry and warm, without being excessively hot and sweaty – a downfall many experience with other rain jackets.
The biggest selling point according to online reviews is undeniably its weight - or lack thereof. Tipping the scales at just 6.4 ounces, the Helium II is a true ultralight item, perfect for those backpacking trips where every ounce matters.
Equally important in a rain jacket is its packability, and the Helium II scores highly here too. It bunches down into its own pocket to a size that's little larger than a granola bar, making it perfect to shove in your pack and forget about until those sky start to weep.
The fit of the Helium II is also often praised. Available in sizes ranging from small to XXL, the jacket fits true to size according to most user reviews. The addition of a fully adjustable hood also helps to keep the wind and rain from sneaking in.
It isn't just the big things the Helium II does right. Details such as the YKK AquaGuard zippers and the elastic cuffs add to its overall appeal, further enhancing its functionality as well as the user experience.
However, no product is without its drawbacks. A few users have mentioned that the Helium II is not the most durable choice for heavy-duty use. Some have reported issues with it losing its waterproofing abilities after extended use, particularly in extreme conditions.
Furthermore, while its simplicity is often applauded, some hikers and campers may miss having additional features such as pit zips and hand warmer pockets. However, these are the trade-offs for an ultralight jacket, making these issues a potential con only for a specific user segment.
In terms of price, the Helium II sits comfortably in the mid range. It demands a certain investment, but online buyers seem agreeable that its utility outweighs the cost, reflecting its good value for money.
Breathability & Ventilation
The Helium II breathes much better than many ultralight options on the market. However, because it lacks pit zips, this jacket can get a bit stuffy during highly aerobic activities. It's best suited for lower intensity activities or quick bursts of effort in wet weather.
Durability & Abrasion Resistance
The ultra-thin material isn't as durable as what you'll find on heavier rain jackets. Some users have noted concerns about snagging the jacket on branches or rocks. That being said, normal wear-and-tear hold up pretty well, especially considering how lightweight it is.
Fit
Most users report that the fit is true to size, but it leans towards the trim side. This is great for maintaining a compact form when layering, though it makes adding heavy layers underneath challenging. The hood is fully adjustable and the cuffs tighten up nicely to keep the elements out.
Value
The Helium II is competitively priced for an ultralight rain jacket, especially considering its outstanding performance in the rain. However, if durability and features like hand pockets are important to you, it may be worth considering investing in a heavier, more robust model.
Waterproofing
This jacket is a superstar when it comes to warding off water. Thanks to the sturdy Pertex Shield material and fully taped seams, users found it incredibly effective in substantial rain. The water-resistant YKK zipper also gives you an extra layer of defense against the wet stuff.
Weight
Tipping the scales at just 180 grams, this is a featherweight champion in the rain jacket category. You'll hardly notice it in your pack, and it very comfortably wears all day on the trail without adding much weight.
Prices
Patagonia Storm Racer Jacket
$269.00
Best Men's Rain Jacket for Trail Running
Based on our research and testing, we think the Patagonia Storm Racer Jacket is a solid choice if you want a men's rain jacket that's really well suited to Trail Running.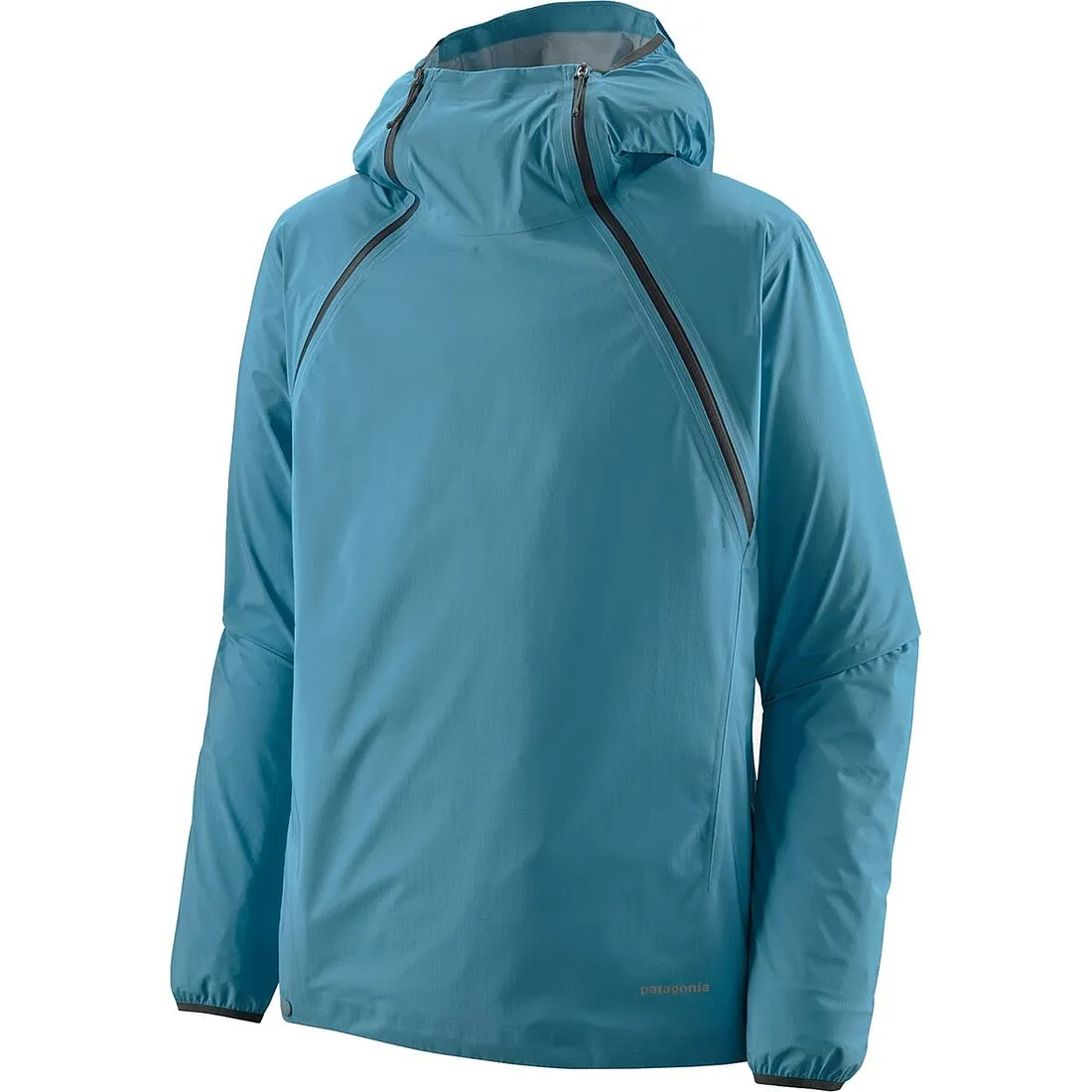 Reasons to Buy
Lightweight and compact design

Great waterproofing

Comfortable fit despite rigorous activity

Good breathability
Reasons to Avoid
Limited color options

Less durable than some other models

Slightly expensive
The Important Specs
Hood:

Alpine helmet-compatible

Seams:

Taped for extra waterproof protection

Weight:

198 grams

Material:

Nylon ripstop with a H2No Performance Standard coating
Review Roundup
The Patagonia Storm Racer Jacket ranks highly amongst its competitors, primarily coveted for its lightweight properties, durability, and weather resistance. The jacket has been designed keeping trail runners in mind, introduced to deal with unpredictable weather conditions, often faced while hiking, backpacking or climbing.
For outdoorsy folks, lightweight gear is gold, and that's where the Storm Racer Jacket hits the mark. Weighing almost nothing, it's like wearing air, but only warmer and drier. It's compact and super easy to pack away into its pocket, making it your best buddy during unexpected rain showers in the wilderness.
One of the most admired features of this Storm Racer jacket is its ability to provide breathable comfort. Shoutout to the H2No Performance Standard shell that does this job perfectly. The fabric is air-permeable, which means it lets the accumulated heat and moisture out, making the jacket breathable, helping one stay dry and comfortable.
From the durability perspective, the opinions appear to be somewhat mixed. Some users have mentioned that the jacket stands up well against rough weather and rugged terrain, crediting its tough ripstop nylon material. Yet, there were a few consumers who noticed minor wear and tear after a few intense uses.
The Patagonia Storm Racer Jacket has cool features like a single-pull adjustable hood, which shelters you fully while also ensuring your full vision, and watertight zips that block out the rain effectively. However, a handful of users wished the jacket had more pockets for convenience.
Looking at the aesthetics, this jacket isn't all about practicality and function but has a slick, sleek design that one can flaunt on casual trails as well. Its subtle colorways also cater to those who prefer more understated outerwear.
Tallying up the aspects of price and value, it does tend to lean towards the pricier end, which had mixed reviews. Some buyers felt it's worth every penny for the quality and durability it offers, while a few questioned the price to value ratio, especially those who faced minor wear issues.
Lastly, the eco-conscious consumers shared their appreciation for Patagonia's commitment towards sustainability. The jacket uses recycled products and is Fair Trade Certified sewn, which means every purchase contributes towards better wages and working conditions for the factory workers.
Breathability & Ventilation
The Storm Racer Jacket has efficient breathability which is crucial for trail running. The venting design under the arms and on the back allows a good amount of airflow, ensuring you stay cool during your run. However, in comparison to some competitor models, ventilation could be slightly improved.
Durability & Abrasion Resistance
The Storm Racer Jacket balances weight and durability quite well though it may not be as robust as some heavier, more rugged models. The nylon ripstop material is resistant to tears and should hold up well against regular wear and tear. Nonetheless, some users have noted slight issues with the jacket's longevity after continuous and rigorous usage.
Fit
Fit is often a critical factor, especially when it comes to athletic gear. The Storm Racer Jacket has a tapered fit that works well for a majority of people. It isn't too tight or too loose and leaves enough room for appropriate layering. It also includes velcro cuffs, elastic on the hem, and an alpine helmet compatible hood for added usability.
Value
While the Patagonia Storm Racer Jacket is on the higher end of the price spectrum, it offers immense value for the trailrunner. It ticks all the boxes for water resistance, breathability and minimized weight making it a top choice. However, concerns about durability might make some ponder about the value proposition it offers.
Waterproofing
What stands out the most about the Patagonia Storm Racer Jacket is its supreme waterproofing capability. Made from nylon ripstop material, this jacket is finished off with a H2No Performance Standard coating, ensuring that you stay dry even in the most torrential rain. The jacket also features taped seams, further bolstering its waterproof ability and keeping you comfortable in wet conditions.
Weight
Weighing in at a meager 198 grams, the Storm Racer Jacket is impressively lightweight. This makes it perfect for trail running as it does not weigh you down allowing for more swift and free movements. Perhaps most importantly, when not in use the jacket can be packed down into a small size, making it incredibly convenient to carry.
Prices
Marmot Minimalist
$220.00
Best Men's Rain Jacket for Hiking & Camping
Based on our research and testing, we think the Marmot Minimalist is a solid choice if you want a men's rain jacket that's really well suited to Hiking & Camping.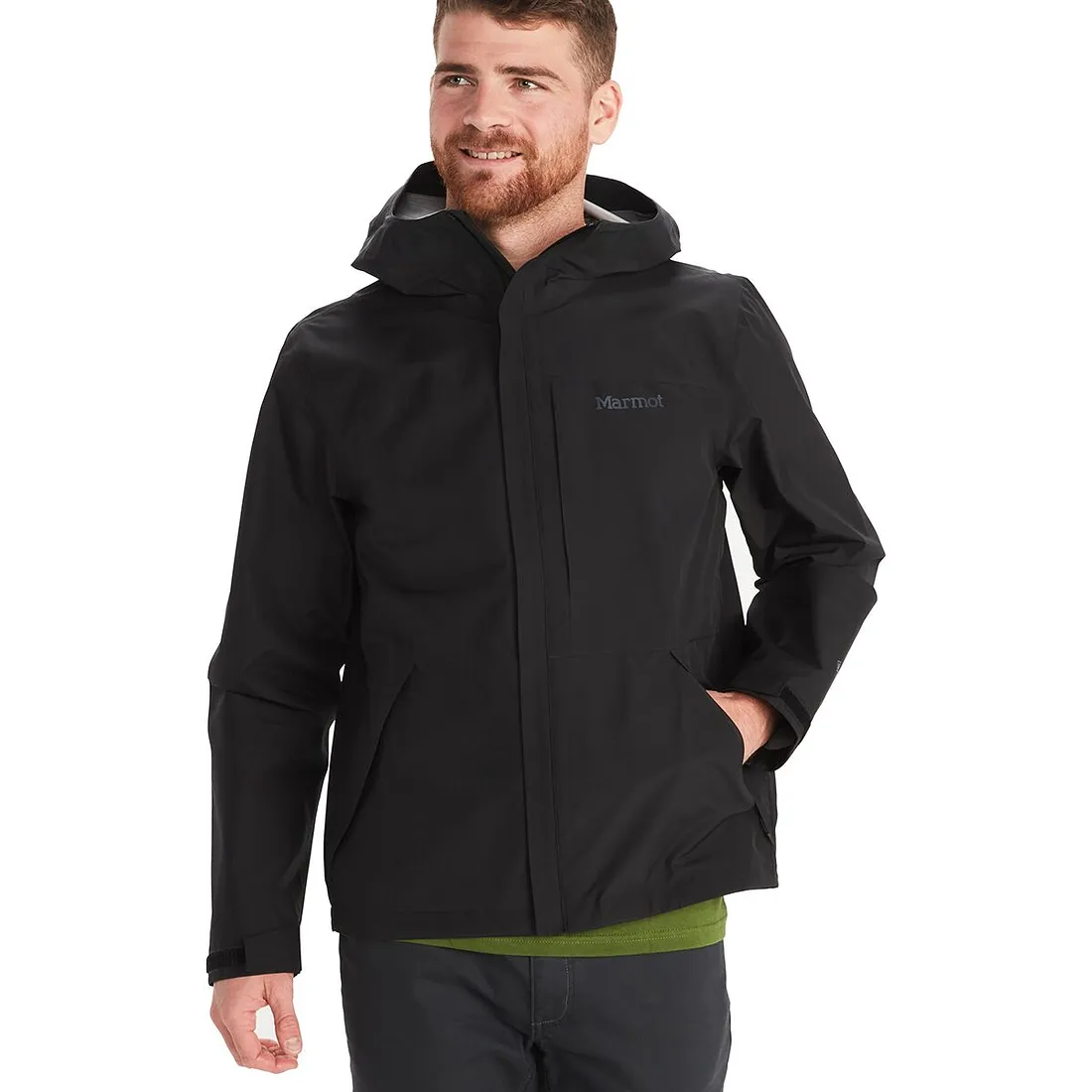 Reasons to Buy
Great waterproofing technology

Excellent breathability features

Lightweight and easy to pack

Highly durable material

Good fit for most body types

Fairly priced for its quality
Reasons to Avoid
Can feel bulky when packed

Doesn't perform well in extreme cold

Not as comfortable without mid-layers

Limited color options
The Important Specs
Fit:

Regular fit

Style:

Shell

Weight:

439 grams

Feature:

PitZips

Best Use:

Hiking, Trekking, Travel, Daily use

Material:

GORE-TEX with Paclite Technology
Review Roundup
The Marmot Minimalist raincoat commands attention and stands as a personified embodiment of the phrase 'less is more'. Bold in its simplicity, this jacket is a favorite among many outdoor enthusiasts.
Constructed using GORE-TEX with Paclite Technology, this jacket does a fantastic job warding off rain and other elements, while maintaining its breathability so you don't soak in sweat. Users often commented on how well the jacket keeps moisture away from the body, allowing them to stay dry even in persistent, heavy rain.
Additionally, the Marmot Minimalist's lightweight design, often appreciated in customer reviews, can be a real game-changer for those who enjoy long hikes. Just as its name suggests, the minimalist design doesn't add unnecessary weight to your backpack.
When it comes to durability, the reviews online are highly positive. People who bought the Marmot Minimalist rave about the tough fabric that not only withstands the trials of the great outdoors but also comes out looking good as new after a quick clean.
The Marmot Minimalist is also loved for its flexibility. Reviewers often note the adjustable hood, hem, and cuffs, allowing for tailored comfort and better protection against the wind and rain. Its versatility has received accolades from several rain gear testers.
While it's not the cheapest option on the market, many reviewers believe the price is justified by its durability, weather resistance, and notion of comfort. As a high-end rain jacket, the Marmot Minimalist carries with it a promise of quality that seems to be validated in the multitude of positive customer reviews.
However, it is not without criticism, with some users wishing for more interior pockets and others finding the zippers problematic over time. The absence of pit zips for ventilation was another minor gripe that appeared in some reviews. But these criticisms, though valid, don't necessarily detract from its overall score and popularity among users. They seem to be more suggestions for possible improvements, rather than deal-breakers for potential customers.
Breathability & Ventilation
This jacket scores high on breathability, thanks to the ingenious design of its PitZips. These zippered vents under the arms are a life-saver during high-intensity hiking or backpacking, providing much needed cooling without exposing the wearer to rain or wind.
Durability & Abrasion Resistance
It's made of highly durable material which can efficiently resist tearing or shredding, even during rough outdoor activities. However, it's always advisable to wear protective layers underneath while navigating through particularly dense or thorny vegetation to prevent potential scratching or punctures.
Fit
The fit is quite flexible, suiting most body types. Whether you're slim, beefy or somewhere in between, the jacket should accommodate you nicely. It does run a bit large, a design choice made to accommodate mid-layer clothing for colder weather.
Value
The jacket is fairly priced for its commendable features, offering great performance without breaking the bank. Its versatility, making it suitable for various outdoor activities as well as occasional daily use, adds to its overall value.
Waterproofing
The Marmot Minimalist is made with GORE-TEX with Paclite Technology, an excellent choice for waterproofing. This jacket has shown consistent performance in keeping wearers dry even in heavy rain conditions.
Weight
At just 439 grams, this jacket is nicely lightweight, making it a great choice for backpacking trips. But, some people may find it slightly bulky when packed, which is something to consider if space is at a premium in your backpack.
Prices