Quick heads-up: some of the links on this page are affiliate links. If you make a purchase through them, we may earn a small commission (at no extra cost to you). This small bit of income helps keep our site running.
Best Hydration Packs of 2023
This post was last updated on December 06, 2023.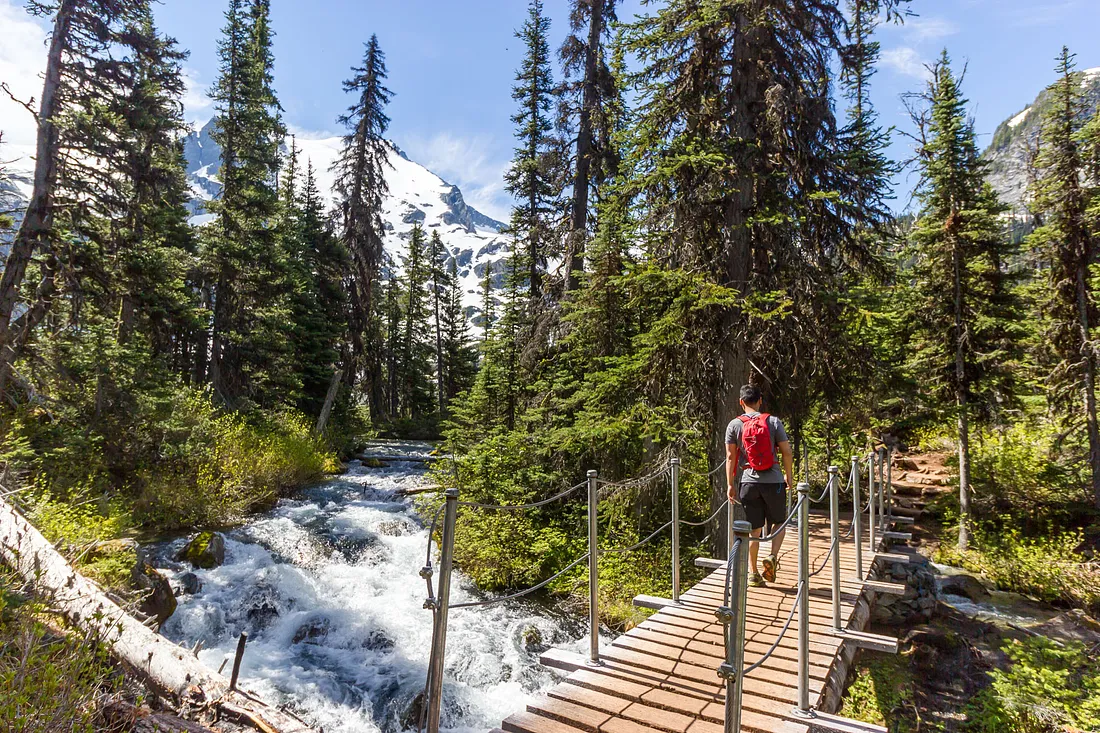 Welcome fellow adventurers, camping enthusiasts, and anyone ready to quench their thirst on the trail! Hydration is important on all your outdoor exploits, and a good hydration pack is an absolute must-have. Luckily, you're in the right place to find the best of the best, and after rigorous testing, we've found the Osprey Skarab 18 to be the frontrunner.
The Osprey Skarab 18 blew us away with its superior balance of fluid capacity, user-friendly bladder design, and streamlined fit. Whether sweating it up on the trail or cruising down icy slopes, this pack will be your trusty sidekick, ready to keep you hydrated. However, we know not everyone's needs are the same, and that's why we're also highlighting exceptional alternatives in various categories.
Strap in and get ready to scroll through our top picks for trail running, skiing and snowboarding, ultralight backpacking, and budget-friendly options. Each option has been carefully vetted through a series of criteria including storage capacity and organization, material, durability, ease of filling, cleaning, and of course, value for money. Looking for more? Be sure to check out our reviews on the Best Ultralight Backpacks, Best Backpacking Sleeping Bags, and Best Backpacking Stoves.
Our Top Recommendations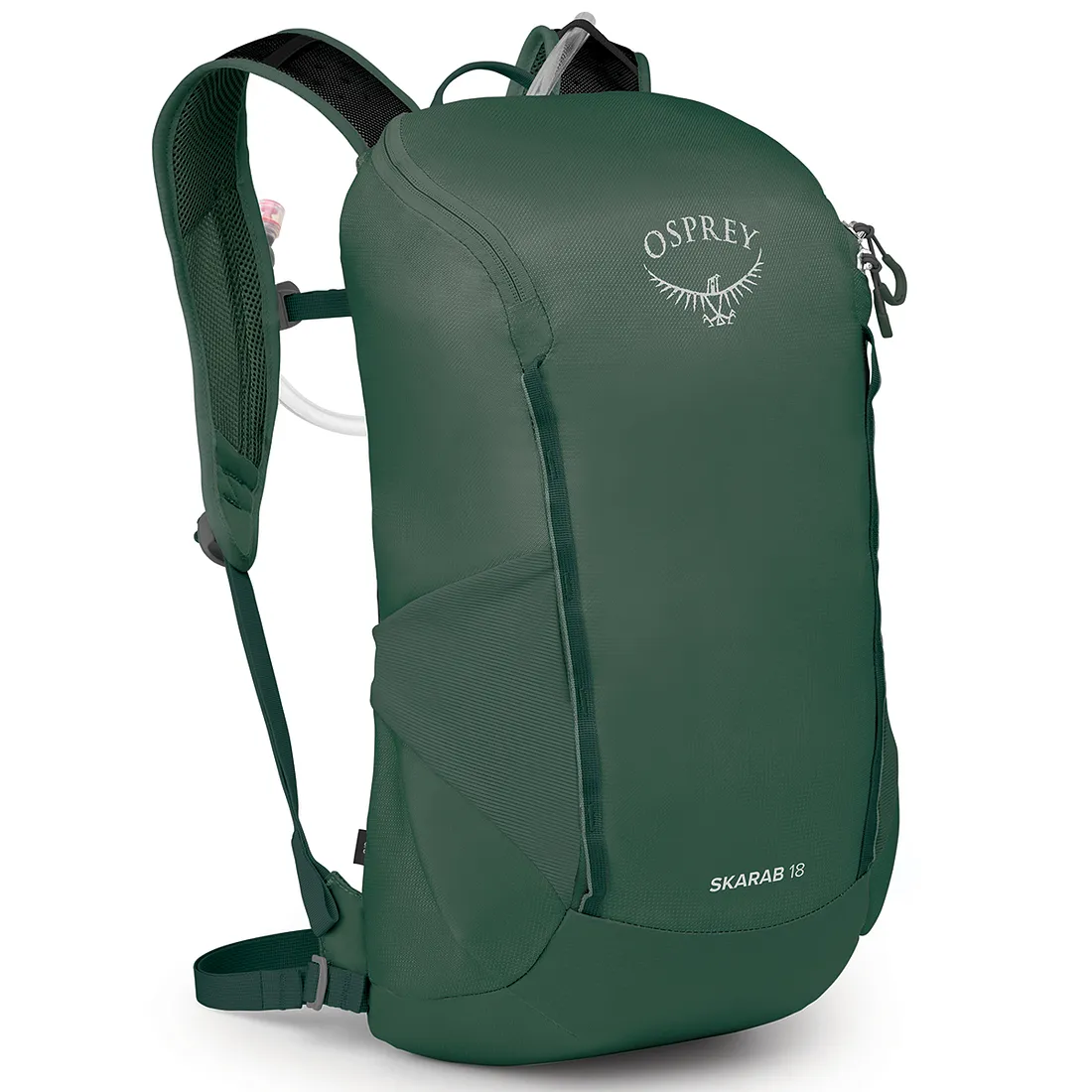 Osprey Skarab 18
The Osprey Skarab 18 tops our list thanks to its commendable comfort and smart storage options, leaving users praising its ventilated back panel and roomy compartments that make staying hydrated on the trail a breeze.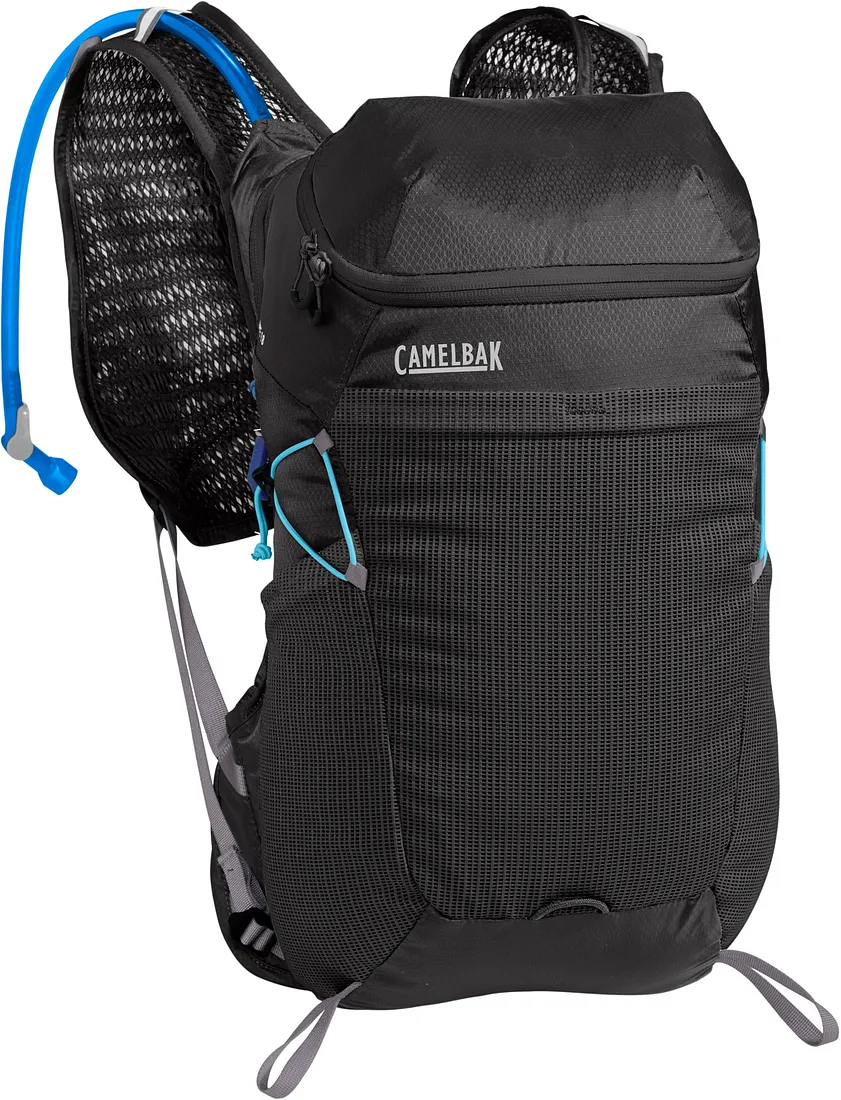 CamelBak Octane 18
The CamelBak Octane 18 secures its spot as our top pick runner-up thanks to its impressive user-reported breathability and the convenience of its easy-access storage compartments, separating it from the competition in hydration packs.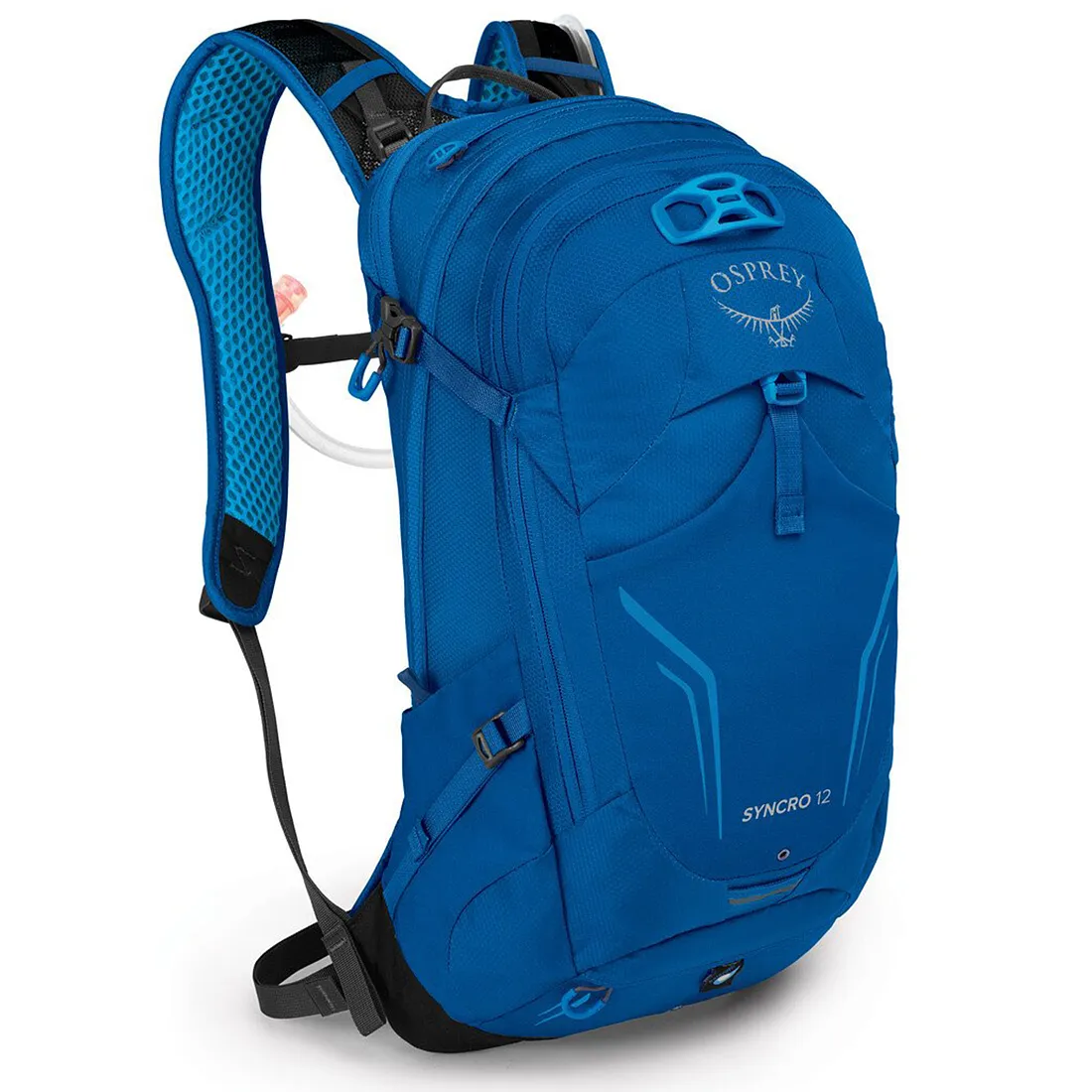 Osprey Syncro 12
The Osprey Syncro 12 claims our top pick runner-up spot due to its unbeatable comfort even on long treks and its game-changing integrated rain cover feature, as consistently praised by users in their reviews.
What you should look for
(and what we test for)
Comfort
Comfort should be a top priority when choosing your hydration pack; look for one with adjustable straps and sufficient padding to ensure that it feels good on your back even after long periods of usage.
Capacity
Capacity is king when it comes to choosing a hydration pack, but be sure to keep in mind that heavier isn't always better - find a balance between being able to carry enough water for your adventures without weighing yourself down excessively.
Durability
A hydration pack is an investment, so take into account its durability - rugged materials and solid construction are evidence of a product that won't easily give up on demanding outings.
Ease of Use
When you're parched on a trail, you'll appreciate a hydration pack with an easy-to-use bite valve and a wide opening for refill - it's a small detail that can make a significant difference in the wilderness.
The Best Hydration Pack
Based on our research and testing, we think the Osprey Skarab 18 is the best Hydration Pack on the market right now, for anyone looking to play hard outside.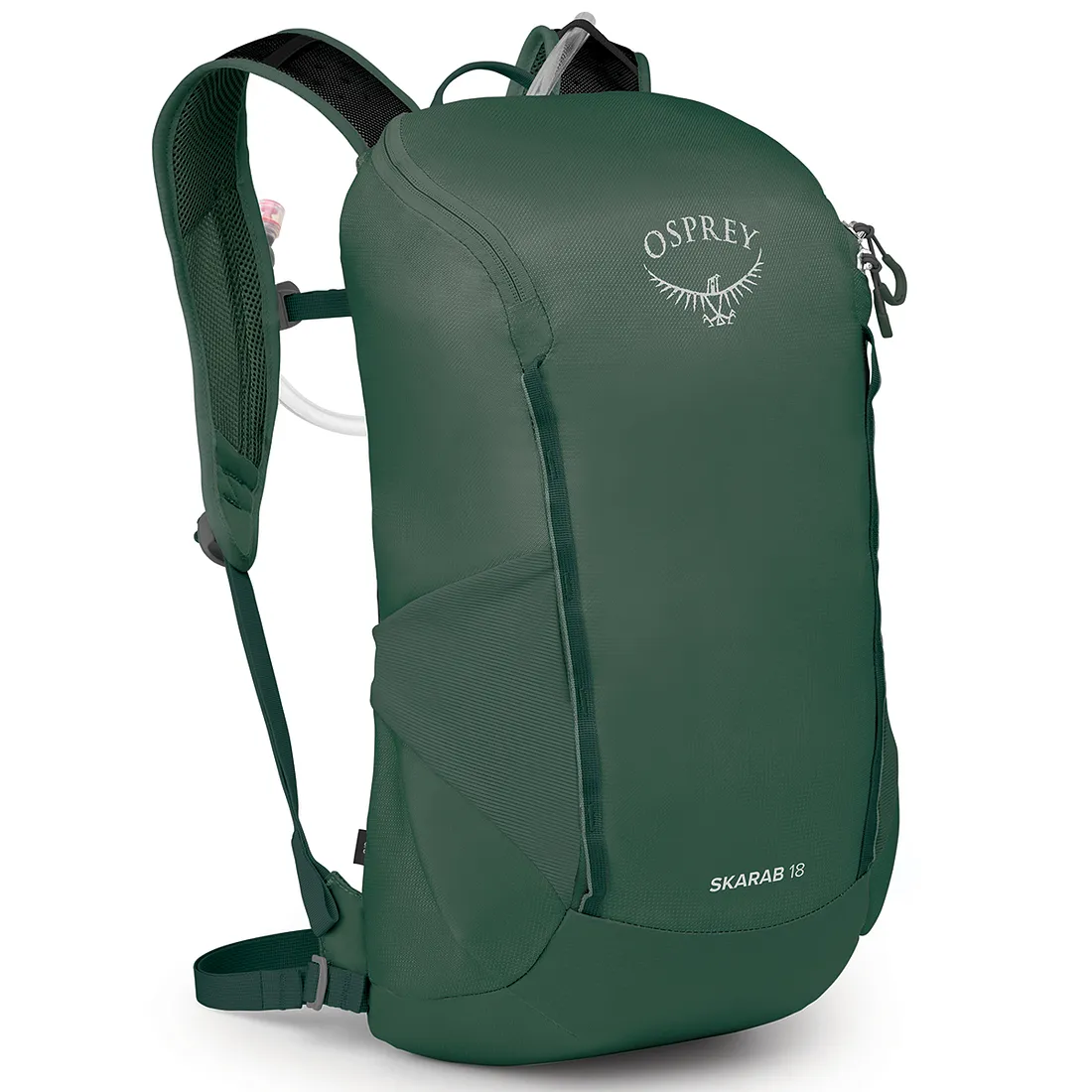 Reasons to Buy
Great fluid capacity

Easy to fill and clean

Comfortable fit

Plenty of storage

Durable material

Good value for money
Reasons to Avoid
Bladder design could be improved

Lacks advanced tech features
The Important Specs
Material:

210D Polyester Double Diamond Ripstop

Dimensions:

16 x 8 x 7 inches

Backpack Volume:

18 liters

Lid Lock Helmet Attachment:

Yes
Review Roundup
The Osprey Skarab 18 is a standout among hydration packs for its unique blend of features and functionality. Built with a medium size frame, this pack is the perfect companion for your off-road or on-trail adventures.
The first thing you'll notice about the Skarab 18 is its sleek, streamlined design. It's built to sit close to your body, reducing the chance of throwing off your balance, but has enough capacity (18 liters) to carry all the essentials for a day trip. The aesthetics are pleasing and the pack comes in several color options.
Regarding comfort, the padded back panel and extra wide hip belt distribute weight evenly, reducing stress on your back and shoulders. Many users have mentioned how surprisingly comfortable the pack is, even when worn for extended periods. The breathable mesh on the back panel is also a favorite feature, which helps lessen sweating on long hikes.
The quality of the hydration bladder is also a standout feature. It has a 2.5-liter reservoir with a bite valve for easy sipping. The ease of use and durability of the hydration system has been highly praised by customers.
While the Skarab 18 shines in several aspects, it isn't without its detractors. Some users have mentioned that the pack's small pockets were a bit limiting for multiday treks, and they wished the drink tube was a tad longer. There have also been few gripes about the pack's zippers being a tad finicky.
Overall, the Osprey Skarab 18 appears to be a popular choice among outdoor enthusiasts who prize comfort, capacity and quality in a hydration pack. Its thoughtful design and reliable features have left a positive impression on most users.
Bladder Design
The bladder design is one area where the Osprey Skarab 18 falls slightly short according to some users. Although functional, the bladder can be tricky to insert and remove within the pack. Yet, once you get the hang of it, this draw back may not bother you all too much.
Cleaning
The Skarab 18 scores high on cleaning. Thanks to its large opening, you can reach in and scrub all corners of the bladder efficiently. This makes maintenance a lot easy and increase the product's lifetime.
Durability
Made with 210D Polyester Double Diamond Ripstop, the Skarab 18 is designed to withstand the toughest outdoor conditions. Despite numerous rough trips and challenging terrains, this hydration pack remains in solid shape.
Ease of Filling
Filling up the Skarab 18 is a breeze with its large, screw-top opening. You can easily fill it directly from a tap or through a filtered water bottle, making it a convenient choice for outdoor users.
Fit
The Osprey Skarab 18 is admired for its comfortable fit. It has a streamlined shape that contours to the wearer's back, evenly distributing the weight across the shoulders and waist, minimizing any discomfort or strain.
Fluid Capacity
The Osprey Skarab 18 boasts a fluid capacity fit for a long outdoor adventure. It easily carries 2.5 liters of water, which is enough for a whole day's hydration for most average hikers. However, folks looking for short-day trips or quick jogs might consider it slightly overkill.
Material
The pack's material is not only durable but also lightweight, making it perfect for long treks. The material is also resistant to tearing and snags, which attests to its durability and high quality.
Storage Capacity & Organization
With 18 liters of storage space, the Skarab 18 offers plenty of room for all your essentials. It has several pockets, including a large main compartment, a front shove-it pocket, and dual side pockets, keeping your gear organized and easily accessible.
Value
For its price, the Skarab 18 offers great value. With efficient hydration capacity, robust material, and plentiful storage, it is a reliable gear for your outdoor adventures. The only drawback may be the bladder design but that hardly undermines overall value.
Prices
CamelBak Octane 18
Runner Up
Based on our research and testing, we think the CamelBak Octane 18 is a great choice if you're looking for a hydration pack to go play hard outside with, if our top pick isn't quite what you're looking for.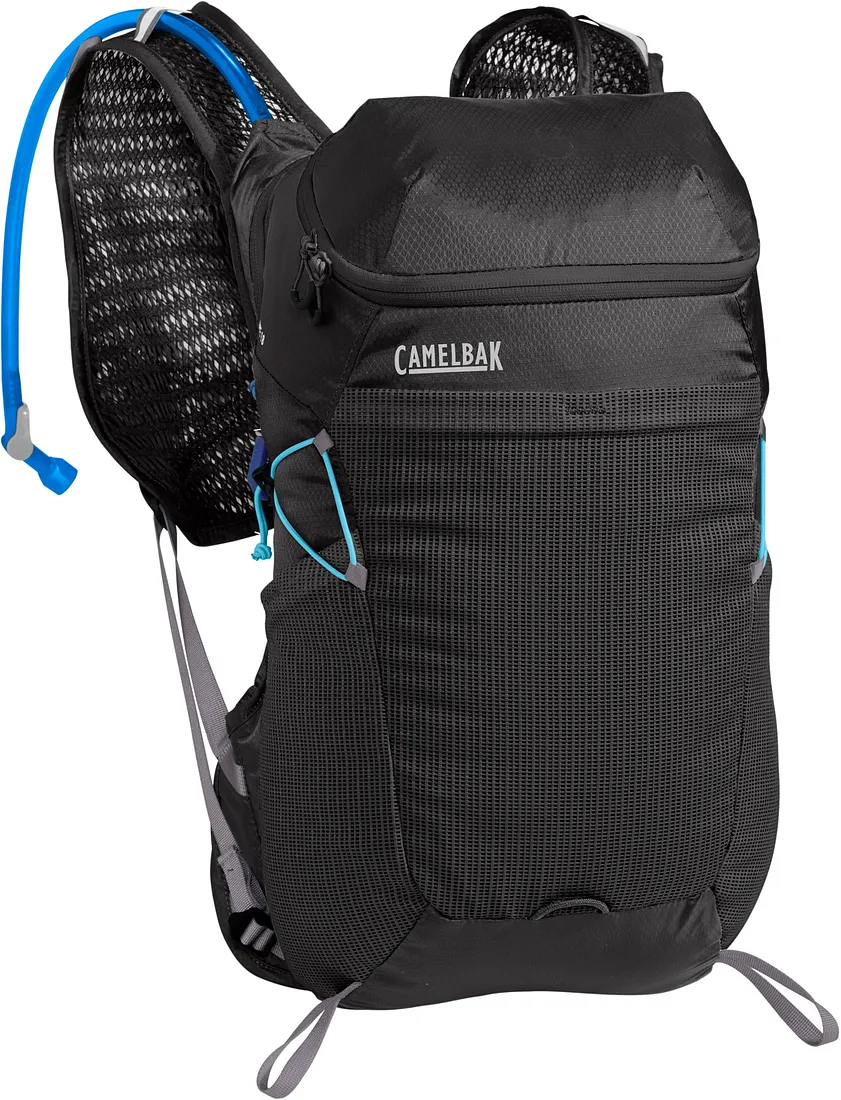 Reasons to Buy
High Fluid capacity

Ample storage space

Comfortable and easy to wear

Simple cleaning process

Durable for long term use
Reasons to Avoid
Slightly higher pricing

Complicated refilling process

Material may cause discomfort on longer hikes

Susceptible to wear and tear when used in extreme conditions
The Important Specs
Material:

Polyester

Pack Access:

Asymmetric zip

Source Type:

Crux Reservoir

Gear Capacity:

12L + 2L Reservoir

Product Dimension:

18.1 x 10.2 x 2 inches
Review Roundup
The CamelBak Octane 18 is a favorite among many outdoor enthusiasts for several reasons. It offers a good balance between storage capacity and ease of carrying. With an 18-liter gear capacity, it provides ample space for your essentials on a day hike or a trail run. Additionally, its dual-wing belt offers enhanced support and optimizes fit.
One of the standout features of the Octane 18 is the hydration system, which has a capacity of 2 liters. The Crux reservoir delivers 20% more water per sip compared to other models, meaning you don't have to stop and drink as often. This hydration bladder also has a leak-proof cap and an ergonomic handle for easy refilling.
Customers do notice the thought-out design. There's a separate and easy-access pocket for storing smartphones – a nice touch for those who appreciate organization. It's quite comfortable too, thanks to the breathable 3D ventilated mesh back and shoulder straps which help to reduce sweat buildup, making it a great pack for hot climates.
However, not everything about the CamelBak Octane 18 is sing praises. Some buyers mention durability concerns. The material, while lightweight, is not the most robust and might not withstand rough handling over the long term. A few users also express discontent about the waist belt, stating it's not sufficiently padded and may cause discomfort during longer wears.
Another minor drawback is that the bladder compartment is relatively close to your back, which some users note can make you warm. On the plus side, it does keep the center of gravity close to your back, which makes for easier carrying.
Nevertheless, it's a hydration pack that has proven popular among hikers, bikers and runners alike for its functional design, impressive hydration system, and smart storage solutions.
Bladder Design
The Octane 18 comes with a unique bladder design that enables easy water flow, a factor that online reviewers considered outstanding. However, users suggested that the system could be improved as it remains a bit difficult to remove and reinstall the bladder.
Cleaning
According to customer reviews, the cleaning process for the CamelBak Octane 18 is fairly simple thanks to its wide mouth and easily accessible design.
Durability
Most reviewers found the Octane 18 durable and resilient, built to handle general wear and tear. However, a few users did report some wear when used in more extreme conditions.
Ease of Filling
Online reviews reveal that while the bladder is easily filled, the design of the lid could pose an issue, as it can sometimes complicate the refilling process. If not done correctly, users mentioned it can cause unwanted leaks.
Fit
The feedback regarding fit has been overwhelmingly positive. The Octane 18 is praised by users for its comfort, with the bag's design minimizing bounce while running and ensuring optimal weight distribution.
Fluid Capacity
The CamelBak Octane 18 boasts a high fluid capacity, which reviewers greatly appreciated during long hikes and runs. The 2L Crux reservoir system provides 20% more water per sip, allowing you to stay hydrated for longer periods.
Material
Made from polyester, this hydration pack is both light and sturdy. However, some users found the material to cause a little discomfort during longer periods of use or in hotter climates.
Storage Capacity & Organization
Customers loved its multiple storage options and organization pockets. The Octane 18 has ample room for gear, food, and extra layers which appeals to those needing to carry extra goods while out on their adventure.
Value
While the Octane 18 is priced higher than some hydration packs, users seem to agree that its features such as the 2L water bladder and ample storage capacity outweigh the cost.
Prices
No prices found. Check back later!
Runner Up
Based on our research and testing, we think the Osprey Syncro 12 is a great choice if you're looking for a hydration pack to go play hard outside with, if our top pick isn't quite what you're looking for.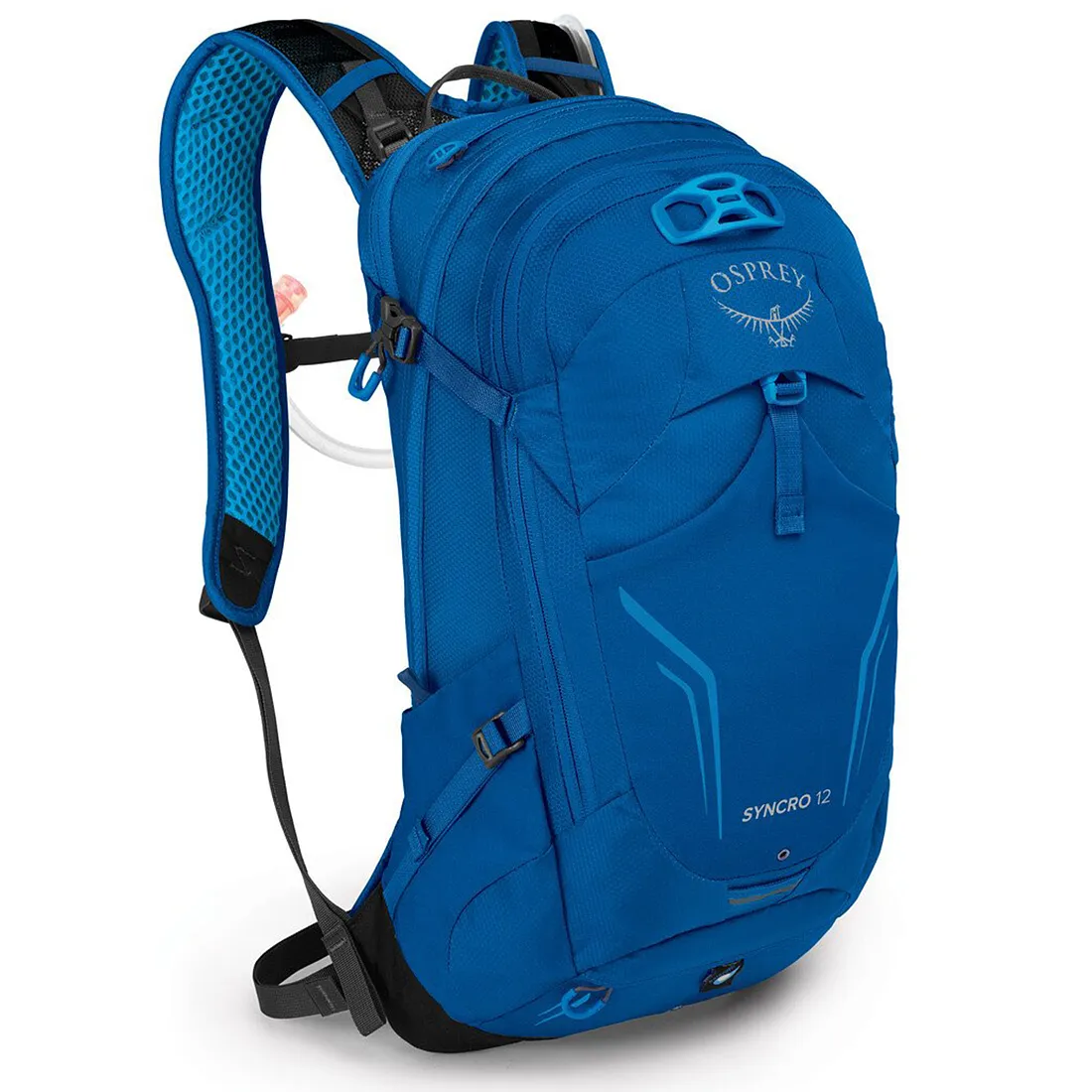 Reasons to Buy
High fluid capacity

Excellent bladder design

Comfortable fit

Plenty of storage

Durable material

Good value for money
Reasons to Avoid
Slightly difficult to fill

May require more cleaning efforts
The Important Specs
Volume:

12 Liters

Material:

Nylon material for durability

Dimensions:

18 x 9 x 8 inches
Review Roundup
The Osprey Syncro 12 hydration pack truly delivers in its promise of being a comprehensive solution for hikers and cyclists in need of easy hydration, and it comes packed with some impressive features that are hard to resist.
The pack shines in its design - not only is the pack reasonably compact and sleek, but it also boasts a ventilation system at the back, which is a godsend for hot and humid adventures. The AirSpeed ventilated back panel keeps the coverage minimal, allowing cool air to flow freely between the pack and your back.
In terms of storage, Osprey Syncro 12 has one main compartment which is large enough to house the included 2.5-litre hydration reservoir, plus a few extras like some food and a clothing layer. Aside from that, it also has a smaller front pocket for valuables, and some smartly placed external attachments for things like helmets and LED light attachments. While it might not fit everything you'd take for an overnight trip, for a day's adventure, the pack is surprisingly roomy.
The hydration system surpasses expectations - the water bladder is 100% BPA and PVC free and is easily accessible from the top zipper for refills, while a magnetic point on the chest strap holds the mouthpiece in place so it's always easily accessible. The hose is insulated to keep your water cool, even on hot days.
Some customers have mentioned that the water flow from the bite valve can be a bit limited, which isn't ideal when you're really thirsty. But on the upside, it doesn't leak at all, even when turned upside down or when the pack is full. The manufacturer also agrees, griping about the low flow rate is quite common in online reviews, but most find it outweighed by the pack's other benefits.
Durability is another strong point of the Syncro 12. Manufactured with a strong nylon material, this pack is made to withstand wear and tear of the trail, and several users praised this pack's ability to withstand quite a beating.
As for comfort, the Osprey Syncro 12 is very comfortable to wear, even fully loaded, thanks to its cushioned, adjustable shoulder straps and hip belt. They're designed to distribute weight evenly across the body, and many users have mentioned how unbelievably comfortable it is, even after continuous hours of wearing. But keep in mind, the pack tends to run a bit small, so those with a larger frame might find a perfect fit elusive. Overwhelmingly though, customers seem quite satisfied with their purchases and repeatedly mention the comfort and practicality of this pack.
Bladder Design
The bladder design of the Syncro 12 does not disappoint. Many users have praised the shape and placement of the bladder, pointing out that it sits well against the back and does not affect balance or comfort.
Cleaning
The Syncro 12 may require more effort to clean than some other hydration packs. This is a common concern among many hydration pack users. The design of the bladder and tube may require a bit more time and effort to clean thoroughly.
Durability
Many customers praised the Syncro 12 for its durability. The pack is made with a sturdy nylon material that can take a beating. This makes it an excellent choice for those who enjoy rugged outdoor activities.
Ease of Filling
While it is easy to open and close, some customers have noted that filling the bladder can be a bit tricky. The opening may not accommodate some larger faucets and the sturdy design of the bag makes it difficult to hold open while filling.
Fit
A frequent nod amongst users is that the Syncro 12 is very comfortable and fits well. The pack has adjustable straps and a flexible back panel that adapts to the shape of your back. It's also breathable, reducing sweat during those long hikes.
Fluid Capacity
One of the key highlights of the Osprey Syncro 12 is its high fluid capacity. Many customers have praised its ability to carry enough fluid for long hikes. This feature makes it an excellent choice for serious backpackers and runners who spend long periods outdoor.
Material
The Syncro 12's nylon material has been lauded by many for keeping the water cool and for its durability. It holds up well against abrasions and rough handling—a frequent point of praise amongst users.
Storage Capacity & Organization
The Syncro 12 shines in the storage department too. With plenty of pockets and compartments, users noted they never ran out of space for essentials. The compartments are well-organized, making it easy to find stored items.
Value
This is a high-end hydration pack, but users consistently agree that it is worth the money. The high-quality design, comfortable fit, and durable material make it a lower-cost investment over time.
Prices
Gregory Nano 18 H2O
$79.95
Best Budget Hydration Pack
Based on our research and testing, we think the Gregory Nano 18 H2O is a great pick if you're looking for a hydration pack that is more budget friendly, without sacrificing too much in quality.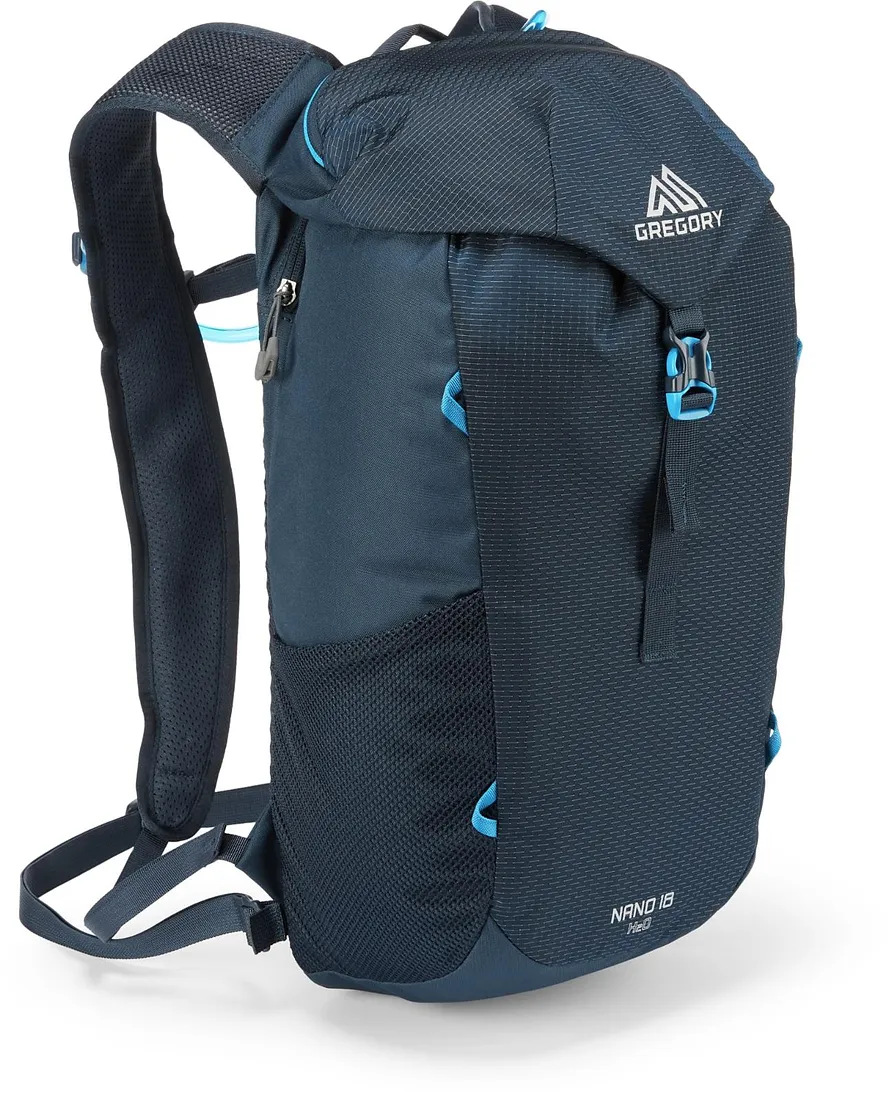 Reasons to Buy
Great value for money

Impressive storage capacity

Easy bladder filling

Made of durable material
Reasons to Avoid
May not be the best fit for everyone

Cleaning can be tricky

Lack of sleek design
The Important Specs
Dimensions:

10 x 20 x 3 inches

Bladder Design:

3D Hydro Reservoir

Fluid Capacity:

18 liters
Review Roundup
When it comes to scoring some major bang for your buck, the Gregory Nano 18 H2O pulls it off like a pro. With its practical features and robust build, it doubles up as an affordable daypack for those quick backcountry jaunts and a hydration pack that takes care of the thirst factor on those sweat-dripping hikes.
The design is compact, a nifty 18-liter bag that doesn't compromise on space despite its size. Uncluttered, easy to maneuver around with, and pretty lightweight, it's a shoe-in for those who prefer light packing but still want some room to spare for those extra trail goodies.
The included 3L hydration bladder is a valued component, conveniently tucked away in a separate pocket, and has a magnetic sternum strap attachment for the hydration hose - a little touch that users have appreciated for its easy-to-reach design.
The main storage compartment and various pockets, including a soft-touch lined one for glasses and electronics, have been well received in customer reviews. Space organization seems to be a strong suit for the Gregory Nano 18 H2O, with its ability to separate, secure, and easily access items on the go.
Meanwhile, the shoulder harness design gets a nod for comfortable weight distribution. But, it's not all applause here. A common gripe among some users has been the lack of a hip belt for additional support, something to take note of if you tend to pack heavy or venture on longer trips.
The packed-in rain cover has been handy and appreciated for those unexpected weather changes, making this pack a convenient option for variable weather conditions.
However, for those prioritizing extreme water resistance, some users have found it to be a little wanting, suggesting that it might not hold up as well in constant heavy downpours.
So, Gregory Nano 18 H2O – a solid player in the budget game with its thoughtful inclusions and comfortable wear. While it might not score in all categories, one thing that comes clear through online user reviews: it earns its stripes as a functional and value-for-money hydration pack on the market right now.
Bladder Design
People rave about the 3D hydro reservoir, noting that it's designed specifically to hang at an angle preventing any troublesome sloshing and making it easier to drink from.
Cleaning
While the cleaning process is not its strongest suit, it certainly isn't a deal-breaker. Some customers noted that it requires a bit more effort than more premium models but overall, was seen as manageable.
Durability
Durability is among its strong points, with many reviews noting that the pack stands up to rugged use and outdoor elements with minimal wear and tear. The durable material used in its construction certainly bolsters its longevity.
Ease of Filling
Being an easy-to-fill hydration pack got many thumbs up from users. The speed clip mounting system allows for simple one-handed filling that consistently wins over users.
Fit
Most reviews praised the fit of the Gregory Nano 18 H2O, but a few users have noted that it may not be the best fit for all body types. Be sure to try it on for size before venturing out.
Fluid Capacity
Customers love the generous fluid capacity of 18 liters which ensures they stay hydrated through their outdoor pursuits. This hydration pack is touted as a 'lifesaver' on longer trips.
Material
The material choice is highly commended for being hardy yet lightweight. The choice of material not only contributes to its durability but also its overall comfort when wearing for extended periods.
Storage Capacity & Organization
Apart from hydration, the storage capability of this pack is highly praised for its practicality. With a total carrying capacity of 18 liters, it provides ample room for essential gear. The organization is well-thought-out, with pockets placed conveniently allowing for quick access to items.
Value
Perhaps the most recurring praise was about value. For a durable, high-capacity hydration backpack with an easy-fill bladder, customers felt they truly got a bang for their buck.
Prices
Black Diamond Nano 18L Vest
Best Ultralight Hydration Pack
Based on our research and testing, we think the Black Diamond Nano 18L Vest is a solid choice for those looking for a lightweight hydration pack option to go play hard outside with.

Reasons to Buy
Excellent fluid capacity

Compact and versatile design

Lightweight without compromising durability

Great value for money

Easy to clean

Impressive storage and organization options
Reasons to Avoid
The vest fit might not suit everyone

Not the easiest to fill
The Important Specs
Size:

18L

Material:

Nylon

Fluid Capacity:

2 liters (without the reservoir)

Number Of Pockets:

7

Product Dimensions:

9 x 10 x 16 inches
Review Roundup
The Black Diamond Nano 18L Vest is an excellent ultralight hydration pack that has garnered a lot of praise from outdoor enthusiasts, hikers, and runners alike. It boasts a slim profile and a minimalist design that makes it perfect for those who prefer to carry light. Weighing in at just 330g, it is hardly noticeable when you're on the trail.
What users are specifically impressed with about this pack is its hydration capability. The Nano 18L Vest integrates well with most 1.5L hydration reservoirs (sold separately) with a hydration tube hole for easy access. Users find that it's easy to drink on the move with this setup.
The pack has an 18-liter capacity that is surprisingly roomy for such a lightweight pack. Customers have noted that it can comfortably hold a day's worth of gear including snacks, lightweight clothing, maps, and first aid kit. It even has a zippered pocket for smaller items like wallets, keys, or smartphones.
This vest also features adjustable dual sternum straps for a customized and secure fit. Users with different body shapes have all found it to fit well with adjustments. The on-the-fly fit adjustments are widely appreciated among consumers, allowing them to adjust their vests without having to stop in their tracks.
However, it's not without its drawbacks. Some users have mentioned that the lack of padding can make it uncomfortable when it's packed to capacity. Also, the extra long strap ends have been noted as an annoyance to some users as they can flap around when running.
Another slight issue that has popped up in several online reviews is about the durability. A few users have raised concerns about the zippers and seams, which seems to be the weak points of this hydration vest. They advised to handle it with care, especially when the pack is full.
Finally, another recurrent theme amongst online reviews is that it has a fantastic value proposition. For its lightweight, comfort, and hydration capability, users find it an absolute steal for the price. The Black Diamond Nano 18L Vest has therefore managed to make its way into the hearts of many outdoor enthusiasts
Bladder Design
The bladder design is sleek and well-integrated, allowing for optimized hydration during activity. However, few users found it slightly tricky to refill.
Cleaning
Cleaning this hydration pack is as easy as pie. User reviews lauded the easy maintenance, which is a big plus for backpackers and campers.
Durability
Built from nylon, the pack is praised for being tough as nails. Users were particularly impressed with its durability considering its lightweight design.
Ease of Filling
Most of the users found it a touch more challenging to fill than other models. While it's not a monumental problem, it's worth considering.
Fit
For fit, user reviews are mixed. While many appreciate the vest-style fit that offers stability and reduces bouncing while moving, others mentioned that it may not be ideal for all body types.
Fluid Capacity
The Black Diamond Nano 18L Vest stands out with an impressive 2 liter fluid capacity (excluding the reservoir). This means you can go for longer hikes or climbs without worrying about hydration. Customers loved the hydration accessibility of this pack.
Material
Constructed with premium nylon fabric, this hydration pack is lightweight but firm. Users appreciate the material quality, stating that it stands up well to wear and tear in various weather conditions.
Storage Capacity & Organization
Despite its small, lightweight design, the pack's storage potential is impressive. With 7 pockets, users found the vest extremely handy for organizing their gear and essentials.
Value
Considering its unique features, superior construction, and impressive performance, many users agreed that the pack represents superb value for money. That being said, if the fit doesn't suit you, its value may decrease.
Prices
No prices found. Check back later!
Ultimate Direction Mountain Vest 6.0
$169.95
Best Hydration Pack for Trail Running
Based on our research and testing, we think the Ultimate Direction Mountain Vest 6.0 is a solid choice if you want a hydration pack that's really well suited to Trail Running.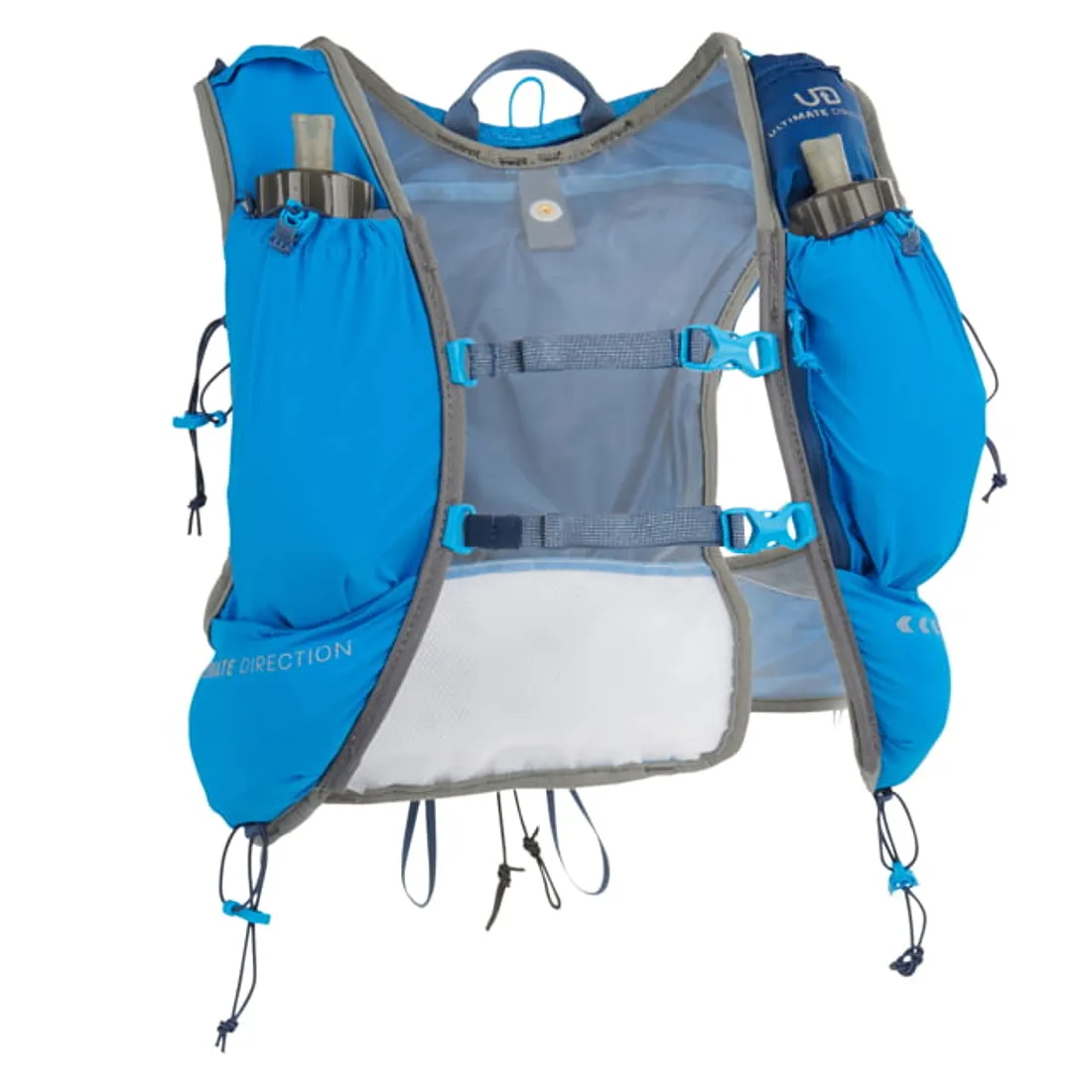 Reasons to Buy
Massive storage capacity

Easy to clean

Comfortable fit

Highly Durable
Reasons to Avoid
Might seem bulky to some users

Higher-end price range
The Important Specs
Capacity:

13.4 L

Material:

Nylon

Bladder Capacity:

2 L
Review Roundup
When it comes to tackling the wilderness on a trail run, the Ultimate Direction Mountain Vest 6.0 emerges as a reliable ally. It doesn't drone on with unnecessary features, keeping its promise of simple functionality within a lightweight design.
The hydration vest is unarguably comfortable, courtesy of the careful adjustment options and the breathable mesh material. The fit is snug without being restrictive, something many runners would give the thumbs up to.
A main winning aspect is the vest's capacity. With an impressive amount of storage, it makes hydration on the move a breeze. The dual front bottle pockets are a bonus, but the product truly shines with its bladder compatibility, freeing you up to run without having to worry about your water supply.
However, a few purchasers have pointed out that while the Universal Direction Mountain Vest 6.0 is exceptional with water storage, it falls a little short on personal storage space. For runners who like to bring along a snack, a phone, or perhaps a trail map, it might feel a bit limited.
As for its durability, the vest scores high. It's robust enough to fare well in rough environments, and many users have not reported major wear and tear even after prolonged usage. The material and zippers show resilience and can perform under different conditions.
Despite some criticisms on limited personal storage, many customers are quite taken with the Vest 6.0, indicating that comfort, durability, and hydration capacity more than make up for any storage shortfalls.
With its sleek design and functional features, people find the Mountain Vest 6.0 to be good value for money. At the end of the day, the vest is geared towards aiding hydration during strenuous trail runs, and it does a commendable job in that regard.
Bladder Design
Our users praised the bladder design, which includes a wide mouth for easy filling and a secure, leak-proof lid, since nobody likes to end a run with a wet back. There are also tube clips on either strap for easy access.
Cleaning
Cleaning this hydration pack is a breeze. The wide-mouth opening allows easy access for cleaning and drying, which is a big plus in customer reviews. Some customers even reported throwing the bladder in the dishwasher for a quick rinse.
Durability
Made from robust nylon, users report the vest holds up well, even in challenging environments. Some users reported after multiple trail runs, the vest showed no signs of wear and tear.
Ease of Filling
Customers have appreciated the ease of filling process, thanks to its wide-mouth opening. Though the speedy removal and re-insertion could use improvements.
Fit
Comfort is one of the standout points according to online reviews. The vest is designed to fit comfortably in multiple sizes, making it highly adjustable. With a soft-bound edge, it provides a snug but unrestrictive fit.
Fluid Capacity
With a bladder capacity of 2 Liters, the Ultimate Direction Mountain Vest 6.0 provides ample hydration for longer trail runs. Some customers have said they wished it held a bit more, because those two liters can disappear surprisingly quickly on a hot trail.
Material
The Mountain Vest is made of durable and lightweight nylon — two musts for any trail runner who doesn't want to be weighed down. The nylon also means it's water resistant, something customers appreciated during those unexpected showers.
Storage Capacity & Organization
Boasting a capacity of 13.4 L, it's packed with pockets in various shapes and sizes. As one review put it, it's almost like having a mobile Airstream for your back. Some users however found it slightly bulky.
Value
Given its durability, comfort, and high storage capacity, most of the users described the vest as worth the price. However, its higher-end price range might make it less accessible to some budget-conscious consumers.
Prices
CamelBak Powderhound 12
$110.00
Best Hydration Pack for Skiing and Snowboarding
Based on our research and testing, we think the CamelBak Powderhound 12 is a solid choice if you want a hydration pack that's really well suited to Skiing and Snowboarding.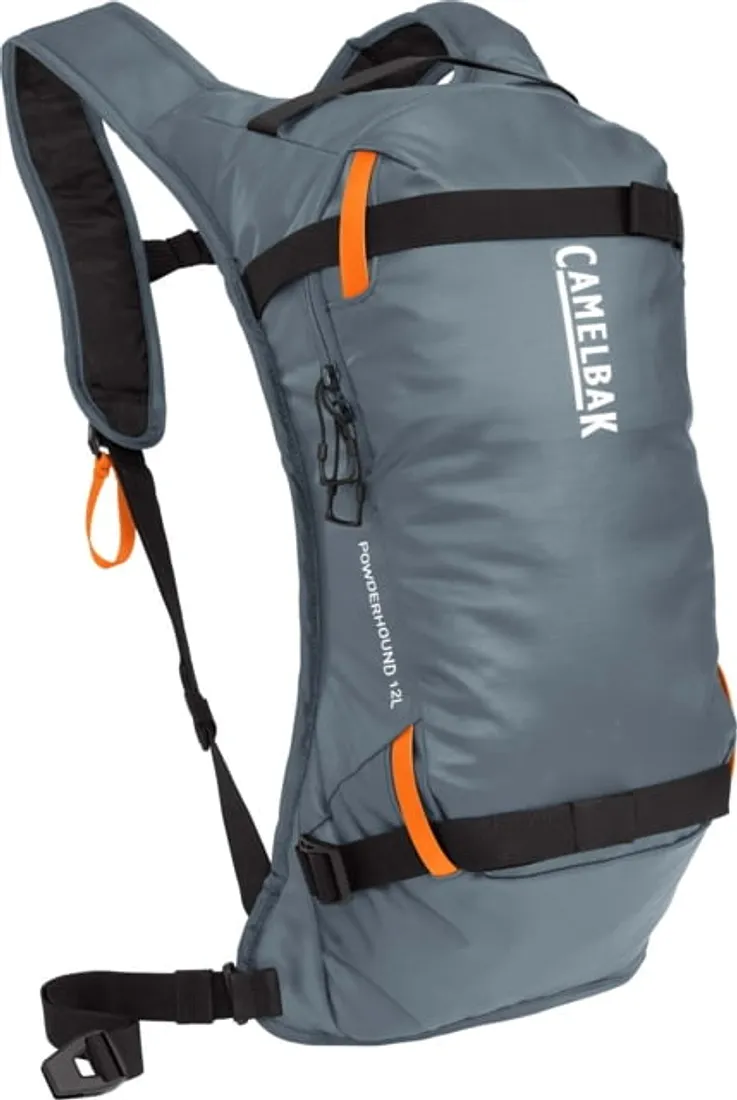 Reasons to Buy
Large fluid capacity

Easy to fill

Storage for gear

Durable Construction

Comfortable fit
Reasons to Avoid
Difficult to clean

Optional hydration+storage use

Costly

May not fit everyone
The Important Specs
Material:

Nylon

Dimensions:

18.1 x 9.8 x 3.9 inches

Color Options:

Racing Red, Black, Camelflage

Fluid Capacity:

100 oz
Review Roundup
The CamelBak Powderhound 12 Hydration Pack is a common sight on the ski slopes, and for very good reasons. It's designed to make hydration on the go fuss-free, even when dashing down a mountain.
One exciting feature of this pack is its dual orientation of the hydration reservoir. The orientation favors both left and right-handed skiers, a small inclusion that undeniably enhances overall ease of use. It sports a 3-liter water reservoir, ample enough for even the thirstiest of adventurers. The bite valve on the CamelBak doesn't drip and offers a steady flow of water.
Focusing on the storage, the CamelBak Powderhound 12 offers a single compact storage compartment, which should be noted, isn't as large as some other packs on the market. However, users have said that it is still ample enough to store a day's necessities like sunglasses, sunscreen, snack and even an extra layer of clothing. It also features an external strap system for helmet or gear attachment.
Concerning comfortability, reviews show that the pack is comfortable to carry for extended periods without causing strain or discomfort. The padded straps and a back panel made from mesh to allow for airflow, add to the overall comfort.
Now, while the bag is a ski-specific hydration pack, it's got a fairly versatile nature. As per users' online reviews, the CamelBak Powderhound 12 also appears to be an excellent choice for hiking or mountain biking in both summer and winter conditions.
One area where some users have expressed dissatisfaction is the pack's limited color options, offering just two colors. If you're not too bothered about fashion, the color limitation should not cause much of an issue. Overall, the general consistency in positive feedback online makes it a compelling choice.
Bladder Design
Buyers have praised the innovative bladder design of the CamelBak Powderhound 12. The bladder comes with a secure cap that prevents leakage while also allowing easy filling at any water source. It's also equipped with an insulated drinking tube to keep your water from freezing in harsh temperatures.
Cleaning
Cleaning seems to be a bit of a down point of the Powderhound 12. Some owners expressed concerns about the difficulty of reaching inside the bladder to thoroughly clean it, especially after carrying beverages other than water.
Durability
The CamelBak Powderhound 12 speaks durability. Its high-quality Nylon material construction has impressed users because of its ability to withstand the rigors of outdoor activities. Still, some users expressed concerns over its long-term durability.
Ease of Filling
According to reviewers, filling the bladder is a breeze. The large opening allows the whole hand to unscrew the lid and fill up the bladder with minimal effort. However, some remarks have been made about the cap's seal not closing completely if not handled with a bit of care.
Fit
Fit is another area where the CamelBak Powderhound 12 attracts praise. It features adjustable straps for tailoring the fit to your body. However, some reviews mention the pack might not be ideal for bigger builds, expressing a desire for longer straps.
Fluid Capacity
The CamelBak Powderhound 12 has an impressive 100 oz fluid capacity which has satisfied many outdoor enthusiasts' hydration needs, whether they're hiking backcountry trails or skiing down snowy slopes. This capacity allows you to carry enough water for a few hours of intense activity, without the need for frequent refills.
Material
The hydration pack is made from durable Nylon material that withstands harsh conditions. It's lightweight yet sturdy. However, in light of the cost of the bag, some users felt that a more premium material could have been used.
Storage Capacity & Organization
Reviewers collectively agree on the bag's ample storage space. Along with the hydration bladder, there's room for other gear like snacks, camera or extra layers of clothing. Its intelligent design also includes pockets for quick-access items. Nonetheless, there's a few mentions that the bag is more suited to carry either water or storage, as trying to fill up both limitations will limit space for the other.
Value
Most are of the opinion that while the CamelBak Powderhound 12 is slightly expensive, its high-quality construction, innovative features, ample storage capacity, and comfortable fit enhance its value-for-money proposition. The brand reliability also adds to the purchase justification. Some, though, felt the material used didn't completely justify its heavier price tag.
Prices