Quick heads-up: some of the links on this page are affiliate links. If you make a purchase through them, we may earn a small commission (at no extra cost to you). This small bit of income helps keep our site running.
Best Hiking Watches of 2023
This post was last updated on December 06, 2023.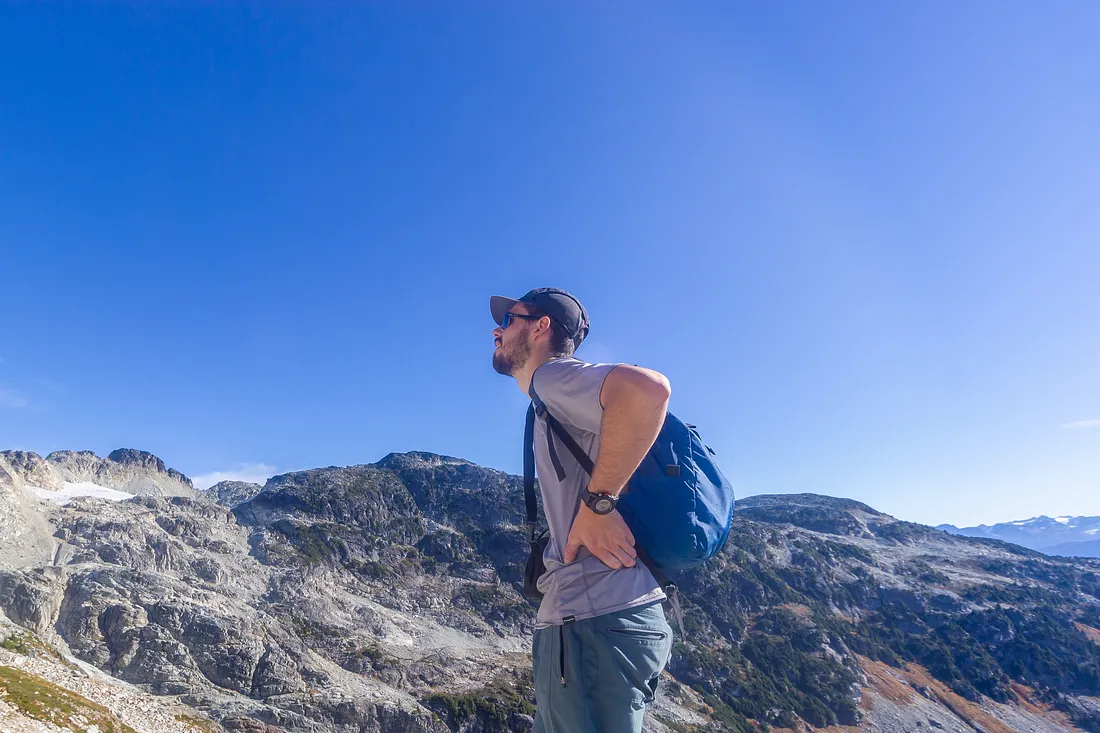 So you're hitting the trail and need a trusty hiking watch to map your route, keep you informed about altitude, monitor your heart rate, and some even squeeze in weather forecasts. An essential you're possibly underestimating, right? Not to worry, we've taken it upon ourselves to research and narrow down the top-of-the-line picks. Spoiler: The Garmin Fenix 7 Pro Solar reigns supreme in our research as the best possible choice!
Why the Garmin Fenix 7 Pro Solar, you may ask? Apart from boasting a multitude of cool features like GPS route tracking, heart rate monitoring, altitude alerts and more, it also sports an impressive solar rechargeable battery! That's right, this rugged, high-performing, yet sleek watch leverages the sun's energy to give your battery a boost. It's truly a hiker's best friend when you're exploring off-grid.
We haven't forgotten about other features that make for a superior hiking watch. Things like durability, water resistance, display quality, ease of use, accuracy, satellite reception, and value have all been given due consideration. In addition to our top pick, we've also collated information on the two best runners-up, and top choices for those of you who're budget conscious or need maximum battery life. Take a look at some of our other gear recommender articles such as the Best Hiking Pants for Men, Best Hiking Boots for Men, and Best Hiking Boots for Women to equip yourself fully for your adventures.
Our Top Recommendations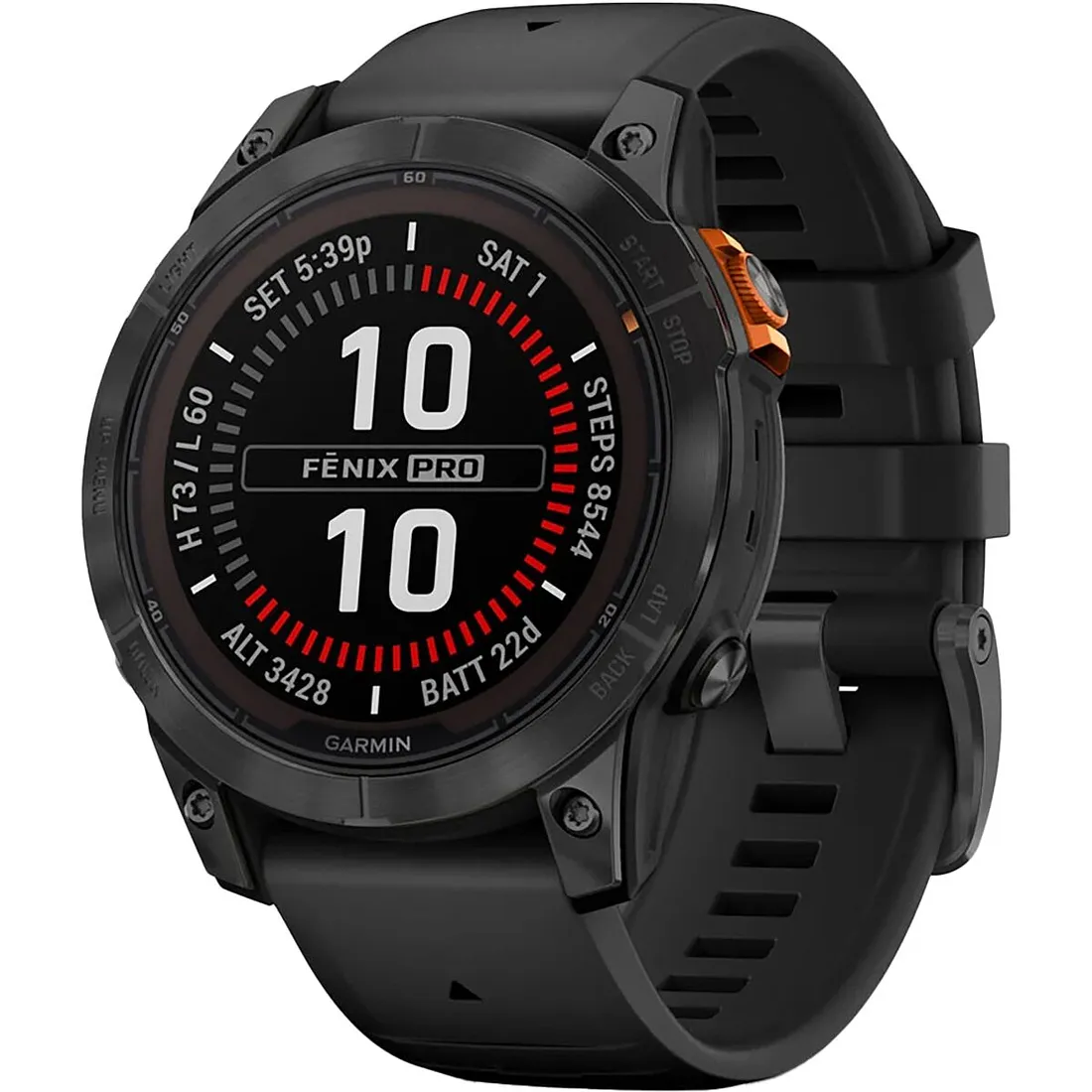 Garmin Fenix 7 Pro Solar
The Garmin Fenix 7 Pro Solar clinches the top spot thanks to rave user reviews praising its highly accurate GPS system and notable solar charging capability, ensuring navigational confidence and battery longevity during those lengthy treks.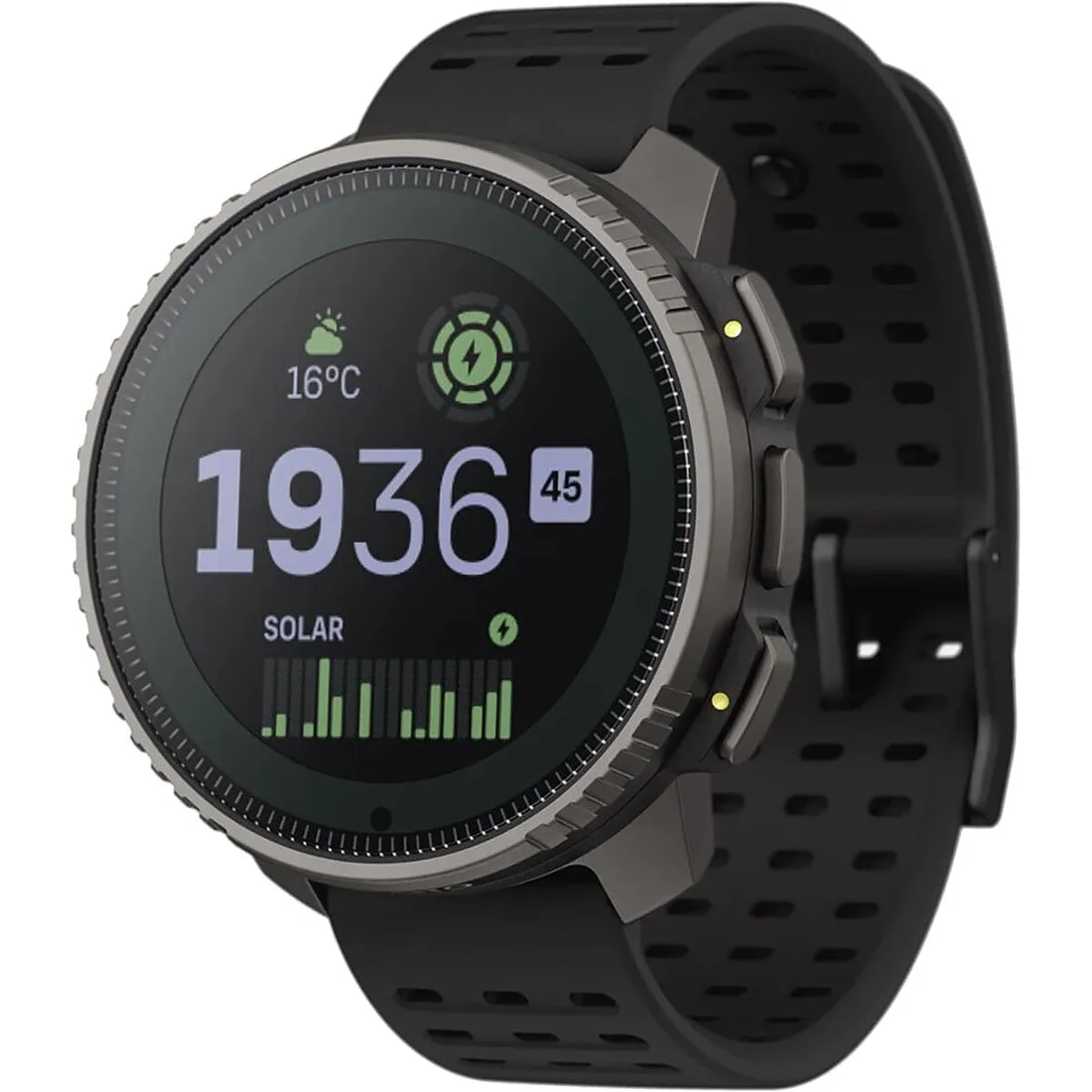 Suunto Vertical Titanium Solar
The Suunto Vertical Titanium Solar takes the runner-up spot due to its eco-friendly solar power feature and unprecedented altitude tracking capabilities, highly praised by users for reliability during long treks.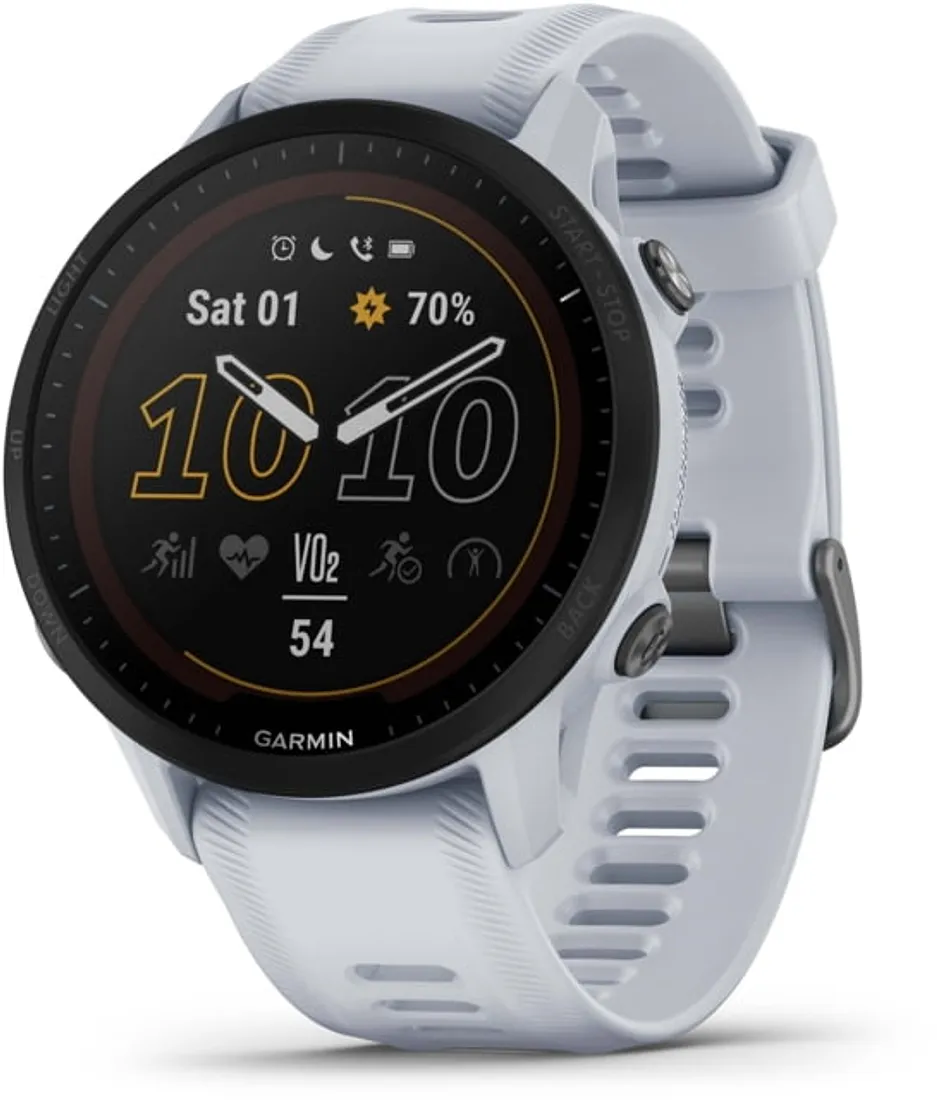 Garmin Forerunner 955
The Garmin Forerunner 955 steals the top spot due to its trail-friendly features like a long-lasting battery life, spot-on GPS accuracy, and a robust altimeter function, earning high praise from users looking for reliability in the rugged outdoors.
What you should look for
(and what we test for)
Features
Look for a watch with features like a built-in compass, altimeter, and barometer, which can all be life-savers when you're out in the wilderness.
Durability
Make sure the hiking watch is sturdy and rugged, because the last thing you need on a tough climb or long hike is a broken timepiece.
Battery Life
A long battery life is key, because you don't want to be halfway up a mountain and have your watch die on you.
Comfort and Fit
Ensure the watch is comfortable and fits well on your wrist, as you might be wearing it for extended periods when hiking or climbing.
Garmin Fenix 7 Pro Solar
$819.99
The Best Hiking Watch
Based on our research and testing, we think the Garmin Fenix 7 Pro Solar is the best Hiking Watch on the market right now, for anyone looking to play hard outside.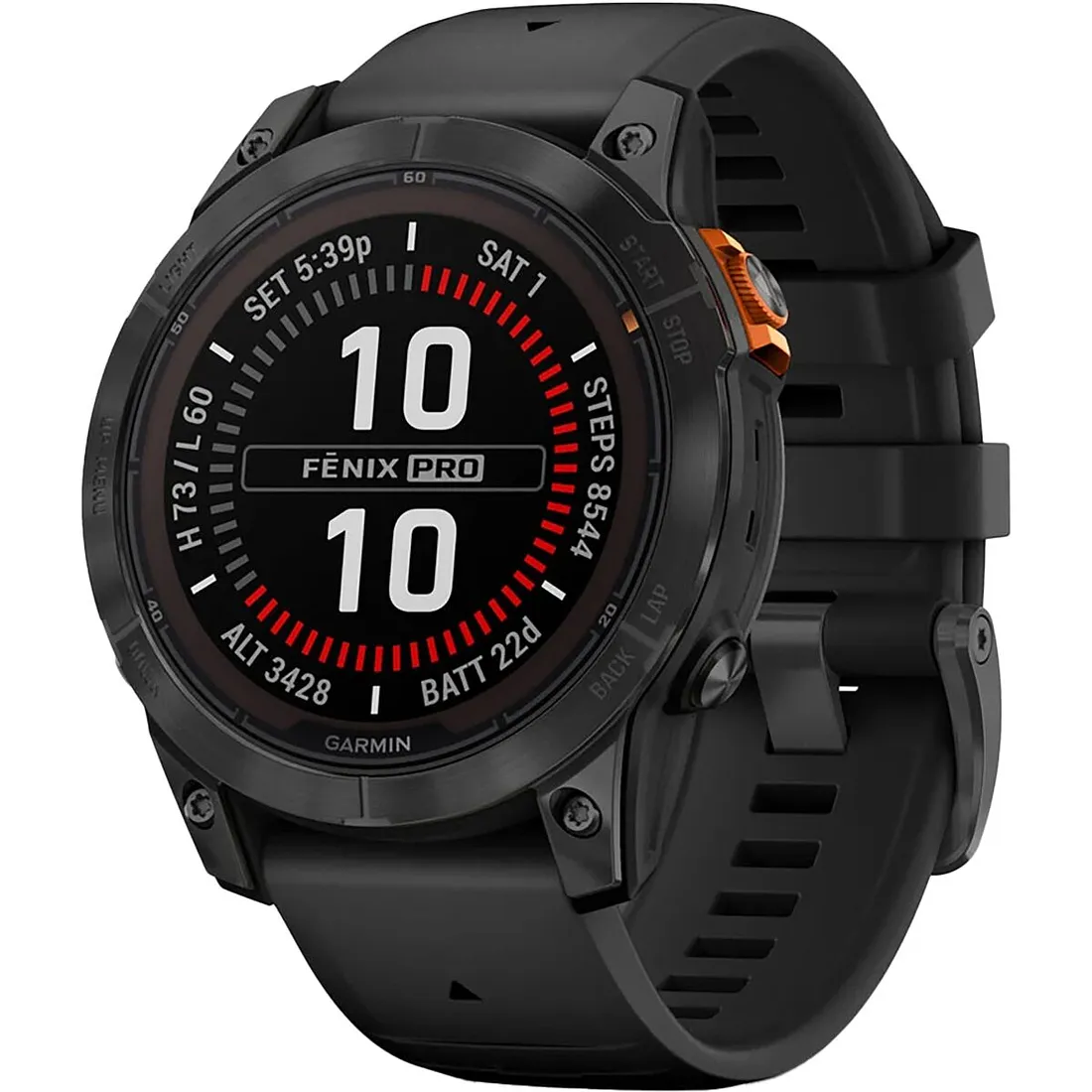 Reasons to Buy
Exceptional battery life

Loaded with features such as GPS, compass, altitude, barometer, weather, etc

Extremely durable

Outstanding GPS accuracy

Intuitive user interface

Solar charging option offers sustainability
Reasons to Avoid
On the expensive side

Display may be difficult to read in low light for some users

Slight learning curve for non-tech savvy users

Bulky, may not be suitable for small wrists

Not suitable for casual wear due to its robust design
The Important Specs
Dimensions:

47 x 47 x 16.2 mm

Battery Type:

rechargeable lithium-ion, solar charging

Display Type:

sunlight-visible, transflective memory-in-pixel (MIP)

Water Rating:

10 ATM

Memory/History:

32 GB
Review Roundup
The Garmin Fenix 7 Pro Solar is a stand-out timepiece with an impressive lineup of features and staggering battery capacity that is a must-have for any outdoor enthusiasts. It blends style, functionality and durability in a single package.
Right off the bat, the solar charging capability of this watch deserves a special mention. Users have raved about it since it provides a significant boost to the battery life, especially when out in the sun. This feature reduces the need for frequent charging, which is particularly handy during multi-day hikes.
Many customers loved its top-notch health and fitness tracking tools such as heart rate monitor, sleep tracker, blood oxygen level monitor, and an array of advanced running dynamics. Additionally, the watch hosts a variety of sport modes like yoga, swimming, running, etc., making it a versatile choice for the outdoorsy type.
GPS navigation is and always has been, a crucial part of any hiking watch and Fenix 7 Pro Solar doesn't disappoint. Users found the GPS to be accurate and reliable, even in dense, challenging environments. Moreover, the added topo maps and live tracking make navigation a breeze. This feature seems to be highly appreciated by many users who regularly venture out into the wilderness.
The design of this product has been something of a hit with customers. They have loved the sturdy, rugged look that is paired with a smart, sleek finish. Further, they found the watch extremely comfortable to wear, even after prolonged usage. The watch is also rated highly for its water resistance, which makes it a perfect buddy for water-related activities.
If we delve into the negatives, some users have mentioned that the watch can be a bit complicated to set up initially. There's a learning curve that can appear daunting to some, particularly if they're not familiar with smartwatches or Garmin's system. Moreover, there are also occasional complaints about the watch's hefty price tag. But, most people agree that the cost is justified when considering the wealth of features and durable build quality.
Accuracy & Satellite Reception
The Garmin Fenix 7 Pro Solar has been touted as one of the most accurate GPS watches on the market according to user reviews. It's also equipped with GLONASS, and Galileo support to ensure the best satellite reception under a variety of conditions.
Battery Life & Power Options
Given a massive thumbs up by consumers, the battery life of the Fenix 7 Pro Solar is impressive. Many users have appreciated its solar charging capability, extending the battery life even further during outdoor use.
Display Quality & Visibility
While several users found the display clear and readable even in bright sunlight, a few users noted difficulty reading in low-light conditions, suggesting that a stronger backlight may be needed.
Durability
Durability is another strong point of the Fenix 7 Pro Solar. Users have cited the watch's robust construction, which stands up well to rugged outdoor use. The sapphire lens and fiber-reinforced polymer with metal rear cover makes it one of the most durable watches.
Interface & Ease of Use
While packed with advanced features, many users report that the Fenix 7 Pro Solar's interface is fairly intuitive. But a few users hinted at a slight learning curve for those less familiar with tech gadgets.
Tracking & Sport-Specific Features
The watch shines in this department, offering a plethora of sports tracking features. These include running, swimming, cycling, skiing, and more. The features are reportedly easy to engage and provide detailed data.
Value
Many users understood the Fenix 7 Pro Solar's price point given the plethora of features and benefits offered. However, potential buyers should consider if they will utilize these features to justify the cost.
Water Resistance
The 10 ATM water rating makes the Fenix 7 Pro Solar suitable for swimming, snorkeling, and similar activities. Many users valued its underwater accuracy and functionality.
Prices
Suunto Vertical Titanium Solar
$839.00
Runner Up
Based on our research and testing, we think the Suunto Vertical Titanium Solar is a great choice if you're looking for a hiking watch to go play hard outside with, if our top pick isn't quite what you're looking for.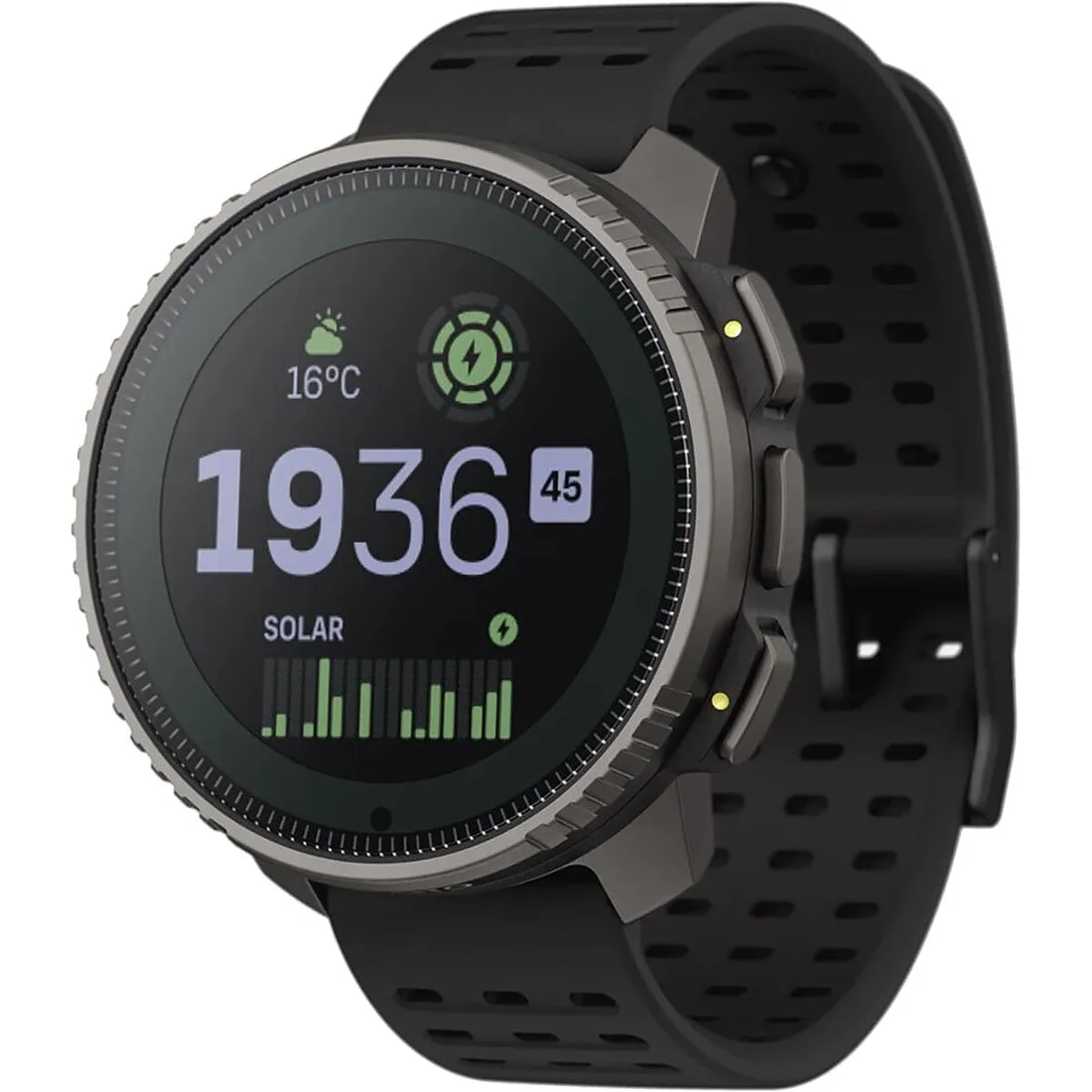 Reasons to Buy
Robust build for harsh terrain

Excellent satellite reception

Solar powered for extended use

Waterproof to handle extreme weather

Multi-sport tracking for various activities

Clear, easy to read display
Reasons to Avoid
Pricey for some budget

Complex interface may be challenging for beginners

Lack of touch screen, wholly dependent on buttons
The Important Specs
Altimeter:

Barometric

Display Type:

Digital

Power Source:

Solar

Water Resistance:

100m

Satellite Systems:

GPS, GLONASS, GALILEO

Sunrise/Sunset Times:

Yes
Review Roundup
In the realm of outdoor gear reality, the Suunto Vertical Titanium Solar is akin to a Swiss Army Knife in terms of multifunctionality, performance, and sturdiness. With a sleek and robust design, it convincingly checks off most boxes for avid hikers, climbers, and backpackers.
The watch largely shines in the area of durability. The titanium housing, unsurprisingly sturdy, proved its mettle for numerous users who engaged in rigorous outdoor adventure activities. With the titanium and solar power combination, the watch serves as a trusty companion for challenging hikes and climbs during daylight hours.
Its solar charging feature is an undeniable crowd-pleaser. Imagine this - you're hiking around with the luxury of having your watch battery consistently refueled by the sun. For users who found themselves in multi-day hikes and lacked the convenience of charging outlets, the solar power feature was the true knight in shining armor.
Beyond its durability and solar charging, a lot of buyers found the features of altitude profiles, compass, and weather updates as powerful aids during their outdoor excursions. The watch's altitude features seemed accurate for most users, and its ability to display the current, as well as forecasted weather, turned out to be quite useful, especially for planning hikes or climbs.
However, some users were less enthusiastic about the gadget's interface. A handful of buyers found it less intuitive than expected, claiming its usability leaves room for improvement. Some users also expressed dissatisfactions with the touchscreen responsiveness, which was occasionally described as erratic.
The Suunto Vertical Titanium Solar doesn't forget the fitness enthusiasts - the heart rate monitor, calorie tracker, and step counter features are all in place. The GPS tracking feature saw mixed reviews, with some users noting exceptional accuracy, while others had less satisfactory experiences.
The aesthetics of the watch gained much applause, with its modern look and feel, comfortably large display, and band choice offering a more muted appeal. The watch, however, is more on the heavier side, and some users found this inconvenient on longer excursions.
One common demand among the users was for improved battery life. While the solar charging feature does make up for that, the overall battery life of the watch was considered less impressive by several users.
Despite some minor gripes, the Suunto Vertical Titanium Solar emerged as a versatile and durable timepiece that combines outdoor survival, navigational features, and fitness tracking rather effectively. From customer reviews, it seems that the watch is not just a gadget, but a reliable tool for outdoor adventures that demand durability, versatility, and power.
Accuracy & Satellite Reception
The Suunto Vertical Titanium Solar boasts of a reliable accuracy, thanks to its compatibility with multiple satellite systems including GPS, GLONASS, and GALILEO. Users have reported rarely experiencing any location inaccuracies or delays in signal pickup.
Battery Life & Power Options
This watch outshines many in the power department. The solar charging offers extended battery life, accommodating long backpacking journeys and hikes. Even under cloudy conditions, users have reported the watch charges efficiently.
Display Quality & Visibility
The watch's digital display is built for outdoors. It's clear and easy to read, even in strong sunlight. Despite not having a touchscreen, users didn't report any significant issues with visibility.
Durability
The robust build quality of the Suunto Vertical Titanium Solar is one of its most praised features. It's able to withstand the harshest terrains and weather, living up to its promise of reliability.
Interface & Ease of Use
The watch's interface is packed with features but it can be complex for beginners. However, once familiar, users liked the detailed metrics it provides. The button control, while lacking the modern feel of a touchscreen, adds to its straightforward operation.
Tracking & Sport-Specific Features
The Suunto Vertical Titanium Solar has features catering to a variety of sports. The multi-sport tracking mode was positively reviewed for accuracy and a range of sports covered including hiking, climbing and skiing.
Value
While it's on the pricey side, users argue that the value it provides through its durability, extended battery life, and features, make it a worthwhile investment for serious outdoor enthusiasts.
Water Resistance
Suunto has a commendable water resistance up to 100 metres. It's a hit amongst hikers and backpackers who engage in activities in or around water bodies, confidently enduring splashes, rains and quick dives.
Prices
Garmin Forerunner 955
$499.99
Runner Up
Based on our research and testing, we think the Garmin Forerunner 955 is a great choice if you're looking for a hiking watch to go play hard outside with, if our top pick isn't quite what you're looking for.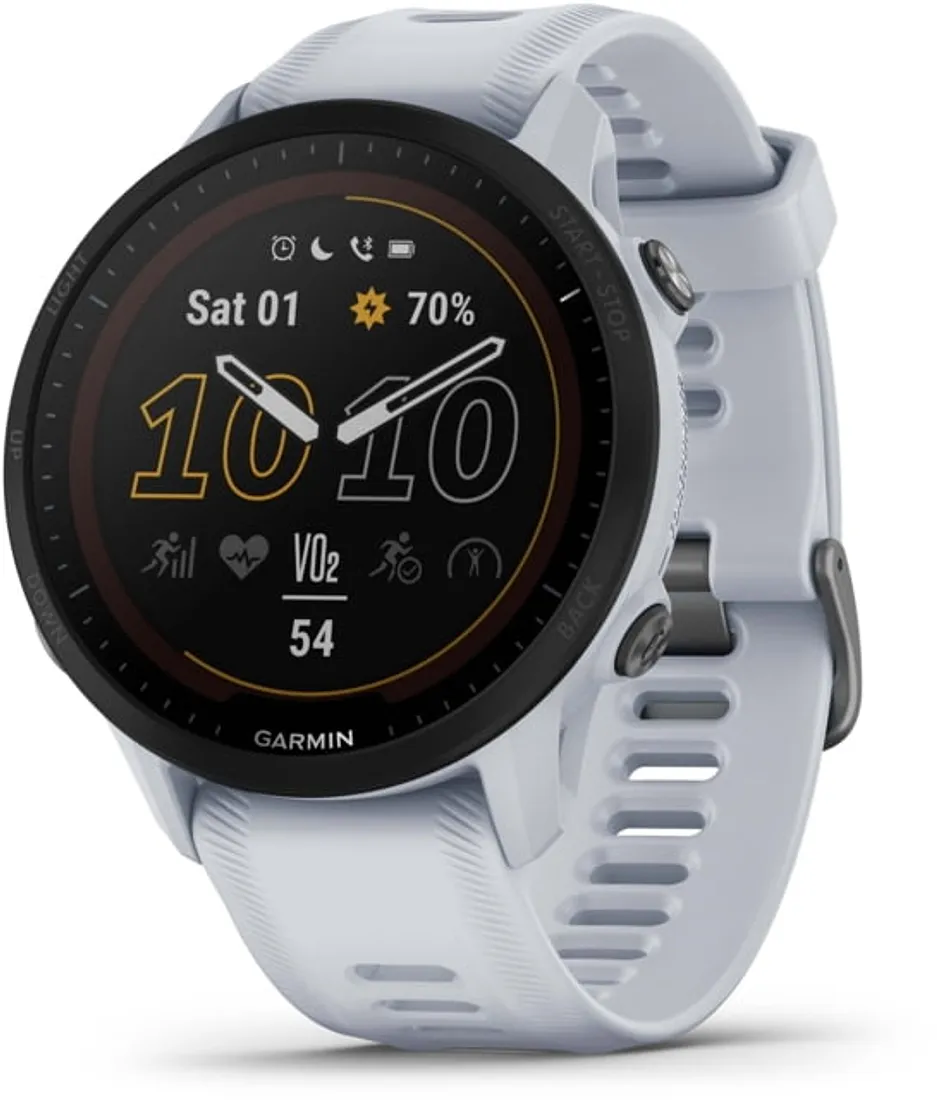 Reasons to Buy
Top-notch GPS accuracy

Long-lasting battery life

Incredible durability

Protected against water

Clear, high-resolution display

Full-featured sports tracking
Reasons to Avoid
Somewhat complicated interface

Premium price point
The Important Specs
Gps:

GPS/GLONASS/Galileo

Battery Life:

Smartwatch mode: 2 weeks; GPS mode: 36 hours

Water Rating:

5 ATM

Rugged Design:

Corning Gorilla Glass 3 and fiber-reinforced polymer

Screen Display:

240 x 240 pixels
Review Roundup
The Garmin Forerunner 955 speaks to all the outdoor buffs out there with its impressive set of features, both killer and filler. Like a trusted friend, this hiking watch promises to be by your side, whether you're trekking through the wilderness or simply out for a weekend jog. However, it doesn't just score points for company - it brings some serious features to the table that will make your outdoor activities more enjoyable and rewarding.
One of the standout selling points is its precise GPS navigation, minimizing the risk of you getting lost. It's like having a miniature, wrist-mounted guide leading the way. And it doesn't stop at hiking - it's just as useful for runs, bike rides, and swims, with accurate track-keeping functions for all these different exercises.
Battery life is an important deal for an outdoor watch, and the Forerunner 955 is a knockout performer in this department. It can keep going for up to two weeks in smartwatch mode (which is ideal for daily use), and up to 20 hours in GPS mode. Thus, you can head out on a day-long adventure, fully confident that this little companion won't let you down.
Accuracy is another key consideration, and the 955 doesn't disappoint. Online reviewers have applauded it for its near-perfect tracking capabilities, and it also features a heart-rate sensor and the ability to monitor VO2 max, meaning it'll keep you informed of your fitness levels over time.
Tech lovers will definitely appreciate the smartwatch capabilities: email alerts, call notifications, and even the ability to control your music right from your wrist. However, it should be noted that some users were slightly annoyed by the amount of time it took to sync the watch with their phones.
Is it the prettiest watch? No. But what the Forerunner 955 lacks in stylishness, it certainly makes up for in features and durability. The watch has a sturdy, functional design that can take the beating of active outdoor use, yet still display the digital face clearly, even under direct sunlight.
While the Garmin Forerunner 955 is not cheap, the justified balance between price and functionality is clear. Many buyers stressed that the wide range of features, watch durability, and detailed accuracy make the investment worth every penny. Even with a few minor niggles, the majority of users have found it to be a top-notch piece of gear on their outdoor escapades.
Accuracy & Satellite Reception
The Garmin Forerunner 955 boasts an excellent GPS system, harnessing the power of multiple global navigation satellite systems (GPS, GLONASS, and Galileo). Reviewers rave about its pinpoint accuracy and widely note that it's rarely, if ever, off the mark.
Battery Life & Power Options
Customers are impressed with the long battery life of this beast. In smartwatch mode, it lasts up to 2 weeks. When the GPS mode is activated, you get up to 36 hours! For chronic adventurers, the optional solar charging feature free users from worrying about power supply during long treks.
Display Quality & Visibility
The display screen is a real standout, delivering rich detail in a compact device. The high-res 240 x 240 pixel display is easy to read, even in glaring sunlight, and is held in high esteem in many reviews.
Durability
The Forerunner 955 is designed to last. Reviews are filled with stories of the watch surviving harsh conditions, including drops, impacts, and scratches, thanks to its robust fiber-reinforced polymer housing and Gorilla Glass 3 protection.
Interface & Ease of Use
Despite its advanced features, some customers had a bit of a learning curve with the interface. However, after getting the hang of it, many noted the wealth of data and seamless navigation to be worth the initial effort.
Tracking & Sport-Specific Features
The Forerunner 955 is sport-lover's dream, supporting multiple activity profiles such as cycling, running, swimming, and many more. Some buyers expressed it over-delivers in terms of the sheer quantity of sport features and body metrics available.
Value
The Forerunner 955 commands a high price point, and some reviewers feel a little hesitant about this. Nevertheless, most agree that for the serious outdoor enthusiasts or multi-sport athletes, the extensive features and sheer durability make the price a worthy investment.
Water Resistance
With water resistance rated at 5 ATM, this watch has been praised by swimmers, triathletes, and rain-soaked hikers. It can handle a good soaking and still carry on like a champ.
Prices
Garmin ForeRunner 255
$399.99
Best Budget Hiking Watch
Based on our research and testing, we think the Garmin ForeRunner 255 is a great pick if you're looking for a hiking watch that is more budget friendly, without sacrificing too much in quality.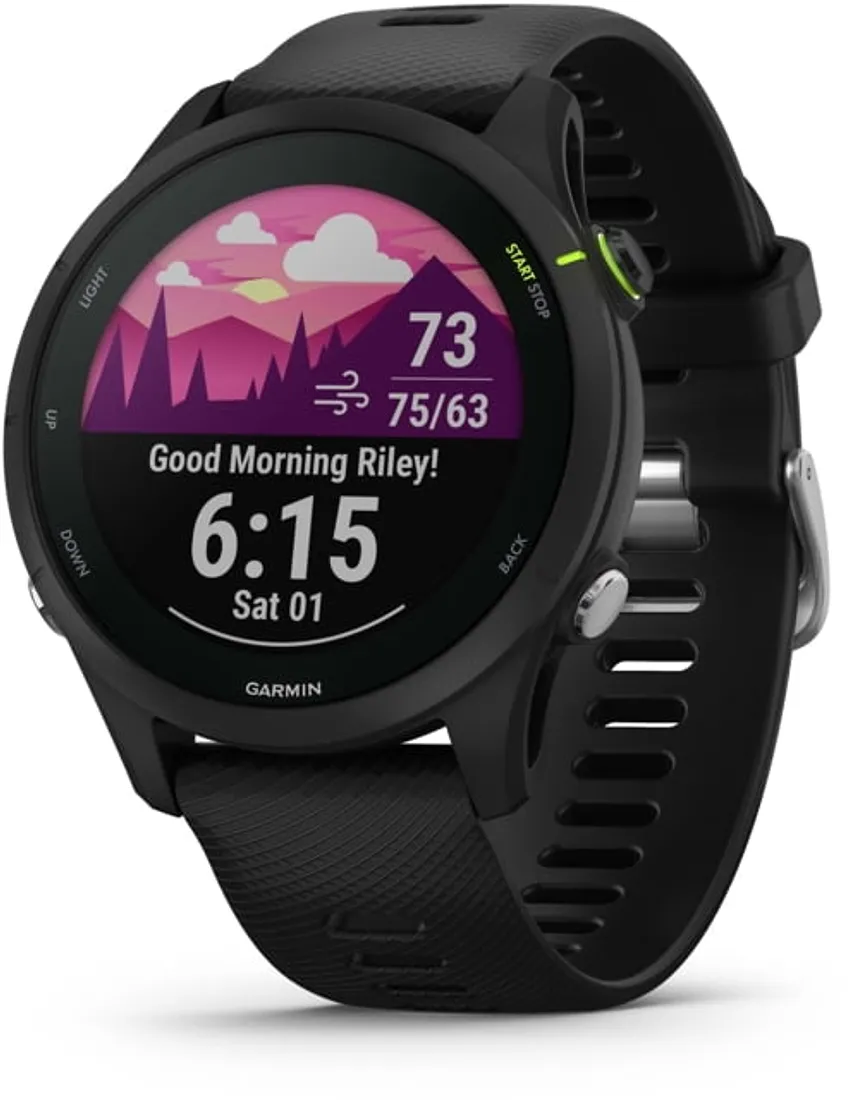 Reasons to Buy
Affordable price point

Long battery life

Reliable and accurate GPS tracking

Waterproof

User-friendly interface
Reasons to Avoid
Slimmer features compared to higher priced models

Screen visibility may be challenging in bright conditions

Not built for intense physical resilience
The Important Specs
Battery Life:

Up to 24 hours in GPS mode

Connectivity:

Bluetooth, ANT+

Gps Technology:

GPS, GLONASS, Galileo satellite support

Screen Display:

128 x 128 pixels resolution

Water Resistance:

Up to 50 meters
Review Roundup
If you're on a budget and looking for a versatile hiking watch that always delivers, your search might just end with the Garmin Forerunner 255. This small but mighty watch nails just about all the nuts and bolts of essentials you'd need in a hiking companion on your wrist.
Designed to be robust yet lightweight, this watch doesn't burden your wrist on those long treks but also promises to withstand all the ruggedness of the trail. Users particularly praise its comfortable fit and hardly notice it's there during their hikes.
As for GPS, the Forerunner 255 doesn't disappoint. Its accurate tracking feature is spot-on with hiking trails and paths, and users rave about its effective tracking of distances and speed. Certainly, it's easy to know where you're heading with this nifty device. Yet, some users have noted that the satellite connection can occasionally be a little slow, especially in dense forest areas or cloudy conditions.
One standout feature users love is the battery life. Most users report that even in full GPS mode, they get a good 15 hours of usage, allowing for day-long hikes without the worry of the watch dying on you. Naturally, battery life extends significantly in basic watch mode.
The Forerunner 255's heart rate monitor is something owners applaud. It's generally accurate and gives insights into your health and fitness levels during hikes. However, those seeking professional sports training data may find it slightly lacking in precision at high-intensity workouts.
A big win for hikers is how user-friendly this watch is. Setting up and navigating through the features is pretty straightforward. Your mom, your granddad, or your tech-averse buddy wouldn't have a hard time figuring their way around it. That said, some users find the screen size a tad small, which occasionally makes readouts difficult in bright sunlight.
As for added features, this budget watch manages to pack in a few impressive ones. This includes smart notifications to keep you connected, built-in sports apps for the multisport enthusiast, and even a safety feature that sends your location to contacts if you're in distress. Note, though, these are relatively basic and not as advanced as high-end models.
In terms of durability, it seems like the watch can handle not just the trail's roughness but also time's test. Users have reported their Forerunner 255 working flawlessly even after years of regular use.
Finally, the style quotient is admittedly subjective, but simple functionality seems to be the main theme. Users report it is quite minimalistic and unobtrusive, with no flashy aesthetics. So, if you are someone focusing more on function than form, you'd probably enjoy this watch.
Accuracy & Satellite Reception
Garmin ForeRunner 255 shines in its GPS performance. Satellite reception is seldom a problem, even in overcast weather or densely covered trails. The GPS, GLONASS, and Galileo support ensures reliable tracking and precision.
Battery Life & Power Options
The ForeRunner impresses with its up to 24 hours of battery life in the GPS mode. It can go up to 2 weeks if used in watch mode. For extended hiking trips, this battery life surely stands out.
Display Quality & Visibility
The screen is clear and legible under most light conditions. Yet, under intense sunlight, you might find the visibility slightly challenging. The 128 x 128 pixels resolution display is simple but functional.
Durability
While the watch presents reasonably good longevity for mild outdoor activities, it might not hold up too well for intense sports or rough terrains. It's crafted for casual hikers and outdoor enthusiasts with less robust demands.
Interface & Ease of Use
The ease of use is one of the aspects where Garmin ForeRunner 255 excels. The interface is simple and straightforward, making it very suitable for those who want uncomplicated tech on their wrists.
Tracking & Sport-Specific Features
The Garmin ForeRunner 255 features conventional tracking options like distance, pace, heart rate. It lacks advance sport-specific features seen in premium models but does provide basic workout analysis which serves the needs of a leisure hiker well.
Value
The Garmin ForeRunner 255 provides a lot of value for its price. It's not loaded with high-end features, but it does exceedingly well in the basics - accurate tracking, reasonable durability, decent water resistance, and of course, being user-friendly.
Water Resistance
The model comes with a water resistance of 50 meters - a handy feature for the hikers who might get caught in the rain or have to negotiate water bodies on trails. While it's perfect for the everyday splashes and swims, it is not recommended for deep-sea diving.
Prices
Best Hiking Watch for Max Battery Life
Based on our research and testing, we think the Coros Vertix 2 is a solid choice if you want a hiking watch that's really well suited to Max Battery Life.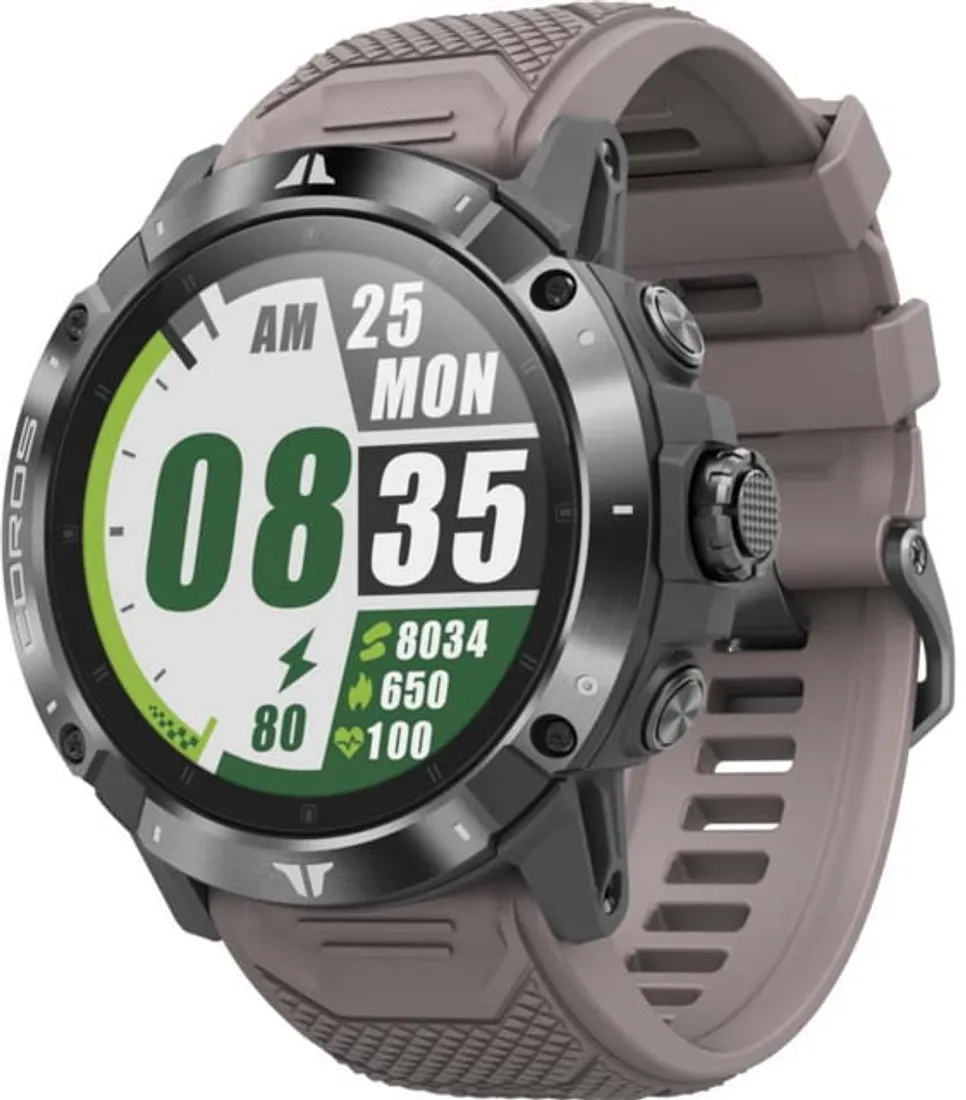 Reasons to Buy
Phenomenal battery life

Excellent GPS accuracy

Dependable durability

Water resistance up to 100 meters

Bright, easy-to-view display

Comprehensive sport tracking features
Reasons to Avoid
User interface can be complicated for beginners

Higher price point
The Important Specs
Display:

1.4" Sapphire Glass touchscreen, 280 x 280 pixels

Battery Life:

Up to 140 hours in full GPS mode

Sports Modes:

20+ pre-installed

Water Resistance:

100 meters

Satellite Systems:

GPS, GLONASS, BEIDOU, GALILEO, QZSS
Review Roundup
The Coros Vertix 2 is an impressive piece of gear, jam-packed with features that would make any hiker's heart flutter. Built to be sturdy and highly durable, there's no overlooking its rugged aesthetic that simply screams outdoor adventure.
But what really sets it apart in the hiking world is its strikingly long battery life. Serious hikers and backpackers will agree, there's nothing quite as reassuring as setting off on a journey knowing that your gear won't give out on you. With the Vertix 2, Coros has taken this to the next level. You can say adios to battery anxieties as this model can last up to 60 hours in full GPS mode and an unbelievable 140 hours in ultra-max mode, making it a real champion in the max battery life department.
Of course, battery life wouldn't count for much if the watch didn't have the features to match. Thankfully, the Coros Vertix 2 does not disappoint. It offers detailed tracking for over 20 sports modes, including hiking, biking, swimming, and even climbing, giving you massive flexibility whatever your outdoor activity. And for those into altitude mountaineering, it's got an integrated SpO2 sensor and it can work flawlessly in extreme temperature as low as -4ºF.
GPS accuracy is top-notch, backed up by dual satellite systems for more accurate tracking. I mean, who really wants to get lost in the middle of nowhere? So, whether you're in a dense forest or out on the open trail, you can rely on the Vertix 2 for the right directions.
Many users have highlighted its sleek and user-friendly interface which is pretty straightforward. You can easily set up navigation routes and have real-time information at a glance. Another impressive feature is the ability to receive and even respond to messages without reaching for your phone, a handy plus in challenging outdoor conditions.
However, despite its notable qualities, it comes with a pretty steep price tag. Some might argue that with the deep functionalities and exceptional battery life, the cost might be justified. But for the average hiker, this hefty investment could be a slight turn-off.
Some users have reported minor nitpicks like occasional delays in syncing data, but this does not detract from the overall functionality and performance of the watch. The good thing is that Coros seems keen on continuously improving the software through updates, which is quite commendable.
The Coros Vertix 2, with its impressive battery life and multifunctional capabilities, is undoubtedly a leading contender among outdoor adventure watches. It has its few downsides, like the price and minor sync issues, but for those who require advanced features and long-lasting battery for their outdoor pursuits, this watch is still a solid choice.
Accuracy & Satellite Reception
The Coros Vertix 2 is renowned for its impressive accuracy. Equipped with a dual-frequency GPS, this watch manages to tap into multiple satellite systems such as GPS, GLONASS, BEIDOU, GALILEO, and QZSS which can drastically improve tracking performance. It's a hiker's dream as many users remember, never having to question the accuracy of their location when out on the trail.
Battery Life & Power Options
The Coros Vertix 2 absolutely shines with its enormous 140-hour battery life in full GPS mode. Furthermore, it houses an UltraMax setting that extends its life even more, making it a reliable companion for expeditions where charging options aren't readily available. This unmatchable endurance has been applauded in many reviews, with users expressing contentment to leave their chargers at home when heading out for extended adventures.
Display Quality & Visibility
Users have spoken highly of the Vertix 2's display. Boasting a 1.4-inch Sapphire Glass touchscreen with a resolution of 280 x 280 pixels, it offers crystal clear visuals. The sharp colors and automatic backlight adjustment based on ambient light conditions have been praised by many users who have found it easy to read data at a glance, irrespective of lighting conditions.
Durability
A ruggedly designed watch, the Coros Vertix 2 is evidently built to withstand tough conditions. Complementing its tough casing is the Sapphire Glass touchscreen which is reputed for scratch-resistance. The dependability of this watch has been corroborated by various users who have lauded its ability to resist damage and continue functioning optimally, even when exposed to extreme conditions.
Interface & Ease of Use
Although the interface might seem complex initially, most users report that after a learning curve, it becomes straightforward to use. In addition to touch functionality, the watch has a digital knob button for easy control, which users found beneficial when dealing with sweaty or gloved hands.
Tracking & Sport-Specific Features
The Coros Vertix 2 impresses with over 20 pre-installed sport modes, making it a multi-disciplined tracking beast. From mountain climbing to triathlon tracking, this hiking watch has got you covered. Aside from the standard distance, pace, and heart rate metrics, it also provides advanced training analysis which many athletic users found extremely convenient.
Value
While the Coros Vertix 2 is on the pricier side of the spectrum, most of the customers consider its price justified. Given its stellar feature set, strong performance, and solid build quality, users feel that the value derived from it is well worth the investment.
Water Resistance
Apart from being a great land companion, this watch also offers water resistance up to 100 meters making it fit for aquatic adventures. This feature was appealing to many users who enjoyed the versatility of being able to transfer between land and water activities without worrying about their device.
Prices