Quick heads-up: some of the links on this page are affiliate links. If you make a purchase through them, we may earn a small commission (at no extra cost to you). This small bit of income helps keep our site running.
Best Hiking Shorts for Women of 2023
This post was last updated on December 06, 2023.
Looking for the Men's version of this post? We've got you covered: Best Hiking Shorts for Men of 2023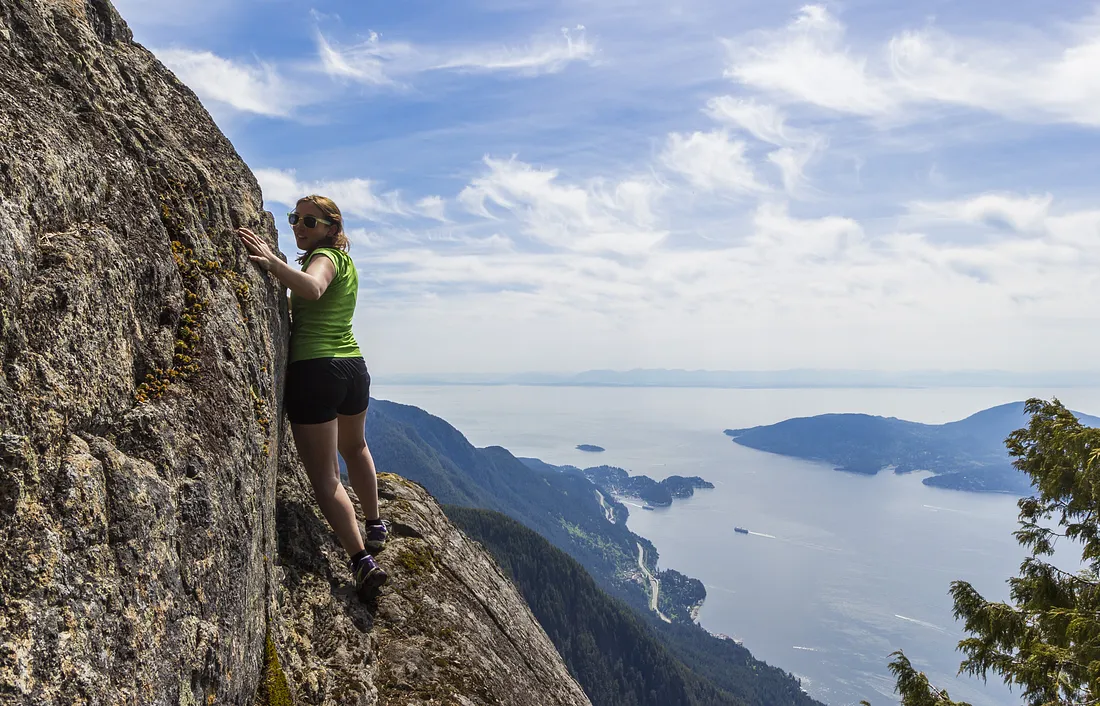 Whether you're a seasoned trekker or a beginner hiker, a pair of comfortable hiking shorts is a gamechanger when it comes to enjoying your outdoor adventures. Among the sea of options available, the Mountain Hardwear Dynama/2 Bermuda stands out as an undisputed leader, striking the perfect balance between style, comfort, and functionality.
No worries about soggy bottoms or feeling confined - these shorts are all about versatility. They provide great durability, quick-drying capacities, and ample storage without sacrificing mobility or breathability. Ideal for hikes, climbs, or just lounging in the campsite, the Dynama/2 Bermuda's are sure to enhance your outdoor experience.
We understand that everyone's needs, budgets, and preferences may differ, so we've also included two other top-rate hiking shorts as runners up, alongside top picks for those seeking quick drying and budget-conscious options. For a complete wardrobe update, check out our reviews on Best Hiking Shirts for Women, Best Sun Protection Shirts for Women and Best Hiking Boots for Women. This way, you'll be fully geared up and ready to hit the trails!
Our Top Recommendations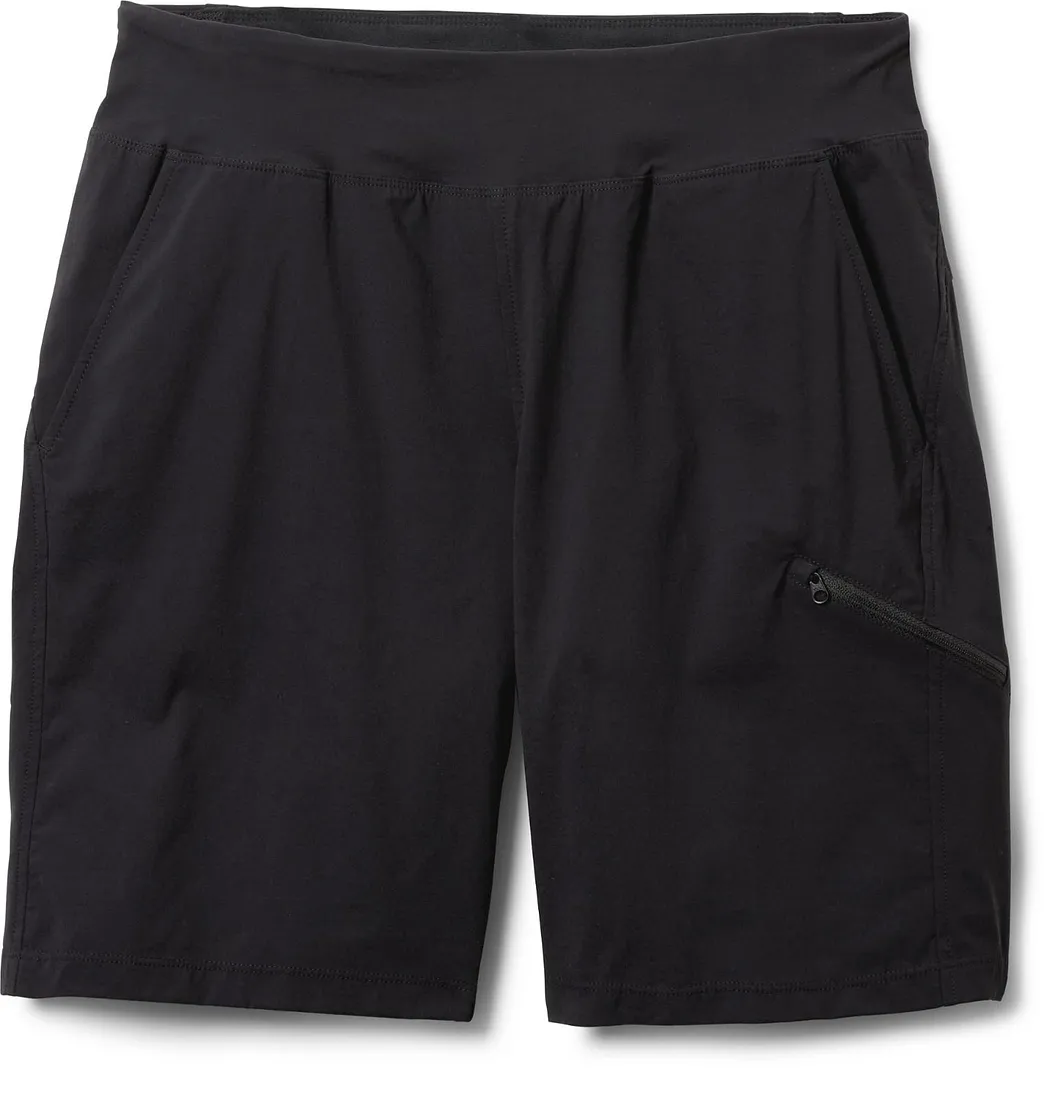 Mountain Hardwear Dynama/2 Bermuda
The Mountain Hardwear Dynama/2 Bermuda grabs the top spot with users loving its super comfy and stretchy fabric that allows smooth mobility, and its versatile waistband that provides an adjustable and snug fit for any trail adventure.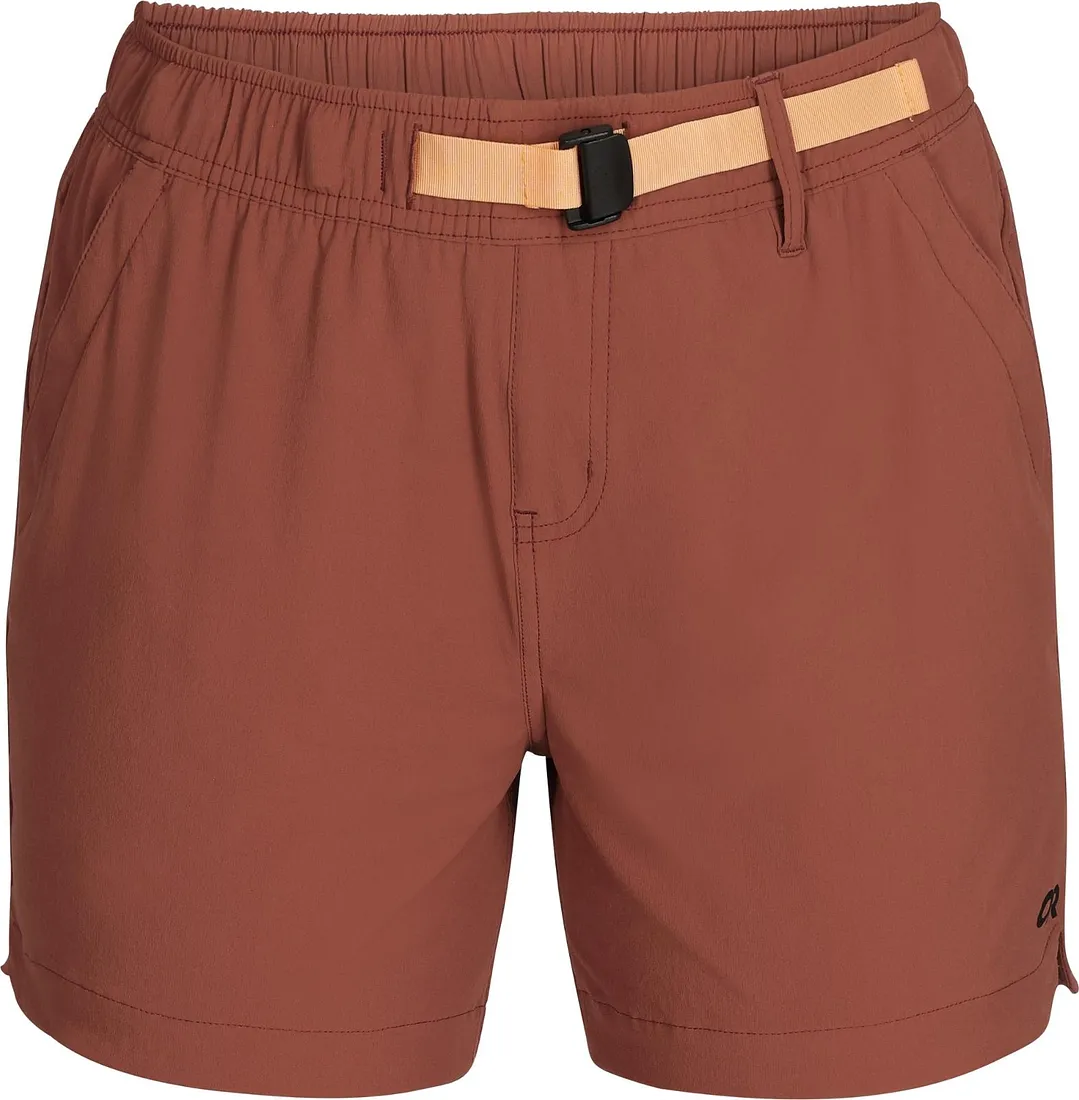 Outdoor Research Ferrosi Shorts
The Outdoor Research Ferrosi Shorts claim the runner up spot due to their unrivaled comfort and durability that users love, along with the added bonus of its quick-drying material, making it a favorite among female hikers.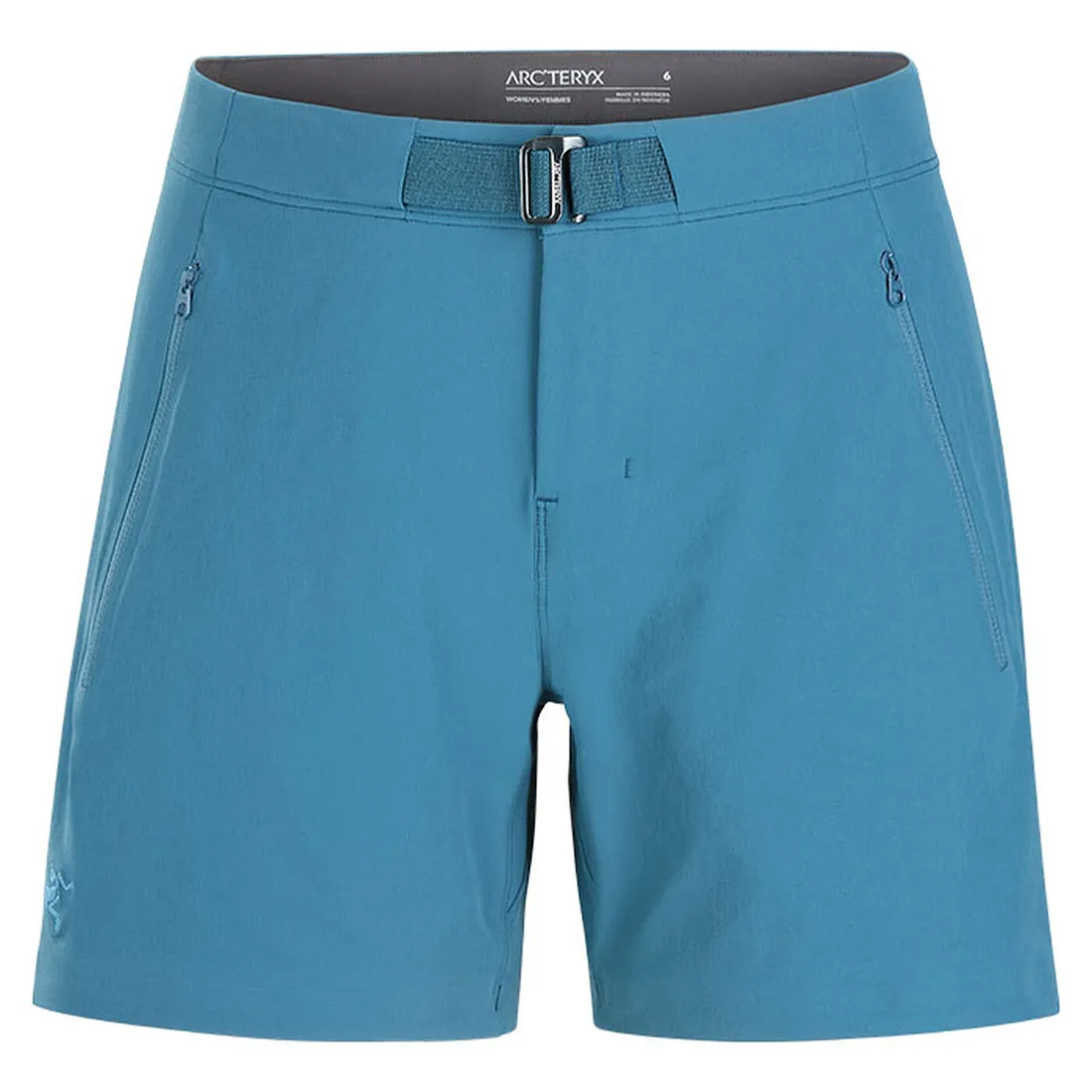 Arc'teryx Gamma Shorts
The Arc'teryx Gamma Shorts earn the top pick runner up due to rave reviews about their unmatched durability and stretchiness, offering both comfort and freedom of movement for those long trail days.
What you should look for
(and what we test for)
Material
Choose hiking shorts made from moisture-wicking and quick-drying fabrics like nylon or polyester to keep you comfortable during strenuous activities.
Durability
Ensure the shorts are built to last, able to withstand rough terrains, repeated washings, and various weather conditions without losing their shape or functionality.
Design Features
Extra features, such as zippered pockets to secure your valuables or UPF protection to guard against harmful UV rays, can greatly enhance your outdoor experiences.
Fit and Comfort
Look for shorts that offer a comfortable yet secure fit, ideally with an adjustable waistband and enough stretch to accommodate dynamic hiking or climbing movements.
Mountain Hardwear Dynama/2 Bermuda
$69.00
The Best Women's Hiking Shorts
Based on our research and testing, we think the Mountain Hardwear Dynama/2 Bermuda are the best Women's Hiking Shorts on the market right now, for anyone looking to play hard outside.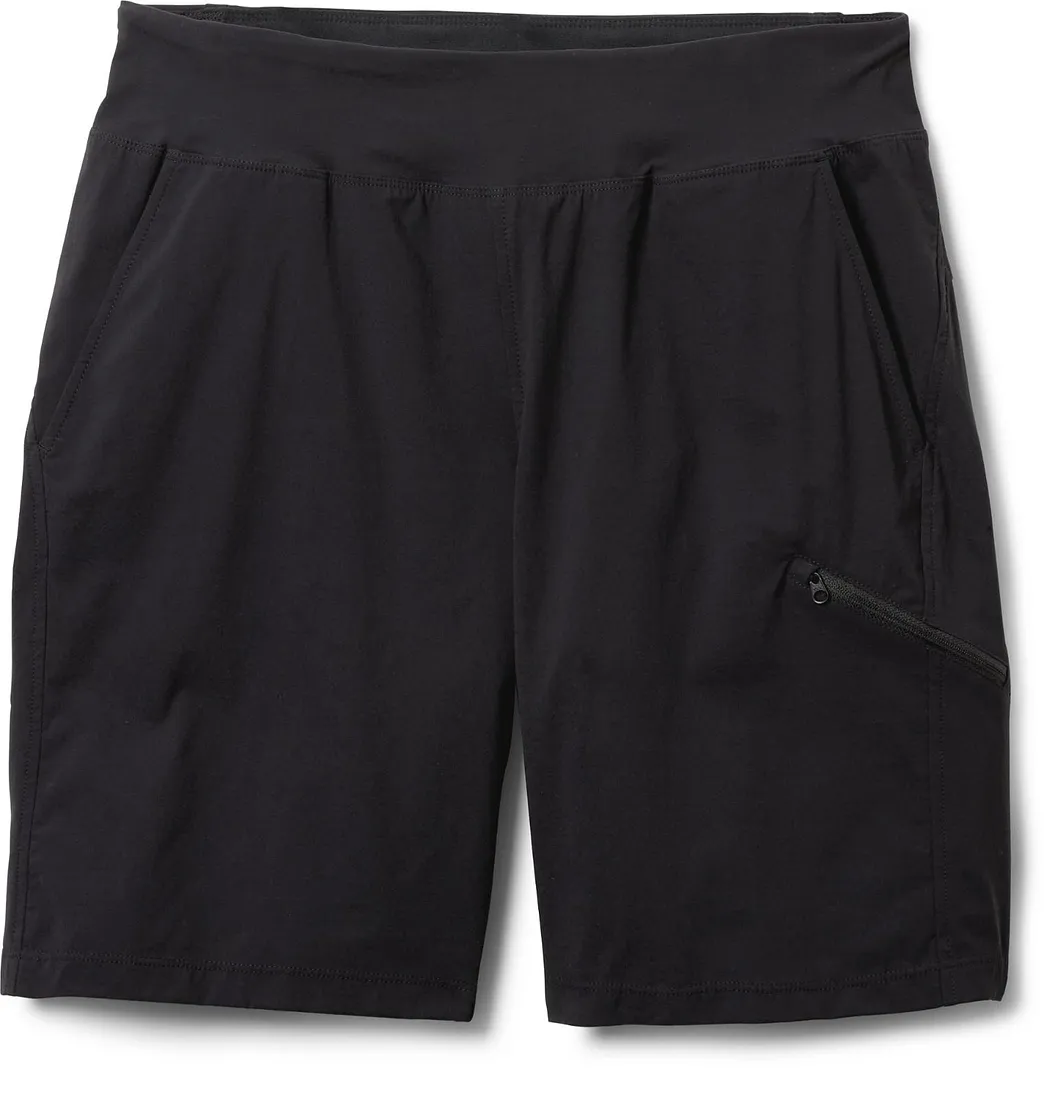 Reasons to Buy
Super stretchy and comfortable

Lightweight yet durable material

Wide waistband for added comfort

Quick-drying capability
Reasons to Avoid
Limited color options

Slightly expensive

Lacks a liner

No zippered pockets
The Important Specs
Fit:

Regular

Waist:

Low-Profile Stretch Waistband

Inseam:

9 Inches

Pockets:

Two front and two back

Material:

Nylon, Elastane
Review Roundup
The Mountain Hardwear Dynama/2 Bermuda shorts are a game-changer for every savvy female adventurer. They're light and super comfortable, perfect for those summer hikes. Many users have complimented its soft and stretchy fabric, which is made of a combination of nylon and elastane. So whether you're climbing, trekking, or just enjoying a leisure walk, these shorts offer the flexibility you need.
Another standout quality mentioned in several online reviews is the durable water repellent finish. Some reviewers claimed they were caught in a sudden shower and were pleasantly surprised to find that the water just rolled off their shorts rather than soaking into them. It's like having a mini weather shield right on your bottoms!
Comfort is a common word popping up in a lot of online reviews. The built-in drawstring and wide, low-profile waistband design gets top points for ease of use and fitting comfort. Finding that sweet spot between baggy and too tight, the shorts sit perfectly on the waist, eliminating the struggle we often face with outdoor gear.
On the downside, the Mountain Hardwear Dynama/2 Bermuda shorts do lack a bit in pockets -- they come with just two hand pockets and a single rear pocket. Some reviewers have expressed that more pockets would be appreciated, particularly for storing phones or small gadgets during long hikes.
Many users also praised the shorts' UPF 50 rating, which adds that extra bit of protection against harmful ultraviolet rays. With this pair, sunburn won't steal away your joy of basking in nature's glory during your adventure.
Lastly, kudos were given for the shorts' aesthetic appeal. They are cut just above the knee - a length that seems flattering on most body types. The available color options are another attractive feature, ranging from neutrals to bold and bright shades, ensuring you remain stylish while striding up that mountain!
Breathability & Ventilation
These shorts are breathable and great for hotter weather. They are made with a lightweight fabric that doesn't stick to the skin, promoting sufficient ventilation and keeping you cool during those challenging uphill sections of your hike.
Durability & Abrasion Resistance
One compelling aspect of Mountain Hardwear's Dynama/2 Bermuda is their impressive durability. It's a hiking short that delivers reliable performance under different conditions with a credible record of bearing up against both time and rough usage. The abrasion-resistant nylon blend fabric ensures longevity, maintaining the shorts' quality and appearance even after numerous wears.
Fit
The Dynama/2 Bermuda has a regular fit that flatters different body types. Its wide, low-profile stretch waistband adds to its comfort, ensuring an excellent fit without feeling too tight or restrictive.
Mobility & Stretch
The comfort of the Mountain Hardwear Dynama/2 Bermuda is hard to match. The shorts are super stretchy, paving the way for unrestricted movement. The nylon-elastane fabric blend ensures great mobility, whether you are hiking, climbing, or just relaxing at the campsite.
Storage Options & Pockets
Although the shorts do come with four pockets total—two at the front and two at the back, the absence of secured zippered pockets might come off as a mild letdown. While the existing pockets are deep enough for casual stuff like lip balm and small items, securing valuable items could be a concern.
Value
Despite it being slightly on the pricey side, the value that the Dynama/2 Bermuda brings with its blend of comfort, performance, and durability makes it worth considering. For the hikers who prioritize comfort and mobility during their outdoor ventures, this investment in comfort can indeed go a long way.
Water Resistance & Quick Drying
Water resistance might be a tad bit lacking, but the quick-drying feature of the Dynama/2 Bermuda makes up for it. A sudden downpour or splashing through a creek won't ruin your day, what with the shorts demonstrating an uncanny ability to dry incredibly fast.
Prices
Outdoor Research Ferrosi Shorts
$79.00
Runner Up
Based on our research and testing, we think the Outdoor Research Ferrosi Shorts are a great choice if you're looking for women's hiking shorts to go play hard outside with, if our top pick isn't quite what you're looking for.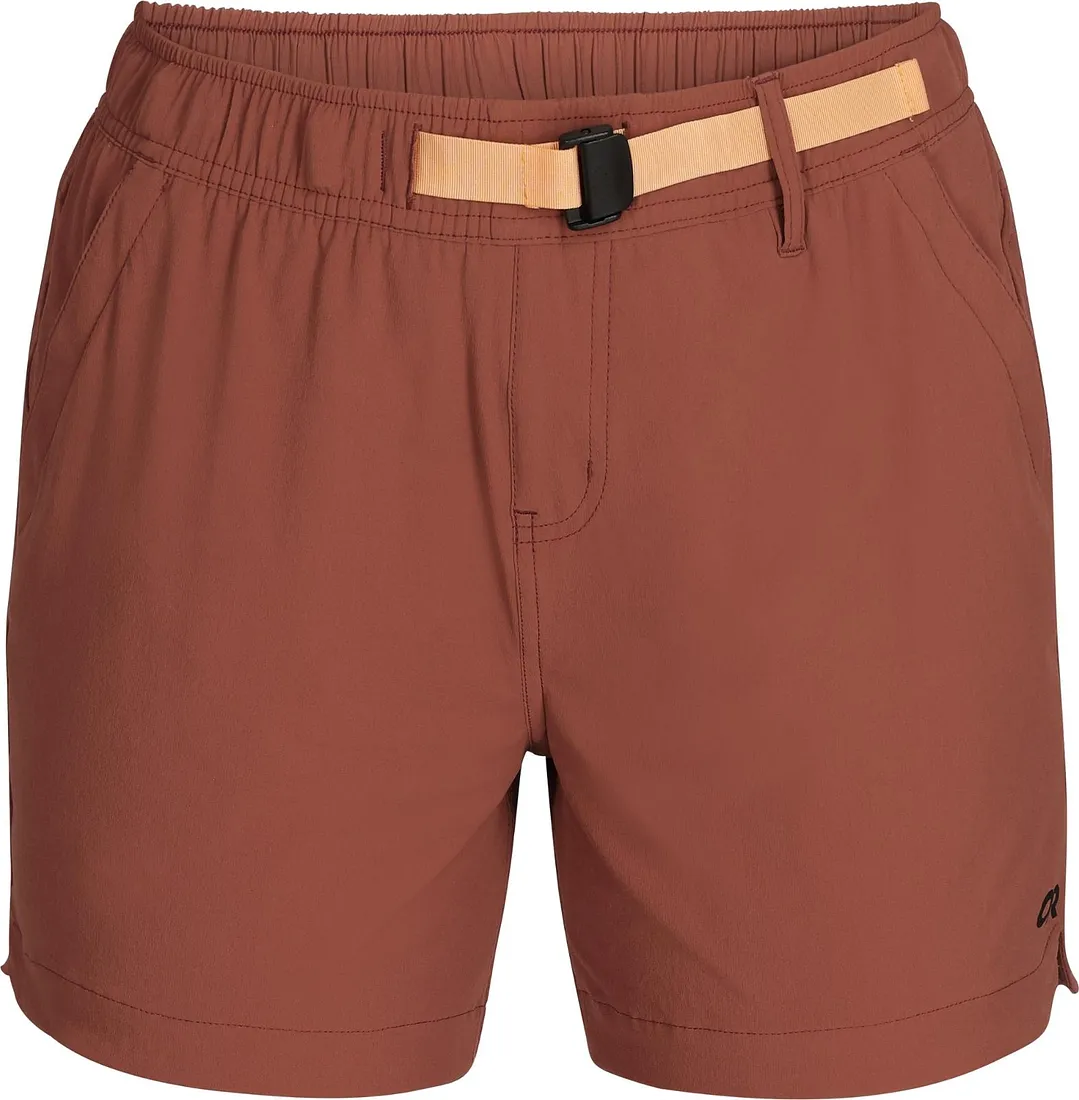 Reasons to Buy
Crafted with durable, abrasion-resistant material

Great breathability keeps you cool

Quick drying for when you get caught in the rain

Abundance of stretch guarantees mobility

Plenty of storage space in its multiple pockets

Fits comfortably, with adjustable waistband

Good value for money considering its features and performance
Reasons to Avoid
Not entirely waterproof

Pockets may not secure smaller items

Some may find the fit too loose
The Important Specs
Fit:

Standard fit

Inseam:

5" / 7" / 11"

Pockets:

Two slash hand pockets, two zippered back pockets

Material:

86% nylon, 14% spandex 90D stretch woven ripstop

Upf Rating:

UPF 50+
Review Roundup
The Outdoor Research Ferrosi Shorts are a real winner among hiking lovers, particularly for their impressive blend of comfort and durability. These shorts are lightweight and agile, making them an excellent choice for long hikes or quick outdoor jaunts.
Coming in a range of sizes and colors, the Ferrosi Shorts hit the sweet spot for most female hikers. They're not too short, nor too long and provide plenty of freedom of movement without looking baggy or unflattering. The fabric is stretchy and offers UPF 50+ sun protection, which is a cool bonus for those sunny-day hikes.
One rave review talked about how the shorts 'feel invisible', they are that comfortable. The reviewers appreciated their roomy fit, particularly around the waist and thighs.
The Ferrosi Shorts are praised for their ability to dry quickly. One user mentioned her surprise when, after being caught in an unexpected shower, her shorts were dry not long after the rain stopped. Another reviewer loved how breathable the material was, keeping her cool in hot weather conditions.
Storage is another highlight for these shorts. With two front hand pockets, two rear pockets and a zippered thigh pocket, hiking with essentials has never been easier. A handful of reviewers appreciated the functional pockets, saying they were deep enough to hold essentials securely.
There are, however, some downsides mentioned by users. Some commented about the lack of a built-in belt, which could have added an extra bit of fit adjustment. A few others noticed that the stitching around the waistband came undone after a few hikes, implying a possible durability concern over time.
Contrary to this, most reviewers felt that the Ferrosi Shorts held up well on rugged trails and in challenging weather conditions, consistently rating it highly for its resilience and tough nature.
Breathability & Ventilation
The material allows for excellent ventilation, really helping you stay cool in hot summer hikes. Customers noted feeling less sweaty and more comfortable, even in high temperatures.
Durability & Abrasion Resistance
Buyers applauded the Ferrosi shorts for standing up to rigorous backcountry use, maintaining their integrity even on harsh terrain. The blend of nylon and spandex makes for a robust material that can handle a good deal of wear and tear.
Fit
With a 'standard fit' and adjustable waistband, these shorts provided an accessible fit for various body types. However, a few users found the fit a smidgen loose, particularly in the waist area.
Mobility & Stretch
The Ferrosi Shorts are praised for their ample stretch which ensures mobility. Whether scrambling over rocks or striding through fields, users enjoyed unhindered movement.
Storage Options & Pockets
The shorts bag brownie points for their plenty storage options. However, some users did note that the pockets were a bit too deep, making it more difficult to keep hold of smaller items.
Value
Most users agreed that these shorts offer good value for money, given their range of features and solid performance. The blend of comfort, durability, and functionality makes them a worthy investment for any hiker.
Water Resistance & Quick Drying
While not altogether waterproof, these shorts do dry up pretty snappy after being wet. Users highly rated this feature as it came in handy during unpredictable weather.
Prices
Arc'teryx Gamma Shorts
Runner Up
Based on our research and testing, we think the Arc'teryx Gamma Shorts are a great choice if you're looking for women's hiking shorts to go play hard outside with, if our top pick isn't quite what you're looking for.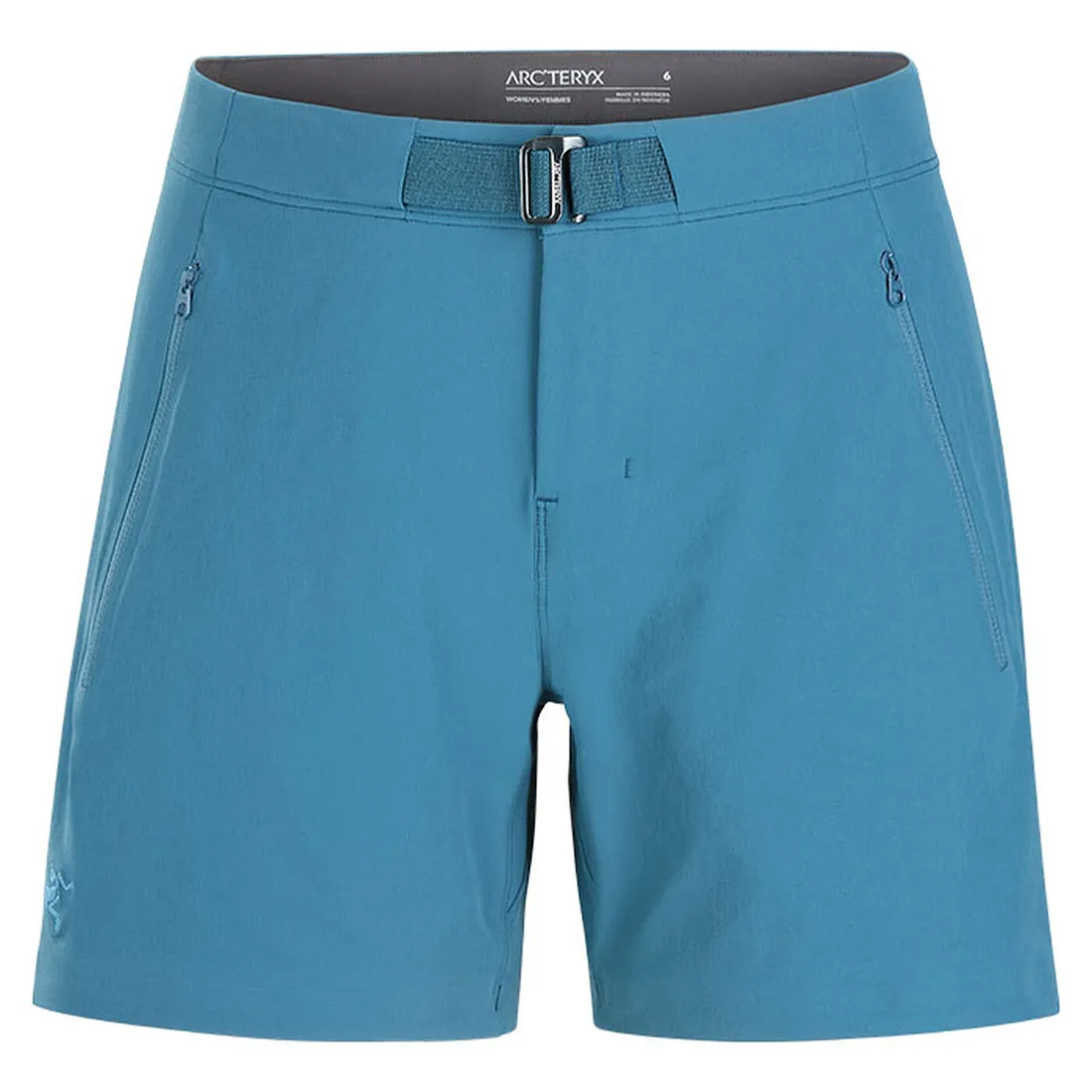 Reasons to Buy
Excellent mobility and stretch

Great breathability

Ample storage options

Durable and abrasion-resistant
Reasons to Avoid
Bit pricey for some budgets

May run large for some wearers
The Important Specs
Fit:

Trim, thigh length

Upf:

UPF 50+

Material:

Fortius DW 1.0 - 87% Nylon, 13% Elastane
Review Roundup
The Arc'teryx Gamma Shorts are certainly worth the attention of those who love to hike and want something that doesn't restrict movement, while also providing a hint of style. The construction of these shorts combines nylon and elastane, resulting in a durable product that can withstand different kinds of terrain and weather conditions. Hiking in the rain isn't an issue with these shorts as they offer rapid drying capabilities.
A key feature that sets these shorts apart is their outstanding mobility. The stretchy fabric and gusseted crotch give you the freedom to move without any hindrance. Whether you are ascending steep trails, practicing yoga by the campfire, or just ambling around the campsite, the Shorts adapt to your activity and provide absolute comfort. The smooth waistband further ups the ante for comfort.
The design aspect also deserves a mention. Available in neutral and vibrant colors, the Arc'teryx Gamma Shorts ensure the fashion-conscious outdoor lover isn't left wanting. The trim design isn't just for looks, it also reduces the quantity of fabric, thereby preventing excess bulking or snags while on the go.
When it comes to storage, the shorts offer two hand pockets as well as a handy thigh pocket with a zipper to secure important items. The Arc'teryx Gamma Shorts might not be teeming with pockets, but what is available is smart and user-friendly.
While feedback is overwhelmingly positive, some buyers have mentioned that they found the shorts a bit on the expensive side, and a few have noted that the sizing can run small. However, most online reviews confirm that the value and performance these shorts deliver are well worth the price. They also recommend checking out the size chart before making a final purchase.
From tackling day to day hiking adventures to trying out more challenging outdoor exploits, the Arc'teryx Gamma Shorts definitely stands out in style, comfort and functionality.
Breathability & Ventilation
With a breathable fabric blend, the Gamma shorts ensure hikers stay cool on the trail. Customers love that the shorts don't lead to overheating and sweat is wicked away efficiently on hot and humid days, ensuring comfort during strenuous hikes.
Durability & Abrasion Resistance
Arc'teryx's Gamma Shorts score high on durability due to their Fortius DW 1.0 material, a combination of nylon and elastane. Many users reported the shorts withstanding tough terrains and long treks with barely a scuff, a testament to their sturdy build and high abrasion resistance.
Fit
While most reviewers raved about their comfortable and stylish fit, it's worth noting some customers found the shorts run a bit large. Arc'teryx describes them as a 'trim fit', and most users welcomed the flattering silhouette they provide.
Mobility & Stretch
The elastane in the fabric offers excellent stretch, allowing for unrestricted movement. Users have mentioned they could bend, sit, and manoeuvre freely without feeling restricted while wearing these shorts. Combined with their gusseted crotch design, this makes them particularly suitable for climbing or high-intensity hiking.
Storage Options & Pockets
Practicality is a standout feature of these shorts. Reviewers appreciated the two hand pockets and a thigh pocket with zipper, which were praised for their spaciousness and ease of access, allowing hikers to carry essential items.
Value
Though the shorts are somewhat pricey, customers emphasized that the quality, fit, and functionality they offer justify the cost. Many have claimed this as an investment piece in their hiking gear that's worth every penny.
Water Resistance & Quick Drying
The Arc'teryx Gamma Shorts have remarkable water resistance which customers have vouched for online. They report that water droplets bead off the shorts and they dry quickly after exposure to rain or when submerged in water, reducing discomfort on the trail.
Prices
No prices found. Check back later!
Columbia Sandy River Short
$29.99
Best Budget Women's Hiking Shorts
Based on our research and testing, we think the Columbia Sandy River Short are a great pick if you're looking for women's hiking shorts that are more budget friendly, without sacrificing too much in quality.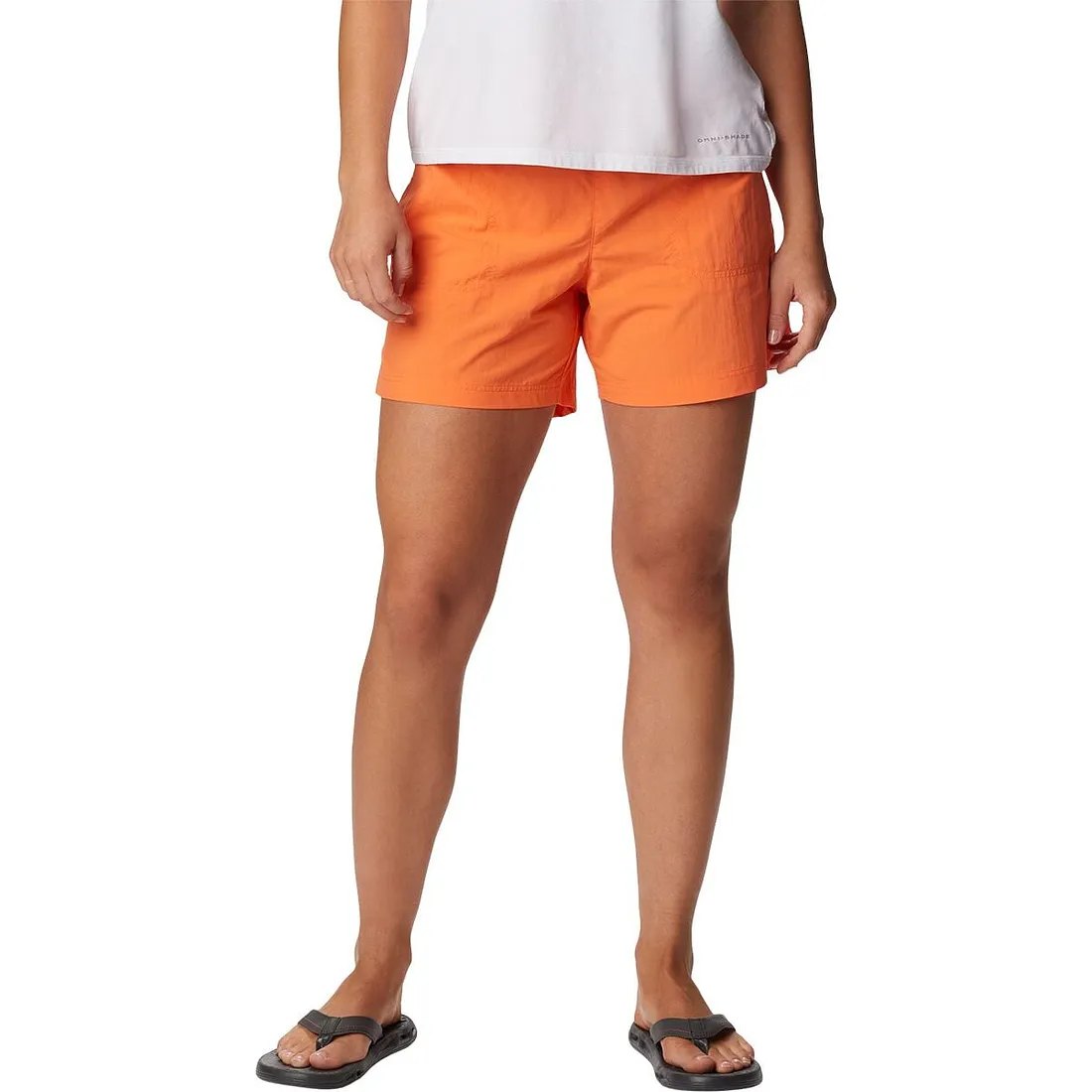 Reasons to Buy
Affordable without compromising quality

Quick-dry fabric is a boon for rainy days and water crossings

Comfortable and ample mobility for various hiking terrains

Versatile for other outdoor activities too
Reasons to Avoid
Lack of a built-in belt might be an issue for some

The storage options are somewhat limited

Might run a bit large and requires careful size selection
The Important Specs
Inseam:

5 in

Pockets:

Two front, one back

Material:

100% Nylon Perfecta Plus II

Built In Upf:

30
Review Roundup
Hiking is all fun and games until you're halfway up the trail in uncomfortable attire. That's when the Columbia Sandy River Short comes to your rescue. Billed as a budget-friendly option in the category of hiking shorts for women, these shorts have a lot to offer.
First off, these shorts are made of quick-drying nylon, which is, honestly, a boon for those unexpected rain showers or accidental water crossings. There's nothing worse than walking around in soggy shorts - and with Columbia Sandy River, that's one less thing for you to worry about.
It's not enough for shorts to dry quickly, they should also be comfortable. And comfort is very much on the table with the Columbia Sandy River Short. They come with an elastic waist, an adjustable exterior belt and a moderate inseam, to ensure a snug, comfortable fit. These design choices make them super comfortable and versatile for women with different body types.
One feature buyers repeatedly praised was the shorts' lightweight design. They're so light you'd hardly believe you're wearing them. This is a big plus for hikers who like to travel light and fast.
Pockets always come in handy when hiking, and these shorts offer that too. They have two side pockets, just enough to carry a few small essentials.
While most user reviews were positive, some did mention issues with inconsistency in sizing. These might fit differently than other Columbia products you might own, so it's a good idea to try them on before setting off on your adventure.
Breathability & Ventilation
You'll find these shorts offer terrific breathability and ventilation, thanks to the quick-dry fabric. Testers have showered praise on it, especially when hiking in hotter climates, leaving them feeling fresh and cool throughout their adventure.
Durability & Abrasion Resistance
The Columbia Sandy River Short is actually pretty robust for its price point. Made from nylon, it's surprisingly resilient to wear and tear that can come from scrambling over rocks or brushing against tougher flora on trail. However, if heavy-duty hiking is your thing, you might want to consider other options.
Fit
Most users have found the Sandy River Shorts to be very comfortable, but there are a few who mention that they run a bit large. Thus, careful size selection is advised to get the best fit.
Mobility & Stretch
Even without an elastane blend, user reviews suggest the shorts offer a good deal of mobility, making them apt for a variety of terrains and activities. Having said that, super-stretchy activities might push them to their limits.
Storage Options & Pockets
Storage is somewhat basic, with two front pockets and one at the back. Though they aren't zippered, they seem to hold items snugly based on user experiences. But if you have more stuff to carry, you might want to bring a supplementary storage option.
Value
For the price, these shorts really pack a punch. They bring together a number of excellent features making them a great budget option. If you can overlook the minor niggles such as pocket storage and sizing, they truly deliver bang for your buck.
Water Resistance & Quick Drying
Now, if you get caught in the rain or decide to take a refreshing dip in a trailside stream, the quick-drying feature of these shorts is a godsend. They dry out impressively fast, downplaying that 'soggy shorts' effect quite a bit.
Prices
Patagonia Barely Baggies Shorts
$59.00
Best Women's Hiking Shorts for Quick Drying
Based on our research and testing, we think the Patagonia Barely Baggies Shorts are a solid choice if you want women's hiking shorts that's really well suited to Quick Drying.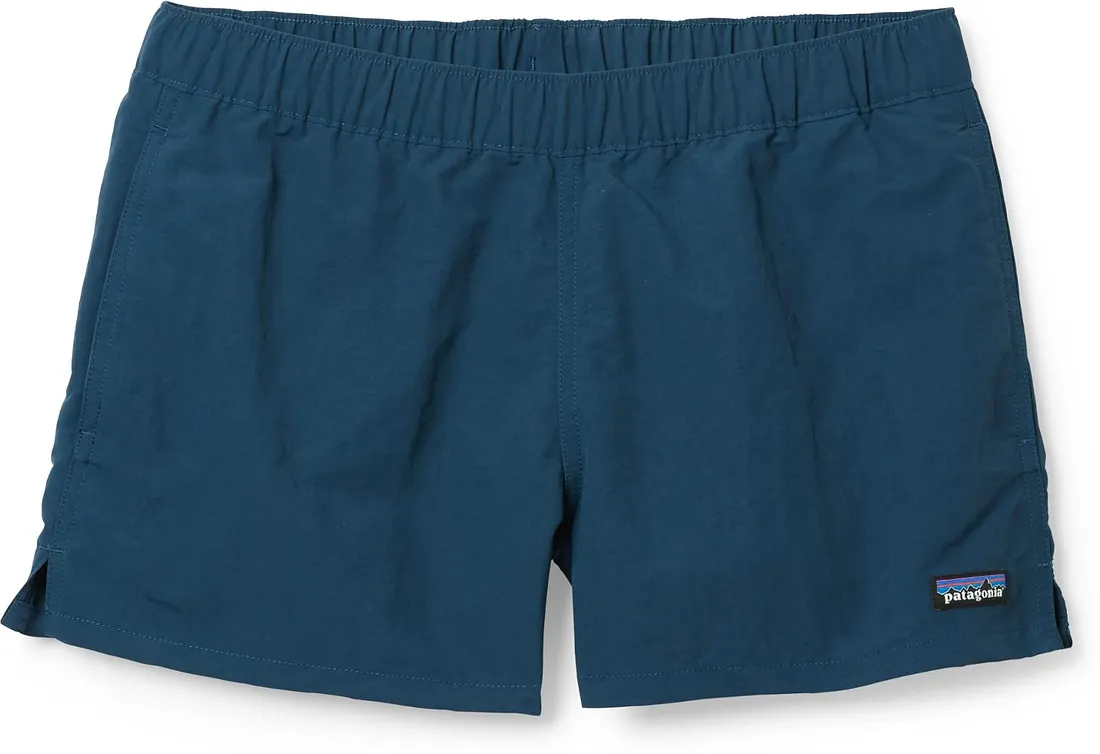 Reasons to Buy
Extremely quick drying

Comfortable and stretchy material

Ample pocket storage

Great mobility and flexibility for diverse activities
Reasons to Avoid
May fit loosely on some body types

Lacks some durability compared to other shorts
The Important Specs
Material:

100% Recycled Nylon

Inseam Length:

2.5"

Number Of Pockets:

2
Review Roundup
With Patagonia Barely Baggies Shorts, you can pack light and dry fast. Great for hikers who sweat a lot, these shorts are made with a quick-drying recycled polyester fabric. They're just as suitable for a lazy day at the beach as they are for a strenuous hike up a mountain.
Users love that the fabric is highly breathable and requires little time to dry, making it perfect for a dip in the creek or unexpected bouts of rain. The shorts also come with a water-repellent finish, adding an extra layer of defence against wet conditions.
In terms of fit, they sit nicely on the hips, are snug yet comfortable, and many users have noted there's not too much thigh-hugging going on. You will have plenty of room to manoeuvre, whether you're scrambling up rocky terrain or just strolling through a sunny park.
Of course, it's not just about functionality. These shorts also score big on the style front. Their low-key, laid-back vibe can be dressed up or down, depending on what your day has in store. Plus, they come in a wide range of colors and patterns, so beauties from all walks of life can find something that suits their unique taste.
However, there are a few gripes among users. Some find the elastic waistband a bit too tight, leading to discomfort after a long day of wear. The pockets are also quite shallow which, while fine for carrying small items, is less ideal for loose change or your smartphone. Some users have also expressed concerns that the shorts are shorter than what they're used to, which might not be ideal for those who prefer a bit more coverage.
All in all, Patagonia Barely Baggies Shorts deliver a winning combination of comfort, quick-dry capabilities, and considerate design choices that have earned them a top spot in hikers' wardrobes. But, keep in mind the potential issues with the fit, pocket depth and length.
Breathability & Ventilation
The lightweight design of the Baggies shorts allows for excellent breathability and ventilation. They keep you feeling breezy and cool even in warm and humid climates, making them a popular choice for summer hikes or beach outings.
Durability & Abrasion Resistance
While the Patagonia Barely Baggies Shorts do offer some durability, a few users noted that they encountered wear and tear a bit earlier than expected. The nature of the lightweight material does make it susceptible to damage, especially during high-intensity activities.
Fit
Opinions on the fit of the Patagonia Barely Baggies varied among users - while some loved the relaxed, comfy fit, others found them to be somewhat loose and preferred something more form-fitting.
Mobility & Stretch
With a loose, relaxed fit and stretchy material, these shorts offer excellent mobility for a diverse range of activities. They are perfect for hiking, climbing, or even yoga. However, some users pointed out they can feel a little baggy and wished for a more tailored fit.
Storage Options & Pockets
Equipped with two large pockets, the Baggies provide ample storage for small essentials. Users appreciated the amount of room available, although some did note that heavier items can cause the shorts to sag due to the lightweight material.
Value
Given their comfort, versatility, and quick-drying capability, users found the Baggies to offer reasonable value for money. However, the concerns over durability is something to consider when looking at their overall value.
Water Resistance & Quick Drying
A standout feature of the Barely Baggies is their incredible quick-drying capabilities. Users were amazed by how quickly they dried out post-wade or after getting caught in a drizzle. Absolutely top-notch in this area.
Prices