Quick heads-up: some of the links on this page are affiliate links. If you make a purchase through them, we may earn a small commission (at no extra cost to you). This small bit of income helps keep our site running.
Best Hiking Pants for Women of 2023
This post was last updated on December 06, 2023.
Looking for the Men's version of this post? We've got you covered: Best Hiking Pants for Men of 2023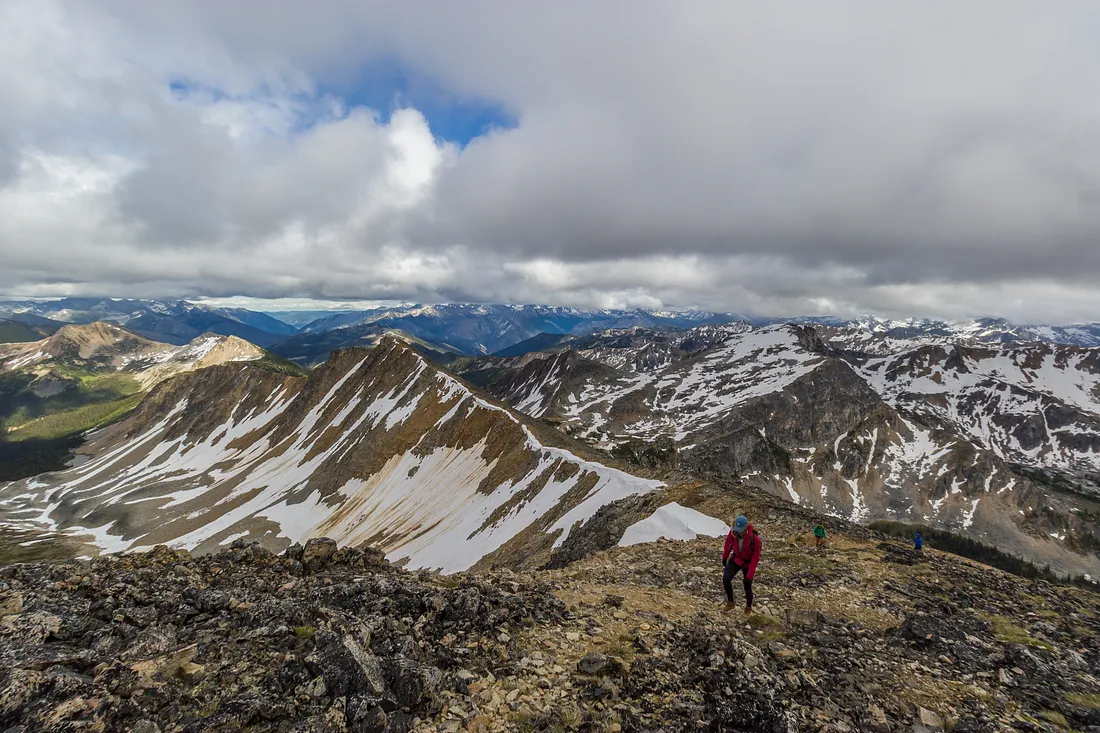 Welcome to the quest for finding the best hiking pants for women. It's no secret that every great adventure starts with the right gear, and the PrAna Halle Pant ticks all the boxes. Imagine a hiking pant that marries durability with comfort, while also adding a touch of style for those Instagram-worthy shots. That, my outdoors-loving friends, is what you get with PrAna Halle.
PrAna Halle Pants are a cut above the rest, not just because they're flexible, but because they offer an impressive batch of features - excellent durability, fantastic mobility, and plenty of storage pockets. This makes your trek, climb or camping adventure much more enjoyable. More so, they also strike a great balance between water resistance and breathability, ensuring that you stay comfortable no matter the weather.
But hey, we get it. Not everyone's first choice will be PrAna Halle, and that's okay! Style, fit, and budget matters — which is why we've also identified two solid runners up along with a convertible option and a budget-friendly pick. So tighten up your hiking boots, adjust your backpack, and let's dive into finding the right hiking pants for you. Don't forget to check out our posts on Best Hiking Shirts for Women, Best Sun Protection Shirts for Women, and Best Hiking Shorts for Women for a complete gear upgrade.
Our Top Recommendations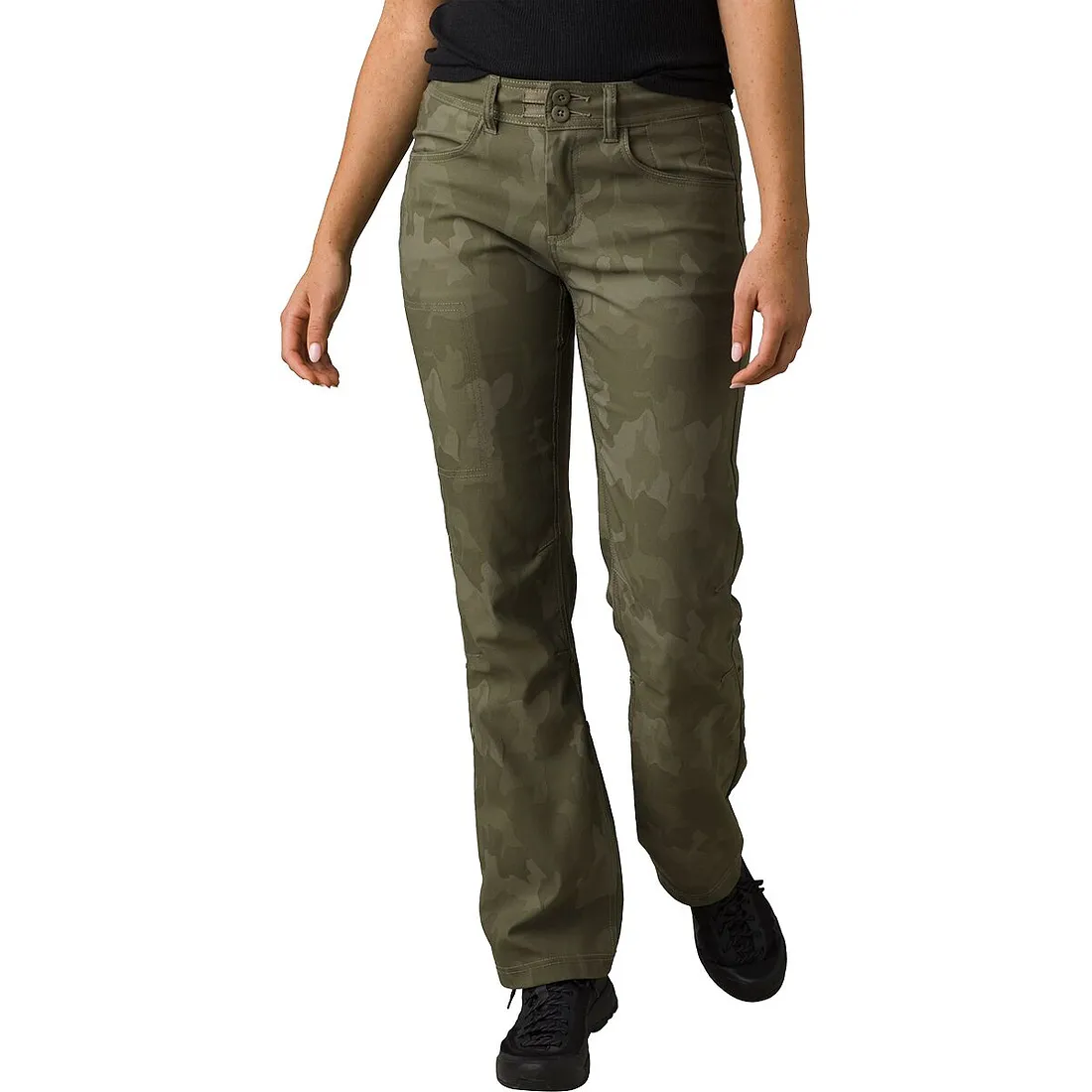 PrAna Halle Pant
The PrAna Halle Pant nabbed the top spot due to rave reviews stressing its unbeatable versatility with features like roll-up legs for variable terrain, and commendations on its stretchy, durable fabric that's ideal for tackling tough trails.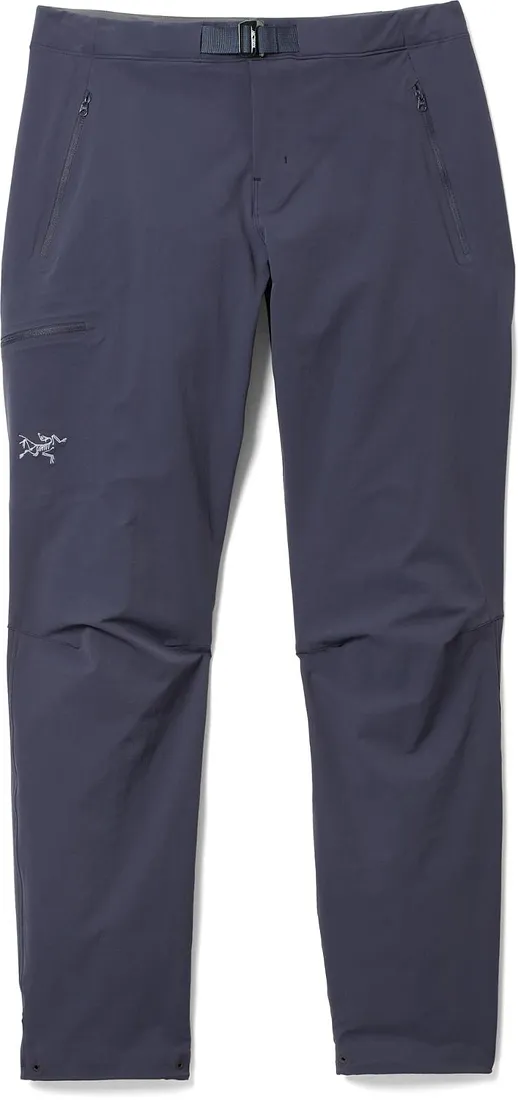 Arc'teryx Gamma LT Pant
Users rave about the Arc'teryx Gamma LT Pant's exceptional durability and comfortable, stretchy fabric, setting it apart as a top pick for female hikers.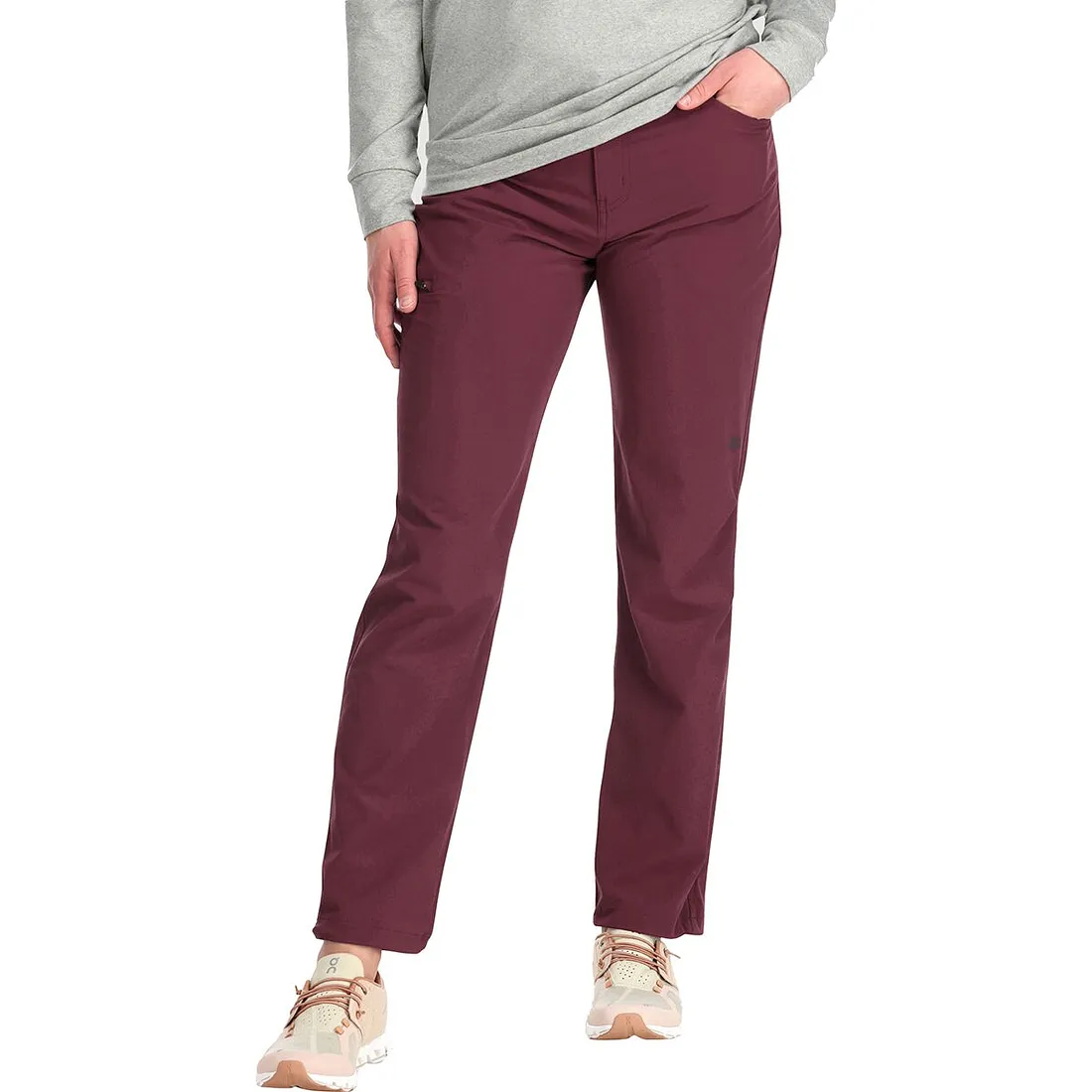 Outdoor Research Ferrosi Pants
The Outdoor Research Ferrosi Pants snagged the top runner-up spot because users raved about the pants' extraordinary durability and comfort, as well as their stretchy yet lightweight fabric, making them a stellar choice for all-day hikes.
What you should look for
(and what we test for)
Functionality
Pick hiking pants with practical features like convertible legs for a quick switch to shorts, adequately sized and secure pockets for necessary items, and ideally, a UPF rating for protection against harmful sun rays.
Fit and Comfort
Look for women's hiking pants that offer a comfortable fit, not too tight or too loose, allowing for unrestricted movement, especially in the hips and knees, crucial when you're hiking, camping, or climbing.
Weather Resistance
They should have good weather resistance including features like water repellency for sudden rains and insulation for cold climate hikes.
Material and Durability
The pants should be made from sturdy, abrasion-resistant materials like nylon or polyester blends, capable of withstanding the wear and tear of outdoor adventures and occasional encounters with rough surfaces.
The Best Women's Hiking Pants
Based on our research and testing, we think the PrAna Halle Pant are the best Women's Hiking Pants on the market right now, for anyone looking to play hard outside.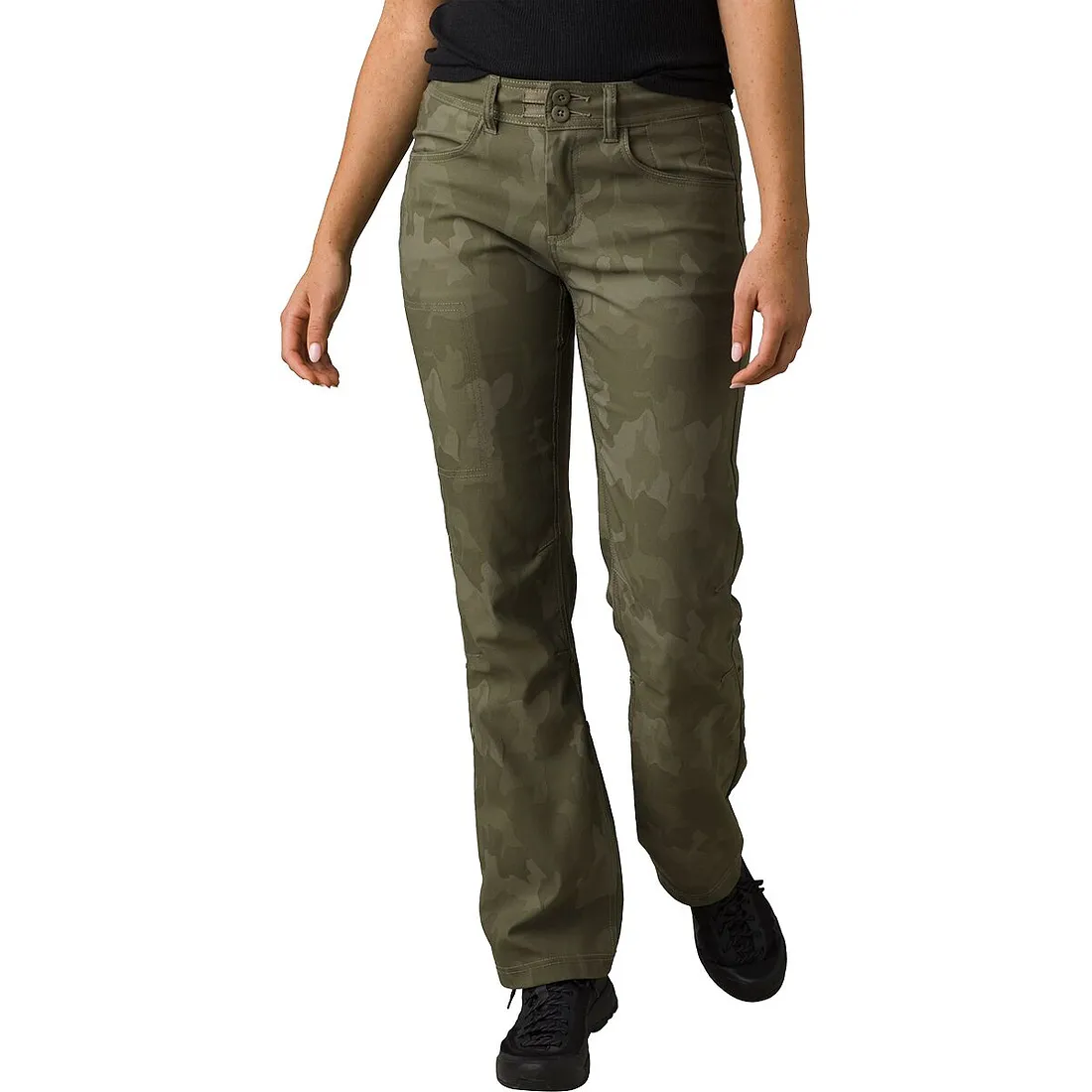 Reasons to Buy
Comfortable and versatile

Provides good range of motion

Water resistant and quick drying

Durable fabric stands up to trail use

Several storage options
Reasons to Avoid
May be too warm for hot climates

Fit might be a bit loose for some users

Some customers reported sizing issues

Not the most fashionable option on the market
The Important Specs
Inseam:

32 inches

Pockets:

Two hands, two back, one hidden zip

Material:

97% Nylon, 3% Spandex

Uv Protection:

UPF 50

Reinforced Knees:

Yes

Bluesign Approved:

Yes
Review Roundup
The PrAna Halle Pants really step it up when it comes to versatility. Ideal for any type of hiking trail you might encounter, and stylish enough to head straight to a café after. These pants are a comfortable fit that adjusts easily to your body type thanks to the customizable inseam length and mid-rise waist, made with strong, stretchy material, enabling you to move freely even on the trickiest of trails.
The pants are a durable, water and abrasion-resistant design, providing good protection from the elements, making them a suitable choice for a variety of hiking conditions, although some users have noted that they aren't as warm as some other options on chillier trails.
It features articulate knees and a relaxed fit that make them great for active days in the great outdoors. But it's not all about function - the PrAna Halle Pants are also about style. With their sleek design and flattering fit, they are the kind of hiking pants you actually want to be seen in. Users have echoed this sentiment, mentioning the cool aesthetic and feel-good fit of the pants.
Practicality is also a strong point of the PrAna Halle pants. They include a hidden zip stash pocket at the upper right leg, perfect for essentials you want to keep close, however, some users have pointed out the lack of more pockets as a slight downside.
The pants have received a few criticisms, though. The button closure on the pants has been reported as weak and tends to come off easily and, as mentioned before, they're not your go-to for colder terrains or winter hikes due to lack of insulation.
Despite those few pitfalls, purchasers definitely love these pants, praising them for their comfort, durability, and stylish appeal. They are indeed a high-quality option for those on the lookout for the perfect women's hiking pant.
Breathability & Ventilation
Since it uses a blend of nylon and spandex, breathability can be considered as good. It may not be the absolute coolest option for hot, humid hikes, but it certainly does a good job at balancing warmth for colder climates with breathability for moderate climates.
Durability & Abrasion Resistance
PrAna Halle Pant uses tough nylon blend fabric that could easily standup against rough elements in the trail. Whether hiking through thick bushes or scrambling on rocks, the Halle Pant has shown it can take a beating. Plus, the reinforced knees add an extra layer of protection for heavy-duty use.
Fit
The fit is relaxed and comfortable. But that's also a subject of some criticism. Some users found the pants to be a bit on the loose side, and the sizing a bit off standard.
Mobility & Stretch
With a bit of spandex in the mix, the pants provide ample amount of stretchiness that assists greatly in your hikes or climbs. Few pants in the market can truly offer such a versatile range of motion.
Storage Options & Pockets
PrAna Halle Pant offers ample storage options. It has five well-placed pockets, including a stealthy zip one, which provide plenty of space to carry small essentials. However, some users have reported the pockets aren't as deep as they'd like.
Value
While PrAna Halle Pant is not the cheapest option, it offers an excellent balance of function, durability, and style. Considering its longevity and the peace of mind accompanying a reliable pair of hiking pants, many customers have expressed it's worth the investment.
Water Resistance & Quick Drying
These pants offer excellent water resistance. Not only do they shed off light rain and morning mist, they also dry pretty quickly. So, even if you do get a bit wet, you won't stay that way for long.
Prices
Arc'teryx Gamma LT Pant
$180.00
Runner Up
Based on our research and testing, we think the Arc'teryx Gamma LT Pant are a great choice if you're looking for women's hiking pants to go play hard outside with, if our top pick isn't quite what you're looking for.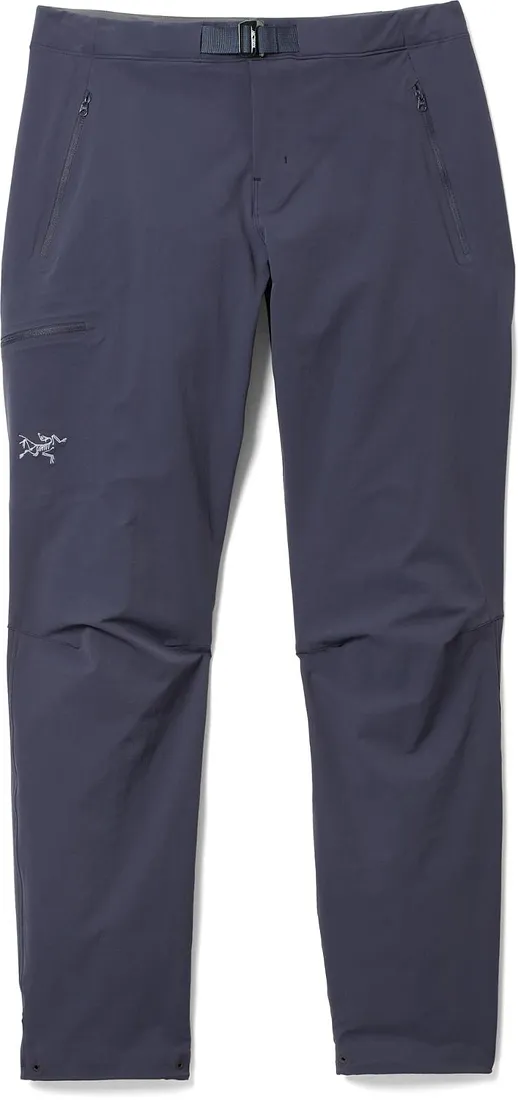 Reasons to Buy
Robust fabric that endures wear and tear

Holds up well in rainy conditions

Superb mobility for climbing and hiking

Several handy storage options
Reasons to Avoid
A bit pricey for budget-conscious shoppers

Might run large for some body types

No built-in belt
The Important Specs
Belt:

Not included

Inseam:

32 inches

Pockets:

2 hand pockets, 1 thigh pocket, 1 rear pocket

Material:

Fortius DW 2.0 (88% nylon, 12% elastane)
Review Roundup
The Arc'teryx Gamma LT Pant makes a mark in the hiking world with its unique combination of comfort and durability. These pants score top points for not just being comfortable enough for wearing on a trail all day, but also for their ability to withstand the rigors of the rough outdoors. Made with Fortius DW 2.0 fabric, a blend of nylon and elastane, these pants offer that perfect balance between breathability and robustness.
Where the comfort knocked it out of the park, the fit and mobility get equal rave reviews from users. A specially designed articulated pattern allows freedom of movement no matter what type of terrain you're facing. Whether you're scrambling over rocks or trekking uphill, these pants deliver on their promise of unrestricted movement. Plus, the adjustable integrated webbing belt with a metal buckle ensures that the pants sit just right.
But it's not all about the comfort and mobility. User feedback also highlighted how multi-functional these pants are. With a plethora of pockets including two zippered hand pockets, and a zippered thigh pocket, you have plenty of options for securely storing your essentials like keys, maps or granola bars.
However, it would be remiss to not mention the notable customer feedback on these pants' sizing. Many users have suggested that they run a bit larger, so it might be a good idea to order a size smaller than you usually would. Another gripe some people have had is the lack of color options, but that's more of an aesthetic preference than a performance issue.
All in all, the Arc'teryx Gamma LT Pant certainly has its fans among the hiking community, with many buyers praising its comfort, maneuverability, and practical design. The minor issues regarding size and color range do little to detract from its bigger qualities.
Breathability & Ventilation
Thanks to its nylon and elastane blend, these pants offer a solid balance between breathability and wind-resistance. Although they are not explicitly ventilated, the fabric's ability to wick moisture efficiently contributes to overall body temperature regulation during an intense climb or hike.
Durability & Abrasion Resistance
The Arc'teryx Gamma LT Pant has garnered goodwill from outdoor enthusiasts and experts alike for its endurance. Built with the robust Fortius DW 2.0 fabric, these hiking pants are designed to resist wear and tear, making them perfect for rugged terrains and treacherous trails.
Fit
While many people found these pants comfortable and fitting well, others remarked that they might run large for certain body shapes. It's thoughtful to check size charts beforehand or consider trying them on in a physical store.
Mobility & Stretch
Another high-scoring feature of the Arc'teryx Gamma LT is mobility. The pants offer a four-way stretch, meeting the demands of activities that require a wide range of motions, such as climbing or stepping over obstacles. The gusseted crotch only adds to this flexibility, making these pants a crowd-pleaser among active hikers.
Storage Options & Pockets
The pants come with two hand pockets, a thigh pocket, and a rear pocket providing ample space for small essentials. However, some customers wished the pockets had zips for added security.
Value
While the Gamma LT Pant sits at a higher price point compared to other hiking pants, most buyers who have invested in them believe that you're purchasing durability, flexibility, and quality that might outlast cheaper counterparts.
Water Resistance & Quick Drying
Many reviewers praised the pants for holding up well in light to moderate rain. While they are not fully waterproof, their water-resistant properties combined with a quick-drying fabric make the Gamma LT an excellent choice for unexpected weather changes.
Prices
Outdoor Research Ferrosi Pants
$99.00
Runner Up
Based on our research and testing, we think the Outdoor Research Ferrosi Pants are a great choice if you're looking for women's hiking pants to go play hard outside with, if our top pick isn't quite what you're looking for.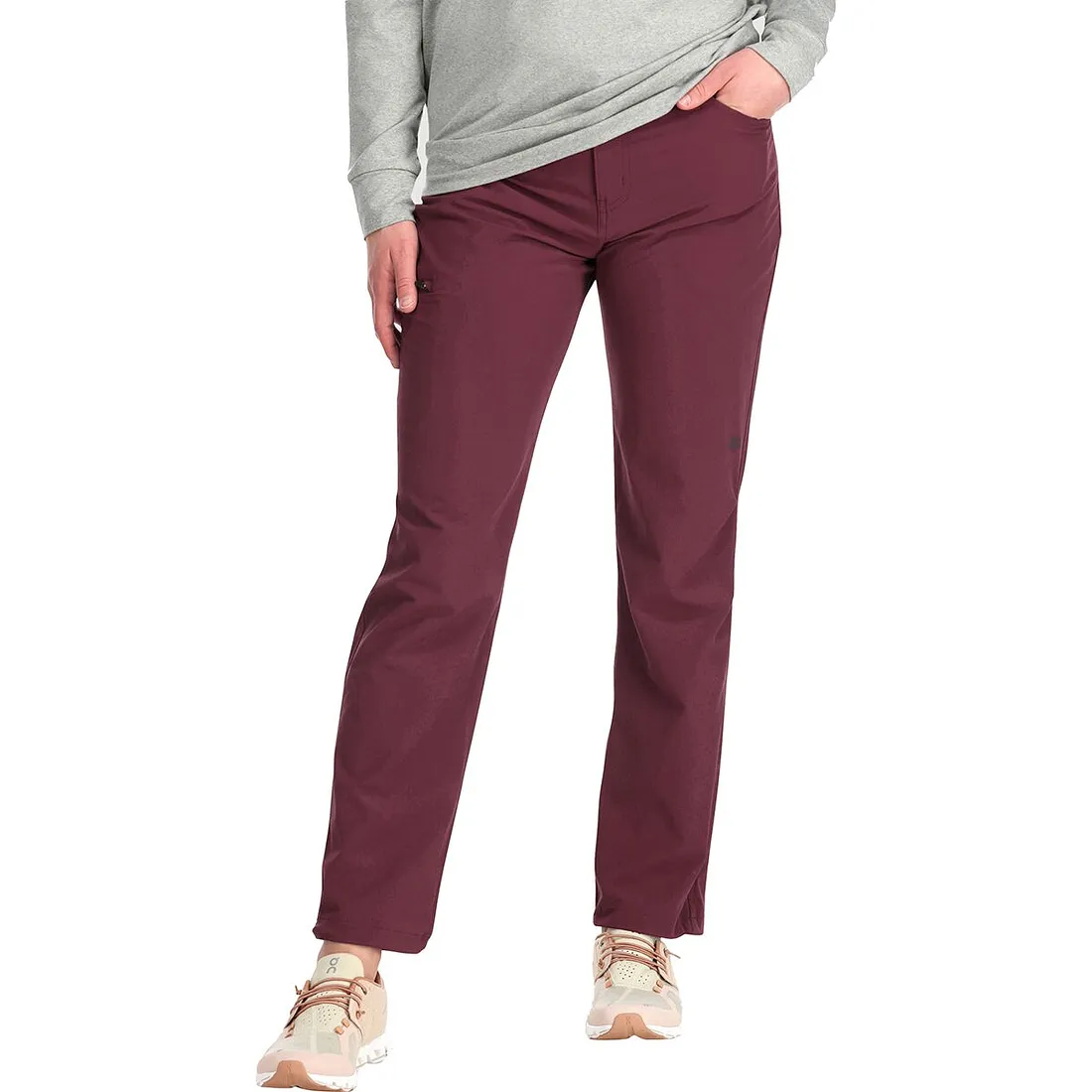 Reasons to Buy
Excellent mobility and stretch

Durable abrasion-resistant fabric

Breathable and ventilates well

Dries quickly after exposure to water
Reasons to Avoid
Fit may not be flattering for all body types

Lack of waterproof qualities

Fewer storage options
The Important Specs
Pockets:

Two hand pockets, one zippered thigh pocket

Material:

86% nylon, 14% spandex

Upf Protection:

UPF 50+

Care Instructions:

Machine wash and dry
Review Roundup
Outdoor Research Ferrosi Pants are highly favored by women backpackers and climbers across the globe. This popularity owes a great deal to the amazing mix of comfort, durability, and versatility offered by these pants.
In terms of comfort, users rave about the soft and light fabric that the pants are made from. Most find it incredibly comfortable against the skin, and it's widely appreciated for its quick-drying and breathable properties. Not to forget, these pants have a stretchy quality that allows unrestricted movement - a godsend for women who hike or climb.
Durability is another point worth mentioning. Many users have reported extensive use over several seasons with minimal tear or wear to show for it. This makes the Outdoor Research Ferrosi Pants a great investment for any outdoor enthusiast; they seem to resist damage from thorns and rocks pretty well.
Nonetheless, it's worth noting that they may not be the warmest option available, particularly for hiking in colder weather. A few users have mentioned that the Ferrosi Pants may not provide enough warmth during late fall or winter hikes. But they work fantastically in mild to warm weather.
As for versatility, users find these pants to be stellar. They transition well from trail to town, and their slim fit and flattering cut make them stylish enough for casual wear. The roll-up leg feature is greatly appreciated for crossing streams or tackling uphill climbs.
The added pockets, including a zippered thigh pocket, have been praised for their practicality. The only common critique here involves the depth of the front pockets, with some users finding them a bit shallow. However, the zippered thigh pocket seems to compensate for it by providing secure storage.
Finally, users were generally pleased with the sizing and the assortment of available colors. The adjustable waist tie has been of great help to many users to refine the fit according to their liking.
Breathability & Ventilation
The nylon and spandex blend fabric offers good breathability, as per many user reviews. Ventilation is further enhanced by the lightweight nature of the fabric, keeping you cool on strenuous hikes.
Durability & Abrasion Resistance
Buyers consistently highlight the strong, abrasion-resistant fabric that the Ferrosi Pants use. The pants hold up well under rigorous conditions, be it scrambling over rock surfaces or trekking through dense undergrowth.
Fit
The fit can be a hit or miss, according to buyers. While some women found the pants to fit perfectly, others noted they aren't universally flattering and recommend trying on before purchase.
Mobility & Stretch
One area where the Ferrosi Pants shine is in their stretch and mobility. Many hikers love the pants' ability to move with them, rather than restricting them - all without losing their shape!
Storage Options & Pockets
Comprising two hand pockets and a zippered thigh pocket, some hikers feel like more storage space would be beneficial. Nonetheless, the existing pockets are praised for their deep, functional design.
Value
Considering the durability, stretch, and quick-drying capabilities, many users deem the Ferrosi Pants as good value for money. However, some may hesitate due to the lack of comprehensive waterproofing and limited storage.
Water Resistance & Quick Drying
While the Outdoor Research Ferrosi Pants aren't waterproof, they dry out pretty quickly once wet. Users have noted their ability to shake off a light drizzle and air-dry in record time after a river crossing.
Prices
Columbia Saturday Trail Stretch Pant
$70.00
Best Budget Women's Hiking Pants
Based on our research and testing, we think the Columbia Saturday Trail Stretch Pant are a great pick if you're looking for women's hiking pants that are more budget friendly, without sacrificing too much in quality.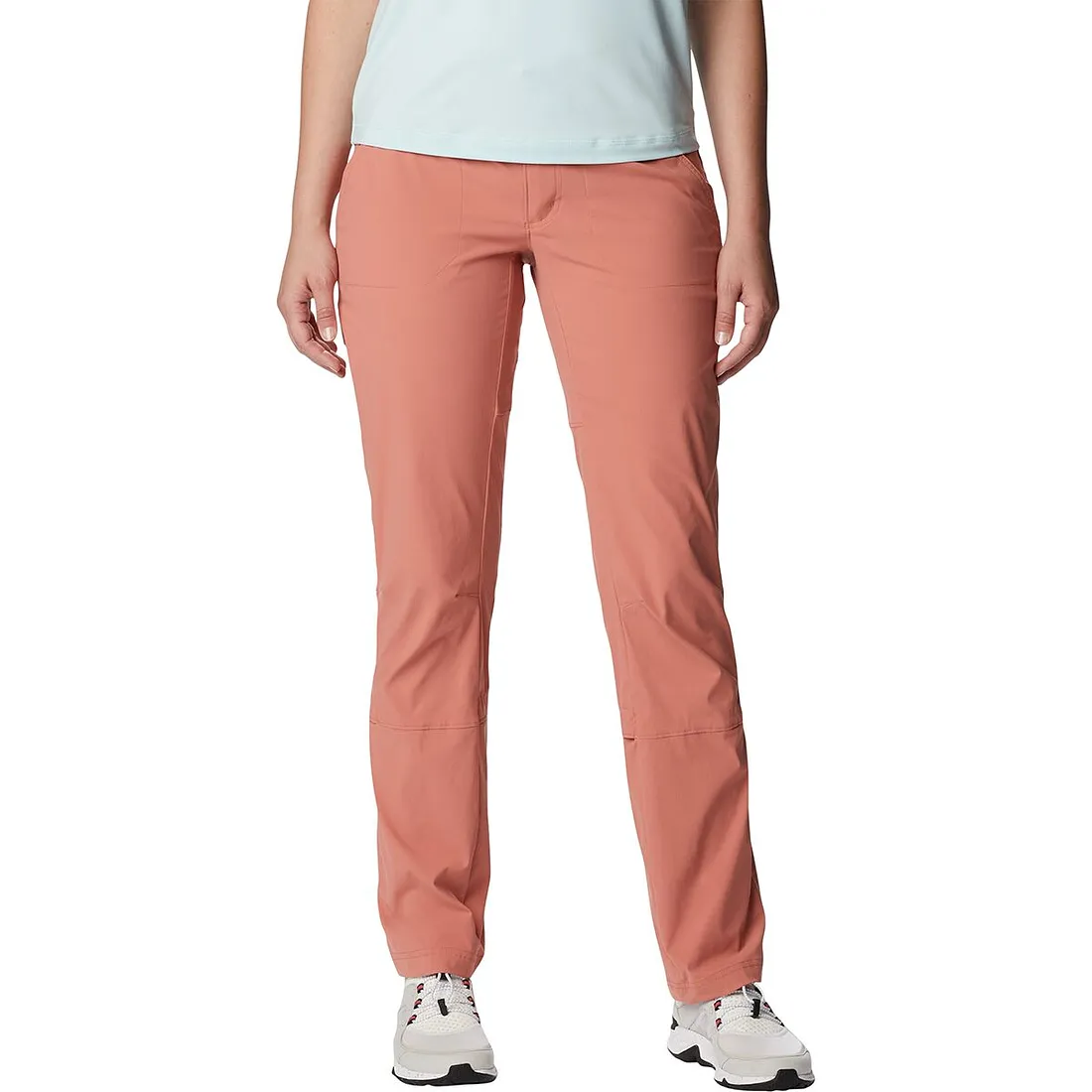 Reasons to Buy
Durable and resistant to abrasion

Breathes well and vents heat efficiently

Fairly resistant to water and dries quickly

Highly flexible with a good range of motion

Plenty of storage options with spacious pockets

Cut to fit women's shapes precisely

Excellent bang for the buck
Reasons to Avoid
Not as water-resistant as some other pants

Could be hotter than other pants in extreme conditions

May need regular reapplication of the water-resistant treatment
The Important Specs
Pockets:

2 front, 2 rear, 1 cargo

Fit Type:

Active Fit

Material:

Omni-Shield Summiteer Lite 96% nylon, 4% elastane

Upf Protection:

50+
Review Roundup
The Columbia Saturday Trail Stretch Pants have been a favorite among women hikers, especially those on a budget. They're incredibly popular for their blend of comfort, durability, and affordability, without skimping on quality. The satiny finish not only provides these pants with a touch of style, but offers much-needed water-resistance, perfect for those unpredictable trail conditions.
Users love the two-way comfort stretch which offers great mobility while hiking up steep trails or scrambling over rocks. The acceptable length combined with a straight-leg design doesn't cling to your legs, ensuring your pants won't uncomfortably ride up while walking.
One drawback that some buyers noticed is the sizing, which seems to run a bit small. It may be a good idea to order a size up to ensure a nice, comfortable fit. Others have noted that although the fabric is high-quality, they are not insulated, which might make them less than ideal for chilly weather hiking. However, this can be easily remedied by layering them with thermal leggings.
If you'd like to make use of the UPF 50 sun protection, the protective Omni-Shade technology is a great feature to have. It blocks out harmful UVA and UVB rays, preventing sunburn and long-term skin damage, which can come as a real boon on those scorching summer hikes.
Many users give the gusset detail and mid-rise style thumbs up, claiming it provides a figure-flattering fit. The pants also come with a series of pockets, a security pocket and zip-closed pocket, allowing for handy placement of essential items whilst on the move.
For infrequent hikers or those sticking to a tight budget, these pants have made quite an impression. Users claim they strike a fantastic balance of practicality, comfort, and affordability, making them a popular choice for budget-conscious hikers.
Breathability & Ventilation
These pants are highly appreciated by users for their breathability and heat venting efficiency. The lightweight fabric allows airflow and keeps the wearer comfortable even during high exertion activities. However, in very hot conditions, other pants with better ventilation might be more suitable.
Durability & Abrasion Resistance
Constructed from nylon and elastane, the Columbia Saturday Trail Stretch Pant holds up well to the stresses of the trail. While being remarkably durable, they also resist abrasion effectively, making them a perfect choice for hikers who tread challenging terrain. However, extra caution is advised when trekking through areas with sharp rocks or thorny undergrowth as the material can snag.
Fit
These pants are cut to precisely fit female shapes and come in an array of sizes. They are designed with an active fit that stays close to the body while allowing a comfortable movement range. However, some users insisted they come up slightly small, suggesting potential buyers try on before purchasing.
Mobility & Stretch
The 4% elastane in the fabric composition gives these pants a good measure of stretch, providing flexibility and freedom of movement. While the pants are designed with an active fit, they comfortably accommodate high-step actions, which has received numerous positive comments from users.
Storage Options & Pockets
Adequately equipped with 2 front pockets, 2 rear pockets, and 1 cargo pocket, these pants offer ample storage space for basic essentials. Unfortunately, none of these pockets are zip-secured, which is a potential downside for storing valuable items.
Value
Considering its durability, comfort and practical functionality, many users agree that the Columbia Saturday Trail Stretch Pant offers a superb cost to value ratio. They fall squarely in the budget category of hiking pants, and yet they significantly outperform many of their peers.
Water Resistance & Quick Drying
Columbia's Omni-Shield technology makes these pants fairly resistant to light showers and incidental splashes. When wet, they dry relatively fast due to the thin fabric. Some reviewers, however, stressed that a fresh application of a durable water repellent (DWR) treatment could improve performance in wet conditions.
Prices
Columbia Silver Ridge Convertible Pants
$74.99
Best Women's Hiking Pants for Convertible
Based on our research and testing, we think the Columbia Silver Ridge Convertible Pants are a solid choice if you want women's hiking pants that's really well suited to Convertible.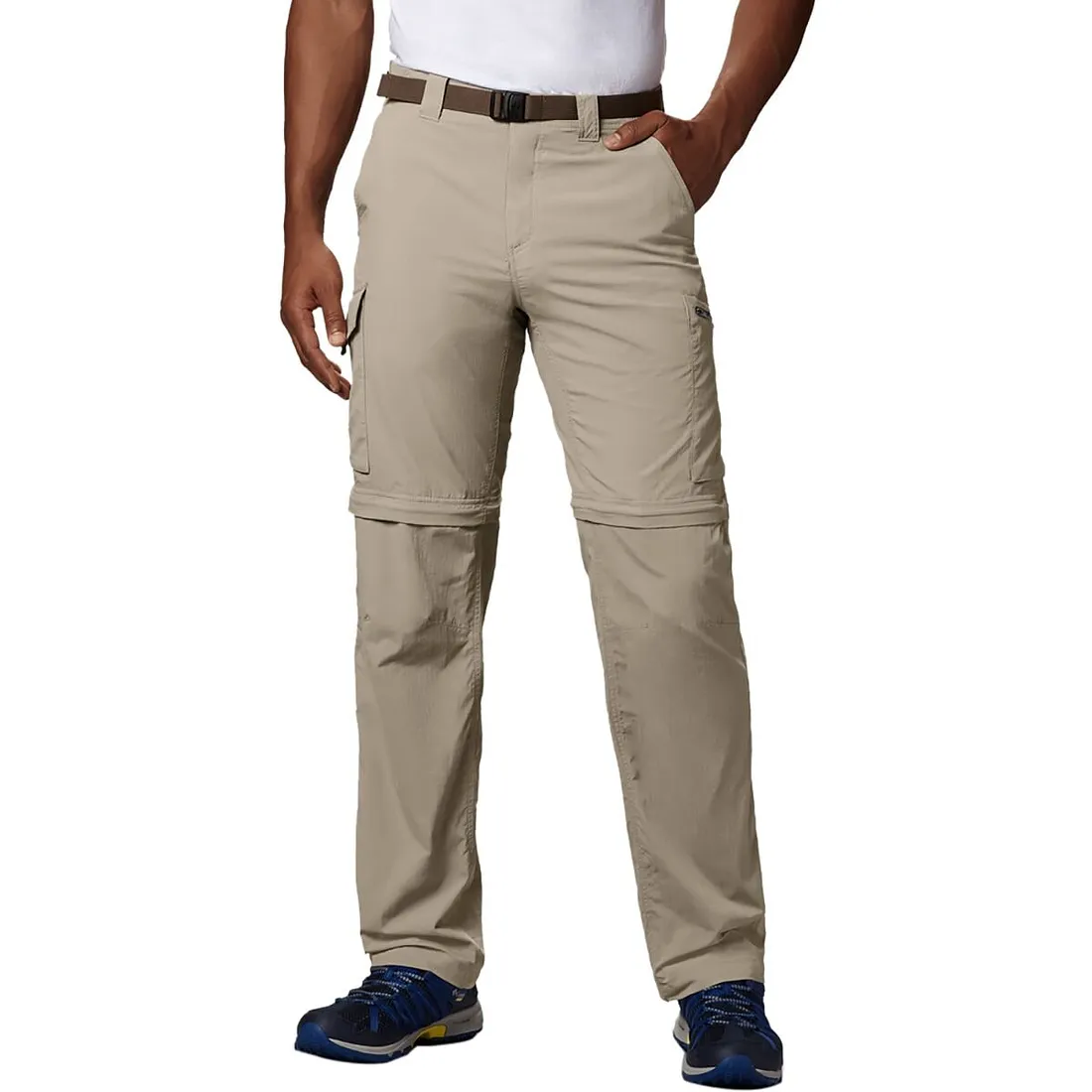 Reasons to Buy
Columbia's Silver Ridge Pants are versatile

Breezy and quick dry

Plenty of roomy pockets
Reasons to Avoid
The waistband may fit loosely on some

Can feel a bit baggy
The Important Specs
Upf:

50

Inseam:

Short 30, Regular 32, Long 34

Material:

Nylon Ripstop
Review Roundup
The Columbia Silver Ridge Convertible Pants are a superb choice for adventurous women who value comfort, versatility and practicality. Available in a variety of sizes and colors, these pants are designed to suit women of all shapes and dimensions. Made from Columbia's patented Omni-Wick fabric, they offer superior moisture management, drawing sweat away from the body to keep you dry and comfortable, even on the most challenging trails.
These pants also offer Omni-Shade UPF 50 protection to safeguard your skin from harmful UV rays on those sunny hikes. The zipped security pocket, side pockets, and mesh pocket bags give you plenty of storage options for all your hiking essentials, from trail maps and compasses to energy bars and even your smartphone.
One of the standout features of these pants is their convertibility – in just a few moments, and with minimal fuss, you can zip off the legs to transform your hiking pants into cool, convenient shorts. This feature turns out to be a favorite among users, as it offers flexibility depending on the weather conditions and the intensity of the trek.
Performance-wise, users praise their lightness and breathability. Their versatility means they're just as useful on a casual day-hike as they are on a multi-day backpacking journey. The only repeated criticism is that sizing may run a little larger than standard, so it's recommended to try them on first or consider ordering a size down.
While they understandably may not be everyone's cup of tea fashion-wise, their functionality, quality, and affordability often outweigh any aesthetic concerns. After all, when you're out enjoying the great outdoors, comfort and practicality are what matter most.
Breathability & Ventilation
With their lightweight and thin material, the Columbia Silver Ridge Convertible Pants allow for excellent airflow and breathability which is important for those hot summer hikes. Many customer reviews praise their comfort in hotter climates.
Durability & Abrasion Resistance
Made from Nylon Ripstop, these trousers can take a beating. So yes, you can stride your way through thick underbrush worry-free. Moreover, they're great when it comes to resisting tears and abrasion. Users have reported wearing these trousers on multiple rugged hikes with very little sign of wear and tear.
Fit
These pants are designed to be loose fitting, which is something that many hikers will appreciate for the increased comfort and mobility. However, some users have reported that the waist can be a bit loose, and the overall fit can be somewhat baggy.
Mobility & Stretch
Despite not having a built-in stretch, lots of users appreciate the overall mobility of these pants. The loose fit allows for a comfortable range of motion. You won't feel restricted when you're climbing over logs or high stepping up steep trails.
Storage Options & Pockets
The Silver Ridge Pants comes with an abundance of pockets – six in total. There are two back pockets, two side pockets, and two thigh pockets. Users love this because they can store lots of small items without needing to rummage through a backpack.
Value
Compared to other hiking pants, the Silver Ridge Convertibles are affordable. Considering their versatility, comfort, and durability, they offer great value for the money. They're not just for hiking, but for any outdoor activity, and can quickly convert from pants to shorts, increasing their practical value.
Water Resistance & Quick Drying
While not waterproof, these pants do sport a certain degree of water resistance. Plus, they're incredibly quick to dry. If you get caught in a light rain shower or have to wade through a creek, you won't be stuck in damp pants for the rest of the day.
Prices