Quick heads-up: some of the links on this page are affiliate links. If you make a purchase through them, we may earn a small commission (at no extra cost to you). This small bit of income helps keep our site running.
Best Hiking Hats of 2023
This post was last updated on December 06, 2023.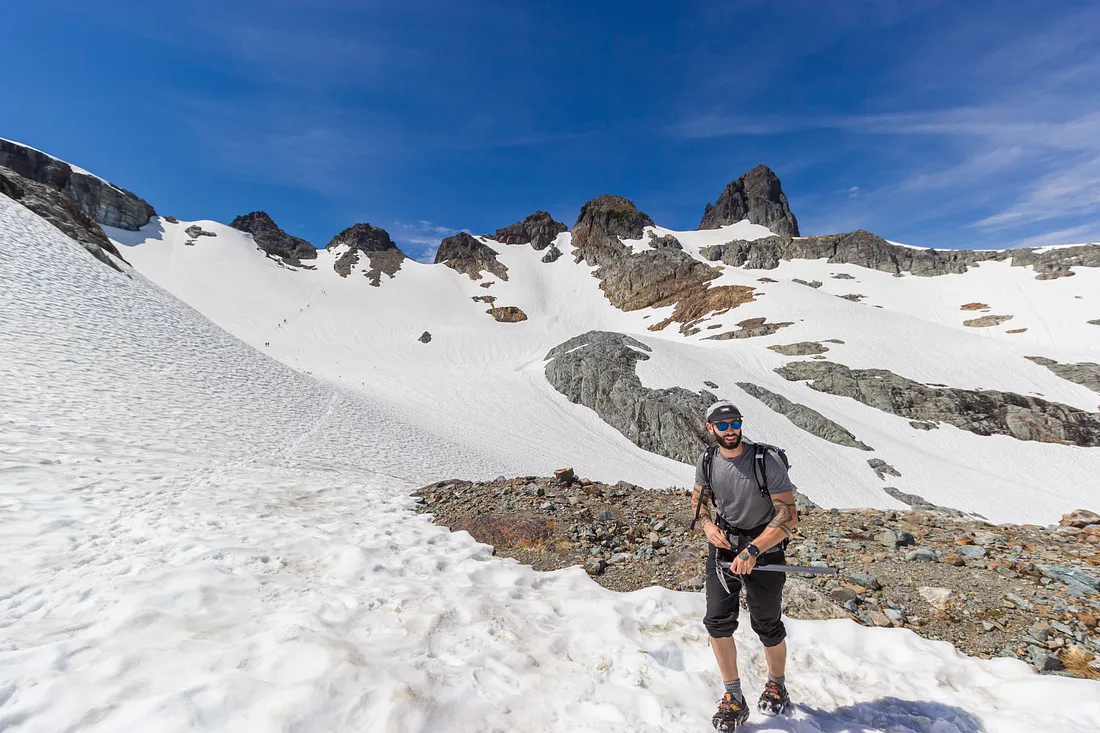 Stepping onto the hiking trail without protection from the blazing sun can literally be a risky move. While sunscreen works great, clothing can also play a huge role in shielding you from the sun's rays. And what better place to start than your head? A great hat makes your outdoor adventures not only safer, but also a lot more comfortable.
When it comes to hiking hats, we've put our noses to the grindstone and researched trails of hats out there. We've blazed through a bunch of hats, evaluating them based on comfort, UV protection, breathability, durability, fit, coverage, and value. And although it was a tough climb, we've concluded the Sunday Afternoons Ultra Adventure Hat is the cream of the crop; it sits on top of the heap.
Of course, we also have runners-up we'd love to introduce. Plus, we've scoped out the best hiking hats in specific categories, too. If you're all about the perfect outfit, you might also want to check out our posts on the Best Hiking Shirts for Women, the Best Hiking Shirts for Men, and the Best Hiking Boots for Men. So get ready, and let's dive in!
Our Top Recommendations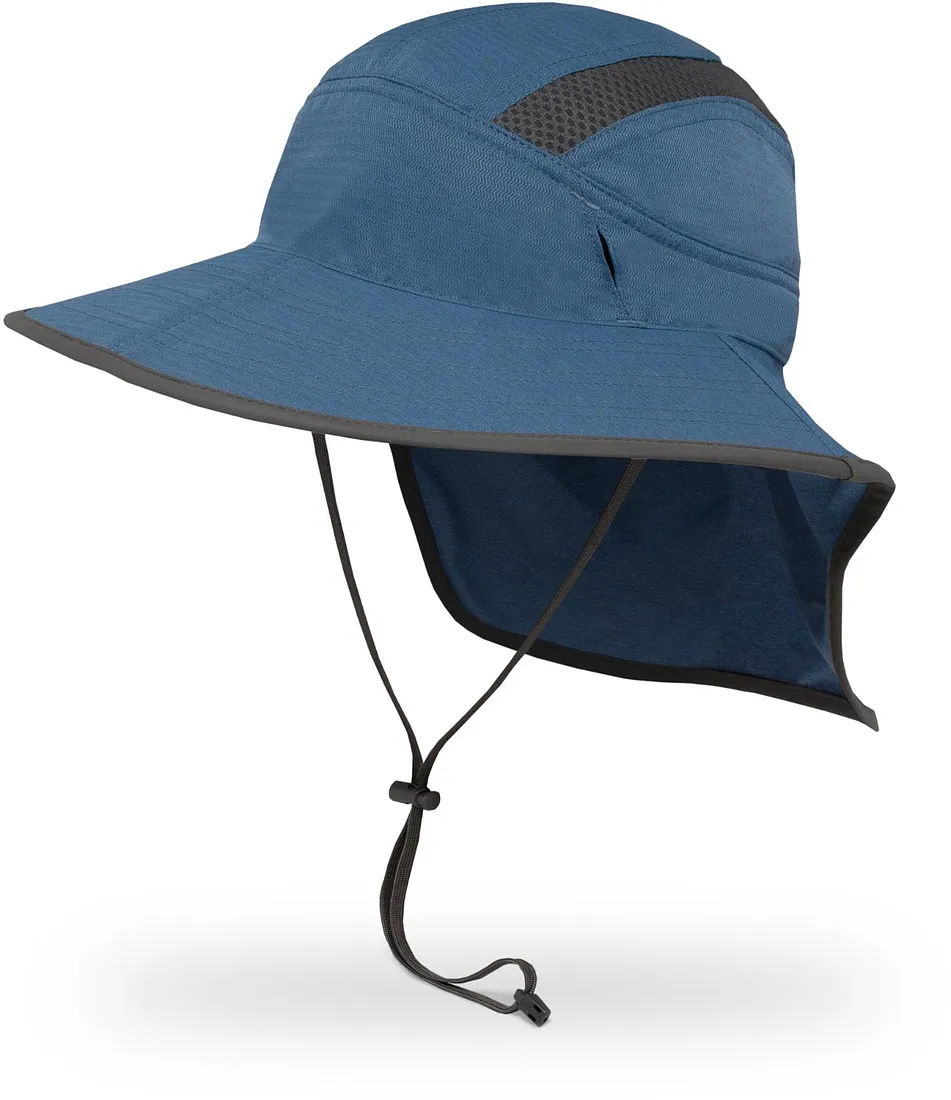 Sunday Afternoons Ultra Adventure Hat
The Sunday Afternoons Ultra Adventure Hat has been chosen our top pick because users rave about its lightweight comfort and durable UPF 50+ protection, making it a reliable companion for countless outdoor adventures.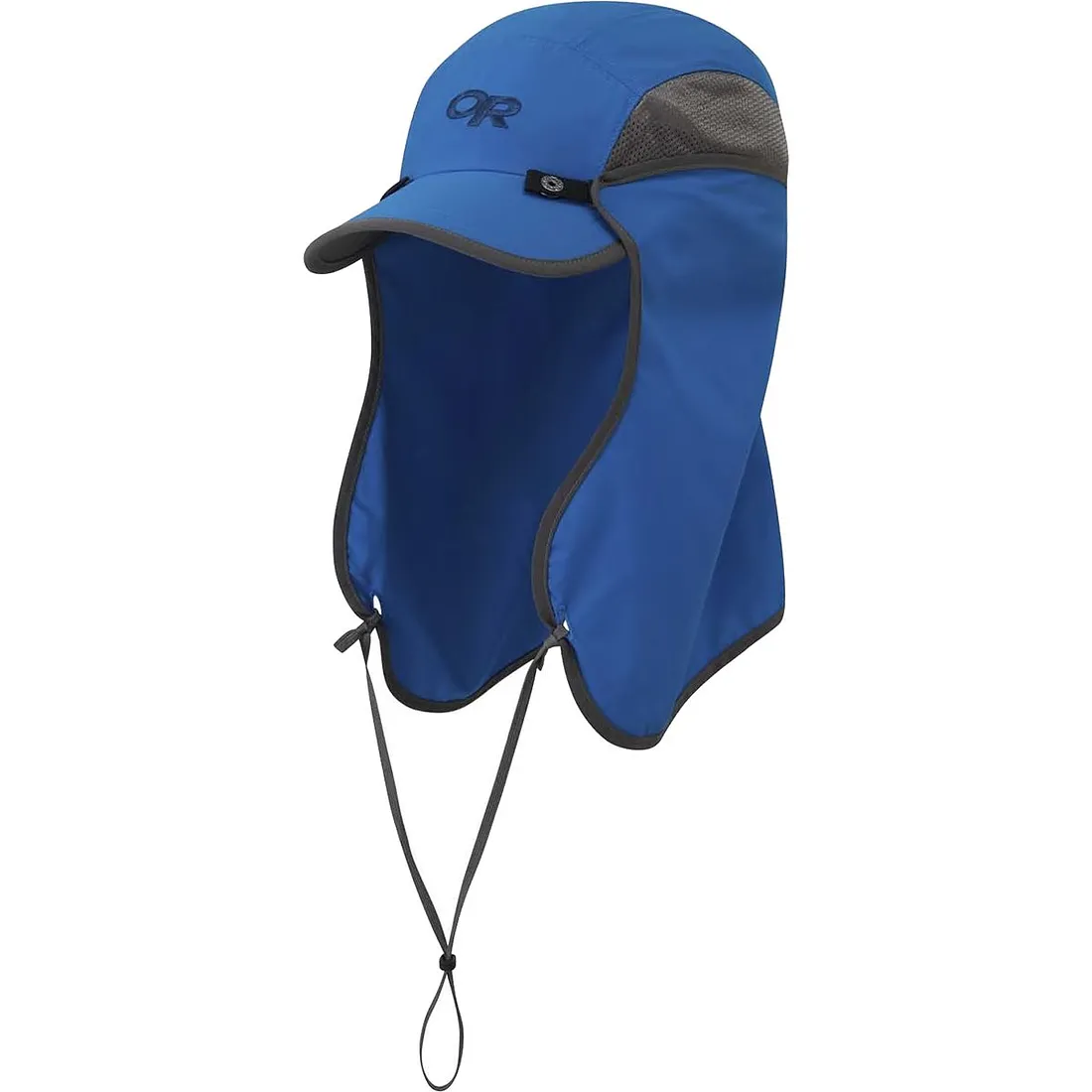 Outdoor Research Sun Runner Cap
Securing the runner-up spot, the Outdoor Research Sun Runner Cap wins hearts with its exceptional breathability and stowable neck cape providing top-notch sun protection, as praised enthusiastically by hikers in numerous user reviews.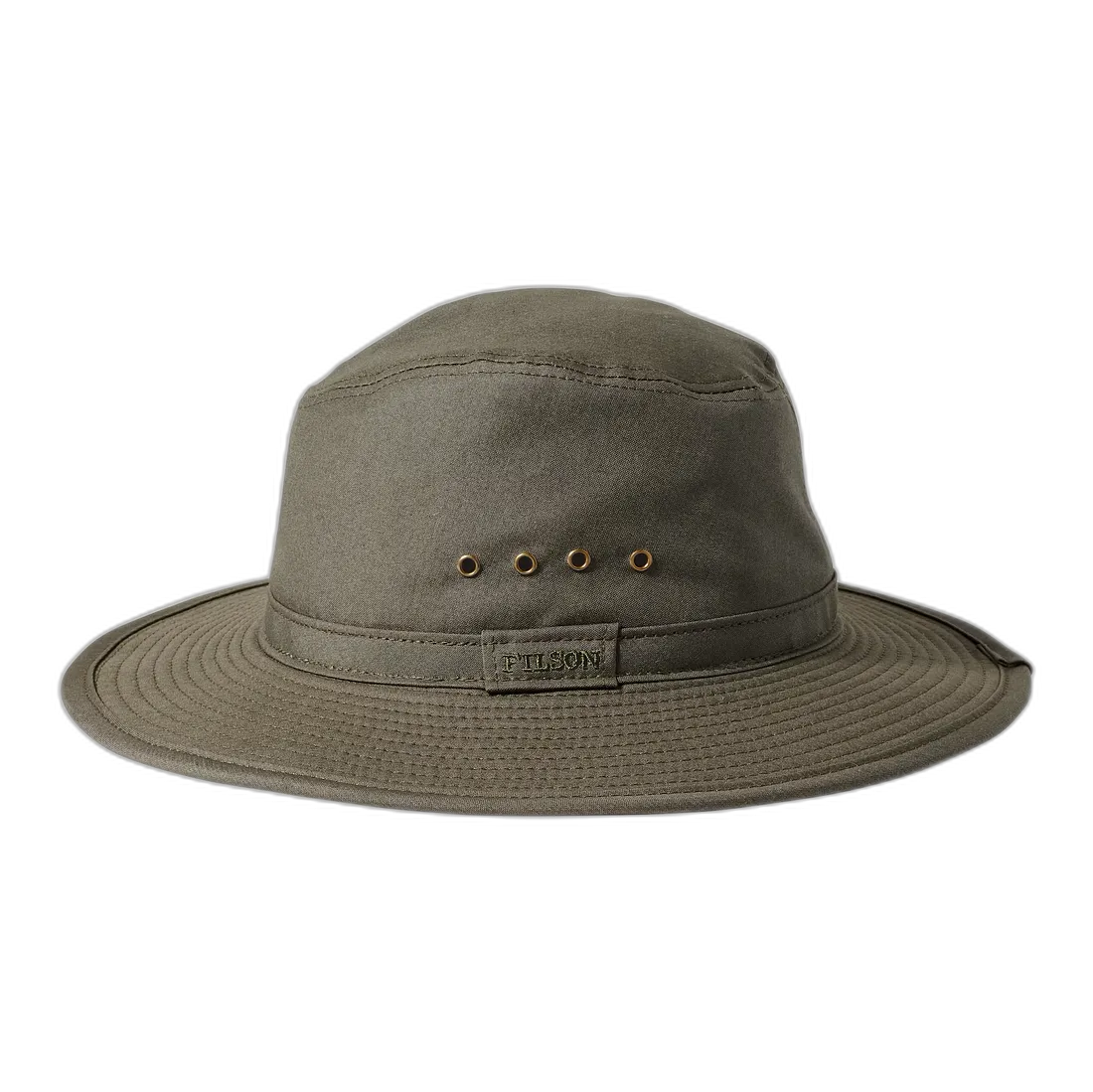 Filson Summer Packer Hat
With user praises for its excellent UV protection and its durable yet breathable material, the Filson Summer Packer Hat has cinched the runner-up position for top hiking hat.
What you should look for
(and what we test for)
Material
Ensure the hat is made of breathable, durable, and lightweight material like nylon or polyester that can withstand harsh outdoor conditions and keep your head cool during long hikes.
Protection
Look for a hat with a wide brim or neck cape to provide full protection from the intense sun, rain, or even unexpected brush with branches while on the trail.
Fit and Comfort
Choose a hat that provides a comfortable fit with adjustable headbands, chin cords, or back straps, ensuring it stays secure during windy conditions or active climbing.
Design and Features
Consider additional features such as vented panels for airflow, a dark underbrim to reduce glare, or even a moisture-wicking sweatband for improved comfort during your excursions.
Sunday Afternoons Ultra Adventure Hat
$46.00
The Best Hiking Hat
Based on our research and testing, we think the Sunday Afternoons Ultra Adventure Hat is the best Hiking Hat on the market right now, for anyone looking to play hard outside.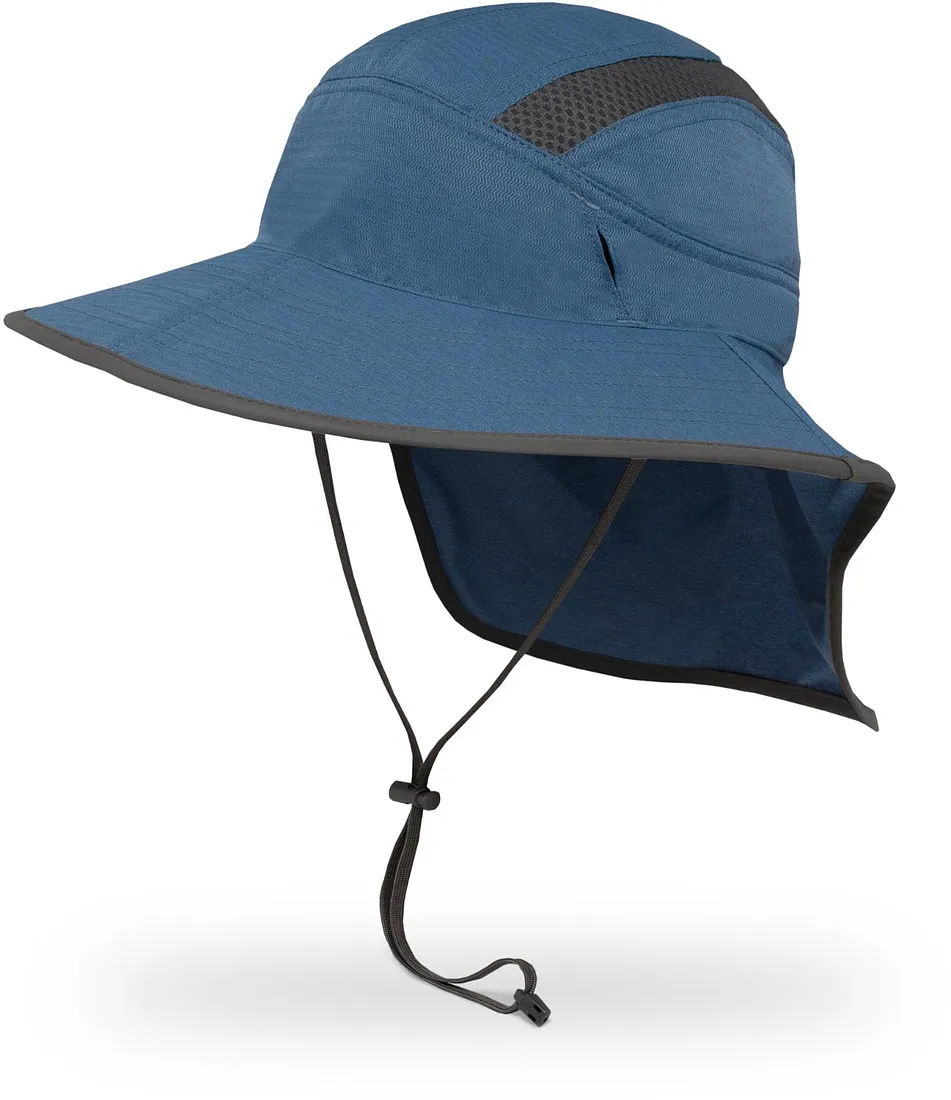 Reasons to Buy
Great UV protection

Exceptionally breathable and airy

Adjustability allows for a perfect fit

Generous brim provides excellent coverage
Reasons to Avoid
Durability could be better

Not the most stylish hat out there
The Important Specs
Brims:

3.25 inches front and sides, 7.5 inches neck

Material:

100% nylon

Dimension:

14 x 14 x 4 inches

Upf Rating:

50+
Review Roundup
The Sunday Afternoons Ultra Adventure Hat is the type of gear a seasoned hiker, a laid-back camper or a sporadic backpacker could confidently stand behind. This hat is designed to keep you protected from the elements, whether it be a scorching sun or a sudden downpour.
Those who've worn it praise its lightweight nature. No one wants to feel like they're carrying a heavy load on their head, and thankfully, this hat is light as a feather. Despite how light it is, users don't need to worry about it blowing away in the wind. It comes with an adjustable strap for a customizable snug fit.
Users who reviewed the hat online are almost universally pleased with its SPF 50+ sun rating. It's not just a claim on the product tag; users have confirmed this hat practically stands between the sun and your skin far better than most other hiking hats out there.
The overall comfort of this hat is constantly highlighted in the reviews. It seems like the hat can fit a wide range of head sizes comfortably, with the help of an adjustable sizing band. It leaves enough breathing room for users without being too loose.
In terms of durability, the Sunday Afternoons Ultra Adventure Hat has earned a positive reputation. Users noted that even after several hikes and washes, the hat retained its shape and function. The materials used seemed robust yet flexible, a combination that has resulted in the hat's longevity.
The hat's ventilation system also received kudos from users. The innovative design has ventilation mesh on the sides, enhancing the breathability. This feature was particularly appreciated by users hiking in hotter climates, where the heat can escalate quickly.
However, the hat is not without its drawbacks. Some users point out that they would have preferred a wider brim, particularly for covering their necks, though many note that the neck cape - which can be stowed away if not needed - generally makes up for this.
Another critique from users revolves around the aesthetics of the hat. The design is not everyone's cup of tea, and some users voiced that they had wished for more color variety. This is more of a personal preference and doesn't affect the overall functionality of the hat.
Despite these minor qualms, it's hard not to be impressed by the Sunday Afternoons Ultra Adventure Hat. The fact that it's foldable and retains its shapes makes it a perfect travel companion according to the feedback online. So if you prioritise function over fashion in your hiking apparel, this hat could be a worthy addition to your hiking gear.
Breathability & Ventilation
The Sunday Afternoons Ultra Adventure Hat is designed with strategic ventilation in its crown and mesh panels. Customers have reported that they have found the hat to be quite breathable, keeping their heads cool on long and intense hikes.
Coverage & Brim Design
The hat's impressive brim design maximizes its shade coverage. Customers rave about the neck flap that particularly helps in keeping the sun off the neck, an often overlooked area.
Durability
Customers have expressed mixed reviews concerning the hat's durability. Some people have been using the hat for years without any issues while others reported fraying at the edges or wearing out of the mesh.
Fit & Adjustability
The hat has an adjustable cord that helps customize fit and ensures it stays put on windy days. Most customers cited that the hat stayed on well and was comfortable to wear for long periods of time.
Material
The hat itself is made up of 100% nylon – well-regarded by outdoor enthusiasts for its quick-drying properties. However, some users have found the material to feel a bit cheap due to its lightweight nature, and less durable than expected.
UV Protection Rating
This hat boasts of an UPF rating of 50+, which is the highest achievable and therefore provides top-notch protection against harmful UV rays. Users have particularly appreciated this feature during hot summer hikes.
Value
Given its features, most customers generally felt this hat offered good value for the price.
Prices
Outdoor Research Sun Runner Cap
$39.95
Runner Up
Based on our research and testing, we think the Outdoor Research Sun Runner Cap is a great choice if you're looking for a hiking hat to go play hard outside with, if our top pick isn't quite what you're looking for.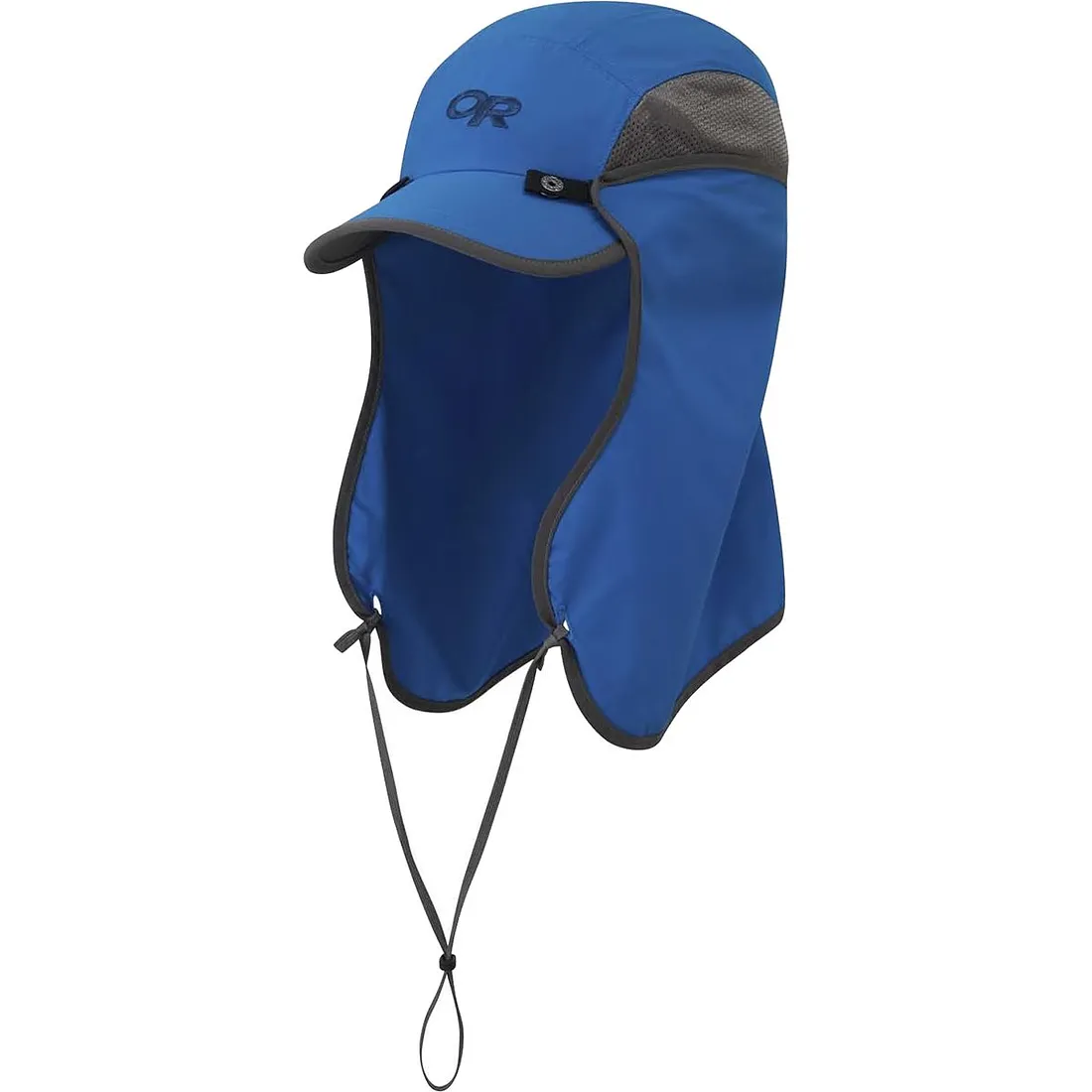 Reasons to Buy
Excellent sun protection

Highly adjustable

Breathable

Durable
Reasons to Avoid
Not stylish

Restricted peripheral vision
The Important Specs
Washing:

Hand wash

Material:

100% Supplex nylon

Dimensions:

6 x 4 x 3 inches

Uv Protection:

UPF 50+
Review Roundup
We absolutely love the Outdoor Research Sun Runner Cap! Not only does it protect your noggin from the sometimes harsh sunlight, but it also offers stellar breathability.
Equipped with an adjustable headband, it promises a perfect fit for various head sizes. The chin strap assures that the hat won't get blown away in the wind - a real lifesaver when you're trying to scramble up windy peaks.
One of the salient features of this cap is its sun skirt. This handy bit of extra cloth provides coverage for your neck and ears - meaning you can kiss goodbye to awkward sunscreen applications on those tricky-to-reach areas.
The hat is made from durable, lightweight materials. This means you hardly notice you're wearing it - a definite plus for those long, gruelling hikes. And where other sun hats fail in the style stakes, the Sun Runner Cap certainly holds its own.
Buyer feedback is overwhelmingly positive. One particular praise coming up repeatedly is the effectiveness of the sun skirt at preventing sunburn. Customers have also mentioned that despite its deceptively thin material, the cap really stands up to wear and tear.
Some users expressed frustration with the sizing, suggesting it runs a little small. So it may be worthwhile to order a size up if you're on the fence. Another common gripe was that the chin strap isn't removable. Though some found this a bit of a hassle, many felt that it added to the hat's wind-resistance.
Despite these minor drawbacks, buyers agree that the Outdoor Research Sun Runner Cap is a well-built, practical choice for outdoor enthusiasts - from the casual walker to the hardened hiker and everything in between.
Breathability & Ventilation
Thanks to the 100% Supplex nylon material, this cap offers fantastic breathability making it comfortable to wear even on extended hikes. In addition, it has strategically placed mesh panels on the sides that improve ventilation, thereby preventing overheating.
Coverage & Brim Design
With a neck cape for full coverage and a wide brim design, this cap offers comprehensive sun protection. However, it's worth noting that some users report the wide brim can impede peripheral vision slightly.
Durability
Hikers who've bought this cap rave about its durability. The high-quality nylon material withstands the rigors of outdoor use, and the sturdy stitching ensures that it doesn't easily fall apart, even with frequent use and washes.
Fit & Adjustability
This cap comes in different size options and includes an adjustable strap, meaning you can secure it tightly on your head, regardless of wind conditions. The chin cord is also removable, giving you more control over how you wear the cap.
Material
Constructed from 100% Supplex nylon, the Outdoor Research Sun Runner Cap is both lightweight and durable. This material also dries quickly which is a boon during inclement weather or tough sweaty hikes.
UV Protection Rating
The Outdoor Research Sun Runner Cap boasts an impressive UPF 50+ rating, the highest possible score in UV protection. This simply means that the cap blocks 98% of harmful UVA and UVB rays, keeping your skin safe even in the harshest midday sun.
Value
Given the high-quality material, supreme sun protection, and adaptability, the Outdoor Research Sun Runner Cap offers excellent value. While it might be priced slightly higher than some alternatives, the superb performance and longevity make it a worthwhile investment for any dedicated outdoor enthusiast.
Prices
Filson Summer Packer Hat
Runner Up
Based on our research and testing, we think the Filson Summer Packer Hat is a great choice if you're looking for a hiking hat to go play hard outside with, if our top pick isn't quite what you're looking for.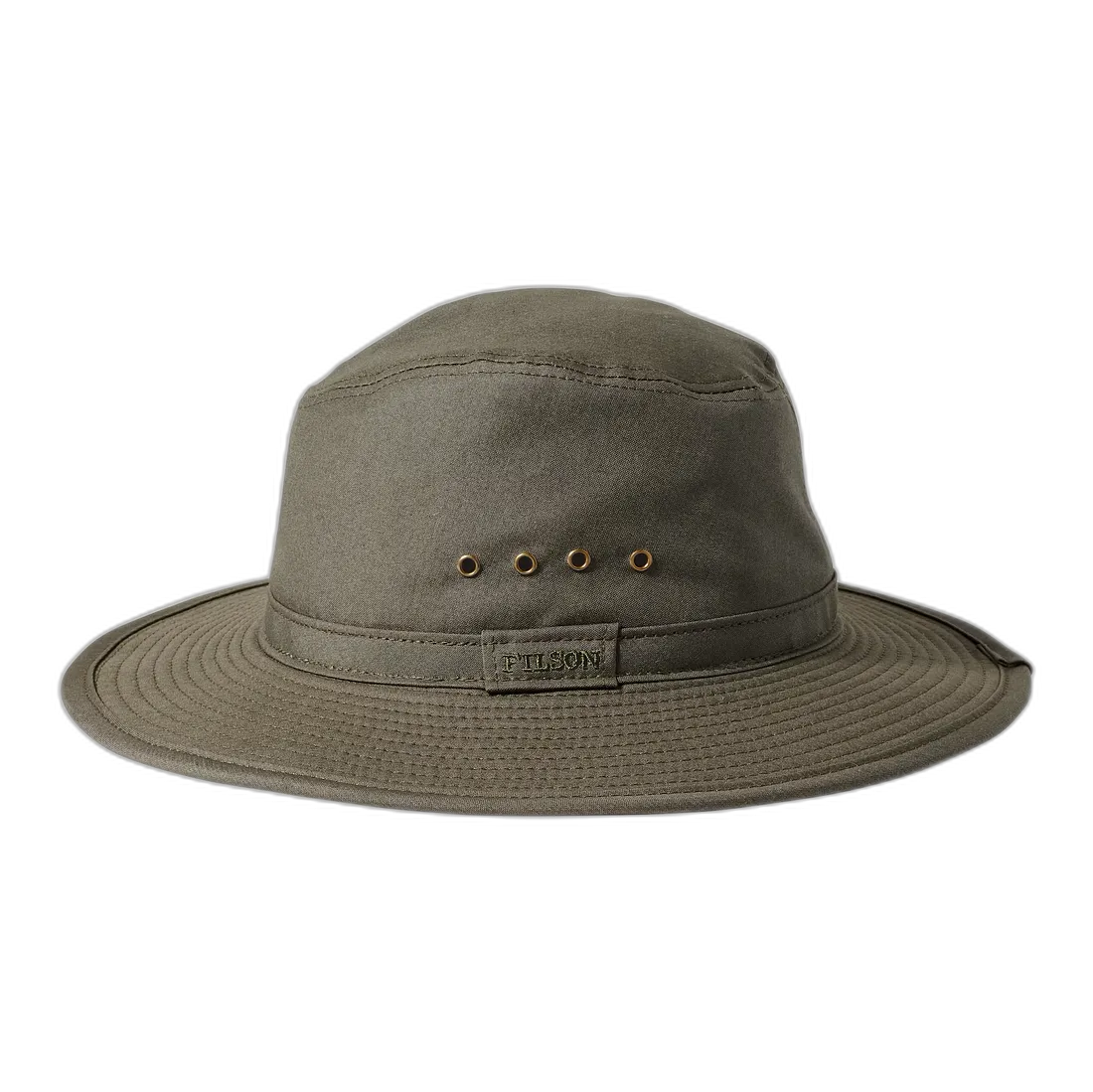 Reasons to Buy
Excellent UV protection

Great breathability and ventilation

High durability

Comfortable fit
Reasons to Avoid
Might be a bit intimidating due to its large size

A little pricey compared to some other options
The Important Specs
Sizes:

Small through 2XL

Material:

quick-dry, water-repellent fabric

Color Options:

Khaki, otter green

Additional Features:

Wind cord and lock ensure it stays put in gusty conditions
Review Roundup
Ah, the Filson Summer Packer Hat, a staple in any hiker's gear lineup. Known for its classic design and terrific durability, one of the standout features is its water repellency. This hat won't just keep you shaded on your sunny, summer hikes, but also dry in an unexpected downpour.
Enough about us waxing eloquent on the hat's looks. Let's talk utility. The choice of material, a hardy blend of cotton and nylon, provides a breathable and quick-drying experience. So you've got a hat that not only looks cool but also keeps you cool.
Another big plus of this hat is its wide brim. Offering ample shade, you'll have a high-level UV ray protection for your face, some extra defense against sunburn, and stylish, too. The material is stiff enough to keep its shape, even after being jammed into your packed backpack, and yet maintains enough flexibility to be comfortable.
One concern that buyers have noted is sizing. Some found the hat to run a bit large. So, if your head is on the smaller side, you might want to consider ordering a size smaller. Or take an extra bandana on your hikes; it can double as a buffer for any extra hat space.
There have also been some mixed reviews on the chinstrap security. Some people felt it was loose and required the occasional re-adjusting as it could come undone. This is something to bear in mind if you're hiking in windy conditions or like to dangle your hat behind on your back when the hat-free moments occur.
Overall, customer satisfaction is through the roof for this product. Users rave about the Filson Summer Packer Hat's ability to do what it says on the tin: providing excellent sun protection and being marvelous for any and all hiking expeditions.
Breathability & Ventilation
With its moisture-wicking headband and ventilating grommets, this hat offers you pretty amazing ventilation and breathability to keep you cool on the move.
Coverage & Brim Design
The hat's broad brim provides excellent coverage. This not only shields your face from the sun's harmful rays, but also helps keep out rain, making it a versatile choice for all sorts of weather.
Durability
Made using Filson's signature rugged twill, this hat scores highly in durability and strength, making it a perfect companion for those rugged terrains you plan to conquer.
Fit & Adjustability
One of the things you'll love about this hat is its adjustability. Thanks to the adjustable chin strap along with the wind cord and lock, you can guarantee the hat stays put, no matter how windy.
Material
This hat is made from quick-dry, water-repellent fabric that's perfect for those unpredictable showers on your trek. The material also does a decent job of resisting dirt and grime, and it's pretty easy to clean, which is always a bonus.
UV Protection Rating
The Filson Summer Packer hat provides excellent sun protection. It's designed with a broad brim that covers your neck and ears effectively preventing sunburns during those long hikes in scorching temperatures.
Value
Though the Filson Summer Packer hat may seem a bit pricey compared to other options, its strong durability, excellent UV protection, and comfortable fit make it a solid investment for serious hikers and outdoor enthusiasts.
Prices
No prices found. Check back later!