Quick heads-up: some of the links on this page are affiliate links. If you make a purchase through them, we may earn a small commission (at no extra cost to you). This small bit of income helps keep our site running.
Best Hiking Gloves of 2023
This post was last updated on December 06, 2023.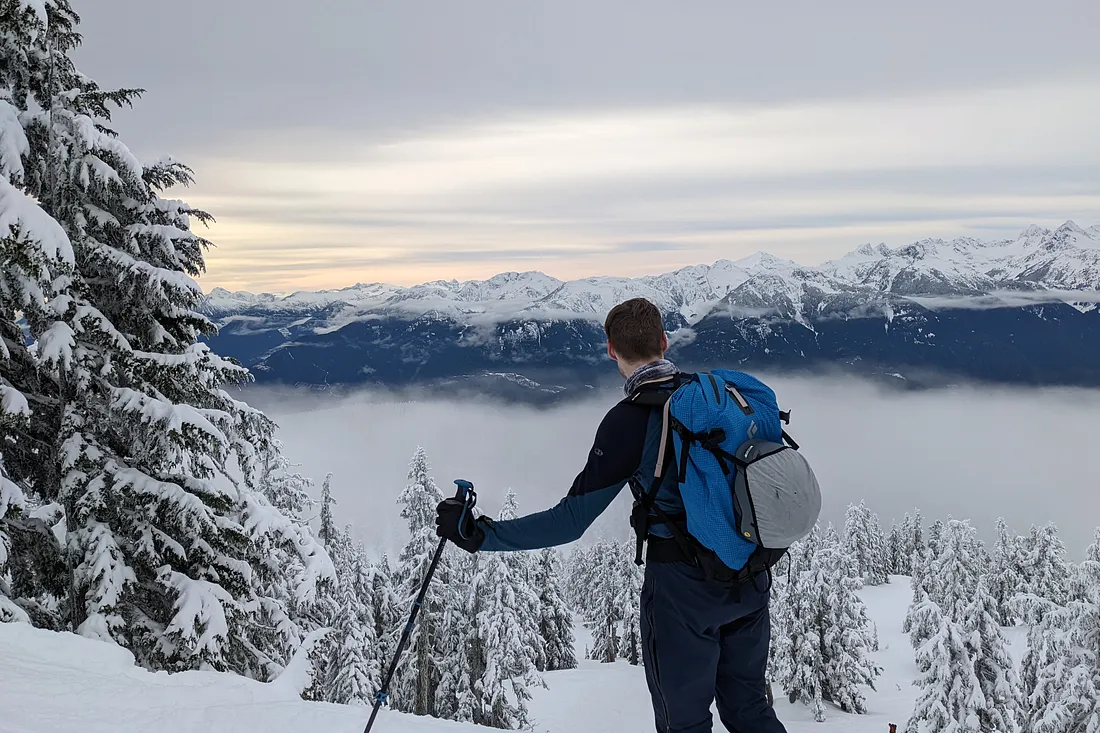 Hiking gloves, the unsung heroes of your outdoor outfit, often get overlooked. Yet, properly suiting up your hands does more than just keeping them warm and dry. Did you know, the right pair of gloves can also protect your hands from sunburn, blisters, and muscle strain? Our top pick, Outdoor Research Stormtracker Sensor Gloves, does all these and more. In this guide, we'll explore the importance of investing in high-quality gloves and delve into why exactly the Stormtracker Sensor Gloves are the ultimate choice for an outdoor enthusiast.
At a high level, you want hiking gloves that are hard-wearing, nimble-fingered, allow your hands to breathe, weatherproof and offer great value for your money. We've taken these factors into account while compiling our list of top-notch gloves. Our star player, Outdoor Research Stormtracker Sensor Gloves, tick all these criteria and throw in some other cool features as well.
Before we begin, you might also want to check out our guides for other hiking essentials. Here are our hot takes on the Best Hiking Pants for Men, the Best Hiking Pants for Women, and the Best Hiking Boots for Men. With all that said, let's go ahead and delve into the world of the best hiking gloves!
Our Top Recommendations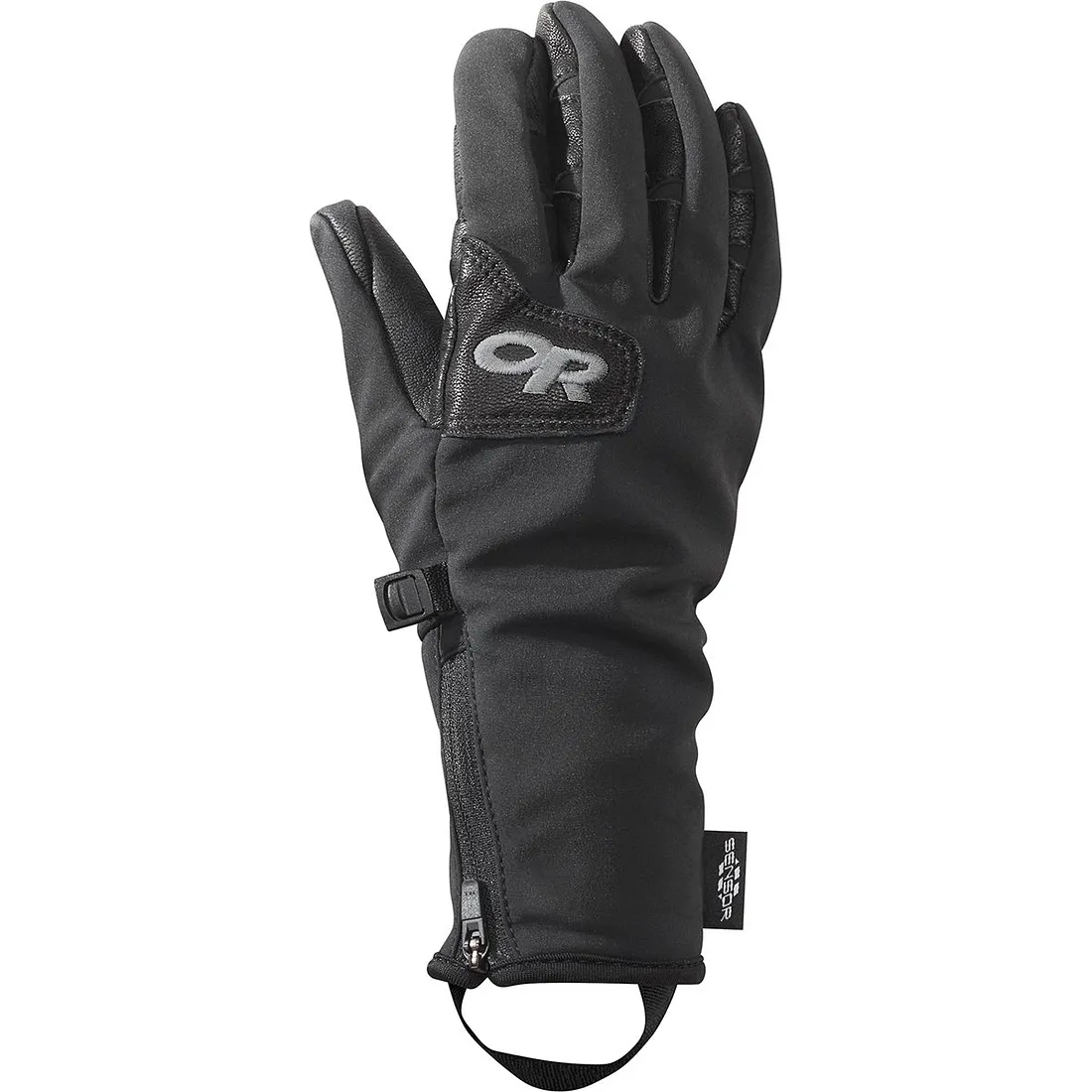 Outdoor Research Stormtracker Sensor Gloves
The Outdoor Research Stormtracker Sensor Gloves are the top pick because campers rave about their exceptional touch-screen compatibility and lightweight, yet robust, insulation layered design keeping hands toasty without compromising dexterity.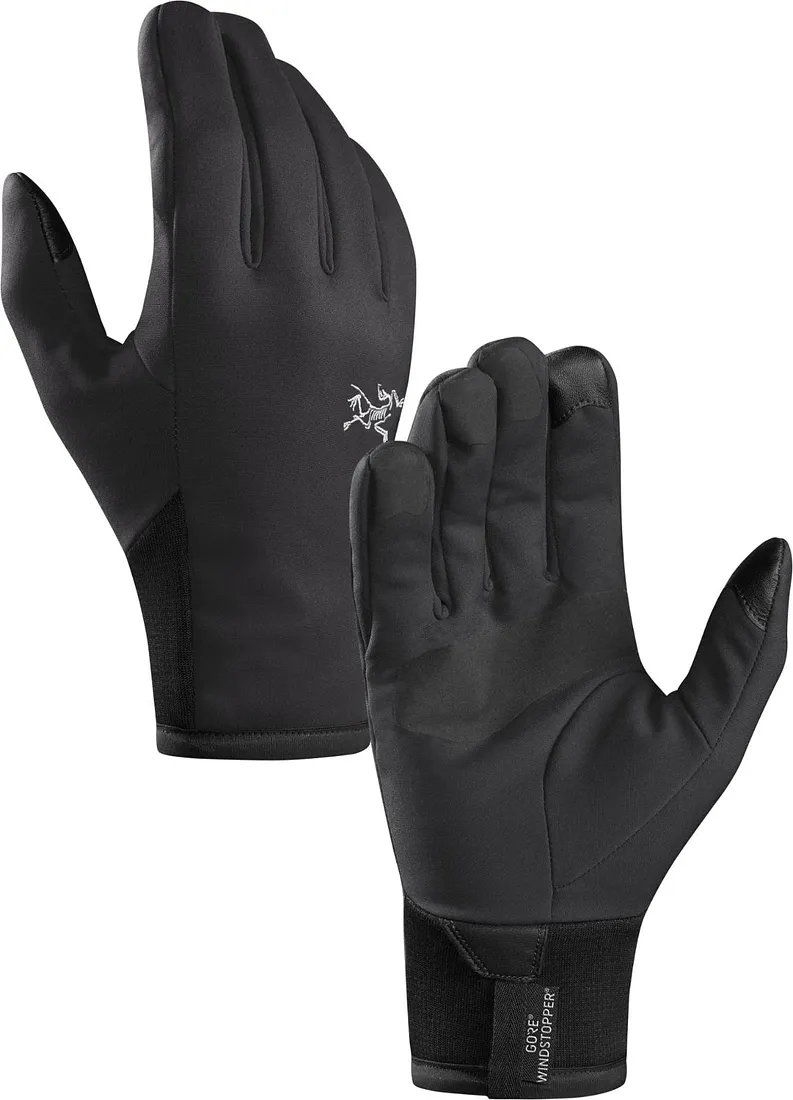 Arc'teryx Venta Gloves
The Arc'teryx Venta Gloves are a standout choice for hikers due to their knack for providing superb wind protection and dexterity, as hailed by many user reviews.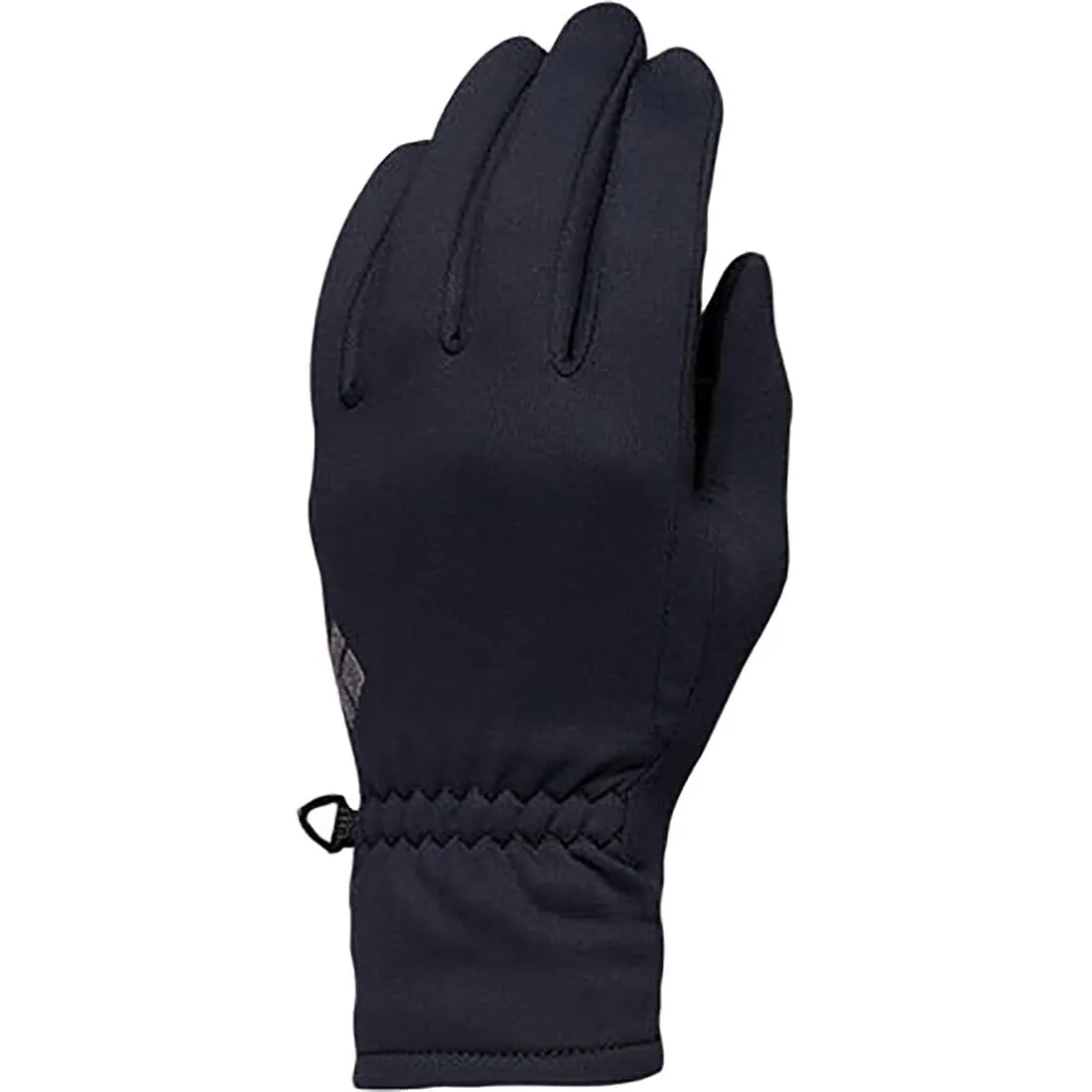 Black Diamond Midweight Screentap Fleece Gloves
The Black Diamond Midweight Screentap Fleece Gloves earned the top pick runner up spot due to their dual functionality as warm hiking gloves and touchscreen-ready fingertips, a feature praised by hikers who love staying connected even on the trail.
What you should look for
(and what we test for)
Dexterity
For activities like climbing or setting up camp, gloves with a high level of dexterity are crucial, so consider models with slimmer profiles and touchscreen-friendly fingertips to tackle intricate tasks without removing your gloves.
Glove Material
The best hiking gloves are made of breathable and waterproof materials like Gore-Tex, offering a blend of temperature control and dryness, which are essential for changing outdoor conditions.
Fit and Comfort
When choosing hiking gloves, ensure they fit snugly without restricting movement; look for features like pre-curved fingers and padded palm areas, which maximise comfort during extended use.
Insulation Level
Considering insulation is key; if you're hiking in colder temperatures, opt for gloves with proper thermal lining, but if you're in warmer climates, go for lightweight, less insulated gloves to prevent overheating.
Outdoor Research Stormtracker Sensor Gloves
$79.00
The Best Hiking Gloves
Based on our research and testing, we think the Outdoor Research Stormtracker Sensor Gloves are the best Hiking Gloves on the market right now, for anyone looking to play hard outside.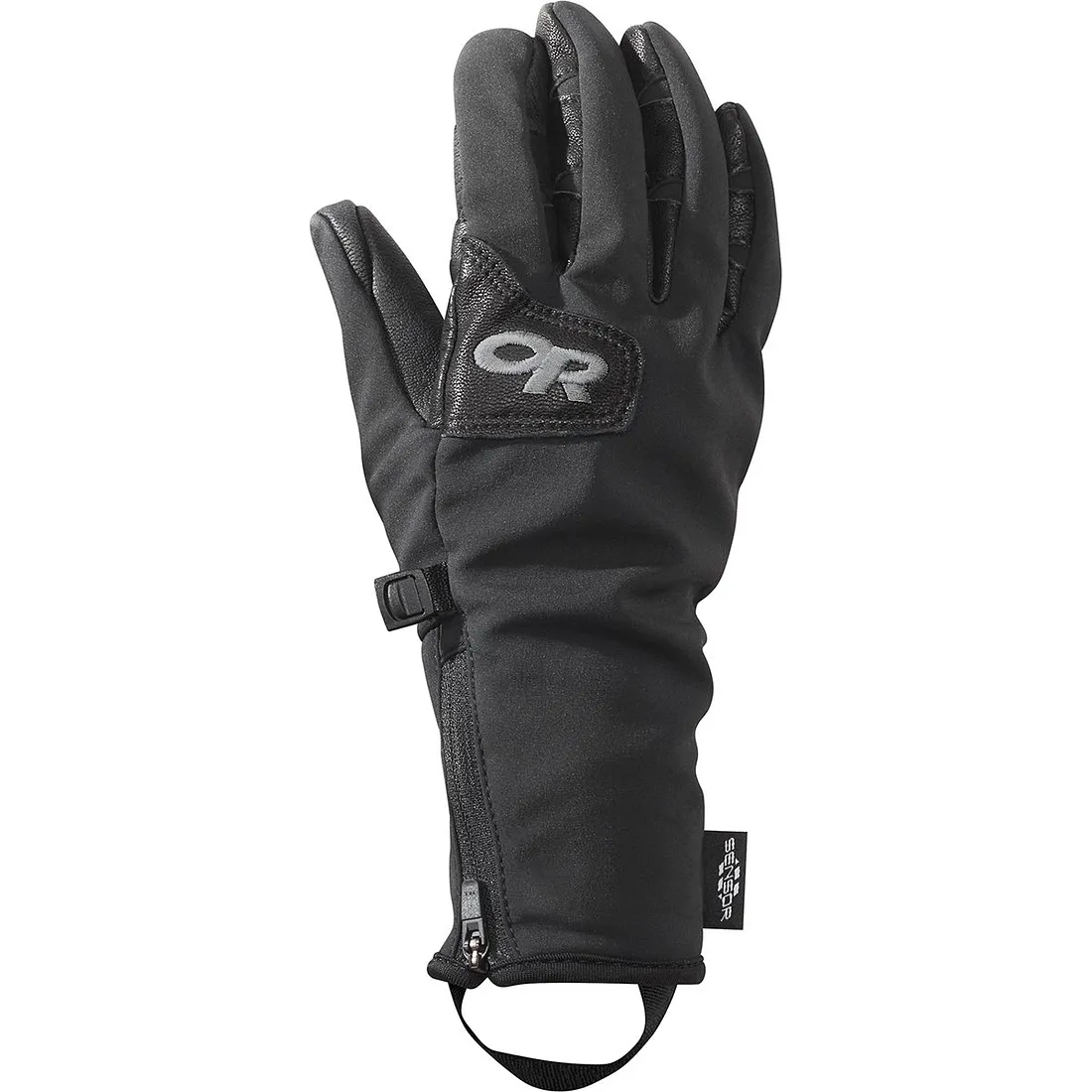 Reasons to Buy
Touchscreen compatible

Durable and sturdy construction

Excellent weather resistance

Great balance of warmth and dexterity

Comfortable fit
Reasons to Avoid
Pricey compared to other gloves

Not the warmest option available

May not be best for extreme wet weather
The Important Specs
Material:

GORE Windstopper with tricot lining

Insulation:

None

Cuff Closure:

Pull-on loop and glove clip

Sensor Technology:

Touch screen compatible
Review Roundup
The Outdoor Research Stormtracker Sensor Gloves stand out in the crowded world of hiking gloves. They're designed with the needs of hikers, campers, and climbers in mind, promising to offer protection and convenience in a single package.
The gloves are crafted from a mix of polyester, softshell fabric, and leather. This combination brings to the table attributes like durability, weather-resistance, and comfort. The softshell exterior also does a fantastic job resisting wind and light moisture.
A significant feature of these gloves is the touchscreen compatibility. Yes, you heard it right! The glove design includes Sensor fingertips, which means you can use your smartphone or other touchscreen devices without peeling off your gloves.
Now let's dig in to what customers have to say about the Outdoor Research Stormtracker Sensor Gloves. Users love the excellent fit and weather-resistant properties. The snug fit doesn't restrict their dexterity which is crucial for climbers and hikers.
Even though these gloves are lightweight, users testify that they perform well in colder temperatures too. Some have used them for winter hikes and found that they keep their hands fairly warm, which is a huge plus.
There have been a few mixed opinions regarding the gloves' touchscreen compatibility. While some users have faced no issues, others found the Sensor feature to operate inconsistently on their devices. So, while it's a great idea, the execution seems to vary from user to user.
Durability of these gloves appears to be a strength, as per a large number of user reviews. The mix of materials used in the construction of the glove earn it sturdy and lasting. Very few complaints were noticed about stitching coming loose or fabric tearing.
Warmth-to-weight ratio is impressive too. Most users appreciated how warm these gloves kept them considering their light weight. This feature is particularly beneficial for backpackers who need to lighten their load whenever possible.
In conclusion, if you're in the market for a pair of weather-resistant, durable, and touchscreen-compatible hiking gloves, the Outdoor Research Stormtracker Sensor Gloves make a solid choice. Just keep in mind that the touchscreen capability might not work perfectly for everyone.
Breathability
While these gloves serve up a reasonable amount of warmth, they don't sacrifice breathability. This makes them a good choice for those who need a glove to take them from fall hiking right into the winter months, without leaving their hands feeling sweaty or clammy.
Dexterity
The Outdoor Research Stormtracker Sensor Gloves shine in terms of dexterity. They are designed to allow you full use of your hands without feeling stiff or cumbersome. The touch screen compatibility is a standout feature for those who want to use their electronics without removing the gloves.
Durability & Material
You won't have to worry about these gloves wearing out anytime soon. The blend of synthetic materials used ensures their durability. With the GORE Windstopper technology, these gloves should hold up well against the rigours of regular hiking and outdoor use.
Value
While the Outdoor Research Stormtracker Sensor Gloves are on the pricier side, they have proven to be a solid investment. With their robust construction, innovative design, and well-thought-out features, many users find that they offer excellent value for the price.
Weather Resistance
Despite not being designed specifically for wet conditions, these gloves are doted on for their incredible weather resistance. The GORE Windstopper technology provides stellar defense against wind and moderate wet conditions.
Prices
Arc'teryx Venta Gloves
$70.00
Runner Up
Based on our research and testing, we think the Arc'teryx Venta Gloves are a great choice if you're looking for hiking gloves to go play hard outside with, if our top pick isn't quite what you're looking for.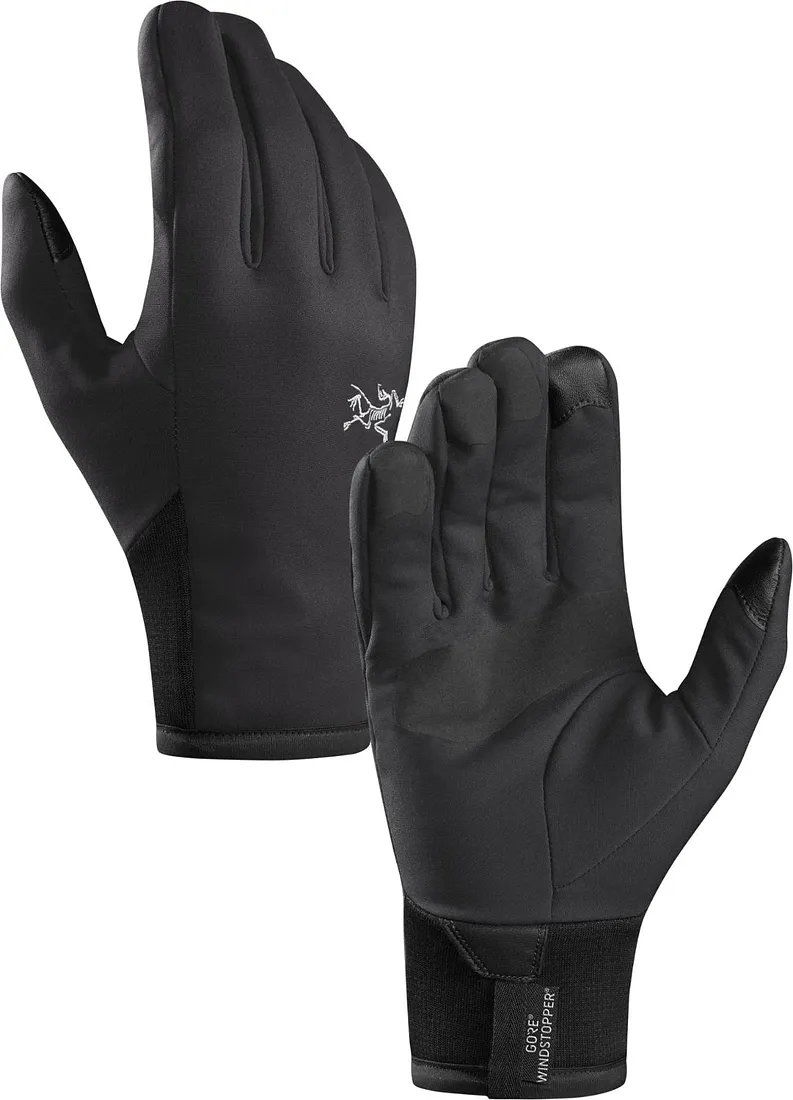 Reasons to Buy
Excellent breathability

High durability and construction

Comfortable fitting even for long hours

Offers great dexterity

Impressive weather resistance
Reasons to Avoid
Higher price range

Lack of touchscreen capabilities

Might be overkill for mild weather
The Important Specs
Design:

Anatomical shaping for fit and comfort

Materials:

Three-layer WINDSTOPPER fabric

Insulation:

Non-insulated
Review Roundup
The Arc'teryx Venta Gloves are a standout choice when it comes to hiking gloves. They're designed with keen attention to detail, built mainly for those chilly yet action-packed hiking experiences where you need both dexterity and reserve heat.
When it gets frosty out there but you still want to grab hold of your equipment or scroll through your smart devices, these gloves will be your best bet. Thanks to their sensor-compatible fingertips, you can use your touchscreen devices without having to expose your fingers to the cold.
Made of three-layer GORE WINDSTOPPER technology, the Venta gloves are designed to protect you from the wind while still allowing your skin to breathe. They do well in calm, cold conditions but might struggle a bit when it gets extremely wet. However, they are not designed to be completely waterproof, rather to cope with a sprinkle or light snow.
One thing most buyers admired was the fit of the gloves. They are made to fit snugly around your fingers and hands, providing a comfortable and secure fit. This is complemented by the addition of leather pull-tabs which make getting these gloves on and off a breeze.
Another big plus of the Venta Gloves is their flexibility and range of motion. Precise finger articulation makes accomplishing fine tasks such as tying shoelaces or adjusting gear easier while wearing these gloves.
In terms of durability, customers were appreciative of the rugged Venta. True to Arc'teryx's reputation, these gloves stood up to the rough and tumble of hiking trips, showing minimal signs of wear and tear. The reinforced leather palm specifically added to the glove's longevity.
While they have impressive features, some customers voiced concerns about the gloves' price tag. They fall into the higher end of the cost spectrum. However, many agreed that the comfort, wind-resistant ability, and durability of these gloves made the investment worth it.
A few users mentioned that they would appreciate if the gloves had a bit more insulation for colder weather. But that's where layering comes in, and thankfully, the slimfit design of these gloves makes that possible.
To sum it up, the Arc'teryx Venta Gloves are a prime example of quality craftsmanship. While they might not be the most budget-friendly, their performance in wind protection, comfortable fit, and durability have won over many outdoor enthusiasts.
Breathability
Ventilation is top-notch with the Venta Gloves. The material lets out enough moisture to keep your hands from feeling too sweaty or clammy after a long hike. Float trips, cold-weather canoeing and winter camping? Nothing but praises in the user reviews.
Dexterity
They are designed with 'anatomical shaping', which means they're crafted to account for the natural curves and bends of a hand, thereby increasing maneuverability. Positive customer feedback often mentions the dexterity these gloves provide; users noted that they can easily grip and handle gear without taking the gloves off.
Durability & Material
The Arc'teryx Venta Gloves are a solid investment when it comes to durability. Users noted the high-quality WINDSTOPPER fabric construction, a rugged material that stands up well to tear and wear, effectively justifying the price point.
Value
The Arc'teryx Venta Gloves come with a higher price tag than many other products, but users have mentioned repeatedly that it's worth every penny due to its durable build, superb comfort and high weather resistance.
Weather Resistance
These gloves are praised for their weather resistance capabilities by countless online reviews. With the three-layer WINDSTOPPER fabric, they effectively keep wind chill at bay. However, while they can withstand light rain or snow, they're not fully waterproof.
Prices
Black Diamond Midweight Screentap Fleece Gloves
$44.95
Runner Up
Based on our research and testing, we think the Black Diamond Midweight Screentap Fleece Gloves are a great choice if you're looking for hiking gloves to go play hard outside with, if our top pick isn't quite what you're looking for.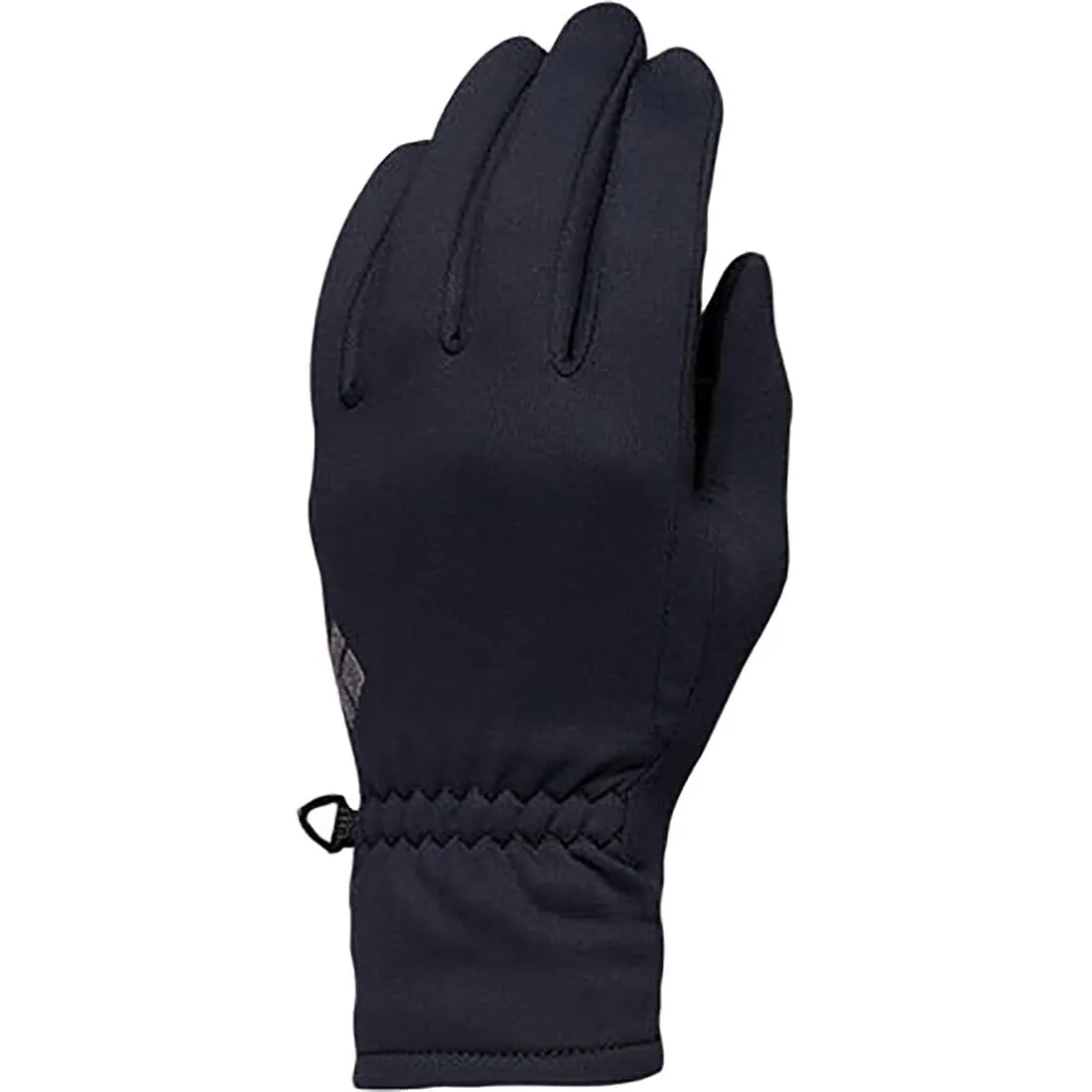 Reasons to Buy
Highly breathable fleece material

Touchscreen compatibility

Good all-around weather resistance

Comfortable fit

Affordable price point
Reasons to Avoid
Not the warmest for extreme cold weather

May wear out faster with heavy use
The Important Specs
Gender:

Unisex

Best Use:

Hiking, mountaineering, ski touring

Material:

Stretch fleece with digital thumb and index finger

Touch Screen Compatible:

Yes
Review Roundup
When it comes to hiking gloves that offer a seamless blend of comfort, functionality and toughness, the Black Diamond Midweight Screentap Fleece Gloves are a popular choice among outdoor lovers. Designed with an optimal balance of warmth and dexterity, these gloves are an excellent go-to companion for any form of outdoor adventure.
Looking at the material, the digital thumb and index finger allow for gloves-on touchscreen use. This feature was widely praised by customers online. They loved the convenience of not having to remove their gloves to use their phones or GPS devices in cold conditions.
Several users mentioned the durability of these gloves. Constructed from 251g stretch fleece and neoprene, the gloves stood up to rugged use over rocky terrains, holding their own against snagging and wear. Many hikers and climbers commended the gloves for their durability, even after a good few seasons of usage.
The comfort factor of these Black Diamond gloves was also highlighted by many customers. The gloves' fleece lining provides warmth in moderately cold conditions, while the four-way stretch offers a great deal of flexibility. The full goat leather palm added additional comfort and enhanced grip.
However, the Black Diamond Midweight Screentap Fleece Gloves were not without their criticisms. A few users noted the gloves lacked sufficient insulation for extremely cold temperatures. It's significant to note that these gloves are considered mid-weight, meaning they are not intended for extreme cold or high-altitude hiking. In these conditions, a more heavy-duty pair may be more suitable.
Another minor drawback pointed out by some users was the sizing. A handful of online reviewers suggested they run a little small, recommending potential buyers to consider sizing up.
Despite these minor drawbacks, the views were overwhelmingly positive. Hikers, backpackers, and climbers alike applauded the Black Diamond Midweight Screentap Fleece Gloves for their high usability and quality, which make the gloves a worthy consideration for anyone seeking practical and durable hiking gloves.
Breathability
With its naturally breathable fleece fabric, these gloves stay feeling fresh and comfortable even during more strenuous activities. They've been singled out by many hikers for their excellent performance in this regard.
Dexterity
Users have praised the gloves for their dexterity. The screentap fingertips are a hit — they actually allow for quite a bit of precision on touchscreens. However, more intricate tasks may require the removal of the gloves.
Durability & Material
The Black Diamond Midweight Screentap Fleece Gloves hold up pretty well for a pair of medium-duty gloves. They're made from stretchy fleece which provides a good degree of comfort and ease of movement. Users report they can last a few seasons of moderate use, but may show signs of wear if you're particularly hard on them.
Value
The Black Diamond Midweight Screentap Fleece Gloves hit a sweet spot in terms of value. For a decently low price, you're getting a pair of reliable, versatile gloves fit for a range of outdoor activities. While they're not the most hard-wearing pair on the market, they offer great performance for typically less strain on your wallet.
Weather Resistance
For a midweight glove, the Black Diamond holds its own against the elements. They keep hands dry in light to medium rain and sufficiently warm in cool to mildly cold conditions. That said, they're not designed for the most frigid winter temps or prolonged exposure to rain or snow.
Prices
Outdoor Research Vigor Midweight Sensor Gloves
$39.00
Best Budget Hiking Gloves
Based on our research and testing, we think the Outdoor Research Vigor Midweight Sensor Gloves are a great pick if you're looking for hiking gloves that are more budget friendly, without sacrificing too much in quality.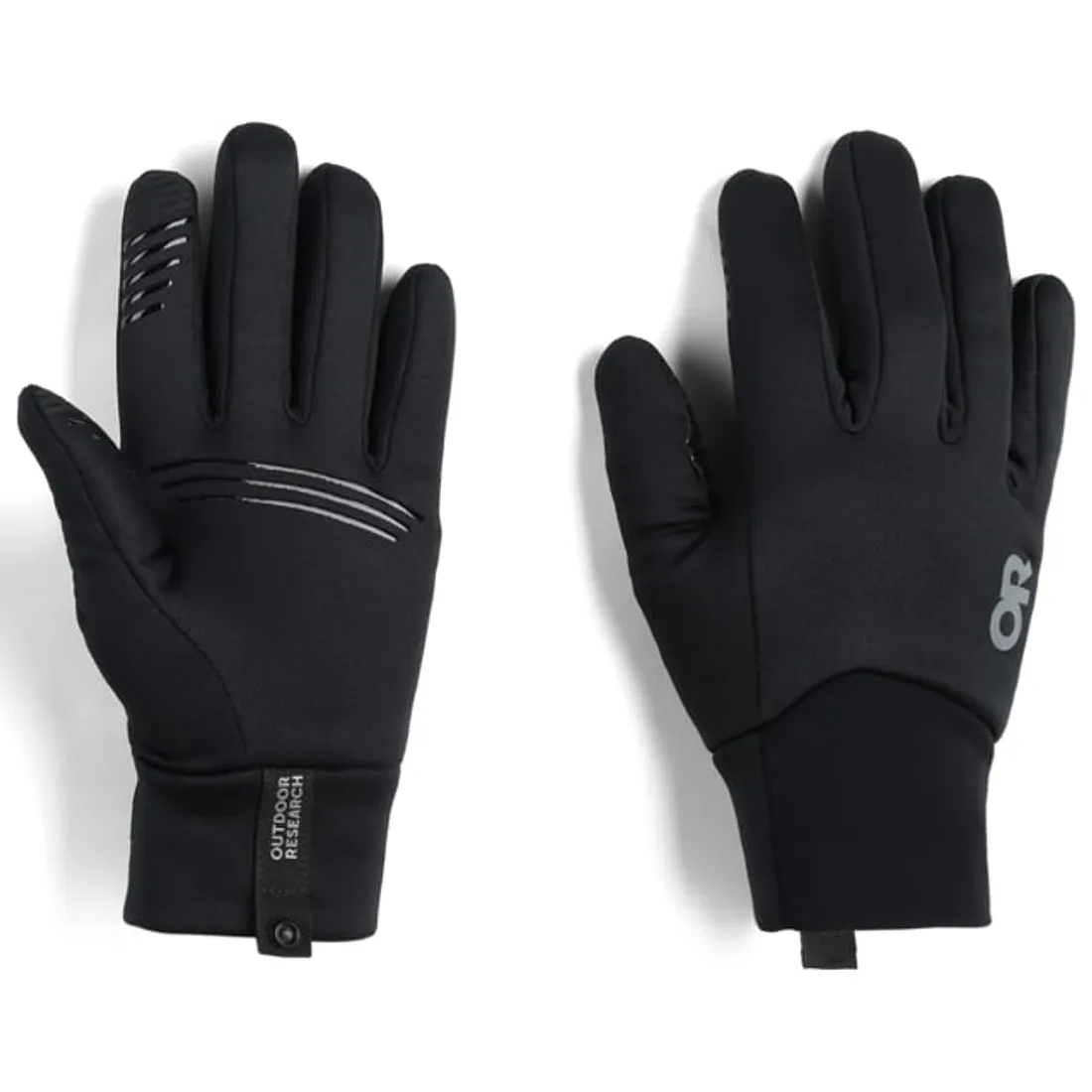 Reasons to Buy
Affordable without compromising quality

Effective touchscreen compatibility

Impressive mix of insulation and breathability
Reasons to Avoid
Not fully waterproof

May run small in size
The Important Specs
Lining:

100% polyester brushed fleece

Material:

94% polyester, 6% spandex knit

Touchscreen Compatible:

Yes
Review Roundup
Outdoor Research's Vigor Midweight Sensor Gloves are a spectacular product for those of us who love hiking but also love keeping track of our expenses. Not only is their price favorable for a tight budget, they also offer features usually found in more high-end gloves.
When it comes to warmth, the Vigor Midweight Sensor Gloves score top marks. The midweight fleece provides ample insulation keeping your fingers toasty even on icy trails. Some users have challenged them in snow and were quite glad with the level of protection they offer. They are not designed for freezing sub-zero temperatures, but for a regular crisp morning hike, they are more than capable.
The gloves feature touchscreen compatibility, a feature highly appreciated by many users. This means you don't have to remove your gloves when you want to take a picture or check your route on your phone. Users have provided positive feedback about the reliability of this feature and how it can be quite handy in cold weather conditions.
Durability is another high point of these gloves according to most customers' reviews. Made from sturdy material, they are noted to withstand normal hiking and camping wear and tear for an extended period. They're built to last, which underscores the value for money they offer.
In terms of comfort, the gloves were praised by many for their plush, snug fit. They are equally flexible, allowing for easy motion of the hands and fingers. A few users, however, did point out that they found the sizing slightly off, so it's a good move to check the size chart carefully before purchasing.
The design of the gloves is practical with elastic cuffs that make it easy to slip them on and off. However, a minor gripe some users had was the lack of a clip for securing the gloves together when not in use, a feature they found in many other brands.
All in all, based on numerous customer reviews, the Outdoor Research Vigor Midweight Sensor Gloves are a reliable companion for day hikes, camping trips, and other outdoor pursuits. They are comfortable, warm, and durable, with the added bonus of being touchscreen friendly, making them a great value for the money.
Breathability
Boasting wonderful breathability, the Vigor Sensor Gloves incorporate a dual-source layering system that optimizes heat retention, while preventing sweat build-up. The inner fleece lining also adds a touch of coziness to these gloves, ensuring warmth in chilly weather.
Dexterity
These gloves excel in providing excellent dexterity. The combination of stretchy materials and snug fit design allows for unhindered hand and finger movement. The added sensor feature enables trouble-free use of touch screen devices, which adds to their versatility.
Durability & Material
The Outdoor Research Vigor Midweight Sensor Gloves prove their durability with a tough, yet flexible polyester-spandex blend that stretches for full hand function, while resisting wear and tear. The material also feels soft and comfortable, giving the gloves a high-quality feel despite their budget price.
Value
When considering their durability, dexterity, and breathability, these gloves offer high value for their affordable cost. While lacking in ultimate weatherproofing, their performance in other areas makes them a great buy for hikers and campers on a budget.
Weather Resistance
Although the gloves aren't fully waterproof, they do offer some good resistance to damp conditions and light rainfall. Plus, the quick-drying material is good news if you're caught in a downpour, getting you back to dry in no time.
Prices
Arc'teryx Alpha SL Gloves
$99.00
Best Hiking Gloves for Alpine and Scrambling
Based on our research and testing, we think the Arc'teryx Alpha SL Gloves are a solid choice if you want hiking gloves that's really well suited to Alpine and Scrambling.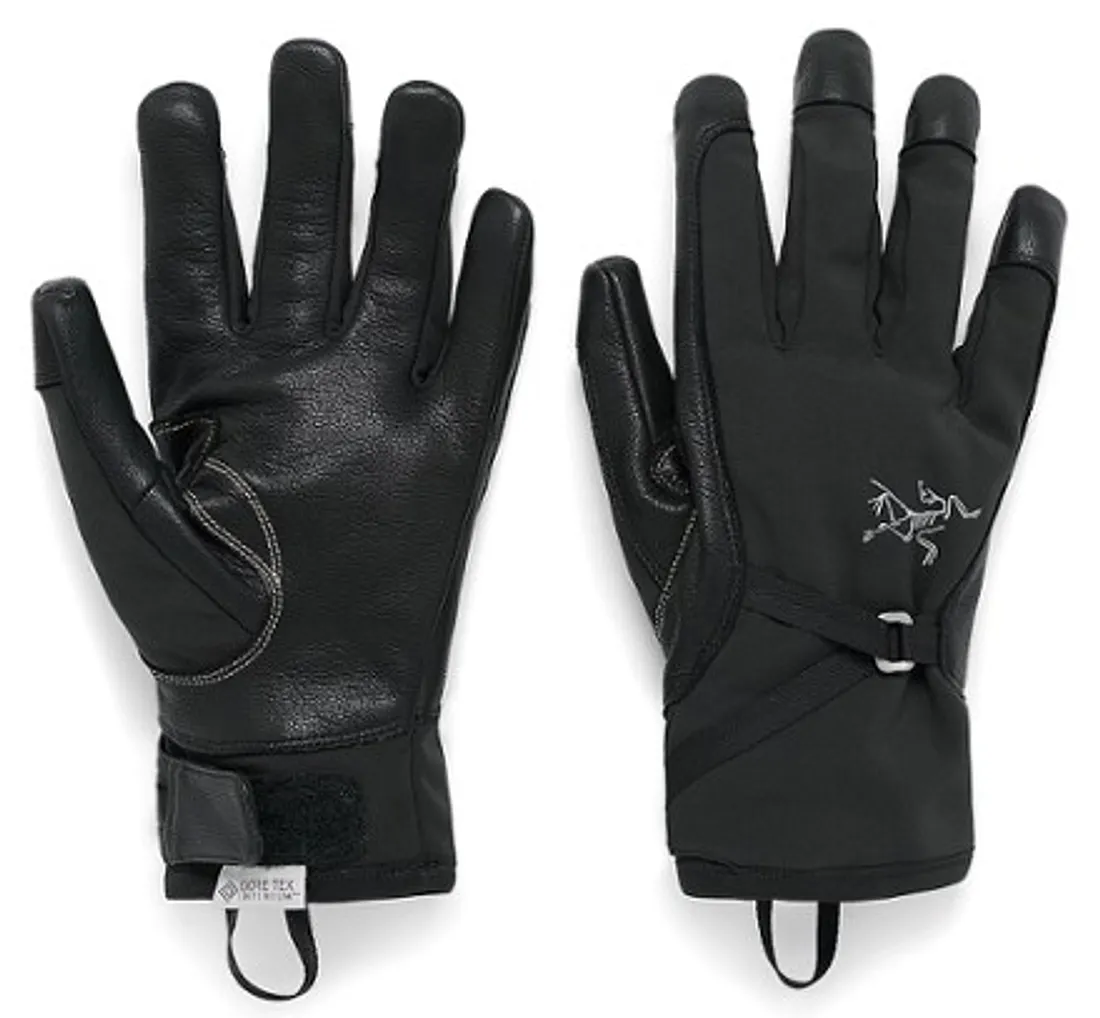 Reasons to Buy
Excellent dexterity

Durable material

Great weather resistance

Comfortable for long use

Ideal for alpine and scrambling
Reasons to Avoid
Price point is high

May not be breathable enough for warmer climates

Hand sizes might not perfectly fit everyone
The Important Specs
Lining:

PrimaLoft Gold insulation Eco with Grip Control

Material:

N70p GORE-TEX with GORE grip technology

Adjustability:

Wrist cinch and drawstring gauntlet

Sustainability:

Bluesign approved material
Review Roundup
The Arc'teryx Alpha SL Gloves is a true standout in the alpine and scrambling niche. Not only does it have a sleek, modern aesthetic, but it also packs a punch when it comes to functionality. Designed with the rugged and unpredictable alpine environment in mind, these gloves are there to protect you when it gets rough out there.
Online users frequently mention the glove's water-resistant feature. They love how the GORE-TEX fabric works accurately, keeping their hands dry in the face of sudden downpours or snowfalls. If there's one thing you don't want during a scramble or hike, it's chilly, wet hands, and the Arc'teryx Alpha SL Gloves excel in preventing just that.
The durability of these gloves is another feature online reviewers rave about. Made with high-quality, rugged materials, they're designed to handle the wear and tear that comes with a day on the mountain. Scrambling typically involves a lot of contact with rocks and harsh surfaces, and according to several users, these gloves are super tough and show minimal signs of wear, even after lots of use.
Many users appreciated the excellent dexterity provided by the gloves. The careful design and snug fit of the gloves allow for a high degree of hand movement and grip control. This is particularly useful in activities such as climbing and holding onto trekking poles, where a good hold can make a world of difference.
On the negative side, some buyers found the gloves a bit pricey. However, most have remarked that the gloves' versatility, longevity, and superb performance justifies the cost. While these might not be the gloves for someone on a tighter budget, the extra dollars spent on the Alpha SL tends to pay off in the long run.
A couple of users pointed out that the gloves can run a little small, suggesting that potential buyers size up when making a purchase. But once you get the sizing right, owners of the gloves were unanimous in agreeing the fit is very comfortable.
In terms of insulation, a couple of feedback suggested it's not the best for incredibly chilly conditions. However, if you're moving a lot and staying active (like you would be while scrambling), the gloves should provide sufficient warmth.
Breathability
Feedback on breathability has been slightly mixed. While the gloves are primarily designed for colder climates, some users found them a bit sweaty in warmer or more vigorous hiking conditions. That being said, if you're venturing into cold territories, these gloves could be an excellent pick!
Dexterity
Dexterity is another striking feature of these gloves. The brand has balanced insulation with freedom of movement quite well. Reviewers have mentioned the incredible ease they experienced while handling gear, tying knots, and performing other intricate tasks while wearing these gloves. The overall feedback indicates these gloves do not compromise on dexterity.
Durability & Material
The Arc'teryx Alpha SL gloves stand out when it comes to durability. Crafted from N70p GORE-TEX with GORE grip technology, these gloves assure you top-notch longevity. Users have commended how the material withstands rough alpine and scrambling adventures without showing significant wear and tear.
Value
On the value front, it is no secret that Arc'teryx equipment comes with a significant price tag, and the Alpha SL gloves are no exception. However, reviewers seem to agree that the high level of performance, durability, and the technical features they offer do justify the price for serious outdoor enthusiasts involved in alpine, scrambling and other adventurous undertakings.
Weather Resistance
Weather resistance is definitely a strong point of these gloves. They're crafted from GORE-TEX material, renowned for its superior weather-proof qualities. Whether facing snow, wind, or rain, the Alpha SL gloves have received resounding endorsements from numerous users for keeping hands dry and warm.
Prices