Quick heads-up: some of the links on this page are affiliate links. If you make a purchase through them, we may earn a small commission (at no extra cost to you). This small bit of income helps keep our site running.
Best Hiking Daypacks for Women of 2023
This post was last updated on December 06, 2023.
We've also got a unisex version of this post that you might be interested in: Best Hiking Daypacks of 2023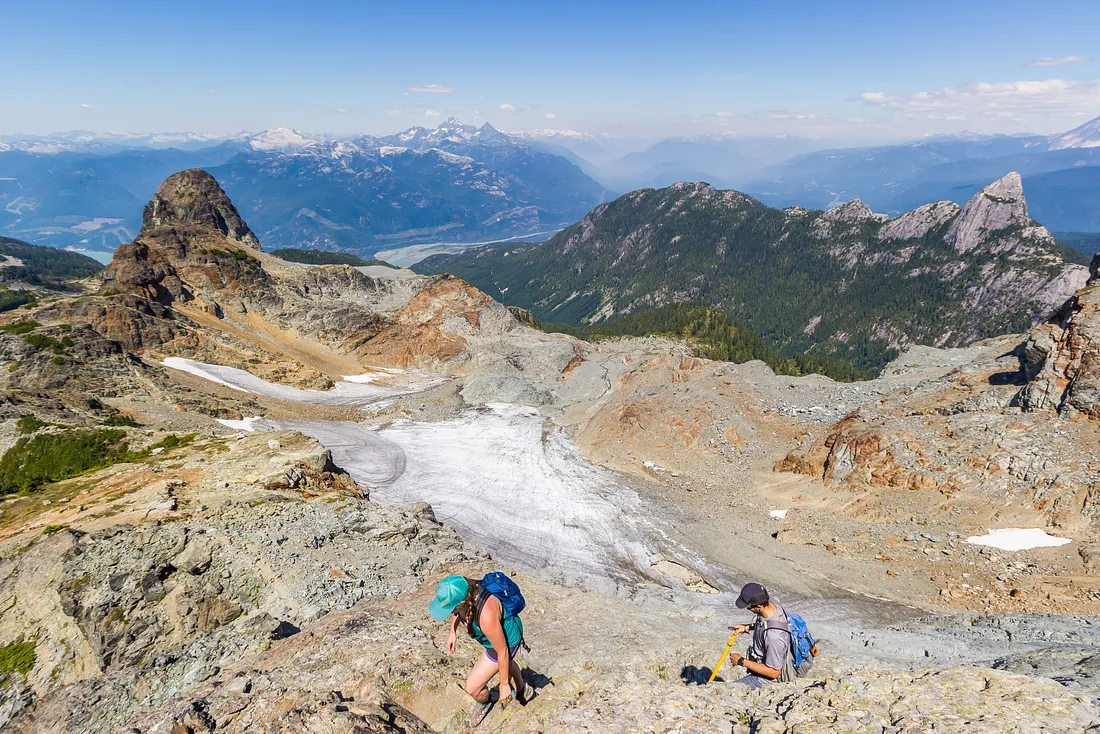 If you're an adventurous type who loves hiking off the beaten path, you'll need a dependable sidekick to carry all your essentials. Enter the realm of hiking daypacks, a jungle of decisions with hang tags using industry jargon that leaves many buyers in a bewilderment. But, don't worry, we've taken up the heavy lifting to decode and identify the 'Osprey Tempest 20' as the ultimate choice for women. Its mix of durability, cleverly designed storage capacity, and glass-ceiling value literally carries the day.
So, let's go ahead and dissect what makes the Tempest 20 stand out among the competition. But fear not, we also plucked out some impressive runners-up, and keen alternatives for those engaged in Resort Skiing and Snowboarding, Backcountry Skiing, Ultralight backpacking, and even those having eyes on a budget-friendly pack.
Hungry for more gear advice? Check out our other guides: Best Hiking Shirts for Women, Best Sun Protection Shirts for Women, and the Best Hiking Pants for Women.
Our Top Recommendations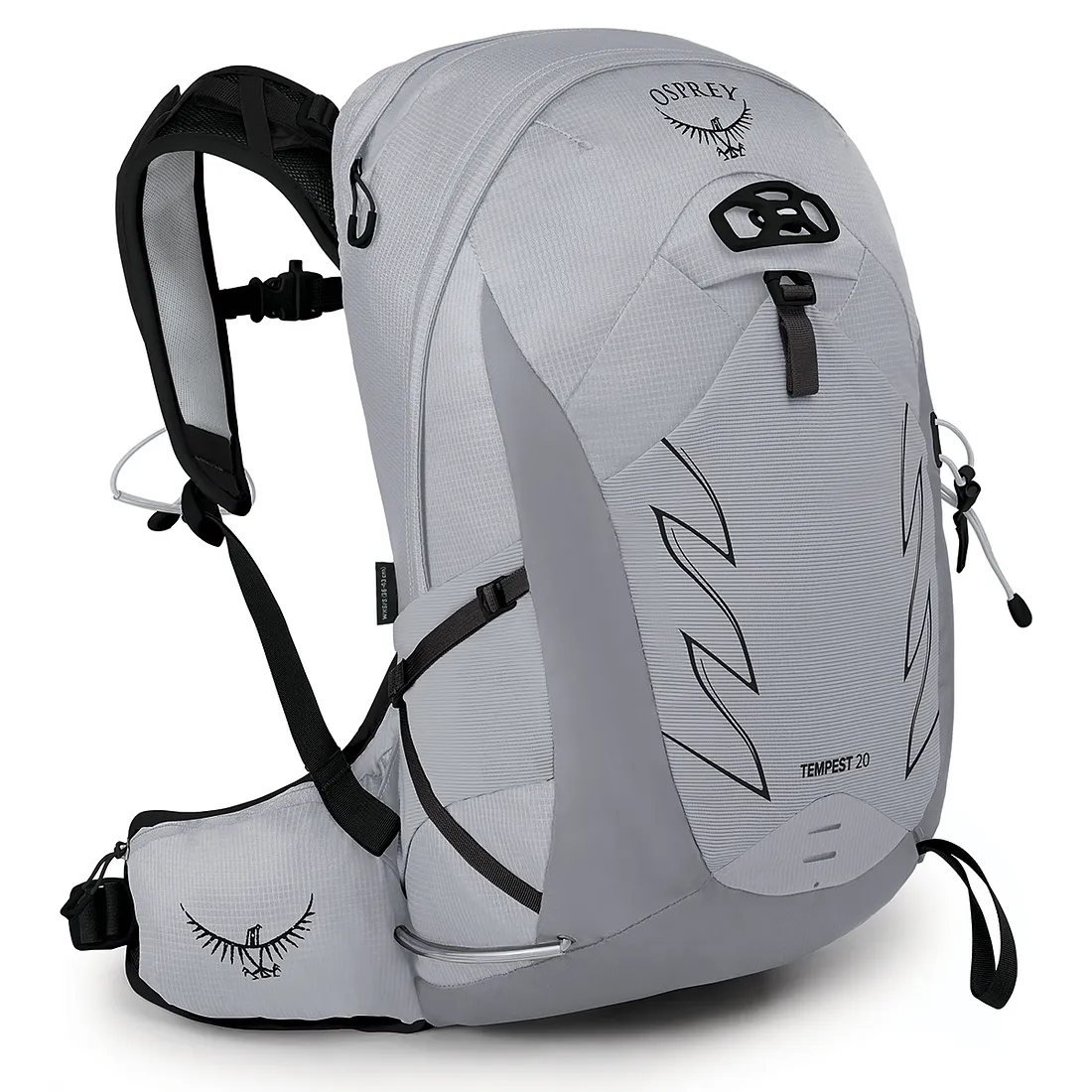 Osprey Tempest 20
The Women's Osprey Tempest 20 takes the top spot because of its rave reviews praising its comfortable fit tailored for female anatomy and the back ventilation system that keeps you cool on challenging hikes.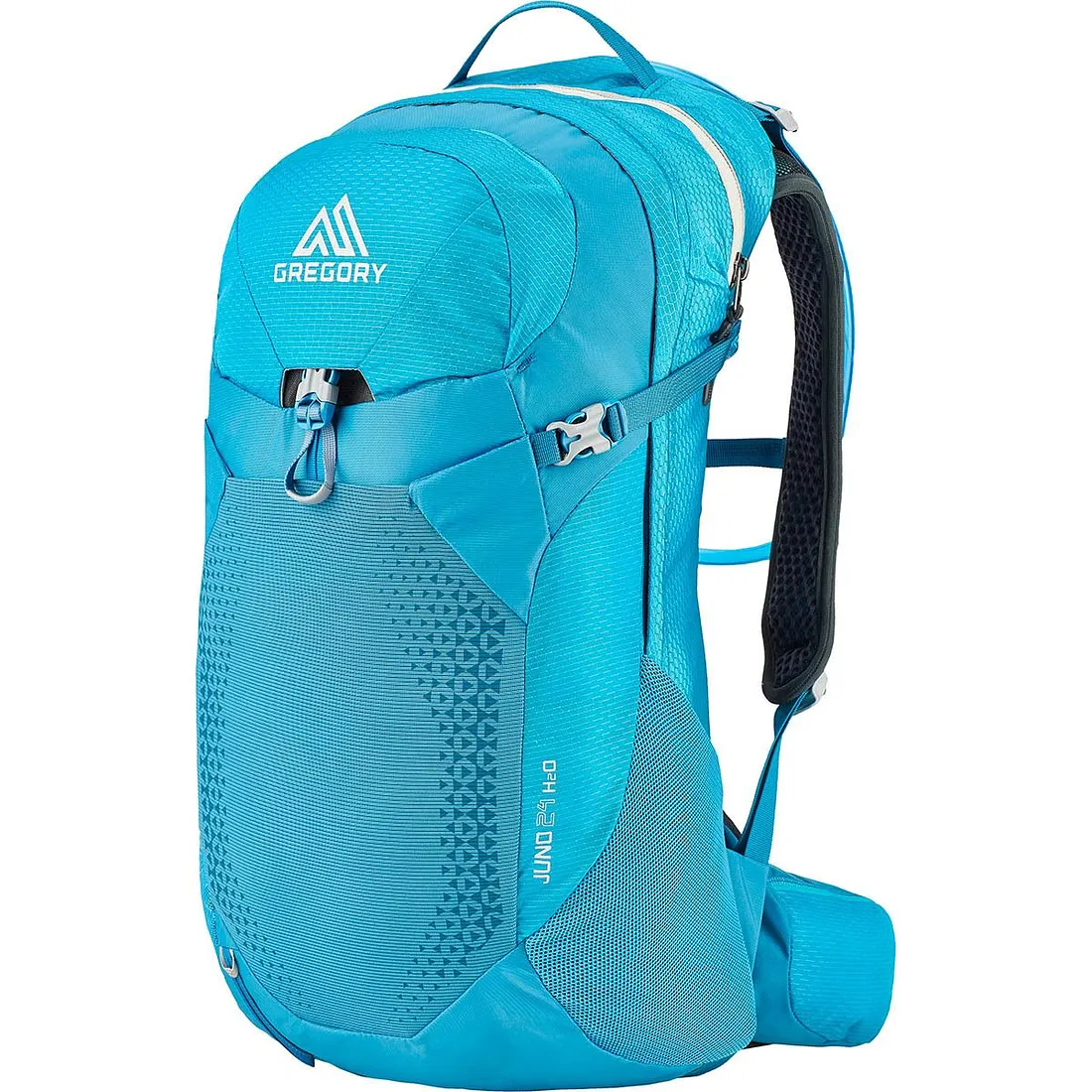 Gregory Juno 24
The Gregory Juno 24 clinches the runner-up spot because users rave about its exceptional comfort with its ventilated, ergonomic back panel and praise its ample storage space with easy to reach pockets, proving it's a cut above the rest.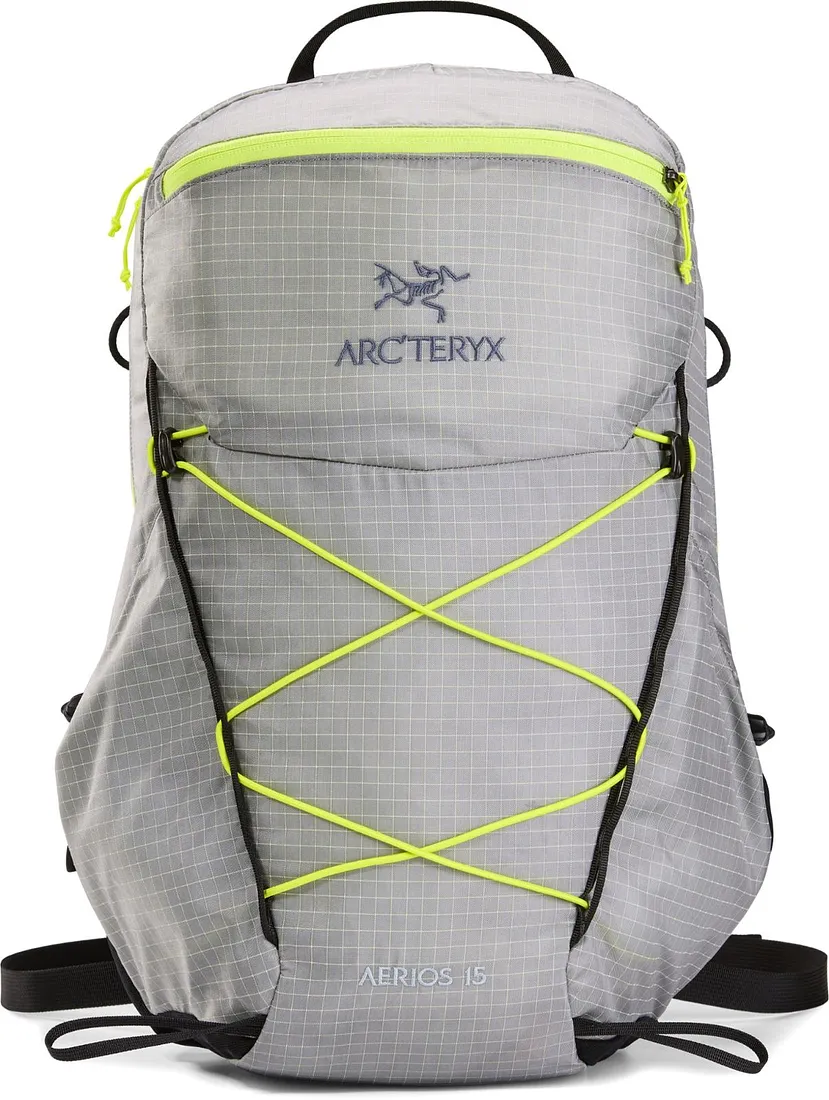 Arc'teryx Aerios 15 Pack
The Arc'teryx Aerios 15 Pack wins top marks among users for its superior comfort thanks to its breathable Aeroform back panel, and for its handy hydration sleeve, which keeps water conveniently within reach on long treks.
What you should look for
(and what we test for)
Capacity
Think about how much gear you usually bring on day hikes, and pick a daypack with enough space to comfortably fit it all, including extra accessories like a rain cover or hydration bladder.
Durability
Ensure the daypack is durable enough to withstand your outdoor adventures, by checking if it's made from high-quality, tear-resistant materials and has robust zippers and buckles.
Ventilation
Consider a daypack with a ventilated back panel or mesh straps, as these features contribute to better airflow and help reduce back sweat, which is especially important during hot summer hikes.
Fit and Comfort
Look for a women's hiking daypack that's specifically designed for a woman's anatomy, with contoured shoulder straps and a narrower torso length for a comfortable fit during your hikes.
Osprey Tempest 20
$160.00
The Best Women's Hiking Daypack
Based on our research and testing, we think the Osprey Tempest 20 is the best Women's Hiking Daypack on the market right now, for anyone looking to play hard outside.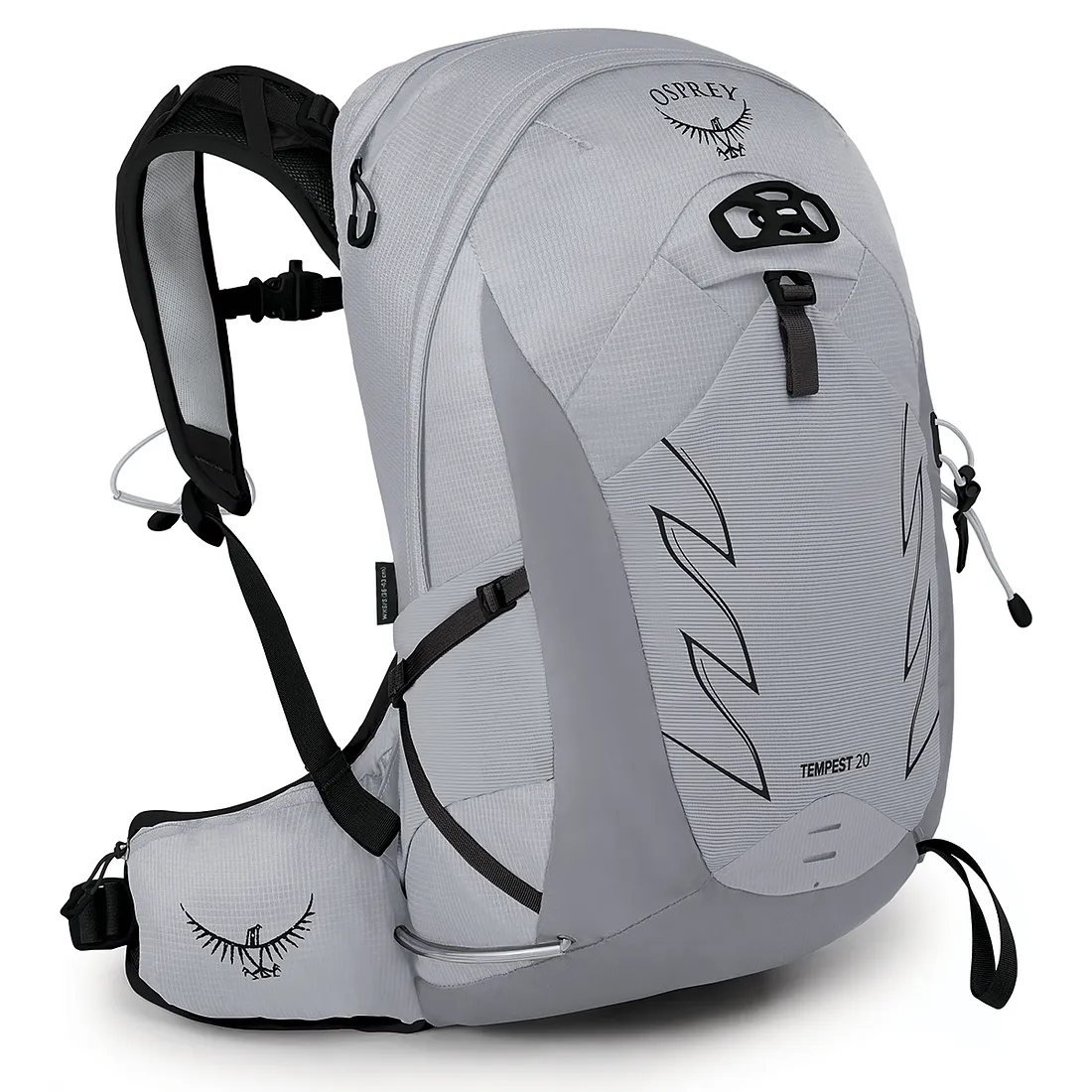 Reasons to Buy
Perfect fit with adjustable straps

Excellent organization with multiple compartments

Comfort-oriented design

Resilient against weather conditions

Good value for money
Reasons to Avoid
Zipper can become stuck

Unsuitable for longer treks due to limited capacity
The Important Specs
Capacity:

20 L

Material:

210D High Tenacity Nylon

Dimensions:

19 x 11 x 11 inches

Water Resistance Level:

Water-Resistant
Review Roundup
The Osprey Women's Osprey Tempest 20 is a popular pack among women outdoor adventurers, and it's not hard to see why. This pack isn't scared of a hefty load and will hold your gear with ease while offering a comfy ride all day.
The Tempest 20 boasts an adjustable torso length which is a big hit with users. This custom fit is one of the things that sets Osprey apart from other brands. A properly fitting pack can make the difference between an enjoyable hike and a struggle bus trip over the hills and far away.
The pack features a lid-lock helmet attachment that bikers love. It may not hike the trail for you, but it does keep your helmet secure when you're not on your wheels.
The pack's stretchy mesh front pocket can hold your extra layer of clothing, making it an absolute lifesaver when the weather can't make up its mind.
Reviewers didn't skip over the external hydration sleeve. The feature ensures you stay hydrated without the fuss of having to dig through your pack to find your water bottle. Plus, it's positioned to make spills less of an issue.
There were some minor complaints about the hip belt pockets. They are bit small and they're not the easiest to reach while you're on the move, which can be a bit of a bother. If you're in need of a larger pocket for storing on-hand essentials, you might need a backup plan.
Additionally, some users felt the straps were a bit too much on the stiff side. But, it seems like they soften up after breaking in the pack a bit.
Despite these small issues, it's clear that the Osprey Women's Tempest 20 is a winner. With its fantastic features, spaciousness, and comfort level, it's no surprise that it has so many fans.
Adjustability & Fit
This pack comes with ample adjustability features. The adjustable waist and shoulder straps, coupled with the ventilated back panel, provide a customized fit and promote comfort and ventilation during strenuous hikes.
Durability
This daypack is made with 210D High Tenacity Nylon. It's durable enough to withstand rough terrains and all types of weather conditions. It may endure wear and tear over time, but it'll still keep up with your adventure needs for a significant duration without any major issues.
Ease of Access
The pack offers easy access to your things with a panel zipper at the top and side mesh pockets. However, some users report the main zipper can become stuck relatively easily.
Material
The Tempest 20 is crafted from top-tier materials like the 210D High Tenacity Nylon, which gives the pack its strength and durability. The nylon also provides a level of water resistance, so it'll protect your gear in a light rain, although it might not stand up to a downpour.
Storage Capacity
A 20-liter storage capacity makes this bag suitable for day trips, but may not cut it for extended treks or if you like to pack heavier for your day hikes. The design optimizes space with different compartments, including a separate hydration sleeve and a stretch pocket at the front for quick-grab items.
Value
For its top-notch materials, comfort features, and thoughtful layout, the Osprey Women's Tempest 20 comes at a relatively reasonable price. It's a good investment if you're an avid day hiker seeking quality and durability.
Weight
The Osprey Women's Tempest 20 is a lightweight pack, making it an excellent option for day hikes. You can carry it for hours on end with minimal strain. However, this doesn't compromise its durability—quite the opposite. Even though it's light, the Tempest 20 is robust enough to load up with your hiking essentials.
Prices
Runner Up
Based on our research and testing, we think the Gregory Juno 24 is a great choice if you're looking for a women's hiking daypack to go play hard outside with, if our top pick isn't quite what you're looking for.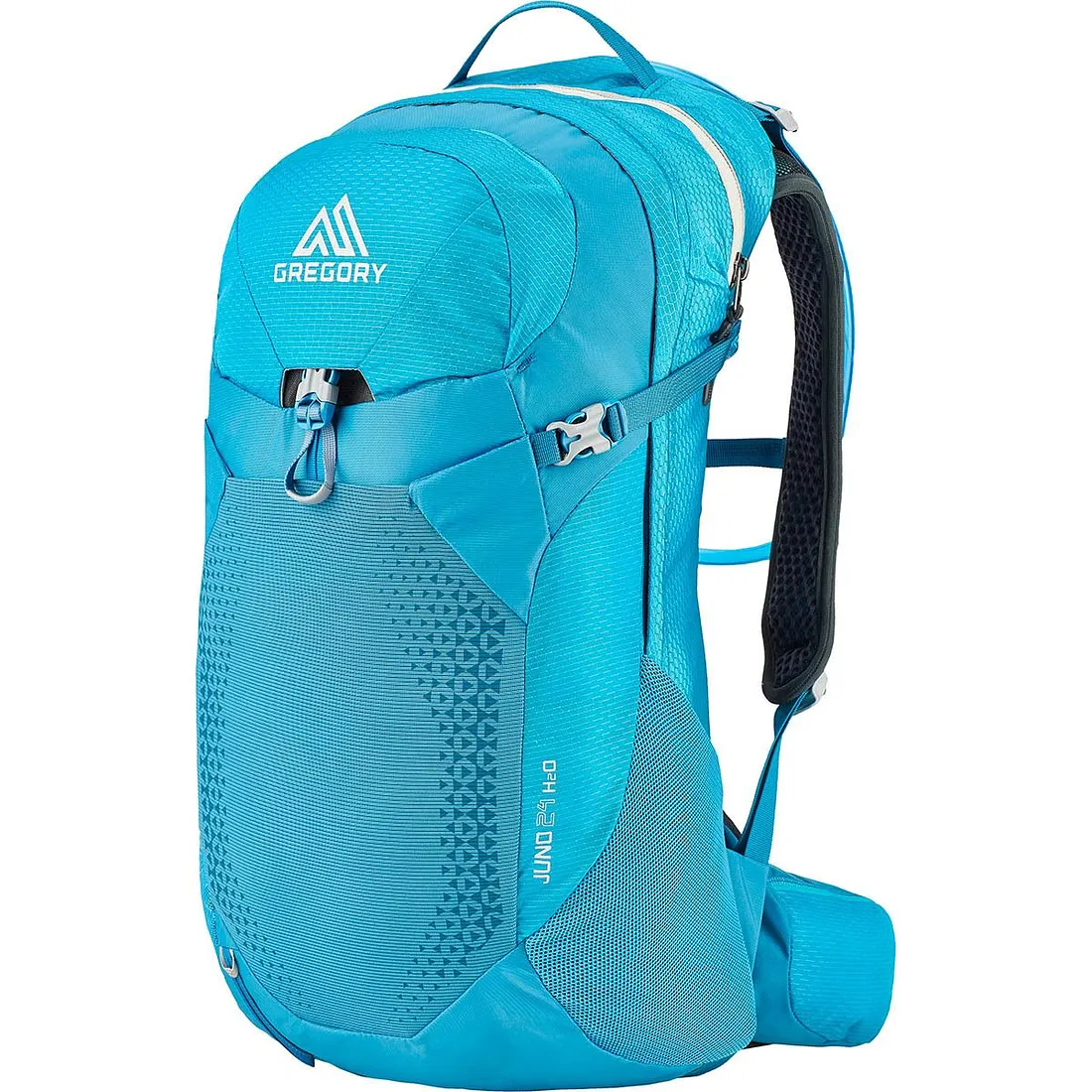 Reasons to Buy
Breathable mesh back

Perfect size for day trips

Impressive amount of pockets

Comfortable hip and chest straps

Hydration reservoir compatible
Reasons to Avoid
May be too small for extended trips

Not fully waterproof

Lacks load compression straps

Premium price range
The Important Specs
Capacity:

24 Liters

Material:

Nylon

Hydration:

Reservoir compatible

Dimensions:

20 x 11 x 8.5 inches

Manufacturer:

Gregory
Review Roundup
The Gregory Juno 24 hiking daypack has emerged as a go-to choice for women seeking comfort, utility, and durability. It's more than just a stylish accessory for the outdoors.
Built with a range of impressive features and available in multiple vibrant colors, this daypack is a stunner. Users have heaped praise for its well-padded back panel that offers optimal ventilation for all-day comfort, especially during strenuous hikes or climbs. This back comfort is further enhanced by an adjustable hip and chest strap ensuring the pack stays firmly in place.
It's not just about comfort, though. In terms of carrying capacity, the Juno 24 holds its own. The 24-liter storage is sufficient for day trips, offering multiple compartments to keep things organized. Reviewers mention a dedicated hydration reservoir section, a front stretch mesh pocket, and tool attachment points, all of which provide ample storage options.
The design of the Gregory Juno 24 has also garnered positive feedback. Customers appreciate its sleek, streamlined finish which doesn't compromise on its ruggedness. This sturdy construction allows it to withstand rigorous outdoor activities, proving it as more than just a pretty face.
However, as a balanced commentary, some users have pointed out a few flaws worth noting. The backpack, though crafted for a women's anatomy, might not fit everyone perfectly. A few customers have pointed out the need for more adjustability. Moreover, while the internal hydration pocket is a nice touch, some found it shrinking the available storage space for larger items.
Finally, the weight of the backpack—about 1.76 lbs—has also been a matter of opinion. Some users find it effortlessly light, while others pointed to other lesser-heavy options available in the market.
Overall, the Gregory Juno 24 offers a mix of comfort, style, and practicality, making it a considerable option for hikers. While it does garner some minor critiques, its wide array of features and dependable construction has gained it positive ratings among customers online.
Adjustability & Fit
Featuring adjustable sternum, waist, and shoulder straps, the Juno 24 is easily customizable, providing a secure and comfortable fit for various body types. The ventilated mesh back panel molds to your back, keeping you cool and comfortable during long hikes.
Durability
This Gregory pack is constructed from robust nylon material known for its resistance to wear and tear. While not fully waterproof, it can withstand a light drizzle. For heavier rain, additional rain cover is recommended.
Ease of Access
With several pockets strategically situated throughout the bag, the Juno 24 makes it easy to reach for your gear. The large main compartment opens wide for trouble-free packing and unpacking.
Material
The Gregory Juno 24 is made from a top-quality nylon fabric. This pack is designed to handle rough conditions with a sleek, sturdy exterior that stands up to scratches, tears, and abrasions.
Storage Capacity
This daypack offers a 24-liter capacity, which is spacious enough to carry snacks, water, a light jacket, and other essentials for a full-day on the trails. The separate hydration sleeve is a useful feature, allowing you to stow a water bladder without eating into the main storage space.
Value
Though the Gregory Juno 24 sits at a slightly higher price point compared to other daypacks, it certainly delivers on value with its durable material, intuitive design, and comfort. For enthusiasts looking for a high-quality daypack that will last for years, it's worth the investment.
Weight
The Gregory Juno 24 is surprisingly lightweight given its heavy-duty construction and abundance of features. This makes it ideal for high-intensity hikes where excessive gear weight can slow you down or cause strain. Please note, however, the weight may increase when the pack is filled to its maximum capacity.
Prices
Arc'teryx Aerios 15 Pack
$130.00
Runner Up
Based on our research and testing, we think the Arc'teryx Aerios 15 Pack is a great choice if you're looking for a women's hiking daypack to go play hard outside with, if our top pick isn't quite what you're looking for.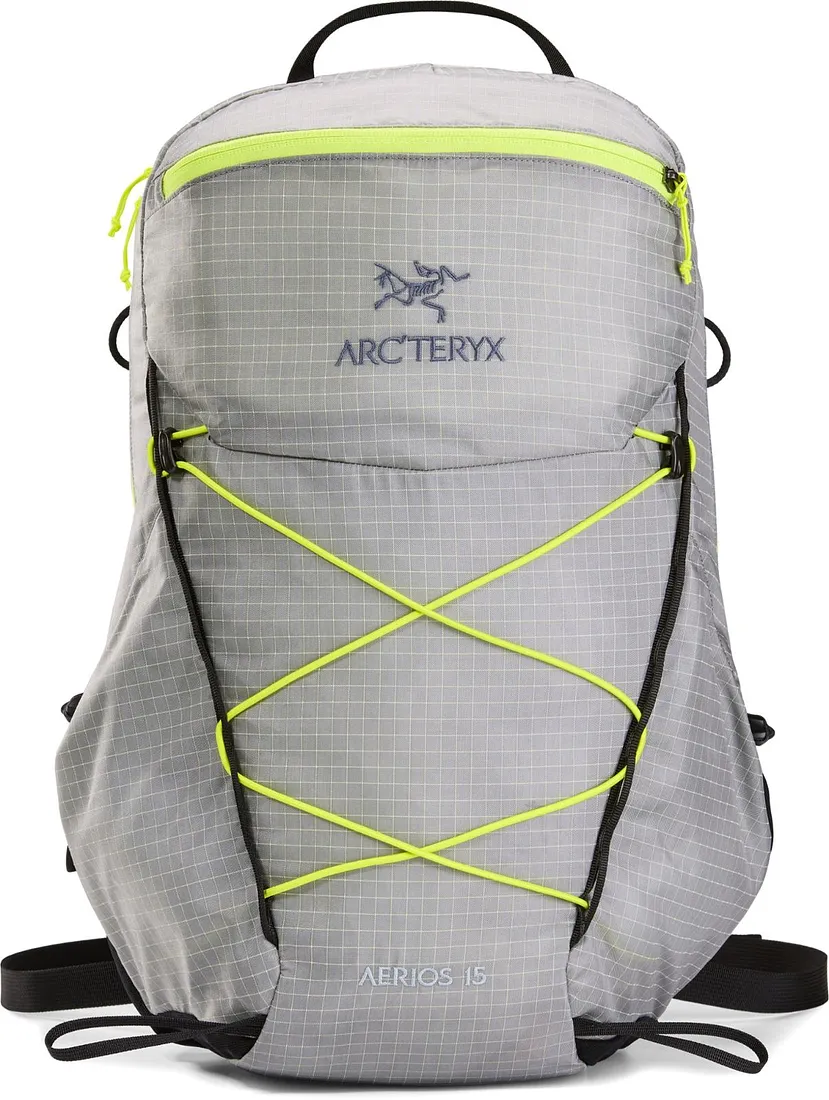 Reasons to Buy
Highly adjustable to fit different body types

Excellent storage capacity with smart, convenient pocket placement

Made with durable and water-resistant material

Comfortable cushioning in the back to promote airflow

Features a hydration reservoir pocket
Reasons to Avoid
A bit on the pricey side

Absence of hip pockets

The sleek design may limit loading bulkier items

Side pockets might be a bit tight for larger water bottles
The Important Specs
Gender:

Women's

Volume:

15 liters

Material:

Nylon

Dimensions:

19 x 9 x 7 inches

Hydration Compatible:

Yes

Number Of Exterior Pockets:

5+ main compartment
Review Roundup
The Arc'teryx Aerios 15 Pack is a top pick for many women hikers and for good reason. Firstly, it hits the sweet spot when it comes to capacity - at 15 litres, it's roomy enough to stash all your on-the-trail essentials, without feeling like you're hauling an extra person on your back. This size is perfect for day hikes where you just need some water, snacks, a light jacket and other basics.
The pack is designed with women in mind, offering an anatomically shaped fit that's more comfortable and less awkward than a unisex pack. Many users reported that it evenly distributed weight across their back, boosting comfort on long trails. It also features a comfortable shoulder harness and a hip belt that can be pulled tight to secure the pack close to your body.
When it comes to construction, the quality of this pack is hard to beat. Made from super durable nylon, the Aerios 15 is more resistant to tears and scrapes than most daypacks. Those who have bought this product praised its durability and said it held up well to wear and tear, even when pushed to the limit.
The pack also comes with a hydration sleeve, for hands-free drinking on the go. Plus, it has plenty of pockets for organizing gear and even a bungee cord on the exterior for attaching extra items. Some users have, however, mentioned that they would have liked more pockets for organization, so it seems this might be a small downside for those who like everything to have its own spot.
Another potential downside that was sometimes mentioned by users is the price. The Arc'teryx Aerios 15 Pack is not the cheapest option on the market, and some have said that although they loved the pack, they felt it was a little expensive. But many other users felt the price was justified by the daypack's comfort, durability and overall quality.
Overall, the Arc'teryx Aerios 15 Pack offers plenty of comfort features, a good amount of space and high-quality construction that holds up to rugged use. It's a top performer for day hikes, according to online reviews. Just be prepared to pay a little more for these top-notch features.
Adjustability & Fit
This pack shines when it comes to adjustability. With an adjustable sternum strap and breathable padded shoulder harness, it accommodates various body types ensuring comfort during extended use. However, some customers missed having adjustable hip straps.
Durability
Crafted from high-quality nylon material, this pack has earned high marks for its robustness. The reinforced high-wear areas and water-resistant coating further enable it to withstand harsh outdoor conditions.
Ease of Access
The tactical pocket placement on this pack is appreciated by most user reviews. The pockets are easy to access even when on move, although some users mentioned the side pockets being a bit too tight for larger items.
Material
Nylon is a practical choice for outdoor gear given its resistance to wear and tear. Plus, the water-resistant coating offers an extra layer of protection against the elements.
Storage Capacity
This pack has an impressive storage layout. Despite its sleek look, it can carry quite a lot in its main compartment. A nice touch is the hydration reservoir pocket. But, customers noted that bulky items might pose a bit of a challenge.
Value
While it may be pricier compared to other options in the market, the Arc'teryx Aerios 15 Pack offers quality, durability, and comfort that matches its price tag. If you're an outdoor enthusiast who's willing to invest in long-lasting gear, this pack might warrant the expense.
Weight
The Arc'teryx Aerios 15 Pack falls in the middle range of weights for daypacks. This makes it a fantastic choice for long hikes where carrying something lightweight can make a huge difference in energy conservation and overall comfort.
Prices
REI Co-op Trail 25
$79.95
Best Budget Women's Hiking Daypack
Based on our research and testing, we think the REI Co-op Trail 25 is a great pick if you're looking for a women's hiking daypack that is more budget friendly, without sacrificing too much in quality.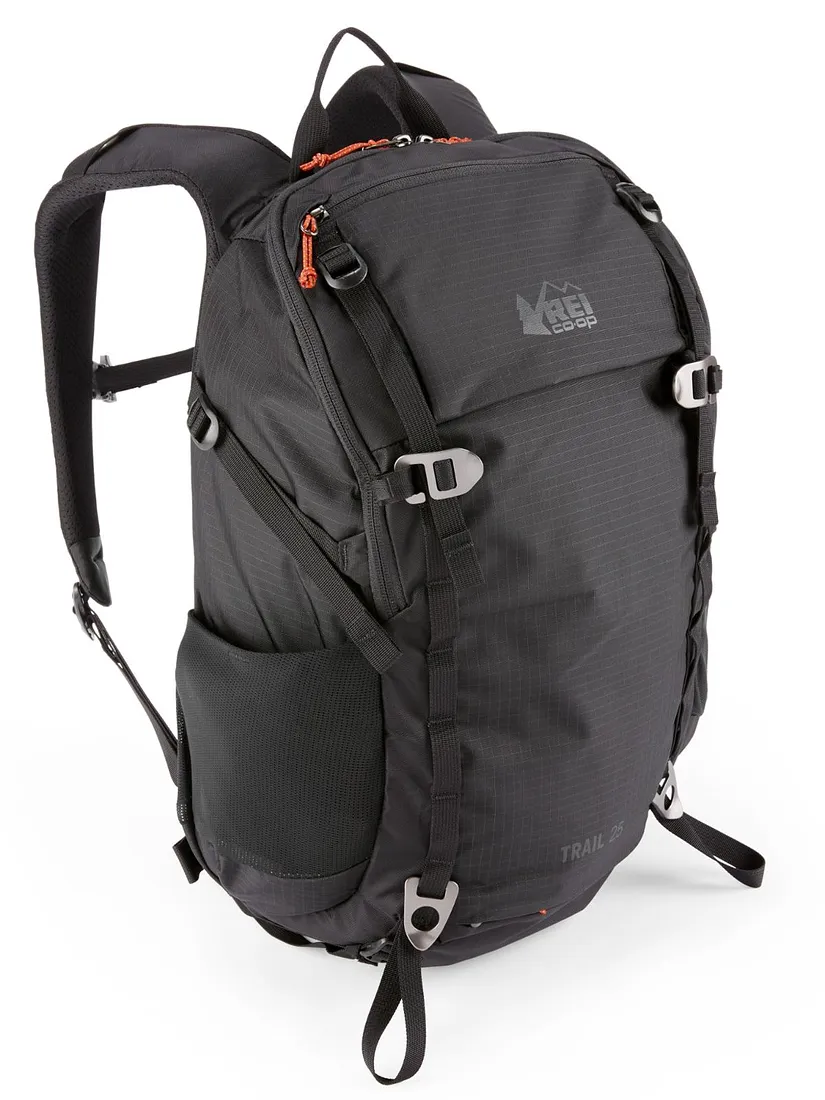 Reasons to Buy
Affordable without compromising quality

Versatile for various activities

Plenty of pockets for organization

Adjustable harness system for better fit
Reasons to Avoid
Not fully waterproof

Could be bulky for petite bodies
The Important Specs
Fit:

Women's-specific fit

Capacity:

25 Liters

Material:

Ripstop Nylon

Adjustable:

Yes, harness system and waist belt

Water Resistant:

Yes, but not fully waterproof

External Pockets:

Yes, including a side zip pocket and two mesh side pockets
Review Roundup
The REI Co-op Trail 25 scores big in the budget-friendly daypack niche. It's a versatile pack that can be used for a variety of outdoor activities, making it a great all-rounder for folk who love a bit of everything, not just hiking.
Crafted for women, it has a uniquely designed suspension system that contours to the female form. Buyers say it provides comfortable wear even after extended use, which is a big plus for long adventure trekkers.
According to customers who purchased this daypack, it offers an impressive amount of space, which allows for easy organization of gear. Its 25-liter capacity can hold enough stuff for a long day out, but it isn't so large to wear you out.
Reviewers also appreciate its lightweight design, which doesn't burden you with extra ounces. That makes it great for folks who like a fast-paced jaunt on the trail or a gentle amble. It's comfy and light, yet sturdy and able to handle a bit of a beating.
The durability of this daypack has been touted by many purchasers. Its ripstop nylon construction sees to its longevity, making it worth every penny for the budget conscious.
Reviewers also mention the wealth of pockets and compartments. It features a big main compartment, stash pockets, hipbelt pockets, and even hydration compatibility. However, not everyone was crazy about the position of some pockets; some found the side pockets a bit too tight while others found the hipbelt pockets a smidge too small.
The pack's rain cover was another hit feature among purchasers. It's rare to find a budget daypack with this built-in feature, and this helps to keep all your gear dry during unexpected downpours.
The sternum strap comes with a whistle, which reviewers loved because it adds a crucial safety feature - a clever touch by REI.
However, not all was peachy according to the reviewers. A few reported that the zippers can get caught in the lining material, which can be frustrating at times.
Nevertheless, the consensus is that the benefits far outweigh these minor gripes. Many buyers described the REI Co-op Trail 25 as a great budget-friendly daypack for women - lightweight, durable, and compact with multiple storage options.
Adjustability_and_Fit
One of the biggest selling points of the Trail 25 is its adjustable harness system, allowing a customized fit which is especially appreciated by female users. The waist belt, though not padded, adds distribution of weight as needed.
Durability
Made of ripstop nylon, this pack is resilient and can stand up to the rigors of the great outdoors with ease. The only concern would be in intense, rainy weather as it's not fully waterproof.
Ease_of_Access
Users say that accessing belongings is a breeze with the large U-shaped zipper, and the generous array of pockets are well-placed for handy and sorted storage.
Material
The ripstop nylon material adds to its durability. The fabric can resist wear and tear caused by heavy loads or rough terrain. However, an additional cover may be needed during heavy rain.
Storage_Capacity
With a generous 25 liter capacity, there's an admirable amount of room for gear. The pack covers essentials with ease, and a bevy of external pockets offers quick access and organization.
Value
Delivering solid features and durability at a price point that doesn't break the bank, the REI Co-op Trail 25 is considered by users as great value for money.
Weight
For its size, the REI Co-op Trail 25 frames out as a relatively light pack which is comfortable to wear all day long. However, people with smaller frames may find the pack a bit bulky.
Prices
Black Diamond Distance 15
$179.95
Best Ultralight Women's Hiking Daypack
Based on our research and testing, we think the Black Diamond Distance 15 is a solid choice for those looking for a lightweight women's hiking daypack option to go play hard outside with.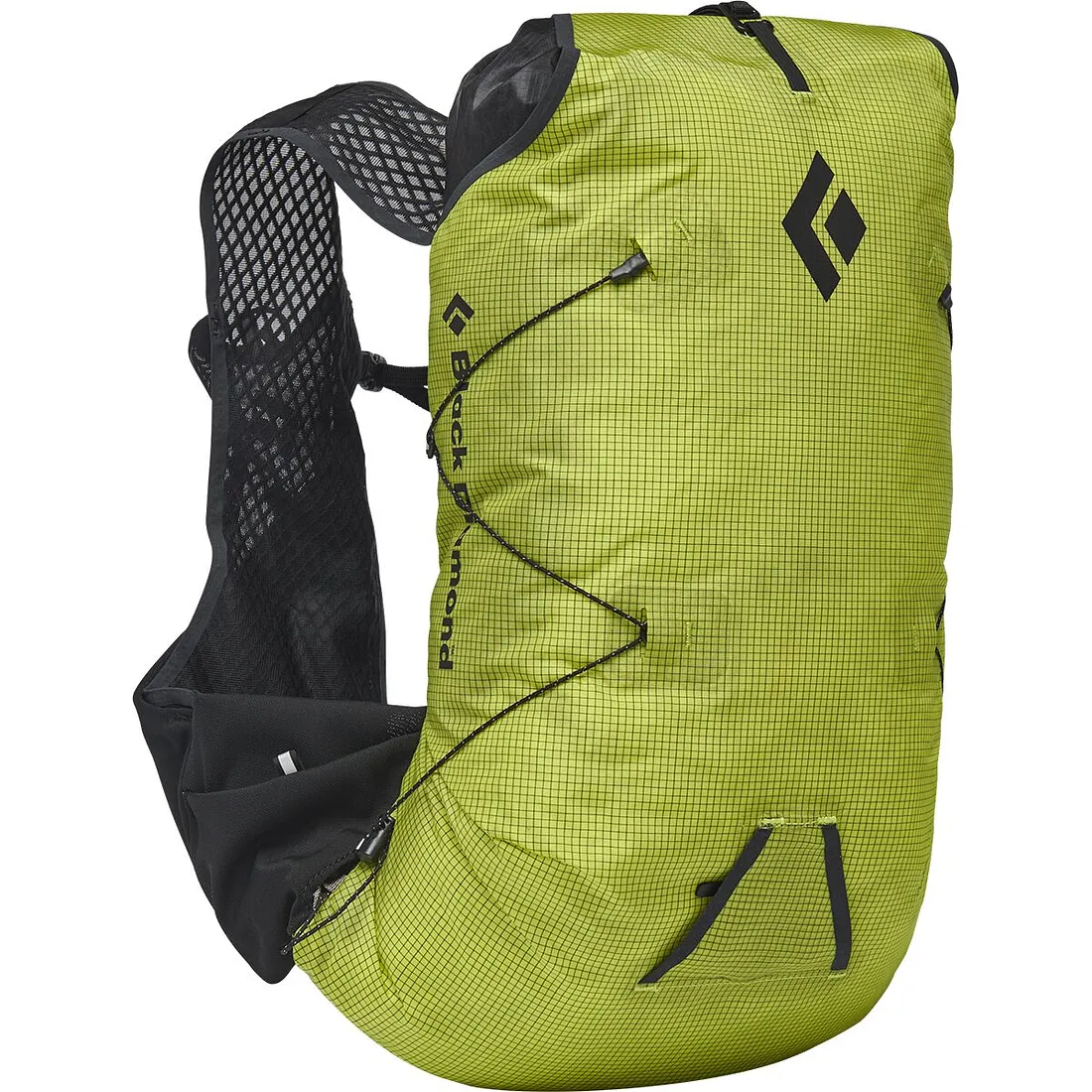 Reasons to Buy
Versatile use for both urban and trail environments

Exceptional hydration compatibility

Comfortable fit specifically designed for women's bodies
Reasons to Avoid
Limited storage capacity might be unsuitable for extended trips

Lack of padding could raise comfort concerns during long-distance hikes

Side pockets might be hard to reach while walking
The Important Specs
Capacity:

15 liters

Material:

100% Ripstop Nylon (weather-resistant)

Dimensions:

16.1 x 11.8 x 3.9 inches

Hydration Compatible:

Yes
Review Roundup
The Black Diamond Distance 15 is one of those daypacks that keep getting thrown in the spotlight and for a good reason. This ultralight pack is designed with the serious hiker in mind, featuring a minimalist design that's all about functionality.
The first aspect we noticed is its extraordinary lightweight build. It leaves almost no burden on your shoulders which makes it a pleasure to carry on long hikes. But don't let the minimal weight make you think Black Diamond skimped on durability - from the looks of the numerous customer reviews we've seen, the pack's material holds up to rough and tough hiking conditions quite well.
It comes with a body-hugging fit, allowing for the pack to move with your body. This feature we've found is super beneficial when navigating through tricky terrains. In terms of storage, it boasts a 15 litres capacity. From trail maps to extra layers, snacks to water bladders, it swallows everything you need for a day out in the wild.
One feature that seems to be both a hit and a miss among users is its hydration compatibility. While many appreciate the thoughtfulness of this feature, a frequent complaint is the lack of a dedicated hydration pouch or pocket, meaning you have to share space with other gear.
Its simplicity might either be embraced or frowned upon, depending on how organized a packer you are. There are no extra pockets on the outside which some users miss for quick access to essentials, but for others, this makes for a cleaner, streamlined pack with less risk of snagging.
With the Black Diamond Distance 15, you aren't just paying for the brand name. The common thread in user reviews seems to be about how this lightweight, durable and slim pack is a faithful companion during those day-long trail explorations. Bugs include a lack of organization features, but for those seeking simplicity and function, this pack comes highly recommended.
Adjustability & Fit
The design is finely tuned to fit a woman's body, and the adjustability of the pack straps allows for a snug, secure fit. Despite the absence of substantial padding, many users found the pack to fit comfortably and move with the body well over varied terrain.
Durability
Made from 100% Ripstop Nylon, this daypack is designed to withstand harsh trail conditions and weather elements. It stands up to wear and tear remarkably well, meaning you can trust in its durability over a long period of use.
Ease of Access
Accessibility of main compartments is straightforward, but some users reported a degree of difficulty reaching side pockets while on the go. The hydration sleeve adds a definite plus to its functionality.
Material
The material used is top-notch. Its 100% Ripstop Nylon makes it weather resistant and tougher than average daypacks. While providing robust protection against the elements, the material also has a smooth finish, adding a bit of style to the mix.
Storage Capacity
Though it has a smaller size, the Black Diamond Distance 15 does a decent job of maximizing the space it does have. Main zipped compartment accommodates your essentials while the external stretch pockets can hold extra items. However, it might not satisfy those who prefer more storage options.
Value
You're getting a pretty solid bag for the price. It's well-made, durable, and comfortable. However, if you need a bag with a lot of storage or padding, you might find the value decreases. Those looking for a lightweight and durable daypack, though, will definitely get their money's worth.
Weight
The Black Diamond Distance 15 is one of the lighter daypacks in its range. This makes it a great choice for anyone who prefers to travel light or is planning a fast-paced day hike. The lack of extra weight can contribute significantly to overall comfort levels and hiking efficiency.
Prices
Best Women's Hiking Daypack for Backcountry Skiing
Based on our research and testing, we think the Osprey Kresta 30 is a solid choice if you want a women's hiking daypack that's really well suited to Backcountry Skiing.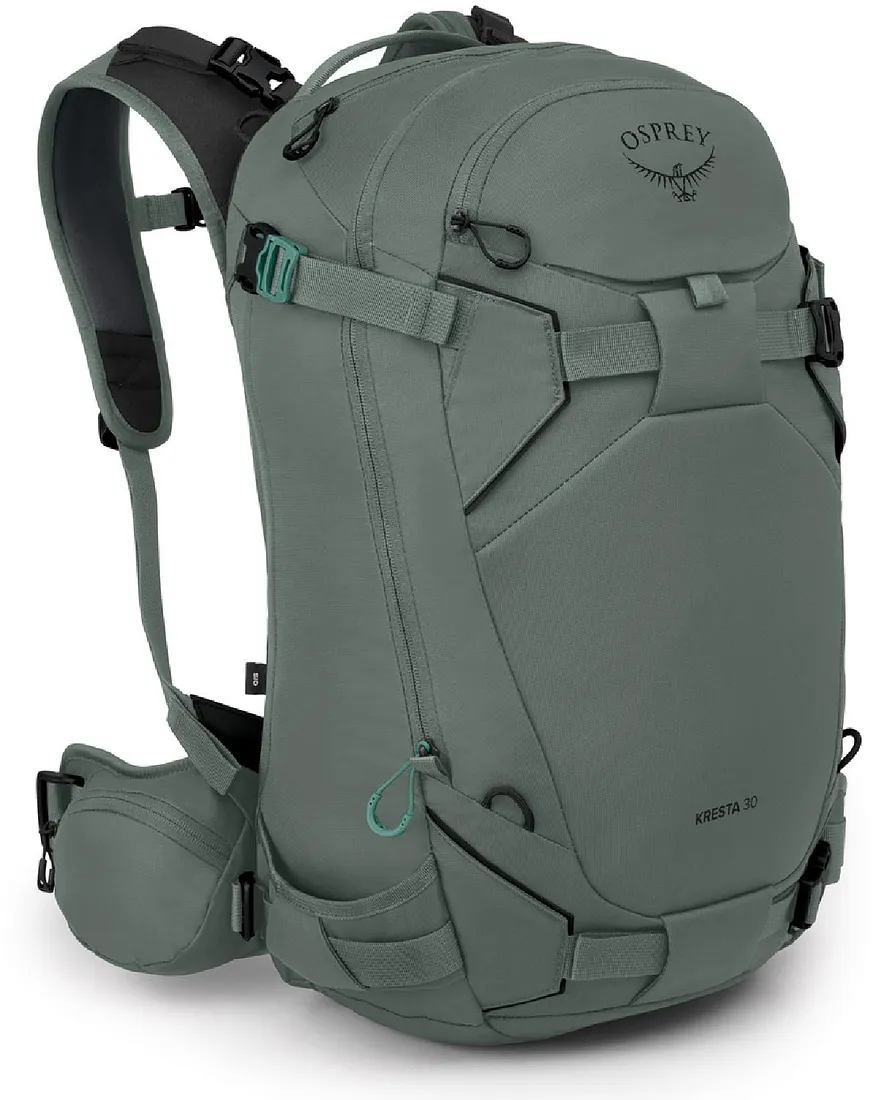 Reasons to Buy
Comfortable to wear, even on longer hikes

Plenty of storage for necessary gear and extras

Form-fitting and adjustable to a wide range of body sizes and shapes

Durable materials that stand up well to regular use

Slender, streamlined profile doesn't hinder movement
Reasons to Avoid
Higher cost compared to some other options

Can be tricky to access gear in main compartment quickly

Might be too big for petite individuals

Extra features might be unnecessary for simple day hikes
The Important Specs
Volume:

30 L

Material:

210D Nylon Shadowbox

Dimensions:

20H X 13W X 12D in
Review Roundup
The Osprey Kresta 30 is a fantastically designed backpack perfect for backcountry skiing, granting its wearers comfort, volume, and versatility. It sports an ample 30-liter capacity, which is just the right size for day trips packing in your essentials while skiing or hiking.
This pack reigns supreme when it comes to comfort. The snow-shedding coated fabric and a contoured foam back panel keep things easy and cozy. You almost forget it's there, even when loaded with gear. Its women-specific fit and sizing further enhance the comfort, ensuring stress-free hauls.
Storage is superb in the Osprey Kresta 30, with snow safety gear pocket, insulated hydration sleeve, and goggle pocket built in. The snow safety pocket makes it super easy for storing tools for quick, hassle-free access. The pack also boasts a stowable helmet carry system which is super handy when you're not wearing your helmet.
One of the favorite features among buyers, according to online reviews, is the back panel access to the main compartment. It allows for much more organized packing and easy item retrieval. You don't have to worry about spilling all your stuff when reaching for something located at the bottom.
Additionally, the durable construction of this daypack deserves a shout-out. It utilizes rugged nylon fabric which is up for the rough tumble of the backcountry environment. It is crafted to handle the rigor of the trail, meaning you can fully concentrate on your adventure.
However, on the downside, some users mention that the zippers can be a little tricky and require more force, especially when the backpack is filled to the brim. That's something to be aware of. Also, a handful of people found the pack a bit heavy when loaded to its maximum weight.
Adjustability & Fit
The Osprey Kresta 30 gets top marks for adjustability and fit. It adapts well to a range of body sizes and shapes, and users praise its form-fitting design. Petite individuals might find it a tad big, though.
Durability
Made from 210D Nylon Shadowbox, this pack is a tough cookie. Users are consistently impressed by how well it holds up to regular use, even when packed full and used in harsh conditions.
Ease of Access
The only niggle for some users is that the main compartment can be a bit tricky to access quickly. But the multiple smaller pockets allow for easy access to essentials.
Material
The pack is made of resilient 210D Nylon Shadowbox. While it is robust and resistant to tears, it's not the smoothest material. Some users noted the material can be slightly rough against exposed skin.
Storage Capacity
With a volume of 30 liters, this pack has abundant storage for a daypack. Its sturdy build also means it can handle a full load without losing shape or comfort.
Value
Pricey compared to some competitors, the Osprey Kresta 30 is seen as worth the extra dollars for its comfort, exceptional build quality, and thoughtful design.
Weight
The Osprey Kresta 30 isn't the lightest daypack on the market, but users report it's so comfortable they don't notice the extra weight. Its solid build provides an excellent balance between weight and durability.
Prices
Dakine Heli Pro 20L
$120.00
Best Women's Hiking Daypack for Resort Skiing and Snowboarding
Based on our research and testing, we think the Dakine Heli Pro 20L is a solid choice if you want a women's hiking daypack that's really well suited to Resort Skiing and Snowboarding.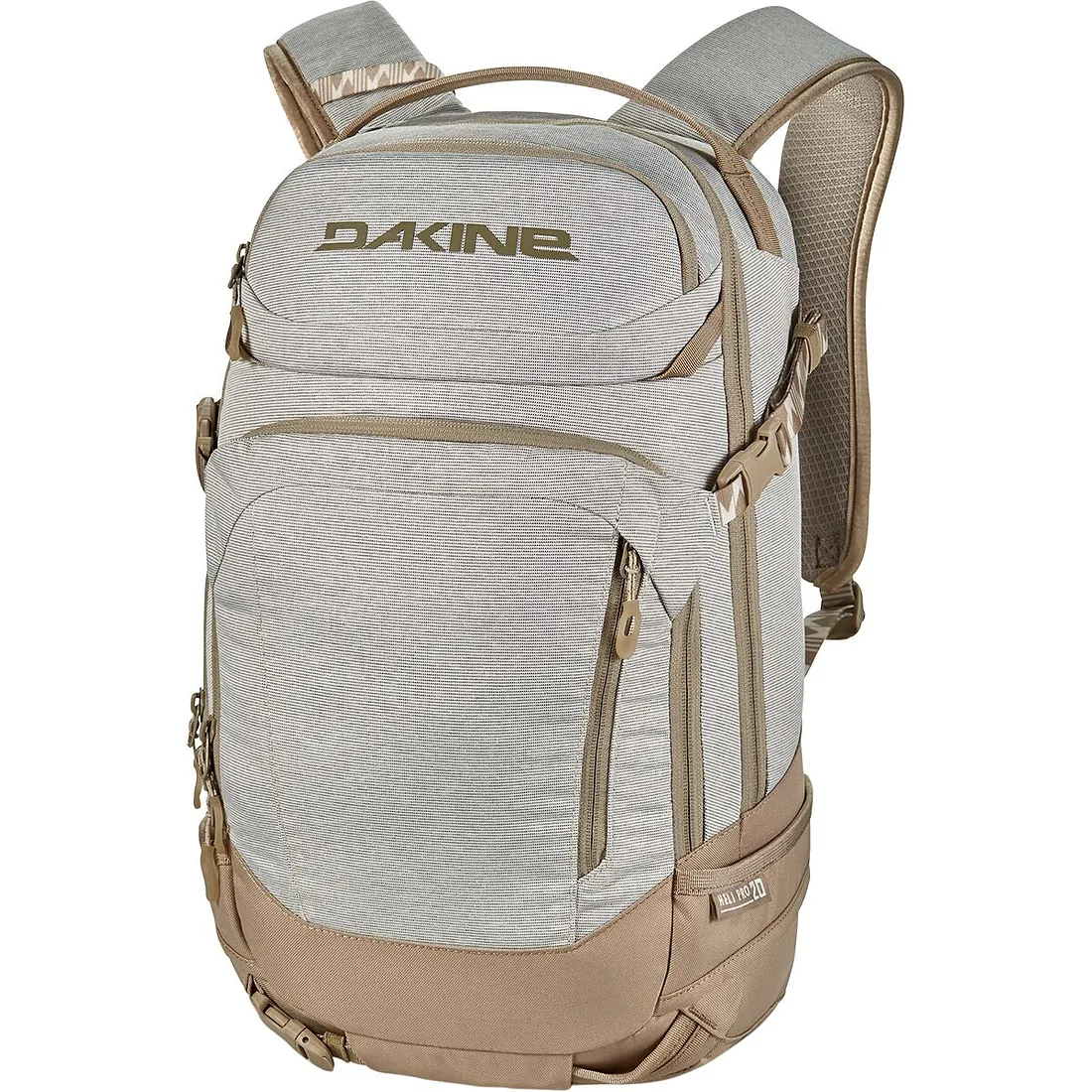 Reasons to Buy
Great for resort skiing and snowboarding

Comfortable, adjustable fit

Ample storage for gear

Easy access to contents
Reasons to Avoid
Might be a bit too big for smaller frames

Pricey compared to similar products
The Important Specs
Materials:

600D polyester

Reservoir:

Compatible with hydration systems

Dimensions:

21 x 11 x 5.5 inches

Carrying Capacity:

20L
Review Roundup
The Dakine Heli Pro 20L is a top choice in the bustling marketplace of women's hiking daypacks, especially for those the ladies who are also into resort skiing and snowboarding. With a compact, snug design and ample storage, this daypack is evidently designed with an active woman in mind.
Its obvious strong point comes from its capacity to snugly fit necessary equipment like skis, snowboards and even an ice-axe. Offering 20-liters of space that is smartly divided across pockets with room for a hydration system, the Dakine Heli Pro is both roomy and efficiently organized.
On the durability front, buyers have consistently praised its strong build. The tough fabric and reliable stitching endure the harsh outdoor conditions, standing up to the rigors of multi-season use. Your investment in the Heli Pro is bound to last you a good chunk of time.
Despite its sturdy build, Dakine manages to keep this pack surprisingly lightweight. Weighing under 2 lbs., it allows for agile movement, an attribute that was frequently noted and valued by the online customers.
The pack scores high in terms of comfort as well. Buyers appreciated the contoured harness tailored to fit a woman's frame. The balanced weight distribution weave its magic deals the deal on long trekking days.
However, some users have slated its lack of additional storage options for items like bottles or small gear on the exterior. These users felt the pack could benefit from extra external straps or loops.
Also, its lack of colour options compared to other packs in the same category is something that some users brought up. It's not the most crucial aspect of a pack, but we all appreciate having options that suit our style.
Overall, the feedback from those who've bought the Dakine Heli Pro 20L brim with satisfaction on the performance and durability fronts. But, wishes for more exterior storage and color options are worth considering for potential buyers.
Adjustability & Fit
Equipped with adjustable straps and a padded hip belt and back panel, the Dakine Heli Pro 20L can be custom-fit to a wide range of body sizes and shapes. However, several buyers have noted that it might be a tad big for more petite hikers.
Durability
Constructed with 600D polyester, the Dakine Heli Pro 20L shows it is built to handle rugged use without showing signs of wear or tear. Quite a few users have praised its durability.
Ease of Access
The Dakine Heli Pro 20L scores highly with users for its ease of access. The well-designed pockets and compartments make reaching for your gear smooth and swift, saving you time and effort.
Material
The 600D polyester fabric chosen for this backpack is known for its durability and resistance to elements. It helps to keep your gear safe and secure in even snowy, winter conditions.
Storage Capacity
With a 20L storage capacity, this backpack can comfortably pack all your essential gear. It includes a special compartment for snowboarding or ski gear, and its compatibility with hydration systems is a definite plus-point.
Value
While the Dakine Heli Pro 20L is a little on the pricey side, its users believe their investment was worthwhile. Its comfort, durability, and thoughtful design make it a good buy for those willing to spend a bit more.
Weight
The Dakine Heli Pro 20L strikes a nice balance between weight and durability. It's not the lightest daypack in the market but certainly doesn't feel like a burden even after a long day of carrying snowboarding gear.
Prices