Quick heads-up: some of the links on this page are affiliate links. If you make a purchase through them, we may earn a small commission (at no extra cost to you). This small bit of income helps keep our site running.
Best Hiking Daypacks of 2023
This post was last updated on December 06, 2023.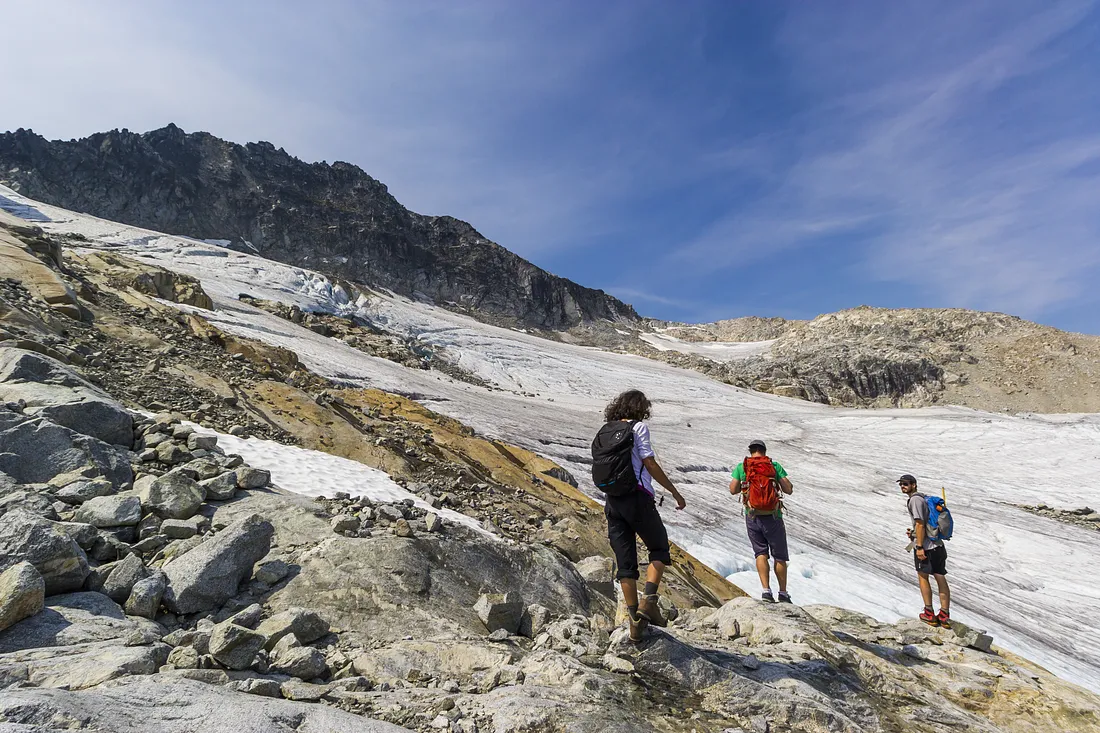 If you're a hard-core hiker, you know having the right daypack can make or break your outdoor adventure. Sure, your hiking boots are important, but your daypack is responsible for carrying all your essentials - snacks, water, first aid, and, well, literally everything you need to survive. That's where the Osprey Talon 22 comes in. It's just the right balance of roomy, rugged, and rambler-friendly, making it the best daypack for hiking.
Yet, the daypack universe is vast and varied, teeming with many other excellent contenders too. Depending on your outdoor inclination, you might lean towards a pack that's honed for the snowy slopes or a daypack that's meticulously minimalistic. Oh, and let's not forget budget-friendly backpacks which, much to our delight, don't scrimp on quality.
We've scrutinised all these daypacks based not simply on style, but on several crucial criteria. The weight and durability, the materials, how they adjust to fit your body, storage capacity, the ease with which you can reach your snacks (super important), and, of course, value for money. And, if you're curious about what to stuff in your shiny new backpack, check out our posts on the Best Hiking Socks for Men, Best Hiking Socks for Women, and Best Backpacking Backpacks. So, buckle up, because we're about to find you your new favourite daypack.
Our Top Recommendations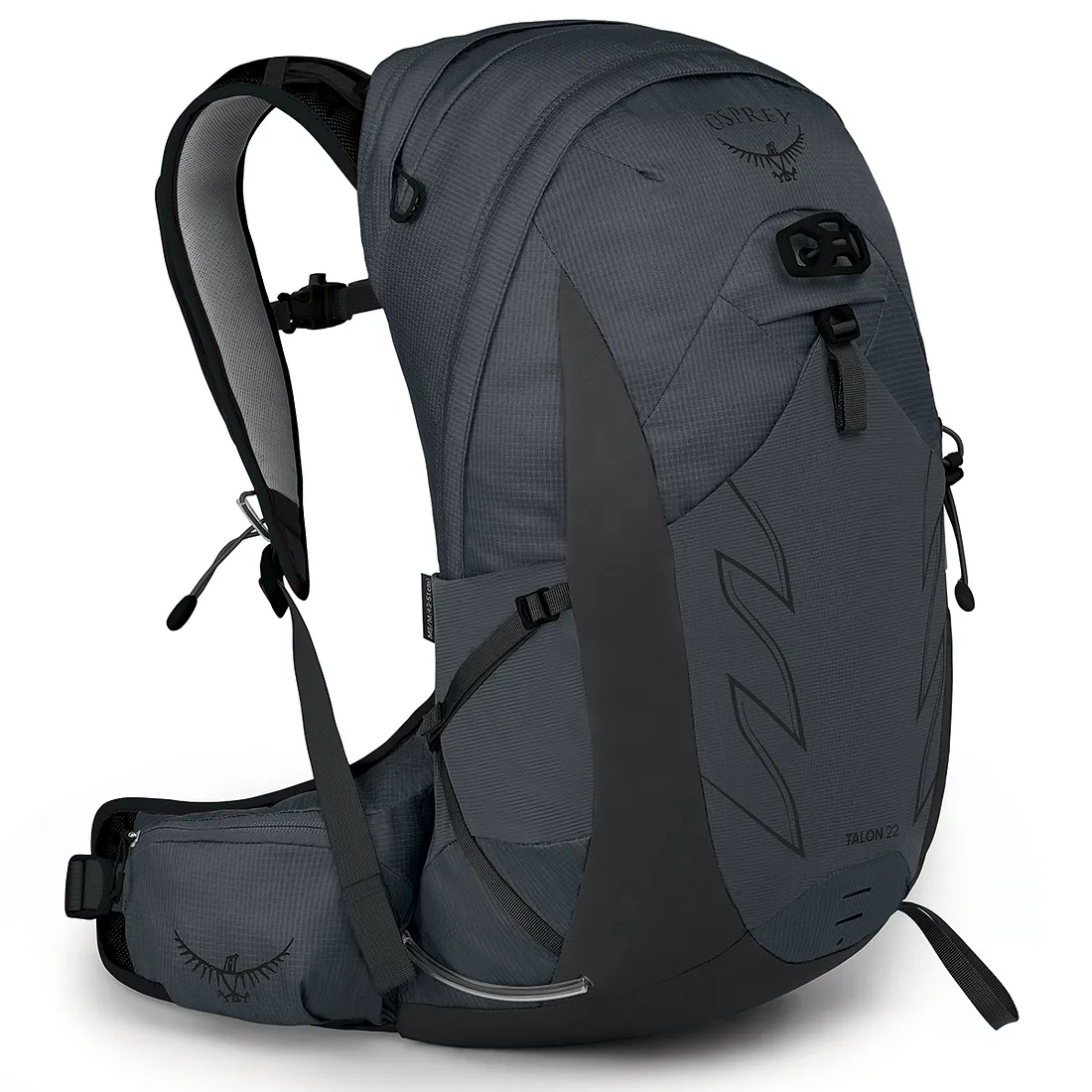 Osprey Talon 22
The Osprey Talon 22 was our top pick for hiking daypacks due to its unrivaled comfort, with users praising its adjustable back panel for a custom fit, and its sleek design that manages to house a variety of essentials without appearing bulky.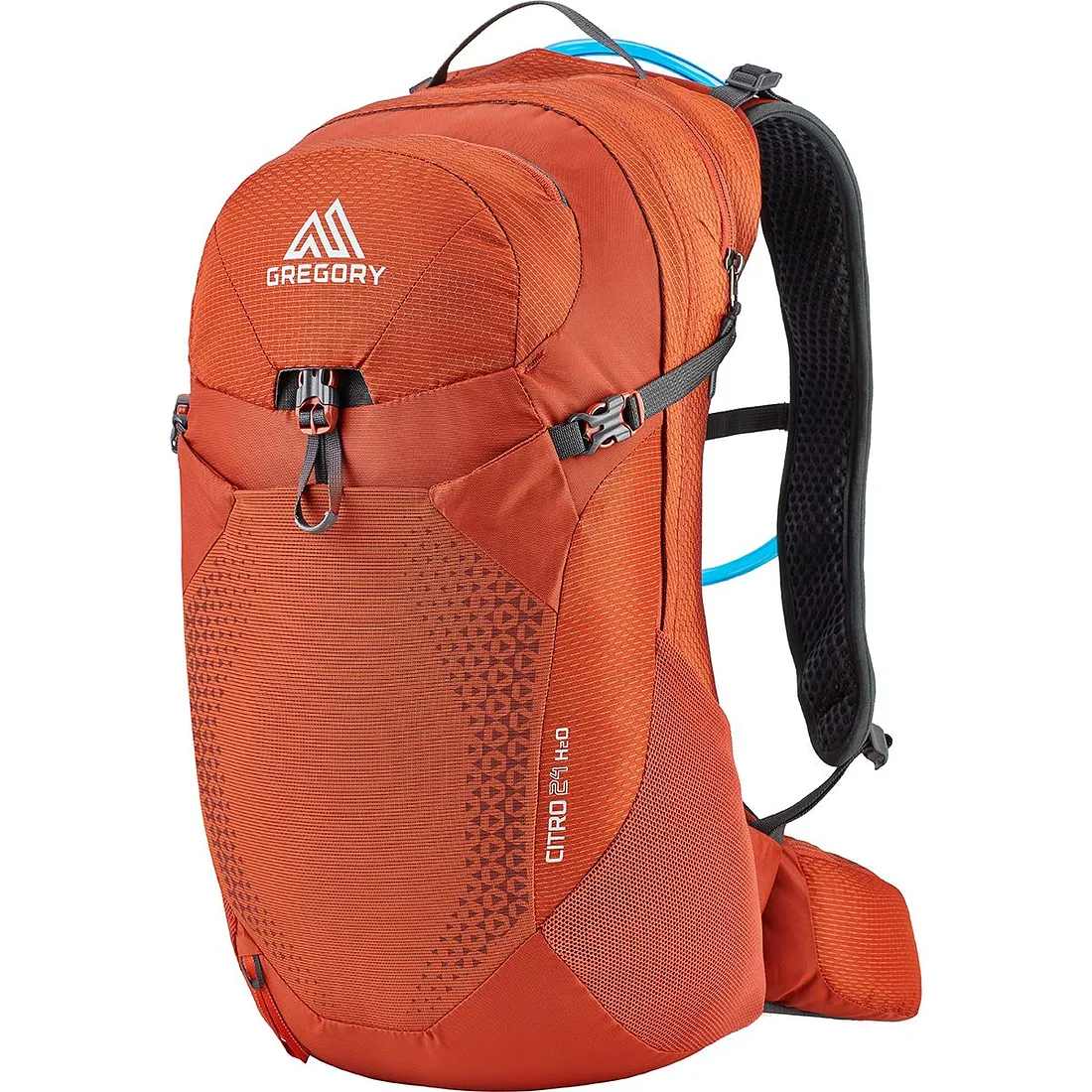 Gregory Citro 24 H2O
The Gregory Citro 24 H2O grabs the top runner up spot due to its rave user reviews praising its hydrating 3-liter reservoir and its ventilated suspension system that hikers appreciate for keeping them cool during strenuous treks.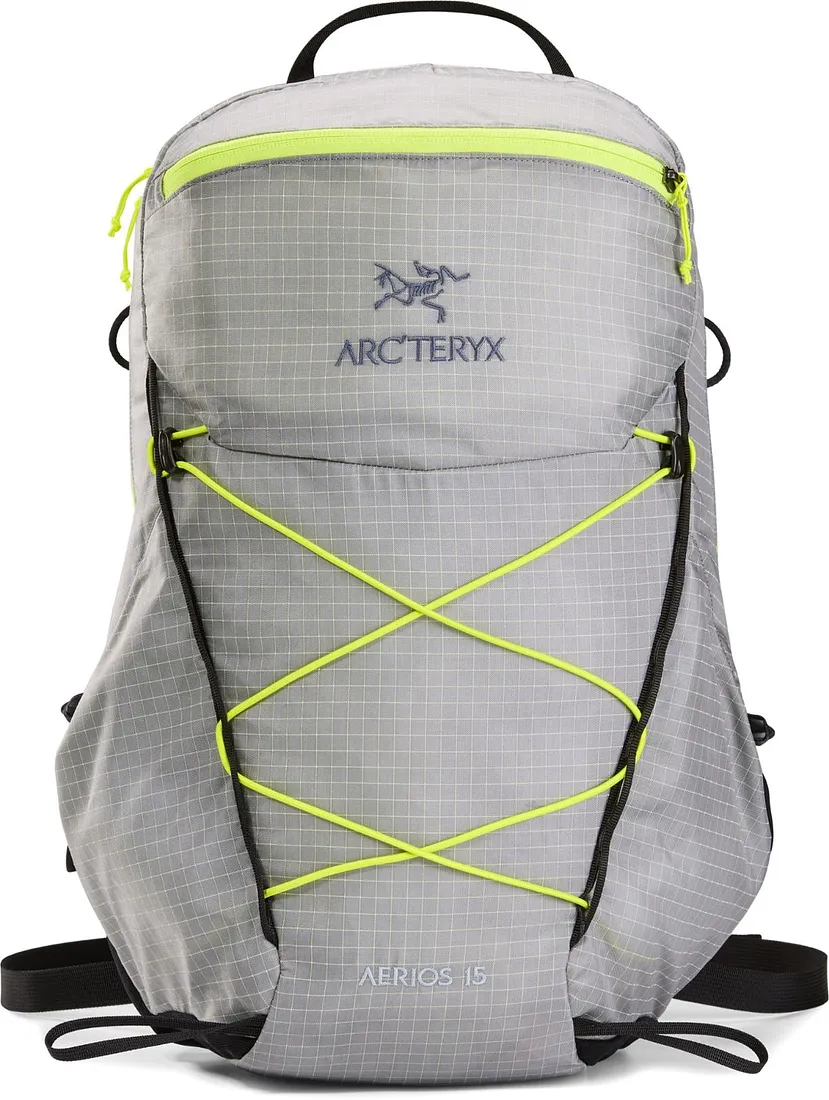 Arc'teryx Aerios 15
The Arc'teryx Aerios 15 clinches the top pick runner up position due to rave user reviews highlighting its incredible comfort during long hikes and its surprisingly spacious compartments, despite its sleek and compact design.
What you should look for
(and what we test for)
Comfort
For sweaty hikes or long treks, look for a daypack with padded straps and a ventilated back panel to help keep you cool and comfortable.
Capacity
The size of your pack matters, so consider how much gear you typically bring on your adventures -- a daypack with around 20-30L capacity is usually sufficient for most single-day hikes.
Durability
Made to withstand rough handling, choose a daypack made from robust material like rip-stop nylon to ensure it can survive the inevitable scrapes against rocks and brush.
Special Features
Extra features can make a big difference, so look for a hiking daypack with things like hydration reservoir compatibility, rain cover, and gear loops for added convenience and functionality.
The Best Hiking Daypack
Based on our research and testing, we think the Osprey Talon 22 is the best Hiking Daypack on the market right now, for anyone looking to play hard outside.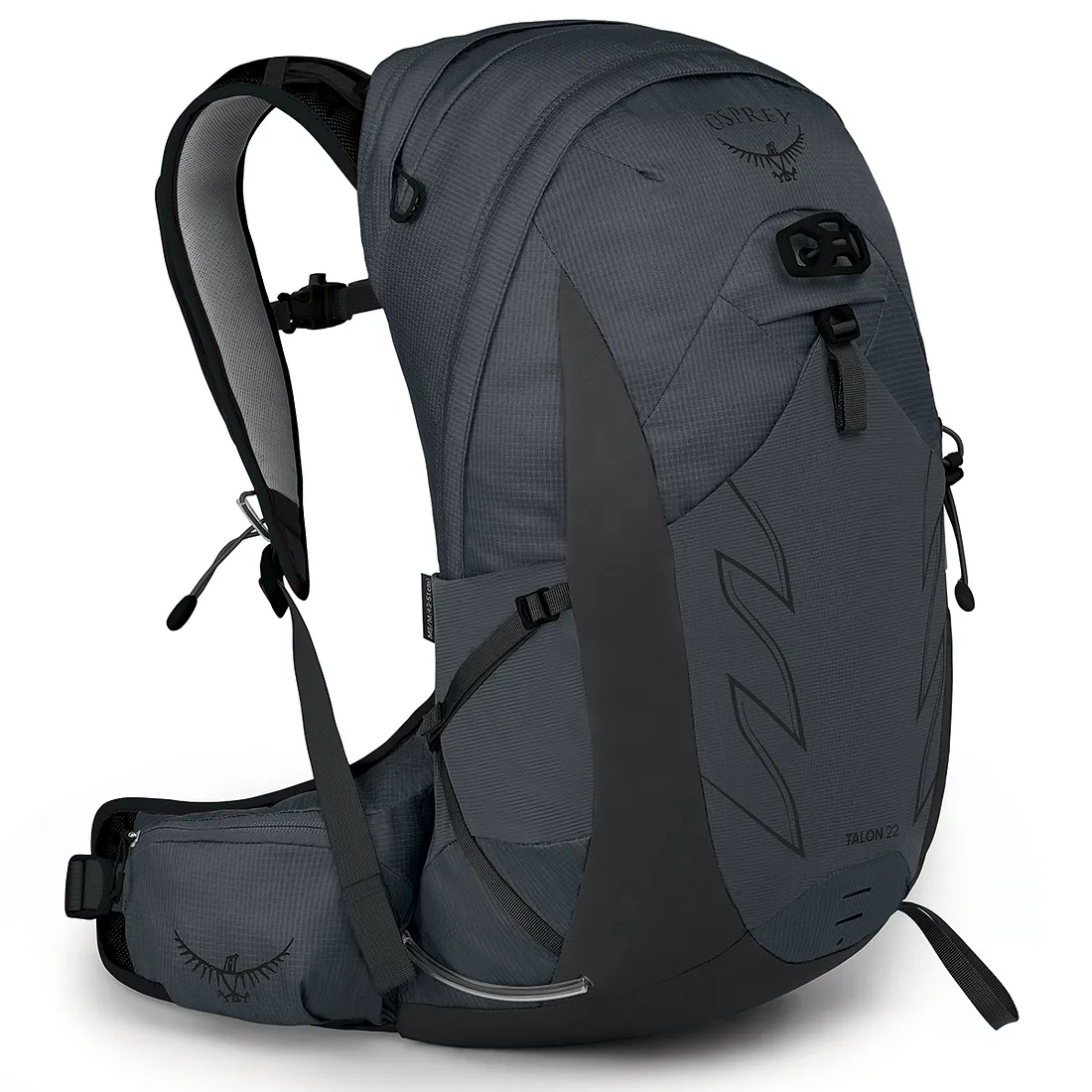 Reasons to Buy
Impressive storage capacity

Excellent design for comfort

Versatile for a variety of outdoor activities

Good value for money

Robust build and durability
Reasons to Avoid
Not suitable for longer trips

Lack of certain features like rain cover

Potential fitting issues for some body types
The Important Specs
Harness:

BioStretch, seamless/unisex

Material:

70D x 100D Nylon Mini Shadow Brick (main component)

Dimensions:

20H X 10W X 9D IN.

Storage Capacity:

22 liters
Review Roundup
The Osprey Talon 22 is a top-notch daypack that readily meets the needs of hikers, climbers, and anyone planning a day's adventure. First off, this daypack impresses with its superior comfort. The pack's adjustable back panel and breathable mesh materials keep users comfortable, even during strenuous activities. It's a delight to wear on the trails, allowing you to forget you're even carrying a backpack.
Its weight is another feather in its cap. The Talon 22 is incredibly lightweight which, combined with its ergonomic design, makes it the perfect companion for longer hikes. Despite being light, it manages to resist wear and tear, thanks to its durable nylon material.
The Osprey Talon 22 scores big on storage too, offering a 22-liter capacity. It has a number of thoughtful features such as a stretchy front pouch, two zippered hip belt pockets, and a nifty lid lock system for your helmet. These compartments make it easy to store and retrieve your gear effortlessly.
Customer reviews echo these sentiments. Many speak highly of the comfort and light weight, stating that it makes long hikes much more manageable. Some have highlighted the bag's durability, reporting it's withstood years of use without showing signs of wear. Plenty rave about the storage compartments, especially the accessibility of hip pockets which are lauded as a handy place to stash small necessities.
Of course, no product is without its shortcomings. Some users found the hydration sleeve a bit tricky to use when the pack was full. Others felt the lack of a rain cover was a shortcoming, especially considering the daypack's higher-end price tag.
In all, the Osprey Talon 22 comes highly recommended by its users for comfort, light weight, and comprehensive storage features. Yet, potential buyers may want to consider how they plan to use the hydration sleeve and whether they need a rain cover based on the climate they'll be hiking in.
Adjustability & Fit
The Osprey Talon 22 offers an unisex fit, albeit some outdoor enthusiasts argue that fitting may not cater for all body types. The BioStretch harness and hipbelt are meant to ensure that the pack sits comfortably on your body. Adjustability may also be limited, reducing the pack's overall comfort for some users during longer hiking sessions.
Durability
The use of high-quality materials, such as 70D x 100D Nylon, lends the Osprey Talon 22 an impressive durability. Despite its lightweight design, this daypack can withstand rough handling typical in most outdoor settings. But, as with all products, extreme conditions or careless handling may still cause damage.
Ease of Access
Access to your items in the Talon 22 is fairly easy and straightforward. The zipper pulls are big and user-friendly. Despite this, some users have mentioned a desire for more quick-access pockets for added convenience.
Material
The main component of the Osprey Talon 22 is a 70D x 100D Nylon Mini Shadow Brick, which is both rugged for durability and lightweight for comfort. This material provides a good balance between weight and strength, making the pack ideal for daily use.
Storage Capacity
With a storage capacity of 22 liters, there's ample space to store your essentials for day hikes or short trips. A potential drawback for some buyers is that the Osprey Talon 22 isn't ideal for longer trips where the need to carry more items is apparent. But for everyday outdoor activities, this capacity meets the needs of most users.
Value
Given its blend of durability, comfort, and practicality, the Osprey Talon 22 offers good value for money. It may lack some advanced features found in more expensive daypacks, but its price point, relative to its strong points, makes it a solid investment for the average outdoor enthusiast.
Weight
The Osprey Talon 22 stands out from the crowd due to its lightweight design. This makes it extremely comfortable for day hikes, enabling you to carry your necessary gear without feeling weighed down. However, the lightweight nature might not be ideal for those planning longer or more strenuous trips where more robust packs are necessary.
Prices
Gregory Citro 24 H2O
$169.95
Runner Up
Based on our research and testing, we think the Gregory Citro 24 H2O is a great choice if you're looking for a hiking daypack to go play hard outside with, if our top pick isn't quite what you're looking for.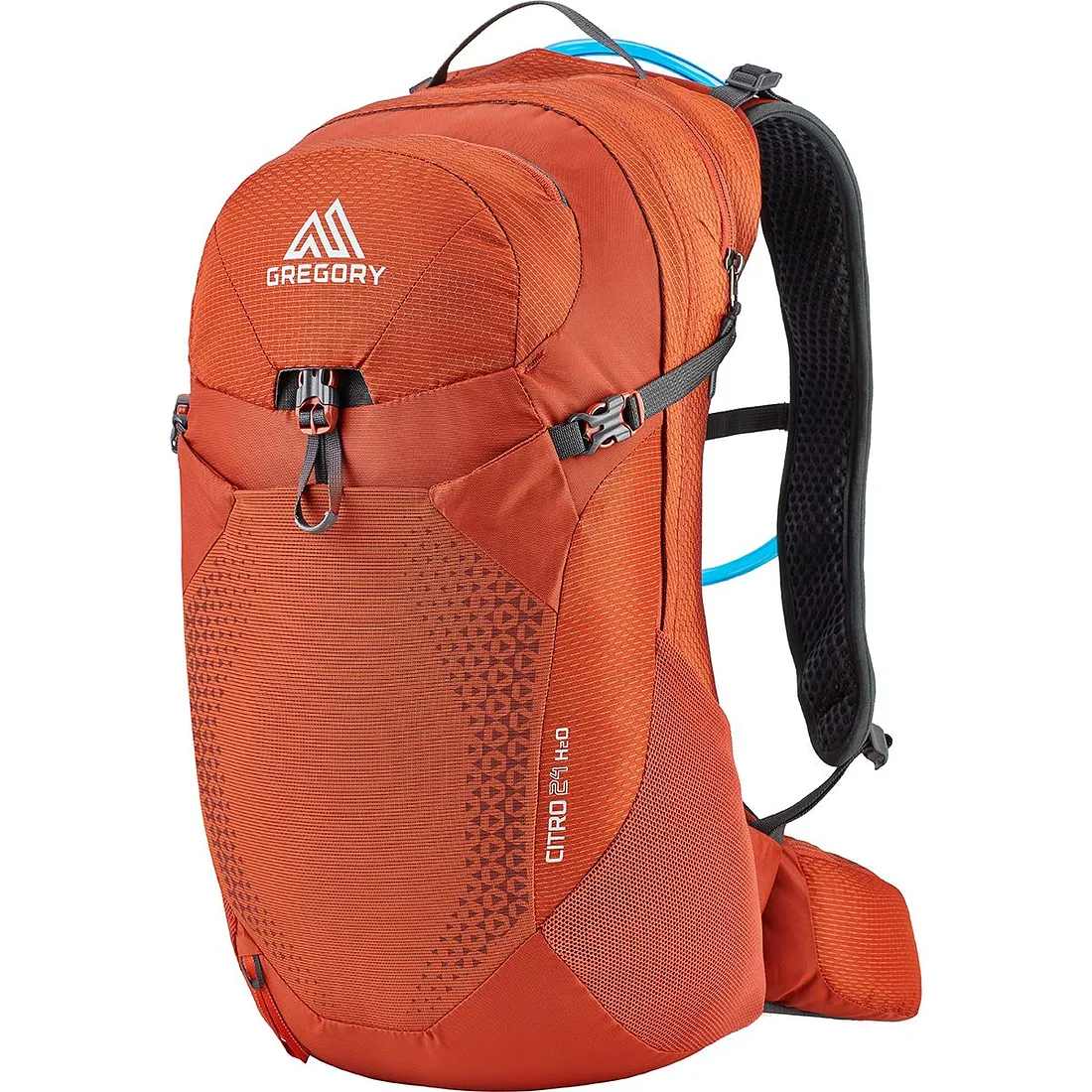 Reasons to Buy
Loaded with useful features

Great ventilation

Hydration system included

Comfortable fit
Reasons to Avoid
Straps may feel a bit stiff

Some may find it slightly bulky

Lack of hip belt pockets
The Important Specs
Volume:

24 liters

Material:

Nylon

Dimensions:

19.5 x 11.5 x 8.5 inches
Review Roundup
The Gregory Citro 24 H2O is a top-notch daypack that's developed a reputation among outdoor enthusiasts as a reliable companion for those short but tough hiking trips. Made with durable nylon material, this daypack can rough it up in the wild without letting you down.
When it comes to comfort, users commend the Gregory Citro 24 H2O for its ventilated suspension system. The moisture-wicking technology built into the back panel keeps perspiration at bay, so you can hike in comfort and dryness for longer periods.
Space and storage have been highlighted as standouts for this daypack. With a 24-liter capacity, it provides just enough space for a day's worth of supplies. It even has an integrated hydration reservoir, which means you can tote along 3 liters of water without it taking up too much space. Quite a few users have noted how convenient it is to have this hydration reservoir for those long, tiring hikes.
The daypack's design does not disappoint either. It features seven exterior pockets, ensuring everything you need for the hike is within easy reach. The bag's stretchy front pocket has gained particular praise from buyers for how surprisingly spacious it is.
However, the Citro 24 isn't without its minor missteps. Some users have pointed out that the shoulder straps, though padded, can be a bit uncomfortable when the pack is filled to its fullest. Also, the shortage of color options might leave style-conscious hikers craving a bit more variety.
A common refrain among buyers of the Gregory Citro 24 H2O remains its robustness and dependability. These are aspects that have made it an incredibly popular choice among hikers who don't mind blazing trails for hours on end.
One other feature that stands out based on customer reviews is the bag's easy accessibility. With a large zippered top, getting your snacks or grabbing your jacket when the weather turns chilly is a breeze.
All in all, it seems that the Gregory Citro 24 H2O as it stands is a solid choice for keen day hikers. While it may be just a notch short of perfect, it certainly does tick a lot of boxes, offering ample comfort, storage, and hydration for anyone looking to make the most of their time in the great outdoors.
Adjustability & Fit
Users appreciate its fully adjustable harness and easy-fit hip belts which ensure a snug fit. Although, a few customers have reported that the straps could be a bit stiff.
Durability
Constructed with strong nylon, this daypack is robust to withstand rough terrains and extreme weather conditions. However, taking extra care to prevent abrasions will increase its longevity.
Ease of Access
The pack's large U-zip front panel makes it a breeze to load and unload gear, and its built-in hydration reservoir is easily accessible, keeping you hydrated on the go.
Material
The use of nylon in construction gives the Citro 24 an edge in terms of durability and weather resistance. Plus, its mesh back panel aids ventilation, keeping you cool during intense treks.
Storage Capacity
Coming in a roomy 24 litre capacity, folks rave about its capability to fit enough for a long day hike. However, some wish for the inclusion of hip belt pockets for easy access to essentials.
Value
With its range of features combined with a decent pricing point, customers find the Citro 24 H2O to be a good bang for the buck, worth every penny for its durability and functionality.
Weight
The Gregory Citro 24 H2O impresses campers with its ultra-light profile. It significantly reduces load on your back, enabling longer and more comfortable hikes.
Prices
Arc'teryx Aerios 15
$130.00
Runner Up
Based on our research and testing, we think the Arc'teryx Aerios 15 is a great choice if you're looking for a hiking daypack to go play hard outside with, if our top pick isn't quite what you're looking for.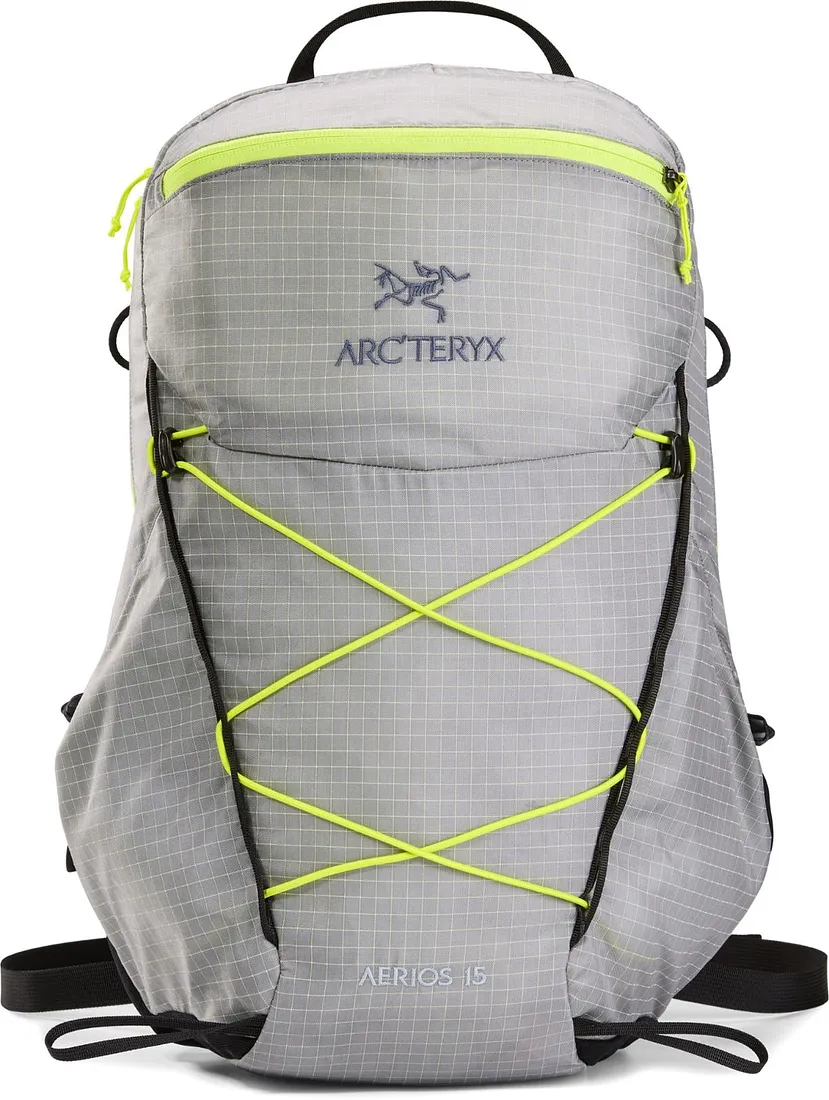 Reasons to Buy
Quality material and construction

Comfortable and lightweight

Good storage capacity

Quick and efficient access to pockets

Streamlined and stylish design

Sufficient padding on shoulder straps

Ideal for both short and long hikes
Reasons to Avoid
May not suit heavier pack loads

Lack of ventilation on the back panel

No hip belt for better weight distribution

Expensive compared to other daypacks
The Important Specs
Volume:

15 liters

Pockets:

2 zippered, 1 internal hydration pouch

Material:

Nylon Ripstop

Dimensions Lx Wx H:

20inx12inx7in

Gender Specific Fit:

Yes

Hydration Compatible:

Yes
Review Roundup
Meet the Arc'teryx Aerios 15, a hiking daypack that has gained recognition as one of the best products in its category. Shoppers are often quick to note its thoughtful design, quality craftsmanship, and impressive durability.
Features such as flexible hydration bladder storage and numerous pockets make it stand out from the crowd. Outdoor adventure seekers have often praised its easy-access hydration sleeve which allows you to hydrate on the go without the need to unpack your gear, and its ample pockets help keep everything organized.
Many customers have taken note of the Arc'teryx Aerios 15's lightness, which makes it ideal for a variety of outdoor activities, not just hiking. They mention that it's barely noticeable, even when packed full, allowing you to explore nature without being weighed down.
Users also vouched for the Arc'teryx's high level of comfort. With its breathable back panel and comfy shoulder straps, the Aerios 15 offers top-notch support during long treks, reducing the likelihood of back strain or discomfort. The pack's adjustable sternum and hip straps are also given thumbs up for their contribution to getting an optimal fit.
On the durability front, the Arc'teryx Aerios 15 has shown itself to be a reliable friend. The pack features a lightweight but rugged nylon fabric that's often found in hard-wearing climbing gear, a fact that's widely recognized among reviewers.
However, few critics note the pack's limited space. While it's ideal for day hikes, it might be a tad cramped for those looking to pack gear for overnight treks. This detail seems to mar an otherwise stellar score for the backpack.
Overall, the Arc'teryx Aerios 15 has been widely praised by online reviewers. Comfortable, light and durable, it's proven to be a worthy investment for outdoor enthusiasts.
Adjustability & Fit
This pack comes with adjustable shoulder and chest straps, allowing for a more customisable fit. Despite the lack of a hip belt, buyers have reported it to be very comfortable even on long hikes, with padding on the shoulder straps aiding in comfort. However, some report issues with fit for those with shorter torsos.
Durability
Constructed from sturdy nylon ripstop, this daypack is tough and resilient, capable of withstanding the rough-and-tumble of outdoor use.
Ease of Access
The efficient design of the pack encourages easy access to all pockets, preventing time-consuming rummaging. Especially appreciated is a separate pocket for a water bladder and a specially designed clip to suspend it, ensuring it doesn't sink to the bottom.
Material
The material is lightweight yet durable, striking a good balance between sturdiness and comfort. Although not waterproof, it's quick-drying and does a reasonably good job of keeping the contents dry during light rains.
Storage Capacity
Offering a storage capacity of 15 liters, the Aerios has the capacity to hold all your essential day hike gear. It also comes with a separate hydration pocket and two zippered pockets for easy access to smaller items.
Value
While more expensive than competitive models, many buyers have insisted that its longevity, comfort, and well-considered design make it worth the higher price tag.
Weight
The Arc'teryx Aerios 15 is designed to be lightweight which makes it ideal for day trips, removing the burden of an overly heavy pack when you're trying to enjoy your hike.
Prices
REI Co-op Flash 22
$59.95
Best Budget Hiking Daypack
Based on our research and testing, we think the REI Co-op Flash 22 is a great pick if you're looking for a hiking daypack that is more budget friendly, without sacrificing too much in quality.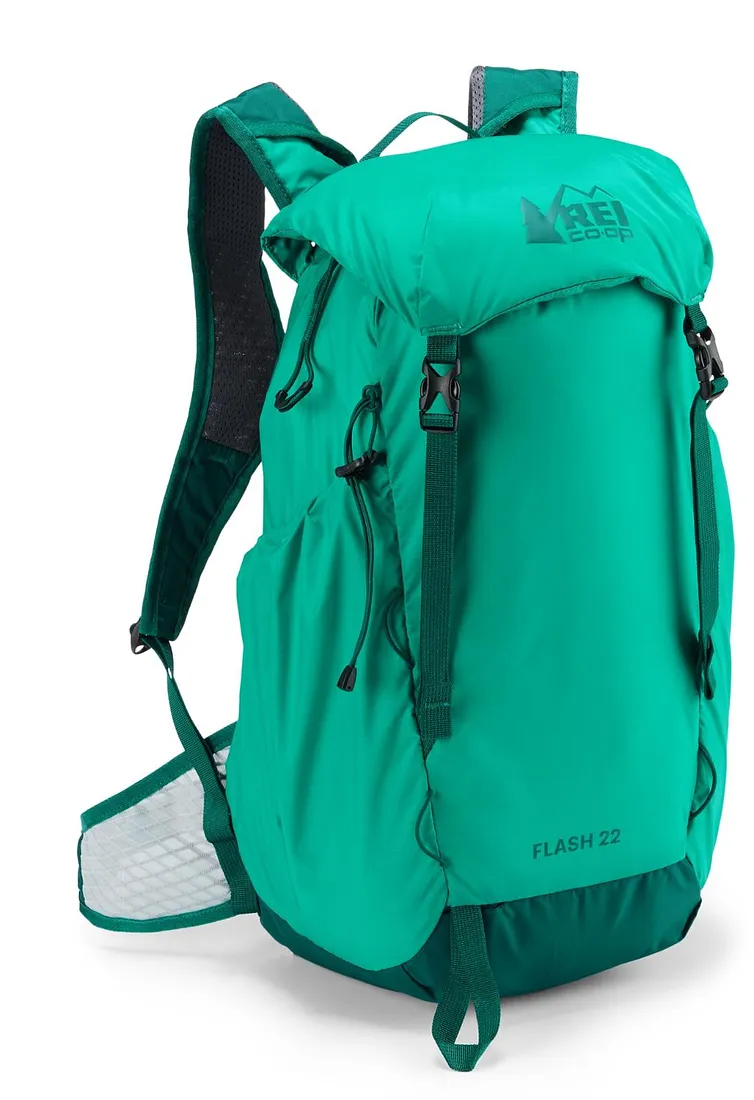 Reasons to Buy
Affordable price

Ample storage for a day trip

Comfortable fit

Easy access to items

High-quality material
Reasons to Avoid
Not enough padding in the straps

Not water resistant

May be too small for longer hikes
The Important Specs
Pockets:

Main compartment, top lid pocket, 2 mesh side pockets, large front stash pocket

Capacity:

22 liters

Material:

Ripstop nylon

Dimensions:

18 x 9 x 8 inches
Review Roundup
Looking to hit the trails without breaking the bank? Our review of the REI Co-op Flash 22 just might be what you've been looking for.
First, let's talk about the design and comfort. A streamlined silhouette with an adjustable shoulder strap and a removable waist belt offers a snug, almost tailor-fit. It's comfy even when stuffed to its 22L capacity. Users have noted that the sternum strap runs smoothly and the adjustments stay in place, even after a solid day of bouldering or hiking.
The pack material is made from recycled nylon which, aside from being eco-friendly, holds up shockingly well even against rough encounters with nature. The mesh back panel aids ventilation, a bonus for those hot, summer hikes.
Now, storage - it's a daypack, so don't expect to pack the kitchen sink! However, for its size, the Flash 22 truly maximizes its space. It boasts a roomy main compartment, a lid pocket (ideal for quick-grab items), and a hydration-compatible design, serving outdoor enthusiasts pretty well.
User reviews have frequently mentioned its exterior daisy chain. It adds functionality for attaching extra gear on the move. It's customer approved – 'Loved it for its simplicity and multi-functionality', says one happy hiker.
Also, let's not forget the fact that it's lightweight. Weighing less than a pound when empty, it won't weigh down on those longer treks. One user mentioned, 'It's so light you often forget you're even wearing it.'
One challenge some users faced was lack of a dedicated rain cover. Although the nylon material is water resistant to some degree, if you're planning to hike in a downpour, you might want to get a separate cover.
Another common theme in customer reviews was the absence of hip pockets. Searching for that sunscreen or energy bar mid-hike could mean a bit of a rummage.
Despite a few trade-offs, the overall sentiment from REI Co-op Flash 22 users is overwhelmingly positive. With critical reviews widely praising the pack's comfortable fit, lightweight and practical design – it's a serious contender if you're shopping on a budget.
Adjustability & Fit
One of the standout features of the Flash 22 is its adjustable shoulder and chest straps. These allow you to achieve a tailored fit, making the pack comfortable to carry all day. However, a few users mentioned that the lack of padding on the shoulder straps meant they tended to dig in when the pack was heavily loaded.
Durability
Made from ripstop nylon, the Flash 22 is quite resilient when it comes to normal wear and tear on the trail. However, some hikers noted that the pack's lightweight nature doesn't make it the most robust option if you're planning to haul heavier gear.
Ease of Access
Ease of access is another major plus point for the Flash 22. The main compartment opens wide for easy packing and unpacking, and the different pockets make it simple to find and grab whatever you need, without having to dig through your entire pack.
Material
The flash 22 utilizes ripstop nylon – a material known for its durability and tear resistance. Moreover, it comes with a lining that adds an extra layer of protection to keep your belongings safe.
Storage Capacity
With its 22-liter capacity, the Flash 22 offers versatile storage for a day on the trails. It has a spacious main compartment, a handy top lid pocket for smaller items, two mesh side pockets for water bottles and a large front stash pocket for quick-access items. Despite all these pockets, some users wished for more compartments for better organization.
Value
Taking into consideration its great features and the overall comfort, this daypack really offers good value for money. It's a budget-friendly option that doesn't compromise on the essential features of a reliable day hiking pack.
Weight
The first thing we noticed about the REI Co-op Flash 22 is its lightness. Despite its 22-liter capacity, this pack hardly adds any extra weight to your back, making it easy to forget you're even carrying it. However, this lightweight feature doesn't compromise the pack's durability.
Prices
Black Diamond Dawn Patrol 25
$179.95
Best Hiking Daypack for Backcountry Skiing
Based on our research and testing, we think the Black Diamond Dawn Patrol 25 is a solid choice if you want a hiking daypack that's really well suited to Backcountry Skiing.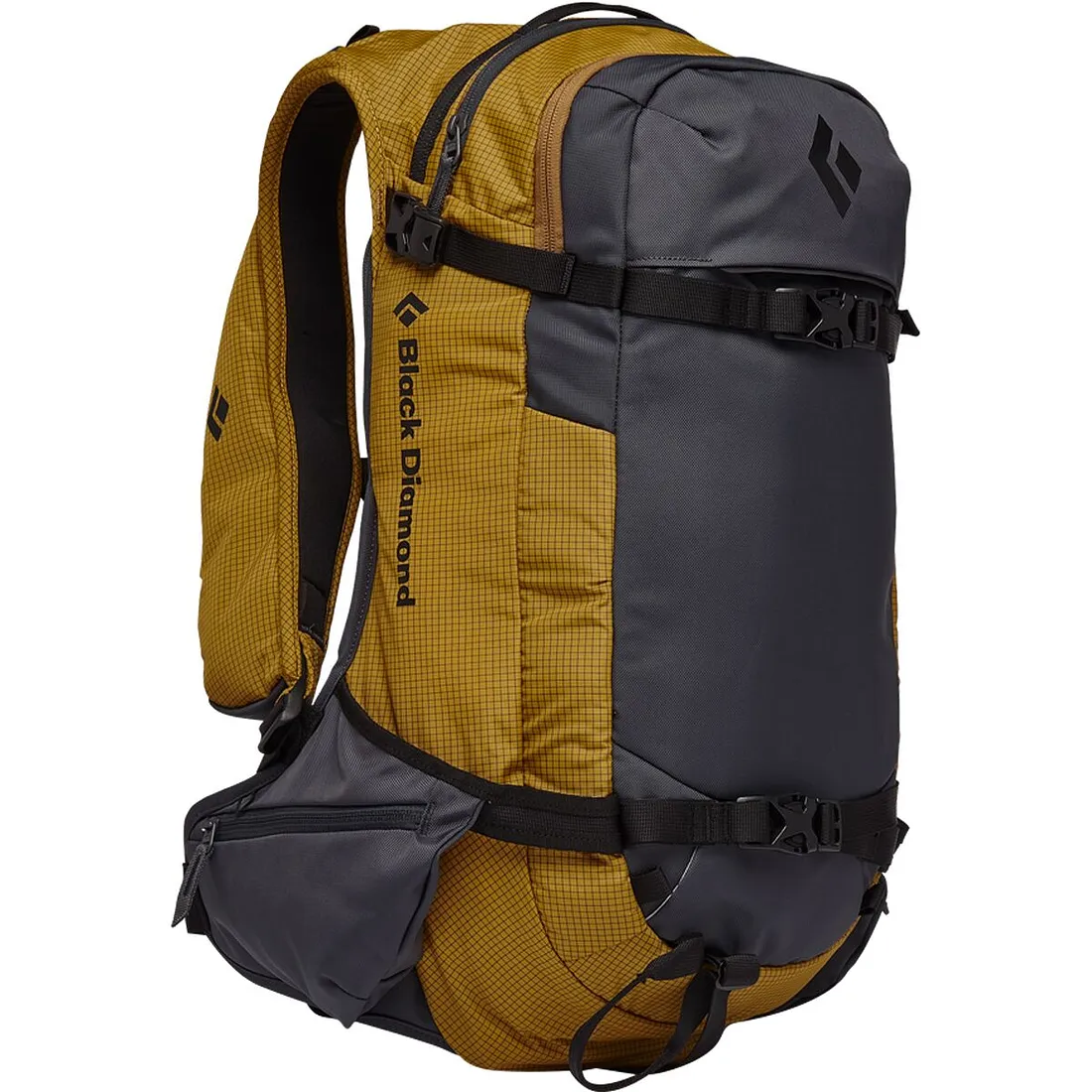 Reasons to Buy
Compact and lightweight design perfect for backcountry skiing

Versatile enough for all-weather conditions

Offers ample storage space

Constructed from durable tear-resistant material
Reasons to Avoid
Higher-end price point

Lack of multiple pockets might feel limiting for some

If not packed properly, it might become top-heavy
The Important Specs
Volume:

25 liters

Best Use:

Backcountry skiing, light hiking

Materials:

Nylon, Elastane

Dimensions:

19.5 x 8.5 x 9 inches
Review Roundup
The Black Diamond Dawn Patrol 25 backpack is a popular pick among backcountry skiing enthusiasts and it's clear why once you start digging into the details. The overall design of this daypack provides the perfect combination of comfort, compactness, and capacity, making it an easy fit for both inexperienced and seasoned backcountry enthusiasts alike.
The primary praise this daypack receives from users revolves around its build quality and durability. Made with pro-grade Dynex fabric, it's amazing how it shrugs off scrapes and bumps without losing its shape or functionality. Coupled with AvaLung-Ready design compatibility, Dawn Patrol 25 stands out as a reinforced, rugged survivalist's choice.
The 25-liter pack capacity offers ample space for all essential gear without feeling bulky or burdensome. Users appreciate the organized room it offers with a dedicated avalanche-tool pocket that safely stows all snow safety gear separately. Also, the main compartment is easily accessible via the back panel, which is highly appreciated for quick and easy gear retrieval even with gloves on.
Another consistently appreciated feature is the ergonomics of this bag. Users love its active, form-fitting suspension with high-density, breathable EVA back panel and shoulder straps, not only for overall support during intense movements but also for its great ventilation. Moreover, many people find the adjustable, removable waist-belt and diagonal ski-carry system utterly practical.
However, reflections from consumers do bring a few drawbacks into light. A common lament is the absence of a hydration pouch, a typical feature many hikers expect from a daypack. Also, a few users reportedly found that the stated pack capacity tends to feel a bit tight when traveling with bulky winter gear. Lastly, while its in-built compatibility with AvaLung breathing device is a highlight, one should remember that the device is sold separately adding onto the costs.
All these points considered, the Dawn Patrol 25 by Black Diamond overwhelmingly receives high praise from its users. Especially recommended by those who prioritize durability, compactness, and easy gear accessibility, you do understand why it's a common sight at the backcountry. Bearing in mind its shortcomings, it's a powerful addition to the daypack market and a wise choice for those pushing into snowy and icy mountain slopes.
Adjustability & Fit
One of the Dawn Patrol's strong suits is its adjustability. It features a contoured fit with an ample range of size adjustments - making it suitable for individuals of different body types, ensuring a snug, but comfortable fit.
Durability
Constructed from a combination of high-density nylon and elastane, the Dawn Patrol 25 is designed for durability. The pack's material offers high tear and abrasion resistance, ideal for harsh backcountry environments.
Ease of Access
Feedback indicates that users appreciate the easy access to their gear, though some felt the lack of multiple compartments limited the organization.
Material
The nylon/elastane mix lends to both durability and flexibility. It's a fairly water-resistant material, but if you're heading into heavier rain, you might want to consider getting a rain cover to ensure your gear stays dry.
Storage Capacity
With a volume of 25 liters, the Dawn Patrol offers ample space to store essential gear. However, the lack of multiple compartments may require thoughtful packing to distribute weight evenly.
Value
Considering its versatility, fit, and material quality, the Black Diamond Dawn Patrol 25 offers good value. While it may seem costly compared to other daypacks on the market, its durability and design features make it a solid investment for more serious outdoor enthusiasts.
Weight
The Black Diamond Dawn Patrol 25 is relatively lightweight, considering the amount of gear it can store. It's perfect for those who need a little extra storage but don't want to sacrifice much in terms of weight. This makes it a favorite among backcountry skiers and lightweight hikers.
Prices
Dakine Heli Pro 20L
$120.00
Best Hiking Daypack for Resort Skiing and Snowboarding
Based on our research and testing, we think the Dakine Heli Pro 20L is a solid choice if you want a hiking daypack that's really well suited to Resort Skiing and Snowboarding.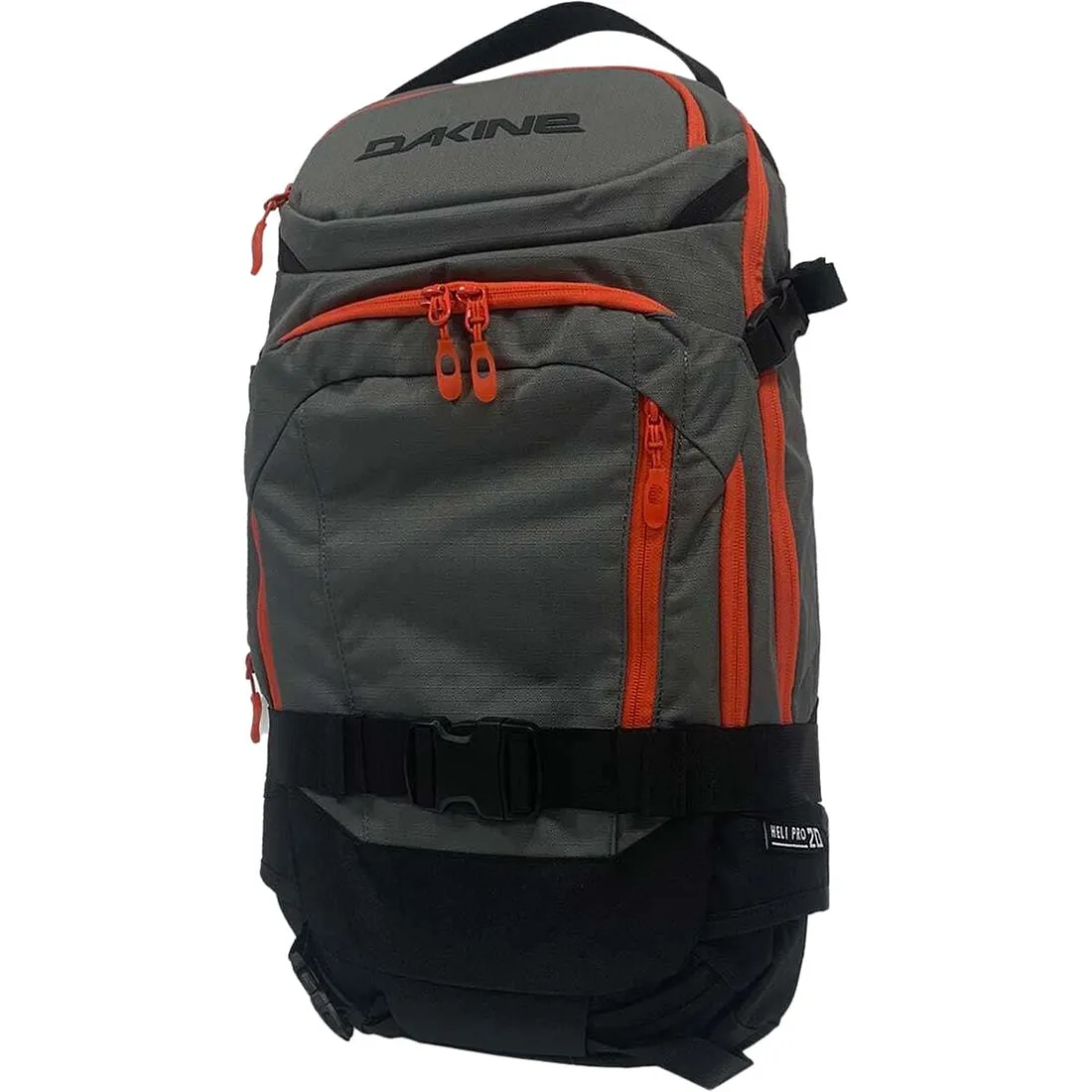 Reasons to Buy
Great storage capacity

User-friendly accessibility

Excellent durability

Perfect fit and adjustability
Reasons to Avoid
Pricey

Non-insulated hydration sleeve
The Important Specs
Material:

600D Polyester

Dimensions:

19 x 12 x 5 inches

Pack Volume:

20L

Laptop Sleeve:

Yes

Hydration Compatible:

Yes
Review Roundup
The Dakine Heli Pro 20L daypack is a hot favourite among skiing and snowboarding enthusiasts. Originally designed for resort skiing, it also proved to perform beyond expectations in outdoor trekking.
The bag gets a thumbs up for its roomy main compartment that is perfect to stow your day hiking essentials or winter gear. Not neglecting hydration, it includes an insulated hydration sleeve, which is a boon during cold winters.
The front pocket serves well for smaller items, ensuring they are readily accessible. There's also a fleece-lined goggle pocket to keep your wipe or delicate items scratch-free. Don't underestimate the board carry system; it is an ingenious feature. It holds the board securely and also makes it easy for climbers to strap their ice axes or hiking poles.
Many reviewers online were impressed with the Heli Pro's comfort level when fully-loaded. Its sternum strap, padded back panel and hip belt distribute the load efficiently, reducing shoulder strain. However, some found it a bit stiff initially but reported it eases up with regular use.
Buyers appreciated the high-quality built of the pack. They confirmed it withstands tough conditions well, resistant against sharp gear and accidental drags. Longevity is the name of the game with the Heli Pro, certainly worth the investment.
In terms of aesthetics, this pack scores good remarks. It is enhanced with sleek, modern designs, available in several attractive colours that are quite the statement-maker on the trails or slopes.
However, not all feedback was roses. Some customers wished for a few more pockets for better organisation. Some users found the size a little too compact for their liking, although many admitted that it encouraged them to carry only what is truly necessary for their day out.
Despite these nitpicks, overall, buyer sentiment leaned towards the positive. The Dakine Heli Pro 20L has made a reputation for itself in the world of skiing and snowboarding, with its practical design and robust build.
Adjustability & Fit
Customers reported a comfortable and snug fit due to its adjustable straps and back panel. The shoulder straps seem to evenly distribute weight, offering less strain on your back.
Durability
Reviewers rave about the durability of this brute. It is made of 600D polyester which makes it resistant to extreme weather and rough handling. Use it as much as you like, but it won't give up on you.
Ease of Access
A key feature praised by customers is the pack's accessibility. Thanks to its thoughtful design, you don't have to shuffle around for long to find your stuff. The front-loading mechanism is especially handy when you're in a hurry.
Material
Its material, 600D polyester, makes it a strong contender in the daypack market. It is not just tough, but also prevents water from seeping in, keeping your gear safe and dry.
Storage Capacity
Though it's called a daypack, don't underestimate it. Its 20L storage capacity is spacious, with specific compartments for all your gear including a laptop sleeve. It's the roomy-ness that buyers really appreciate.
Value
While some believe that exceptional quality comes at a price, a few buyers found it to be a bit steep. However, they also mentioned that investing in the Dakine Heli Pro 20L was worth it, considering its durability and functionality.
Weight
The Dakine Heli Pro 20L is relatively light for its size and capacity. But don't be deceived! Despite its lightweight, it doesn't compromise on space or sturdiness, which many users love about this daypack.
Prices