Quick heads-up: some of the links on this page are affiliate links. If you make a purchase through them, we may earn a small commission (at no extra cost to you). This small bit of income helps keep our site running.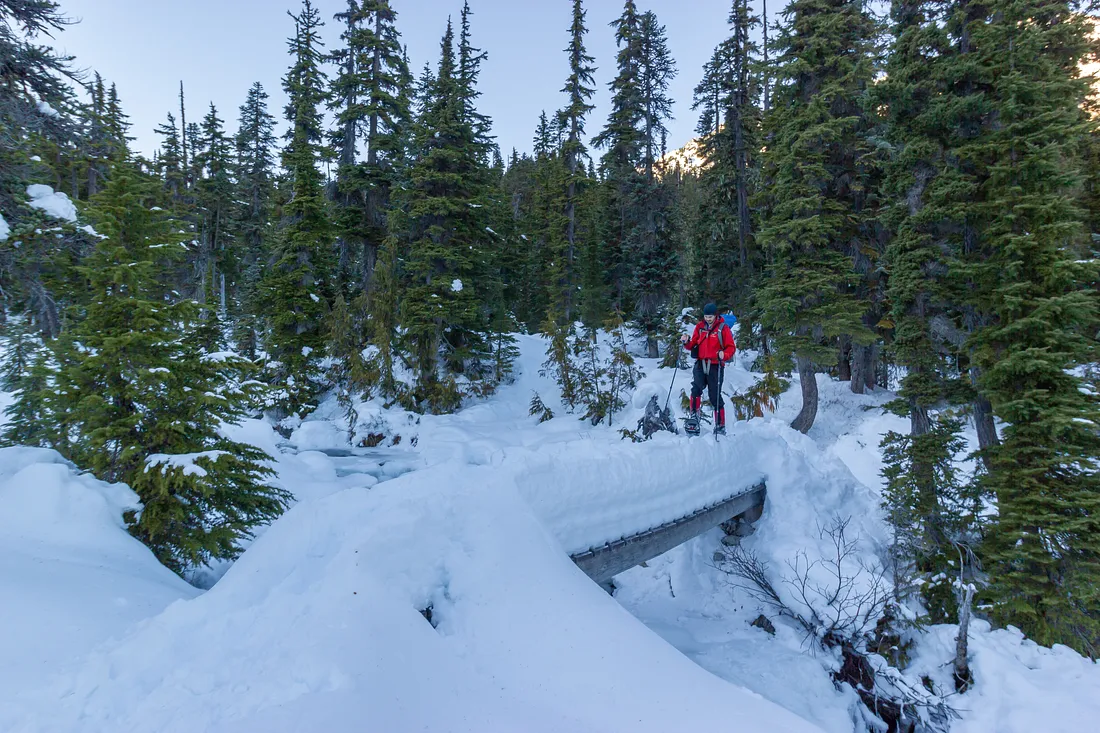 When it comes to braving the elements, the right gear can make or break your adventure. And quite honestly, they don't come much better than the Arc'teryx Beta AR, our top pick for the best men's hardshell jackets. This champion of the outdoors is unbeatable when you're navigating capricious weather patterns, thanks to its superb fit, exceptional durability, and its unrivaled balance of waterproofing and breathability.
Of course, every adventurer has a unique journey with specific needs and budget considerations. That's why we've also catered for the alpine climbers and the weekend hiking and camping enthusiasts, as well as those seeking affordable or ultralight options. Our chosen jackets are all evaluated on key performance indicators like weight, packability, and ventilation features, among others, to ensure they're worthy of your next escapade.
Also, if you're looking for more gear guides to help you gear up and get out there, make sure to check out our posts on the Best Rain Jackets for Men, Best Down Jackets for Men, and the Best Winter Jackets for Men. With our expertise, you'll be prepared for whatever Mother Nature can throw at you.
Our Top Recommendations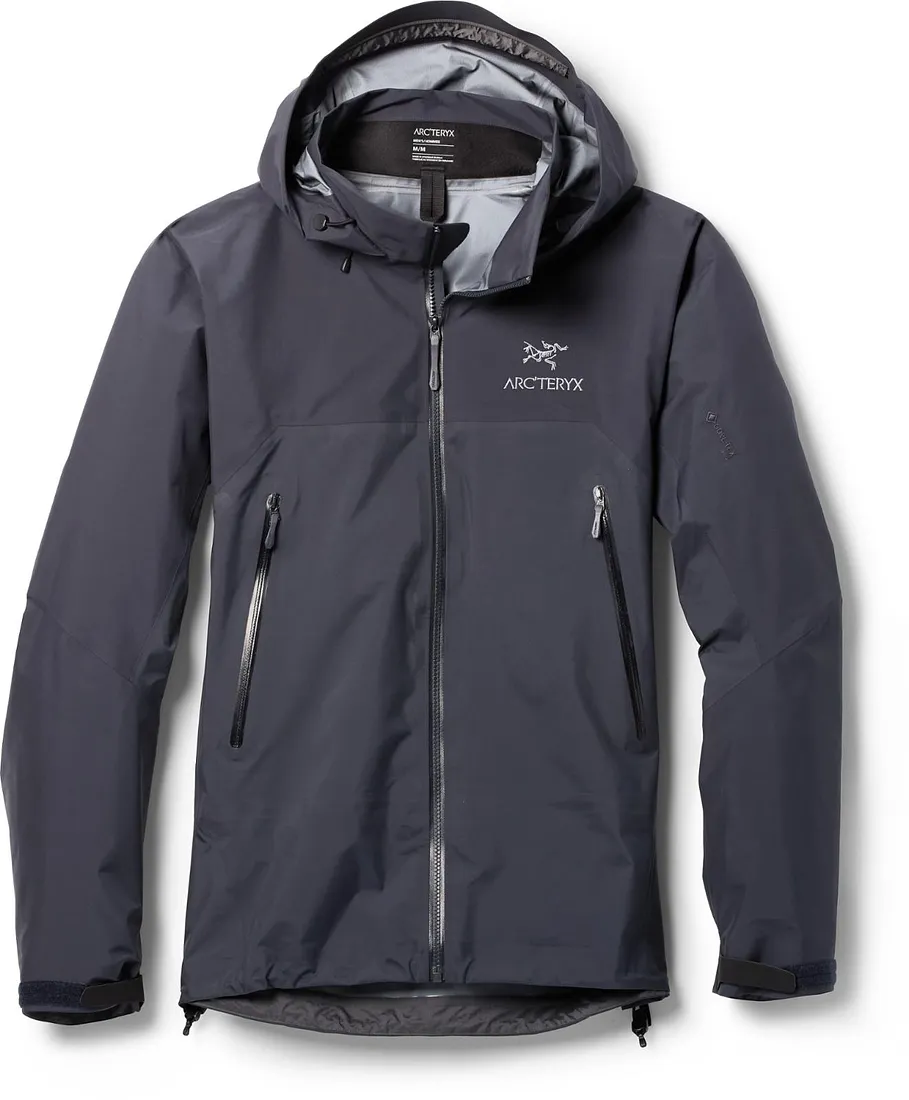 Arc'teryx Beta AR
The Arc'teryx Beta AR earns top pick for its unmatched durability and breathability, consistently praised in user reviews for standing up to harsh weather without turning into a personal sauna.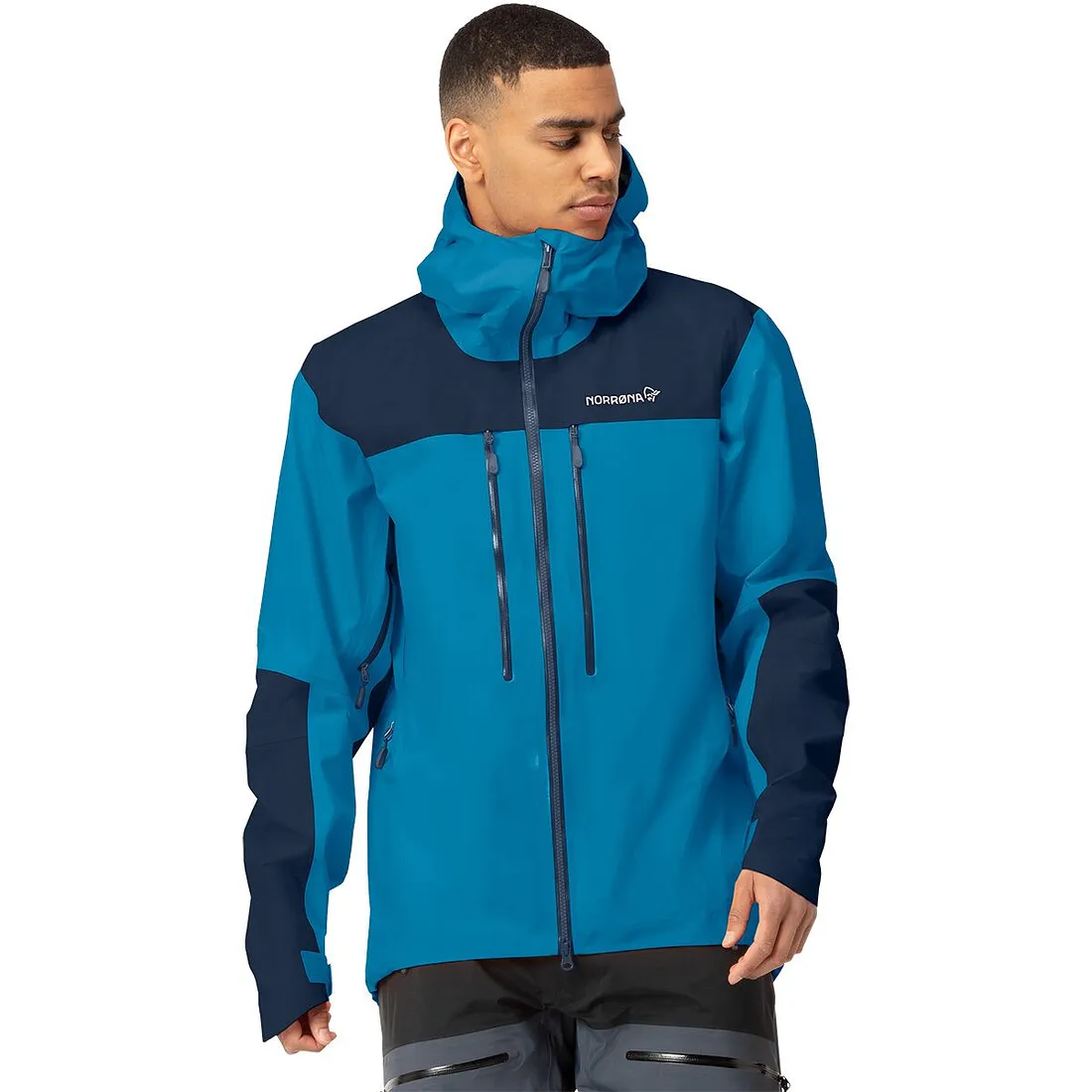 Norrona Trollveggen Gore-Tex Pro Light
The Norrona Trollveggen Gore-Tex Pro Light is a top pick for its dependable waterproofing and breathable design, making it loved by campers and hikers who need protection from the elements without feeling clammy or overloaded.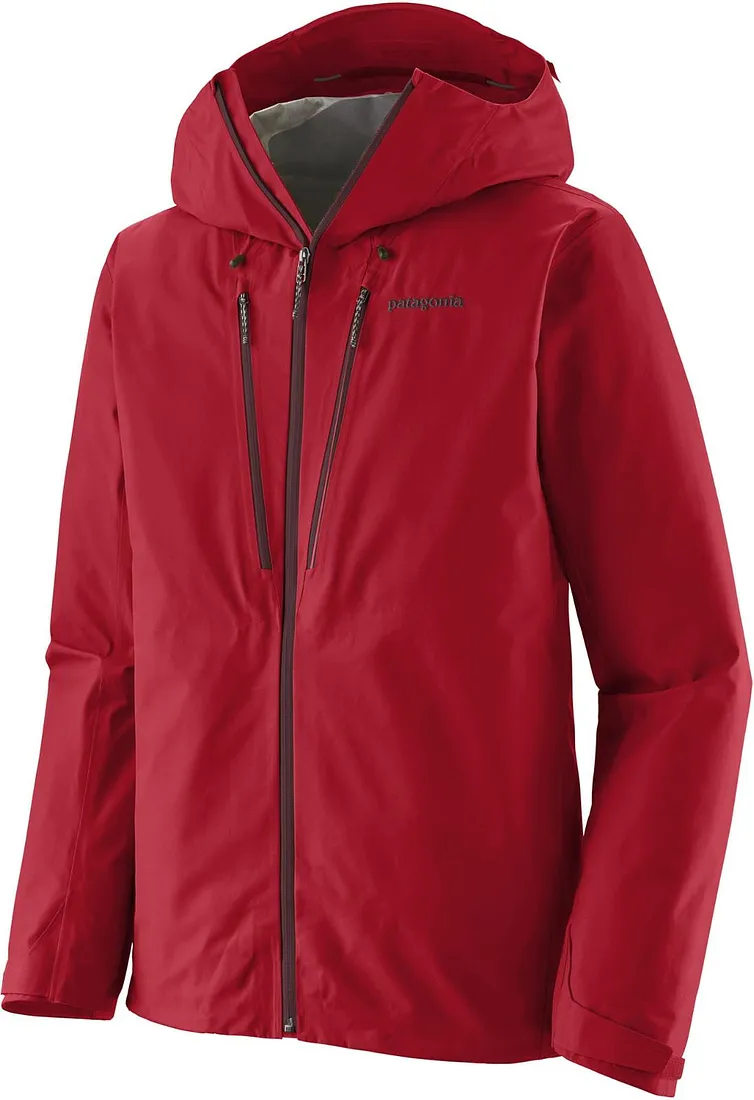 Patagonia Triolet
The Patagonia Triolet jacket scores high as a top pick because outdoor enthusiasts rave about its exceptional durability under harsh weather conditions and its comfortable fit that doesn't hinder movement even when backpacking or climbing.
What you should look for
(and what we test for)
Durability
Pay extra attention to the jacket's build quality and material, focusing on rip resistance and the toughness of zippers and seams, because the last thing you need in the middle of a trek is a burst zipper or a tear in your jacket.
Features and Fit
Lastly, ensure the jacket has essential features, such as size adjustable hoods that can accommodate a helmet, ventilated pits, and enough pockets for your gear, and don't forget a comfortable and mobile fit to suit your body shape and layering needs.
Weather Resistance
Take into account the jacket's ability to withstand the elements; top-tier models usually feature a waterproof, wind resistant shell but breathe well so you won't feel like you're inside a sweaty plastic bag.
Weight and Packability
Always check how much the jacket weights and how compactly it can be packed down - high-performance hardshell jackets tend to be lightweight and highly compressible, which are critical factors when you're hiking, camping, or climbing with limited packing space.
Arc'teryx Beta AR
$600.00
The Best Men's Hardshell Jacket
Based on our research and testing, we think the Arc'teryx Beta AR is the best Men's Hardshell Jacket on the market right now, for anyone looking to play hard outside.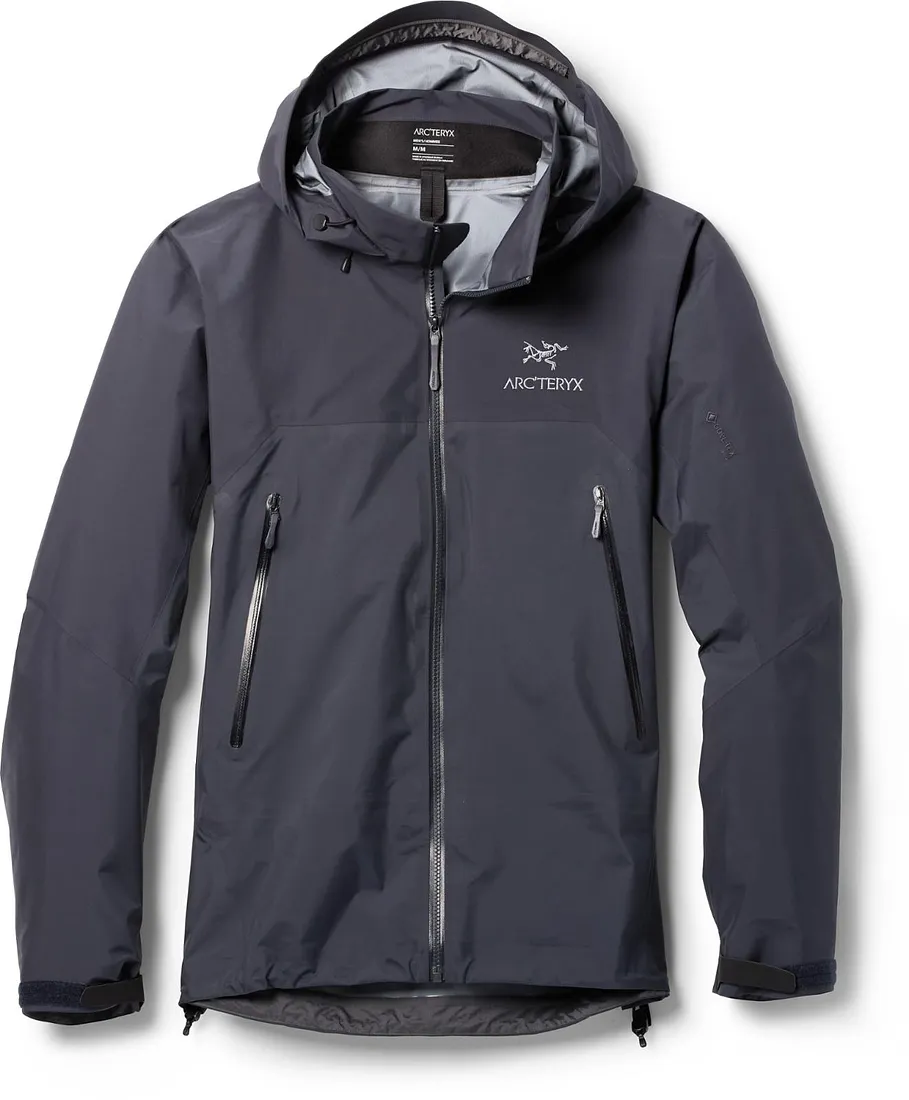 Reasons to Buy
Uses top-quality materials

Versatile for multiple weather conditions

Excellent durability

Highly breathable and waterproof

Great fit and styling
Reasons to Avoid
Considered expensive

Hood could fit better with a helmet

Zippers can stick occasionally
The Important Specs
Fit:

Regular with e3D, hip length

Hood:

DropHood, Helmet compatible

Pockets:

1 internal zip pocket, 2 high-volume hand pockets

Material:

N40r-X & N80p-X GORE-TEX Pro
Review Roundup
The Arc'teryx Beta AR is a top contender in the world of hardshell jackets. It holds its own as one of the best all-around performers in terms of weather protection, weight, and durability.
Crafted with a unique mix of lightweight and robust materials, the Beta AR provides an outstanding barrier against harsh elements. Its GORE-TEX Pro three-layer construction ensures solid protection from rain, wind or snow while remaining surprisingly breathable. Despite its sturdy build, it isn't flimsy or cumbersome.
The Arc'teryx Beta AR doesn't skimp on features, either. Its generous pockets offer ample space for your essentials, while the DropHood design perfectly couples functionality and comfort – allowing for a helmet, but also just as effective without one.
One potential downside some users have highlighted is related to its fit. While it is generally quite versatile, some people find it a bit too roomy across the chest and shoulders, which might be a concern if you're after a slim, athletic fit.
On the topic of looks, while outerwear is generally more about function than fashion, customers have mentioned that they appreciate the jacket's sleek, non-bulky design and selection of colours.
Despite the somewhat higher price point, customers routinely praised the Beta AR's durability and longevity. Many have sung praises about its ability to withstand heavy downpours during long treks, making it worth every penny.
In terms of care, users have reported that the jacket is easy to clean and maintain, adding another tick for functionality and practicality.
Lastly, we can't ignore the brand itself. Arc'teryx is known for its commitment to quality and its customer service, which many reviewers have praised. The Beta AR is no exception, reflecting the brand's reputation for top-tier outdoor gear.
Durability & Abrasion Resistance
The durability of this jacket is well-loved by users, with many noting how the high-quality fabric and construction are capable of withstanding rough conditions. Outdoor enthusiasts were pleased with the jacket's ability to resist abrasion, which means that it will hold up well no matter what nature throws at it.
Fit
Reviews about the fit are generally positive, commending the jacket's 'Regular with e3D' sizing which adds an extra level of articulation for better mobility. However, a couple of comments have been made regarding the hood which, while functional, could offer better compatibility with a helmet.
Seam Sealing & Construction
The seam sealing and construction are also highlights of the jacket. Users have stated that the taped seams and Micro-seam allowance (1.6 mm) improve the jacket's overall water-resistance and durability, while reducing weight and bulk.
Value
Although the price point is high, the majority of customers believe that the Beta AR jacket offers excellent value for money due to its high-grade performance, durability and versatility. That, paired with Arc'teryx's reputation for producing long-lasting gear, helps to justify the initial investment.
Ventilation Features
The Beta AR includes pit zips, a feature that many adventurous outdoorsmen applaud. As one user said, 'The pit zips are a huge bonus when you start burning up on an intense hike.' They provide excellent ventilation, allowing you to regulate your temperature effectively.
Waterproofing & Breathability
Customers have repeatedly praised the Arc'teryx Beta AR for its excellent waterproofing properties. Even in harsh, wet conditions, this jacket has kept users dry. Moreover, despite its substantial waterproofing, the jacket maintains significant breathability - meaning users don't feel trapped or overheated when pursuing outdoor activities.
Weight & Packability
While not the lightest of its class, many customers found the Arc'teryx Beta AR to be acceptably lightweight. Its packability has received positive remarks, being compact enough to stow away without taking much space in one's backpack. This is a welcomed feature especially for multi-day backpackers and minimalists.
Prices
Norrona Trollveggen Gore-Tex Pro Light
$649.00
Runner Up
Based on our research and testing, we think the Norrona Trollveggen Gore-Tex Pro Light is a great choice if you're looking for a men's hardshell jacket to go play hard outside with, if our top pick isn't quite what you're looking for.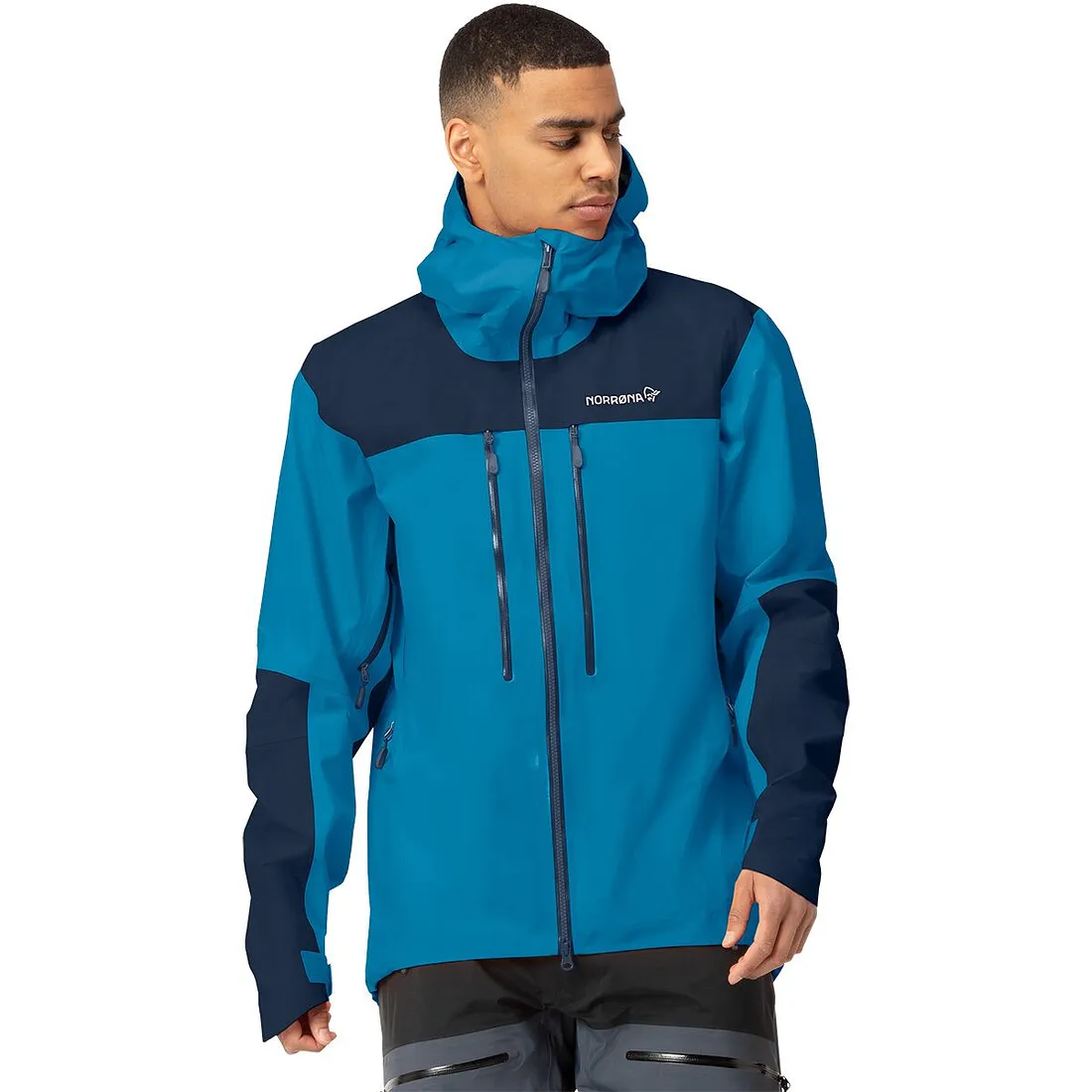 Reasons to Buy
Premium materials and construction

Excellent weather protection

Ample ventilation features

Adaptable fit
Reasons to Avoid
High price tag

Non-adjustable wrist cuffs

Slightly snug under the arms
The Important Specs
Hood:

Yes, adjustable

Material:

Gore-Tex Pro Light

Closure Type:

Zipper

Seam Sealing:

Fully sealed seams

Insulation Type:

Non-insulated

Water Resistant:

Yes
Review Roundup
Norrona releases the Trollveggen Gore-Tex Pro Light with a clear mandate. It's a hardshell jacket designed to survive whatever the great outdoors can throw its way. Boasting a robust construction, this jacket becomes a trusted companion for all rugged ventures.
Reviewers often comment about its impressive weather-resistant capabilities. These come courtesy of the Gore-Tex Pro fabric integrated. It doesn't seem to matter if wind, rain, or snow - the Trollveggen performs well. Users laud the jacket's ability to keep the elements at bay while retaining a comfortable interior environment.
With a cut efficient for layering and a fit designed for mountain use, it's clear that Norrona made this jacket with the serious adventurer in mind. Purchasers rave about its comfort levels and fit, often noting how it barely restricts movement. It's like having a second skin that just happens to be weatherproof.
The hood on this jacket deserves special mention, too. Even customers who wear helmets find that the Trollveggen's hood fits over it perfectly. Its adjustability hasn't been overlooked and has earned a lot of thumbs-up from users.
Weight-conscious hikers and climbers are also on board with the lightweight nature of this jacket. It goes almost unnoticed in the backpack or when worn. Not surprising considering it's one of the lightest in Norrona's range.
However, some users have noted a couple of downsides. A few people believe the jacket could benefit from extra pockets. Others have mentioned the need for more durable zippers after some usage.
All in all, the Norrona Trollveggen Gore-Tex Pro Light is a jack of all trades. Named a top pick among hard shells, it certainly upholds many of the qualities one expects from such a high-quality piece of kit. Its performance record, mainly as championed by satisfied customers, is a testament to that. However, it's still not perfect and leaves a bit of room for improvement.
Durability & Abrasion Resistance
Norrona's reputation for quality is upheld in this jacket, with durable materials that can withstand harsh outdoor conditions. The fabric resists tearing and scraping, making it a reliable choice for adventurous activities. However, some reviews mention minor pilling after extended use.
Fit
Most reviews praise the jacket's fit as being comfortable, with good freedom of movement, especially across the shoulders and back. The hood is also comfortably roomy and adjustable. However, some found the jacket slightly snug under the arms and mentioned non-adjustable wrist cuffs as a drawback.
Seam Sealing & Construction
The jacket benefits from fully sealed seams and robust construction, providing further water and wind resistance. The durable zipper, storm flap, and water-resistant pockets add to its weather resistance. Some users noted, however, that the zipper can be tricky to operate with gloves on.
Value
The Norrona Trollveggen Gore-Tex Pro Light is undeniably pricey, but for this cost, you're getting a jacket with premium materials, excellent weather protection and superb durability. For those who frequently face harsh weather conditions, the investment could be well worth it.
Ventilation Features
Despite the jacket's formidable weatherproofing, the designers have included ample ventilation through pit zips and a two-way front zipper. Some users would have appreciated larger pit zips for better ventilation during strenuous activities.
Waterproofing & Breathability
The Norrona Trollveggen Gore-Tex Pro Light shines when it comes to water and wind protection. The Gore-Tex Pro Light material effectively shuts out the elements while still allowing excellent breathability so you won't overheat during exertion. However, in heavy rainfall, the jacket's breathability can't completely prevent a buildup of internal moisture.
Weight & Packability
This is not the lightest jacket on the market, but it still packs down reasonably well, if not as compactly as some ultralight options. The slight increase in weight is offset by the jacket's robust construction and weather protection features.
Prices
Patagonia Triolet
$449.00
Runner Up
Based on our research and testing, we think the Patagonia Triolet is a great choice if you're looking for a men's hardshell jacket to go play hard outside with, if our top pick isn't quite what you're looking for.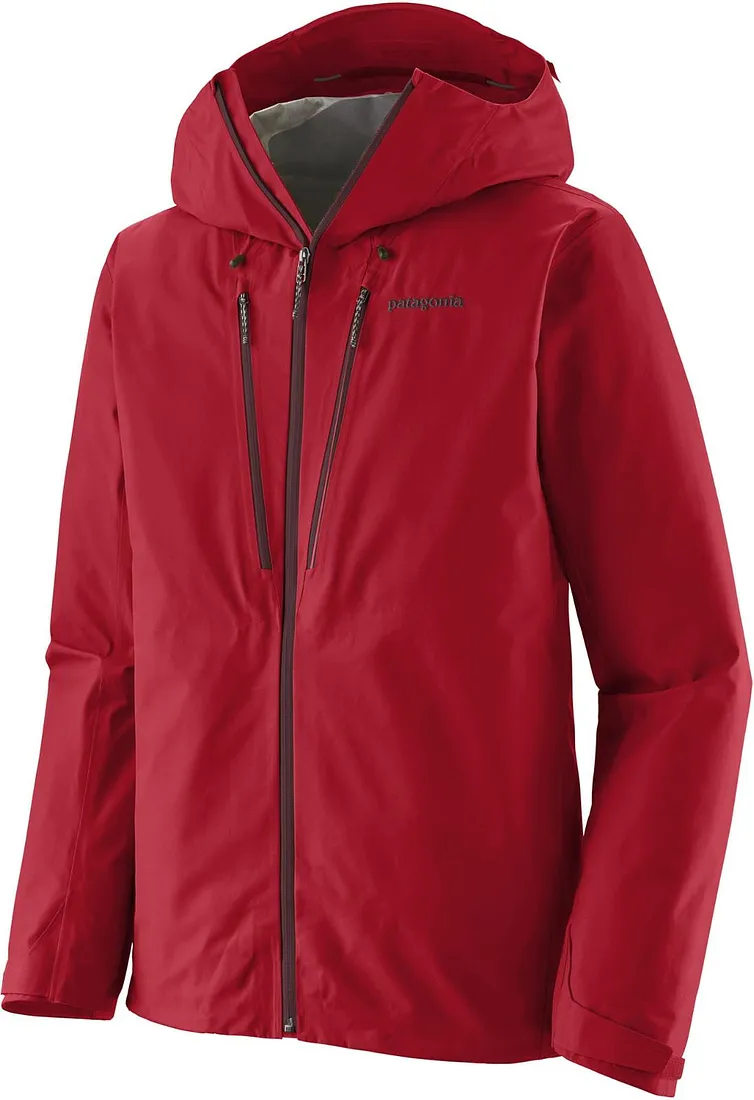 Reasons to Buy
Exceptional waterproofing capabilities

Offers good durability

Packs up neatly without taking too much space

Excellent seam sealing and construction

Provides impressive ventilation features

Fits true to size
Reasons to Avoid
Pricey compared to similar market options

Ventilation could be better
The Important Specs
Hood:

Alpine helmet–compatible, two-way-adjustable hood with a laminated visor

Pockets:

Two Napoleon chest pockets, two hand pockets, one internal mesh drop-in

Material:

3-layer GORE-TEX fabric
Review Roundup
We all know how unpredictable the weather can be when we're out there exploring the great outdoors. One minute it's all sunshine and butterflies and the next the skies have opened up. When the weather turns its nasty side on you, you're going to want a heavy-duty defense - like a solid hardshell jacket. Enter the Patagonia Triolet, a jacket that's got your back when the weather gets rough.
The Triolet is a beast in the best possible way. This jacket, crafted from 3-layer GORE-TEX fabric, offers top-notch waterproofing and breathability. It's designed to withstand seriously wet conditions which means it'll keep you dry in a downpour without making you feel like you're in a mobile sauna.
But how does it perform out in the wild? Online users have a lot to say about the Triolet. Its blend of durability and comfort seems to be a major hit amongst outdoors enthusiasts. Many customers praised its durable construction, saying that it held up impressively even in the toughest conditions.
Some users mentioned how they loved the Triolet's wide range of motion. The overall design and cut of this jacket lets you move freely - a feature climbers and backpackers can't seem to get enough of.
Pockets are another area where Patagonia really nails it with the Triolet. With numerous pockets on hand (two handwarmer pockets, two napoleon pockets and an internal zippered pocket), this jacket offers ample storage. Customers seem to find it super handy for carrying small essentials during their outdoor adventures.
But with the good comes the not-so-good, too. A few customers felt that the jacket is a bit too bulky for their liking. They noted the Triolet being too roomy even after sizing down. This could be an issue if a slim fit is what you're after, but for others, it was a non-issue as the extra space allowed for better layering during really cold conditions.
Also, whilst the waterproofing on this jacket is nothing short of impressive, the trade-off is that it is not as breathable as some other lighter weight shells on the market. Several users did mention this, noting that things can get a bit clammy during more strenuous activities.
Another minor gripe some customers had is with the hood. Although it is spacious and adjustable, a few customers mentioned that it was too deep, making visibility a problem when it was fully on.
Durability & Abrasion Resistance
The durability of the jacket is one of its strongest points. Made for tough weather and rough use, it holds up impressively well. Reviewers who used the jacket for climbing praised the toughness of the fabric and its resistance to abrasions.
Fit
The Triolet is very true to size. An overwhelming majority of online reviewers found it fits as expected. Whether you need to layer up underneath for cold conditions, or just need a shell on a wet summer day, reviewers reported the fit accommodates both scenarios well.
Seam Sealing & Construction
Patagonia has done an excellent job with the construction of the Triolet. Every seam is perfectly sealed, providing a formidable guard against water ingress. The robust construction of the jacket was also noticed and appreciated by the users.
Value
Yes, it's an investment. But based on reviewer feedback, for serious outdoor enthusiasts who are out in rough weather, the Patagonia Triolet seems worth it. Its stellar performance and longevity justify the price.
Ventilation Features
The jacket features two-way pit zips for ventilation. These are good, but there's room for improvement according to some users. Pushing hard up a hiking path or climbing routes can still cause some heat build-up.
Waterproofing & Breathability
The Triolet Jacket is made from the reliable three-layer GORE-TEX fabric, offering not just waterproofing but breathability too. Users report staying dry even in prolonged downpours, proving the jacket's claim of waterproofness. Regarding breathability, it does a reasonable job. Although, few users did mention heat build-up during strenuous activities.
Weight & Packability
Its not the lightest on the market but considering the solid construction and the features it packs, the weight is justifiable. When it comes to packability, it folds down nicely into its own pocket and users appreciated this feature during backpacking trips.
Prices
Outdoor Research Microgravity
$279.00
Best Budget Men's Hardshell Jacket
Based on our research and testing, we think the Outdoor Research Microgravity is a great pick if you're looking for a men's hardshell jacket that is more budget friendly, without sacrificing too much in quality.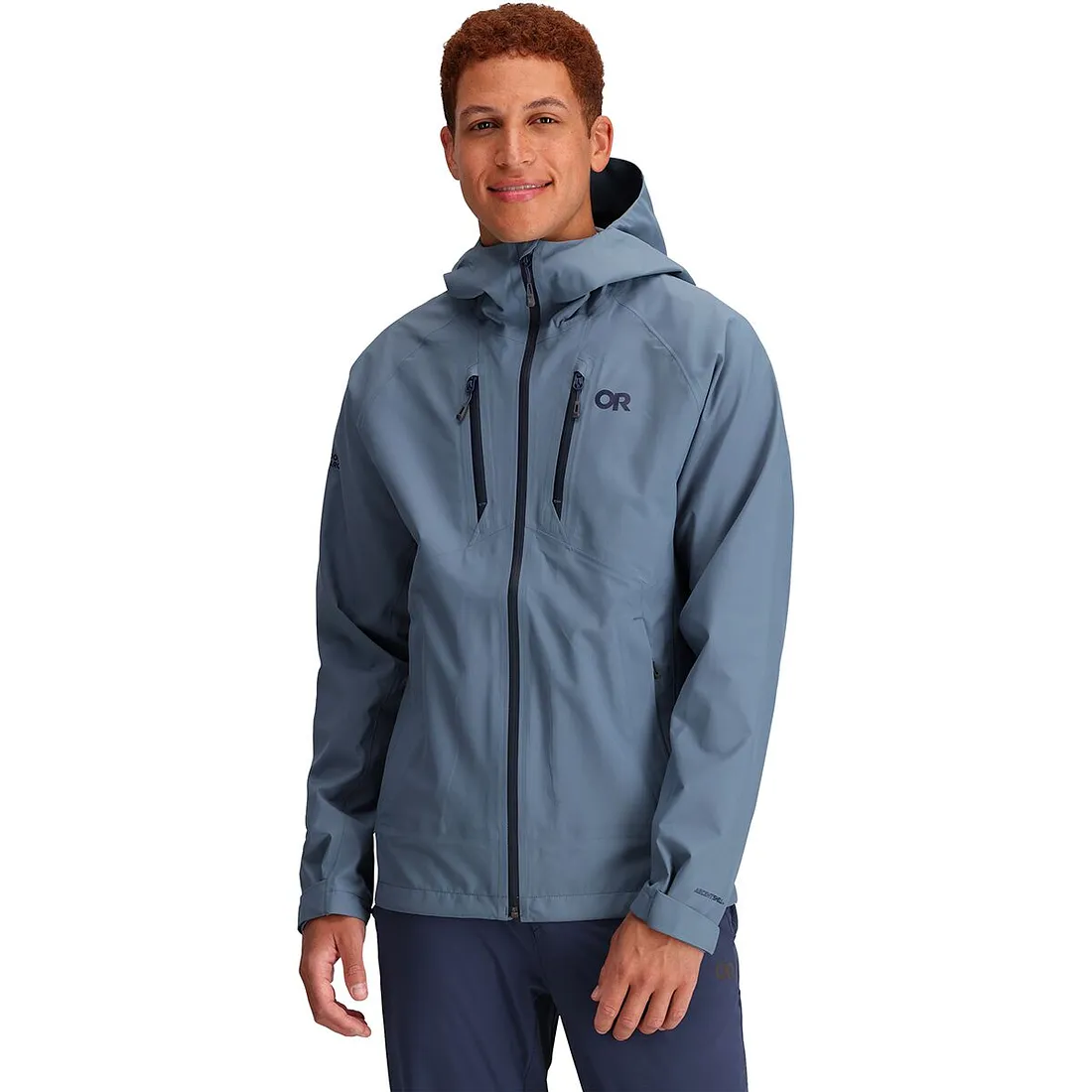 Reasons to Buy
Excellent breathability

Highly waterproof

Equipped with innovative ventilation features

Resilient despite moderate abrasion

Worth the investment
Reasons to Avoid
Slightly less durable compared to high-end models

Fit may not be satisfactory for all body types

Not the lightest in the market
The Important Specs
Fit:

Standard, slightly loose to accommodate layers

Features:

Helmet-compatible wire-brimmed halo hood, pit zips for added ventilation, zip chest and hand pockets, internal front stormflap

Material:

AscentShell 3-layer fabric
Review Roundup
The Outdoor Research Microgravity Jacket is a hit with many outdoor enthusiasts, especially for those on a budget. This budget-friendly hardshell jacket doesn't skimp on features despite its accessible price point.
Users appreciate its AscentShell technology, which offers top-notch breathability. This technology delivers high-performance effectiveness to prevent overheating during high-exertion activities. It's also widely praised for both its wind and waterproofing abilities, serving as a reliable shield against the elements.
One thing that stands out from the consumer reviews is the jacket's versatility. Its lightweight properties make it suitable for activities ranging from alpine climbing to daily use during wet seasons. This is a jacket that people find themselves reaching for time and again, regardless of the outdoor task at hand.
A highlight for many buyers is the fully adjustable hood that fits over most climbing helmets. This is a testament to its practical design features that cater specifically to climbers and hikers. The coziness and fit flexibility of the wire-brimmed halo-hood are appreciated for providing additional protection against rough weather, without restricting movement or vision.
Folks also rave about the pockets. The jacket offers a range of internal and external pockets that are both functional and convenient, making it easier to carry and access small gear items while on the move. Some particularly like the chest pocket, stating it's perfect for keeping necessities close at hand.
However, it's not all praise. Some users mentioned that the jacket is not quite as durable as expected, noting instances of early wear and tear particularly in high-abrasion areas, like the shoulders and elbows. For a hardshell supposed to withstand harsh conditions, even at the affordable end of the spectrum, these concerns are worth noting.
Also, some users noticed that the sizing runs a tad large, which isn't ideal for those wanting a snug fit. However, those who prefer a bit of extra room for layering found this to be beneficial.
Finally, the majority of users admire the Microgravity's overall comfort and feel. They found it to be the kind of hardshell jacket that could be worn all day without any discomfort, a key factor when engaging in long-term outdoor activities.
Durability & Abrasion Resistance
This hardshell jacket demonstrates fair durability and holds up well against moderate abrasion. Although it may not be as robust as some higher-end options, it certainly does a good job given its price point.
Fit
Its standard fit design accommodates layered clothing well, however, some users have remarked that it may not suit all body types, with a few suggesting it feels a bit baggy.
Seam Sealing & Construction
This jacket features a fully seam-taped construction which facilitates its waterproofing ability. Its design braces against harsh weather, ensuring users stay dry and comfortable.
Value
The Outdoor Research Microgravity offers superior weather protection at a reasonable price point. Its effective ventilation system and breathability make it worth the investment, especially for budget-conscious campers, backpackers, and climbers.
Ventilation Features
Equipped with pit zips and a breathable fabric, this jacket offers advanced ventilation features that help regulate body temperature effectively, keeping you cool during demanding activities.
Waterproofing & Breathability
Outdoor Research Microgravity shines in its waterproofing prowess. Thanks to its AscentShell material, heavy rains are no match for this jacket. Significant breathability is its another strong suit, preventing excessive sweat build-up during strenuous activities.
Weight & Packability
While it's not the lightest jacket on the market, it still offers satisfactory packability and convenience. Its weight is something outdoor enthusiasts can overlook given its top-notch weather-protective feature and overall functionality.
Prices
Arc'teryx Alpha FL
Best Ultralight Men's Hardshell Jacket
Based on our research and testing, we think the Arc'teryx Alpha FL is a solid choice for those looking for a lightweight men's hardshell jacket option to go play hard outside with.

Reasons to Buy
Stylish and practical design

High-performing in harsh weather

Quite adaptable and flexible for active sports

Very durable fabric and construction

High quality seam sealing
Reasons to Avoid
Price is on the higher end

Lack of pit zips for extra ventilation

Some fit issues reported
The Important Specs
Hood:

Helmet-compatible StormHood

Lining:

None for weight reduction

Pockets:

1 chest pocket

Waterproofing:

GORE-TEX 3-layer technology

Outer Shell Material:

N40p-X GORE-TEX
Review Roundup
The Arc'teryx Alpha FL is a standout in the ultralight hardshell jacket category. It's a no-nonsense piece of gear that's designed for serious users and showcases some of the best performances in terms of durability, weather protection and compactibility.
First things first, let's talk about the suitability of the Alpha FL in harsh weather conditions. Many owners have experienced firsthand this jacket's superior performance against heavy rains and cold wind gusts, thanks to its use of the high-end GORE-TEX Pro membrane which ensures optimum breathability and waterproofing. So if you're planning for any surprise storms, this jacket will have you completely prepared and protected.
Moreover, wearers have repeatedly praised its durability. Crafted with a 40-denier nylon face fabric, the Alpha FL can brave scrapes against rocks without any sign of wear and tear. It's a beast despite being ultralight and will definitely last a long roam in the wilderness without a hitch.
What makes this jacket a go-to choice for many outdoor enthusiasts is its so-called 'packability'. It's incredibly light and compressible, packing down to the size of a water bottle. Plus, users love the fact that it comes with its own stuff sack. You can easily toss it in your bag when you're on the move or clip it onto your climbing harness.
It's also worth noting the convenience of features that come with the Alpha FL. The helmet-compatible hood is a major plus point for climbers. Its easy-to-pull cords make adjustments a breeze even with gloves on. The jacket also has a single chest pocket to stash essentials, keeping the overall design streamlined for motion efficiency.
However, there are some areas where the Alpha FL could do better. Some users have pointed out the jacket's lack of hand pockets, which might be a letdown for those who like to keep their hands warm. And while it's a stellar performer for active pursuits, this jacket might not be ideal for casual wear or strolling around town due to its minimalistic design.
The cost is another point of contention. Buyers have mentioned that the premium price tag is not for the faint-hearted but also noted that the investment is worth every penny for the quality, longevity, and high performance. This is definitely a fine piece of gear that won't let you down when mother nature turns on the turbo.
Durability & Abrasion Resistance
The N40p-X GORE-TEX fabric on this jacket is seriously impressive in its toughness, resisting any rough treatment you throw its way. Drag it through brambles, scrape it against rockfaces - this jacket holds its own. Users have reported its durability to be excellent, outlasting many other models in the same category.
Fit
The Alpha FL sports an 'athletic fit', which is excellent for a wide range of outdoor activities, but some users have reported it to run a little tight, especially around the hip area. Adjustment options for the waist and cuff are minimal, which might not suit every body type.
Seam Sealing & Construction
The tight seam sealing and drop back hem make for superior weather protection. Water just doesn't sneak in. The simple one-pocket design cuts down on leak-prone spots and keeps it high-functioning. Positive feedback in reviews attests to its well-crafted construction.
Value
Let's be clear - this is a pricey investment. But many users find it worth the cost given its longevity, versatility and superior performance. If quality and durability are high on your list, then the Alpha FL's higher price tag could be justified. Think of it as a long-term investment in your outdoor ventures.
Ventilation Features
The jacket does lose some points in the ventilation department. There are no underarm vents, so things can get a bit stuffy if you are working hard. Some users did mention wishing for more ventilation options.
Waterproofing & Breathability
The Alpha FL is superlative when it comes to weathering the storm. The GORE-TEX Pro tech ensures not just stellar waterproofing but also some solid breathability, leaving you dry but not clammy in the rains. Some users commented on condensation build-up during high-intensity workouts, but that's a common issue with most hardshells and doesn't detract from the overall performance.
Weight & Packability
In spite of the tough exterior, the Alpha FL packs down pretty small and is quite lightweight, which makes it easy to chuck in your backpack without worrying about additional weight. Its compact form has been appreciated by hikers, climbers and backpackers.
Prices
No prices found. Check back later!
Arc'teryx Alpha SV Jacket
$900.00
Best Men's Hardshell Jacket for Alpine Climbing
Based on our research and testing, we think the Arc'teryx Alpha SV Jacket is a solid choice if you want a men's hardshell jacket that's really well suited to Alpine Climbing.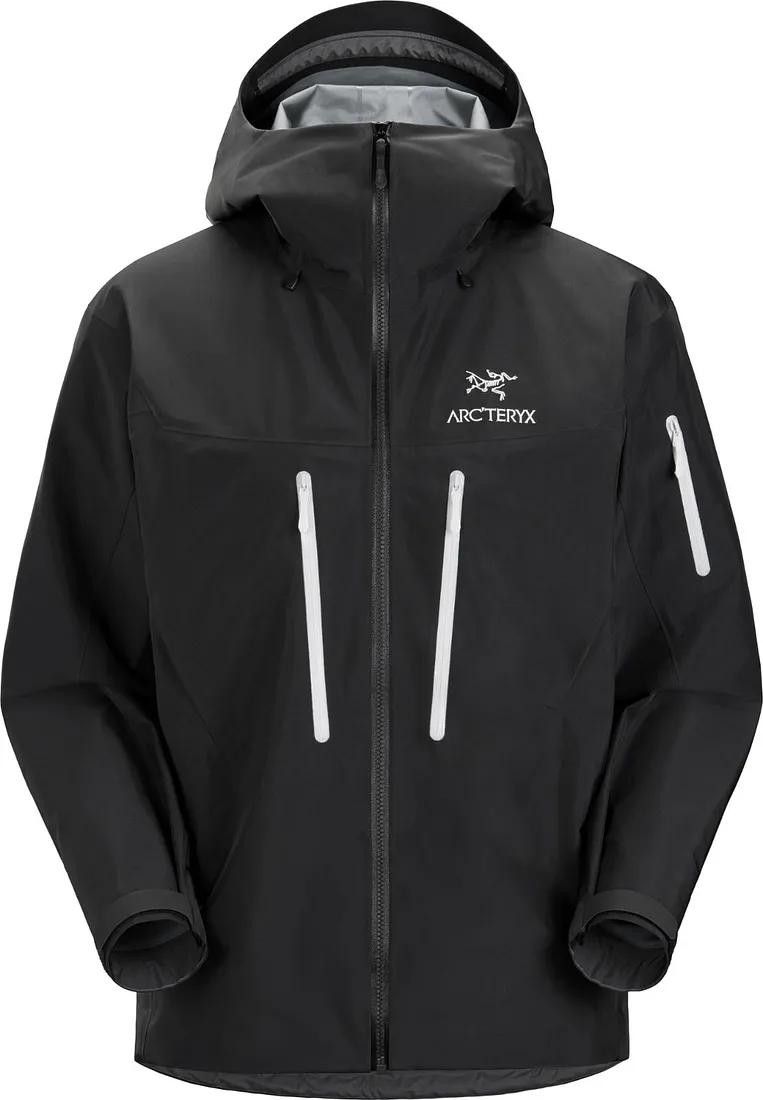 Reasons to Buy
Exceptionally durable

Highly waterproof & breathable

Great for alpine climbing and severe weather conditions

Hassle-free ventilation features

Perfect fit with room for layering
Reasons to Avoid
Price is on the higher side

Lack of interior pockets

Possible overkill for milder conditions
The Important Specs
Hood:

Helmet-compatible StormHood

Zippers:

WaterTight external zippers

Material:

N100p-X 3L GORE-TEX Pro

Construction:

Micro-seam allowance (1.6 mm) reduces bulk and weight
Review Roundup
The Arc'teryx Alpha SV Jacket is built like a fortress for your body against the most brutal outdoor environments. It's designed with the serious alpinist in mind; therefore, it's not your average jacket but one for those who are expecting extreme weather conditions.
The first thing you'll notice is its high-quality, durable construction using 100-denier nylon, a material that is windproof, waterproof, yet surprisingly breathable. This durable armor easily brushes off encounters with sharp rocks or accidental scraps against ice and snow, managing to maintain its integrity even in the harshest weather.
One of the standout features is the jacket's 'Stormhood'. Compared to standard jackets, the hood is helmet-compatible and it cinches down snugly to seal out stormy weather. But don't worry, you won't feel like you're wearing a straight jacket as the adjustments available ensure a customizable, comfortable fit.
The jacket's cut is another main selling point. It has an anatomical shape, meaning it takes into consideration the human form, therefore providing mobility while clinging onto your body's lines. Moving in this jacket doesn't feel restrictive, which is a real bonus when trying to navigate difficult terrains or when you're scaling the side of a mountain.
As for user feedback, countless customer reviews praise the Arc'teryx Alpha SV Jacket for its unparalleled weather protection and durability. Users comment on its toughness and how it stands up against harsh climates, while still offering freedom of movement.
However, not all feedback is completely rosy. A few have mentioned the steep price that comes with owning an Arc'teryx Alpha SV Jacket. As such, we can't deny this is a high-end investment piece. Some users have also pointed to the relative bulk and weight of the jacket as compared to more minimalist alpine jackets in the market which may pose as a disadvantage, especially for those more concerned about weight efficiency.
One other note of contention is the pocket placement. Some users expressed that the jacket's chest pockets are less accessible when wearing a backpack or harness, suggesting that the design isn't entirely backpacker friendly.
Durability & Abrasion Resistance
The Alpha SV is built like a fortress. The hardwearing N100p-X material provides higher abrasion resistance compared to common hardshell materials. Prolonged exposure to sharp rocks, severe winds, or loaded backpacks does little to scar this jacket. It's a reliable partner for intense alpine feats.
Fit
The cut of the jacket provides a precise, sculpted fit without compromising the freedom of movement. It's also tailored keeping in mind the need for extra layering during intense cold, a necessity in unpredictable alpine environments.
Seam Sealing & Construction
Its minimalist construction with micro-seam allowance gives the jacket a neat appearance while reducing bulk and weight. The seams are sealed with GORE seam-tape for enhanced waterproofing.
Value
Sure, it's a hefty investment, but with the Arc'teryx Alpha SV, you are paying for top-tier reliability, durability, and performance. An investment in this jacket means peace of mind during your harsh mountain escapades.
Ventilation Features
If things start to heat up during a challenging climb, the jacket features pit zips for rapid ventilation. The WaterTight zippers ensure unwanted water doesn't seep in during this aeration process.
Waterproofing & Breathability
Made using the top-notch N100p-X GORE-TEX Pro 3L material, the Arc'teryx Alpha SV Jacket is tailored for rough weather conditions. It doesn't merely keep you dry in torrential downpours but also maintains commendable breathability, ensuring sweat doesn't get trapped inside, reducing discomfort during high exertion activities.
Weight & Packability
Surprisingly lightweight for its durability level, the Arc'teryx Alpha SV isn't burdensome, despite its robust construction. Also, despite its sturdy shell, it can compress into a compact size easily, making it a breeze to store in your backpack.
Prices