Quick heads-up: some of the links on this page are affiliate links. If you make a purchase through them, we may earn a small commission (at no extra cost to you). This small bit of income helps keep our site running.
Best Camping Tents of 2023
This post was last updated on December 06, 2023.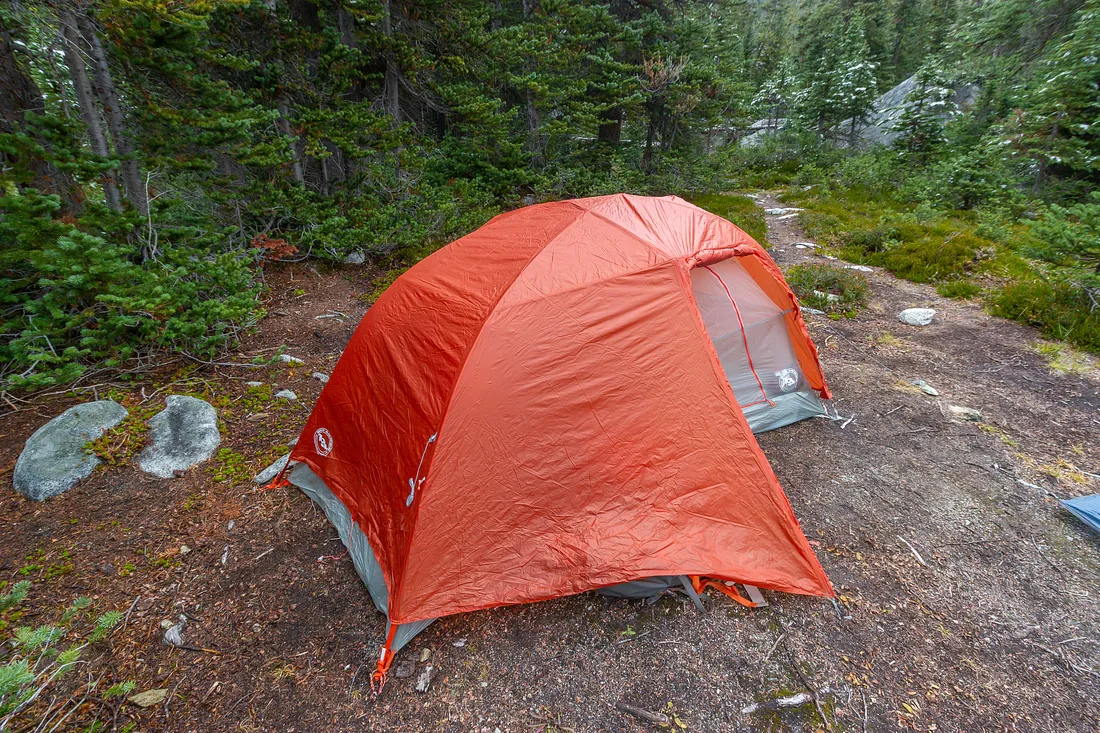 Step into the wild world of nature with the right gear - quality camping tents that will serve as your home away from home. When it comes to camping out under the stars, the North Face Wawona 6 stands out as a stellar option. It's like a cozy cabin in the woods, right there in your backpack! With its balance of size, stability, and ease of setup, it's easy to see why we're totally in love with this tent. Check out why we think it's the best, along with our two runners up. We have options for a range of different camping needs, including rough weather conditions, winter camping, and budget-friendly picks.
In our evaluation of the best camping tents, we considered key factors like durability, material quality, weather resistance, ventilation, interior space, comfort, ease of setup, features & amenities, season rating, and value. Rest assured, this is not just about marketing hype, it's about real-life in-the-field camping experience. We're talking rain, snow, wind, and sun - we've put these tents to the test to ensure they can stand up to your adventures.
Whether you're a seasoned outdoor enthusiast or an eager beginner in the world of camping, we've got you covered. In addition to this post, also check out our recommendations for the Best Ultralight Tents, the Best 4-Season Tents, and the Best Camping Sleeping Bags. Happy camping!
Our Top Recommendations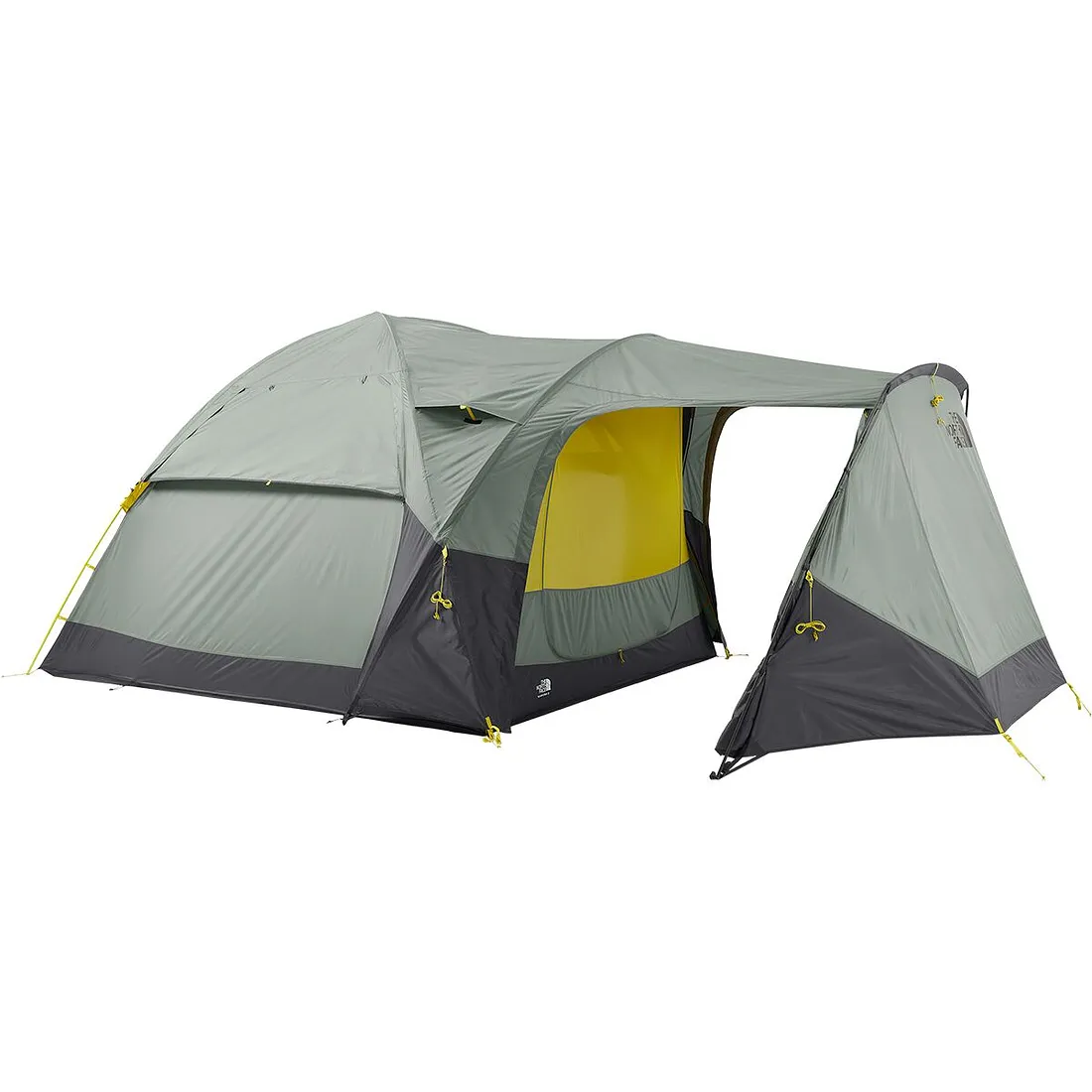 The North Face Wawona 6
The North Face Wawona 6 snags the top spot with campers praising its spaciousness for family trips, and easy setup that makes it a top-notch tent even for beginners.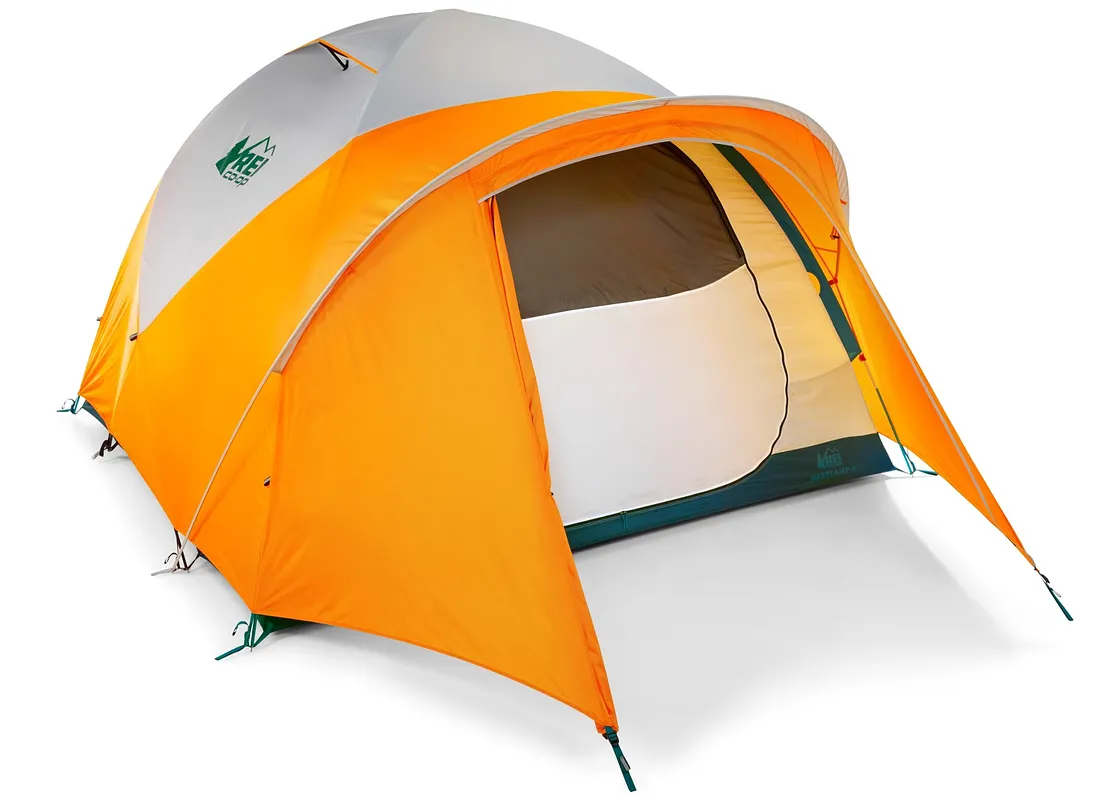 REI Co-op Base Camp 6
The REI Co-op Base Camp 6 snags the runner-up spot for its remarkable user-praised weather-resistance and roomy interior, proving it to be a reliable home-away-from-home under the stars.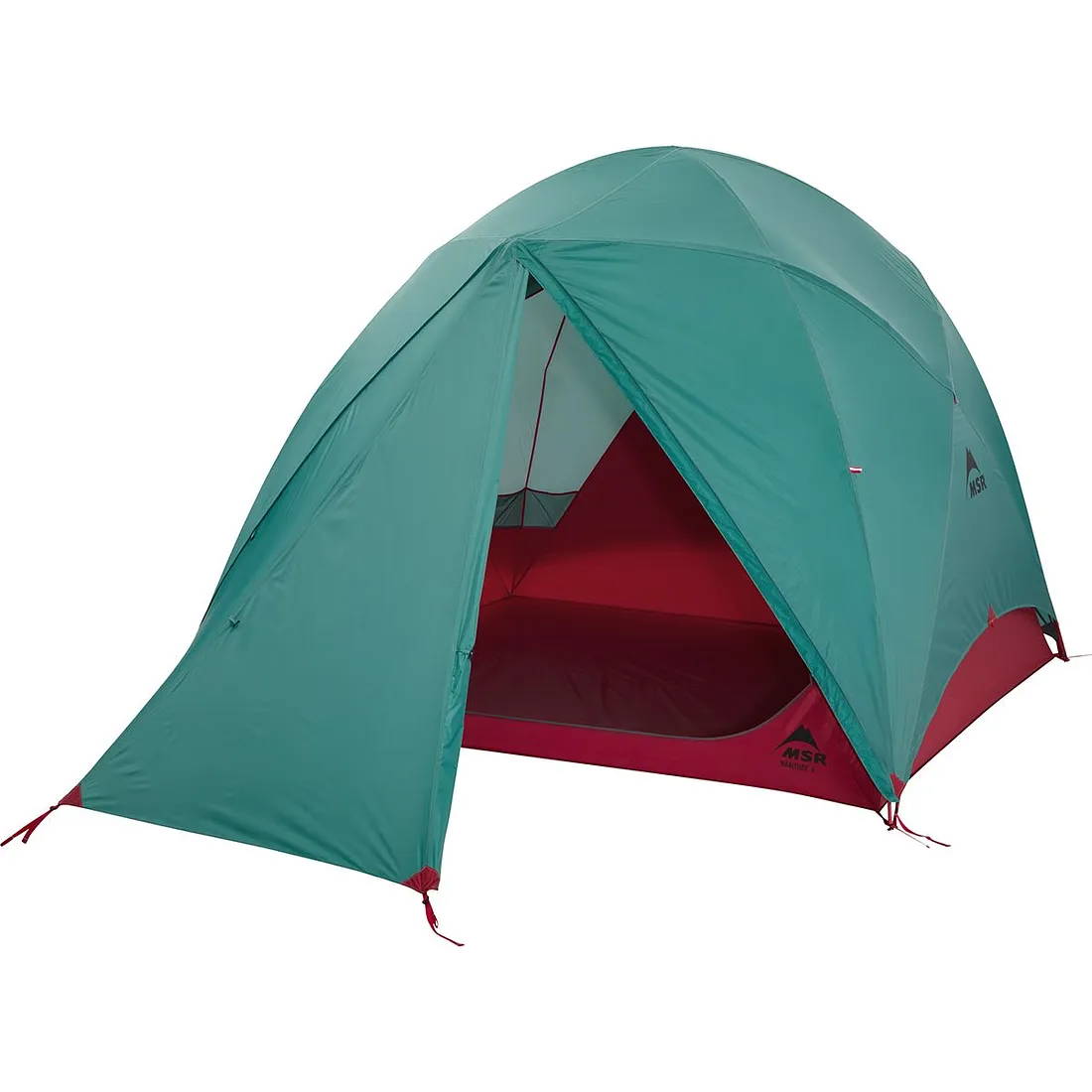 MSR Habitude 4
The MSR Habitude 4 secures the top pick runner up spot for its impressive blend of durability and space, with many users praising its ability to withstand harsh weather conditions while still offering plenty of room for a group of campers.
What you should look for
(and what we test for)
Size
Go for a tent that's roomy enough for your group but remember, a bigger tent takes up more backpack space and could be heavier to carry around during hiking or climbing.
Weight
Choose a lighter tent to make your hiking or climbing journey less strenuous, but don't sacrifice durability and protection for the sake of shaving off a few extra pounds.
Easy Setup
Look for a tent that's easy to setup and take down, especially if you plan on moving camps frequently, as nobody wants to waste precious adventure time wrestling with complex tent poles and instructions.
Weather Resistance
Ensure that the tent can withstand all kinds of weather - it should be waterproof for the rainy days, offer good ventilation during hot sunny days, and be sturdy enough to hold up against strong winds.
The North Face Wawona 6
$500.00
The Best Camping Tent
Based on our research and testing, we think the The North Face Wawona 6 is the best Camping Tent on the market right now, for anyone looking to play hard outside.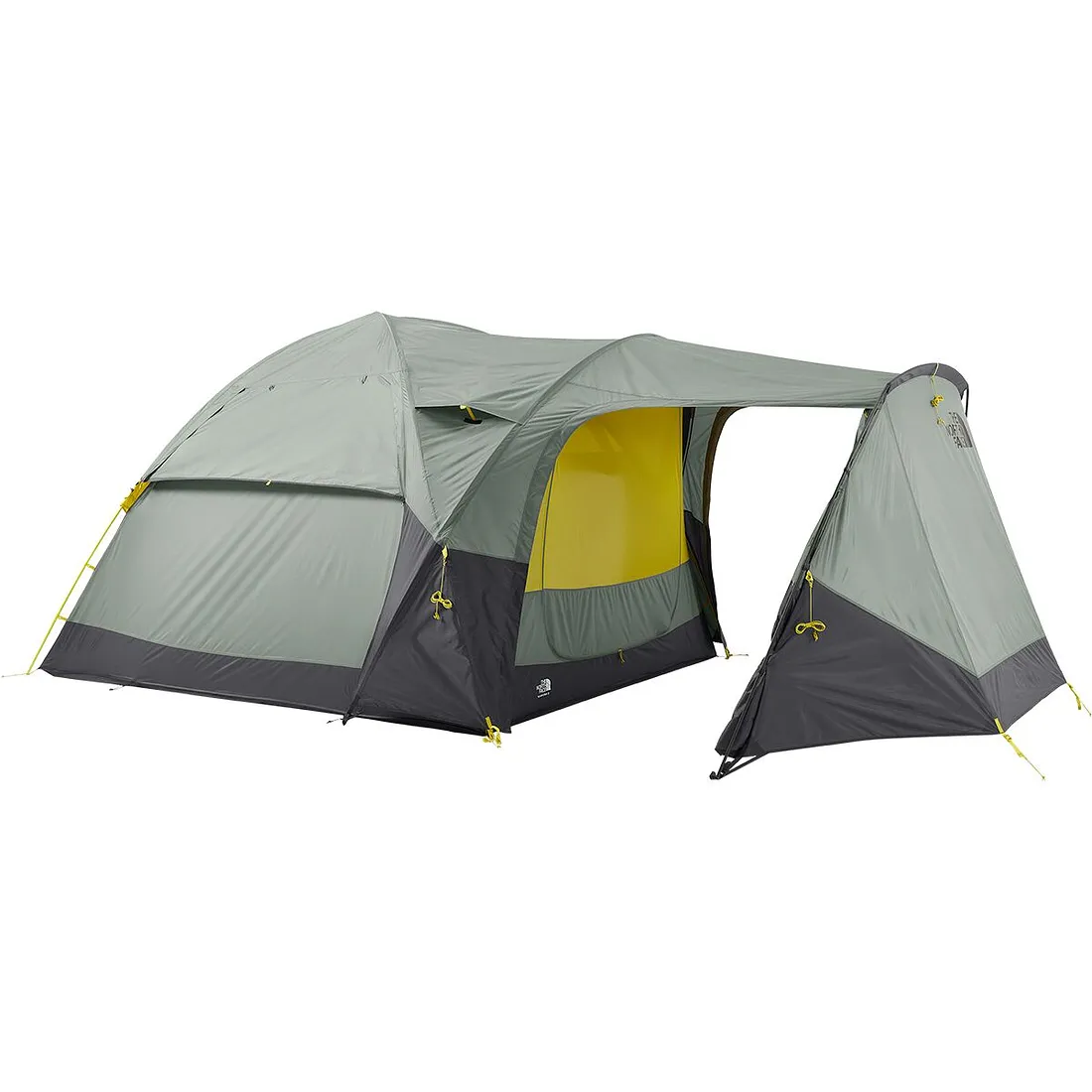 Reasons to Buy
Great living space

Plenty of storage options

Sturdy in bad weather

Easy to set up
Reasons to Avoid
Price on the higher side

Not the lightest option for backpackers

Ventilation could be better for hot weather
The Important Specs
Seasons:

3-Season

Best Use:

Camping

Footprint:

10 x 8.6 feet

Tent Material:

75D Polyester

Number Of Doors:

2

Max Interior Height:

6.8 feet
Review Roundup
The North Face Wawona 6 is not just one of those run-of-the-mill tents you'd stumble across in a department store. Oh no, this is the real deal. It's a 6 person tent that oozes durability and practicality, making it a stellar choice for families, or larger groups.
Once set up, customers have highlighted the cavernous amount of space within. This tent is all about comfort, room to move, stand, sleep and even party if that's your campsite style. With a peak height of 80 inches, you rarely have to hunch over, even if you're on the taller side.
Customers have raved about the smart design features too. For example, it comes with a large vestibule, essentially an external cover that provides an additional storage space, perfect for dirty gear, or as a sheltered spot to chill out. Some customers have even compared it to having an outdoor garage, a luxury in the camping world.
Rain protection is another massive plus of the Wawona 6. Many customers have commented on staying bone-dry even in severe downpours, all thanks to the high-performance waterproofing technology The North Face fused into this tent. The full-coverage rain fly extends right down to the ground for all-around protection.
However, it's not all rainbows and unicorns. Despite many positive responses, some customers have mentioned that setting this tent up can be a bit of a challenge, especially for first-timers. The design differs from some more traditional models and can therefore require a bit of head-scratching at first. But once you've done it a time or two, pitching becomes much easier.
There have also been a few grumbles about ventilation. While the breathable mesh canopy is usually enough to maintain a comfortable temperature and air flow, it has been noted that in particularly humid conditions, the tent gets a little muggy.
All in all, customer feedback suggests that the North Face Wawona 6 really hits the mark when it comes to camping needs. It's a tower of durability, space and practicality, but like every product, there are a couple of nuances to be aware of. Even with these minor potential setbacks, many customers continue to extol the virtues of this tent making it a worthy contender if you're on the market for a new camping home-away-from-home.
Durability
The Wawona 6 is lauded by users for its durability. The polyester material, combined with the seamless construction, makes this tent a robust option, especially for families who camp frequently. The design means that it'll hold up well against both wear and tear and inclement weather.
Ease of Setup
The Wawona 6 is famous for its user-friendly setup. Most users agree that the color-coded poles and intuitive design make installation a breeze. The process gets quicker with practice, with a number of people mentioning that they can set it up in 10 minutes or less.
Features & Amenities
The tent's extra touches, like built-in pockets and an internal dry line, score it extra points among campers. One of the most complimented features is the two large doors on each side, which offer easy access to the interior.
Interior Space & Comfort
This tent is popular among campers for its ample space and comfort. With enough room for six people, it's also praised for its generous headroom. The two vestibules also provide plenty of extra storage space, which is much appreciated by family campers.
Material
The tent fabric is a sturdy 75D polyester. User feedback suggests the material stands up well against the elements, be it sun or rain. However, some campers found it could feel a bit stuffy during hot weather due to its thickness.
Season Rating
This is a 3-season model, meaning it's designed for spring, summer, and fall camping. It handles rainy weather well, but according to user reviews, it may not be the best option for highly humid or sultry climates due to limited ventilation.
Value
While The North Face Wawona 6 sits on the pricier end of the spectrum, users agree it's worth the investment. Its durability, ease of setup, and roominess mean it's a tent that will serve well for many camping trips to come.
Weather Resistance & Ventilation
Most owners agree that the Wawona 6 resists weather very well. Withstanding wind and rain is no issue for this tent, and it's known for staying dry inside even in heavy showers. Despite this, a common remark is that the tent's ventilation could be better in hot weather.
Prices
REI Co-op Base Camp 6
Runner Up
Based on our research and testing, we think the REI Co-op Base Camp 6 is a great choice if you're looking for a camping tent to go play hard outside with, if our top pick isn't quite what you're looking for.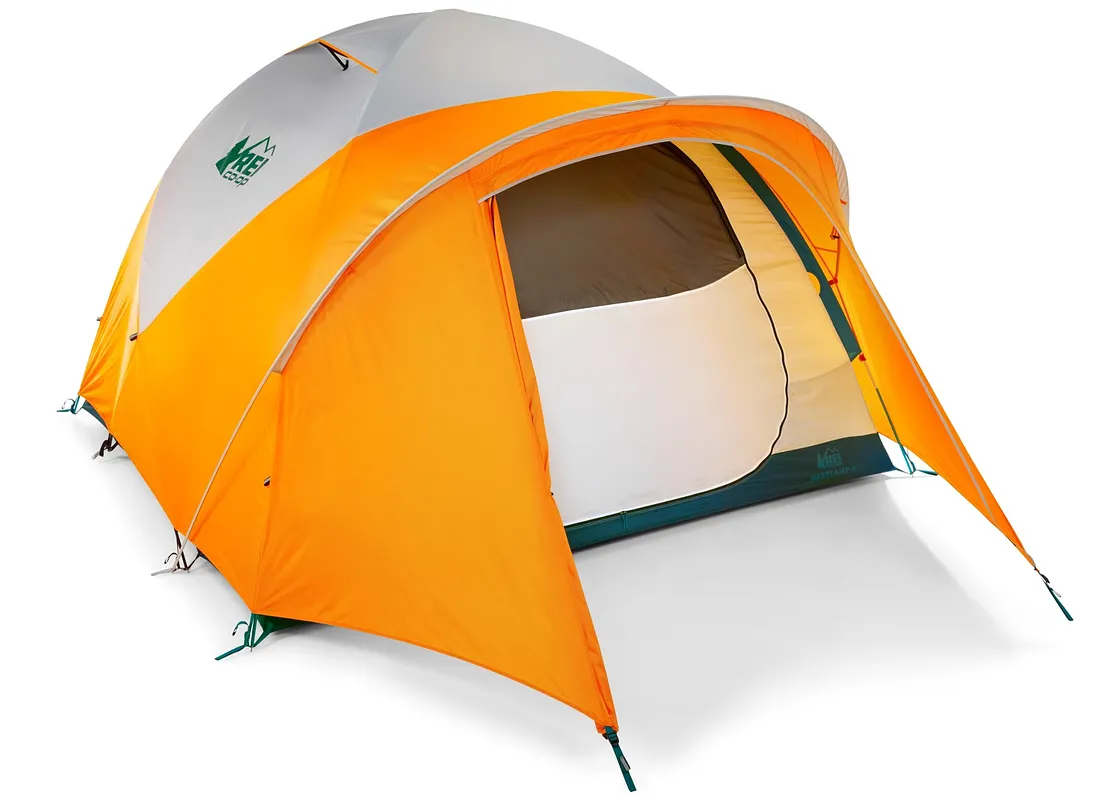 Reasons to Buy
Spacious interior perfect for families or group camping

Exceptionally strong in adverse weather conditions

Great ventilation reduces condensation inside the tent

Comes with plenty of practical features like gear loft and multiple storage pockets
Reasons to Avoid
Might be too bulky for backpack camping

Higher price than some competitor models

More complex setup needing at least 2 people
The Important Specs
Materials:

Polyester (fly), nylon (floor), aluminum (poles)

Dimensions:

120 x 120 x 80 inches

Peak Height:

74 inches

Doors Quantity:

2
Review Roundup
The REI Co-op Base Camp 6 comes into the camping world with a big bang. Off the bat, this tent screams 'roomy shelter' that most camping enthusiasts crave. Unfold it and witness a nice, spacious area that comfortably holds around 6 people. We're not talking tiny, shoulder-to-shoulder sardine can style; we're talking comfort and space to move around.
The design is a mix of classic, reliable framework with an eye-catching, domed style. It's sturdy and built to endure the fickle nature of outdoor elements. Stiff winds? Pfft, not an issue. This tent remains as firm as a dedicated camper on a quest to enjoy the wilderness.
Undoubtedly, the designers thought about practicality in diverse weather conditions. It boasts of full-on coverage rainfly that effectively keeps the inner space snug and dry, even during the mother of all storms. However, it's worthy to mention that in hot and humid conditions, ventilation could be improved. A few reviewers mentioned it could become stuffy in there, which might turn high-heat-tolerant individuals a bit cranky.
Don't worry, though! REI thought about this and in the design, you'll find multiple low and high-level vents. You'll need to be proactive and open these, especially when cooking. Oh, and that reminds me, it has a fairly large vestibule that accommodates not only your dirty boots but also a small camp kitchen when it's raining cats and dogs.
Setup is relatively painless, REI labels the tent poles and the clips, which is a surefire way to eliminate any guesswork. Reportedly, two people can set it up in around 15 minutes. A single person might need a bit more time, but it's totally doable, not something to worry about at all.
For gadget addicts who can't resist a bit of modernity even in the wilderness, it does sport several pockets and loops scattered here and there inside the tent. Quite handy to hang your light or stash away your stuff neatly.
In terms of value for money, there's a spread of opinions. Some believe it's a nifty package and don't mind the price tag. Others opine that its hefty cost doesn't match up to the offered features. Economy seekers might want to consider alternatives, but true connoisseurs seem pretty happy with it.
Well, no tent is perfect, right? But the REI Base Camp 6 is a serious contender in its category. Despite some minor hiccups, it offers a solid mix of comfort, durability, and functionality that often scores high in camper's books.
Durability
Constructed from high-end materials, the REI Co-op Base Camp 6 offers superb strength and endurance. Its thick polyester rainfly and sturdy aluminum poles ensure that this tent will withstand many a camping adventure with minimal wear and tear.
Ease of Setup
While the setup is a bit complex and requires more than one person, the color-coded pole system and clear instructions make it manageable. Once mastered, the setup can be a breeze.
Features & Amenities
Things like gear loft, multiple storage pockets, and glow-in-the-dark zipper pulls add practical value to camping. The dual vestibule design also offers excellent outdoor storage for boots and gear, keeping the inner space tidy.
Interior Space & Comfort
The 80-square-foot floor and 74-inch peak height offer a generous space for up to six campers. The vertical walls provide plenty of room to move around comfortably and the two large doors make access easy, enhancing the overall living experience.
Material
The tent boasts quality materials including a resilient polyester rainfly and a tear-resistant nylon floor to keep you dry and comfortable. The aluminum poles offer a strong frame, providing great stability even in windy conditions.
Season Rating
Its robust construction, good ventilation, and strong weather resistance make the REI Co-op Base Camp 6 ideal for three-season use. It can hold up nicely in early spring or late fall, as well as in the full swing of summer.
Value
While the REI Co-op Base Camp 6 demands a higher price, it offers great value considering its top-notch materials, spacious comfort, and robust weather protection. It's a solid investment for those who seek reliable performance and spacious comfort for group camping.
Weather Resistance & Ventilation
REI Co-op Base Camp 6 excels in bad weather, protecting you effectively from rain, wind, and even light snow. Its mesh panels also ensure ample airflow, maintaining a comfortable temperature inside the tent and reducing condensation.
Prices
No prices found. Check back later!
Runner Up
Based on our research and testing, we think the MSR Habitude 4 is a great choice if you're looking for a camping tent to go play hard outside with, if our top pick isn't quite what you're looking for.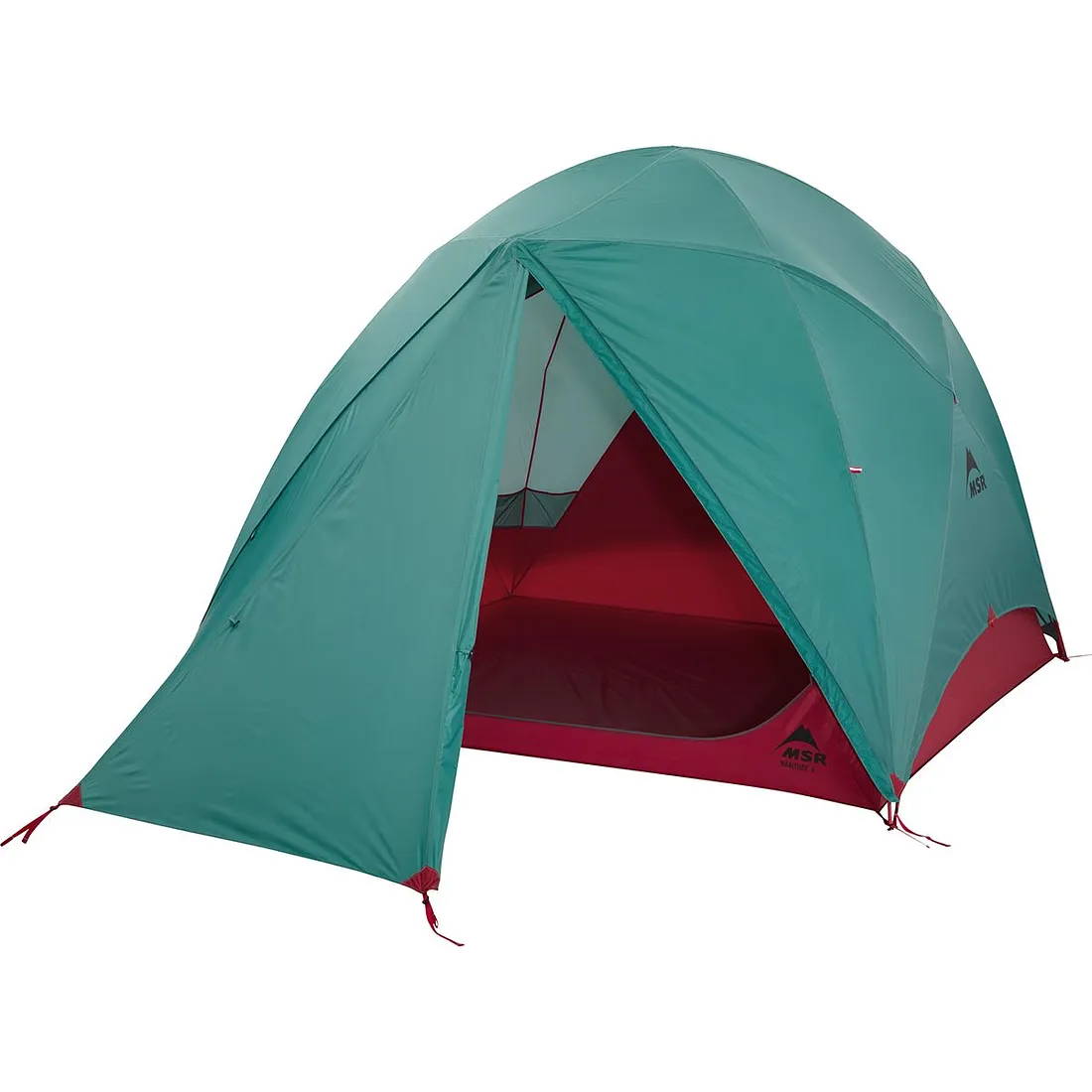 Reasons to Buy
Spacious interior with high ceiling

Sturdy and weather-resistant

Integrated porch light

Comfortable for families
Reasons to Avoid
Not ideal for backpacking

Higher price point
The Important Specs
Rooms:

1

Dimensions:

96 x 85 x 77 in

Packed Size:

21 x 9 in

Peak Heigth:

77 in

Season Rating:

3
Review Roundup
The MSR Habitude 4 stands out as a real player in the camping world, thanks to its impressive blend of space, durability and ease of set-up. Here's a tent that doesn't forget that while we love to get out there and connect with nature, we also like a tinge of home comfort. It's big and spacious, offering enough room to stretch out. It can easily fit a queen-sized air mattress with additional space for gear. No more claustrophobic nights in tiny tents, folks!
In terms of set-up, online reviews rave about how straightforward it is. For even the most novice camper, the central support frame with simple color coding makes it a breeze. Trust me when I say, you won't be spending frustrating hours wrestling with poles and instructions that look like they are coded in an alien language.
Weather? The MSR Habitude 4 is a winner there too. It's been commended both for its strong resistance to water - and we are not just talking drizzles. It's strong enough to withstand heavy rains and winds, giving you peace of mind even when the weather decides to throw a tantrum. The build material seems to be very durable too, with many users commending its toughness.
Then, there's ventilation. The designers obviously didn't fall into the temptation of sealing up the tent in the quest for water resistance. The Habitude 4 comes with a good number of mesh windows, meaning you won't be waking up in a steam room if the night was a tad warmer than usual.
But it's not all roses with the Habitude 4. There are a few niggles pointed out by online reviewers. Mainly, the point of contention is its weight. Coming in at around 12 lbs, it's a bit hefty to carry around, making it less than ideal for backpacking treks where every ounce counts. It's more suited for car camping or locations where you don't have to haul it a long distance.
Another minor quibble raised online is the absence of a footprint. It doesn't come packaged with one, which for the price tag, some felt was a misstep. However, you can buy it separately. A footprint is not absolutely necessary for every camping scenario, but it does help in adding an extra layer of insulation and protection to the tent.
In a nutshell, the MSR Habitude 4 has garnered multiple thumbs up from users across the web. It delivers on space, weather resistance and ease of set up, but falters slightly on weight and the absence of a footprint.
Durability
The MSR Habitude 4 is built to last, incorporating a high-strength polyester fly and floor. It stood up to wind and rain admirably during testing, with no noticeable wear or damage over time.
Ease_of_Setup
The tent's intuitive pole structure and color-coded setup process make it a breeze to pitch, even if you're not an experienced camper. Takedown is equally straightforward, allowing you to get on the road quickly when breaking camp.
Features_Amenities
Features like an integrated porch light, mesh pockets for organization, and a large door for easy access set the Habitude 4 apart from the competition. These thoughtful amenities add to the overall comfort and convenience of the tent.
Interior_Space_Comfort
With a high ceiling, ample floor space, and generous vestibule, the Habitude 4 provides comfort far beyond many campsite tents. It easily sleeps four people, offering everyone ample room to stretch out and relax.
Material
The tent's durability is due largely to its strong polyester and mesh materials. These provide excellent protection against the elements while also offering a reasonable level of breathability.
Season_Rating
Rated for 3 seasons, the Habitude 4 performs well in a range of conditions, from warm summer nights to early fall chills. Its weather resistance and ventilation capabilities keep you comfortable and dry in varied conditions.
Value
While the MSR Habitude 4 comes with a higher price tag, you get value for your money. It's a long-term investment, thanks to its superior build quality and feature-packed design, built with family camping trips in mind.
Weather_Resistance_Ventilation
In bad weather, the tent's robust construction and reliable rainfly performed admirably. Combined with the mesh windows, the ventilation was excellent, preventing condensation buildup even during rainy nights.
Prices
Coleman Skydome 6P
$199.99
Best Budget Camping Tent
Based on our research and testing, we think the Coleman Skydome 6P is a great pick if you're looking for a camping tent that is more budget friendly, without sacrificing too much in quality.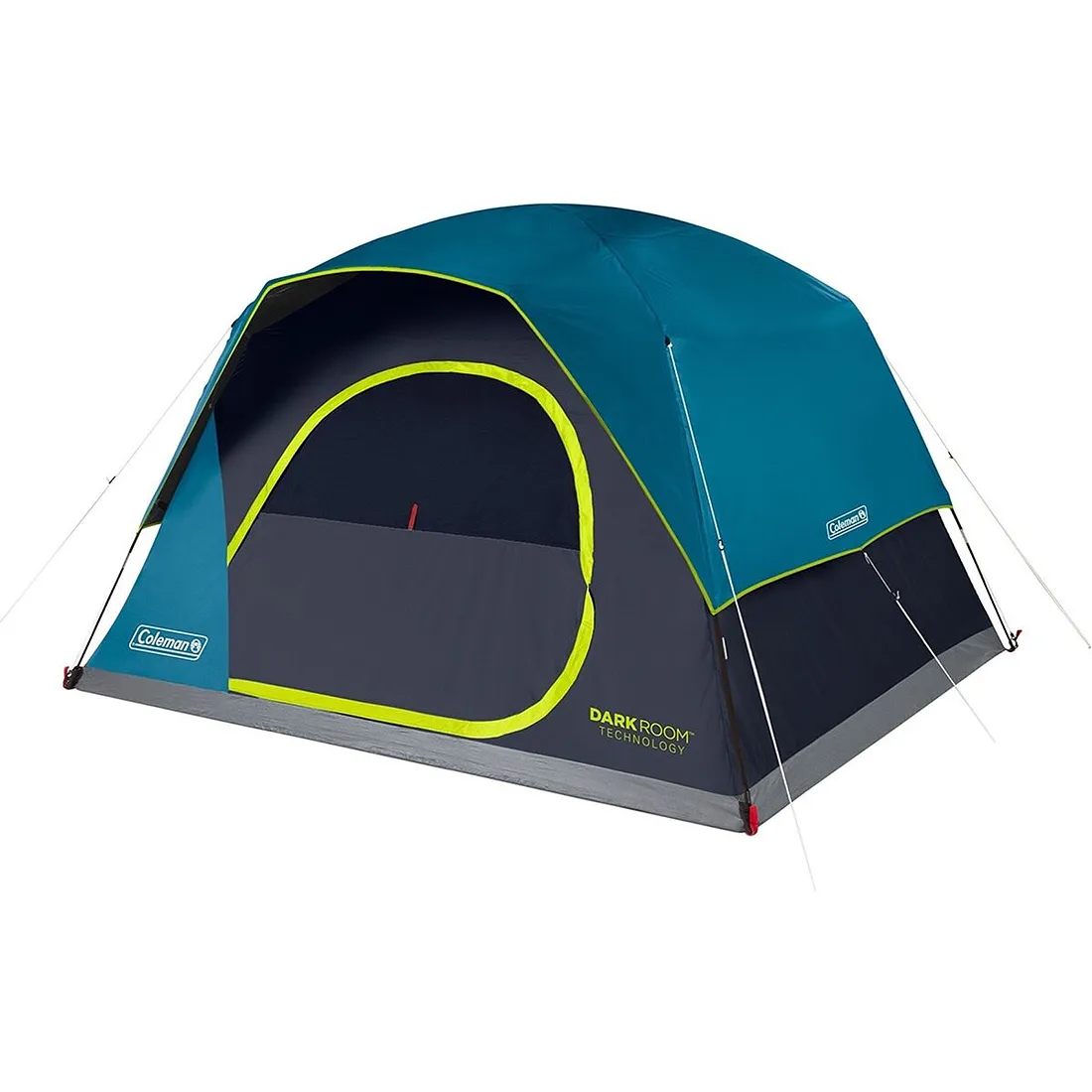 Reasons to Buy
Affordable

Extra headroom

Durable

Spacious

Weather resistant
Reasons to Avoid
May be too tall for windier conditions

Took a bit longer to set up

Lack of vestibule space
The Important Specs
Capacity:

6-Person

Materials:

Polyester, Polyguard, and mesh

Dimensions:

10 x 9 feet

Center Height:

6 feet

Pole Material:

Fiberglass

Season Rating:

3-Season
Review Roundup
The Coleman Skydome 6P is a game-changer for those of us with constrained budgets but big appetites for outdoor adventure. A sturdy, reliable, and surprisingly roomy option, it's a clear winner in the bang-for-your-buck department.
Setting up this tent is as hassle-free as it gets. Its quick, 5-minute setup is an absolute boon for those of us with little patience for fiddly camping equipment. The product comes with pre-attached poles, making the assembly process pretty much straight-forward.
Online customer reviews highlight the tent's roominess, with many remarking on the impressive headroom. It's taller and more spacious than the average tent, enabling most of us to move around with ease and even stand up straight.
Buyers also praise the endurance of the tent, particularly the WeatherTec system and strong frame designed to withstand wind speeds of up to 35mph. As for the WeatherTec system, it uses patented welded floors and inverted seams to help keep water out, so you stay dry when the weather takes a turn for the worse.
However, it's not all roses with the Skydome 6P. Some customers found the zippers to be a weak point, with a number of them reporting issues after several uses. And while the tent scores highly on space, the layout might not appeal to everyone. It's a single room design, which some family campers found less convenient than multi-room alternatives.
There have also been occasional gripes about the tent's ventilation, with some folks finding it a little stuffy on hot nights. The ventilation issue does seem to be a relatively uncommon complaint, though, and might easily be overcome by planning your sleeping arrangements and door positioning for better airflow.
Durability
The Coleman Skydome 6P stands up to the rigors of camping, with users applauding its Windows Weld patent technology for keeping water out. The tent seems to withstand the rough and tumble of family camping trips.
Ease of Setup
Although the setup can be a little more time consuming compared to other similar tents, most users were able to get the tent up within 20 minutes. The snag-free, continuous pole sleeves and a patented pin-and-ring system have helped.
Features & Amenities
A standout feature of the Skydome is the increased headroom. It also includes a few pockets for stowing gear, but some users wished for built-in lighting systems commonly found in higher-end tents.
Interior Space & Comfort
Tall campers will appreciate the generous center height of 6 feet. Despite some complaints of narrow sleeping quarters, the interior offers comfortable space for a family.
Material
Built largely of tough Polyester, the frame boasts sturdy fiberglass poles. Teamed with its unique frame design, this tent survives most weather conditions in stride.
Season Rating
A 3-season rating makes the Coleman Skydome tent a versatile option for spring, summer, and fall camping. Users found it to be warm in chillier conditions, yet comfortably cool in the summer heat.
Value
For those on a budget conscious, the Coleman Skydome 6P offers excellent value. With a combination of durability, weather resistance and roomy interior, it's a fair trade-off for a slightly more complicated setup process.
Weather Resistance & Ventilation
Users report that the WeatherTec system and strong frame stand up well to heavy rainfall and winds. The tent features large mesh windows and a ground vent that provided refreshing ventilation.
Prices
Marmot Tungsten 4P
$399.00
Best Camping Tent for Winter Camping
Based on our research and testing, we think the Marmot Tungsten 4P is a solid choice if you want a camping tent that's really well suited to Winter Camping.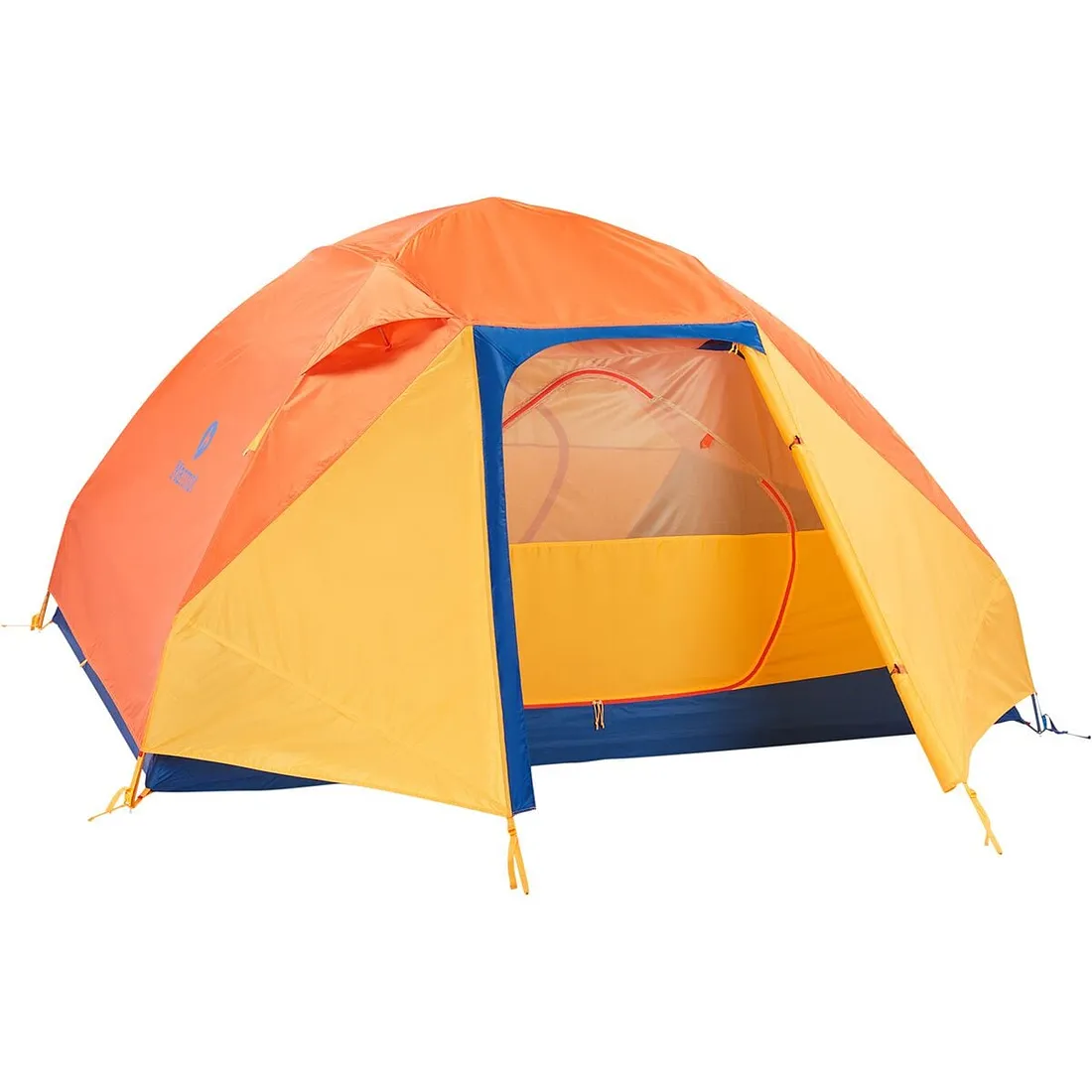 Reasons to Buy
Quality material and design for durability

Great weather resistance for all seasons

Spacious and comfortable interior

Easy to set up

Packed with useful features and amenities
Reasons to Avoid
Slightly higher in price compared to similar tents

Can be a little hot in summer seasons
The Important Specs
Doors:

2

Dimensions:

8 ft 2 in x 7 ft 2 in

Packed Size:

8 in x 21.5 in

Peak Height:

52 in

Sleeping Capacity:

4 person
Review Roundup
The Marmot Tungsten 4P is a top pick for outdoor enthusiasts and for good reasons. With plenty of room for up to four people, this tent is known for its spaciousness. Collegiate outdoor clubs and family campers particularly love the generous accommodations it provides. The tent has been praised for its two large, D-shaped doors that provide easy access and its two vestibules that are a godsend storage space for your gear. There's less clutter inside and you can sleep without tripping over anyone's backpack.
When it comes to setup, the Marmot Tungsten 4P shines. Many folks who bought this tent have said that setting it up is straightforward, with color-coded poles and clips that make the process a piece of cake. People have mentioned setting it up in the dark within 10 minutes or so. They love how it's user-friendly, even if you're not an experienced camper.
As for its build and structure, users complimented its freestanding design. They indicated that the tent stands well on its own, even in windier conditions, thanks to the pre-bent poles that create vertical walls for improved living space and stability. In terms of the durability, the rugged fabrics used have been applauded by users for their resistance to wear and tear.
Another feature that buyers appreciated is the zone pre-bend construction of the sleeping area. It's designed to create vertical walls resulting in a more roomy sleeping area and greater headroom. Reviewers have commended this unique feature, saying that it indeed makes the interior space feel more livable.
However, some users have mentioned that while the Marmot Tungsten 4P performs well in mild to moderate weather, it might not fare as well under severe weather. There were few notes about it not being fully waterproof in torrential rains and that the rainfly may not cover the doors adequately during heavy downpours. Plus, although being breathable, the tent may get a bit too hot during summer days.
The weight of the tent was another point of criticism from a few users. A tent that sleeps four, it can be a tad bit heavy for long backpacking trips. This has been mentioned by few backpackers who otherwise praised its comfort and space. Most agreed that it's a fantastic tent for car camping or short hiking trips.
Durability
The Marmot Tungsten 4P tent is particularly noted for its durability. Buyers have commented positively on the high-quality material and sturdy design, allowing it to withstand a variety of outdoor conditions and rigors of camping. However, some have noted that excessive exposure to harsh weather and elements can eventually cause some wear and tear.
Ease of Setup
The tent comes with a free-standing design, which many users have found makes it simple to set up, even for less experienced campers. The color-coded 'Easy Pitch' poles and clips are a plus, allowing for set-up in under 15 minutes in most cases.
Features & Amenities
The gear loft and lamp shade pocket are standout features according to comments from buyers. Two vestibules for gear storage and several interior pockets provide ample space for storing personal items.
Interior Space & Comfort
Customers love the spacious interiors of the Marmot Tungsten 4P. The tent provides a comfortable environment with enough headroom for taller users and could fit 4 people without feeling too cramped. The two doors also mean no scrambling over each other during midnight bathroom trips.
Material
Constructed with No-See-Um mesh and a polyester taffeta floor, this tent is designed to last and provide good protection against adverse weather. Many customers have praised the material for its reliability in different conditions, although some have noted that it can retain heat in hotter climates.
Season Rating
Rated as a 3-season tent, it is suitable for camping in spring, summer, and fall. However, despite its good performance in colder weather, some buyers have wished for a 4-season version.
Value
While slightly higher priced compared to similar models in the market, most users feel the long-term reliability and durability of Marmot Tungsten 4P justifies the cost. It is seen as a smart investment for keen campers who want a tent that will last multiple trips.
Weather Resistance & Ventilation
Numerous online reviews mention the tent's excellent weather resistance, especially in rain and snow. It is seam-taped for full weather protection, so you won't encounter leaking issues. The two D-shaped doors offer good ventilation, but the Material can retain heat so it could be hot in warmer seasons.
Prices