Quick heads-up: some of the links on this page are affiliate links. If you make a purchase through them, we may earn a small commission (at no extra cost to you). This small bit of income helps keep our site running.
Best Camping Cups of 2023
This post was last updated on December 06, 2023.
If you're a camping enthusiast, you know the importance of a good camping cup. It's not just about carrying coffee or soups, but the material, weight, packability and overall versatility play a huge role in deciding the best fit for your adventure. Among the countless options available, one that consistently tops the list is the MSR Titan Cup.
The MSR Titan Cup is that 'just right' blend of lightweight, compact design and durability that makes it an indispensable companion on your outdoor treks. It's highly durable, easy to clean, and has excellent heat distribution. Plus, with its unique design and additional components, it just takes the camping experience to a whole new level. You don't have to take only our word for it though, we've put it through its paces along with a couple of nearly-as-great contenders to bring you this comprehensive review.
But we've got something for everyone's pocket. If you are on a budget, don't worry, we have some incredible options for you as well. If you're preparing for your next camping trip, make sure to also check out our guides on Best Ultralight Tents, Best Camping Sleeping Bags, and Best Camping and Backpacking Pillows. So, let's dive right in and find the perfect cup for your sipping-around-the-campfire moments.
Our Top Recommendations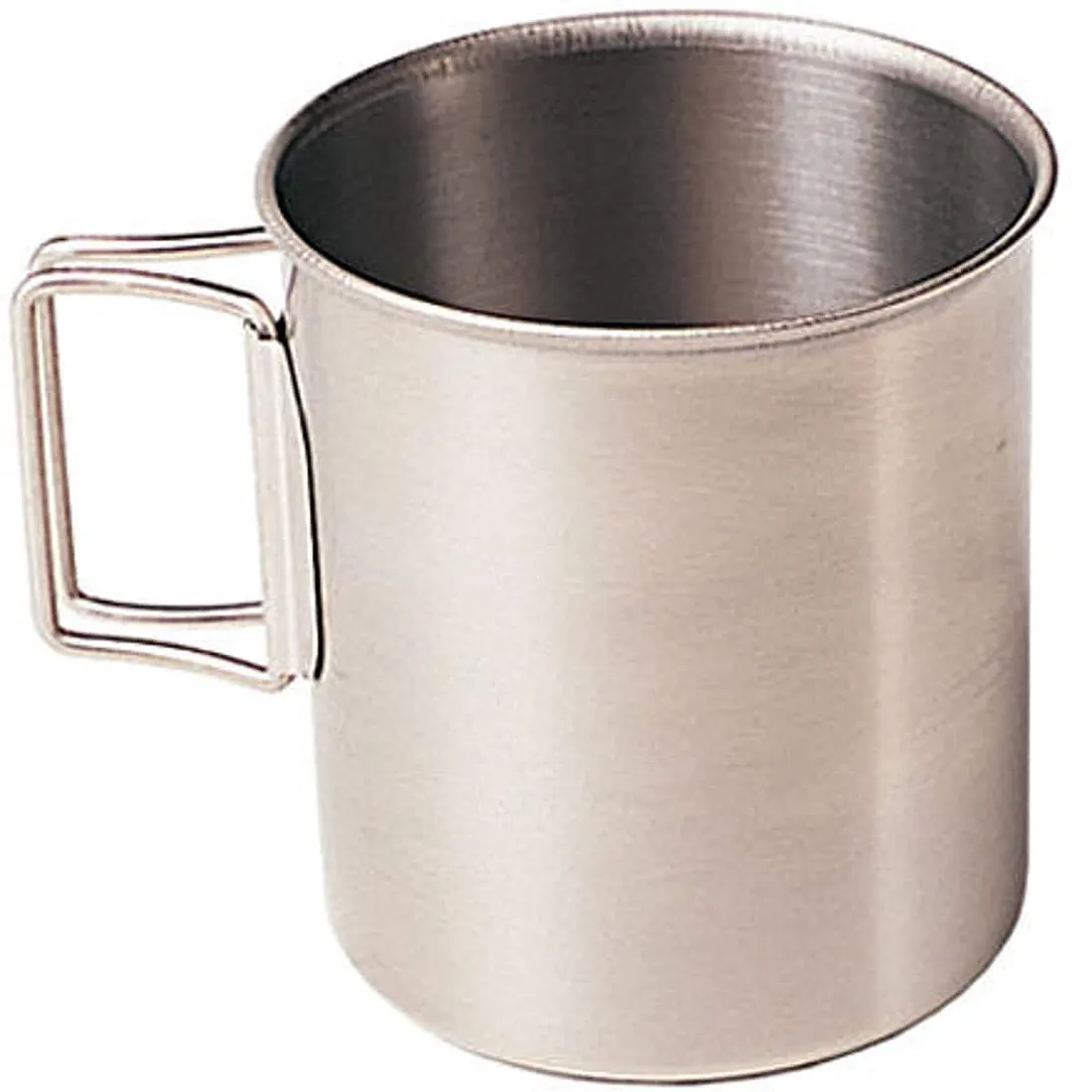 MSR Titan Cup
The MSR Titan Cup claims the top spot due to its superior lightweight yet durable titanium construction and its multipurpose design, consistently praised by campers for its portability and versatility.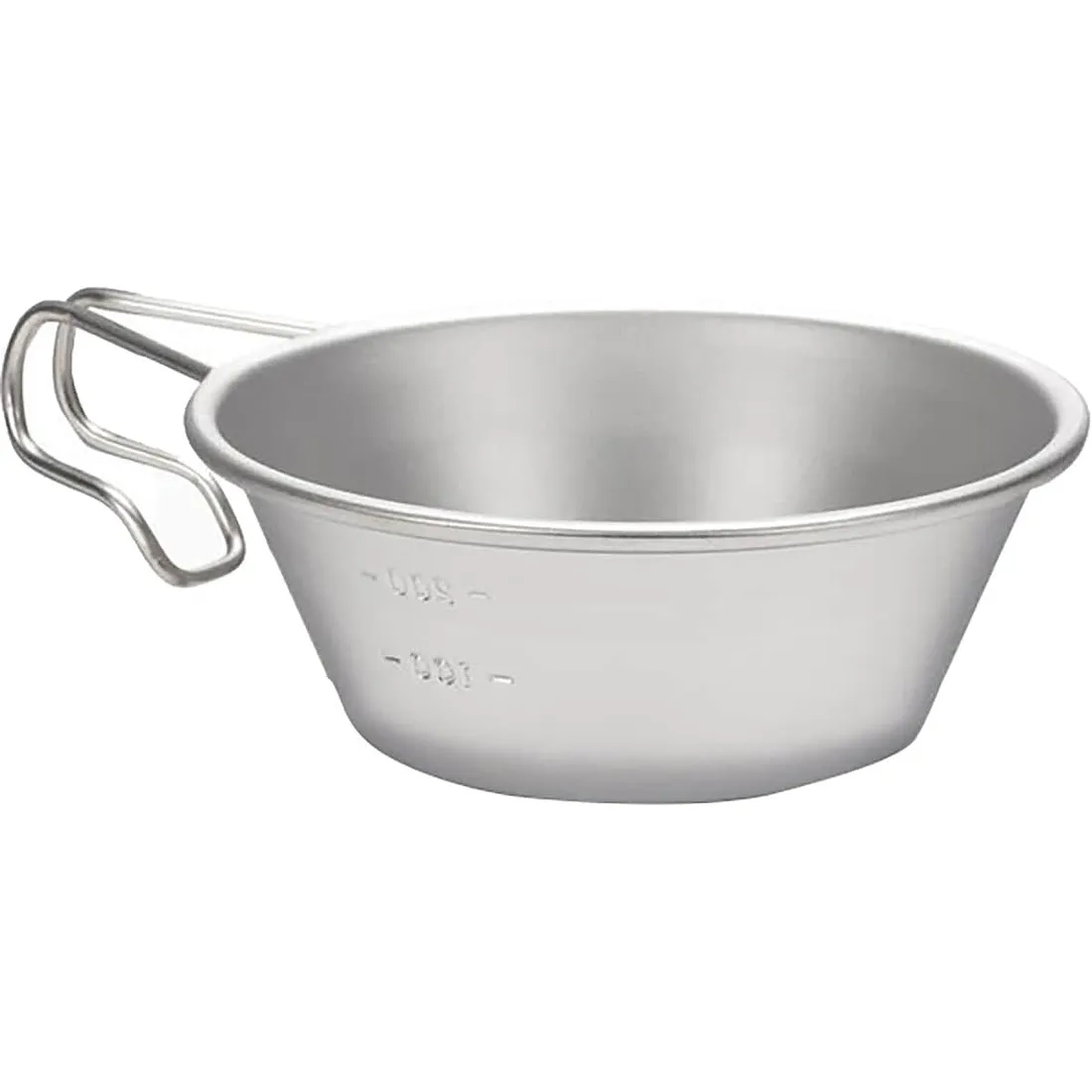 Snow Peak Stainless Steel Sierra Cup
The Snow Peak Stainless Steel Sierra Cup clinched the top pick runner up spot due to its robust stainless steel construction that reviewers praised for its durability, alongside its practical, multi-use design that allows it to double as a small cooking pot, setting it apart from the competition.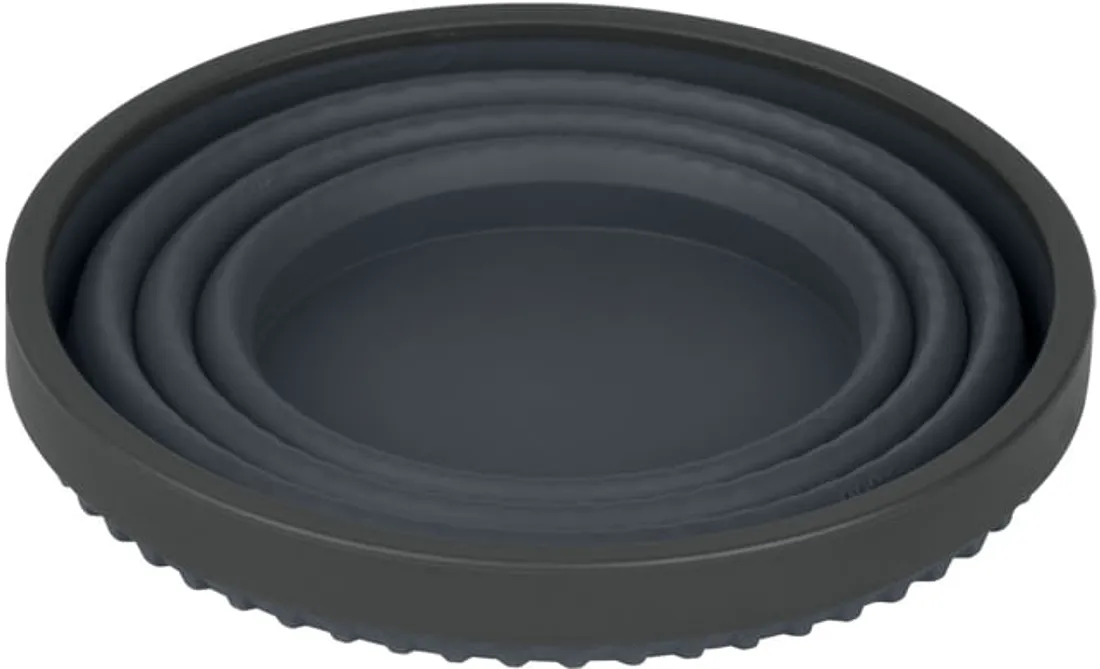 Sea to Summit X Mug
Enthusiasts rave about the Sea to Summit X Mug, championing its impressive compact design and heat-resistant silicone features that give the cup a unique edge in comfort and convenience.
What you should look for
(and what we test for)
Capacity
Size and capacity are key – consider your individual needs, a small 8oz cup may be enough for morning coffee, while a larger 20oz cup could double up as a bowl for soupy meals.
Material
Consider the cup's material; stainless steel is durable and heat-resistant, perfect for hot drinks around the campfire, while titanium cups are super lightweight for those on longer hiking or climbing expeditions.
Insulation
Insulation is crucial for keeping drinks at their original temperature; double-wall vacuum insulation can preserve your hot coffee and cool water for longer during your wilderness explorations.
Design Features
Look for design features such as a sturdy handle that's easy to hold (even in gloves), a lid to prevent spills and keep your drink clean, and measurements marked inside the cup to aid in meal preparations.
The Best Camping Cup
Based on our research and testing, we think the MSR Titan Cup is the best Camping Cup on the market right now, for anyone looking to play hard outside.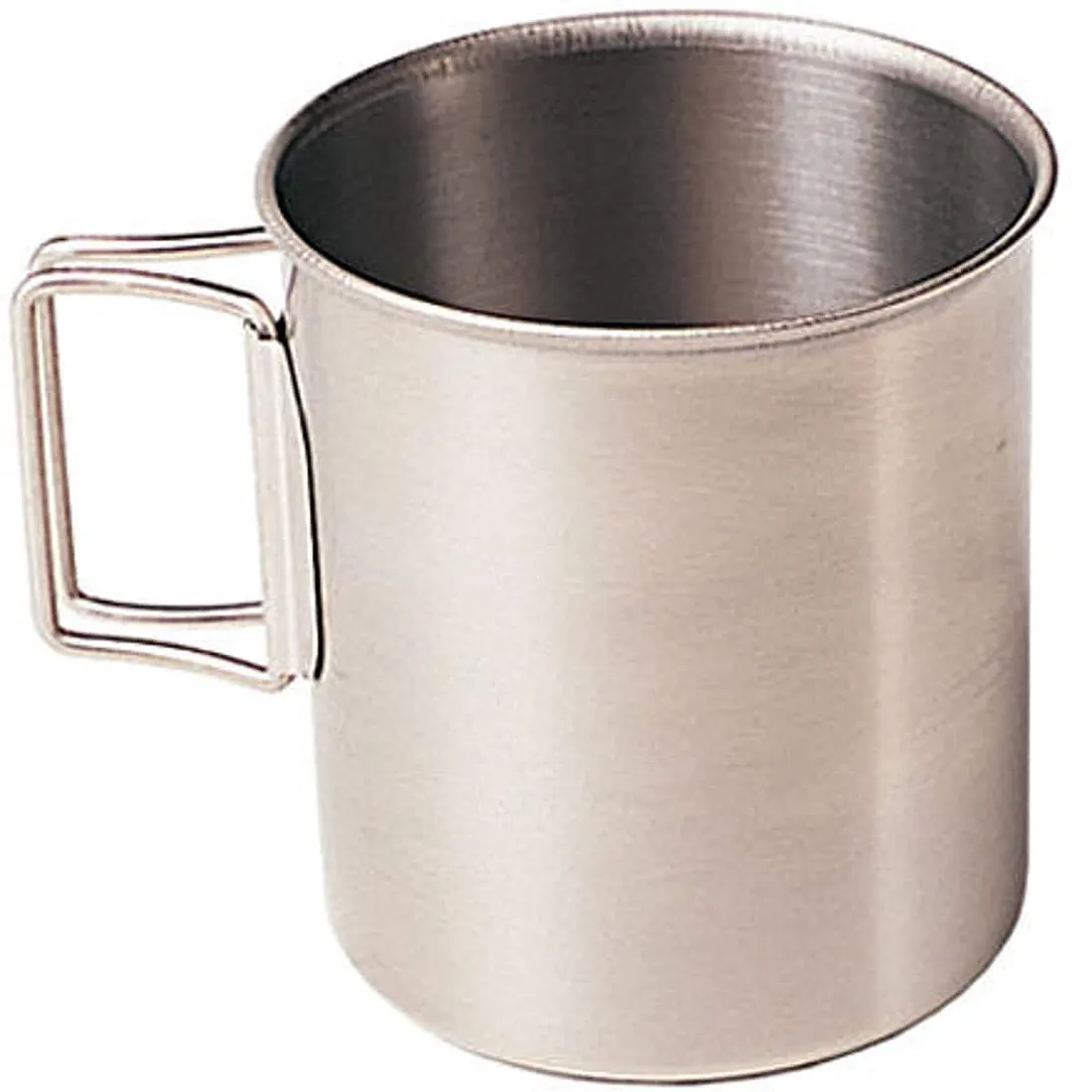 Reasons to Buy
Super lightweight

High versatility

Easy to clean

Resistant to corrosion

Excellent heat distribution
Reasons to Avoid
No lid included

Handle can get hot

A bit pricey
The Important Specs
Size:

13.5 fl. oz.

Material:

Titanium

Dimensions:

3.5 x 3.5 x 3.6 inches
Review Roundup
The MSR Titan Cup isn't your average camping mug. Built from high-quality titanium, this cup is designed to last. It's a bit more expensive than other cups on the market, but its durability makes it a good investment for avid campers or backpackers who frequently hit the trails.
We've found that despite its rugged construction, the MSR Titan Cup manages to maintain a very light weight. This is a big selling point for backpackers who need to keep their gear as light as possible. Users report that they hardly notice the extra weight in their backpack, and that the cup's slim design makes it easy to pack without wasting any precious space.
When it comes to heat conductivity, the MSR Titan Cup shines. Because it's made of titanium, it heats up quickly. Many of the people who bought this cup commented on how quickly they could boil water or heat up their morning coffee, which is a major plus when you're in the great outdoors and want to maximize your time enjoying the scenery instead of waiting for your drink to heat up.
One potential drawback of the MSR Titan Cup is that it doesn't come with a handle or a lid, something a few customers mentioned in their reviews. This is less than ideal if you like to sip your drink slowly, as the lack of a lid means your drink may cool off quicker. However, others argued that this drawback isn't much of a dealbreaker given the cup's excellent heat conductivity.
Another minor issue reported by some users was the small size of the MSR Titan Cup. It holds just over two cups of liquid, making it perfect for a single serving of coffee or soup, but potentially limiting if you're a big drinker or if you're sharing with a camp companion.
All in all, customer reviews for the MSR Titan Cup have been glowing. It may not be perfect for every camper or backpacker, but for those looking for a high-quality, durable, and lightweight cup that performs well in the great outdoors, it consistently gets the job done.
Durability
This cup scores high points in durability. Being made of titanium makes it almost impervious to dents and corrosion, implying it can withstand rigorous backpacking trips and harsh weather conditions.
Ease of Cleaning
Cleaning this cup is hassle-free. It has a smooth interior that doesn't hold onto flavors or smells which means no detergent taste in your morning coffee!
Handle & Lid Design
The wired handle tends to get hot when the cup is heated, so it's wise to use a pot gripper or a piece of cloth when handling it. Also, it doesn't include a lid, which would've been a nice addition for keeping drinks warm or preventing spills.
Material & Heat Distribution
The MSR Titan Cup is made of titanium, which not only makes it resilient and robust but also ensures excellent heat distribution. So whether it's hot cocoa or instant oatmeal, you can expect an even and rapid heat up. However, its superior heat conduction also means that the cup can get sufficiently warm on the outside if the contents are particularly hot, so be cautious of this.
Packability
Despite its roomy profile, the MSR Titan Cup is compact and easily nestles inside most cook pots and camping stoves, making it perfect for minimalist backpackers or those who prefer to keep things tidy and organized.
Set Versatility & Components
It's quite versatile and can be used not only as a drinking cup but also a makeshift cooking pot. The only drawback is that it doesn't come with a lid, which some might find limiting.
Value
Despite being on the pricier side, with its durability, lightweight nature and overall performance, the MSR Titan Cup delivers good value for the cost. It's a worthwhile investment especially if you're an avid outdoors person who wants gear that lasts.
Weight
With an impressively light weight, this cup won't add unnecessary burdens to your backpack. It's an excellent companion for those keen on keeping gear light yet functional.
Prices
Snow Peak Stainless Steel Sierra Cup
$16.95
Runner Up
Based on our research and testing, we think the Snow Peak Stainless Steel Sierra Cup is a great choice if you're looking for a camping cup to go play hard outside with, if our top pick isn't quite what you're looking for.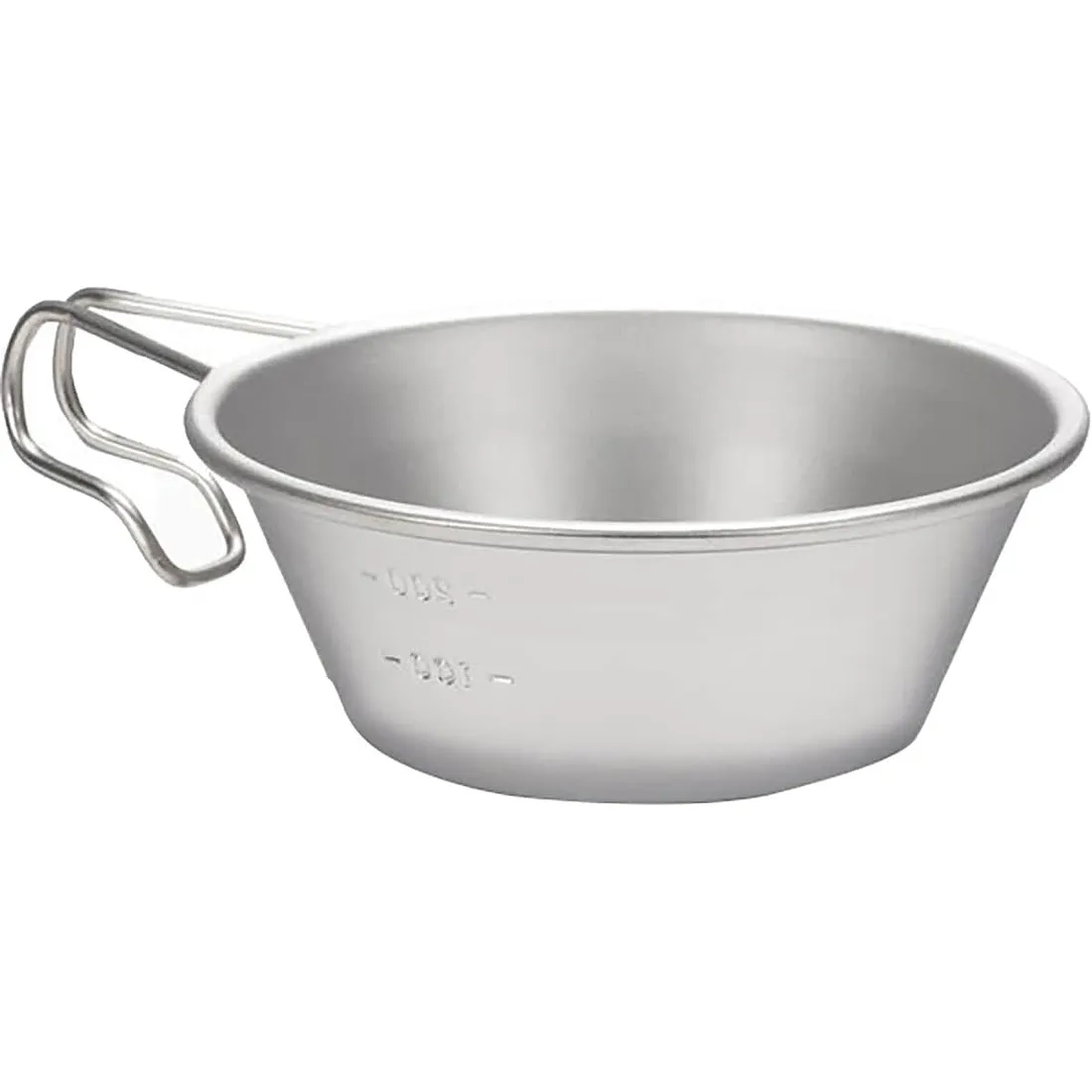 Reasons to Buy
Made with high-quality stainless steel

Handles heat distribution effectively

Compact size & great for packing

Long-lasting and durable

Versatile and can be used with different sets

Cleaning the cup is hassle-free

Good value for price
Reasons to Avoid
No lid included

The handle can get hot while in use

Not the lightest option available

Not ideal for larger group camping
The Important Specs
Capacity:

15.21 ounces

Material:

Stainless steel

Dimensions:

3.35 x 3.74 inches

Dishwasher Safe:

Yes
Review Roundup
The Snow Peak Stainless Steel Sierra Cup is a standout product in the camping cup niche. It's a versatile, high-quality item that embodies what camping gear is all about - durability, practicality and a lot of charm.
Forged from durable stainless steel, this cup is not the type to buckle under a couple of rough camping trips. Its resistance to rust and weather elements have left users brimming with praise. Many pointed out that the cup survives repeated use and vigorous washing without losing its luster or inviting a speck of rust.
The unique curved design of the cup has made it an instant favorite among campers. The Sierra cup, with its pointed bottom and wide mouth, offers a unique blend of style and practicality. The broad mouth makes it easy to gulp down your morning brew or late-night toddy, and the angled bottom brings a dash of distinctiveness that sets the cup apart from conventional designs. Several reviewers said they loved its ergonomic design, which fit comfortably in their hands.
Campers also appreciated the multifunctionality of the Sierra Cup. Beyond just serving your drink, it can be used for a quick bowl of soup on a cold night or as a small serving dish. Its versatility seems to hit a sweet spot with outdoor enthusiasts who value practical, multiuse gear.
However, it wasn't all rosy in the camp of the Sierra Cup. Some campers have taken issue with it's heat retention. While it is a champion at withstanding high temperatures, this same quality makes the handle too hot to touch when the cup is filled with boiling liquid. A few users curb this downside by accessorizing the handle with a cloth or leather wrap for insulation, so keep that in mind if you decide to make this your camping cup of choice.
One more thing - although it's not exactly a lightweight, reviewers don't seem to mind the extra few ounces. The sturdy make and multipurpose use of the cup more than compensate for the slight weight disadvantage.
Durability
Customers attest to the long-lasting durability of this cup. Trust this baby to weather through countless camping journeys, all the while keeping your tea or soup warm.
Ease of Cleaning
The cup being dishwasher safe, cleaning is pretty much a breeze. The stainless-steel lining leaves little room for grime to stick. However, scour lightly to maintain the shiny finish.
Handle & Lid Design
While it might lack a lid (which could disappoint some consumers), the handle design has been praised upon. Despite it getting hot during use, with a bit of caution, it is sturdy and comfortable to grip.
Material & Heat Distribution
The Snow Peak Sierra Cup scores high in terms of material quality. Its stainless steel body can take the heat and distributes it evenly for satisfying warm beverages by the campfire. There were few complaints about it getting too hot or not warming drinks evenly.
Packability
The Sierra Cup shines when it comes to packability. It's neat and compact, fitting easily into any backpack or even a jacket pocket. However, keep in mind that it doesn't have a lid, so consider packing it cautiously if full of supplies to avoid spilling.
Set Versatility & Components
Its sheer versatility essayed itself in the fact that it didn't stick to one stove set. Buyers were able to use this cup across different cooking sets, making it a compatible and convenient accessory for your camp dinners.
Value
For the quality of material, design, and compatibility it offers, users are of the consensus that the Snow Peak Sierra Cup is good value for money. Its longevity will likely keep you from hunting for a replacement anytime soon, a pocket-friendly prospect indeed.
Weight
While it isn't the lightest camping cup on the shelf, the weight's hardly an issue unless you're an ultra-light backpacker. For regular campers, the small extra ounces are a decent trade-off for durability and functionality.
Prices
Sea to Summit X Mug
$14.95
Runner Up
Based on our research and testing, we think the Sea to Summit X Mug is a great choice if you're looking for a camping cup to go play hard outside with, if our top pick isn't quite what you're looking for.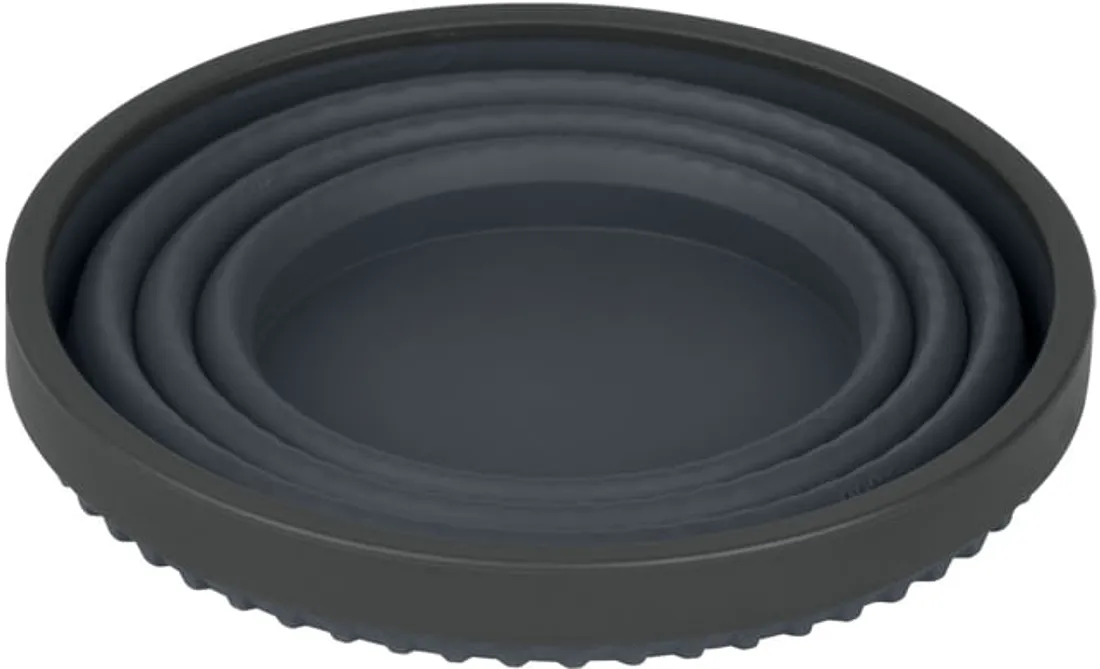 Reasons to Buy
Collapsible design saves space

Lightweight construction

High level of durability

Easy to clean

Can withstand high temperatures
Reasons to Avoid
Slightly expensive for a camping mug

Lack of handle might make it hard to hold if it's hot

Collapsibility feature may compromise durability over time
The Important Specs
Capacity:

480 mL

Material:

Silicone

Dimensions (Expanded):

3.25 x 4.25 inches

Dimensions (Collapsed):

0.5 x 4.25 inches
Review Roundup
The Sea to Summit X Mug is a top pick in the camping cups category due to its innovative design, lightweight construction and the level of practicality it offers avid backpackers and casual campers alike.
A key feature that sets the X Mug apart from traditional camping cups is its unique collapsible design. This allows for easy storage in tight backpack pockets or side pouches, making it a no-brainer for minimalists or hikers concerned about space and weight. When expanded, the X Mug holds up to 16 ounces of liquid (cold or hot), enough to keep your morning coffee or your evening soup portions perfectly served.
It sports a nifty, heat-resistant, food-grade silicone construction, meaning it can safely be used over a camp stove. Plus, its flexibility and resilience to normal wear and tear lends it a durability that most traditional rigid cups can't offer.
But it's not all sunny days with the X Mug. Some users have mentioned that the silicone can retain flavors, especially if used to consume stronger drinks like coffee or alcohol. Additionally, the silicone doesn't provide much in terms of insulation. So, don't expect your liquids to stay warm or cool for extended periods. Some users also found the mug a little wobbly when filled to the brim, something to bear in mind if you're prone to knocking things over!
The X Mug comes with calibrated measurements along the inside wall, convenient for those who love to whip up a quick meal or drink using precise quantities while out camping. Not forgetting the sturdy nylon rim that helps maintain the cup's shape and offers a solid grip, though solo users noted it could get pretty heated when the cup was placed directly over the stove.
Durability
Despite its lightweight and collapsible features, this mug is surprisingly durable, as many customers have confirmed in online reviews. But the mug's collapsibility has also been flagged by a few users who worry that constant collapsing and expanding might compromise its durability over time.
Ease of Cleaning
Many user reviews praise this mug for being super easy to clean. Its smooth silicone construction prevents residues sticking on it, making washing up after a camping meal an absolute breeze.
Handle & Lid Design
It's important to note that the Sea to Summit X Mug doesn't come with a handle or a lid. While this feature allows the mug to retain its sleek design and enhance its portability, some people have found that this makes the cup occasionally uncomfortable to hold, especially with hot liquids.
Material & Heat Distribution
The Sea to Summit X Mug is constructed from food-grade silicone to ensure no taste alterations while its embedded stainless steel ring along the rim ensures it holds its shape even when filled with hot liquids. Many users have noted that it handles heat relatively well due to this feature. However, a few folks have also mentioned that the mug can get quite hot when filled with boiling water, making it uncomfortable to hold.
Packability
A big selling point of this camping cup is its collapsible design. It packs down to a very compact size that is easily storable. Buyers love this feature as it makes the mug highly portable and easy on the backpack space.
Set Versatility & Components
The Sea to Summit X Mug is just one component of the brand's collapsible dishware line, so it can be purchased as a set with other items like bowls and pots for more versatility. There were some rave reviews about the complete set stating that they all nest inside each other for convenient storage.
Value
Overall, most users agree that this camping cup offers good value for its price. Its durability, packability, and lightweight nature outweigh some of the negatives that come with the higher price tag. The mug's unique collapsibility and heat resistance seem like good returns on investments.
Weight
A standout feature of the Sea to Summit X Mug is its lightweight construction. This makes it a solid choice for backpackers and light campers, with multiple user reviews praising its feather-like weight and yet sturdy structure. However, it's important to note that while it's light, its lack of handle makes its usability slightly tricky especially when full of hot beverages.
Prices
GSI Outdoors Halulite Aluminum Cup
$14.95
Best Budget Camping Cup
Based on our research and testing, we think the GSI Outdoors Halulite Aluminum Cup is a great pick if you're looking for a camping cup that is more budget friendly, without sacrificing too much in quality.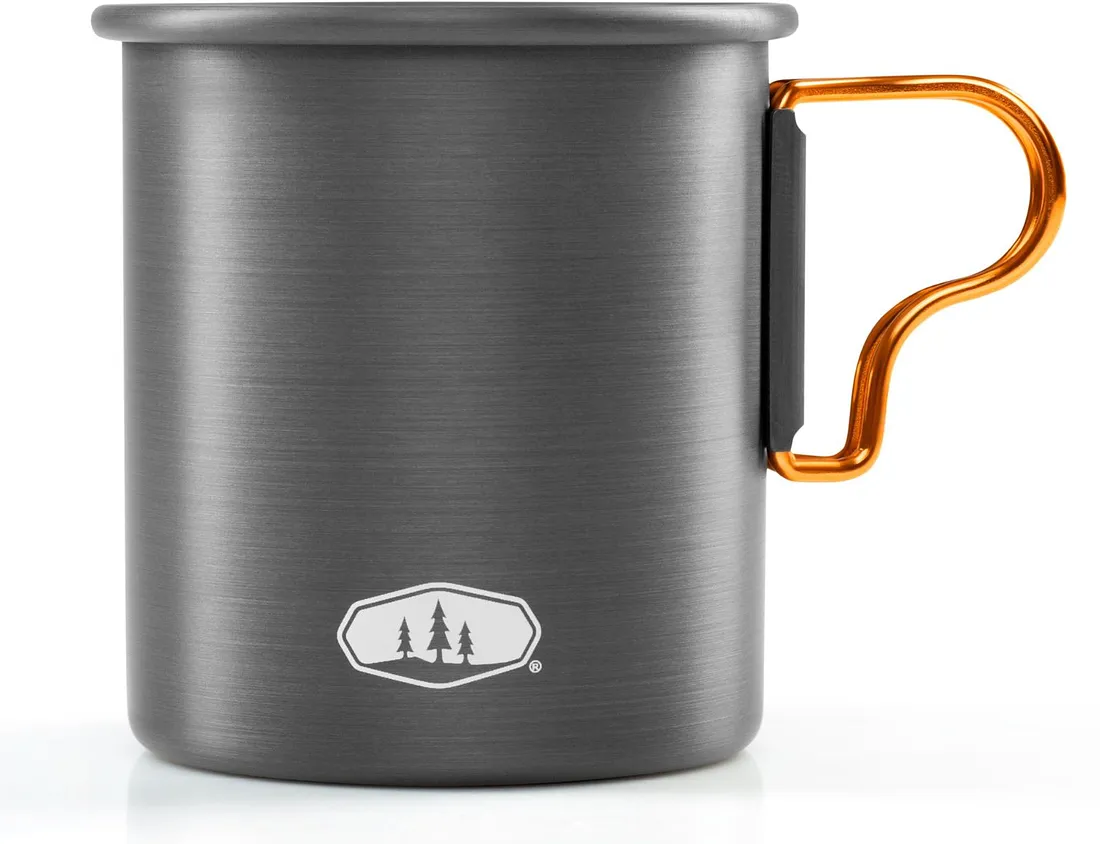 Reasons to Buy
Sturdy and durable

Excellent heat distribution

Easy to clean

High value at a budget price

Compact and easy to pack
Reasons to Avoid
Handle can get hot after prolonged use

No lid included

Not best for cooking food
The Important Specs
Capacity:

24 fl oz

Material:

Halulite aluminum

Dimensions:

3.7 x 3.7 x 4.6 inches
Review Roundup
The GSI Outdoors Halulite Aluminum Cup finds its sweet spot among campers and backpackers looking for a solid, low-cost option that doesn't skimp on performance. With its take on a classic camping cup design, this particular gem melds affordability with function, making it a standout in the budget category.
Crafted from proprietary Halulite material - a type of hard-anodized aluminum - this cup is not only durable, but it also weighs in at a feather-light 3.2 ounces. This makes it an ideal companion for those long hikes or backpacking trips where every ounce of gear matters.
Boasting a 20-ounce capacity, this cup is perfect for a hot cup of morning joe or a hearty serving of soup when you're ready to call it a day. The generous size ensures you've got enough to get you started in the morning or enough to warm you up in the evening.
Online reviews from those who've tested the GSI Outdoors Halulite Aluminum Cup in the wild point towards its impressive heat retention. Its thermal conductivity allows for direct stove heating, making that revitalizing cup of coffee or tea a breeze to make, even in the great outdoors. It's important to note, though, that some users recommend using a pot-gripper or a makeshift cloth when handling the hot cup.
Still, the cup isn't perfect. A handful of users have noted that its lack of a handle can make holding a hot cup rather tricky. That being said, the fact that it uses less space and is easier to pack due to its simple design balances things out for many camping enthusiasts.
The cup also gets high marks for durability. It's scratch and abrasion-resistant, meaning it won't let normal wear and tear or rugged outdoor conditions cut its lifespan short. On the other hand, the absence of a lid was highlighted by some campers as a possible drawback.
All in all, the consensus amongst verified buyers is that the GSI Outdoors Halulite Aluminum Cup is a reliable, lightweight, and cost-effective option. With its robust build and impressive performance, it seems to bring a lot to the camping table, especially for its price.
Durability
A common praise among users is the cup's durability. The tough aluminum material can withstand being dropped and roughly handled, making it ideal for rugged outdoor adventures.
Ease of Cleaning
Cleanup is straightforward with most users praising how easy the cup is to wash. The smooth interior doesn't have corners where food or beverage residue would typically get stuck.
Handle & Lid Design
This cup comes without a lid, a factor some users found inconvenient. However, the handle design has seen positive reviews for its grip and stability, although some have commented that it can get heated with prolonged use.
Material & Heat Distribution
The GSI Outdoors Halulite Aluminum Cup is made from Halulite, a propriety aluminum alloy that's said to be ultra-light and conducts heat better than most traditional aluminum pots. The cup's thicker gauge aluminum material along the sides ensure that heat is evenly distributed, reducing the chances of your drink getting cold spots.
Packability
The GSI Outdoors Halulite Aluminum Cup is compact in size, easily fitting into your backpack without taking up much space. Users have also commended how stackable it is which makes storage a breeze.
Set Versatility & Components
Although the cup doesn't come with a lid or an accompanying spoon, it stands out for its versatile use. Besides hot beverages, it can be used for soups and small meals. Some users recommend purchasing a silicone lid for improved functionality.
Value
The GSI Outdoors Halulite Aluminum Cup wins on value for money. It offers all the basics of a quality camping cup at a budget-friendly price. Most buyers agree that it's a steal for what it offers.
Weight
While this cup has been reviewed to be quite sturdy, it's not heavy at all. Its lightweight nature makes it a fantastic travel companion for backpacking and camping trips.
Prices